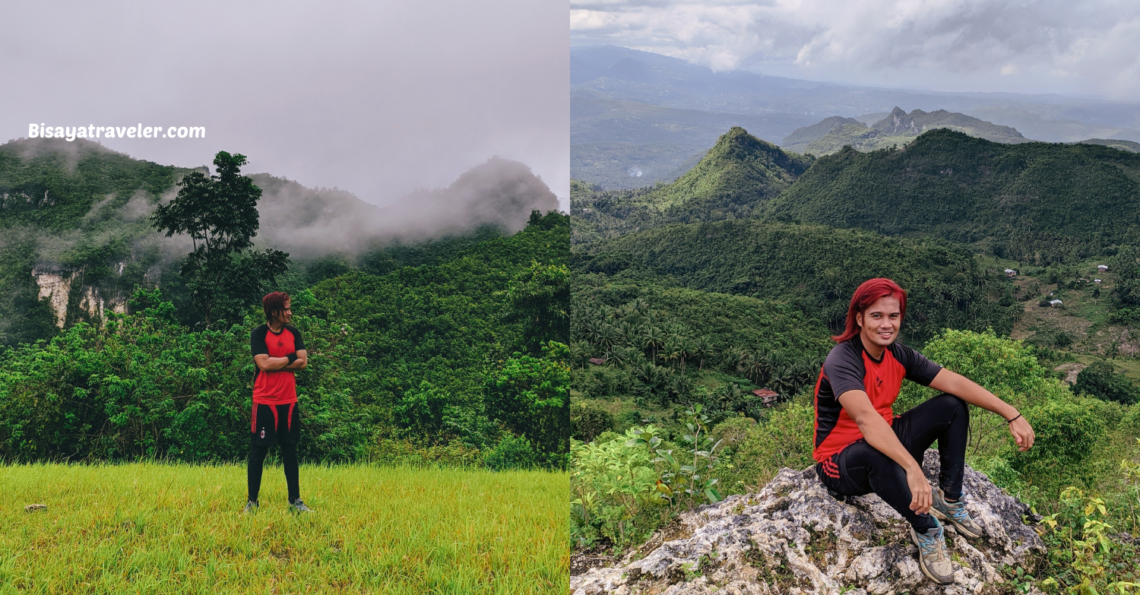 The Search For Pangpang In Barili
I felt the surge of adrenaline and joy rushing through me. Amused by my company and charmed by the beauty of nature, I just found the opening to the seemingly endless maze of stress, sleepless nights and bills. After weeks of non-stop dancing to the frenzied rhythms of modern life, I finally had a healthy dose of optimism. And, I experienced this high while standing on a hill on our search for a pangpang (cliff in English) in Barili and Sibonga.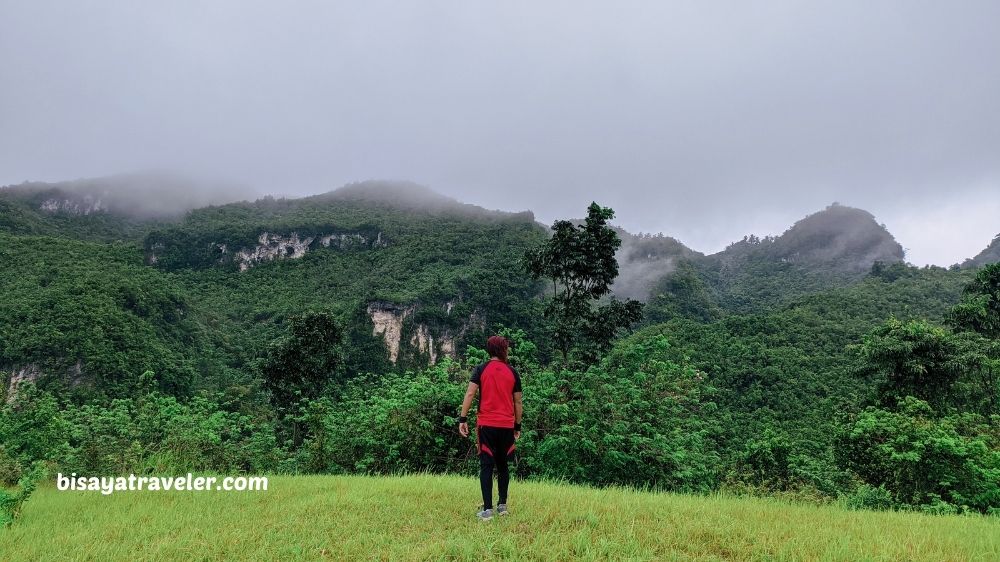 Like most of our exploration adventures, this hill was such a pleasant surprise in a day full of ups and downs. As a matter of fact, we didn't even know that a hill as picture-perfect as this exists in the highlands of Barili.
All I wanted was a satisfying climb to a cliff or pangpang. Yet, surprisingly, the Universe had other plans for us. And, while I didn't get the finale that I yearned for, I was dizzy with excitement after our search for Pangpang in Barili.
My Pangpang, Barili adventure
08:35 AM
I felt a glimmer of happiness as I was soaking up the laid-back charm of Sibonga's plaza. From the crispy blue skies to the breezy air, the signs were all pointing to a fascinating hike.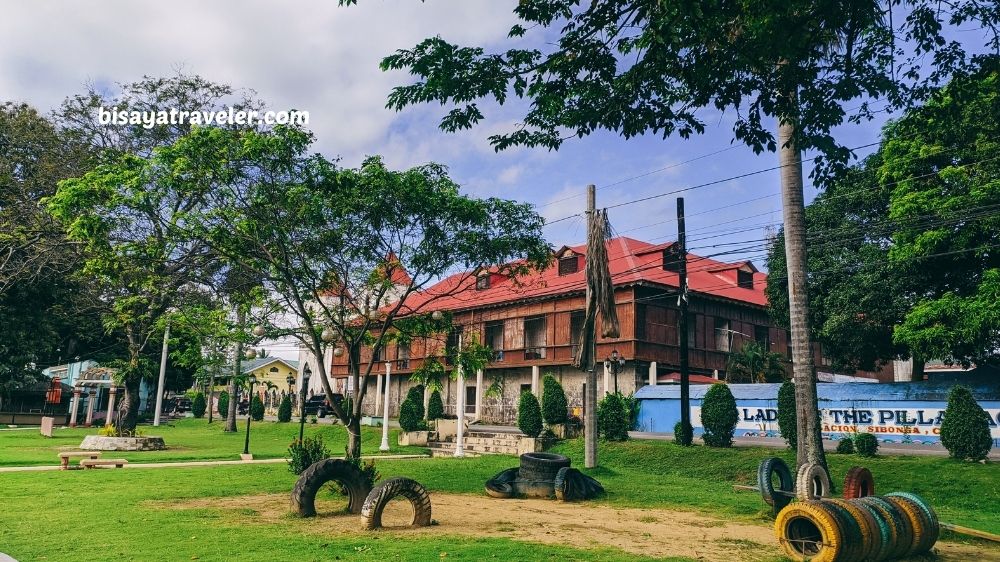 And, with a bunch of open-minded friends, I knew that there were multiple possibilities for this hike.
Maybe, we'll end up standing on a steep pangpang or an untouched peak.
Perhaps, there's a mesmerizing waterfall near our first stop – Mount Lanhan.
I didn't know where the Universe would take us. But, I was pretty sure it was the antidote to my frenzied lifestyle.
And, here's the thing. I don't need a therapist, a massage, a Netflix movie marathon or retail therapy, to restore balance to my life.
Just a hint of nature and adventure can do wonders to my restless soul. And, when my friends arrived at our rendezvous, smiling and excited, I had a hunch that our hike was bound to be a classic and a signature escapade.
12:29 PM
Alcohol is a truth serum. As most experts say, the words of a drunken man are sober thoughts. Somehow, though, I found it hard to trust the words of this man drinking Vino Kulafu at the foot of Mount Lanhan.
"The trail to pangpang is flat", said the drunken master. "Don't let the name deceive you. There's also a creek near pangpang".
What on earth was this man drinking besides Vino Kulafu? A flat trail to a towering cliff? It's like saying that the earth was flat.
I've scaled so many steep cliffs or limestone cliffs in my life, and I've never seen a towering one that has a flat and easy trail.
Remember Puting Bato or Batogag Banog? What about Naga's Lantawan Cliff? Heck, even Dalaguete's Kandungaw Peak has some steep slopes.
I pointed to the direction of the pangpang that we were planning to climb. Yet, he insisted that it was a flat and easy hike. A little long, but nonetheless a walk in the park.
Then, a young lady arrived and confirmed that the hike to pangpang is relatively easy and painless. Additionally, she said there's a first-rate gym in pangpang.
A gym set on a limestone hill? A creek on a cliff? Hmm. Something is wrong with this picture. Are we speaking the same language here? 
02:30 PM – We Discovered Pangpang
As it turned out, the drunk man in Sibonga was right. He's drunk words were, to my surprise, sober thoughts. The trail to Pangpang was indeed flat and easy.
There were no slips or death-defying climbs to pangpang. And though unpaved and muddy, it was easy as Sunday morning.
But, it wasn't the type of pangpang we were looking for. When we asked locals for directions to the cliff, they thought we were referring to a barangay called Pangpang in Barili.
And, we didn't know that a barangay named Pangpang exists in Barili. Otherwise, we would have used a different term.
But, what do you do when life gives you lemons? Well, you add a little sugar and water, and create a lemonade. And, who knows? You might relish something sweet when you make the most out of your circumstances.
We did enjoy something sweet out of this misadventure. With a tip from a stranger, we discovered an overlooking spot near the Pangpang Detachment with some nice views of southwest Cebu.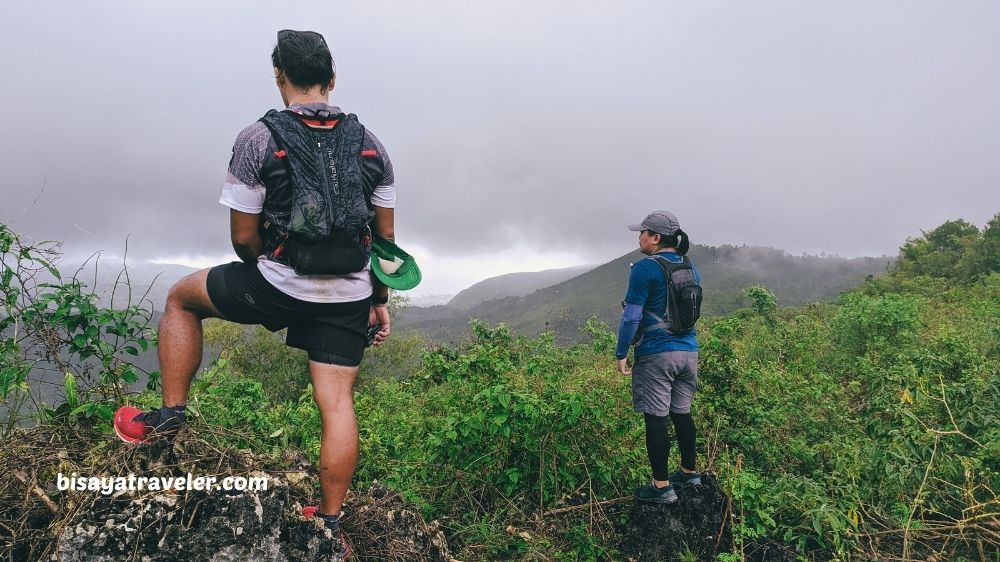 And, the vistas would have been even more stunning if it was a clear, bright and sunny day.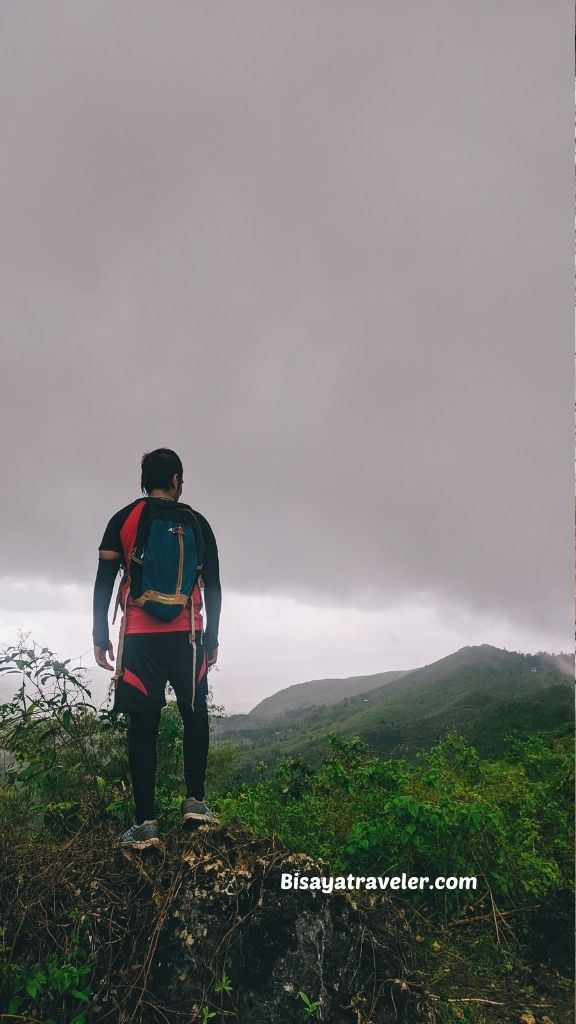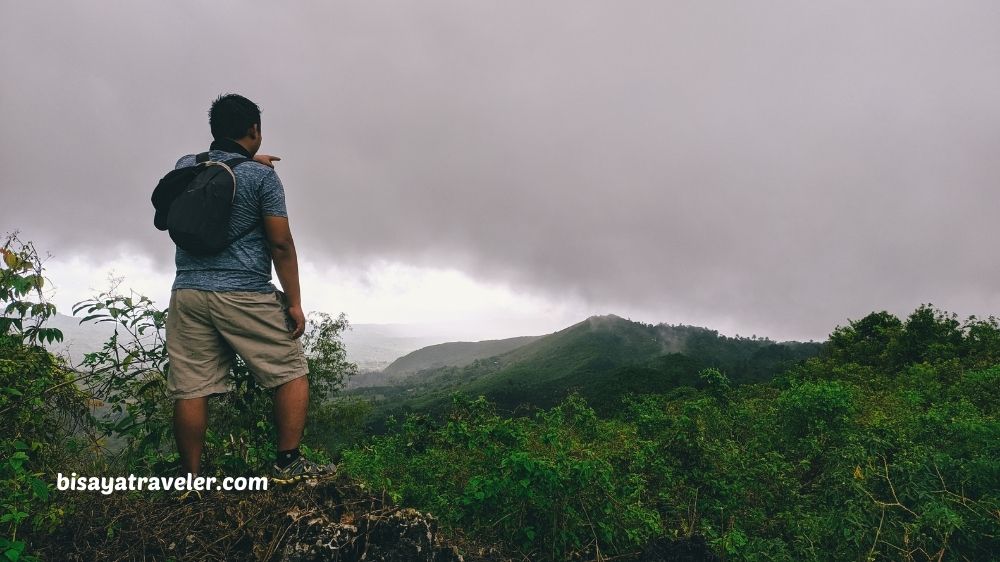 Our Pangpang misadventure is a classic reminder that when life fucks you up, just keep on moving.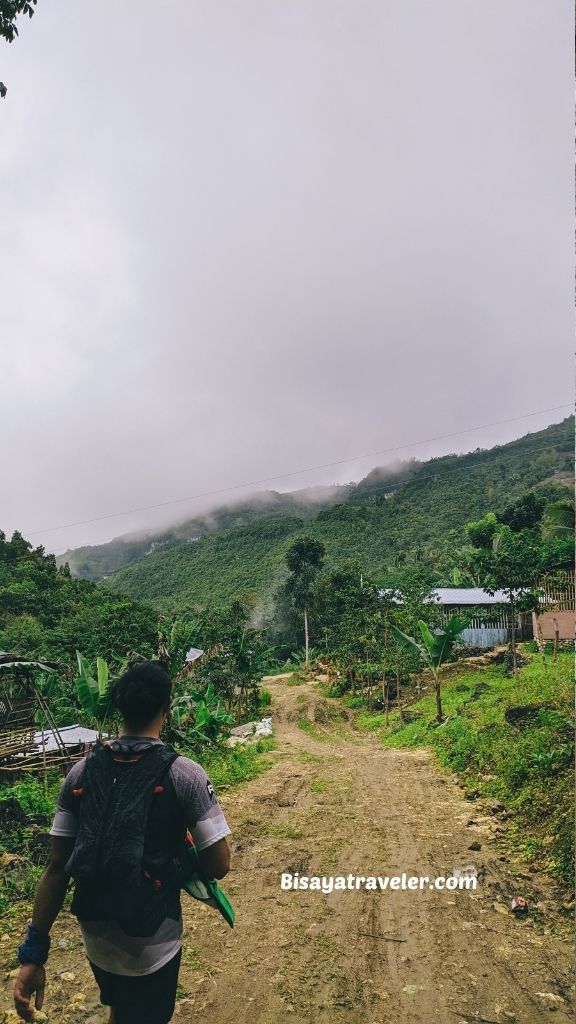 There's no room for whining, blaming and complaining. Just shut the fuck up and keep on rolling.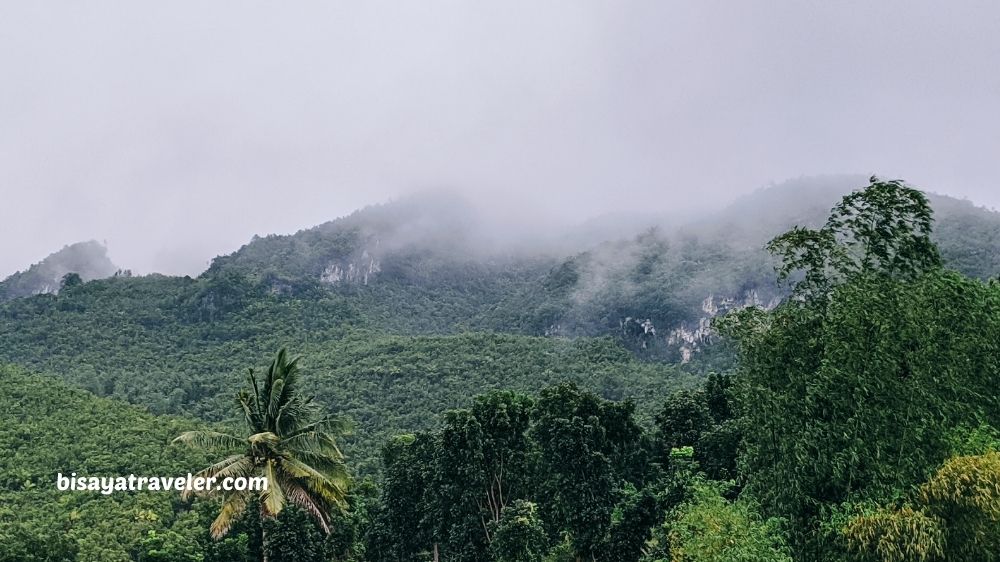 01:50 PM – Where's Pangpang?
My gut feel was saying we fucked up. After asking 3 strangers about the whereabouts of pangpang, I knew that they were referring to a place or barangay in the area.
And, my buddies slowly started to realize that too.
But, there was no way we were returning to our base in Sibonga near Mount Lanhan without gaining a nugget of info about those majestic cliffs.
Why don't we do a little exploration and get wonderfully lost in the highlands of Barili, Dumanjug and Sibonga?
Eventually, we arrived at a crossing. One road leads to "pangpang", and the other leads to different barangay in Barili.
For some reason, I felt like we'd find some answers to the mysteries of this mountainous area if we took the other road. I just wanted to forget pangpang for a while, and see if there are other treasures begging to be explored in the area.
So, I urged my friends to follow this road with the promise of a spectacular view.
There was no spectacular view.
But, we found a ton of answers from a wise old man we stumbled upon along the way. With enthusiasm, he revealed a plethora of details about the cliffs, and the beautiful spots in the area.
He gave us hints of the location of a cave in Barili and even told us that it was possible to hike from Mount Kalatkat to Mantayupan Falls.
Furthermore, he confirmed that Pangpang is actually the name of a barangay in Barili.
He shared a ton of other information with us. And, I'm a hundred percent sure that his tips will come in handy in the near future.
As he was talking to us, I suddenly remembered Allan – the man who sparked a series of adventures for us.
And, I remembered my slogan "getting lost is never a waste of time".
Yes, we did get lost on our journey to pangpang. But, guess what? We gained a lot of priceless information on this hike.
What's more, it reminded me of how I should deal with life whenever I feel lost.
We made a mistake on this hike to pangpang, and we embraced it. We got lost, but never lost our cool. Instead, we kept our heads up high and remained optimistic.
And, the Universe rewarded us by giving us this knowledgeable man. The Universe works in mysterious ways. We just have to trust his way and his process.
I, then, asked the man if there was a gorgeous view ahead of us on the road we were walking.
"No", the man replied. "But, there's a nice overlooking spot near the Pangpang Detachment.
05:04 PM
Once again, we were fucked up. After all the highs and thrills, we found ourselves in another sticky situation.
We were planning to take another route back to our base in Sibonga. Sadly, as what locals have said, it would take at least 3 hours to complete this route.
And, the fastest way to get back to our base, where Mark's car was parked, was to take the same pathway we hiked to get to Pangpang from Basak, Sibonga.
We have no problem hiking long trails, but this time, we needed help. Time wasn't on our side, and the sun was starting to set.
Thankfully, there were locals who were willing to lend us a helping hand. They couldn't take us all the way to Basak, as the road was incredibly muddy and slippery. But, they could make the journey shorter.
Mark, Berny, Raul and I hopped on an open-air motorized tricycle. Meanwhile, the rest of the gang rode on different motorcycles.
And, our ride was an extremely fun experience. We were drenched completely in rain, and had some minor yet hilarious hiccups that included Berny pushing the tricycle on steep slopes.
Ultimately, we arrived safely at our base in Sibonga.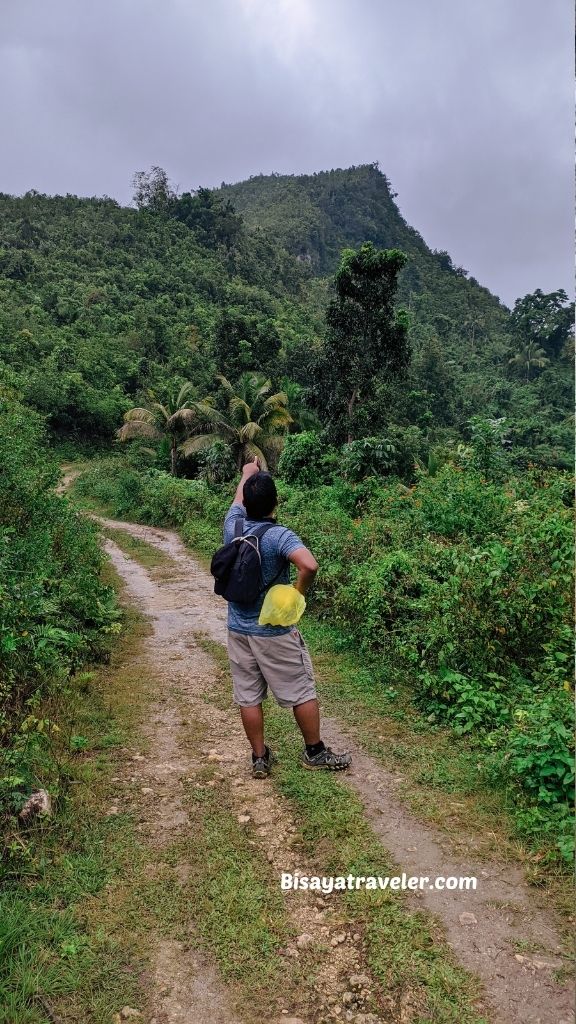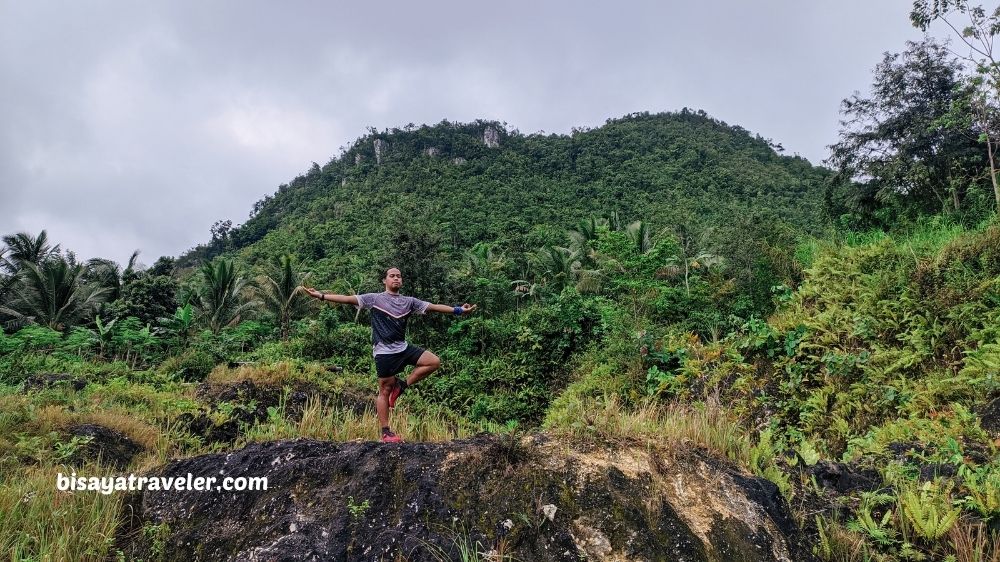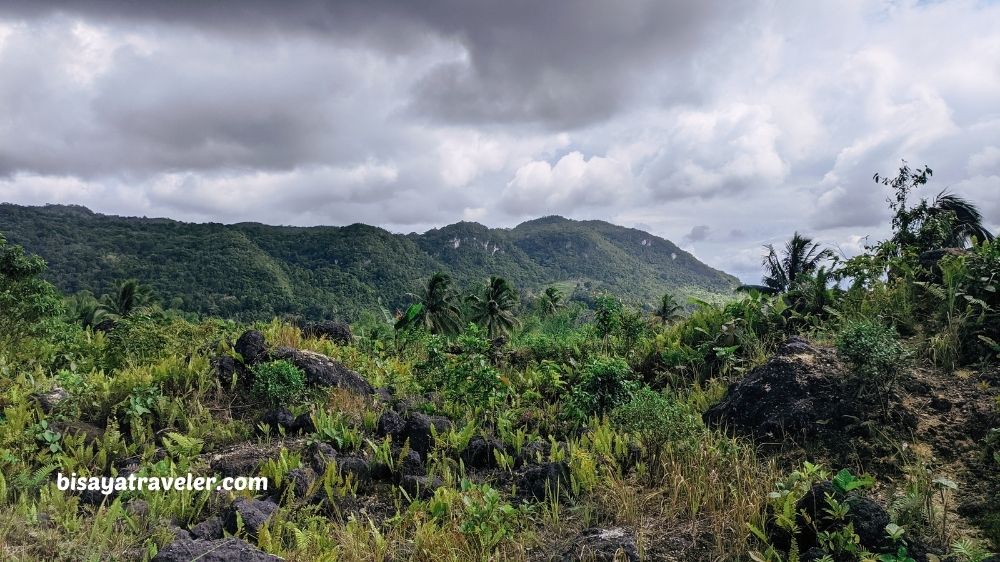 I must say it was a finale that I'll remember for years to come. Sure, it wasn't the one we've expected, but it was a rather extraordinary experience.
And, I always look back on the positive deeds that people do for others. To me, it's a silver lining and a glimmer of hope in today's depressing reality.
04:01 PM
My heart was singing, and I was intoxicated with joy. My eyes were glued to a hill with a backdrop of rugged cliffs blanketed by fog.
Even from afar, I knew this was a photogenic hill. Soon after, we sprinted to the top hill where we were mesmerized by fantastic views.
I cherished every moment of it.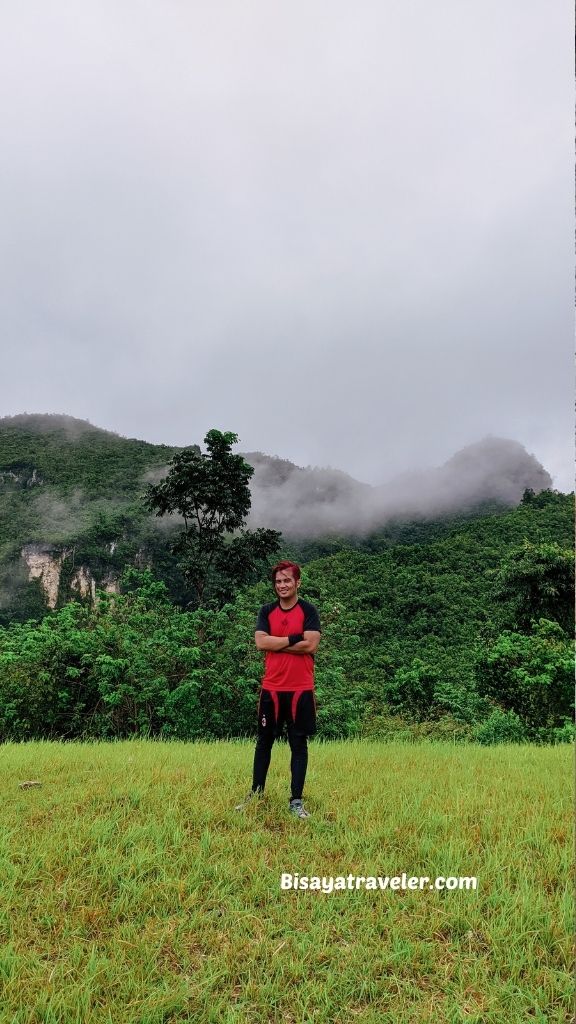 The scenery was therapeutic, soothing and rejuvenating.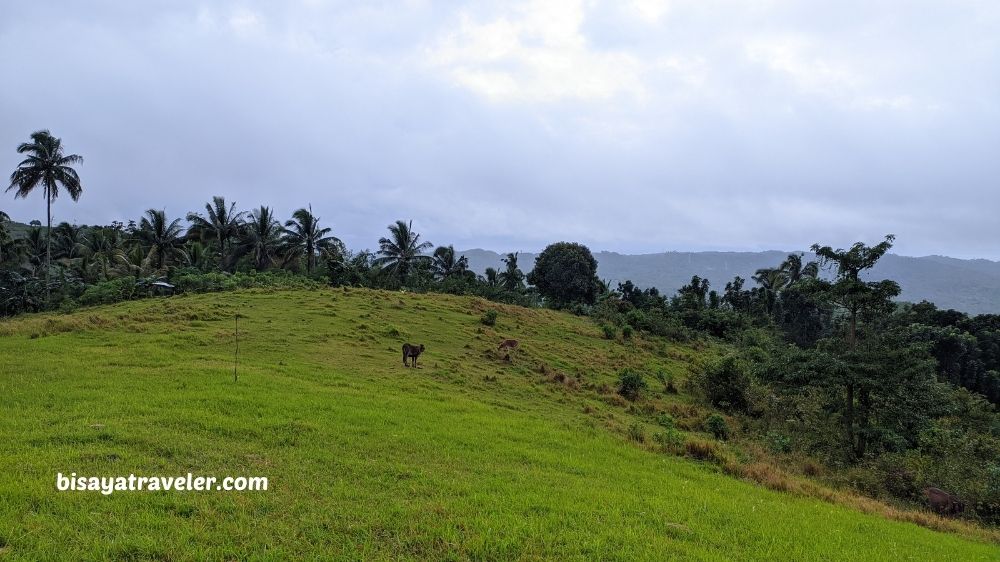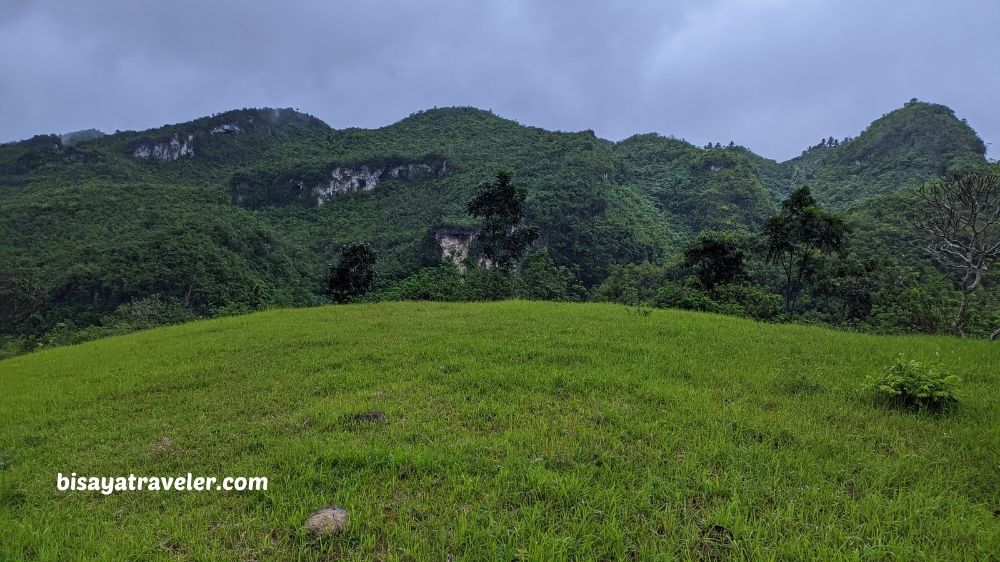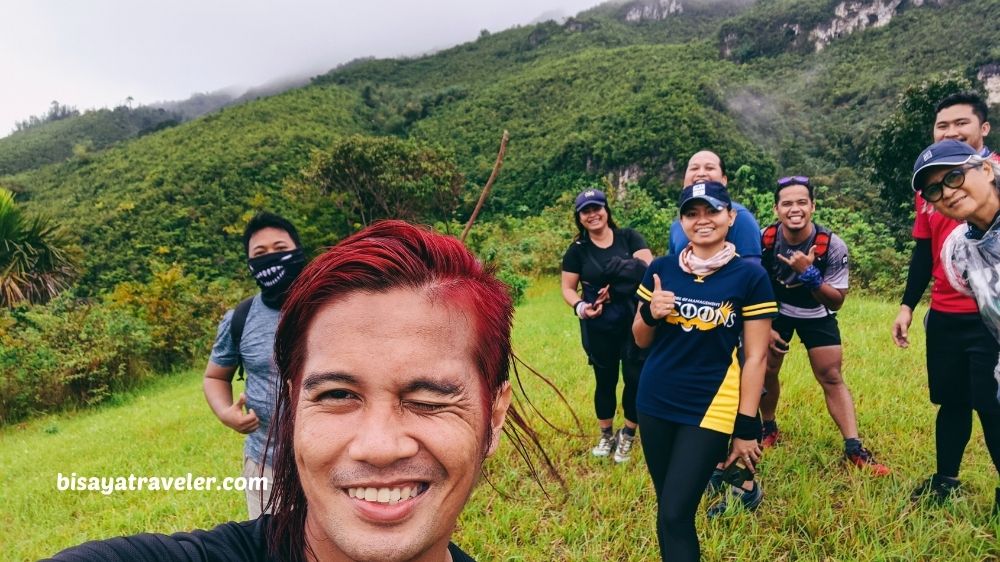 We didn't conquer a mighty pangpang that day. But, it wasn't that bad. At least, we discovered something really beautiful.
And, our Pangpang experience is somewhat a metaphor for our journey on earth.
In life, you don't always get what you want. No matter how hard you try to achieve it, there are some things in life that are simply not meant for you.
It could be a job, a dream girl or a life goal.
But, as long as you don't give up on your journey, you'll always have ample opportunities to find something amazing.
And, something that's right and best for you.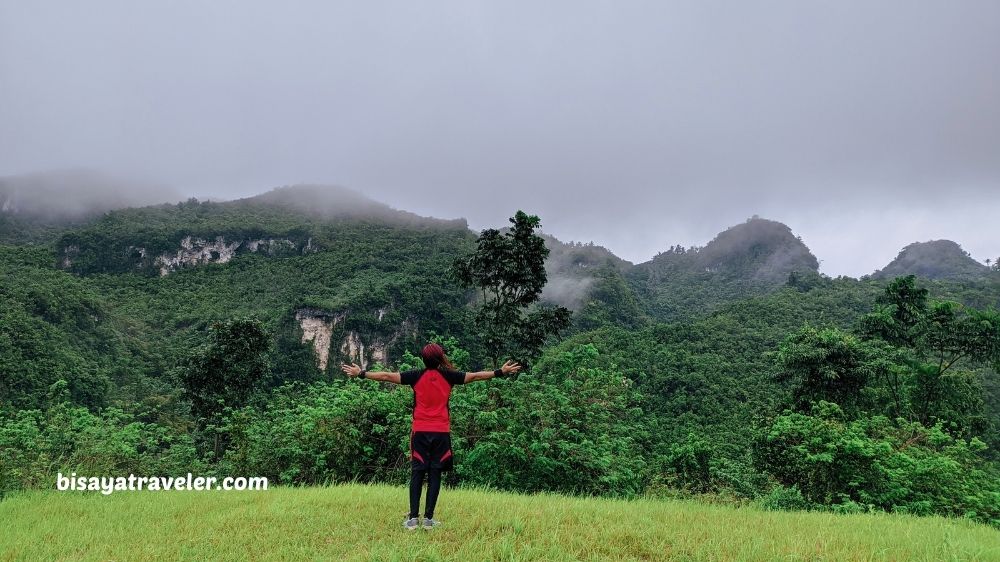 10:20 AM
What awaits us today on our hike in Mount Lanhan and Sibonga? Will we cross the borders and explore Dumanjug or Barili? Are we going to hike all the way to Mount Kalatkat in Carcar? I didn't have the answers to all these questions on our way to the top of Mount Lanhan.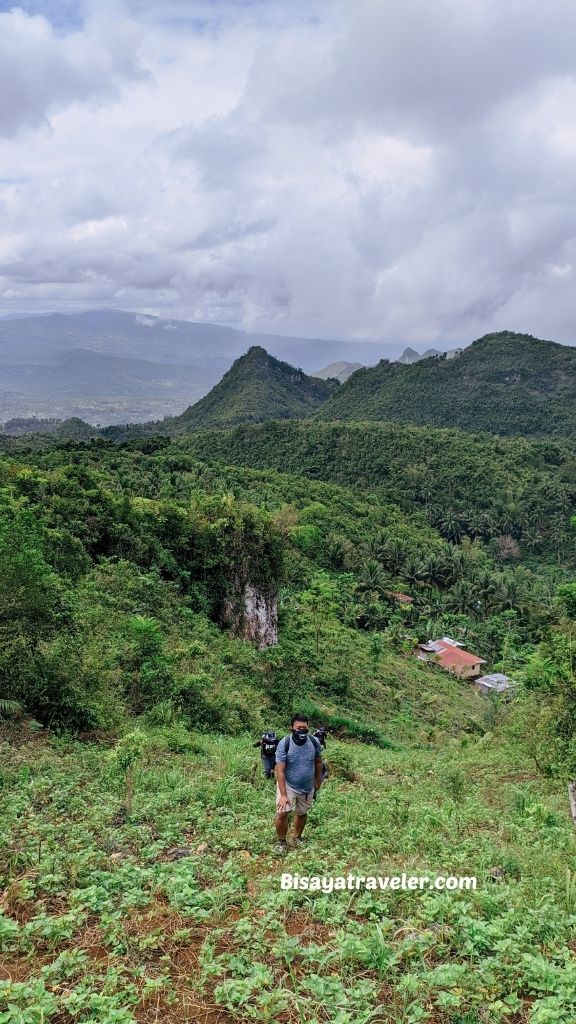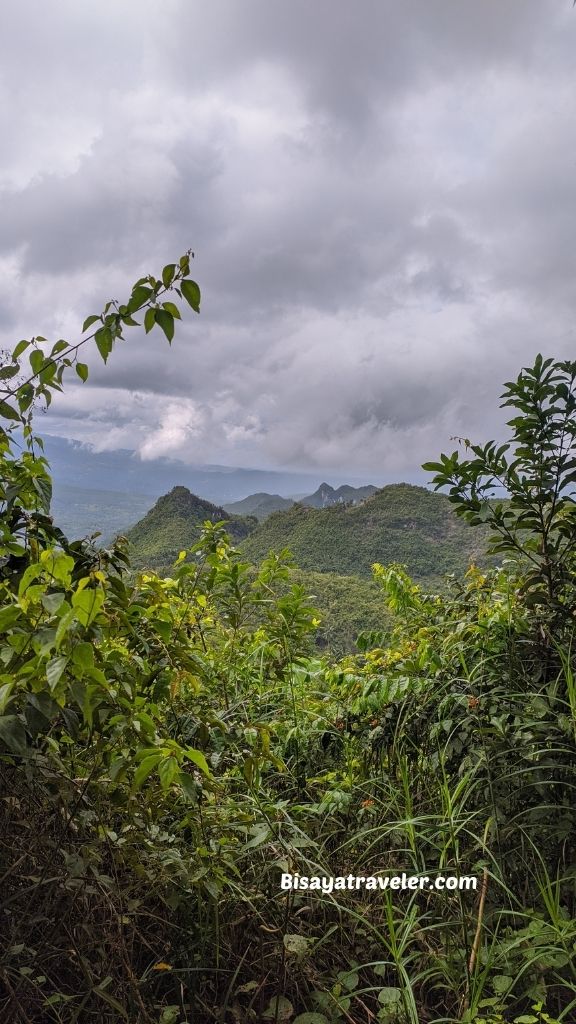 Like my life, I make up as we go whenever I explore mountains.
I listen to the signs and trust the Universe.
At the peak, I saw not just one pangpang, but a series of majestic cliffs. What's on the other side of these cliffs? Can we climb these pangpangs? Is there a surprise waiting for in these verdant territories?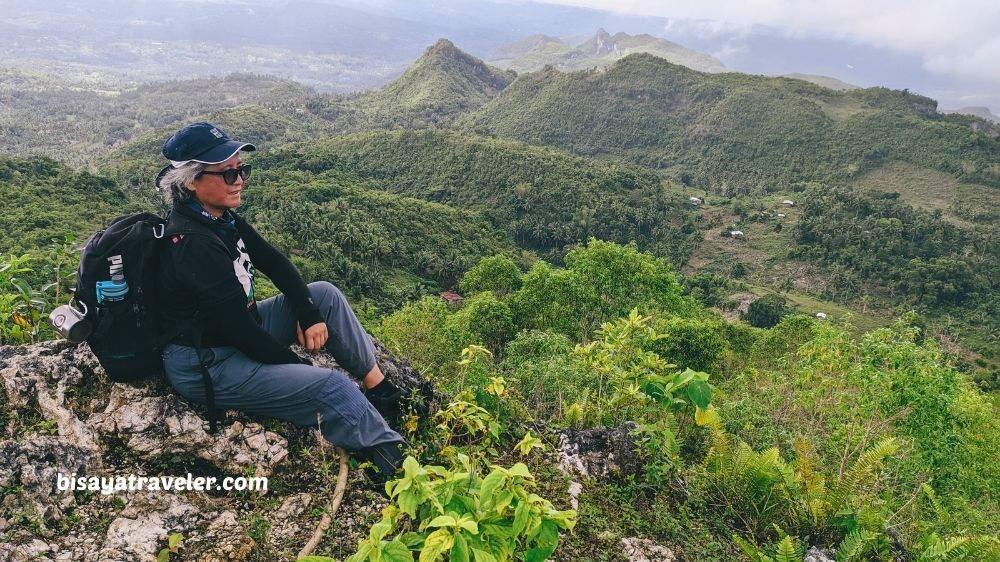 There's only one way to find out. We have to give it a shot.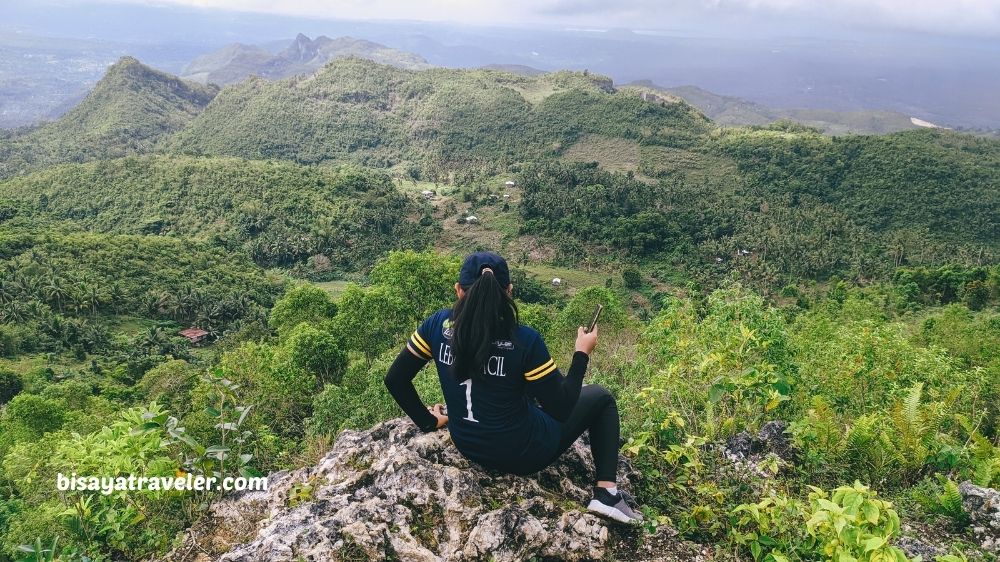 We'll never know what's on the other side, unless we venture into these places.
We have to take risks, and see what awaits us on the other side.
It's a bit like asking someone out. You wouldn't know whether she's into you or not, unless you ask her out.
And, it's like chasing your dreams. You wouldn't know if you'd succeed or fail if you don't take a risk.
We had to take the first step that would hopefully lead us to a string of adventures. So, I pointed to a pangpang and said "Que sera sera".