Tuburan Cebu: Love In The Time Of Crisis
A shiver of excitement ran down my spine. Standing on the edge of a cliff in Tuburan Cebu, I had been whisked away to an oasis of natural beauty. Even though I was still on earth, I felt like I was a billion light-years away from a world eclipsed by forest fires, volcanic eruptions, and a virus outbreak. Gazing at the lush, emerald landscapes of North Cebu, thoughts of an endless series of possibilities and adventures soon flooded through me.
It was a moment of bliss and a refreshing break from a rough start to 2020. What's more, it was just the start of a day-long exploration of some of the most tantalizing attractions in Tuburan Cebu.
Even with all the world's on-going dramas, dilemmas, and perplexities, I truly had a blast and even fell in love with Tuburan Cebu. Once again, I was falling in love with the world amid a global crisis.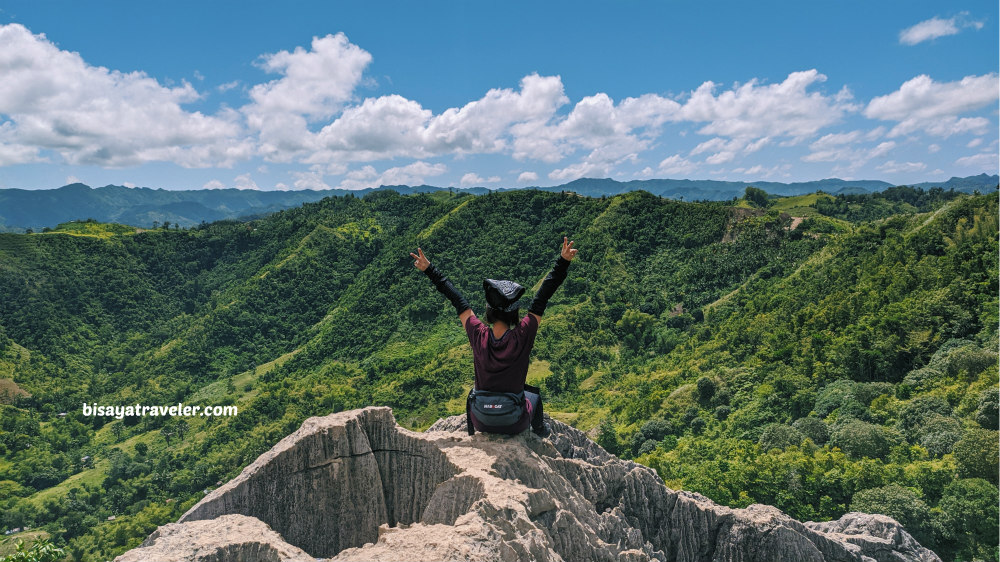 Our Tuburan Cebu adventure
It was a beautiful and warm Sunday in February. The moment I woke up, I knew it was bound to be an exciting and wondrous escape for us.
When you have a bunch of open-minded friends, the possibilities for adventure simply never end.
And, for the first time ever, we were about to explore one of the most underrated tourist destinations in Cebu: Tuburan.

For my Tuburan Cebu exploration, I was joined by Raul, Beboy, Dian, Berny, Cherry, Mark, Demi, and Jira.
After a short meetup at Ayala Center Cebu, we wasted no time and drove our way to Tuburan Cebu via Transcentral Highway.
A couple of hours later, we arrived at the historic San Antonio De Padua Parish Church in Tuburan Cebu.
Truthfully, I didn't have a concrete plan or itinerary on our Tuburan Cebu exploration.
While I did my research on what to do in Tuburan, this adventure was still open to all possibilities.
I was pumped up and thrilled, just imagining the eventualities of our trip to Tuburan Cebu.
Are we going to discover a new trail?
Will we accidentally stumble upon a picture-perfect mountain like Bungtod Talinis?
I really didn't have a clue.
But, I did know where our first stop would be. And, that was Atabay Peak.

1st stop: Atabay Peak
From Tuburan proper, we took a habal-habal ride to the base of the cornerstone of our Tuburan Cebu escapade: Atabay Peak.
My plan was simple.
We just had to go to Atabay Peak, and once there, ask the locals or directions to Marmol Cliff.
I already knew there was a way to Marmol Cliff from Atabay Peak. Days earlier, Ma Kino (The Cebuana PH) shared some hints and nuggets of information about Tuburan to me.
Still, plans could quickly change when you have free-spirited and open-minded friends.
And, on the way up to Atabay Peak, I saw stunning vistas and trails that might change our original plan.
Simply breathtaking!
Those landscapes are so tempting that I almost changed our plan.
And, when I looked on my left side, I caught sight of the wondrous and meek river leading to Marmol Cliff.
So many choices, so little time.
What shall we do? Which route should we take? At that moment, I had no clue where our Tuburan Cebu adventure would end up.
Sometimes, in life, we are overwhelmed and bombarded with the numerous choices in front of us.
And, whenever I can't decide on which path to choose, there's only one thing that I can do: trust the Universe.
That is my life's motto and an unofficial theme of most of our exploration hikes.
And, our Tuburan Cebu adventure was no exception.
Soon, we arrived at the base of Atabay Peak in Tuburan Cebu.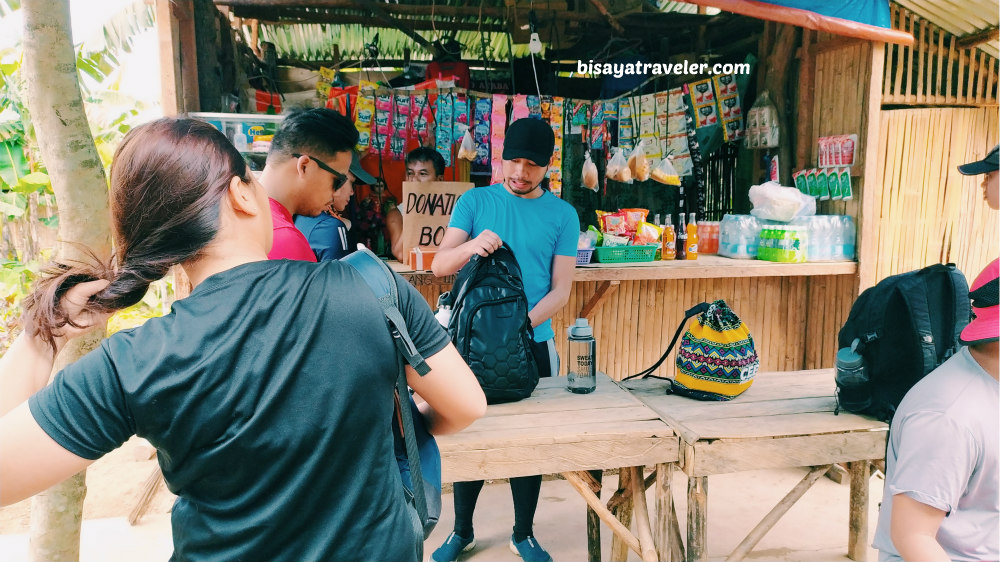 When we finished our opening salvo, we immediately hit the trail that leads to Atabay Peak.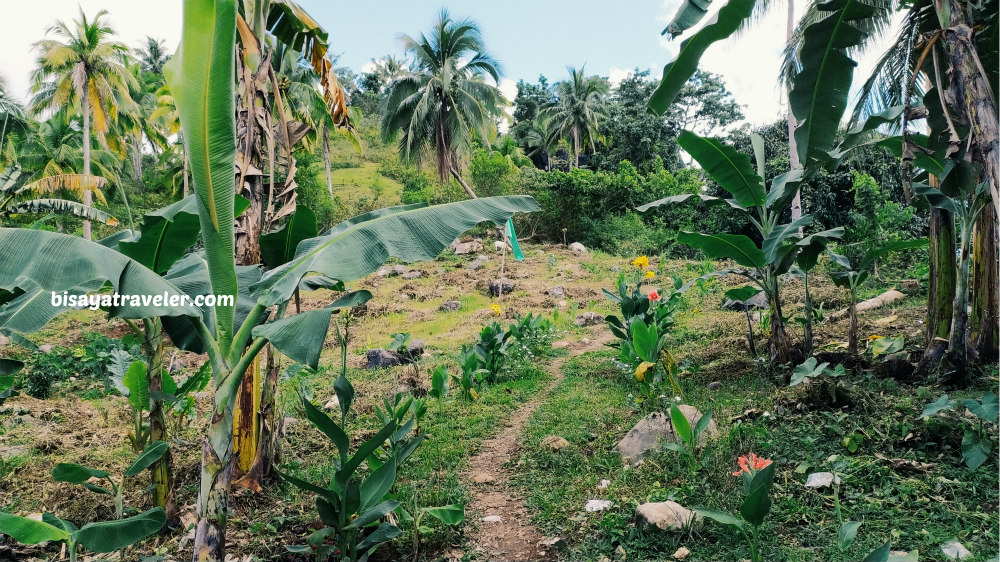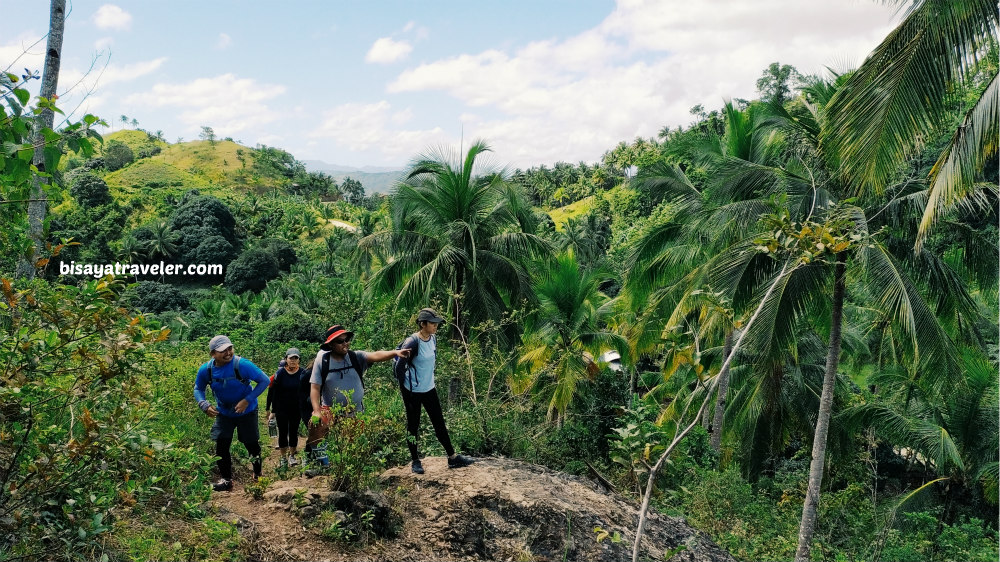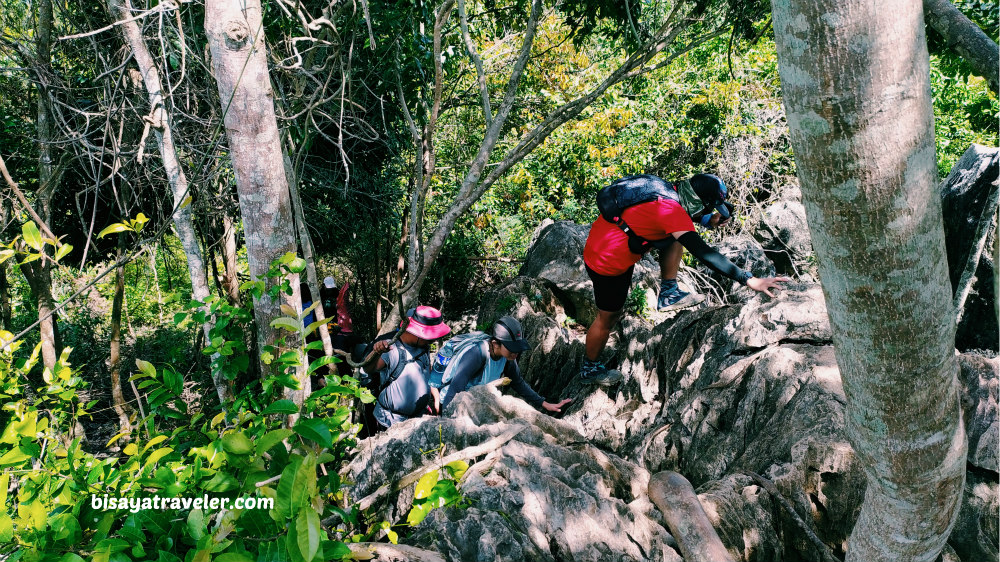 And, to my surprise, it took us less than 5 minutes to reach the peak.
No kidding!
Despite the short hike, it was quite a sight to behold.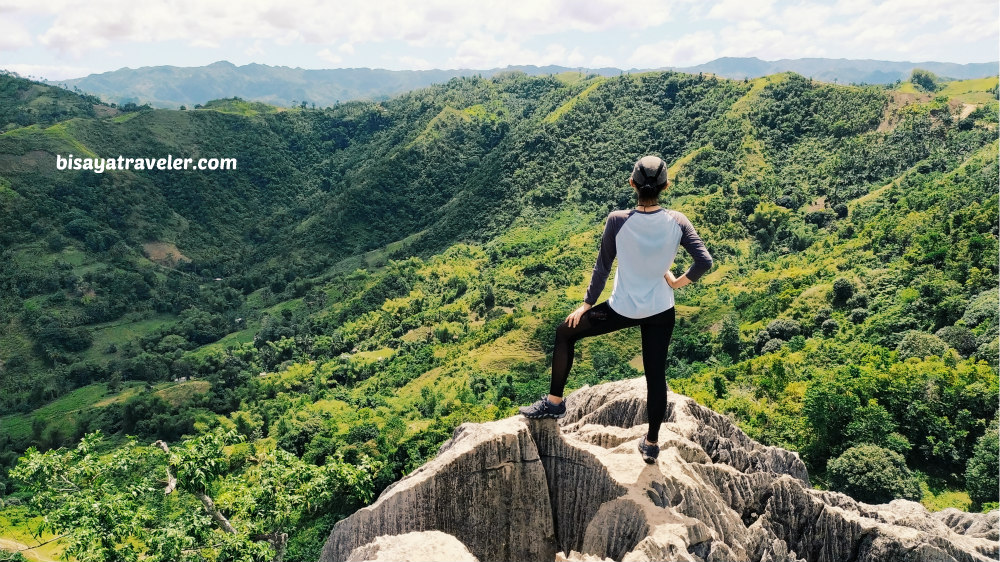 The wonderfully shaped limestone rocks, paired with the rolling hills and verdant peaks of Northern Cebu, are nothing short of mesmerizing.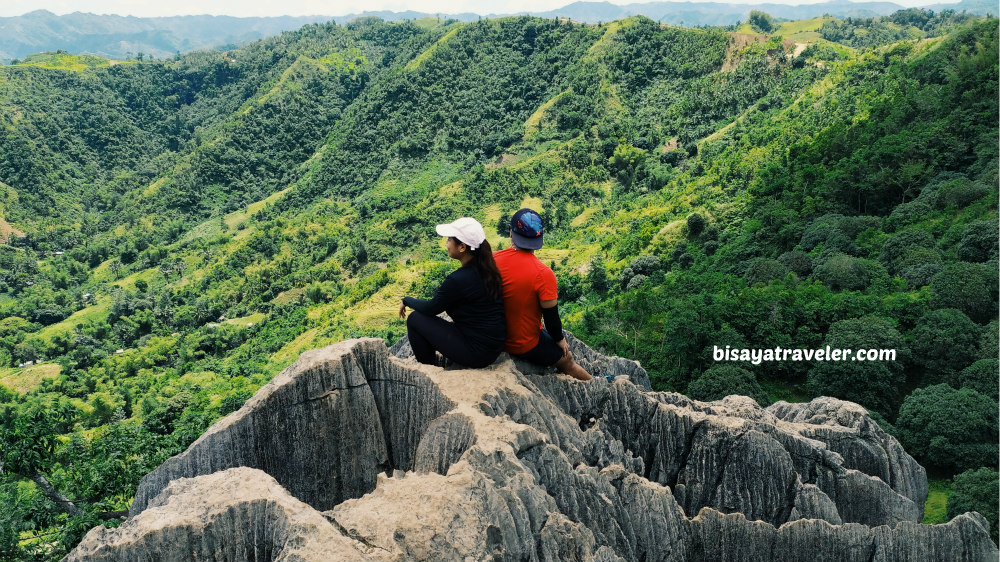 To me, Atabay Peak echoes the beauty of Licos Peak, Mount Mauyog, Mount Kapayas, and Lantawan Cliff.

Happiness, then, rushed through me. And, I was determined to make the most of every moment, as we explored the Atabay Peak and the other attractions in Tuburan Cebu.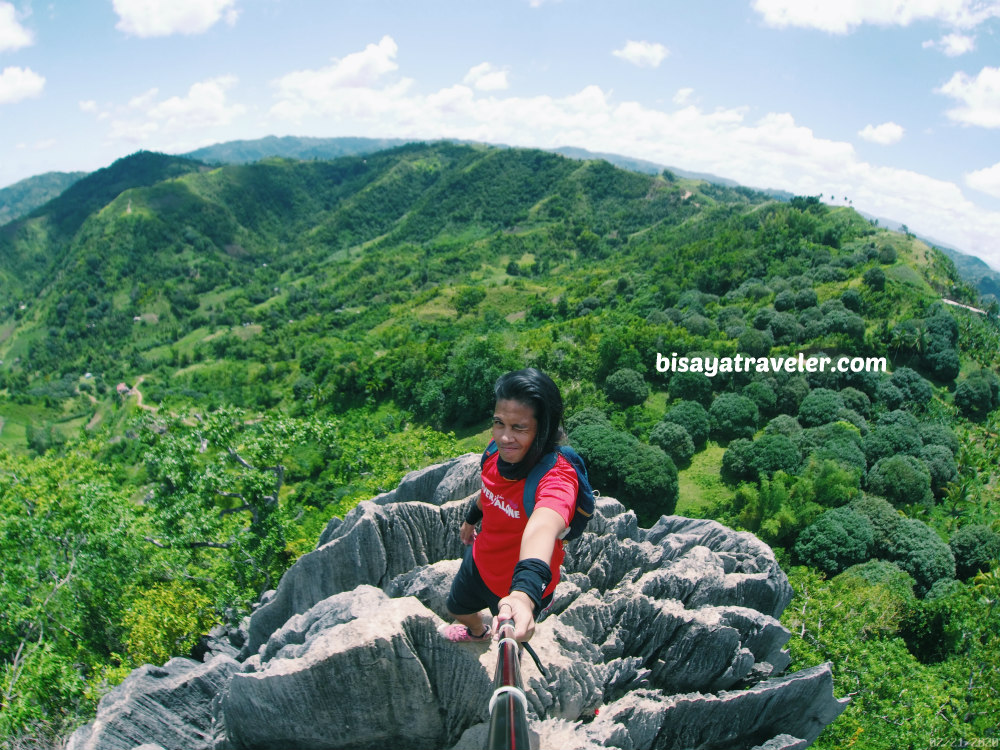 Thrilled, we spent time admiring the awe-inspiring view and soaking up the fresh mountain air.
As Raul struggled to tread the limestone cliffs, I suddenly remembered how people are reacting to today's issues.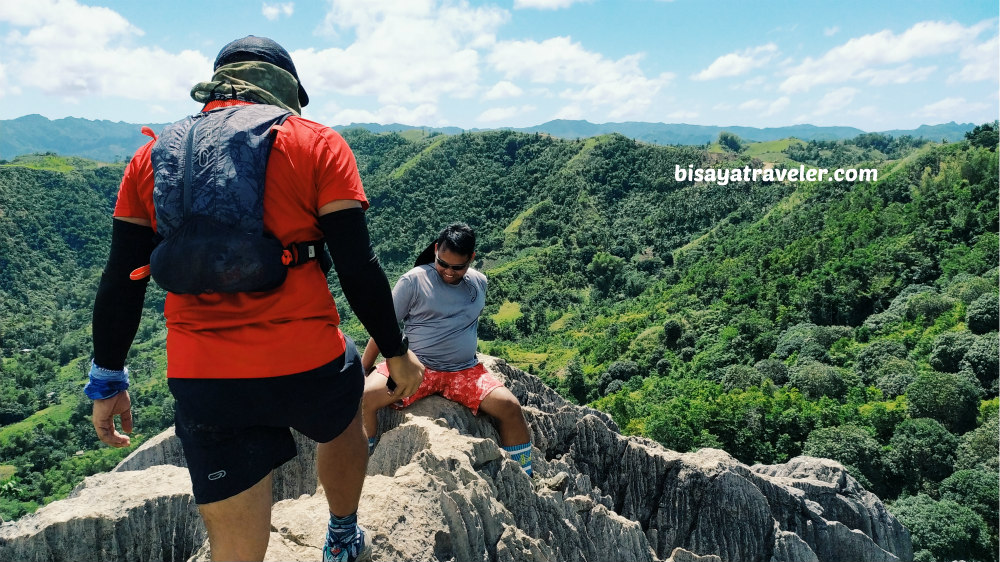 From the COVID-19 outbreak to forest fires, 2020 has been, thus far, a can of worms.
I guess someone must have opened Pandora's Box in 2020 because it has been a non-stop downpour of tragedies and problems.
And, these problems, especially COVID-19, have caused mass public hysteria.
From hoarding to unethical practices, people have panicked and gone to extreme lengths to evade the dreadful COVID-19.
Everyone is afraid of getting infected and dying.
But, no matter how hard we try, in the end, we all die.
Sooner or later, our bodies – our earthly cells – will rot and turn into ashes.
Death is an inescapable part of our cycle.
There's no fountain of youth or elixir of life that will save us from this eventuality.
No one is going to live forever in this world. We are slowly dying from the moment we were born.
The best thing to do is to accept your fate and trust the Universe.
Just follow the signs, and let the Universe handle everything.
So, do what you love to do, and don't overreact to anything you see and hear online.
Life should not be rooted in fear. You were born for love, joy, wonder, and to marvel at the beauty of the world.

Like you, I don't want to die. But, I'm not afraid of dying either. I have a lot to lose – a beautiful daughter, a family, and a decent career.
But, if my fate is to die prematurely, then I will embrace it with arms wide open.
If I die today, it means I have served my purpose in the grand scheme of things.
It means I have done what I was meant to do, and I must move on to the next phase.
So, f*ck you CoronaVirus!

Unlike the panicking masses, though, Raul treads the limestone rocks carefully.
He reads the situation meticulously, and he doesn't make irrational decisions.
He doesn't listen to outside noises and studies everything before making a move.
That, ladies and gentles, is how people should react to the ongoing COVID-19 outbreak.

As I was standing on the peak, I was in awe of the vast landscapes of the North. Earlier, the caretaker of this attraction in Tuburan Cebu said that there are paths that lead to Mago and Cebu Safari Park.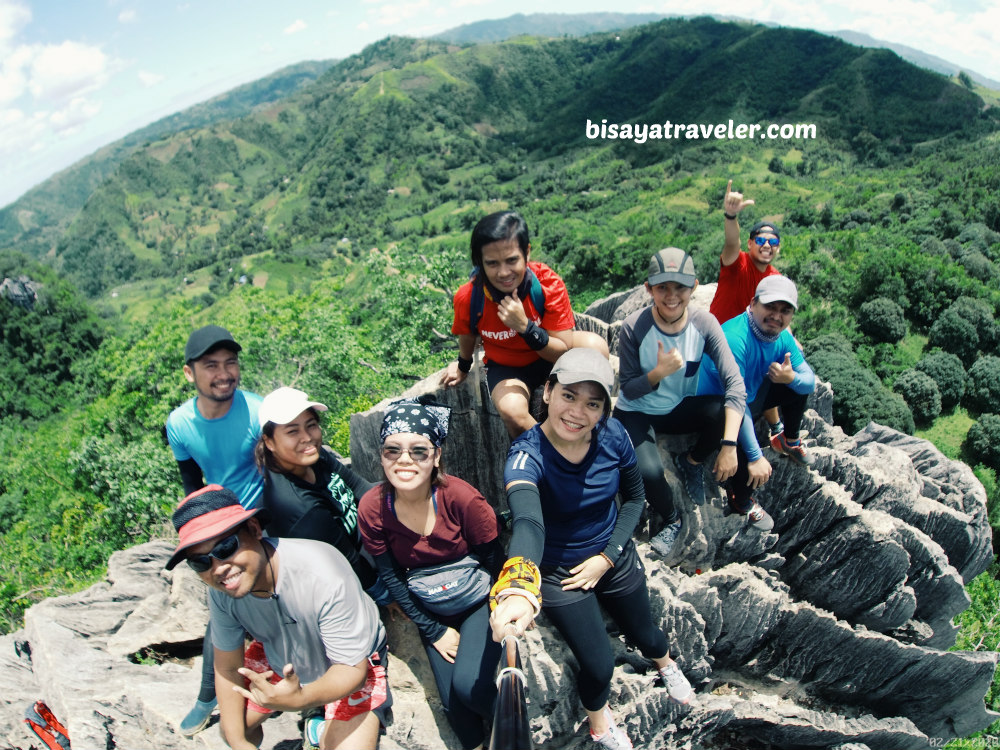 And I couldn't help, but imagine hiking these paths from Tuburan Cebu to Danao or Carmen.
In fact, it filled my heart with excitement and enthusiasm.
Part of the reason we went to Atabay Peak is to find a trail linking Tuburan Cebu to the Northeast towns of Northern Cebu.
And, thankfully, we were getting closer to completing our mental map from Tuburan Cebu to either Danao or Carmen.
Then, we saw a cliff that looks pretty similar to Atabay Peak.
From afar, it looks scalable and beautiful. Maybe, this was a sign from the Universe.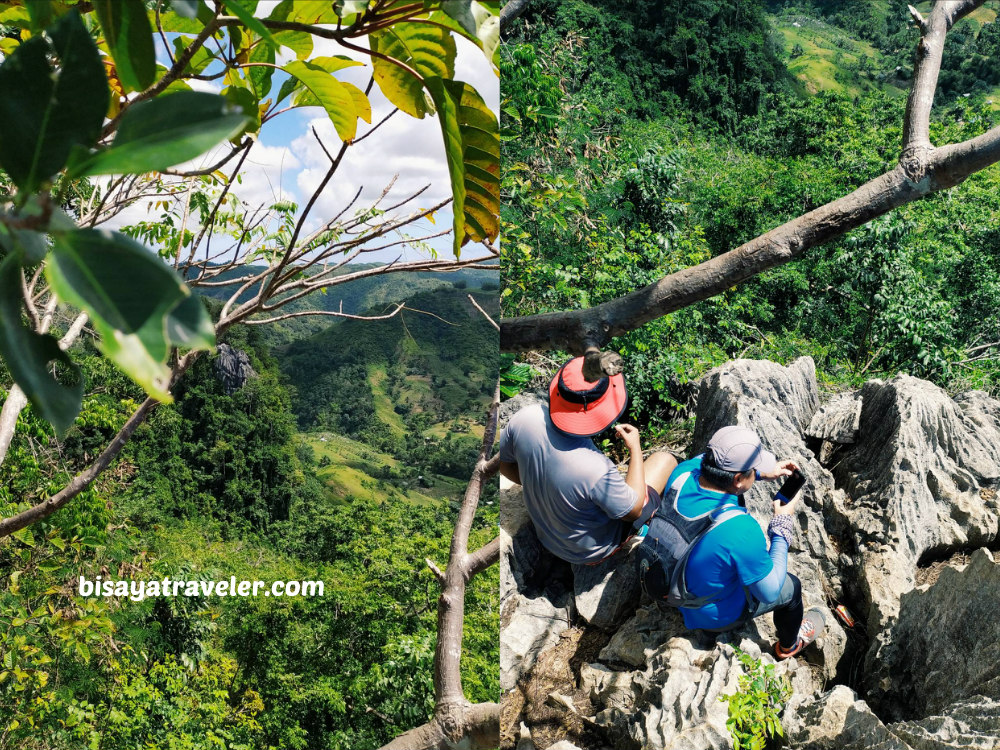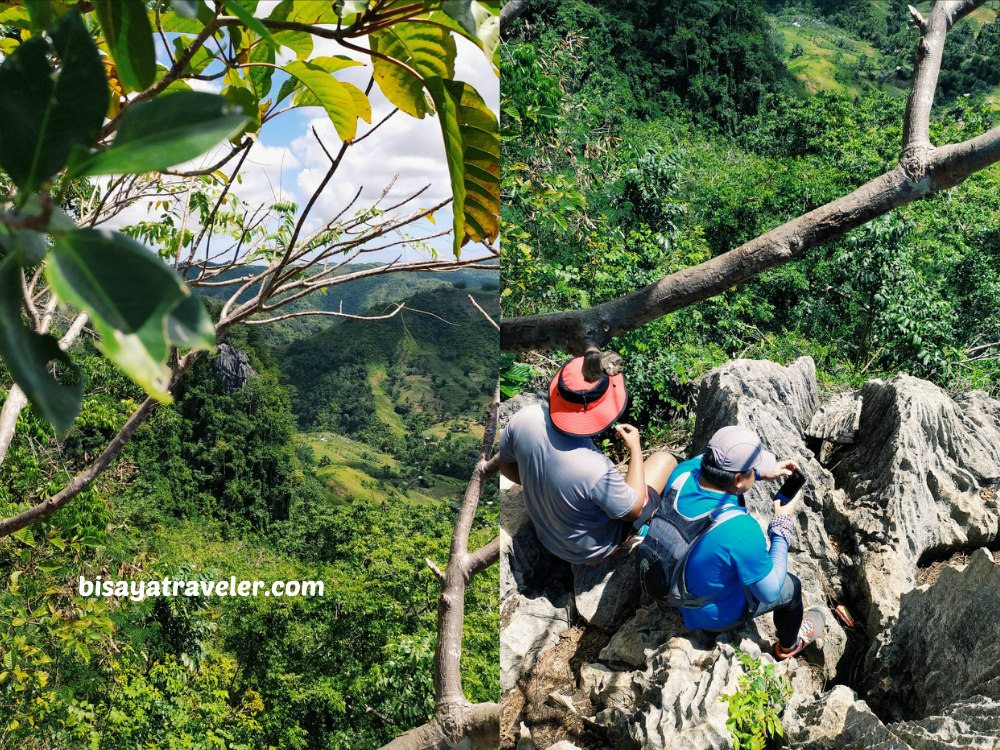 Shortly after, we descended from Atabay Peak and found a path that might take us to the nearby cliff of Atabay Peak.
We, ultimately, reached the base of the cliff. Unfortunately, there was no clear path to the summit. But, on the bright side, we saw the snaking river that leads to Marmol Cliff.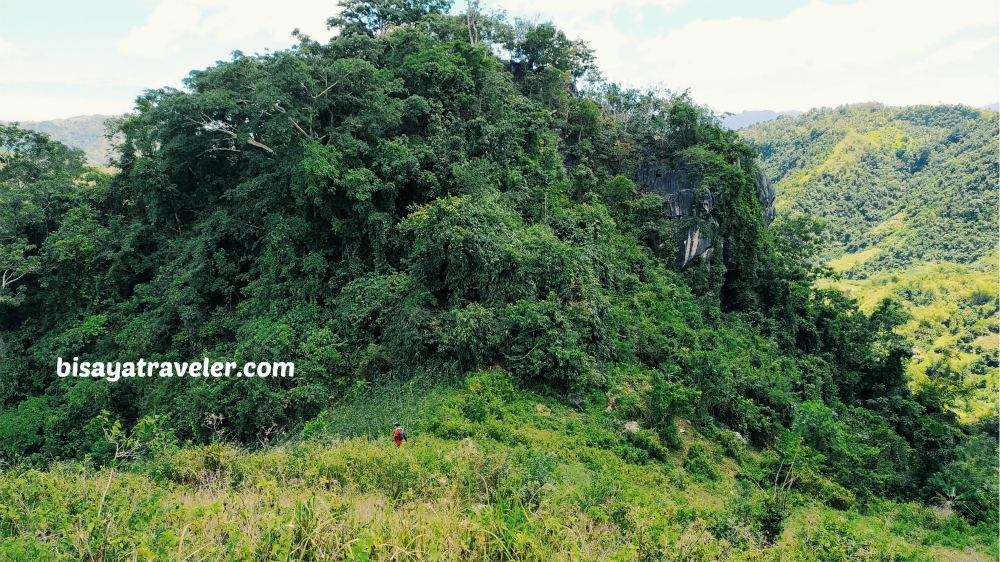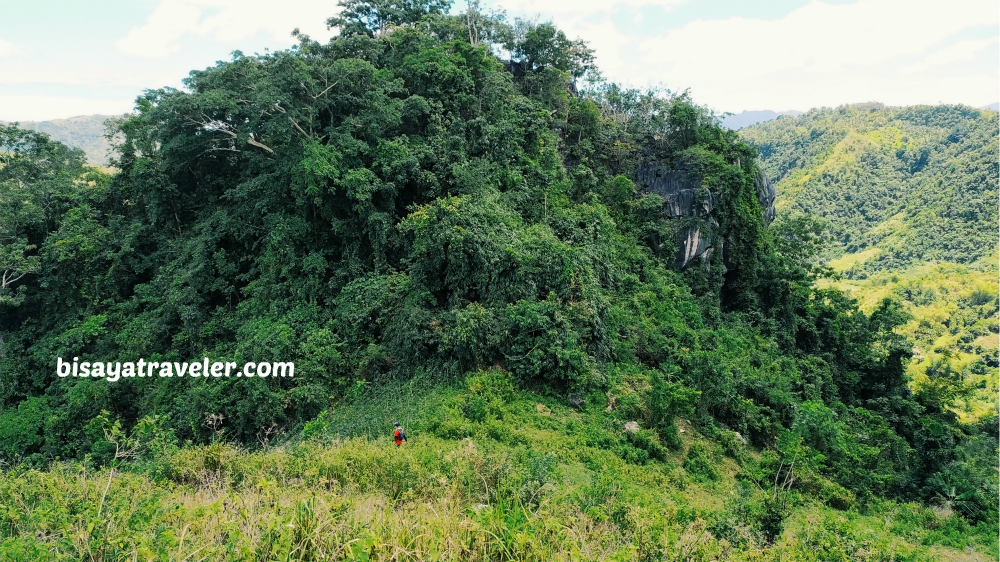 Moreover, we saw ridges and trails that hopefully would take us to the river.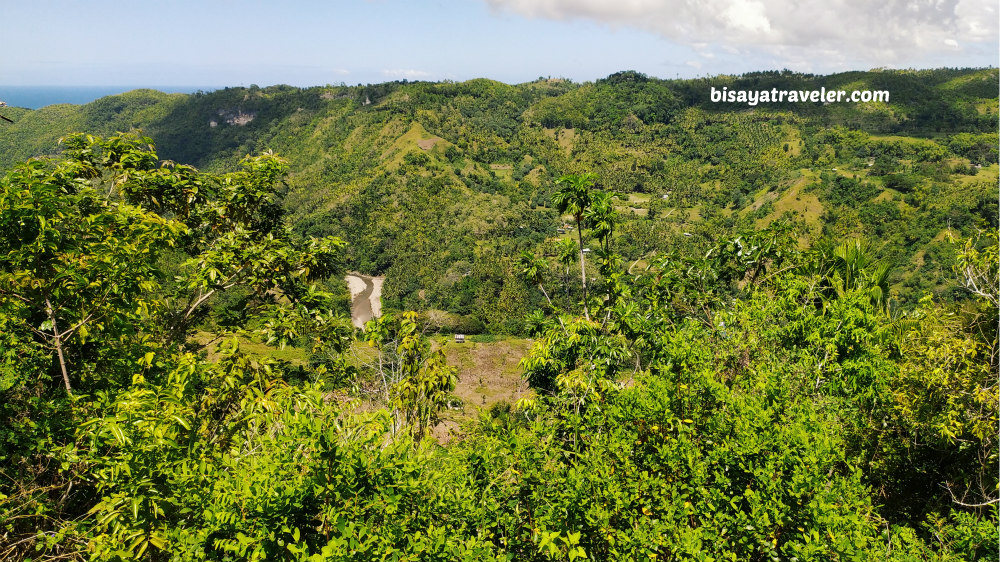 Didn't I say trust the Universe?

2nd stop: Marmol Cliff
Before we climbed Atabay Peak, the attraction's caretaker gave us hints and suggestions on how to get to Marmol Cliff from the base of the peak.
But, thanks to that beguiling cliff, we took a different and more difficult trail.
And, the first part of the trail swept me into bliss. It was open and wide with no loose soil and rocks.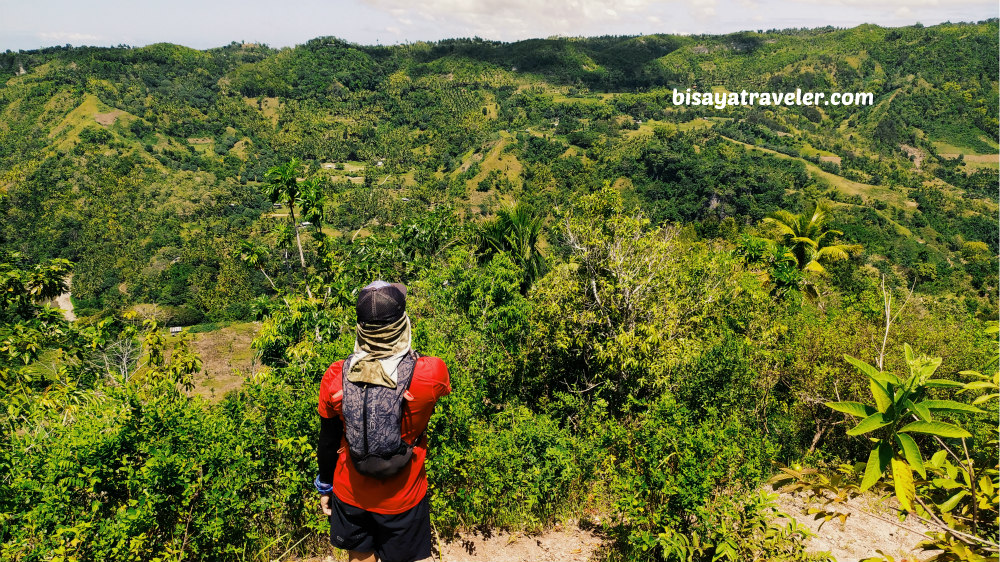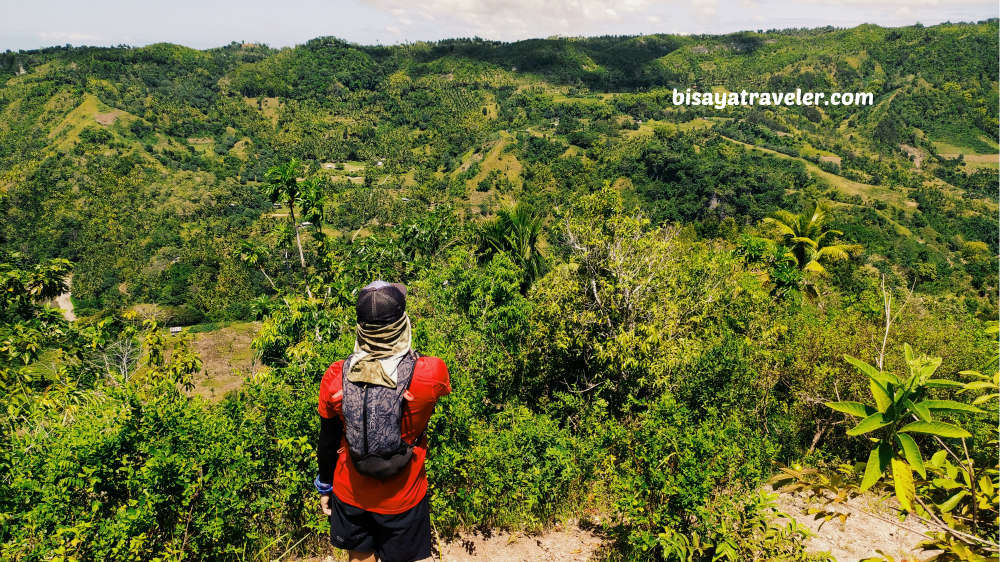 Excited and amazed, Beboy and I ran like gazelles in the wild. And, I love the feeling of speed as well as the sensation of jumping in the air.
I was falling in love with the world again. Weeks being bombarded with negative vibes have slightly changed my perception of humanity.
On that day, the scenic nature views, fresh mountain breeze, and a lot of Vitamin D gave me a healthy dose of optimism.
There were, however, a few challenges on this part of our adventure in Tuburan Cebu. First, we got lost with no one around to shed some light on the path leading to the river. Afterward, we descended on a steep trail with only the tall grass to hold onto.
With a little help from a handful of kids, we discovered this spot as well as the trail to one of the most famous attractions in Tuburan Cebu.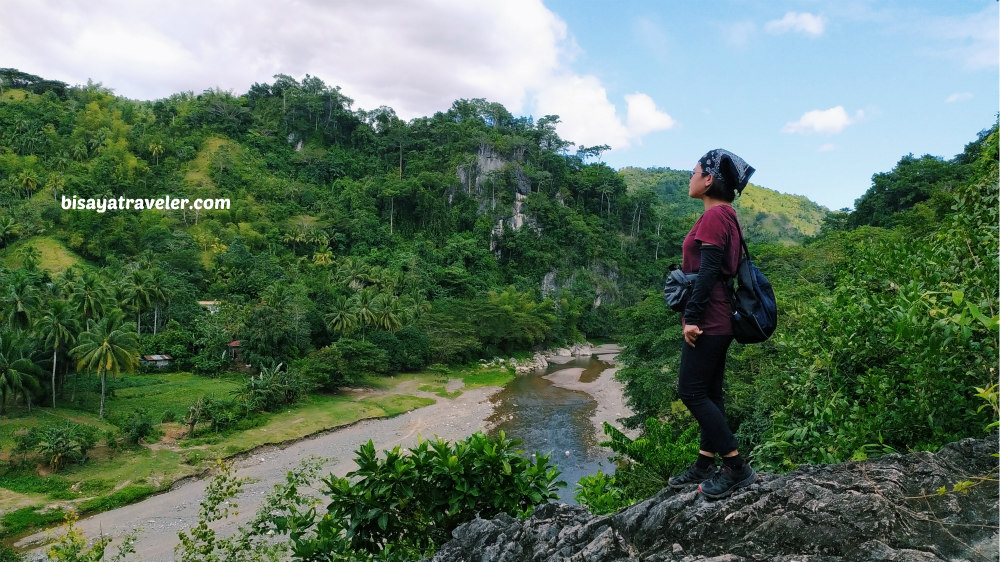 Since we were all hungry, we decided to eat our lunch there. And, on our way down, we saw a store selling drinks and a plethora of goodies.
There, I drank a mouthful of Seetrus for the first time.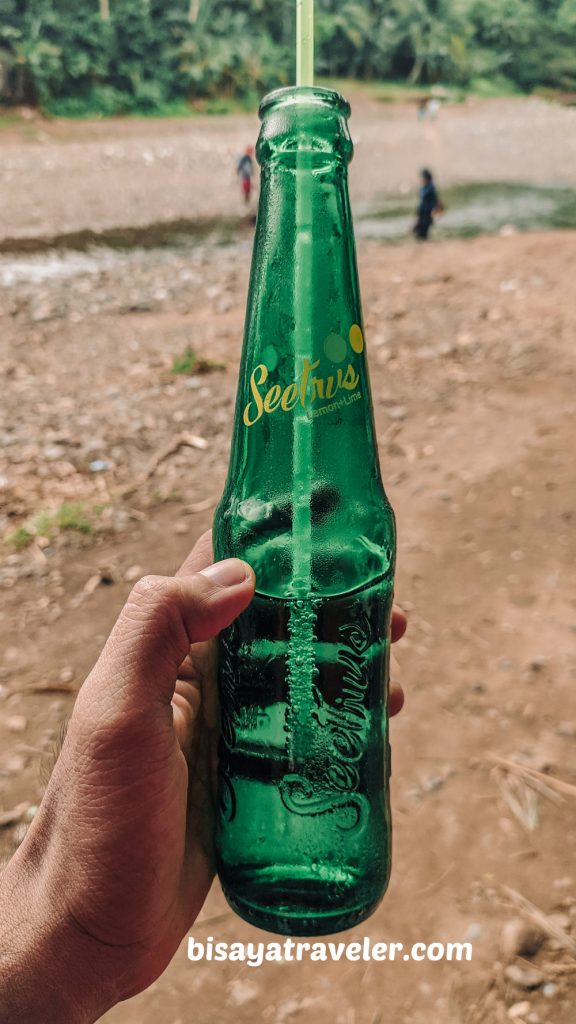 Truth be told, I had never heard anything about this soft drink brand until that day. But guess what? It tastes quite like the hiker's favorite – Sparkle.
From the store, we were meters away from arguably the most popular Tuburan Cebu tourist spot.
So, we crossed the river a couple of times and ultimately arrived at Marmol Cliff in Tuburan Cebu.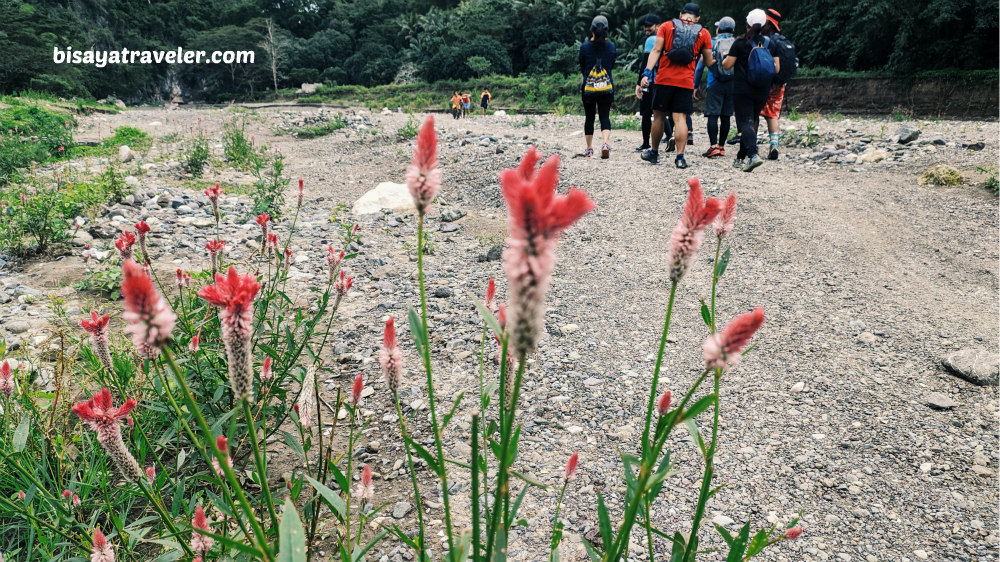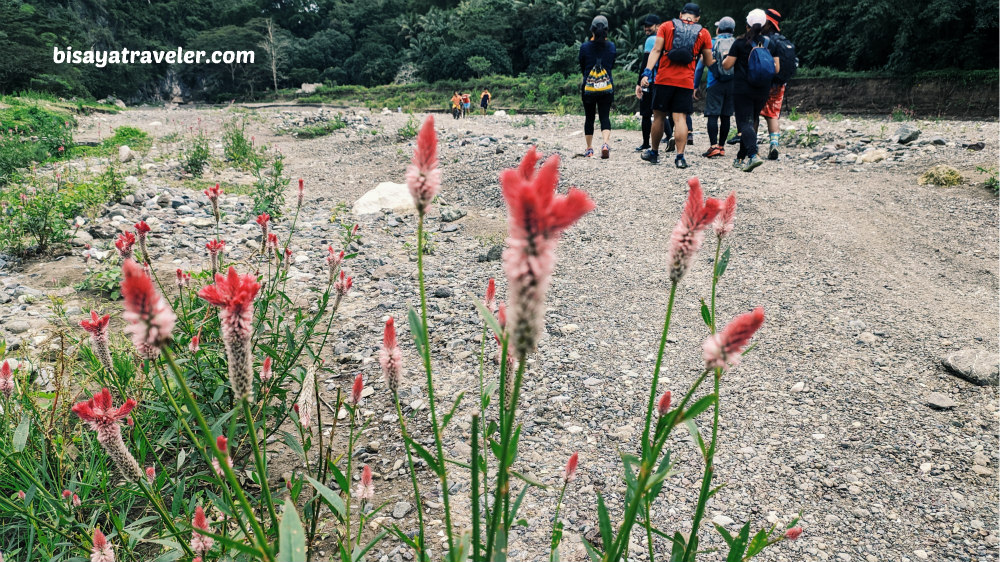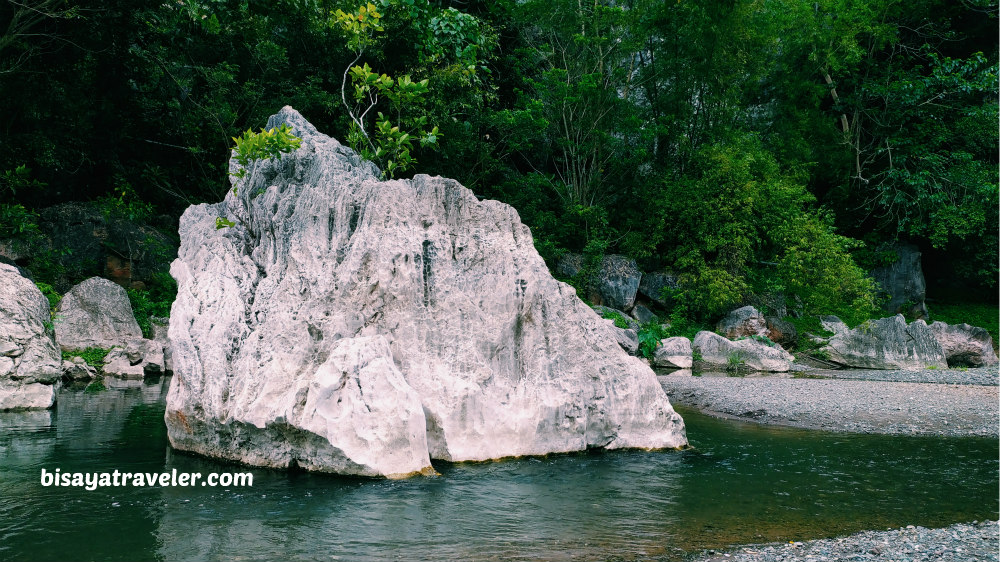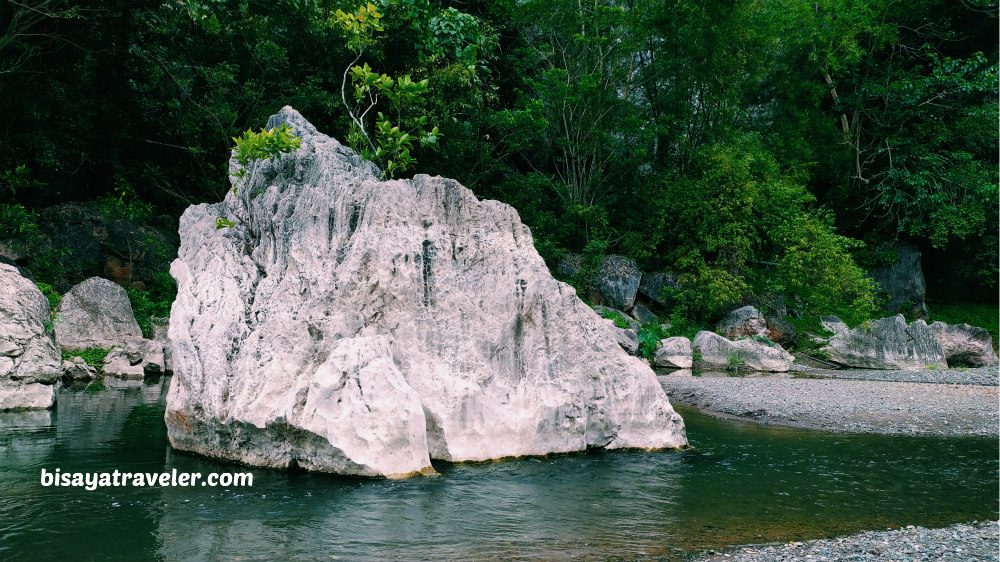 When I first saw Marmol Cliff, I wasn't exactly blown away by its beauty.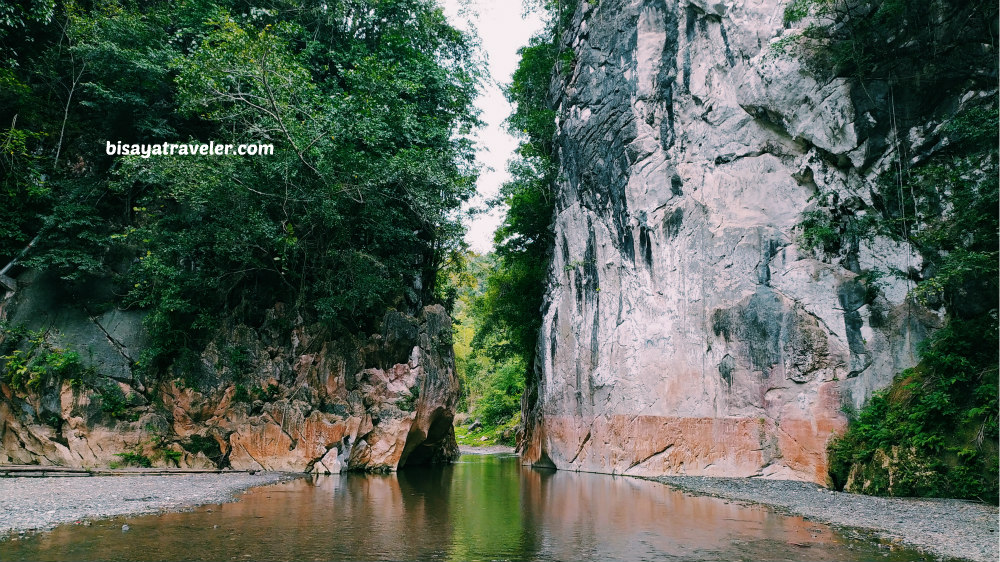 Don't get me wrong. It's stunning, enthralling, and picture-perfect. But, it wasn't as spectacular, jaw-dropping, and towering as what I had in mind.
I wasn't disappointed, though, and I didn't regret making a pit stop at Marmol Cliff in Tuburan Cebu.
And besides, adventure is always about the people, the learning experiences, the mishaps, the challenges, and the thrill of being free in the wild.
We spent some time there, taking in the mystical atmosphere and snapping photos of this attraction in Tuburan Cebu.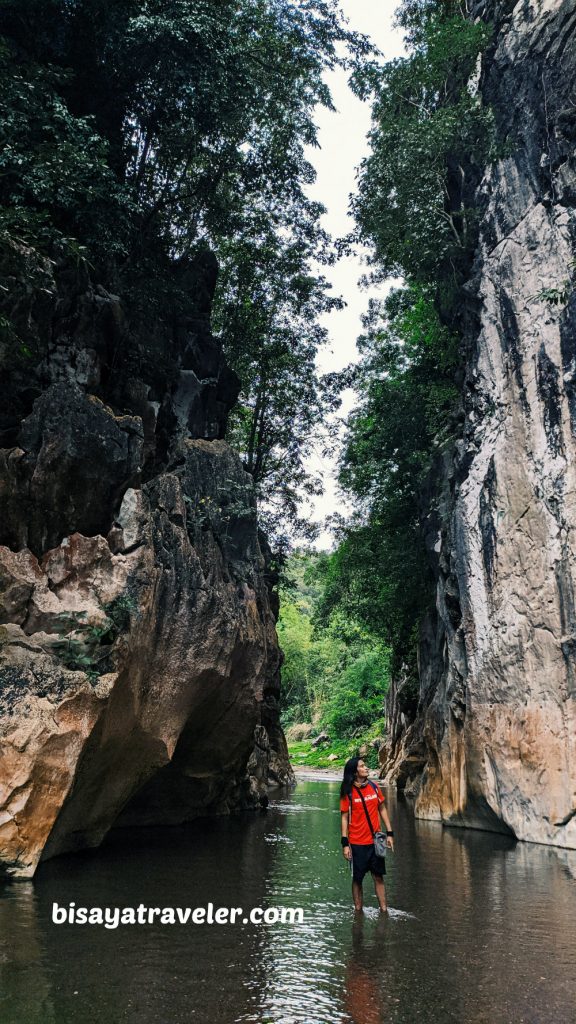 A group of visitors, soon after, arrived at Marmol Cliff.
And, that was our cue. We had to go and see if there are any attractions in Tuburan Cebu that we can fit into our schedule.

Just as we were about to leave, a fit, healthy, and friendly biker arrived. With enthusiasm, he gave us information about those huge pipes near Marmol Cliff as well as detailed the history of the cave nearby.
He was a terrific storyteller. He even shared the story about the mysterious cave and the beautiful fairy of Marmol Cliff.
Even better, he gave us ideas on how to hike all the way to Catmon or Carmen from Marmol Cliff.
We walked for about 7 to 8 kilometers from Marmol Cliff to Tuburan proper.
Along the way, we laughed and shared tons of different stories.
In the midst of all, a theory about the current virus outbreak popped into my mind.
COVID-19 is, as far as I'm concerned, a modern form of terrorism.
And, I'm not saying China is the villain to this reality in 2020. Heck, China might even be the biggest victim in this on-going fiasco.
NCoV is a weapon, in its primitive stages, engineered to terrorize the world.

The purpose of terrorism is to instill fear in the hearts of the public.
And, as we all know, this virus outbreak is doing a fine job terrifying and frightening the public masses.
Businesses and schools are closing down.
The streets are becoming empty.
And, people are afraid to step out of their homes.
We can't fight this terrorist with ammunitions, heavy artillery, or even nuclear weaponry. But, we can prevent fear from spreading by sharing a little optimism and being wise in what we share online.

I also realized how lucky the adventurers in Cebu are. COVID-19 may have curbed our enthusiasm for exploring other countries and provinces, with all the travel bans and restrictions today.
But, there are still plenty of wondrous unheralded places, like Tuburan Cebu, that we can explore without the COVID-19 threat.
And, even with an on-going global crisis, there are plenty of reasons to love life.
You have your friends and beautiful memories of your escapades that can add more color to your life.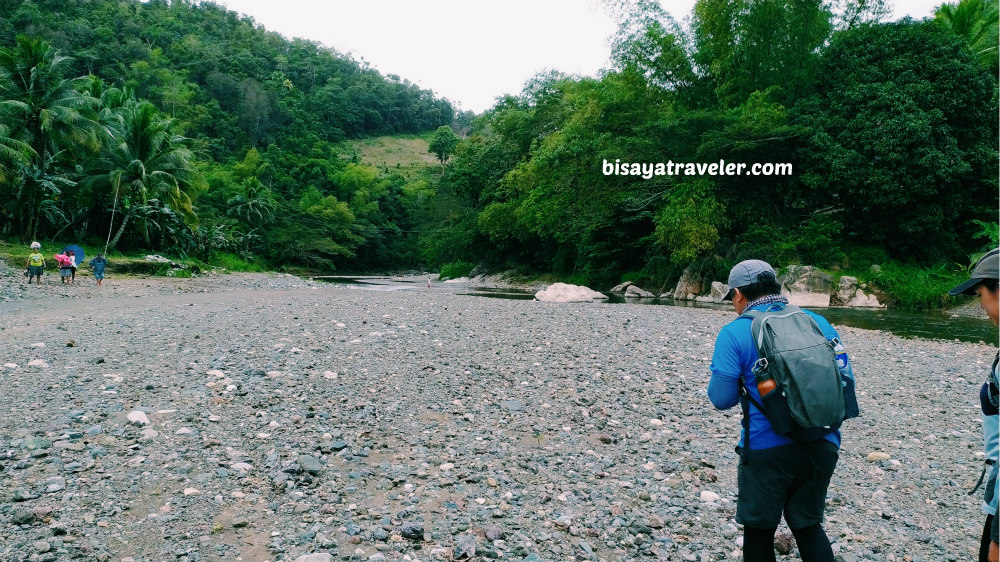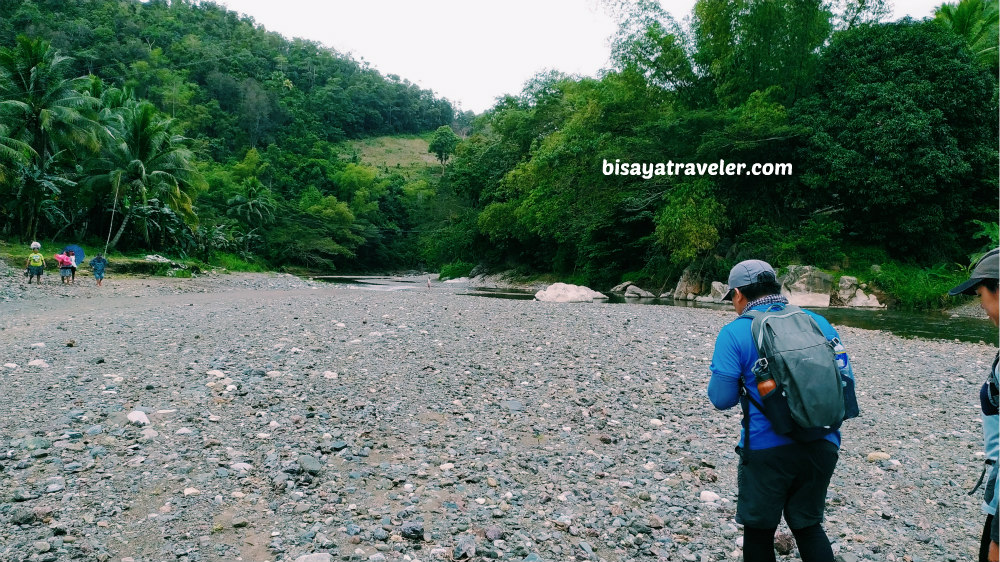 When we arrived in Tuburan proper, we found out that we have enough time for one more stop. And, the only place I could think of was Blue Hole Spring in Tuburan Cebu.

3rd stop: Blue Hole Spring in Tuburan Cebu
Getting to Blue Hole Spring with Mark's vehicle wasn't a breeze. Not only were the roads narrow, but some lanes were still under construction as well.
And, when we arrived at Blue Hole Spring, we had a hard time finding a good parking spot.
But, as they say, difficult roads lead to beautiful destinations. And, Blue Hole Spring was such a visual treat.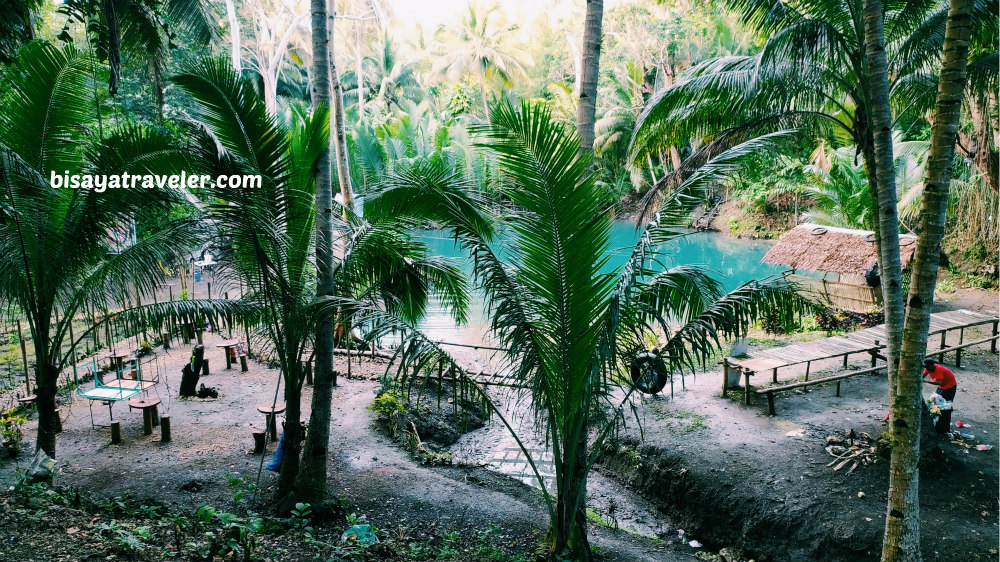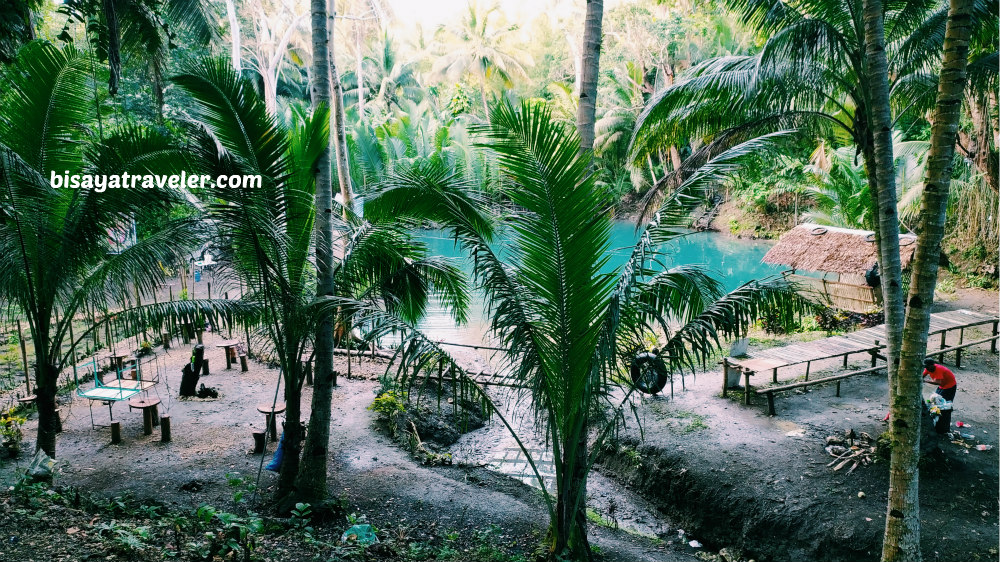 For some reason, no one was in the mood for a swim, despite the tempting and refreshing brackish water of Blue Hole Spring.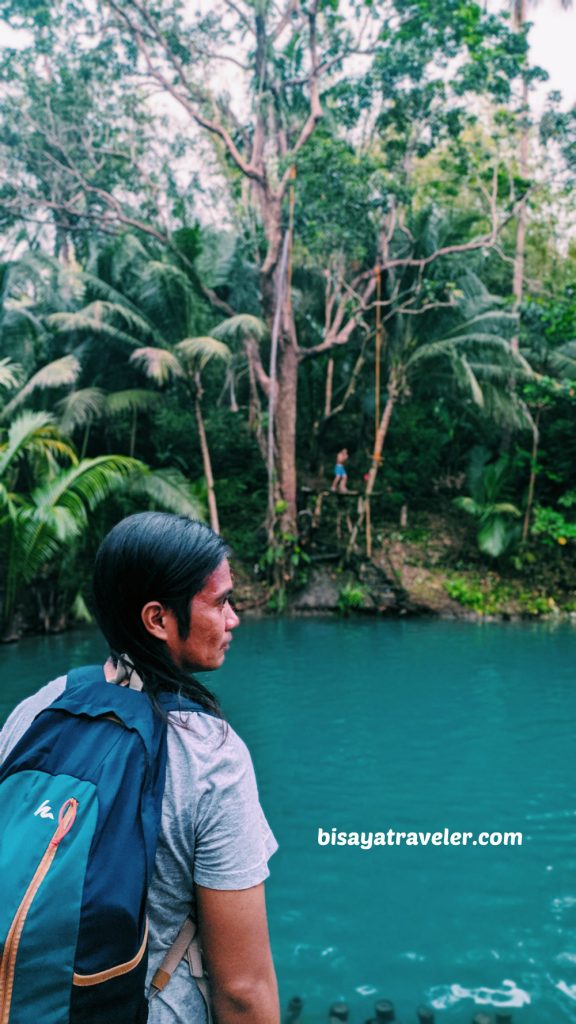 We were just happy to be at Blue Hole Spring in Tuburan Cebu, living and loving life amid a global crisis.

How to get to Tuburan Cebu
Tuburan is around 83.6 to 91.9 kilometers from Cebu City, depending on the route you'll take.
Via car
If you're traveling via a private vehicle, the fastest way is to drive via Transcentral Highway.
Travel time is around 2 hours, but you'll need a well-conditioned vehicle, as you'll be driving on a steep and winding road.
Honestly, though, I don't recommend driving to Tuburan Cebu if you're an inexperienced driver.
Via V-hire
From the v-hire terminal in Ayala Center, hop on a van that will take you to the town of Tuburan Cebu via Transcentral Highway. Travel time is around 2 to 3 hours, and the fare is PHP 140 per person per way.
Via bus
There are buses both on Cebu City South Bus Terminal and North Bus Terminal. Travel time is 3 hours more. I'm not sure about the fare, but it's a tad cheaper compared to riding a v-hire.
It's a long journey and a pain in the ass, but at least it will save you some cash.

How to get to Atabay Peak
Upon your arrival at Tuburan Cebu, look for a motorcycle taxi (habal-habal) that will take you to Atabay Peak. Travel time is less than 30 minutes, and the fare is PHP 50 per person per way.
One habal-habal can carry 3 passengers.
As for the hike itself, it's relatively easy even for beginners. It will take about 5 to 15 minutes of walking. Even so, be careful when treading the limestones. One false move and you might end up with a nasty cut or injury.
There's no entrance fee, as of this writing, but donations are recommended.
How to get to Marmol Cliff
Once you arrive in Tuburan Cebu, you'll have to take a habal-habal ride to Marmol Cliff. Fare is around PHP 400 (back-and-forth and good for two passengers).
If you love to hike like us, you may walk your way to Marmol Cliff. Distance between Marmol Cliff and Tuburan town proper is around 7 kilometers.

How to get to Tuburan Blue Hole Spring
From Tuburan proper, take a habal-habal ride to Tuburan Blue Hole Spring. Fare is around PHP 20 to 50, and travel is less than 20 minutes.

Our Tuburan Cebu itinerary
07:00 AM: Meet up at Ayala Center Cebu
07:30 AM: Depart from Cebu City
09:50 AM: ETA Tuburan town proper
10:20 AM: ETA Atabay Peak base/ preparation
10:30 AM: ETA Atabay Peak/snapping pictures
11:30 AM: Depart from the peak
12:30 PM: Lunch
01:30 PM: ETA Marmol Cliff
04:00 PM: ETA Tuburan proper
04:50 PM: ETA Blue Hole spring
06:00 PM: Depart for Cebu
09:30 PM: Home sweet home