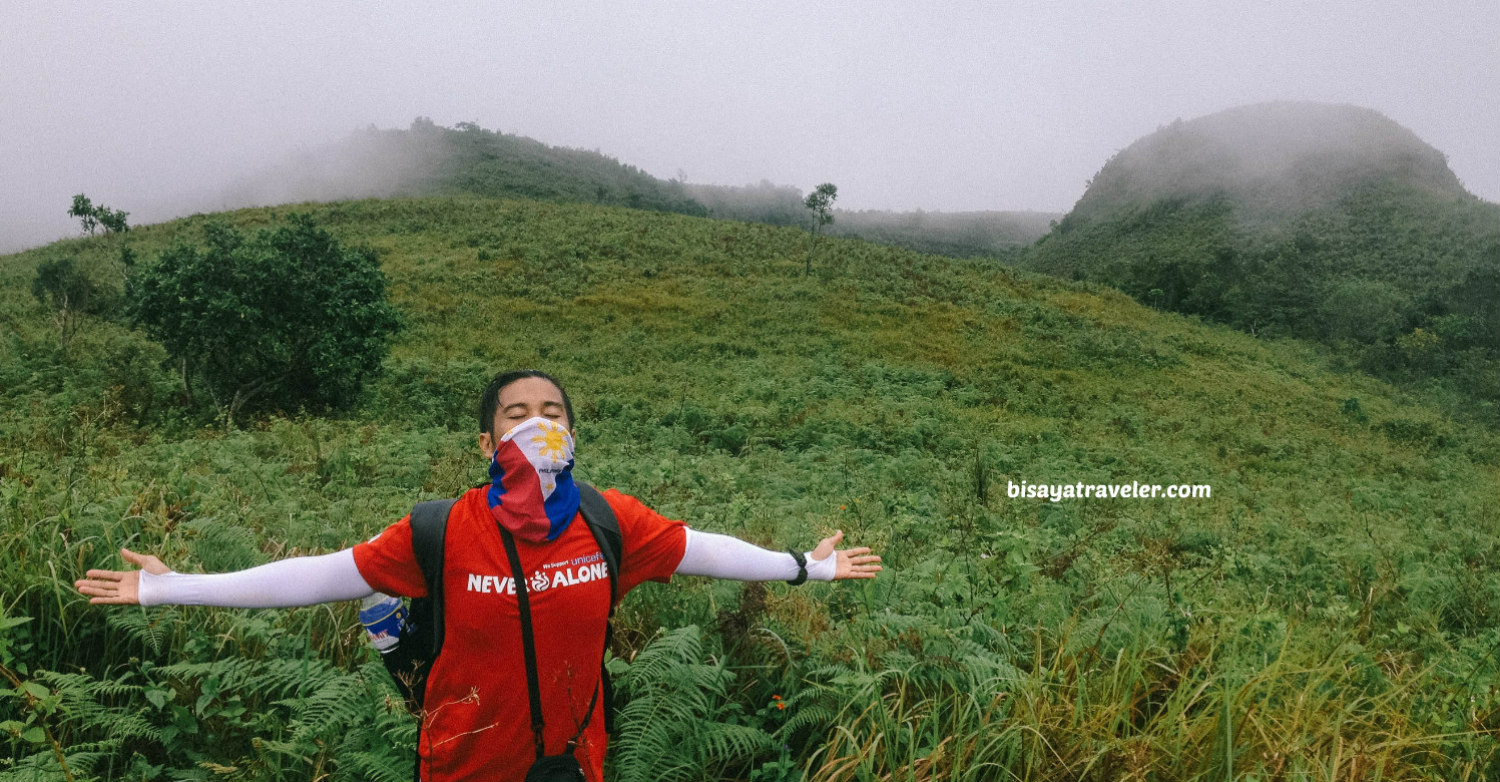 Mount Kalatkat And Sayao Cave: A Perfect Recipe For A Memorable Adventure
Modern-day life can sometimes feel like a brutal, dragging and melancholic cycle.  Urged to be extra competitive by our society, we study extremely hard in school and work our tails off, just to survive in this bustling world.  And, when we finally have the money and time to enjoy life, we're just too old and sick to do the things we want to do. To make things even worse, our children have to repeat this cycle, and likely undergo the same fate. Yet, in the midst of life's struggles and chaos, we are given a chance every week to savor life's joys and Mother Nature's masterpieces. And, in Cebu, you'll find a multitude of places like Mount Kalatkat where you can quickly escape the trappings of life.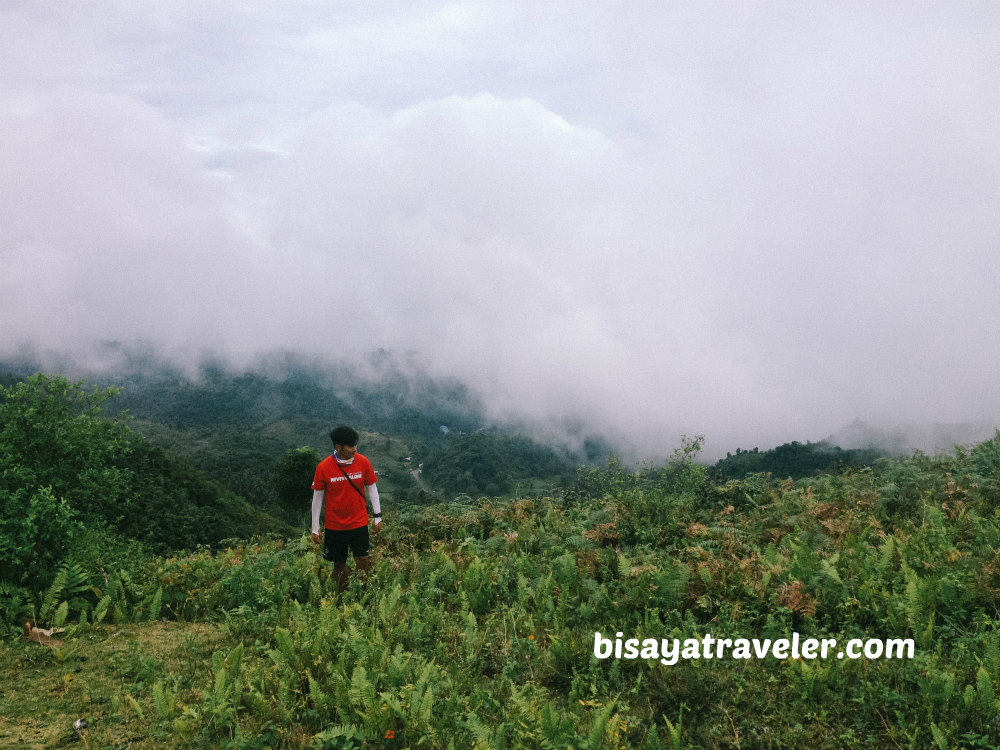 Speaking of life, the past couple of weeks have been quite a rollercoaster and a pretty stressful stretch for me. From bills and real estate investments to my freelance work, there were so many "adult stuff" that I and my wife have to deal with. I didn't get plenty of sleep, and was in a dire need of a spark that would inspire creativity and add flavor to my daily grind.
Luckily for me, Beboi and James Glendon came up with a solution, by organizing a day hike to one of the lesser-known peaks in Cebu – Mount Kalatkat in Carcar City. With the help of the charming Carcar ladies – Chris Mangyao and Daphne Devenadera, I got to hike Mount Kalatkat as well as experience a pair of natural wonders. Furthermore, I made a ton of new friends on my hike to Mount Kalatkat.
My Mount Kalatkat experience
My Mount Kalatkat hike started with a rendezvous at Cebu City South Bus Terminal. There, I caught up with some of the hikers of our outdoor escape – Grace, Dian, Raul and Beboi. Later on, the other hikers for our Kalatkat arrived in the scene, namely James, Ren Ren, Rex, Abdul and Chris.
With everyone from Metro Cebu geared up and ready for the hike, we wasted no time, and hopped on a bus bound for Ocaña, Carcar.
Upon our arrival, we ran into miss Daphne, took a shade and had a fun chat, while waiting for the Naga City girls – Ivy, Maricar, Geneva and Rona, to join us.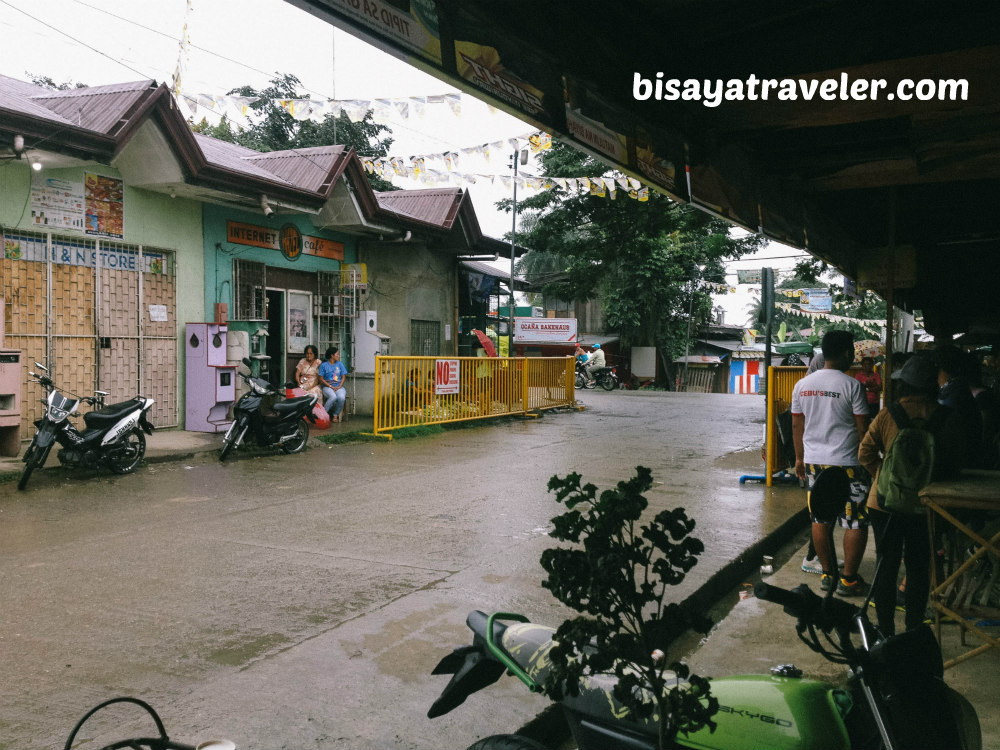 After the lovely Naga girls arrived in Ocaña, we charted a bunch of habal-habals, and went on a 45-minute bumpy ride to Kalangyawon Elementary School – the base of our hike.
And, even with the foggy setting and mild raindrops, everybody was psyched to hike Mount Kalatkat.
We, then, said a short prayer, and made quick formal introductions, before commencing on our hike. And, our adventure to Mount Kalatkat began!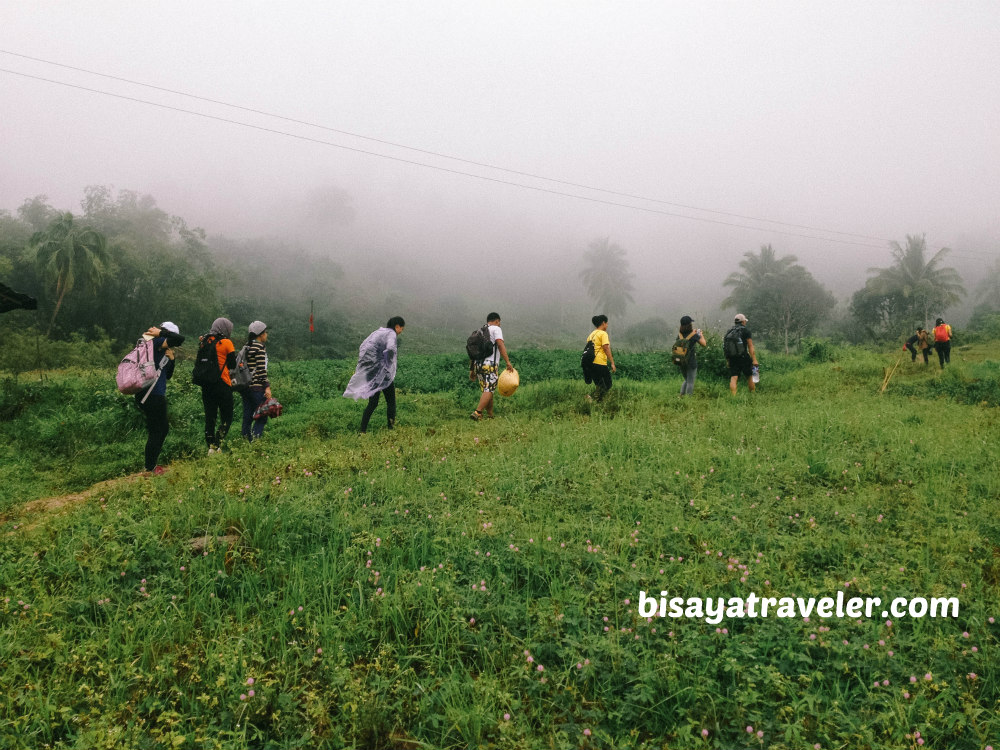 From the get-go, I knew our hike to Mount Kalatkat was going to be full of giggles, spills and jokes. After all, I was hiking with two of my favorite and funniest adventurers in Cebu – the who-goat king James Glendon and the quirky Tatay Wanderer with his legendary stomach.
And, I wasn't wrong. Raul's old-man moves and wisdom paired with James Glendon's witty hugot lines made the entire hike supremely fun and pleasant. In my book, it was a match made in heaven, and a perfect blend of the young and old.
As for the hike, the first part of the trail was relatively mild with a few ascends. While it was slippery, it was rather manageable, even for those who weren't wearing trekking shoes.
As with most typical day hikes in Cebu, we made stops along the way, to get a quick breather and snap photos.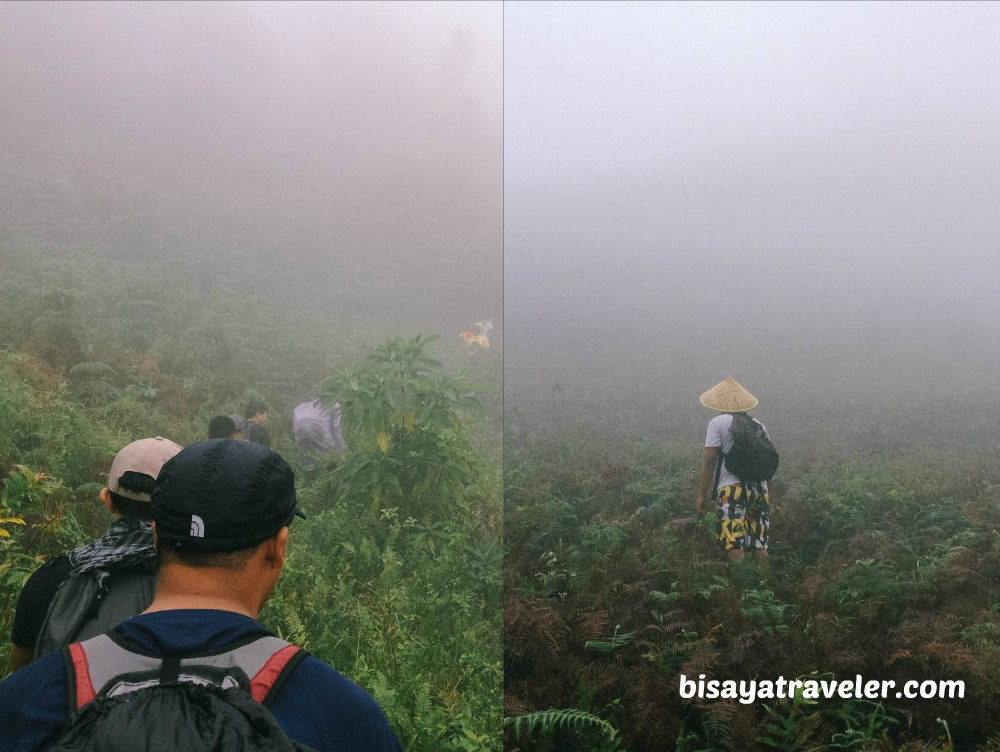 As we resumed with our hike, James, Ren Ren and Abdul told us that they would be temporarily the group's "sweeper", so they can take groufies and photos of the foggy scenery.
Of course, I and Beboi agreed to their request, and went on with our hike to Mount Kalatkat.
But, there was a strange mystical occurrence that gave us the chills, following our split up with James Glendon's crew.
As we were hitting the trail to Mount Kalatkat, we didn't notice James and the rest of the gang following us.
And, with the fog getting thicker and the weather getting chiller, we decided to stop for a minute, and wait for them.
But, there was no sight, sign or sound of the trio getting closer to us.
We used our whistles to lead them to the right direction, but there was no response from them at all.
Moments later, we heard a sign of hope – a group of people laughing joyfully. Likewise, we saw a silhouette of person walking towards us with an umbrella over his head.
"They're coming. I can hear their giggles", said Beboi.
Still, we didn't find anyone approaching us. As far as the silhouette is concerned, we found out that it was just a leafy plant that resembled a person. Yikes!
I had to do something!
So, I went back to their location, to figure out what exactly happened.
And, guess what? There was not a single living soul there! Moreover, the place exuded an undeniable spine-tingling, mysterious aura. With its cold, serene atmosphere and thick fogs, it somewhat reminded of horror flicks, like "The Mist" and "The Forest".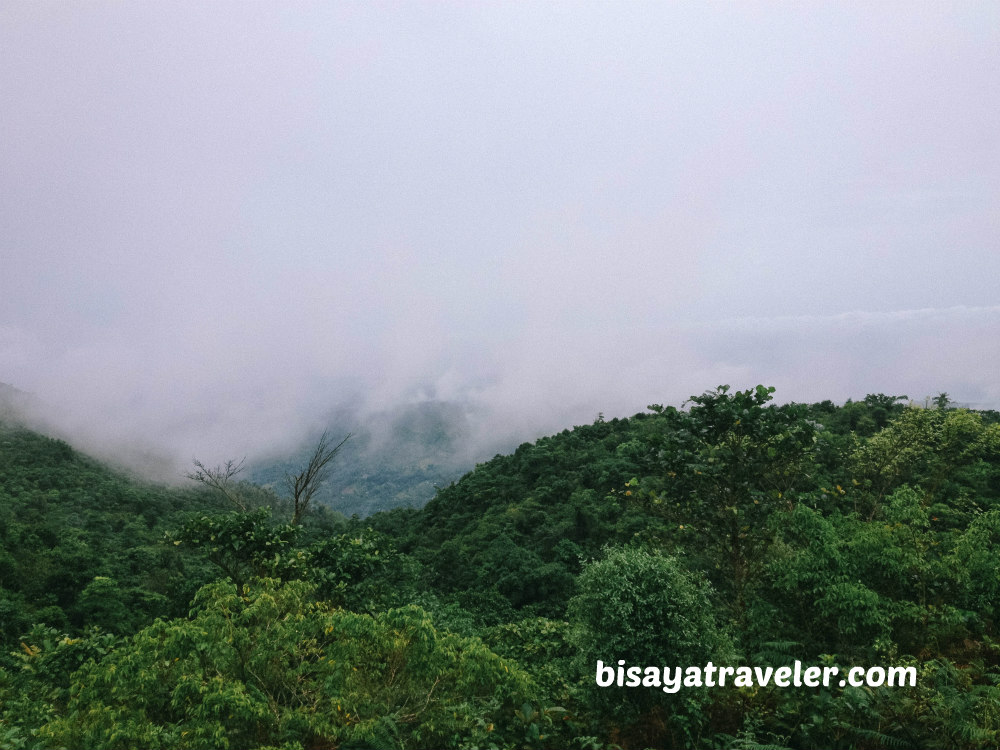 Although I wasn't scared, I rushed back to Beboi's location, to inform them of my findings.
And, amazingly, they found James and his two buddies on top of a hill.
Truth be told, I find it puzzling for them to reach that hill.
They told us that they simply followed the wider and more established trail, to catch up with the rest of the group.
But the thing is, I didn't see the trail they were referring to, as I was trying to find them.  Even worse, Abdul lost his wallet, on their way back to the group.
I'm no expert, when it comes to paranormal beings, but I did notice something unusual about the place.
We had to take another pause, to give Abdul, Daphne, Ren Ren and James some time to find the lost wallet.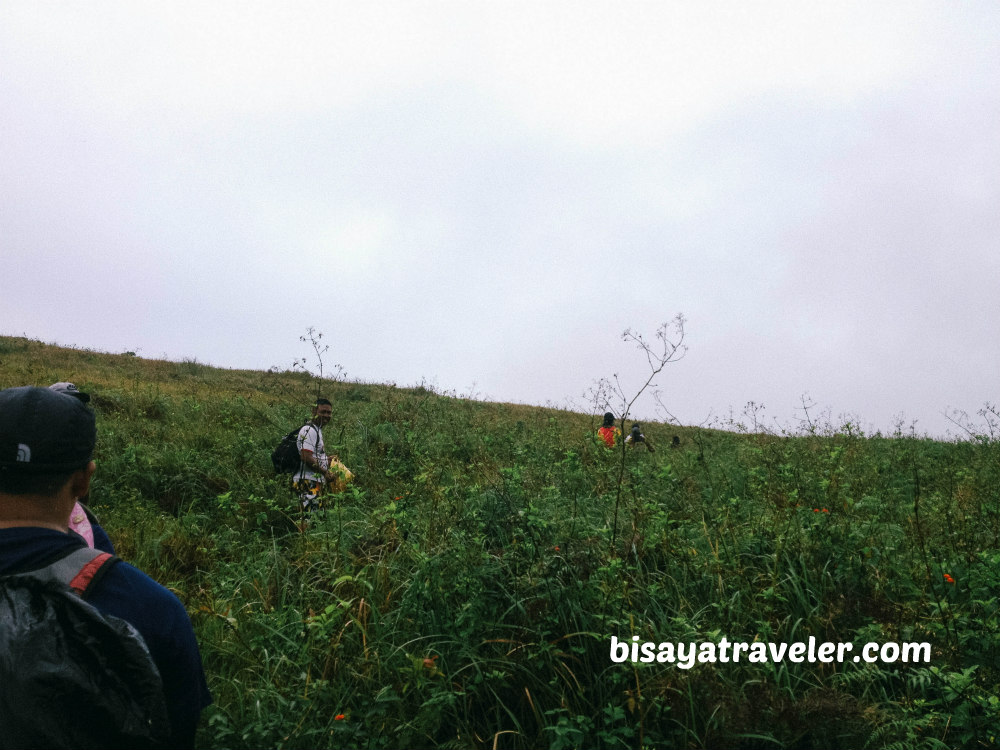 To ease up and divert the squad's attention, I turned to Raul for some entertainment.
As usual, the Tatay Wanderer delivered, showcasing his unique skills and talents that make him every hiker's best friend.
When we asked him about the meaning of OOTD, he gave us answers that sent us into an uncontrollable fit of laughter.
I burst into laughter, and was literally clutching my stomach in pain, as soon as he answered "Online Order Two Days" and "Outdoor Order Of The Day".
Eventually, he figured out the exact answer to our question, with hints from the other hikers of the group.
Man, Tatay is truly a game changer. He can uplift a person's mood, and make anyone smile, with his unique personality and jokes.
You just need to feed him a lot of goodies, though.
Since Daphne's gang didn't find anything on their search mission, they decided to get back on the trail, and move on with our Mount Kalatkat Hike.
Afterwards, we took on the bushy, muddy, slippery and slightly challenging trail to the top of Mount Kalatkat.
There were plenty of rolls, twists and turns, on our way to the summit. Plus, there was no shortage of vines and thorny plants on our way up. In some parts of the trail, we had to crawl and use our acrobatic talents.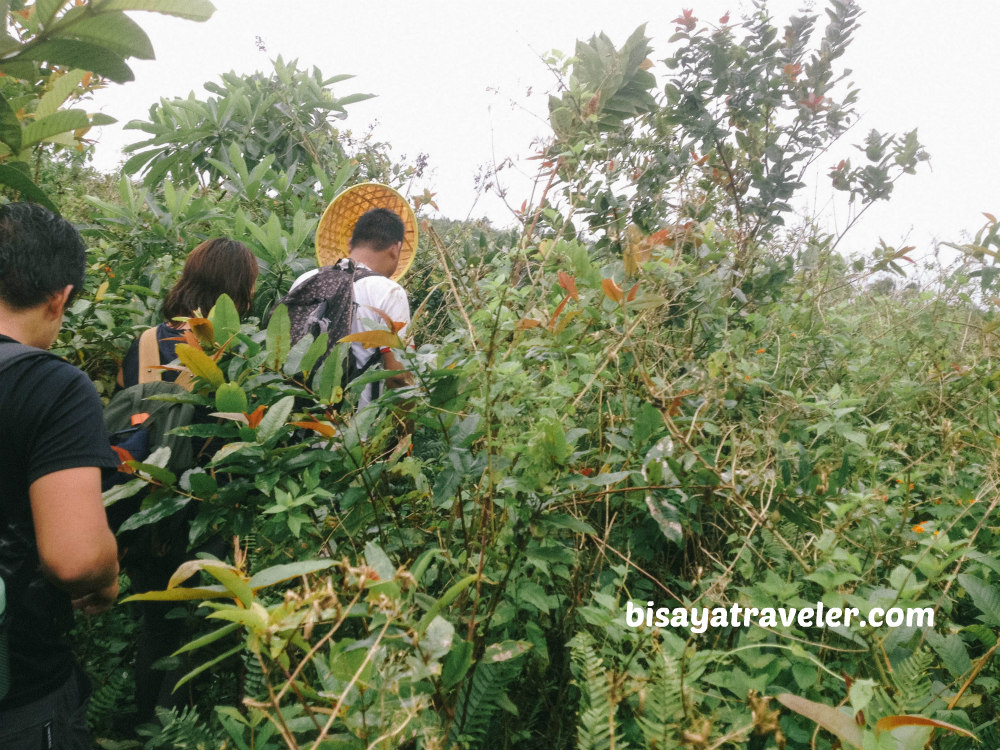 Obviously, some hikers did struggle a bit, but thankfully, James and Raul were around to save the day. Yes folks, Raul has made some drastic improvements, as an adventurer ever since his first hike with me 3 months ago.
He even assisted the girls, holding their hands (what a hokage move) on some slippery parts of the trail.
I guess Raul's ready for the next major challenge.
After hours of walking and some extraordinary experiences, we arrived at the summit of Mount Kalatkat.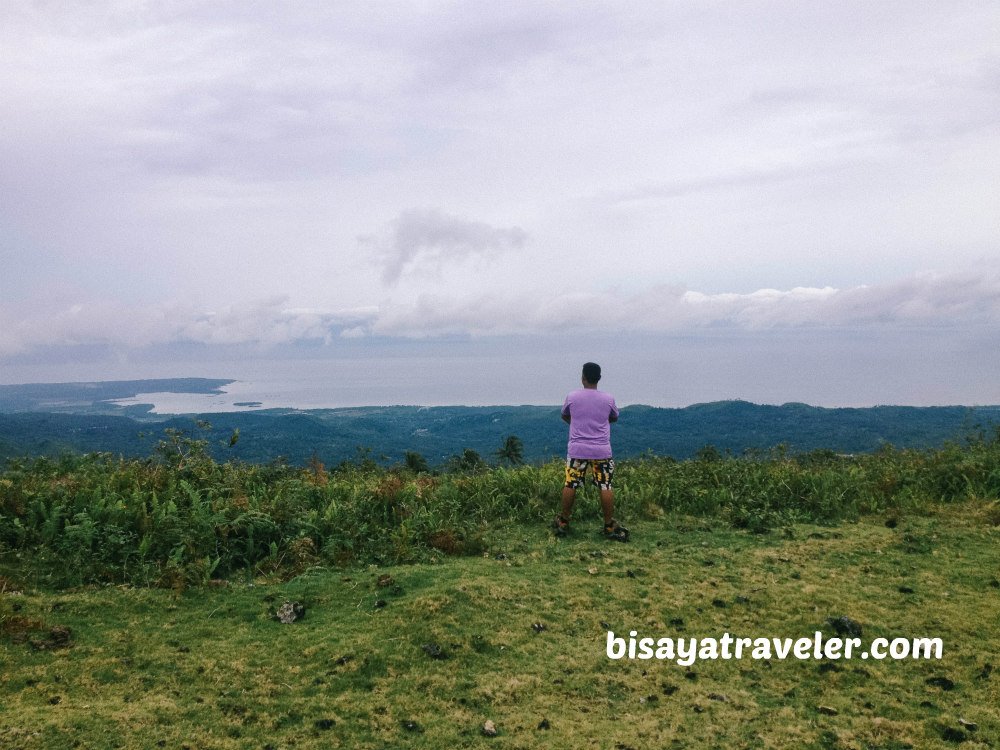 With its picturesque landscapes and breathtaking panoramas of Carcar, we couldn't resist snapping photos of its scenery.
On a clear day, you can see the iconic and gigantic Mount Kanlaon on the other side from this mountain.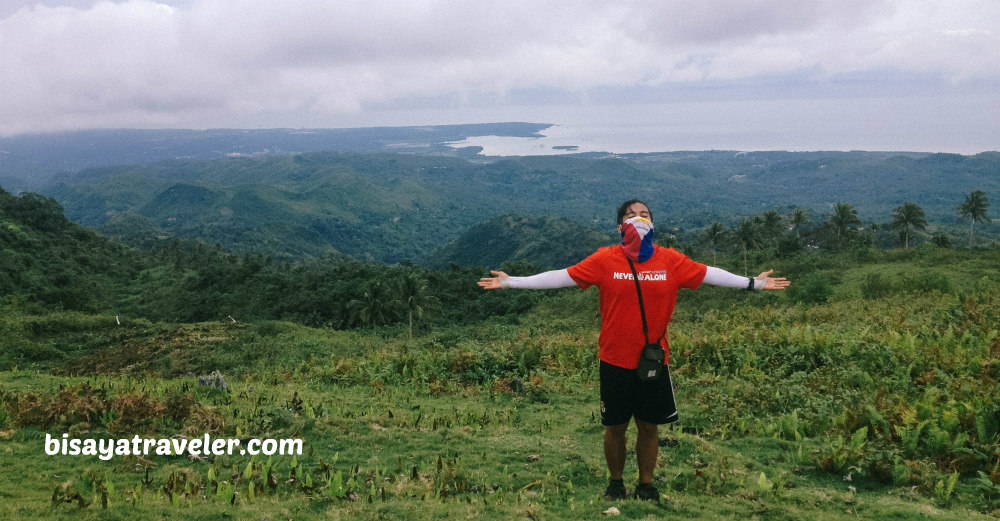 With our stomachs grumbling, we took a break from our photography sessions, and ate our lunch.
And, once again, Raul shined, wherever there's food.
Aside from captivating us with his unique appetite, he also captured our attention with this knowledge in the millennial language. This time, we asked him them meaning of RK.  And he vividly answered "Raul's Kids".  Damn!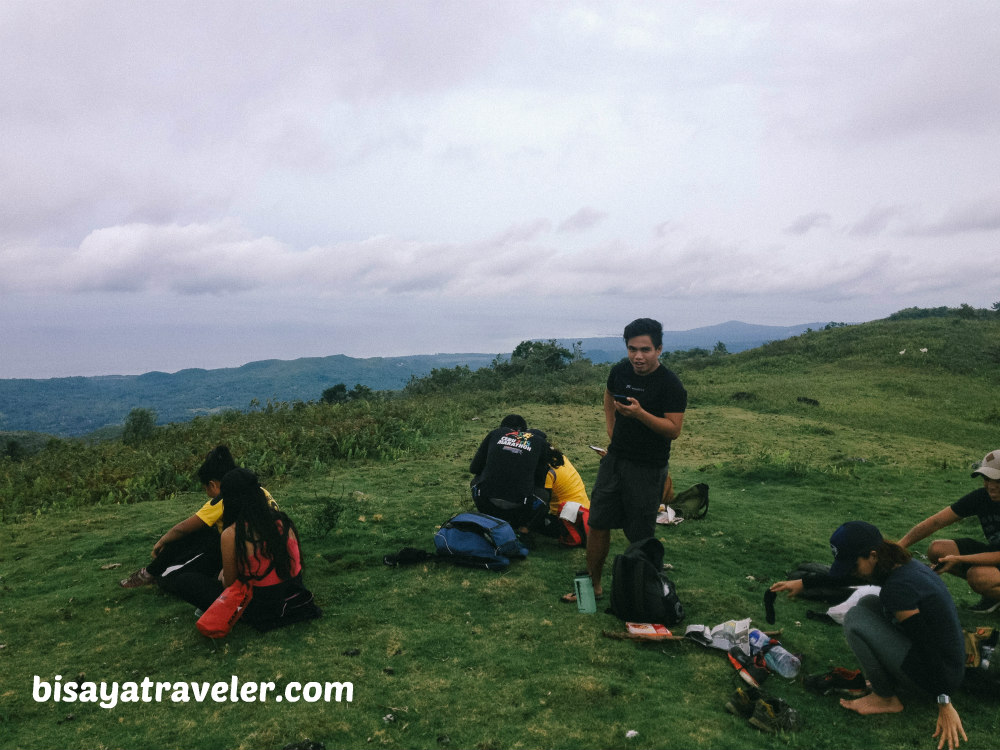 With lunchtime over, we wandered around the area, to immortalize the moments of our hike by taking pictures.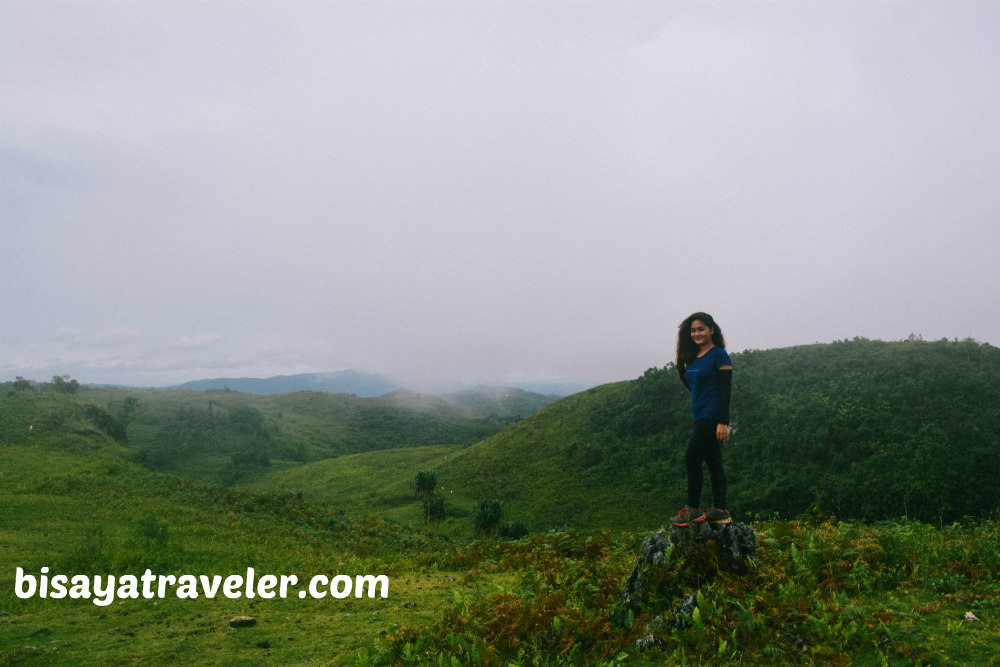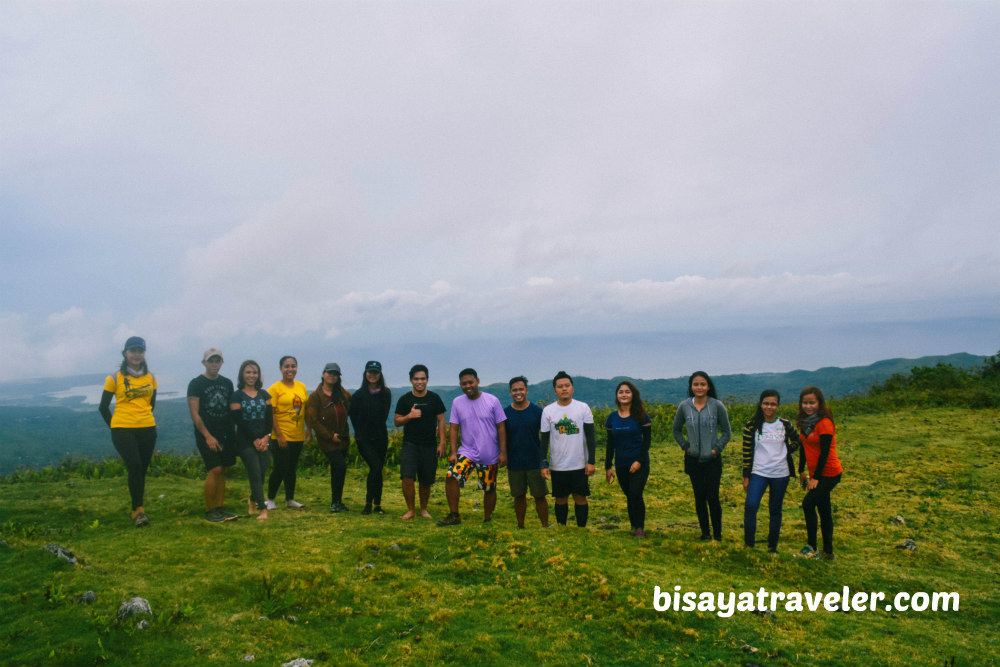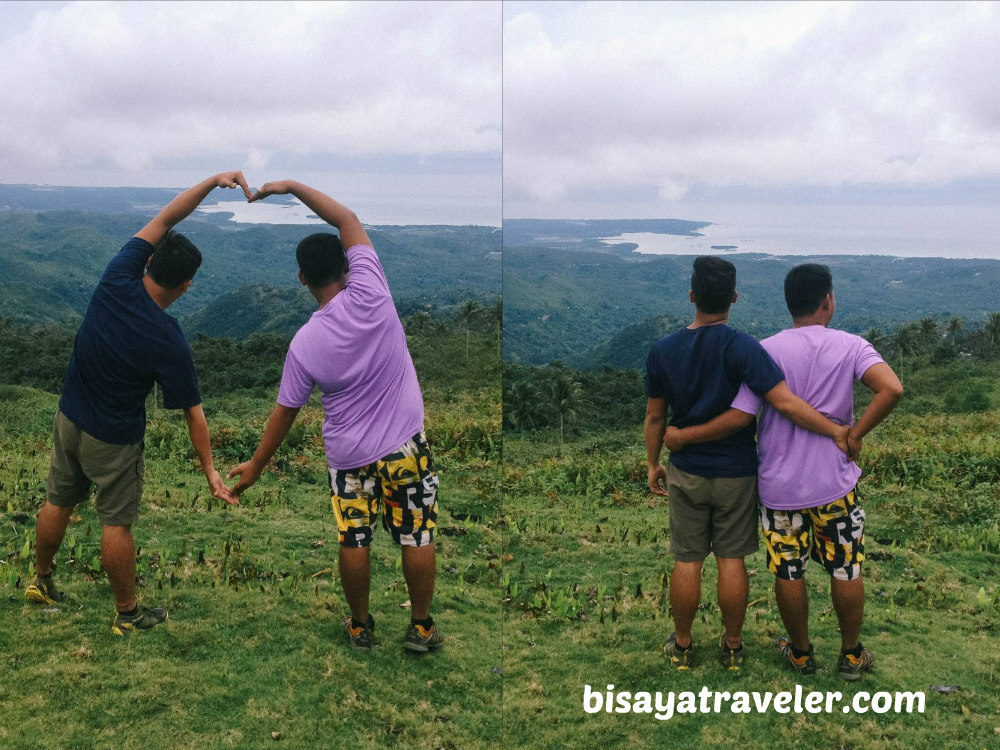 Afterwards, we hit the trail again, to make our way to our next stop for our day adventure – Sayao Cave in Sibonga.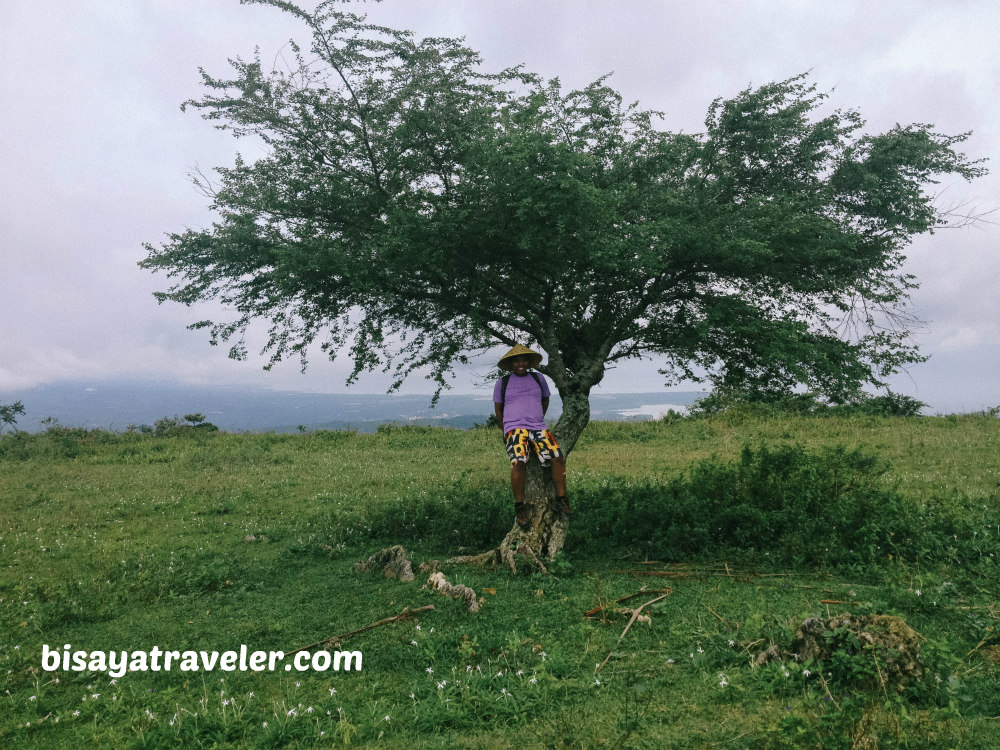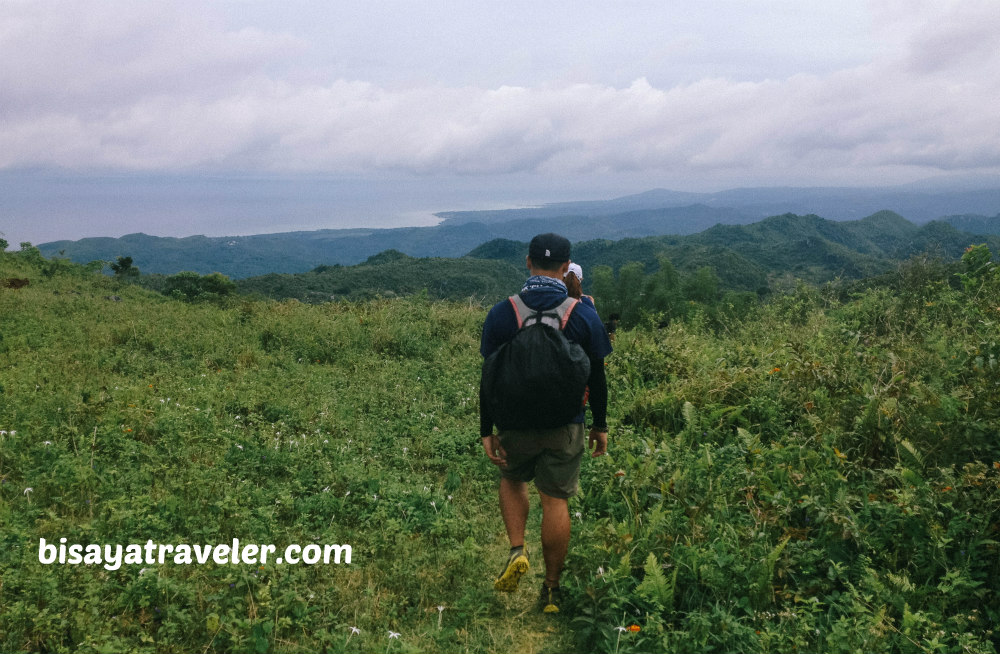 Ultimately, we arrived at the entrance of Sayao Cave where we enthralled by its sheer size.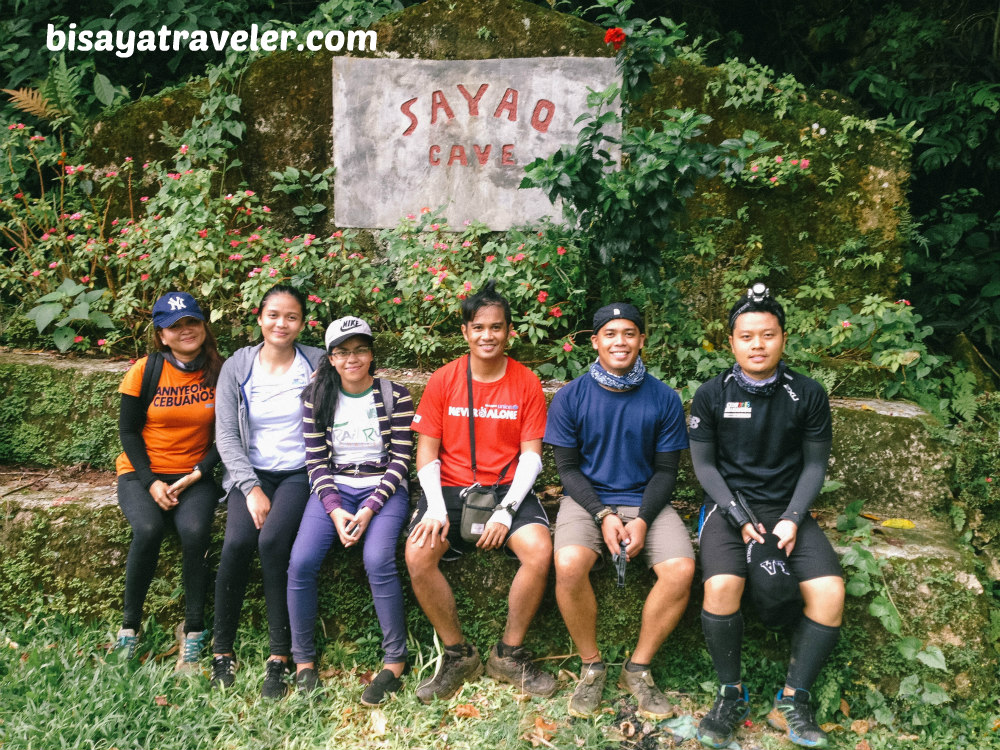 Daphne, soon after, headed to the barangay hall, to get some assistance from the tanods.
As far as I can remember, there were three tanods assigned to guide us on our caving adventure. And one of them got our attention. Not only was he super talkative and friendly, but he was also so animated.
And, he was quite proficient in English as well.
He used a mishmash of English phrases as if he was working for a BPO company, like "shall we guys", "superstitious beliefs", and "guys behave".
When we asked him about the rates for their guide services, he didn't give us a straightforward answer. Instead, he told us that it is his duty as a tanod, "to serve and protect" the public. As a matter of fact, he even said that only difference between him and a policeman is a badge.
At that moment, I thought something smelled fishy there. I wasn't sure if the guy was tipsy or just naturally vibrant and accommodating.
Before entering the cave, he gave us a handful of warnings and shared information about the tavern. According to him, visitors should be silent, when entering the cave since it's full of mystery. What's more, he told us that the cave has a long, sprawling network that connects Sayao to Mactan Island (urban myth).
We made a short prayer individually, and entered this eerie cave.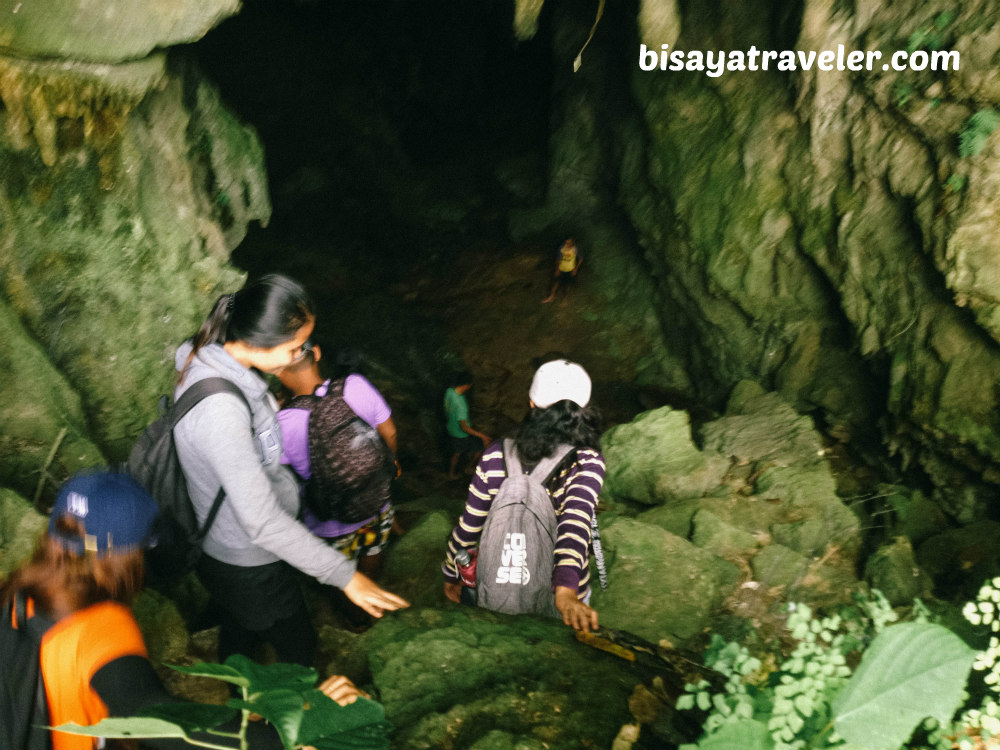 Surprisingly, our friendly was fairly noisy on our caving escapade. Even so, we still followed him, walking and our crawling our way to the 5th chamber of Sayao Cave.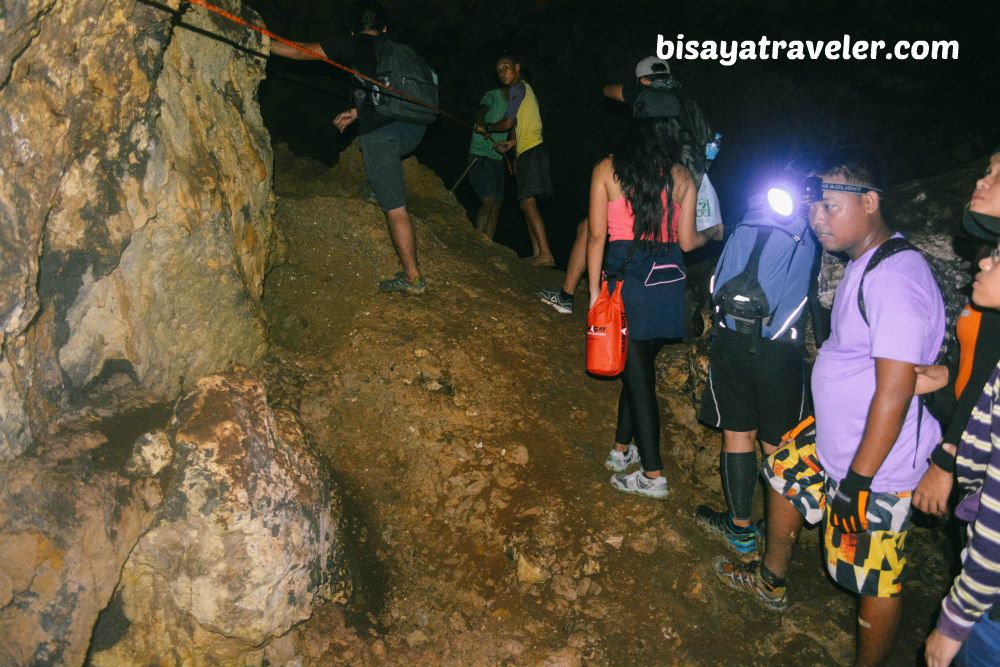 Getting deep to Sayao Cave was no easy feat, by any means. Muddy, dark and slippery, it was a true test of fortitude and shoe strength.
One false move inside the cave and you can end up with a nasty scar or injury.
As for our guide, he kept talking, until boom, out of nowhere, we heard a strong thud. As it turned out, our enthusiastic guide fell into a 3-feet-deep hole.
Although it did curb his enthusiasm, it didn't stop him from talking.
As he passed by me talking endlessly, I noticed that he had that familiar alcoholic scent (amoy Chicos in Filipino lingo) in him. No wonder this guy is extremely talkative and passionate of his duty. #Kulafudiaries
When we were about to enter the 6th chamber of Sayao Cave, we opted not to continue.
As pumped up as I was to dive deeper into the cave, time wasn't on our side, and our content of oxygen was getting low.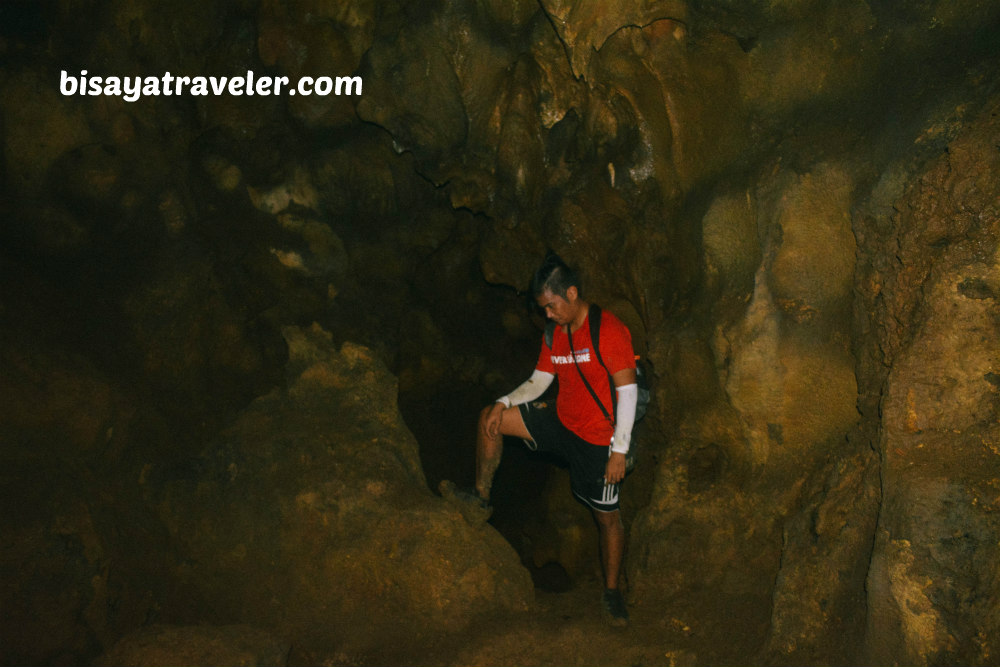 To keep things rolling, we snapped photos, made our way back to the cave's mouth, and capped off our caving adventure.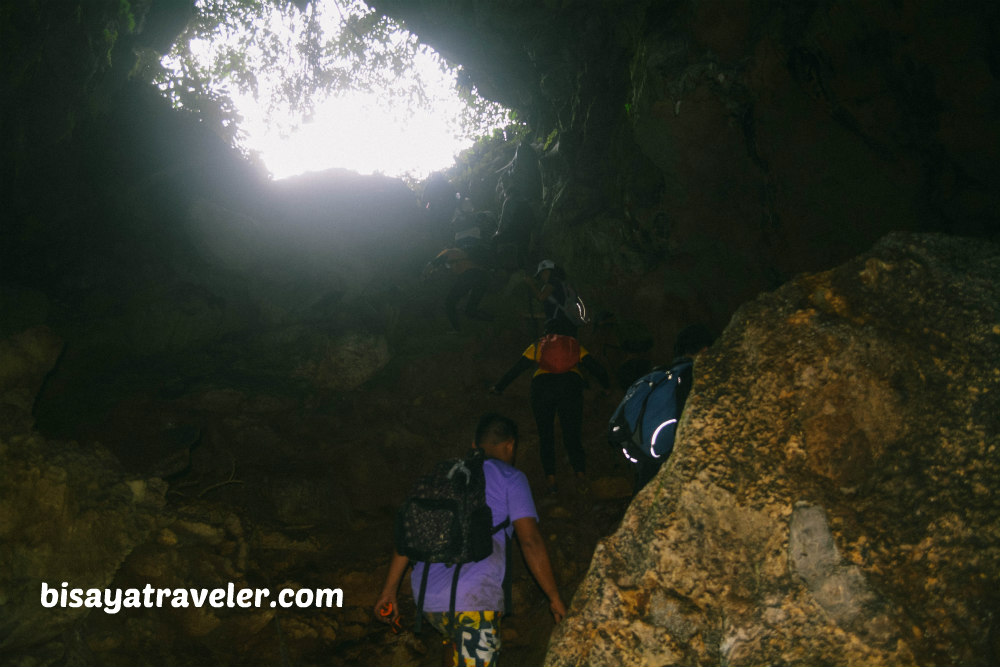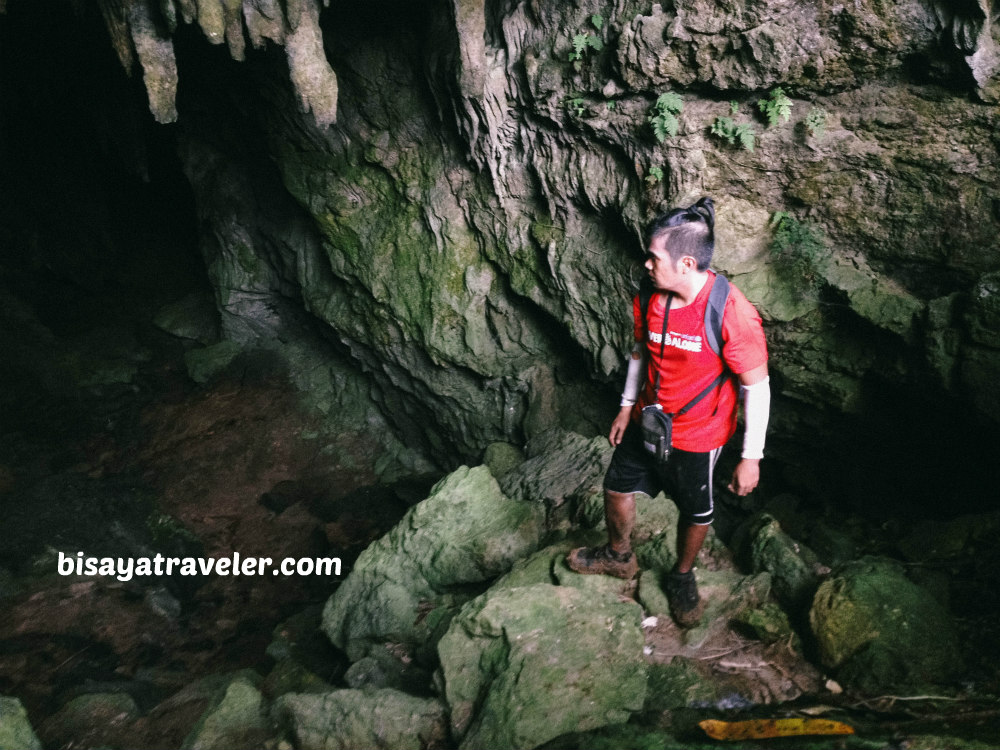 From there, we hiked to the last stop of adventure in Carcar City – Katuryano Falls.
Originally, the cascade was blue and crystal clear, but it turned murky, as soon as Raul made a splash (just kidding). Seriously, though, our muddy feet, shoes and legs made this waterfall look like a serving of coffee or Milo.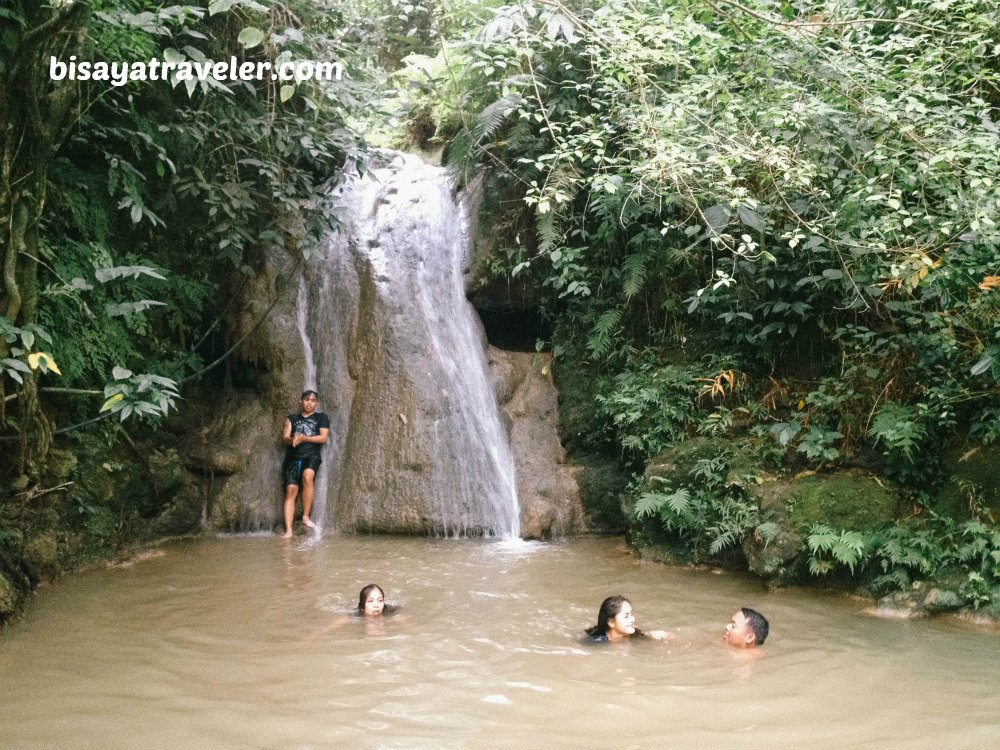 We called it a day, and took a hike to Chris's beautiful home, to catch a habal-habal ride to Ocaña, Carcar.
My expenses:
Fare to Ocaña, Carcar: PHP 63
Habal-habal fare to base: PHP 50
Guide fee for Sayao Cave: PHP 50 (PHP 250 per guide)
Habal-habal ride to Ocaña, Carcar: PHP 20
Tricycle ride to Carcar Rotunda: PHP 10
Jeepney fare to Tabunok: PHP 30
Jeepney fare to Shopwise: PHP 7
Our Mount Kalatkat day hike itinerary:
04:00 AM: Meet up at Cebu City South Bus Terminal
05:30 AM: Depart for Ocaña, Carcar
06:30 AM: ETA Ocaña, Carcar
07:30 AM: Depart for Kalangyawon Elementary School
08:30 AM: Start of hike
11:45 AM: ETA Mount Kalatkat
12:45 PM: Start hike to Sayao Cave, Sibonga
02:00 PM: ETA Sayao Cave
02:45 PM: Start of our caving adventure
03:30 PM: Return to cave's entrance
04:20 PM: Start hike to Katuryano Falls
05:00 PM: ETA Katuryano Falls
05:20 PM: Start hike to Chris's home
05:40 PM: ETA Chris's home/wait for habal-habal
06:40 PM: ETA Jollibee Carcar/wait for the others
08:30 PM: Depart for Cebu City via two jeepney rides
10:00 PM: Home sweet home
Things to take note:
Practice the LEAVE NO TRACE principles.
Pack at least 2 liters of water.
Bring trail food/snacks.
Bring ION drinks like Gatorade or Pocari Sweat.
Wear trekking shoes or sandals with great traction.
Pack headlamps for caving.
To get there, you must reach out to a local or someone who has been there. As far as I know, we're just the 2nd group of hikers to scale Mount Kalatkat in Carcar.
Despite all our setbacks, my Sunday escape was absolutely the therapy I needed, after a week of endless work and stress. Full of life and adventure, this hike had a healthy dose of fun, thrills and gleeful moments. Even though it was a short trip, it was, for me, the ultimate way to get away from the noise and nuisances of my adult life.