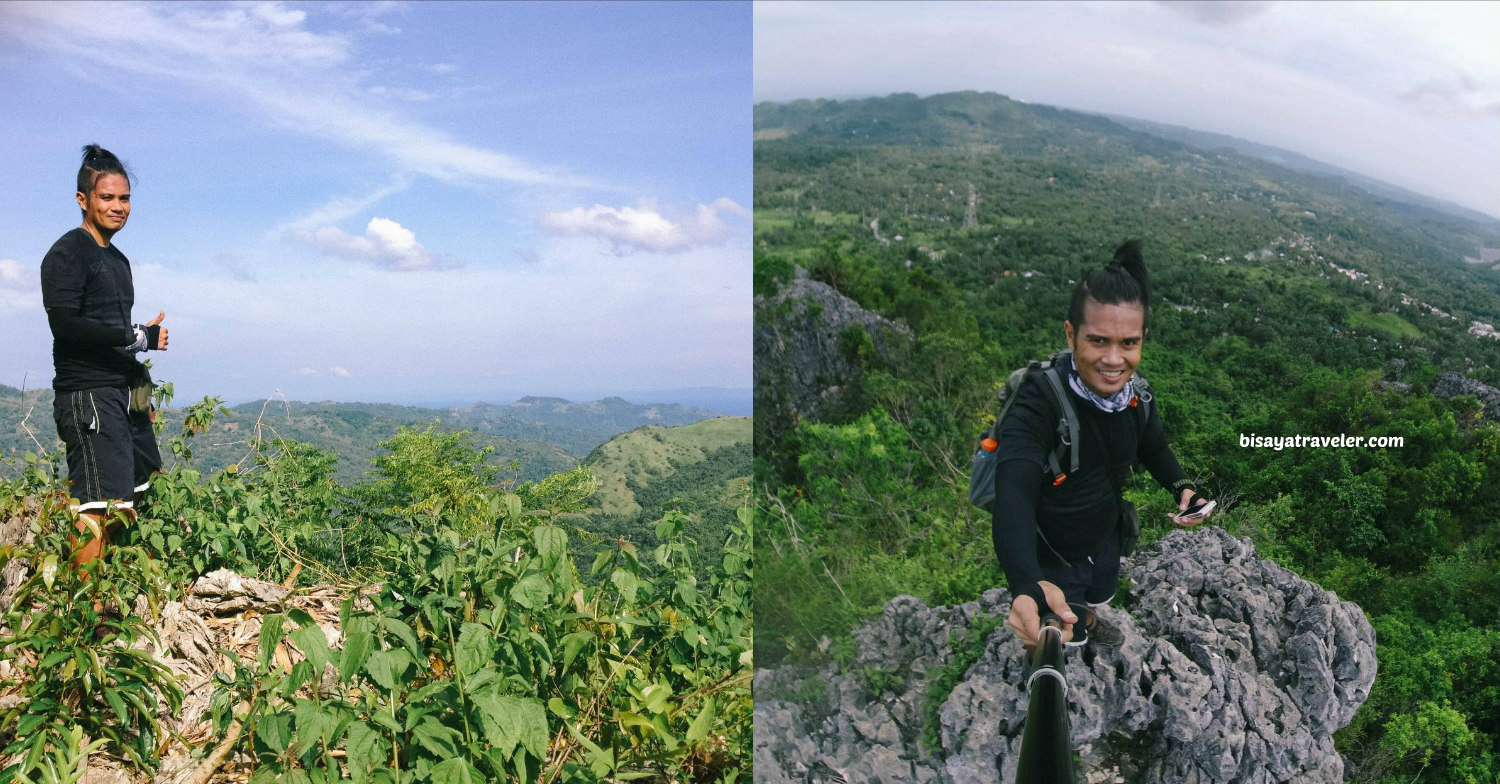 Mayana Peak And Batogag Banog: An Intrepid Hiker's Utopia
Cebu, voted as one of the world's best islands, is known, beloved and praised for a lot of things. From the northern tip's pristine beaches to south side's spectacularly azure waterfalls, Cebu overflows with picture-perfect sights and tantalizing wonders for leisure travelers. Not to mention, it boasts a wide array of mouthwatering goodies, like the crunchy lechon and danggit. But, when it comes to hiking, Cebu isn't as well-known or celebrated as the other mountaineering destinations in the Philippines. Despite the emergence of newly uncovered mountains like Mayana Peak, Cebu's mountains just don't have the height and eminence of the likes of Mount Pulag, Alto Peak and Mount Apo.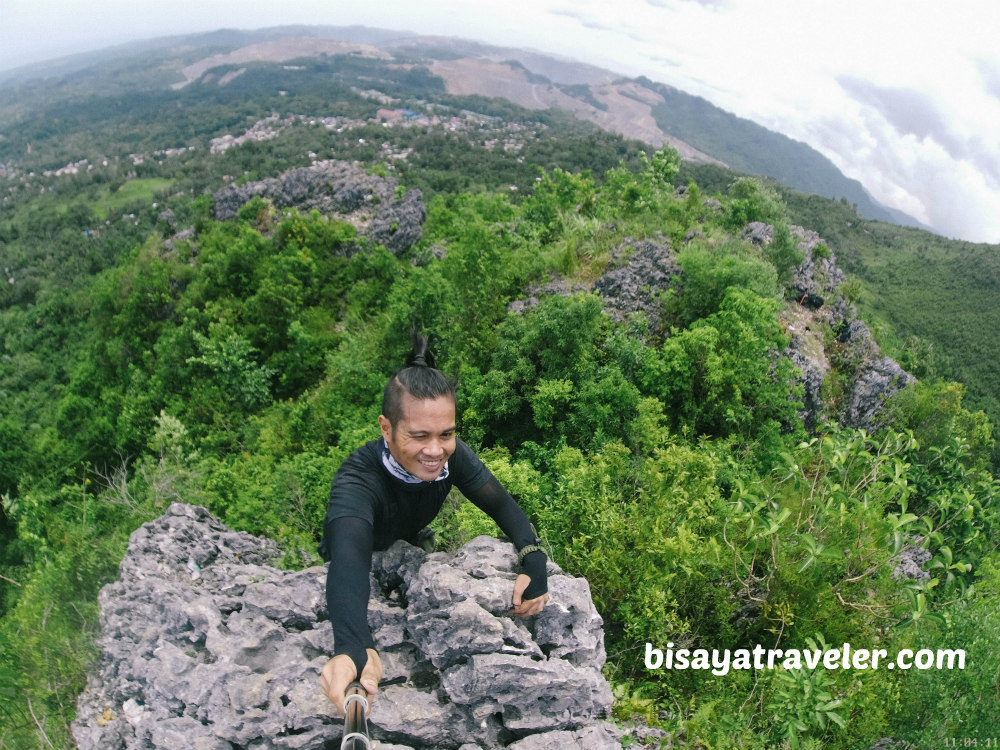 Even so, Cebu can be quite an exciting playground for adventure seekers. While our mountains don't have the height of the country's iconic peaks, we've nevertheless got a ton of untouched monoliths, cliffs and ridges with perilous trails and impressive views. In the last couple of years, I've uncovered a bunch of exciting trails in my hometown that gave me a lifetime's worth of beautiful memories and adventures. And last Saturday, I found another extraordinary mountain that gave me a hell of an adventure – Mayana Peak in Naga City, Cebu. As an added bonus, I also revisited the treacherous Batogag Banog, or also known as Puting Bato.
My Mayana Peak and Batogag Banog Adventure
After a month-long hiatus in hiking, I, once again, channeled my inner adventurer, to clear away the cobwebs. As usual, I was joined by some of my favorite hiking buddies – Beboi, Dian, Raul, ma'am Fe, Maricar, Carl, sir Francis, and Shiekinah. Furthermore, Bioggy – a friend and former neighbor – tagged along to experience the lesser-known treasures of Cebu.
From Cebu South Bus Terminal, we hopped on a bus bound for "eskina" Mayana to kick off our hiking escapade. Unfortunately, we took the wrong bus stop since we weren't familiar with the exact location of Mayana, Naga.
Thinking that we had already passed by "eskina" Mayana, we asked the conductor to drop us at off the Lutopan Landing. Little did we know, we were still a few meters away from the rendezvous.
But, it was perfectly fine for us! Like any group of open-minded and intrepid hikers would do, we just hit the road to our meeting point, without whining.
Along the way, a friendly dude in a motorcycle asked us if we were the group scheduled to hike Mayana Peak and Bantogag Banog.
With enthusiasm, we answered in a resounding yes.
And so, he instructed us to head to a basketball court near the highway, and wait for him there.
Upon our arrival, we didn't see sir Francis, ma'am Fe and Maricar, who arrived minutes earlier in our meeting point.
Clueless and a little confused, we asked a couple of strangers nearby for the exact location of "eskina" Mayana.
With their guidance, we went on with our walk, until we finally caught up with the trio – Maricar, ma'am Fe and sir Francis.
Soon, the friendly dude arrived in the scene who was also a bit baffled by the whole scenario.
As it turned out, the friendly motorcycle-riding dude was our guide to our first stop of the day – Batogag Banog.
Once we cleared up the confusion, we went directly to the starting point, to start our hike to Mayana Peak with a prayer and a quick introduction.
Spearheaded by our guide, we, then, followed the bushy trail leading to Batogag Banog.
With thick vines, thorny plants and loose soil, getting to Batogag Banog was fairly exciting. Plus, it was a great warm-up too, for the more complex parts of our hike to Mayana Peak and Batogag Banog.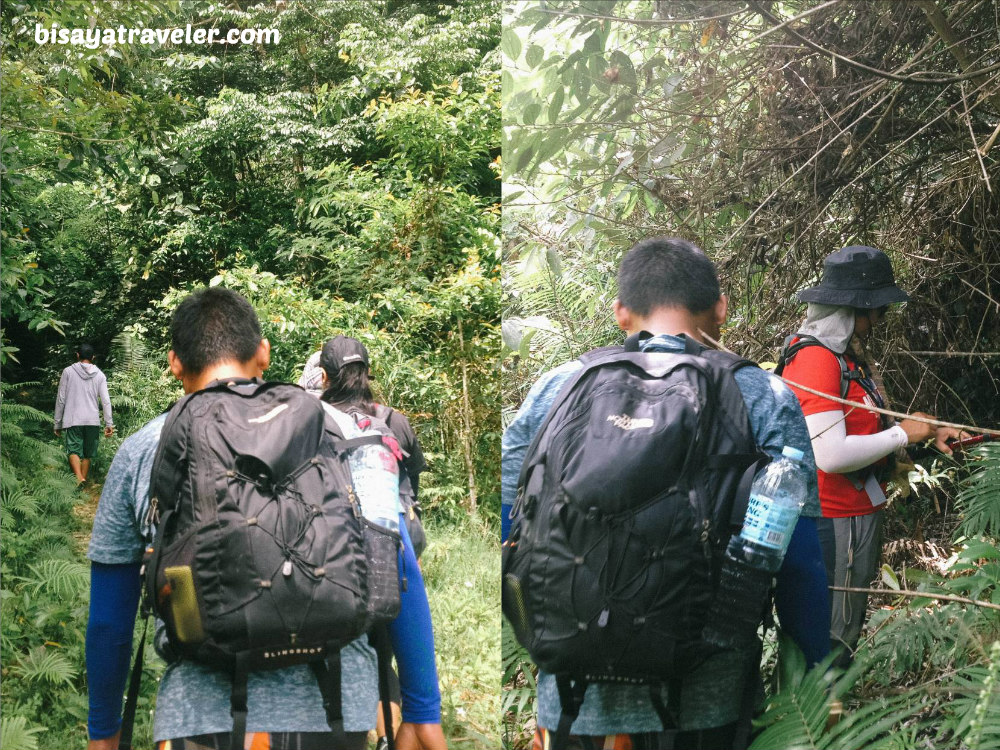 On our way to the monolith, I had a hunch that we were going to Puting Bato, a beautiful monolith that I've scaled about a year ago, through a different and more picturesque trail.
Days before the hike, sir Francis told me that we were going to scale a monolith – Batogag Banog – that's just a few meters from the highway.
At first, I thought we were scaling a different monolith. But, as we got closer to Batogag Banog, I felt like we were about to climb one of my favorite mountains in Cebu.
Minutes later, we arrived at the base of the monolith, which, at that moment, looked extremely familiar.
As I was staring at the trail, I already knew that it was Puting Bato.
I just didn't tell anyone about it yet.
And, I realized that Batogag Banog is Puting Bato's original name. That's why some people in Toledo weren't so sure of its location, when I asked them about Puting Bato, a year ago.
Slowly and carefully, we scaled the tough vertical walls of Batogag Banog.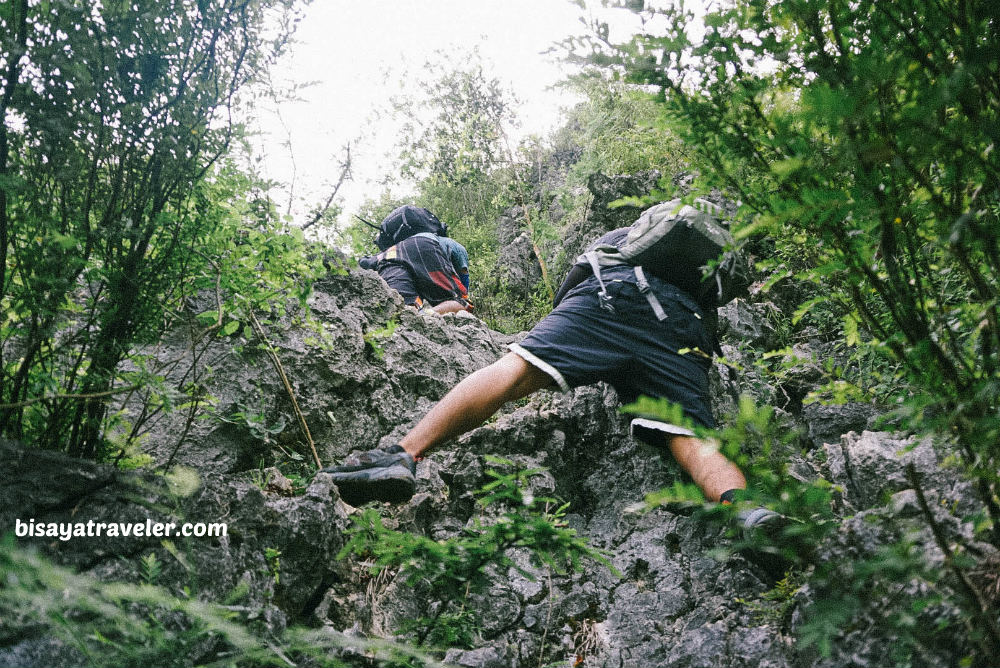 And, in spite of the treacherous trail, everyone was amazingly upbeat and pumped up.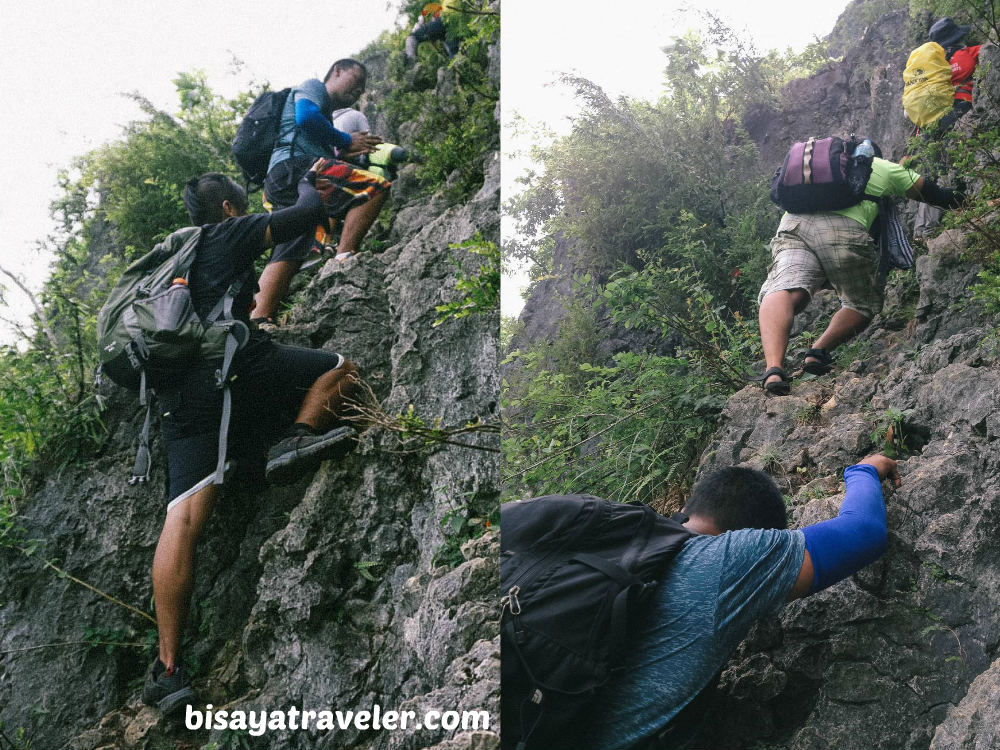 Eventually, we arrived at the summit of Batogag Banog where we were treated to striking bird's eye views of Toledo City.
With crisp blue skies and a refreshing mountain breeze, I thought it was a better and more appeasing experience than my first climb to Batogag Banog.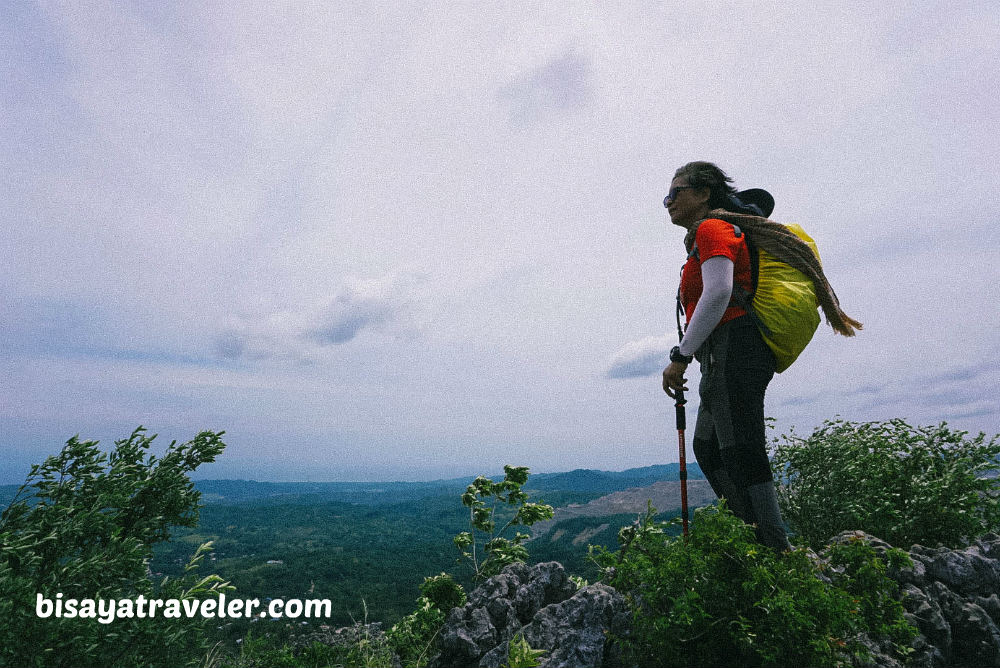 We spent some time on the peak, cherishing the views and fresh air. As always, we took dozens of photographs, to preserve the beautiful memories of our adventures.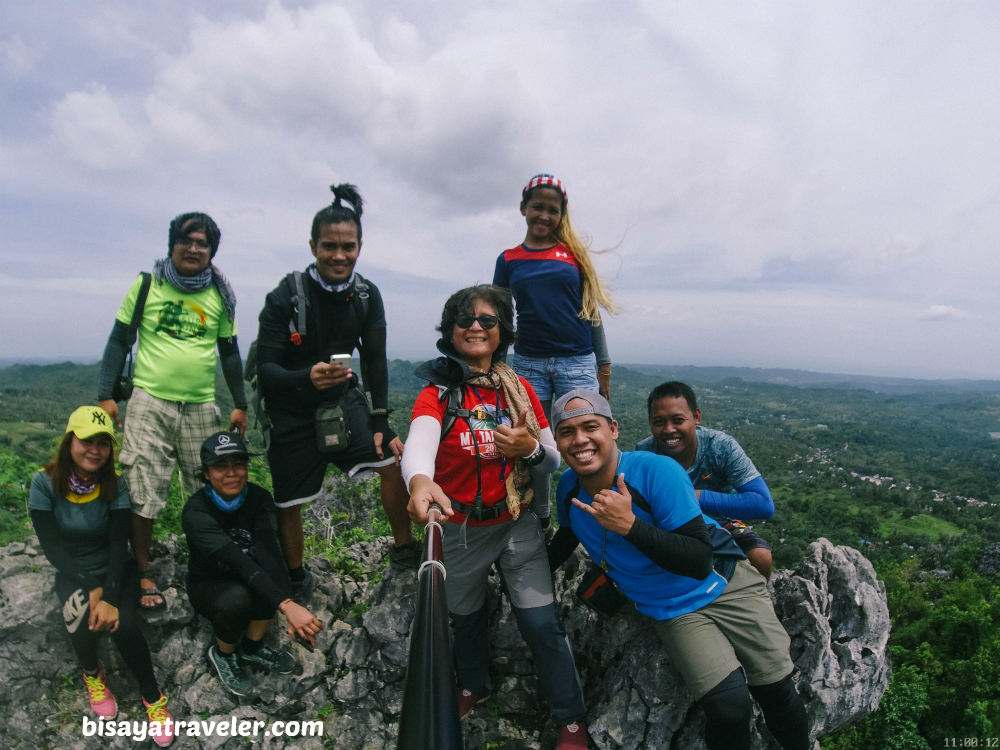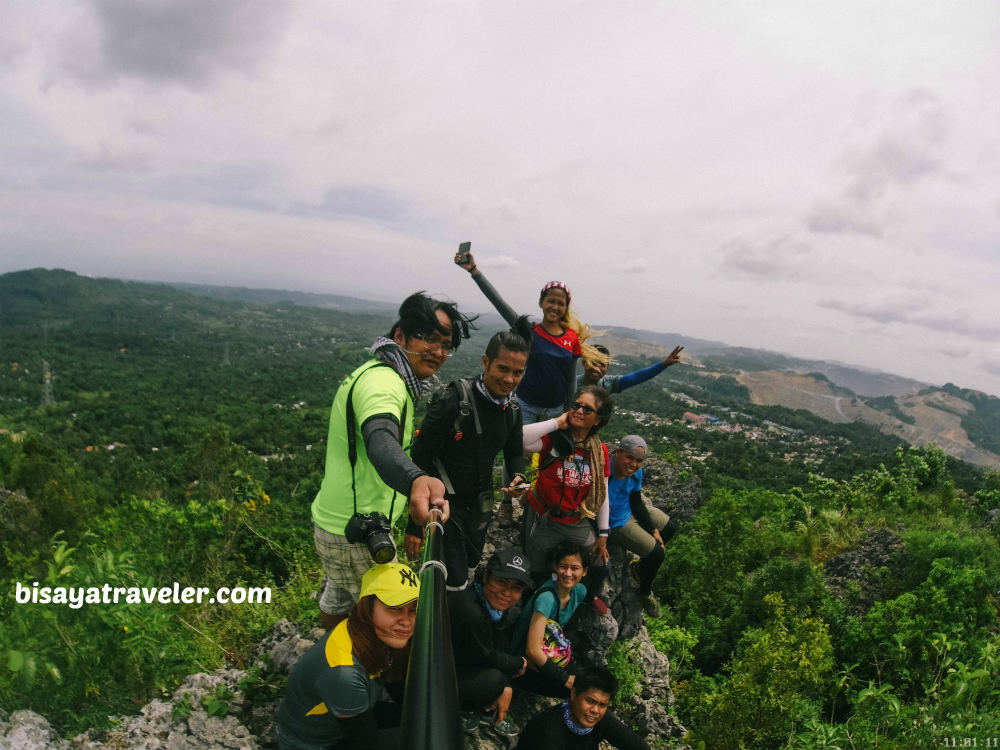 We had a handful of "buhis-buhay" shots here as well.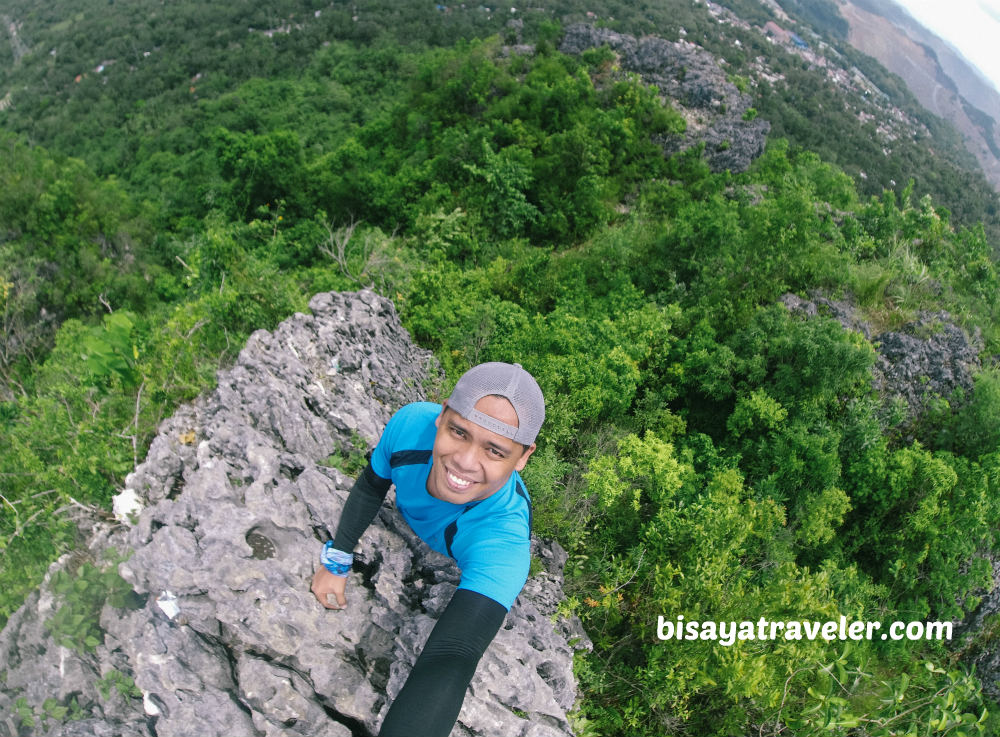 Trust me, it's not as scary as it looks.
With a couple of tricks and the perfect angle, you can also have your own buwis-buhay picture on Batogag Banog or Mayana Peak.
Tatay Raul, however, was legitimately scared AF, especially since he's acrophobic.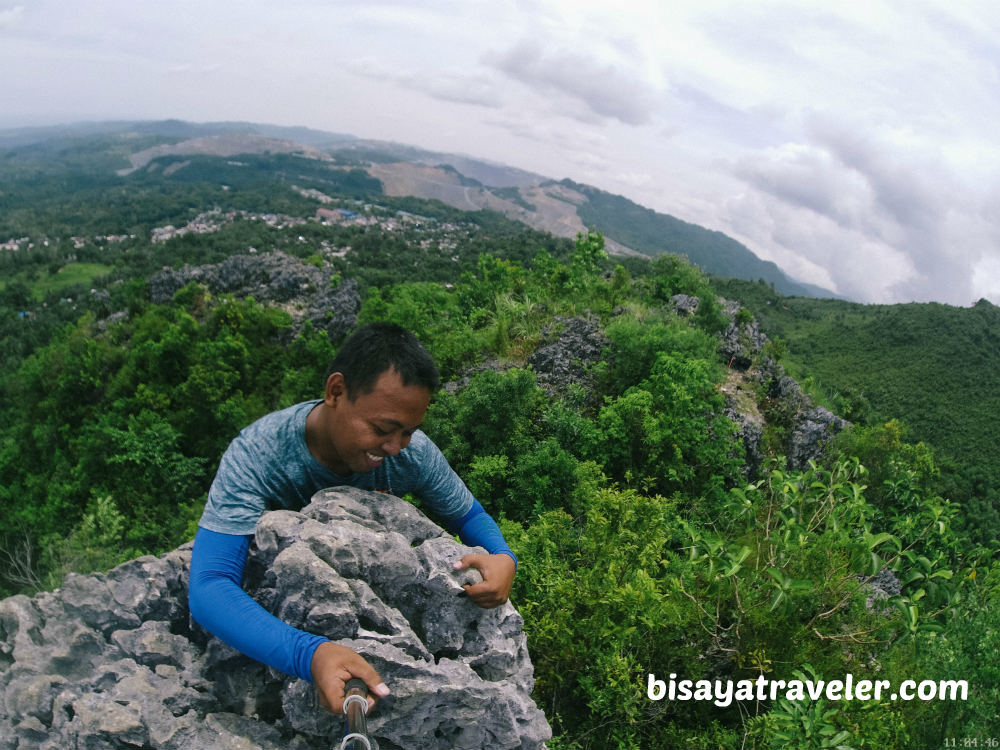 With Batogag Banog in the books, we descended from the monolith to make our way to Mayana Peak.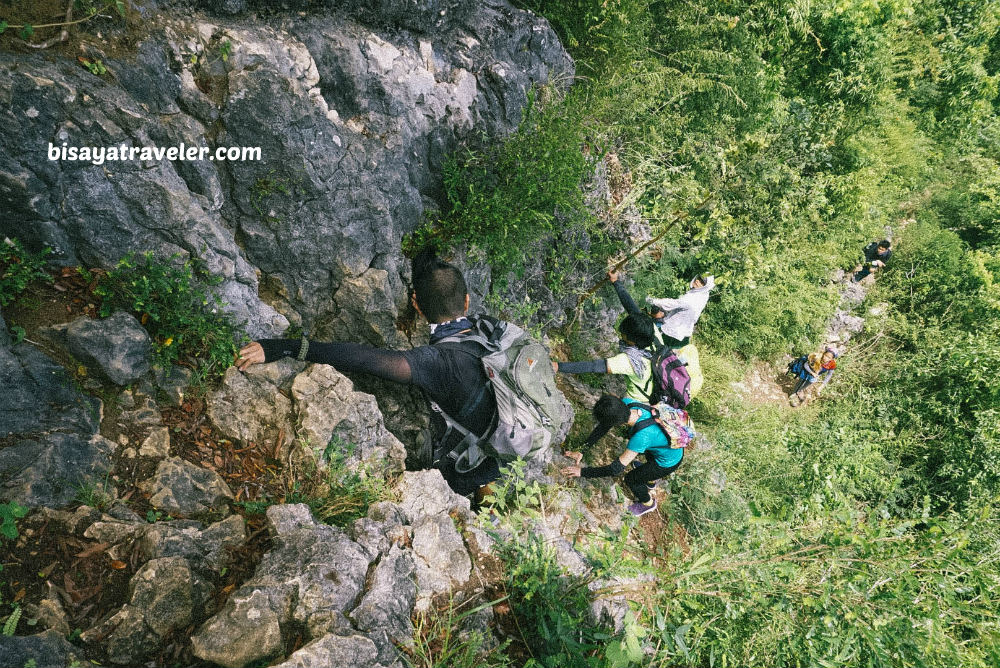 While hiking to the next stop, we caught a beautiful glimpse of the towering monolith.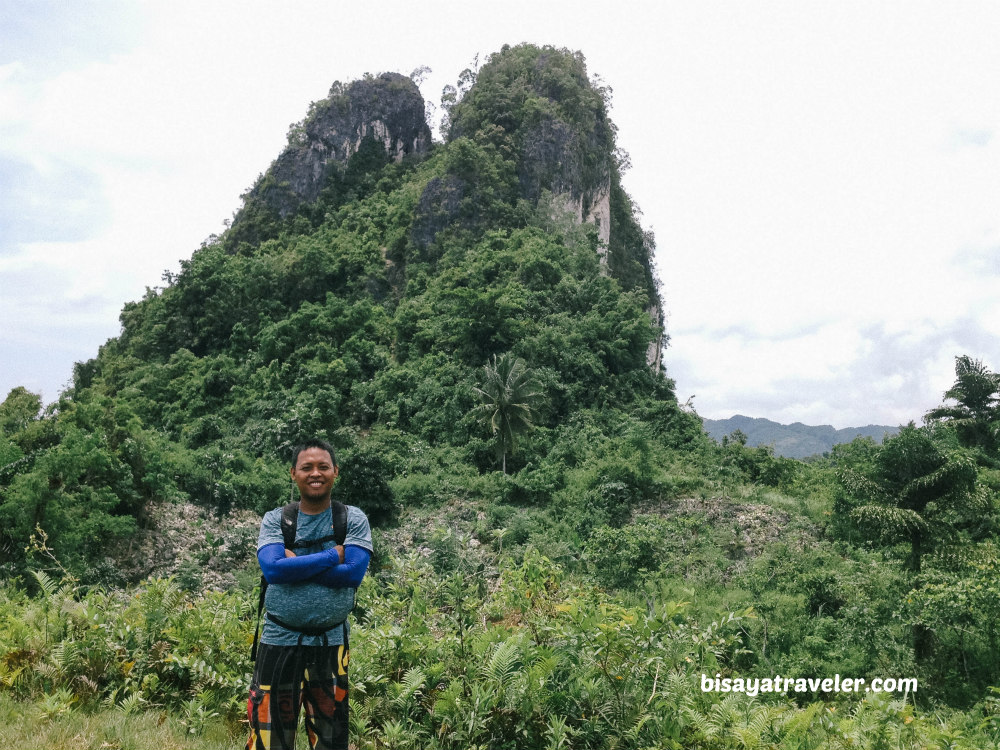 Can you guess which is Puting Bato and Itom na Bato? LOL
From there, we followed our guide to the main road leading to Barangay Mayana – one of the top and safest barangays in Naga City.
And guess what?
There were so many jokes and funny stories along the way, including tatay Raul's "12 Days of X-mas" experience.
I'm not going to elaborate about that, but if you want to know the story behind his experience, just reach out to our so-called tatay.
Soon after, we arrived at the road that leads to Mayana, in which we parted ways with our guide.
We, later on, hit the road, following a short ice-cream intermission with a fairly talkative vendor.
And, every time we saw something eye-catching, we paused for a minute, and snapped a photograph.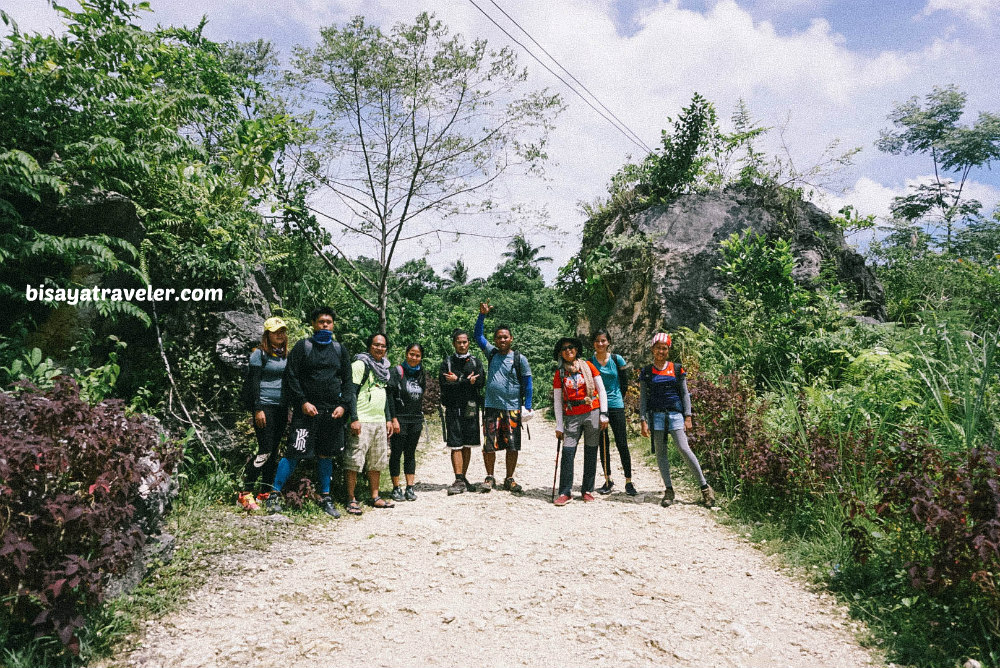 Ultimately, we arrived at Mayana's barangay hall, and looked for a guide to lead us to an unheralded cave and peak in the area.
But, the barangay hall was closed, the moment we arrived there.
While sir Francis was trying to reach out to a barangay official, we had fun snapping portraits of tatay Raul who looked like a sad prisoner waiting for his mi amore.
I guess his heart is really aching, after his recent break up. Charoot!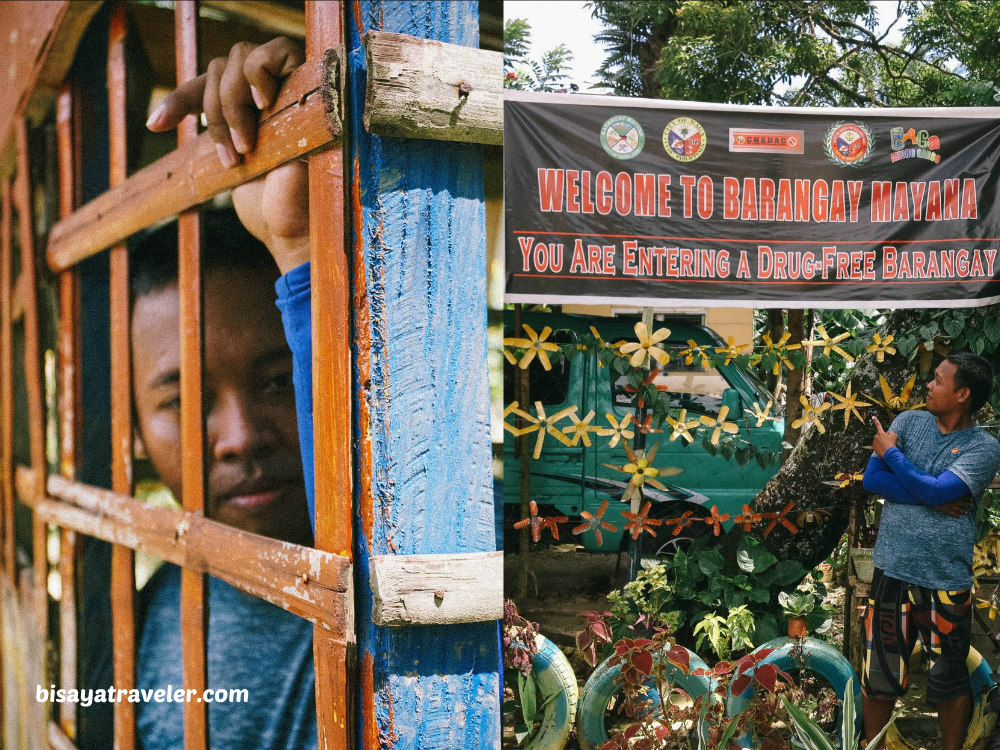 Since it was an hour past lunchtime, we decided to take a breather, and eat lunch on a waiting shed there.
In spite of sir Francis's efforts, we couldn't find anyone who can guide to us to Mayana Peak and an underrated cave.
Still, we went on with our adventure, and hiked our way to a barangay counselor's home, hoping to find someone who can show us the way to Mayana Peak.
There weren't a lot of people around, meaning we were having a tough time finding clues on the whereabouts of Mayana Peak and the cave.
And, yes, we got lost, temporarily.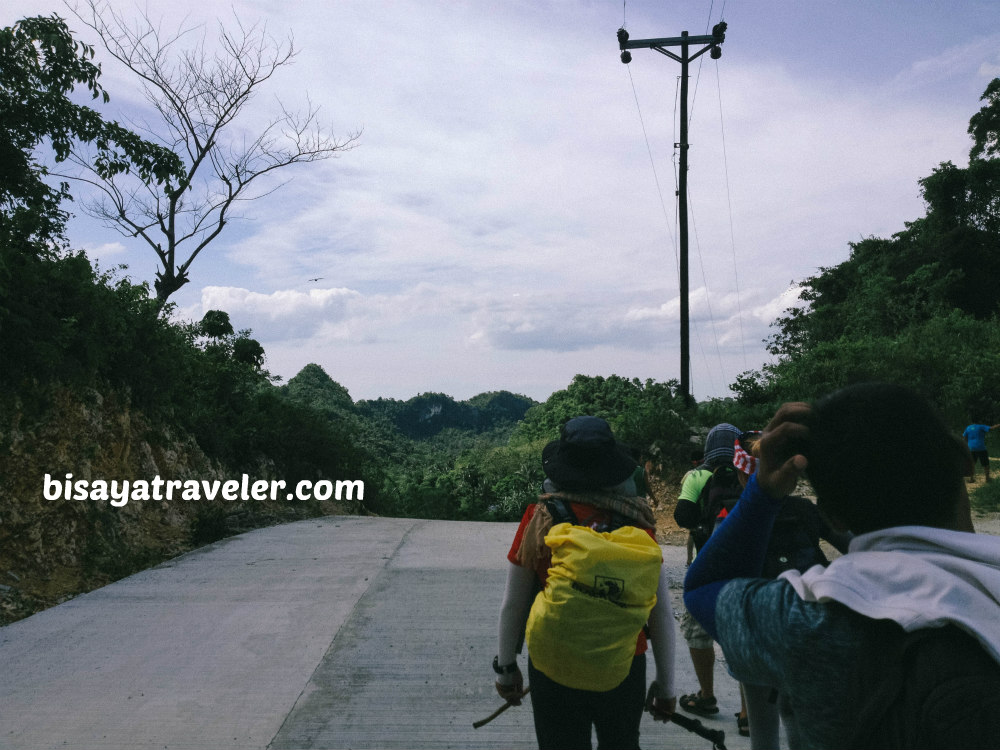 Thankfully, we bumped into a group of kids who were willing to guide us to the counselor's home in exchange for candies and "Bar Nuts".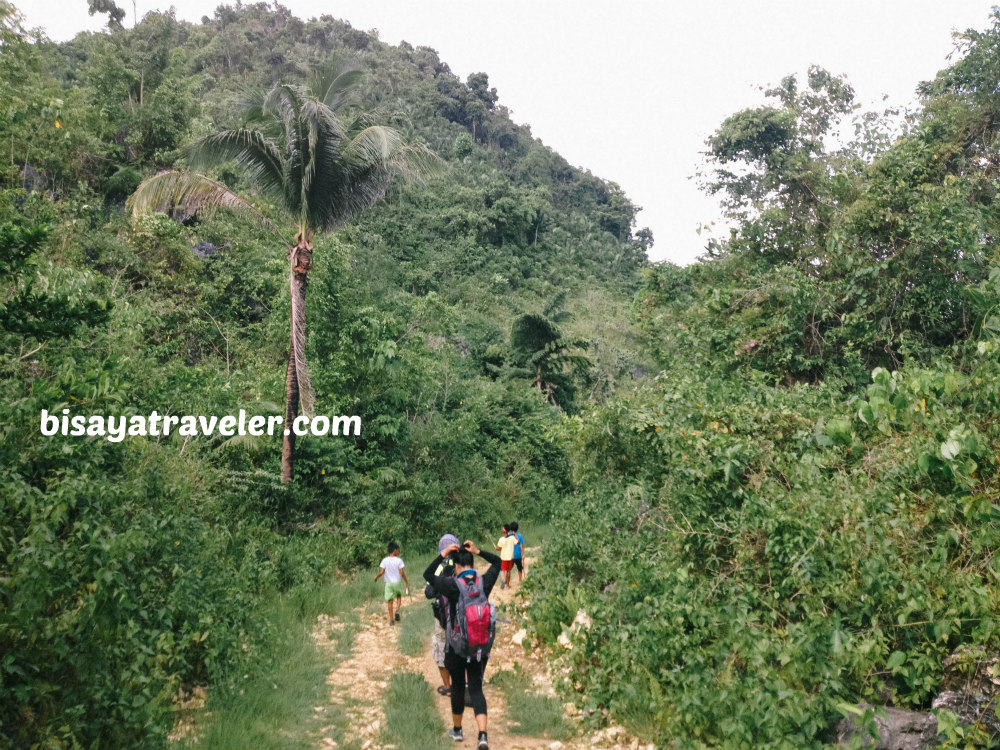 With the young squad on the lead, we walked along a scenic trail in this remote part of Naga City, Cebu.
Ultimately, we arrived at a hilly region wherein we got a good view of Balirong Peak, or also referred as Panas.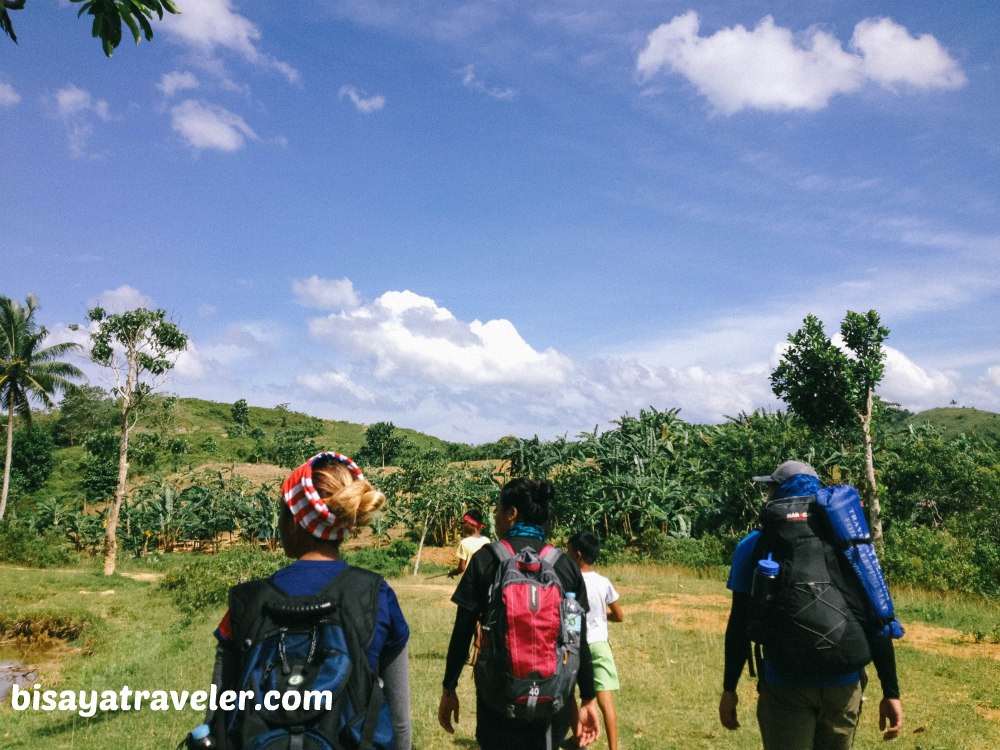 "We're going to hike Balirong Peak, after climbing Mayana Peak", I said to my clique.
And, just like that, the group's spirit became even more animated and livelier.
The counselor, though, wasn't around because she had to do a typical weekend chore – doing the laundry in a close water source.
Together with the kids, sir Francis headed to the water source, to meet up with the counselor and ask for a guide.
As for the rest of us, we took a breather inside the chapel near Mayana Peak.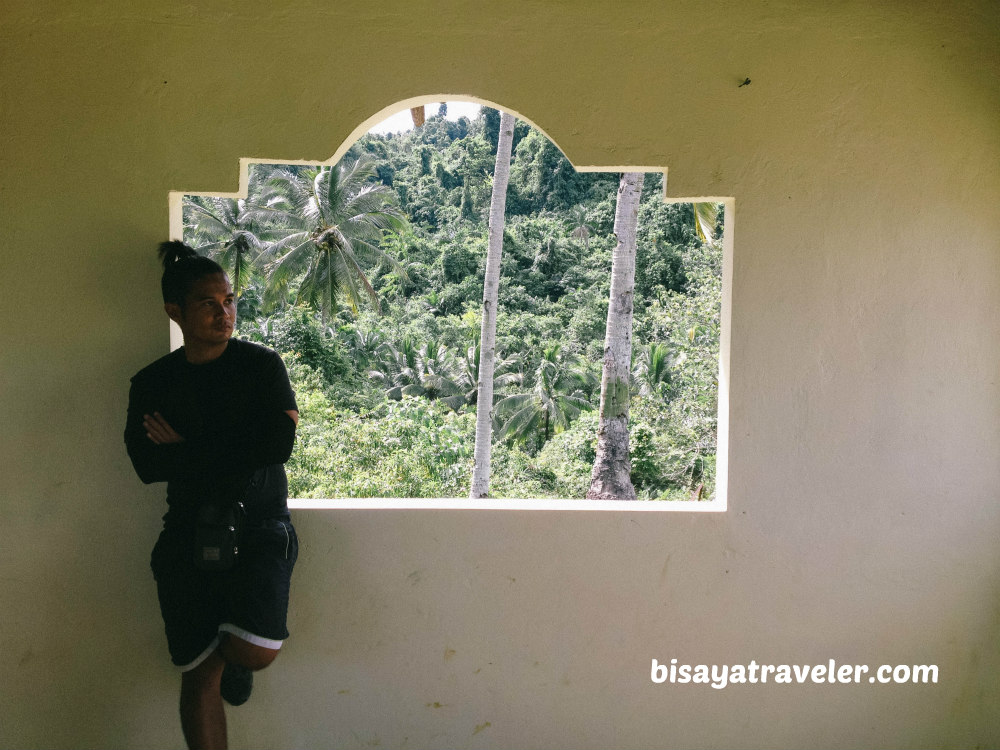 Moments later, sir Francis arrived in the chapel, with the kiddos.
He, then, revealed to us that the kids were going to be our guides to Lapos-Lapos Cave.
Yep, you've read it correctly.
Mayana Peak is, in essence, a mountain, with a small cave near its summit.
And, for the most part, the locals call the place Lapos-Lapos cave.
But, there are plenty of places named Lapos-Lapos in Cebu, so we're going to give it a different name – Mayana Peak.
Geared up and ready for the climb, we hit the steep, complex and leafy trail to Mayana Peak.
Just like our Batogag Banog adventure, the hike was nothing short of thrilling.
Not only is the trail elevated, but it also has loose soil and thorny plants.
Heck, I even got some bruises and scratches on my way up to Mayana Peak.
Even though there were no vertical walls here, it was just as tough and mind-blowing as Puting Bato.
Of course, there were some slips, giggles and struggles on our way to Mayana Peak. After all, these experiences are inevitable, when hiking a challenging trail like Mayana Peak.
But, to me, these moments make the whole adventure more colorful and unforgettable.
After a short yet physically challenging hike, we finally arrived at the small cave in Mayana Peak.
From the cave's mouth, we crawled our way to other side. Afterwards, we followed a rather precarious trail to the cliff in Mayana Peak.
And, the views from the cliff were absolutely breathtaking.
Even with the untrimmed trees, you can see some parts of Negros Island from this vantage point.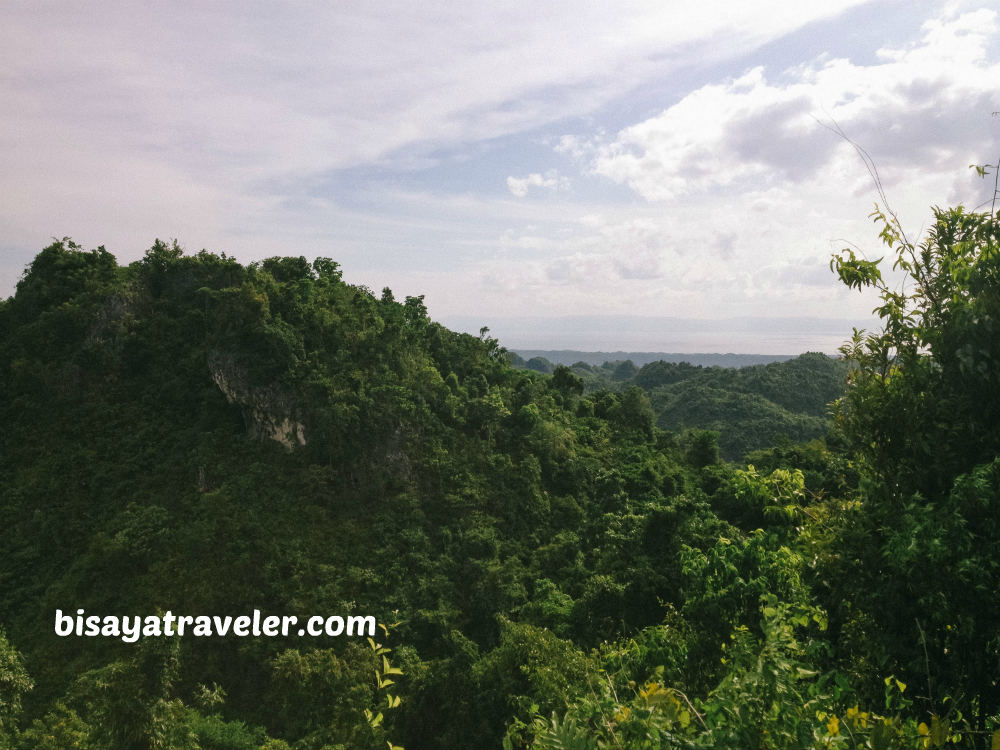 On the other side, we got a good view of the verdant and Instagram-worthy mountains of Balirong, Naga.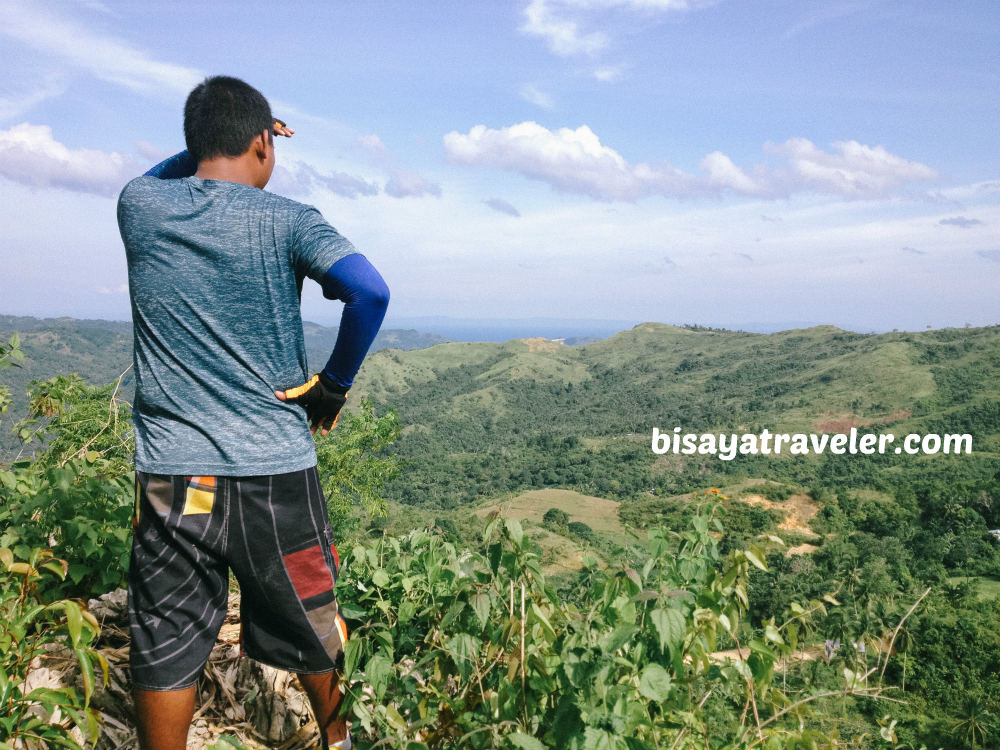 Quite frankly, the views from the top aren't as spectacular as the ones in O-Peak or Kandungaw Peak. But, as far as I'm concerned, the views are just a bonus.
Everyone had their turn posing on the cliff, to capture the culminating moment of this adventurous hike.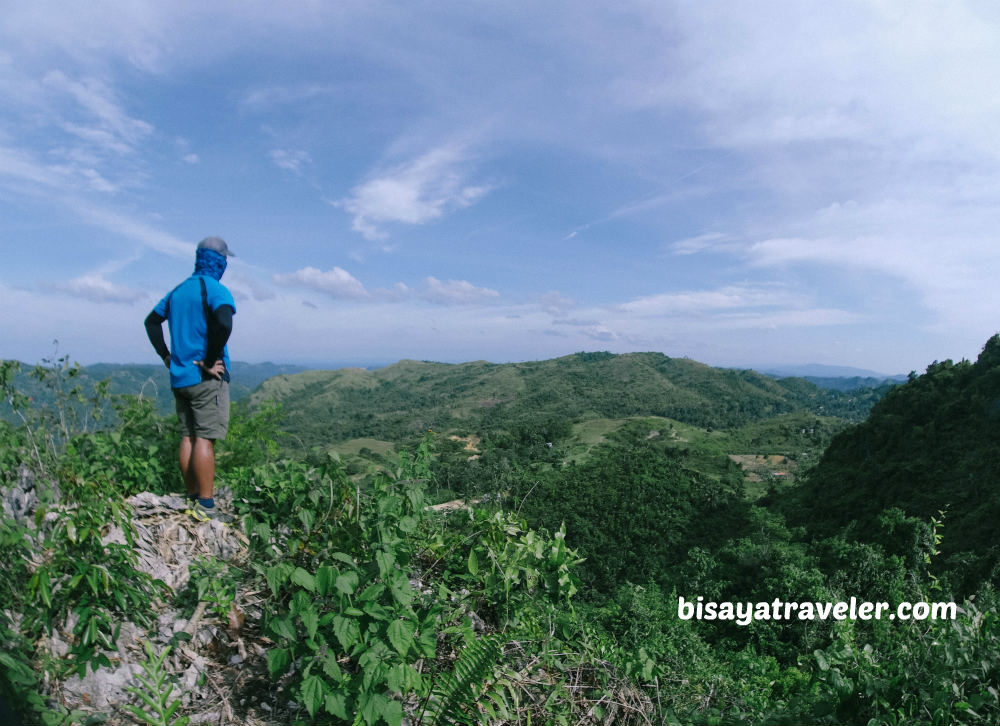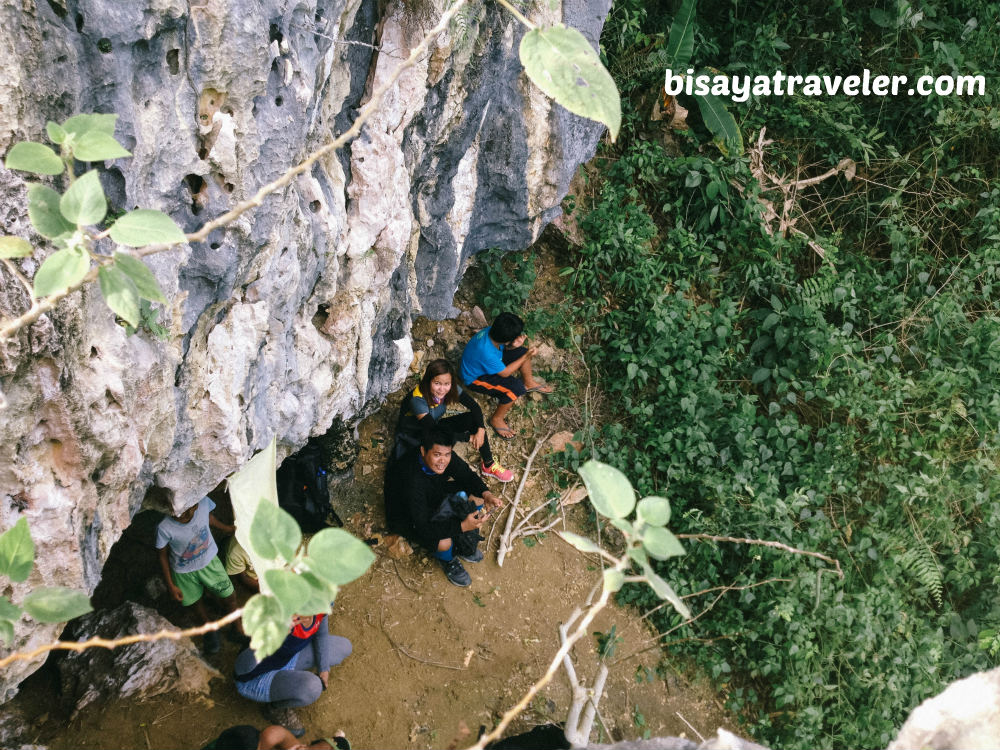 With its limited space and shaky rocks, we didn't spend a ton of time on the cliff.  Consequently, we descended from Mayana Peak, and enjoyed refreshing drinks and snacks at a local store.
We bid farewell to the kids, and walked on the grassy and picturesque mounds of this part of Naga City.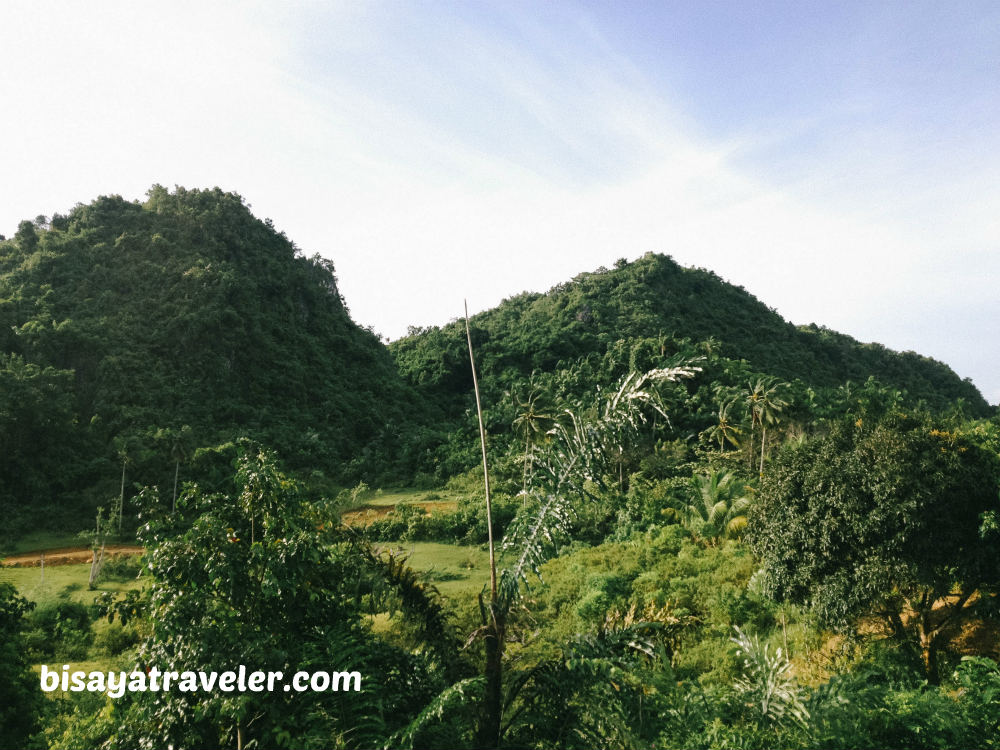 With the sun about to set, we decided to not to continue with our hike to Balirong Peak.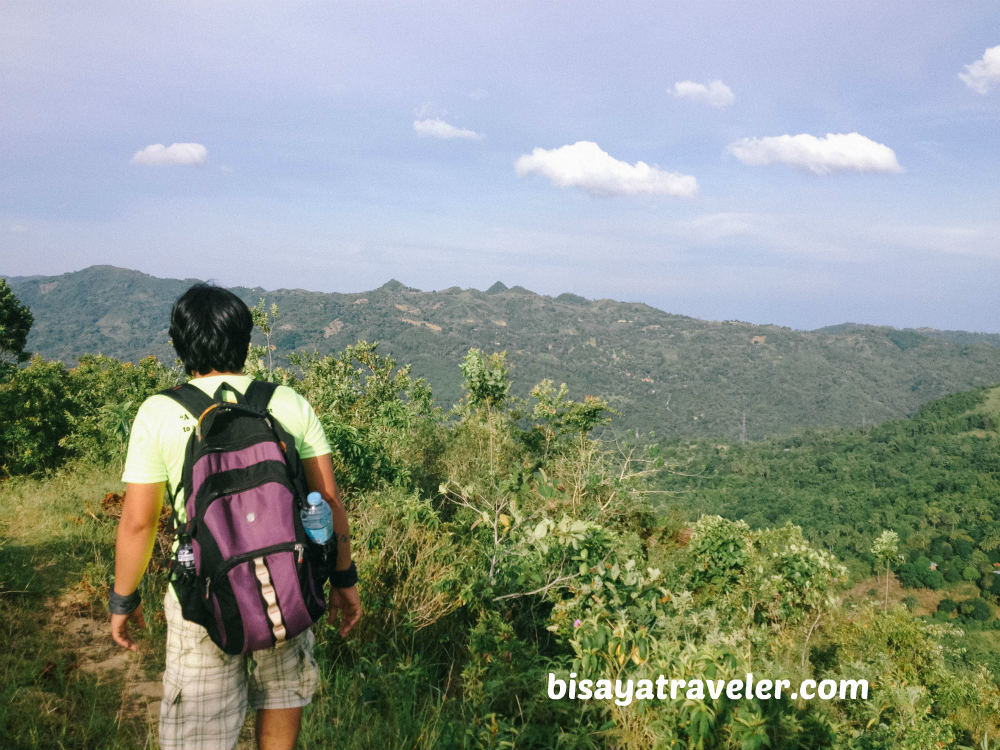 Instead, we strolled on the established path leading to the highway, to cap off our trip.
And, though Mayana Peak and Puting Bato aren't well-known spots, I must say I was swept into bliss by this exciting day adventure.
How to get there:
If you're interested in hiking Batogag Banog only, please refer to my old post: Puting Bato:  A Heart-pumping Climb To Lutopan's Towering Monolith. For those who need a guide to Mayana Peak or Lapos-Lapos Cave in Naga, please reach out to sir Francis though his Facebook page.
Our Mayana Peak and Puting Bato itinerary:
07:00 AM: Meet up at Cebu City South Bus Terminal
08:15 AM: Depart from Cebu City
09:15 AM: ETA Lutopan Landing
09:50 AM: ETA Starting Point
10:00 AM: Start hike
11:00 AM: ETA Puting Bato (Batogag Banog)
11:30 AM: Start descend
12:50 PM: ETA main road to Mayana Barangay Hall
01:00 PM: ETA Mayana Barangay Hall/lunch
01:45 PM: Resume hike
03:00 PM: ETA Mayana Peak
03:30 PM: Start descend
05:30 PM: ETA Naga-Toledo Highway
06:30 PM: Early dinner at Naga City Boardwalk
08:00 PM: Home sweet home
Important notes:
Unless you're Batman or Superman, do not climb either mountain on a rainy day.
Wear sunscreen as well as bring a hat and a pair of arm-guards to protect your skin from the sun's heat.
Bring trail food and at least a liter of water.
Pack ION beverages like Gatorade and Pocari Sweat.
Practice the LEAVE NO TRACE principles.
Wear trekking shoes with good grip and traction.
Be extra careful when climbing Batogag Banog and Mayana Peak
My main expenses:
Bus fare to eskina Mayana: PHP 50
Tip to guide: PHP 20 each
Fare to Naga city proper from Uling: PHP 15
Fare to Basak from Naga: PHP 15
Just because there are no major climbs in Cebu, it doesn't mean you can't have a memorable hiking adventure on our island. With an adventurous spirit and an explorer's mentality, you can have a blast venturing into the unknown paths and unnamed natural wonders of the island. Offering more than just a fun and thrilling escape, Cebu's hidden gems are also easy on the wallet, making them a delight and godsend for budget-conscious adventure connoisseurs like us.