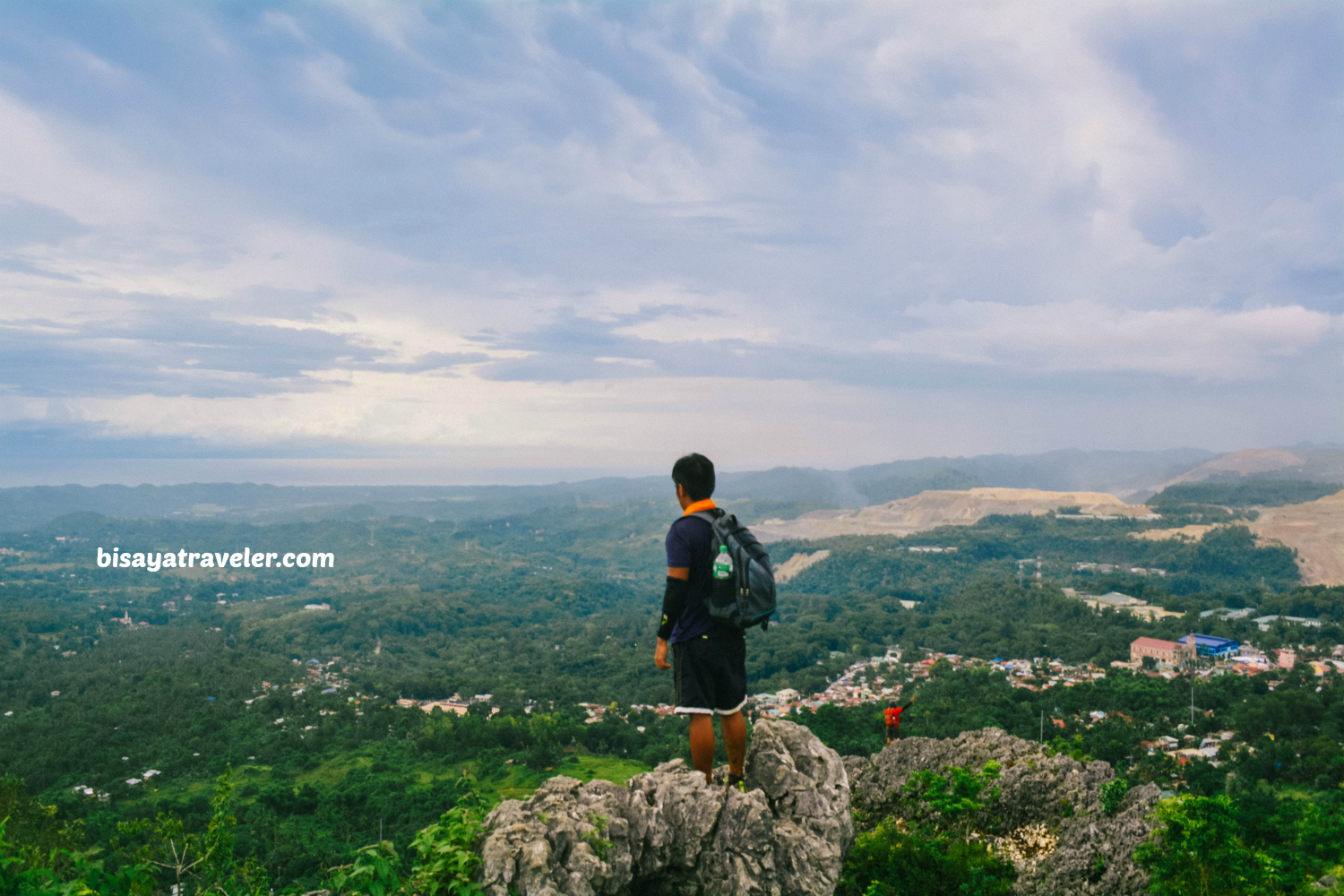 Puting Bato: A Heart-Pumping Climb To Lutopan's Towering Monolith
"Sometimes, we need to push ourselves and take risks, to know what we're really capable of".  From my teenage years as a musician to my business ventures in my 20s, I've learned and rediscovered this valuable life lesson on so many occasions in my decades of existence. And last Saturday, I was once again reminded of this inspiring message, after scaling Lutopan, Cebu's gigantic monolith – Puting Bato.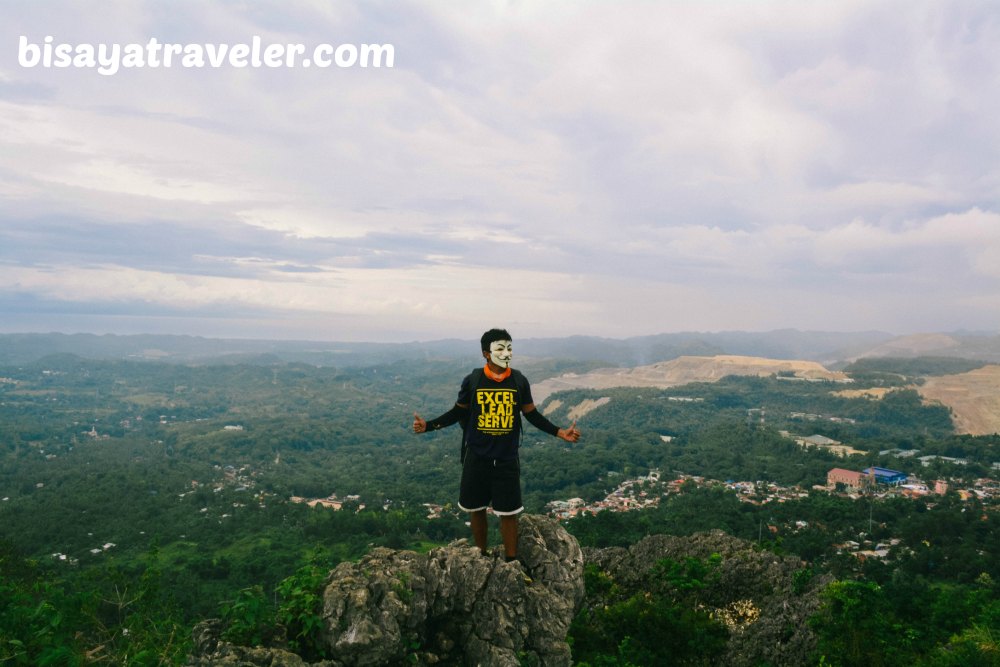 Truth be told, I was a little hesitant to climb Puting Bato, as we were hiking our way to this stunning towering natural landmark. Every time we asked the locals for directions, they always, with sarcasm, gave us a smirk or a warning. Furthermore, the weather was about to turn from pleasantly sunny to wet and windy.
As a matter of fact, I could even hear the mighty sounds of thunder, on our way to Puting Baro, or also officially known as Bantogan Banog. Plus, our energies weren't exactly a hundred percent, following a 4-hour day hike in Mount Kalbasaan, Minglanilla, Cebu.
But, I'm not the type of person who backs out from a challenge. While I'm not known as someone who throws caution to the wind, I do love stretching my comfort zone, to prove the naysayers wrong. When someone underestimates me, I channel my inner competitive black mamba.  Yes folks, beneath my calm demeanor is a relentless, competitive wolverine.
Our Puting Bato adventure
We – me, Sherlyn, Kevin and Marc – had just completed a laid-back pabebe hike in Mount Kalbasaan. Although our hike was a sweat-inducing workout, we were still itching to add an element of adventure to our day trip. And so, we decided to take on the nearest peak from the KM 28 landmark – Puting Bato.
But the problem is, we didn't do our homework, prior to our trip to Lutopan, Cebu. After all, it was a random idea and a last-minute decision, on our way back to the base of Mount Kalbasaan. What's more, the locals in Lutopan weren't quite sure of the exact location of this awe-inspiring monolith since there are actually two places named Puting Bato in the whole Toledo area.
But, after a couple of wrong turns, we finally made it to the jump off point to  Puting Bato, which is amazingly just a short walk away from the Lutopan Bus stop, or also referred as "Landinganan".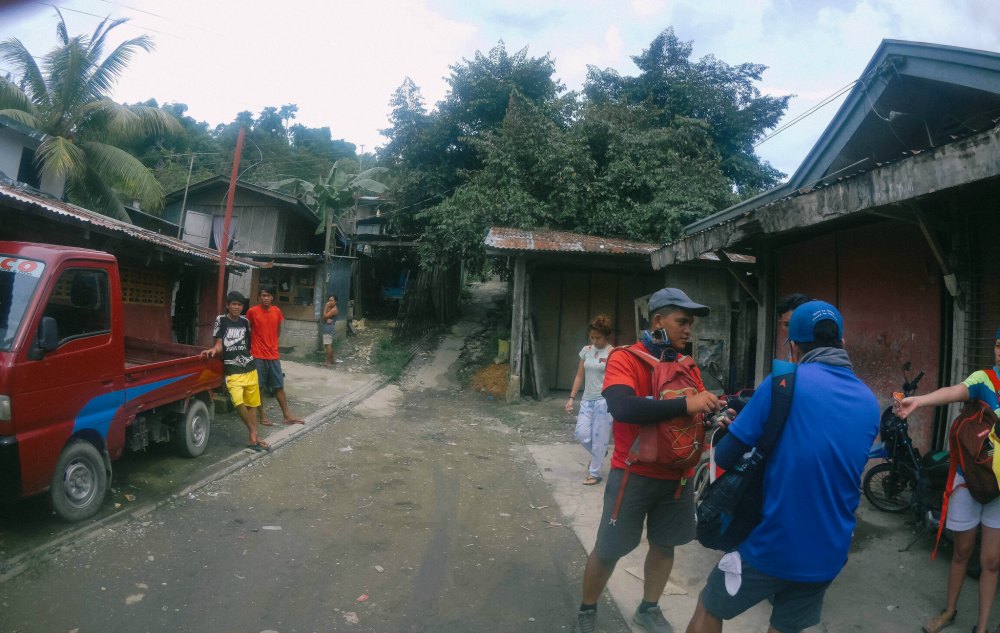 Afterwards, we walked through a narrow alley, and into a labyrinth full of houses and people.
We went there without any guide, meaning the only way for us to get to Puting Bato was to ask the locals in the area. And, while everyone was fairly great, helpful and friendly, some, especially the younger ones, thought that we were not up to the challenge.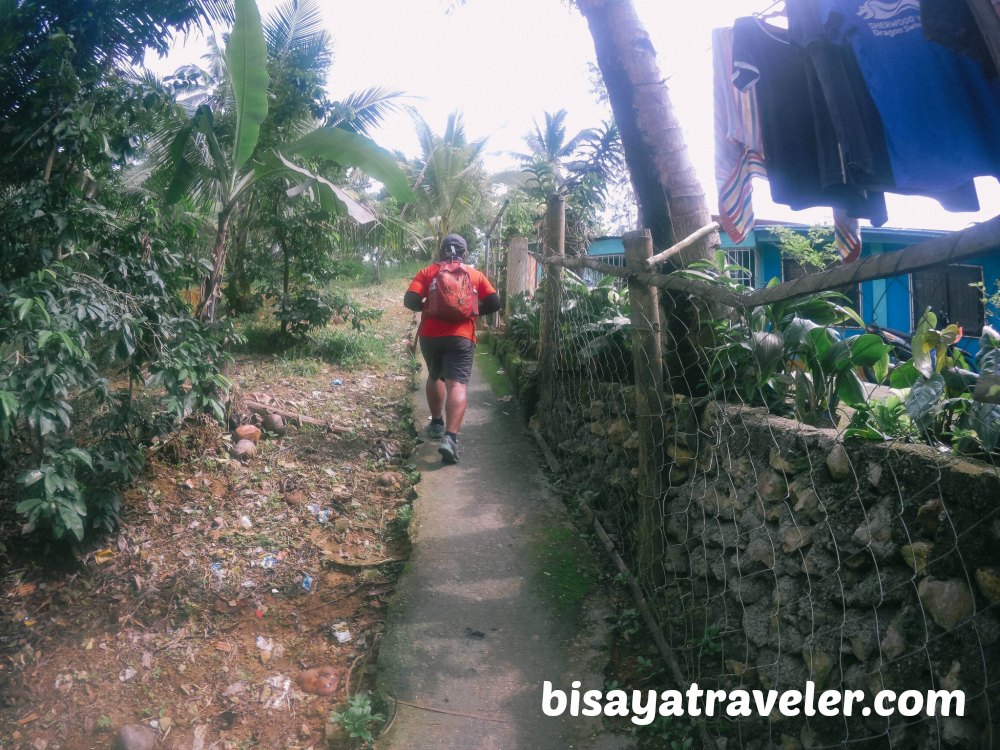 "Are you sure about it, kuya and ate", asked a teenager who was carrying a sack. Heck, even the elderly ones gave us some sarcastic facial reactions and smiles, whenever we told them about our plans to climb Puting Bato.
And yes, these remarks did affect our enthusiasm and shake our confidence a bit. To me, it seemed like everybody thought we couldn't do it.
Despite everything they said, I was still pumped up to conquer this monolith. As for the rest of the team, I didn't notice an ounce of fear from them.  I do believe they were slightly worried, but they were just as focus and determined as me, to see Puting Bato.
Along the way, we saw a house and a sari-sari store, where took a quick breather. There, we asked the owner if the monolith is safe to climb.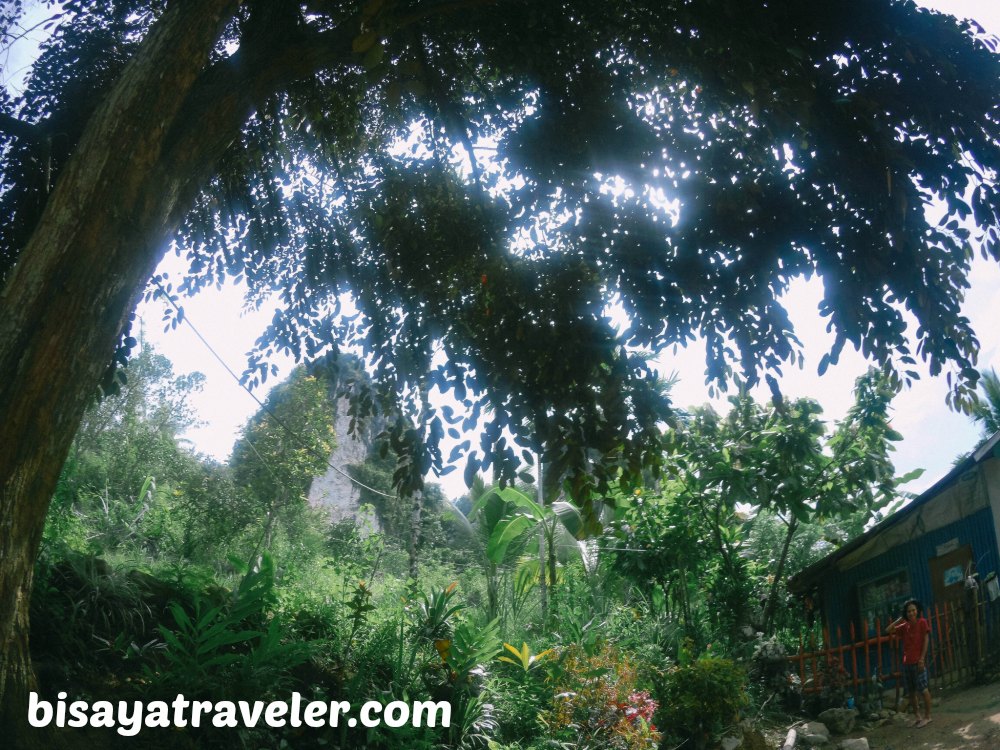 "A week ago, my brothers and sisters tried to go there'', said the homeowner. "But, they didn't get to finish it once they saw how difficult it was to climb", she added.
Even though it wasn't the answer we were hoping for, we still pushed through with our climb to Puting Bato.
We had to give it a try! There was no way we were going home, without even trying. I was thinking that the locals might be wrong and or they were just exaggerating.
Also, we did all agree if the climb is too dangerous for us, we'd, by no means, push through with our hike.
Then, we followed a muddy and established trail, until we got an up close look of this steep natural wonder.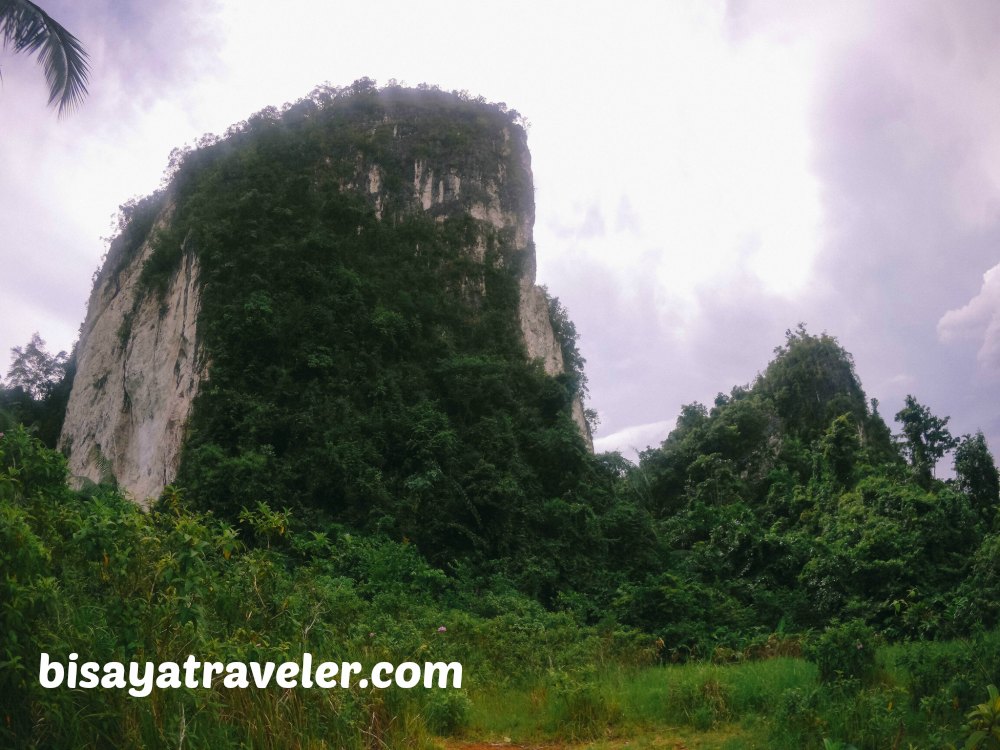 And out of nowhere, an elderly man came into sight. To clarify things, we asked him to shed some light about the trail and if the monolith is easy and safe to climb.
And for the first time, we got the answers we were looking for.
"It's easy", the old man answered. "As a matter of fact, there have been plenty of people who have reached the summit with ease", he added.
Without wasting any more time, we said a prayer, asking for guidance, safety and good weather. This time, I led the prayer because Marc already did it earlier in KM 28.
Before we hit the trail, we took a last look at the summit of Puting Bato, to get ourselves ready for the uphill challenge.
I thumped my chest hard, as a way to get my adrenaline pumping.  As silly as it may sound, I have used this technique in many critical moments of my life.
When I thump my chest, my focus improves, my creative juices get flowing, and my muscles get warmed up. Moreover, it's my way of making sure that I don't crack under pressure. Believe it or not, it gave me a nearly perfect score in my final college interview exam, even though I didn't study at all.
With our bodies and minds up and ready, we hit the trail to the summit of Puting Bato.
There were some slippery spots on our way to the summit since it was raining cats and dogs earlier. To make things more challenging and interesting, there were tons of prickly plants around the area. In just a few minutes, I noticed a couple of scratches on my left hand.
Sherlyn was having some difficulties with the muddy and wet trail too. While I, Marc and Kevin were wearing shoes, She wore a local sandal brand that's known for being slippery.
I can feel her pain because I also have a pair of these sandals. I don't want to mention the name, but I'll give you a clue of this sandal brand – "Saint and Blood".
But, these small hiccups didn't bother us. And besides, I know Sherlyn very well, and I'm pretty sure she can handle the trail with flying colors. Truthfully, the only thing that we were concerned about was the steep 90-degree rock face.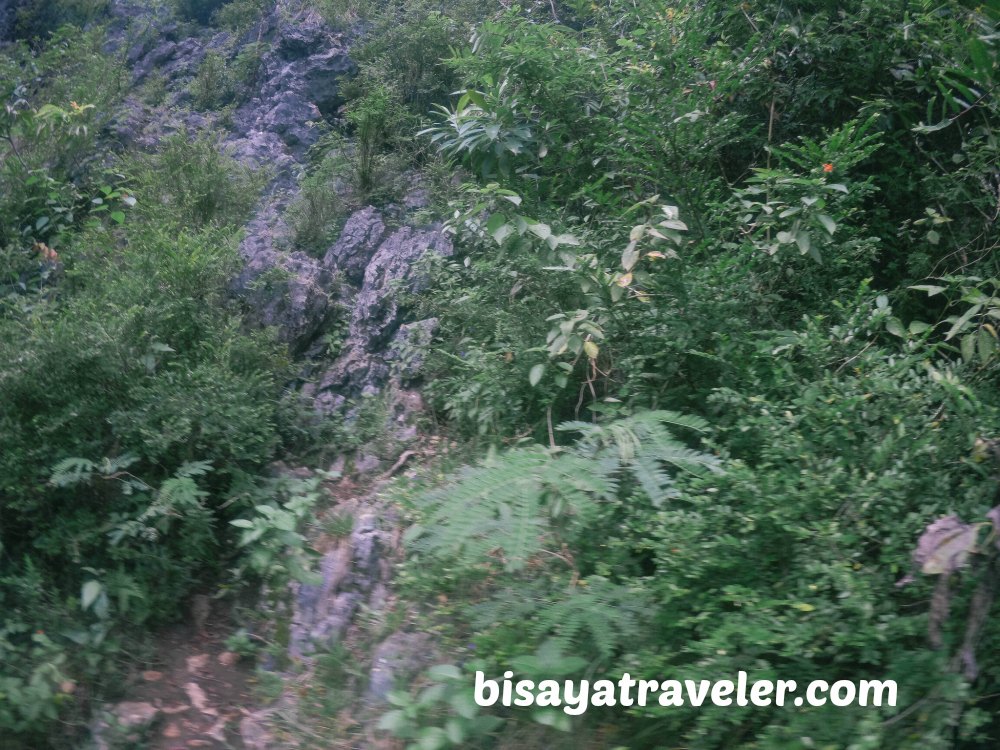 And ultimately, I found myself standing face to face with this challenging part of the trail. For a second, I analyzed the rock face, and came up with a strategy to get through it.
I climbed the rock face first, and went on to scale the next one. And, to my surprise, I found out that it wasn't as difficult as I initially thought it would be. 
I guess the locals did underestimate us!
Sherlyn, meanwhile, had to remove her sandal, to prevent slips and mishaps, while climbing. Luckily, Marc was there to assist her ate.
Moments later, we arrived at the top of Puting Bato. And, I must say it was such a glorious feeling!
I, honestly, have seen more jaw-dropping views than this, but it was a pleasantly rewarding experience nevertheless.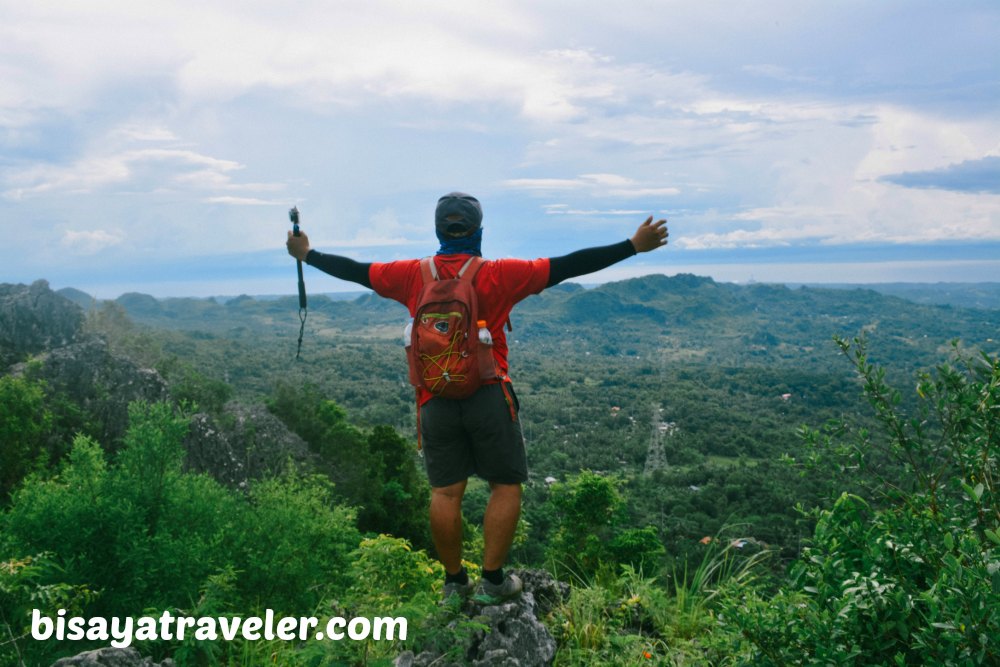 Once everyone was on top, we snapped dozens of photographs from a variety of angles. Except for the huge excavation project of Altas Mining Corporation, the views from this vantage point are breathtaking.
As usual, Marc did his daredevil walk, with his GoPro, on the rocky surfaces of Puting Bato.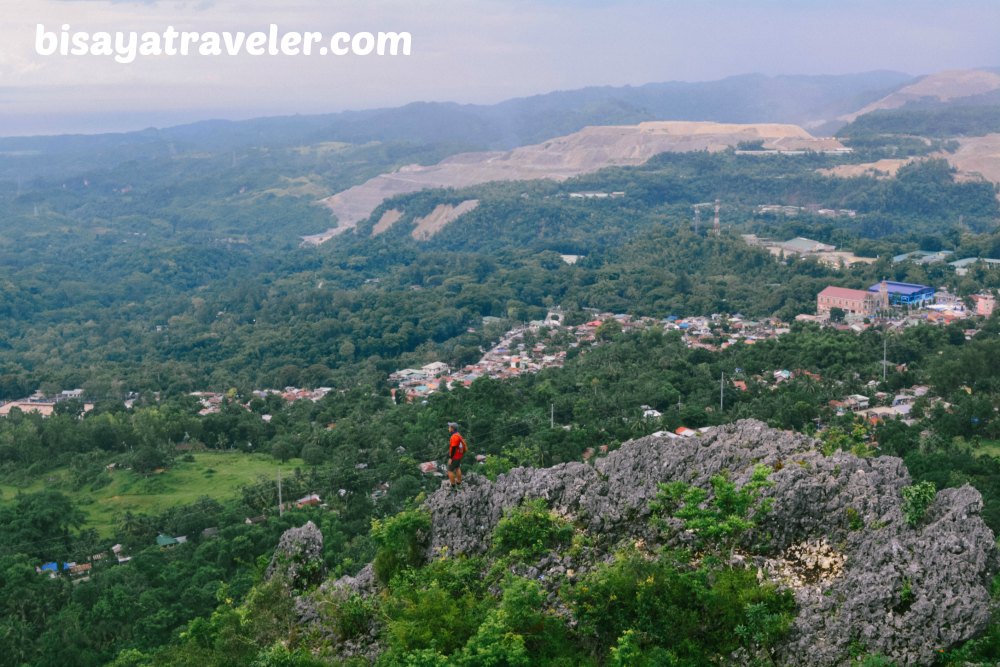 Sherlyn, even without wearing her sandals, had a blast taking in the scenery and admiring the bird's eye panoramas of Lutopan.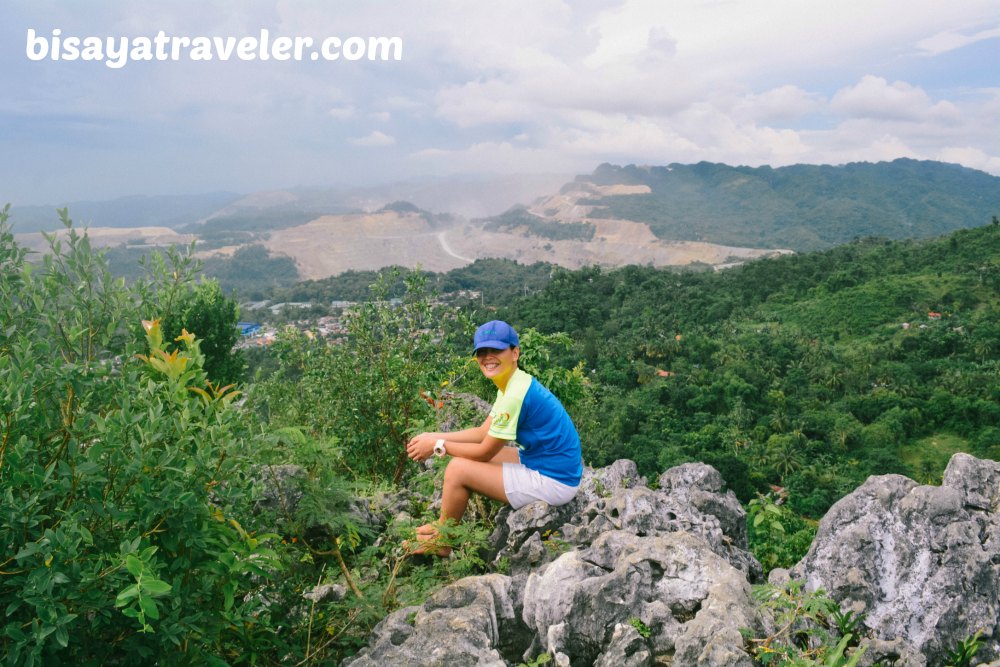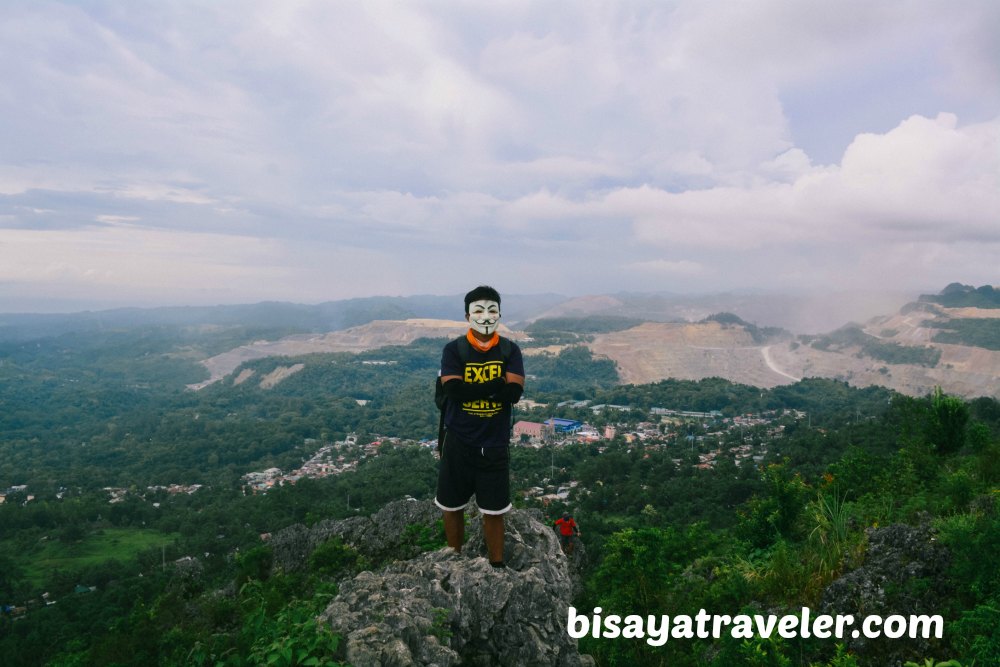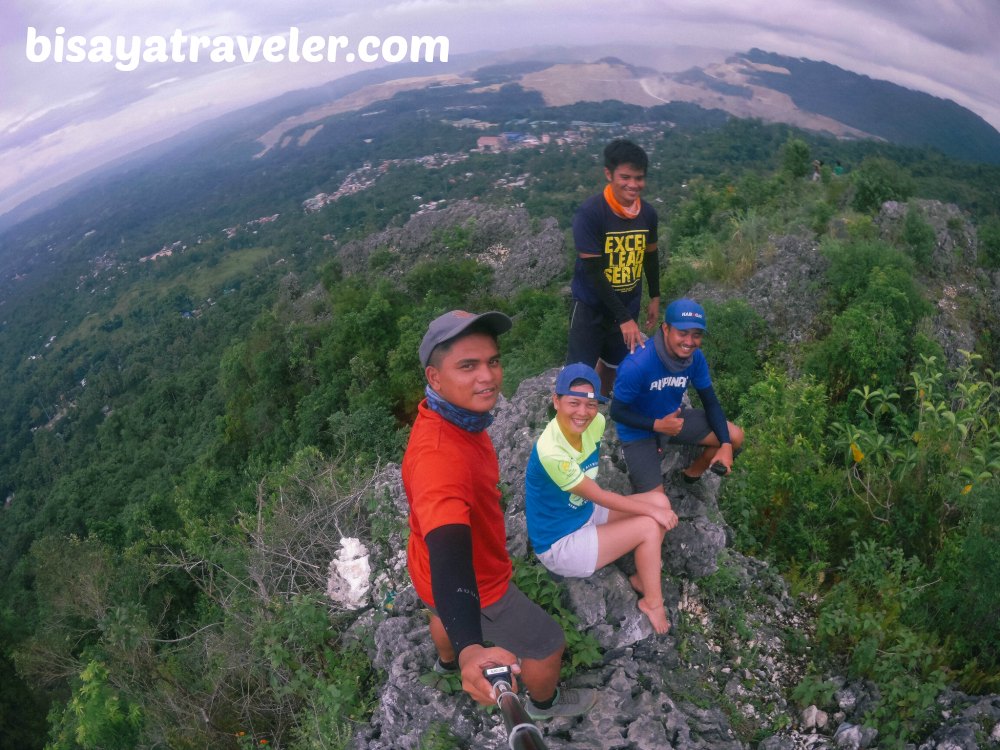 Aside from Lutopan, we also saw Mount Kanlaon as well as some portions of Toledo proper.
As I was soaking up the atmosphere and savoring the panoramas, I realized that I made the right decision for our day adventure in Lutopan, Toledo, Cebu. In spite of all the hurdles, warnings and wrong turns along the way, we still managed to pull off a mind-blowing climb to the rugged summit of Puting Bato. Sure, it's not an impressive feat for some people, but I'm still proud of what we've accomplished on our Saturday adventure.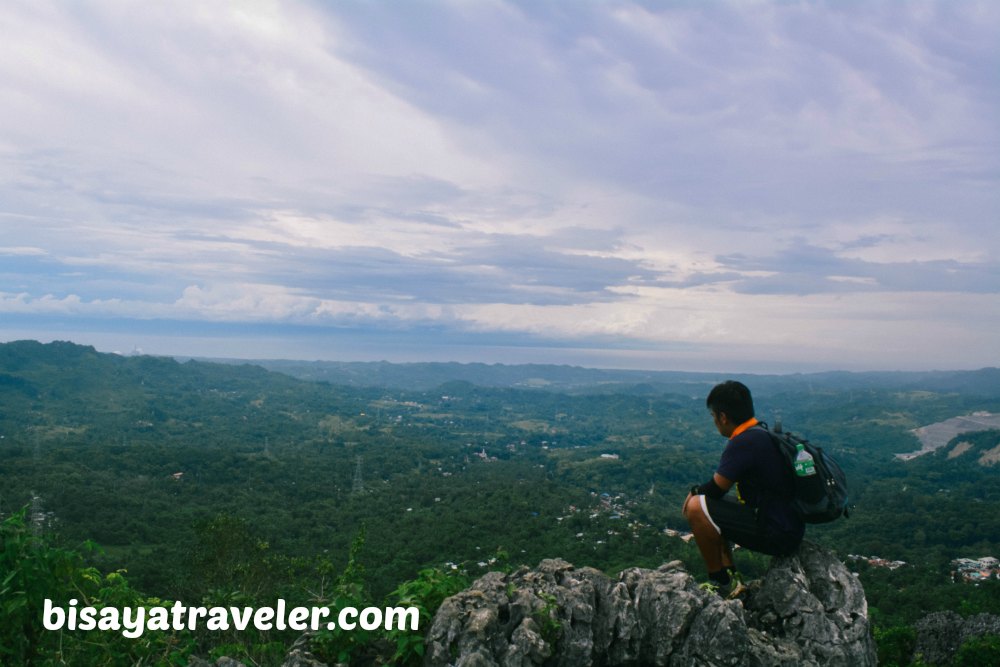 And of course, no Team Bang adventure is complete without our individual talikogenic pose.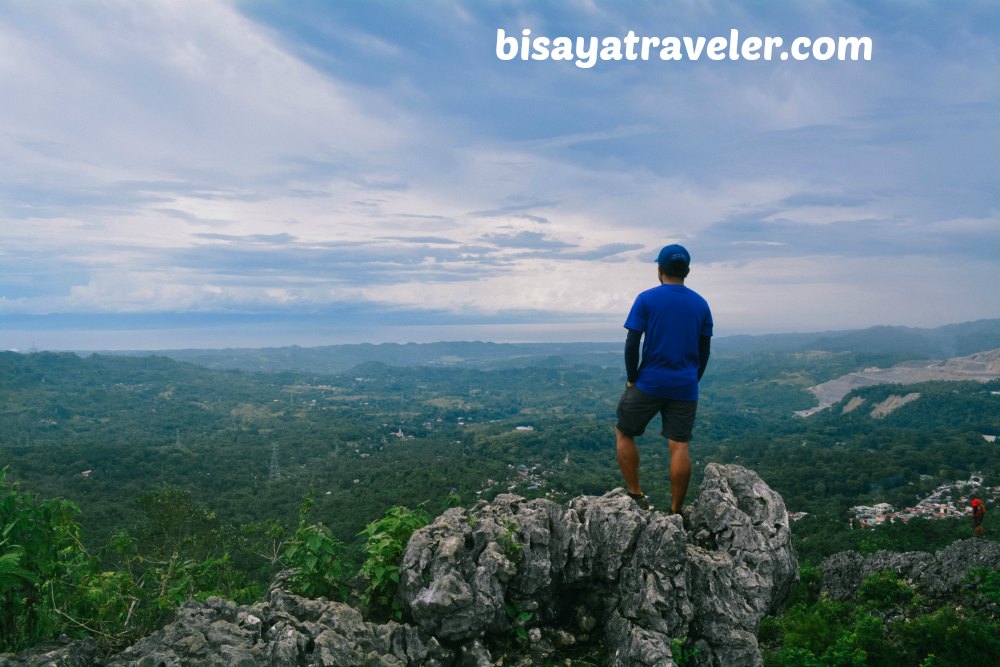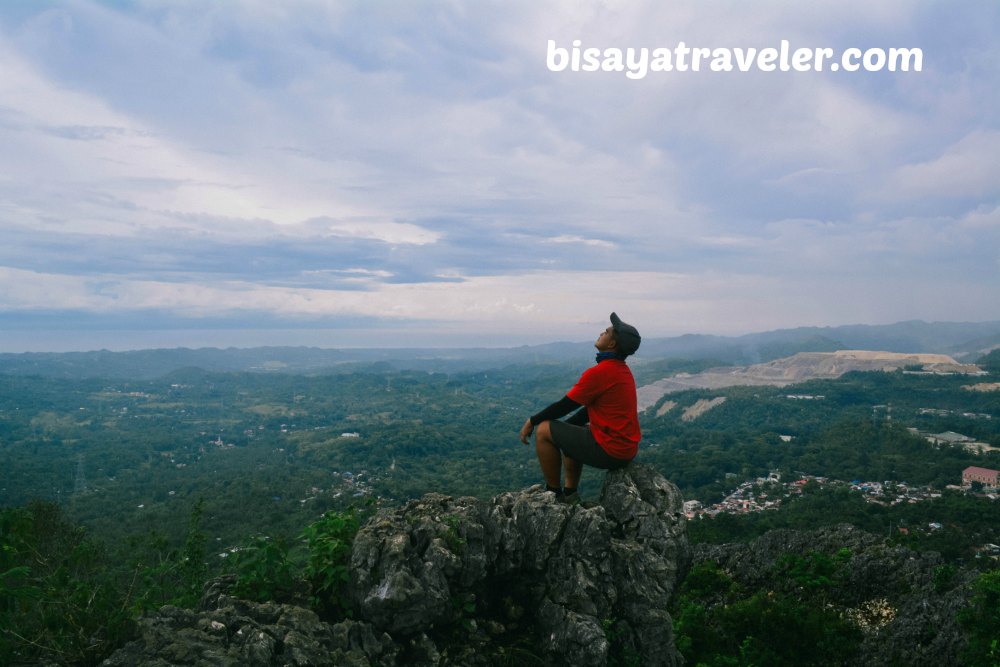 Moments later, a trio of youngsters easily climbed Puting Bato, wearing only their slippers. As what I've learned later on, these boys climbed the monolith just to have a good view, while enjoying their snacks. Quite a bunch of adventurists, right?
I forgot their names, but I did promise these "Parkour" enthusiasts to feature their faces on my blog.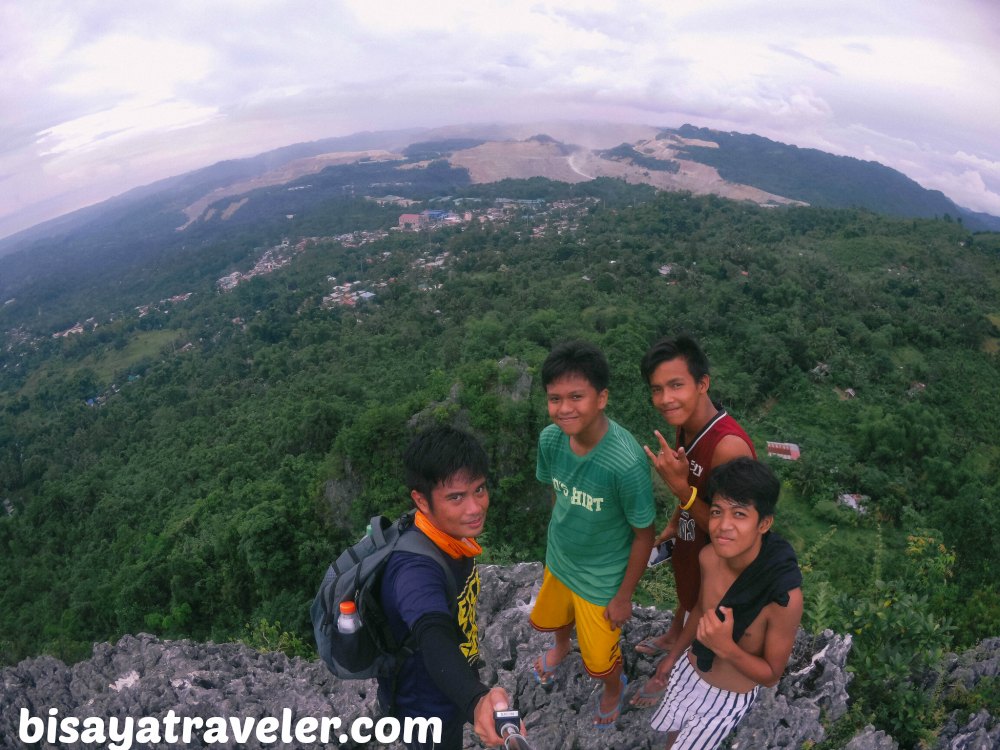 Soon after, they posed in front of my camera with Team Bang's signature pose – Dab.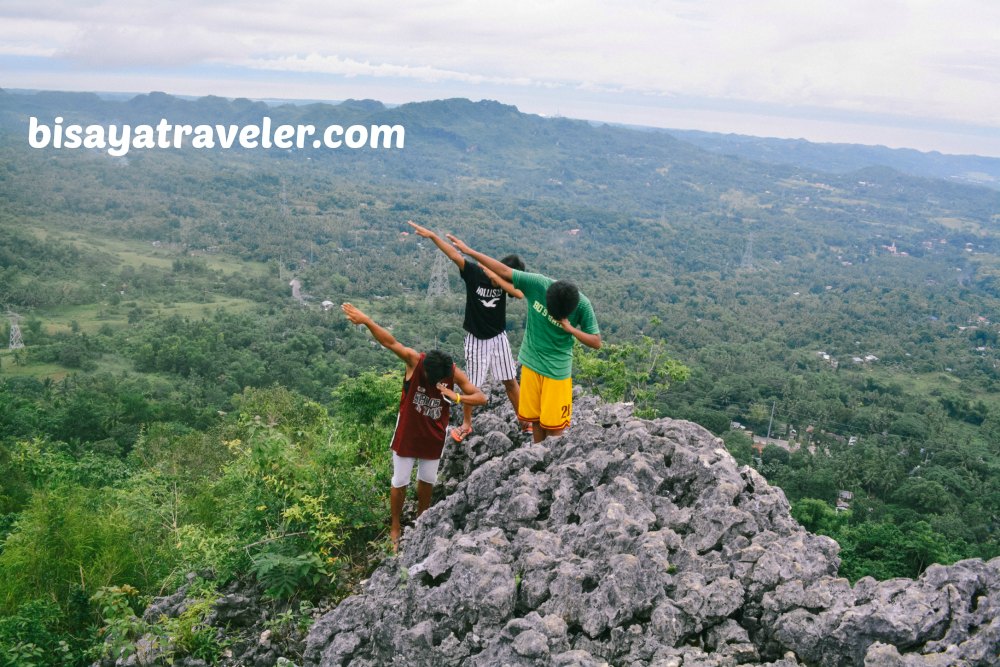 With the sun about to set, we decided to descend and enjoy some refreshments in the nearest sari-sari store.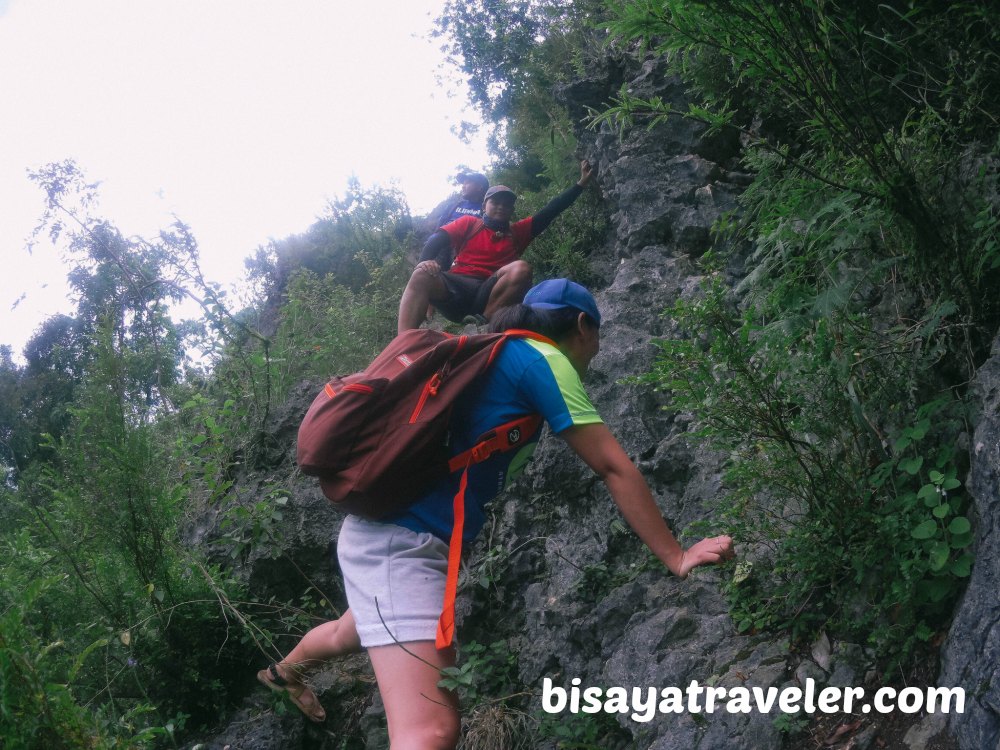 The kind Puting Bato trio tagged along with us as well, to lend a helping hand, whenever we needed one.
They even took a photo of us, pointing to the top of Puting Bato.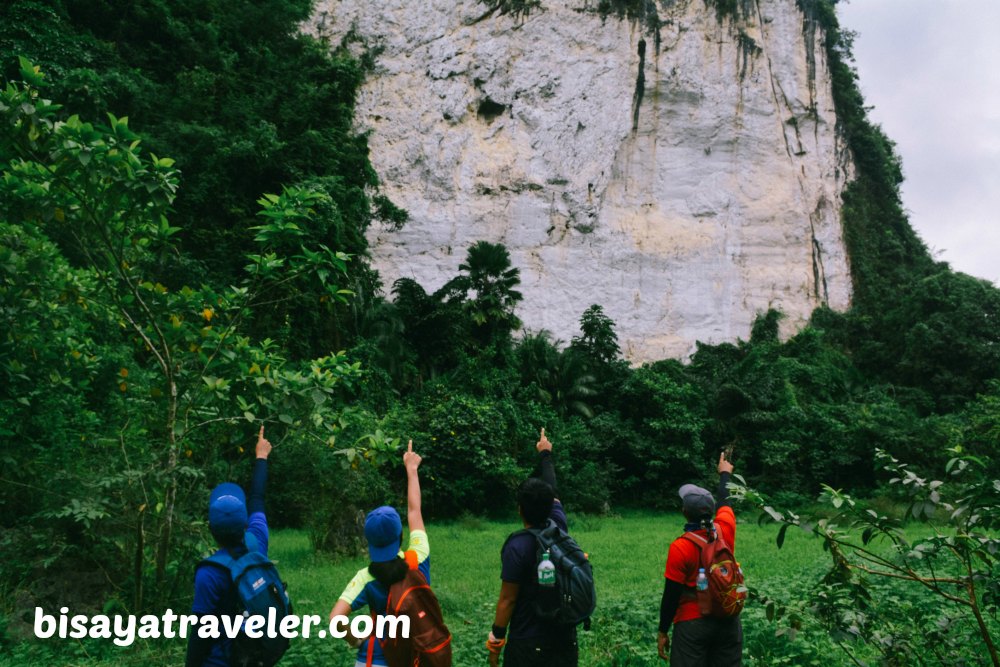 On our way back to the base, Sherlyn couldn't hide her excitement and happiness, singing Dora the Explorer's famous song "We did it".  And in my book, it was a fitting song, after a fun-filled and challenging hike.
How to get to Puting Bato:
From Cebu City South Bus Terminal, take a bus bound for Toledo, and ask the driver to drop you off at Lutopan Bus Stop (Landinganan). From there, cross the street, and ask the locals for directions to Puting Bato. Use the keywords "pang-pang" to prevent confusion with the other Puting Bato in Toledo City. Better yet, show pictures of the monolith.
Important notes:
Wear sunscreen as well as bring a hat and a pair of arm-guards to protect your skin from the sun's heat.
Bring trail food and at least a liter of water.
Pack ION beverages like Gatorade and Pocari Sweat.
Practice the LEAVE NO TRACE principles.
To get to Puting Bato, simply asked for hints and tips from the locals.
Be extra careful when climbing the monolith. One small misstep and you might find yourself in a hospital bed with a serious injury.
Wear trekking shoes with good grip and traction.
If the weather is not good, please, for your own good, do not climb Puting Bato.
Admission fee is FREE.
Our expenses including Mount Kalbasaan:
Bus fare to Lutopan – PHP 40 per person
Habal-habal fare to Campo 8 – PHP 20 per person
Habal-habal fare to Lutopan – PHP 20 per person
Bus fare to Cebu City – PHP 40 per person
Total amount – PHP 120 per person
Our Mount Kalbasaan and Puting Bato itinerary:
06:30 AM: Meet up at Cebu City Bus Terminal
07:00 AM: Depart for Lutopan Landinganan
08:00 AM: ETA Lutopan Landinganan/Depart for KM 28 landmark in Campo 8
08:15 AM: ETA Campo 8/Breakfast
08:30 AM: Start hike to Mount Kalbasaan
10:30 AM: ETA Mount Kalbasaan
11:30 AM: Start descend
12:40 PM: ETA KM 28 landmark/lunch
01:00 PM: Start walk to a nearby barangay in Lutopan
01:30 PM: ETA in a barangay in Lutopan
01:45 PM Depart for the base of Puting Bato/start hike
02:00 PM: Start hike to Puting Bato
03:00 PM: ETA Puting Bato summit
04:00 PM: Start descend
05:00 PM: ETA Lutopan/take bus back to Cebu
06:30 PM: Home sweet home
In life, you'll never know what you can or can't do, unless you try. Don't mind the naysayers and doubters. Remember, no one knows you better than you. So, take the leap of faith, take risks, and discover the best version of yourself. Who knows? You might be just as good as Spiderman, when it comes to climbing mountains.