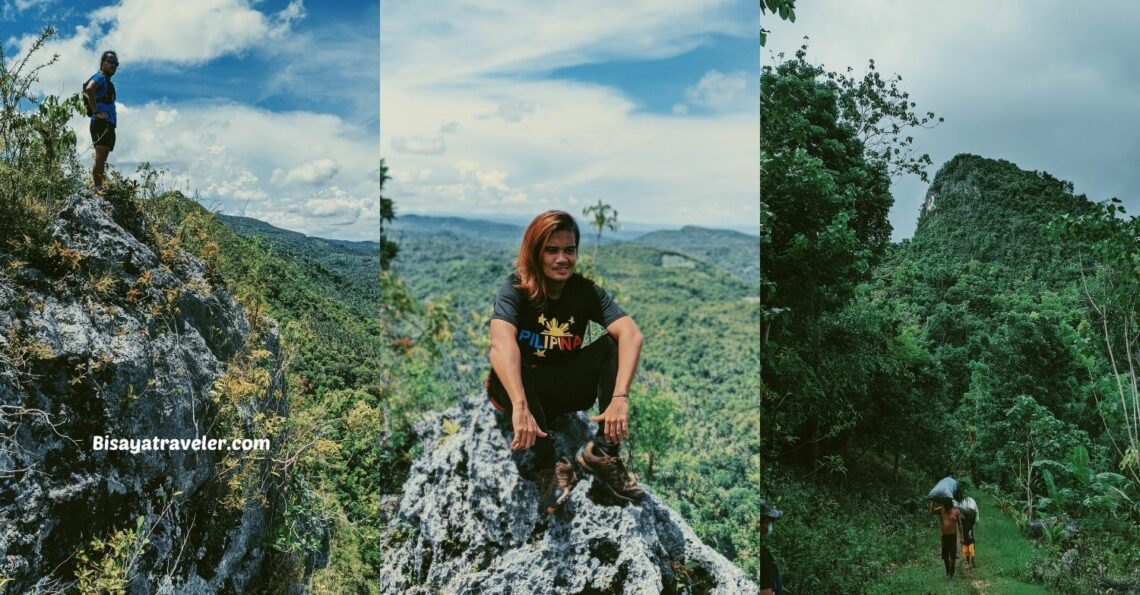 Sibonga And Its Therapeutic, Enriching Mountains
My heart raced. With each breath, my heart pounded loudly like the rhythms of a tribal drum. As I was standing precariously on a steep slope in a secluded mountain in Sibonga, I could feel sweat dripping into my eyes and my mouth going dry.
And, with a torn left glute and 24 hours of no sleep, this outdoor exploration in Sibonga seemed like a recipe for disaster.
As I was taking a deep breath, and soaking up the scent of soil, I felt a wave of joy flooding through me.
My heart fluttered with excitement, with each step and every obstacle I conquered. Moments later, I found myself at the top of an unnamed jagged mountain, breathing fresh mountain air, and soaking up awe-inspiring panoramas.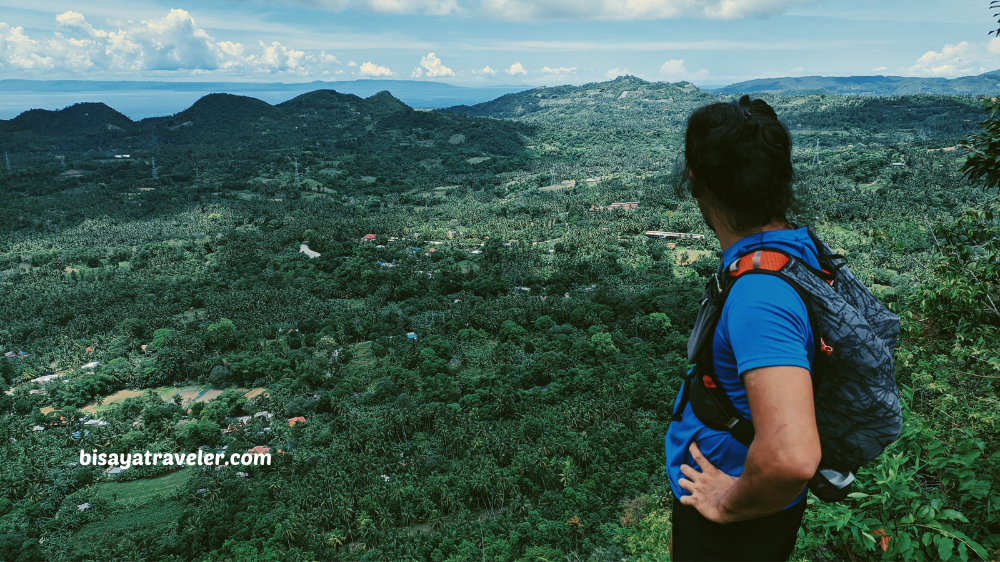 This is my therapy.
This is what makes me feel so alive.
And, this is how I escape the frenzy and chaos of modern life.
Even with all the setbacks, there was no way I was going to miss this outdoor escape in Sibonga.
Therapeutic and fun-filled, these hikes always nourish my soul and rejuvenate my weary spirit.
The roaring sound of water, the clean smell, and the magnificent mountain view feel like a spa for the soul.
And, best of all, day hikes like our Sibonga, Cebu adventure help me unlock a series of hacks and cheat codes to the game we call life.
After a day filled with gorgeous views in Sibonga, I felt like a brand-new man, ready to smash the curve balls life throws at me.
My Sibonga, Cebu adventure
07:25 AM: The bus ride to Sibonga
I woke up to the sound of my mobile phone buzzing inside my backpack. I checked it, and saw messages from my hiking buddies.
I'm usually pretty optimistic whenever people I'm bound for a long and glorious hike. This time, though, I felt the need to stay at home.
Every inch of my body was in disarray. My mind, body and soul was drained. On top of it all, I had a pile of work and deadlines, and family issues that needed to be resolved.
Still, I had to go to Sibonga.
The rugged, untouched and verdant limestone mountains of Sibonga were just irresistible. What's more, I knew the Universe wanted me to be in Camp Bato and Casintic, Sibonga that day.
The truth is, nothing in life happens by accident. Each moment is part of a grandiose plan orchestrated by the Universe.
And, here I was sitting on a bus, optimistic for a revelation or a sign from the Universe.
08:20 AM
One of the perks of hiking is that you get to meet a lot of new friends. And, today, we gained a set of new buddies: Naomi, Jen and Jay.
From the moment we introduced each other, it was magical. Our chemistry is off the charts and unmatched. In fact, it seemed like we knew one another for ages.
Besides our 3 new friends, I was also joined by Berny, Gehrame, Mark, Beboy, Dian, Giselle and James. Of course, our ever loyal tatay Raul, or also known as Bisayang Pa Egg, was available for this hike.
Our hike in Sibonga kicked-off off the right foot. And now, it was time to venture into the hidden wonders of Sibonga.
Along the way, we got a glimpse of the first peak we were going to climb that day. And, like most of the jagged cliffs and peaks in Sibonga, it was unnamed.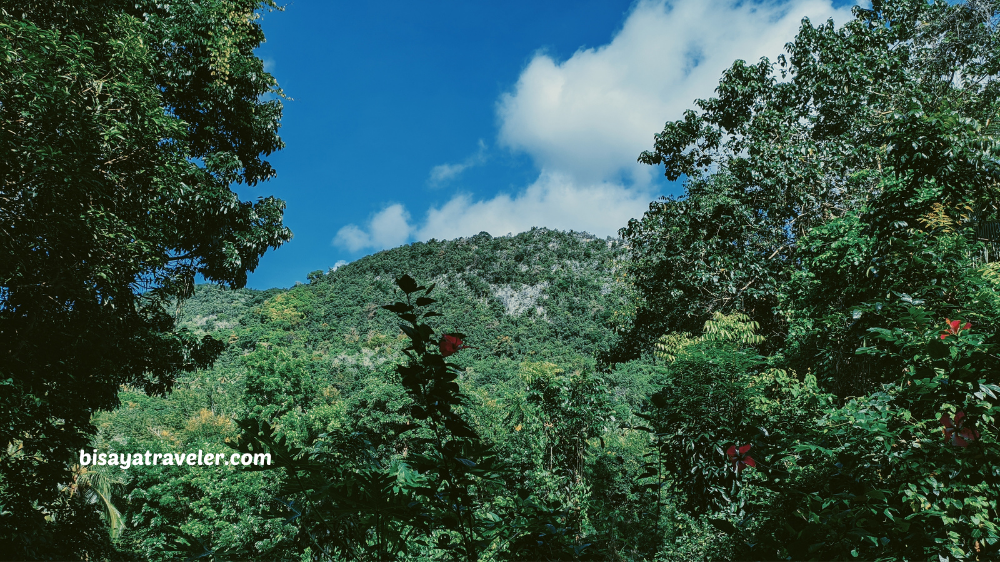 So, in the meantime, we named this peak "Pico de Naomi", in honor of our adventurous friend, Naomi.
And, even though our hike just started, I was becoming more alive and energetic.
Part of the reason I hike every month is that it always makes me feel clear minded and accomplished. Not to mention, I become so creative every time I finish I hike.
To me, the cocktail of nature and hiking is the ultimate remedy for unclogging my mind of all the unnecessary things. And, once hiking soothes my mind, I begin to focus on the larger picture.
The speed and distractions of modern life tend to crowd our minds with so much information. And, with the clarity I gain from hiking mountains, inspiration suddenly pours in.
09:07 AM
With Jen, Jay and Naomi leading the pack, we followed a beautiful trail tucked away in the highlands of Sibonga.
Afterward, we took a detour to a spot where we got a good look of Pico de Naomi and the surrounding mountains of Sibonga.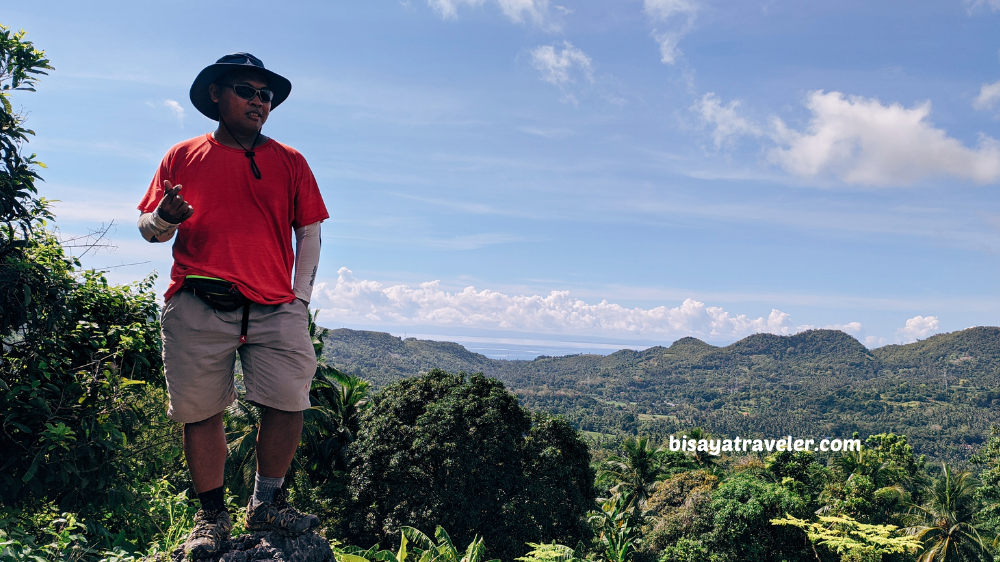 While admiring the view, Naomi told me how these mountains in their backyard helped her stay sane, amid the Covid-19 chaos.
Suddenly, it reminded me of one of my life's mottos: you don't have to go far to find beauty and happiness.
As I've said earlier, hiking clears and soothes your mind. And, when your mind is clear, you'll realize that you're surrounded by beauty.
People think that you need to travel to Boracay, Hong Kong and other established paths to be happy.
That's what travel agencies want you to think. That's how travel vloggers tell their story. And that's how our consumerist culture poisons our minds.
But, guess what? We don't have to book expensive flights and travel for days to satisfy our wanderlust. With an open mind, an adventurous spirit and a sense of contentment, you'll find happiness in every corner of your town or city.
After a quick pit stop, we went on with our hike, passing by some captivating landscapes. We also crossed streams, which definitely added an extra element of fun to our Sibonga hike.
And, unlike the streams in Cebu City, this one is pristine, clean and wild.
We had to dodge branches, jump over streams and even do a little trailblazing. In other words, it has all the ingredients of a fantastic nature trip.
Soon after, we began climbing uphill to a gorgeous house owned by a relative of Naomi.
We took a short rest, refilled our water bottles, and resumed our hike.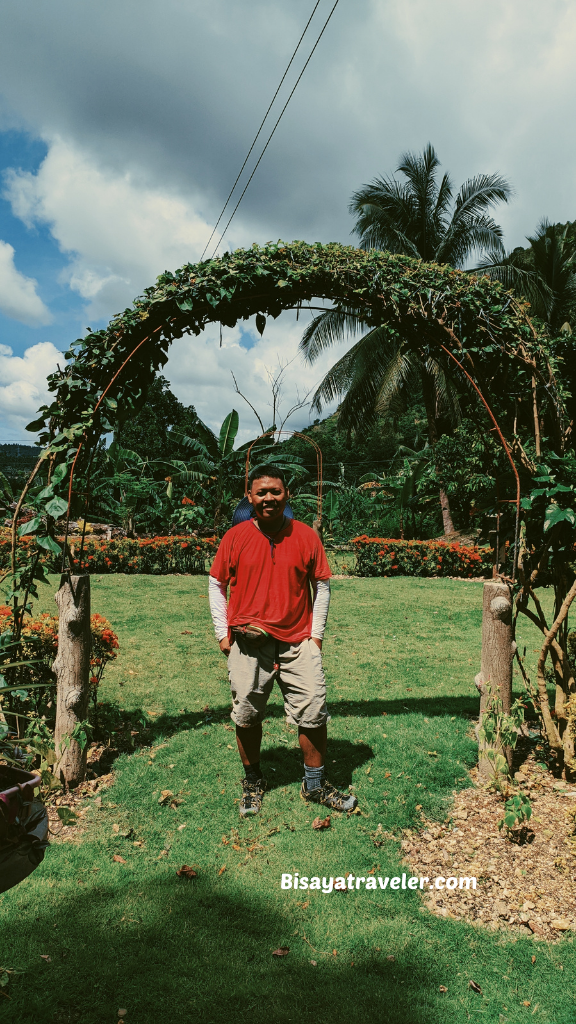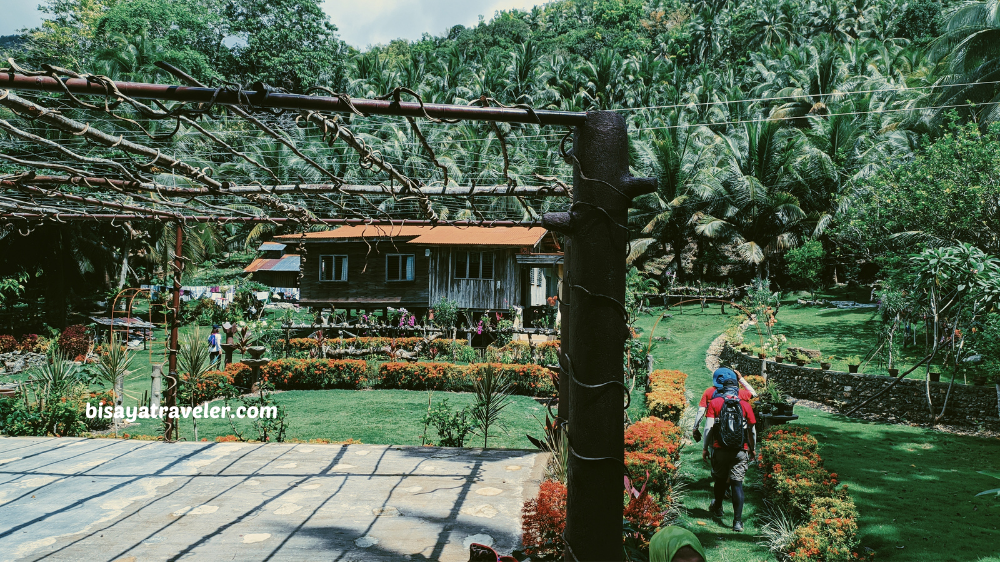 Along the way, I noticed my senses were awakened.
I listened to the birds serenading us, and relished the fresh air that's more electrifying than a cup of coffee or tea. The vibrancy of plants and trees overwhelmed my eyes, and the sky's deep blue was inspiring.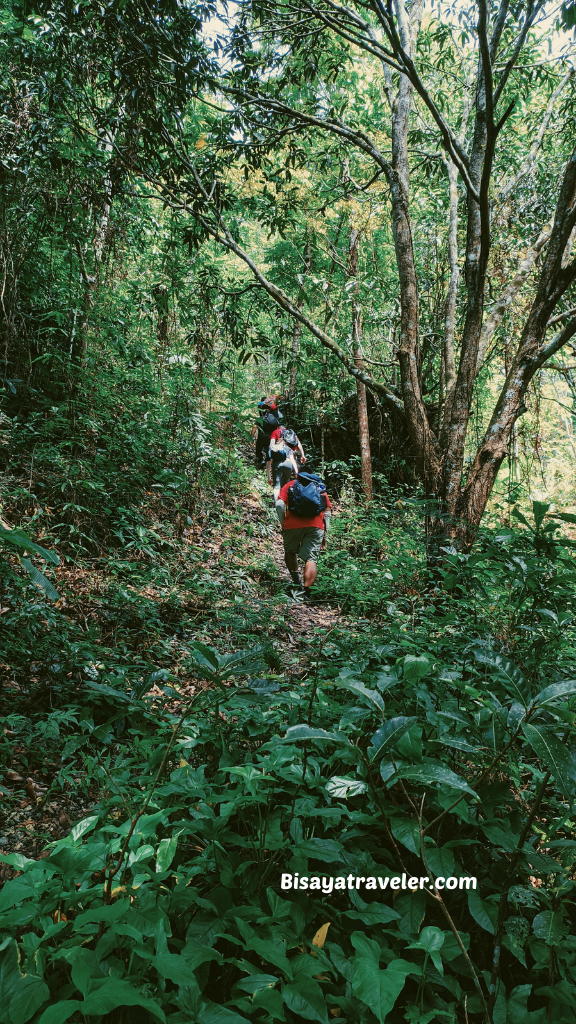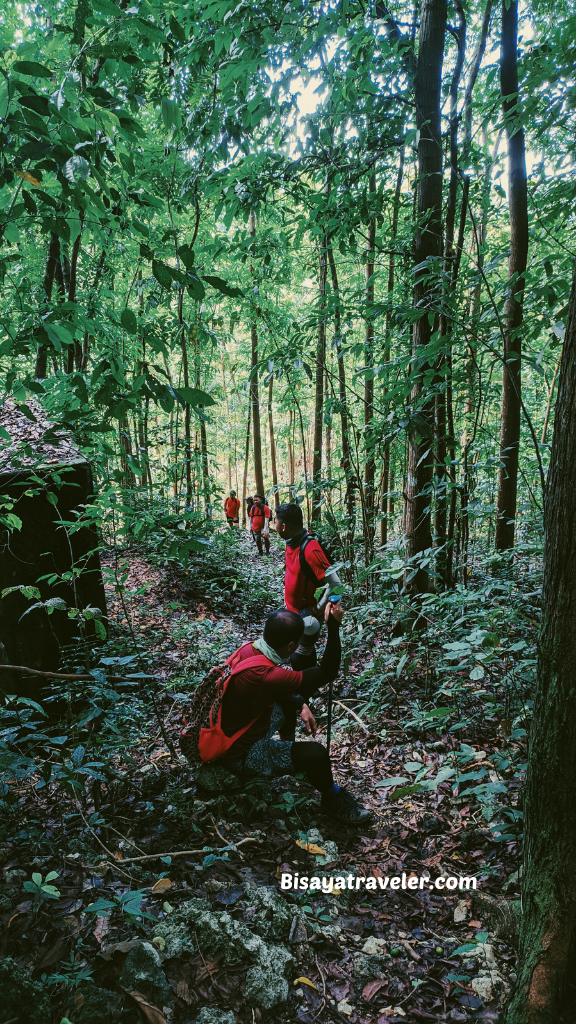 Even though my muscles were screaming for mercy, I was in bliss and becoming more mindful.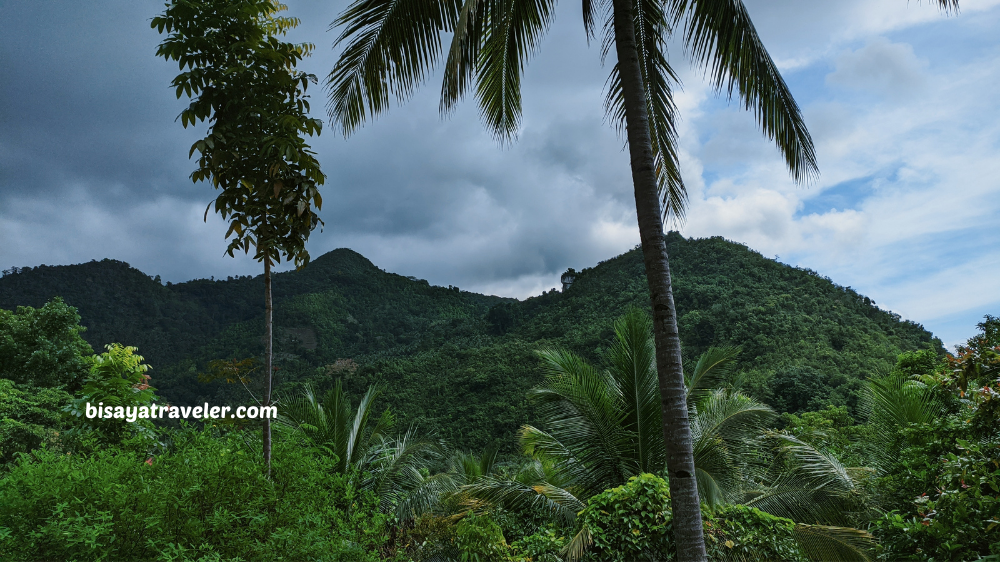 Later on, we arrived in an area where we began scrambling our way to the top of Pico de Naomi.
11:30 AM: Conquering Pico de Naomi, Sibonga
For the first time in a while, the excruciating pain in my lower back and left glute was starting to bother me. Originally, I thought this was one of those stereotypical tito back pains. But, it was more than that. Days later, I found out that it was a gluteal strain.
Despite the pain, I was starting to feel more energized and rejuvenated.
I was outside of my comfort zone, stuck in a perilous slope and searching for a path to the top of this unnamed mountain in Sibonga. While Naomi suggested an easy trail, Beboy and I insisted on taking this route.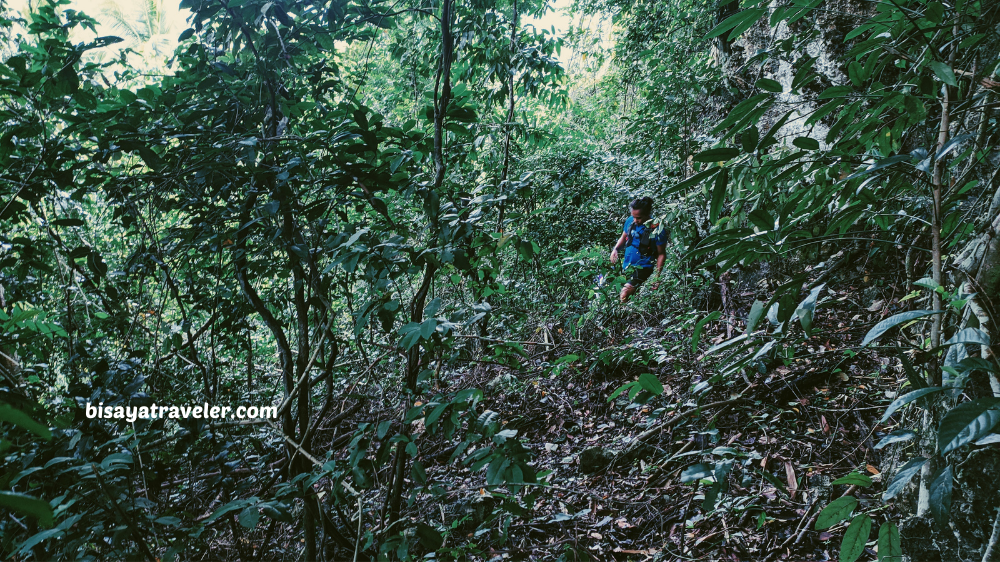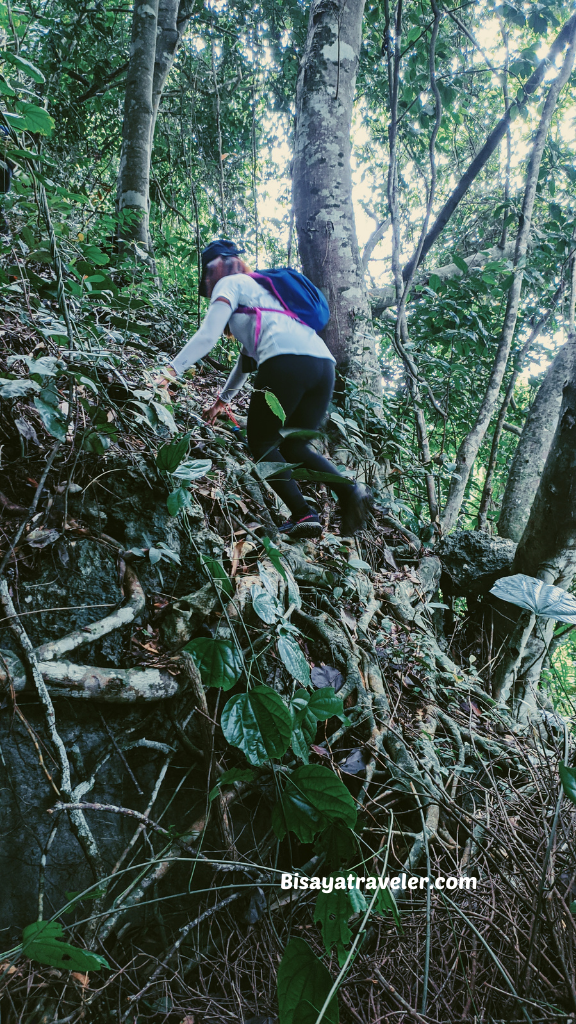 Adrenaline was rushing through my veins, and my heart was beating as loud as a drum.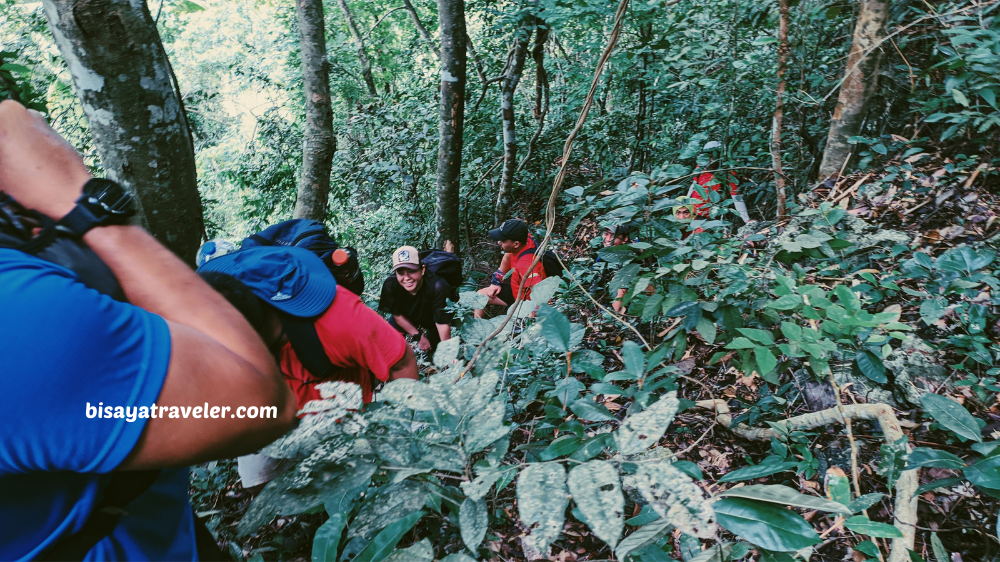 Furthermore, all this activity was inducing a release of endorphin, a happy hormone and a powerful chemical that energizes our spirit.
And, just like that, all the stress accumulated throughout the week melted. I, then, breathed deeply in the wilderness, and it uplifted my mood.
In running, this moment is often called "runner's high", an experience wherein your high endorphin levels leave you feeling clear-headed and calm. 
Beboy and I kept on climbing, until we reached a rocky clearing with a jaw-dropping and awe-inspiring view of Sibonga.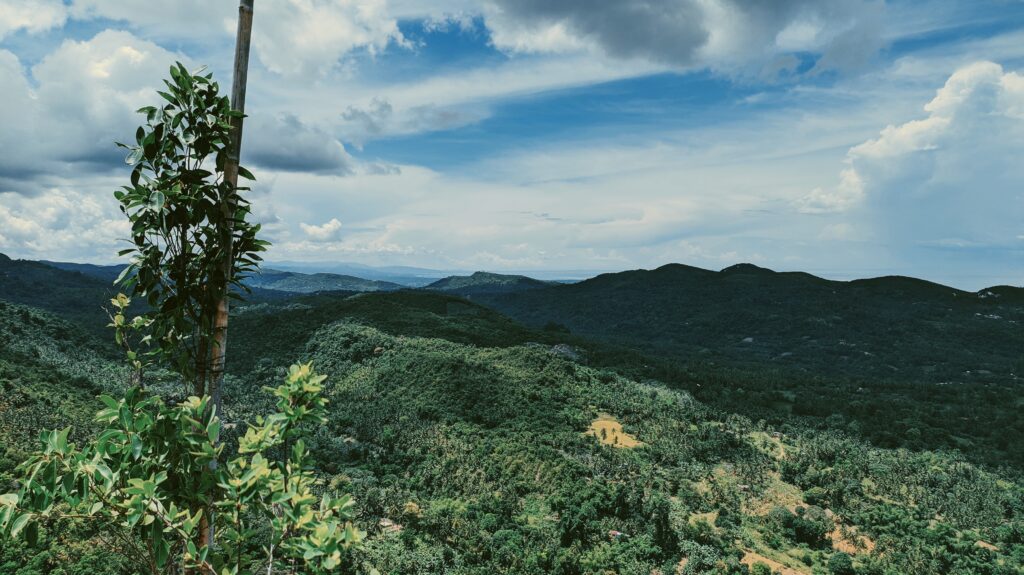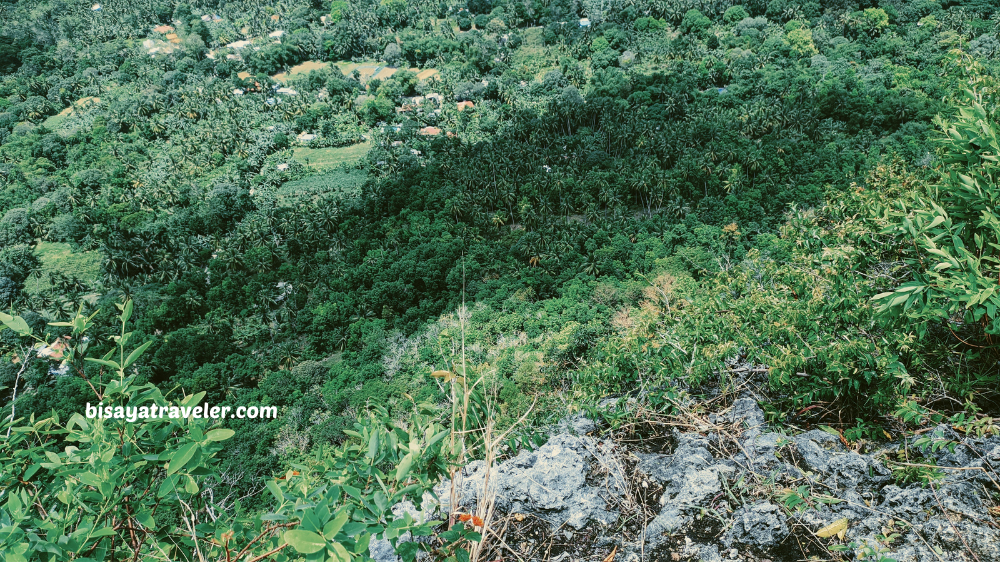 The view was picture-perfect. I always had a hunch that there's a hidden gem tucked away in this part of Sibonga. And, I was right. This peak is a masterpiece crafted wonderfully by Mother Nature.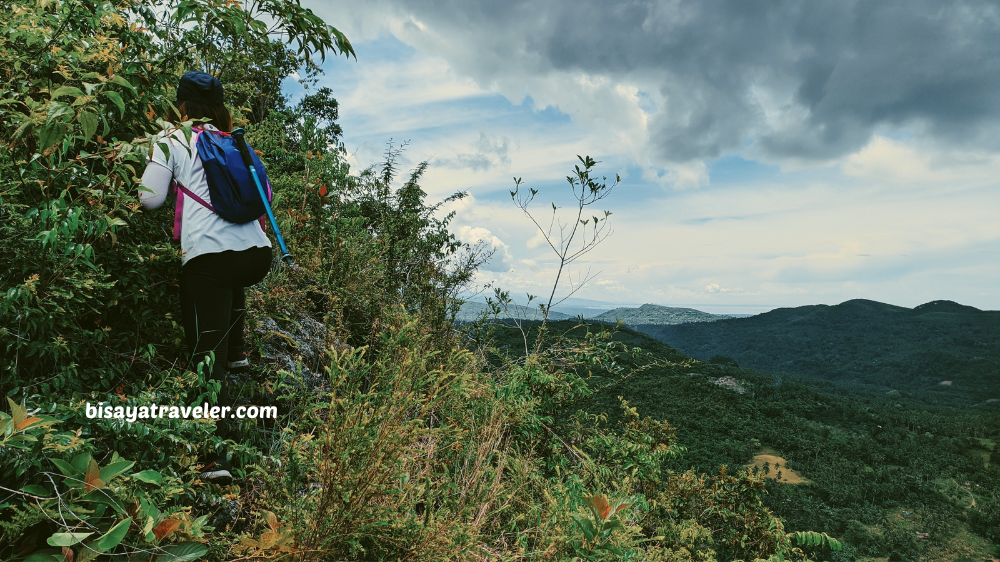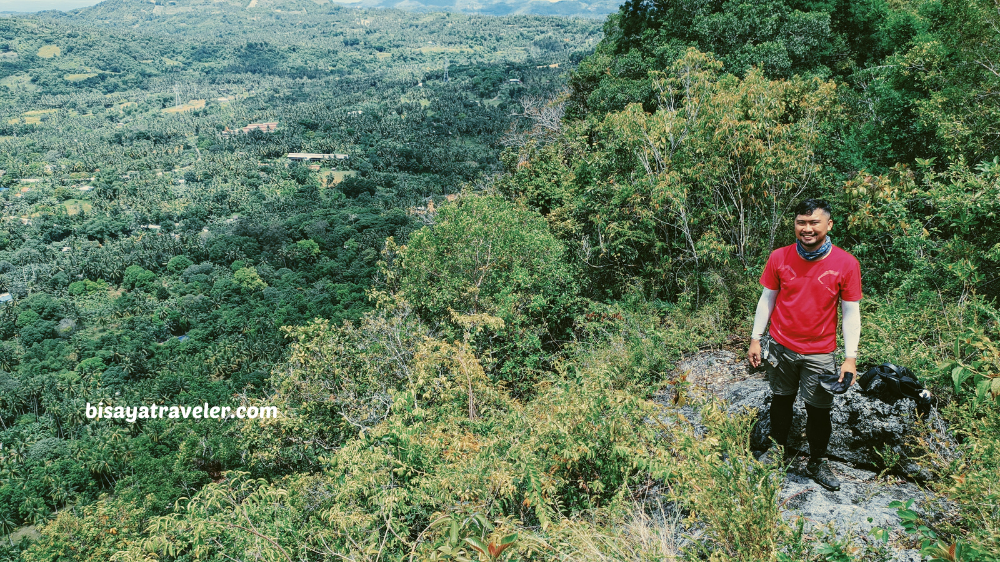 We spent a lot of time at the top of Pico de Naomi. Mark was taking drone footage of this majestic natural wonder, while the rest of the gang was exploring the cliff.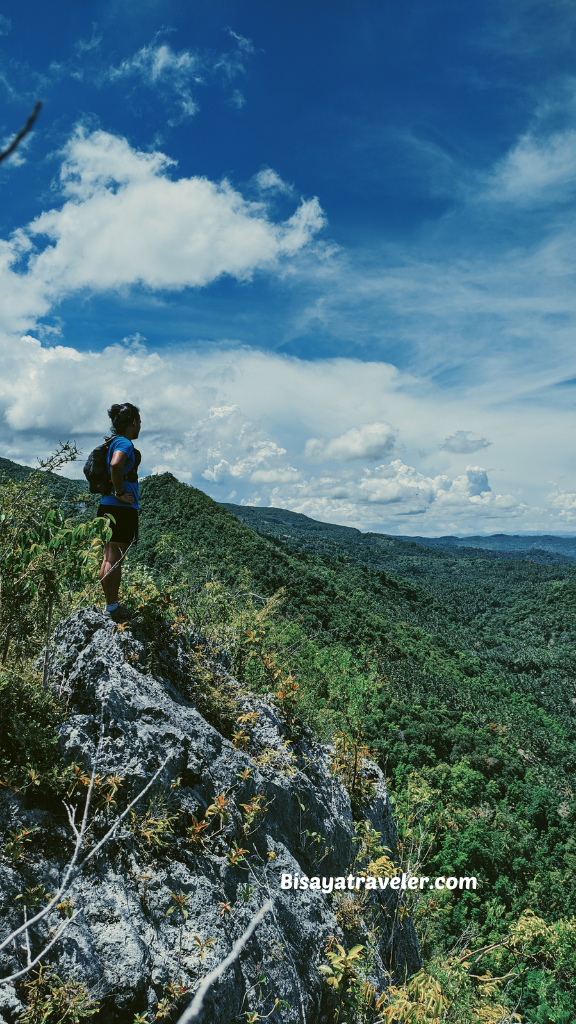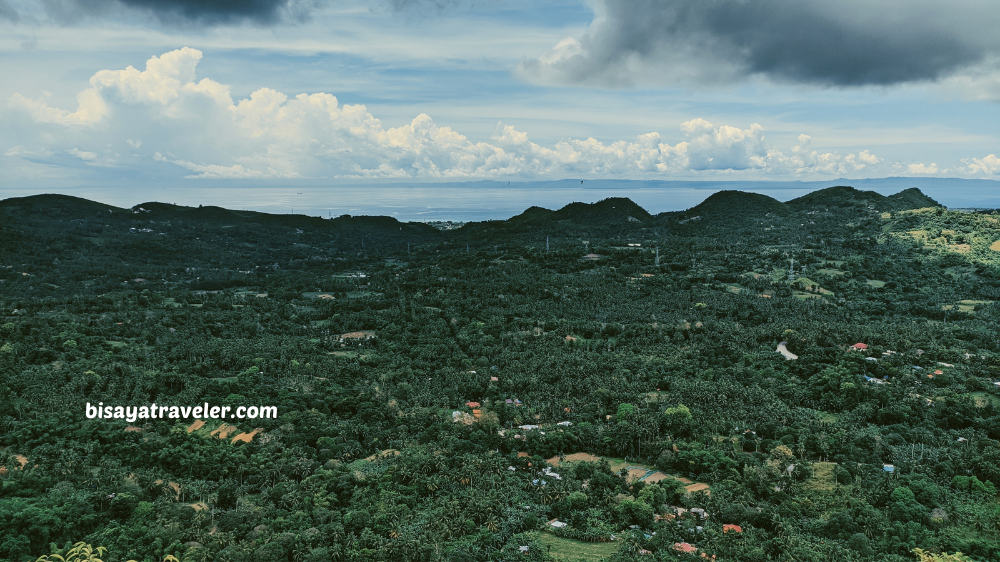 And, Tatay was…Well, let's just say he was doing his typical Tatay stuff, like eating, cracking jokes and sharing stories of his love misadventures. And, did I mention eating?
The rocky peak also quenched our thirst for adventure. Personally, it's a little dangerous, especially if you're new to this kind of trip. One false or stupid move here, and you'll end up with a meeting with St. Peter.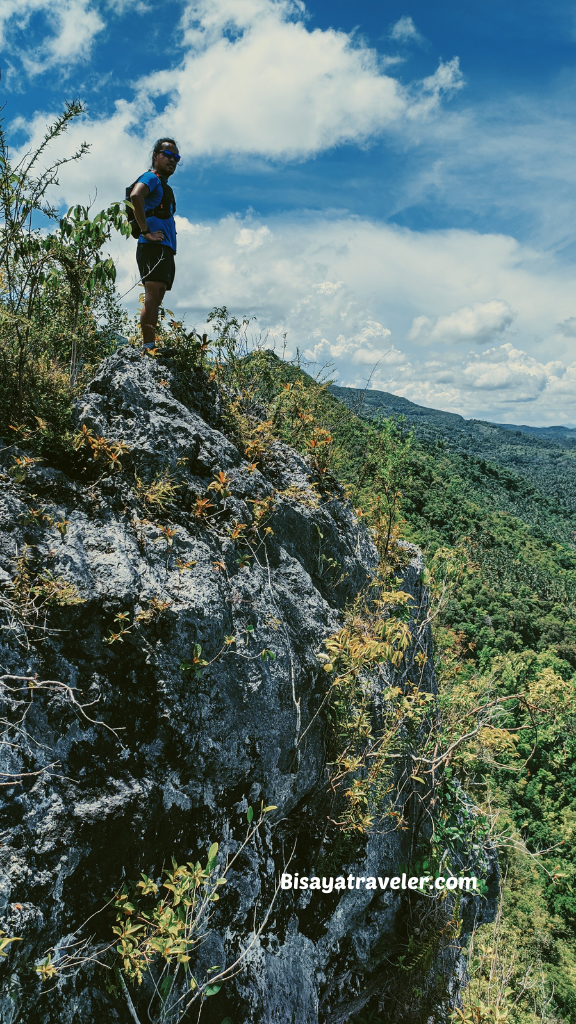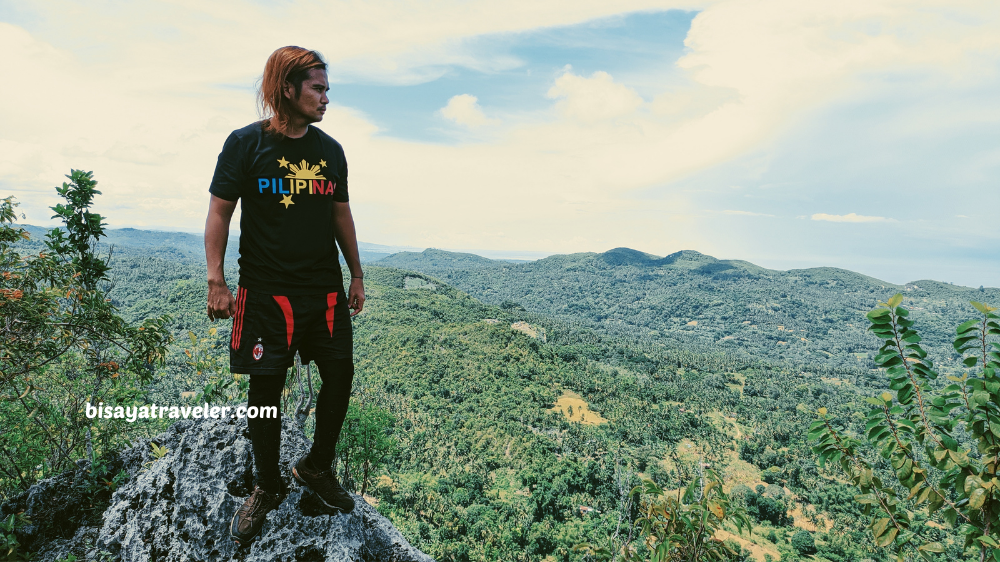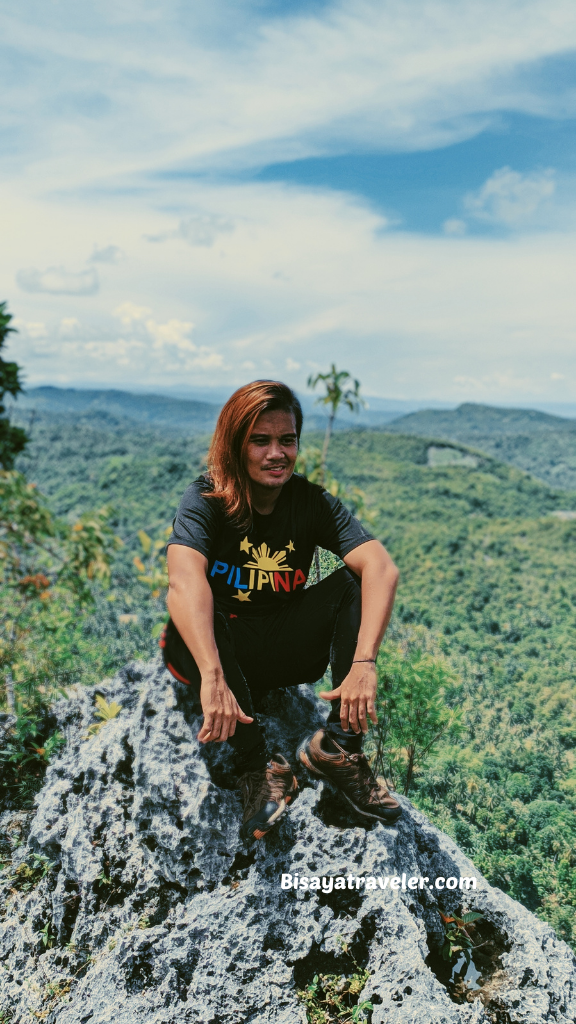 We'd love to spend more time in Pico de Naomi. But, another mountain beckons, and is begging to be explored and uncovered.
12:43 PM: Every situation is temporary
At 12:43, we began descending from Pico de Naomi. And, surprisingly, there's an easy trail between the base and the summit. We followed the trail, and eventually ate lunch in a shady area.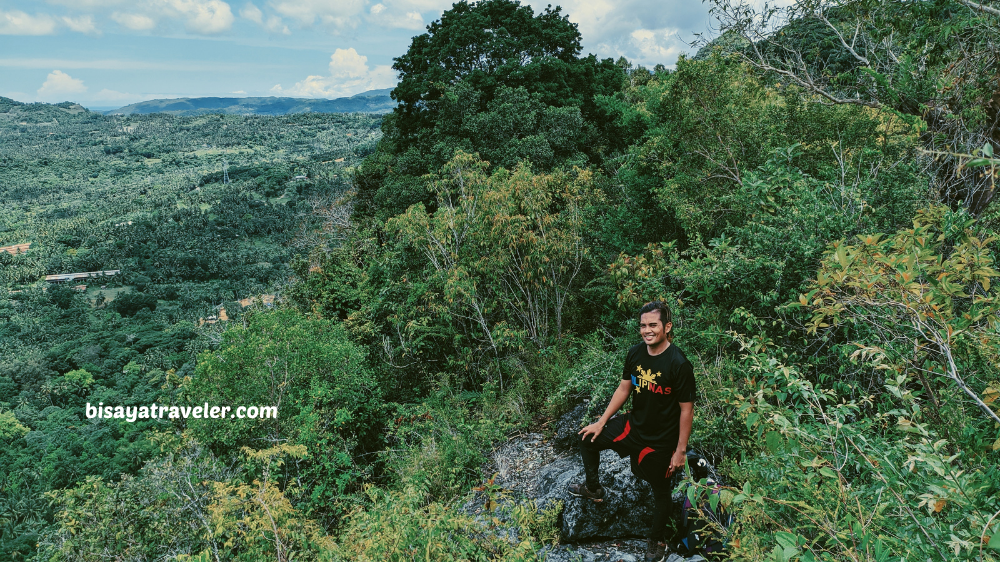 If given a chance to travel back in time, I would still take the steeper and tougher route. As I constantly preach on my blog, hiking is a source of wisdom, and a metaphor of life.
Every time I hike, I learn a priceless life lesson or gain a new perspective in life.
And, our climb to the top of Pico de Naomi is one of my favorite hiking metaphors.
In a way, hiking reminds me of the saying that each situation in life is temporary.
When things are going well in your life, enjoy and relish it fully. And, when things are going south in life, remember that it won't last eternally, and that better days are ahead.
So, when I was at the top of the mountain, feeling like the king of the world, I enjoyed it thoroughly, and never wasted a minute. And, when we were struggling to get to the top, I just looked at the light ahead of us, and thought that a better view was coming.
I was really glad that I went on with this hike. I've had my fair share of struggles recently, and somehow, Pico de Naomi is a reminder that better days are on the way.
01:20 PM: The hike to Camp Bato, Sibonga
Lunchtime is over, and it's time to set our sights on our next destination: the peak near Camp Bato.
We continued with our hike, and made a pit stop to a fascinating natural spring.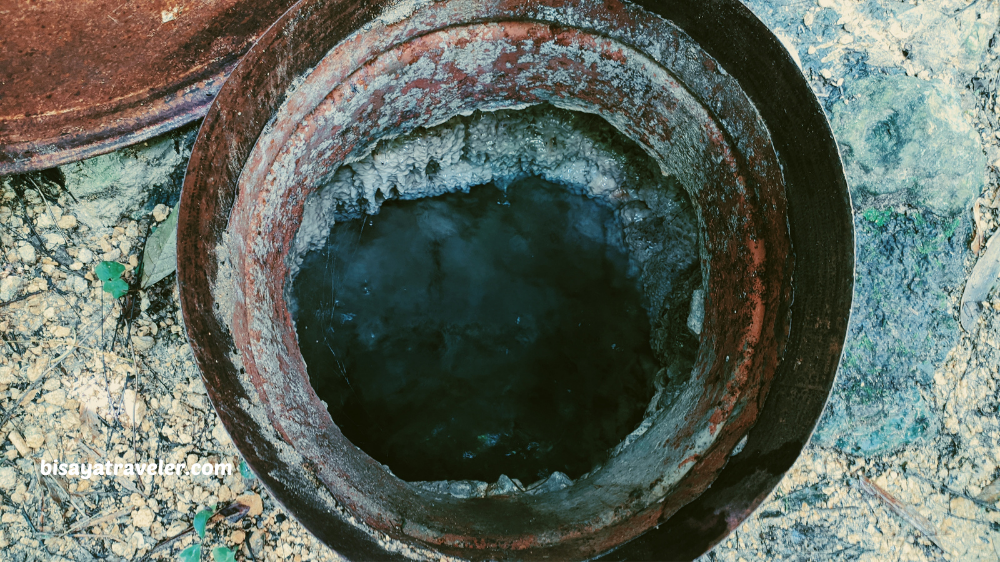 Tatay was once again the star of this show. He enthralled the crowd with his quirky charm and water distribution skills. He was dishing out water like Boss Kenshin distributing glasses of his special "Milo" drink to his customers.
Eventually, we left the spring, and commenced on our hike to Camp Bato peak.
Getting to Camp Bato peak from the spring isn't a walk in the park. Although the trails are relatively flat, there was a steep section that practically drained our energy.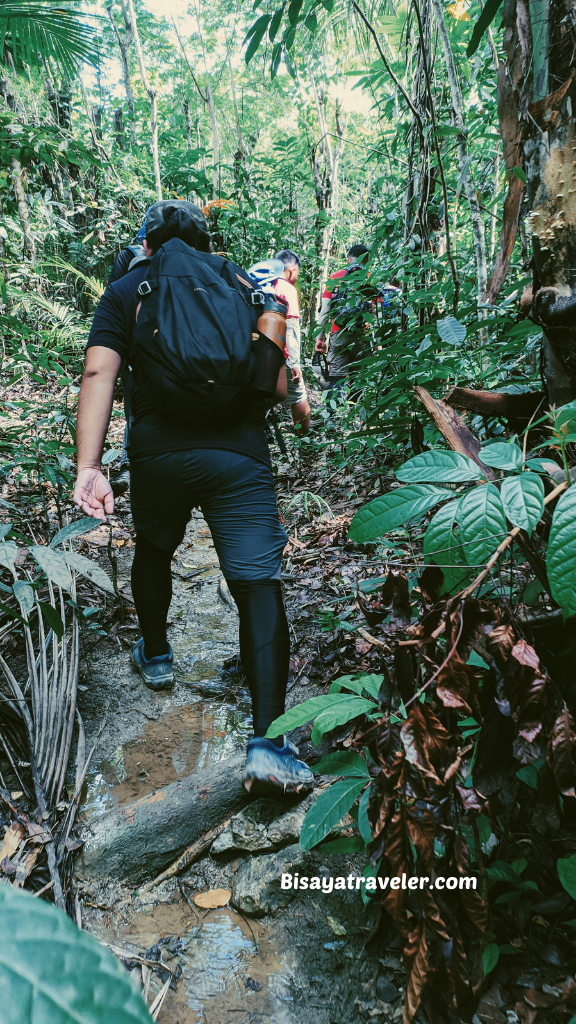 Heck, Tatay looked like he was in Zombie mode on this part of the hike. Ultimately, we reached a grassy space that would lead us to the summit of Camp Bato peak.
We took a quick breather, and started hiking Camp Bato peak.
02:48 PM: Camp Bato
We enjoyed every bit of our hike in Camp Bato. With unstable rocks and prickly tree branches, it gave us a fun challenge.
Eventually, we arrived at a scenic spot with some fantastic views of Sibonga. We saw the famous Simala, which looks pretty small and far from Camp Bato. On the other side, we caught a glimpse of a mountain that leads to Mount Lanhan and Pangpang, Barili.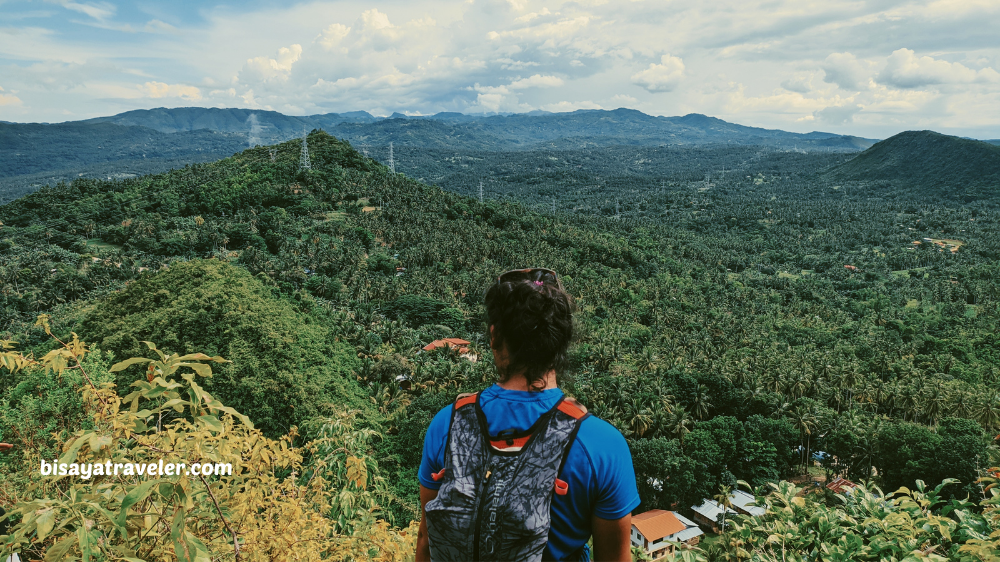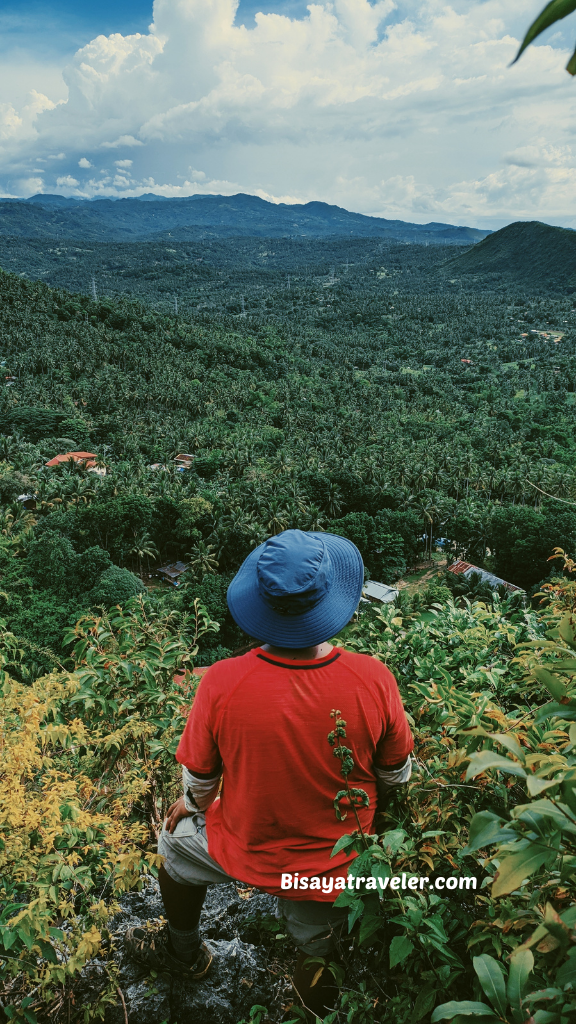 As I was taking in the views, I saw the possibilities for adventure in Sibonga. With the towering mountains of Carcar and Sibonga surrounding Sibonga, the opportunities for adventure here are simply endless.
Then, as the hike was about to end, the mountains gave me another reminder: problems are never-ending, but our life will eventually come to an end.
So, enjoy life while you can, and find your bliss even when you're in the middle of a sea of problems.
The world is wide, and life is short. So, never waste a moment drowning your sorrows or thinking about your problems. Explore, experience and embrace the mysteries and wonders of the world.
Mountains are my therapy, inspiration and source of wisdom. Through hikes, I developed my own philosophies and strategies on how to live a peace and harmonious life.
I'm a flawed man, and sometimes I don't practice my own philosophies. Luckily, though, these mountains help restore some balance to my life.
After our hike, we made our way to Jay and Jen's house where we were treated to a sumptuous meal.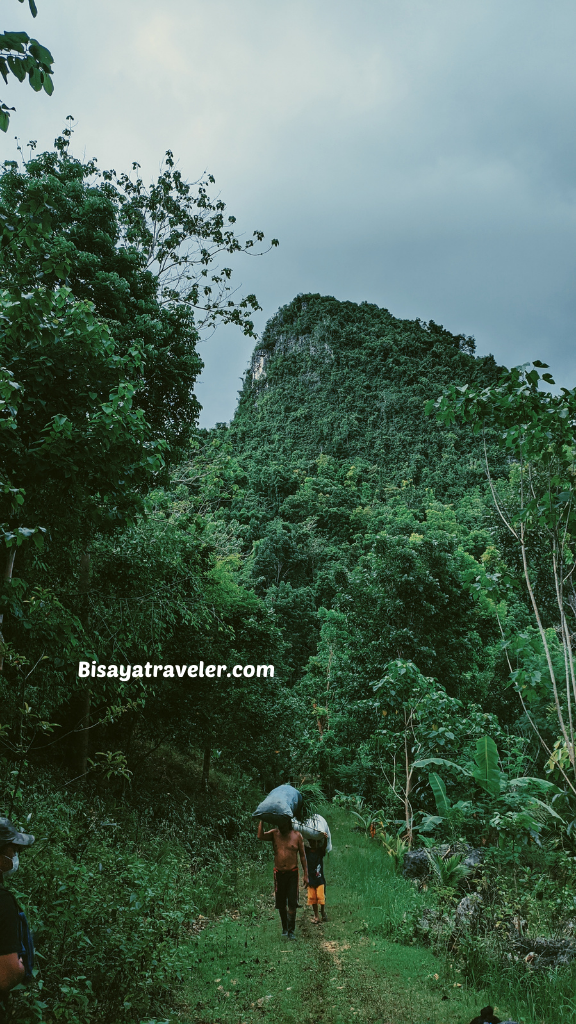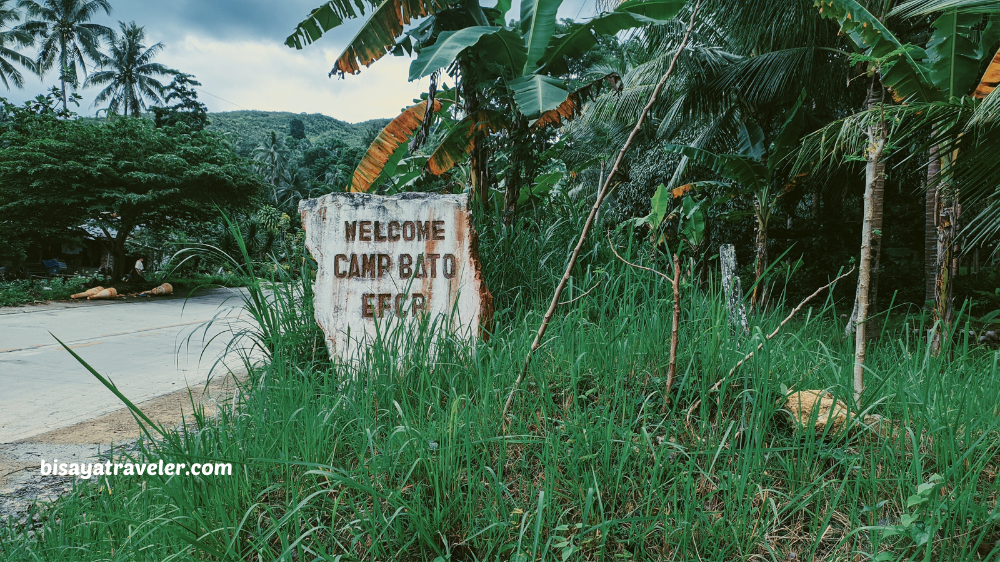 Soon after, Raul, Berny and I hitched a ride home with Jay. Along the way, I fell asleep without my friends knowing it.
I wasn't exactly tired, but as recent studies have suggested, getting natural light exposure helps people sleep better. Along with endorphins and serotonin, light exposure relaxed my body and gave my brain the much-needed downtime.
How to hike these mountains in Sibonga
These mountains in Sibonga have yet to be discovered by mainstream media. There are no guides or trailheads that will help you see these peaks. If you're interested in hiking them, just contact Naomi (Facebook link attached) or Jen (@heyitsjen___ on Instagram).
Just don't be an a-hole when climbing these mountains. Always respect nature, and practice the Leave No Trace principles.
And, by the way, don't forget to check out these videos of our adventure by Mark and Beboy.
Mountains are sacred grounds. They are a haven of serenity, beauty and adventure. Sadly, mountains are nowadays being abused by hikers and tourists. Heck, some mountains, especially those with campsites, are as now boisterous as bars and nightclubs.
Our mountains are therapeutic and a terrific source of inspiration, wisdom and knowledge. They can do wonders for the soul, body and mind. So, please help us preserve these natural marvels by being a responsible hiker, tourist or traveler.