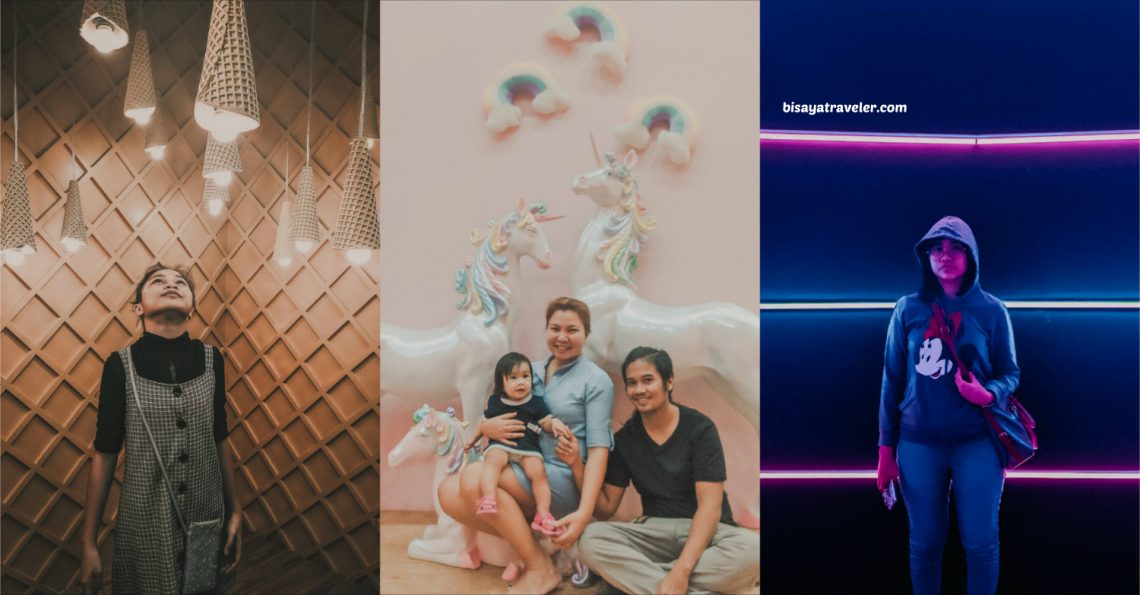 Colour Museum: Hacking Into My Happy Brain Chemicals
We all have uninspiring days where everything seems gray and spiritless. And, sometimes, those dreary days and moments turn into weeks, months, and even years. Soon, we start to feel like we're running out of steam, drained by our mundane, daily grind. Stuck in a rut, we'll ultimately feel like we're just walking through the motions, completing the same routine day after day. In our search for a quick fix or an upheaval, we turn to local spots that will hopefully splash more colors to our life. And, in Cebu, you'll find tons of local attractions like the Colour Museum in SM Seaside Cebu that promise to make your days full of life and colors.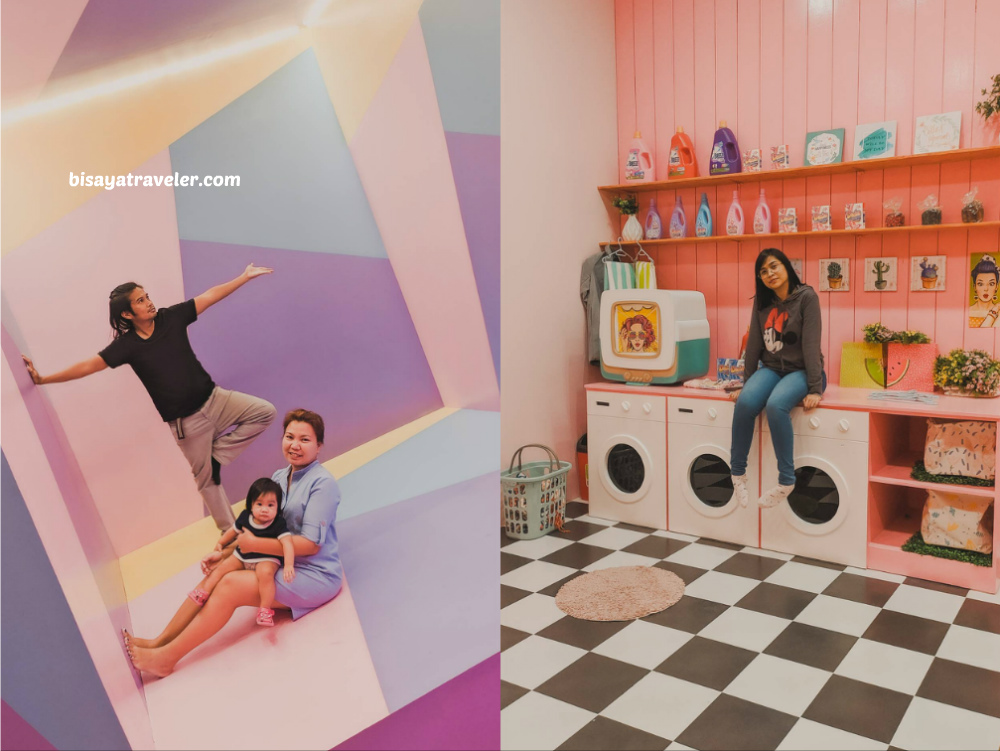 But, here's the thing.
I'm not exactly fond of these so-called "trending" new selfie spots in Cebu.
I'm old-fashioned, and I prefer to be thrilled by experiences rather than posing like a model in a selfie corner.
I prefer to be dazzled by the shades of gold emitted by the sun.
I want to be impressed by the rip-roaring sounds of the raging river.
And I yearn for muscle-burning walks with a rewarding view at the top.
Quite frankly, I feel like some of these Cebu tourist spots have forced, artificial, and candy-colored cheerfulness.
Built for photography's sake, these Cebu tourist spots don't offer the thrill of being lost in the wilderness.
And, it doesn't provide valuable life lessons like a solo trip to a foreign land can do.

Yet, ironically, I was intrigued and curious to see the trendy Colour Museum in SM Seaside Cebu.
Who knows? Maybe, it could inject a healthy dose of optimism.
Or maybe, it could splash an array of colors to a blank canvas that I call 2020. 
Like everyone else, I wanted to kickstart the year on a positive note. So, I brought my family to the Colour Museum in SM Seaside Cebu.
While I wasn't expecting an epic and life-changing adventure, it did at least amuse and entertain us for about an hour.
What's more, the Colour Museum Cebu made me realize how important colors are to our lives.
On top of it all, it taught me a couple of tricks on how to trigger my happy brain chemicals.

Our Colour Museum experience in SM Seaside Cebu
It was the first day of a new decade. For some, it was a brand new day, a fresh beginning, and a ray of hope to take into the rough days ahead.
Although I'm not superstitious, I wanted to start the year with a colorful experience.
And, the only place I could think of was the Colour Museum in SM Seaside Cebu.
From fishing lagoons to mountain resorts in Cebu like JVR, there were dozens of fascinating options available. But, only the Color Museum in SM Seaside Cebu made sense for us that day.
Not only is it a family-friendly spot, but it's also close to our humble abode.
After indulging in a light lunch at Seaside's food court, we took the elevator and made our way to the Colour Museum.

Despite the immense size of SM Seaside Cebu, Colour Museum isn't hard to find.
Upon our arrival at the Colour Museum, the lovely and accommodating lady at the front desk warmly greeted us. Likewise, she explained the mechanics of this Cebu tourist spot.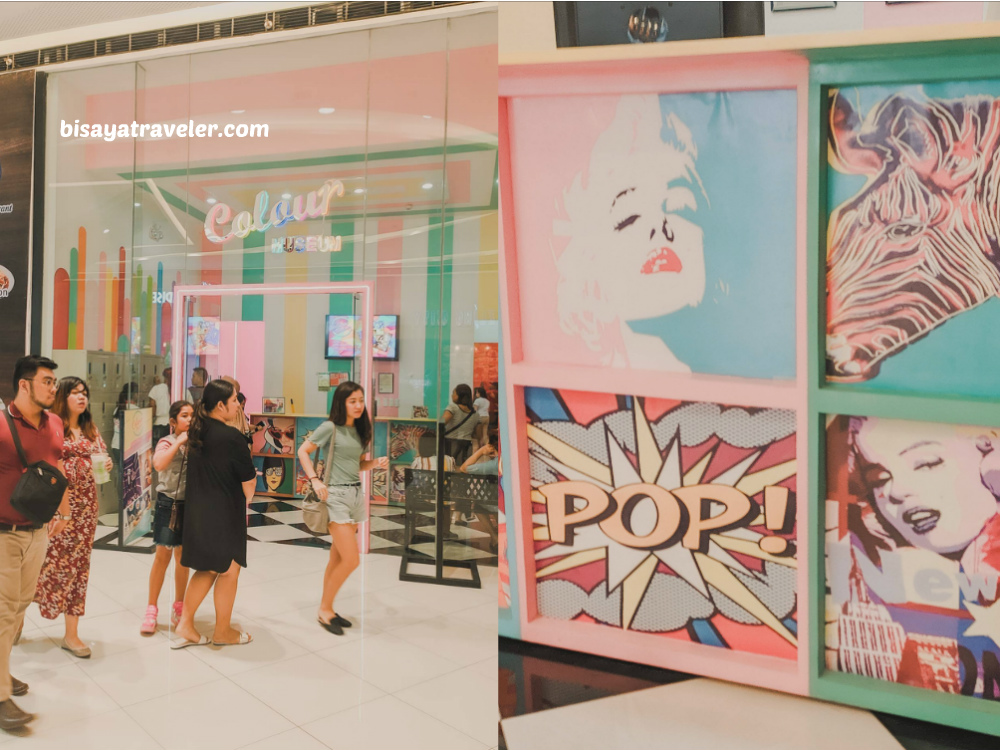 Furthermore, she assigned us lockers, where we left our footwear before entering the Colour Museum.
So far, it had been a pleasant experience and a breeze.
Even if it doesn't offer the thrill of an outdoor escape, I could still feel the youthful vibrations and positive energy from the Colour Museum.
And, typically, I don't pay 180 pesos per person for just a selfie corner. Still, I felt a pleasant experience awaits us at Colour Museum SM Seaside Cebu.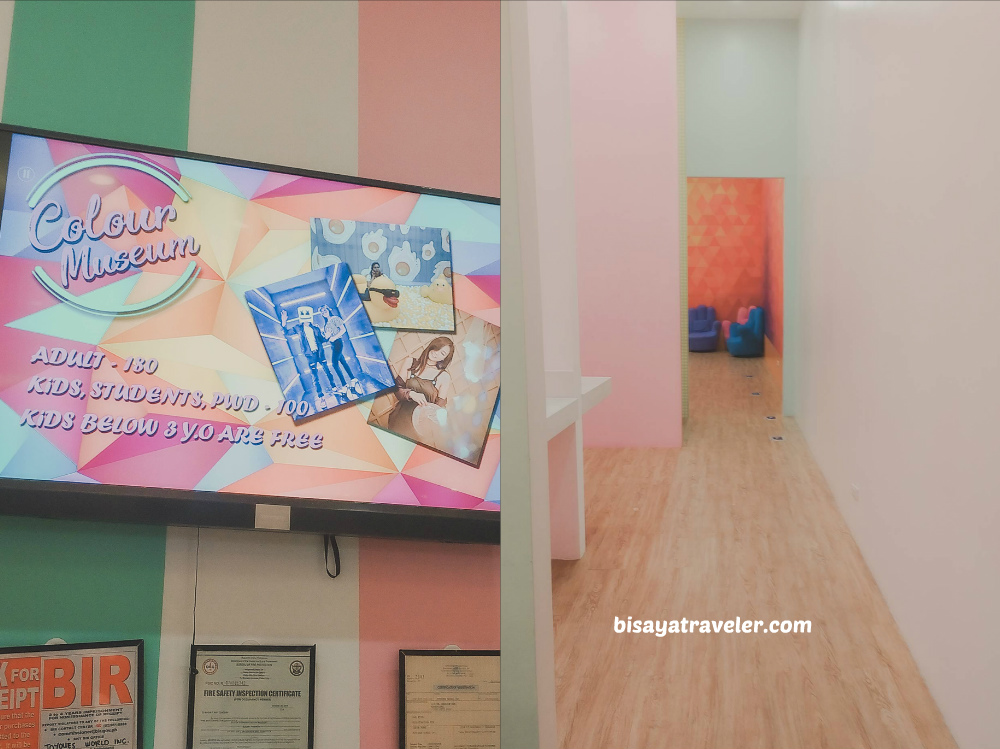 Thrilled, we wasted no time and made my way inside the Colour Museum.
What was it that lured me into this haven of colors?
What made the Colour Museum intriguing?
The moment I set foot inside the Colour Museum, I was immediately swept into bliss.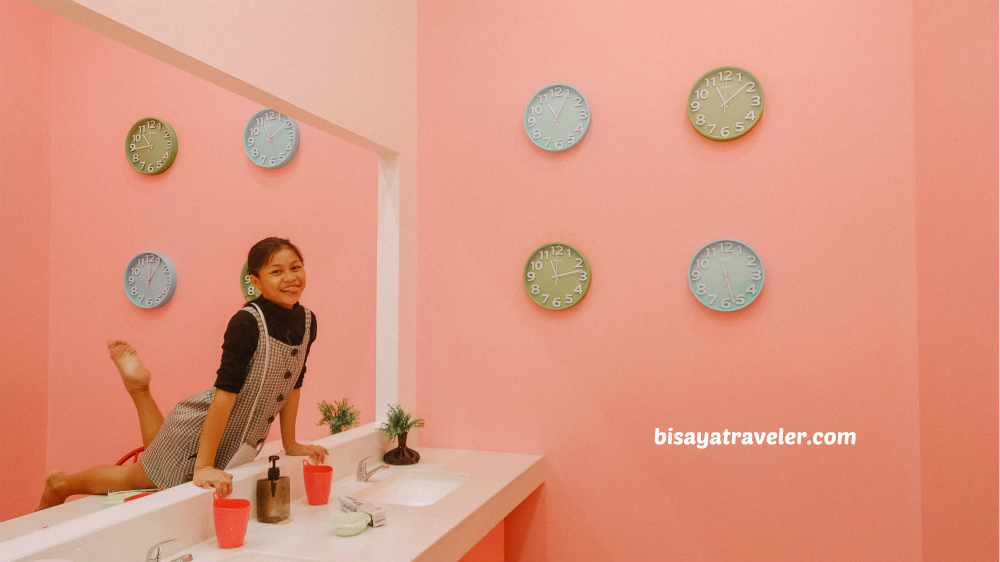 There was no jaw-dropping sight, upbeat music, or a fragrant scent to uplift my mood inside Colour Museum.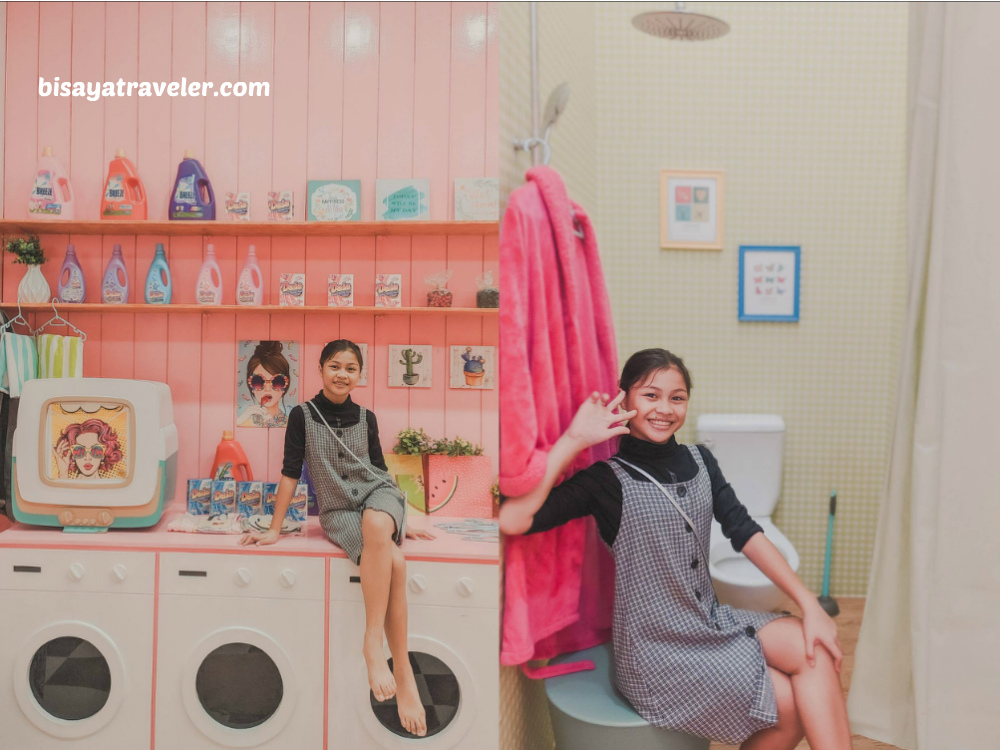 But, it had a stunning palette that somehow unleashed my happy hormones.
So, how did it release my happy hormones?
I usually feel a rush of dopamine and adrenaline when I'm exploring the outdoors. And I rarely get pumped up and excited when I'm in a closed indoor environment.
Surprisingly, though, I was in a reasonably positive mood inside the museum.
Soon, as I was taking photos of my niece, Kim, memories of articles about how colors affect human behavior flashed into mind.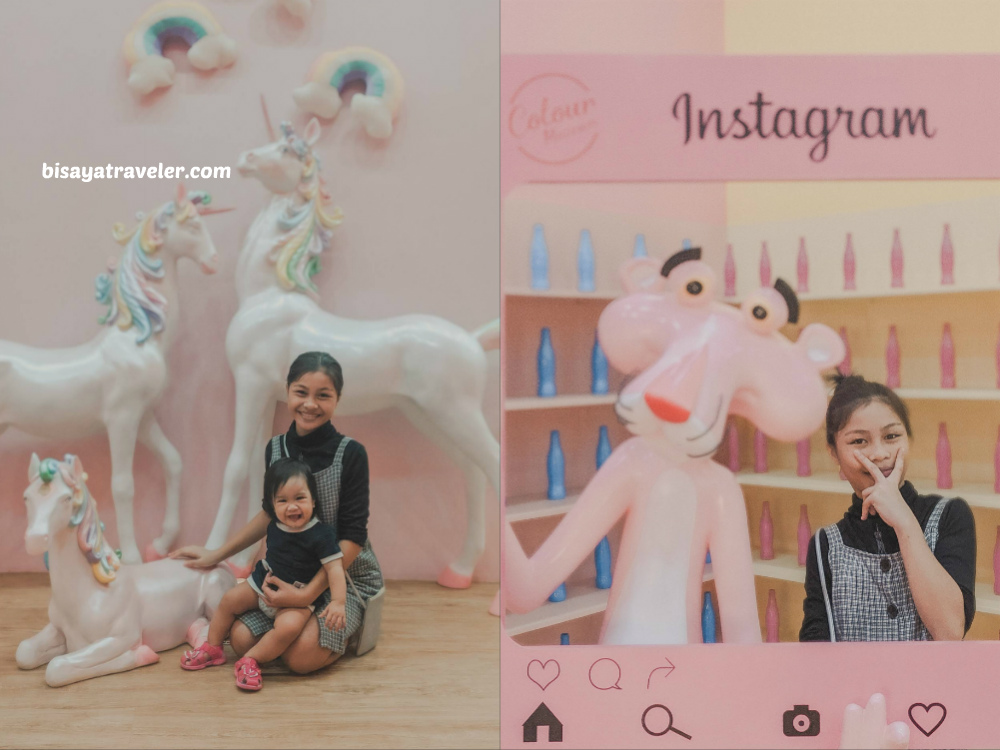 And, I now know why my version of "Inside Out's Joy" helms all the controls inside my mind whenever I see a palette of stunning and bright colors.

According to scientific studies, a color is somewhat a form of energy that affects the body's functions as well as our emotions and mind.
We react psychologically and physiologically to colors because they affect our hormonal activity, autonomic nervous system, and brain waves. In fact, colors can stimulate a variety of emotions.
And, bright colors like the ones displayed at Colour Museum evoke feelings of excitement, enthusiasm, and warmth.
When you stare at bright and warm colors like pink or red, you're unconsciously releasing dopamine, our feel-good hormone, which heightens our attention span and improves our mood.
And, some scientists even suggest that bright colors also help boost your sex drive.
Intriguing! So, did these colorful displays give me a boner? F*ck no! But, at least, it enhanced my mood and somehow helped me escape the clutches of my hectic adult life.
Then, I realized that I should be adding more colors to everything around me.
Why not wear orange and yellow often? Why not paint our room with light and mood-lifting pastel colors?
When it comes to clothing, I'm not exactly a pretty colorful guy. I have been wearing safe shades like grey, white, navy, brown, and black instead of putting on a more vibrant wardrobe.
Maybe, it's time to wear and try something different. Who knows? It might make me even healthier and more energetic.
And, maybe, I was wrong with my assessment of these types of Cebu tourist spots.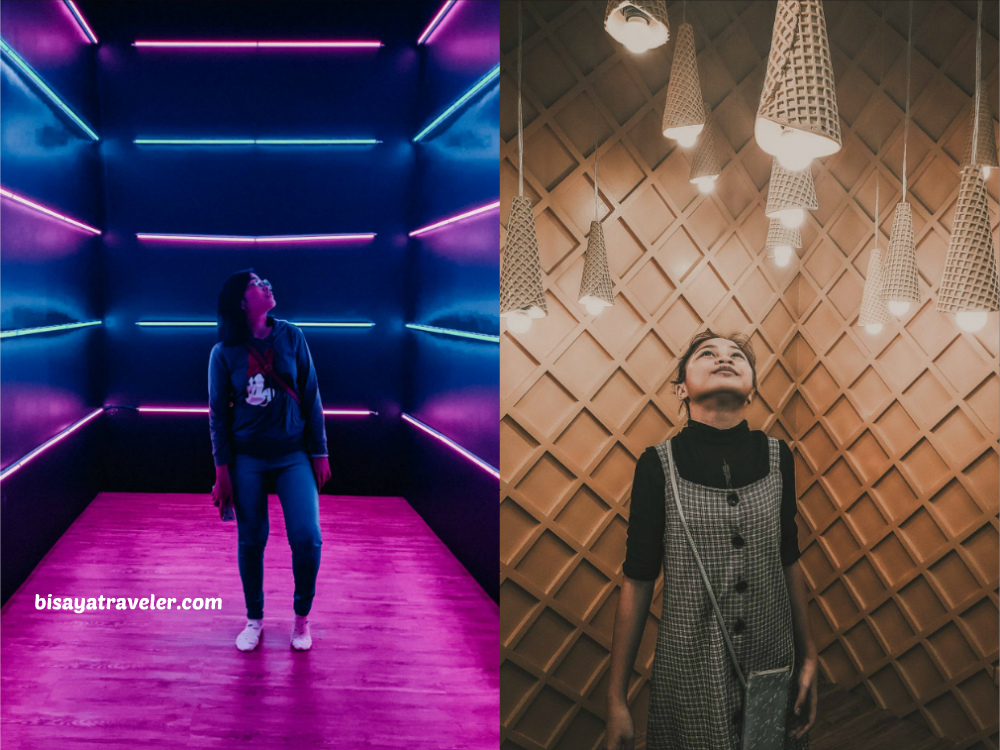 Thus far, this un-Bisayatraveler-like adventure had been fun and informative for me.
I must say it's quite a surprise.
Perhaps, I should explore more Cebu tourist spots like the Colour Museum in SM Seaside Cebu.
As mind-blowing and adrenaline-pumping as my outdoor adventures have been, I could learn a few things from these Cebu tourist spots.
And I should visit these colorful spots whenever my life starts to look nothing but shades of gray.
At least, it can add some spice to my life as a local explorer in Cebu.

And, speaking of bright colors, these lovely displays are making me freaking hungry. Ever wondered why fast-food chains like Jollibee and McDonalds like to use red, yellow, and orange?
Well, according to food marketing color psychology, orange and yellow are colors that make regular people like us feel hungry. And, red is often associated with passion and emotion.
So, whenever you see red combined with orange and yellow, you become somewhat passionately hungry.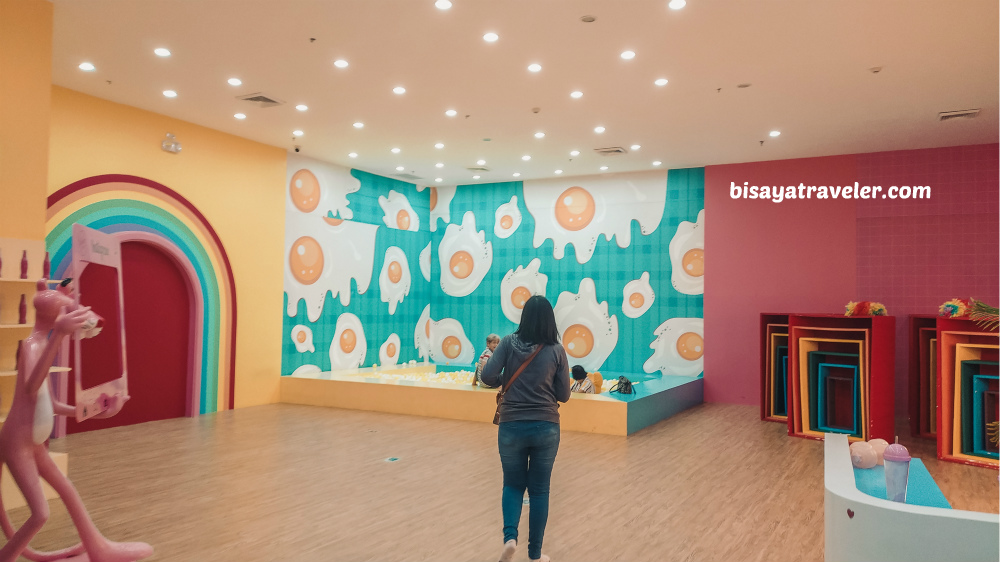 From the first selfie spots on the museum, I went to the pool of yellow and white balls where our babies were having a blast feeding their curiosity.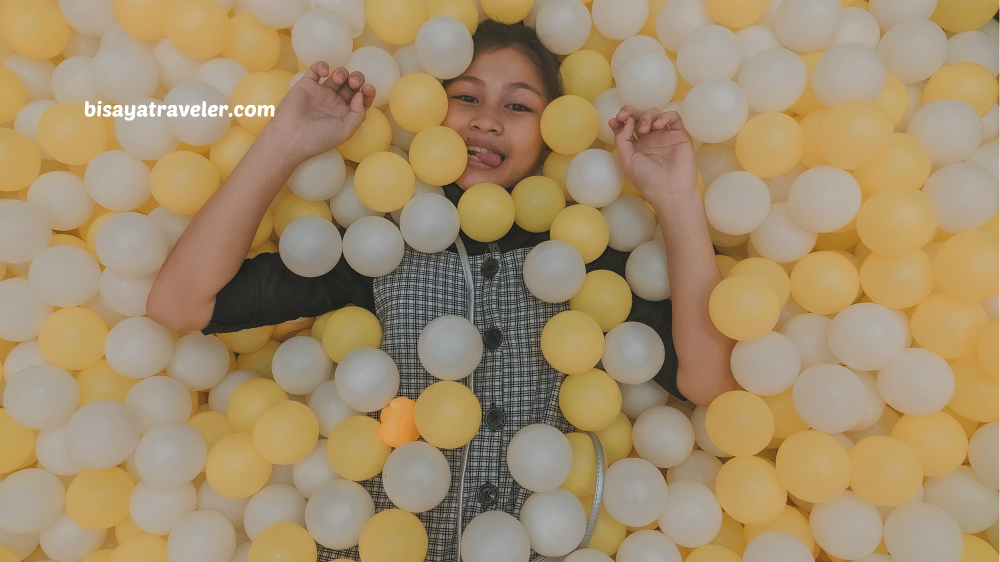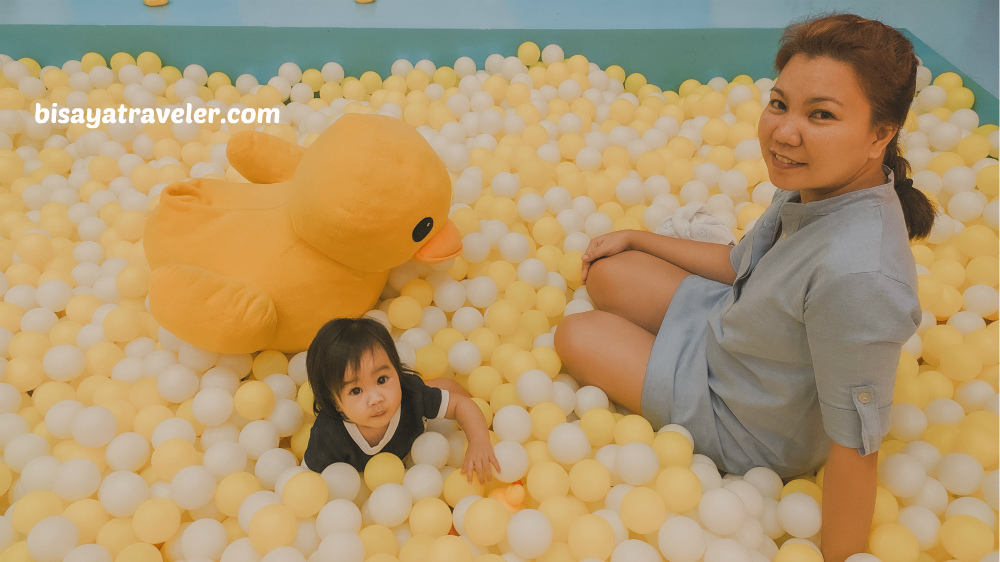 There, I spent some time playing around as well as snapping the priceless moments of Goyo and Richbie's adventure.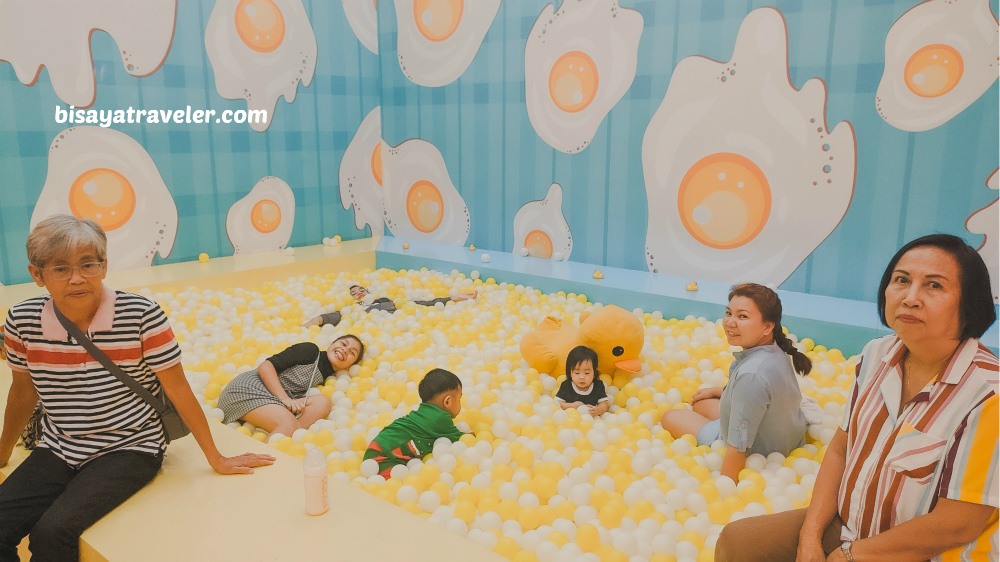 As far as I can tell, they love these yellow patches and bright prints. Furthermore, they adore the giant duck as well as the tiny ducklings in this part of the Colour Museum.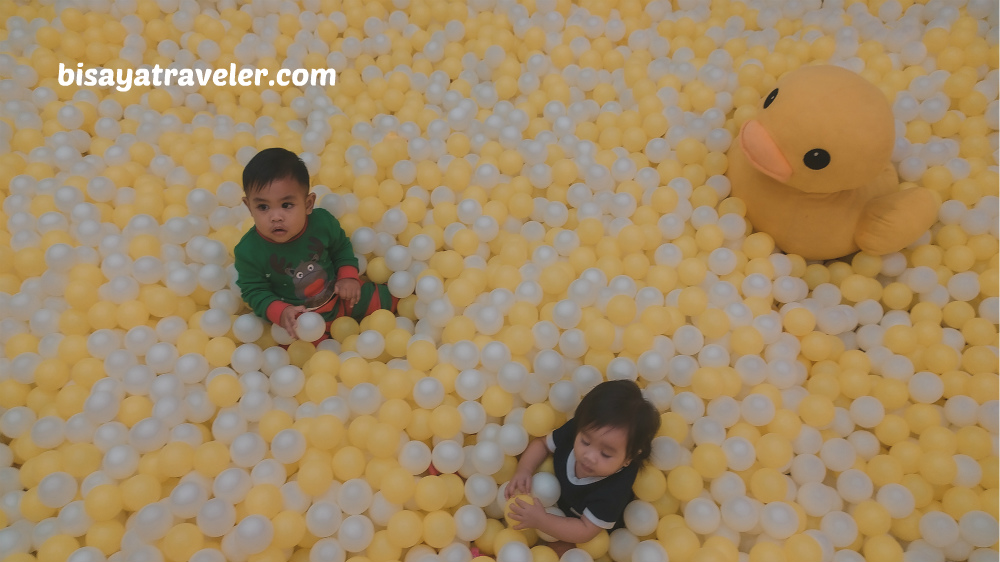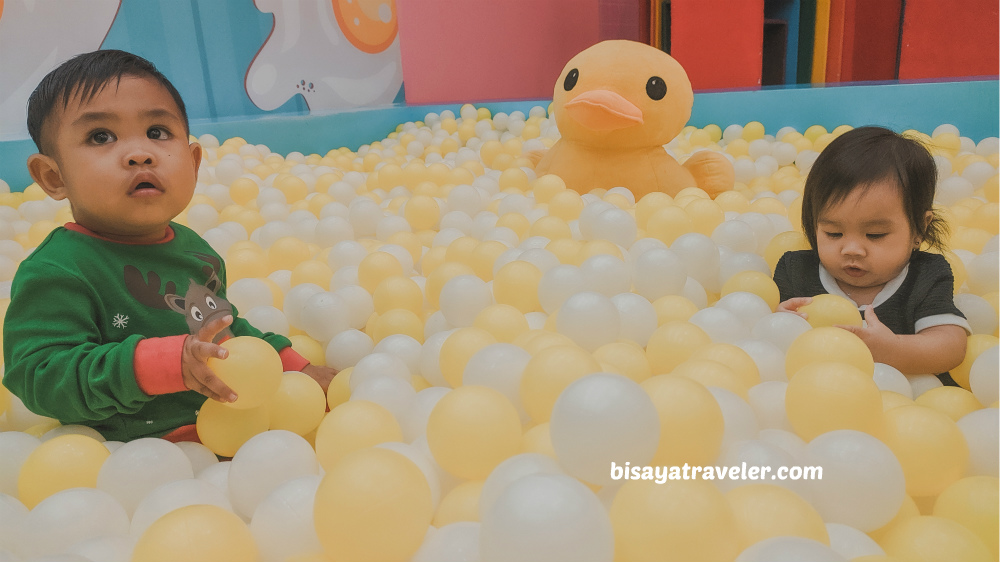 For some reason, they love ducks. Every time we play the nursery rhyme "5 little ducks", these energetic little ones go nuts.
They spent most of their time there. And, thankfully, there was nobody around when we visited the Colour Museum on New Year's Day. We literally had the whole place to us!
Afterward, we roamed around the area, snapping pictures of this colorful Cebu tourist attraction.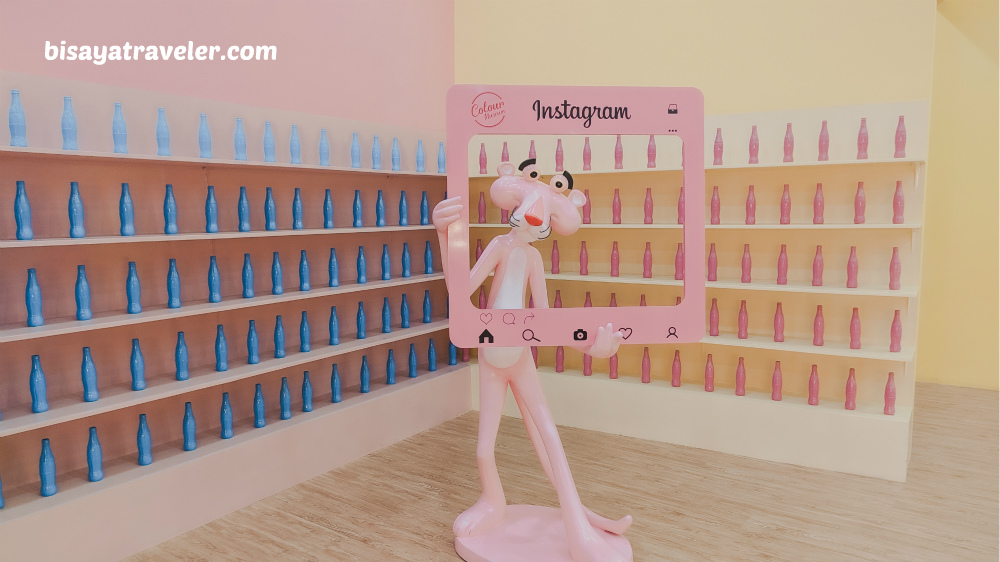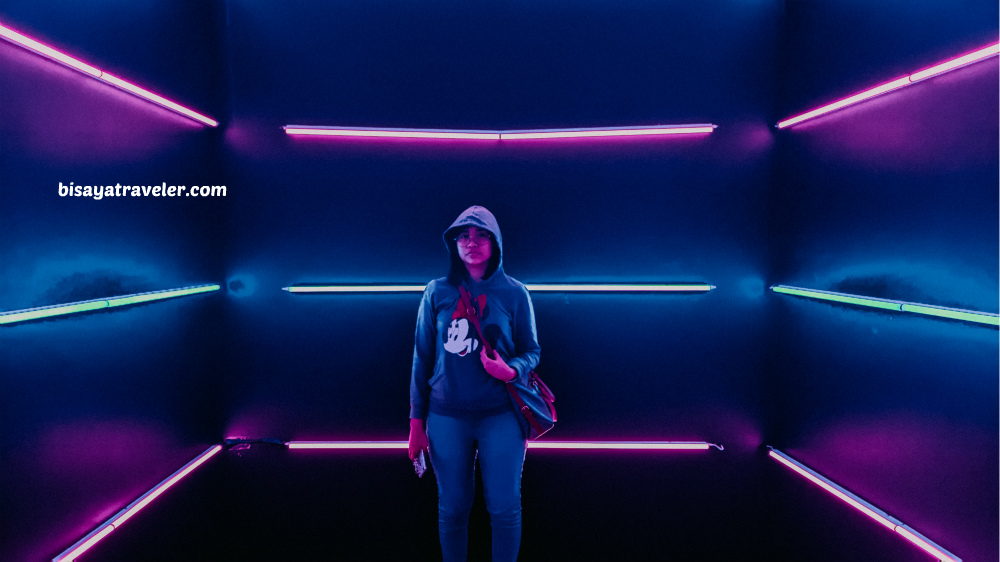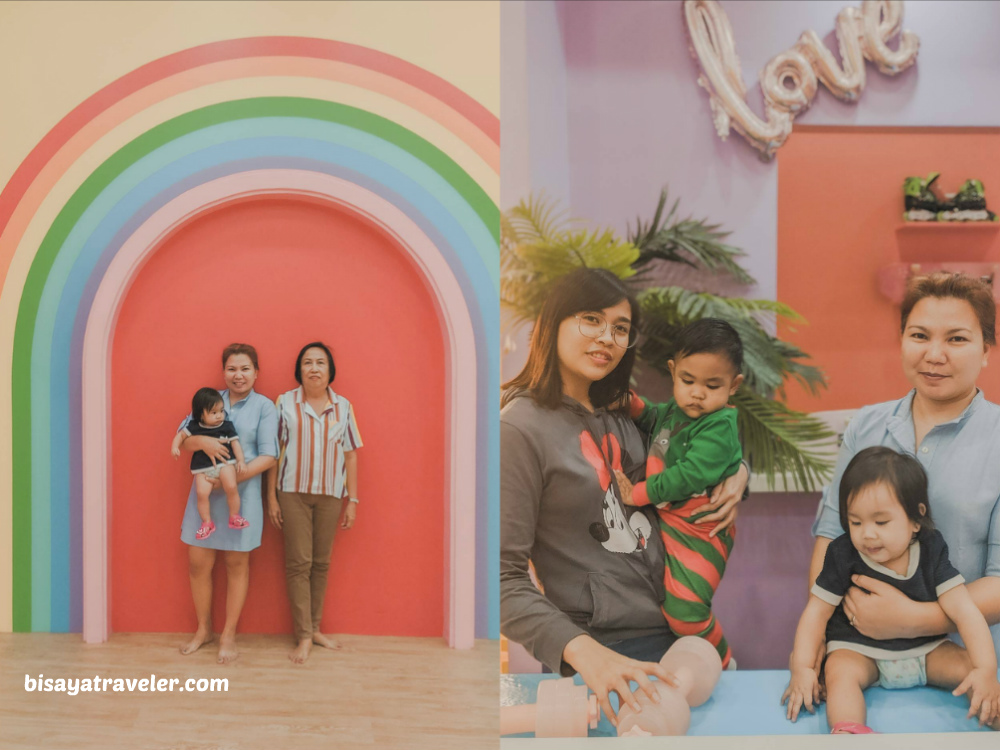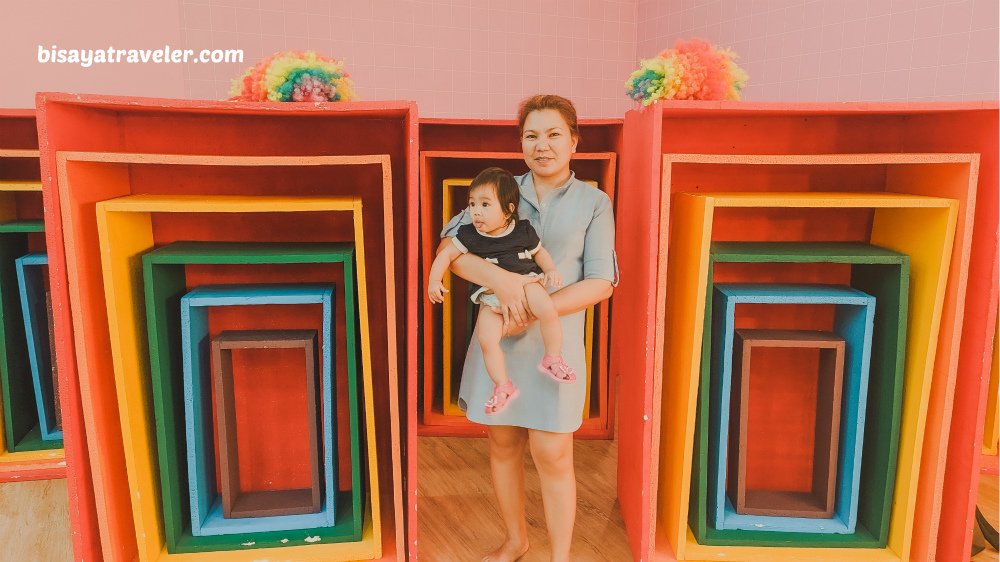 Of course, I was having a swell time.
Slowly, my optimism and positivity kept spiking, thanks to the cheerful colors.
Aside from the wondrous color combinations, I was also amazed by its exceptional interior design.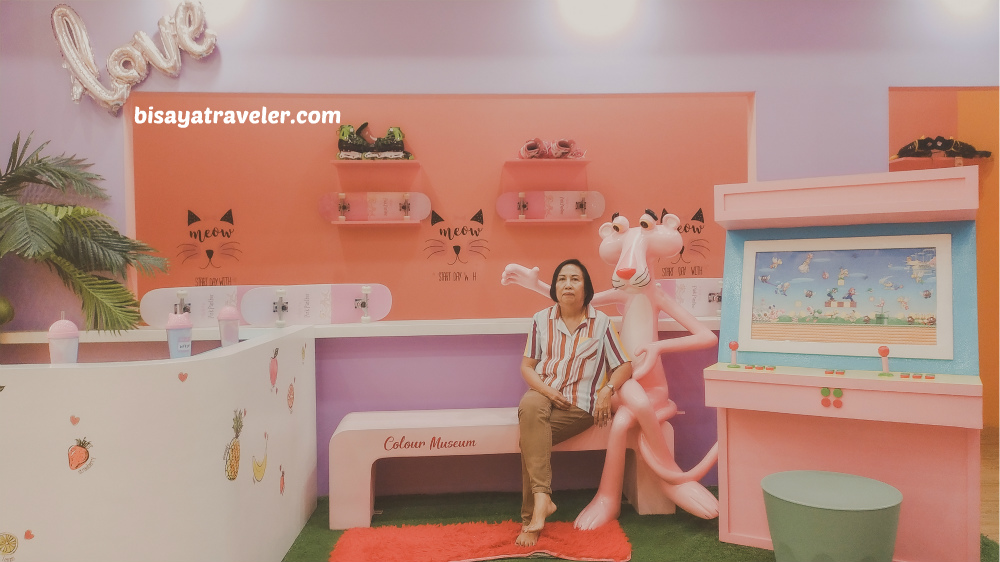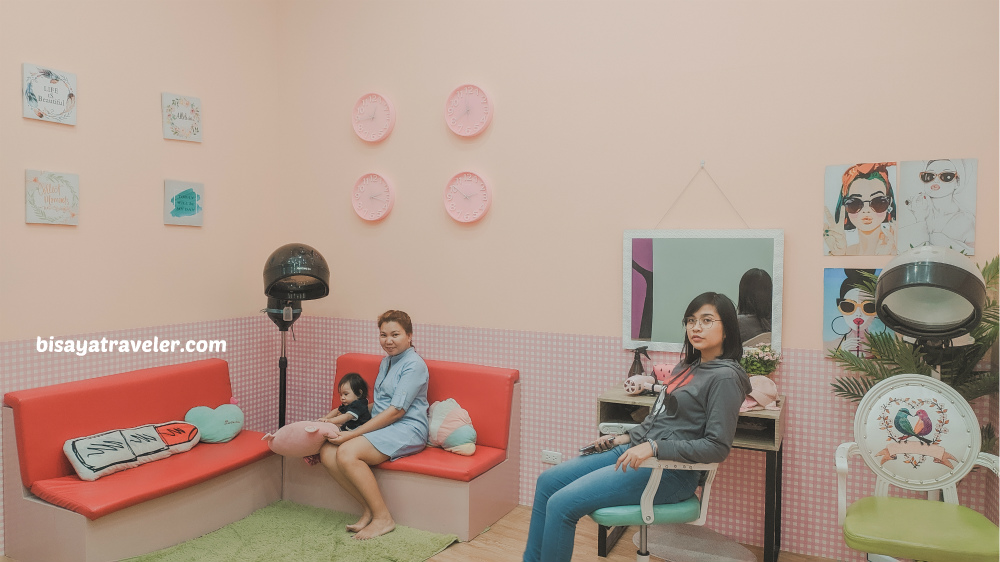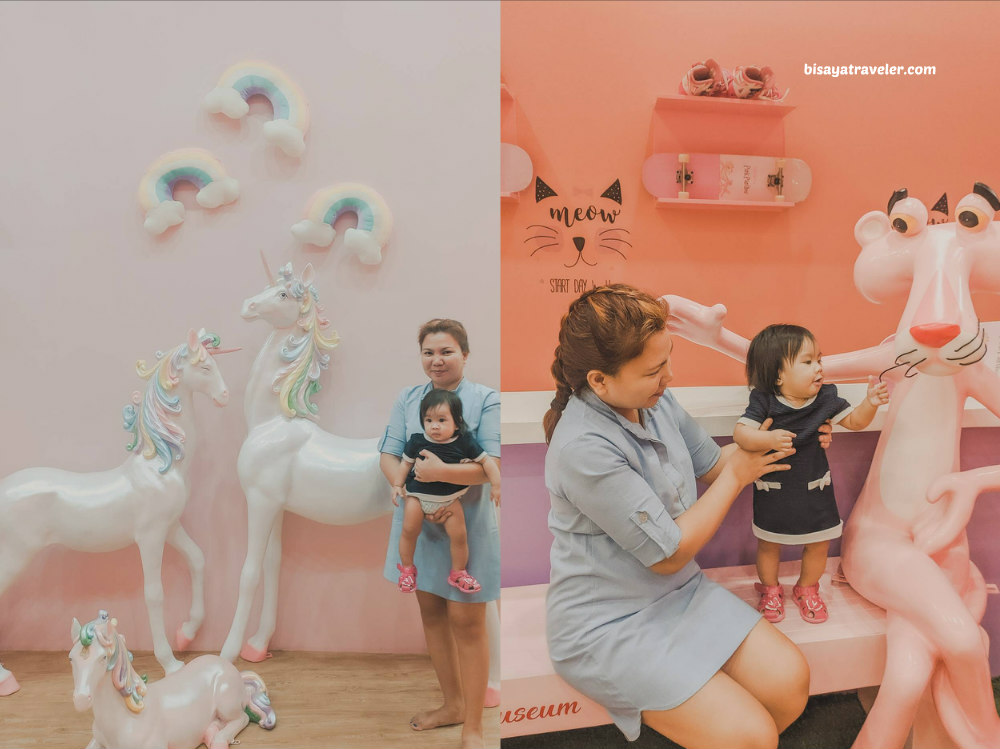 I'm not an expert when it comes to interior designing, but it was such a joy staring at the museum's intricate details.
To create something like this, you really have to be a creative genius.
To me, it's a work of art. No wonder the owners called it a museum.
And, when the little ones became tired of their games, we left the Colour Museum and spent the rest of the day together at our humble abode.
Not a bad way to start the year, in my book.
Colour Museum entrance fee:
Adults: PHP 180 each
Students, PWD, and senior citizens: PHP 100 each
Children below 3 years old: FREE
More important info about this Cebu tourist attraction
Opening hours: 10:00 AM to 09:00 PM from Mondays to Fridays, 10:00 AM to 10:00PM on Saturdays and Sundays.
Location: 2nd Floor Seaview Wing in SM Seaside Cebu, Cebu City, Philippines
Phone number 253-9094
Tips:
Weekdays are the best time to explore the museum since weekends tend to get crowded.
Don't rush your experience. Spend some time inside the museum and let the bright and cheery colors uplift your mood. Trust me, it's more than just a selfie spot.
The experience is best when shared with others.
If you're into photography, make sure to explore the other photogenic spots in SM Seaside Cebu.
Wear a pair of clean socks. Remember, you'll need to take your shoes before entering the Colour Museum.
Be creative when taking pictures.
There are references on the floor that let you snap the best angle of every selfie spot inside the museum.
There are also guides inside the museum who can take pictures of you and your companions.
How to get to Colour Museum in SM Seaside Cebu
By Taxi or Grab
There are plenty of taxi cabs and Grab drivers that are willing to drive you to SM Seaside Cebu. Once there, go to 2nd Floor Seaview Wing, and look for the museum. By the way, the Colour Museum is near Double Ma Tea and Sizzling City.
By car
Use Google Maps or Waze, and navigate your way to SM Seaside Cebu. As for the mall's parking space, it is free for all drivers.
MyBus
From the BDO center in Fuente Osmena, you may take the free ride from MyBus to SM Seaside Cebu. Alternatively, you may hop on any of the MyBus rides from Parkmall, Mandaue, Talisay, or SM City Cebu.
---
Happy colors are those warm and bright colors, including red, pink, and orange. Pastel colors, such as lilac, light pink, or peach, can uplift your mood as well.
The lighter and brighter the color is, the more optimistic and happy it's going to make you feel.

But, it wasn't just the bright displays of Colour Museum in SM Seaside Cebu that put me into a state of pure bliss that day.
The truth is, I got a massive boost of oxytocin, which is also a happy hormone, by just spending quality time with my family.
And that, ladies and gentlemen, is a life hack that makes my life extremely colorful and bright. It is my secret ingredient that turns my shades of grey into a palette of pastel and warm colors.
Whenever I feel my life is turning into a grind, I venture into places like the Colour Museum with my family.