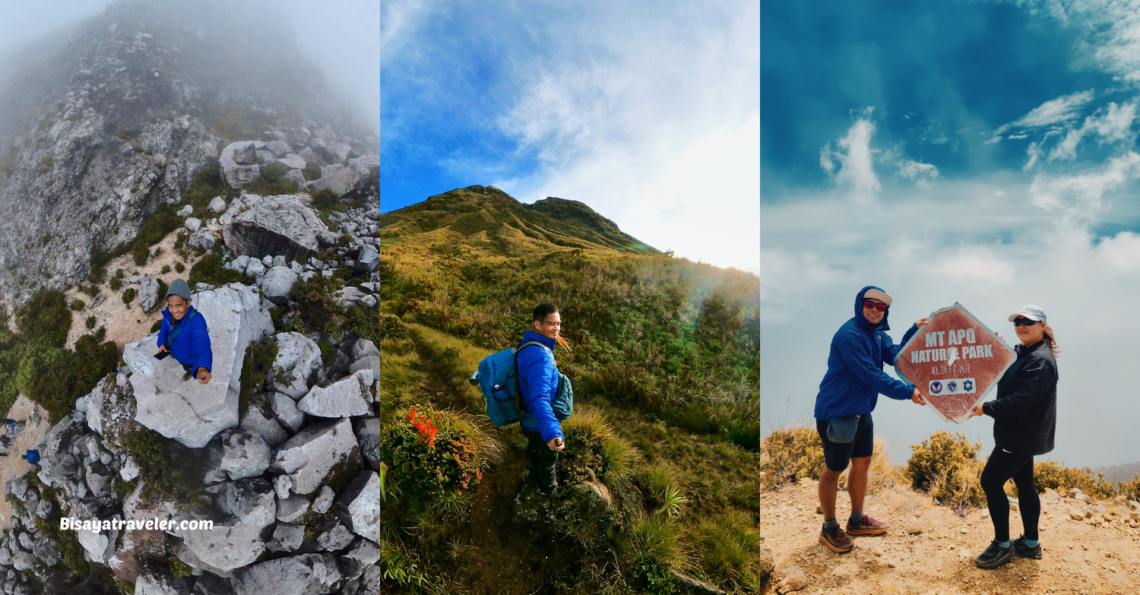 Mount Apo Diaries: The Sublime Journey To The Top
Every story has a hero. And, in my blog, I'm usually the fearless protagonist who conquers feats, experiences spellbinding outdoor pursuits, and learns timeless life lessons. But, on our journey to Mount Apo, I was a mere hapless fool saved from the clutches of death.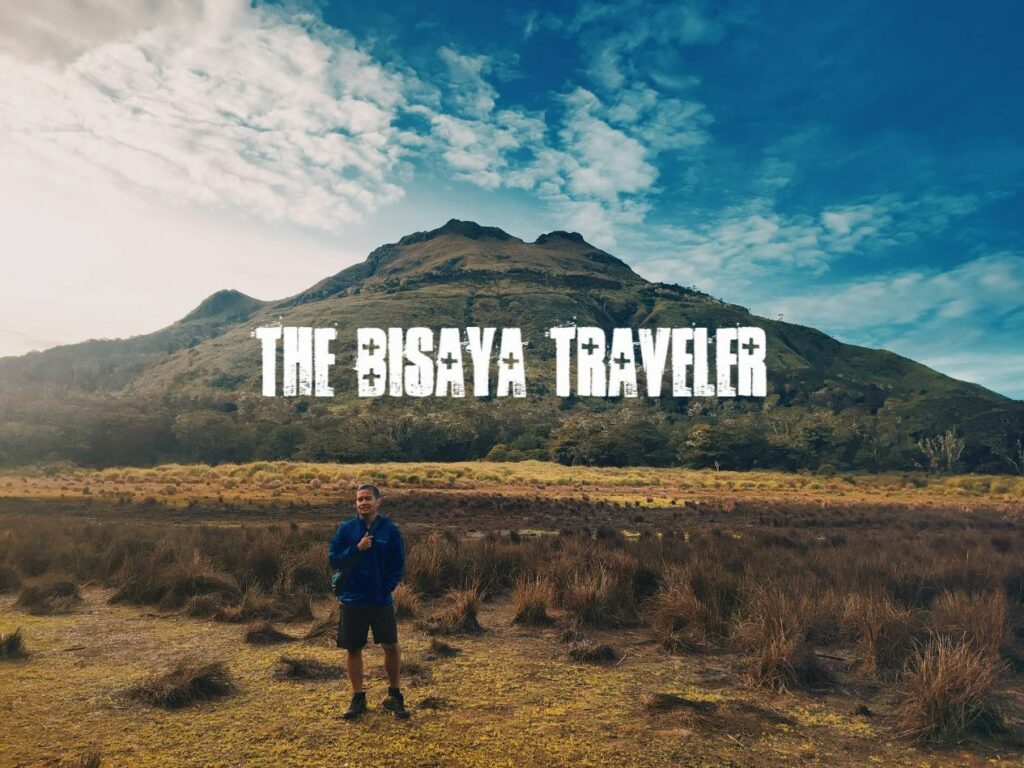 Everyone was in a festive mood after our 3-day Mount Apo hike via the Bansalan and Magpet trail.
And who wouldn't be?
It was a memorable adventure with a plethora of challenges, from muddy pathways to blood-sucking parasitic worms.
What's more, our Mount Apo hike overflowed with exquisite and jaw-dropping sights, including mossy rainforests, boulders, jagged peaks, and verdant hills.
Smiles were plastered on their faces, and the atmosphere was filled with absolute joy.
With the soothing sounds of Tausavan Falls and blissful stories of every hiker, it was the perfect way to cap off an epic Mount Apo hike.
While also on cloud nine, I hid a secret from the rest of the team.
The truth is, I was inches away from dying on our way to Tausavan Falls.
For a second, I thought I would fall off a steep drop and end up in the gates of hell.
One slight miscalculation and I could have been transported into a realm stuck between life and death.
And only a few souls knew about my near-death experience before I wrote this memoir.
I don't want to keep secrets for life. So, I'm revealing the true story of our journey to Mount Apo, the tallest mountain in the Philippine archipelago.
The journey to Mount Apo
Day 3 in Mount Apo at 2:31 PM
I never knew the impact of thick ponchos until I fell off the cliff on our Mount Apo hike.
I was minutes away from completing a long 3-day Mount Apo adventure when a misadventure happened.
Drenched in sweat and rain, I grabbed thin vines and branches and held on for my dear life.
Death beckoned me, and I felt his icy fingers gripping my feet.
Thin vegetation was the only thing keeping me from falling off the cliff. And, I don't think it's strong enough to support my full body weight.
I sensed a rush of panic from my hiking buddy, Richel, as she screamed. Shocked, she and Joseph froze and remained still for seconds.
After the initial shock, Joseph rushed to the cliff to help me get out of this precarious position.
Calmly, I removed my thick and heavy poncho and bag and handed them to Joseph.
And, I wouldn't have been in this position if it wasn't for the thick poncho. Actually, I wasn't planning to use this poncho since I brought a lighter one before our hike.
It was just a backup. But, I had to help out a brother who had a little airport mishap with his rain gear.
My poncho was so thick and heavy that it limited my mobility, sight, and hearing. On our way to Tausavan Falls, I heard my hiking buddy mumble something.
Since she was a bit inexperienced, I had to constantly keep an eye on her to ensure her safety.
I could barely hear a word, so I turned around to check if everything was alright.
As I turned my head, the muddy surface where I was standing crumbled.
I lost footing, slipped on the muddy bank, and fell off a cliff. Luckily, I still have quick Spiderman-like reflexes and made a split-second decision to grab onto some vegetation.
But…
I wasn't afraid of falling and dying.
I never see death as morbid or scary.
When death comes, I'm going to have a big smile on my face.
Despite my mistakes and flaws, I have lived a life well lived.
They save those who are afraid to die have unfulfilled lives.
And, I have lived a fulfilling, technicolor, and satisfying life.
I had a purpose in this life.
Day 1 at 12:05 PM: Hiking the Mount Apo Bansalan Trail
For the second time today, Jen had cramps.
Jen was, by far, one of the most prepared and well-conditioned hikers on this Mount Apo team.
But, like life, shit happens on the trails.
No matter how prepared you are, nature and life will find a way to test your fortitude and mental strength.
I'm not worried about Jen. She's a warrior, and together, we've conquered several outdoor adventures, including Mount Talinis.
So, we went on with our Mount Apo hike and faced a variety of challenges, including slippery pathways and steep inclines.
The sights on this part of our Mount Apo hike were surreal and mesmerizing. Occasionally, we paused to admire the scenery and take a breather.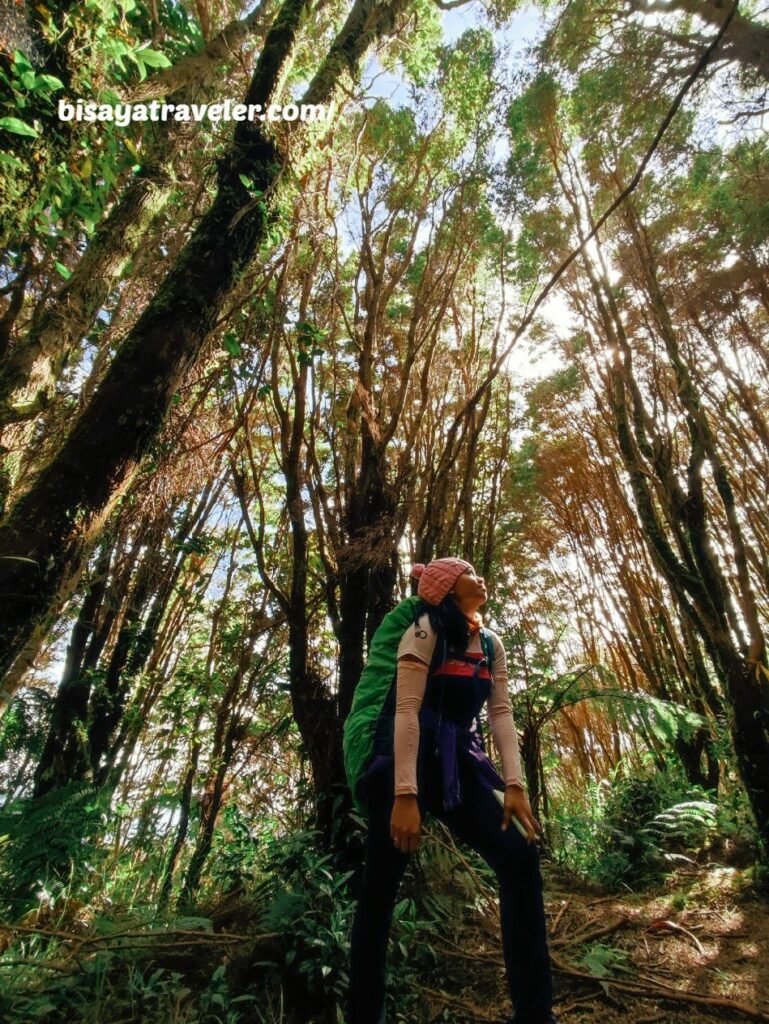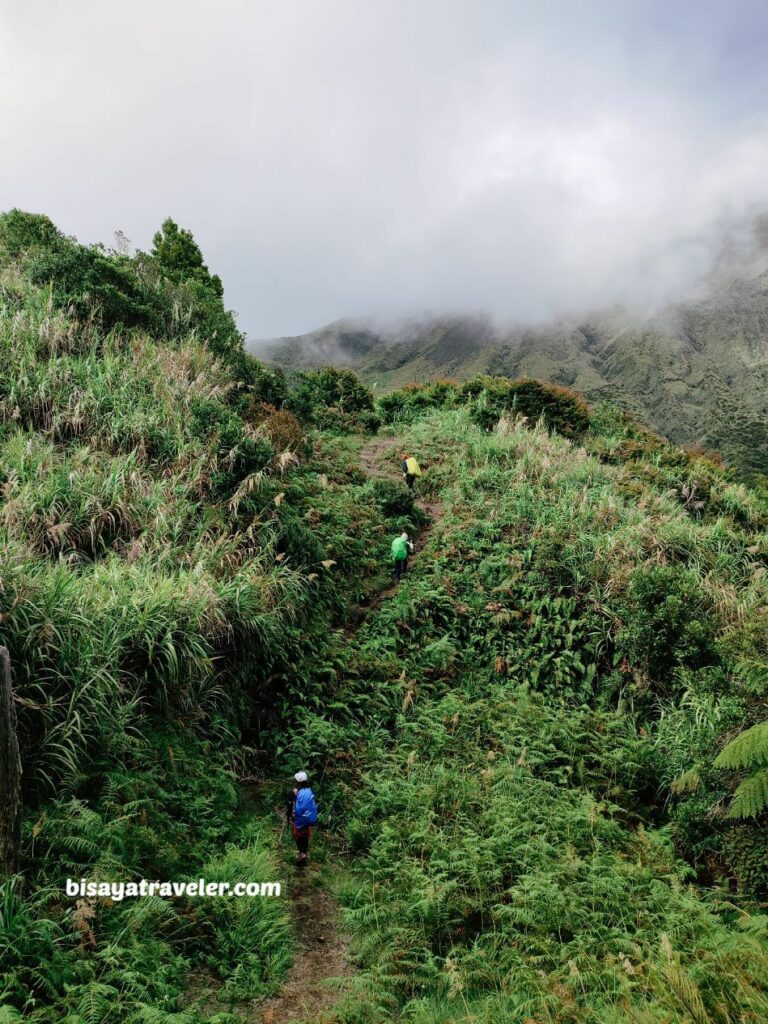 At around 3 PM, we arrived at Camp Reyes, where we replenished our energies and spent the night.
Surprisingly, the campsite had a couple of convenient amenities: a store and a newly installed bathroom.
I breathed a sigh of relief when we arrived at Camp Reyes.
Truthfully, I thought we wouldn't make it to this section on our Mount Apo escapade.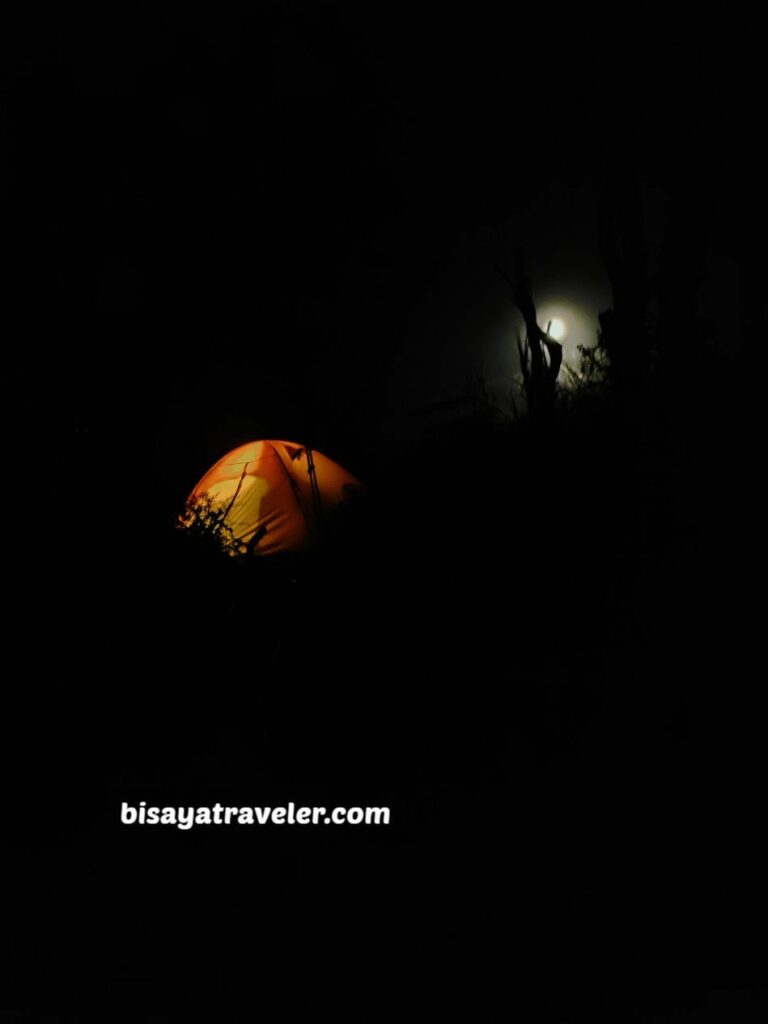 Day 1 at 9:08 AM
So far, this hike to Mount Apo doesn't look promising on my end.
It has disaster written all over it.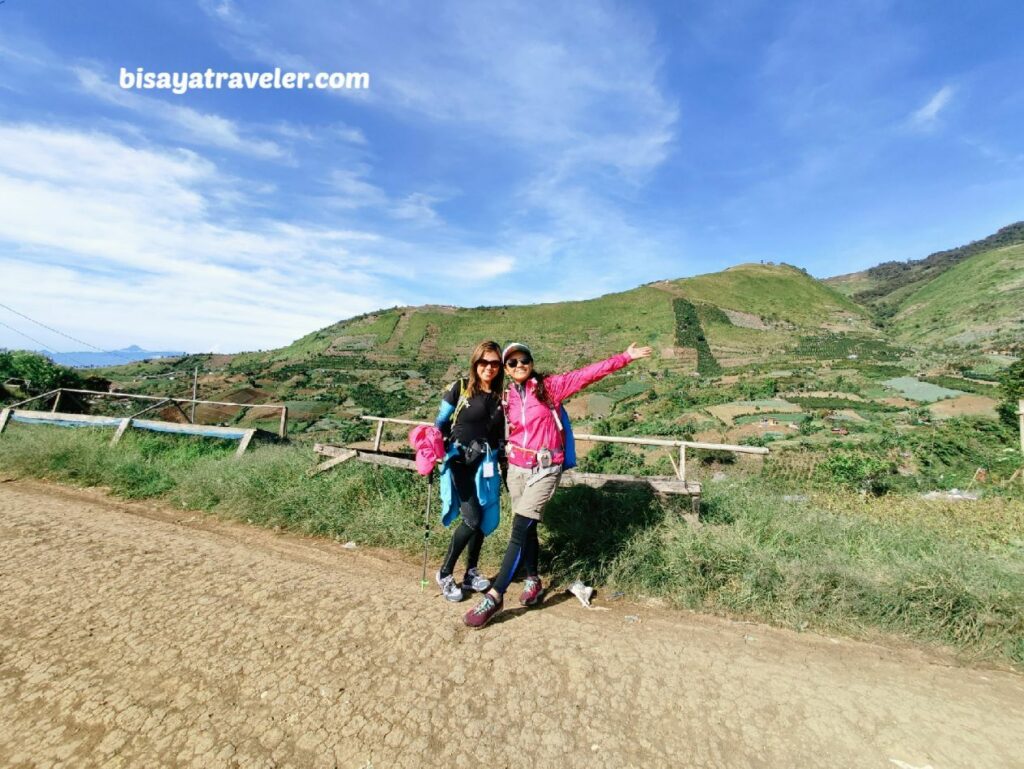 The views were spectacular, the weather was perfect, and the mountain breeze was so refreshing.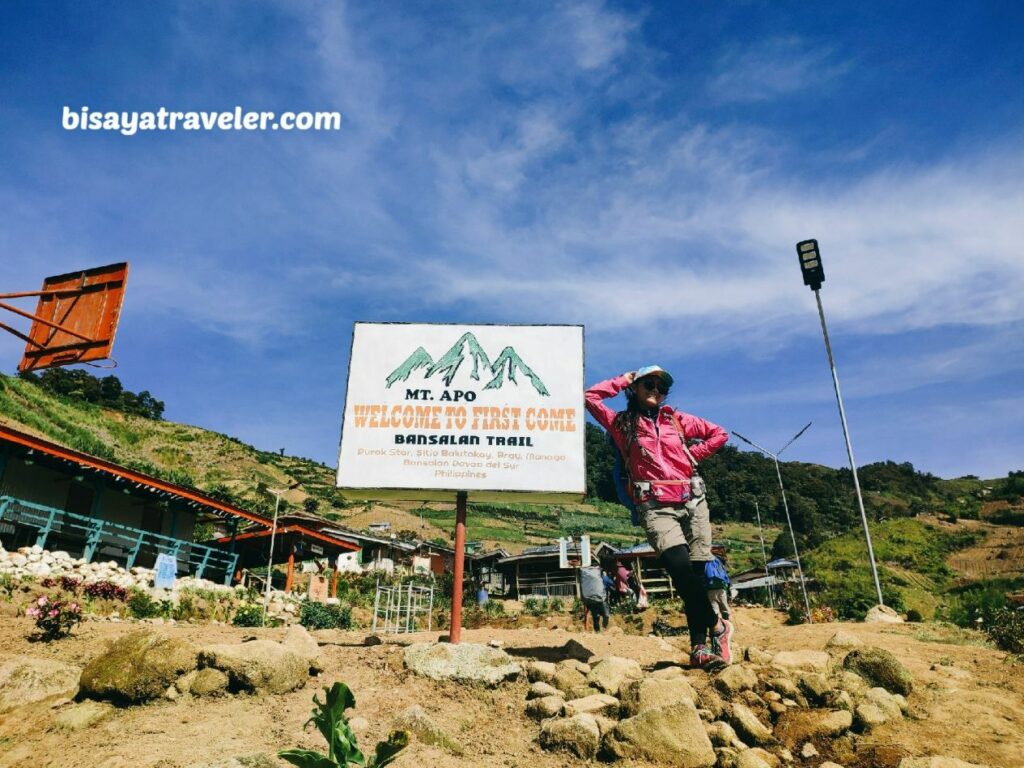 But, I couldn't enjoy all of it because I was worried one of my hiking buddies couldn't continue with our Mount Apo hike.
During the planning stages of our hike, I was tasked to look out for two hikers: Joy and Richel.
Joy had a lot of fuel in her tank and was geared to reach the highest summit in the Philippines.
Richel, however, was dealing with hyperacidity because of drinking a load of coffee.
She tried to vomit and did everything to relieve acid reflux.
Two organizers also vomited because they had an extra caffeine dose before our hike.
Soon after, Richel had other problems.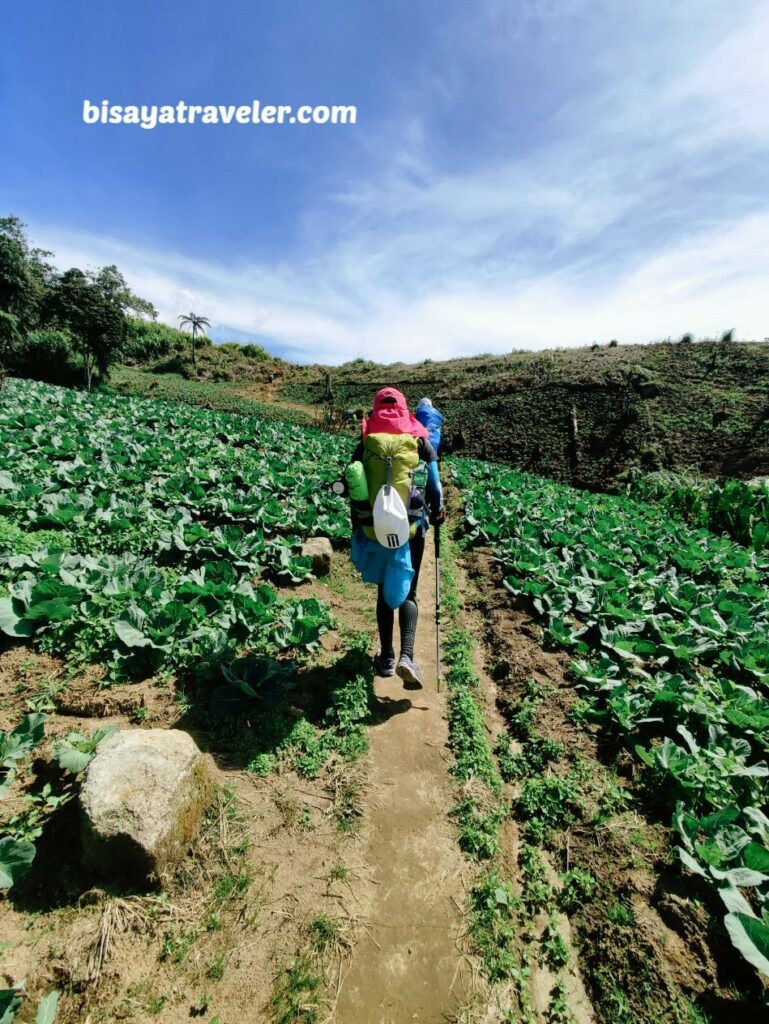 She felt numbness in her left arm and felt that her blood pressure had skyrocketed.
Doubts and fears slowly crept inside her mind.
I was afraid our Mount Apo hike would abruptly end here.
There was only one way to help her finish this hike: provide motivation.
I'm not a dynamic motivational speaker. I can write inspiring messages, but I'm not a prolific motivational speaker.
Still, I had to unleash my inner Bo Sanchez and Nick Vujicic to remind her of her triumphs and successful outdoor pursuits.
And that's what I did.
Then, I grabbed her backpack and tied it to mine to help her recover. Earlier, I weighed my backpack, and the scale indicated it was around 14 kilograms.
With her backpack attached to mine, I carried around 20 kilograms of weight on an uphill trail under the sun's scorching heat.
Before the hike, I promised myself to adjust to the pace of my hiking buddies. I'm a fast and strong hiker, but I had to fulfill this task to ensure they both arrived at the top safely.
But, this time, I had to hike at my own pace since my load was heavier.
Moments later, I caught up with the other team members and saw Jen dealing with cramps.
For a second, I had doubts about myself.
Can I complete this hike even though I didn't sleep last night?
Day 0 in Davao City
We arrive late in Davao City, the base for most Mount Apo adventures.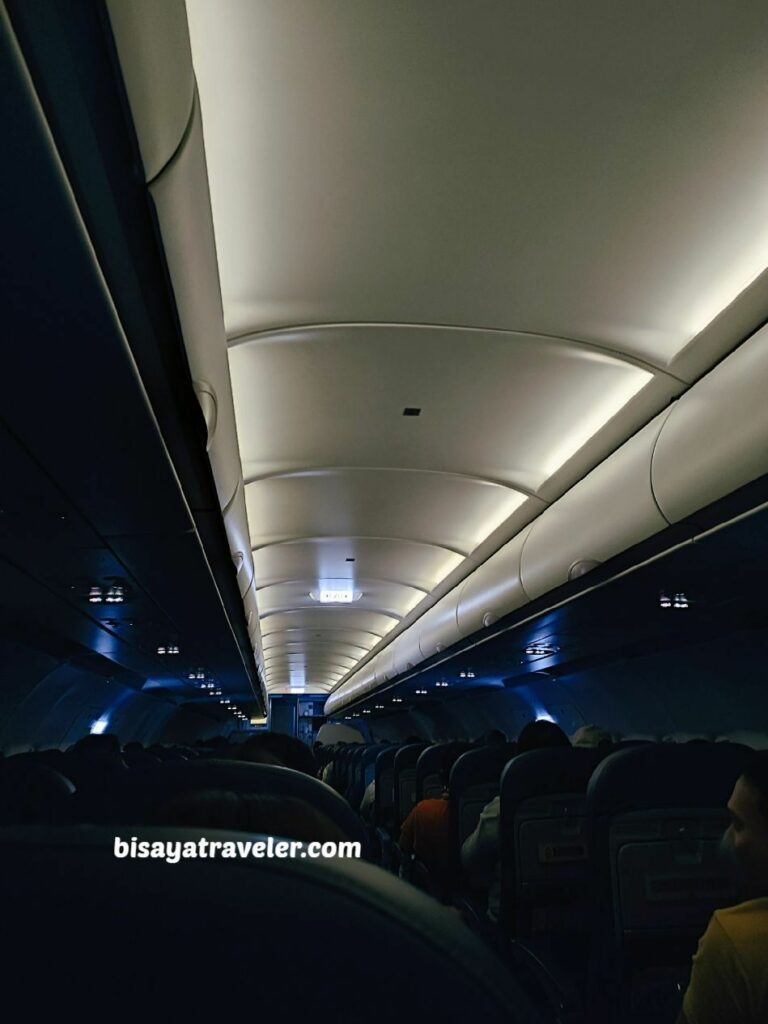 Upon our arrival, we immediately unpacked and repacked our bags.
I also had a friendly chat with the other hikers in the other room.
Afterward, I saw Beboy, weak and feeling the effects of the flu.
I hated seeing Beboy this way. Even with my recent absences from the group, I always treat Beboy, Dian, and Raul as familia.
Tatay Raul, now known as Sir Francis, informed me that Beboy had left his rain gear at the airport.
I brought two ponchos for this Mount Apo hike: a lighter one and a heavy and uncomfortable one.
Without hesitation, I gave the lighter one to Beboy.
And, I thought we already had everything ready for our hike to Mount Apo Natural Park.
But, fate is sometimes a tough and mean son-of-a-bitch. As we were about to sleep, Joy and I noticed that the keys to our room were missing.
We checked everything, unpacked, and packed our bags to find the missing keys.
Unfortunately, we didn't find it. And, the worst part is, we only had less than two hours of sleep left before the hike organizers arrived.
I didn't sleep that night. And, when the alarm sounded later, I found the keys sitting on Richel and Joy's bed.
What the bloody fuck!
Day 2 in Mount Apo at 5:00 AM: The scenic section
The dawn was breaking, and I could see the golden rays of the sun emerging along the eastern horizon.
Finally, I got some sleep. I only had about five hours, but I don't need a lot of sleep to recover and replenish my energy.
After a short photo-op, we embarked on our journey to the top of Mount Apo National Park.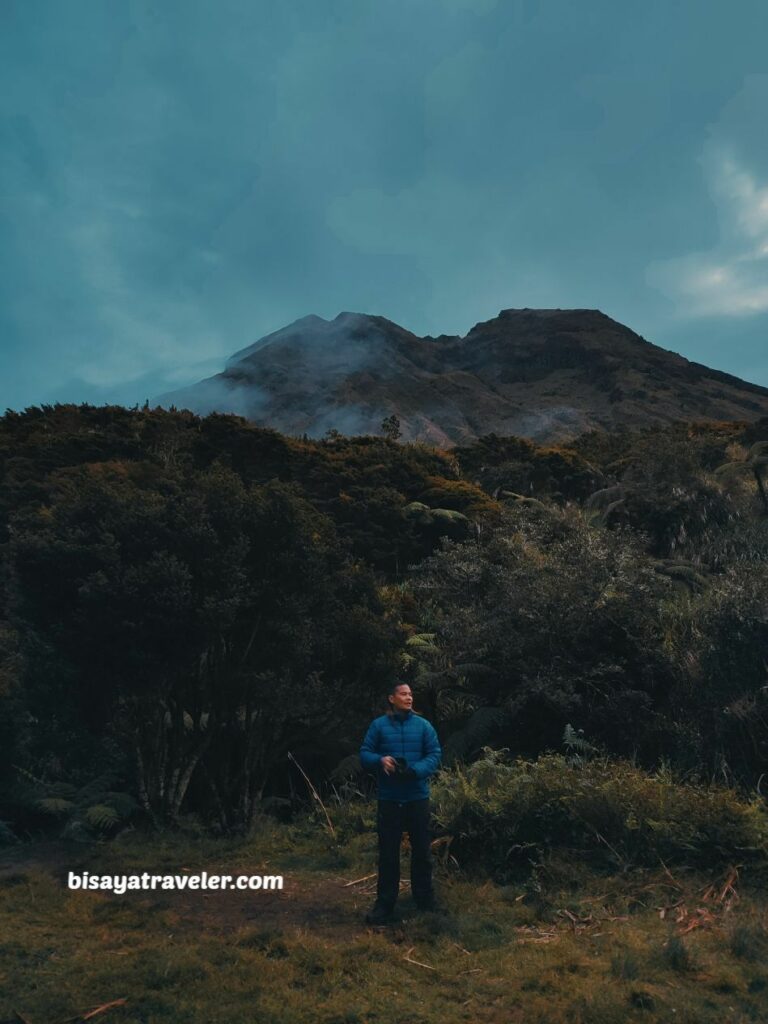 Unlike Day 1, this day seemed promising.
And, I had a blast taking this uphill climb.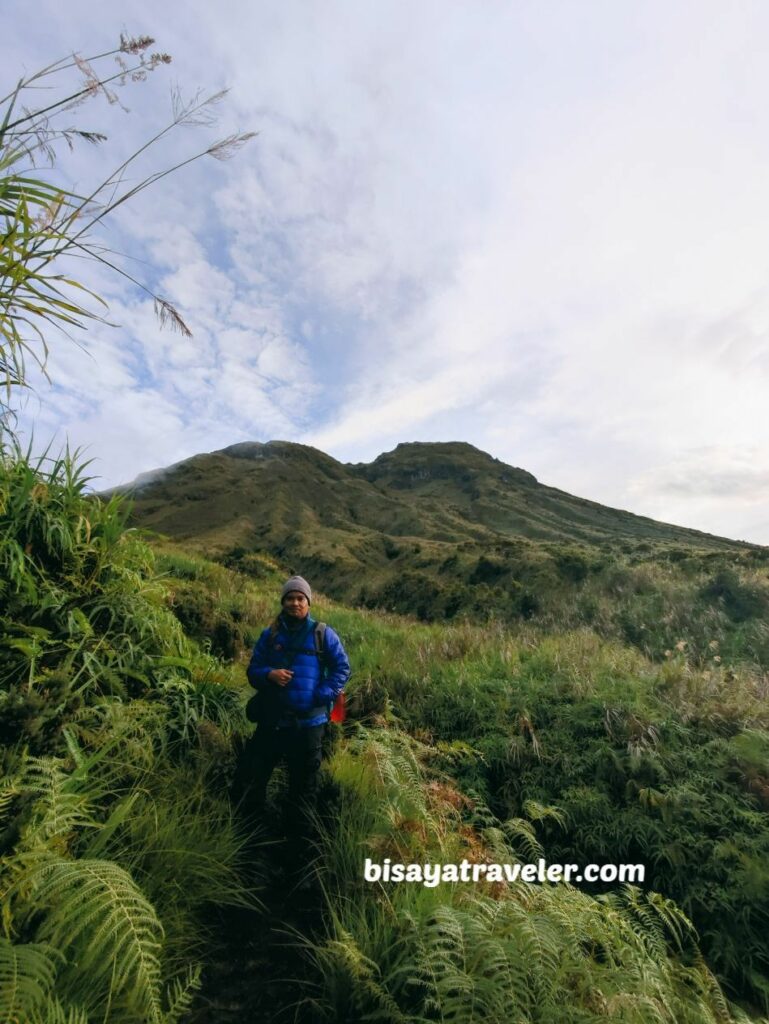 Not only was the weather on our side, but the views were also heavenly and otherworldly.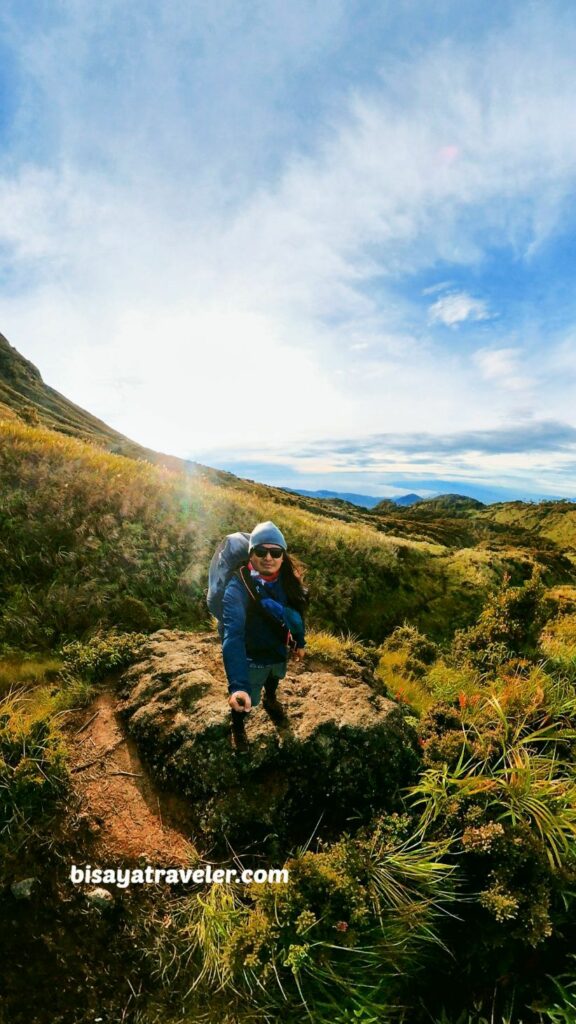 We didn't want our pace to be frantic at this part of the hike.
On our way to the top, we were enthralled by the gorgeous sunrise, crisp blue skies, scenic mountains, and emerald scenery.
Sometimes, the fog covered the landscapes, which added a dramatic effect.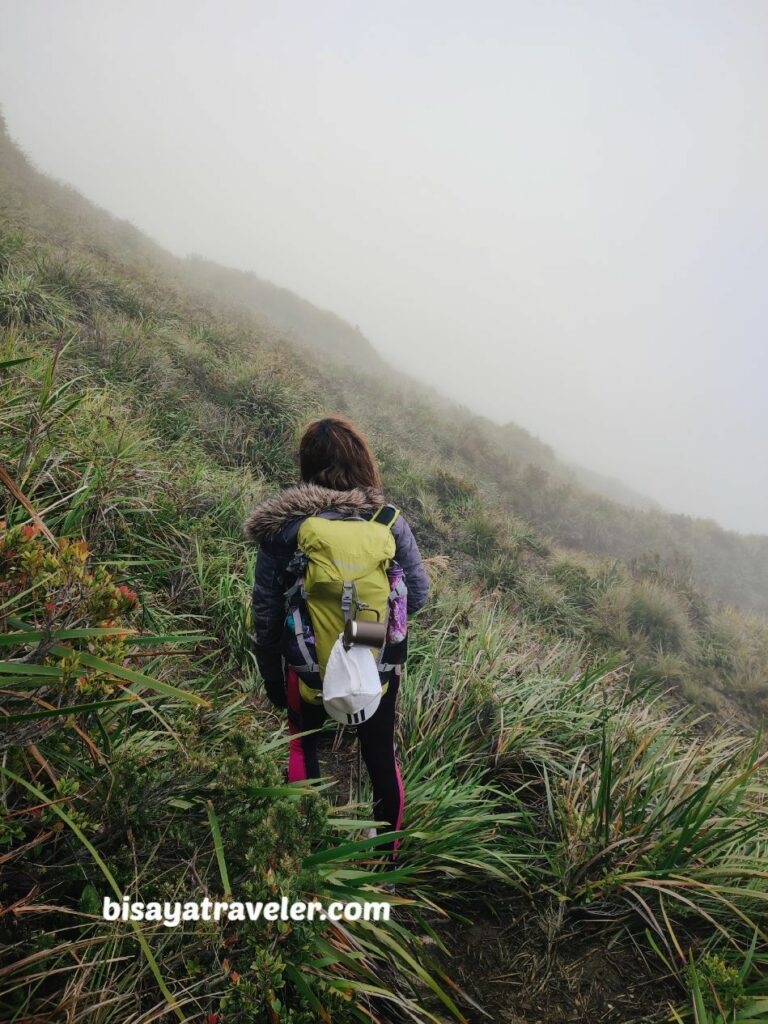 To me, this was the most picture-perfect part of our Mount Apo hike.
I'm not a photographer, and I don't take photos as much as I did before. But, damn! The scenery was so irresistible and awe-inspiring.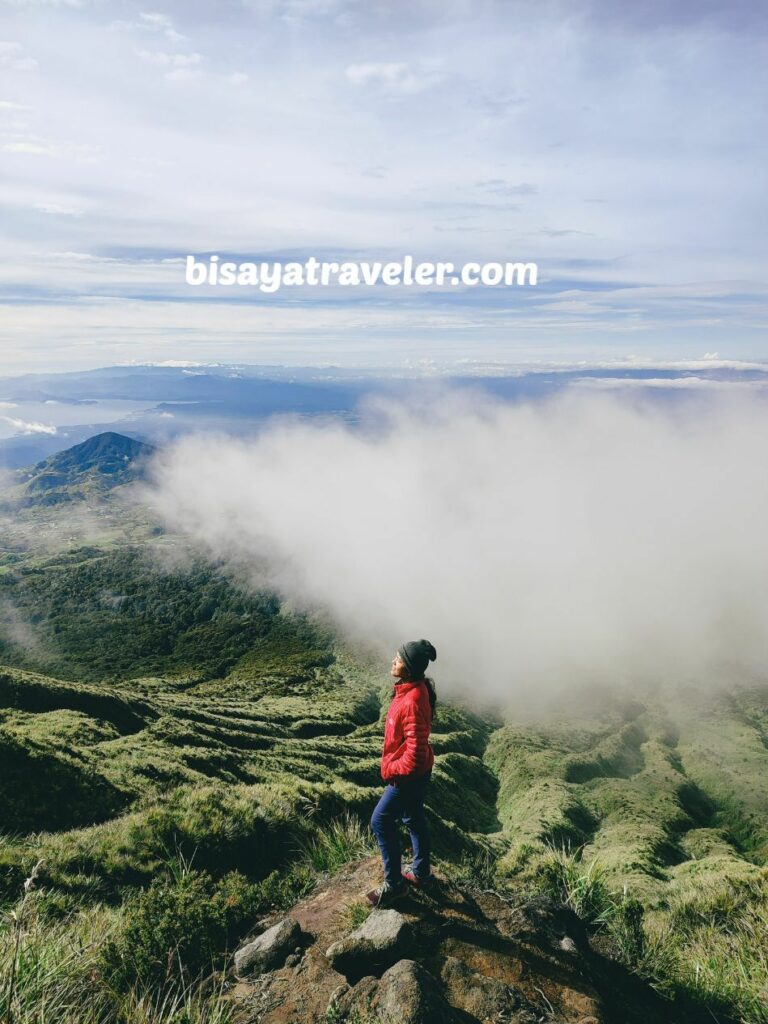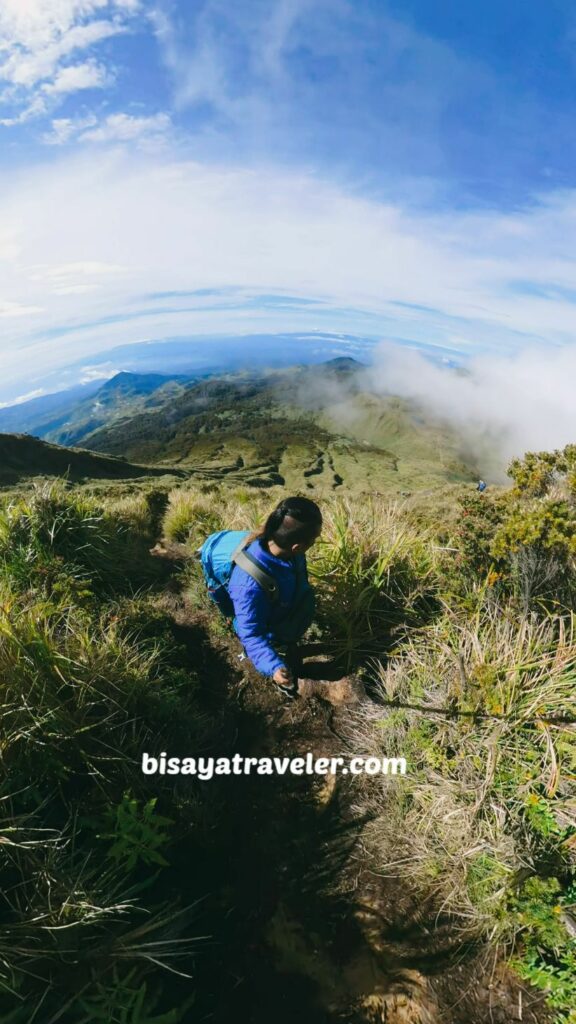 I felt like I was taking the stairway to heaven. Every step feels like I'm getting close to the gates of the Garden of Eden.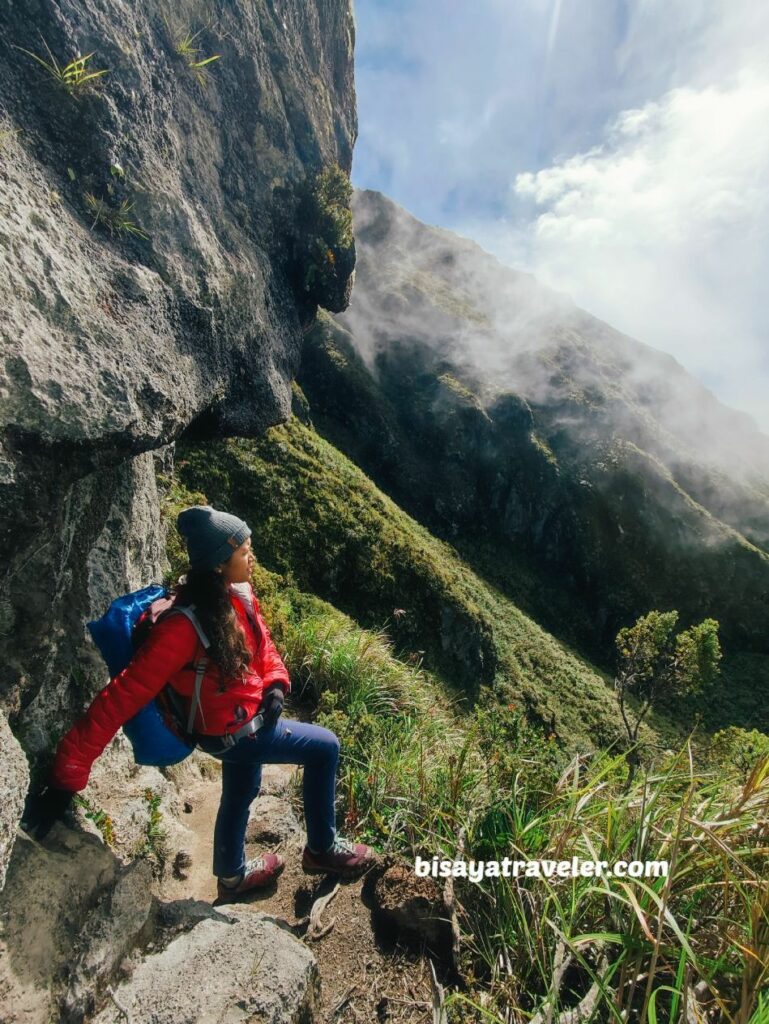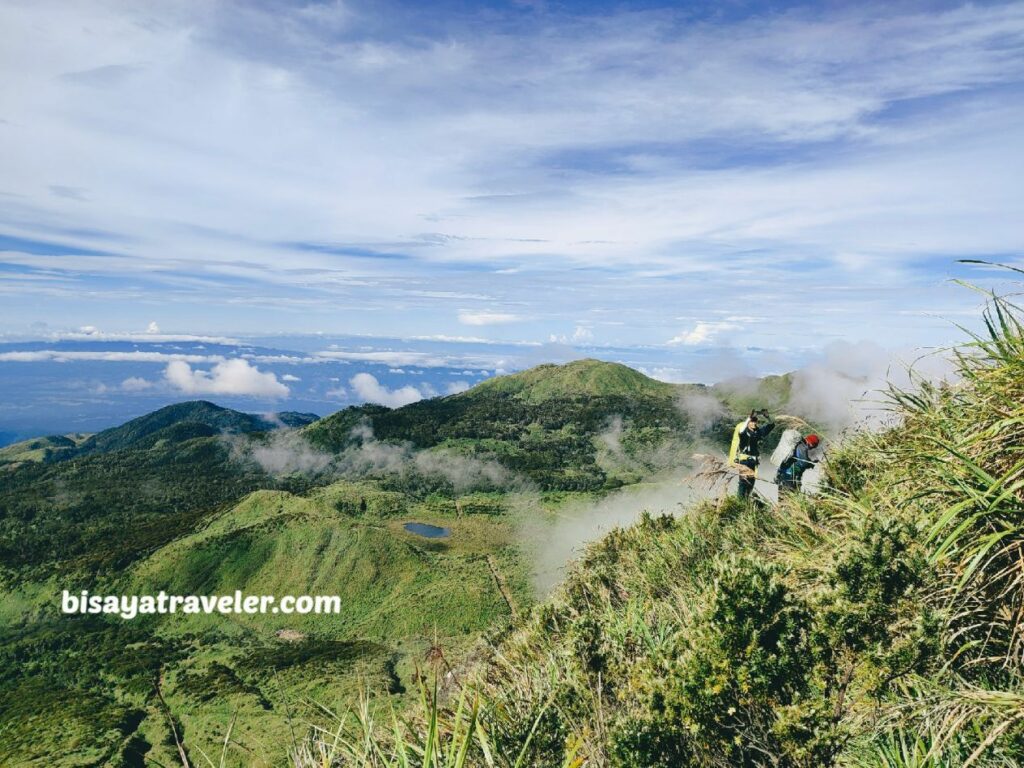 Of course, there were challenges and steep inclines on our way.
There were ropes on some parts to help hikers navigate the tricky parts. Yet, I didn't find them ultra challenging.
I even felt that some ropes of this hike weren't necessary.
Eventually, we arrive at a flat section of Mount Apo where hikers usually prepare and eat their lunch.
I'm excited. Minutes from now, we'll be standing at the highest peak in the Philippines.
Day 2 at 11:34 AM: the Mount Apo boulders
We all want to skip to the good part.
No one, after all, wants to deal with pain, adversities, and struggles.
But, struggling in life builds character, fortitude, and strength.
So, embrace it.
Enjoy it.
Learn from it.
And, more importantly, grow from it.
All my struggles have transformed me into the person I am now.
And, I apply these lessons whenever I face adversities.
On our way to the Mount Apo boulders, we encountered another adversity.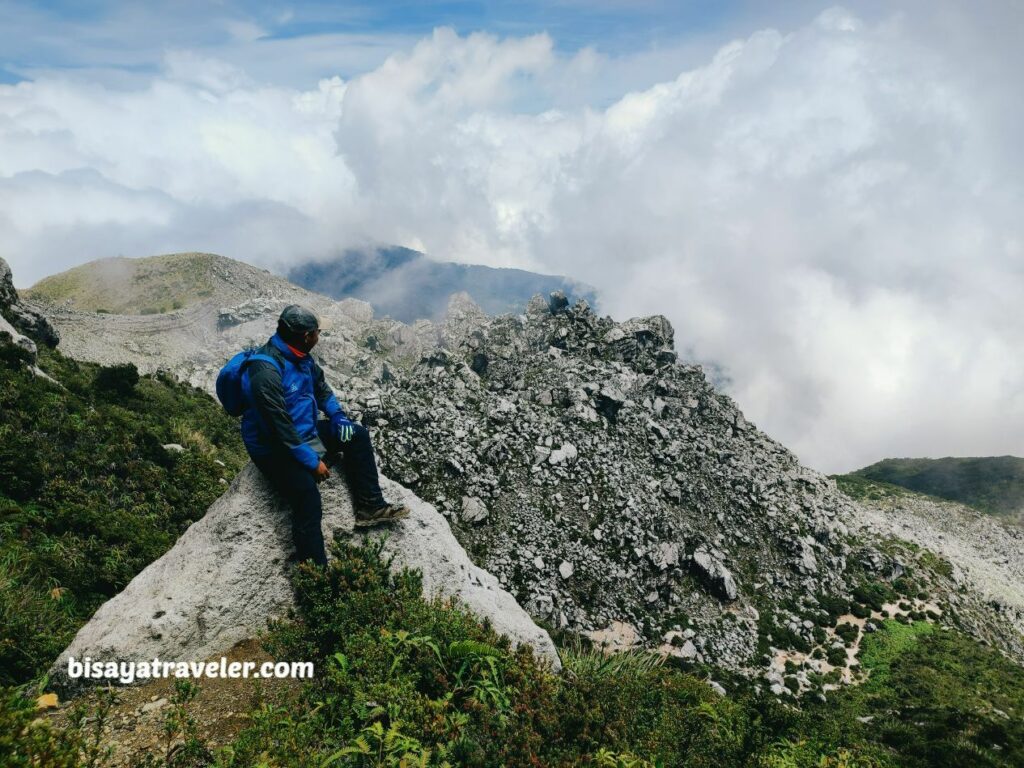 One of my hiking buddies had problems with her hiking shoes.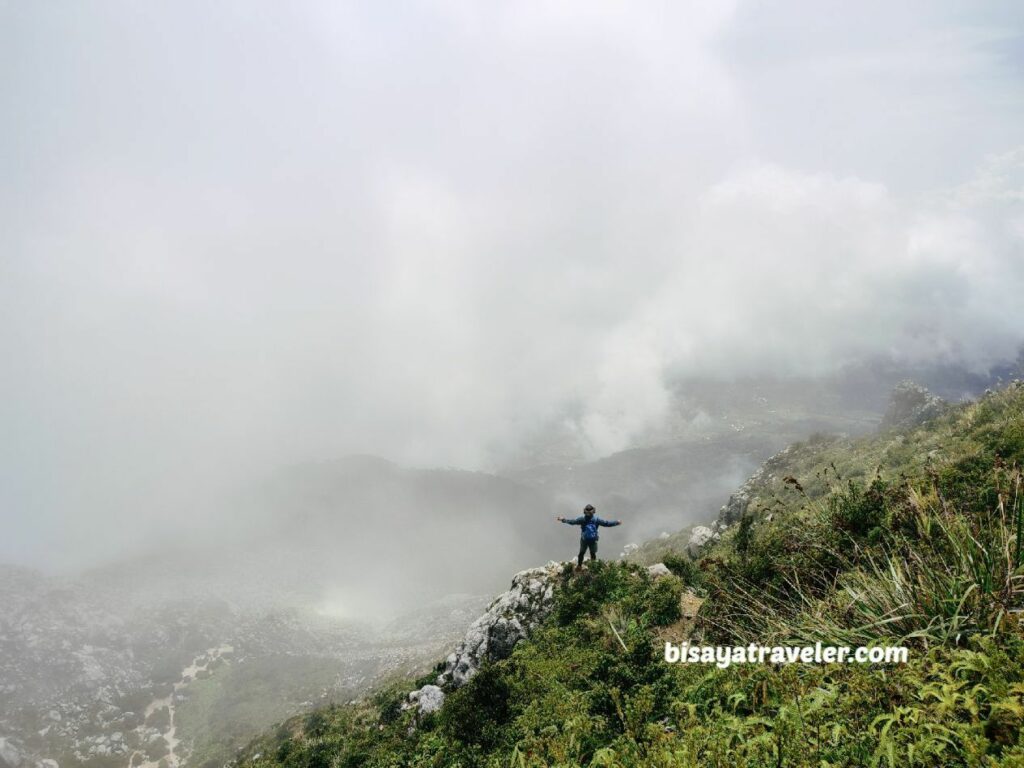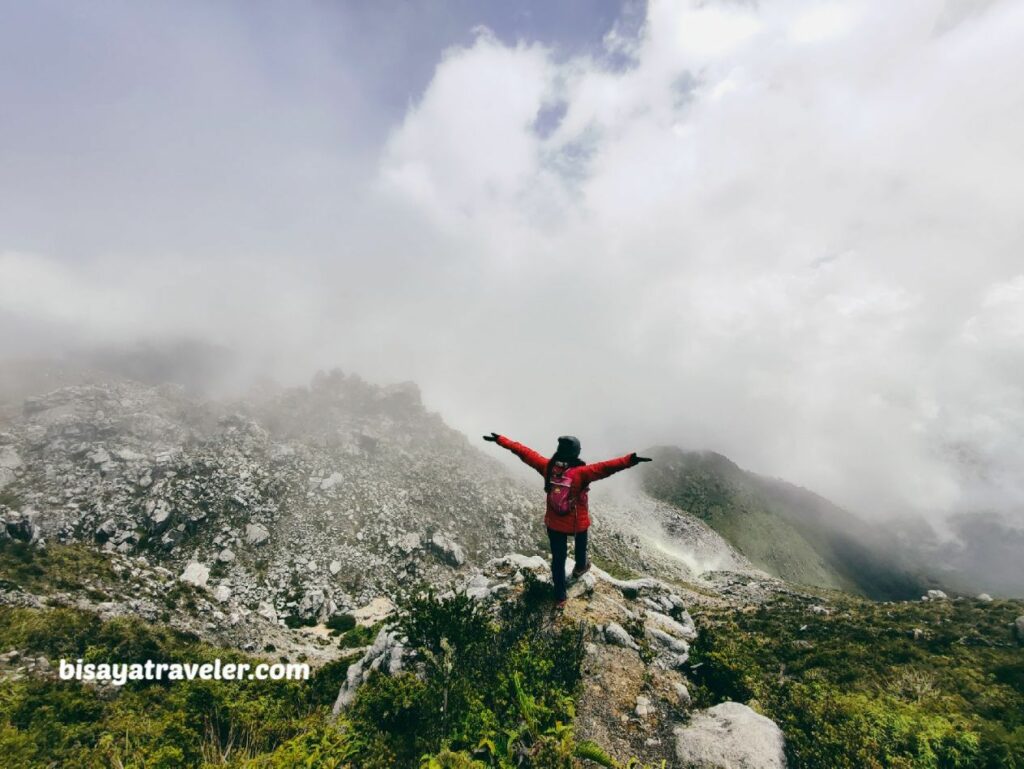 When I checked them, I noticed both the outer soles of her shoes were coming off.
She had an extra pair, but she left it, together with the rest of her stuff, in the area where the guides prepared lunch.
It's hard to hike when you have shoe problems, let alone in rugged terrains like the Mount Apo boulders.
The only temporary solution I could think of at that moment was to tie the outer soles to the toe boxes and laces using my paracord bracelet.
Although it wasn't a perfect solution, it helped her navigate the rugged terrain.
When we arrived at Mount Apo boulders, I explored the area and climbed over these large rocks.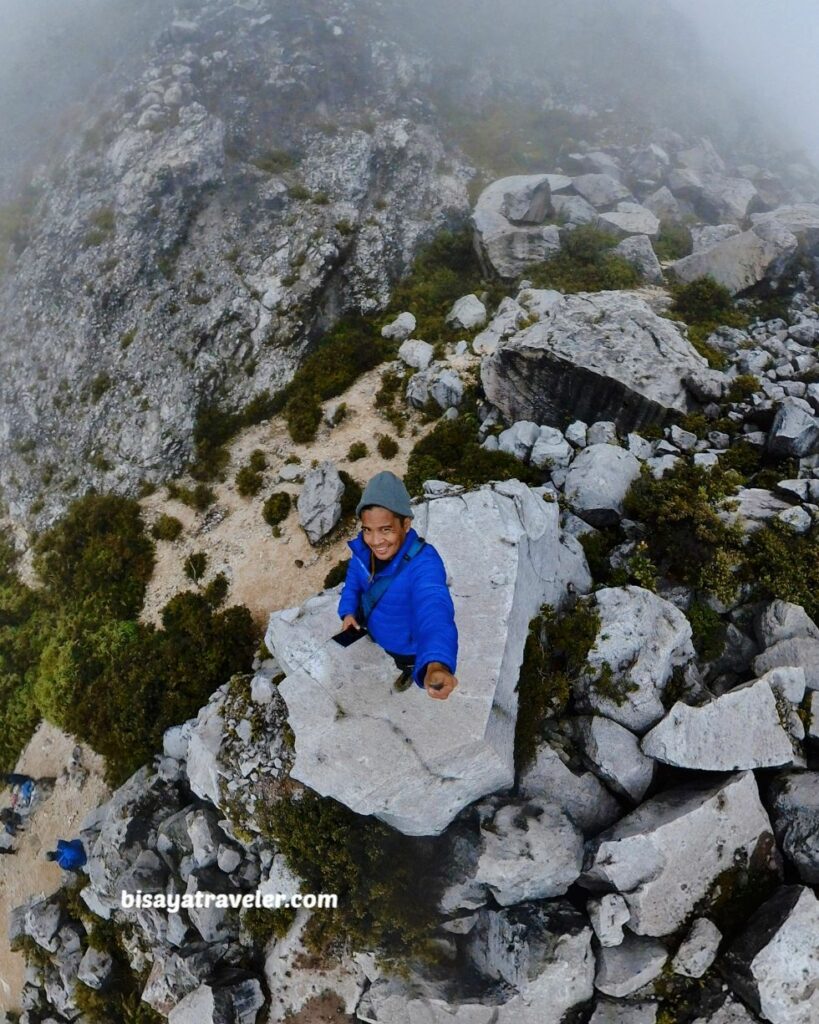 I enjoyed every second of it, and it reminded me of my spine-tingling adventures and cliff explorations in Cebu.
From the boulders, we climbed our way to the Mount Apo crater.
Sadly, the weather wasn't pleasant and favorable at that time of the day. Maybe, we were too noisy.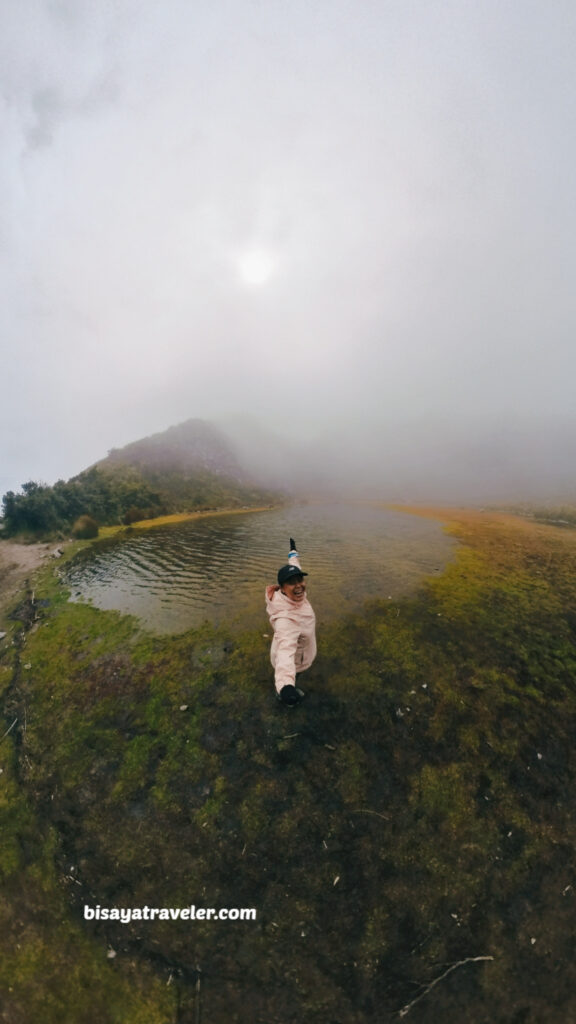 As most mountaineers say, the mountains won't get you a clear view if you're loud and annoying.
Still, we enjoyed the view and snapped a bunch of photos of the Mount Apo crater.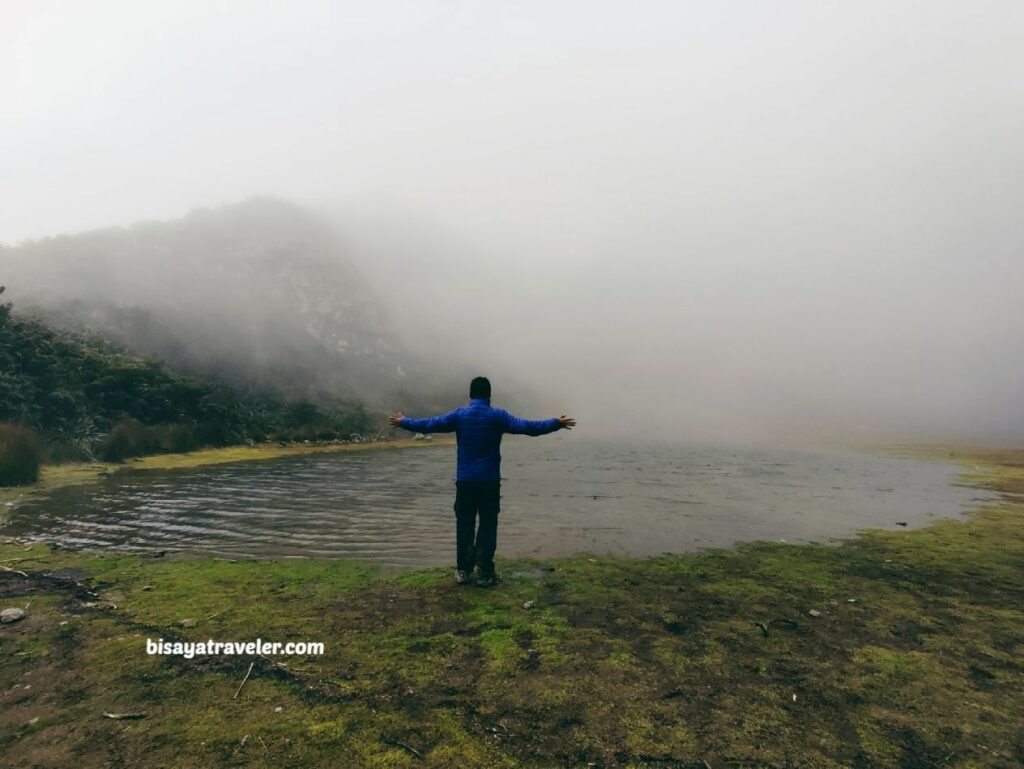 Day 2 at 04:04 PM
I'm not comfortable going downhill at this rather slow pace.
I can't unleash my adrenaline, release my happy hormones, and activate my reflexes when hiking like a turtle.
As much as I hate hiking at this pace, I have to do it.
My hiking buddy is my responsibility, and it's my job to help her complete our Mount Apo hike.
I don't mind making sacrifices to help others.
As a father, the eldest son, and a breadwinner, I have carried a heavy load throughout my life.
And, the burden on my shoulders is enormous and never-ending.
Through kindness and generosity, I've silently empowered, inspired, and helped people around me.
I was willing to sacrifice my time and personal aspirations to make everyone happy and healthy.
I uplift them, and I take pride in carrying people when they're down.
But, sometimes, I wonder who's going to carry me when I'm down.
Who's going to pull me when I'm falling off a cliff?
Day 3 at 11:34 PM: The Magpet Trail in Mount Apo
"Hiking is not a race."
Slow-paced hikes are slowly winning my heart.
For someone who enjoys walking at a fast pace, I surprisingly find our hike pleasing and fulfilling.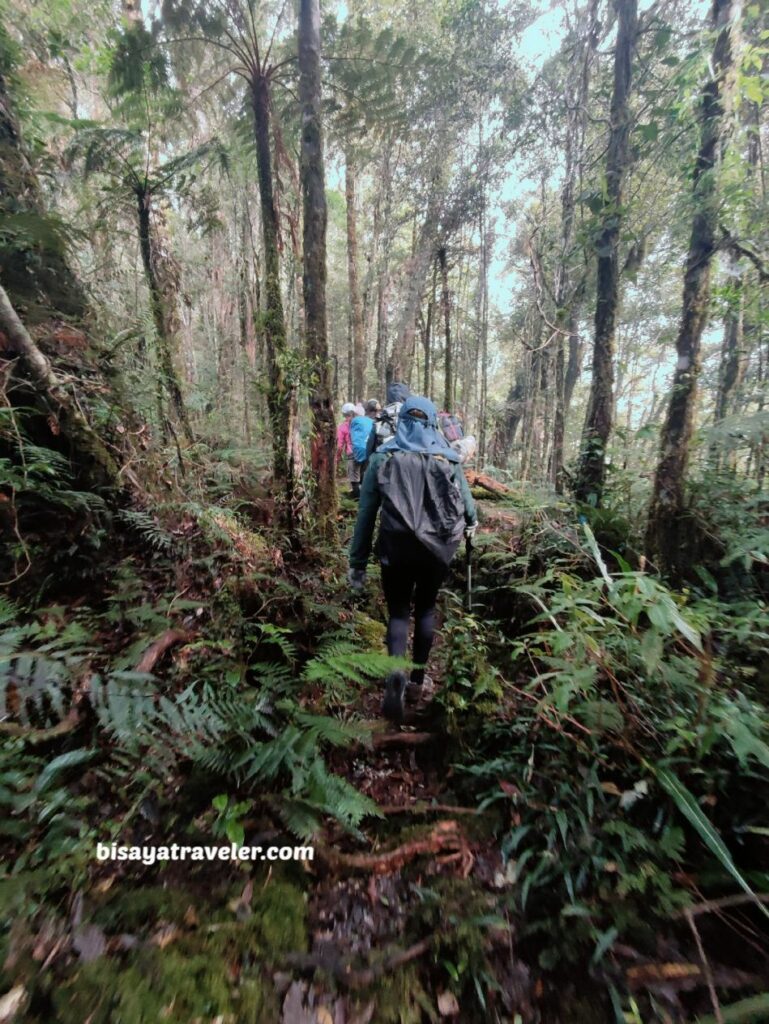 I always thought hiking is a young man's game. But, the truth is, it's a beautiful and eye-opening experience for inquisitive old men.
As we hiked the verdant Magpet Trail, I was captivated by the fun facts shared by our guides, Rex and Venmar.
With passion, our guides shared info about the flora, fauna, and indigenous tribes like the Manobos.
We took a breather a couple of times to catch our breath, admire the scenery, and talk about the trail's charms.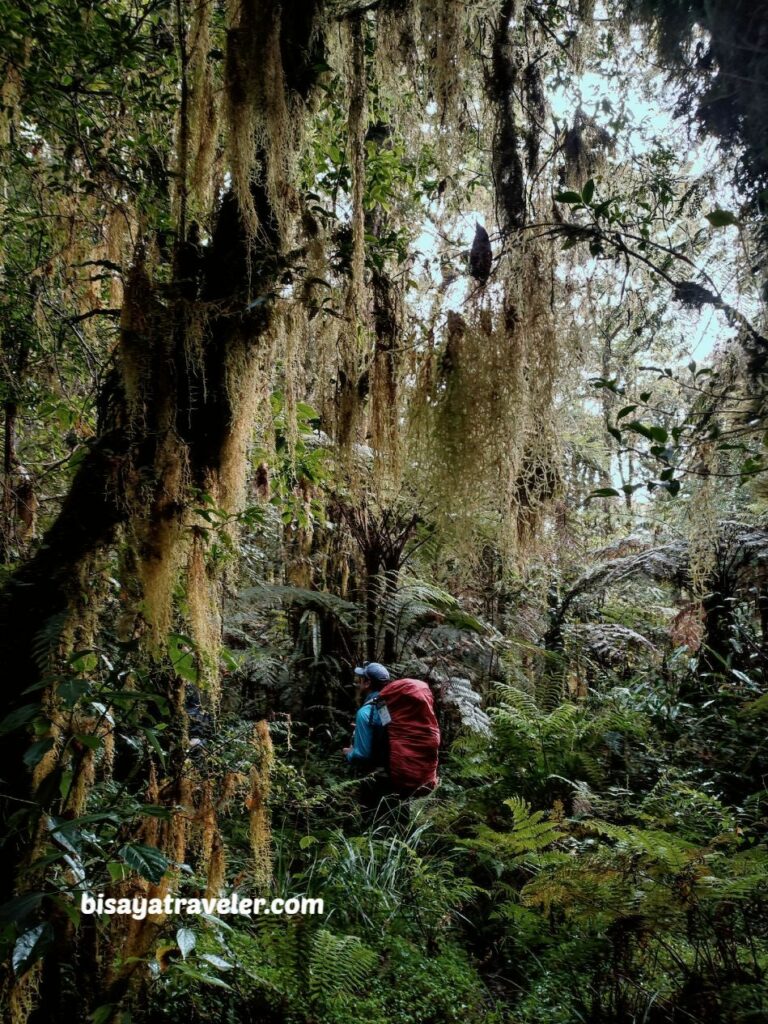 And, I would never have discovered these tidbits if I hiked like The Flash.
Somehow, this hike reminds me of how we should live life.
In life, there are tons of secrets to uncover, lessons to learn, wonderful quirks to see, and majestic sights to admire.
But, we often fail to see them because we live in the fast lane.
So, slow down, kill your toxic ego, and savor the beauty of life.
Day 2 in Mount Apo at 6:03 PM
Why do people compare their pace to others?
To boost their ego?
And, why do they call the slower hikers weak?
Is hiking a race?
I get it. Comparing yourself with others is human nature and inevitable.
But, comparison is a thief of joy, and will only give your ego an unquenchable thirst for approval.
There's nothing wrong with going fast.
But, make sure you don't relate your time to other people's rhythms and don't lose yourself along the way.
Life also has peaks and valleys.
Today, you may be at the peak and the prime of your life, blessed with material wealth and the gift of youth.
But, what happens when you arrive in the valleys? Will you call yourself weak once you're there?
June 2022 (4 months earlier)
Our hike to Mount Apo is a few months away.
Everyone on the team is excited, geared up, and ready to conquer the highest mountain in the Philippines.
And, it seems everybody has figured out everything.
I, on the other hand, don't feel the excitement.
Maybe, I should cancel my hike. Mount Apo can wait.
My life is filled with problems larger than the tallest mountain in the Philippines.
There are also the demons inside my head, which have deprived me of sleep and happiness.
And, the worst part is, everyone is rude and awful these days.
Everybody screams and yells. And, this modern-day mayhem is enough to make people crazy.
Day 1 in Mount Apo at 10:37 AM
The storm calmed down, and I finally breathed a sigh of relief.
As we were hiking the Mount Apo Bansalan Trail, a slender and wiry man approached me.
His name is Joseph, and he was the porter for our Mount Apo hike.
We did a fist bump, and I introduced myself to him.
And, I would be kind and generous to him throughout our Mount Apo hike.
My mama trained me to be kind and generous.
Some people, like my former partner, said that these traits would lead to my downfall.
They say I lack the killer instinct to be a successful businessman.
Even so, I will remain kind to people because everyone is fighting a demon and a battle we know nothing about.
Day 2 at 5:00 AM: Lake Venado
We were blissfully taking photos of Lake Venado with the awe-inspiring Mount Apo in the background.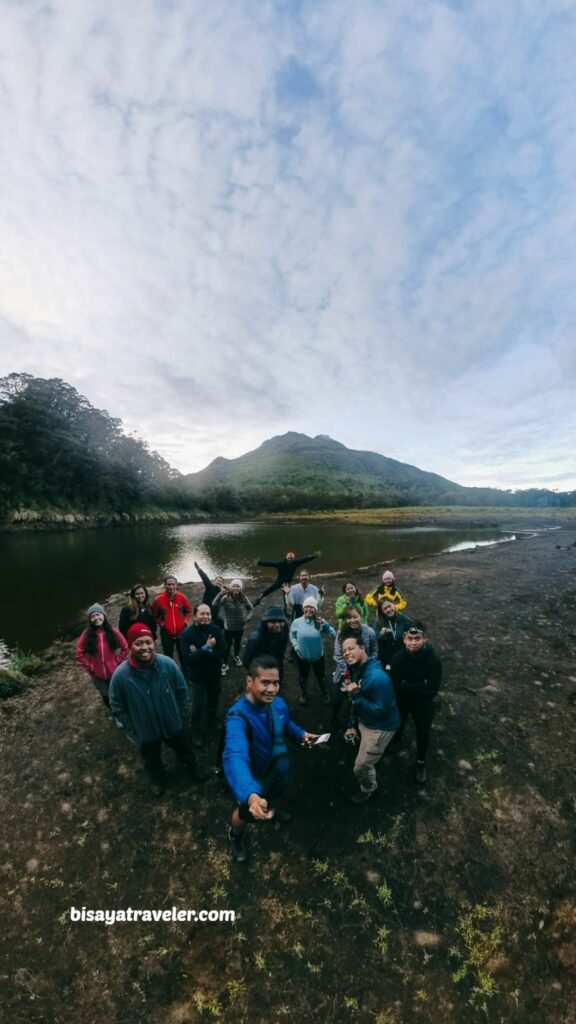 Should I make an announcement now?
I'm still not sure about my decision.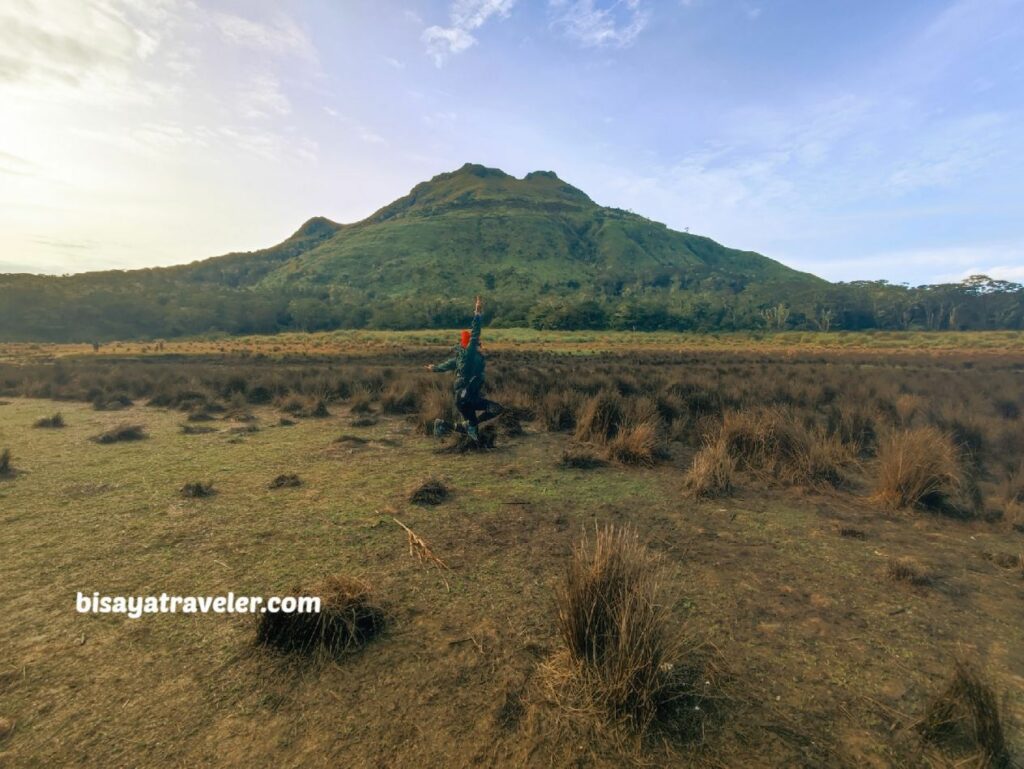 Every minute with them on this Mount Apo hike was dazzling and pleasurable.
Day 2 in Mount Apo at 01:17 PM
It's stormy, but the rain doesn't last forever.
We were on our way to Kidapawan Peak when the sky dimmed, and the rain began falling.
Fog, then, covered the exquisite landscapes and jagged peaks of Mount Apo.
Our guide, the charming April, had to call off the hike to Kidapawan Peak.
With the thick fog limiting our visibility, our guides couldn't spot the trail leading to Kidapawan Peak.
It's all fine. At least, I have a reason to hike Mount Apo again.
And, besides, I had unforgettable moments earlier above the Mount Apo crater and Digos Peak.
Soon after, we hiked to our base, where we ate our relatively late lunch.
Along the way, we snapped photos of the boundary marker in Mount Apo.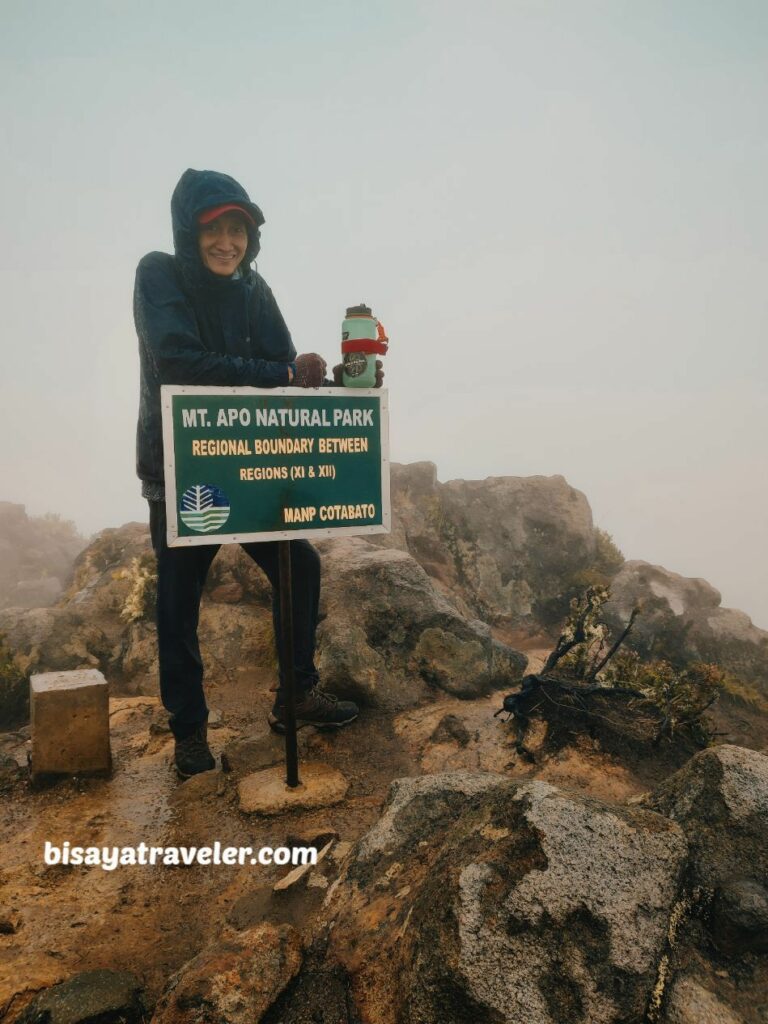 Even with the persistent rain, I wasn't worried about it.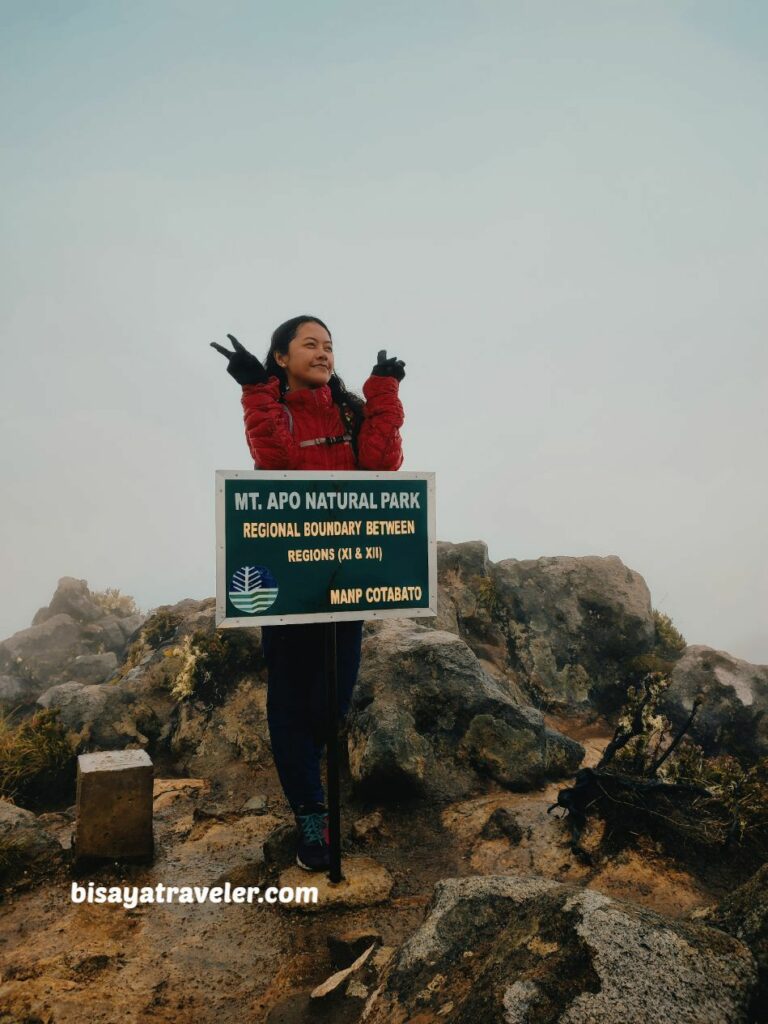 I survived storms in life and hiking, and I know that rain is never permanent.
We all experience dark moments and heavy downpours, and the only way to survive these negative parts is to keep walking.
And, I will keep on walking until the storm ends.
I survived the storm and will enjoy the sunny days in my life while they last.
Day 2 at 07:30 PM
Lake Venado's campsite is cold AF.
Even the guides and locals are shivering due to the freezing temperatures.
We met to discuss the formation, wake-up time, and schedule for the following day's hike.
Beboy led the pack and called the shots to make our Mount Apo hike successful.
I'm proud of what Beboy has become.
And, this Mount Apo hike wouldn't be possible without Beboy.
He's a steadfast and sympathetic leader who monitors everyone's safety.
I'm also proud of what Dian, Tatay Raul, and Mark did to ensure this hike went smoothly.
They are the pillars and foundations of our group, Day Hike Therapists.
And, it makes my decision easier.
July 2022 (3 months before our hike)
I'm leaving the group.
And, I'll make this announcement on our Mount Apo hike.
It will be the grand finale of a satisfying and memorable 5-year journey.
So far, it has been a hell of a ride, sharing the trails with my group, the Day Hike Therapists.
But, all good things have to end.
I did my job, and I completed it with flying colors.
I'm the architect of this team, and I've surrounded our foundations with key pieces.
And we took our group to another level together and headed to places I'd never imagined.
But, I have to fix myself.
I have to declutter my mind, eliminate distractions, and face the demons in my head.
And, I have to embrace the art of slow living.
Throughout the years, I've sacrificed a lot for everyone around me.
This time, I have to be selfish.
I need time to pause, reflect, rejuvenate and heal.
And, I can only do it alone or with a few people.
I'm sure they will understand. They are, after all, familia.
December 26, 2017
I was checking out Google Maps, preparing for our hike, when I noticed an unread message on Facebook.
It was Beboy, an intrepid young adventure seeker I met a few weeks earlier in our hike for a cause.
He asked if we had a hike for tomorrow. I said yes, and he politely asked if he could join the hike.
I'm pretty picky when it comes to my hiking buddies.
I don't let anyone easily join my adventures and hikes.
Before letting anyone join my circle, I ensure they fit our culture.
I spent a few minutes thinking if he'd be an excellent fit.
Eventually, I invited Beboy, and it was one of the best decisions I've made that year.
The following day, we hiked the scenic trails in Naga and enjoyed every second of our adventure.
And, we (Beboy, Tatay, and I) had chemistry on our hike.
I've found the pillars of my new group. And, who knows? This group may someday conquer the country's highest mountain, Mount Apo.
Day 3 at 12:45 PM
There's no Century Tree on the Mount Apo Magpet trail. But, it has an impressive "Golden Tree".
While not as old as the Almaciga Tree in Santa Cruz, this 50-year-old version is still towering, impressive, and stunning.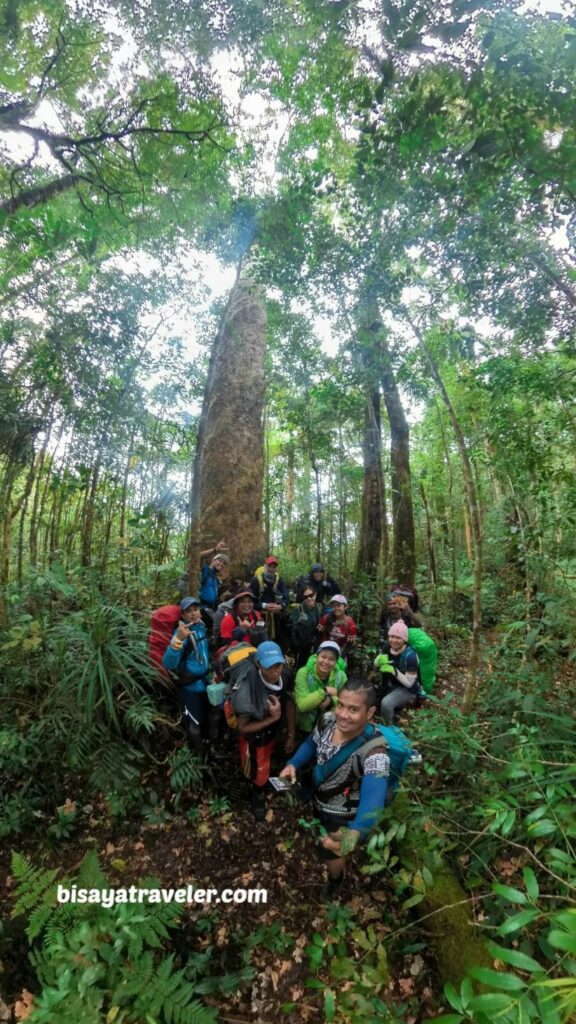 After taking a group photo, a saying about trees, leaves, and roots suddenly flashed into my mind.
Trees and men
They say there are 3 types of people in your life: the leaves, branches, and roots.
The leaves are those who come into your life for a season. They are undependable because they are fragile and weak.
The leaf people just come to your life to take something they want. But, when the wind blows and the hard times come, they will leave you.
When things are okay, they are present. But, when things go south, they leave you.
The branch people are strong, but they break when they can't handle the extra weight. In some seasons, they stay with you. But they leave the moment life gets tough.
The roots are strong and important people. These people are supportive and faithful even when you go through tough times.
They absorb water, nourish you, and help you grow.
Day 3 in Mount Apo at 2:33 PM
I started to move my back.
I didn't want to be in this position.
The vines, branches, and leaves are not strong enough to hold my body weight.
Carefully, I switched to a vertical position and held onto my dear life.
My grip and upper body strength were keeping me alive.
All those late workouts are cardio exercises have paid off.
But, even the strongest men need help.
I tried to pull myself up but couldn't trust the surface I was holding onto.
A little pressure and force might break it, and I may end up dead.
I tried stepping onto a hard surface, but my right foot slipped.
Then, Joseph grabbed my right hand and tried to pull me up.
It wasn't enough.
Luckily, my legs are strong and flexible.
I raised my right leg and put my foot on the surface. Afterward, Joseph pulled me until I was safe from harm.
For a moment, I was stunned and speechless.
That was a close call. I wasn't afraid to die, but people still need me.
I kept thinking of my daughter's face to motivate myself.
After a close encounter with death, I told Richel and Joseph not to tell anyone about this accident.
The team has the right to know about this near-death experience, but I have 3 reasons it should remain a secret.
First, I didn't want to spoil my team's mood. Everybody was filled with joy after completing our Mount Apo Hike.
Second, I didn't want people asking me questions. I didn't want their sympathy and wasn't fond of talking.
Third, I had a surprise in mind for my long-time friends.
After our hike, I gave tips to our porters, Joseph and Jun.
The money wasn't hefty, but it was enough to feed their families for days.
And, these people deserve recognition.
They are heroes not only to their families, but to the people hiking Mount Apo.
They were hospitable, friendly, and accommodating to all hikers on our team.
And I realize kindness is infectious.
When I give something, I don't expect something in return.
I've been the giver and the one who makes sacrifices for everyone's welfare.
And Joseph made me realize kindness is a cycle.
You won't receive it immediately, but kindness will eventually find you when you need it.
Day 2 in Mount Apo at 10:33 AM
We were close to the top of Digos Peak.
Before we climbed the summit, April showed us a vantage point overlooking the Instagram-worthy Mount Apo crater.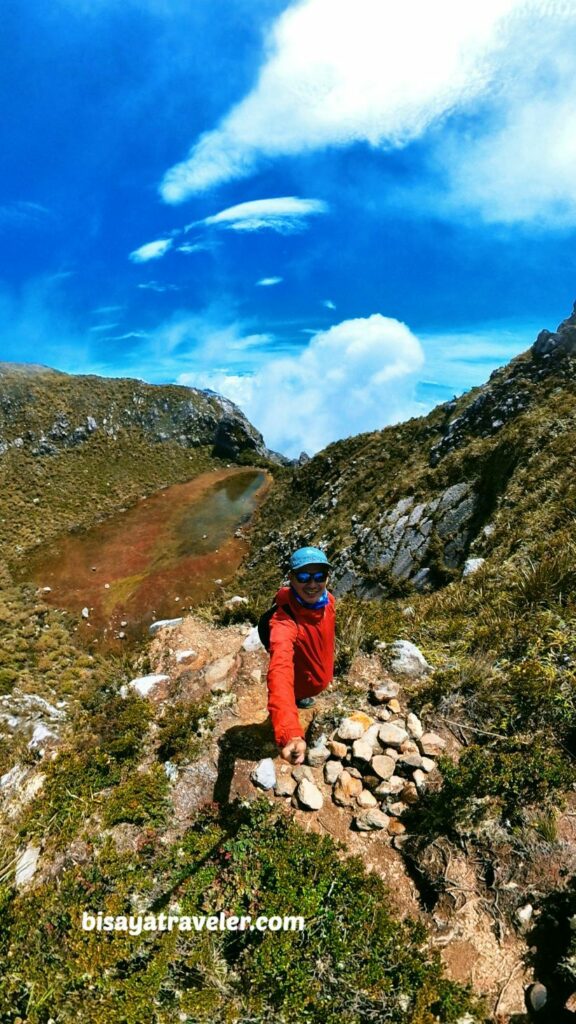 We took a ton of pictures of the crater.
Afterward, we began ascending to the summit.
While hitting the uphill trail, Beboy, Dian, and I noticed a lovely spot that offered awe-inspiring views of the Mount Apo boulders.
We ran to the edge of this spot and were blown away by the otherworldly views.
The summit was still busy with people snapping solo pics.
So, we decided to spend time here and savor the vistas.
Although we have yet to finish the hike, Beboy already had a suggestion for our next major hike: Alto Peak.
And I said yes.
We saw Mark and Tatay (aka Sir Francis) and called them for a group photo.
To me, this was the highlight of our Mount Apo trek.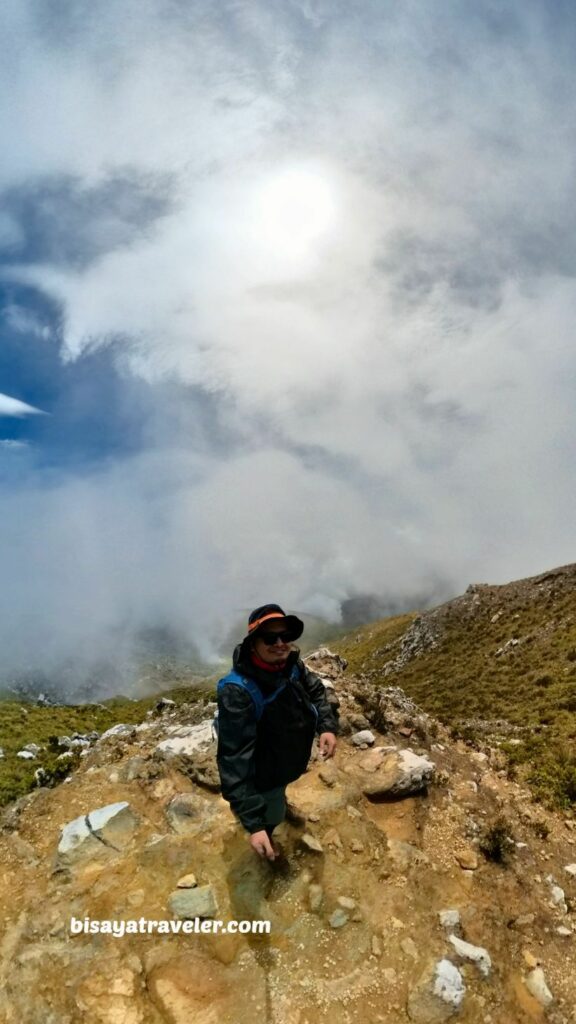 The landscapes were covered in fog and white curtains.
Still, it's a moment I'll cherish for years.
I've been sharing the trails with them for almost 6 years.
Together, we conquered several mountains, made many people smile, and organized successful outreach programs.
We practically grew up together in mountaineering.
They are my familia.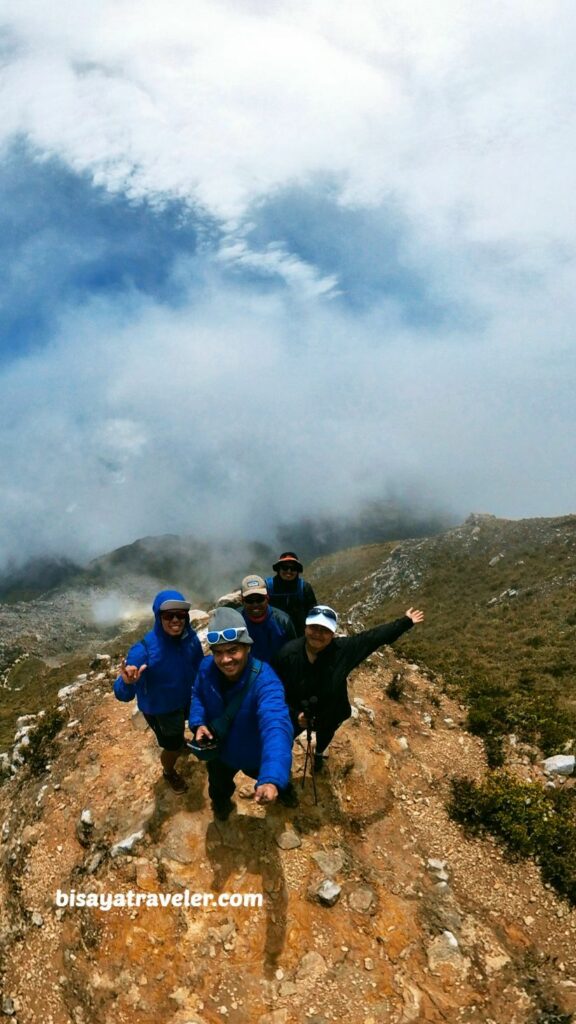 They are strong roots that I hold onto when I'm in trouble. As I've said in the intro, I'm not the hero of this story. They are the hero of this story.
I rarely share my life's troubles with them, but they are always there to cheer me up.
They stay with me, despite my mood swings.
Even with my crazy and reckless ideas, they still support me.
They were there at my daughter's Christening and came during my unica hija's birthday.
These may seem like small acts of kindness. But any act of kindness is still kindness.
And, they were there at the lowest point of my life.
I always ask myself who will save me when I'm down. But, I didn't realize they were there all along. They were my root people.
And, to conquer the highest moment with them is a surreal moment.
My only regret was I didn't share what was on my mind a few months ago.
I should have talked about my mental health struggles.
I should have told them about my sleepless nights and anxiety.
I'm sure they'd understand.
I should have said to them that I was decluttering my mind and switching to slow living.
And I should have told them I'm not comfortable being surrounded by over a dozen people.
I want my life to be more intimate, less hectic, and at peace.
And, even though I was unapproachable during these months, I knew they were looking out for me. They asked people around if I was okay.
I know things will never be the same again after our Mount Apo trek. We might not see each other for weeks or months.
I have daughters to raise, a company to run, families to feed, a marriage to fix, and a host of other people to help.
Furthermore, they have responsibilities and are facing the realities of adult life.
But, at the end of the day, we are a family, and we are roots that nourish one another.
I'm glad our journey has taken us to Mount Apo. And, though we've reached our target mountain, our journey will continue.
From there, we climbed Digos Peak and took a few photos.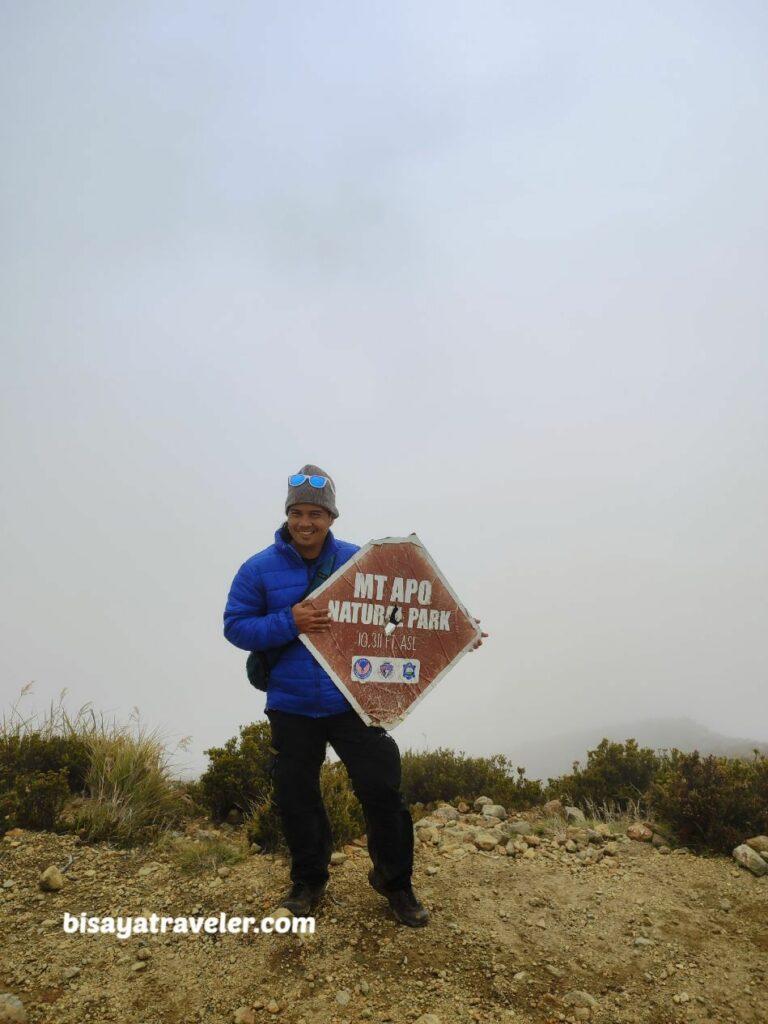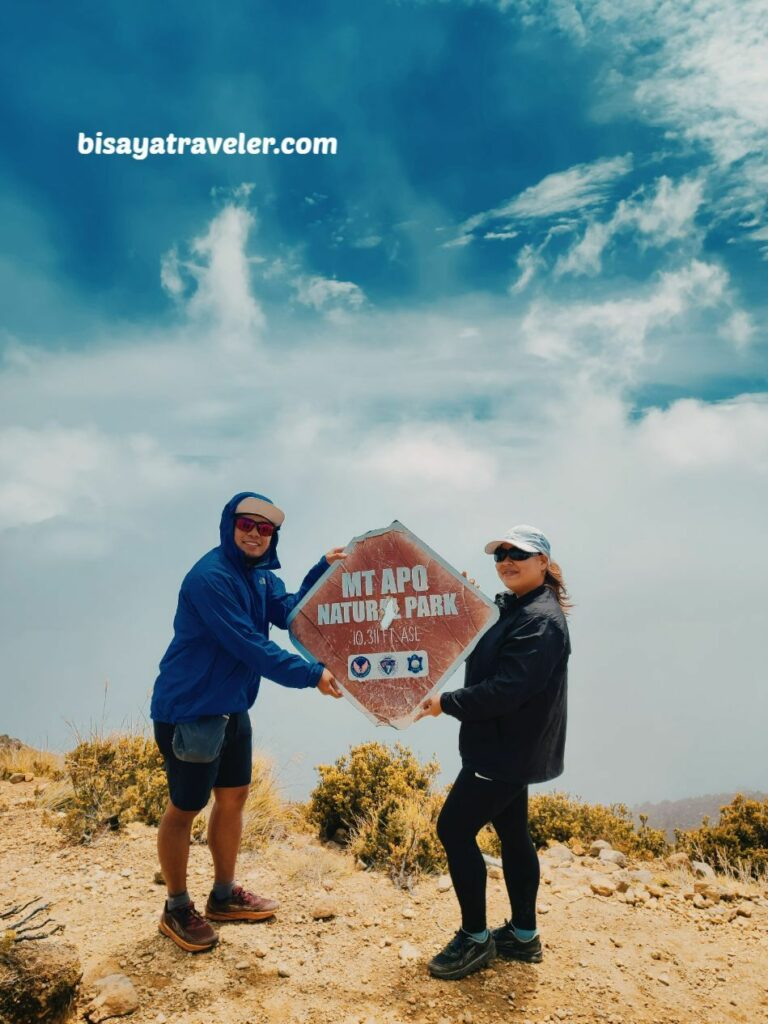 There wasn't a clear view at our pit stop to Digos Peak.
It didn't matter to me, though.
The views are a bonus.
As they say, life isn't about the destination but about the journey. And, my journey with them has been, thus far, satisfying and life-changing.
October 20, 2018 (4 years earlier)
I'm genuinely surprised and touched.
It's a small birthday gift, but at that moment, I know I'm keeping these people for life.
I finally have found my right tribe.
I've been with several bands, groups, and barkadas. And, I've never been with a group as thoughtful and caring as this one.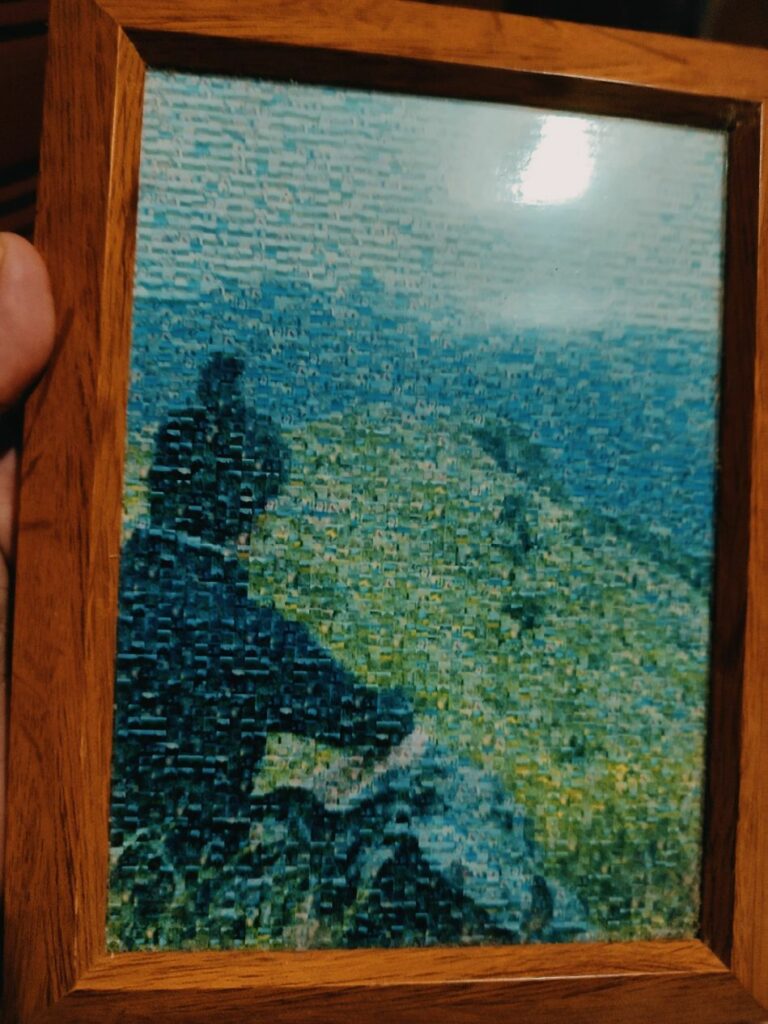 The messages are all heart-warming and beautiful.
And, there was one quirky message from Tatay Raul: The Road to Apo.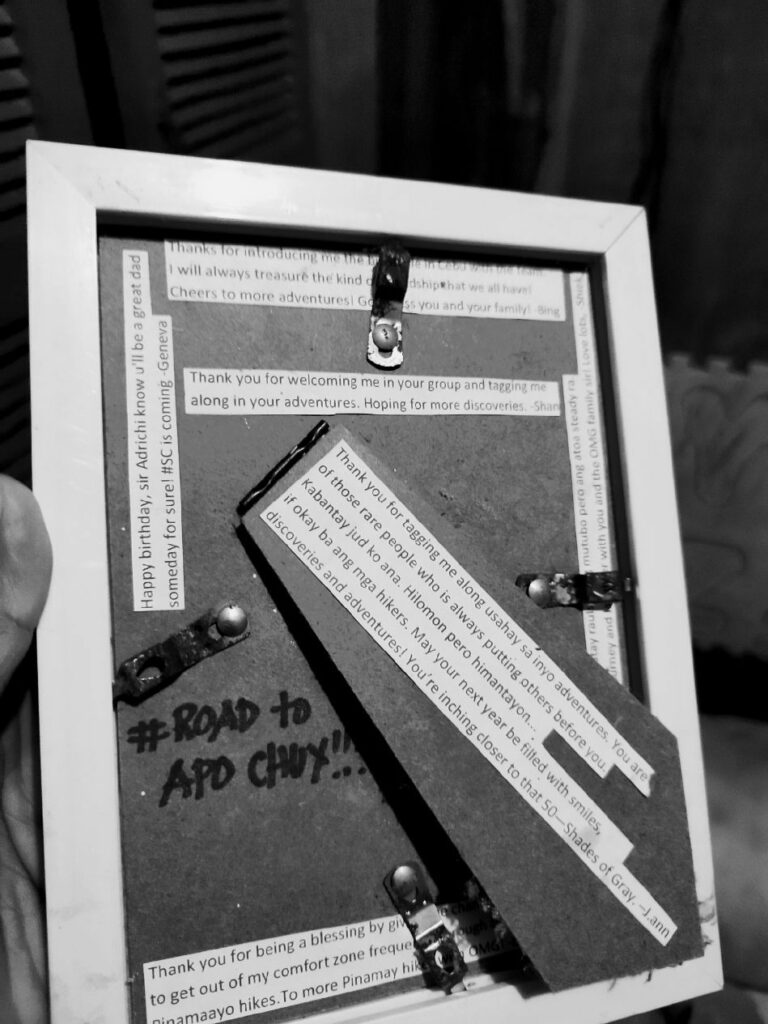 Hopefully, one day, we'll make it to Mount Apo together.
And, hopefully, we'll survive the storms and challenges in our group to last long and hike the tallest mountain in the Philippines.
It might not be this year or next, but it will come.
I've already promised them we'll be hiking Mount Apo Natural Park together.
To my friends:
I'm about to embark on a new journey. I have started decluttering and removing the leaves in my life.
Recently, I removed a leaf who only comes when it needs something.
I have known this leaf for over a decade, but it's time to let it die and focus on my roots.
And, while I'm still in the city, I'm now enjoying a slow living lifestyle.
I won't be as active as before, and you'll rarely see me in crowds and causes.
I'll travel alone and hike in small groups.
Yet, I'll still be your friend and brother. Remember, families, real friends, and roots don't need a tribe or group name.
We may seem to be going our separate ways, but our bond is strong, and our memories are timeless.
I'll see you on our next major climb.
Our Mount Apo itinerary
Day 0
Arrive in Davao City
Buy essentials and stuff for our hike to Mount Apo Natural Park
Rest and prepare gear
Day 1
01:00 AM: Wake up and prepare for the hike
03:10 AM: Depart for Digos City
05:40 AM: ETA Bansalan
06:20 AM: Breakfast
07:30 AM: Warm up hike to Purok Star, Bansalan
08:30 AM: Start hike
11:00 AM: Lunch
11:40 AM: Resume hike
03:00 PM: ETA Camp Reyes/set up camp/rest
06:00 PM: Dinner
08:00 PM: Sleep
Day 2
04:00 AM: Break camp (original plan was 2:00 AM, but it was raining earlier)
05:00 AM: Start hike
10:30 AM: Explore the peaks, boulders, and crater
01:40 PM: Lunch
02:00 PM: Start descend to Lake Venado
05:00 PM: ETA Lake Venado/set up camp/clean muddy shoes
07:00 PM: Dinner
09:00 PM: Lights out
Day 3
04:00 AM: Break camp
05:00 AM: Lake Venado pictorial
06:00 AM: Start hike
03:00 PM: ETA Magpet, North Cotabato
04:30 PM: Depart for Davao City
07:30 PM: ETA Davao City
Where to find Mount Apo guides and porters?
I highly recommend Dubz Adventours. They are accommodating and knowledgeable, and their service is second to none.
I also highly praise our guides, April, Dodong, Rex, and Venmar.
And, if you're looking for porters, ask for Joseph and Jun.
They are dependable and trustworthy. Hospitable, they will call you "guests" or "bisita" instead of hikers.
What to prepare for Mount Apo
I'm lazy, and writing a detailed guide isn't my thing anymore. And, besides, this blog post already has over 5,000 words.
If you need tips on preparing for this hike, my friend, Geezelle, has a slew of practical advice on her blog.
---
We often focus on our goals. We spend too much time and effort to attain our goals and reach our Mount Apos.
But, the journey is as important as our destination. Through our journey, we gain wisdom, knowledge, experience, and friends who'll change our life.
And these friends and lessons will give meaning and purpose to our life.