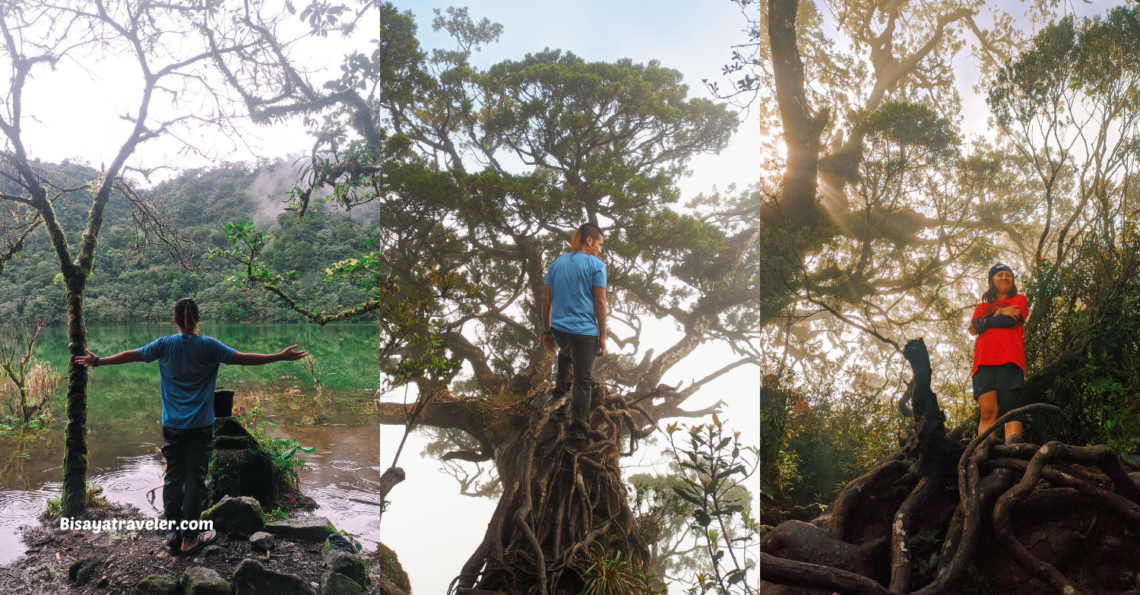 Mount Talinis: The Fearless Apolong-Apolong Adventure
Why does trouble always follow me around? Am I secretly attracting bad luck, or is the world just going on a downward spiral? Will there be an end to this seemingly endless spell of troubles? In the last couple of years, misfortunes have been persistently haunting me. And, today, on our first day in Mount Talinis, I feel like trouble is once again on a mission to wreck our major climb in Negros Oriental.
But, guess what? I really don't give a shit.
I'm a fearless free spirit, immune to all the stress and adversities life throws at me.
And, even with all the challenges that Mount Talinis is giving us, I'm a hundred percent sure that we can complete this hike.
Drenched by the rain, I remain fearless and optimistic, waiting patiently for the rain to stop.
I'm trained in the school of hard knocks, and a heavy downpour and muddy trails are not enough to break me down.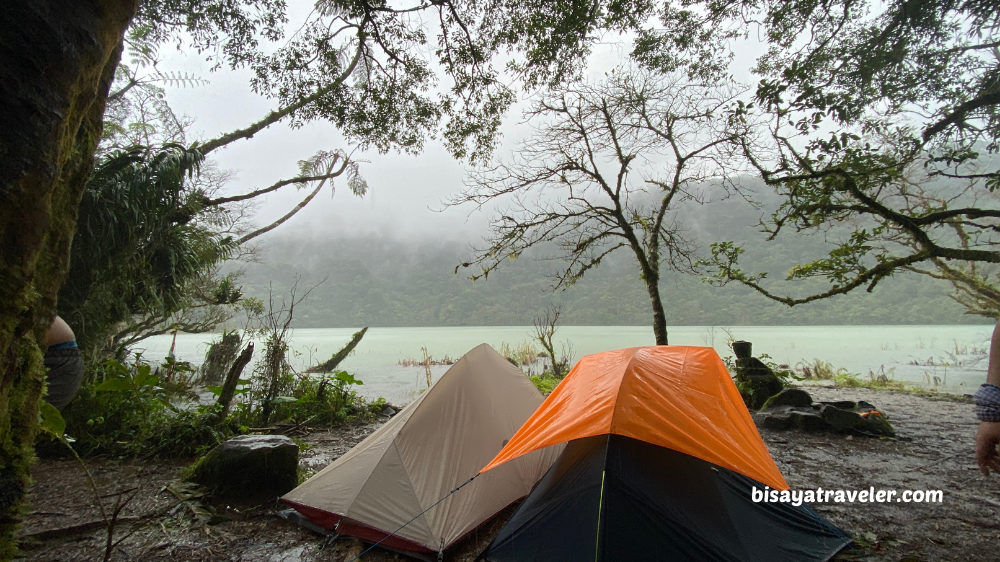 Day 0
Conquering Mount Talinis is no easy feat. With an elevation of 1,903 meters above sea level, the second highest peak on Negros Island is a steep, tough, and challenging hike even for experienced hikers.
What's more, it has mossy forests, waterfalls, lakes and slippery slopes to make the hike even more formidable.
When I woke up earlier, I felt quite energetic and confident, despite the enduring rain.
The rain isn't exactly an encouraging sign. Even so, there's no way we're canceling this hike to Mount Talinis.
I don't want to live a life full of what-ifs.
I don't want to spend the rest of my life playing the what-if game, creating tons of fiction plots and imagining alternate realities.
Tomorrow is always uncertain. We'll never know what happens to us in the next day, or a couple of hours from now.
You might be healthy and sprightly today, and weak, sick or even lifeless by tomorrow.
Life is fragile, and it just takes one moment to change everything you have. So, if you have the chance to do something that you dreamt of doing now, be fearless, and go for it.
After a quick breakfast at McDonald's Mambaling, we began our journey to Mount Talinis.
For this major climb, I'm joined by my closest friends in hiking.
The usual suspects are with me for this adventure: Tatay Raul, Beboy, Dian, Berny and Mark.
And, there are some new faces for this major climb too: Naomie, Ann and Jenny.
From a cloudless and gloomy sky, the weather surprisingly turns into a bright and sunny day.
Everything seems to be perfect, when we, on Mark's vehicle, suddenly encounter a setback: we're having a flat tire in Argao.
I'm, however, not worried a bit.
It's just a small setback in a long series of potential setbacks.
And, besides, I have inner peace.
The thing is, peace isn't the absence of pain and problems. Peace is knowing that you can overcome challenges and problems without worrying about how much it can take.
When I was in high school, my alma mater constantly preached the saying "ardua non timeo" (fear no hardships).
In my youth, I thought that it meant overcoming hardships with grit and hustle.
As I grew old and became wiser, I developed a different interpretation of this mantra.
Perhaps, what my school wanted to say was inner peace makes you fearless.
We did overcome this small obstacle. And, when we arrived at Liloan Port in Sibulan, we also had another hiccup on our journey to Mount Talinis.
The other group, aboard Jenny's car, took a quick detour, and was almost late for our ferry trip to Sibulan.
In my younger days, I would handle this situation with an angry outburst. But, now, I remain calm and relaxed without having to fear anything.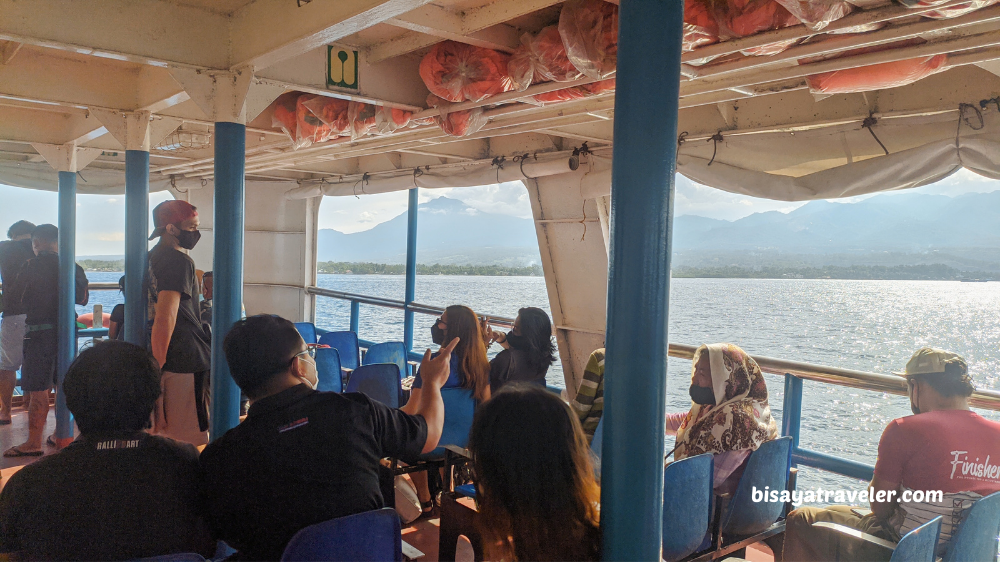 Fortunately, we managed to overcome these challenges, and spent a wonderful night in Dumaguete where the final member of the squad, sir John, joined us.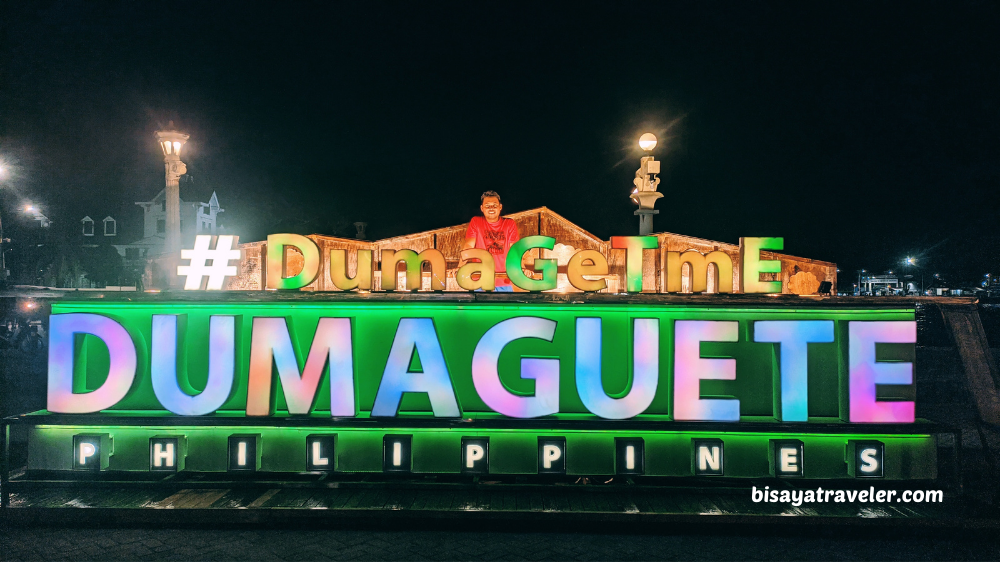 Day 1 in Mount Talinis
It's 1:30 AM, and I can't get even a minute of sleep, hours before our Mount Talinis hike.
Our beds at Lufian Dormitel, Dumaguete are cozy and soft.
But, the loud snores and the chainsaw-like sounds of Raul's grinding teeth are too much for a light sleeper like me.
I'm glad that the alarm clock sounded. It's time to face Mount Talinis, and it's time to test our skills, fortitude and abilities.
Eager and thrilled, everyone jumps off their beds to eat breakfast and prepare for, thus far, the toughest hiking challenge of 2022.
Our guide, boss Edgar, arrives with a pick-up truck to take us to the base of our Mount Talinis hike via Apolong, Valencia.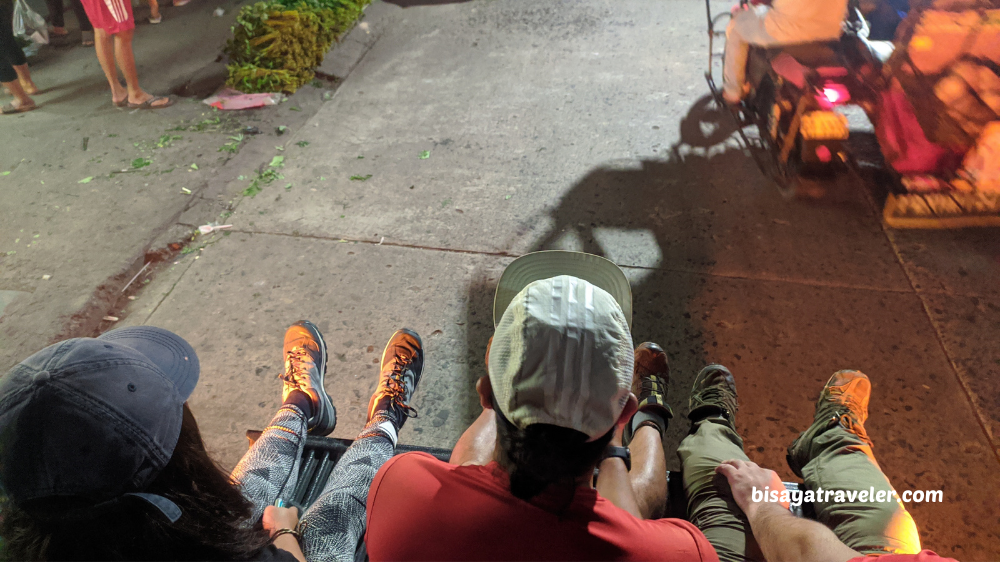 We, then, arrive at the jump-off point, and I notice a mix of emotions from my team. It's a mix of excitement, joy and fear.
It's too early and dark to start our hike in Mount Talinis. So, boss Edgar gave us the time to stretch, prepare and admire the striking sunrise.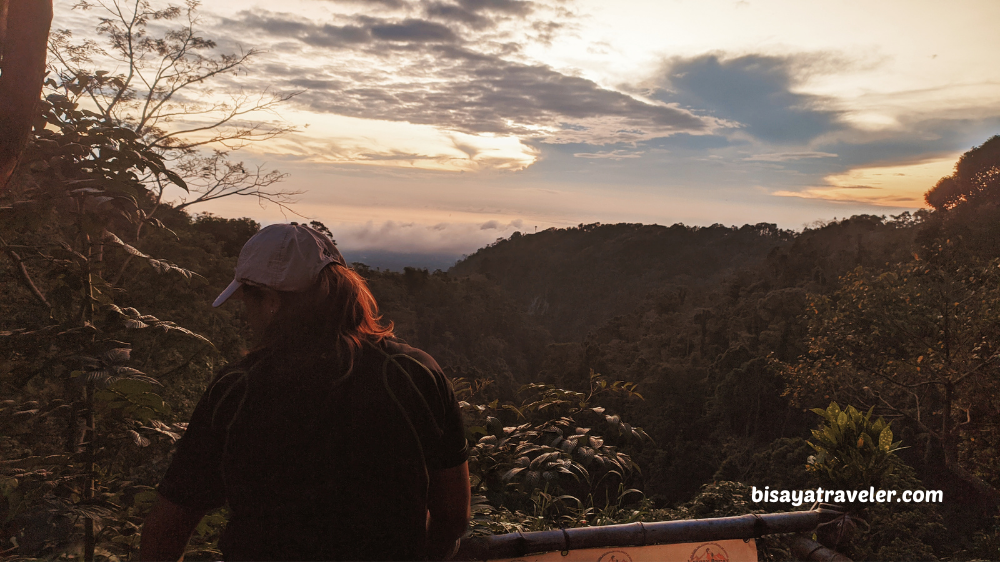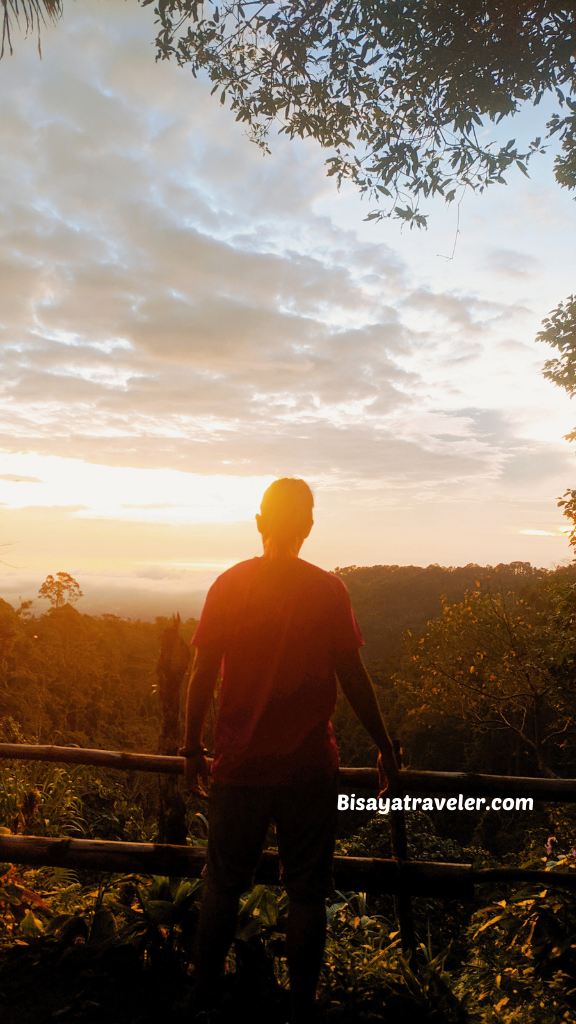 The hike is about to start. Boss Edgar is giving a quick breakdown of the hike, and introduces us to Jhong, our second guide, and Nilo, our porter.
As our Mount Talinis hike starts, I can feel adrenaline rushing through my veins. With the pace in my favor, I'm having a swell time hitting the slopes and trails of Mountain Talinis.
So far, our hike has been all smiles and fun. And, despite our heavy backpacks, our pace is amazingly fast.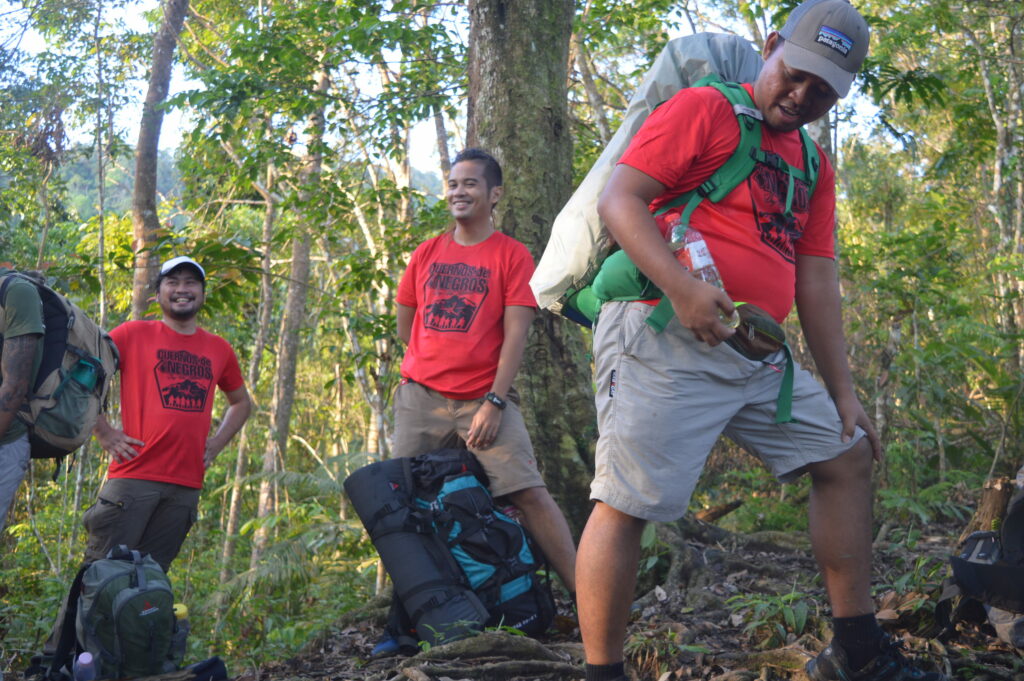 From a towering waterfall and streams to a mossy forest, the hike is filled with tantalizing sights at every turn.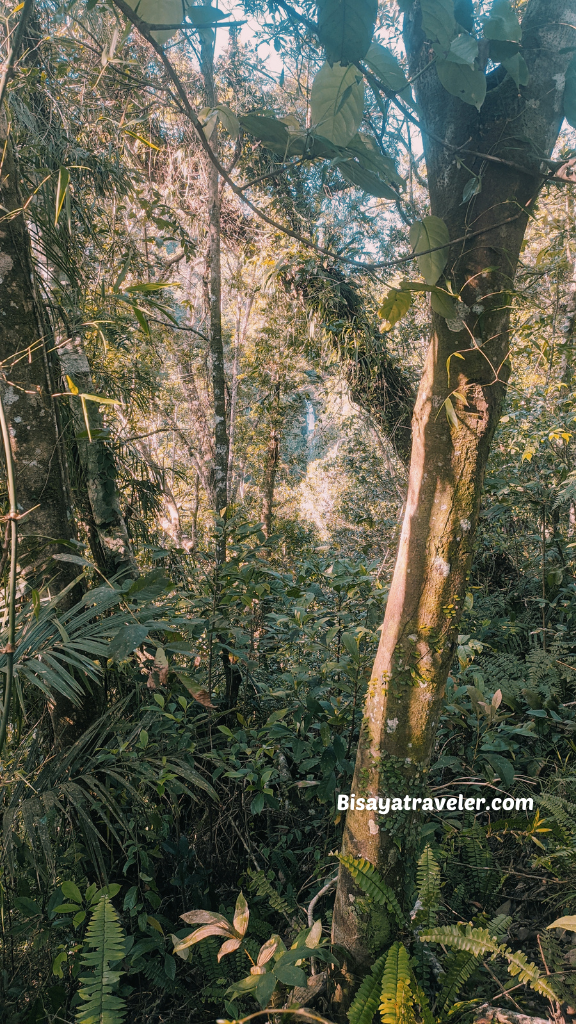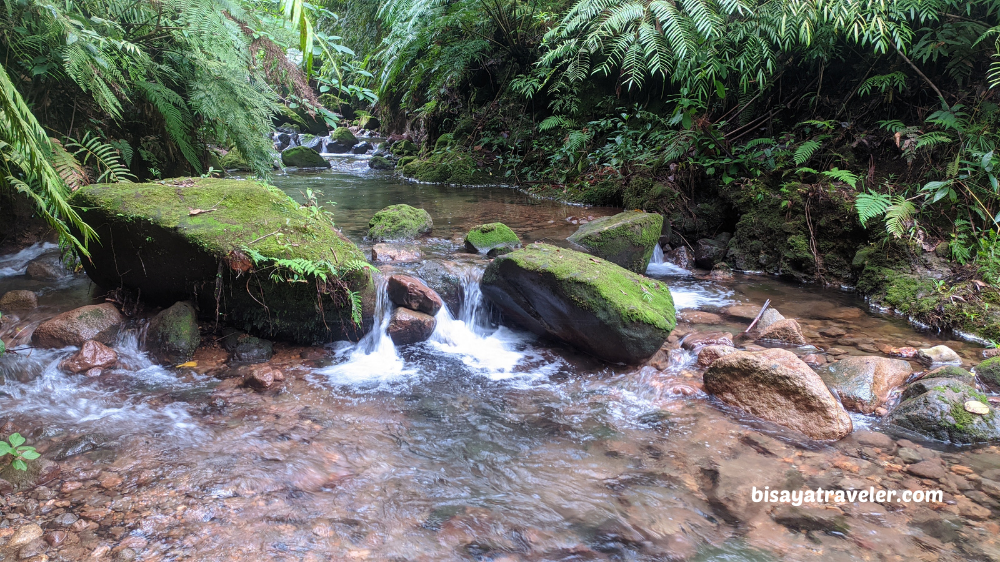 Sure, there are steep slopes and uphill climbs, but it has been a breeze.
If there's a downside to this hike, it has to be weather. Slowly, the verdant landscapes of Mount Talinis are being covered by a white blanket. It's getting colder too, and I can sense a storm is coming later today.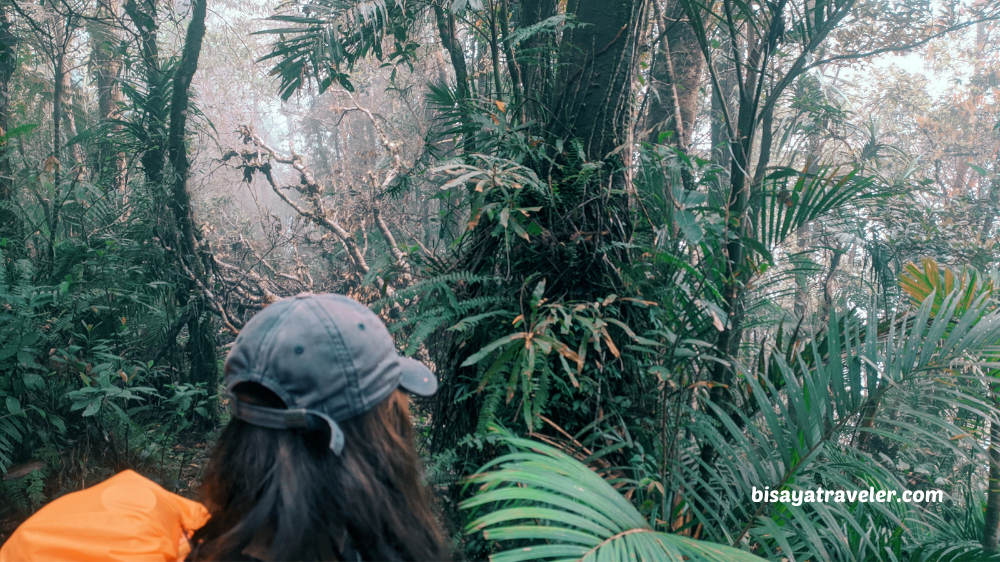 After hours of non-stop hiking, we arrive at a small hunt where we're about to take a breather and eat our lunch.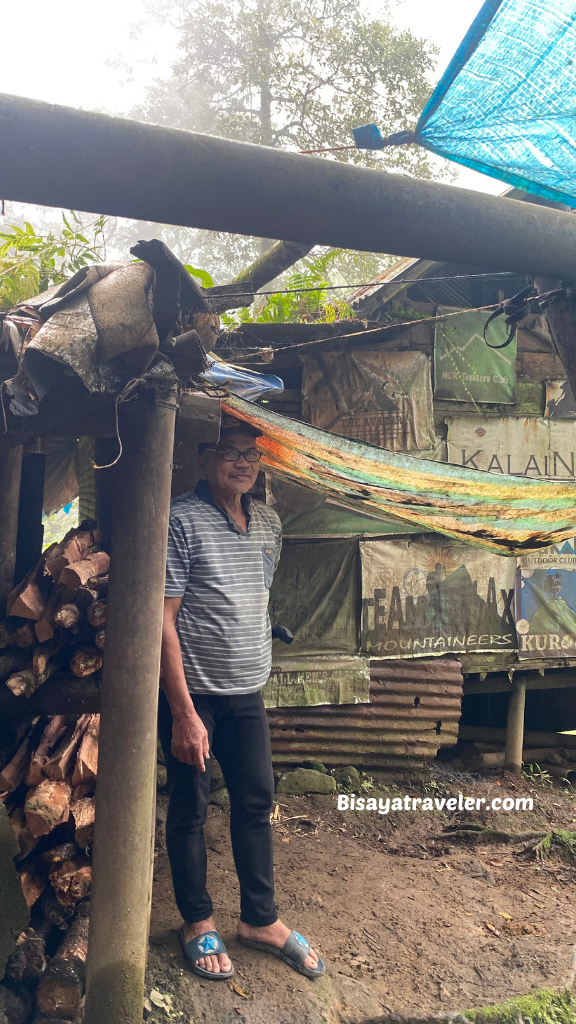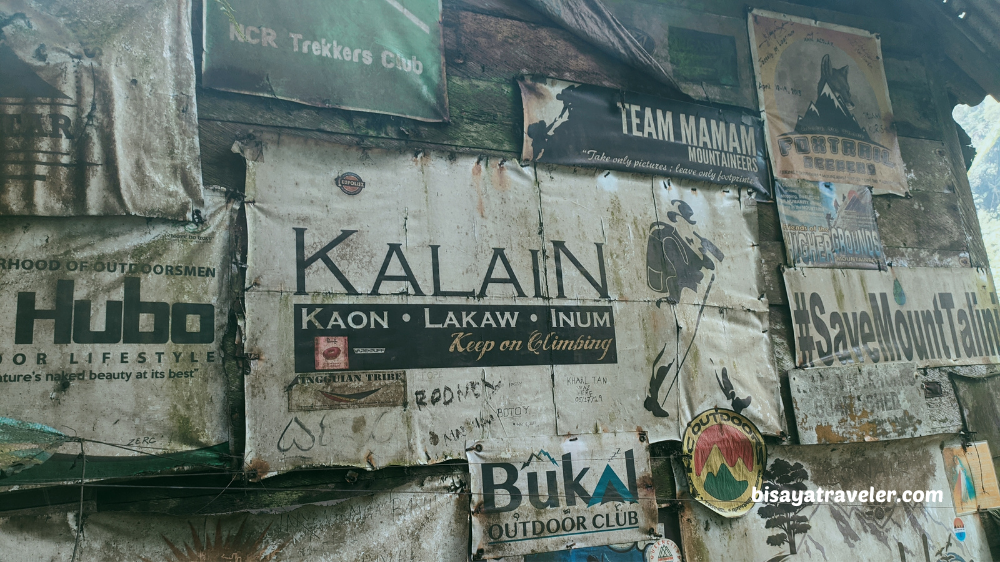 Everyone is in a state of pure bliss. With the refreshing sounds of nature and mesmerizing views, it's a therapeutic date with Mother Nature.
Plus, there's a cordial host, an eldery man whom we call tatay, sharing some interesting tidbits about Mount Talinis.
From the rustic shack, we cross a stream to make our way to the next stop: rancho.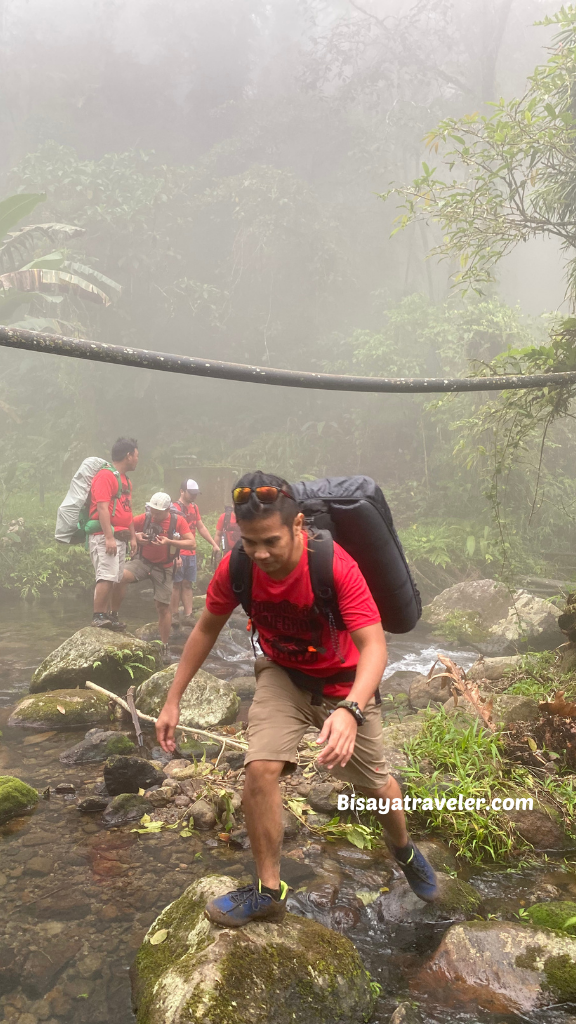 Crossing the stream wasn't much of a problem. But, there's an extremely muddy, slippery and steep slope waiting for us after the stream.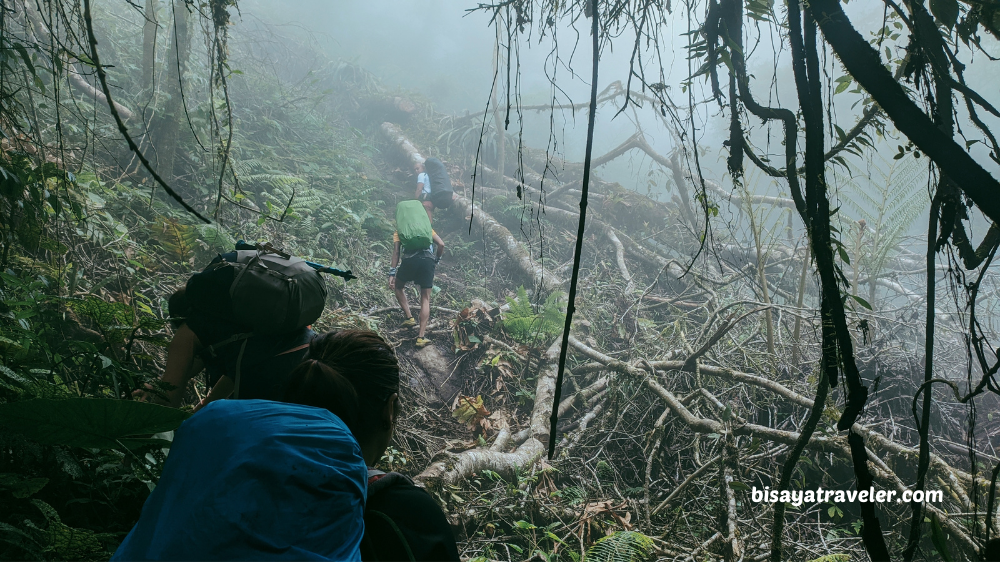 Teeming with broken tree branches and trunks, it's a scary section of our Mount Talinis hike.
But, I'm the type of guy who doesn't let fear get into my head. For years, I've been trying to purge my mind of fear.
To me, true freedom is a life without fear. As long as we fear something, we will always be controlled and manipulated by that thing.
Fear is controlling and blinding. If you venture into Mount Talinis via Apolong, and imagine a poisonous snake in the grass, you'll practically see everything through that fear. As a result, you won't see Mount Talinis as it is.
Fear will project that snake into the rustle of every grass, and into the snapping of each twig.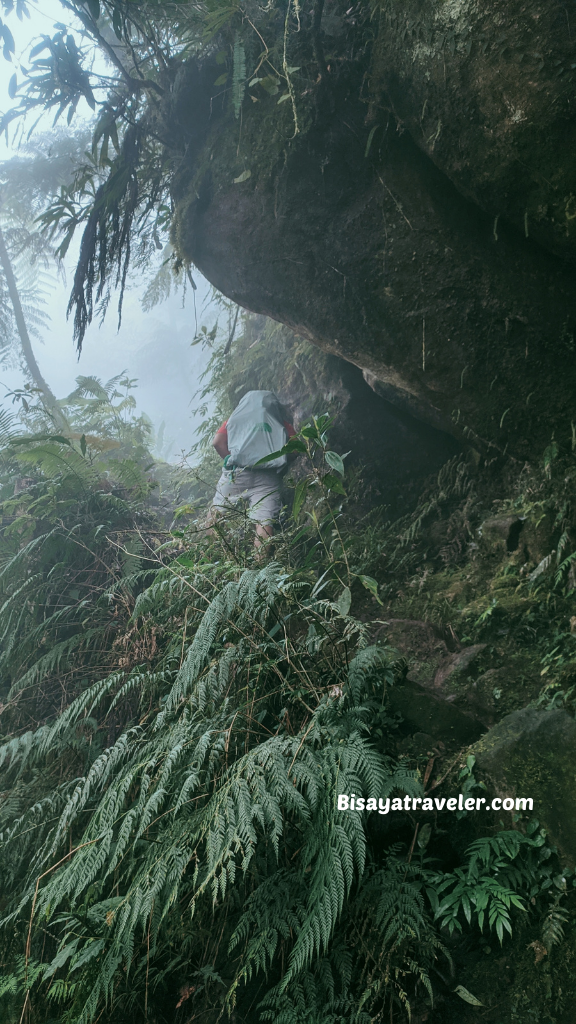 Fear will consume your mind, distort it, and control it.
Just imagine a hike in Mount Talinis where you're controlled by fear. Will you make stops along the way to take in the views, or analyze new forms of life? Or, will you be so damn fixated on the image of fear that it's all you can think and see about?
We conquered this section, passed by rancho, and got a glimpse of the sulfur vents in Mount Talinis.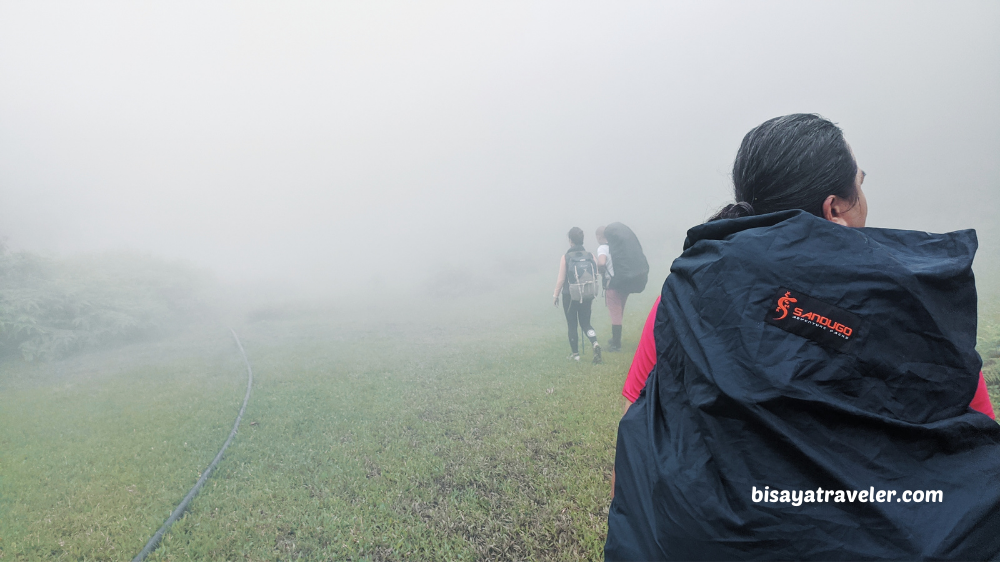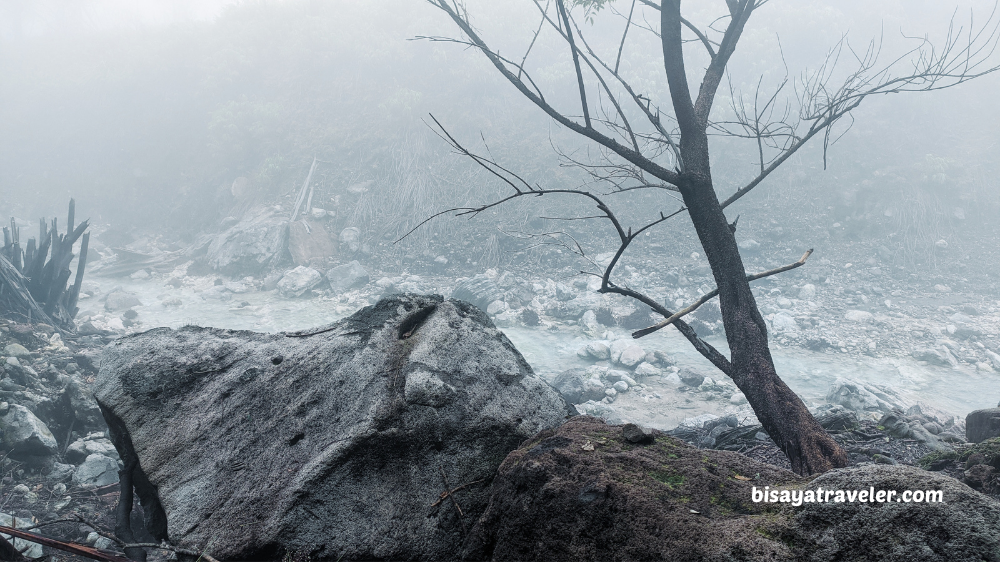 Then, the real party starts.
Before we passed by the sulfur vents, sir John warned me of a painful, seemingly never-ending uphill climb.
But, I don't fear pain.
Actually, I'm embracing all the pain life throws at me.
Pain, both in life and hiking, not only passes, but it also leaves you with knowledge and superpowers that you didn't know you had before.
Pain gives you a new depth of character.
Pain gives you a peek on how strong you can be.
And, best of all, pain gives you the fearlessness that comes with knowing that the last experience that felt like dying actually didn't kill you.
Ultimately, we arrive at a picturesque overlooking spot following hours of upward sloping.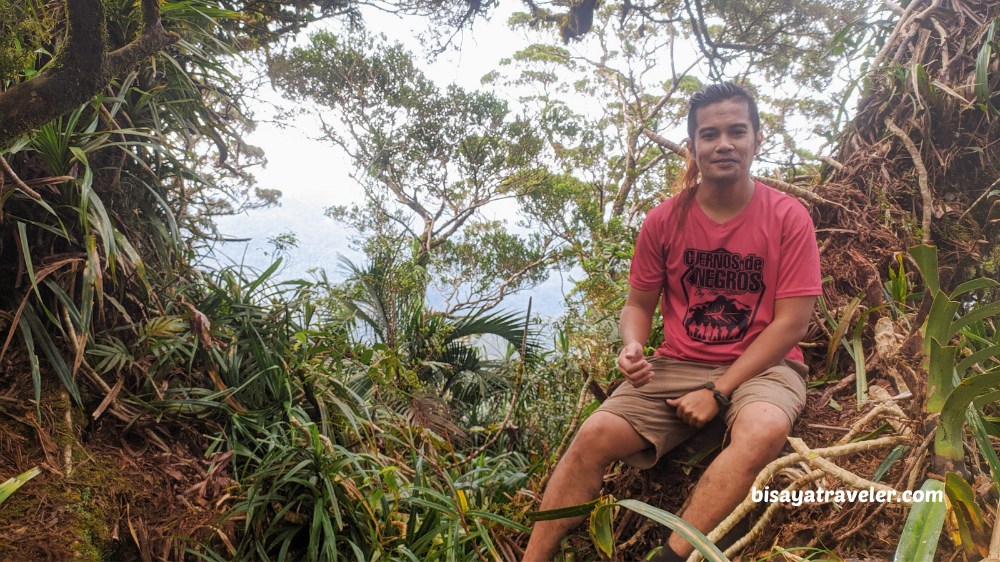 We crawled and hung on to vibes, branches and roots to complete this section of our hike Mount Talinis.
Did it kill us? Hell, no! In my book, it's a reMARKable experience that will make us stronger and smarter.
From there, we follow boss Egdar to our campsite on the banks of Lake Nailig.
I'm quite surprised by how long it took us to get to the campsite. Earlier, I got a sneak peek of Lake Nailig, and thought we're just minutes away from the campsite.
But, as it turns out, the lake is continuously expanding, and the shoreline is getting smaller, meaning hikers have to take a longer route to get to the camping spot.
When we arrive at Lake Nailig's campsite, we still have plenty of time to summit Nacolon Peak.
Fate, however, has a different plan for us on this hike in Mount Talinis. The sky abruptly opens, and unleashes a tremendous pouring of rain.
It's raining cats and dogs, and we're stuck on the muddy banks of Lake Nailig. Sir John, who has been to countless major hikes, and even hiked Mount Apo twice, said it's the strongest rainstorm he has experienced when hiking.
It's a recipe for disaster. But, why should I fear or worry about it? Shit happens in life and hiking. I don't even want to overthink it.
We can't control the weather, and we don't control what happens. But, we can control how we respond to these situations.
There are two ways to handle an unexpected event like this: you can whine like a bitch or you can embrace it, and move on.
When you are fearless and at peace, you acknowledge your fears for what they are. Fear is your body and mind's concern for your safety. You can take those fears into account, make the right adjustments, and move forward.
As I've expected, we chose the latter and more optimistic option. I can even see Beboy prancing and having fun in the rain.
Finally, the rain comes to a halt. Quickly, we begin setting up our tents, and make dinner preparations.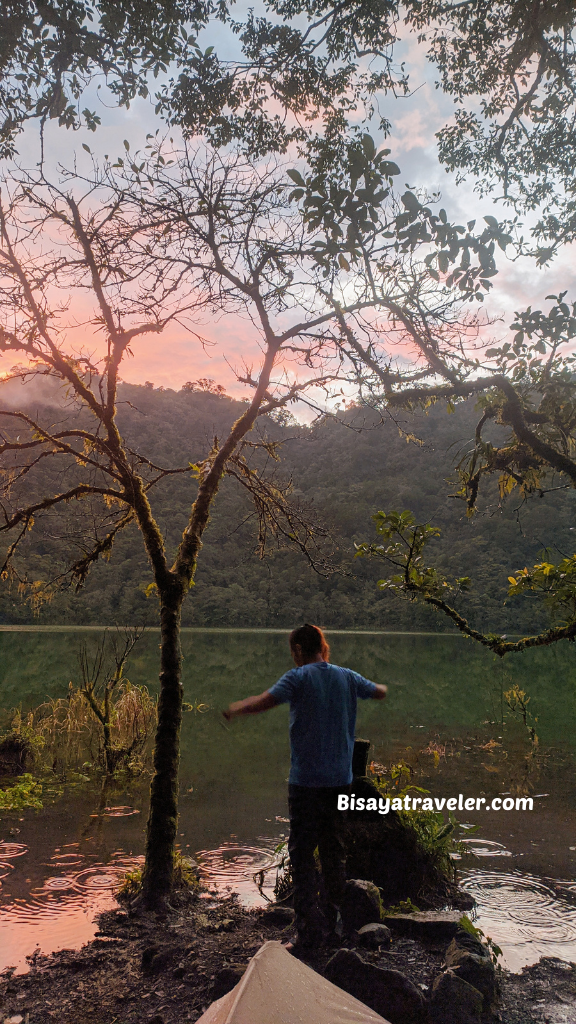 As soon as I finish eating dinner, I head straight to my tent to take a rest and recuperate.
No drinks for me!
The truth is, I haven't had a sip of alcohol for over 8 years, and I don't intend to break that record soon. I follow a Straight Edge lifestyle, which focuses primarily on maintaining a pure conscience and body by abstaining from alcohol, nicotine and recreational drugs.
Part of the reason I avoid gatherings is that I hate explaining this kind of lifestyle.
Not everyone gets it. Only open-minded free thinkers who don't want to become victims of conformity truly understand ideas like this.
I also don't like the idea of infusing chemicals to my body to be happy. I can unleash endorphins, oxytic, dopamine and other happy hormones naturally without an app or chemical.
At times, I prefer to be alone too. As an introvert, I need some space and time for deep thoughts and peace to recuperate.
In our extroverted culture, these ideas are often rejected and considered taboo.
Throughout the years, I've learned to overcome the fear of rejection. And, when you've overcome the fear of rejection, it's easier to do things in life.
A lot of our dreams are killed because we let the opinions of others affect our actions. Once you've learned to not give a fuck about the thoughts and opinions of others, you can focus on fulfilling your goals and dreams.
Soon, everyone is in dreamland resting and prepping for the climb to the top of Mount Talinis.
Day 2 in Mount Talinis
Sometimes, we create our own heartbreaks and miseries through our lofty expectations.
Just because you're climbing a towering mountain like Mount Talinis, it doesn't mean you'll be rewarded with an awe-inspiring view.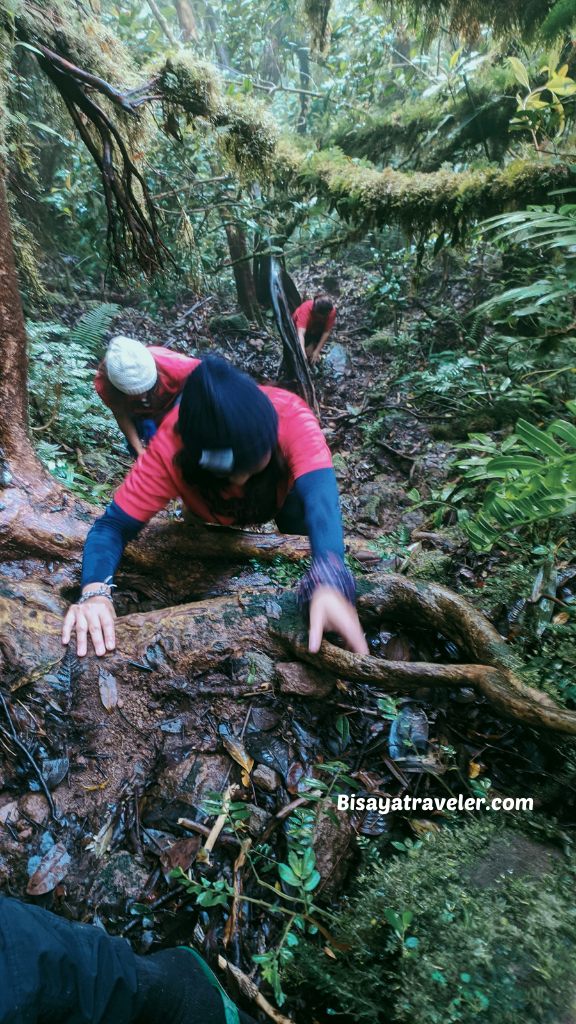 When we arrive at the summit of Nacolon Peak, we only see thick white blankets covering the lush landscapes of Mount Talinis.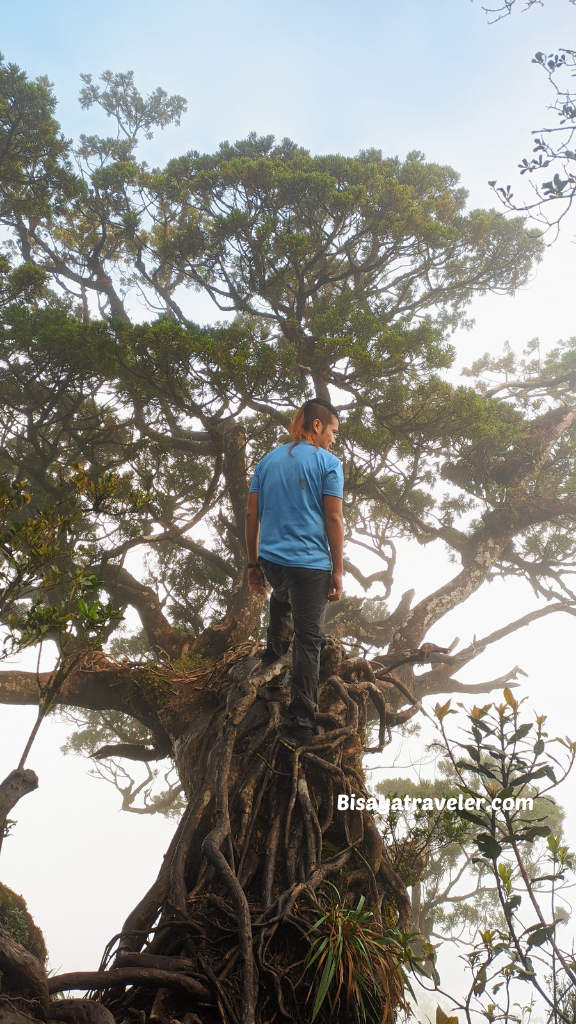 I want to see the grand, spectacular and breathtaking signature view of Lake Nailig from the top of Nacolon Peak.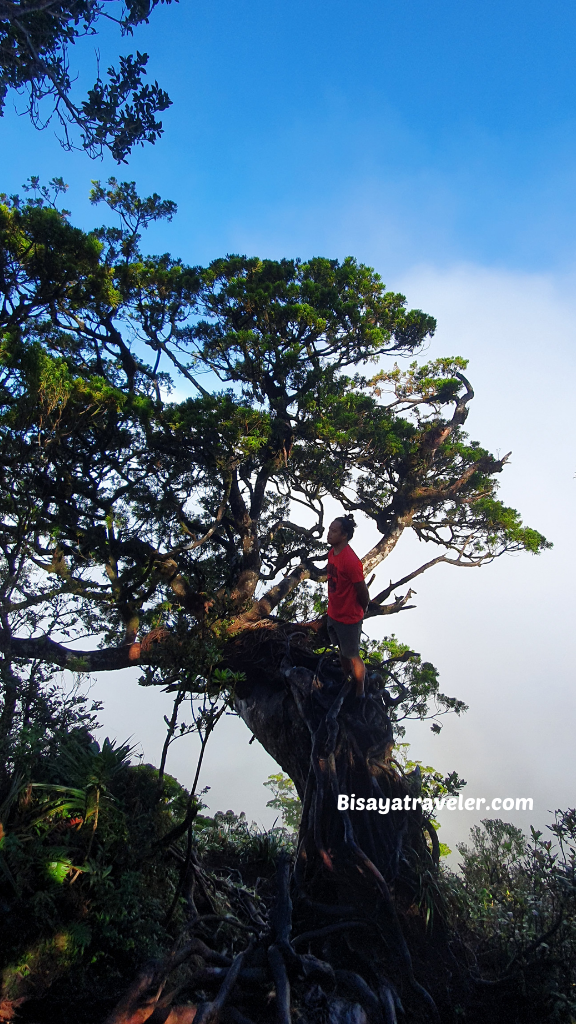 It's not there, even though we were waiting for it.
Still, it's not a disappointing experience. Every step of the journey to the top is fun and a discovery.
Before our climb to the top, Nilo suggested that we skip the summit if there's no guaranteed clearing.
That's not how our group works, though.
We hike to become fearless and stronger versions of ourselves. And, we hike to escape our non-glamorous daily grind.
The view is, in reality, the icing to the cake.
And, our climb to the summit is a bit like life. Even if you move to greener pastures like Canada or America, you're not guaranteed a financially successful or stable life.
But, you don't have to feel miserable if your attempt to a greener pasture fails.
At least, you can call yourself fearless.
At least, you took the risk that you think is best for you.
And, at least, you're equipped with the knowledge and information that you can use on your next try.
Just aim high, keep your expectations low, and more importantly, don't be afraid of failure and rejection.
I don't mind spending a ton of time at the top of Nacolon Peak.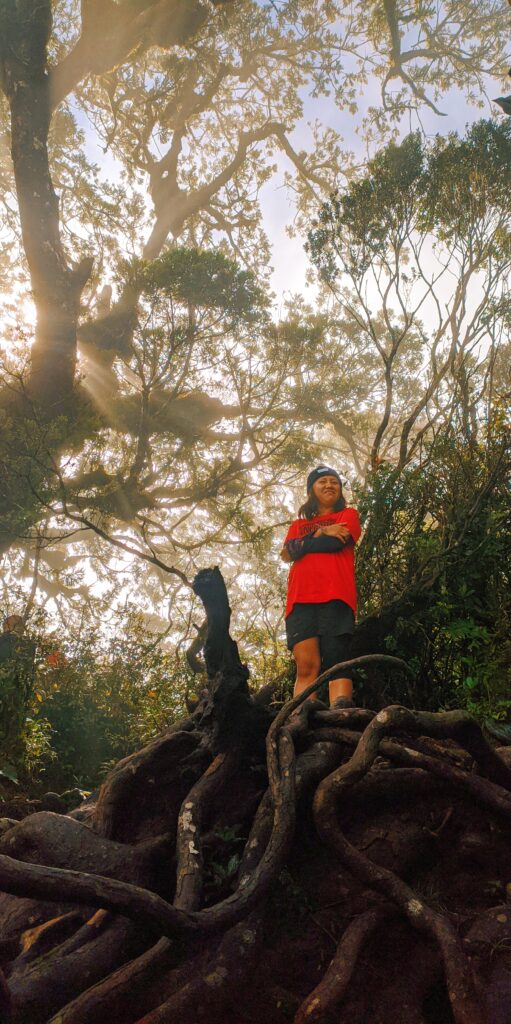 We deserve it. And, we've prepared and worked hard to get where we are right now.
You don't get a chance to summit a towering mountain every day.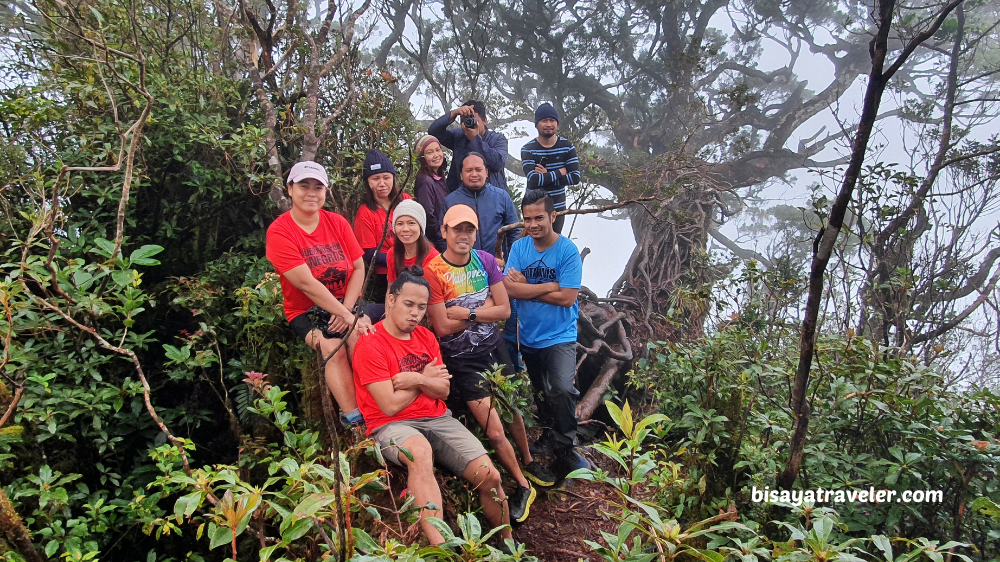 A few snaps later, we decided to descend from Nacolon Peak, to eat our breakfast, break camp and head home.
Earlier, Mark made an attempt to fly his drone over Lake Nailig. For some reason, he lost control of his device, and the drone took a plunge into the lake.
Upon our arrival at the campsite, we're surprised to see Mark's drone sitting on a piece of rock. I guess the fellas were on spot when they said that it's a reMARKable experience.
Originally, our plan was to take the Panghilakan exit. But, since time isn't on our side, we're taking the shorter and equally tough Apolong trail.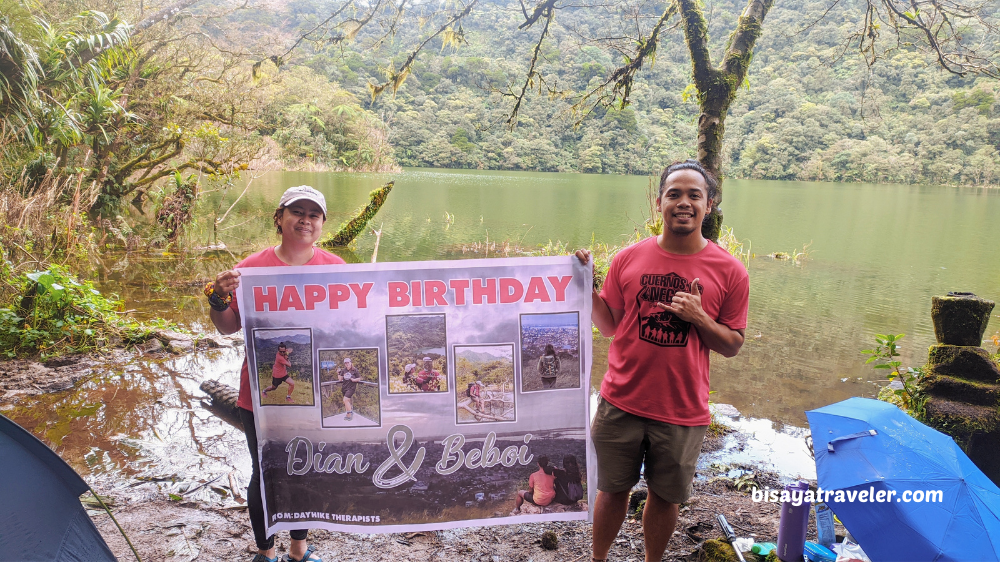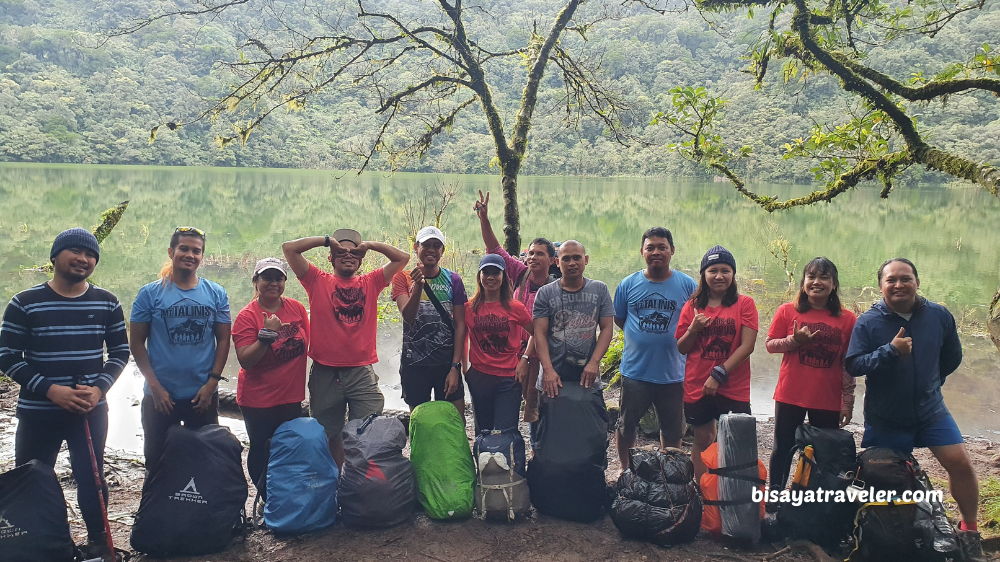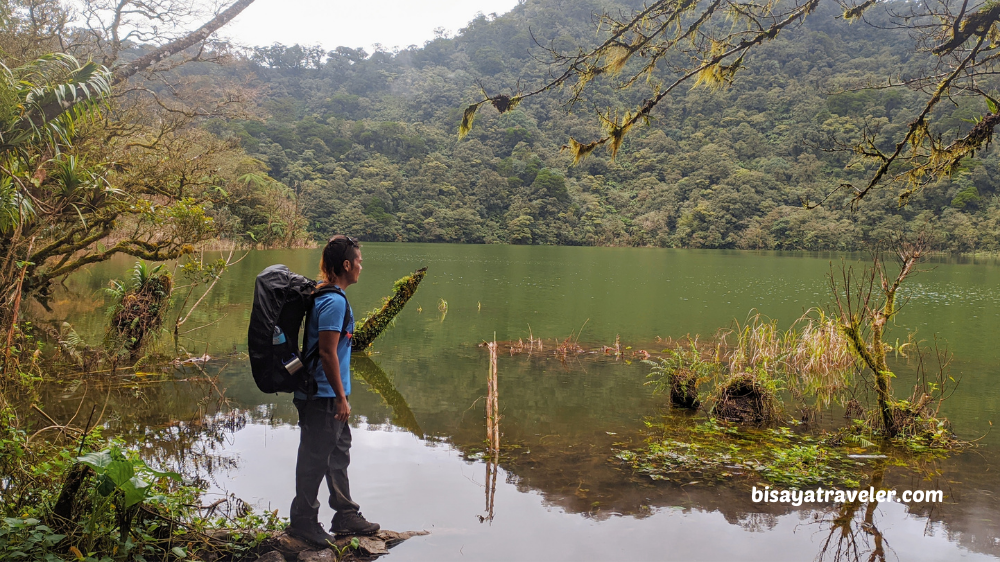 Along the way, we took a few stops, including the interesting and captivating Kaipuhan Sulfur Vents.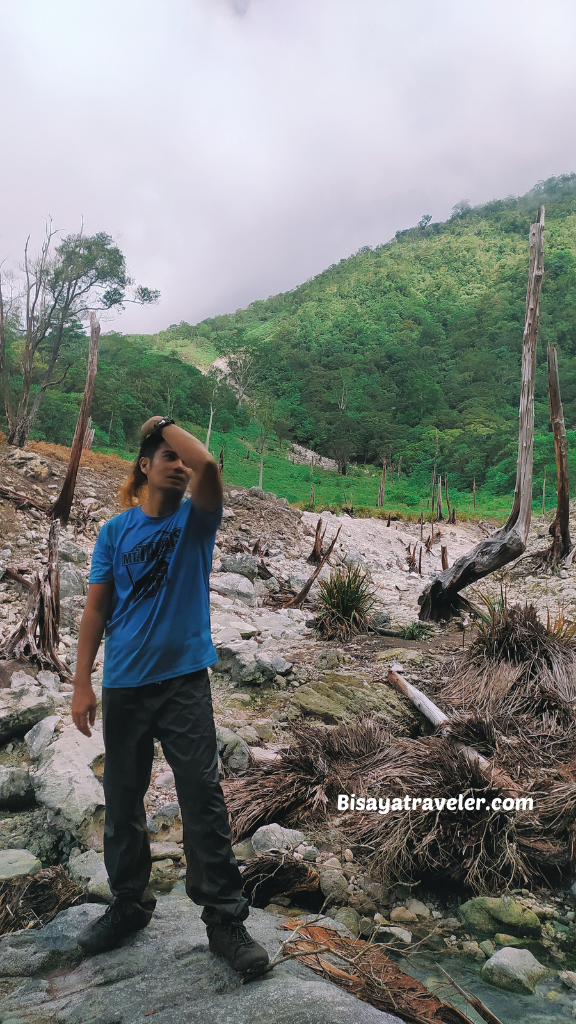 We unintentionally split into two groups: the faster hikers and the not-so fast hikers.
The first group, which included me, arrived at tatay's hut at around 2 in the afternoon.
So, we didn't waste any time, and ate the lunch prepared by tatay for us.
Afterward, we waited for an hour for the other group to arrive.
With the grueling downhill trail in Mount Talinis, the second group looks tired and haggard as fuck.
Especially Ann.
As far as I know, Ann had a little ankle injury on the first day of our Mount Talinis hike. Not to mention, she didn't have a good night's sleep last night.
But, she's a fearless gal, and I have the utmost confidence in their fortitude and ability to complete our Mount Talinis hike.
Before we resumed our hike, Nilo said that the first group would likely arrive at the base at 08:00 PM, while the other would reach it around 10:00 PM.
So, we began hitting the trail, while allowing the other group to eat, rest and recuperate.
And, they sure did. They even took a refreshing dip on the stream near tatay's hut.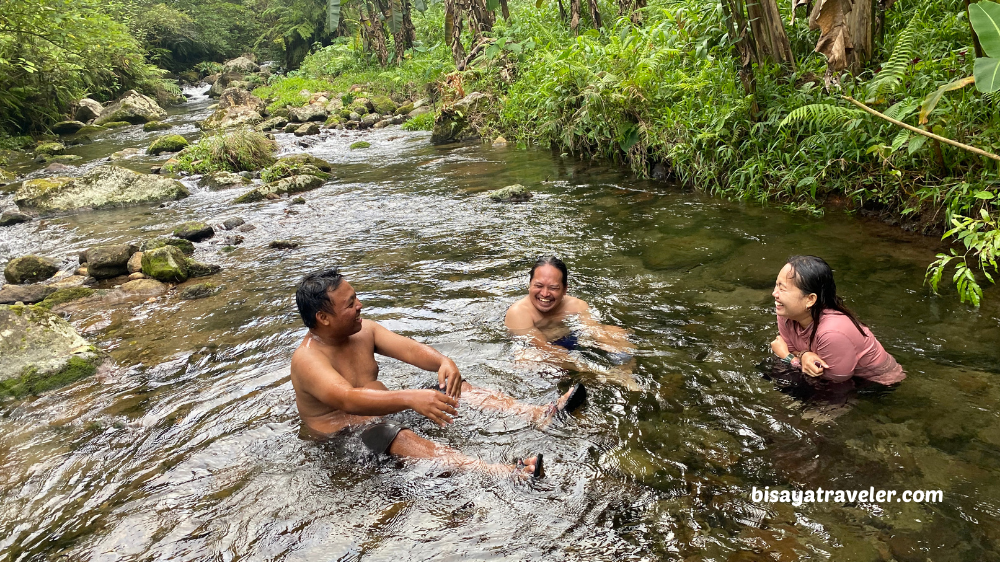 Meanwhile, we, the first group, kept on hiking along the trail back to our base.
Later on, we arrived at the viewdeck where we were treated to a spectacular view of Valencia and Dumgauete.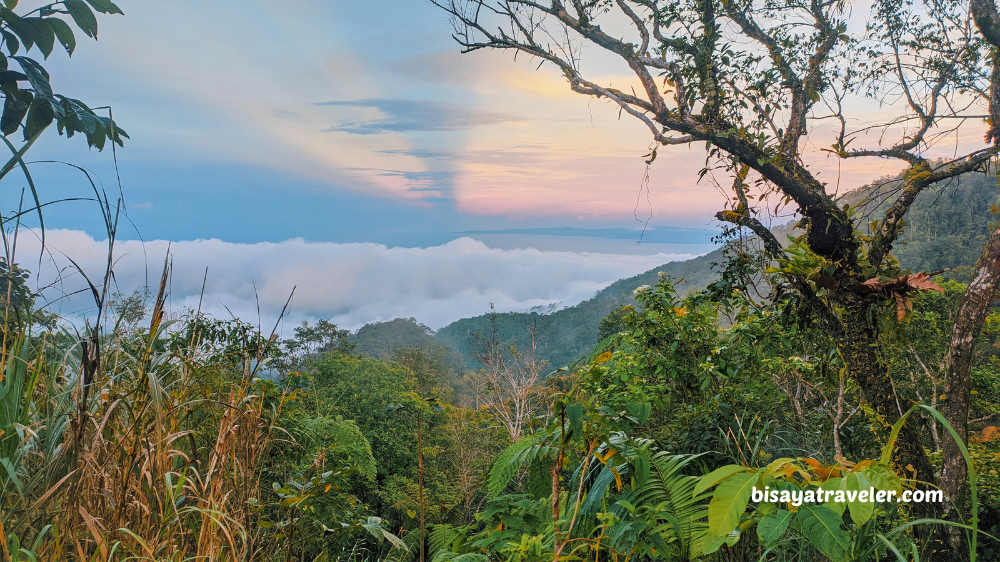 Afterward, we resumed our hike, until we arrived at Kanipsan Scenic View, which is boss Edgar's space and the starting and end point of our hike.
I'll be completely honest with you. I was outside my comfort zone as we were hiking through the dark. After all, the trail was slippery and muddy, and my headlamp and flashlight were both malfunctioning.
While it's nothing new, hiking in the dark with a little drizzle is something that I'm not used to.
I still embraced it because it's an opportunity for me to become a better hiker.
Nothing grows in your comfort zone. You can't learn and master your art when you're stuck in preset patterns.
We were expecting the 2nd group to arrive, a couple of hours after our arrival at Kanipsan Scenic View.
To my pleasant surprise, they arrived 30 minutes later. Beboy and I welcomed the group and cheered them on.
Here's another surprise: Raul was the first one of the group to arrive.
Soon after, the rest of the gang arrive with big smiles on their faces.
Ultimate, we found out why Raul was the first one in their group to arrive at the end point. As it turns out, they bumped into a creepy campsite on their way to the exit point.
And, unlike a fearless adventure seeker, Raul rushed and dashed to stay away from this creepy spot.
I guess it's fear that actually pushes the man they call Raul.
Mount Talinis rates via Apolong-Apolong trail
Guide fee: 1,500 PHP per day and per guide
Porter fee: 900 PHP per day
If you're interested in hiking via Apolong-Apolong, you can contact sir Edgar at 095-5018-1707. You may also contact him through his Facebook page. Boss Edgar can help you find transportation between Dumaguete and Valencia as well.
Our Mount Talinis expenses (per person and good for 10 pax)
Gas expense: 500 PHP
Maayo Shipping boat transportation (back and forth): 200 PHP (100 PHP per way)
Cab rides (back and forth): 70 PHP
Accommodations at Lufian Dormitel: 360 PHP
Transportation from Dumaguete to Valencia (back and forth): 500 PHP
2 guides and 1 porter: 780 PHP
Sample Mount Talinis itinerary (from Cebu City)
Day 0
09:30 AM: Depart from Cebu City
02:30 PM: ETA Liloan Port in Santander
03:00 PM: Depart from Santander
03:30 PM: ETA Sibulan
04:20 PM: ETA accommodations/rest
05:30 PM: Shop for groceries
07:00 PM: Dinner
09:00 PM: Lights out
Day 1:
03:00 AM: Wake up
04:00 AM: Depart from Dumaguete
05:00 AM: ETA Kanipsan Scenic View in Apolong, Valencia
06:00 AM: Start hike
10:30 AM: ETA rancho/early lunch
11:00 AM: Resume hike
02:30 PM: ETA Lake Nailig campsite
03:00 PM: Start climb to summit
04:00 PM: ETA summit of Nacolon Peak
05:00 PM: ETA Lake Nailig campsite/set up tent
06:30 PM: Dinner/socials
08:30 PM: Lights out
Day 2:
06:00 AM: Wake up/prepare breakfast
07:00 AM: Break camp
08:00 AM: Start hike
10:00 AM: Sulfur vents
10:30 AM: ETA rancho/early lunch
11:00 AM: Resume hike
02:30 AM: ETA Kanipsan Scenic View
04:00 PM: Depart from Apolong to Sibulan Port or accommodations in Dumaguete
Tips when hiking Mount Talinis
Practice LNT
Bring the essential camping gear (tent, headlamps, cooksets, sleeping mat/bag, emergency blanket, etc.)
Carry refillable water bottle (there are plenty of drinkable water sources from Kanipsan to rancho)
Wear sturdy hiking shoes with excellent traction.
Don't underestimate Mount Talinis. Try to do at least 2 practice climbs (with load) before hiking Mount Talinis.
Luckily, no one was injured on our hike. Although there was no clearing at the summit, we still had an absolute blast on our journey. And, the best part is, I get to enjoy this fearless experience with the most dynamic squad I've ever had.