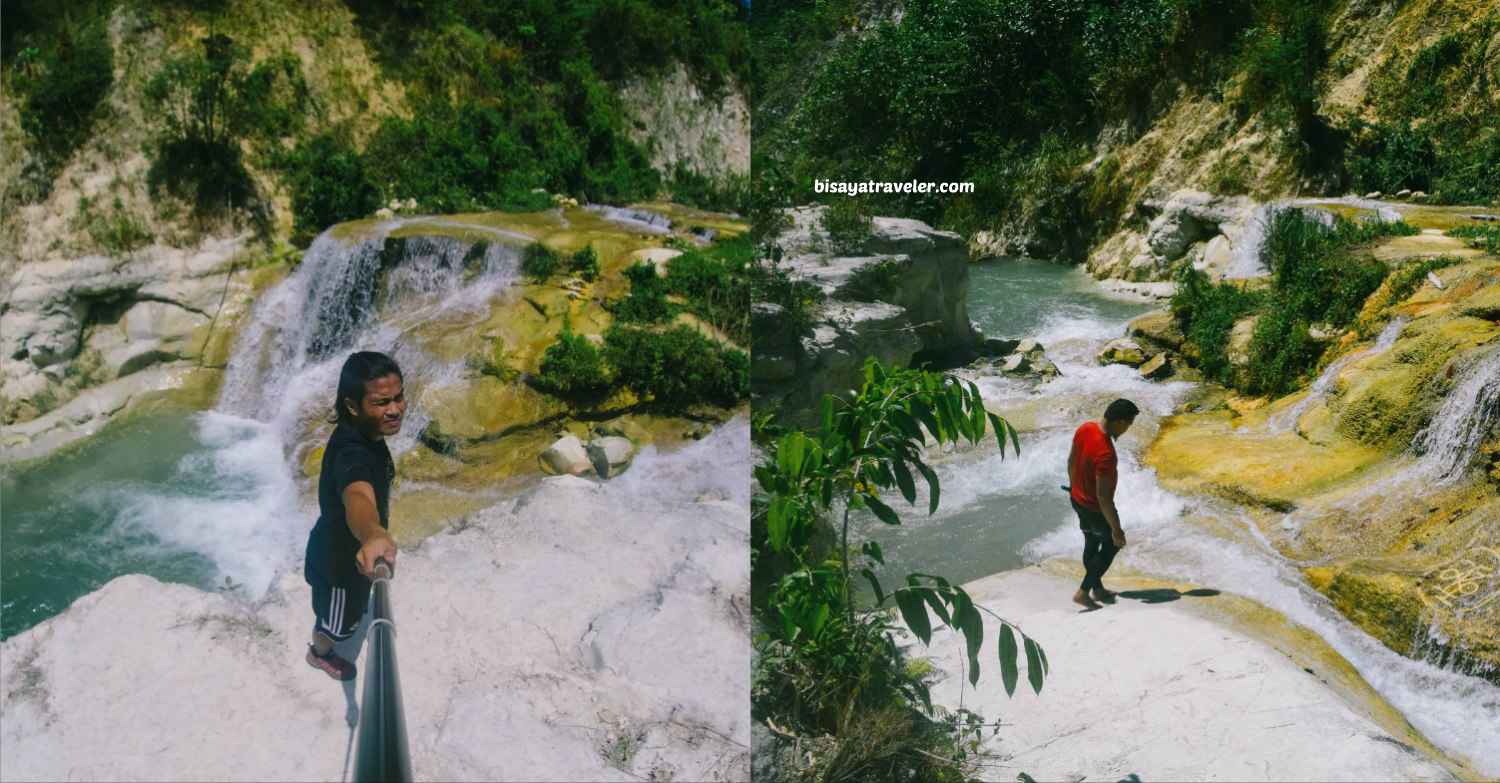 Taginis Falls Moalboal And The Adventure Alchemist
Everyone is, in their own unique way, a brilliant and innovative alchemist. While not everybody has the knowledge and ability to create sparkling golden nuggets, we are all capable of formulating something special. From engineering game-changing architectural wonders to cracking jokes, each one is an alchemist with a special place in the universe's grand puzzle. Heck, even a traveler or explorer like me is an alchemist. Trust me, organizing a simple adventure in places like Taginis Falls is a work of art in itself.
I, for one, see myself as an alchemist of adventure.
And, an architect of my own happiness.
Even with limited sources and budget, I can forge a memorable escape for myself and my buddies. Whether it's climbing rugged cliffs or chasing waterfalls like Taginis Falls, I always have a recipe for a memorable adventure.
In my years of traveling and hiking, I've unintentionally developed my own blueprint or formula for a fun and memorable adventure. And, though every adventure is different, I've been leaning on this formula for the last couple of years.
As we were soaking up the beauty of Taginis Falls in Moalboal, I realized how I've been subconsciously using my adventure formula. Actually, it was one of my buddies who helped me figure it out.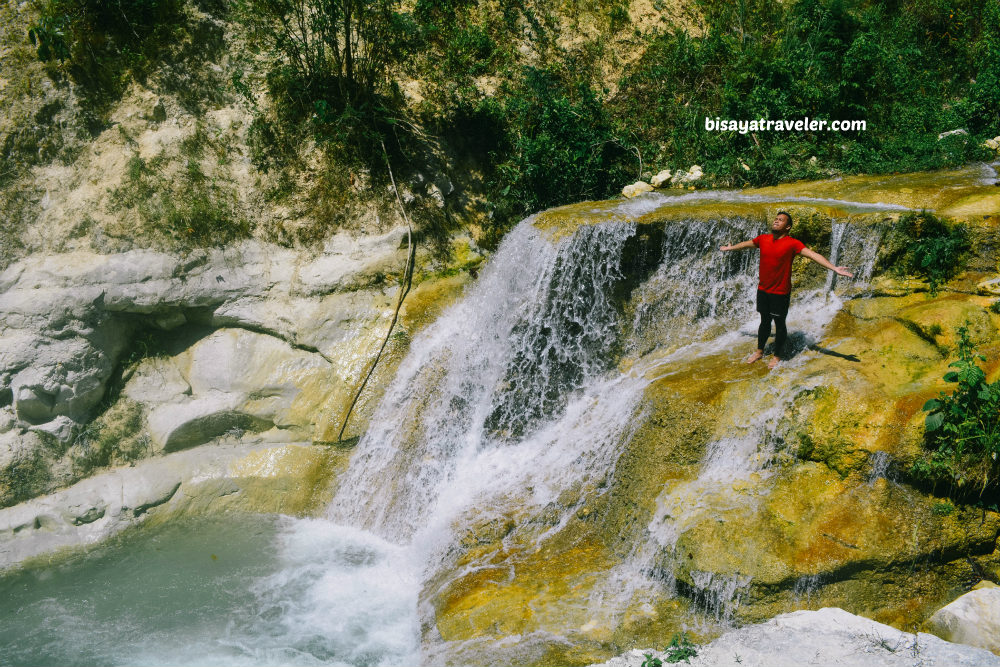 So, what is my alchemy for adventure?
Does this recipe work for others?
Maybe, Taginis Falls has the answers to these questions.
My Taginis Falls, Moalboal experience
My formula is simple.
Great people, with a hint of paradise, always make a fine recipe for fun.
Add in an open itinerary, and you've got an adventure full of surprises and turns.
Of course, there are other factors that add more life and colors to every outdoor escape.
And, guess what? I'm going to spill the beans, and unveil the elements of my idea of a perfect adventure, as I recall my Taginis Falls experience.
Find the right people
Traveling with a group isn't rocket science. There's no need to master Newton's laws of motion, understand quantum mechanics or memorize the periodic table.
But, you need chemistry, to make it work.
You have to travel and surround yourself with positive-minded people whom you have great chemistry with.
For my Taginis Falls escapade, I was joined by three of my favorite buddies – Dian, Raul and Beboy.
As a quartet, we blend perfectly together, creating a superb main ingredient to our alchemy of adventure.
And, the thing is, each one of us is also an ingredient to the primary ingredient of our adventure alchemy.
Raul, for instance, is the group's official joker. He brings humor and light in situations that seem bleak and dark (no pun intended). Furthermore, he's the voice of the group, acting as a spokesperson in charge of communicating with the joiners of the group.
Dian is the accountant, and the by far most organized person in our crew. With her skills in accounting and management, she ensures that our shared expenses in food and transportation are divided fairly. What's more, she brings a lady's perspective and feminine touches to this rough, manly compound.
And, Beboy is the driving force of the combination, encouraging everyone to step outside their comfort zone. He creates a multitude of options for adventure, with his insight, imagination and extraordinary vision.
Together, we make a fine blend, ready to explore remote and underrated spots, like Taginis Falls.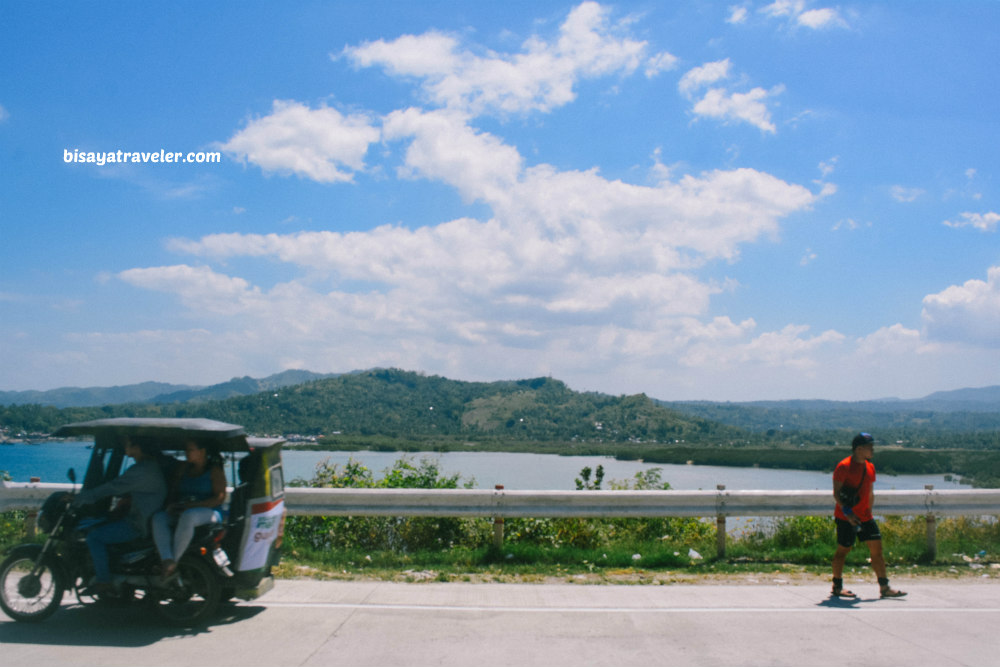 After our rendezvous at South Bus Terminal, we hoped on a bus that would eventually take us to our base – Alcantara Proper.
There, we caught up with fellow blogger MJ (Malipayong Josefina) and her friend, completing the cast for our Taginis Falls escapade.
With their adventurous spirits and no-frills attitude, these people did surely make our Taginis Falls and Moalboal trip a whole lot more exciting.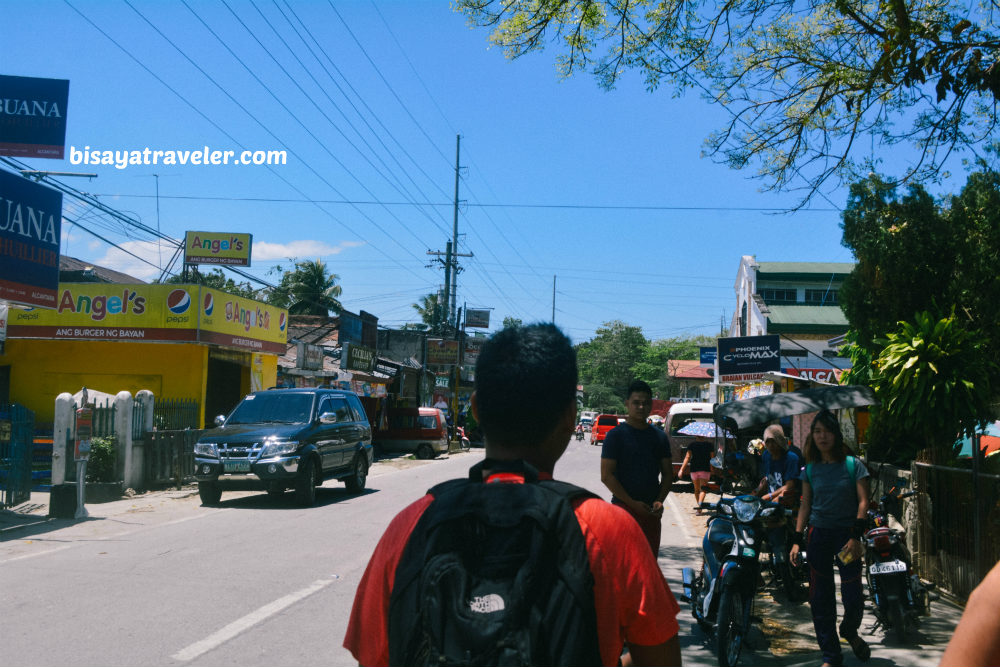 From Alcantara town proper, we took a habal-habal ride to Budlot Spring – the starting point to most short hikes to Taginis Falls.
A hint of paradise
The second part of the equation is the location. It doesn't have to be exactly jaw-dropping beautiful. But, at least, it should have a small taste of paradise.
And, I saw a glimpse of paradise, the moment we arrive at Budlot Spring.
With its spotlessly clean blue waters and lovely scenery, Budlong Spring was nothing short of tantalizing and mesmerizing.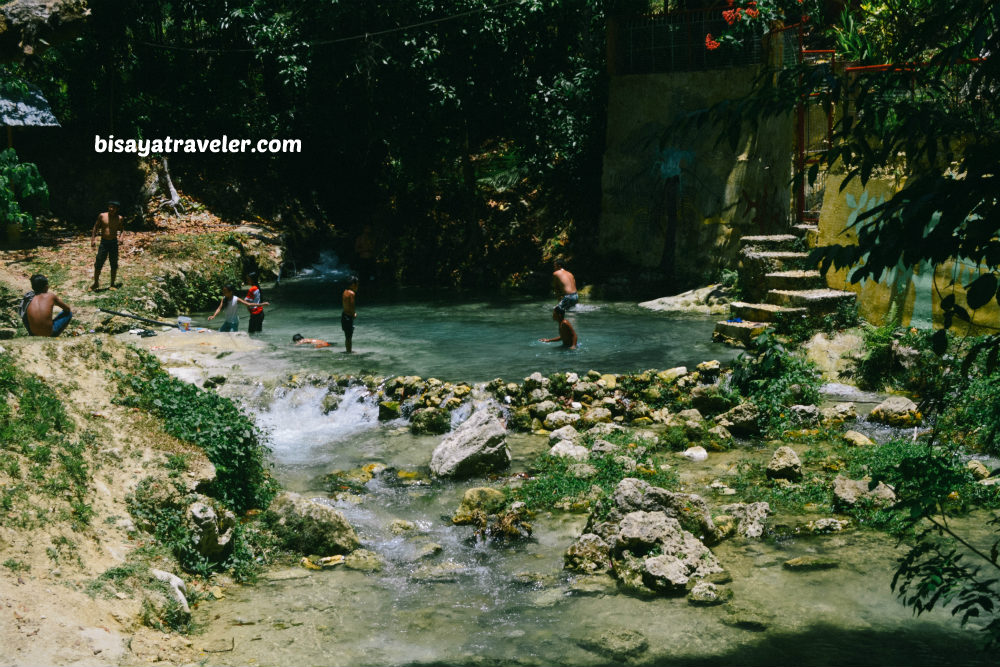 Even a carabao was having a blast with the spring's cool and refreshing waters.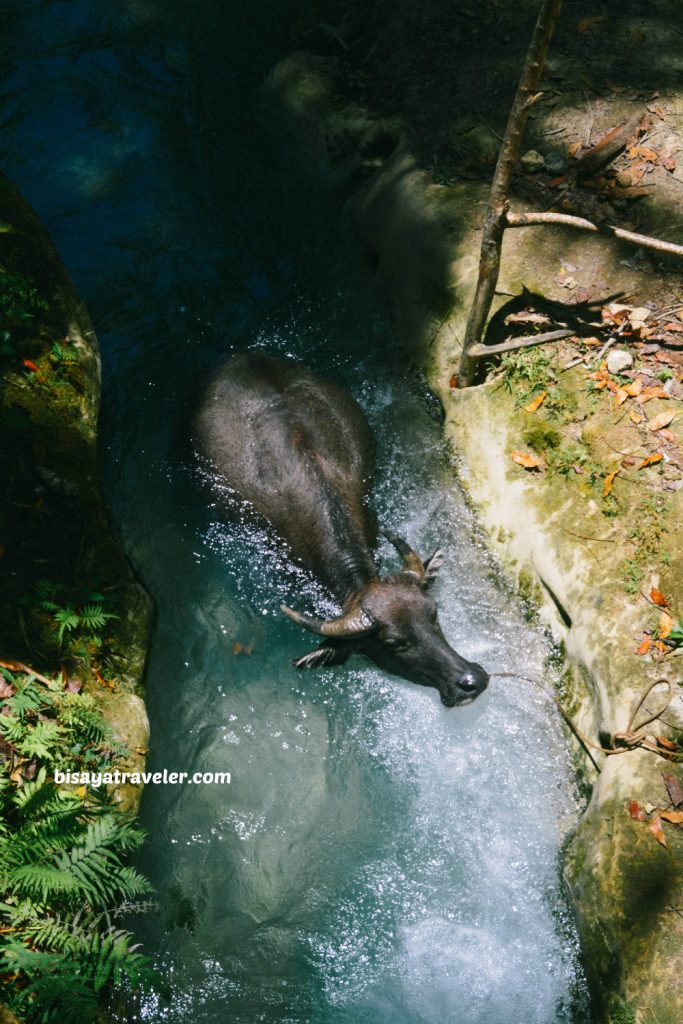 Spearheaded by MJ, we followed the path leading Taginis Falls, passing by Villa Budlot Spring, bamboo trees, and a bridge.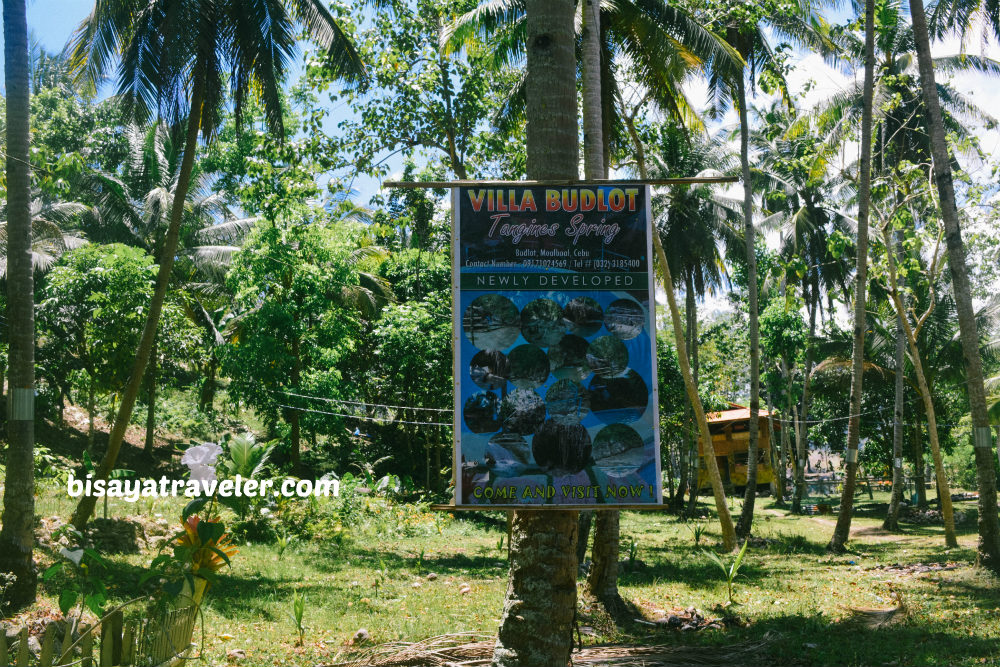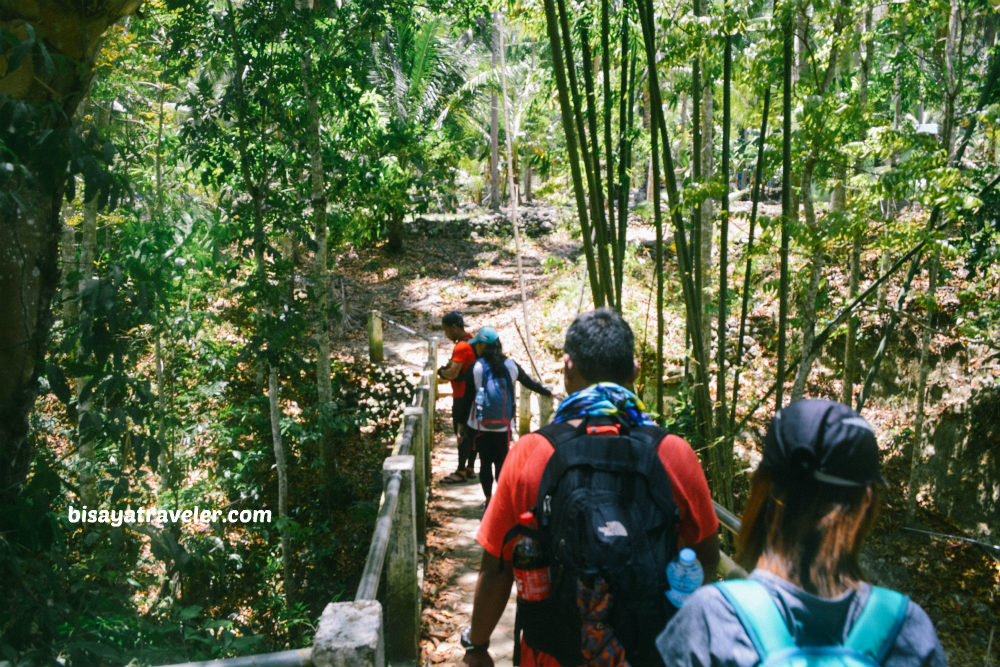 And, along the way, we caught of sight of another carabao chilling like a boss on the flowing waters.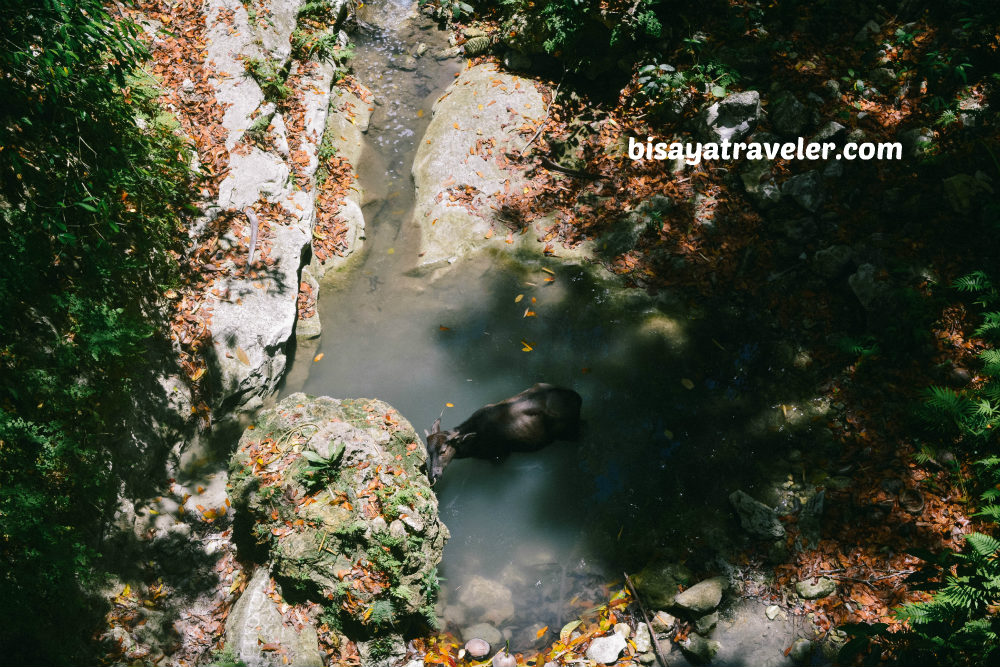 I guess we're going to have carabao-flavored water for today's nature getaway.
Shortly after, we heard a sign suggesting that we were a few steps away from Taginis Falls.
The sound of flowing water and the chirping birds were music to my ears. They were a hint of paradise, and a preview of what was about to come.
We, then, went on with our hike, until we arrived at a stream of water.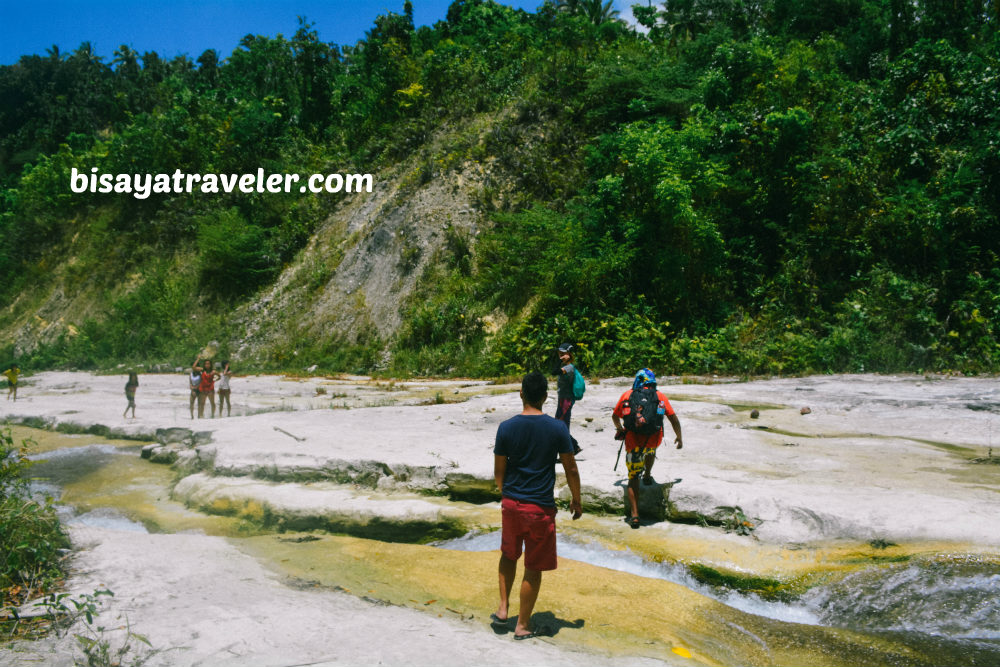 Since it was in the midst of El Niño, the water stream looked pretty dried up.
I'm pretty sure, though, it's stunning and wondrous during the rainy season.
Following stream, we kept on walking, while savoring the cold water on our feet. Truthfully, I couldn't wait to take a plunge on Taginis Falls.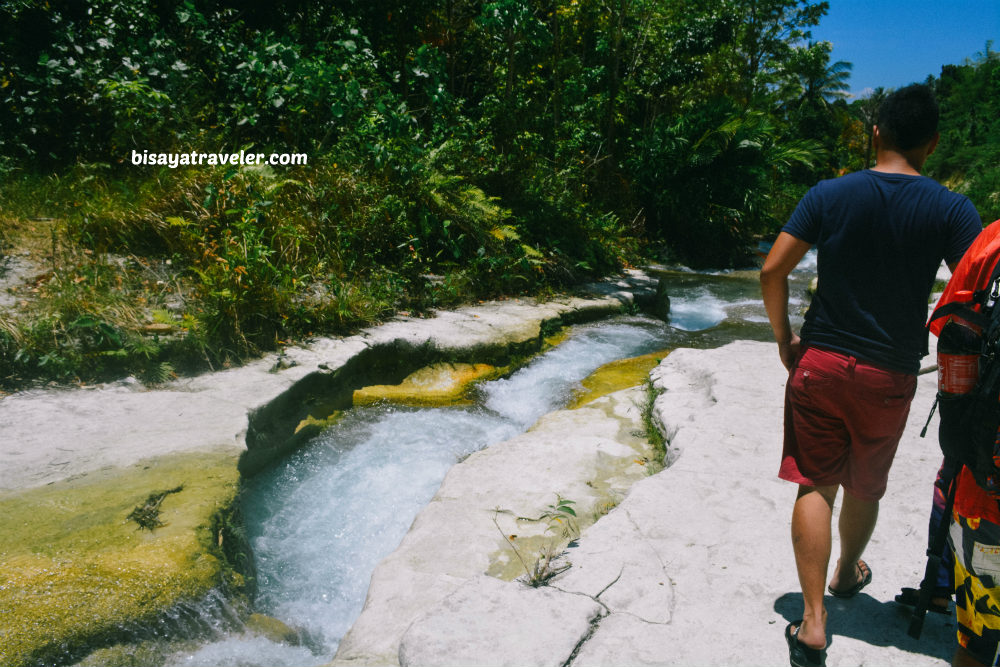 Surprisingly, the water flow got bigger, louder and stronger as we got close to Taginis Falls.
And, moments later, we arrived at the beautiful Taginis Falls in Moalboal.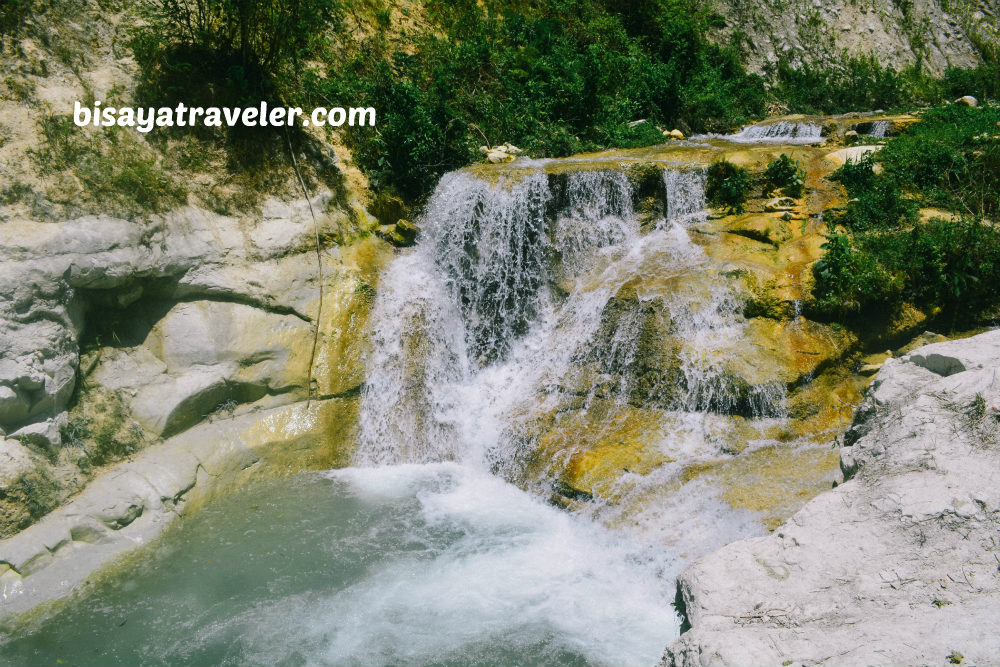 It was a thing of beauty!
Yes, it's not the most eye-catching waterfalls I've laid eyes on, but I still find it beautiful. As I've said, I just need a small dose of paradise, to forge a fantastic adventure. And, Taginis Falls was the perfect ingredient for this nature trip in Moalboal, Cebu.
Appreciate the little things
Taginis Falls isn't as gorgeous as Kawasan Falls.
It doesn't have an awe-inspiring view like Lugsangan Peak.
It doesn't have a unique feature like Udlom Falls.
And, it's rather small, compared to the towering Mantayupan Falls.
Moreover, there's trash in some areas near Taginis Falls.
Still, I find it quite gorgeous and enthralling. And, that's because I appreciate the little things.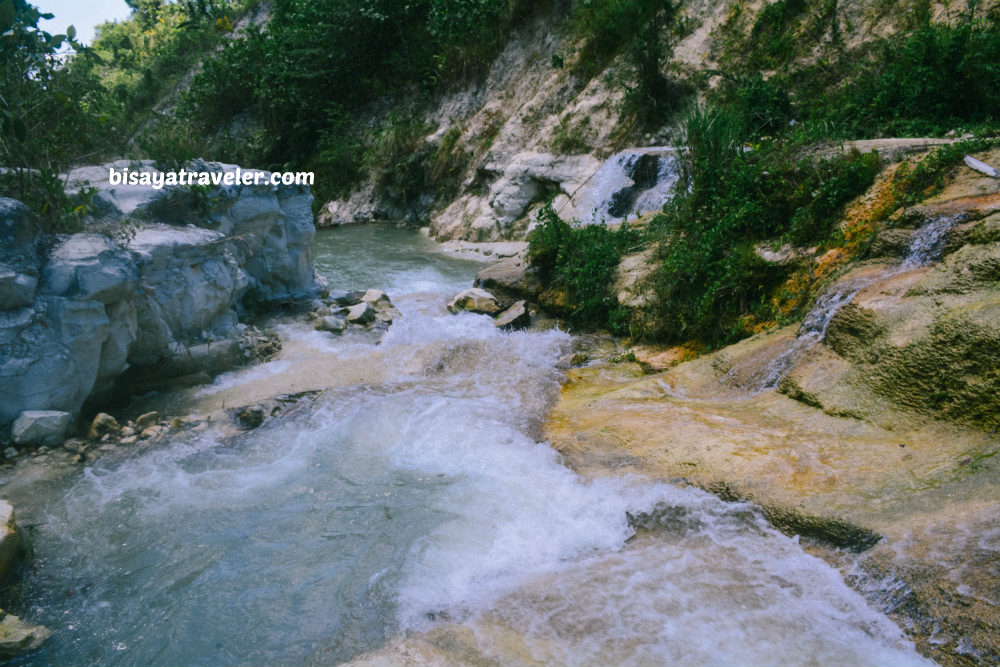 Appreciating the small things is absolutely essential in every adventure.
To me, each travel experience becomes fun and exciting, when you appreciate the small things.
A historic landmark becomes more intriguing and striking, when you appreciate its craftsmanship and the know history behind it.
And, a small waterfall can turn into a paradise, when you look at it beyond its aesthetic value.
Take a dip.
Get a natural massage at Taginis Falls, and you'll know what I'm talking about.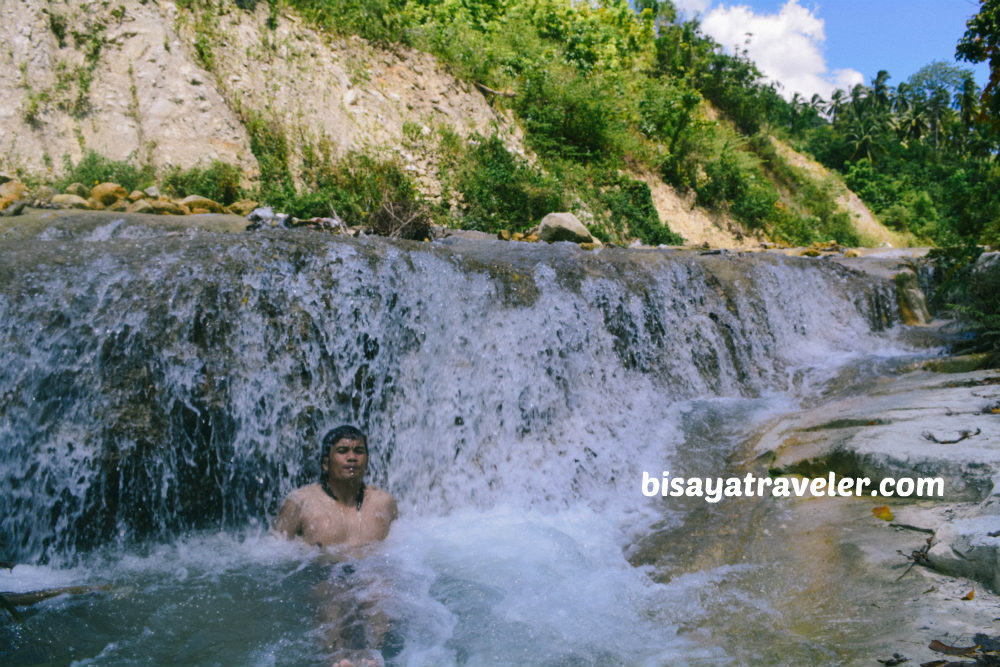 The truth is, our modern culture paints a sad picture of happiness. We are, often, led to believe that it's the most Instagram-worthy sights and ground-breaking moments that make us truly happy. And, we become unhappy and even rant, when we don't experience or see something spectacular in our travels.
But, small moments can have deeper and meaningful effects too. Small and not-so epic moments of joy like enjoying the flowing waters of Taginis Falls can reduce stress.
And more importantly, they give us pure joy.
In our Taginis Falls break, we had a hell of a time, getting wet and indulging on the fresh flowing waters.
We spent a great deal of time there, just admiring the cool waters and playing like little kids.
In addition, we soothed our weary muscles and spirits by just lounging and unwinding there.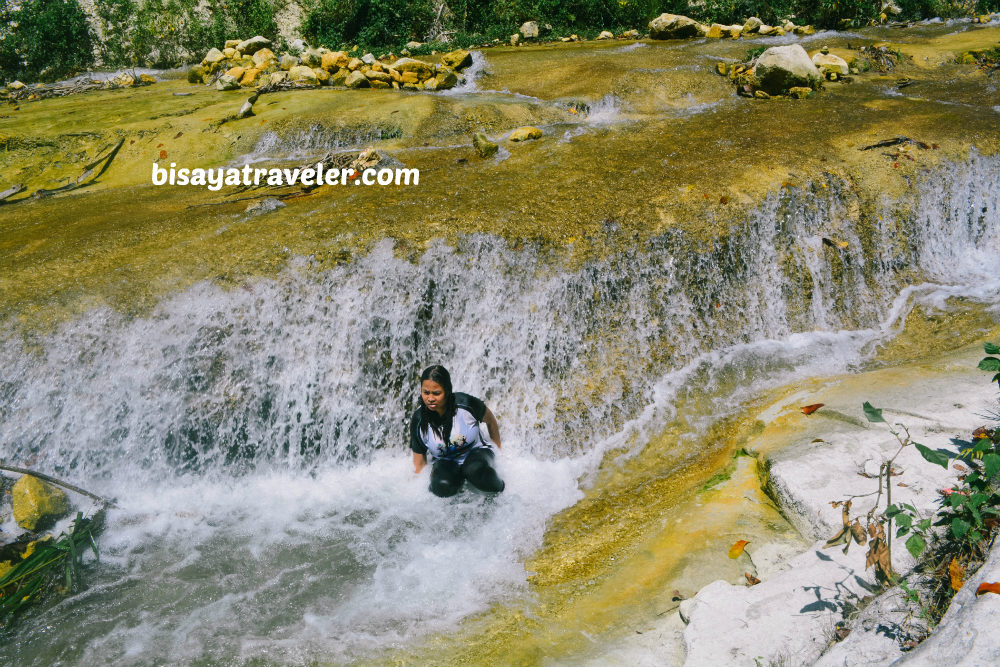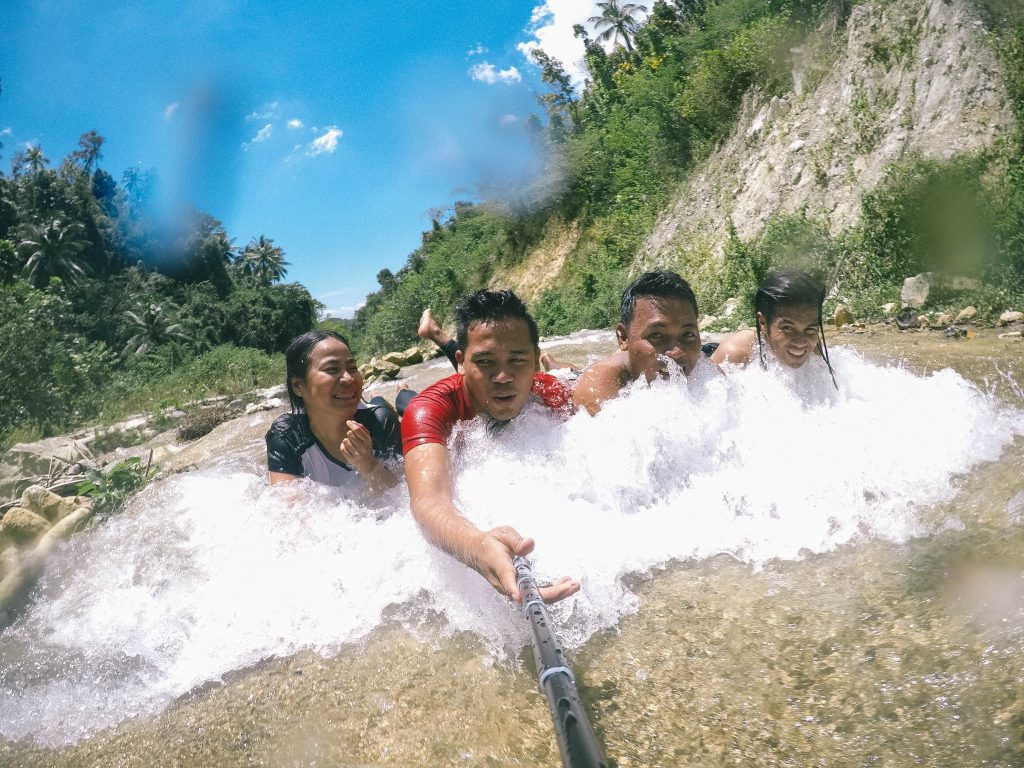 And to me, these moments are gold.
They are my elixir of life.
My philosopher's stone.
And, my fountain of youth.
These small yet blissful moments are part of the reason I look a little younger than my real age.
And, that's not BS or a hoax, folks. When you constantly release your happy hormones, you are effectively fighting the classic signs of aging.
Google it, if you don't believe me!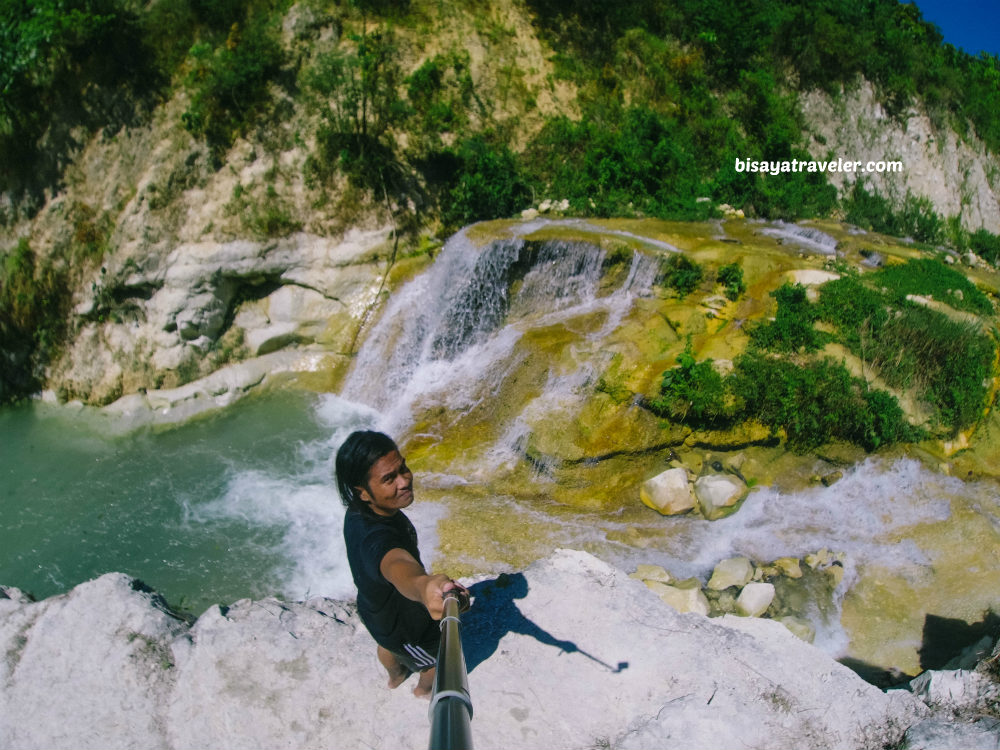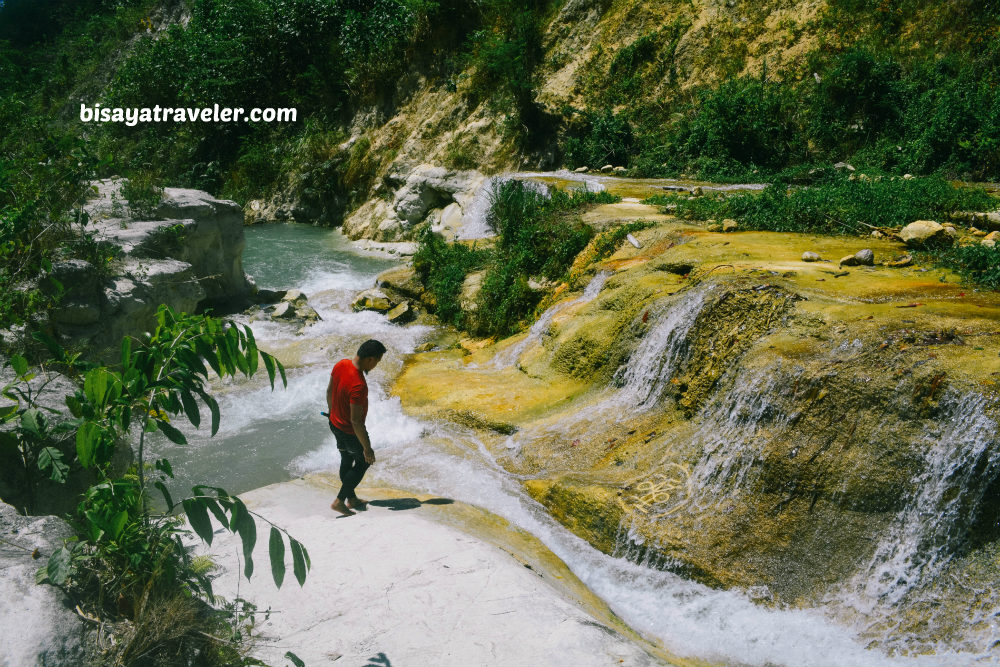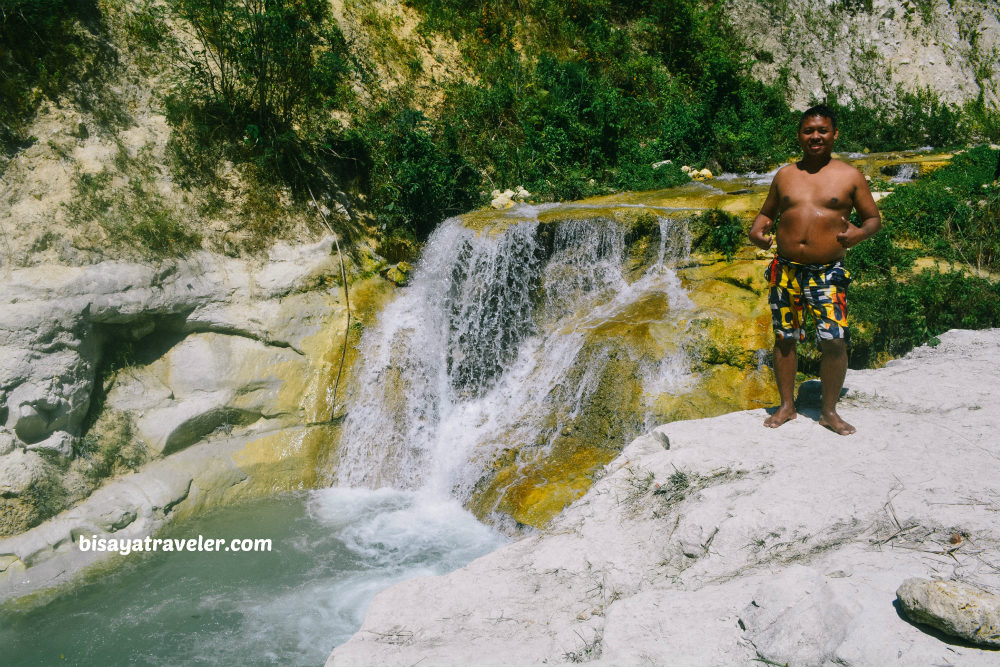 Like an alchemist, I forge these golden moments with a bunch of simple and regular elements.
No expensive flights to a far-away destination.
No special gear or travel equipment.
No lavish hotel accommodations.
And, we didn't even have to pay a tour guide to experience the beauty of Taginis Falls.
Who says you need to spend a fortune to create experiences that are as timeless and beautiful as gold?
Be open minded
Lastly, the key to a wonderful adventure is to be open to all possibilities. After our excursion in Taginis Falls, we had quite a few options for our next stop.
Lusno Falls.
Lambug Beach.
Turtle Sanctuary.
And, even a cave pool somewhere in Moalboal, Cebu.
In the end, we went with Tatay Raul's suggestion – Basdaku Beach.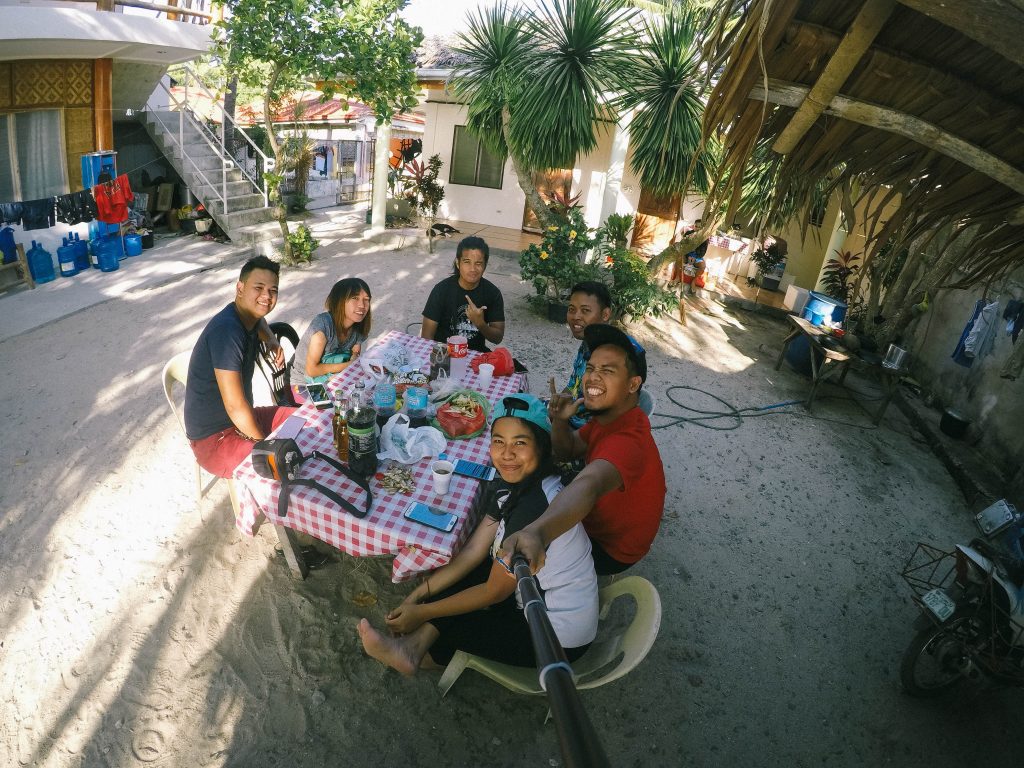 Fittingly, we saw a big chunk of gold plunging into the mountains of Negros Island and sea, later that day.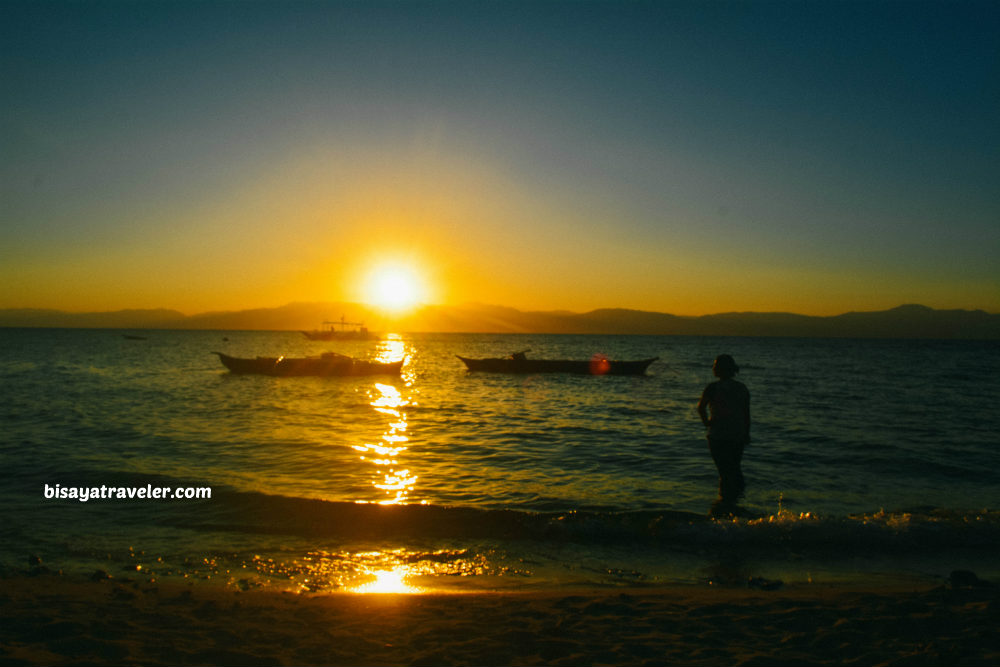 As you can see, there's gold everywhere when you're an alchemist of happiness and adventure.
That's my alchemy to an exciting adventure. Does it work on everyone? Not exactly! Just because it works for us, it doesn't mean it the ultimate solution for others. Remember, we're all different and unique. So, be an alchemist and find the right combination that will give you bliss on your travels and adventures.
How to get to Taginis Falls
From Cebu City South Bus Terminal, hop on a bus with the Bato-Barili sign. Ask the driver to drop you at Alctantara Proper. Travel time is 2 to 3 hours, and fare is around PHP 130 to 150. Once there, look for drivers that can take you Budlot Spring. Travel time is less than 30 minutes and fare is PHP 50 per person and per way. Just keep in mind, though, that the fare may increase, especially if you ask the driver to wait for you. Additionally, some drivers are not comfortable carrying 2 people on their motorcycles, meaning you might have to pay double.
Upon your arrival at Budlot Spring, just follow the stream, until you arrive at Taginis Falls. Alternatively, you may ask locals to show you the way to the waterfall.
If you have your own car, just drive your way to Alcantara, and look for Eskina Halik. Afterwards, head to Barangay Lawaan, and ask directions from the locals.
Our Taginis Falls and Moalboal itinerary
07:00 AM: Meet up at Cebu City South Bus Terminal
08:30 AM: Depart from Cebu City
11:00 AM: ETA Alcantara town proper/buy lunch
11:30 AM: Depart from Alcantara
11:50 AM: ETA Budlot Spring
12:10 PM: ETA Taginis Falls/lunch/enjoying the waterfalls
02:00 PM: Return to Bodlot Spring
02:15 PM: Depart for Alcantara town proper
02:45 PM: ETA Alcantara/depart for Moalboal market to buy food and drinks
03:50 PM: ETA Basdaku Beach
06:30 PM: Depart for Moalboal bus stop
07:15 PM: Depart for Cebu City
10:30 PM: Home sweet home
Tips and reminders
Be a responsible visitor. Don't throw your thrash anywhere.
There's a store nearby the spring that sells snacks and drinks.
Bring your food or lunch if you plan to stay long.
As of now, there's no admission or environmental fee to Taginis Falls.
The pool in the waterfall is probably 5-foot deep.
You can also stop by Villa Odlot Spring. By the way, there's a pool inside the villa.
My alchemy for adventure isn't only applicable for traveling. As matter of fact, I think I've been using it for a long time. I filter out the negatives, and surround myself with great people who blend well with my personality. I made my home a serene haven free from the city noise. I appreciate the small things, and my daily schedule is open for something. In my world, every day is an adventure and gold, thanks to this alchemy.