Inambakan Falls to Mt Hambubuyog: The Zombie Outbreak Escape
What would you do if you knew you'd die days from now? You'd stuff your face with all the sinfully delicious food that your heart desires, right? And you'd go on adventures and treks, like the hike from Inambakan Falls to Mount Hambubuyog.
But what if I told you that we're slabs of dead meat begging to be buried or burned into ashes?
What if you realize that you're a zombie with a broken spirit performing mindless tasks that you don't like?
And what if I told you that you're a zombie manipulated by social media algorithms?
The truth is, some people die at 25 and aren't buried until they are 70 or 80.
Even though they're breathing, these zombies are emotionless and dead inside.
Every dream, goal, idea, happiness, and hope they once had turned to dust.
These zombies are stuck in the doldrums of modern existence.
They have plenty of opportunities to escape but don't want to leave their routine.
And I don't want to be one of these casualties.
That's why I'm stepping out of my comfort zone and taking a hike from Inambakan Falls to Mount Hambubuyog.
It's been a while since the last time I ventured into the deep South of Cebu, and I know it's a long and not-so-comfortable journey.
But, as I've preached in my younger days, nothing grows in your comfort zone.
And so, with Naomie and Berny, I traveled 5 hours by bus to Ginatilan to escape the comfy zone and explore Mount Hambubuyog and Inambakan Falls.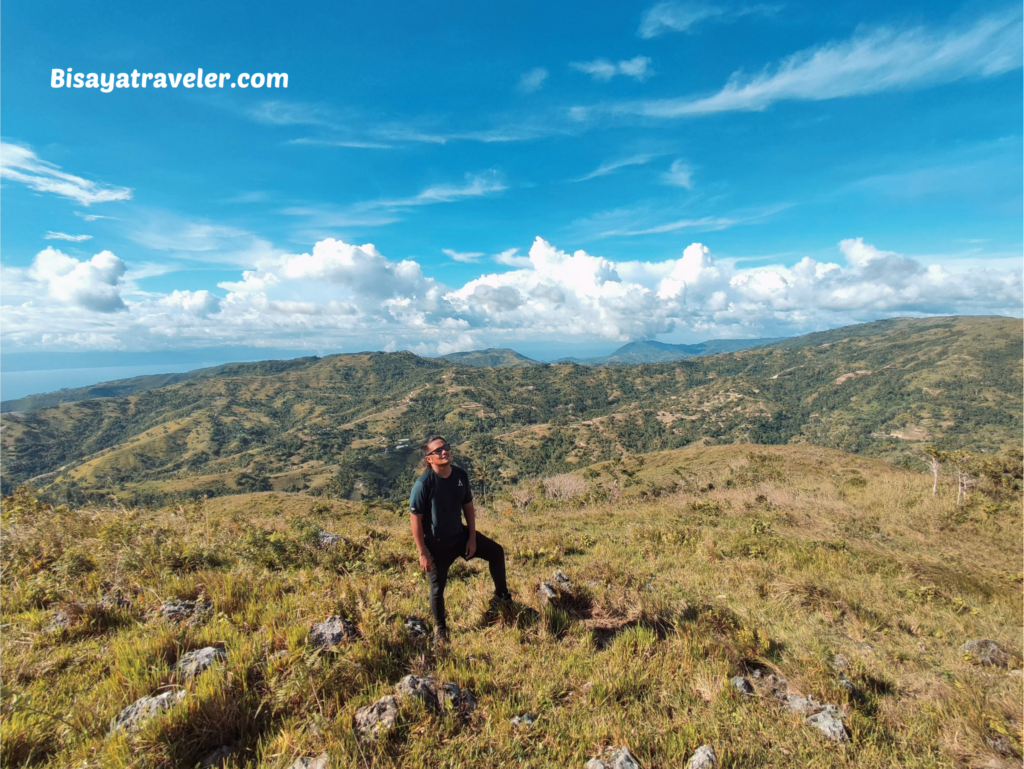 Why did we hike Inambakan Falls to Mount Hambubuyog?
As we age, we tend to stay in our comfort zone.
We're generally not as flexible, sharp, fast, and strong as we once were.
So we seek the certain, secure, comfortable, and familiar.
I'm getting older and prefer to stay in my comfort zone to avoid stress and anxiety.
Still, I badly need to step out of my comfort zone.
While we're wired to avoid stress and pain, the unknown is a fascinating magical place where life happens and dreams come true.
And more importantly, it pushes us and helps us discover abilities we never knew existed.
To me, it gives us room for growth and stops us from becoming real-life versions of zombies.
I searched for new trails and adventures that would take me out of my rut and push my boundaries.
Then, one day, an opportunity came knocking on my door, and I answered its call.
I'm bound for Ginatilan to test my fortitude, see the unknown, and learn new life lessons.
The thing is, there's more to hiking and outdoor exploration than its jaw-dropping sights, heart-pumping challenges, and camaraderie.
I've said it over and over again: hiking is the greatest metaphor for life.
Like life, hiking is a journey.
As long as you keep moving, you'll eventually reach your destination.
And, like life, hiking is best enjoyed at your own pace.
I can give you a ton of similarities between hiking and life. But, for now, let's just talk about our journey to Mount Hambubuyog and Inambakan Falls.
Did I also mention that adventure is a tonic to those who tumble into the world of what-ifs?
The hike from Inambakan Falls to Mount Hambubuyog
Our trip to Ginatilan was impromptu and a last-minute decision.
We only found out of our destination around 5 to 6 hours before our planned meet-up at Cebu City South Bus Terminal.
And we made that decision while I struggled for words, accepting an award at a hotel in Cebu.
After our rendezvous at the waiting station, we hop aboard a Ceres Bus that will take us to the town of Ginatilan.
Leaving Metro Cebu's bustle behind, we set off on our trip to Ginatilan.
The long, 5-hour bus ride was surprisingly not a pain in the ass.
With comfortable seating and views of the verdant landscapes, it was quite a pleasant ride.
Occasionally, we snoozed off to get a little energy for the exploration hike from Inambakan Falls to Mount Hambubuyog.
When we arrived at 711 Ginatilan, we bought water and snacks and hopped on a motorcycle that would take us to Inambakan Falls.
Then, we arrived at the entrance of Inambakan Falls.
From there, we descended to Inambakan Falls, following the concrete stairs.
Along the way, many questions were running through my mind.
Where will we go after our hike to Mount Hambubuyog from Inambakan Falls?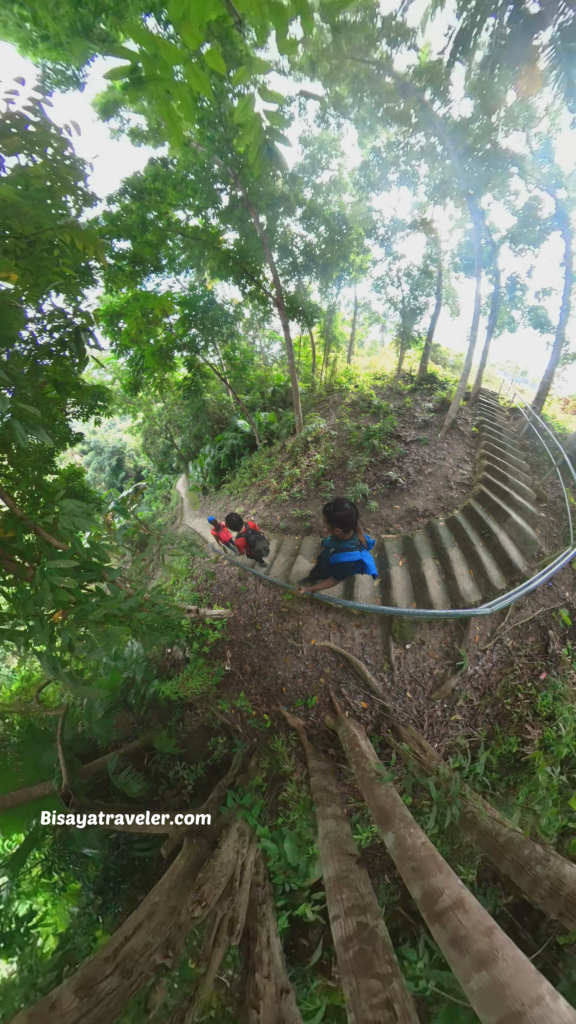 Oslob? Salamanca? Or Boljoon?
Can we finish this hike in one day?
I know many have conquered the hike from Inambakan Falls to Mount Hambubuyog.
But that was before the pandemic and Odette ravaged the entire island of Cebu.
And a lot of things can change in two years.
Some trails may become impassable, while others are covered in thick, lush vegetation.
And, while Naomie is a little familiar with the trail, I'm not sure how this hike will go.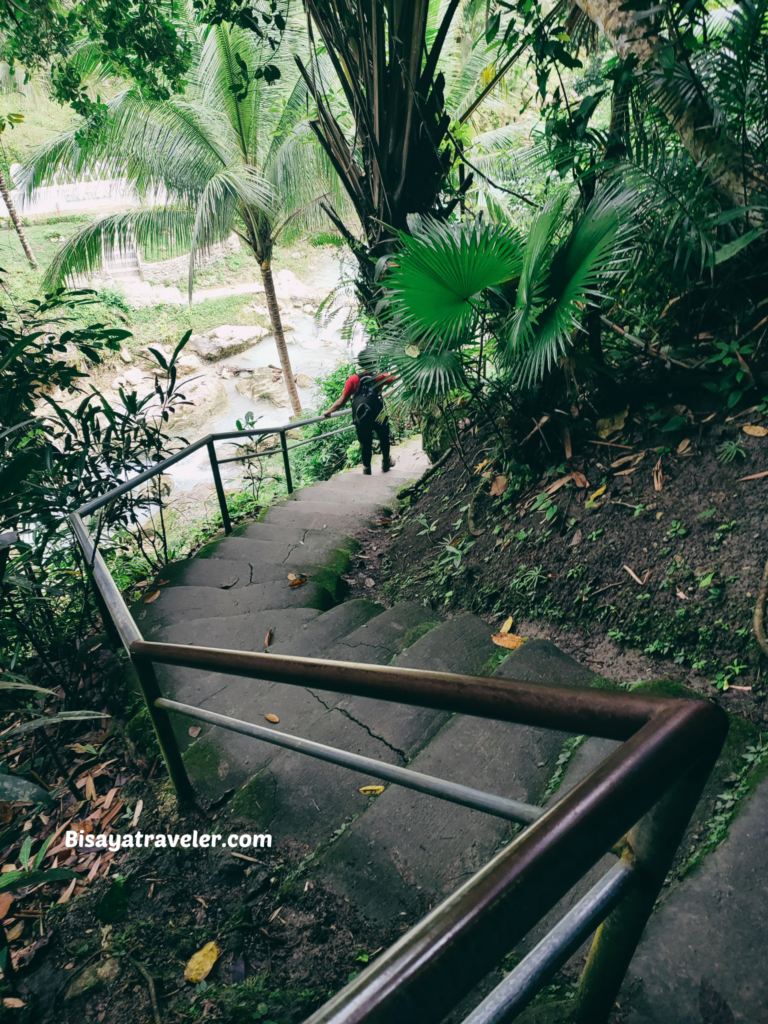 Everything is uncertain.
And uncertainty is the main ingredient of adventure and a trip outside your comfort zone.
Why do I crave uncertainty? Is it satisfying to venture out of my safe bubble?
Naturally, we humans want certainty and are reluctant to leave our safe bubble. 
We are wired to avoid uncertainty because it makes everyone feel anxious.
But, our safety bubble keeps us from personal growth and stops us from doing the things we want.
Also, stress stimulation and anxiety bring out the best in me.
When I say no to comfort, I escape my safety net.
And that challenges me to improve my performance and abilities.
As we followed the trail to Inambakan Falls, I was blown away by its natural beauty.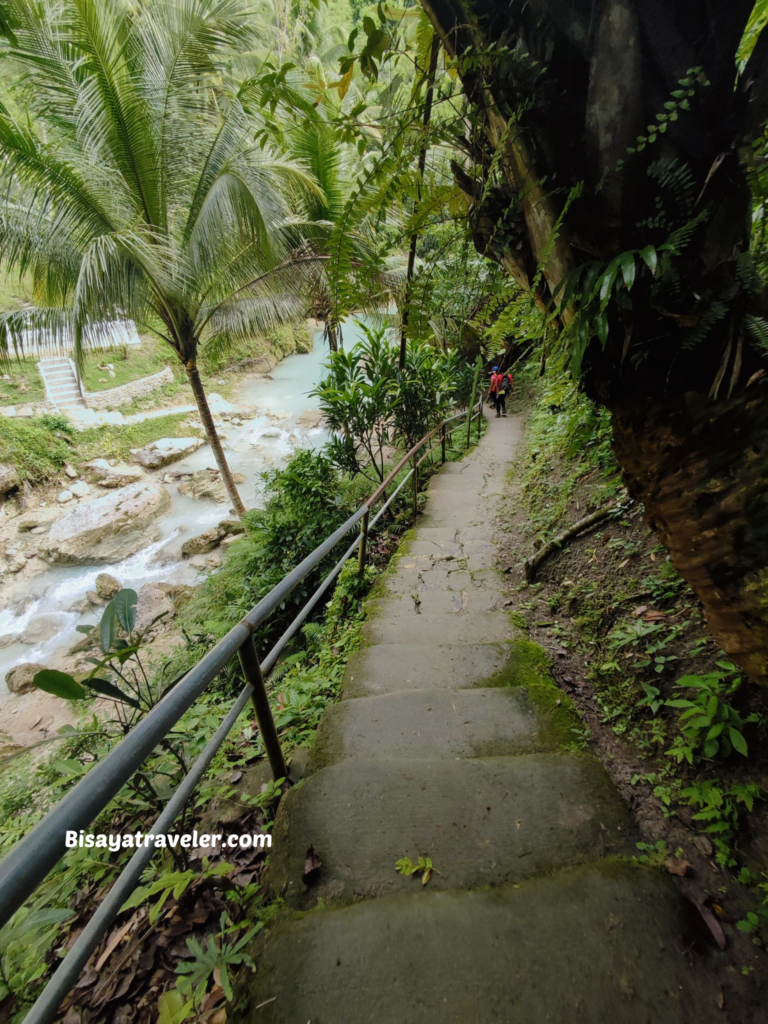 The waters are impossibly blue, and the landscapes are transcendent.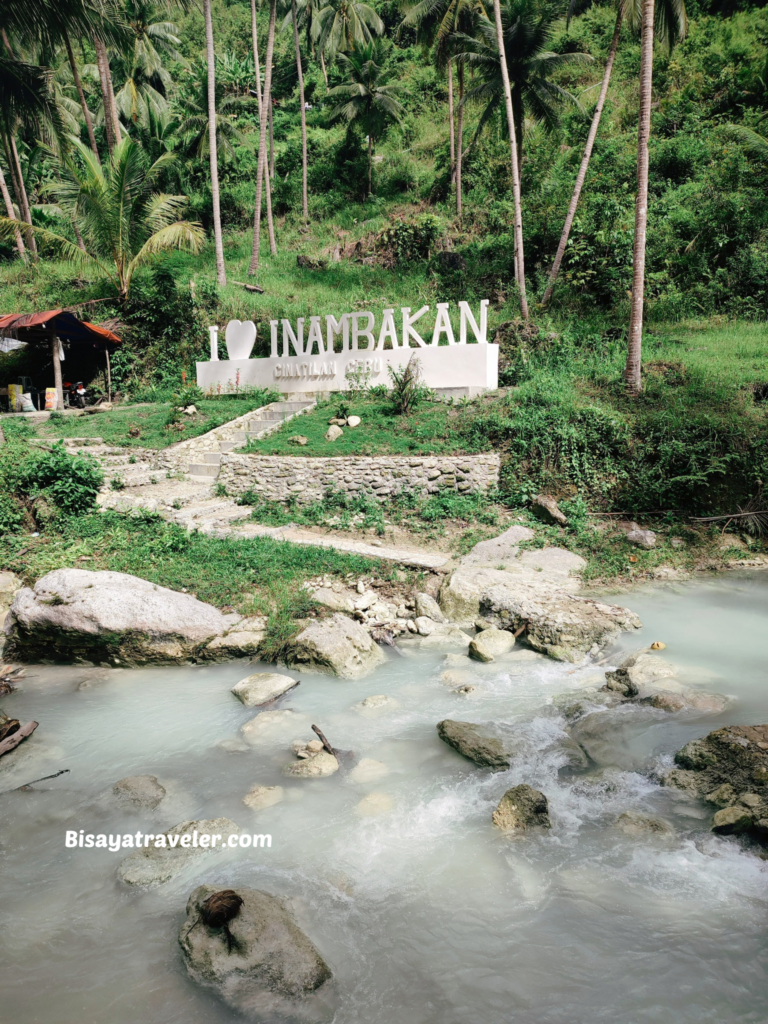 Soon, we arrived at the first level of the majestic Inambakan Falls.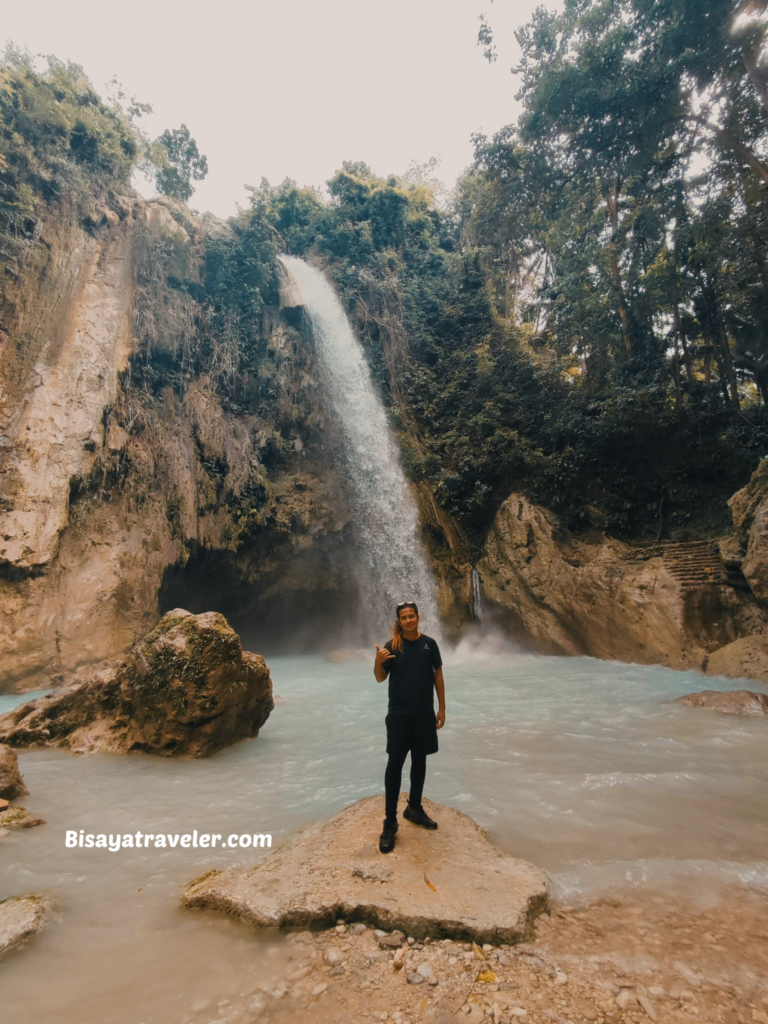 I was a little surprised when I saw Inambakan Falls.
It wasn't as grand and majestic as it was when I first saw it years ago.
I guess Odette and the recent floods have changed the landscapes of Inambakan Falls.
Nevertheless, it's alluring and a mesmerizing sight worth a ton of pictures.
The crystal clear and turquoise waters were hypnotic and tantalizing.
As much as I wanted to take a dip, an adventure was waiting, and Mount Hambubuyog was calling.
From the 1st level of Inambakan Falls, we climbed the spiraling stairs to commence our not-so-comfortable and one-of-a-kind journey.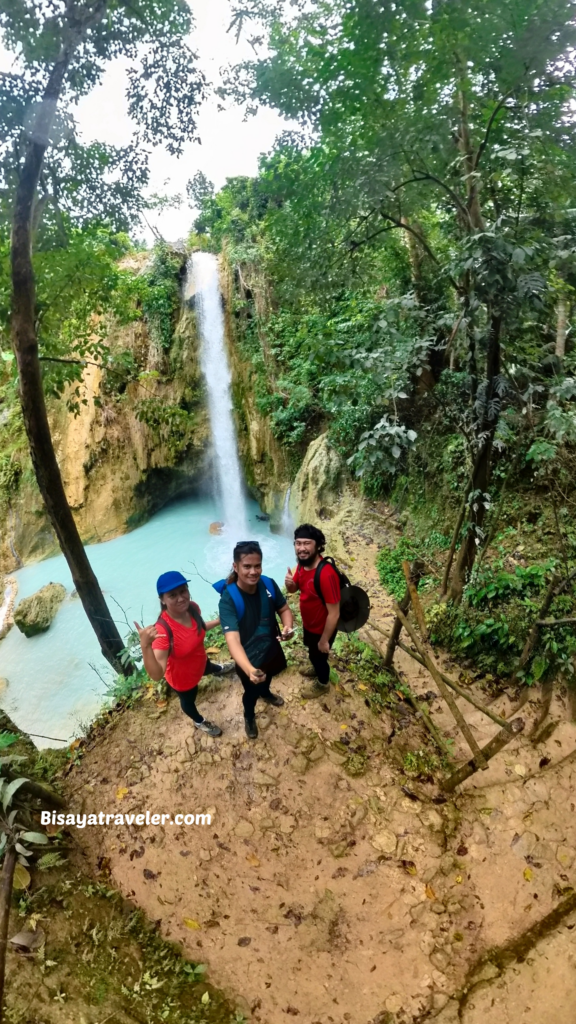 One of the things I like about leaving my comfort zone is that it lets me engage in new experiences while opening me up to make new friends.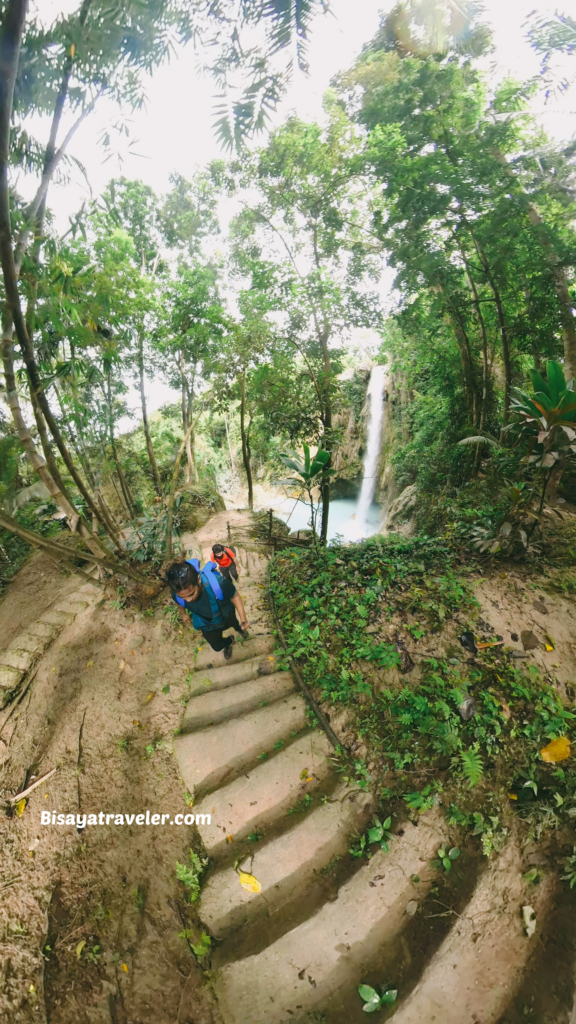 I've been friends with Naomie and Berny for over a year.
And I would have never met them if I had stayed in my comfort zone years ago.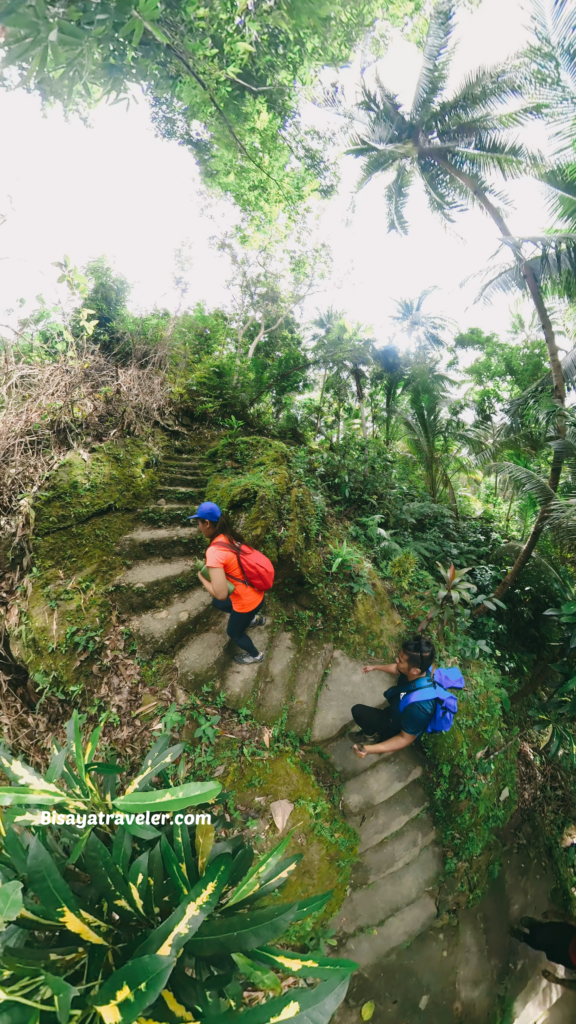 If I didn't venture into blogging and opened my world to other people, I would have never met these bubbly and beautiful souls.
We did lose on our way to Mount Hambubuyog from Inambakan Falls.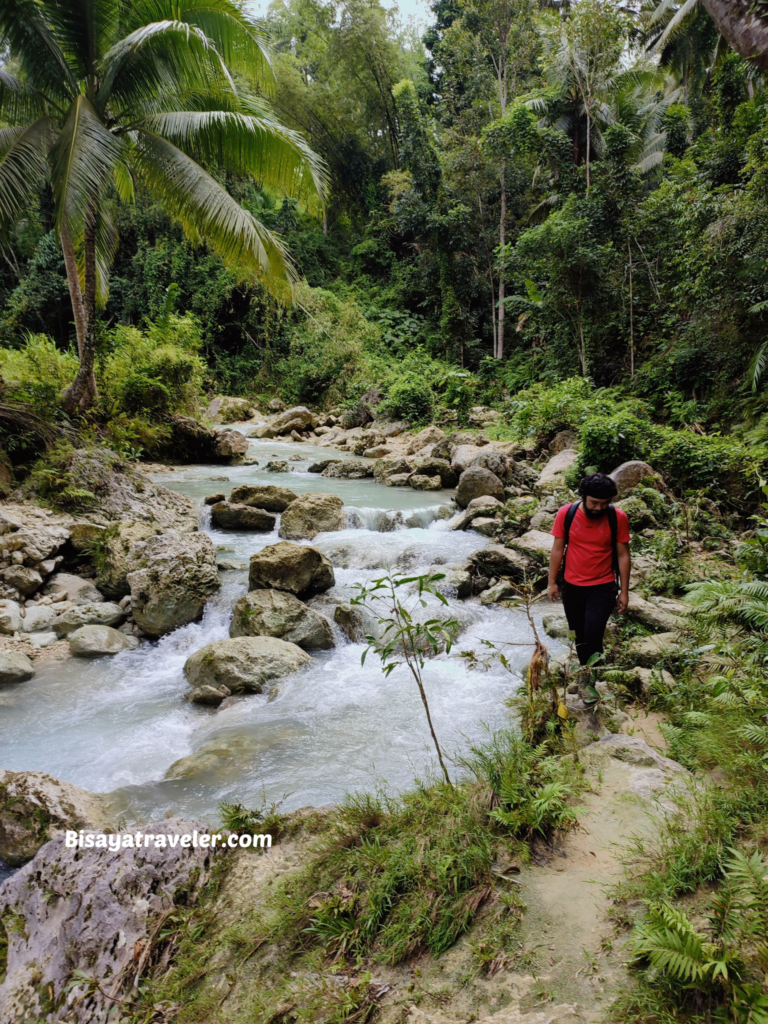 There was barely anyone around to ask for directions, and some trails were covered with grass.
We did bump into one friendly local along the way.
But I guess he didn't get our question clearly because he pointed us in the wrong direction.
Even with this mishap, I still knew we could finish the hike from Inambakan Falls to Mount Hambubuyog.
Years of misadventures and exploring places outside my comfort zone have made me prepared and resilient for whatever comes my way.
Hiking and life can be one tough, mean son-of-a-bitch.
Things may happen that will push you out of your comfort bubble.
The more diverse my experiences, the more confident I am in my ability to face new situations.
The more open I am to new possibilities, the more resilient I'll be.
And that makes me more human than a zombie.
After two descents and a wrong turn, we discovered the broad road that leads to Mount Hambubuyog.
Then, we went in the wrong direction again until my gut feel suggested heading west, which was the right way to Mount Hambubuyog.
So far, this hike from Inambakan Falls to Mount Hambubuyog hasn't been comfortable.
It's a new and unique trail for me and a world away from my daily routine.
And that's what we want.
Everyone loves the warmth and coziness of their comfort zone.
But, it can be a double-edged sword as well.
When you stay in your comfort zone for too long, you start to become lazy, content, and bored.
And you're setting yourself up to become another talking and walking zombie.
You, then, live a life without meaning besides maintaining your status quo.
We kept following the road to Mount Hambubuyog, asking for directions from locals.
I had a blast hiking this trail with my friends on the section of our hike from Inambakan Falls to Mount Hambubuyog.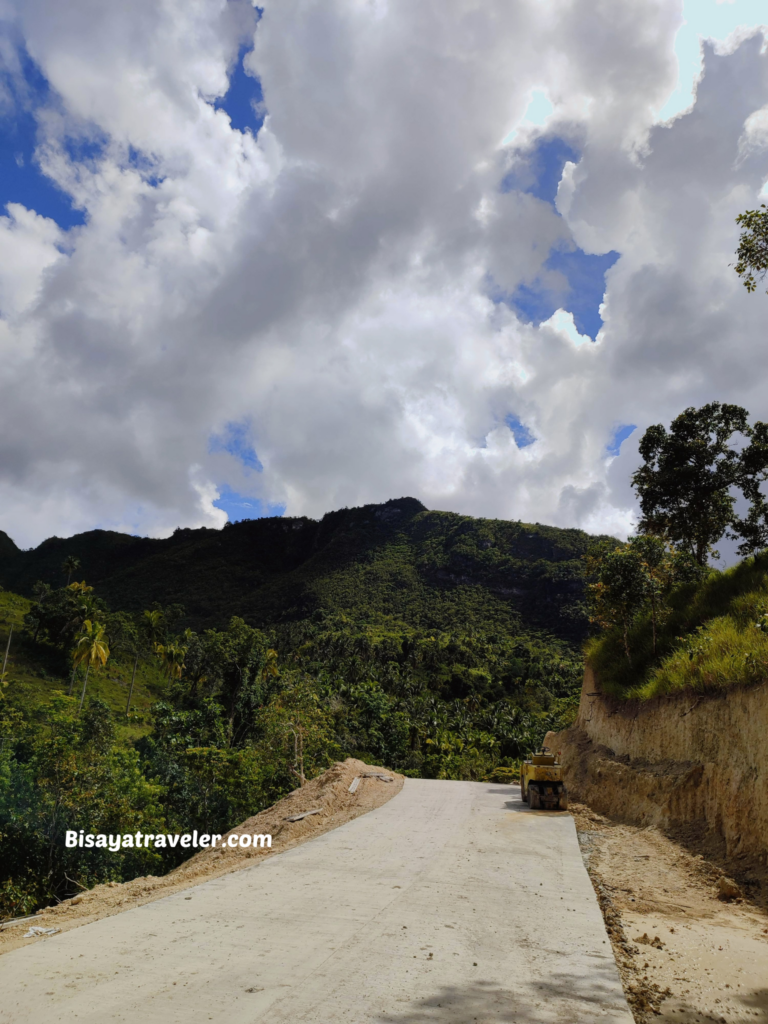 As fatigue set in, we started walking like zombies.
We are, however, far from becoming a trio of mindless zombies.
Do zombies stop by Inambakan Falls to admire its immaculate waters?
Hell no!
Do zombies live in the moment and do meaningful tasks?
Nope.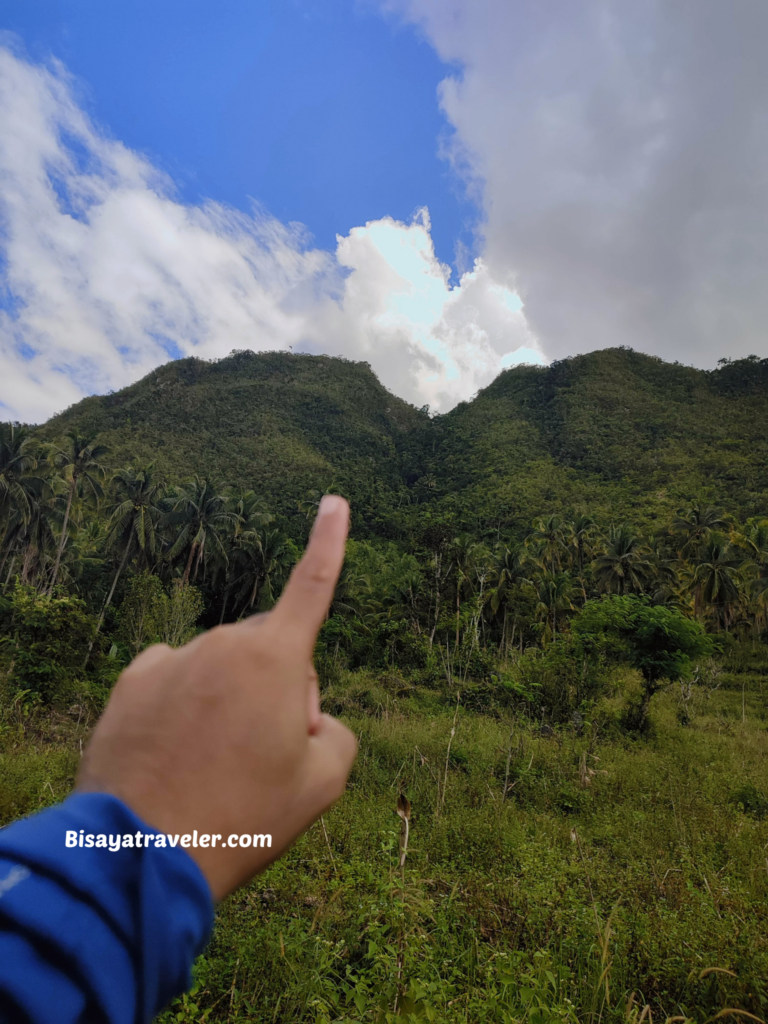 I know zombies aren't real, but sometimes modern life feels like the undead.
And in many ways, modern humans are zombies.
The thing is, we are fascinated by the undead because they represent our monotonous daily life.
Like zombies, our lives are monotonous because of our need to consume.
We get out of bed, head to work, stare at the computer screen all day, go home, eat dinner, and spend hours on Facebook.
Then, we head to bed and do the same things the next day.
We stick to this routine because we need to pay our bills and satisfy our cravings and impulse to buy new things.
With our endless drive to consume, we have become slaves of mindless consumerism.
Ever wondered why we're so attracted to the sale promos, like 11.11s and 12.12s?
We have become bland, ordinary, and repetitive creatures that have lost their sense of adventure.
Since I didn't want to become a modern-day zombie, I stepped outside my comfort zone and took this unfamiliar adventure.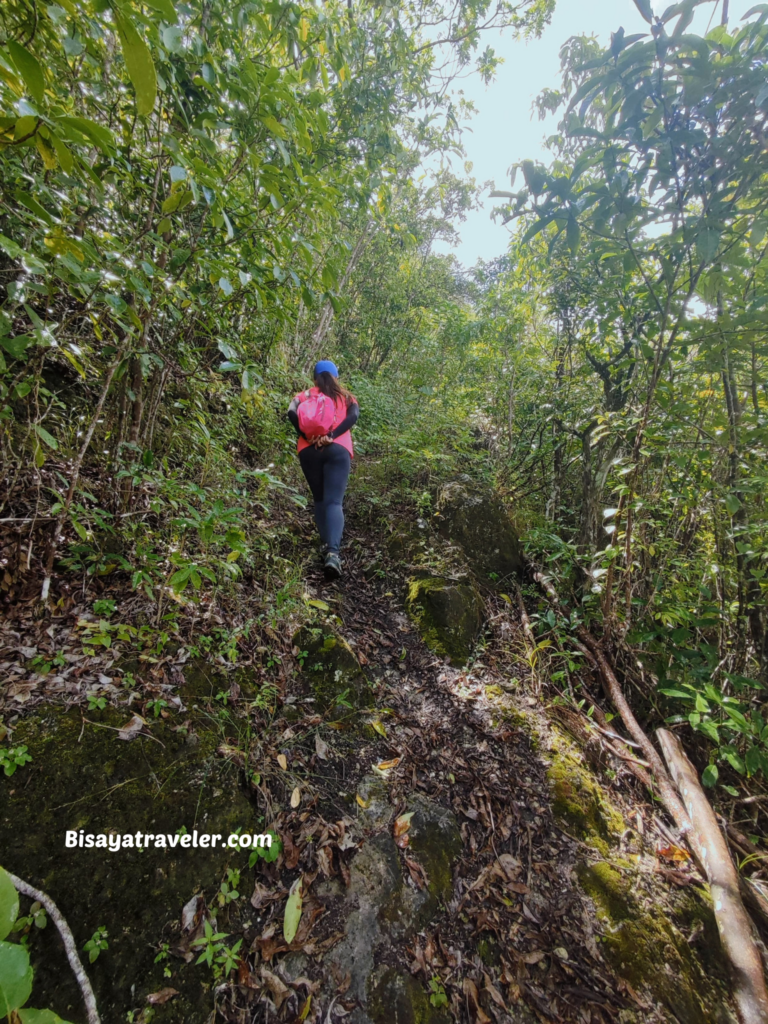 Moments later, we found the zigzagging trail that would hopefully lead us to Mount Hambubuyog.
The uphill hike was scenic and exciting.
Along the way, we're treated by stunning vistas of the adjacent mountains.
As for the trail, it's pristine and barely touched by the modern world.
And guess what?
There were tons of challenges on our way up.
There were sharp blades of grass almost five feet tall and plenty of prickly plants and branches.
With unpassable trails covered in vegetation, we also got lost on our way to Mount Hambubuyog.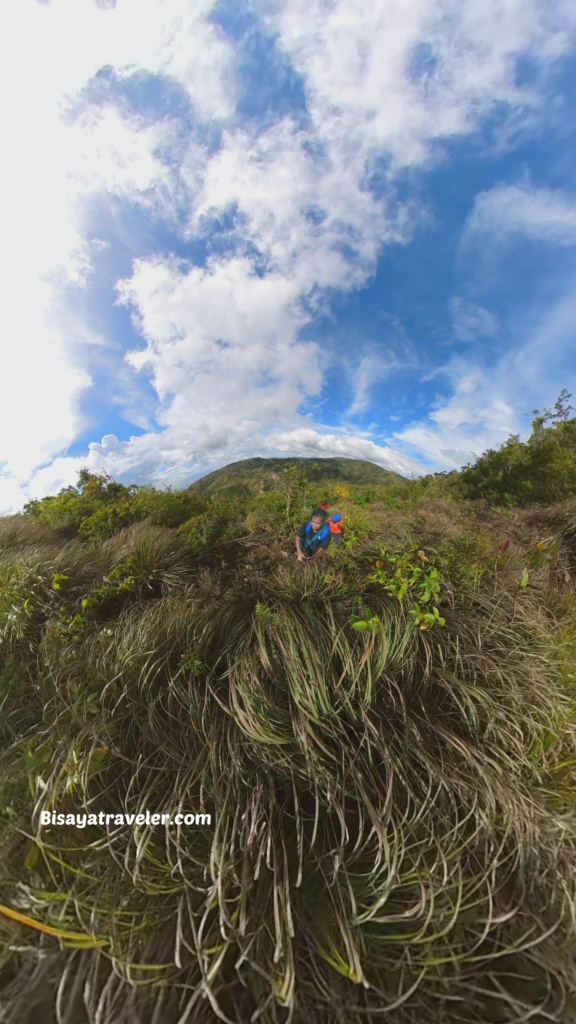 There were moments when I thought our hike to Mount Hambubuyog from Inambakan Falls was hopeless and fruitless.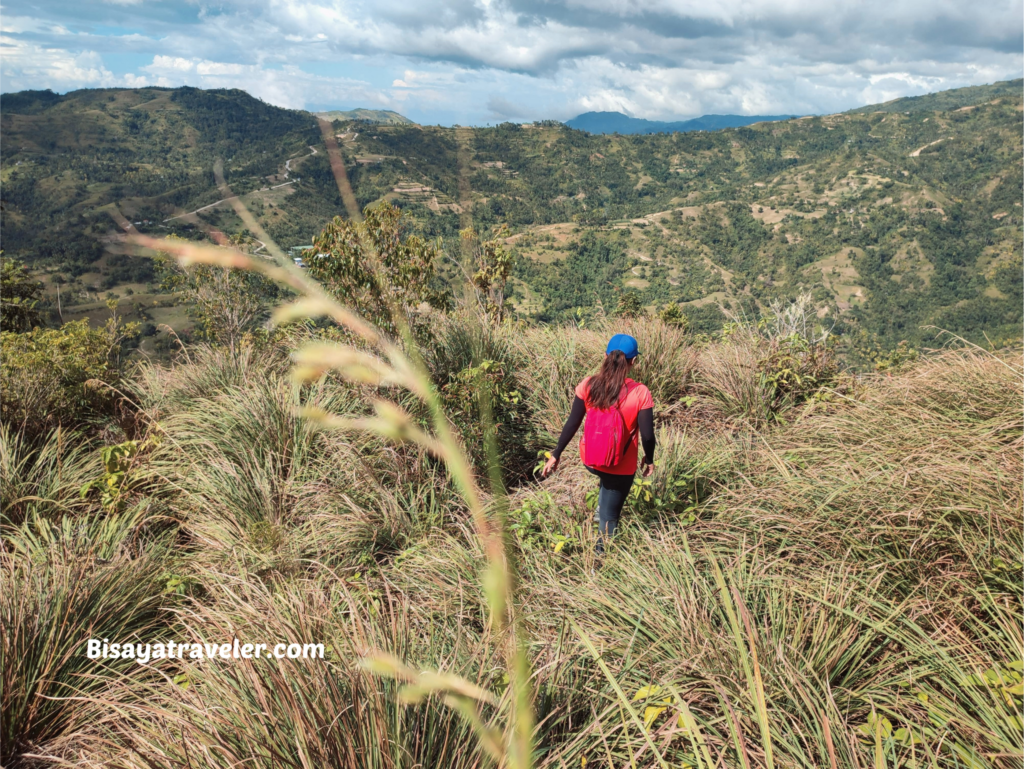 But I'd rather spend my time trailblazing and hiking in wild places than doing thoughtless tasks like staring at my smartphone for hours.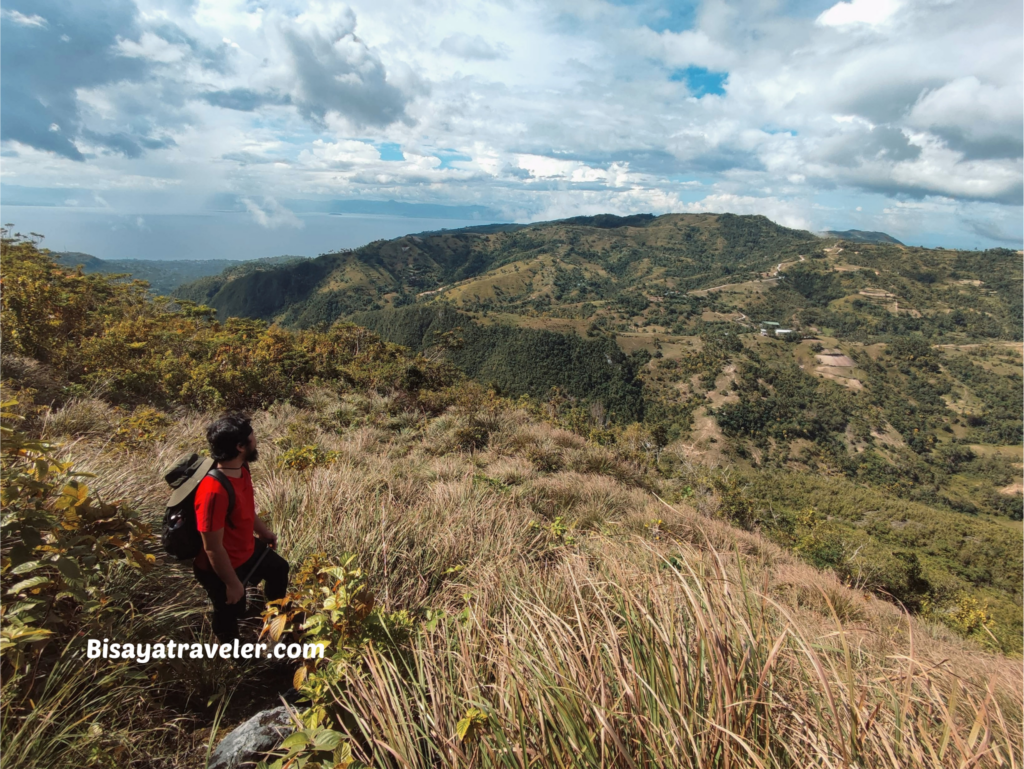 Modern humans spend a lot of time on thoughtless and meaningless tasks, as zombies do.
On average, we spend over four hours on Facebook every day doing pointless and repetitive tasks.
These tasks make life in the modern world so mindless.
And the worst part is, everyone is getting infected by this kind of zombie outbreak.
Every time you refresh Facebook or surf the web, you get closer to being infected by the zombie plague.
With social media, smartphones, and new technological innovations, it's easy to become infected by today's zombie plague.
Eventually, we weathered the storm, and I finally breathed a sigh of relief.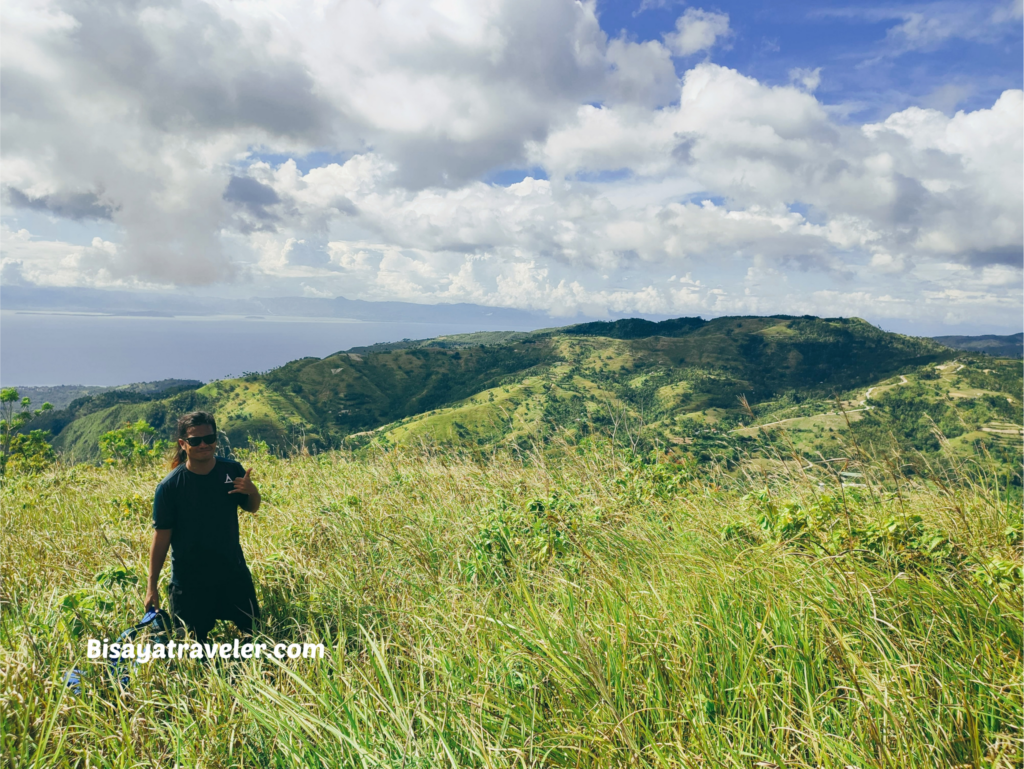 It was the most demanding section of our hike from Inambakan Falls to Mount Hambubuyog.
I got scratches on my forearms, and my right hand was even bleeding after this battle.
We survived this section because we have learned so much from our trips outside our comfort zone.
You can't learn and grow by following an already lit and established path.
As AJ Leon once said, "don't follow well lit paths; grab a machete and hack down your own".
Our sense of direction and knowledge in hiking weren't developed overnight.
And they surely weren't developed by just watching Netflix and checking out Facebook for hours.
And even if you listen to a myriad of seminars and workshops, nothing beats experience.
Trust me, I know a lot of so-called well-trained hikers who still have no sense of direction, despite all their training.
We took a breather, ate our lunch, and made our way to the Divine Mercy Chapel in Mount Hambubuyog.
And we had so much fun in Mount Hambubuyog.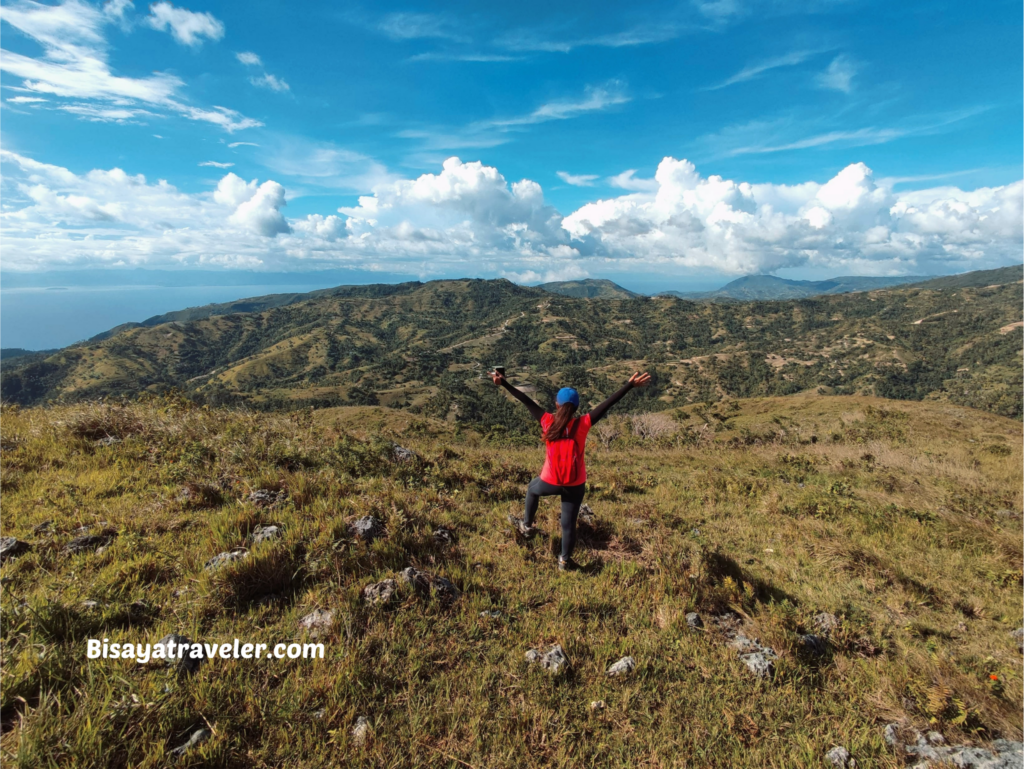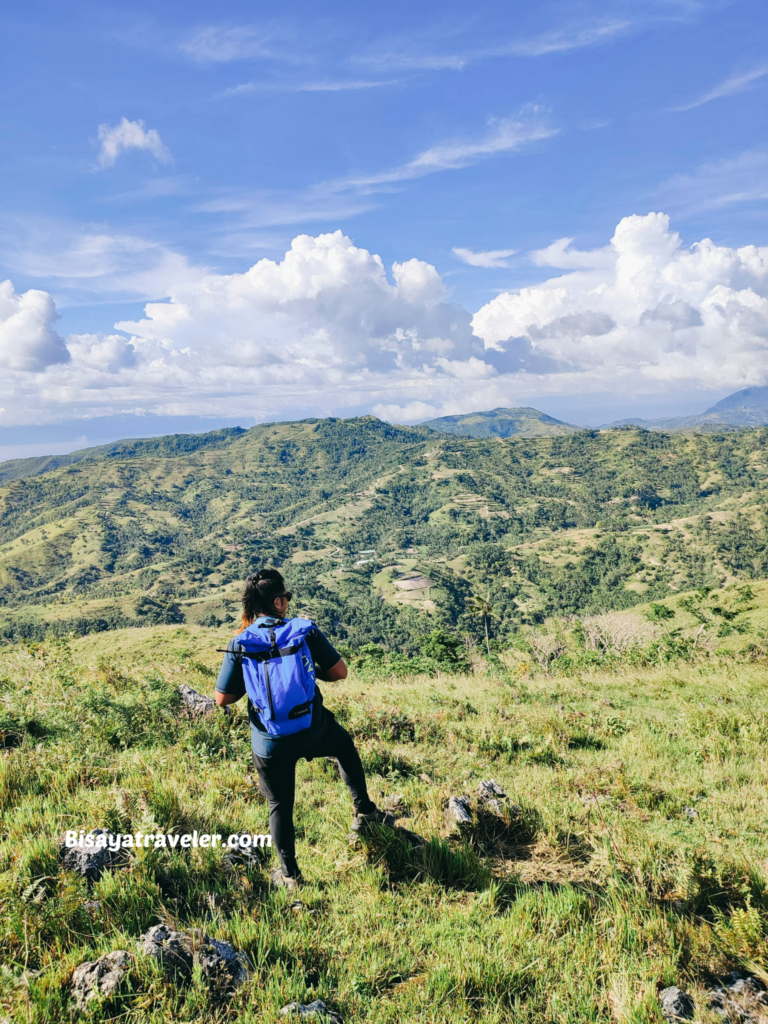 We ran, jumped, and explored Mount Hambubuyog.
Sometimes, we acted like kids enjoying the summer's first day of summer.
And we didn't give a damn.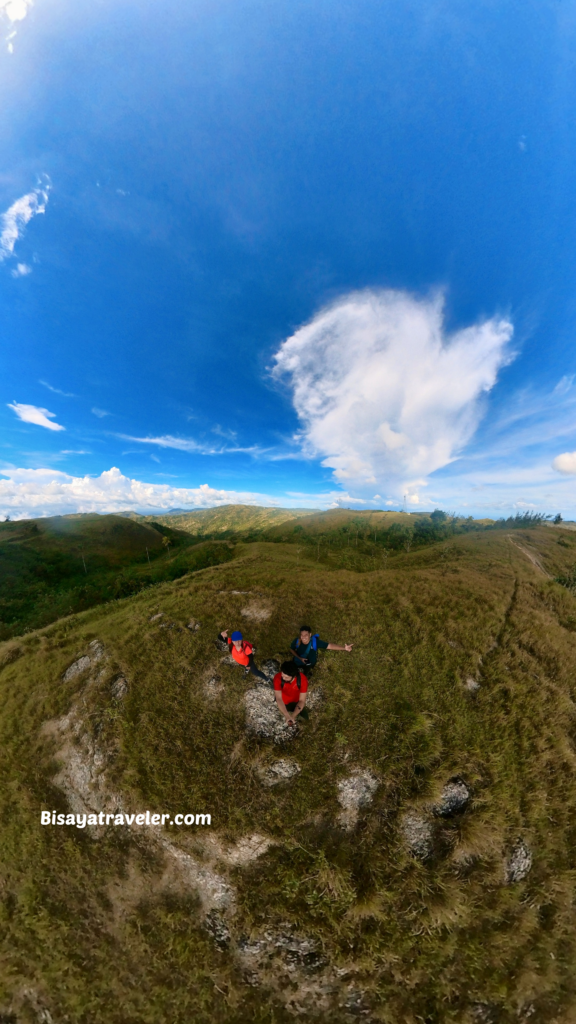 There's no universal law that governs how people should live their life.
And there's no perfect recipe for a satisfying life that suits everyone.
So, customize your life based on your tastes.
Paint the canvas that you call life in colors that epitomize you.
After a short break at the Divine Mercy Chapel, we followed the road that would take us to a gorgeous and underrated side of Oslob, Cebu.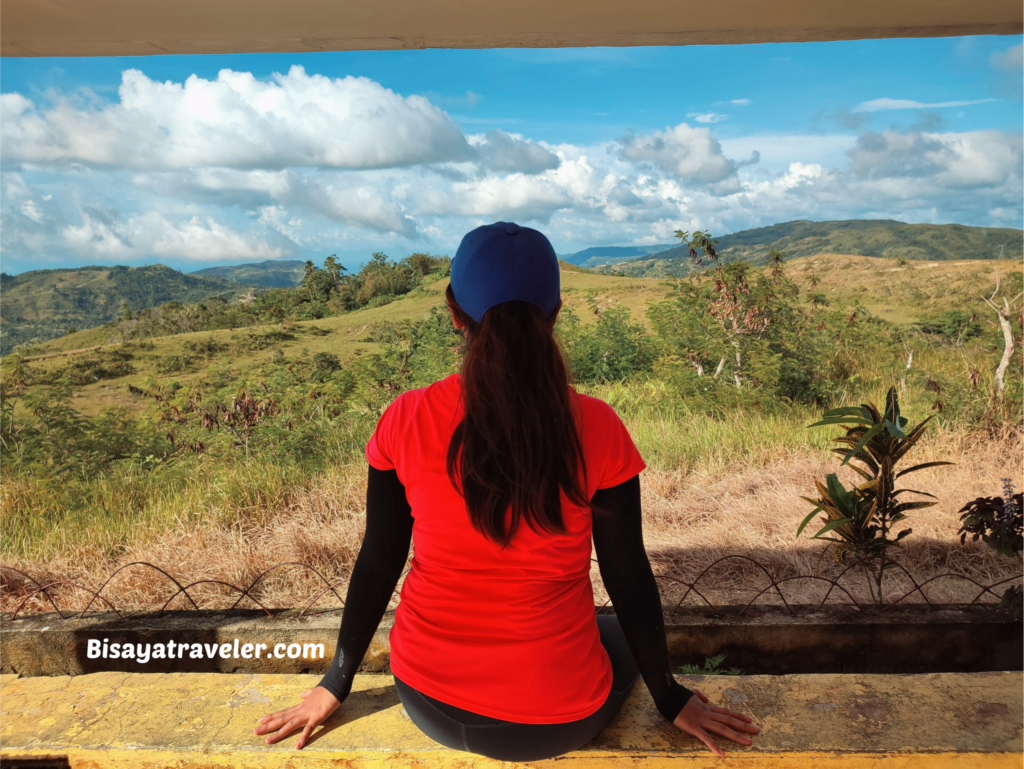 When I was young, I always thought Cebu's tourism was all about beaches, whale sharks, and historic sites.
Little did I know, it's packed with hidden gems.
After stepping out of my shell, I discovered that the possibilities are endless in Cebu.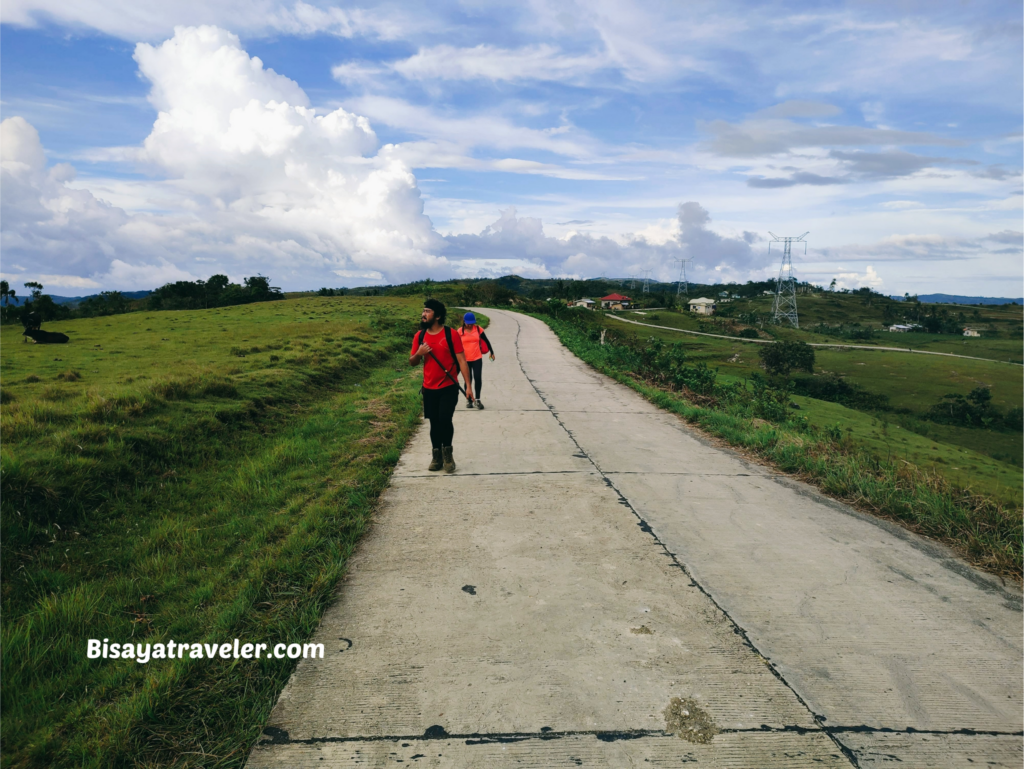 And, on this hike, I saw a side of Oslob that had never been featured in any travel vlogs and magazines.
It's a thing of beauty.
The verdant grass, rolling hills, and serene feel remind me of Batanes.
Yeah, I know it's a cliche, but I couldn't think of a better place to compare it.
Once you're outside your comfort zone, you'll have opportunities to see new possibilities for your life.
Afterward, you'll be free to make new plans and choose new dreams.
But if you stay within your comfort zone, you won't have the chance to see new things and possibilities.
You'll only keep wishing, dreaming, hoping, and longing for a better and new life.
And that's worst than being a real zombie.
At least, these bloodied and gray-skinned creatures are aggressive in pursuing their goal, which is to eat humans.
In some ways, this Mount Hambubuyog and Inambakan Falls hike reminds me of the zombie film, "Warm Bodies".
Love, in Warm Bodies, turned a brain-eating and dead zombie back into a living human being.
And in this case, my love for adventure empowered, brightened, and gave life to my seemingly lifeless existence.
Warm bodies and our hike also propose that there's a cure to hopelessness and our zombie-like outbreak: friendship, love, and hope.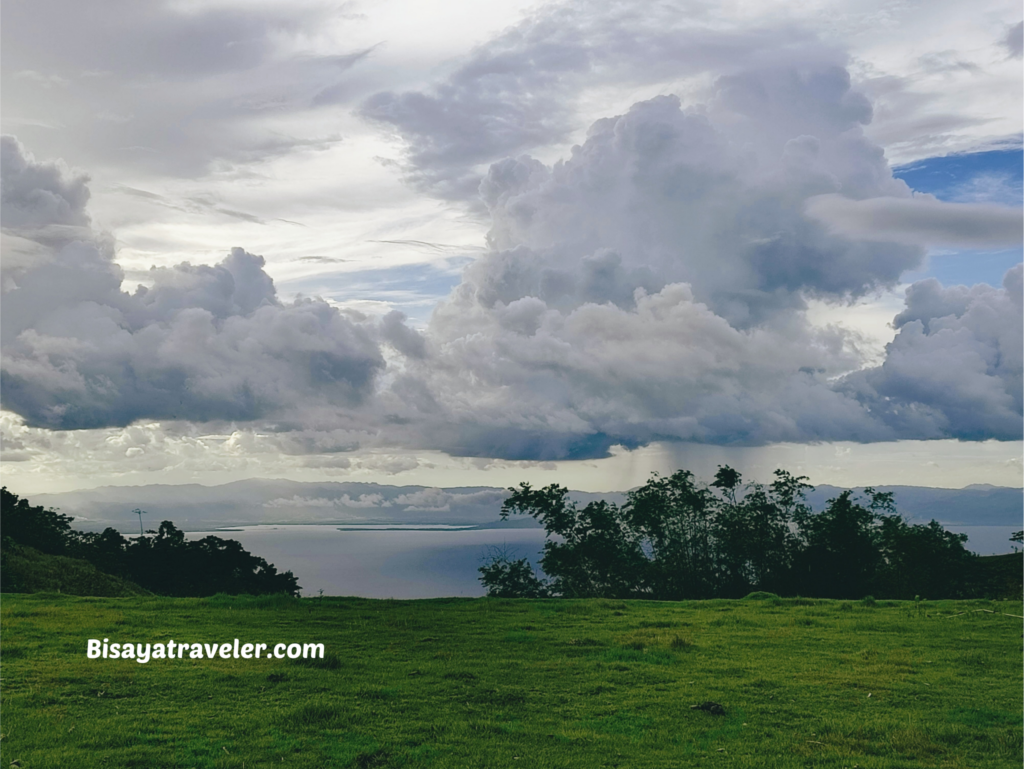 How to get to Inambakan Falls
Head to Cebu City's South Bus Terminal.
Take a bus ride to Ginatilan. Tell the driver or conductor to drop you off at 711 in Ginatilan proper. Travel time is 4 to 5 hours, and the fare is around PHP 318.
From 711 Ginatilan, take a habal-habal ride to Inambakan Falls. Travel time is 30 minutes, and the fare is about PHP 50 to 100 per person.
To enjoy Inambakan Falls, you'll have to shell out PHP 50 per person.
---
Being an adult stinks. It's freaking hard, fast-paced, and sometimes boring.
But you always have the option to spice up your adult life.
So, step outside your comfort zone, live your life and escape the modern world's zombie outbreak.