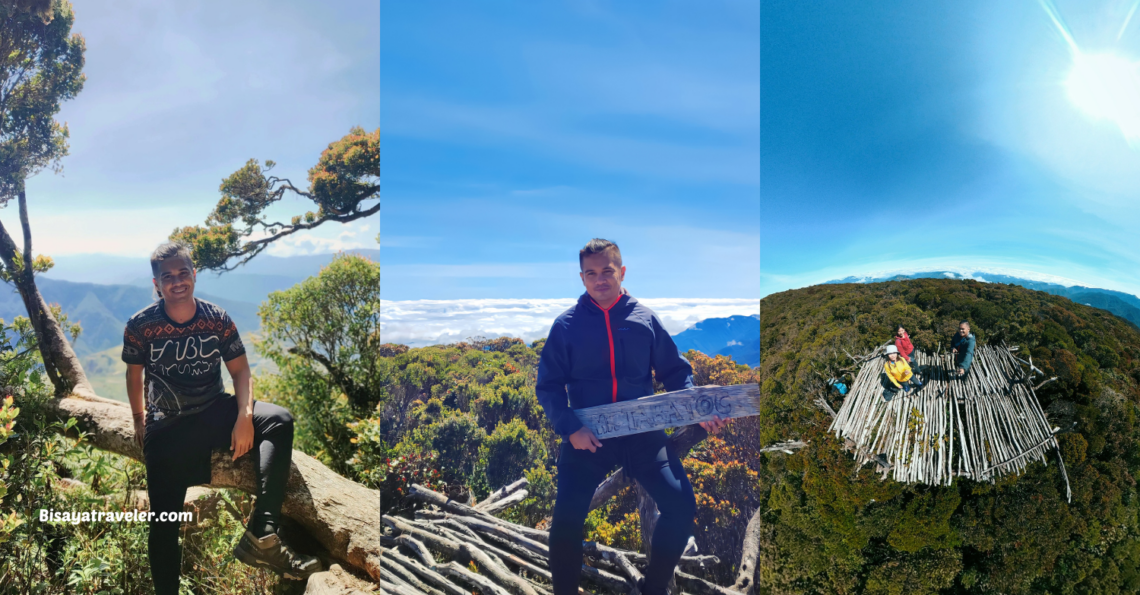 Mount Tabayoc: An Adventure Above The Clouds
Imagine you've just gotten off a dizzying, high-speed 9-hour overnight road trip after a flight. You're tired, dizzy, and sluggish, and suddenly, you're climbing the sixth-highest mountain in the Philippines – Mount Tabayoc.
Sounds like a recipe for disaster, right?
Well, not exactly.
With its steep, challenging "monkey trail", I knew the hike to the top of Mount Tabayoc wouldn't be a walk in the park.
And I could have skipped this part of our Luzon trip and relaxed on Lake Tabeo – the base of our Mount Tabayoc hike.
But guess what?
There was no way I was passing up this opportunity.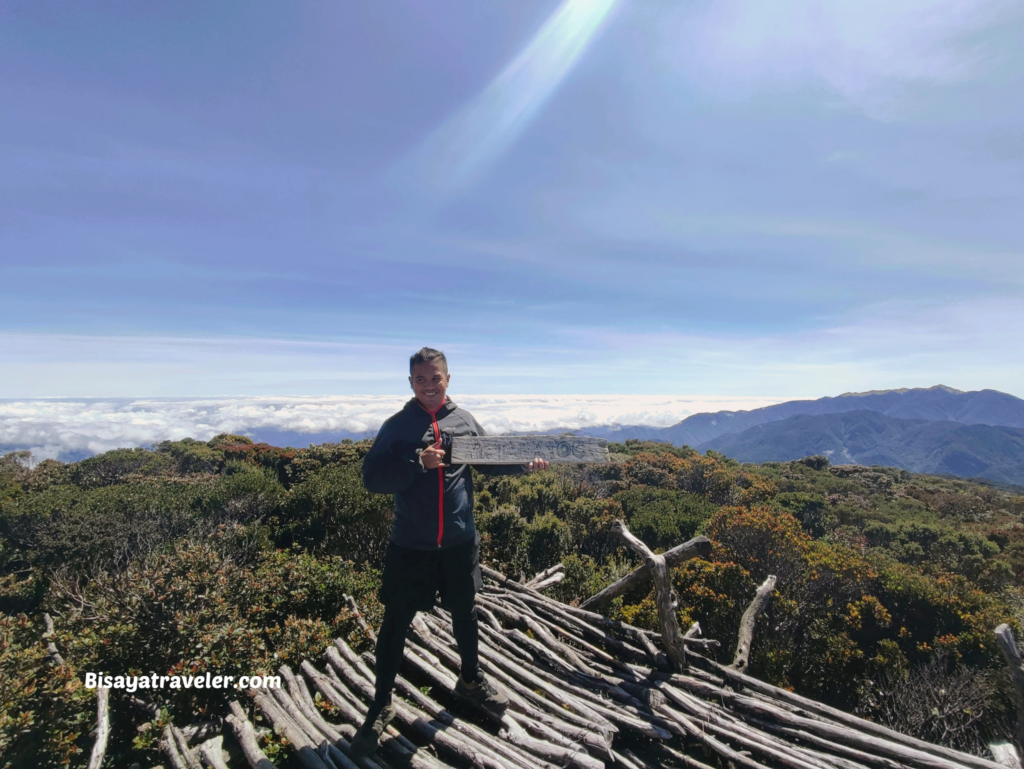 I deserve a fun, memorable and challenging adventure above the clouds.
And besides, a classic mountain adventure offers more than giving you lasting memories and enjoyment.
Adventures are my soul food.
They are satisfying experiences that expand my mind and give my life color.
Whenever I'm outside my comfort zone, I learn something new and become a better version of myself.
And so, I geared up, stretched, and started visualizing our hike to Mount Tabayoc – the second-tallest mountain in Luzon.
My Mount Tabayoc adventure
What's the craziest thing you did for love?
Did you climb the highest peaks in the Philippines, like Mount Apo, Mt Arayat, and Mount Tabayoc?
Did you risk your life to express your love?
And did you spend a fortune for the sake of love?
We all did crazy things for love.
Trust me, I did some strange things for my love of adventure.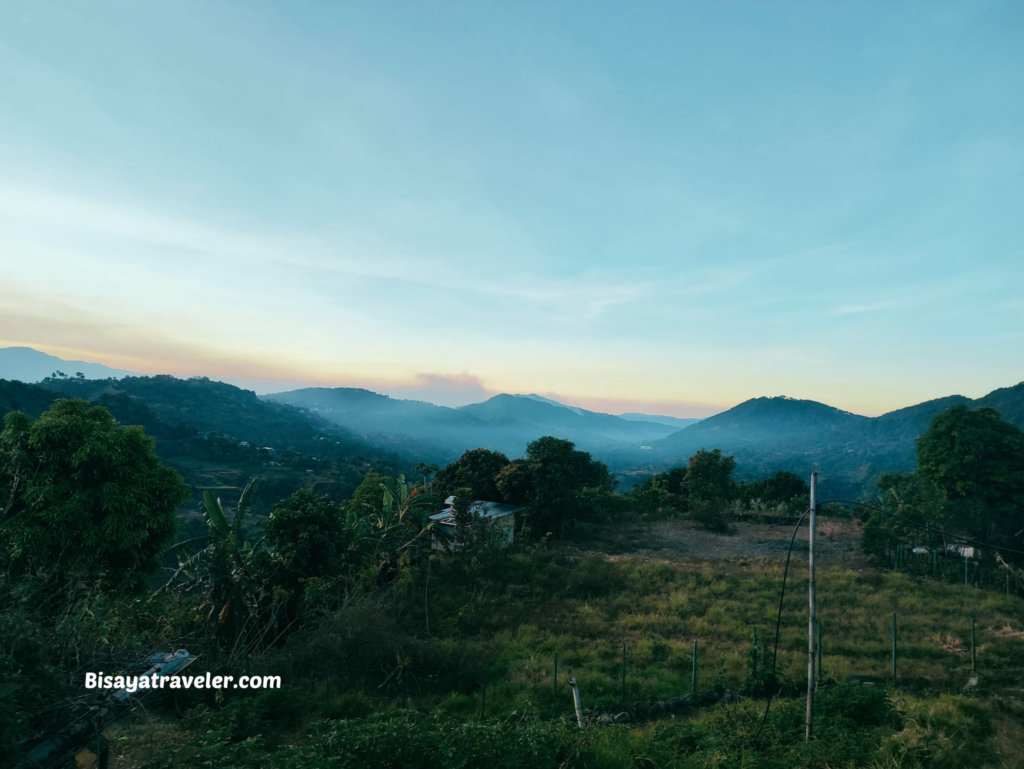 As a starry-eyed lover would say, I can't survive this world without my true love.
And I can't understand life without adventure.
Life should be a series of adventures.
We're born to be treasure hunters, explorers, and pioneers.
We're not meant to be stuck in a routine and sleepwalking through life.
That's why I went on a scenic trip to Luzon on a beautiful, sunny February weekend.
And the first stop of my Luzon adventure was Mount Tabayoc.
08:06 AM – Lake Tabeo
I'll be honest.
I'm a bit scared of hiking the maze-like monkey trail in Mount Tabayoc.
I know it's a short, minor climb we can finish in less than six hours.
And I have climbed several more demanding and dangerous trails in the past.
But my mental and physical preparations for our Luzon trip weren't much.
With a never-ending parade of recent setbacks, I didn't have time to plan and prepare for my Mount Tabayoc and Mount Pulag hike.
I also have never underestimated a mountain, especially if that peak has a height of 2,820 meters above sea level.
After a dizzying ride in Benguet from Baguio, we arrived at the mystical Lake Tabeo, the jump-off point of our Mount Tabayoc hike.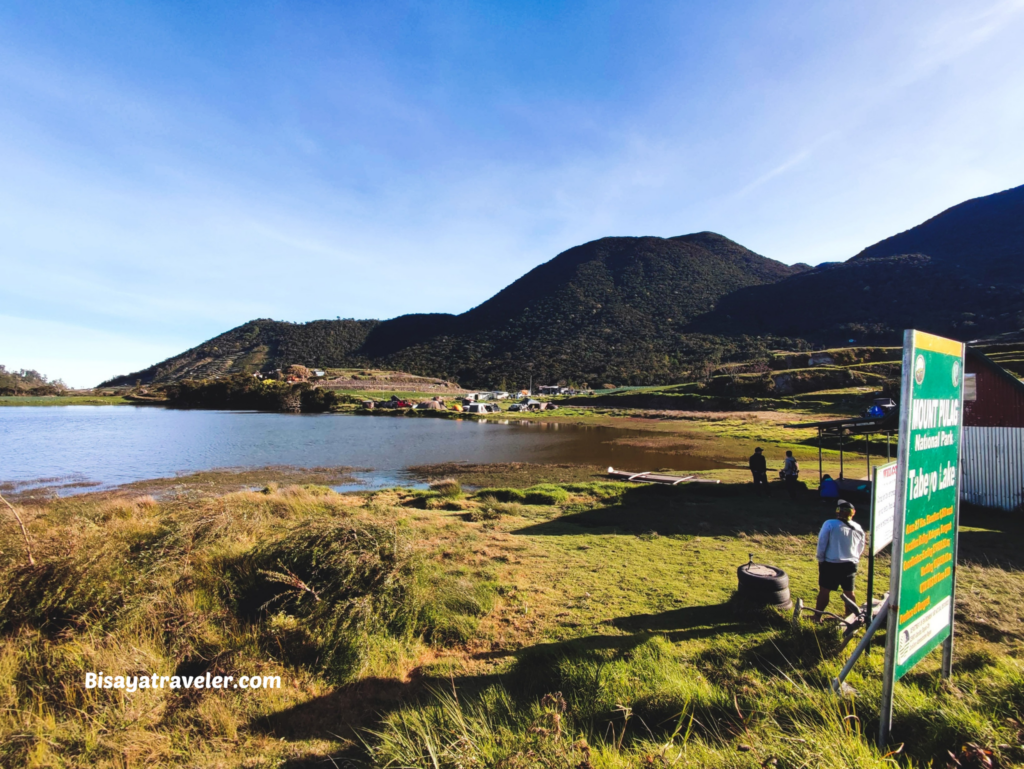 I packed my daypack and roamed the area, savoring the fresh mountain air and majestic sights.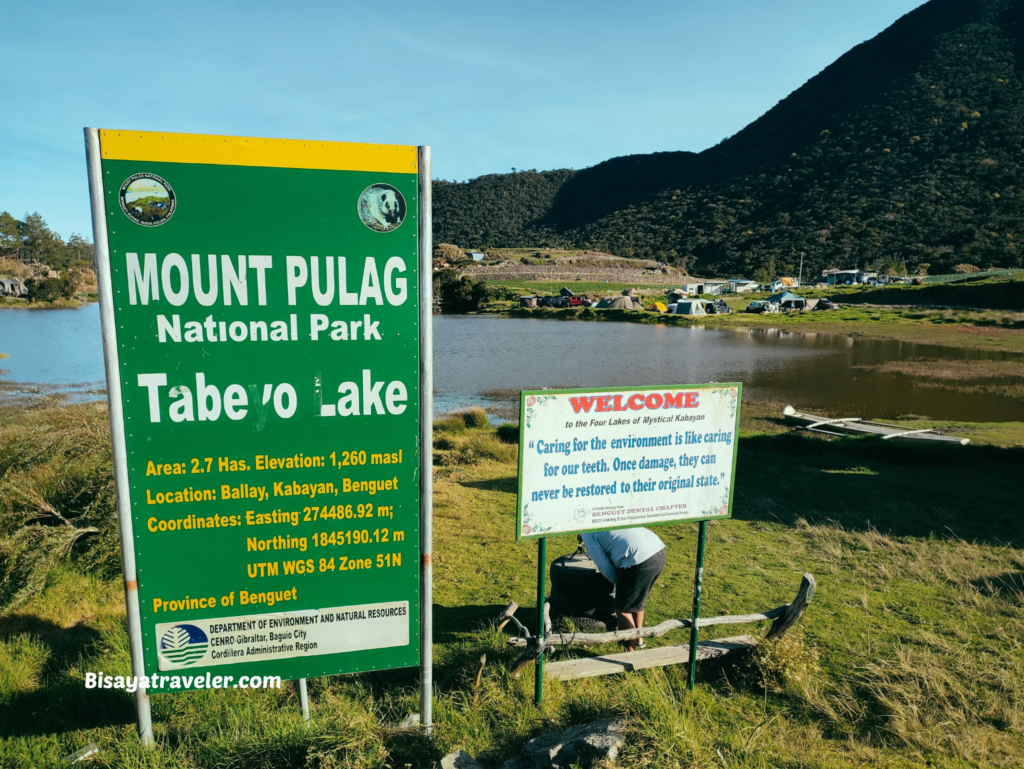 I loved every minute and moment of this journey.
The rejuvenating morning breeze, the awe-inspiring scenery, and the upbeat company are prime ingredients for a memorable adventure.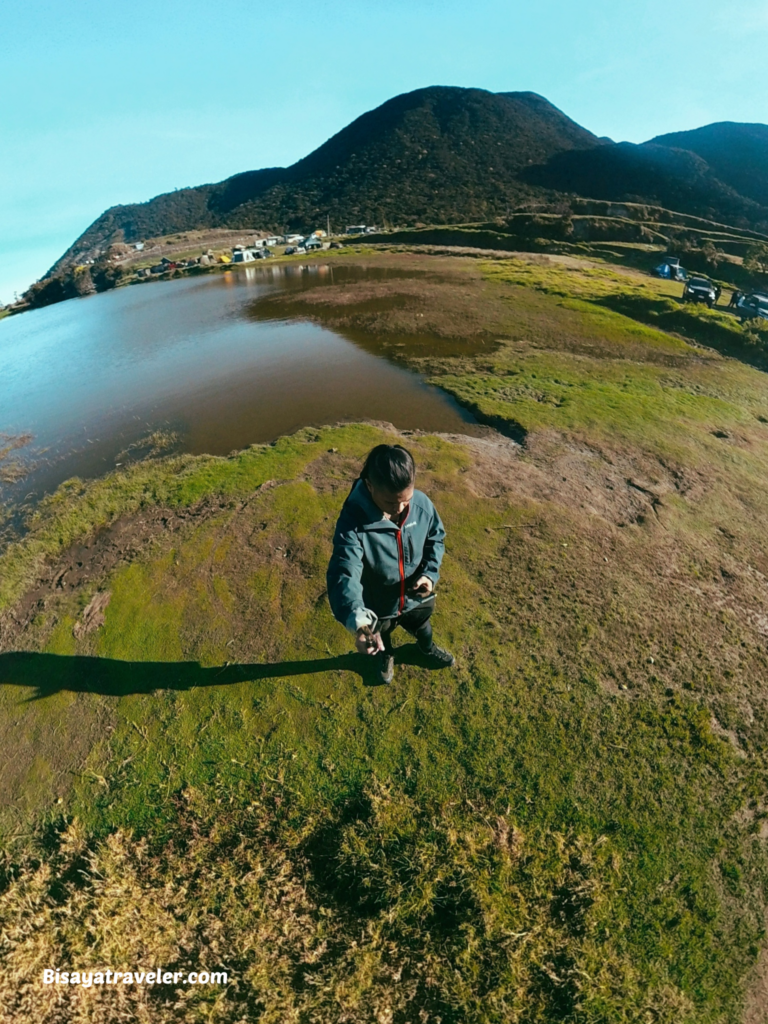 I saw a bunch of people on the shore of Lake Tabeo relaxing and glamping.
One day, when my legs are too weak to climb the highest mountains in the Philippines, I'll have this kind of experience or adventure.
Moments later, we huddled on the lake shore, where we got tips and instructions on how to climb Mount Tabayoc.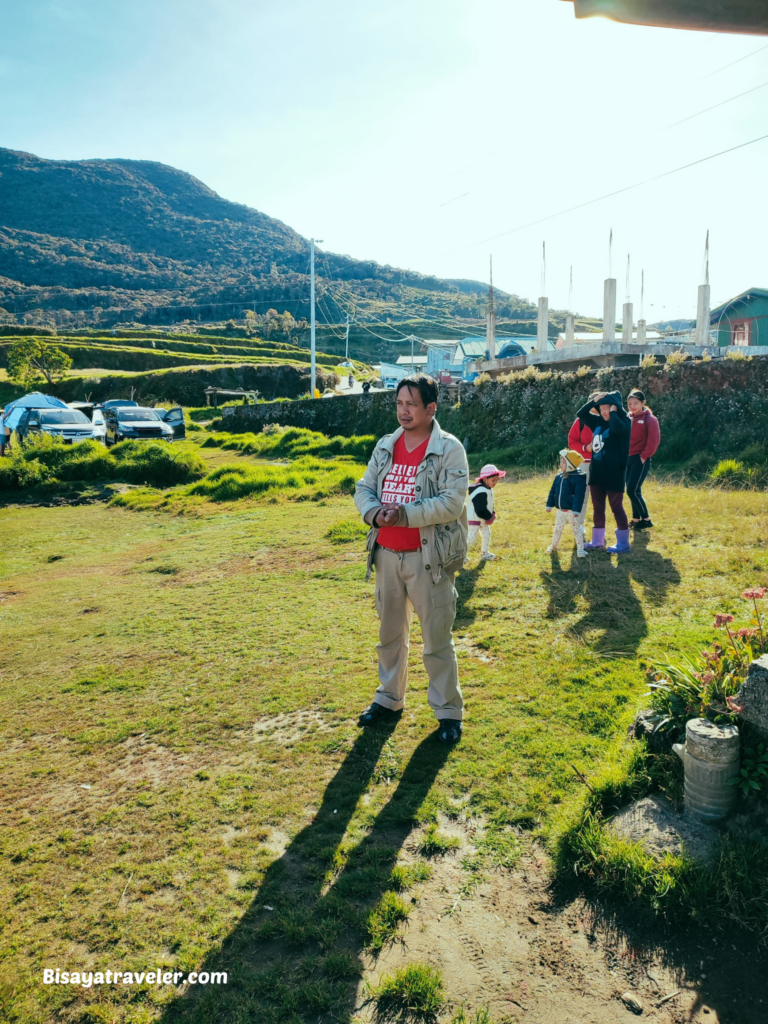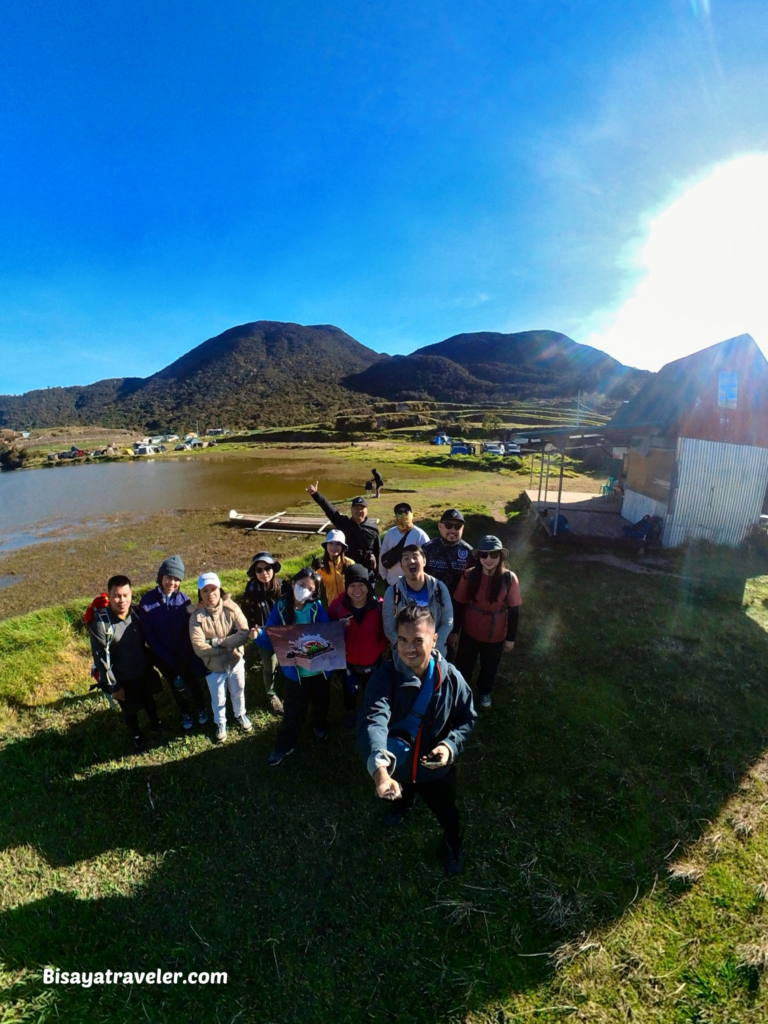 Our Mt Tabayoc then began with two teenage girls as our guides.
Along the way, I was mesmerized by the crisp blue skies, enticing atmosphere, and breathtaking natural scenery of Mount Tabayoc.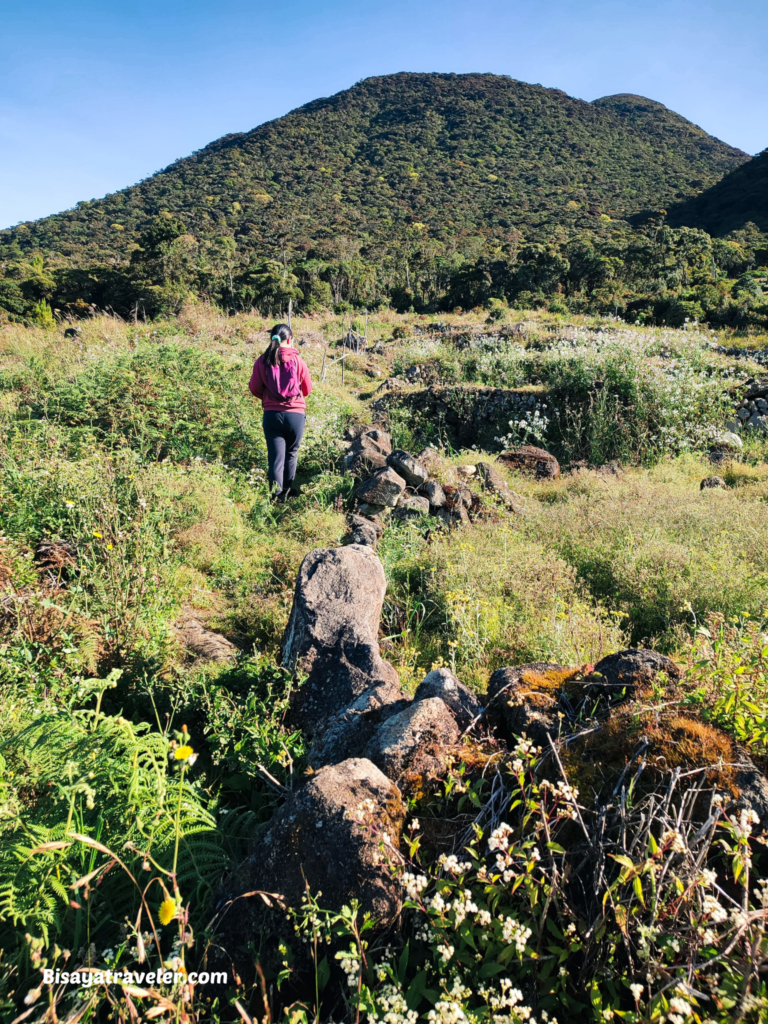 The easy-going feel and sublime scenes reminded me of my childhood daydreams.
At the age of eight, I knew my life would be a fascinating journey.
Before life became like a warzone, it was filled with optimism and beauty.
While I didn't daydream of conquering towering mountains like Mount Tabayoc, I felt destined for thrilling adventures.
And now, I'm living that dream.
But when I grew up, I realized experiences aren't just for fun and leisure.
There's more to it than a journey and a process of traveling from one place to another.
It's an enriching, eye-opening, life-changing experience with rewards, risks, twists, and obstacles.
And the world needs people who seek adventures.
The reality is the world was shaped by people who went on quests and lived an adventure.
The Buddha, Mohammed, Amelia Earhart, and Christopher Columbus went on journeys that changed the world.
We had creators, liberations, discoverers, and inventors who made significant impacts because of their adventures.
09:08 AM: The never-ending assault in Mount Tabayoc
Earlier, Aris warned that the climb to the top of Mount Tabayoc is no joke.
And he was right.
Not only was the assault seemingly endless, but there were also many obstacles along the way.
You need balance, leg strength, and fortitude for this section of the hike to Mount Tabayoc.
You have to hug trees, crawl and hang on branches like a monkey on this hike.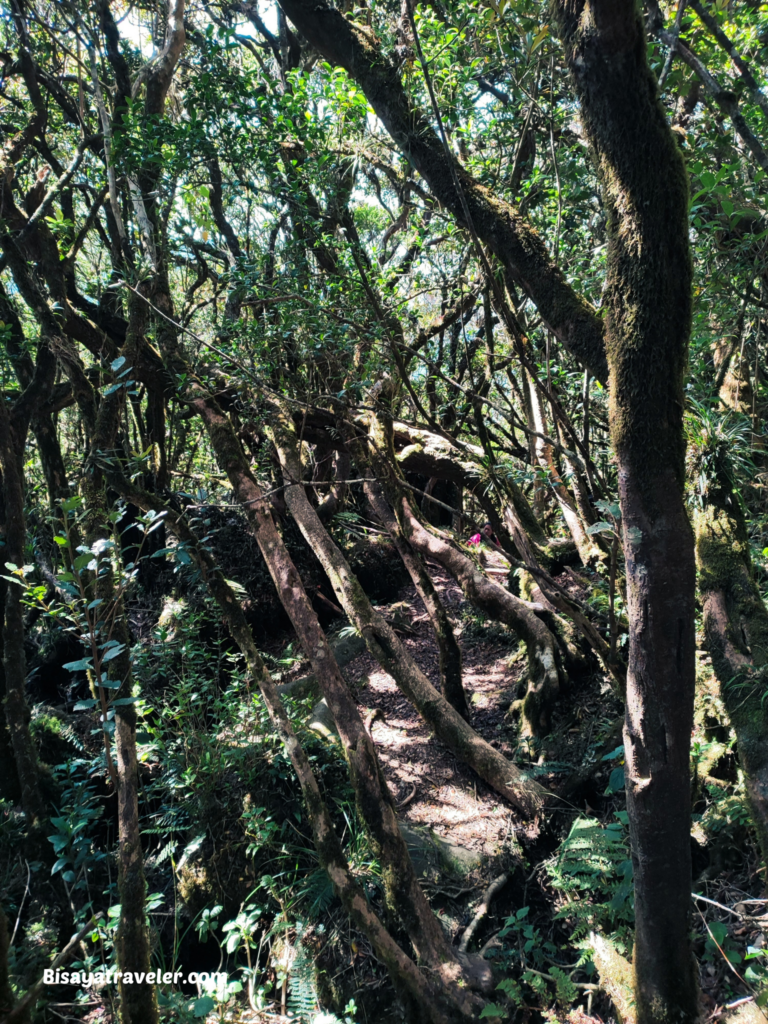 As the ranger said, you must take the "monkey trail" to Mount Tabayoc.
In my younger days, I would have struggled and trembled while hiking this path.
I even thought I couldn't hike a mountain as steep and imposing as Mount Tabayoc.
After stepping out of my comfort zone and confronting my fears, I realized I was stronger than I thought.
And I would have discovered my strengths and passion if I didn't go on hiking adventures.
On the way up, I also met a few new friends.
For the first time in a long while, I didn't hike with my crew.
As a legit introvert, socializing and meeting new people seemed scary in my youth.
And mountain adventures like our Mt Tabayoc hike helped me develop my confidence to talk to others.
From my solo trip to Singapore to local hikes, my adventure trips forced me to mingle with different people.
Today, I have numerous friends worldwide because I went on adventures and expanded my horizon.
Sometimes, it takes a new challenge or experience to teach you how brave, clever, and strong you are.
Everyone has hidden strengths, talents, and skills begging to be unlocked.
And it takes an unfamiliar and challenging situation to allow those hidden abilities to shine.
If you never challenge yourself and you're content sticking to your monotonous daily routine, you'll never uncover anything new about yourself.
09:40 AM: A Scenic Spot in Mount Tabayoc
Eventually, we arrived at a vantage point where we were rewarded with a stunning overlooking view of the area's towering mountains and terraced landscapes.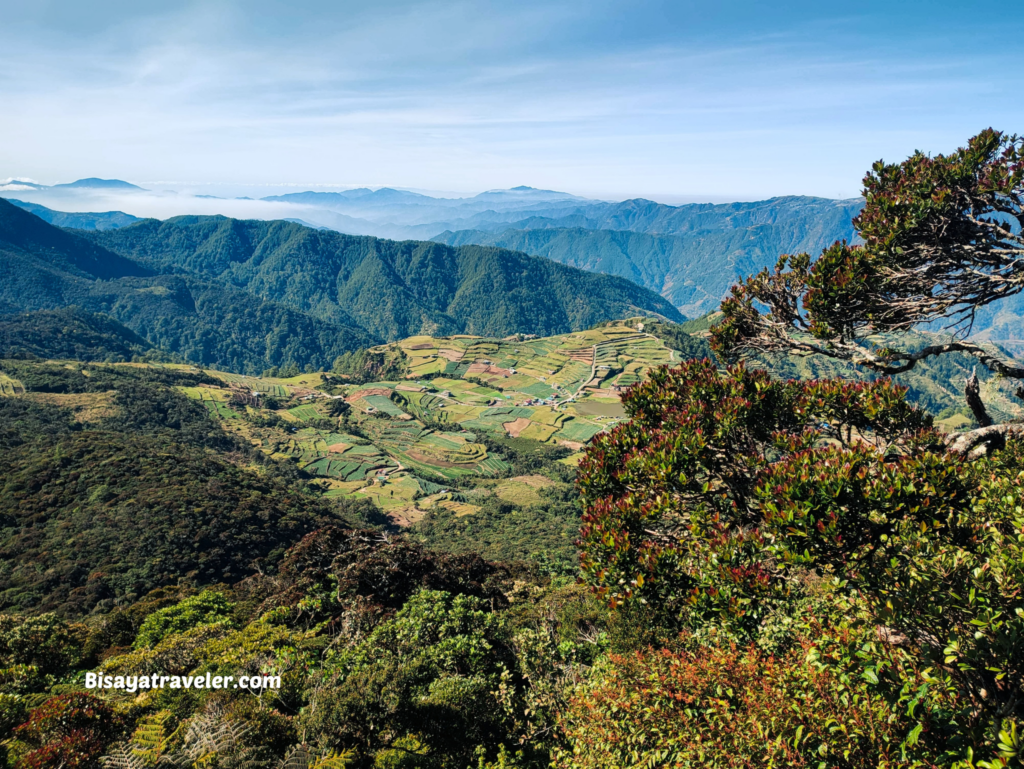 One of the things that I like about mountain adventures is that it gives me a temporary escape from my bustling city life.
Living in a progressive and vibrant city like Cebu is fun and fascinating.
But the concrete jungle, non-stop traffic, and seas of people can get tiresome and draining.
While resting, I soaked up the rejuvenating sights and sounds of nature, which I can't always do back home.
I know there are several nature sites and trails in Cebu, like Kan-Irag and Spartan Trail.
But nowadays, these places are full of boisterous hikers, campers, moto vloggers, and influencers.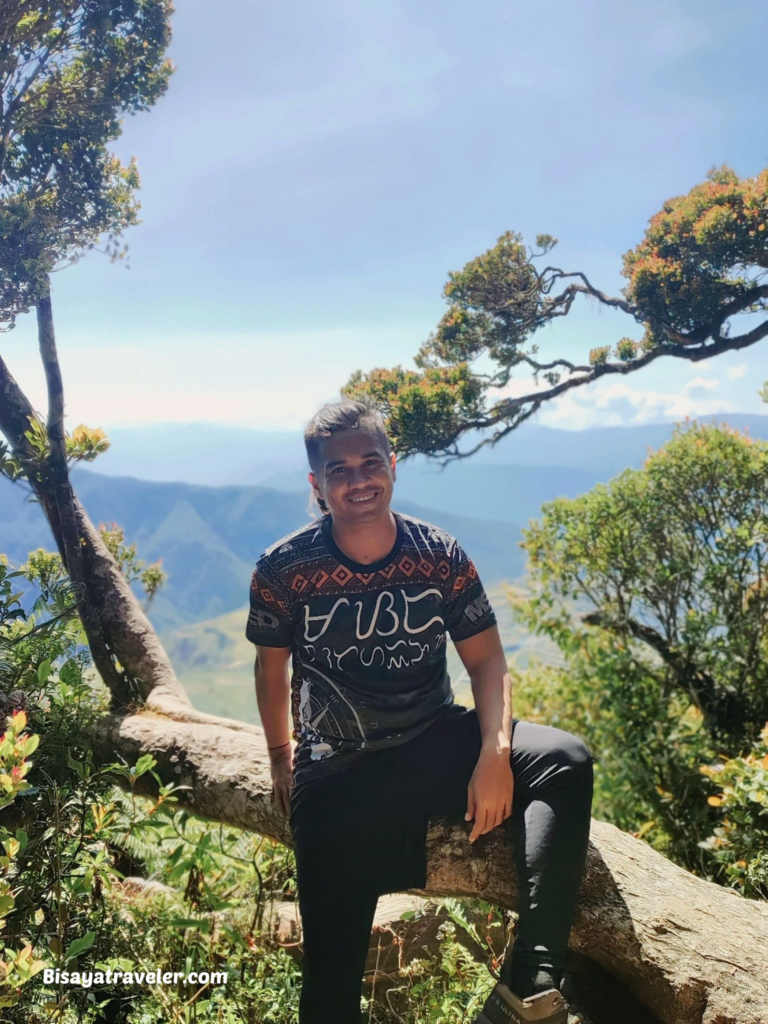 In Mount Tabayoc, there were no large crowds of cars and people.
No loud noises or even Bluetooth speakers.
I could only hear, see, and feel the fresh mountain breeze, friendly hikers, and Mother Nature herself.
I wish I could pause these moments.
These moments turn into memories I replay and recall whenever life and responsibilities overwhelm me.
From there, we took a short hike to a mossy and shady area, where we took a breather and ate our trail food.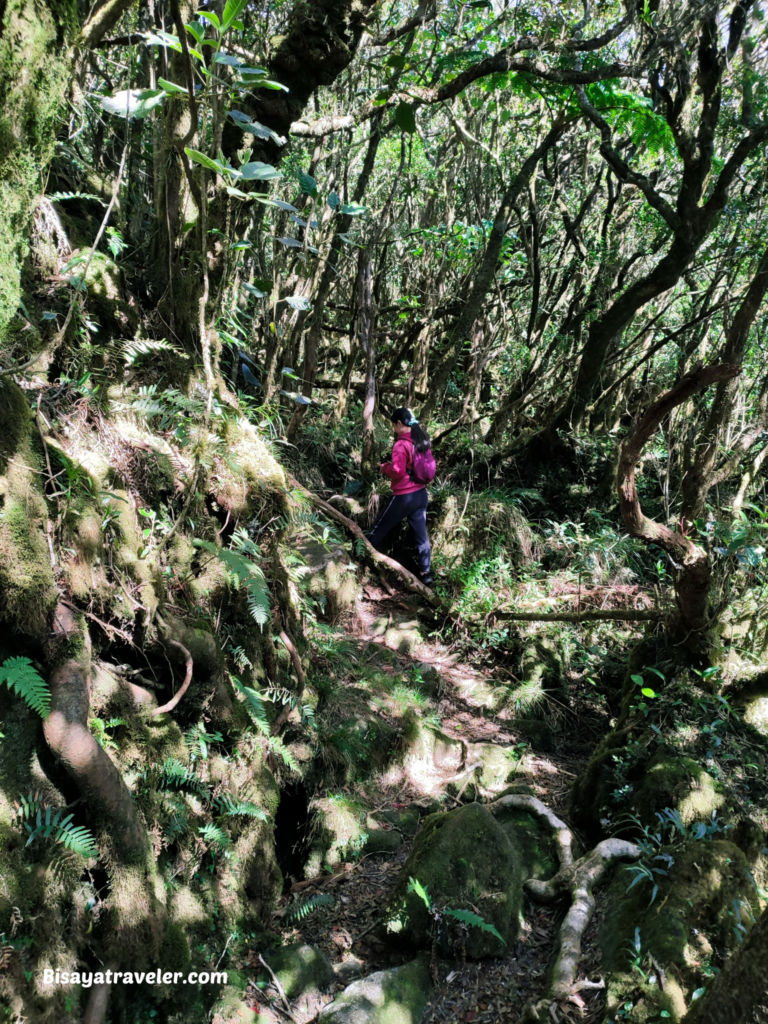 We talked a lot while resting and waiting for the other group to arrive.
I was exposed to a new set of people with different backgrounds.
And that's another reason I keep encouraging people to go on hikes and adventures.
The world, even with its technological advancements, feels isolated.
People are disconnected from one another since we spend more time on our mobile phones than mingling with real humans.
And what happens when we become overly dependent on technology and mobile phones?
We lose our ability to have more spontaneous and deeper conversations with other humans.
Speaking of technology, outdoor adventures also give us time to escape the overuse of mobile phones.
A nature trip like our Mount Tabayoc lets us take a breather from the information overload and staring at screens all day.
I know mobile phone technology can make life easier and more convenient in many ways.
Whether hungry or in the mood for a quick shopping trip, it satisfies your wants and needs in one tap.
But taking a technology fast can do wonders for us modern-day humans.
While immersing in nature, we rely on our knowledge, instincts, and skills instead of online information.
And let's face it. Modern technology is also making us feel lonely and empty.
Social media, for instance, makes users feel like they are missing out on several meaningful experiences and social events.
And that leads to feelings of insecurity, stress, and exclusion.
Loneliness is a demon and an unfilled need for deep and meaningful human connection.
Thankfully, my Mount Tabayoc adventure and other adventures are filling that need.
Soon after, we resumed our hike toward the summit of Mount Tabayoc.
11:00 AM: The climb to the top of Mt Tabayoc
Hiking, like life, is full of uncertainties.
With obstacles and challenging ascents, it has an uncertain outcome.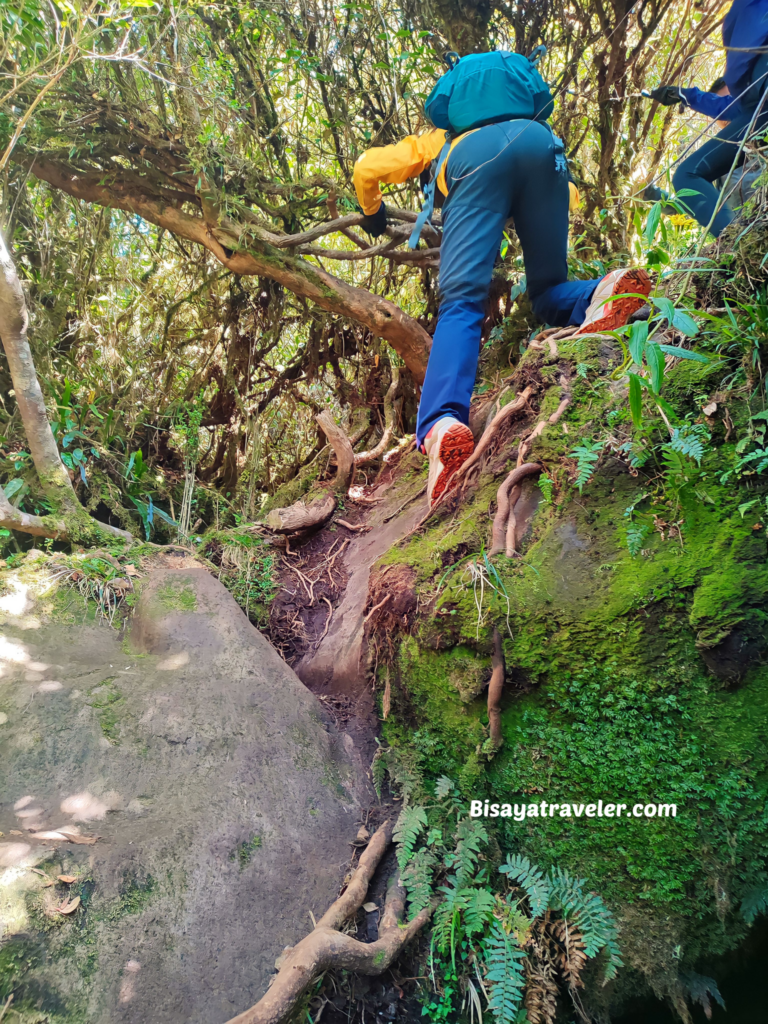 It's an adventure with endless surprises.
That's what adventures should be.
After all, a predetermined outcome isn't an adventure but an amusement ride or a packaged experience like Disneyland.
And our Mount Tabayoc climb epitomizes a thrilling, fun, and difficult hike.
Not only is the trail steep, but you also have to go over large rocks and walk over fallen tree trunks.
Moreover, it has tons of prickly plants and vines.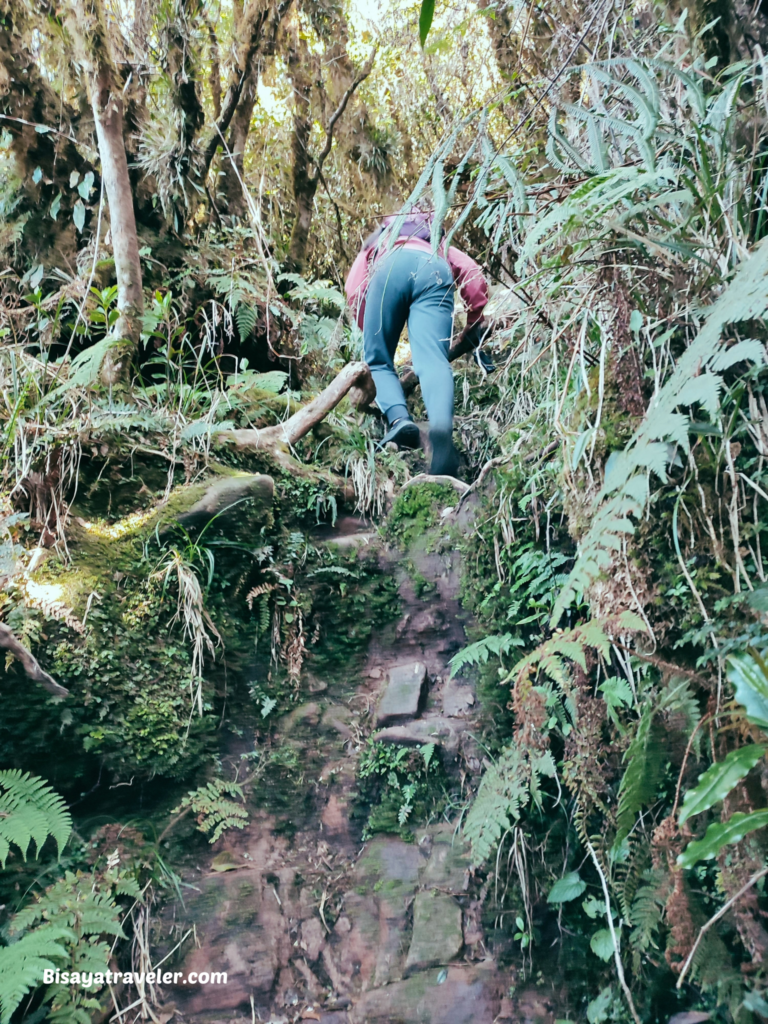 I loved every moment of this section of our Mt Tabayoc hike.
In a way, it's also teaching me how I should handle the shit life throws at me.
Adventures are tolerance for real-life adversities.
They teach us to be resilient and brave in the face of challenges.
My hikes have taught me to be graceful, use humor, and laugh in every problematic situation.
Along the way, I was also reminded how active outdoor adventures keep me youthful, happy, and healthy.
Sure, these hikes create moments of pain, frustration, and discomfort, but they also enhance my happy hormones.
I get a ton of serotonin from immersing myself in nature, oxytocin from meeting new friends, and a dopamine rush from overcoming challenges.
11:27 AM: The stunning views from the top
I saw the stairs of the viewing deck in Mount Tabayoc.
Inspired and excited, I climbed the stairs and was mesmerized by the views from the top of Mt Tabayoc.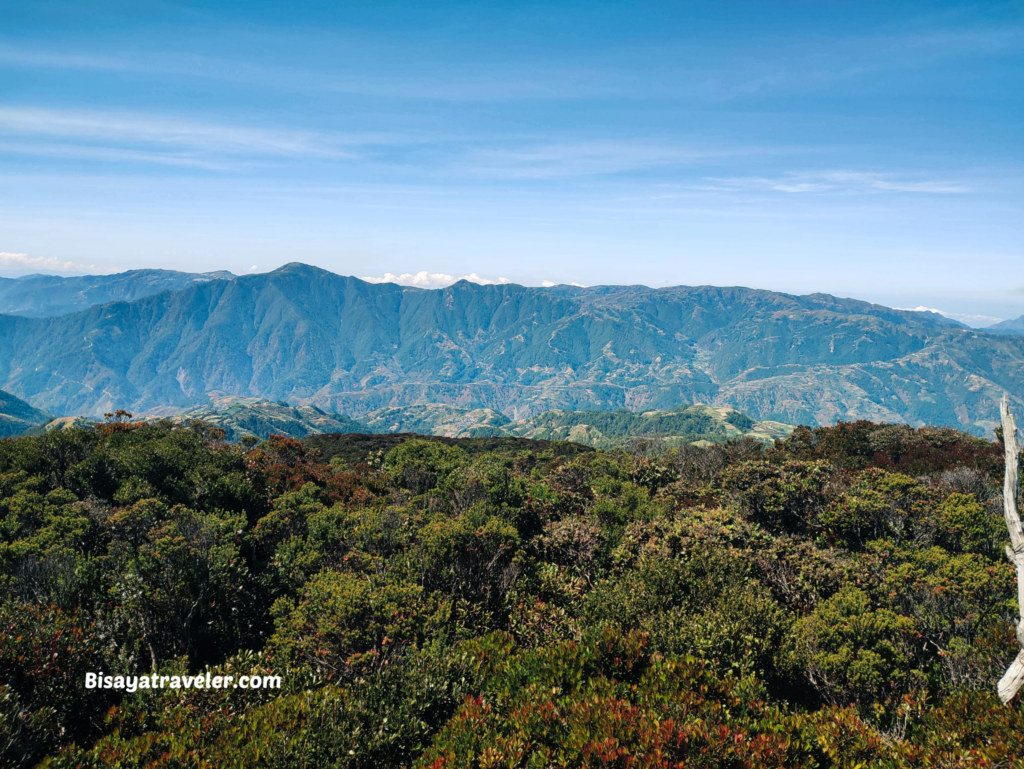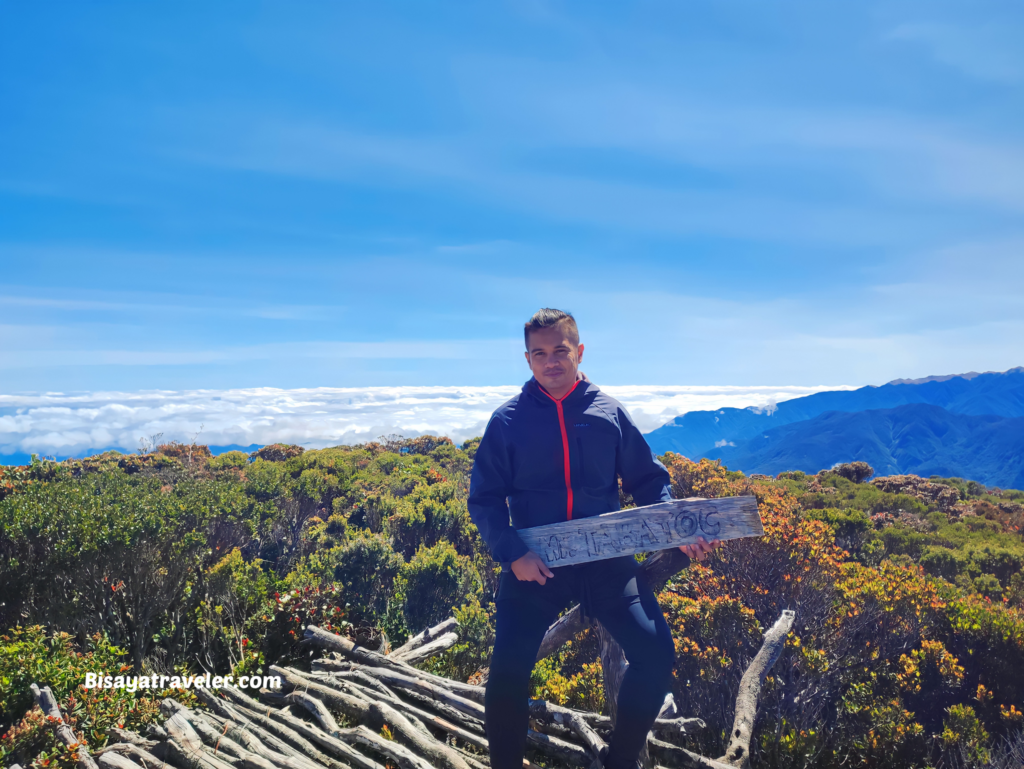 I was on cloud nine.
Surrounded by an awe-inspiring sea of clouds and emerald mountain ranges, it was full of picture-perfect views.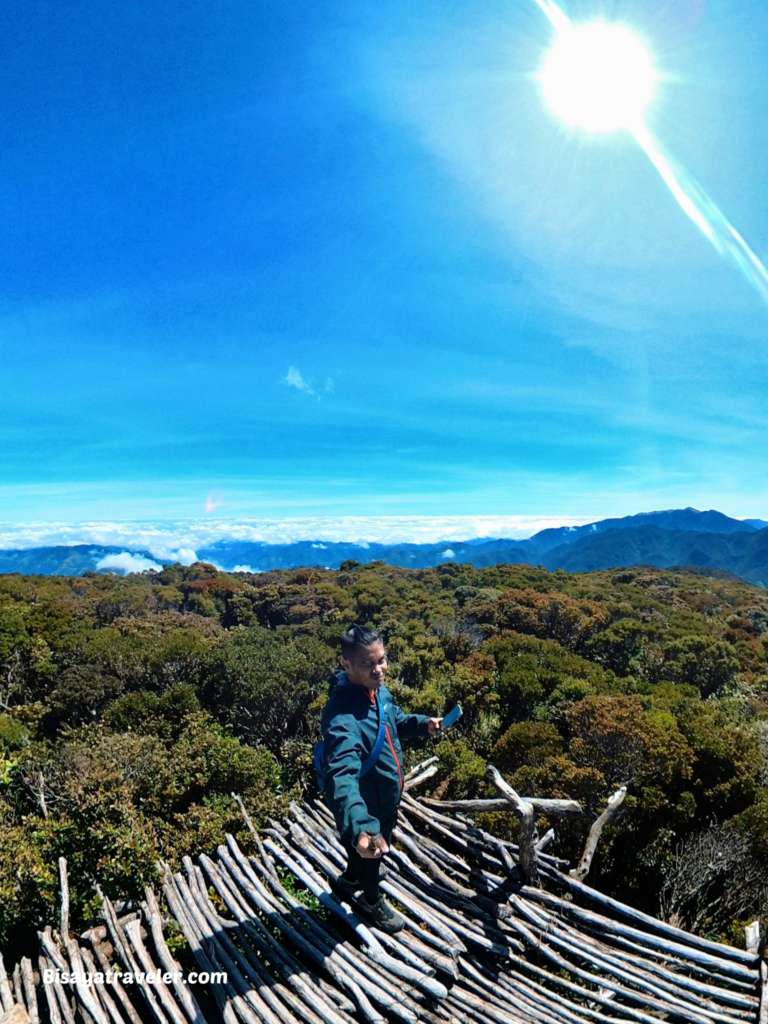 I know Mount Tabayoc isn't the main event of our trip to Luzon.
But, with views like these, it felt like my trip was complete.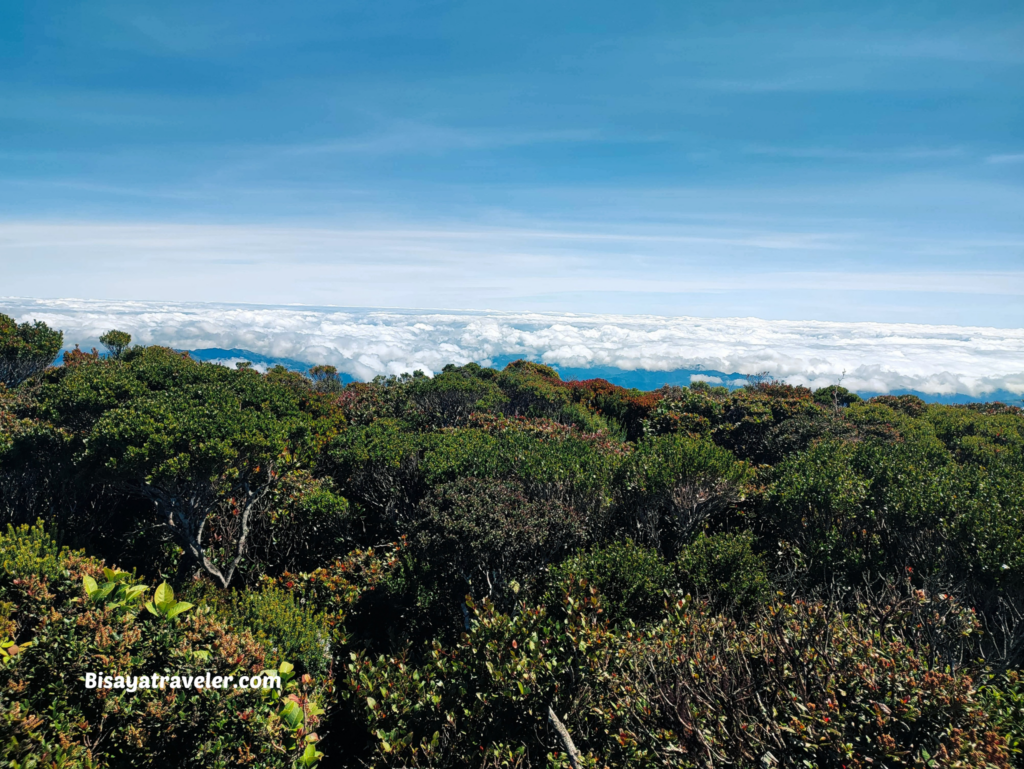 It also gave me a sense of accomplishment and satisfaction.
Hiking Mount Tabayoc is no small feat.
While it's not a major climb, it can be physically exhausting and even emotionally draining for some people.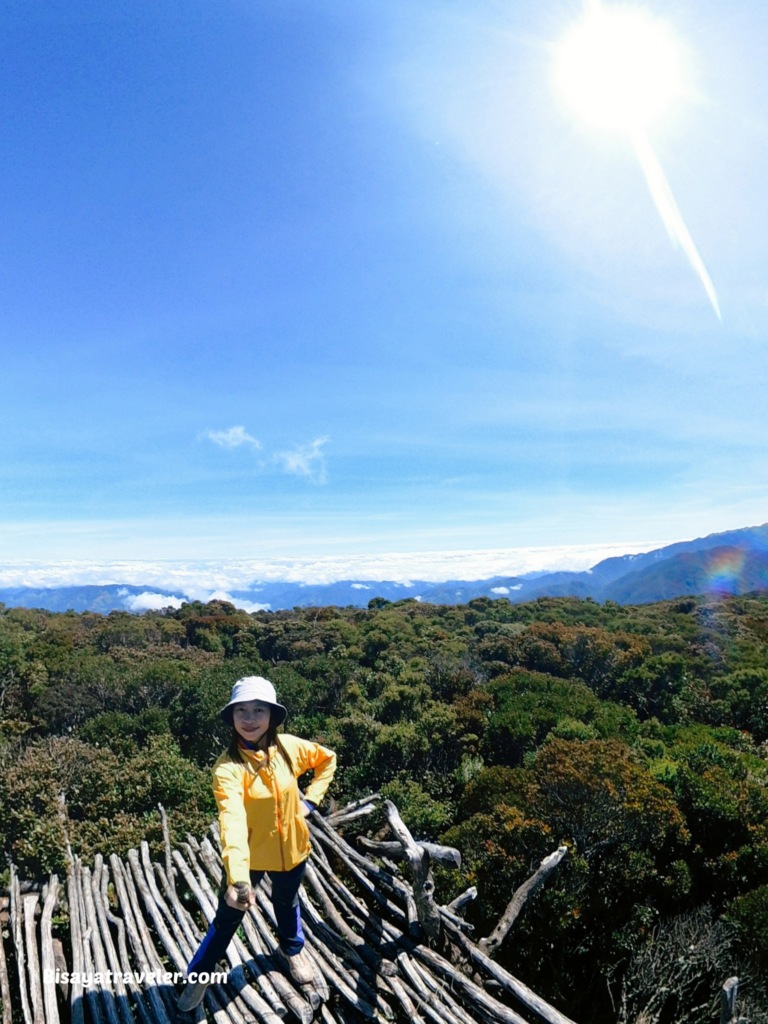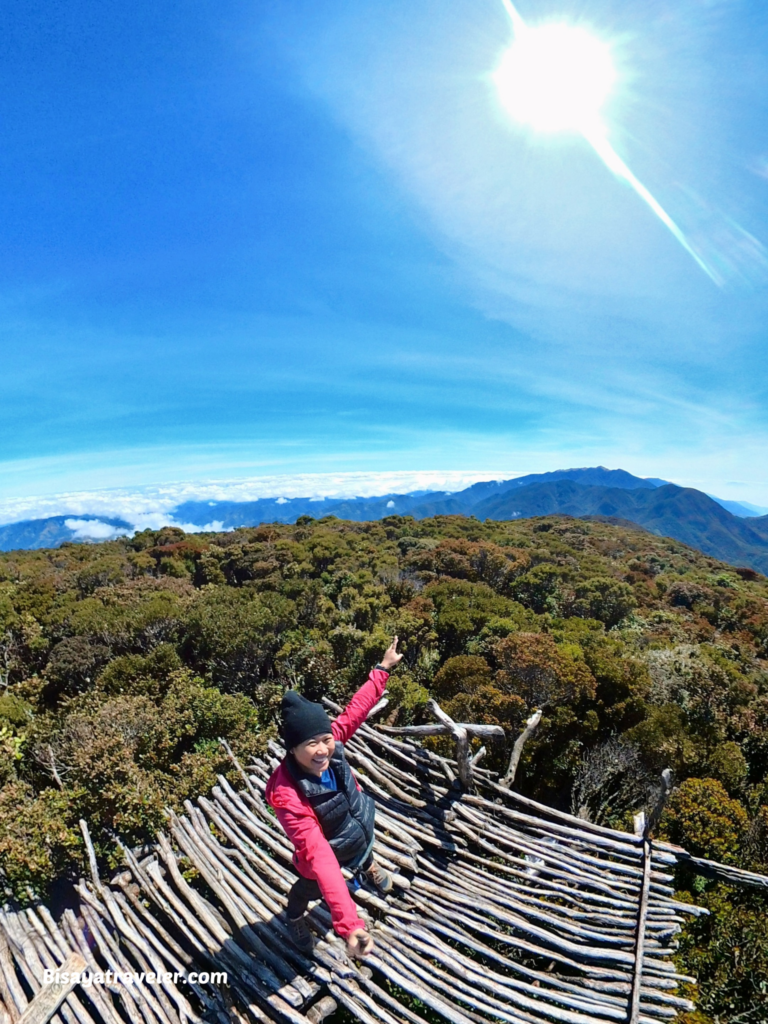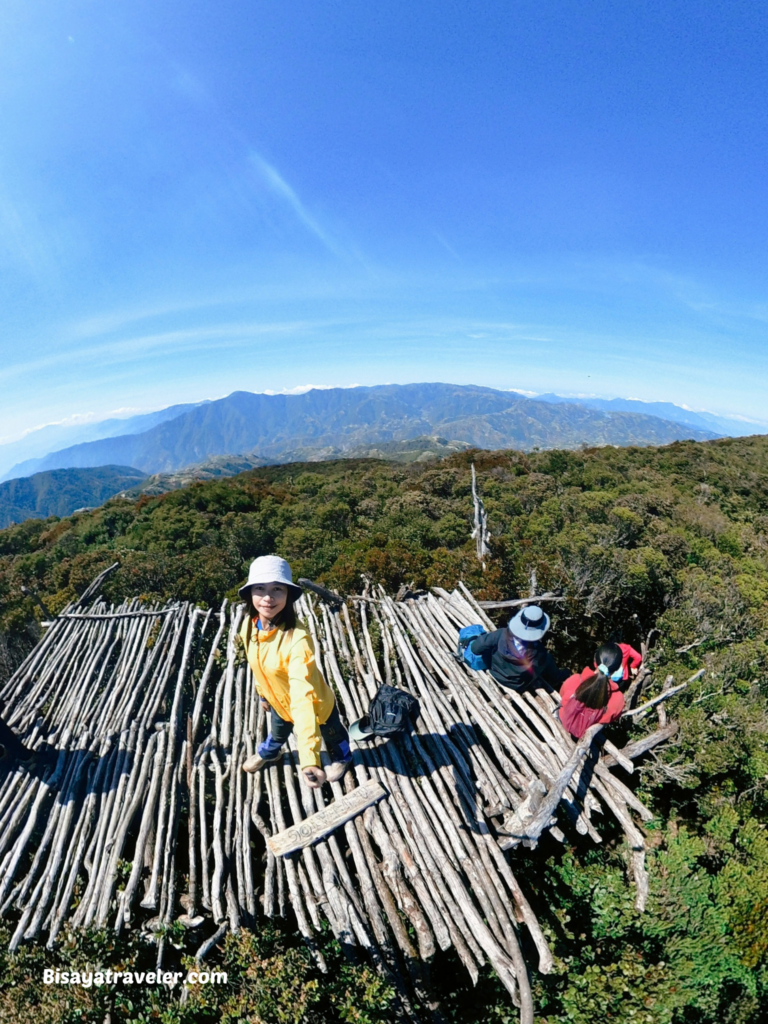 It takes you away from modern life's comforts to nature's unruly and rough beauty.
But it's all worth it.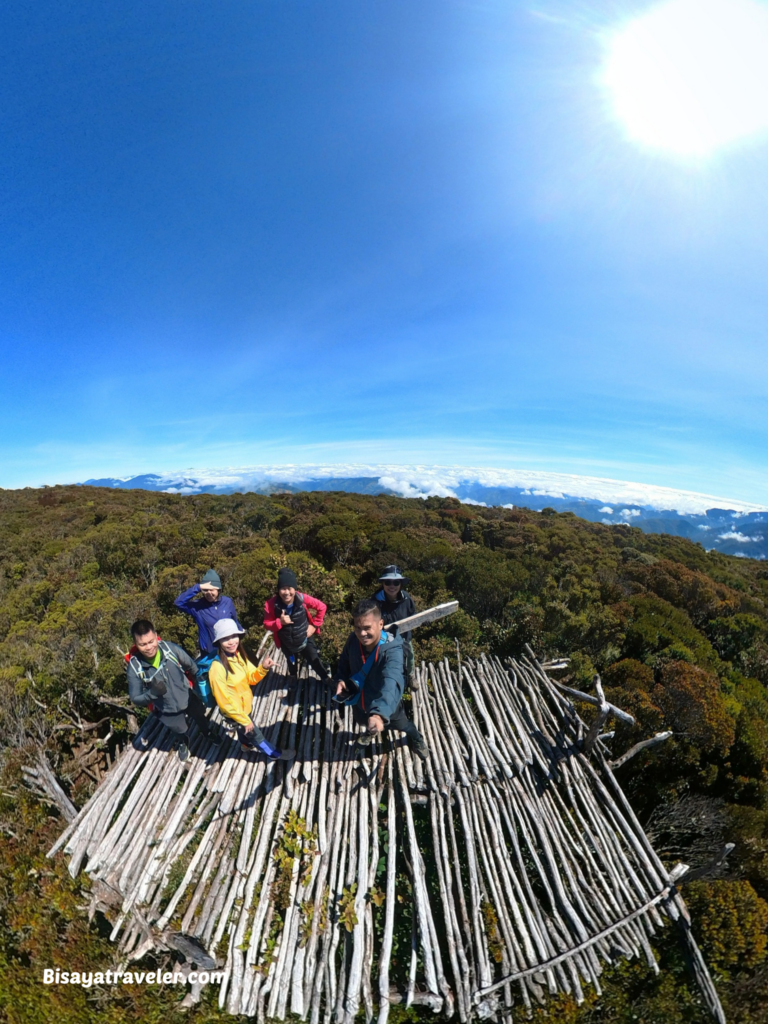 And you'll feel a sense of accomplishment when you complete many challenges and pass your limits.
When I was young, I didn't have a lot of self-confidence.
Thankfully, mountains like Mount Tabayoc have given my self-confidence a boost.
Accomplishing a goal is fascinating and will make you feel more confident and self-assured.
01:00 PM
After our lunch and pictorials, we started hiking down to the base of our Mount Tabayoc hike.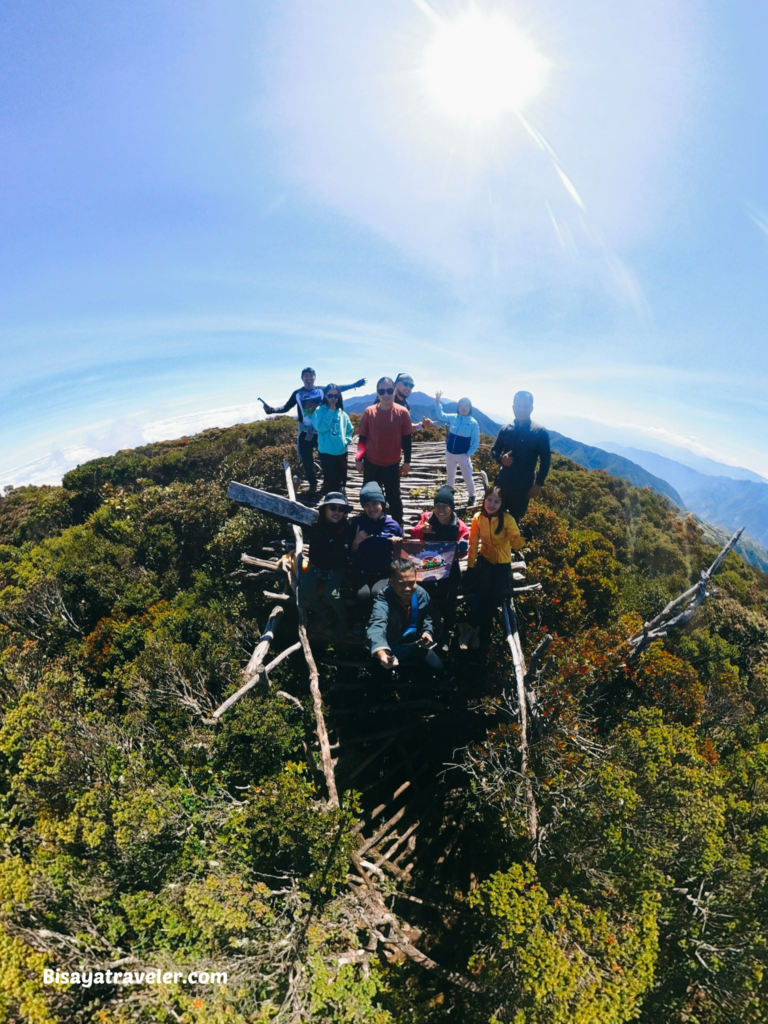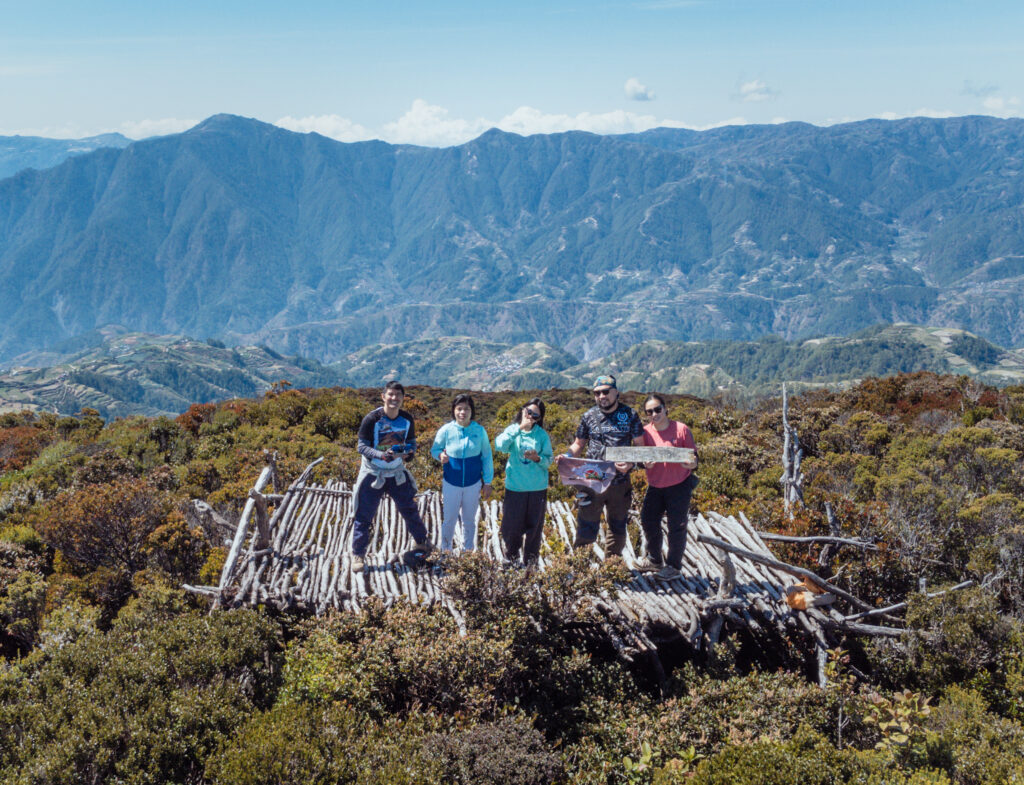 As much as we want to stay and soak up the beauty of Mt Tabayoc, we have to head back and prepare for our Mount Pulag trip. 
As we were getting close to the end of our first hike, a thought suddenly came to mind.
Endings are also part of the learning experience in every adventure.
It teaches us acceptance of our mortality. 
We want our exciting moments to be non-stop, but all good things come to an end.
Even my seemingly infinite adventures have an expiration date. 
One day, my legs won't be strong enough to climb the tallest mountains in the Philippines.
And one day, I'll be just a memory with a decomposing shell buried six feet underground.
There's an end to my days as an adventure seeker.
But, at least, it has enhanced my knowledge and confidence.
Thanks to my adventures, I feel like I'm above the clouds, confident to face all life's trials.
What is the difficulty level of Mount Tabayoc?
Mount Tabayoc is rated 3/9 by Pinoy Mountaineer.
But don't let its rating fool you!
With its technical trail and grand elevation, climbing Mt Tabayoc will require mobility and experience.
What is Mt Tabayoc known for?
Mount Tabayoc is the second-highest peak in Luzon and the sixth-highest in the Philippines.
It has an elevation of 2,820 meters (9,252 feet) above sea level.
How to get to Mount Tabayoc
You can get to Mount Tabayoc via DIY style or through a tour operator. If you prefer to go with the latter, I recommend Sugbo Adventours.