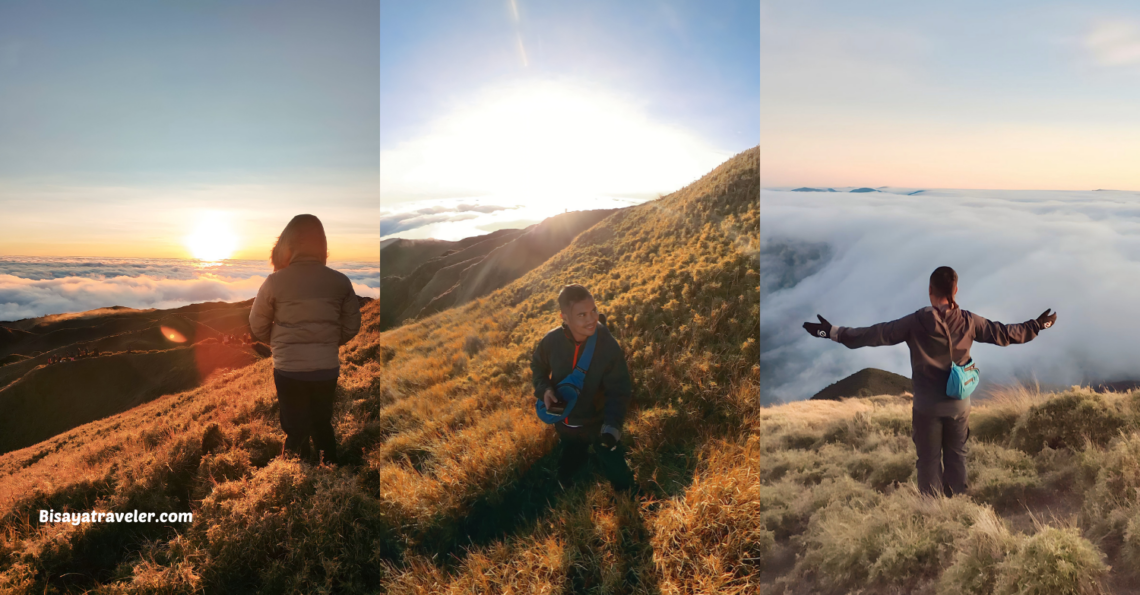 Mount Pulag: Chasing The Awe-Inspiring Sunrise
Sunrises are a symbol of rebirth, mystery, and new beginnings. An unstoppable force of nature, sunrise is also comforting, giving us a feeling that our problems are small and temporary. And in Mount Pulag National Park, a magical sunrise gave me hope in a world that badly needs a dose of optimism.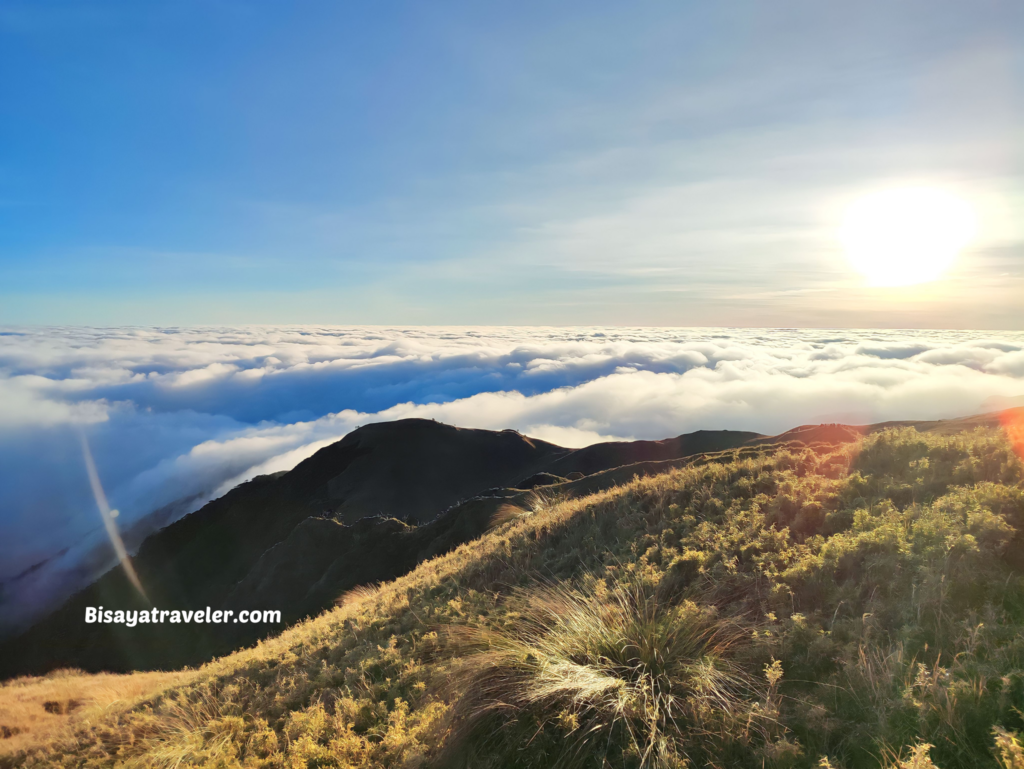 Even at our darkest hour, I always believe the sun will rise again.
To me, the return of light after hours of darkness represents hope.
And the awe-inspiring sunrise in Mount Pulag brought a dash of hope to a new day filled with mystery and surprises.
Furthermore, it symbolizes a new beginning for me and an opportunity to correct previous mistakes.
Today, I chronicle my awe-inspiring Mt Pulag hike, which stunned us with its picture-perfect sunrise and majestic sea of clouds.
My Mount Pulag adventure
February 5 at midnight – Homestay near Mount Pulag
I'm pretty much fucked up.
Beat and sleepy, I drag my body out of bed to prepare for our hike to Mount Pulag National Park.
While the Mt Pulag Ambangeg trail is an easy, beginner-friendly hike, things haven't been in my favor lately.
After three consecutive sleepless nights and a challenging day hike in Mount Tabayoc, I feel a little exhausted today.
Moreover, life has been a major pain in the ass lately.
It has been a tough stretch, emotionally, mentally, and physically.
And weeks earlier, I almost canceled my Mount Pulag hike.
Did the gods curse me?
Still, nothing is stopping me from conquering one of the highest mountains in the Philippines.
I'm fearless.
Years of challenges have given me skills, knowledge, and experience – the foundations of self-confidence, which is the antidote to fear.
But, before we begin our Mt Pulag hike tour, I need nourishment and energy.
Thankfully, there's a hearty early breakfast consisting of rice, Spam, and eggs.
Of course, there's coffee too.
Unlike most people, however, I don't like coffee.
I'm an enigma, and coffee doesn't seem to satisfy my taste buds.
And instead of providing me with energy, I feel sleepy when I drink coffee.
I prefer fruity and sporty energy drinks that give me a shot of adrenaline and energy.
Is a bottle of energy drink enough for our Mt Pulag Hike?
Along with encouraging words from my inner monologue, it did wonders for me hours earlier on our Mount Tabayoc hike.
February 4 at noon – Mount Tabayoc
We grow through difficult times.
When things are easy, there's no reason to change.
We get stuck, feel comfortable, and fail to see the holes in our lives.
And while no one wants to go through challenges, life's most painful moments expand us.
As we hiked the monkey trail to the top of Mount Tabayoc, this combination of words suddenly came to mind.
Years ago, I would have to succumb to fear, hiking this trail.
I would have let the fear get the best of me.
Fear would have taken control of me, leading me to make bad decisions.
But, through my major hikes and explorations, I have conquered my fears.
And through my mishaps and painful moments in the outdoors, I have seen my weaknesses as a hiker.
Today, I continuously expand and evolve as I hike the highest mountains in the Philippines.
And I felt so in control and relaxed on this rugged and maze-like pathway.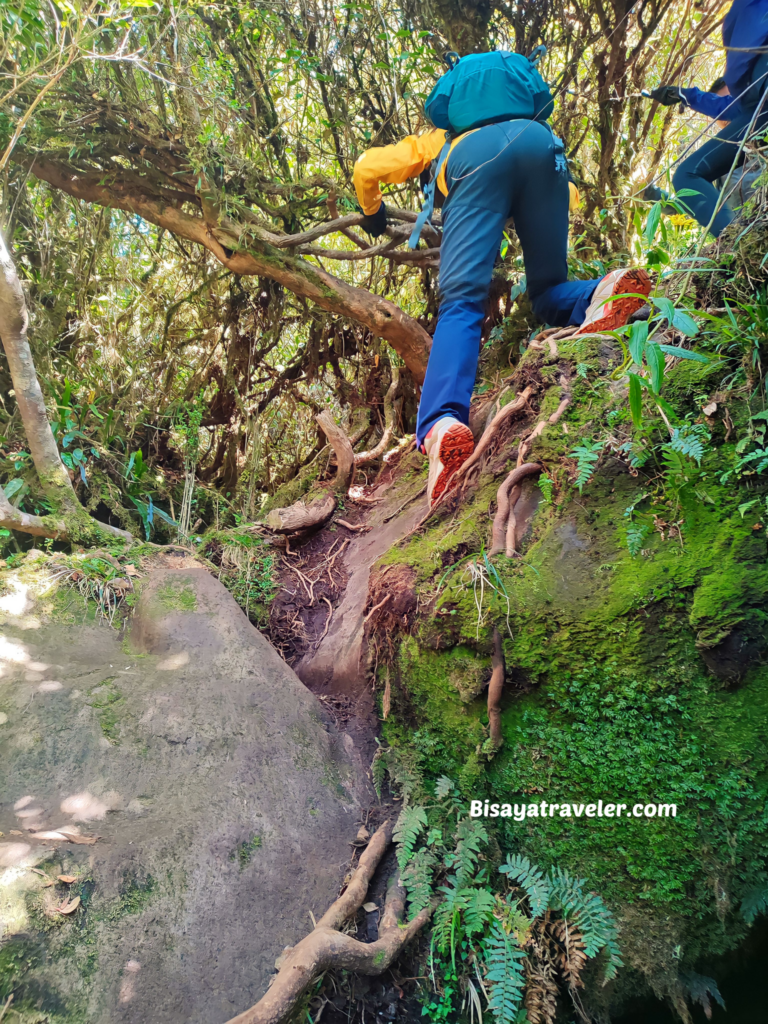 We hugged trees, jumped over huge rocks, walked along fallen tree trunks, and hung on branches.
And we kept on grinding and crawling until we reached the viewing deck of Mount Tabayoc, where we were rewarded with unobstructed, scenic views of the area.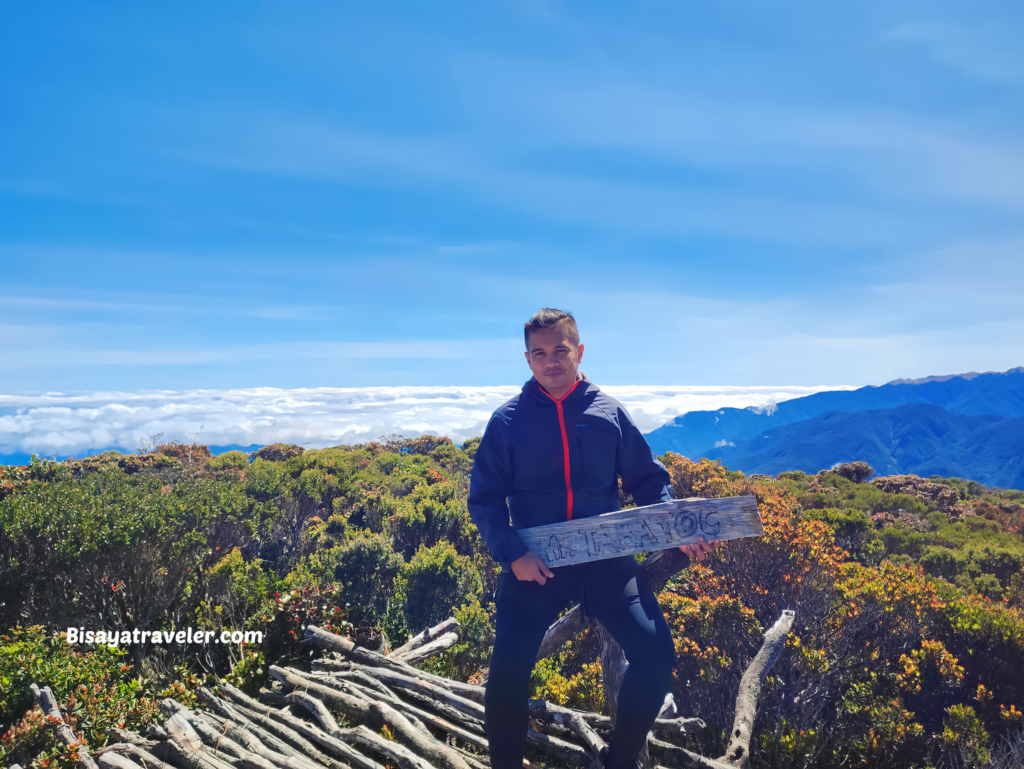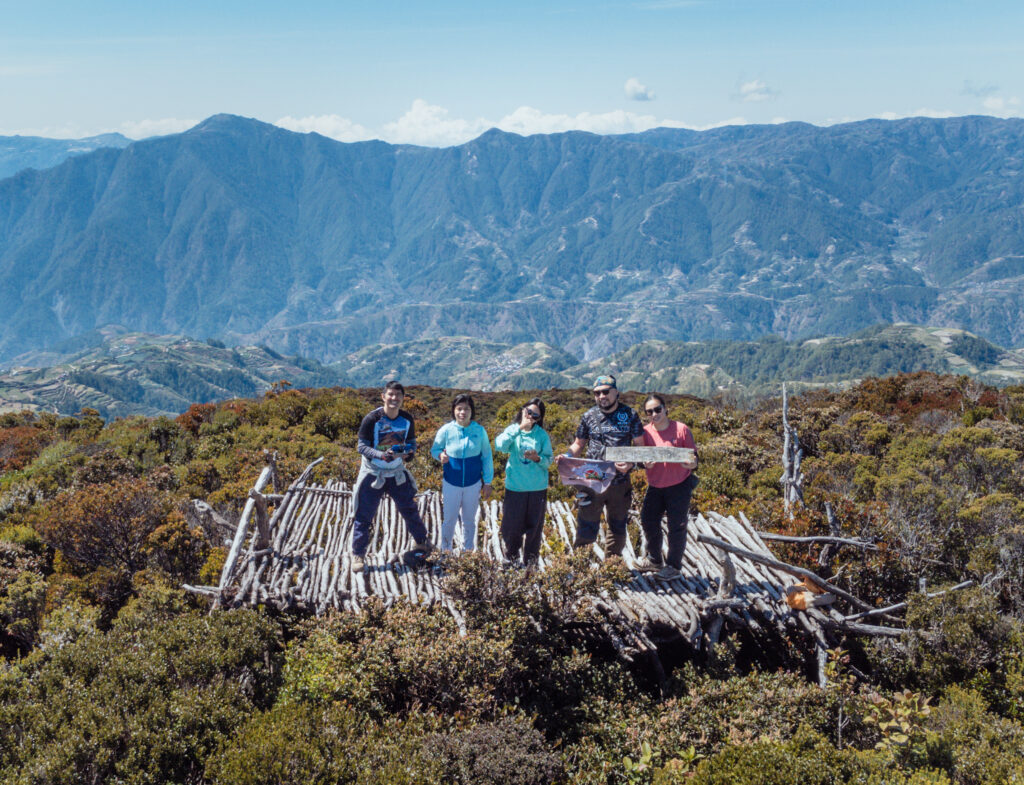 As I've said before, hiking is the greatest metaphor of life.
If you keep walking and fighting those challenging moments, you'll soon be rewarded with something spectacular.
And I will keep these words of encouragement and use them on our Mt Pulag hike.
February 5 at 1:48 AM – Mt Pulag Campsite 1
Human hope is a marvelous and inspiring thing.
It can help you survive hopeless times and navigate through the darkest days.
But not every hope survives, and not everyone has the will to keep it alive.
We're all hoping for a spectacular sunrise.
We all dreamed of that signature golden sunrise and sea of clouds at the summit of Mount Pulag.
And that hope keeps us warm, excited, and alive on our Mt Pulag hike.
We struggled a bit on our way to Mount Pulag Campsite 1.
At first, we hiked on flat terrain and downhill to the pine tree area of Mount Pulag National Park.
Soon after, our guide, Maricel, told us we were about to ascend, enter the mossy forest, and stop by Mount Pulag camping site 1.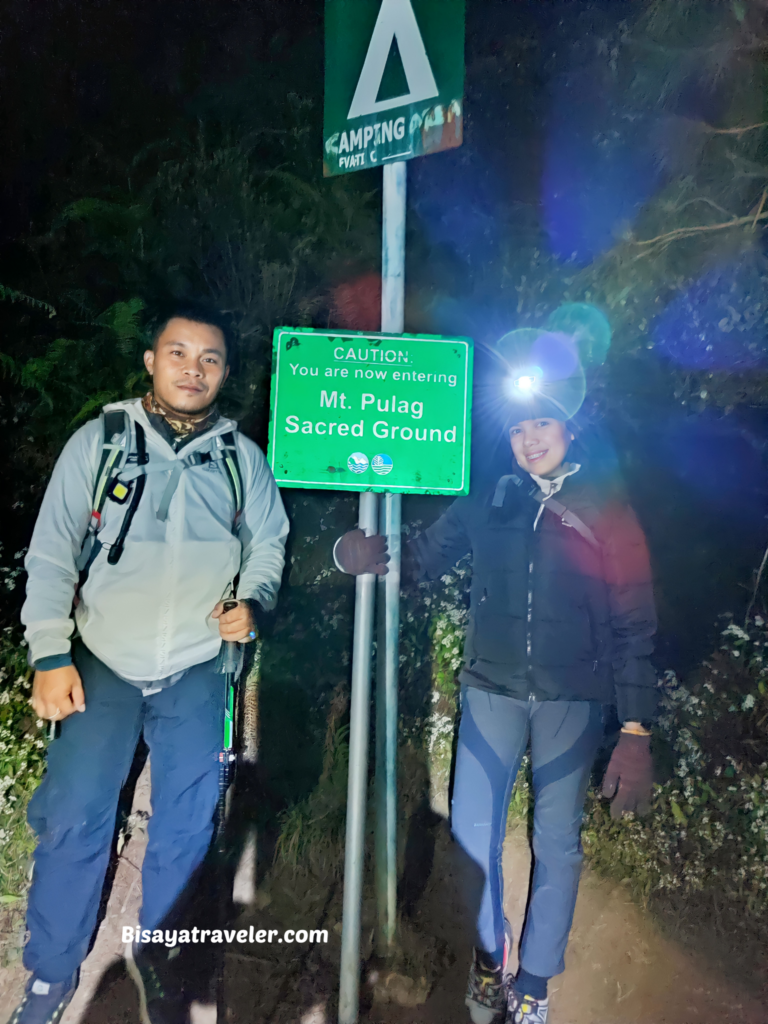 I huffed and puffed on this part of the trail.
I was a bit surprised.
After all, the Ambangeg Trail is the ideal Mt Pulag climb for beginners.
And I have hiked steeper and more challenging trails than this.
Was it because of a lack of sleep?
The high altitude?
Or the combination of both?
It's likely the high altitude.
I'm also a slow starter in hiking.
I usually struggled in the first kilometer of every hike.
Once I get past that, I feel invincible and limitless.
I also noticed my fellow hikers from Cebu struggling on this section.
Even so, we managed to overtake a group and keep moving on our Mt Pulag hike.
And that's because everyone has the will to keep their hope alive of seeing the iconic sunrise and sea of clouds in Mount Pulag.
February 5 at 4:49 AM – Mt Pulag summit
It's freezing at the top of Mount Pulag.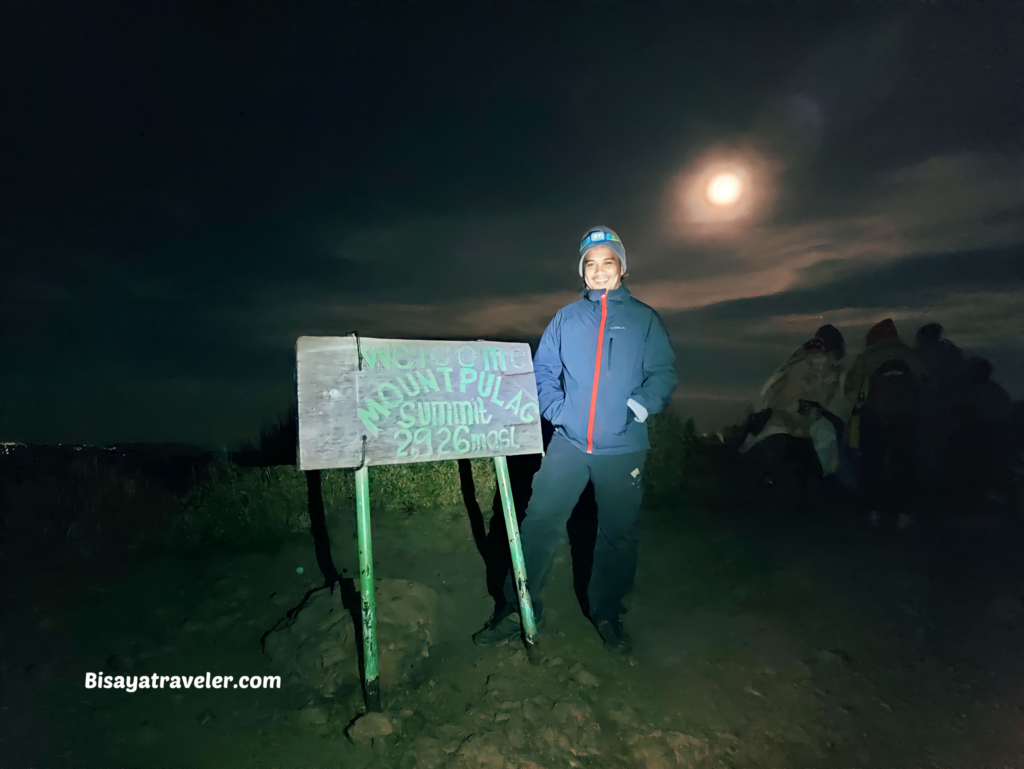 Since we arrived early, we had to wait for about an hour to witness the highlight of our Mt Pulag hike.
We were one of the first groups to arrive at the summit, and this was a downside of going fast.
And dark and cold nights like this always awaken sad and depressing moments.
No matter how I try to get rid of those memories, cold and darkness will evoke feelings of loneliness and melancholy.
In recent months, I have learned to embrace these negative emotions.
You see.
It's natural for humans to be sad and depressed.
And these feelings are part of the human life cycle.
How will we know what happiness is like if those tough times don't exist?
We need these negative emotions to appreciate the happy moments fully.
They say stars can't shine without darkness.
Without the bad and negative things happening in your life, you wouldn't realize what the good ones are.
And right now, we're waiting for the star in our solar system to rise, shine, and remind us of life's complex beauty.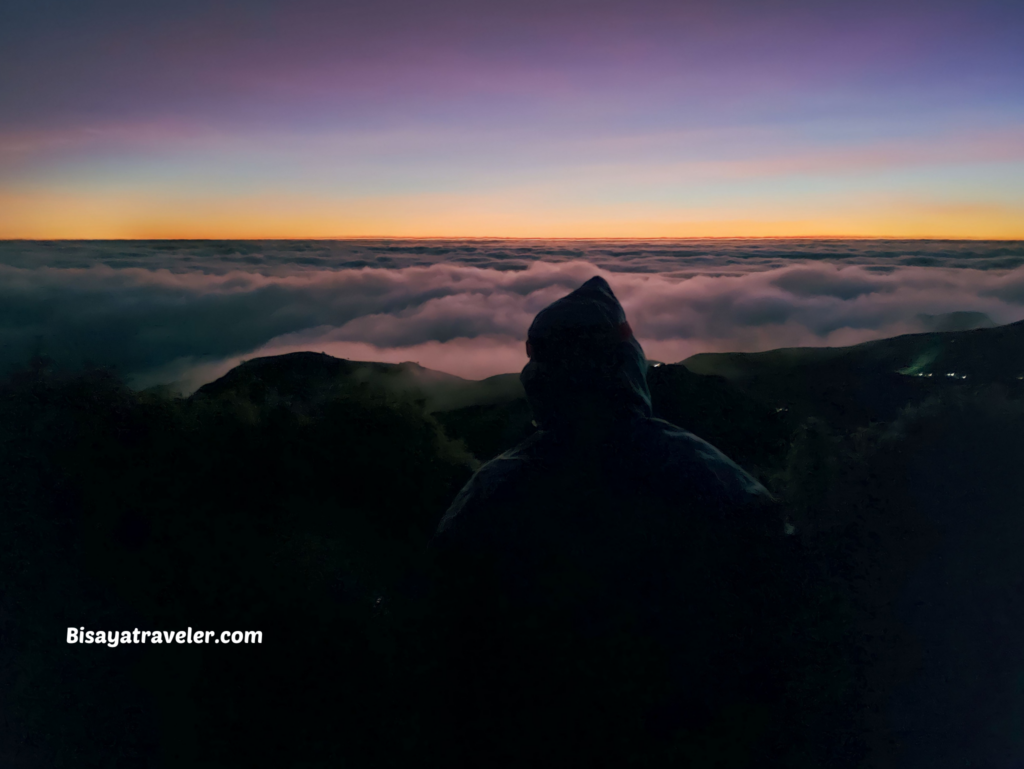 January 25
You showed up at a strange time last night.
You were fit, happy, and as young as I am now.
Like old times, we had a blast exploring our favorite shop, Duty Free.
We spent hours shopping for chocolates, perfumes, and chips.
Then, you left saying "sorry and thank you".
I know what you're trying to say.
But was there something else that you wanted to say?
Should I cancel my Mt Pulag hike tour because of what happened weeks ago?
I'm not sure.
But, if there's something I learned from you, it's that happiness is a choice.
I'm choosing happiness for my sake.
In a way, you also taught one important life lesson: don't give a fuck about someone's opinions.
February 4 at 6:38 AM – Somewhere in Benguet
I'm about to throw up.
A few of my companions inside the van also feel the same way.
I don't usually get dizzy when traveling, even on rough roads and remote areas.
But the sleepless nights, stress, aging, and zigzag roads make a fine cocktail for nausea and puking.
Thankfully, the van makes a stop.
I noticed three of my fellow hikers rushing outside to vomit.
Afterward, I went outside to stretch my legs and soak up the fresh mountain air of Benguet.
Immediately, I felt better and rejuvenated.
They say nature heals.
Nature scenes like this increase pleasant feelings and reduce stress, fear, anger, depression, and anxiety.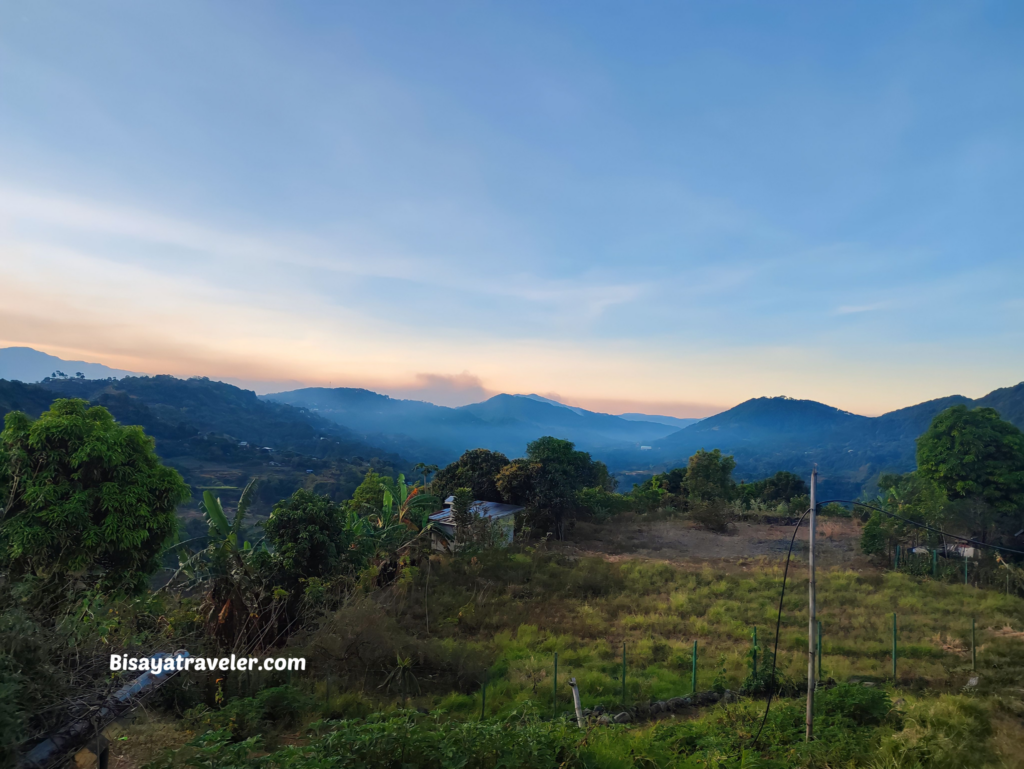 And that's why I'm taking this Mount Pulag hike with a bunch of people I barely know.
February 4 at 3:36 AM – Baguio
I'm a solo joiner and unfamiliar with the people on this Mt Pulag hike.
Except for Bojec, the organizer, I've only met three people joining this trip – Maria, RVD, and Charie.
Yet, I feel so at home with these people.
Earlier at NAIA, I met JM, Aris, and Mae, who were friendly.
Now, I see the other faces behind the Mt Pulag group chat.
The rest of the team consists of Ljane, Rexyl, Dianne, Erlice, and Ayth.
I like the overall vibe of this group.
It's simple, friendly, and fun.
I've been following Bojec's tours for years, and I like the culture he's building.
His group is different from the know-it-all hiking communities.
I was sick of the so-called mountaineer groups where hiking is more of a popularity contest than an adventure.
And these people joining our Mt Pulag hike are a breath of fresh air.
And I'm sure we'll go along well.
February 5 – 8:21 AM – The "Great Taste" squad in Mt Pulag
Mount Pulag isn't as challenging and long as my Mount Apo hike via Bansalan and Magpet.
Somehow, I enjoy my hike in Mt Pulag more than my 3-day major climb in Mount Apo, the tallest mountain in the Philippine archipelago.
The reason? The company.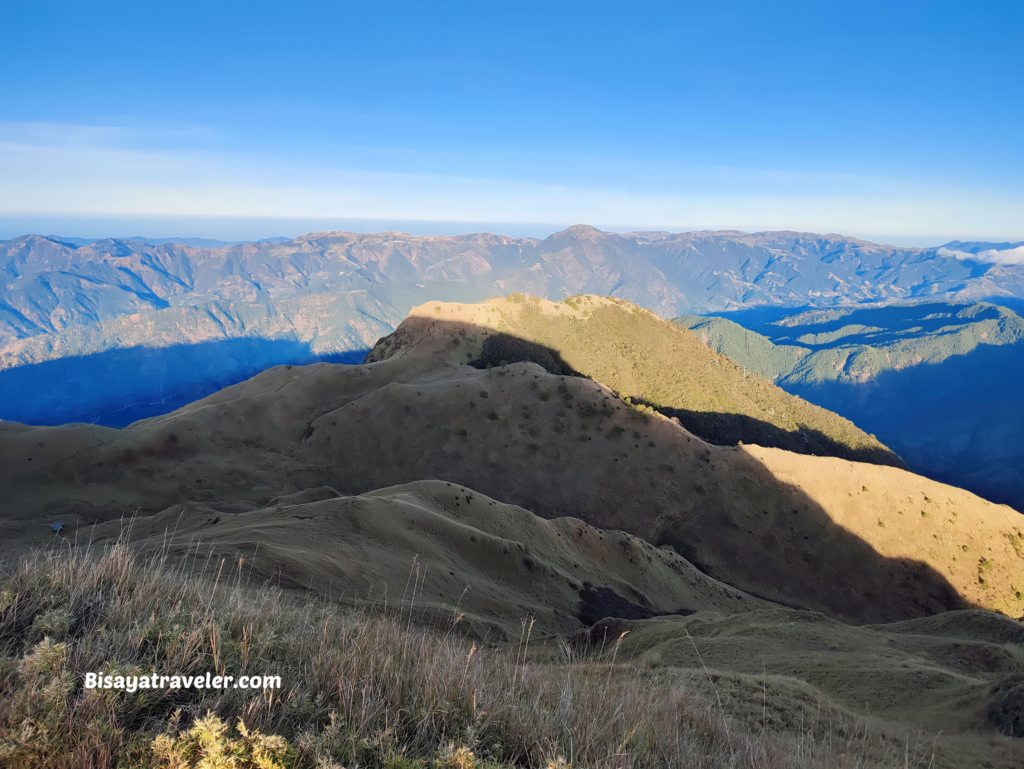 There's a unique dynamic in this group that I just love.
They all love to have fun and laugh.
Simple and laid-back, they don't talk about brands, gears, and their achievements in hiking.
The reason they hike is to immerse themselves in nature.
They also have a good sense of humor, which is a bonus for any solo joiner.
We wanted to take pictures of the Mt Pulag sign before leaving the summit.
While waiting, we cracked some jokes and did everything to lighten the mood.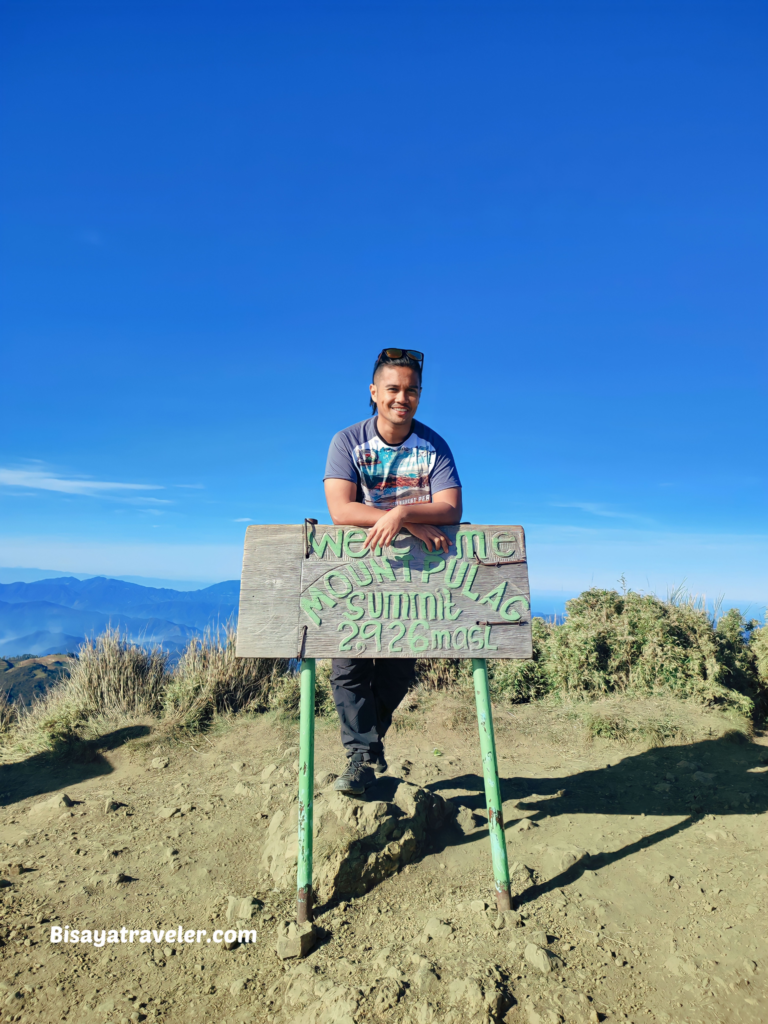 We talked about Good Taste, a famous restaurant in Baguio.
For some reason, RVD called it Great Taste.
As silly and childish as it may seem, we laughed at it and practically made it the theme for the rest of our Luzon trip.
And it almost made me forget the mistake I made earlier on our way to the Mount Pulag summit.
February 5 at 4:31 AM – Mt Pulag summit
We lost two friends on our way to the Mount Pulag summit.
And I blame myself for that mishap.
I was leading the charge, and they didn't see us take the last ascent to Mount Pulag.
They followed a group that was also headed in the wrong direction.
It pains me because it reminds me of how people live nowadays.
If you go too fast to reach the top and secure a stable position, you'll sometimes lose friends.
If you live in the fast lane, your friends might take a different route.
And I know how it feels like to lose track of a friend who rushes to the top.
That friend blindsided me because this person wanted what I had.
I, however, don't give a fuck about all that.
The only sad thing is I was there in this person's lowest times.
5:54 PM – Mt Pulag summit
I see crowds admiring the majestic sea of clouds and waiting for the astonishing sunrise on Mt Pulag.
Yet, even with the throngs of tourists, I felt at peace as I soaked up the beauty of Mount Pulag.
The thing is, I see and experience the world according to my state of mind.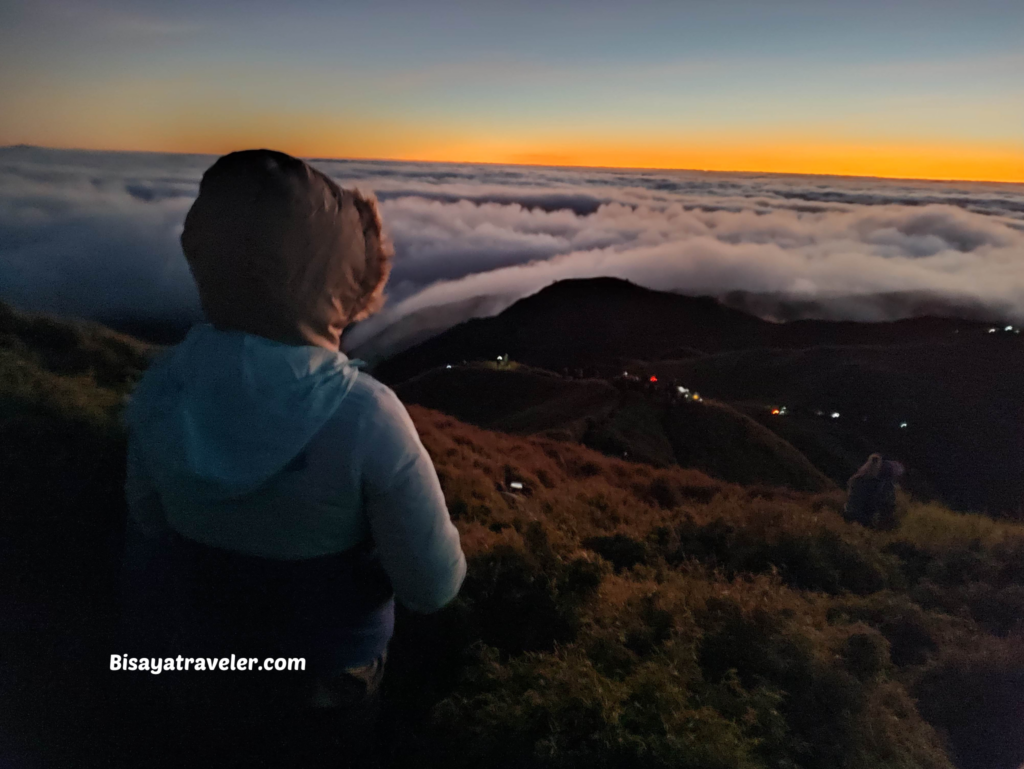 When my mind is compassionate, peaceful, and joyful, the world feels that way too.
But, when my mind is filled with negative thoughts, the world appears desolated and negative.
Despite all the chaos, backstabbing, and problems surrounding me, I'm at peace.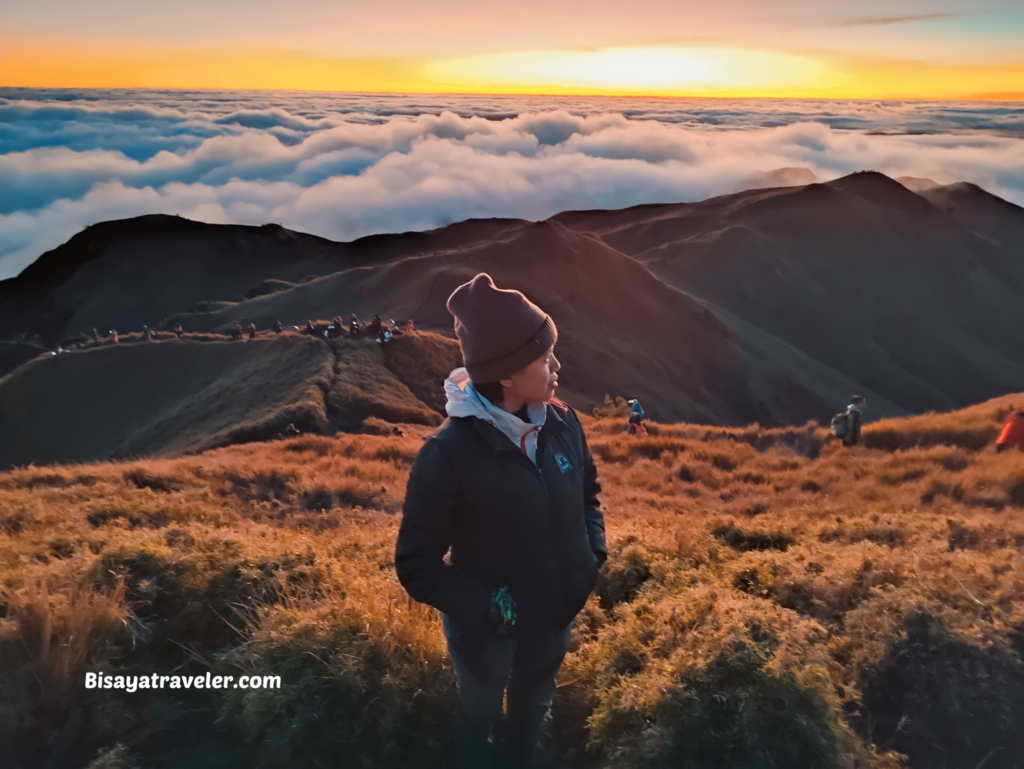 Slowly, the sun emerges, and we're about to see the iconic and dramatic Mt Pulag sunrise.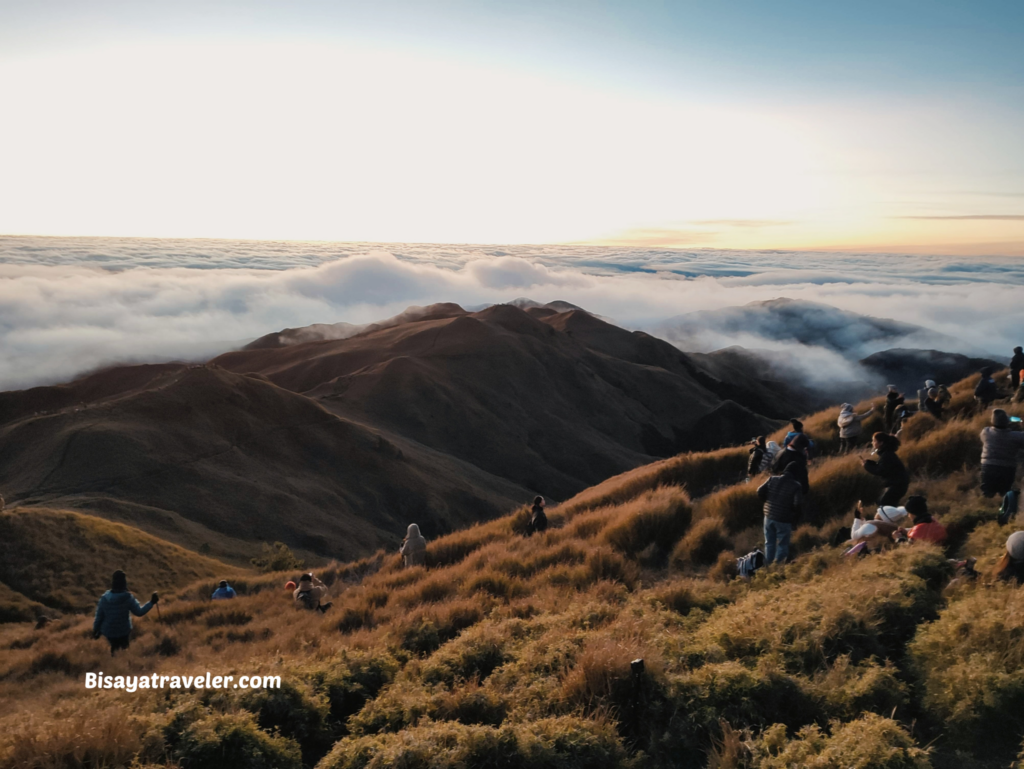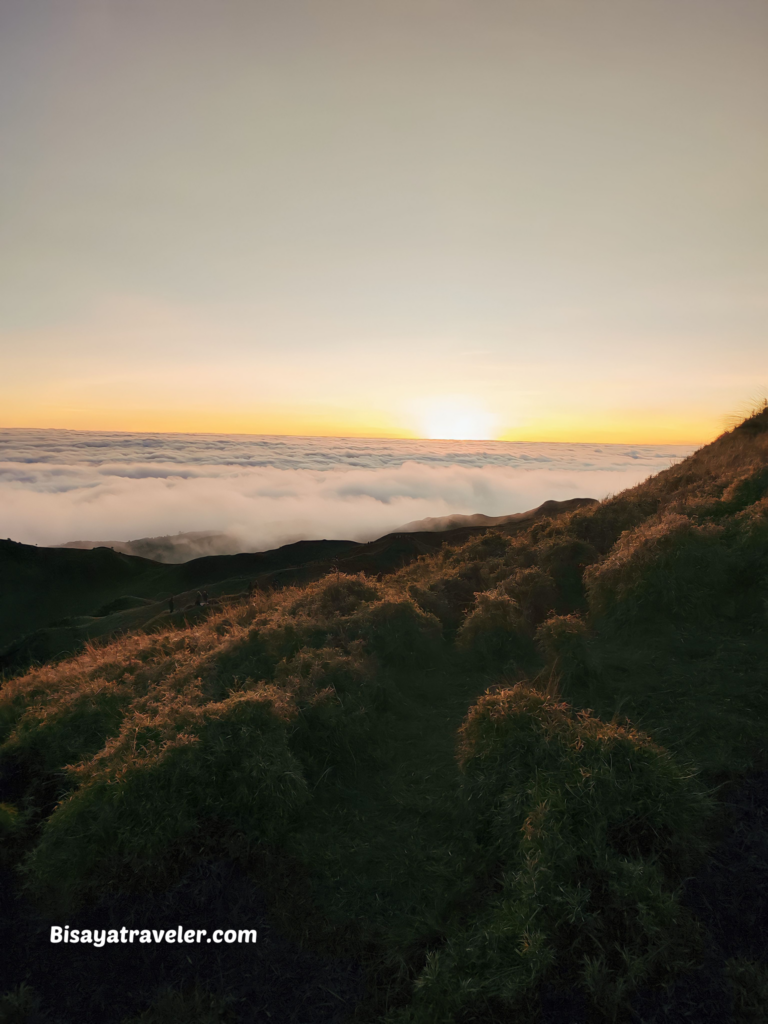 February 5 – 8:45 AM – Mt Pulag grassland to pine trees
Some say January is the best month of the year.
It's when people make resolutions and the time for new beginnings.
And it's the month when people set new goals, reflect, and get a clean state. 
But I don't see January that way.
January brings sad memories and represents endings in my life.
Actually, I prefer February over January.
Like Mount Pulag's sunrise, February, to me, symbolizes the start of a new era.
And there are a lot of things to love about February.
The skies are crisp and blue, the grass is verdant, and the air is pleasantly cool in February.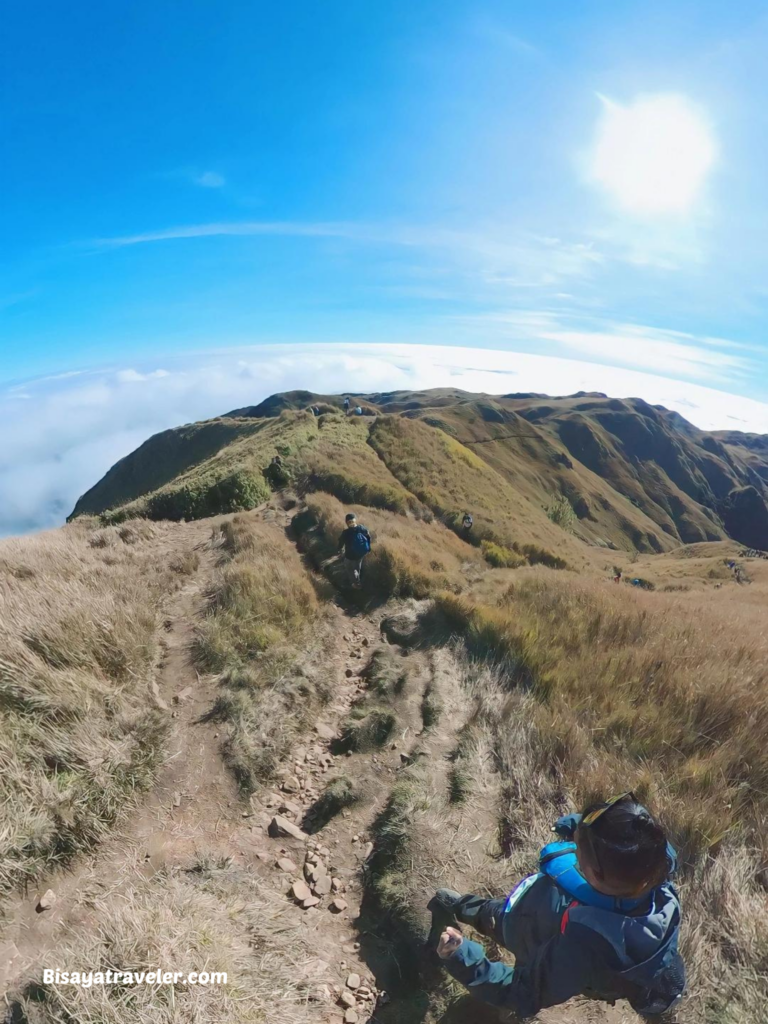 I'm enjoying all of this while hiking the scenic Mount Pulag grassland.
I feel like I'm walking in heaven as I hike the rolling landscapes of Mount Pulag.
With the majestic sea of clouds, blue skies, and lush landscapes, there's a stunning sight at every turn on this part of our Mount Pulag hiking tour.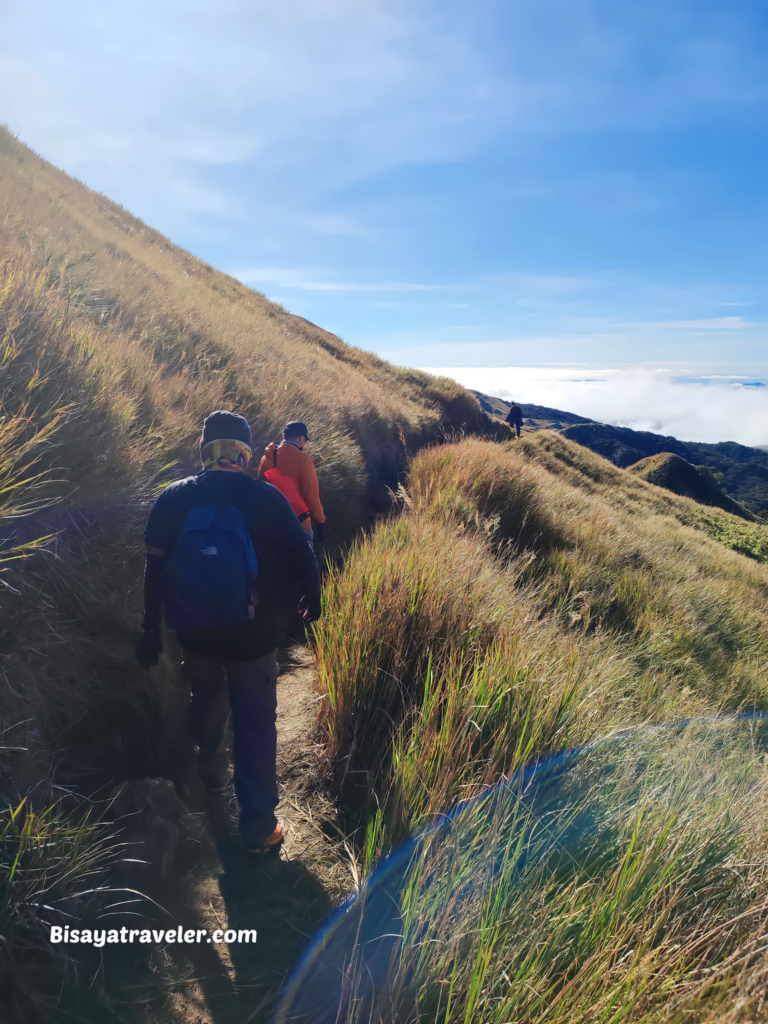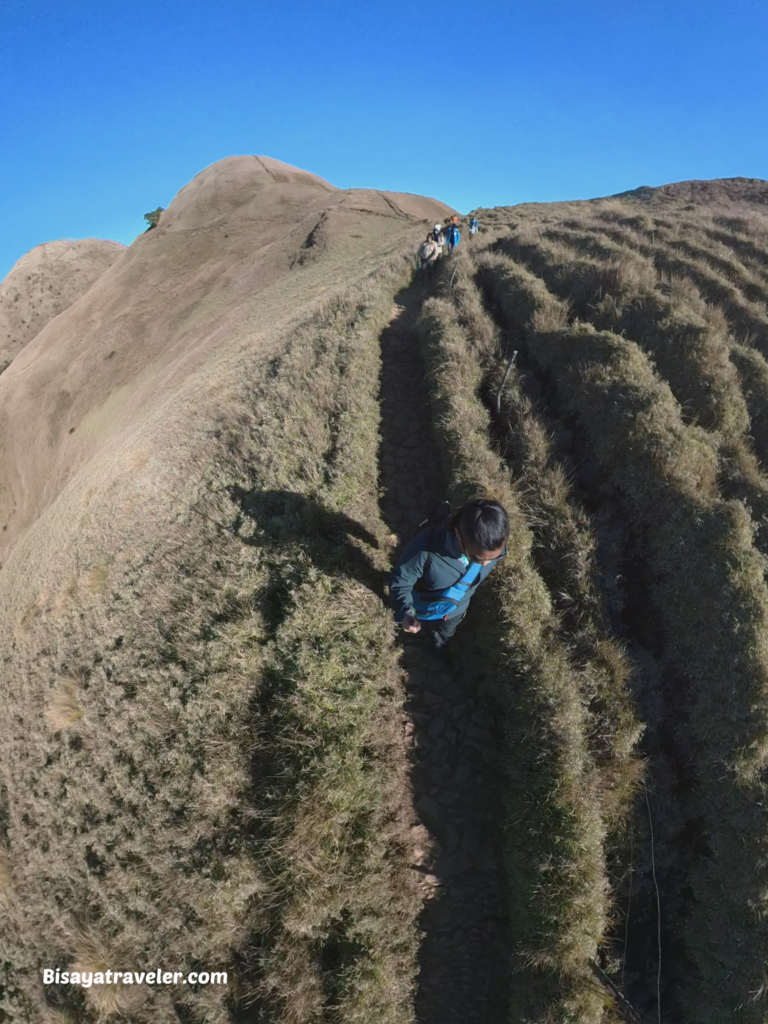 There are also dwarf bamboo plants that add to the charm and appeal of Mount Pulag.
Then, we hiked Mount Pulag's mossy forest filled with moss, lichens, and ferns.
We were moving at a glacial pace on this section of Mount Pulag National Park.
The trail was packed and busy, with over 300 tourists hiking Mount Pulag that day.
And some people were pissed off when we overtook them along the trail.
They thought we were showing off.
Sadly, one couple even wished harm to Maria.
I know most of them aren't familiar with hiking etiquette.
Still, everyone knows that we must move at our own pace.
It's a bit like life.
You live your life according to your strength, belief, and capabilities.
Why can't they apply it to other things, like hiking?
Eventually, we arrived at the pine tree section of Mount Pulag National Park, which implied we were close to completing the hike.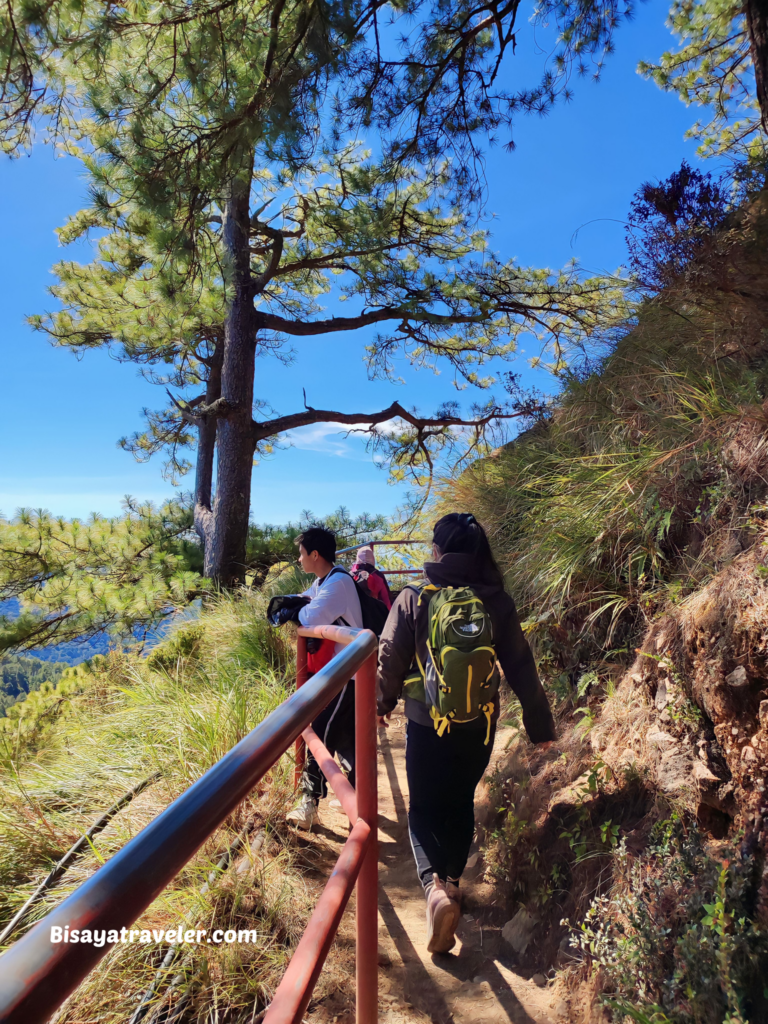 February 4 at 5:04 PM – Mount Pulag Tourism office
I'm hyped up for our Mt Pulag hike.
Even though I had no sleep, I was feeling sprightly and excited to see the hypnotic sunrise and sea of clouds in Mount Pulag National Park.
From the park's landscapes to the dos and don'ts, the tourism office shared every piece of information needed for our hike to Mount Pulog.
Once done, we headed outside and were stunned by a beautiful sunset.
Sunsets are a reminder that endings can also be beautiful.
And I should see things that way.
No matter how painful it is, I should see endings as opportunities to grow, learn and start a new journey.
February 5 at 6:20 AM – Mount Pulag Summit
Everything you've heard about Mount Pulag is true.
The "playground of the gods" is an ethereal summit that's as jaw-dropping, stunning, and unique as advertised.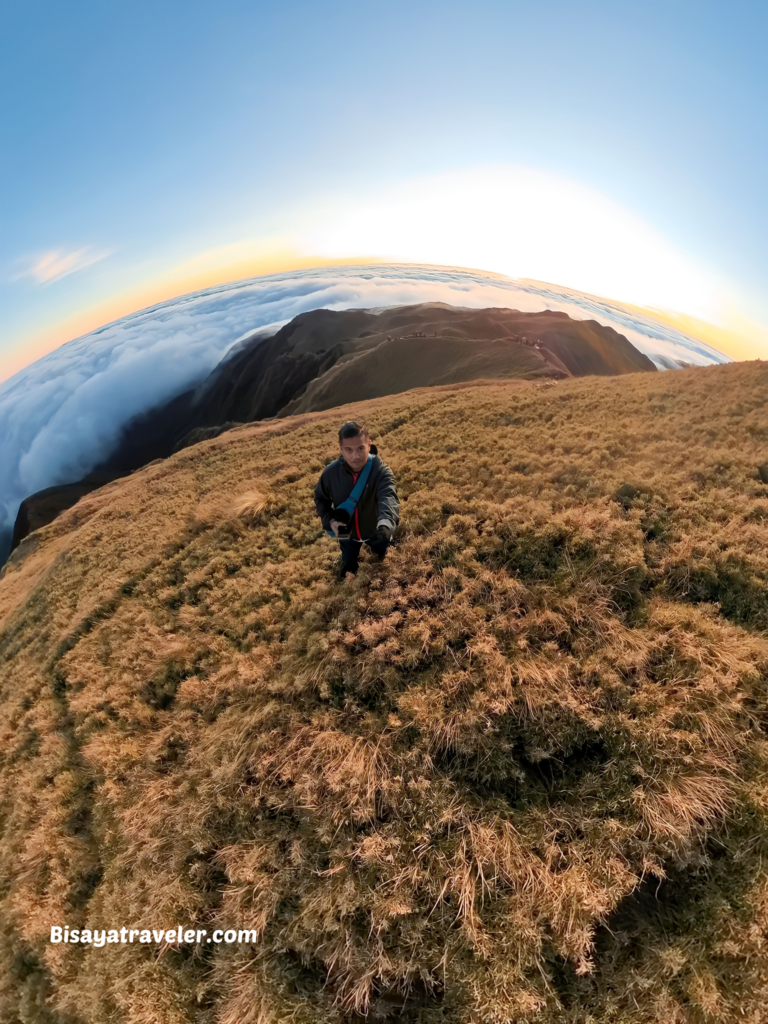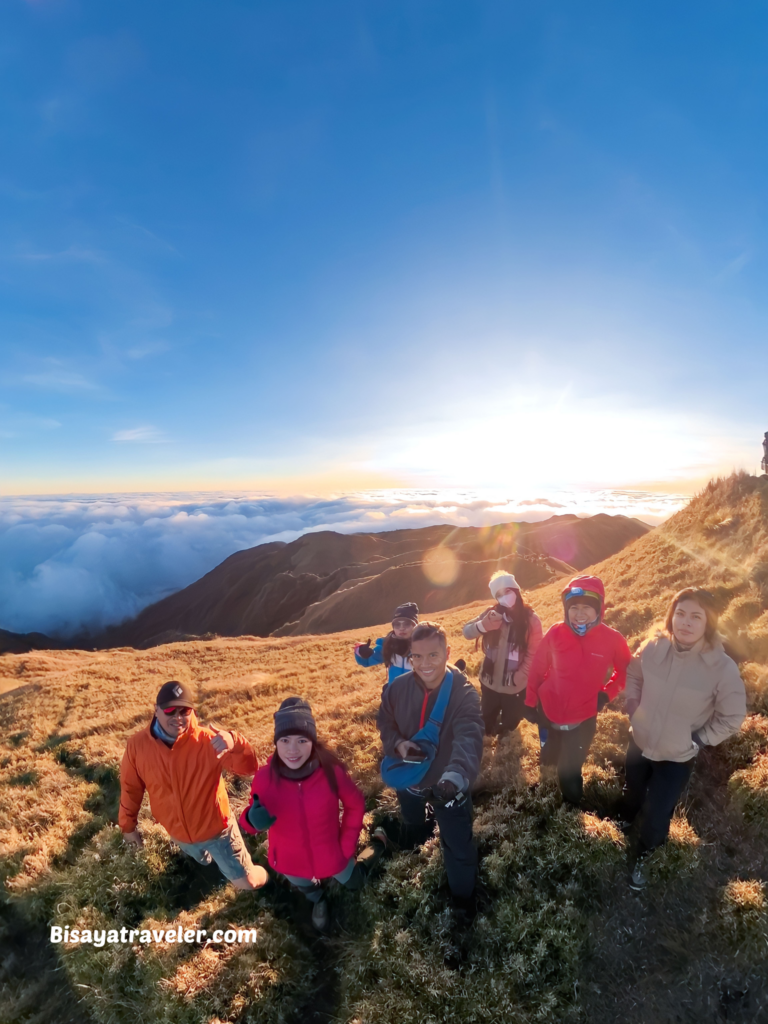 We watched the sun beautifully stain the eastern horizon with shades of amber and purple.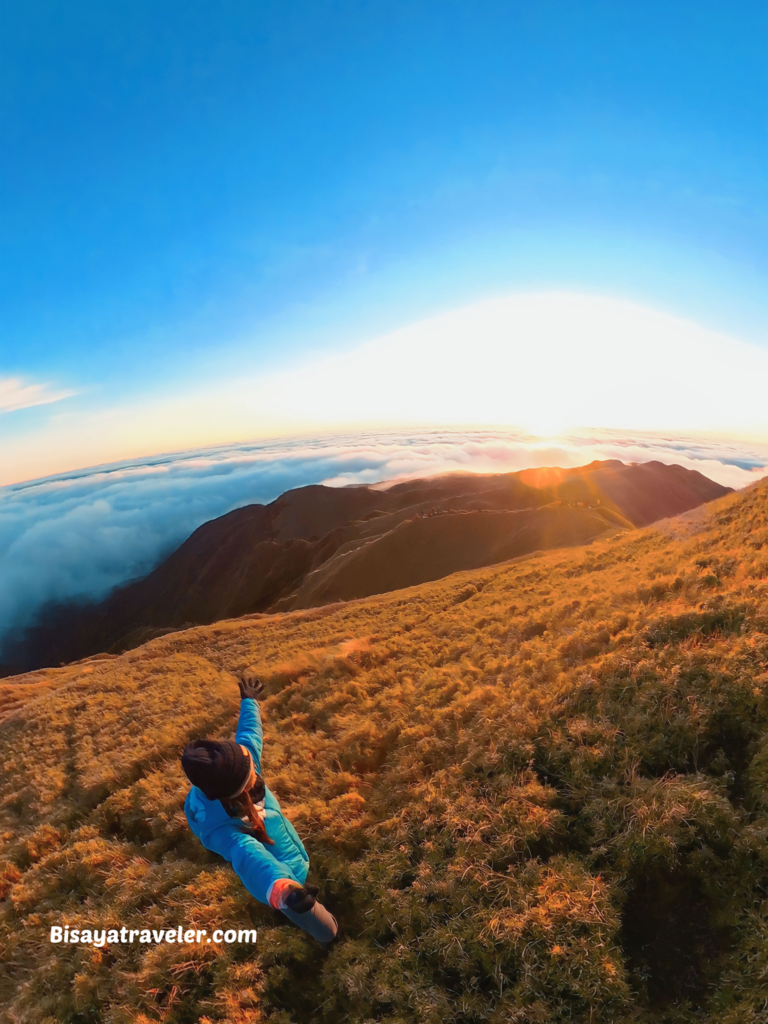 Then, the sun penetrated, breaking the clouds with rays of gold and transforming Mount Pulag into the awe-inspiring playground of the Gods.
With its otherworldly scenery and refreshingly crisp air, it's easy to see why Mt Pulag is famous.
It's a sight to behold and a place you don't want to leave.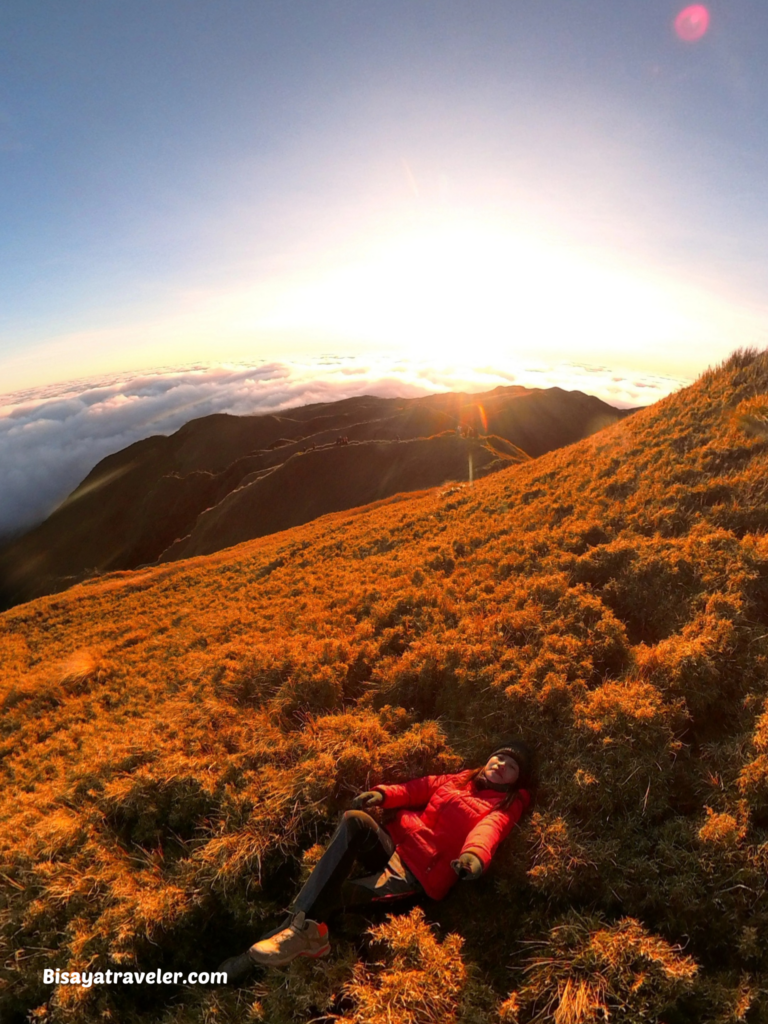 We wandered the Mount Pulag summit to soak up the heavenly scenes, the waterfall-like sea of clouds, and mesmerizing sunrise.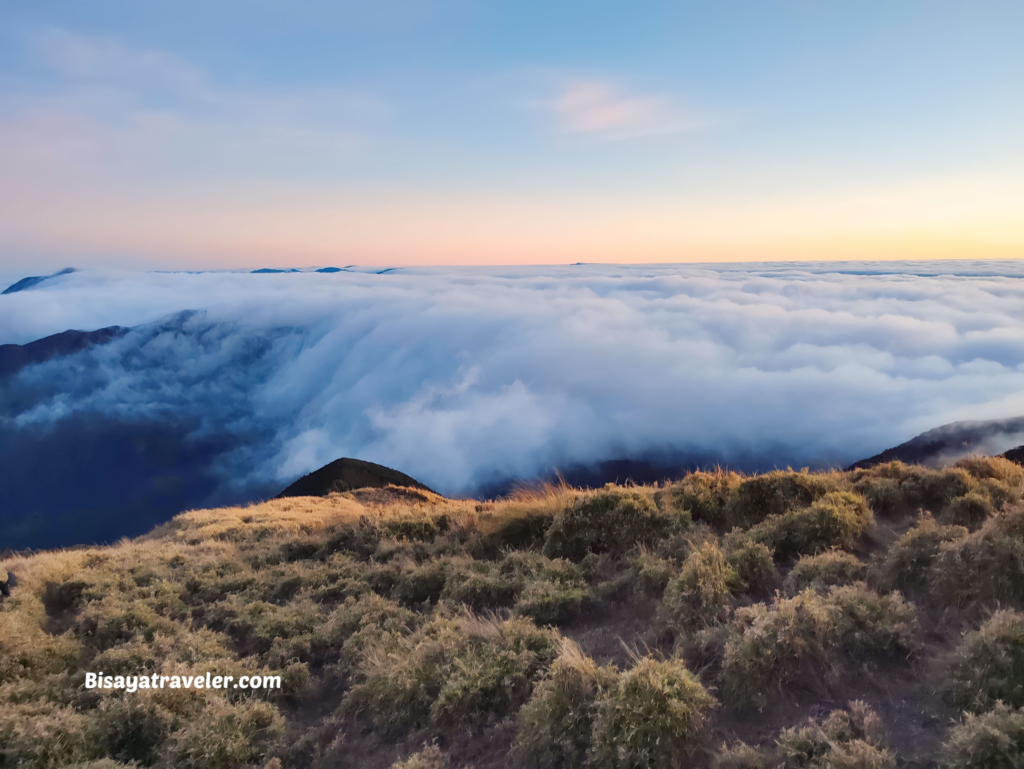 We danced, ran, jumped, and sang in joy.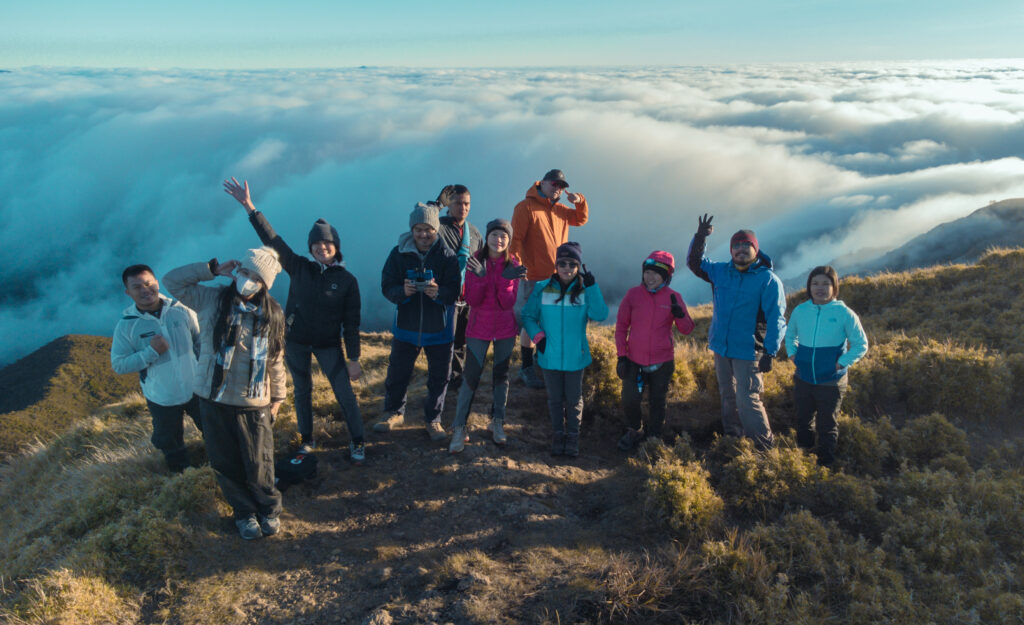 And I also learned a few geography lessons from Bojec while enjoying these short, precious moments.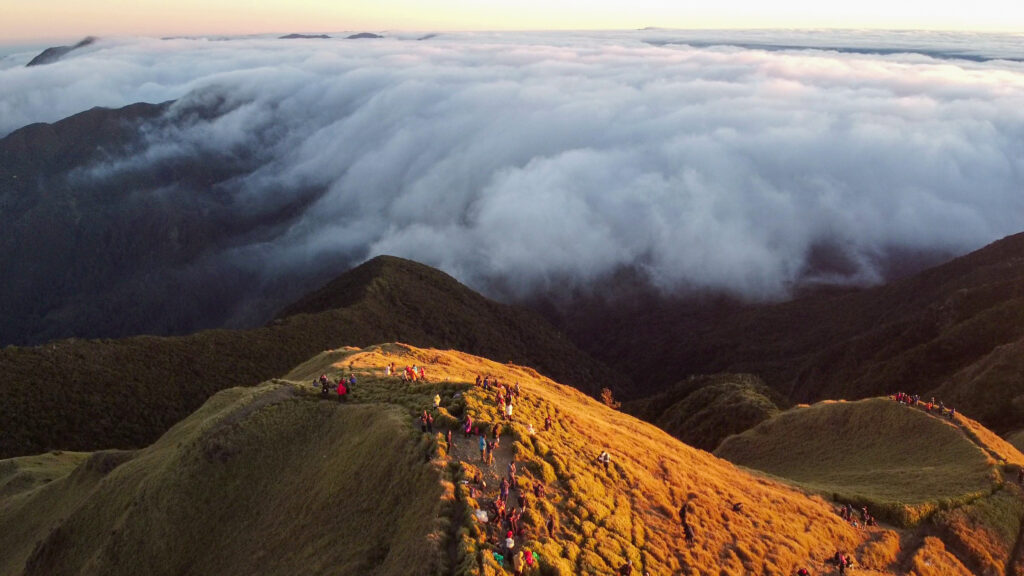 I discovered the location of Mount Timbak, Mount Tabayoc, and the Mt Pulag Ambangeg trail.
Of course, we took a ton of pictures of the surreal sights in Mount Pulag.
We can't pause time, we can't stop the world from spinning, and we can't travel back in time.
But our Mount Pulag pictures will always transport us to these joyful moments.
And these moments also epitomize a new beginning for me.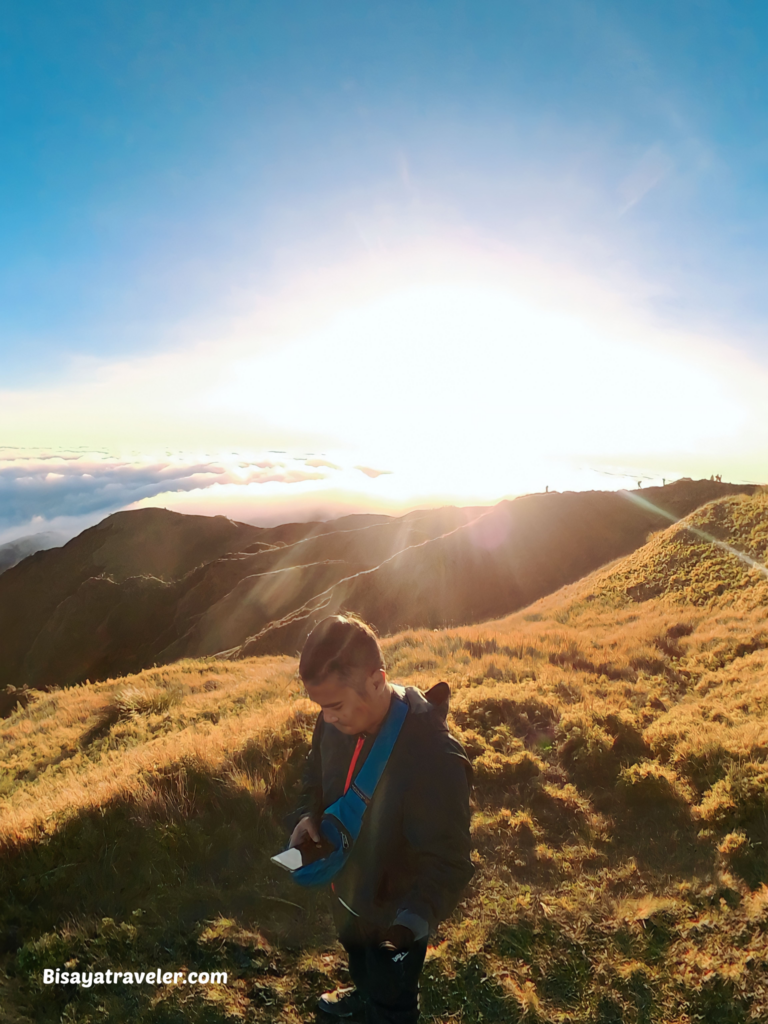 Exactly a month earlier, on January 5, my father passed away due to a heart attack.
Since then, it has been a series of stressful and painful moments for me.
A year ago, on January 25, 2022, my mama – the loving guardian I considered my second mother – passed away.
And a couple of weeks before my mama's death, my partner and I went our separate ways.
And she brought with her my life's greatest joy, my daughter.
Along the way, there have been other trials and setbacks, including losing friends and mental health problems.
These non-stop setbacks and challenges didn't stop me from doing what was best for me.
I yearned for nature's therapy, a new beginning, and an experience that would give a hint of hope.
I almost canceled my Mt Pulag hiking tour because of all the problems plaguing my family.
But I had a choice.
And, this time, I choose happiness.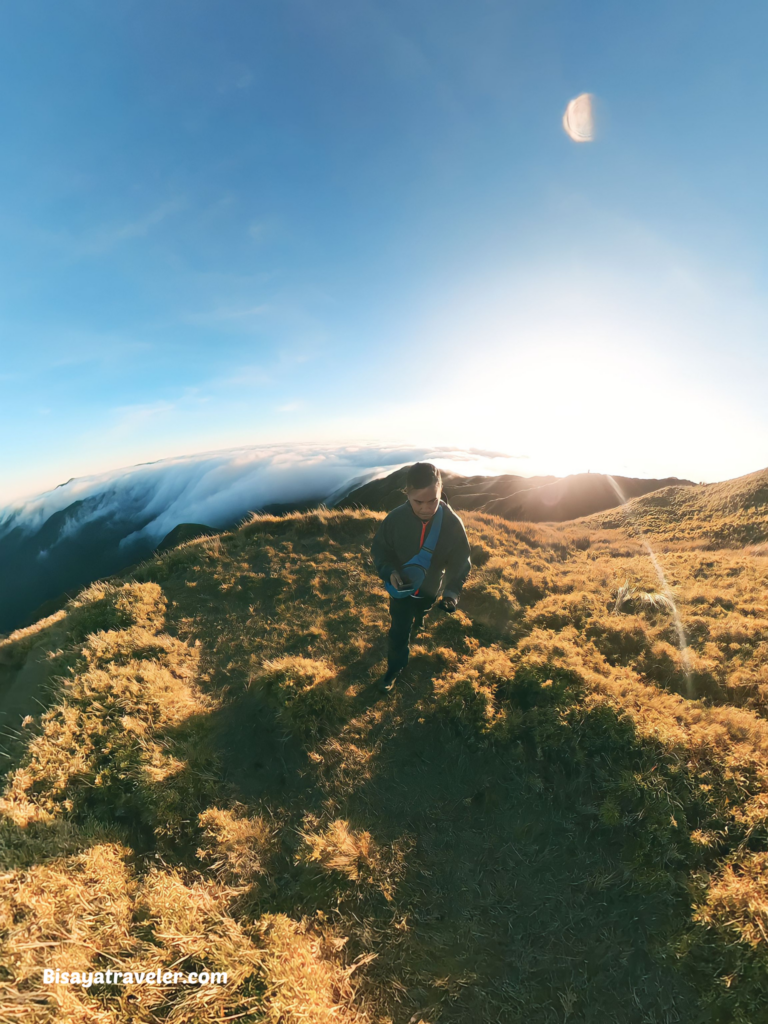 When our heart is filled with joy, we become open to new things.
But, when we're in a sad state or mood, we can never try new things, no matter how beautiful they are.
Life is dull and slow when there's no joy in our life.
Right now, it's full of joy, and I feel optimistic for the first time in a while.
And it's not just the legendary Mount Pulag sunrise and sea of clouds that have brought me hope.
I have my family, real friends, and relatives who supported me on this journey.
I see the light now, and I'm sure a new journey filled with mystery and joy is on the way.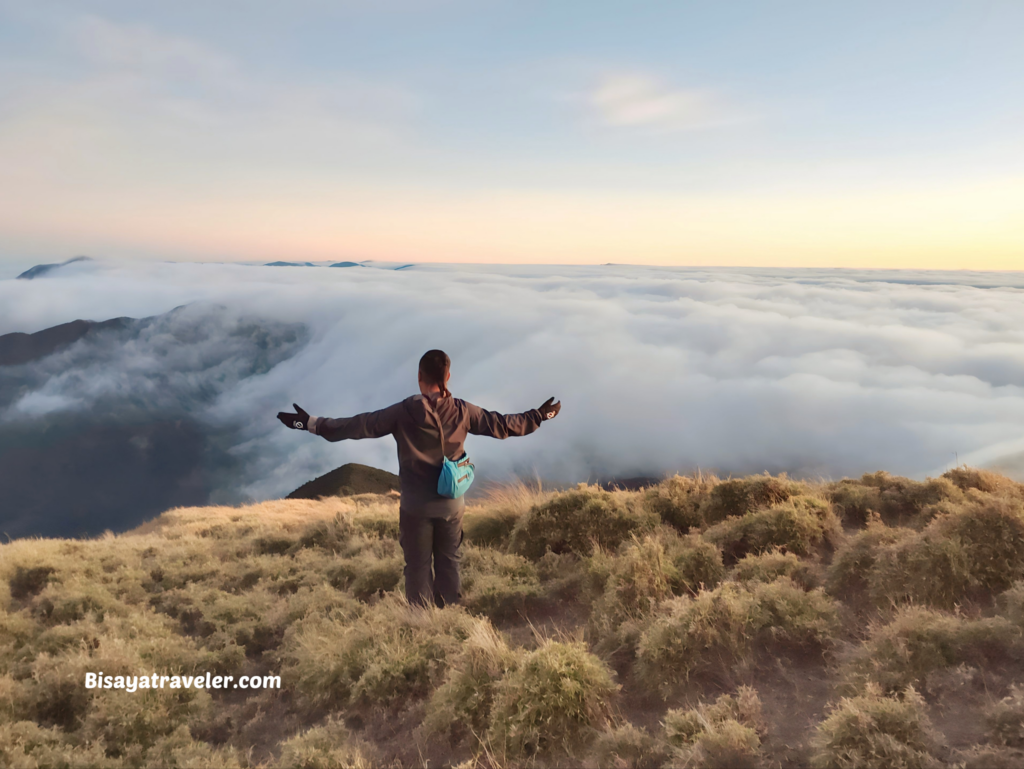 What to bring in Mount Pulag
Full-finger gloves
Bonnet
Trail food (chocolate bars, peanuts, power bars, sandwiches, etc.)
Headlamp or flashlight
Emergency blanket or thermal blanket
Sunglasses
At least two pairs of socks
Hiking shoes
Dri-fit shirts
Extra clothes (for layering)
Daypack (for those taking the Mt Pulag day hike)
Tent, sleeping mat, and bag for those who are going camping (camping is not allowed on the weekends)
Rain gear
Medicines and first aid
Refillable water bottle
Sunscreen
Lip balm
Is Mt Pulag for beginners?
Mt Pulag via Ambangeg is ideal for newbie hikers. Its difficulty level is 3/9.
Meanwhile, the Akiki Trail, which is temporarily closed, is better suited for experienced hikers.
How long does it take to climb Mount Pulag?
Depending on your pacing, it will take around 4 to 6 hours to reach the summit from the Mount Pulag ranger station.
The Mt Pulag Ambangeg trail has a total length of 16 kilometers.
Where is Mount Pulag located?
Mount Pulag sits on the Grand Cordillera Central, which stretches to the Cordillera Provinces from Pasaleng, Ilocos Norte.
Furthermore, Mount Pulag National National Park falls within the administrative jurisdiction of the Cagayan Valley and Cordillera Administrative Region.
Why is Mount Pulag famous?
Mount Pulag is known for its otherworldly scenes, such as the Milky Way Galaxy view at dawn, the sea of clouds, and sunrise.
Moreover, it's the highest peak in Luzon and the 3rd highest in the Philippines, with an elevation of 2,928 meters above sea level.
How to hike Mt Pulag?
You can hike Mount Pulag DIY-style or join a tour group.
I prefer the latter since it's more convenient and ideal for someone not from Luzon like me.
From the homestay to the meals and transportation, tours cover almost everything you need for your Mount Pulag hiking tour.
If you want to join a Mt Pulag hike, contact Bojec or Subgo Adventours (Facebook link attached).