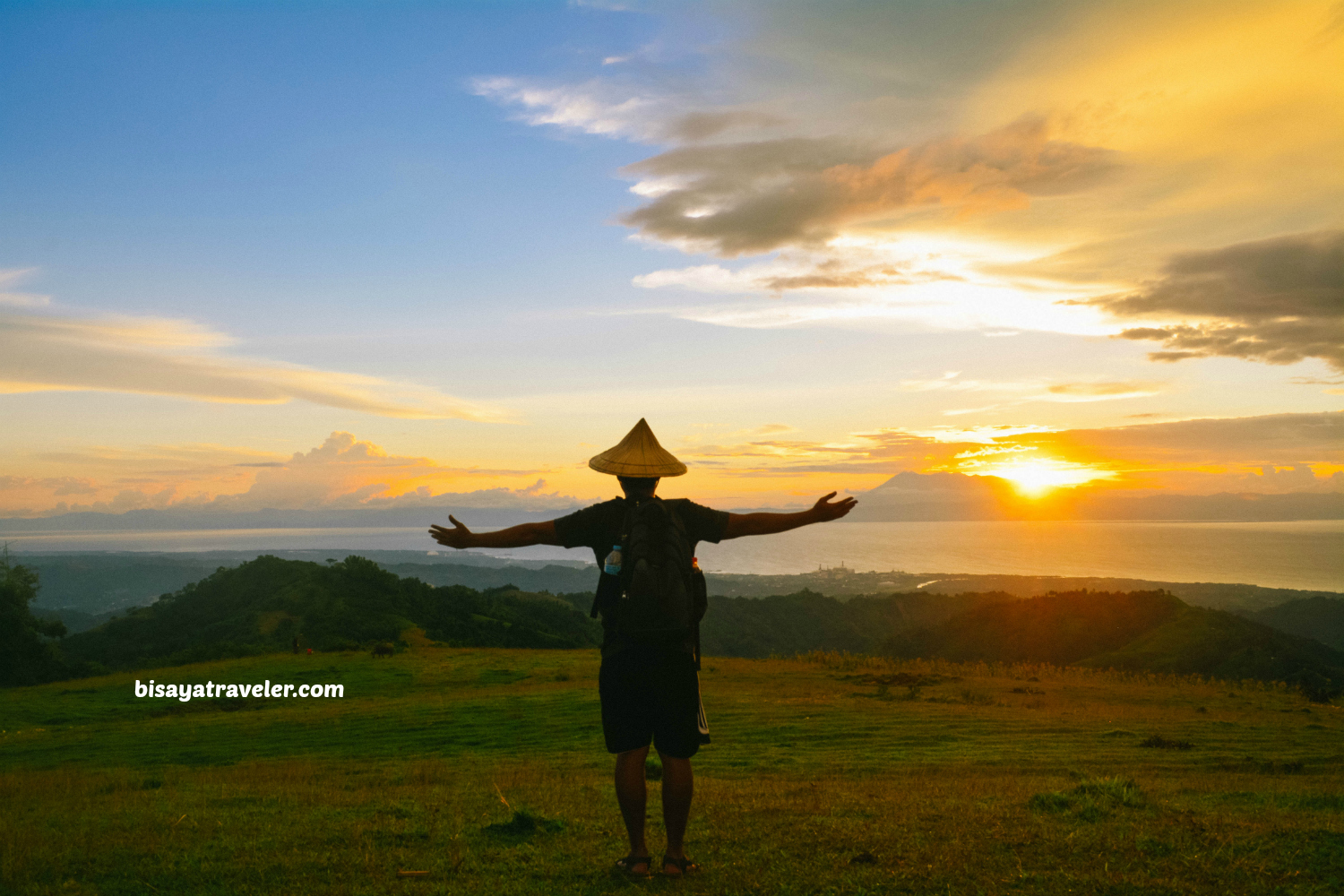 Sunset In Mount Tagaytay: Relishing Life's Simple Pleasures
In our never-ending quest for happiness, we tend to overlook and undervalue the simple moments, sights and things we feel every day. Let's face it folks, it's in our nature to seek out actively experiences that bring us bliss, such as buying a new smartphone, watching an extravagant concert or taking a trip to a tropical paradise abroad. But sometimes, it's the simple pleasures in life, like the sunset on top of a mountain and fresh sea breeze that could lead to pure and unequivocal joy.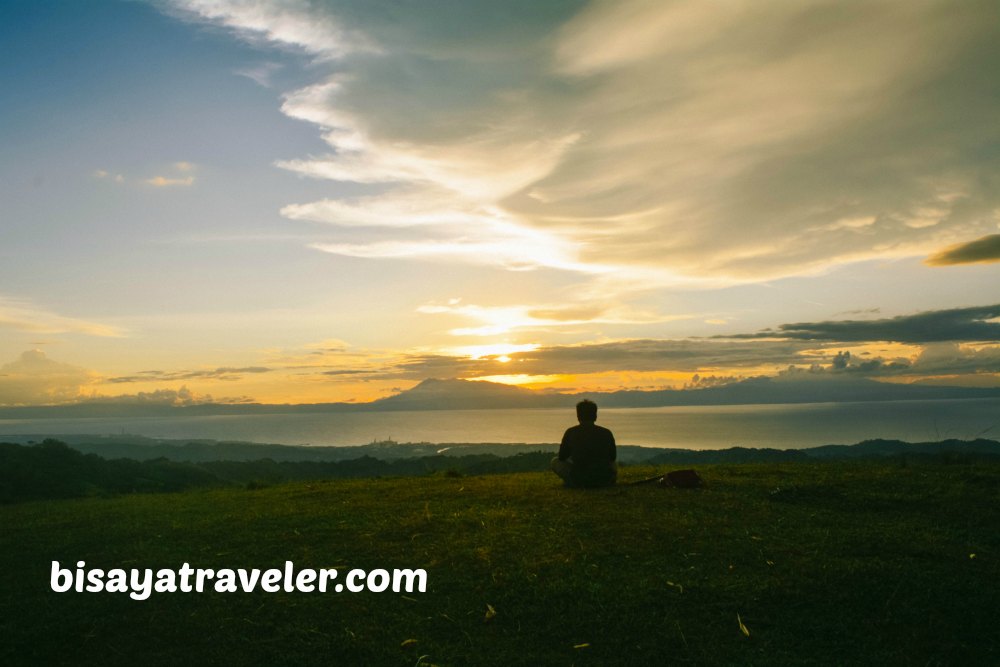 Mostly, these simple sources of happiness are unassuming and experiences that we take for granted. But, if you pause for just a while, embrace them and cherish them, there is not telling how much happiness you'll find even in a day. And, last weekend, I experienced one of life's finest simple pleasures, following a sweltering and scenic hike in the highlands of Copper City – Toledo, Cebu.
Our Mount Tagaytay sunset experience
As I relished the fresh air on my face in Udlom Peak, I knew at that moment that I made the right decision to fight through the pain. In spite of the pains and struggles I went through for that day, I didn't regret hiking with an ankle injury and a banged up body. Not only did we go through a challenging and fun-filled adventure, but we were about to witness a simple yet wondrous ending to our escape – a stunning sunset in Mount Tagaytay.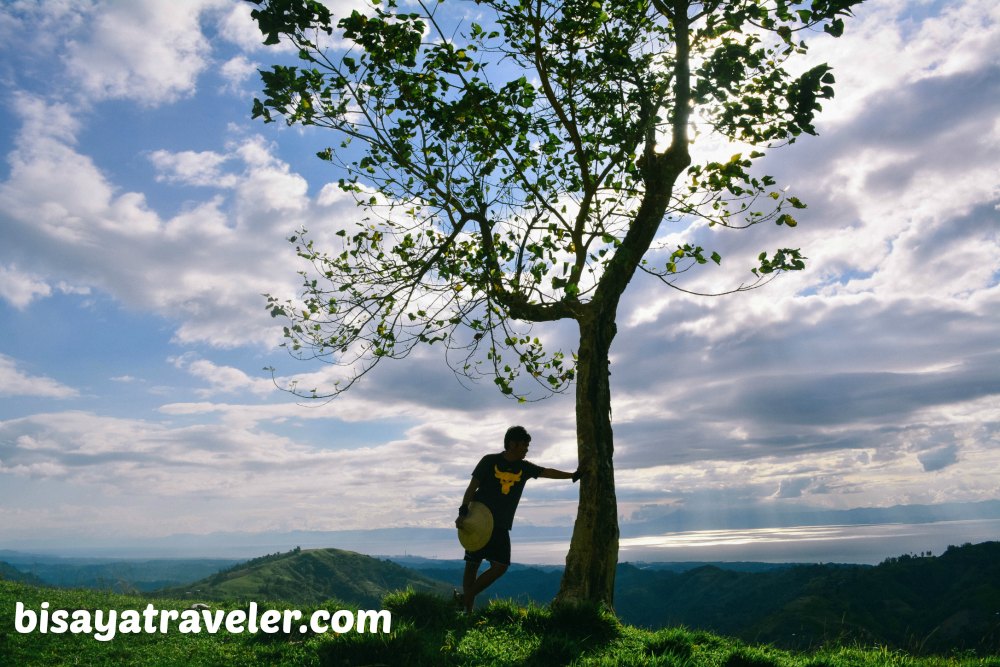 On my first hike up to Mount Tagaytay, I didn't get to see the full grandeur of its beauty, during sunset. With dark gray skies and thick clouds, we simply couldn't see how beautiful the sunset can be in Mount Tagaytay.
And that's why I was so psyched to finally lay eyes on Mount Tagaytay during sunset. With a perfectly sunny and warm weather, I knew the sunset in this part of Toledo city was going to be lit and spectacular.
But, before we can indulge on Mount Tagaytay's sunset, we had to make a quick stop to its photogenic neighbor, Mount New Bucao.
Spearheaded by Beth and his dad, Ramon, we followed the trail leading to one of my favorite mountains in Cebu.
As were about to reach our next destination, we made a quick stopover to a rustic house near the school, to refuel and drink a ton of water.
With our energies replenished a bit, we took on the trail, and caught of a bird's eye view of Malubog Lake from Mount New Bucao.
Although this wasn't my first time seeing it, I was still supremely amazed by the scenery and panoramas from this overlooking spot. As a matter of fact, I was so enthralled the view that I barely took a picture, and just admired the backdrop.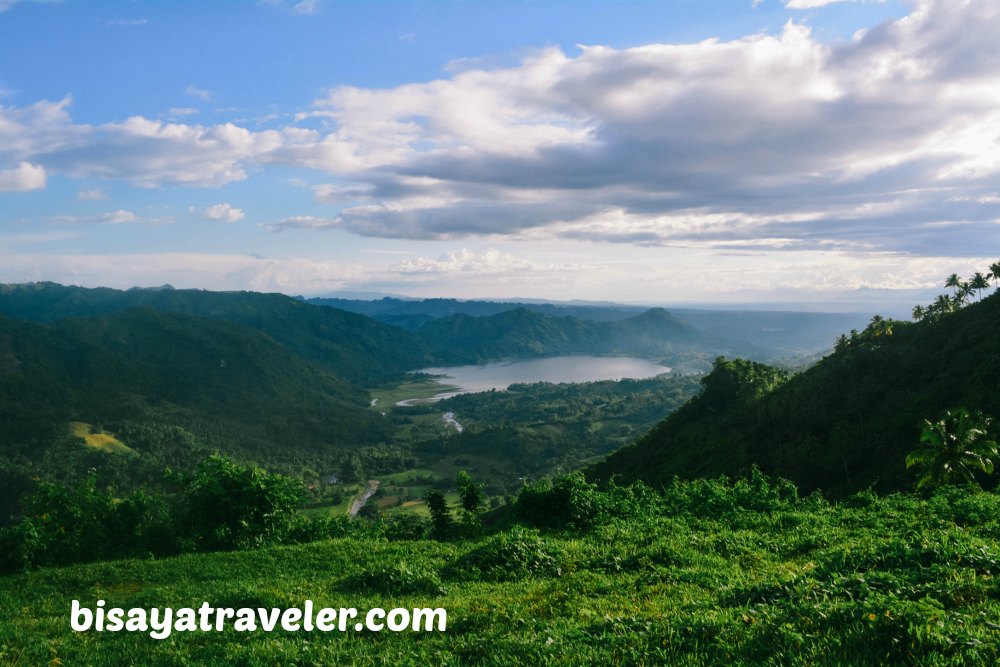 Of course, Idol, Shiela and Marc made tons of poses in Mount New Bucao, to capture these sweet moments.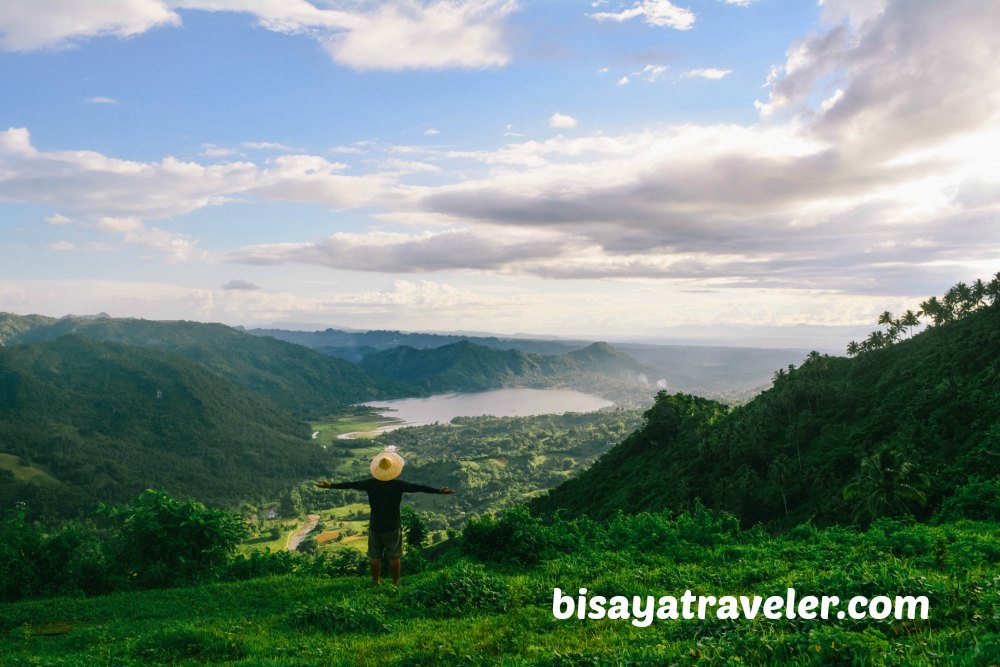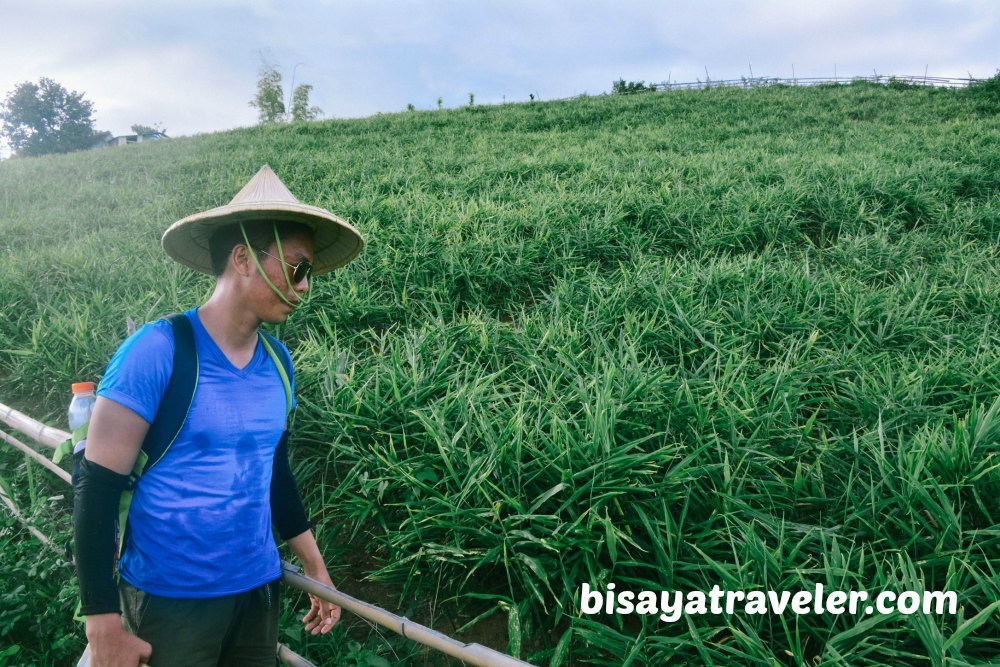 With the sunset about to hit its climax, we hiked our way through the picturesque trail to Mount Tagaytay. Along the way, we made a stop to savor one of our favorite soft-drinks, Sparkle. Yes, I know it's a little unhealthy, but we freaking deserve, with the extremely hot weather and the rather challenging steep trail to Linaw-Malingin Falls.
And, by the way, according to my mom and local reports, it was one of the hottest days in 2017. Yikes!
After our refreshing break, we wasted no time, and hit the pathway leading to Mount Tagaytay.
On our way back to Mount Tagaytay, we couldn't resist the urge to snap dozens of photographs.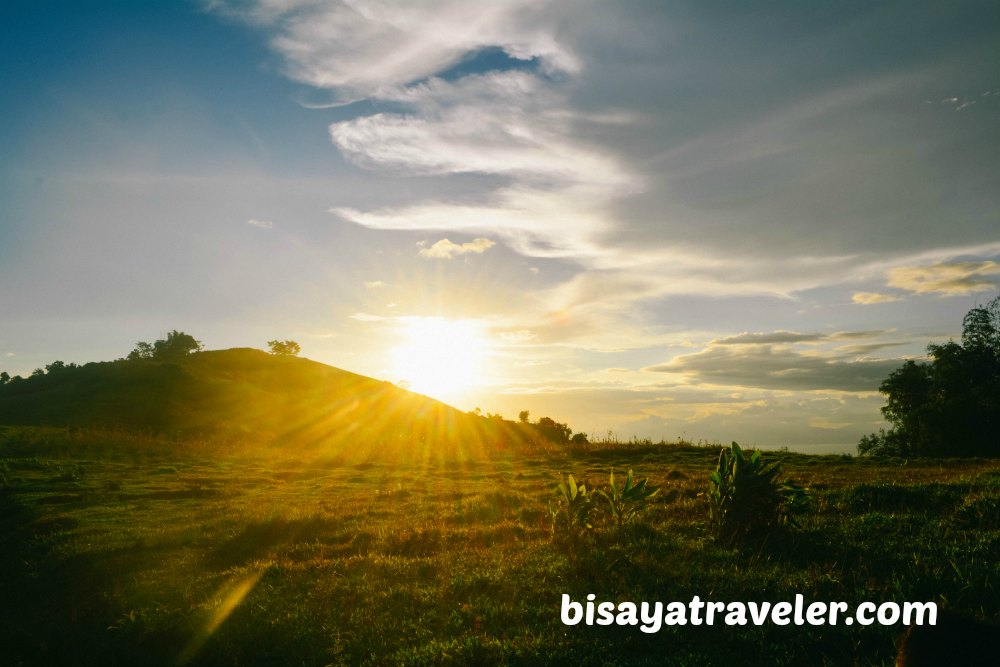 From the romantic couple photos of Beth and RJ to Idol's machete-like silhouette pose, we made countless of sunset photographs, as we were making our way to Mount Tagaytay.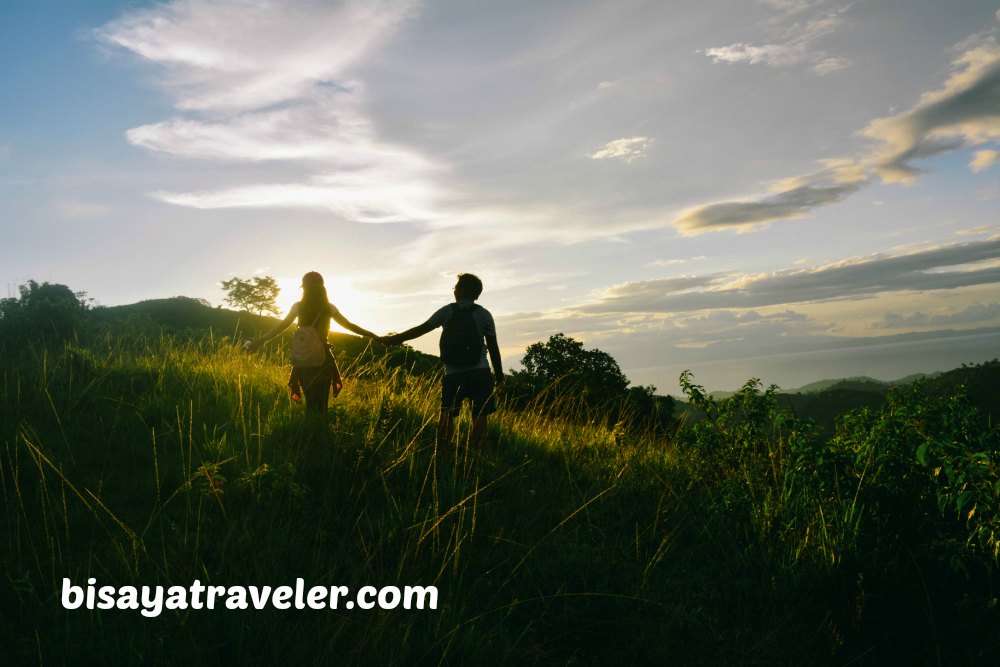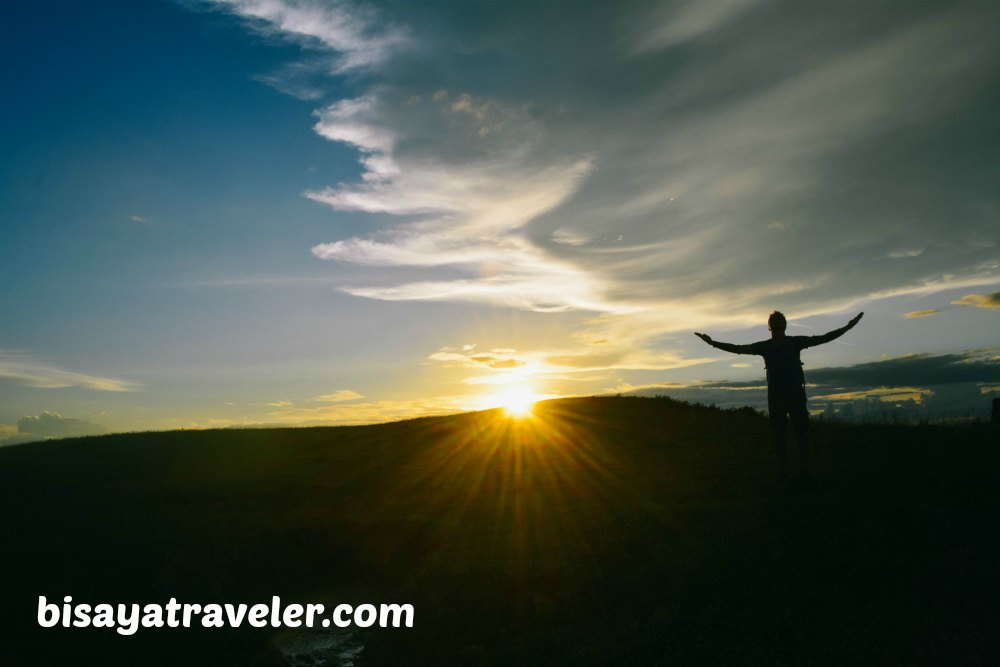 Likewise, we took shots of several interesting stuff on the trail, including this one-of-a-kind mushroom that cow dung.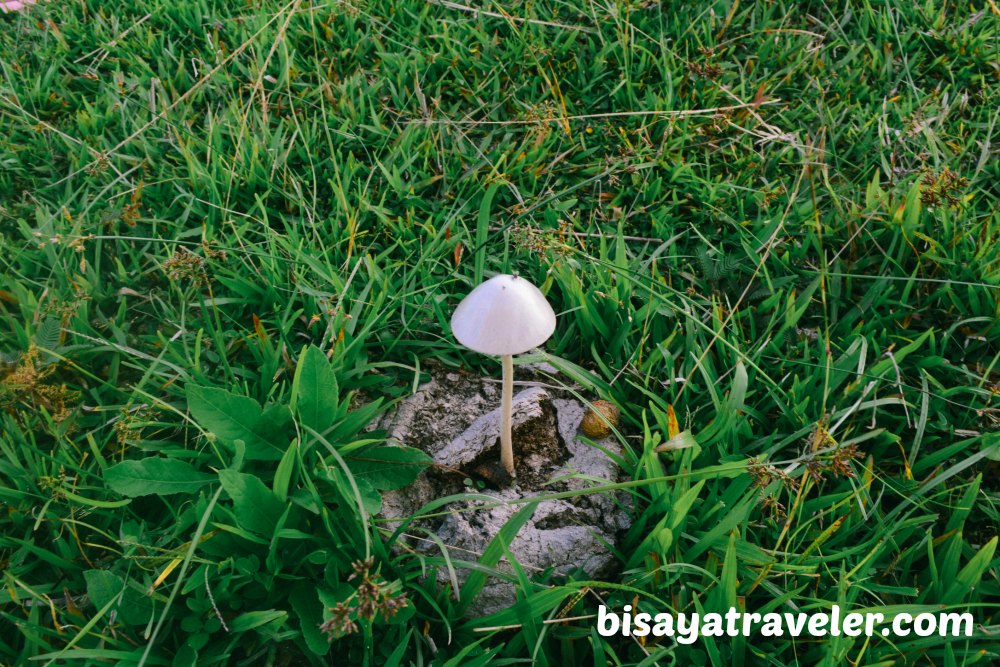 As suggested by boss Ramon, this species of mushroom can get you high AF and give you a psychedelic feeling.
And moments later, we finally arrived at Mount Tagaytay and got treated to an awe-inspiring sunset. As usual, we took turns posing, to immortalize this striking sunset in Mount Tagaytay.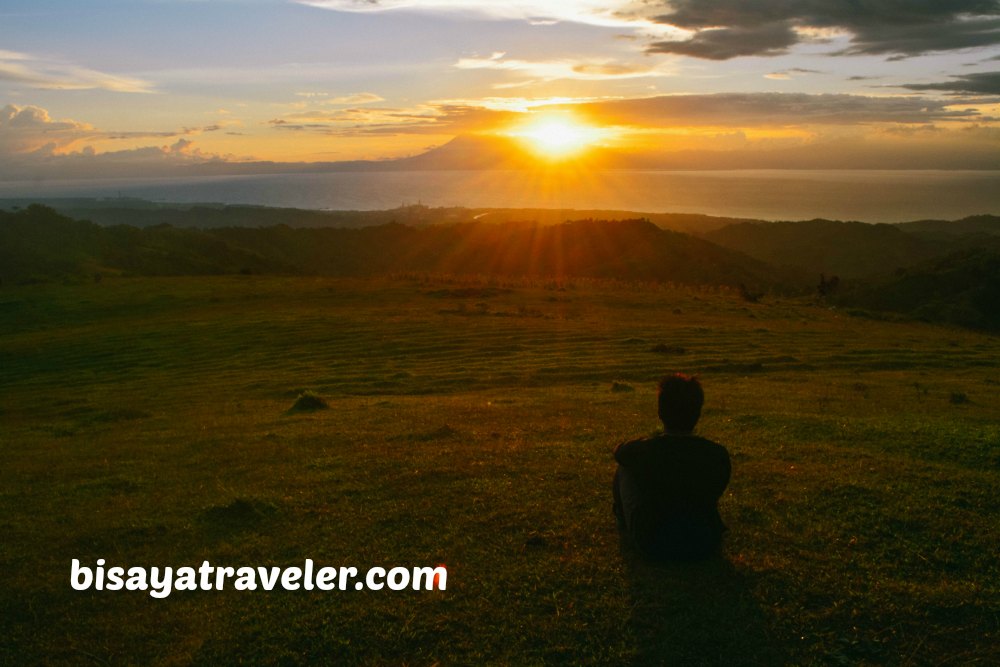 "Guys, I'm about to cry", said Marc jokingly, as he soaked up the sunset views. And Marc, even though he was literally kidding, was right. The dramatic sunset, paired with the clear view of Mount Kanlaon, can leave you speechless and in awe, and may even bring you tears of joy.
I asked everyone in the team if they enjoyed our hike, and they all enthusiastically gave me a "yes".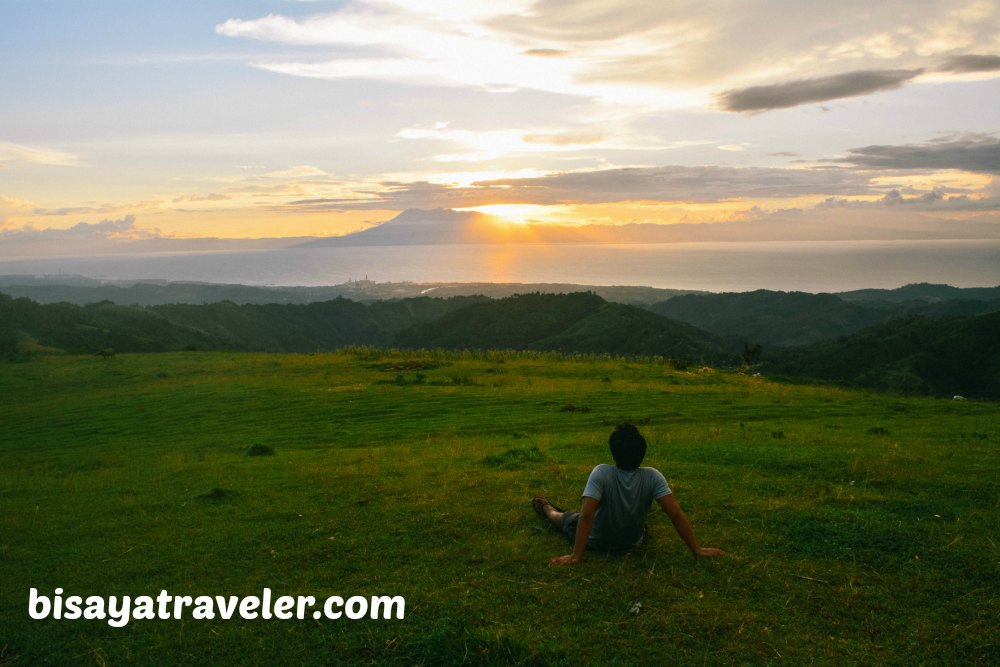 And that's one of the things I truly I like about my team. Like me, they are pretty easy to please, and would even go nuts over a sunset view, a dip at a waterfall or a lovely bird's eye from a mountain. In other words, we are the types of people who, in Bisaya lingo, have "mubo ug kalipay".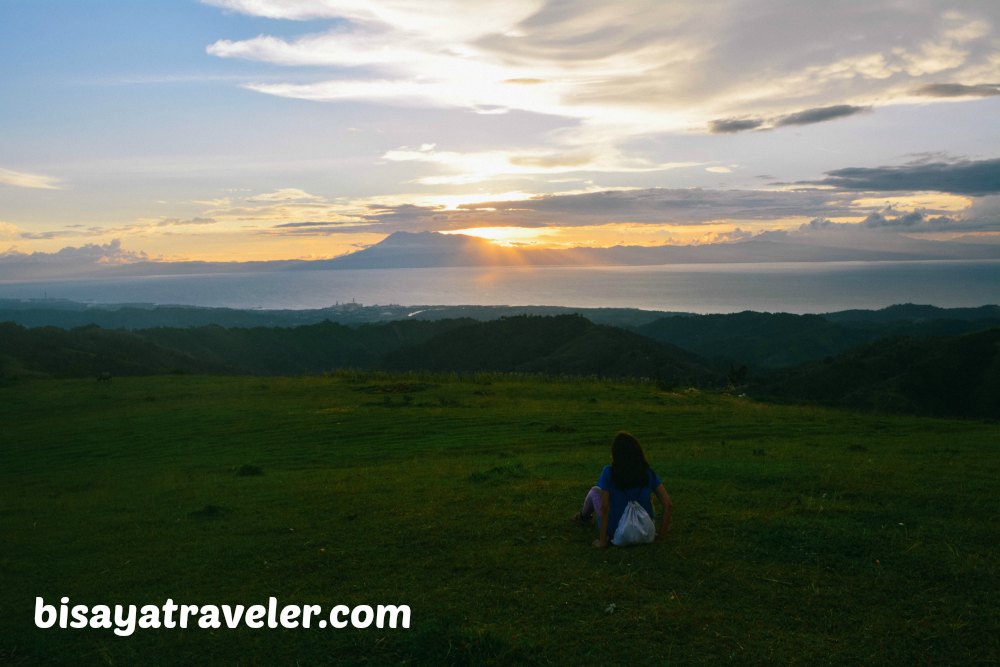 Folks, these are the kinds of people that I want to hang out with.  They are downright fun to be with, and they love to pause for a moment, just to drink in the wondrous atmosphere. As I've said before, I'd pick these joyous, "way libog" people over any group of rich kids who think they are as cool as David Beckham or Chuck Norris.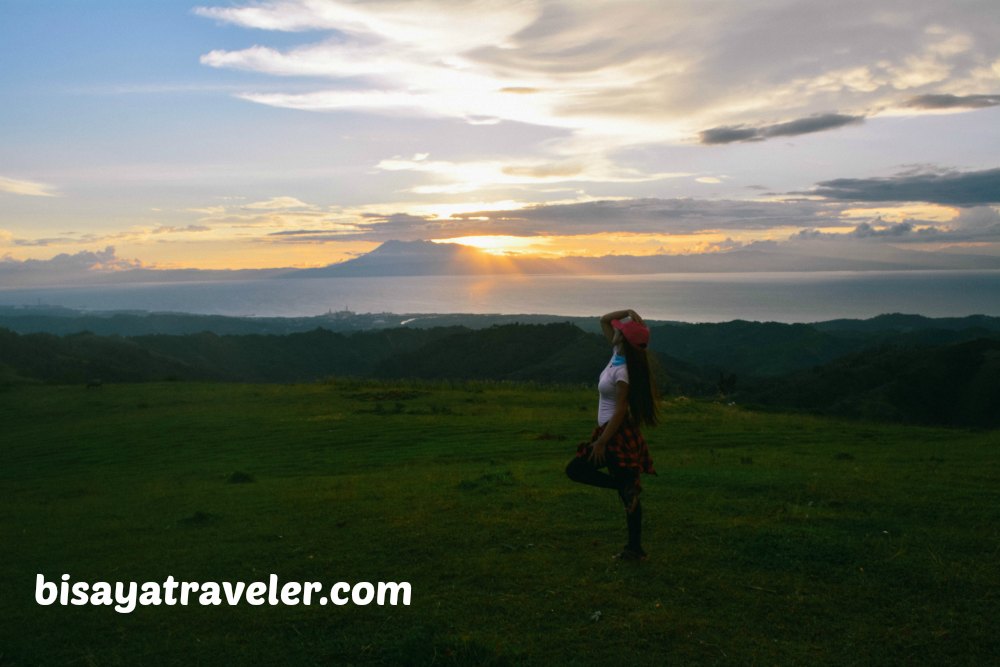 With the mesmerizing sunset and convivial spirit of camaraderie, I really couldn't think of a better way to end our day hike on a high note. As cliché as it may sound, our sunset in Mount Tagaytay is best described with the caption "I love for moments like this".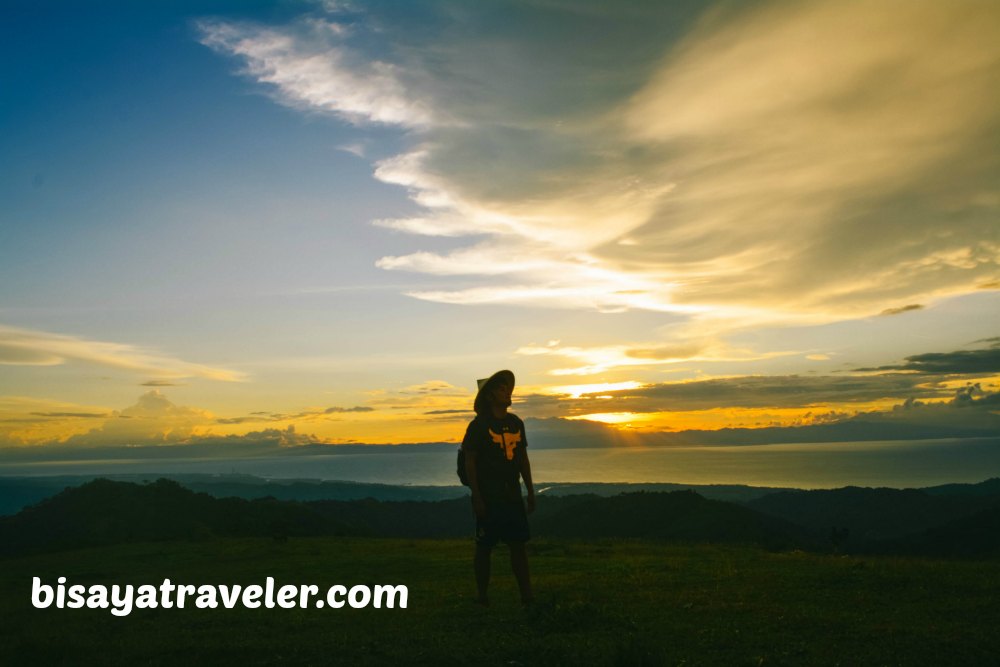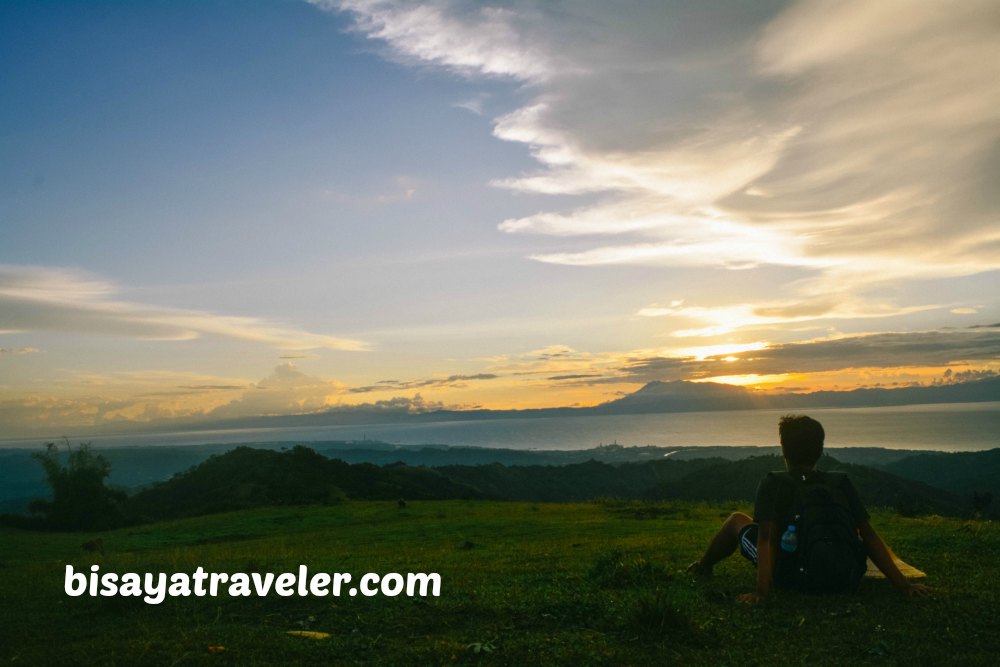 We even asked boss Ramon nicely to take a couple photos of the group.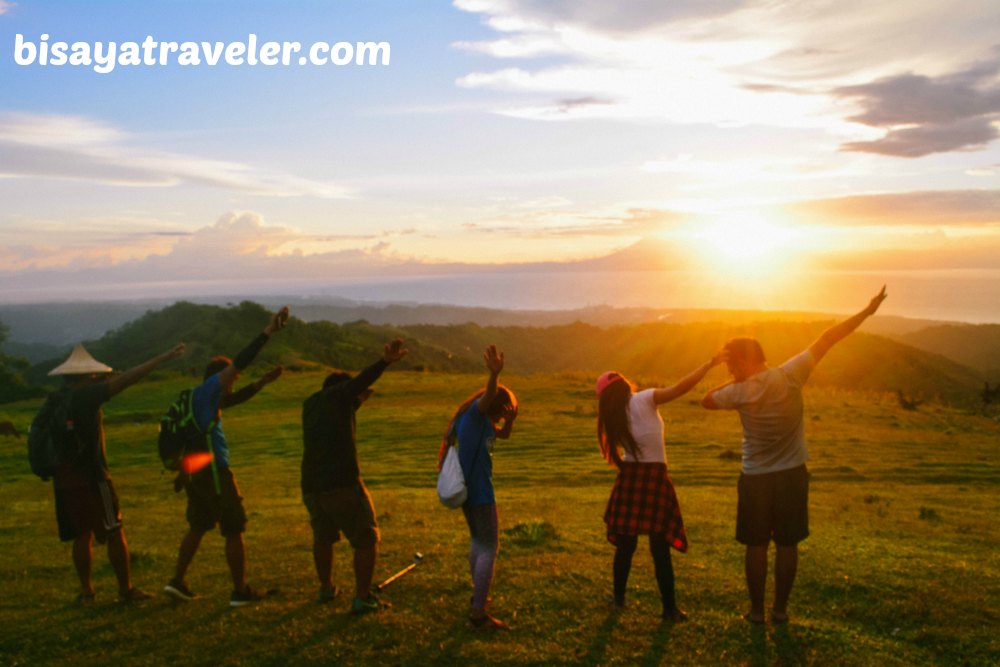 The views are so stunning, dramatic and irresistible that we couldn't even think of a creative and catchy group pose. In the end, we decided to go with this pose, which, as CJ or AKA Four-eyed Laagan has suggested, looked a dance formation of the pop song "One for Sorrow" from Steps.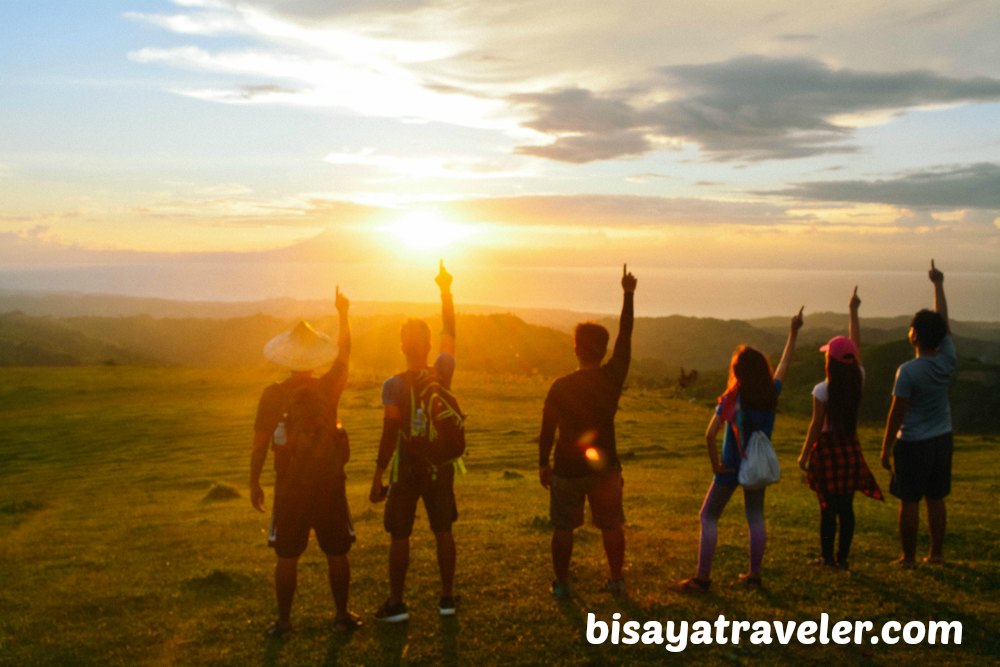 With sun about to take a plunge, we headed back to Beth's house, wherein we were once again treated to a sumptuous dinner. Awesome!
Later on, we went back to Cebu with big grins on our faces and cameras full of incredible photos.
Things to keep in mind:
Bring at least 2 liters of water.
Practice the LEAVE NO TRACE principles.
Bring ION Drinks like Pocari Sweat and Gatorade.
Pack trail food and lunch.
Don't forget to greet the locals.
Cancel your hike, if there's a thunderstorm. Remember, the place is a favorite target for lightning strikes.
Wear sunscreen, hat and arm guards to protect your skin from the sun's immense heat.
Our Cooper city itinerary:
05:00 AM: Meet up at Cebu City South Bus Terminal
06:00 AM: Depart from Cebu City
07:30 AM: ETA Barangay Magdugo
07:50 AM: Depart for Casoy Barangay Hall
08:20 AM: ETA Casoy/start walk to Tagaytay Hill
08:50 AM: ETA Tagaytay Hil/start hike to Mount Tagaytay
10:00 AM: ETA Mount Tagaytay/Pictorials
11:45 AM: Start hike Udlom Peak
11:30 AM: ETA Udlom Peak/Lunch
12:00 PM: Pictorials
12:30 PM: Start descend to Linaw-Malingin
01:30 PM: ETA Linaw-Malingin
02:15 PM: Start ascend to Udlom Peak
03:30 PM: ETA Udlom Peak/Rest
04:20 PM: Start hike to Mount New Bucao
04:50 PM: ETA Mount New Bucao/Pictorials
05:10 PM: Start hike to Mount Tagaytay
05:40 PM: ETA Mount Tagaytay
06:20 PM: Start descend
07:00 PM: ETA Beth's house/dinner
08:30 PM: Toledo City proper/depart for Cebu City
10:30 PM: Home sweet home
How to get to Mount Tagaytay:
Take a bus ride to Toledo, from Cebu City South Bus Terminal, and ask the driver or conductor to drop you off at Julies Bakeshop in Barangay Magdugo. Then, take a habal-habal ride to the base of most hikes to Mount Tagaytay – Casoy Barangay Hall. Once there, you may ask locals for directions, to get to Mount Tagaytay.
Alternatively, you may reach out to Beth through her Facebook page.
We're living in a consumerism-driven world where society judges us by the clothes we wear and the things we buy. Everywhere we go, we are bombarded by billboards, advertisements, banners and even biased blogs telling us to buy our way to happiness. Heck, there are even 1,000-peso boxer shorts saying that we'd look as handsome as Chris Hemsworth, if we are going to wear them. And, with this entire merchandising craze and peer pressure, it's no wonder a lot of people nowadays are miserable and unhappy.
But the truth is, the world still has plenty of unassuming delights and timeless classics that won't cost you a fortune. For me, sunsets are not just the epitome of life's fine simple pleasures, but are also a sweet reminder that not everything beautiful in this world comes with a hefty price tag.