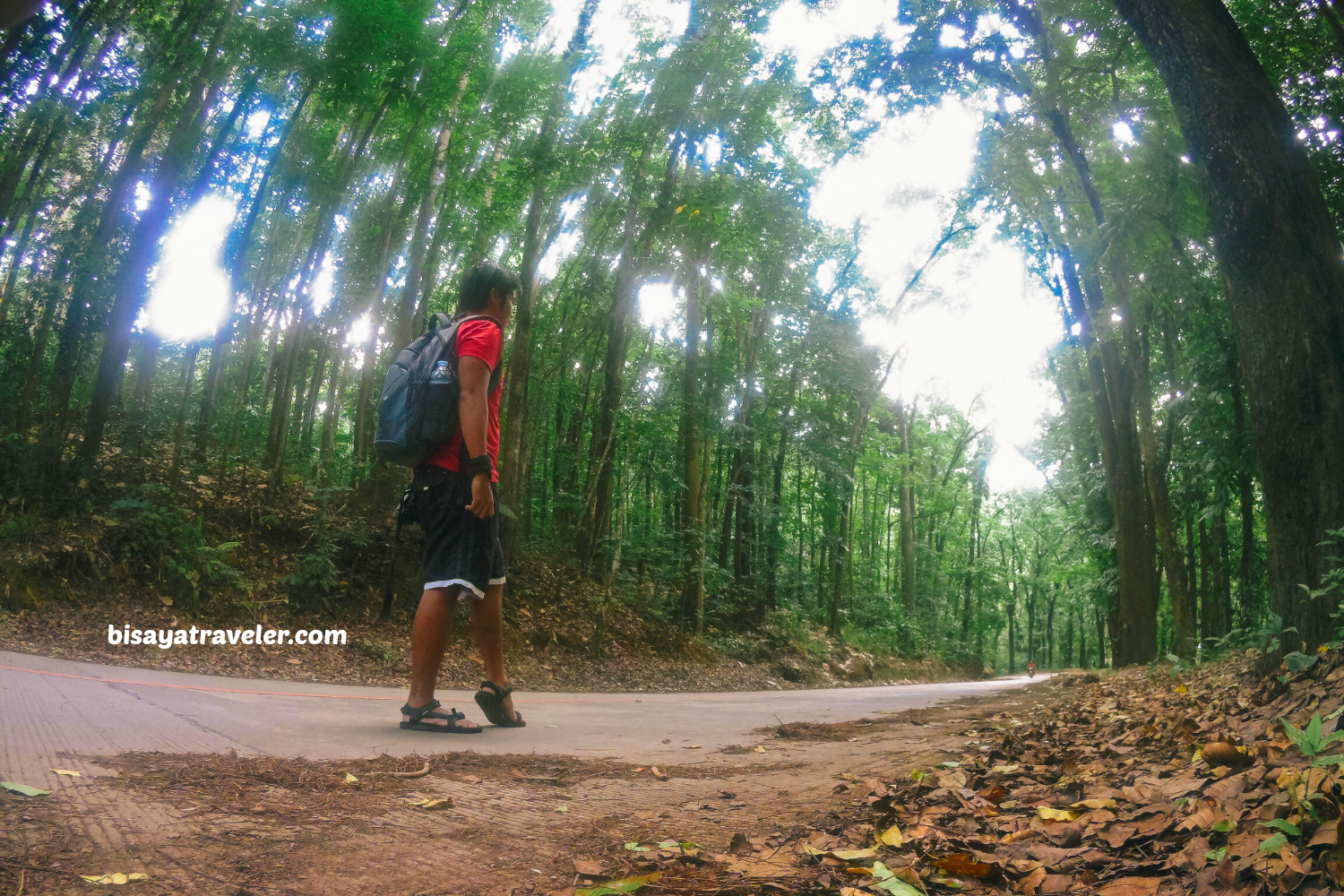 Campo 7 Man-Made Forest: A Mysterious Eye-opening Experience In Cebu  
For decades, science has taken huge leaps and breakthroughs to debunk the most contagious falsehoods. From the ethereal Northern lights to urban legends, modern science has been quite a myth buster, unveiling the truths of several strange phenomena and common misconceptions. Yet, somehow, there are still some strange forces and things like the spirits that defy logic as well as the principles of science. And in my recent weekend escape with Team Bang, I had a not-so close encounter with the strange dili ingun nato (spiritual beings), as we explored Campo 7 man-made forest, Minglanilla, Cebu.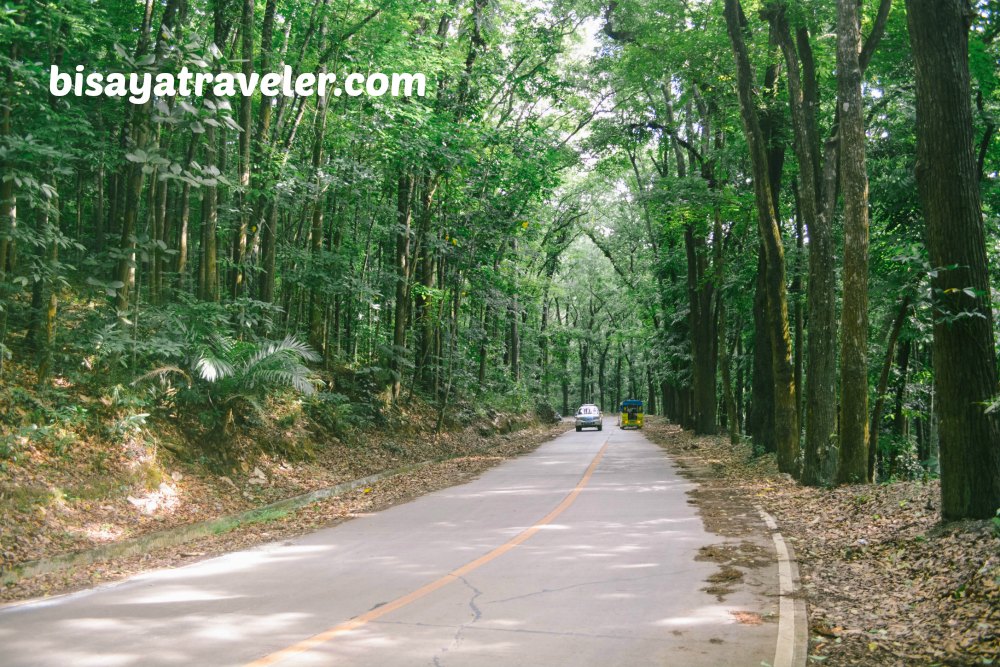 I'm not much of a believer, when it comes to superstitions.  I'm a man of science who thinks there's a logical reason for everything. While I do enjoy Filipino myths like Maria Cacao and Bernardo Carpio, I do believe some of our superstitious practices just don't make sense. Let's face it, some of our deep-rooted superstitions are just downright funny and ridiculous.
Don't get wrong – I mean no disrespect to our ancestors, but do you really believe that having a mole in your private part makes you a heart-rob or a campus crush? Seriously, I have tons of moles in that part of my body, but I've never been a chick magnet ever.
Yet, for all our humorous superstitions, I still pay homage to the elements and spirits. Every time I pee or walk on a forested area, I always say tabi-tabi or tabi po (a Filipino way of saying excuse me to the spirits). Oftentimes, I ask permission, whenever I take a photo of an old tree or a mystical place.
But, I forgot to do all of that, as we were taking pictures of Campo 7 man-made forest in Minglanilla. The moment I set foot on this man-made forest, I just didn't feel anything weird. Personally, it didn't have the mystical feel of Japan's Suicide Forest or the Yap-Sandiego Ancestral House in Parian, Cebu. To me, it was just a man-made forest that reminded of me of Bohol's charming attraction.
Eventually, though, the spirits made their presence felt through the blurry photographs in our cameras. While it wasn't really mind-blowing or spine-tingling, we did find out these beings were watching us inside Minglanilla's man-made forest.
Our man-made forest experience in Minglanilla, Cebu
Cebu's man-made forest, or also referred as Osmeña Reforestation Project, was just a side trip to our hike to Mount Naupa in Naga. As usual, there were a few Team Bang members who tagged along with me – Sherlyn, Lieve as well as Gelique with his brother. Wilfred didn't get the chance to come with us to the man-made forest since the traffic to the rendezvous was nothing short of horrible.
After gathering the group in 711 Tabunok, we made our way to Rose Pharmacy, to catch a ride to the remote man-made forest of Mingnanilla. From there, we negotiated the price with the drivers, and went straight to first destination of our weekend adventure.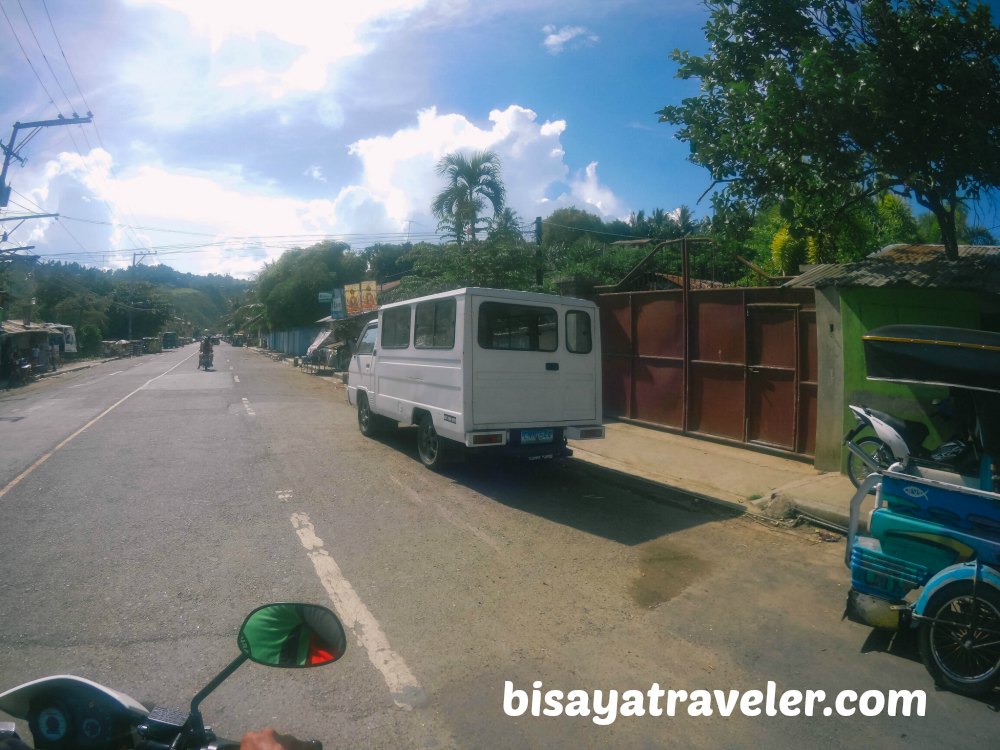 The ride to the man-made forest wasn't as bad as I originally thought it was. Sure, there are plenty of rough patches and spots, but it's nowhere as perilous as some of the habal-habal rides I've endured before. Still, it can be a pretty dangerous road, especially to newbie motorists. After all, you'll be passing by the infamous Manipis Road, which is well-known as an accident prone area. As a matter of fact, there have been numerous cases of landslides and vehicular accidents in the area for a number of years.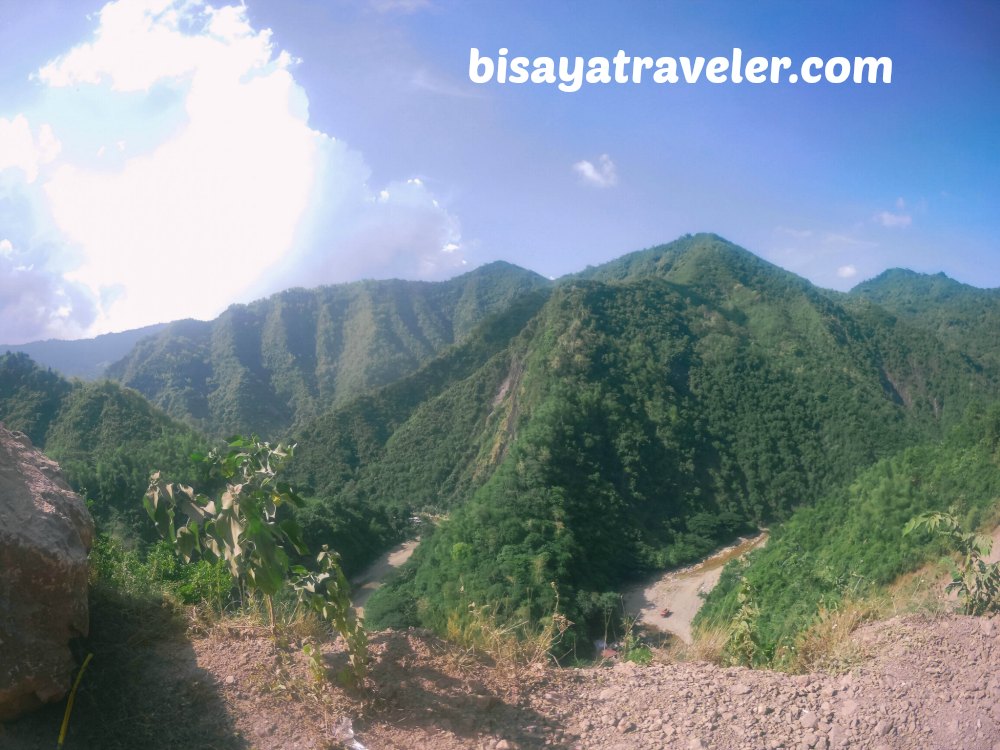 My word of advice is, try not visit the man-made forest via Manipis road during rainy days. Not only is the road muddy, but it's rather dangerous as well. In addition, make sure that you have a seasoned driver who's pretty familiar with the road.
Along the way, we got treated to some splendid overlooking views of the surrounding unexplored mountains. What's more, the temperature all of a sudden dropped in a positive way, as we got closer to the man-made forest. It was a rather scorching day, so it was kind of refreshing to have this cool temperature.
A few minutes later, we arrived at the shady man-made forest of Minglanilla.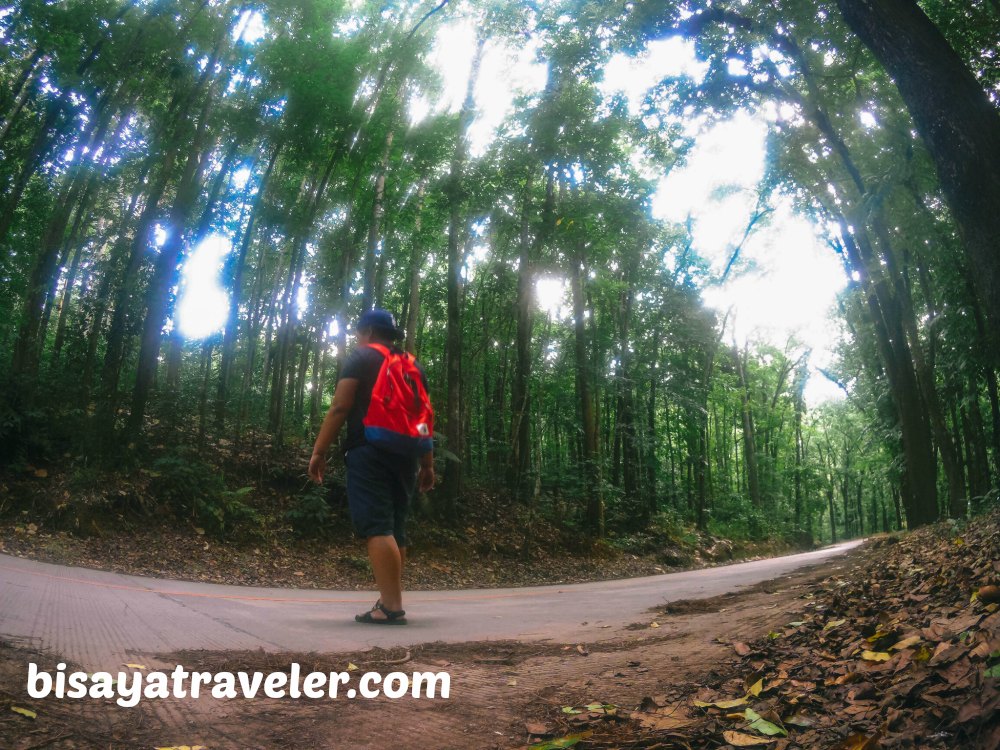 At first, I wasn't overly impressed with the sight of this man-made forest. But as we wandered around, the place slowly unveiled its beauty.  With its narrow road, towering trees and cricket hums, Cebu's man-made forest felt like a walk down memory lane, helping me relieve a bunch of pleasant memories of my past trips to Bohol. As for the atmosphere, it wasn't creepy at all, and it even gave up a relaxing break away from the blistering city heat.
And so, we wasted no time, and snapped a ton of photographs from different angles. Unfortunately, most of my shots end up looking distorted or blurry for no apparent reason. I thought it was because we were shooting in a low-light setting, so I made some adjustments, to ensure my photos look decent.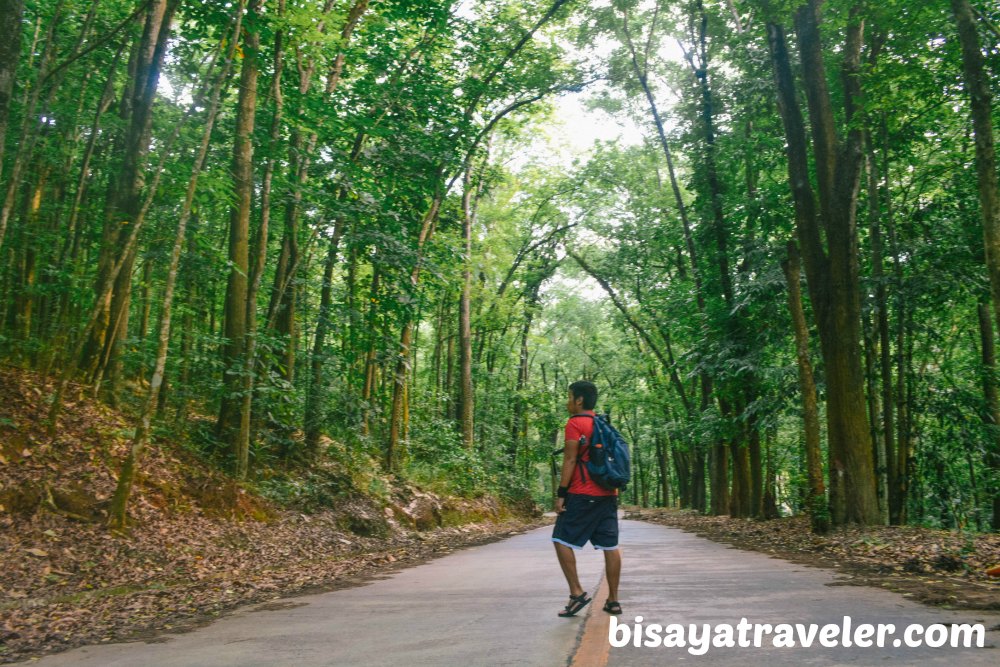 In spite making some adjustments, the photos, especially the subjects, were blurry. I know photography is not my forte, but it was still pretty strange. Later on, I found out the rest of team also had the same issues.
I didn't bother me, initially, and I thought we were just having a bad day.
Then, we discovered a stairway leading to a forested area, near the "welcome" sign.  Afterwards, we went down to check out the place, and see if there's a good spot for a photo.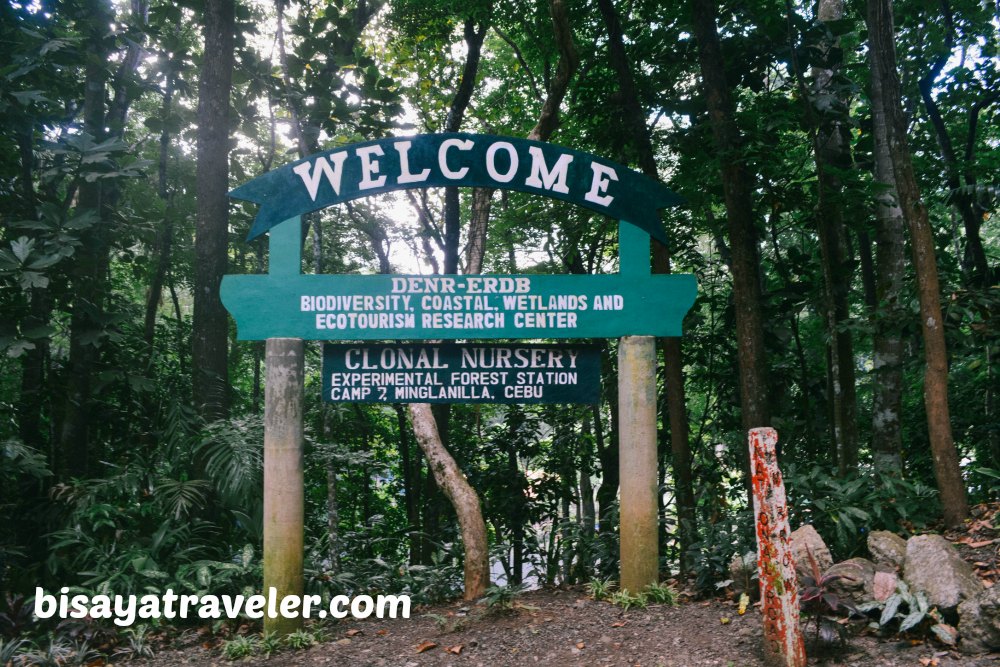 As we were making our way down, we paused for a couple of seconds, for a groufie on Sherlyn's phone. And, guess what?  I saw one of the weirdest mobile photos I've ever seen.
The photo only featured a silhouette of a faceless black woman with a white distorted background. There were no other faces on the photograph, and it was plainly weird in so many ways.
To nobody's surprise, Sherlyn deleted the photo without any hesitation.
And that WTF moment made us realized that we were some unknown forces living in the area. I guess we've offended them since we were a little loud and we didn't asked permission from them.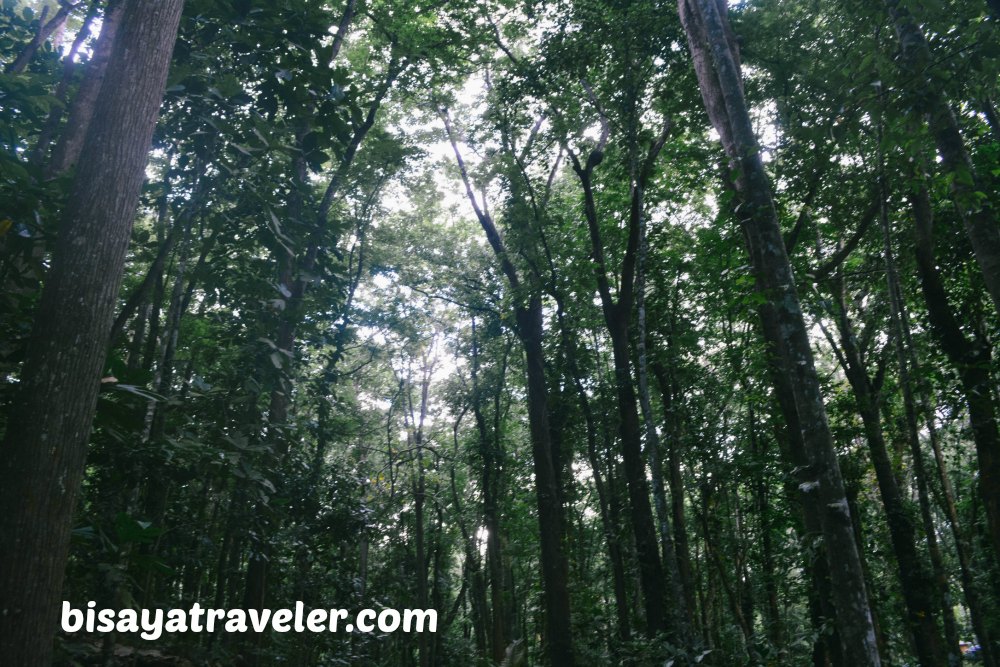 To make amends, we said sorry and asked permission from them. For some, it may sound weird and hilarious, but for old-school guys like us, asking permission is a must, every time we step to a forested area.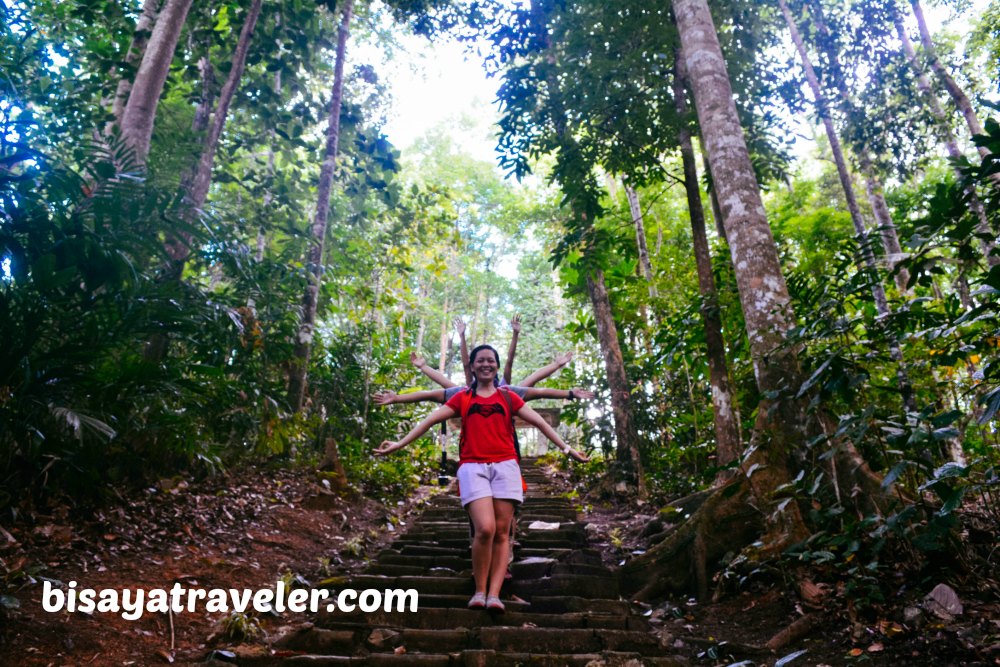 Moments later, we headed to the stairs, and made our new trademark pose. As far as the photo's quality, it wasn't impressive, but it was a notch better than the previous ones.
We returned to the main road, and made some poses. Surprisingly, the photos were no longer blurry. For a few minutes, we channeled our inner shutterbug, snapping dozens of photographs. This time, though, we weren't boisterous and loud.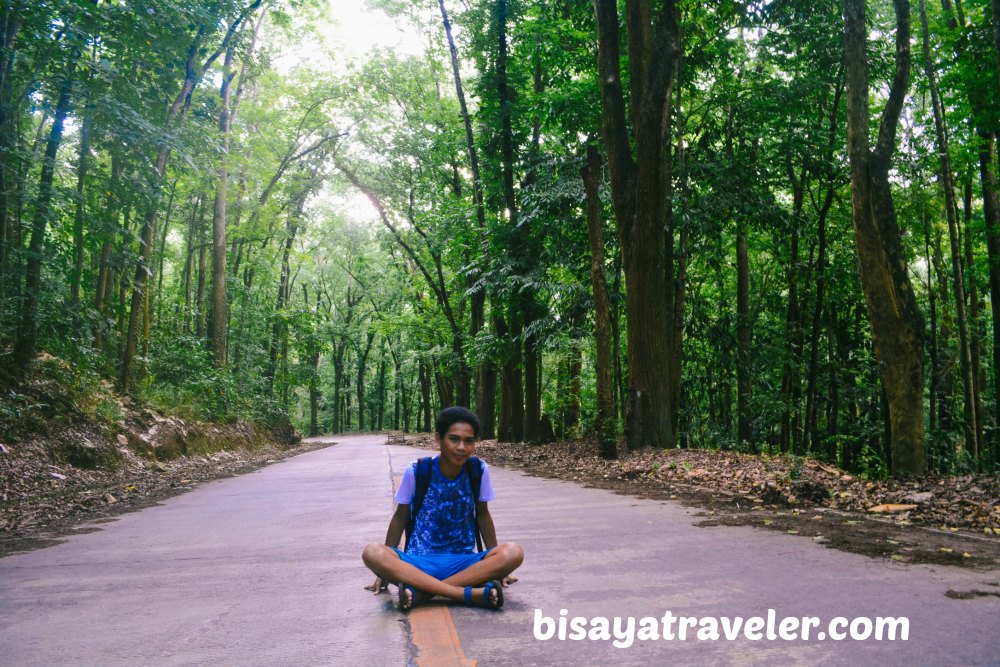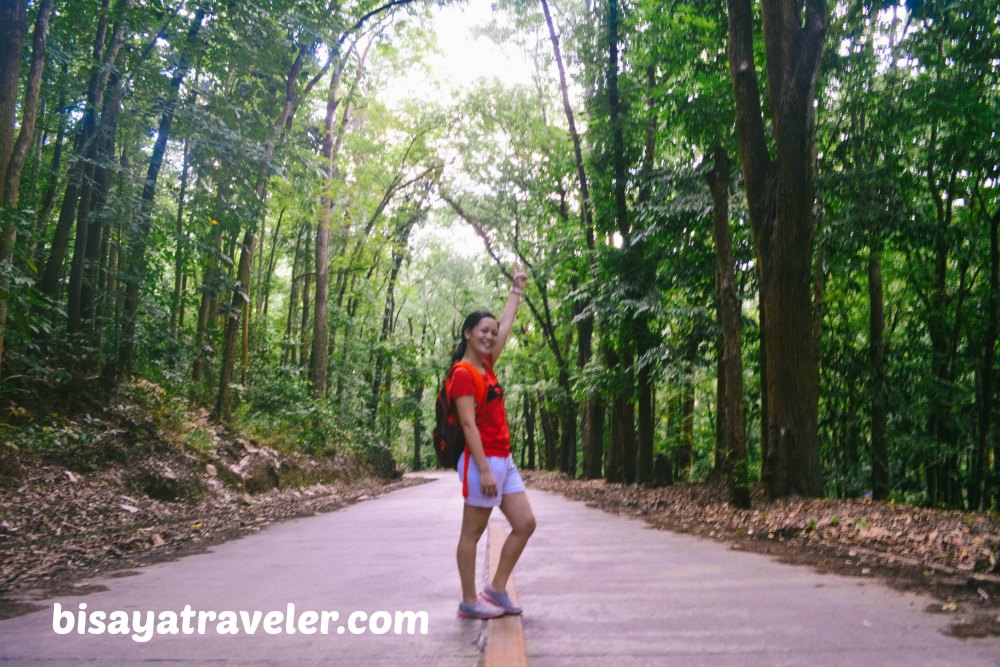 We, ultimately, decided to end our man-made forest visit, so that we can hike Mount Naupa with Wilfred.
But, there was slight problem, before we left the man-made forest – one of the motorcycles was having some engine problems. Sounds strange, right?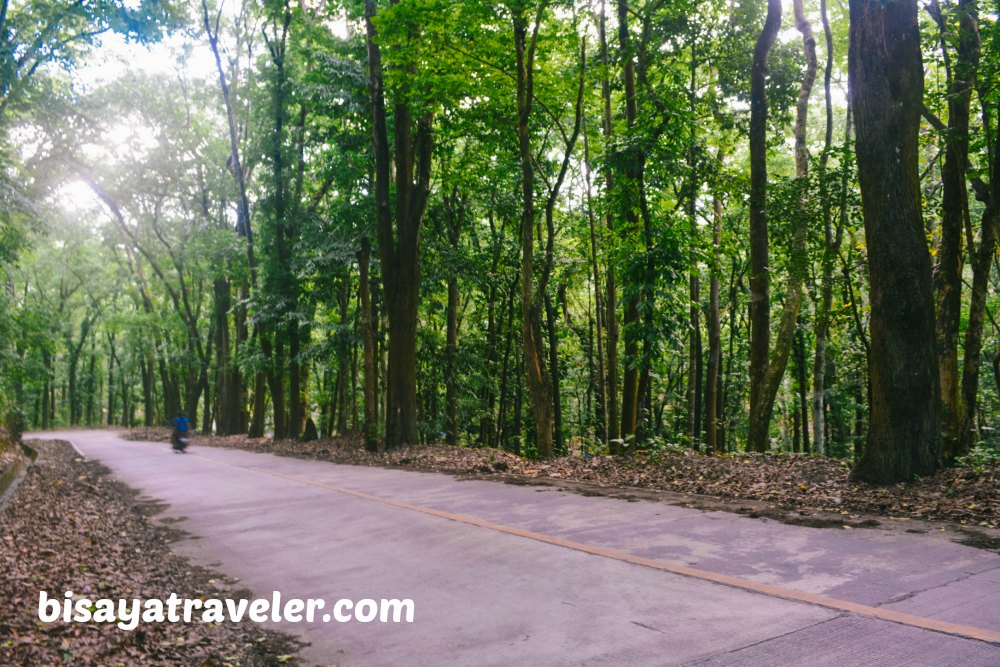 Luckily, the guys got to fix the problem, before it got dark. Although it was still around 3 or 4 in the afternoon, it already felt like it was around 6 in the evening, thanks to the shades and cool atmosphere of the area.
As we were making our way back to Tabunok, we asked our driver if the man-made forest was taw-an (haunted).
And he sarcastically answered with a big laugh.  "Next time, ask permission from them, before taking a photograph", he added.
We, then, capped off our Saturday escape with a night trek in Mount Napa, Naga, which is also rumored to be home to witches and other supernatural creatures. Although nothing jaw-dropping or scary happened, I did feel something extraordinary, as were going downhill returning to the base.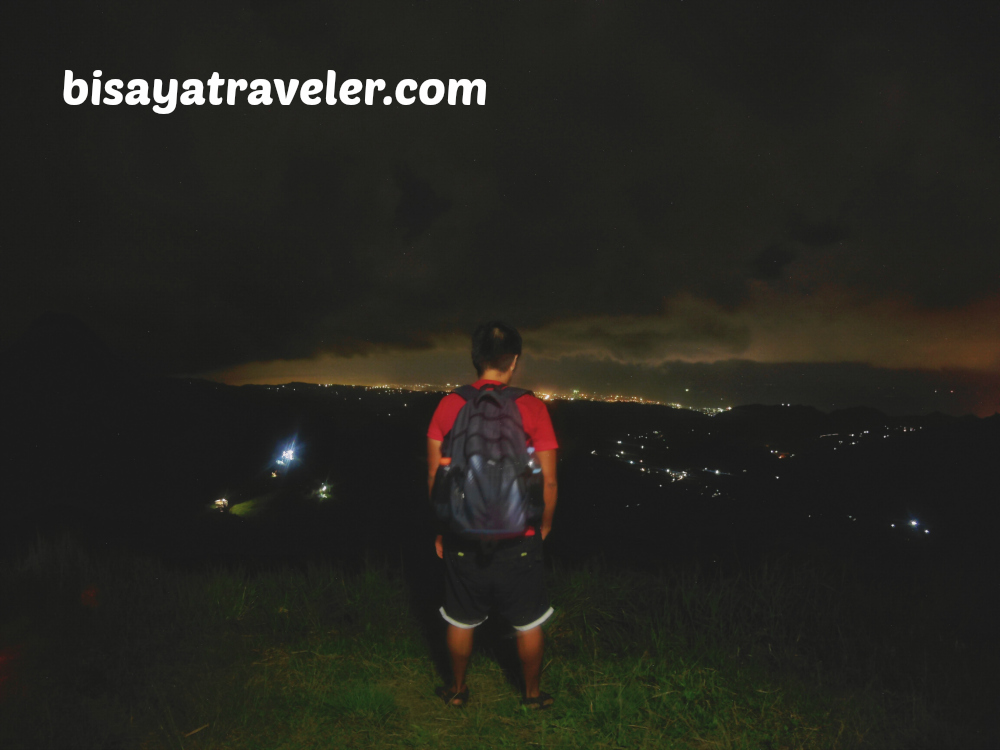 How to get to Campo 7 man-made forest:
From Punta Princesa, take a multi-cab ride to Tabunok overpass (PHP 8). From there, take a short walk to Rose Pharmacy, and hop on a habal-habal ride to Campo 7 man-made forest (fare is PHP 40 to 50 per way and per person, and travel time is 30 to 40 minutes).
For those who need a reliable driver to Campo 7 man-made forest, contact Chandelon at 0932-2850-797.
Our Campo 7 man-made forest and Naupa itinerary:
02:00 PM: Meet-up at 711 Tabunok
02:45 PM: Depart for Campo 7 man-made forest
03:30 PM: ETA Campo 7 man-made forest/exploration
04:10 PM: Depart for Tabunok
04:40 PM: ETA Tabunok/depart for Naga
05:50 PM: ETA Base of Naupa/Start hike
07:00 PM: ETA Naupa
08:00 PM: Depart from Mount Naupa
08:30 PM: ETA Mount Naupa base
09:00 PM: ETA Tungkop
10:00 PM: Home sweet home
Important notes:
Try not to visit Campo 7 man-made forest during the rainy season. The road leading to the forest, from Tabunok can be dangerous.
You can also get to Campo 7 man-made forest via Lutupan.
Practice the LEAVE NO TRACE principles.
Be respectful of your surroundings.
Bring snacks and water.
Campo 7 man-made forest is admission free.
Hopefully, this experience would serve as a mild wake-up call or reminder for all tourists, hikers and travelers.  As far as I'm concerned, our strange experience in Cebu's man-made forest was Mother Nature's way of telling us to respect the place. Nowadays, we see a lot of travelers throwing their sh*t around, without a care in the world. Who knows? Maybe, Mother Nature is fed up with all the abuse she's getting, and she's letting people know through these unusual events.
And folks, even if you don't believe in spirits, you should always practice Responsible Tourism and follow the Leave No Trace principles. Trust me, our irresponsible ways will haunt us soon, if we continue with this destruction.