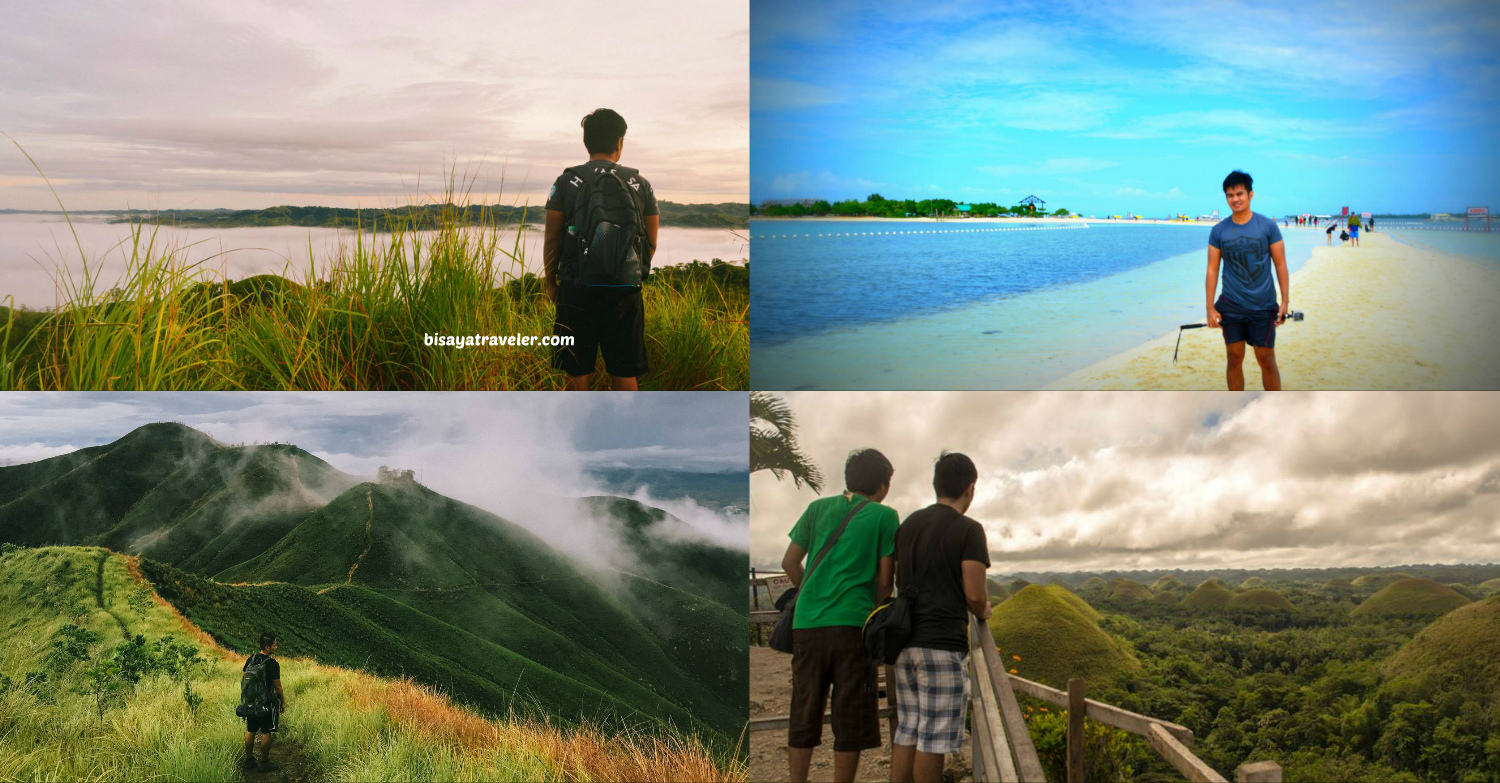 20 Mesmerizing Bohol Tourist Spots
Bohol, with picture-perfect landscapes and stunning coastlines, is truly a haven of enticing natural beauty. From its rolling hills to a thriving underwater world, there are plenty of insanely beautiful Bohol tourist spots for nature lovers. Drenched in history and culture, the island province also teems with impressive relics and ruins from the bygone Spanish colonial era. And, like its neighbor Cebu, Bohol has loads of hidden gems and peculiarities that make it a charming, must-visit island in the Philippines.
Visiting the island soon, but don't know where to go in Bohol, Philippines? Need some tips and recommendations for things to do in Bohol? Well, you might want to check out these Bohol tourist spots that I've seen and experienced in my recent trips!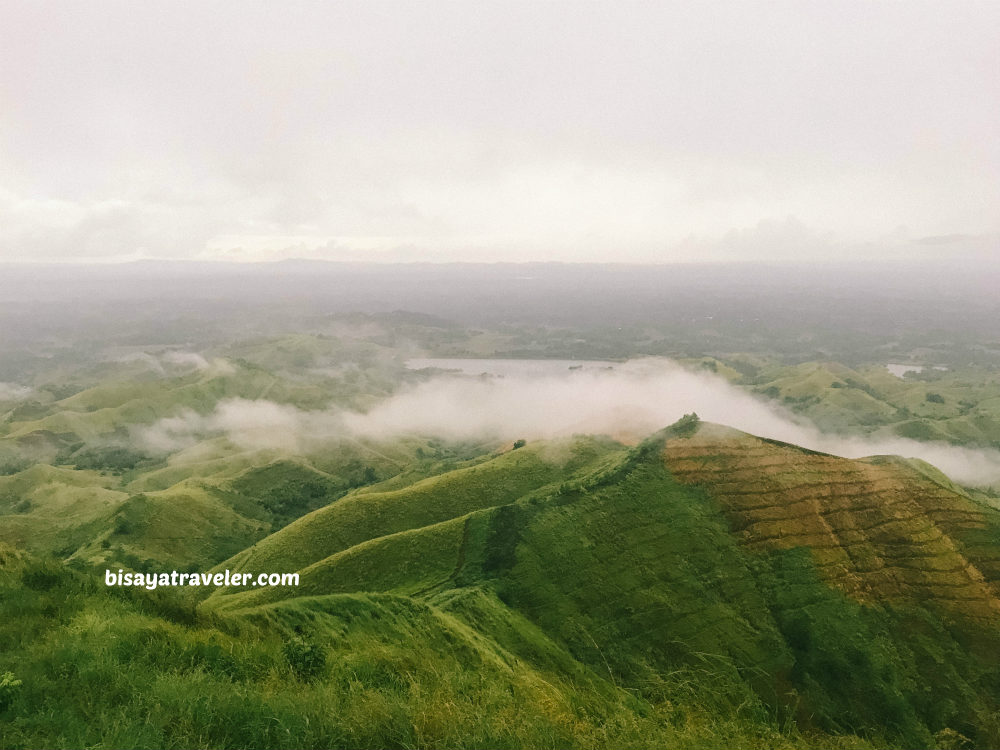 1. The Alicia Panoramic Park
The Alicia Panoramic Park, or also known as Binabaje Hills, is the epitome of natural beauty in Bohol, Philippines. Sure, it's not as popular as most of the mainstream Bohol tourist spots, like the Chocolate Hills and the beaches of Panglao. But trust me, it has views that will leave you speechless and in awe. What's more, it lets you escape the hustle bustle city life with an incredibly laid-back atmosphere. For a memorable experience, camp at Binabaje Hills and see the dazzling, twinkling stars light up the sky at night. And, did I mention that the sunset and sunrise views here are lit and spectacular?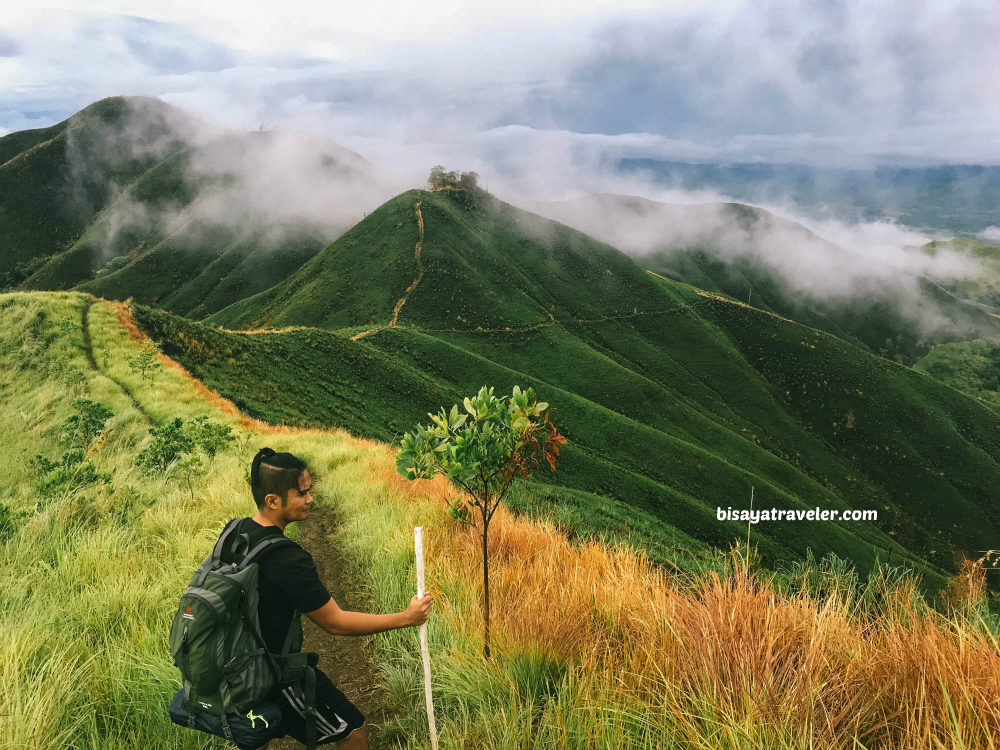 2. Chocolate Hills Bohol
There's no place in the whole Philippine archipelago quite like the Chocolate Hills. And, as far as I'm concerned, the Chocolate Hills Bohol is the granddaddy of all Bohol tourist spots. For years, this iconic Bohol tourist spot has been carrying the torch of the island's tourism with its otherworldly landscape. Here, you'll catch sight of a seemingly infinite number of perfectly symmetrical hills stretching into the horizon. Even though I've seen it so many times, these hills still never cease to amaze me. Every time I go for a countryside Bohol tour, I always put it on top of my to-do list.
So, why is it called "Chocolate Hills"? During the country's dry season, these hills turn beautifully to brown, making them look a bunch of chocolates. To be specific, they look quite like a collection of Hershey's Kisses sans the silver wrappings. During the rainy season, these mounds are green and lush.
To get a good view of these famed attractions in Bohol, make your way to the Chocolate Hills Viewpoint.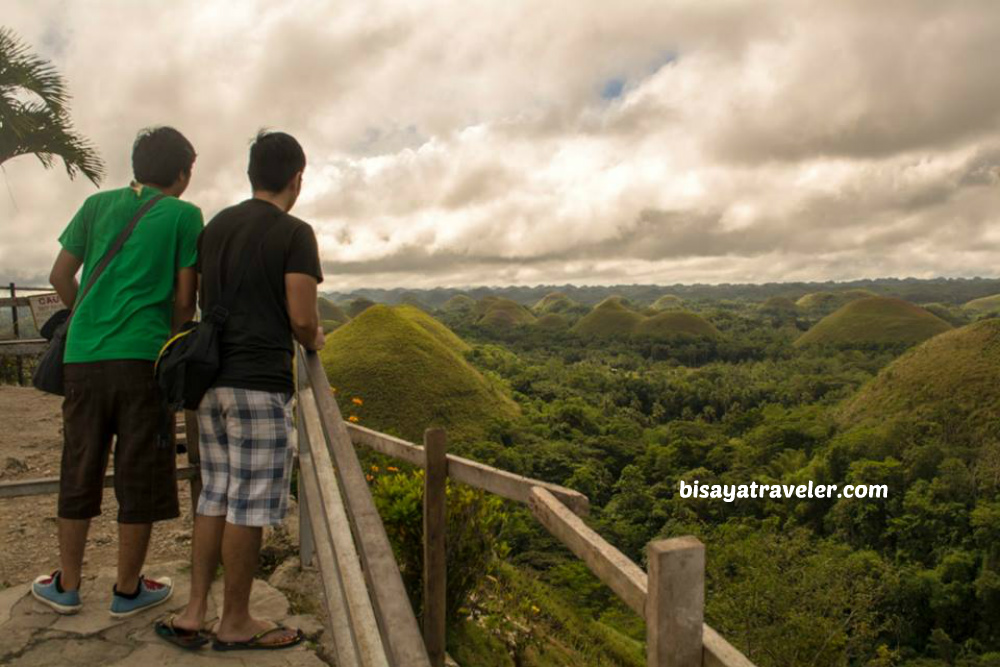 3. Sea of clouds Bohol
Want to see something spectacular in Bohol? Dreaming of seeing the majestic sea of clouds, but not a hardcore hiker? Guess what? You can easily spot this awe-inspiring natural spectacle in Danao, Bohol, even if you're not fond of long, grueling hikes. As a matter of fact, you can even see it with just a pair of flip-flops.
And the sea of clouds Bohol is a sight that will unleash your inner shutterbug. The visually appealing curtain of white, paired with the verdant hills of Bohol, will fill your cameras with tons of fabulous photos.
Just like Sagada's version of this natural phenomenon, the sea of clouds Bohol, sometimes, doesn't make an appearance. So, look for other alternatives and Bohol tourist spots just in case it doesn't show up on your visit. While in Danao, you might want to check out the exciting thrills at Danao Adventure Park as well.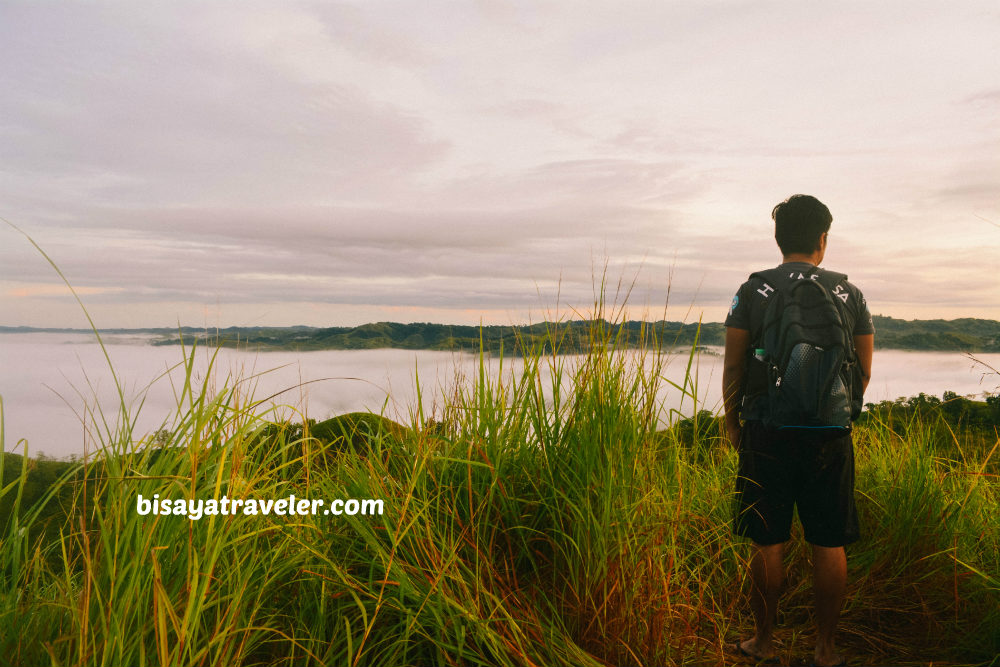 4. Isola di Francesco
Craving for a heavy dose of vitamin SEA? Then, make sure to include Isola di Francesco to your list of Bohol tourist spots to visit! Known formerly as Virgin Island Bohol, this isle flaunts a gorgeous sandbar with powdery sands and crystal clear waters. As an added bonus, the island is home to a pigeon sanctuary, an interesting shell museum and a lovely small church. There are life-size models of the apostles and Jesus in the water, making the island one of the more intriguing Bohol tourist spots.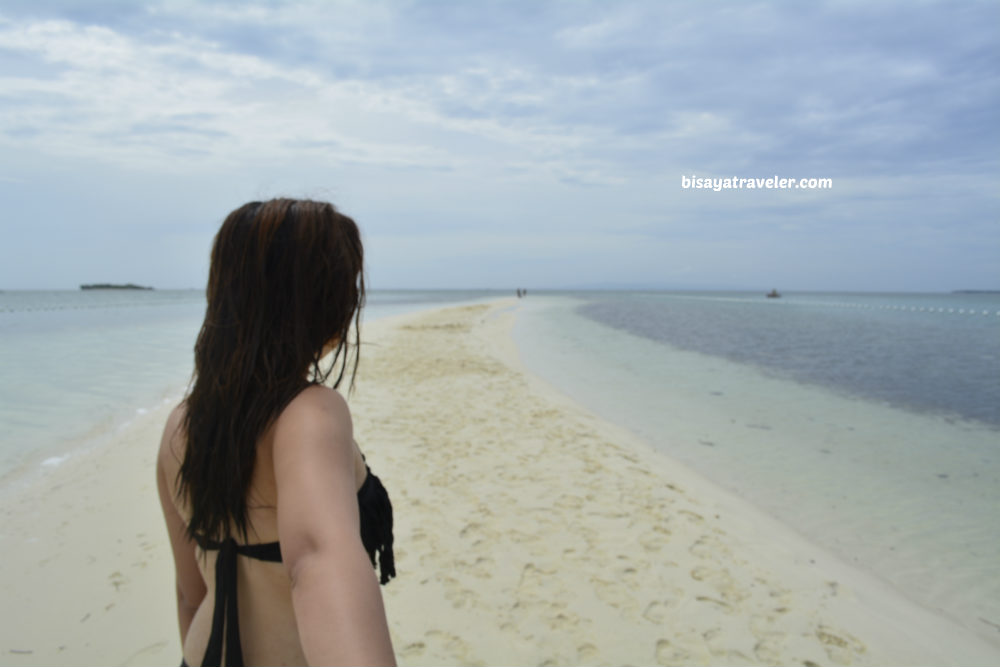 5. Cadapdapan Rice Terraces
With its splendid shades of green and eye-catching formations, the Cadapdapan Rice Terraces are a marvelous sight to behold. Although it's not as grand and huge as Banaue, Bohol's version still did put me under a spell. Entranced by its impressive beauty, I snapped a bunch of photos of one of the most underrated Bohol tourist spots. In my book, the Cadapdapan Rice Terraces look pretty similar to man-made wonders of Sapa, Vietnam.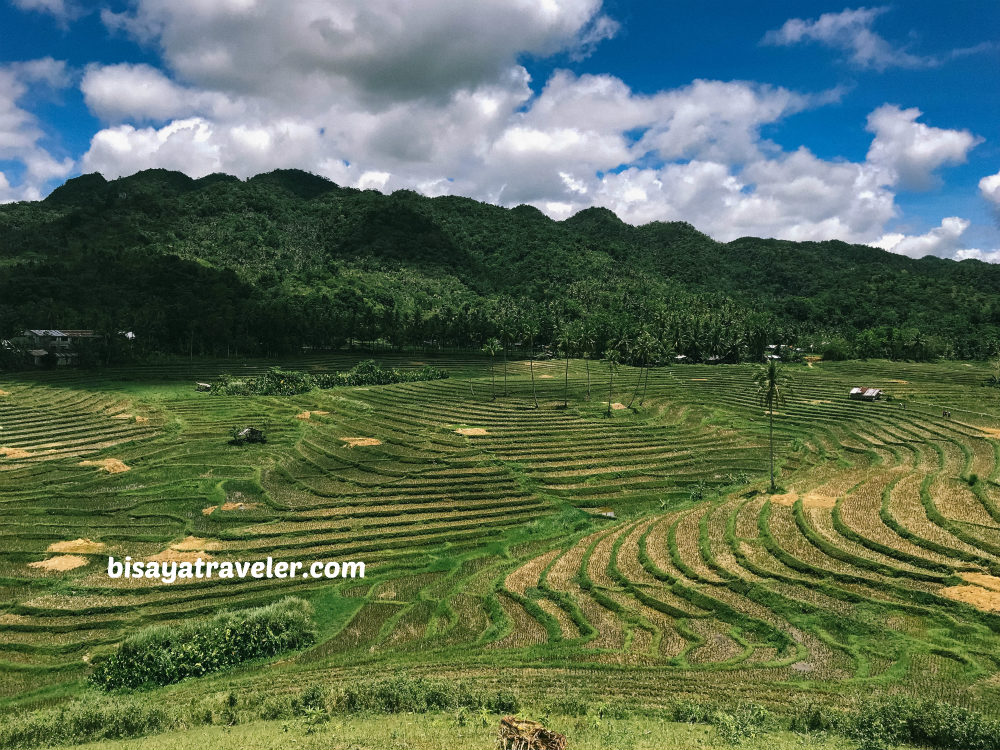 6. Sevilla Hanging Bridge
It may not be a ground-breaking engineering wonder, but it's a wondrously designed bridge with sweet overlooking views of the scenic emerald waters below. Plus, crossing it can be rather exciting since it's somewhat shaky. Normally, it's included on a countryside tour of the top Bohol tourist spots.
7. Himontagon Hills
Looking for not-so mainstream Bohol tourist spots? Why not pay a visit to Himontagon Hills? Perched on a hilly region in Loay, this camp site boasts striking overlooking views of the town. To make your pit stop even more worthwhile, visit it before the sun rises. Since it's facing east, the sunrise views here are simply fabulous. And, of course, it's less-crowded, as compared to some of the sought-after Bohol tourist spots.
8. Man Made Forest Bohol
The Man Made Forest is a classic stop and a favorite in every countryside Bohol tour. Chilly and a little mystical, this artificial forest appeases visitors with easygoing and soothing atmosphere. And, with its ethereal scenery and towering slender trees, the Man Made Forest is a can't-miss Bohol tourist spot for photographers and Instagram addicts.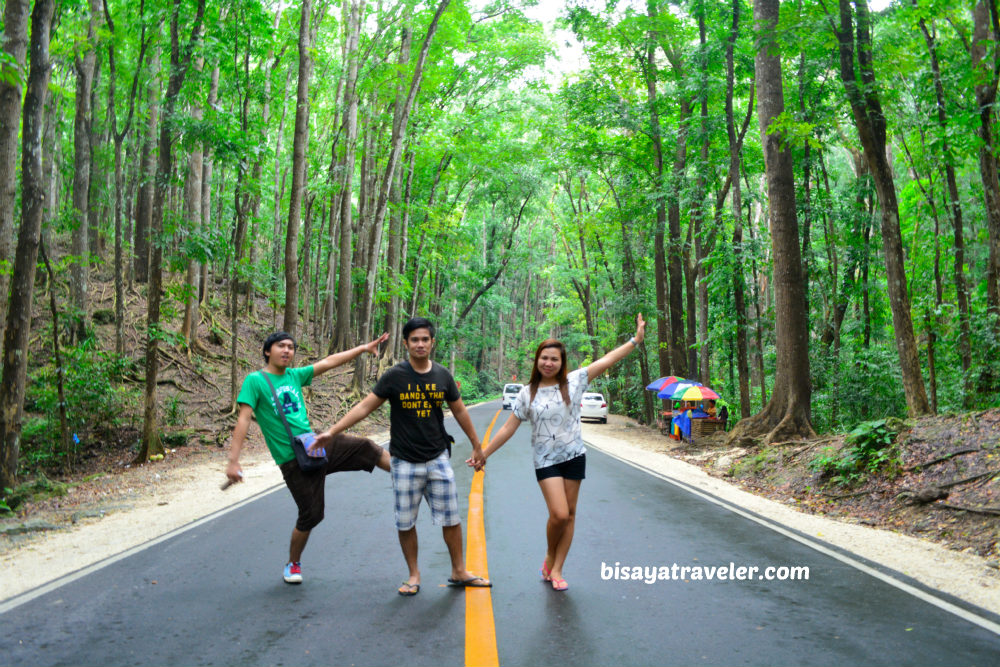 9. Sagbayan Peak
Can't get enough of the panoramas from the Chocolate Hills viewpoint? Maybe, you should include Sagbayan Peak to your travel itinerary and list of must-visit Bohol tourist spots. Not only will it give you a pleasant vista of Bohol's hills, but it also lets you see Cebu and Bohol Strait from a distance. Furthermore, the resort has a zipline ride, butterfly sanctuary and life-size figures of several cartoon characters. The way I see it, Sagbayan Peak is one of those Bohol tourist spots built for the entire family.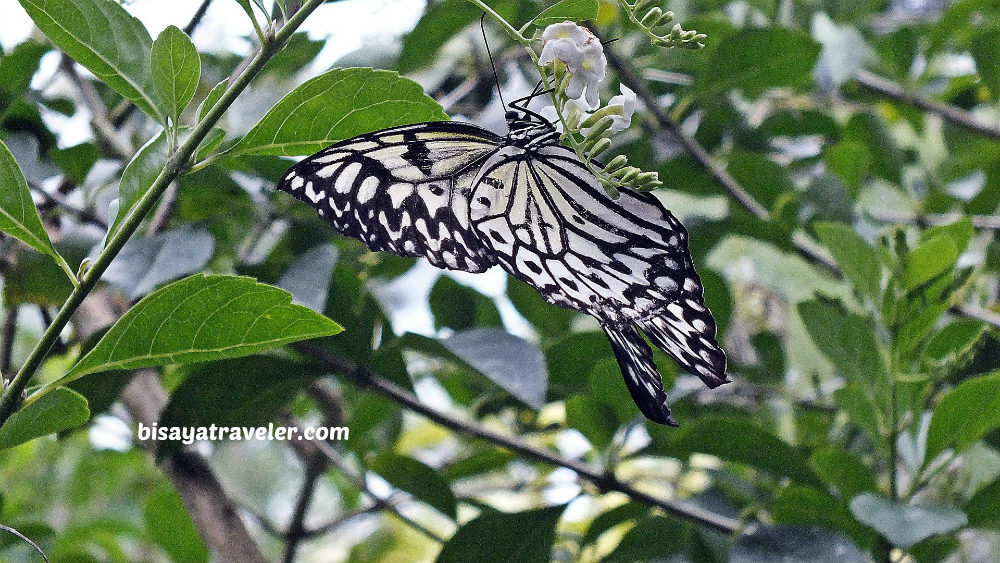 10. Edith Grand Garden Resort and Adventure Park
Surprised? Well, I'll be honest with you. The truth is, I don't think Kangcaramel Cave, set inside Edith Grand Garden Resort, is as spectacular as some of the top Bohol tourist spots. But, the Edith Grand Garden Resort has all the hallmarks and potential of a beloved attraction in Bohol. From its mini-zoo to its hilly dragon plant plantations, the resort can delight your wanderlust in so many different ways.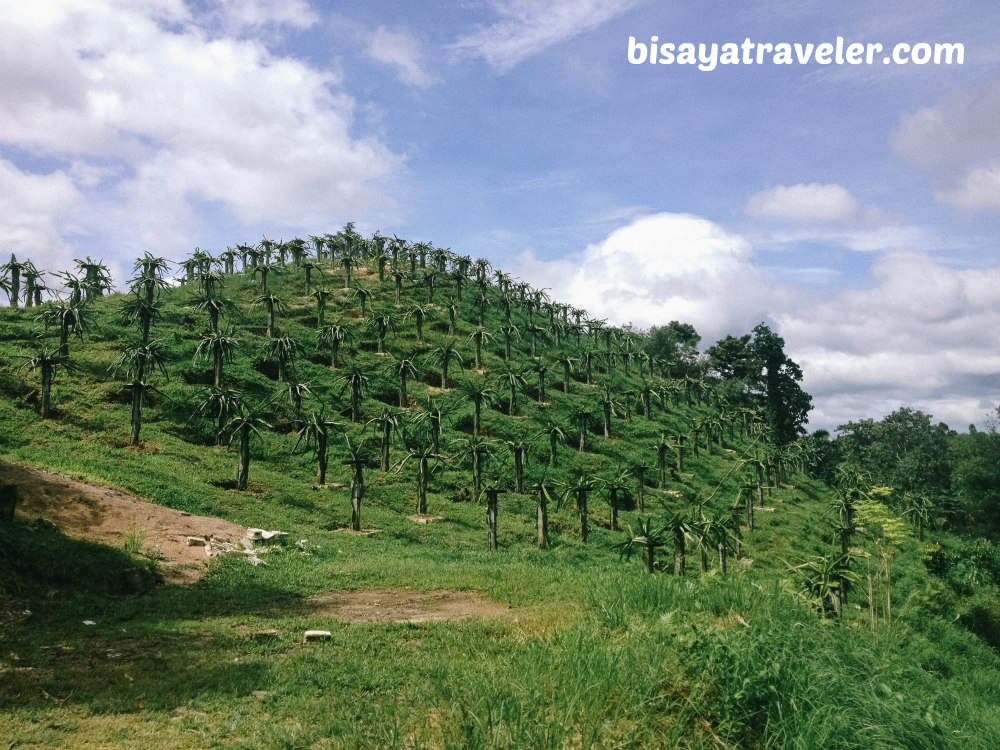 11. Can-umantad Falls
No list of the best and most beautiful Bohol tourist spots is complete without the inclusion of Can-umantad Falls. After all, it's one of the province's most remarkable natural wonders, and its highest waterfall. Not to mention, it's photogenic, and has refreshingly rejuvenating waters. Last time I was there, I had a blissful and relaxing natural massage from these waterfalls.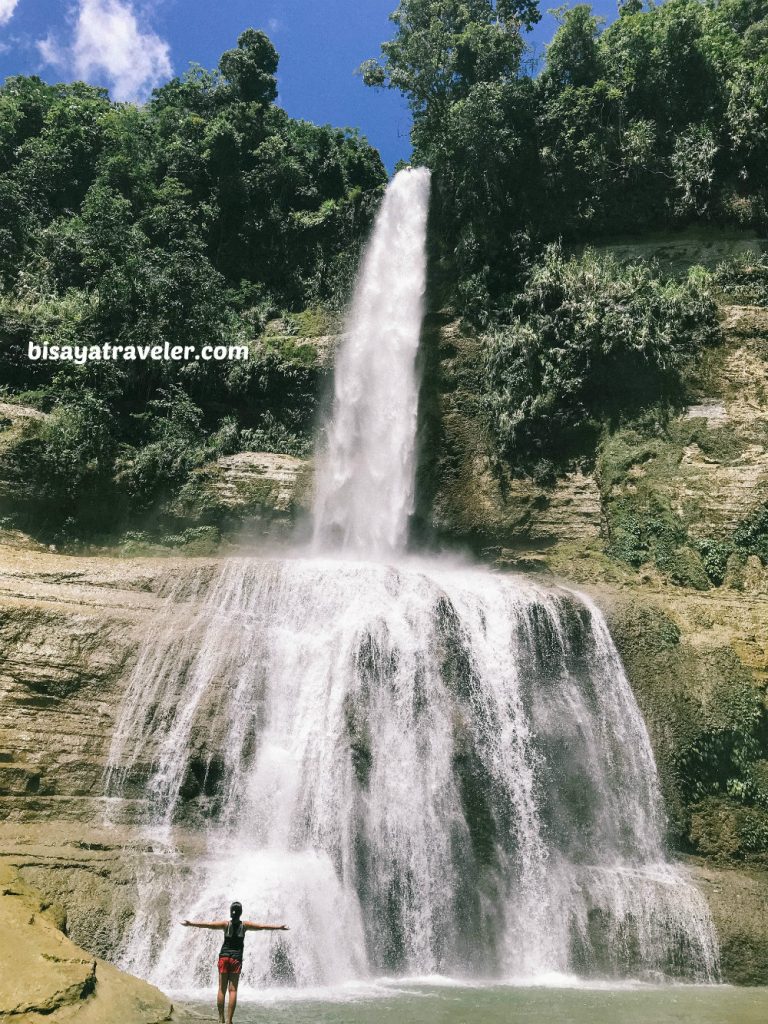 12. Chocolate Hills Adventure Park
Up for some mind-blowing things to do in Bohol? For thrill-seekers, CHAP has a plethora of thrilling activities to quench your thirst for adventure. My favorite here is the bike zipline ride. Besides offering an exciting ride, it also gives you a different view of Bohol's Chocolate Hills. And, there are a few quirky experiences here that will add more flavor to your Bohol travel escapade, such as zorbing, sumo wrestling and treetop rope challenges.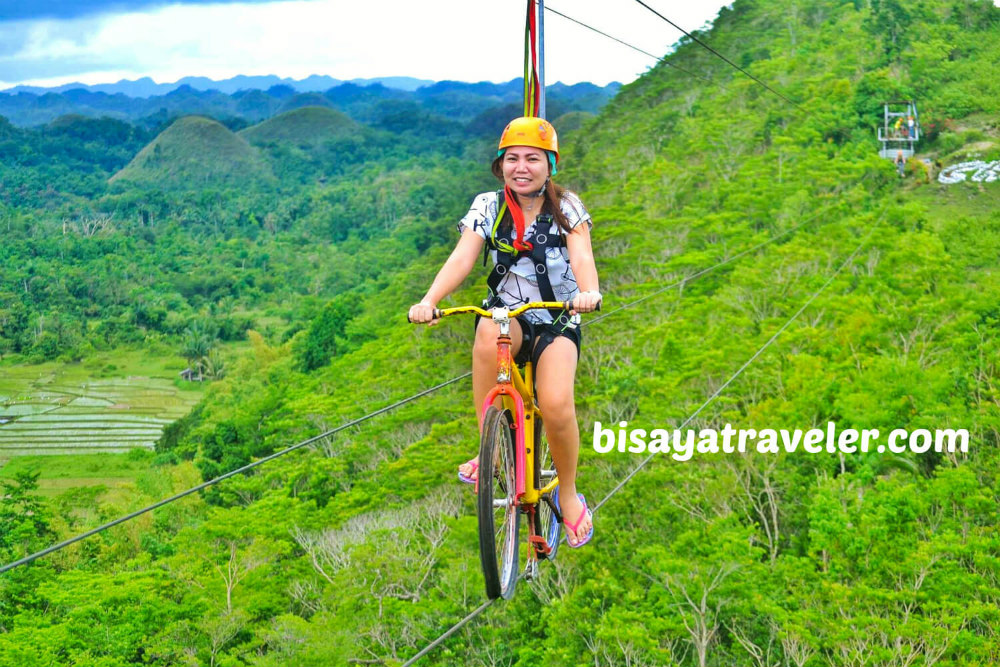 13. Loay River Cruise
Feeling a bit hungry after hours of non-stop sightseeing in Bohol? You might want to include a Loay River Cruise on your countryside Bohol travel itinerary. While the food isn't exactly world-class or super scrumptious, it nonetheless will delight your grumbling stomach. Additionally, there are local musicians who'll serenade its guests with a diverse mixture of pop and folk music. On top of it all, the cruise features pleasant views of the surrounding landscapes and the river.
And, there's a unique twist to this Bohol river cruise. With this river cruise, you'll also get to visit the sprightly Ati Tribe, adding more fun to your Bohol travel itinerary. From their lively tribal drum beats to their exotic pets, the tribe has a bag of tricks to amuse and entertain its guests.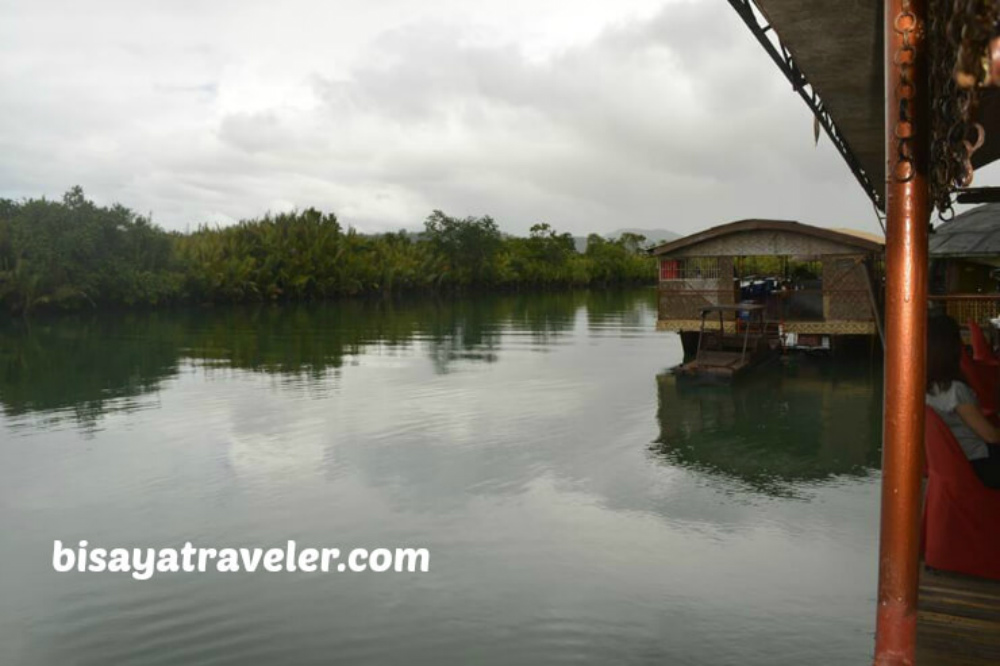 14. Hinagdanan Cave Bohol
As far as I can remember, I was about 6 years old when I first explored Bohol. And, one of the Bohol tourist spots we visited on that trip was the Hinagdanan Cave. Unfortunately, since it was so dark, the cave scared the crap out of me. Today, it's, without a doubt, one of my favorite attractions in Bohol. A perfect blend of cave and a natural pool, this Bohol tourist attraction will just make you scream "wow". Here, you may spend some time swimming on its refreshingly cool and crystal clear waters as well as snap a heap of pictures.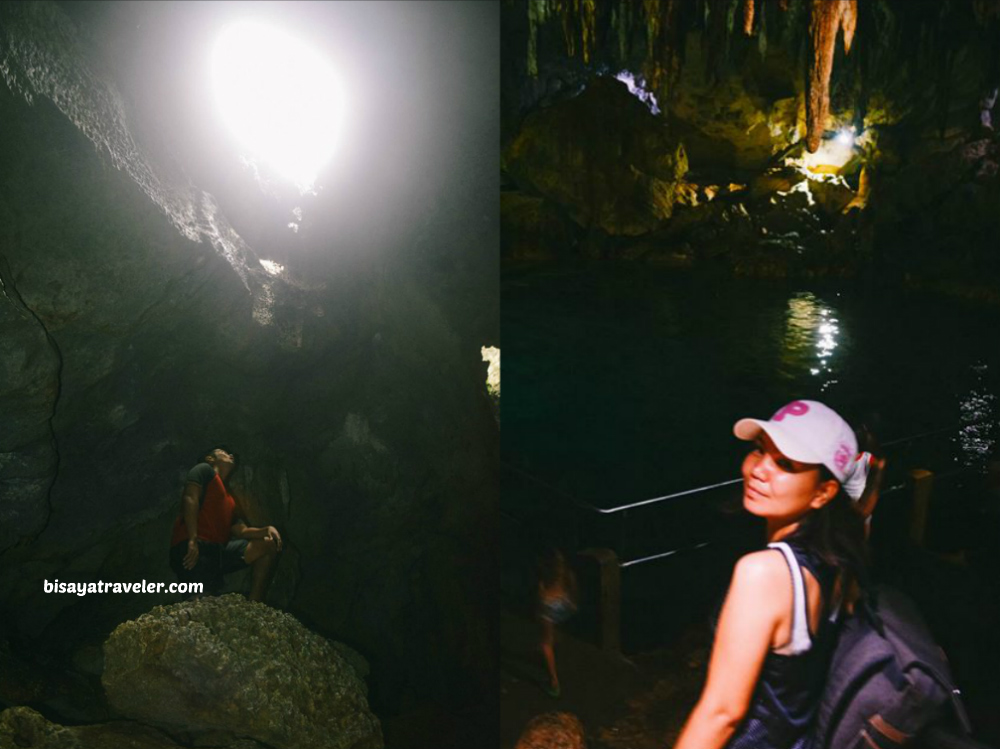 15. The beaches of Panglao, Bohol
A perfect way to end a perfect day in Bohol is to savor the tropical beauty of Alona Beach in Panglao, Bohol. With its swaying palm trees and powdery white sands, Alona Beach exudes a lovely tropical charm. And, there are a few restaurants and bars nearby, if you ever get hungry or thirsty in Alona Beach. Aside from Alona Beach, you may also go to Dumuluan Beach.
If, however, you want a little privacy for your beach escape in Bohol, you might want to book a stay at The Bellevue Bohol.
Though somewhat pricey, it's fabulous, luxurious and serene. Even better, the sunset views here are dramatic and photogenic.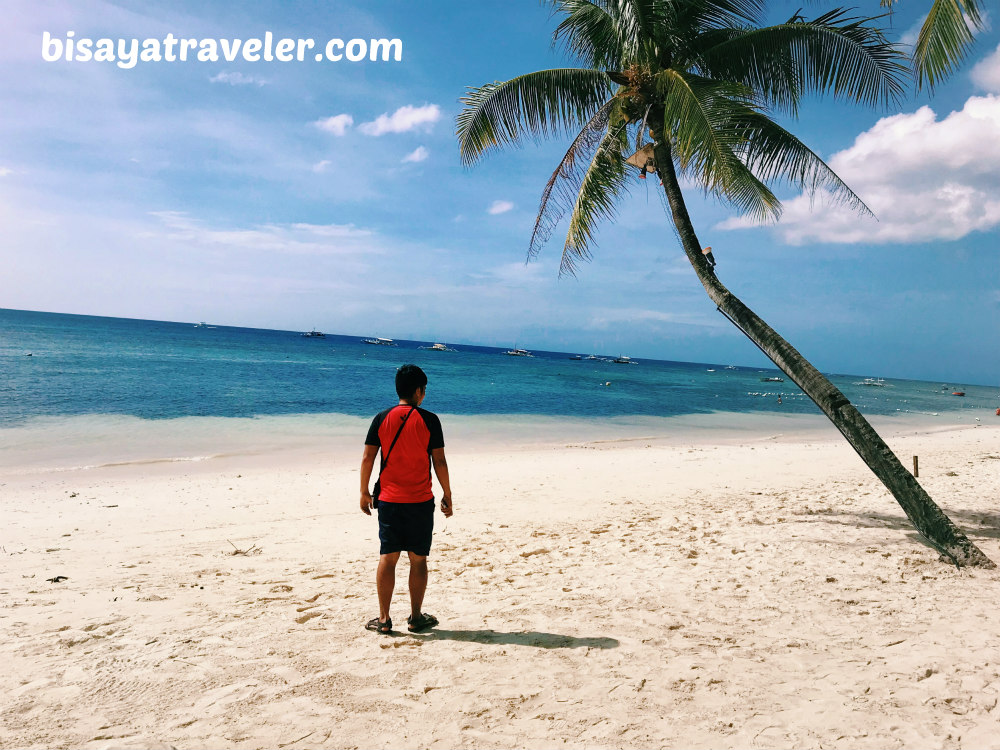 16. Jardin Necitas Pilar Glowing Garden
Truthfully, I wasn't blown away by the design and sheer number of artificial flowers at Jardin Necitas Pilar Glowing Garden. For some reason, I just don't find plastic glowing flowers attractive and catchy. In addition, we visited early in the morning, meaning we didn't get to see them glow. Even so, a lot of people find it easy on the eyes and Instagram-worth. And, with its verdant surrounding hills and mountains, it makes a terrific Bohol tourist spot for those who are into photography. Just visit it late in the afternoon!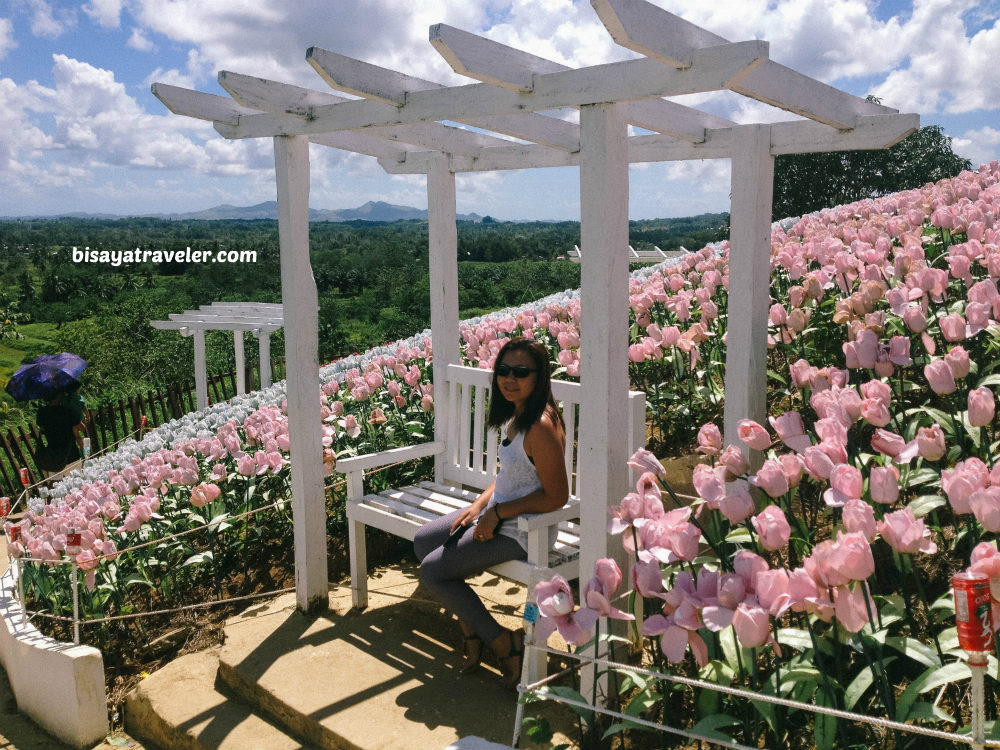 17. Balicasag Island
With its fresh seafood, clear waters and powdery sands, the Balicasag Island is a classic stop in most island hopping tours in Panglao, Bohol. For a memorable experience, explore the aquatic treasures of this well-known island. As you snorkel and dive in Balicasag, you'll find an underwater world full of corals and lively underwater creatures, such as barracudas and clown fish. And, who knows? You might also spot a sea turtle or two on this underwater experience in Bohol.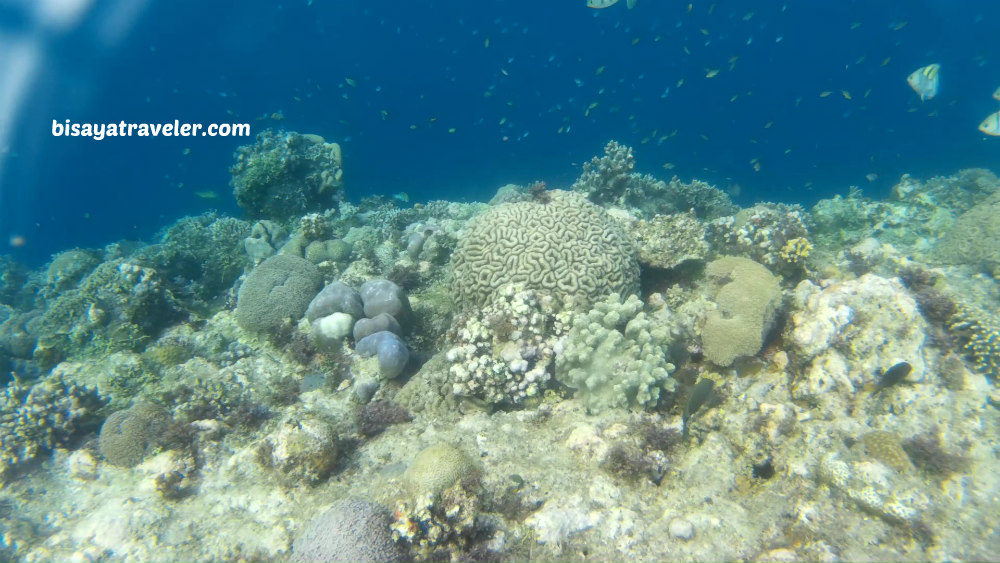 18. Tarsier Conservation Area
Searching for Bohol tourist spots where you can see the quirky Tarsier? When touring Bohol's countryside, make a pit stop to the Tarsier Conservation Area. For a rather affordable price, you'll get to see the exotic, endangered and famed primates of Bohol, in a responsible and humane way. And, with your entrance fee and donations, you're also helping boost the population of the charming Tarsier Bohol.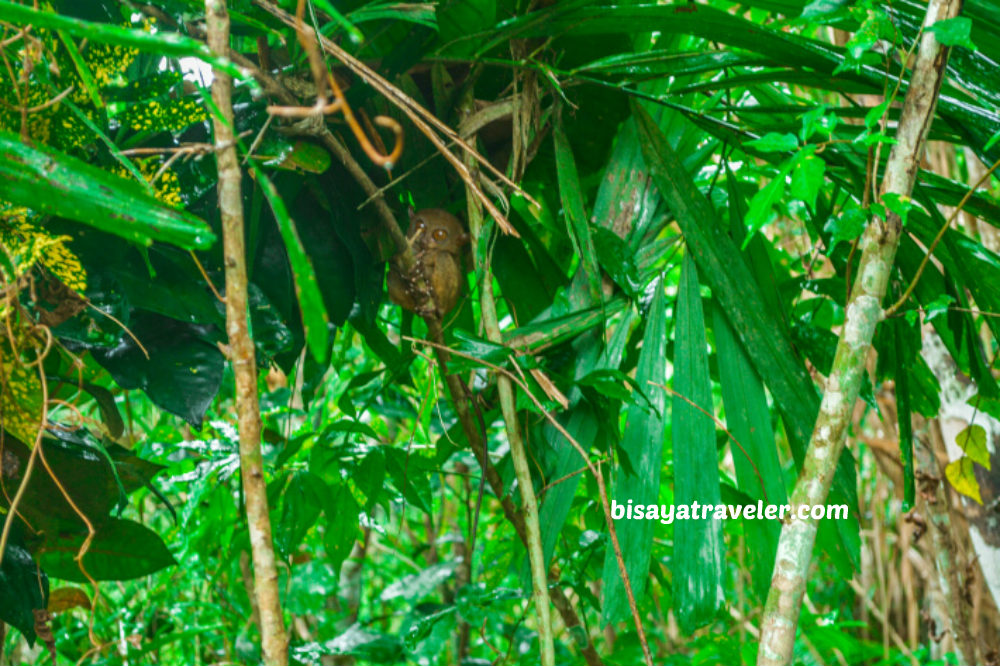 19. Baclayon Church and Museum
The devastating 2013 Bohol earthquake has caused a great deal of damage to many of the heritage spots and attractions in Bohol. And, one of them is the renowned Baclayon Church. But, thanks to the great strides from the local government, the church has still wonderfully retained its old world charm. And, there's more to this historic gem than giving a glimpse of the Spanish colonial times. As you step inside, you'll find a museum housing a mishmash of centuries-old religious artifacts, relics and antiquities. My favorites inside this museum include the golden ecclesiastical vestments, ivory statues of Jesus Christ and carabao-skinned books.
20. Anda, Bohol
I love Anda, Bohol! Home to a cluster of Bohol tourist spots, Anda wows visitors with its cave pools, including the Cabognaw Cave, Combento Cave Pool and Kalingoon Cave. Once you've done exploring these caves, you may cool down at Quinale Beach, soaking up the relaxing beach vibe. And, the best part is, it's less crowded as compared to Panglao, Bohol.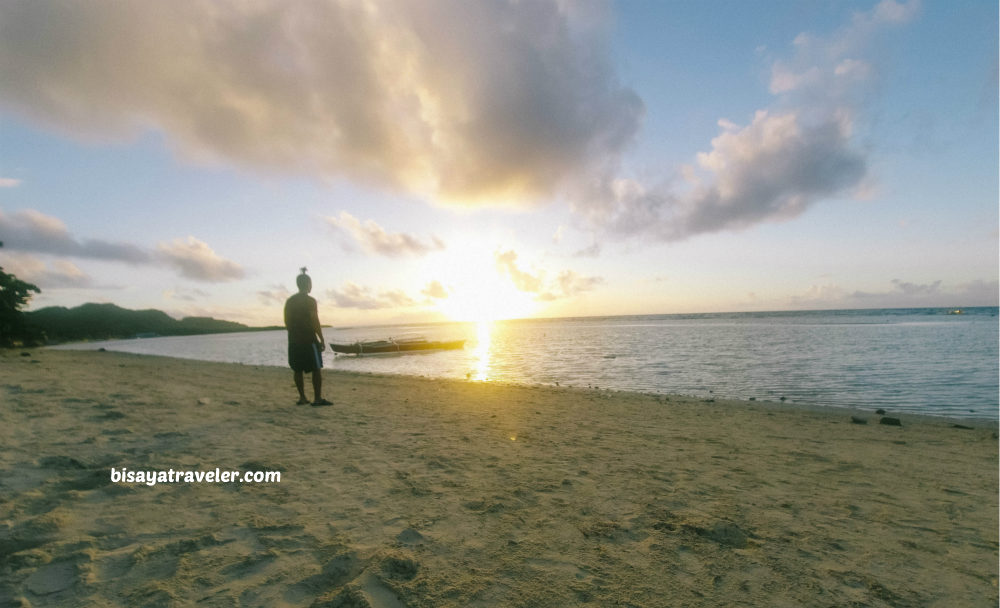 There's so much more to see and do in Bohol, Philippines. With a tsunami of new Bohol tourist spots, it will likely take years to see the best that the island province has to offer. Luckily, it's pretty close to my hometown. And, soon, we're going to move to Baclayon, meaning we'll have more time to explore the other hidden and underrated Bohol tourist spots.