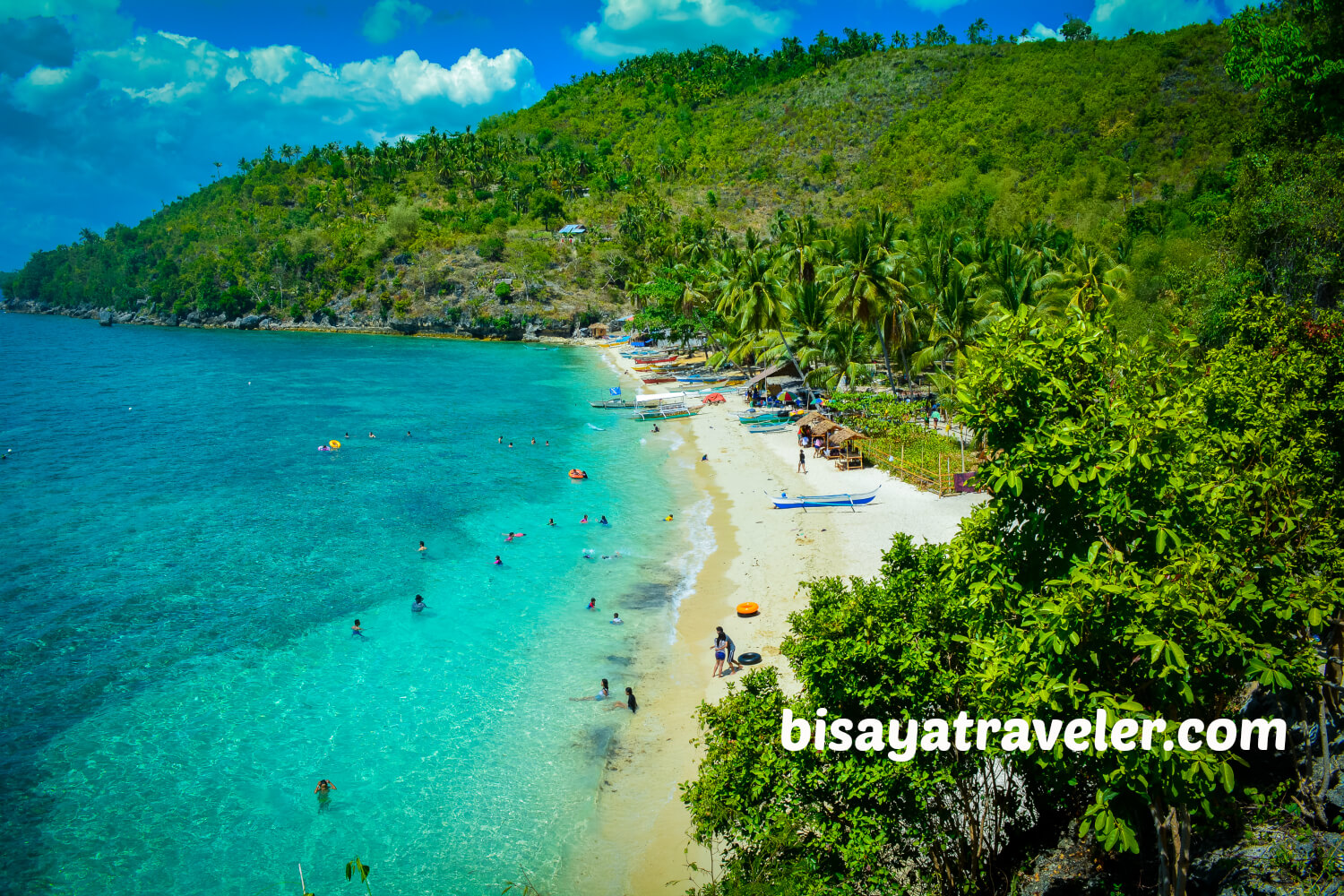 Hermit's Cove: One Of Cebu's Best Kept Secrets
Think the Bojo River eco tour is super awesome? Well, guess what? There's another charming tropical treat that awaits you in Aloguinsan – Hermit's Cove.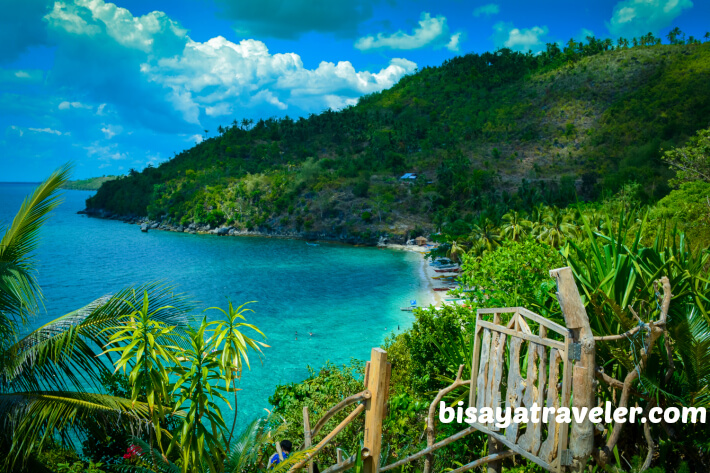 Hermit's Cove, just a couple of kilometers away from Bojo River, was truly a nice surprise to our short family adventure in Aloguinsan. Aptly labeled as one of Cebu's most gorgeous hidden gems, this secluded beach is, as far as I'm concerned, the epitome of an untouched tropical hub in Cebu, wowing visitors with its breathtaking natural beauty.
What to do in Hermit's Cove
While it's not the most stunning beach I've seen, I got to say it's quite a lovely sight to behold. Unfortunately, though, I didn't get the chance to spend a lot of time on this pristine and scenic beach. We were a little short on time, and the weather, with the El Niño phenomenon in full effect, was scorching. As a matter of fact, only three out of my 10 companions joined me for a swim on the coast's sparkling waters.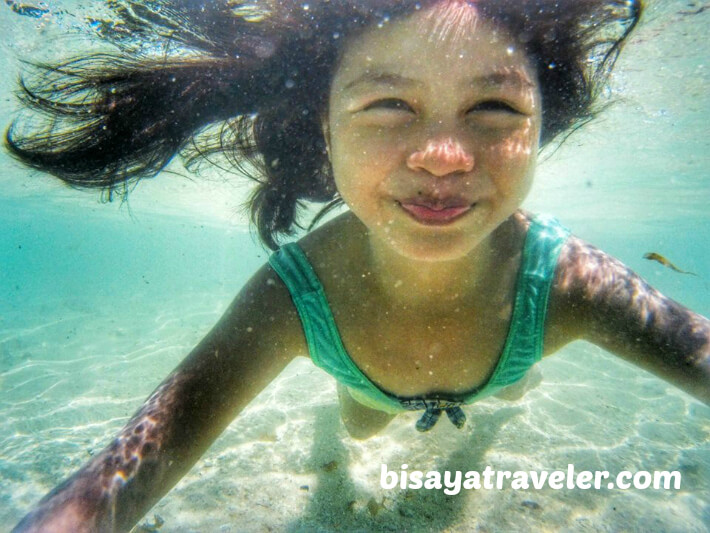 Despite the sizzling the summer heat, our swimming escape in Hermit's Cove was still full of fun and giggles. The waves were great, and its underwater area flaunts some vibrant corals. We didn't take the snorkeling tour package, but we did get inside the snorkeling area during low tide, which allowed us to see and take pictures of its underwater charms.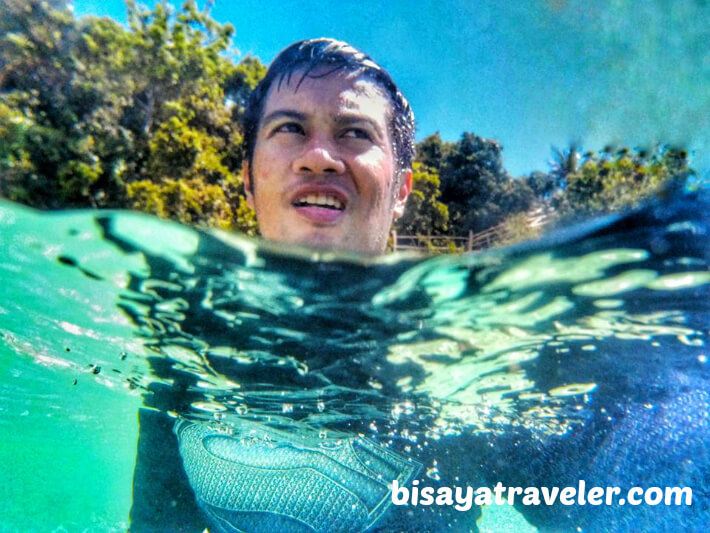 And make no mistake about it –the clean waters, vibrant coral life and powdery white sands aren't the only draws of this coastline. As soon as arrive in Hermit's Cove, you'll be greeted with a spectacular overlooking view of the coastline. Plus, the beach has attractive palm trees and eye-catching rock formations that make terrific backdrops for your selfies and pictures.
How to get there
We went there with a private vehicle, so I have no first-hand experience, when it comes to getting to Hermit's Cove. I, however, asked the locals and the folks at the LGU Tourism office, to find out how to get there via public transport.
To get there, first you need to hop on a yellow Sepo bus bound for Aloguinsan from Cebu South Bus Terminal. Then, tell the bus driver or conductor to drop you off at the Aloguinsan Public market (fare is 80 PHP, and travel time is 2 hours). Once there, take a 20-minute habal-habal ride to Hermit's Cove (50 PHP).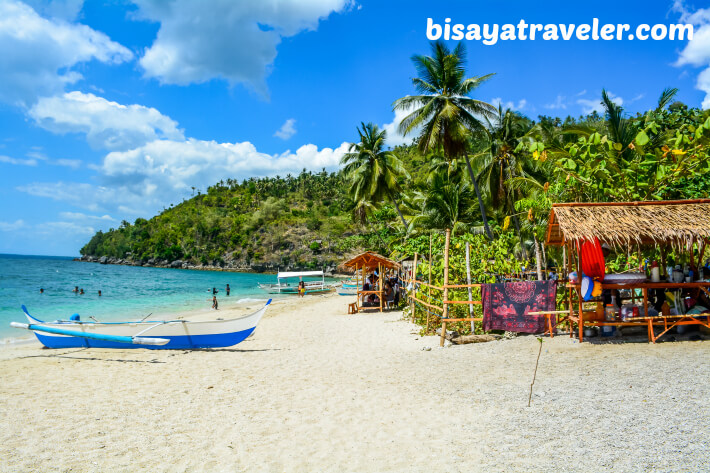 Alternatively, you may rent a van that will take you directly to Hermit's Cove (3,500 PHP a day). And for those who are planning to go to Hermit's Cove with a private vehicle, make sure that it is in tip-top condition, and it has 4-wheel drive option. Honestly, some areas of the road heading to the cove are pretty treacherous, bumpy and steep.
Entrance fee:
The entrance fee costs 100 PHP per person, with discounts to children and senior citizens. Prior to your entry, the locals assigned to manage the cover will give you a short briefing of the place. As for the snorkeling tour, you need to shell out 250 PHP each, and for a minimum of 4 people.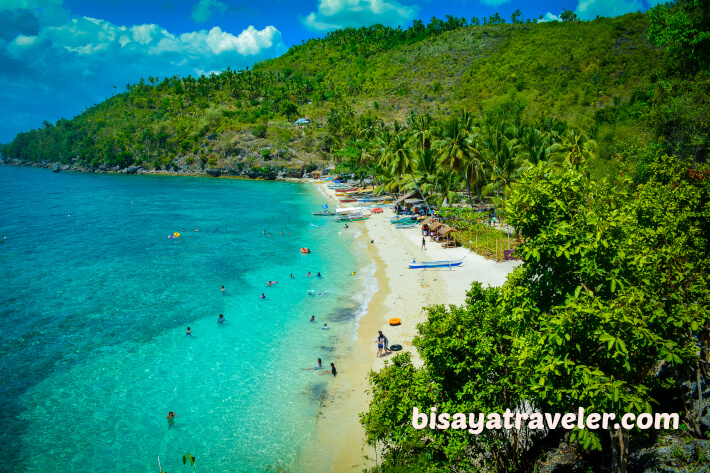 We only stayed there for less than three hours since we have to head back home early. Clearly, it was a short sojourn, and I wasn't able to fully immerse the splendor of the place. But the good news is, I still have plenty of opportunities to visit and explore this hidden paradise in Aloguinsan. After all, it is just two hours away from the buzzing Cebu metropolis.