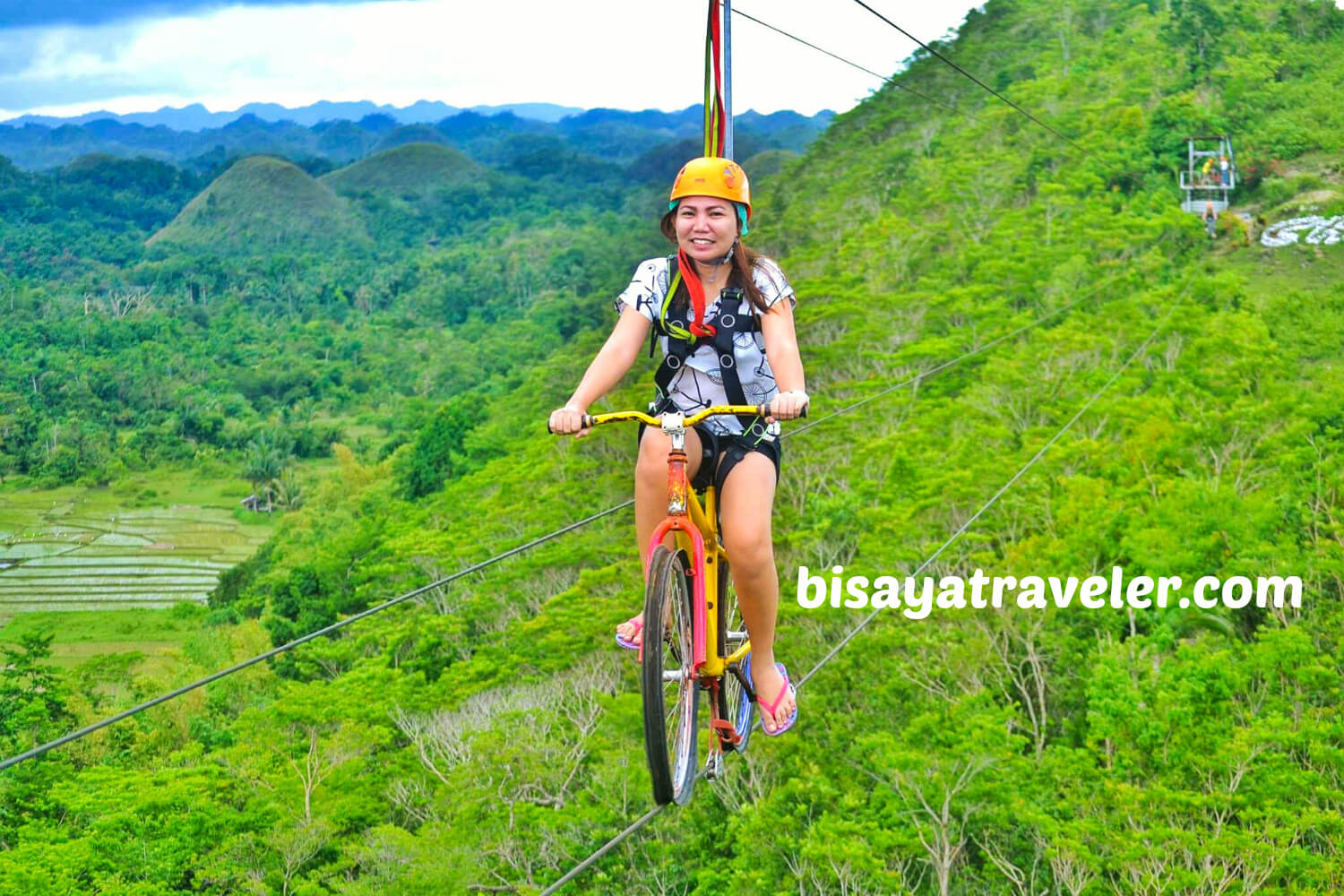 The Breathtaking Bike Zipline At The Chocolate Hills Adventure Park
Last year wasn't an exciting time in my life, as an adventurer and traveler. With a flourishing freelancing gig and a risky business venture, I had very few resources and opportunities for fun and exploration in 2015. But when we finally had a chance to travel, me and girlfriend, Rabbie, rushed to Bohol to experience all the charms, delights and eccentricities that this tropical paradise holds. There were plenty of memorable experiences during our Bohol escapade, but it was the thrilling Bike Zipline at the Chocolate Hills Adventure Park that truly awakened my wanderlust.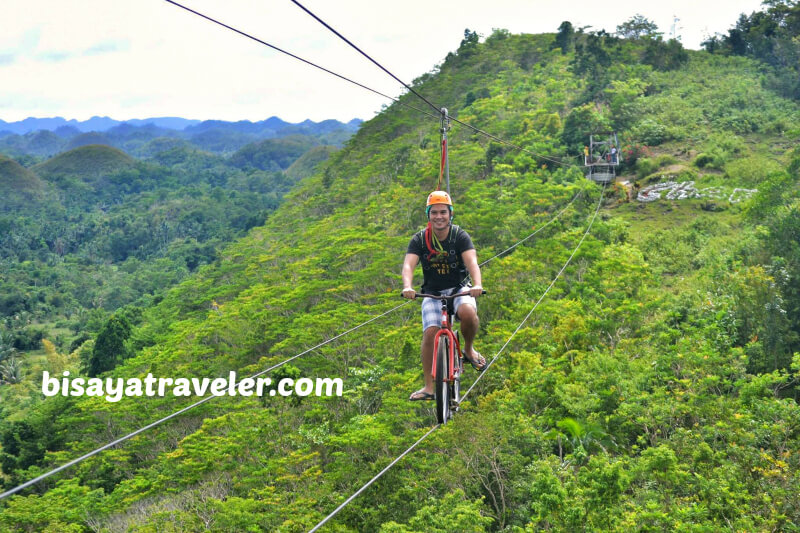 The Chocolate Hills Adventure Park was the second stop of our Bohol countryside tour. Together with my old buddy, Rechie, we've just finished enjoying the awe-inspiring vistas of the iconic Chocolate Hills. Although it was a great start, I was still looking to kick things up a notch, and infuse a dose of adventure to our trip. And when our driver informed us that the Chocolate Hills Adventure Park (CHAP) was out next sojourn, I suddenly felt a surge of excitement rushing through my body.
Upon our arrival at Chocolate Hills Adventure Park, we were greeted by a couple of sturdy and eye-catching wooden gates. We, then, passed by a pond and a beautiful garden brimming with vibrant flora. As soon as we landed in the lobby, a team of charming young gals assisted us and offered a bunch of combo tickets for the park's outdoor diversions.
Quite frankly, their packages were a little pricey for my taste, so we had to respectfully decline them, and just go with the bike zipline ride.
After settling our bills, we were directed to the base camp, where the park's guides gave us final instructions and handed out waivers. They also conducted a preliminary health check, to make sure that we're all fit and healthy for the bike zipline ride.
Ultimately, we walked across their shaky 52-meter long hanging bridge, to get to the starting point to our hike to CHAP's viewing area.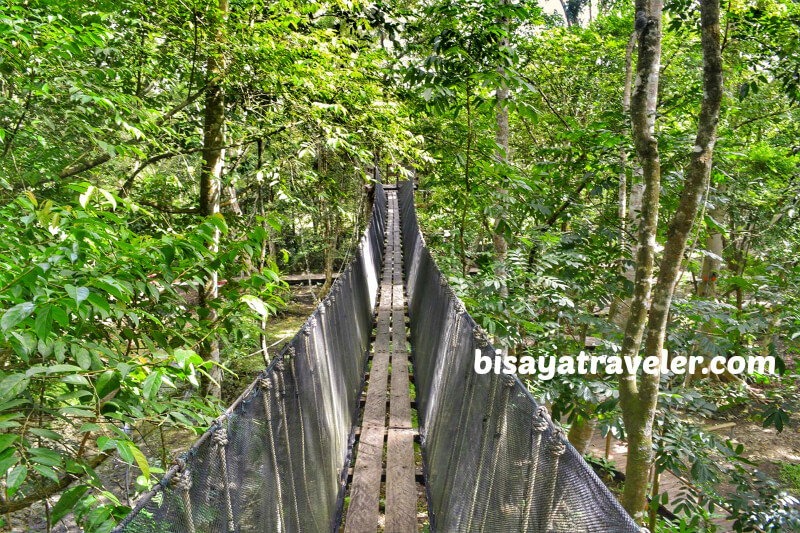 Even though I was in tiptop shape, the hike to the viewing deck wasn't a walk in the park, As a matter of fact, both Rechie and Rabbie had to take a breather, and even bought bottled water from a friendly vendor along the way. As far as I know, you need to take more than 400 steps to reach the viewpoint as well as to the tower that serves as a launch pad for the extraordinary zipline.
Once we reached our destination, we were treated to a lovely view of the majestic Chocolate Hills. We soaked in the scenery for a few minutes, and went to the people in charge to set up our gear for this one-of-a-kind zipline ride.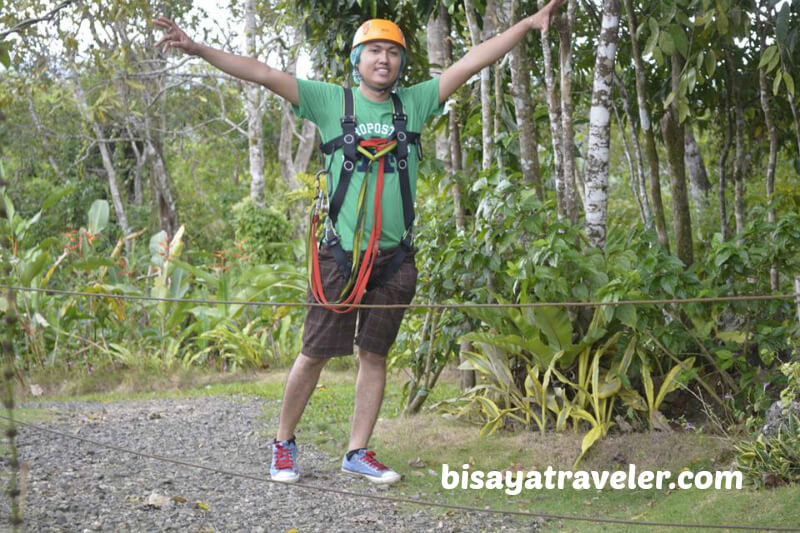 As we were climbing the steel tower, I could feel the anxiety beginning to take hold of Rabbie and Rechie. Even though I was sprightly and pretty enthusiastic, these two folks barely uttered a word. It was one of those rare instances when my positive energy didn't rub off to my travel companions.
We finally reached the topmost part of the tower, where we were about to embark on this wonderfully unique zipline ride. I still sensed their hesitations and fears, so I took the first ride to ease those worries.
Then, I slowly paddled my way across the 225-meter-long cable wide that's suspended 150 feet above the ground.
To me, the ride wasn't scary at all, and was actually rather refreshing. With dramatic views of the Chocolate Hills and fresh mountain breeze caressing my face, I was in a state of pure bliss, feeling like I was floating on air.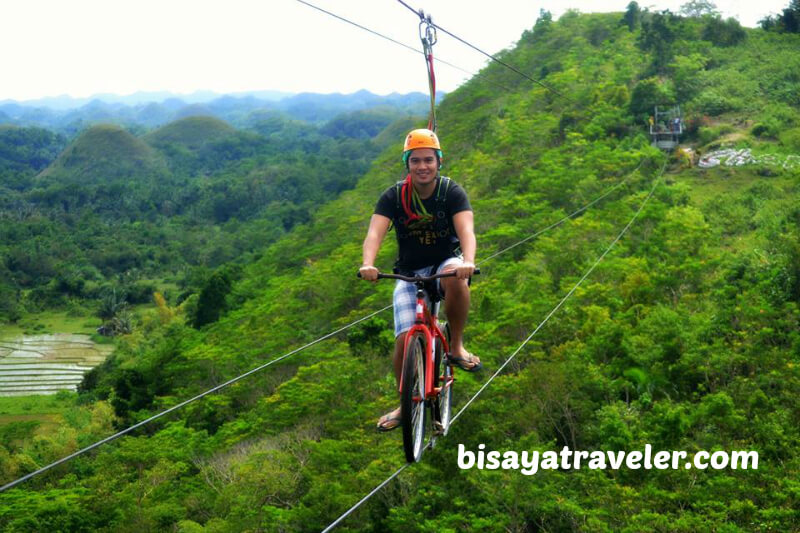 I was literally taking my time, admiring the unhindered views of Bohol's farmlands and grassy hills. And when I reached the other side of the zipline ride, I gave a "thump's up" sign to Rabbie and Rechie, to give them some encouragement. Moments later, I hopped on a bike that would take me to the first tower.
This time, I pedaled a bit faster because the views on the other side weren't so impressive, and my legs were getting a little tight.
When I was halfway through the ride, a cameraman from other side gestured me to smile and do some poses. I, of course, blithely obliged, and even flexed my biceps.
Despite their fear of heights, both Rabbie and Rechie mustered the courage to complete their zipline rides at the Chocolate Hills Adventure Park.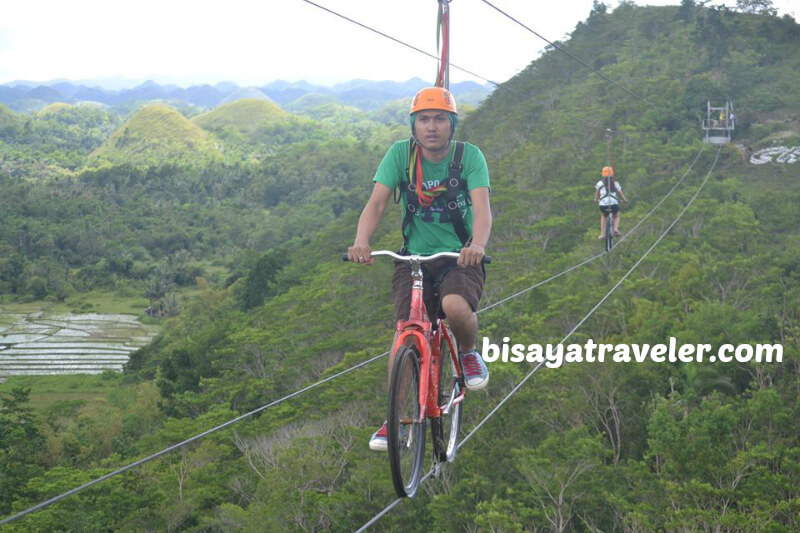 But, as you can see, they weren't as thrilled as I was, while taking this outstanding zipline ride at at the Chocolate Hills Adventure Park.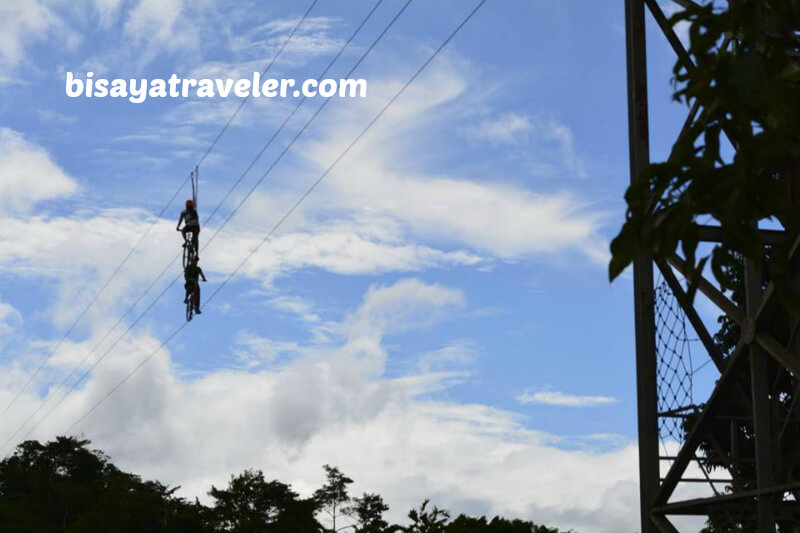 After his ride, Rechie told that me that he won't do it again, even if someone offers it to him for free. As for me, I'd definitely go back to Chocolate Hills Adventure Park, to experience its beloved bike zipline.
Expenses for the Bike Zipline At Chocolate Hills Adventure Park
Entrance: 60 PHP per person
Zipline ride: 450 PHP per person
I'm not sure if these rates still apply since this adventure happened more than 10 months ago. I suggest that you check out the official website of Chocolate Hills Adventure Park, to get updated rates for their offers.
How to get there
Our stop to Chocolate Hills Adventure Park was part of Bohol Countryside Tour. For more information about this tour, feel free to contact Tickets to Ride at their Facebook Page.