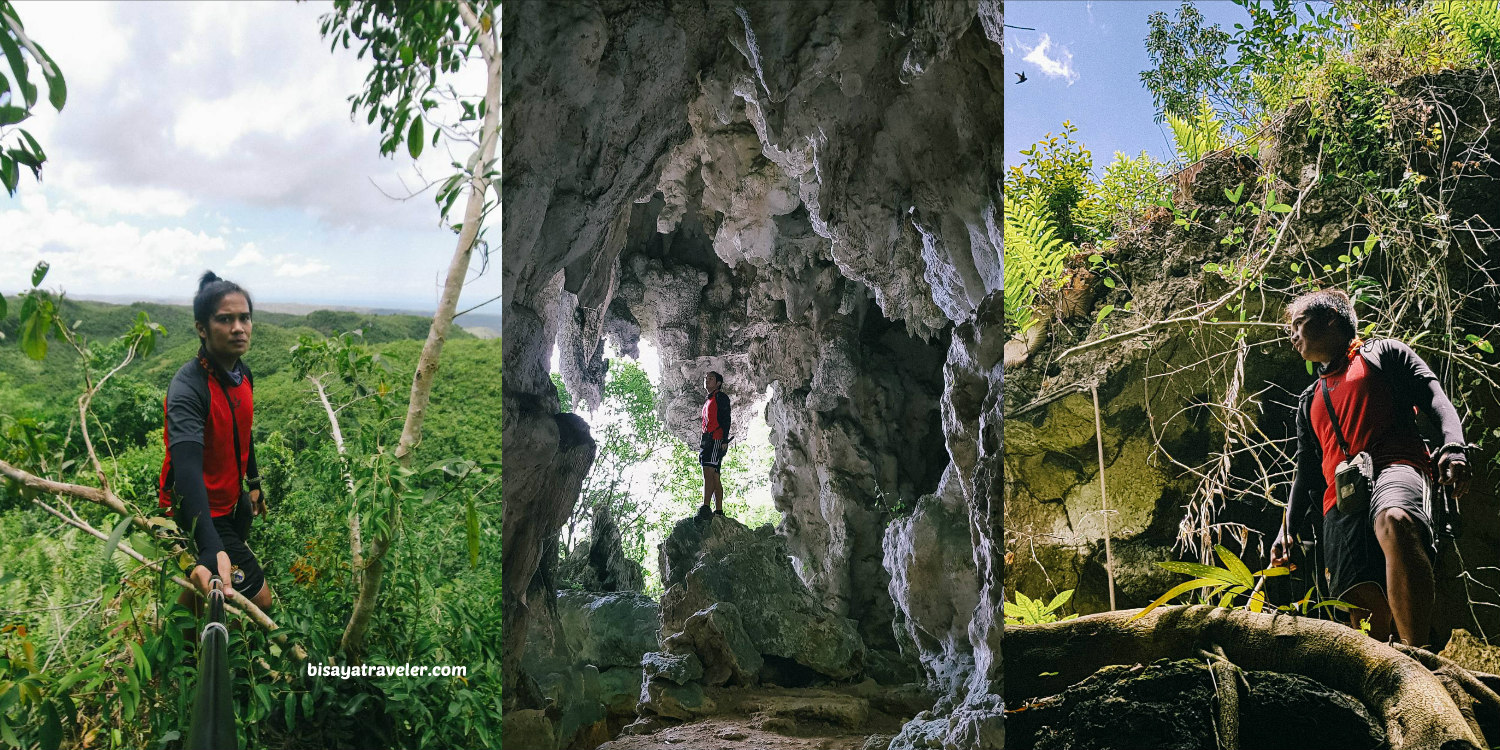 Lapos Lapos Cave: An Enticing And Extraordinary Gem In Toledo, Cebu
For weekend warriors like us, a week without an outdoor escape can feel like an eternity. And with the universe not on my side for the past weeks, it did feel like forever since my last hike. Despite today's mind-blowing innovations and technological discoveries, nothing still beats a good old-fashioned date with Mother Nature. The way I see it, adventure is totally ingrained in my DNA! Thankfully, though, my trusted hiking besties saved me from the clutches of boredom and monotony of daily life by introducing me to another hidden gem in Toledo, Cebu – Lapos Lapos Cave. While it was a short escape, it was nonetheless jam-packed with action, fun and extraordinary sights.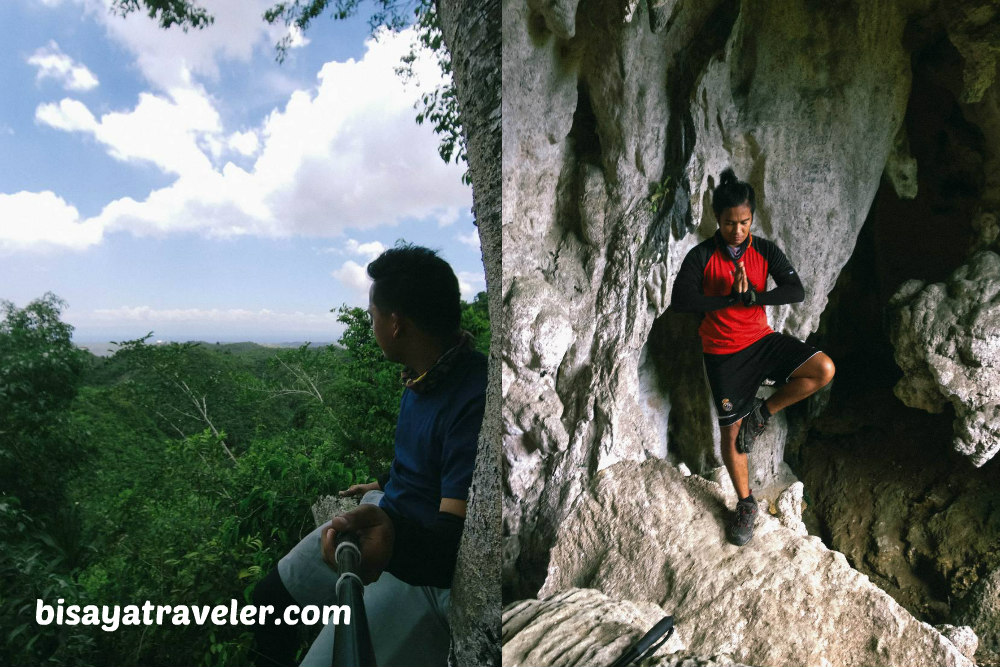 Truth be told, we had a different kind of adventure in mind, prior to our Lapos Lapos Cave exploration. Originally, our plan was to scale a peak and explore an untouched cave somewhere in Naga, Cebu.
Obviously, our initial plans didn't work!
But, guess what? It was actually a blessing in disguise! Since we had no other options left for our weekend hike, we went with Beth's suggestion that she pitched to us a couple of weeks ago – Lapos Lapos Cave. Full of life and funny moments, our Lapos Lapos Cave adventure was truly a blast.
My Lapos Lapos Cave, Toledo experience
Like most of my day trips to Toledo, our Lapos Lapos Cave exploration started with a meet-up at Cebu City South Bus Terminal. There, I had a quick rendezvous with some of the adventurers joining me on my escapade – Beboi, Tatay Raul, RJ, Ninyah and Demi.
We, then, wasted no time, and hopped on a bus bound for Toledo City, Cebu.
Less than an hour later, we arrived at Poog, Toledo's pink church, where we caught up with Beth, ma'am Fe as well as the Naga girls – Maricar and Ivy.
With everyone psyched and ready for the caving exploration, we took a short habal-habal ride to the base of our Lapos Lapos Cave exploration – Bunga Barangay Hall. Upon our arrival, we were greeted warmly by Beth's charming and pretty friend – Vera – and her energetic "buddies".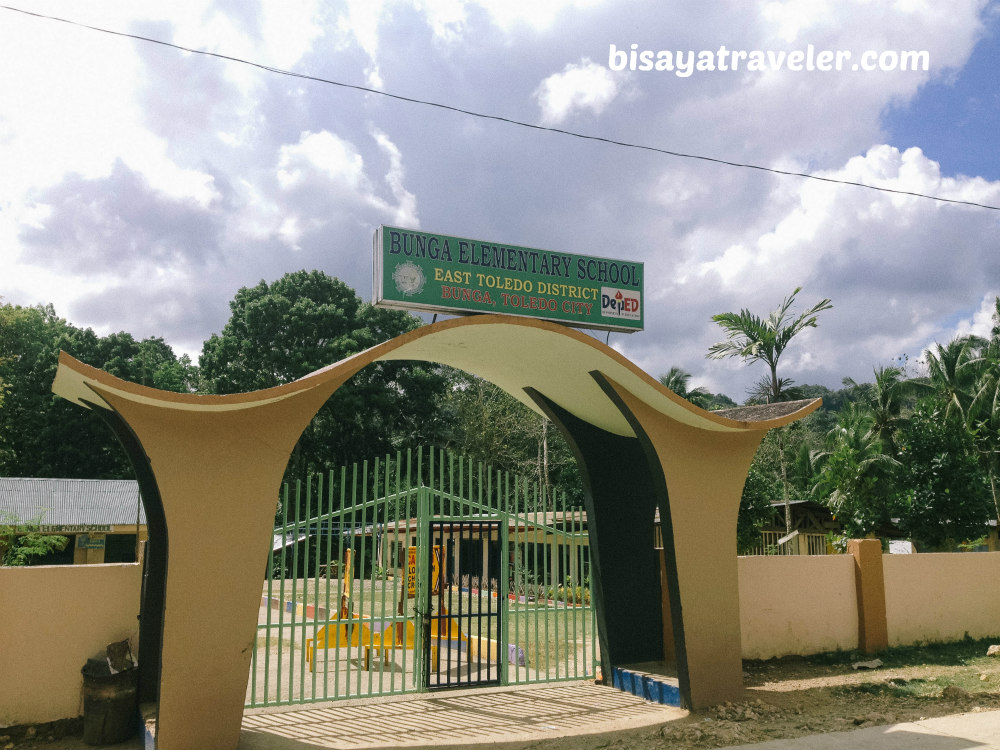 Before embarking on our journey to Lapos Lapos Cave, we dropped by the hall's office, and registered our names to their logbook.
Afterwards, we said a short prayer (led by Tatay Raul), and made formal introductions.
Spearheaded by Vera and her gang, we followed the trail leading to the strange and wonderful unheralded gem of Toledo, Lapos Lapos Cave.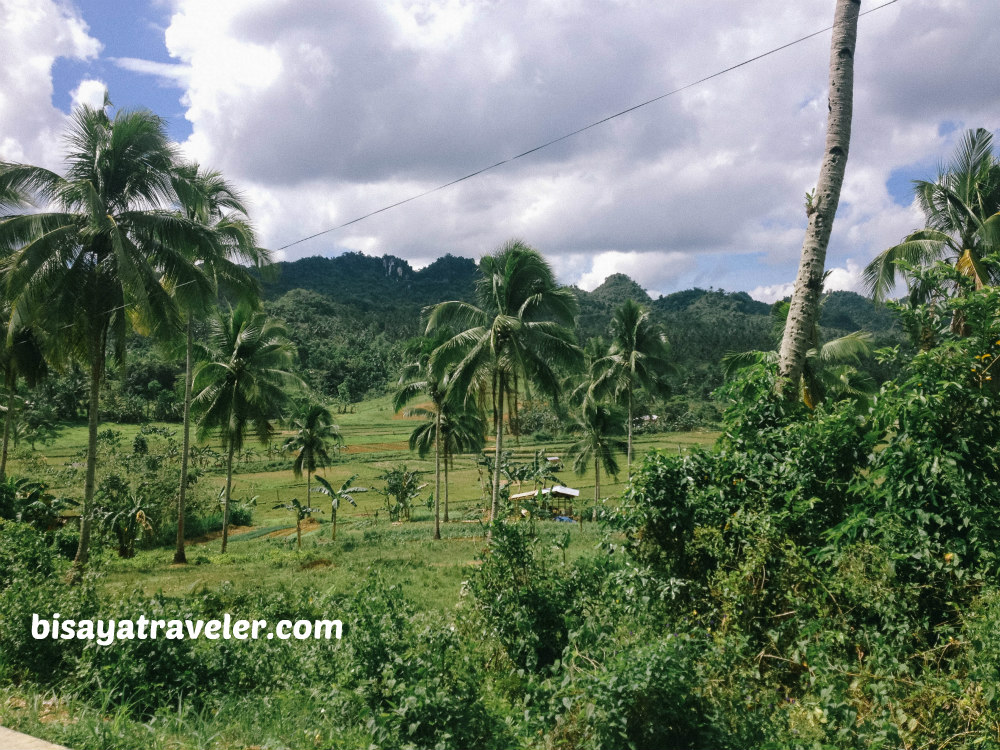 As soon as I saw the elevated trail, I honestly thought I'd struggle. After all, it's been a while (by my standards) since I had an uphill hike to the mountains. Amazingly, even with the forested trail and scorching sunny weather, the hike up was a breeze.
As for the views, they were nothing short of amazing, with a tantalizing mixture of limestone rocks, lush mountains, clear blue skies, and overlooking panoramas of Pinamungajan.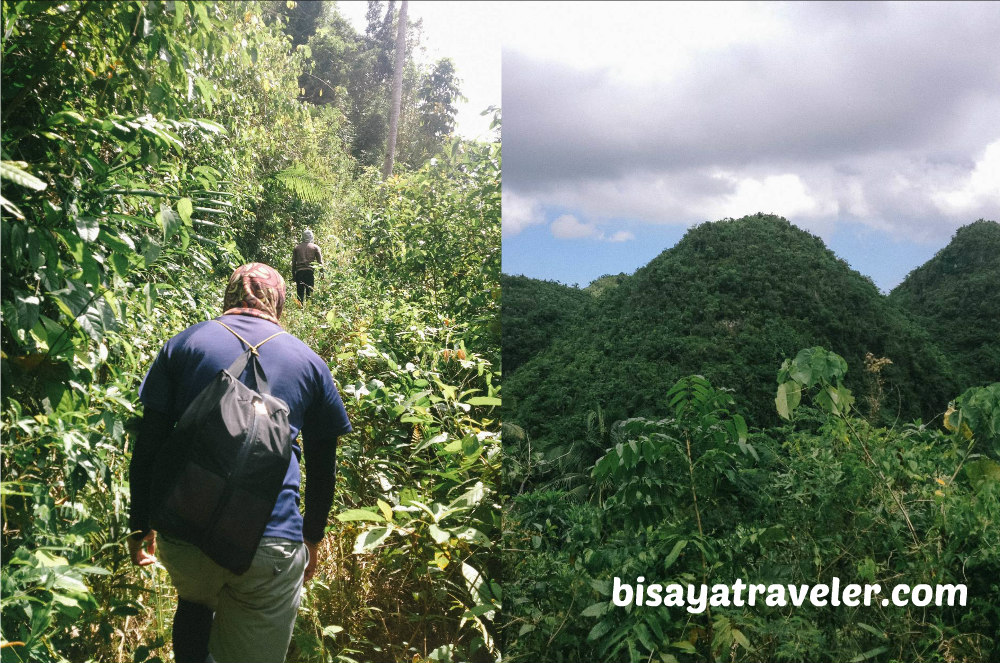 To make things even better, our conversations with our new buddies were extremely interesting and fun.
And, it didn't take long for Vera's buddies to gel with us.
As a matter of fact, they were already calling Raul their "Tatay", and even volunteered to carry his backpack.  Not his front bag (belly), though.
Along the way, we passed by a cave that served as a shelter to our lady guide for our Lapos Lapos Cave foray. And, after tagging along with us, we followed our guide to the base of Lapos Lapos Cave.
We kept on walking, until we got a good view of a potential camp site in Bunga, Toledo.
"That looks a lot like Mount Madalagan's camp site", said ma'am Fe.
"We're planning to make these grounds a camp site", replied Vera.
I've never been to Mount Madalagan, but based on the pictures I've seen online, this campsite does have similar physical features with this towering mountain in Negros Occidental.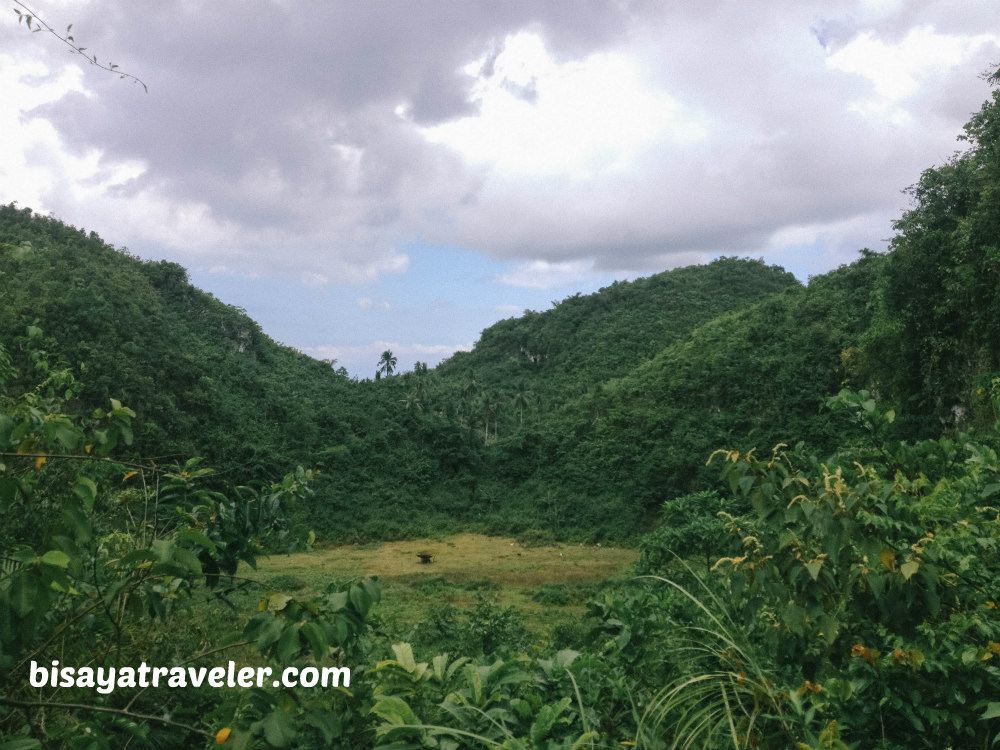 Moments later, we arrived at the base of Lapos Lapos Cave, and took a breather.
As far as I'm concerned, it has the hallmarks of a great camp site. Hopefully, with a little push from the tourism office, this spot in Bunga will turn into a playground for adventure junkies and weekend warriors.
While we were taking a rest, Vera pointed out a wondrous garden perched on a mountain.
Boy, this place surely has the qualities of an exciting adventure wonderland!
Once our short rest was over, we went on with our hike, so we can gaze on the awe-inspiring Lapos Lapos Cave.
Just as we were about to climb the mountain housing the cave, our "buddies" found a healthy tree full of fresh coconuts.
As might have guessed, these uber friendly and vibrant youngsters climbed the tree, to give us a handful of delightful coconuts for FREE.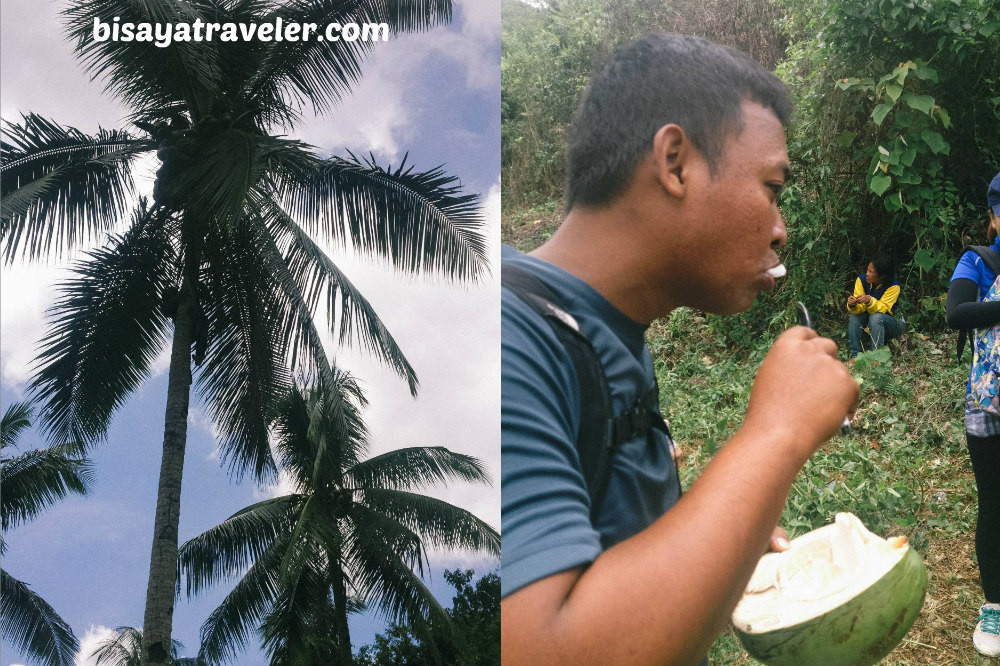 And, once again, Tatay Raul was the star of our break. Not only did he wow the crowd with his out-of-the-ordinary insights, but he also gave us a glimpse of his legendary appetite.
In my book, Tatay Raul has the heart, skills and characteristics of a competitive eating champion.
If there's going to be an eating contest here in Cebu, I'm pretty sure he'll win it, by a wide margin. #foodislife
With recess in the books, we made our way to the mouth of Toledo's Lapos Lapos Cave, through a bushy trail, passing by thorny plants and dead branches.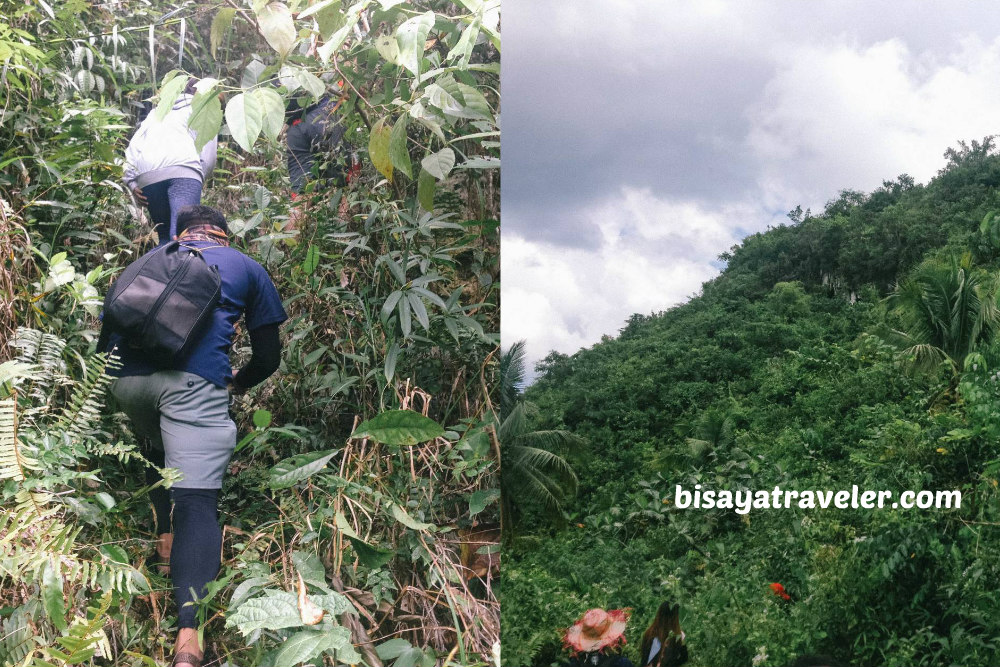 Soon after, we finally arrived at the entrance of Lapos Lapos Cave.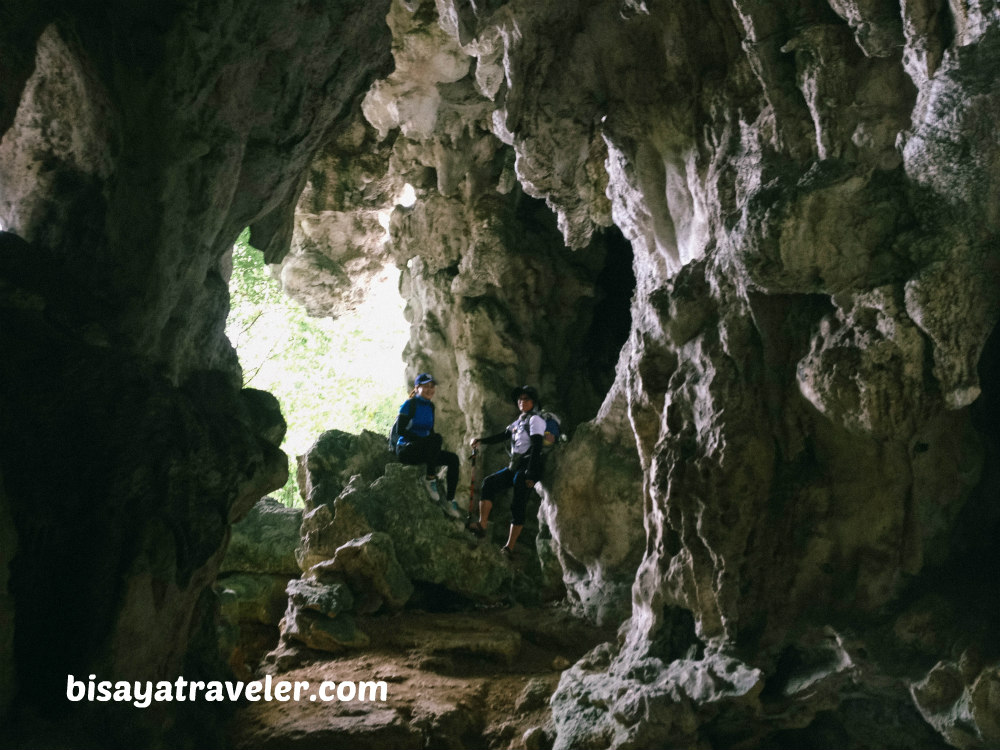 Truthfully, it's not the most eye-catching cave I've ever seen in Cebu. Furthermore, I've seen a more breathtaking Lapos Lapos Cave in the province (there are 3 caves named Lapos Lapos on the island).
But, I must say it's pretty impressive, with its stunning rock formations and eerily wonderful lighting.
And, in spite of the vandalized walls, it's fairly photogenic as well.
I've seen several Instragrammable photos from Vera's timeline, highlighting the beauty of this place.
As usual, we took turns posing in front of the camera, for memorabilia's sake inside the cave. With Vera's advice and suggestions, we discovered the best spots to snap a selfie or photo in Lapos Lapos Cave.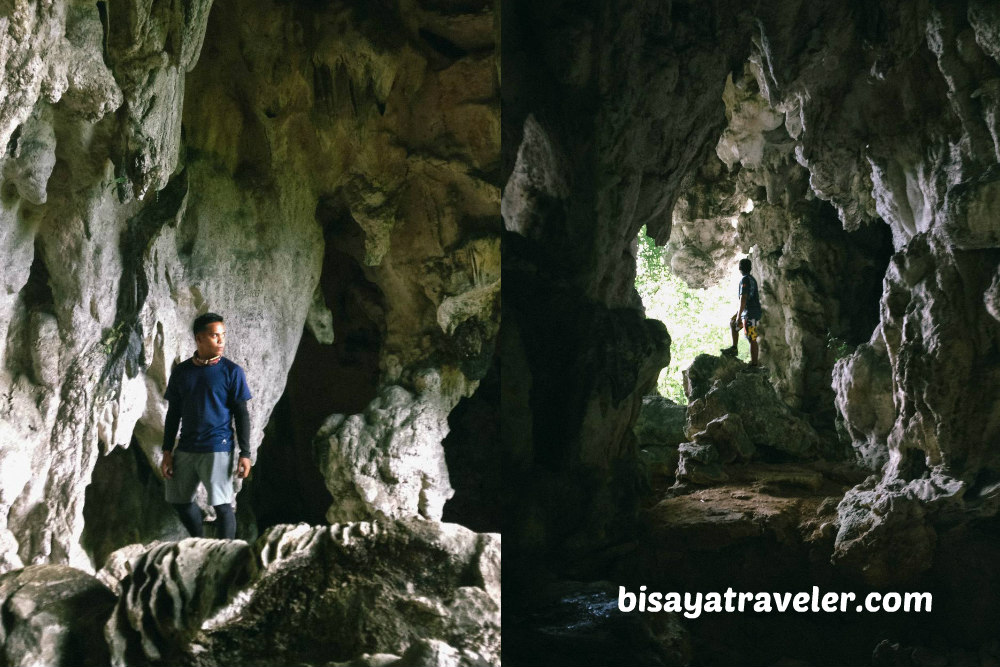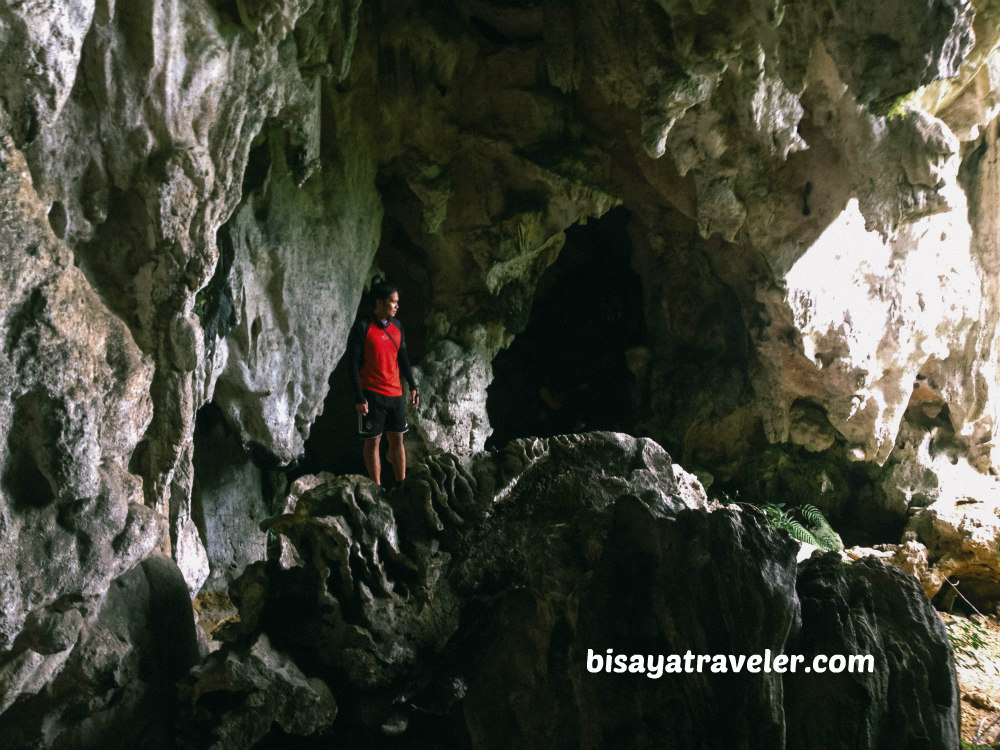 What's more, we had a medley of groufies inside Lapos Lapos Cave with the gang.
We did take a ton of time inside the first chamber of the cave, savoring the moment and trying to find the best angles of our shots.
Although we're not expert shutterbugs, we do love taking photographs, to romanticize and immortalize the memories of our adventure.
As a way to keep things rolling, we made our way to the other chambers of Lapos Lapos Cave via a rather tricky and slightly perilous pathway.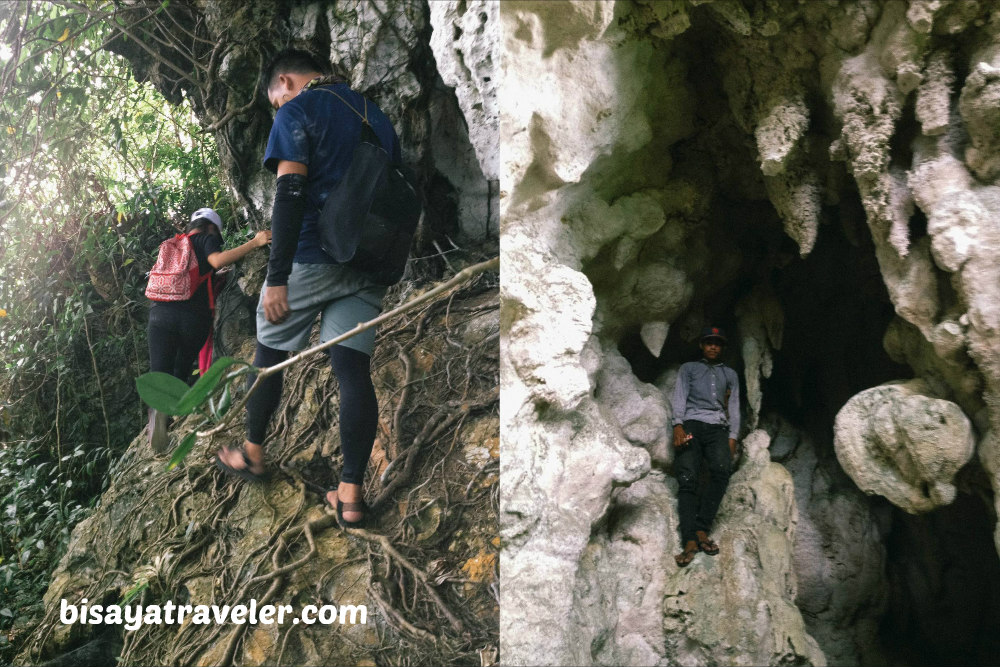 A fascinating adventure, indeed!
And, there were plenty of incredible sights on other chambers of the cave.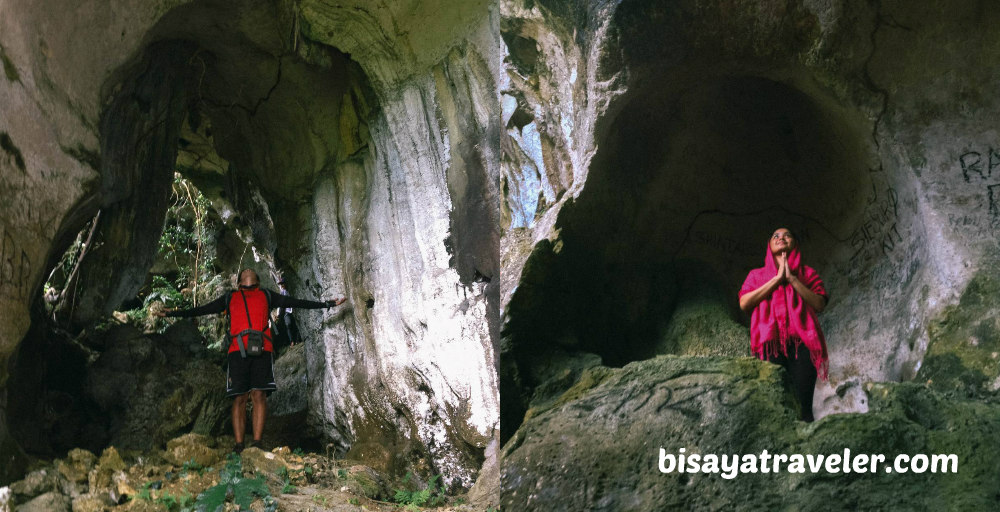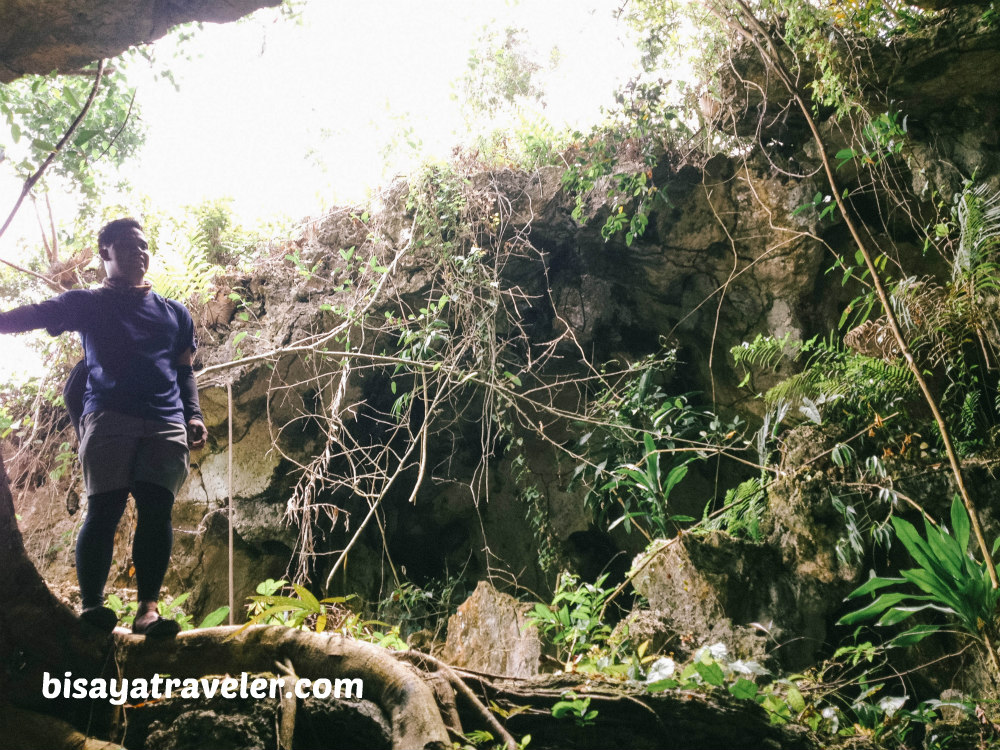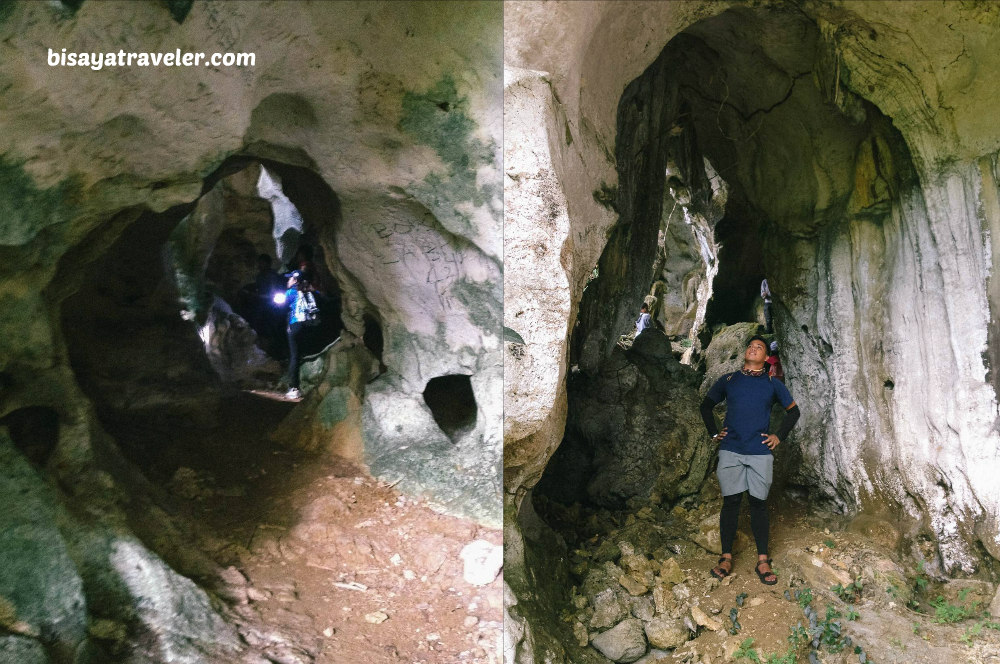 As we were cherishing the sights, our buddies climbed to a cliff to show us a beautiful overlooking view of Pinamungajan, Toledo and the neighboring Negros Island.
Eventually, Beboi and I followed the dynamic duo, to lay eyes on these stunning panoramas.
Getting up there isn't easy, however, especially if you're a newbie, when it comes to outdoor adventures.
The rocks were unstable and cliff was somewhat steep. But, with grit and determination, we made it to the top, and were rewarded by its mesmerizing views.
"The sunset views here are spectacular", one of buddies said to us.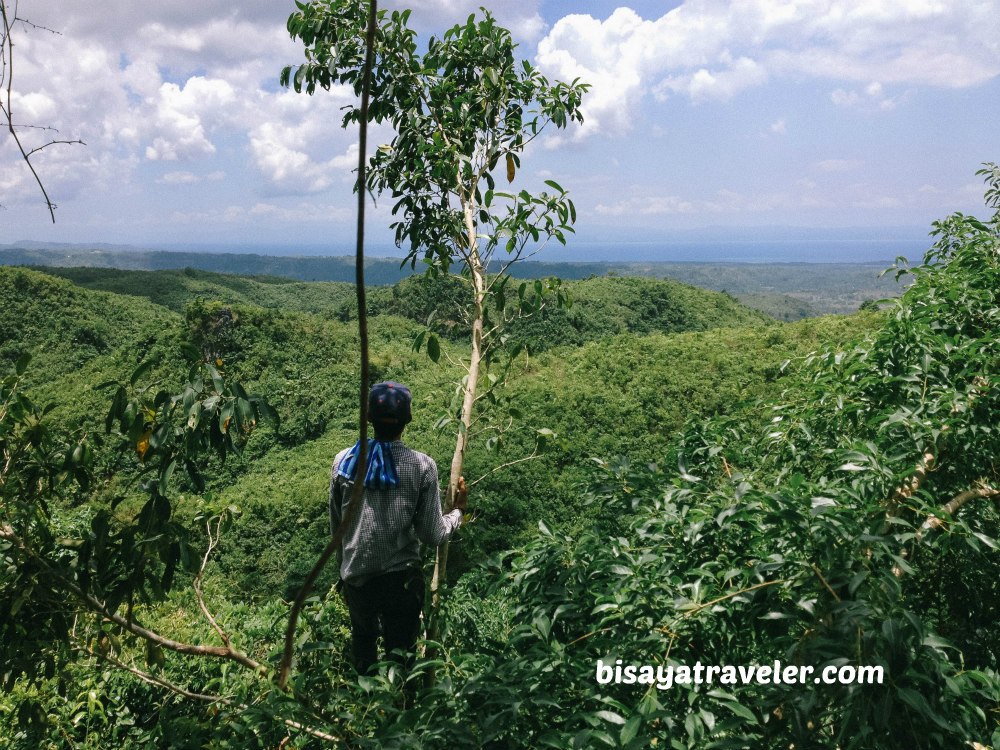 Soon, we urged the rest of the gang to climb the cliff, so they can also soak up the panoramas on this part of the mountainous cave.
And, they did it, with teamwork and perseverance!
Of course, they also enjoyed the views from this not-so typical vantage point.
In addition, we took solo shots on this area, using our action cameras.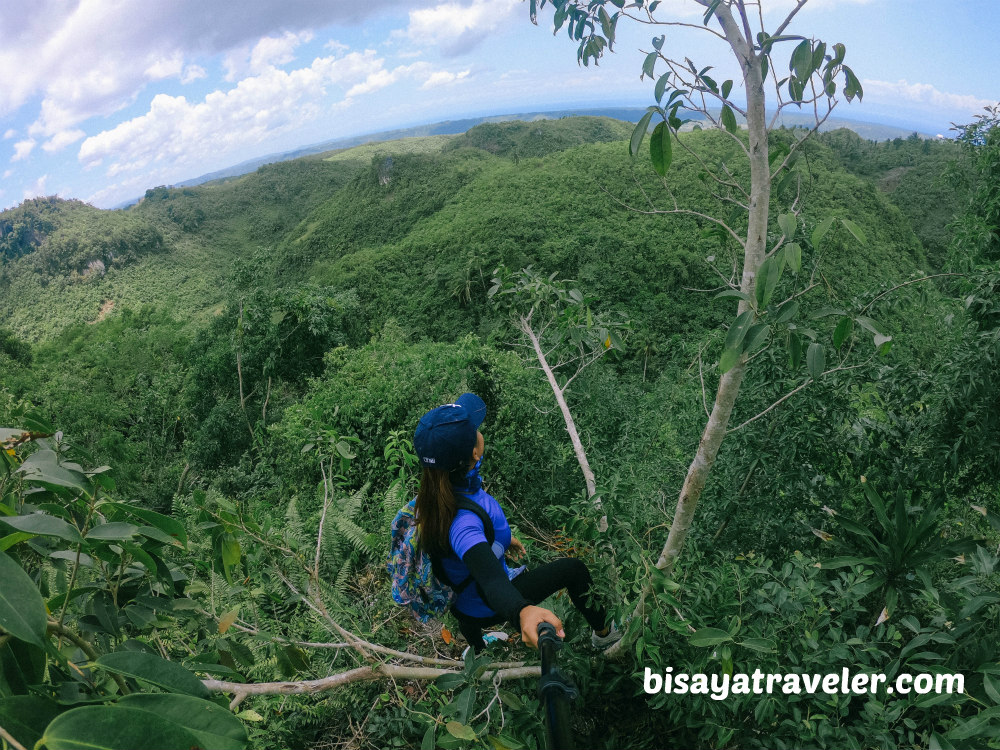 Even though it was still early, we had to descend to the base, as we still have other agendas for that day.
Slowly but surely, we made our way to the base, and shared our lunch with our new friends.
When lunchtime was done, we continued with our hike, and made our way to the next stop of our day adventure – Milogrosa Cave.
On our way to the next cavern, we caught a glimpse of Lapos Lapos Cave from afar.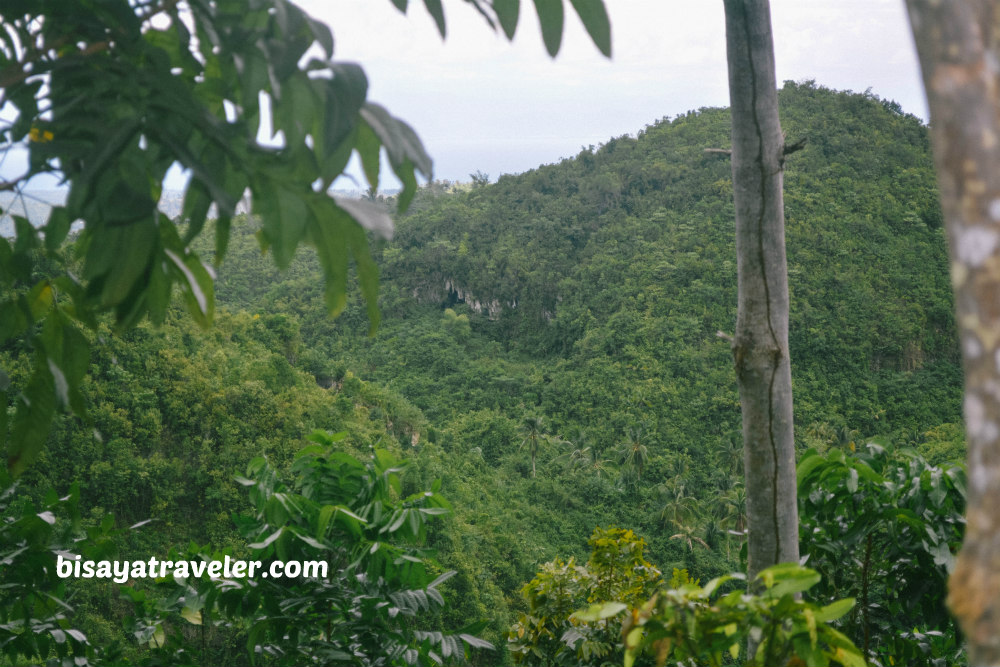 Did you see that hole in the picture? Yes, that's the gateway to Lapos Lapos Cave!
Such a fascinating mountain cave, right?
Following a short break, we went on with our hike on this picturesque trail in Bunga, Toledo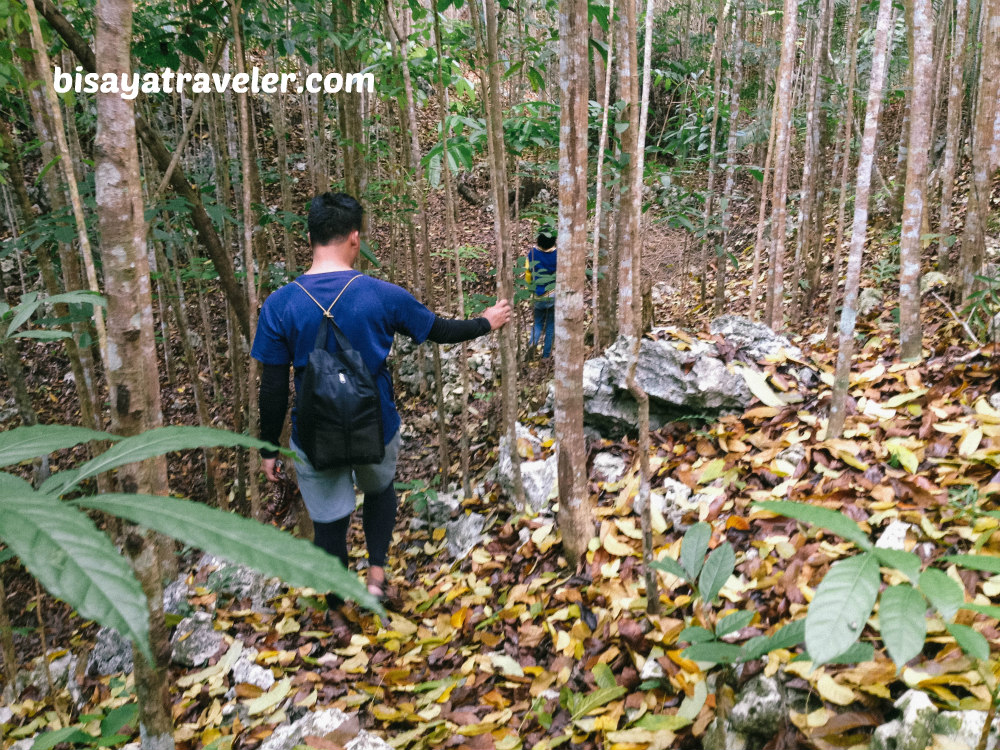 Looks for familiar? Shades of Cebu's famous Spartan Trail!
Ultimately, we arrived at Milograsa Cave, where we took a break and captured the moments through our cameras.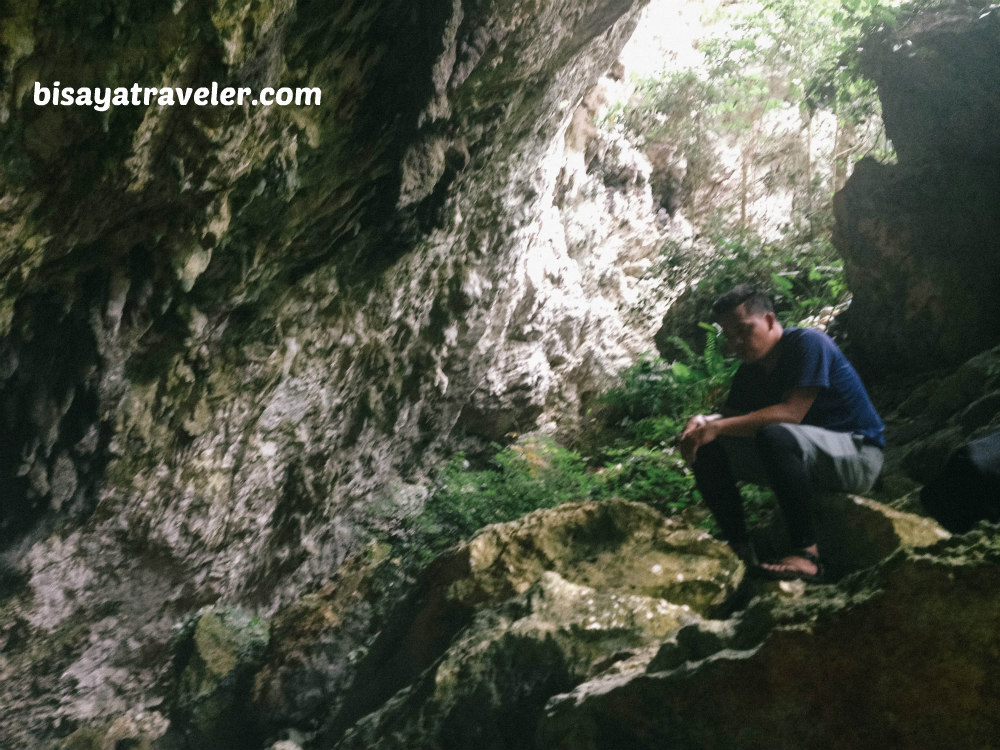 As we were resting, our lady guide revealed something supremely interesting to us. In our conversations, she told us that there are over 300 caves in Bunga, Toledo.
WTF!  Seriously, we should start calling Bunga "The Caving Capital of Cebu".
From small caverns to spacious and glittery caves, she gave us a rundown of some of the most enticing caves in the area.  I guess a return to Bunga, Toledo is inevitable and a must for me.
Later on, we resumed with our day hike, and walked our way to the main road, to cap off our visit to Bunga, Toledo.
We, then, bid farewell to our newly-met friends, and started walking towards our last stop – Udlom Falls.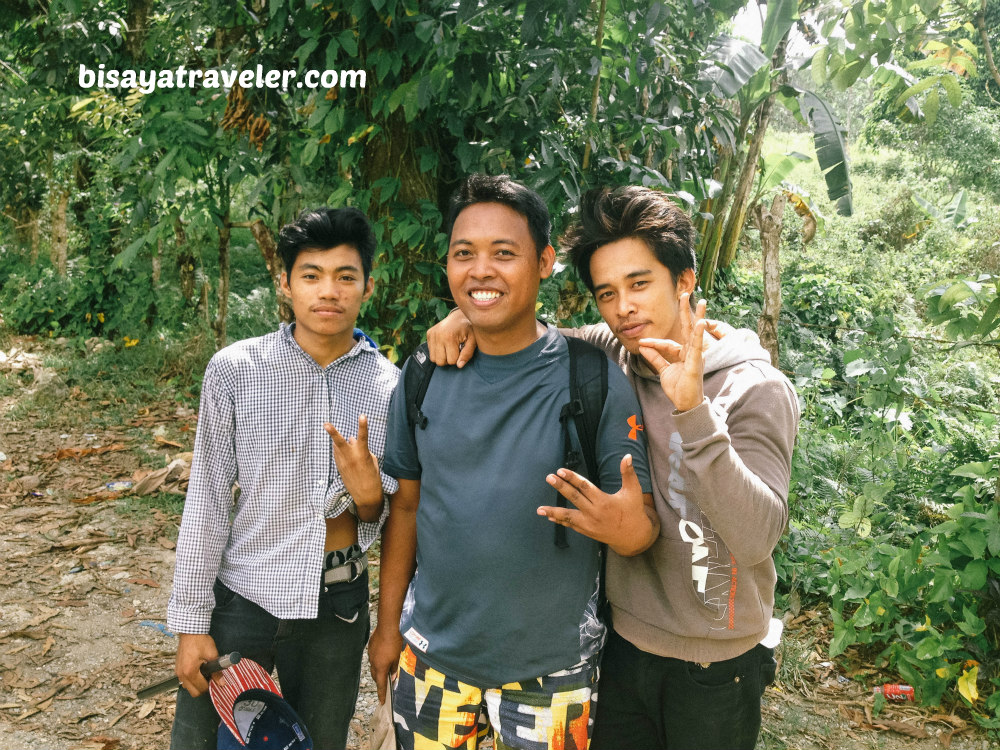 And, that cool story will be shared on my next blog post.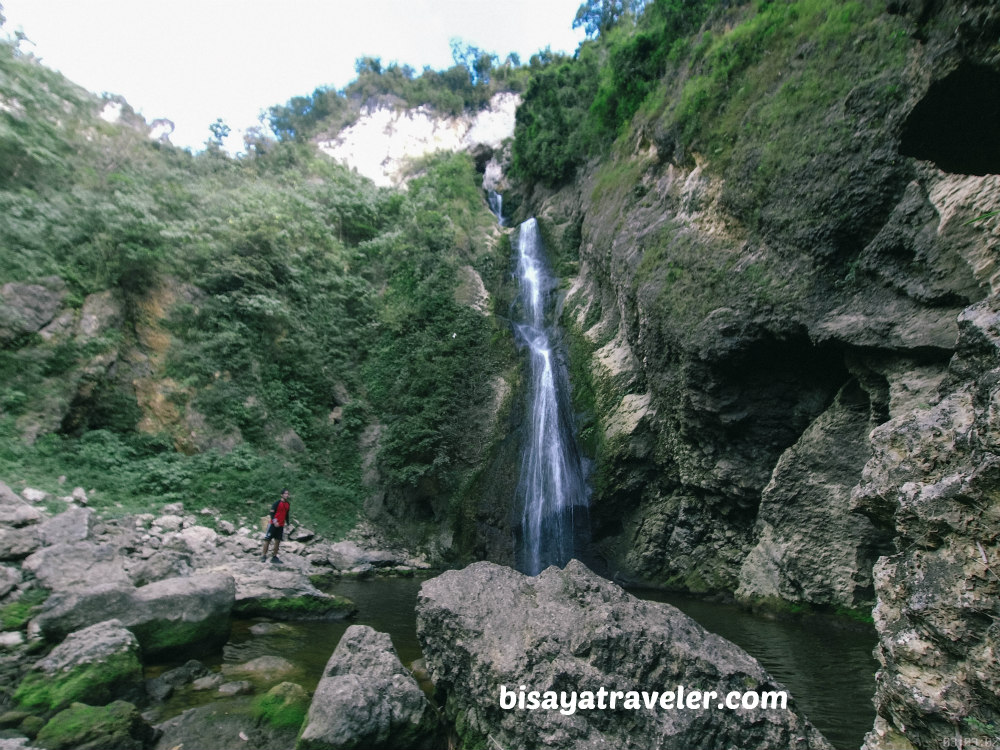 How to get there:
From Cebu City South Bus Terminal, take a bus ride to Toledo, and ask the driver to drop you off at Poog or eskina Bunga. Once there, charter a habal-habal ride to Bunga Barangay Hall, and register your names to their logbook. As of now, there are no permanent guides to Lapos Lapos Cave in Toledo. I suggest that you reach out to Vera days prior to your hike at 0905-653-7826, so she can help you find a guide to Lapos Lapos Cave.
Things to take note:
Practice the LEAVE NO TRACE principles.
Pack at least 2 liters of water.
Bring trail food/snacks.
Bring ION drinks like Gatorade or Pocari Sweat.
Wear trekking shoes or sandals with great traction.
Pack full-fingered gloves, leggings and arm guards.
Our itinerary:
07:00 AM: Meet up at South Bus Terminal
07:40 AM: Depart for Toledo City
08:40 AM: ETA Poog Church/picture taking
09:15 AM: Depart for Bunga Barangay Hall
09:40 AM: Start hike to Lapos Lapos Cave
10:45 AM: ETA Lapos Lapos Cave
12:20 PM: Start descend
12:40 PM: Lunch/rest
01:00 PM: Resume hike
01:30 PM: ETA Milgrosa Cave
01:40 PM: Resume hike
02:00 PM: ETA Main road/start walk to Udlom Falls
04:20 PM: ETA Udlom Falls, Lamac
05:16 PM: Depart from Udlom Falls
06:00 PM: ETA Toledo highway (Bunga)/Depart for Cebu City
07:30 PM: Home Sweet Home
Our expenses:
Bus fare to Poog, Toledo: PHP 50
Habal-habal fare to Bunga Barangay Hall: PHP 15
Habal-habal fare to highway from Lamac, Pinamungajan: PHP 60
Bus fare to Cebu City: PHP 50