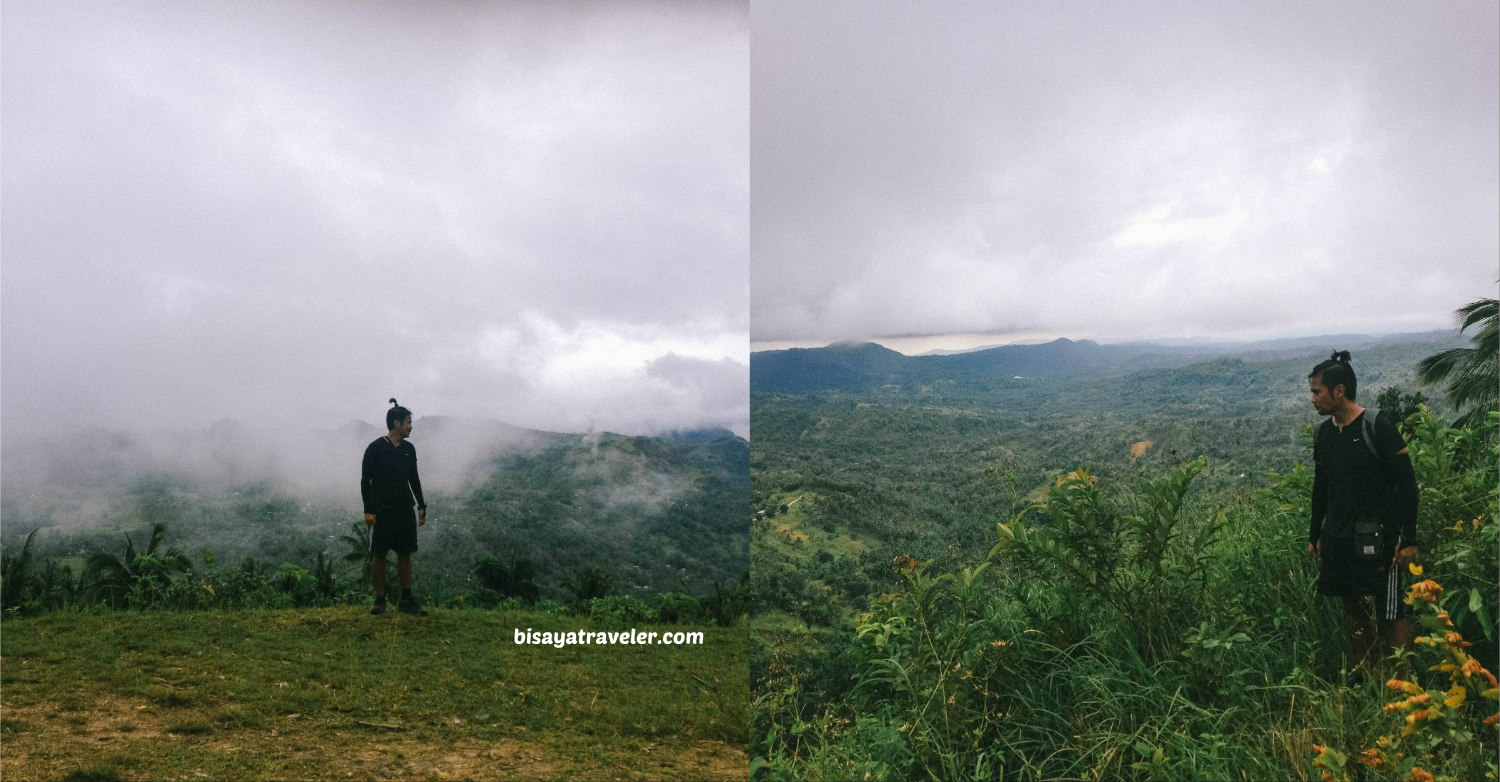 Mount Bandilaan And Mount Alpaco: The Beauty Of An Unplanned Adventure
When I first saw Mount Bandilaan online, I wasn't so thrilled and psyched to see it in person. Unlike most of the mountains that I've been to in Cebu, San Fernando's peak doesn't have awe-inspiring panoramas or a wondrous natural backdrop that will unleash your inner shutterbug. What's more, there's not an exciting or picturesque trail that leads to the summit of Mount Bandilaan.  Truthfully, I was about to give it a pass, and even had plans to hike other trails or picture-perfect peaks that can quench my thirst for adventure.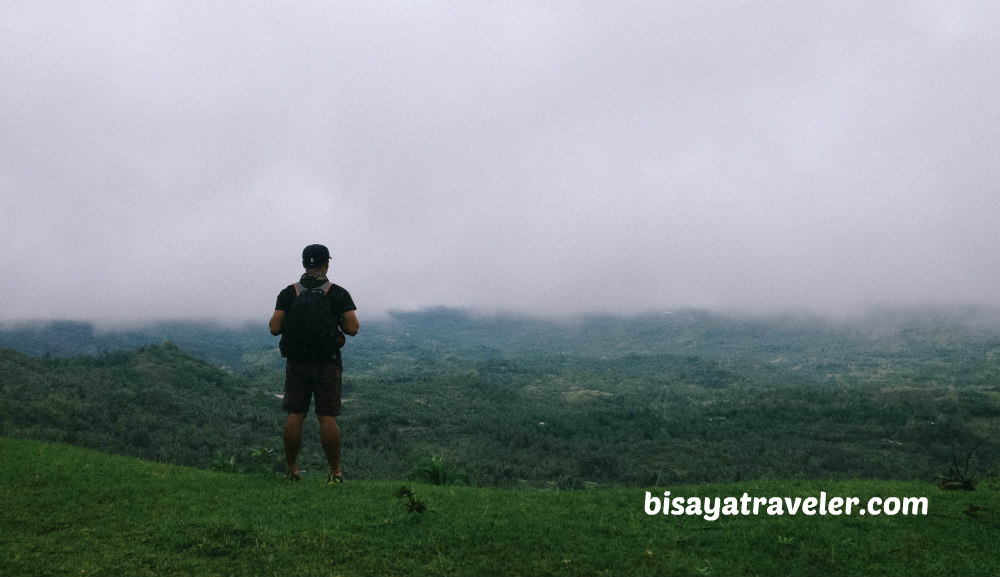 Yet, for some reason, I felt like there was a fascinating outdoor escape waiting for me in San Fernando, Cebu. Besides, I always believe that with a little research and an open mind, any adventurer can spice up a typical sightseeing trip, and turn it into one great adventure.
And so, I, together with a few of my hiking buddies, scaled Mount Bandilaan, and logged another fascinating outdoor escape in the highlands of Cebu. As an added bonus, we discovered a new mountain – Mount Alpaco – as well as a couple of new prospects for our future weekend adventures in Cebu. Even with the foggy setting and rain, I must say our stop to this remote part of the island was nothing short of fun and pleasurable.
My Mount Bandilaan and Mount Alpaco escapade
Things didn't look very promising, the moment I woke up last Saturday. With the seemingly never-ending downpours, I thought it wasn't going to be a memorable day trip down South for me and the rest of my crew. Nonetheless, we – me, Raul, Beboi, Bing and Dian – gave it a shot, amidst the rain and gloomy weather.
After our meet-up at Cebu City South Bus Terminal, we hopped on a bus bound for San Fernando town center (lungsod).  From there, we took a muddy and bumpy habal-habal ride to Mount Bandilaan, Cabatbatan, San Fernando.
Except for the muddy terrain near Mount Bandilaan, the habal-habal ride up was pretty smooth, with its paved concrete road. As we got closer to the peak, however, the road got rougher and muddier.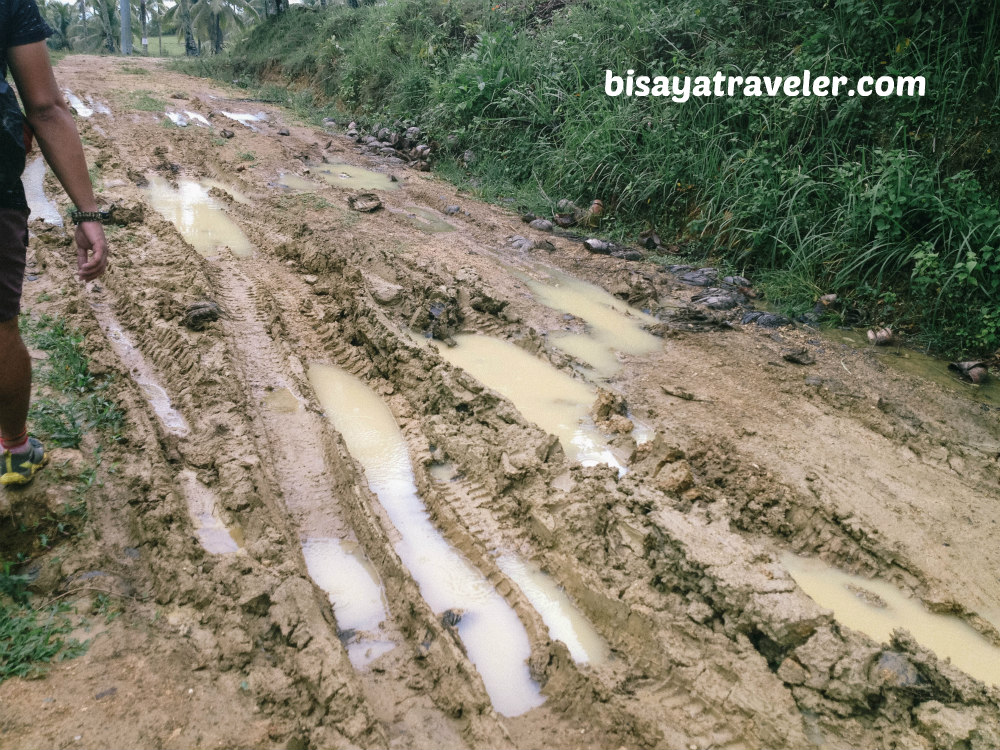 Normally, you can go effortlessly and directly to the base of Mount Bandilaan via a habal-habal ride. But since the road was murky and greasy, the drivers were forced to drop us at a piggery nearby.
It was totally fine for us, though. After all, we are outdoor aficionados who crave for long hikes and outdoor walks.
Later on, we commenced on our hike, following a prayer led by the legendary Tatay Wanderer – Raul.
We kept walking, until we bumped into a fairly eye-catching Instagram-worthy spot.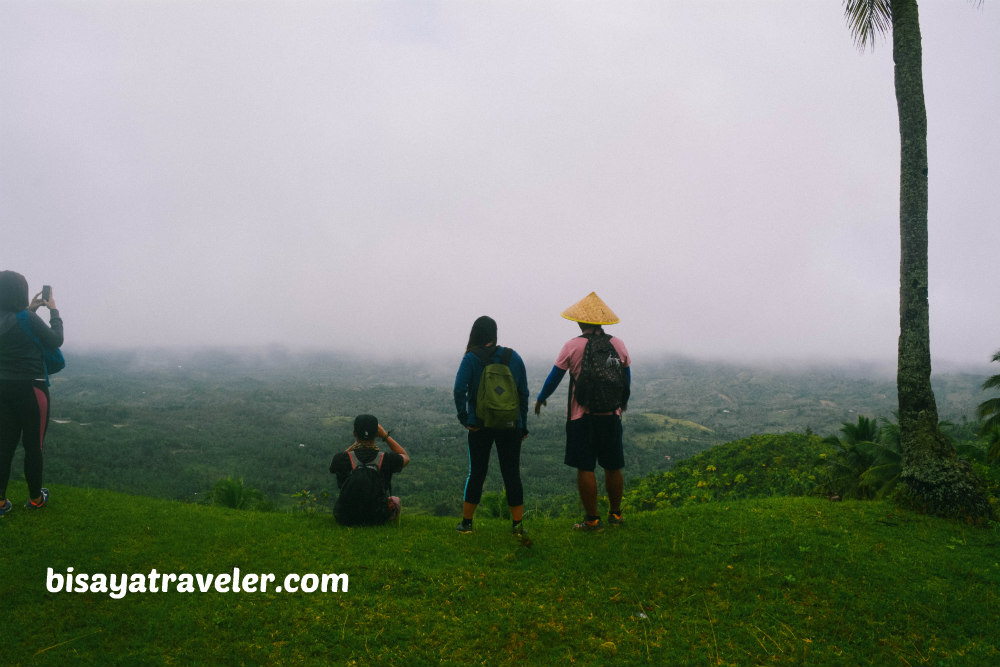 From groufies to the quintessential talekogenic solo shots, we took a variety of pictures on this photogenic spot.
With its foggy setting and beautiful views, it was truly a great spot to do a photo shoot.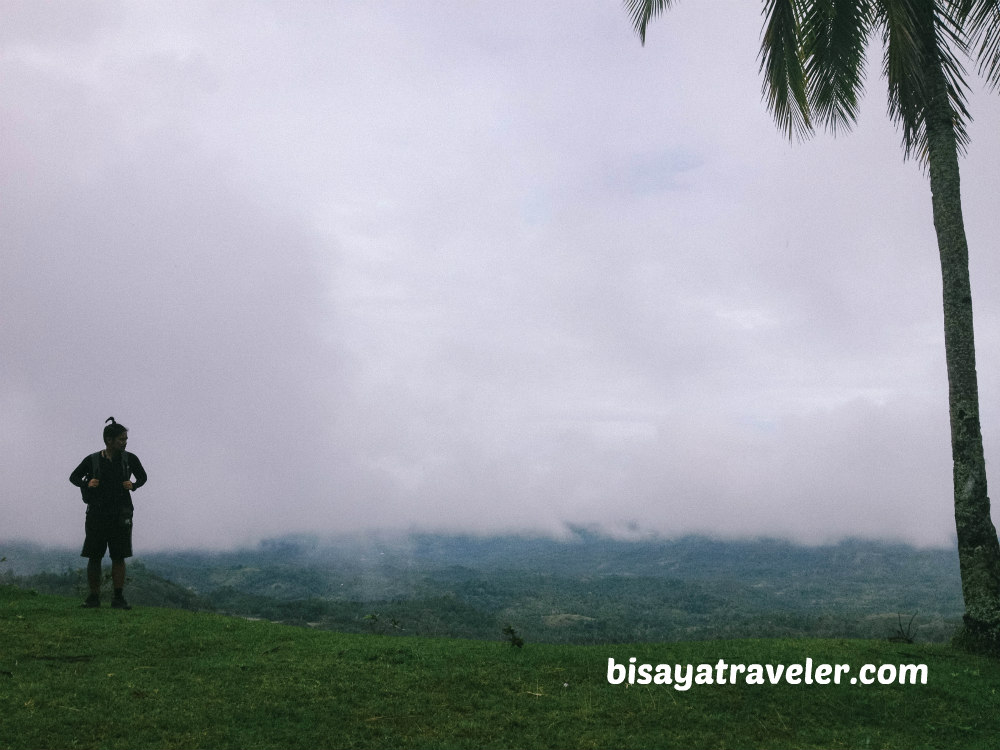 We resumed with our hike, by taking on the area's wide main road. But, after consulting a local, we found out that it was the wrong way to Mount Bandilaan.  Yikes!
But, soon after, we found the short and easy trail leading to Mount Bandilaan.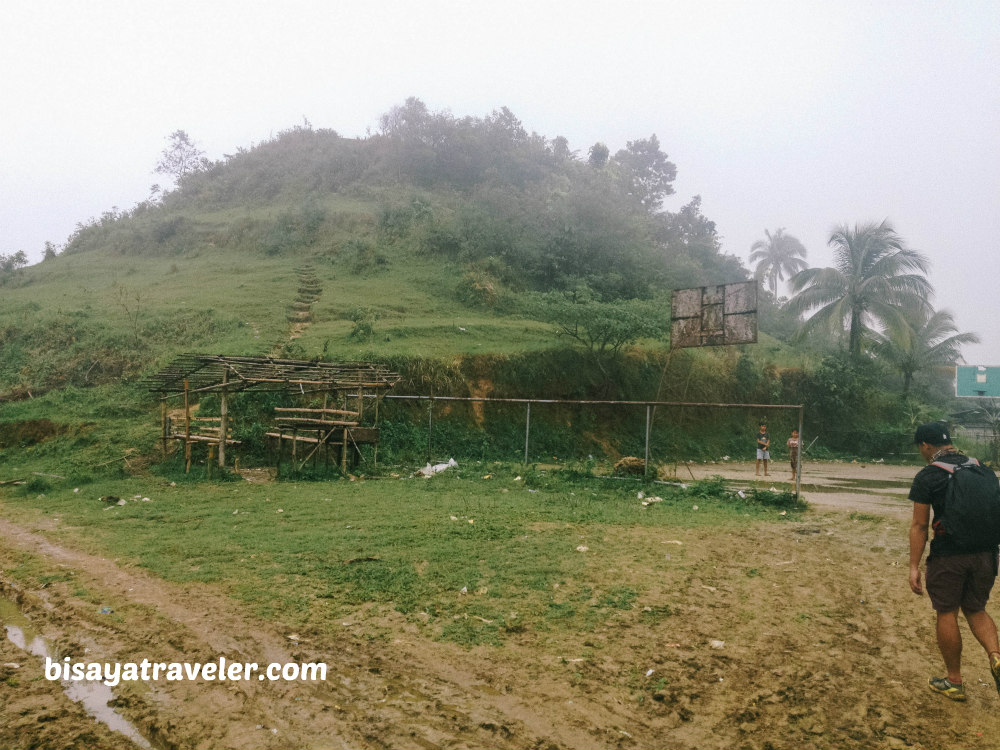 Getting to the top of Mount Bandilaan is as easy as pie. The way I see it, even folks who have zero experience in hiking won't have any trouble getting to the top. In just a minute or less, we found ourselves standing on top of one of highest points in San Fernando, Cebu.
As for the views, we barely saw anything on the summit of Mount Bandilaan. As I've predicted earlier, we were literally covered in fog, while we were standing on the mountain.
Even so, we waited patiently, for a chance to admire the lush landscapes of San Fernando and its surrounding towns.  And, guess what?
Mother Nature slowly unveiled the beauty and charm of the town's highlands, with the fog starting to dissipate.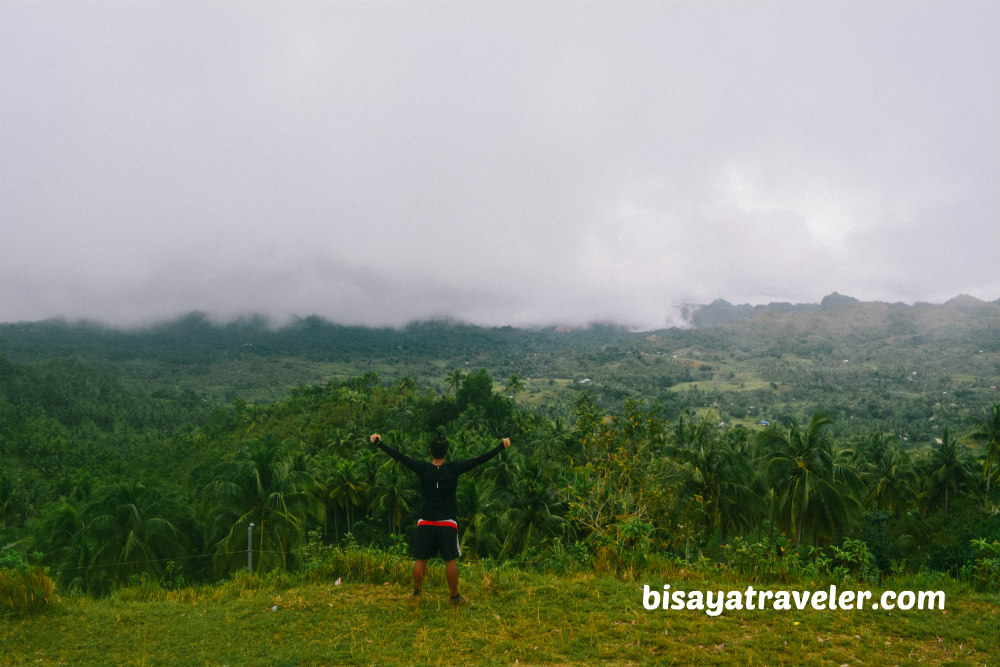 Before we resumed snapping photos, though, we made a short video of us wishing Kim – one of our hiking pals – a happy birthday.
Tatay, with his antics and theatrics, definitely made the video so much colorful and fun to watch.
Afterwards, we took a bunch of photos of Mount Bandilaan from a variety of angles.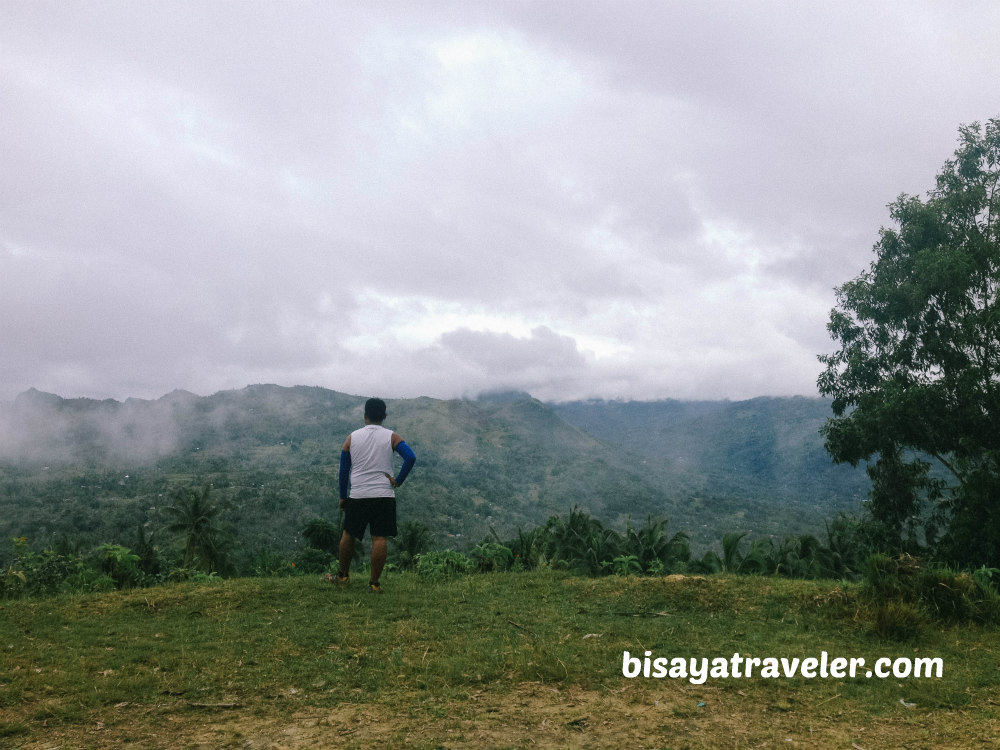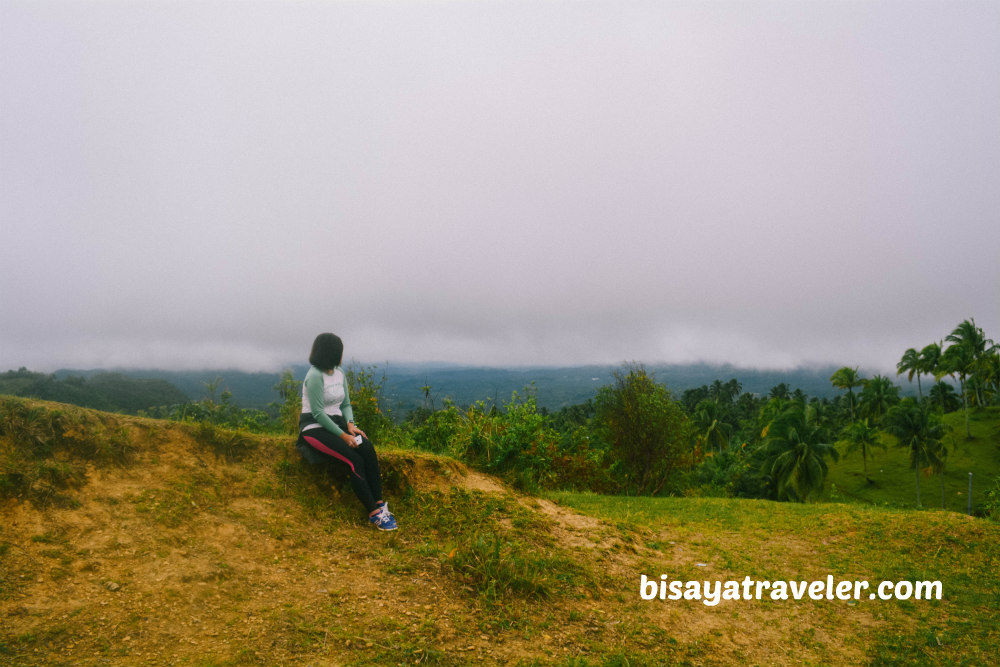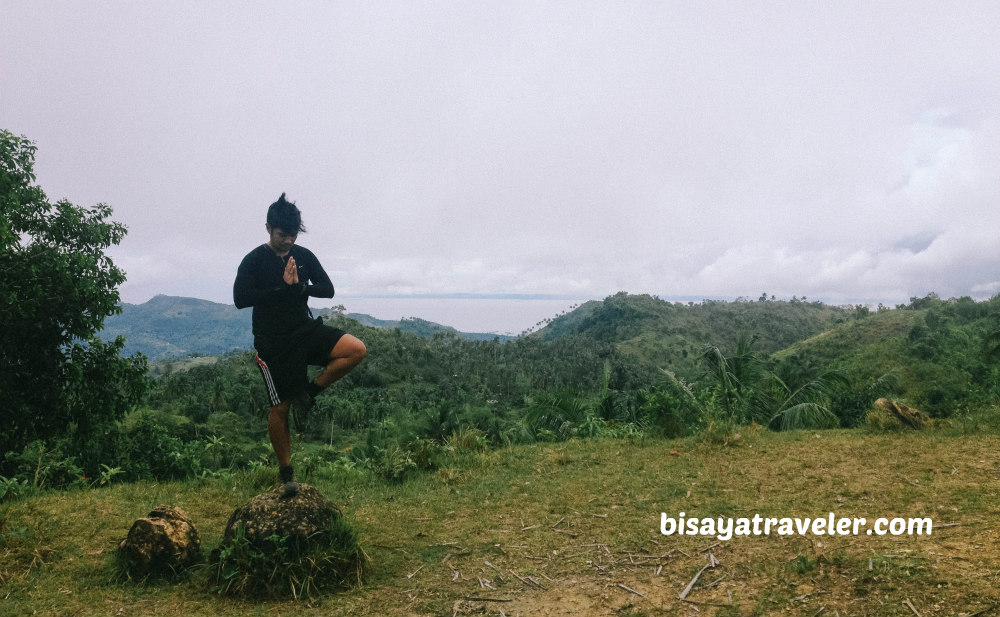 My favorite photos here were the trademark shots BeTay (Beboi and Tatay Raul) Bromance.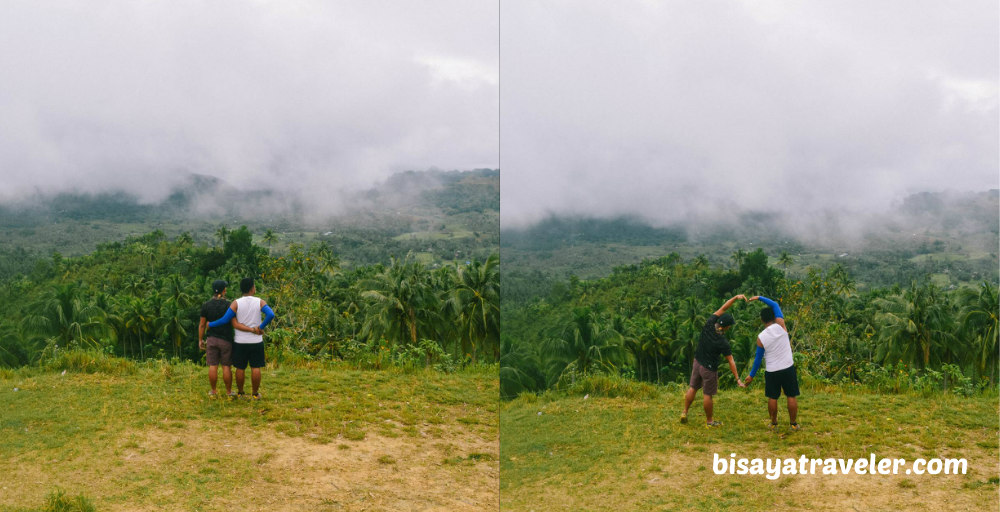 Don't let the picture deceive you. These guys are 100 percent straight! But, who knows? Maybe, Tatay Raul is coming out of the closet. Time will tell, ladies and gentlemen.
Furthermore, Raul debuted his new trademark shot – " The Batman". As far as I'm concerned, "kagwang" (Philippine flying lemur) would be a more fitting label to this pose.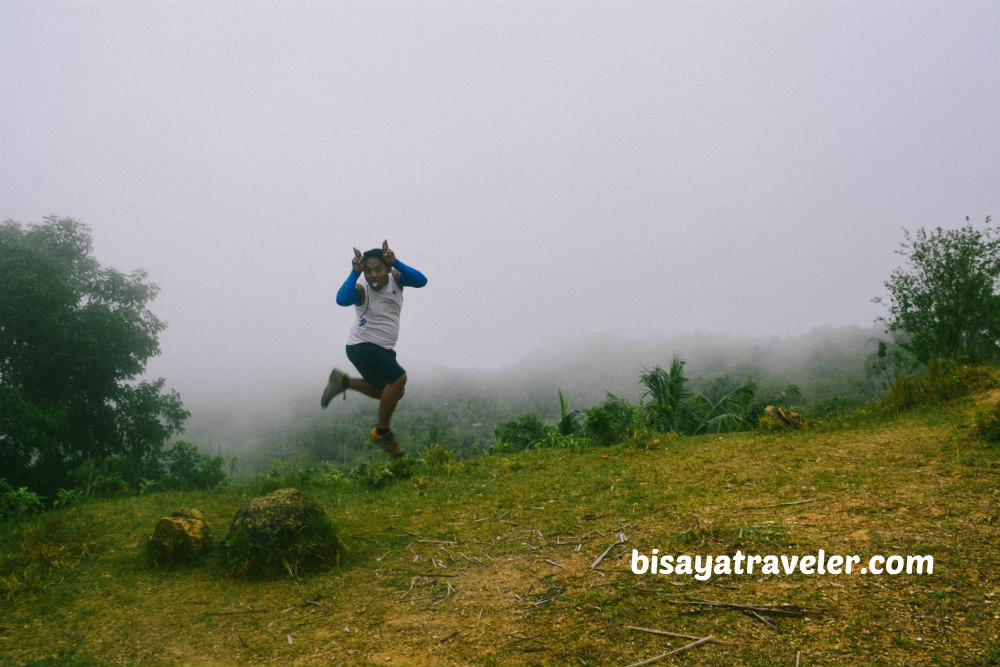 With the thick fogs finally vanishing, I got to see the unique topography of San Fernando as well as the scenic peaks of Naga City – Mount Magdook and Pangilatan Peak. And yes, you can see ships and some parts of Naga City from this vantage point.
On the other side of Mount Bandilaan, Beboi saw a striking mountain range that caught our attention.
While it wasn't a towering figure, this mountain range was so green and scenic from afar. In some ways, reminds me of Mount Tagaytgay in Toledo City and Mount Mago.
We didn't know where it was or how we can get there. So, together, we made a vow to explore it, one of these days. Surprisingly, we did explore and hike that mountain range on that day.
With our visit to Mount Bandilaan in the books, we descended from the peak, and began walking to our next destination – Bugho Falls, or Kawasan as the locals like to call it.
Even though we saved a copy of the town's cultural map, we didn't have a lot of information regarding the location of Bugho Falls. Luckily, there were plenty of locals around who gave us hints and tips on Kawasan's location.
And, by the way, use the keyword "Kawasan", when asking for the directions, if you plan to follow our itinerary. Bugho, in general, refers to one of the barangays in the highlands of San Fernando.
Along the way, we caught up with a few locals who asked us if we were coming from Bacalla Woods Campsite. Ever since it went viral online, Bacalla went from a hidden gem into one of mainstream attractions in Cebu.
As were walking our way to the falls, a lady approached us and offered banana cues for PHP 6 per stick.
We all know what happened next, right? With his famous appetite and legendary stomach, Raul easily and instantly devoured a pair of banana cues. Not to mention, he ate half of Dian's share. Boy, this guy surely has a future in competitive eating. #Foodislife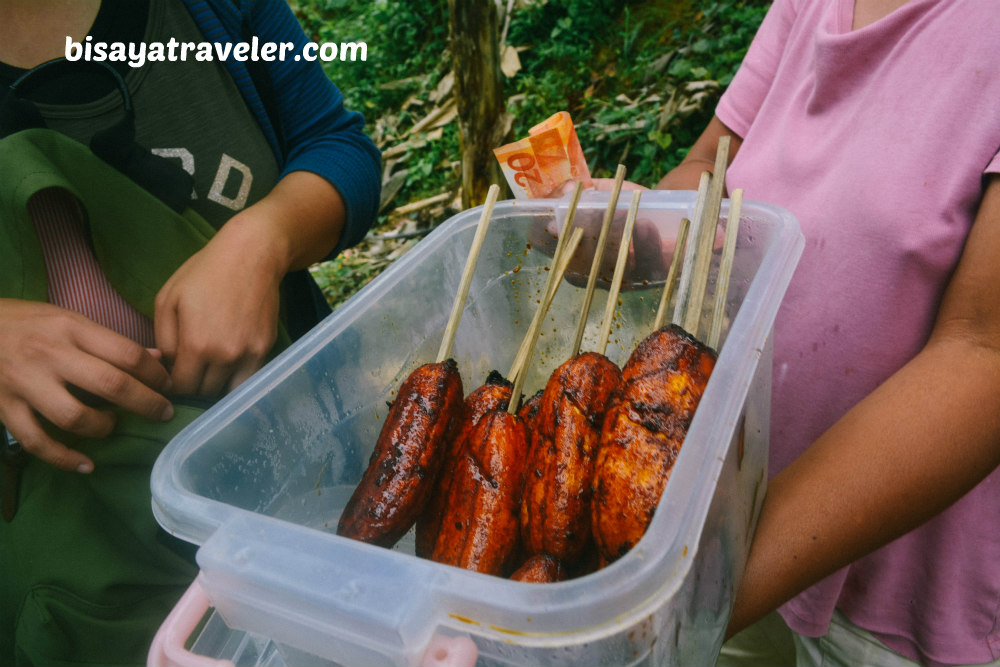 While we were walking, I noticed that the road we were strolling was the one leading Alpaco.
We dropped by a sari-sari store, to buy food and asked someone who can shed some light on this.
"Yep, this road leads to Alpaco", replied the woman inside the store.
All of a sudden, I felt a burst of adrenaline inside my body and noticed a sense of excitement from my hiking buddies.
"I guess we now know where we are heading, after our visit to Bugho Falls", I said to my crew. "That's one of the perks of having an open itinerary or an unplanned adventure", I added.
Ultimately, we arrived at Bugho Falls where we took a breather and ate our lunch. Moments later, a wave of tourists from Bacalla with their OOTD came into sight in Kawasan.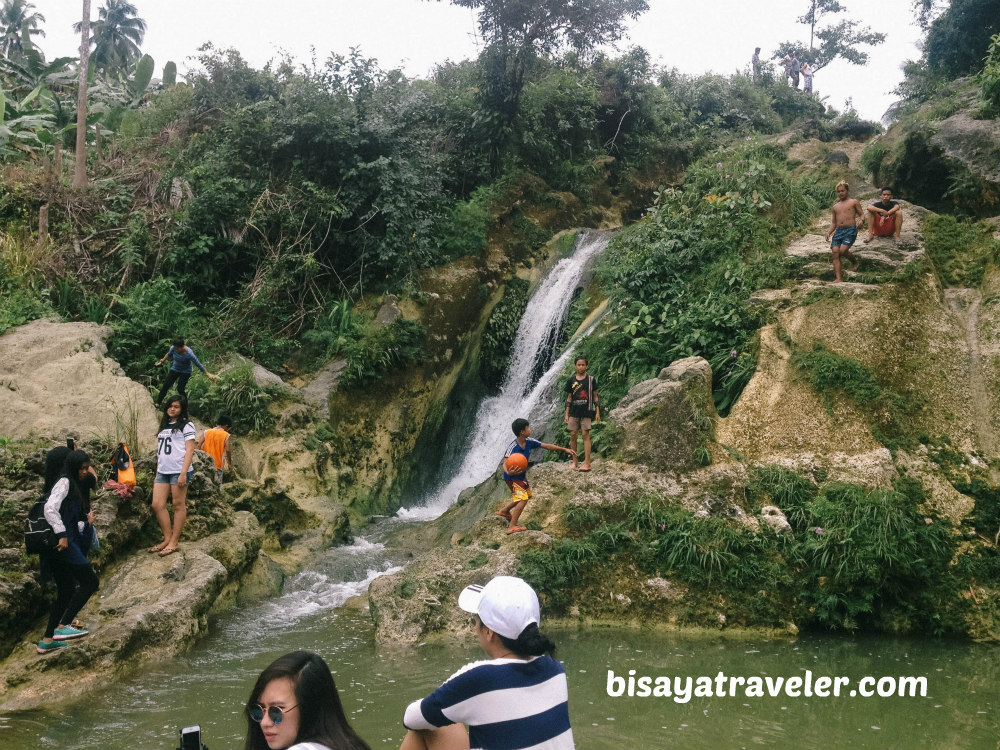 As soon as we finished eating our lunch, we wasted no time, and resumed with our hike to Alpaco.
Even with the rough terrain and occasional rain, the hike to Alpaco was a breeze.
Unlike some of my past hikes, there was no perilous cliff or steep trail on our way to Alpaco.
We did make a couple of stops, however, to rest and ask questions about Alpaco's location.
At the barangay Bugho border, we took on the trail leading to Alpaco, upon the recommendations of the locals.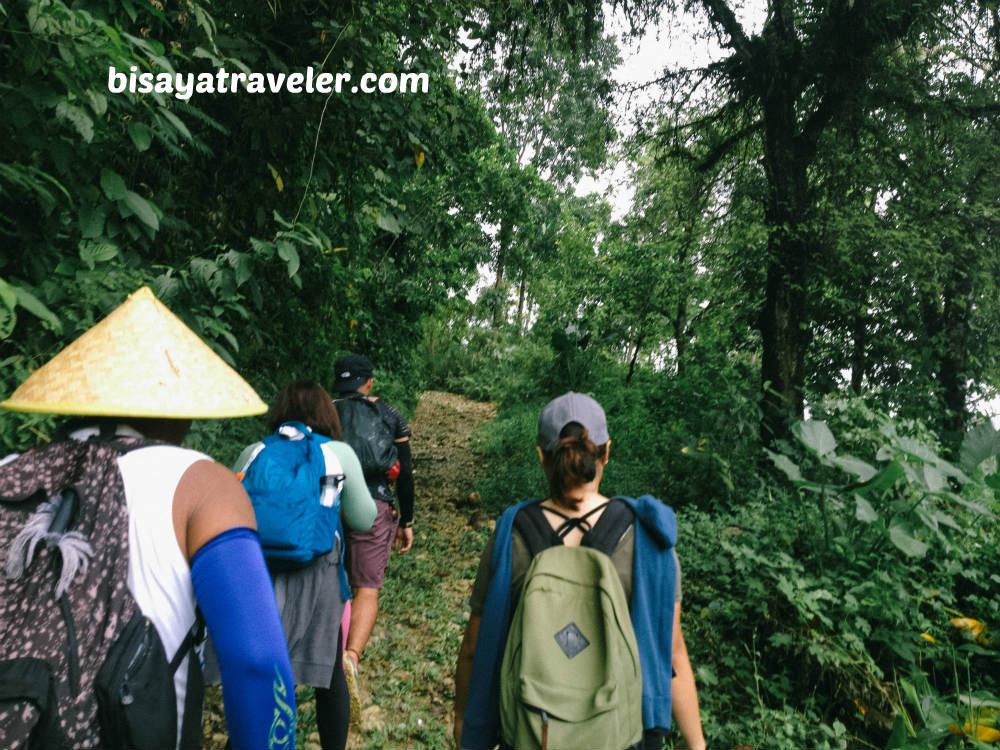 We were just hiking leisurely, while enjoying the scenery of what we thought was a nameless mountain in Cebu. Little did we know, we were hiking a mountain that actually has name. With the help of Google Maps, we, later on at home, found out that we were climbing Mount Alpaco. As a matter of fact, geoview.info has some data about it, suggesting that it has an elevation of 415 meters above sea level.
Damn, I guess that's the beauty of hiking without a solid itinerary.
Eventually, we discovered this breath-snatching view in Mount Alpaco highlighting the mountain ranges of San Fernando. In addition, we saw how far we hiked our way to Mount Mount Alpaco from Mount Bandilaan.
Believe me, it was quite far. Remember, we were hiking from San Fernando to Naga City. Heck, even locals were a bit shocked when we told them we hiked our way to Alpaco from Mount Bandilaan via barangay Bugho.
As great as views were, we had to move on with our seemingly directionless hike.  We were diving into the unknown, and we totally have no clue how our hike would end up.
On our way to the Alpaco barangay center, we got to see some interesting flowers. Additionally, Beboi caught a glimpse of the beautiful mountain ranges that we saw from Mount Bandilaan.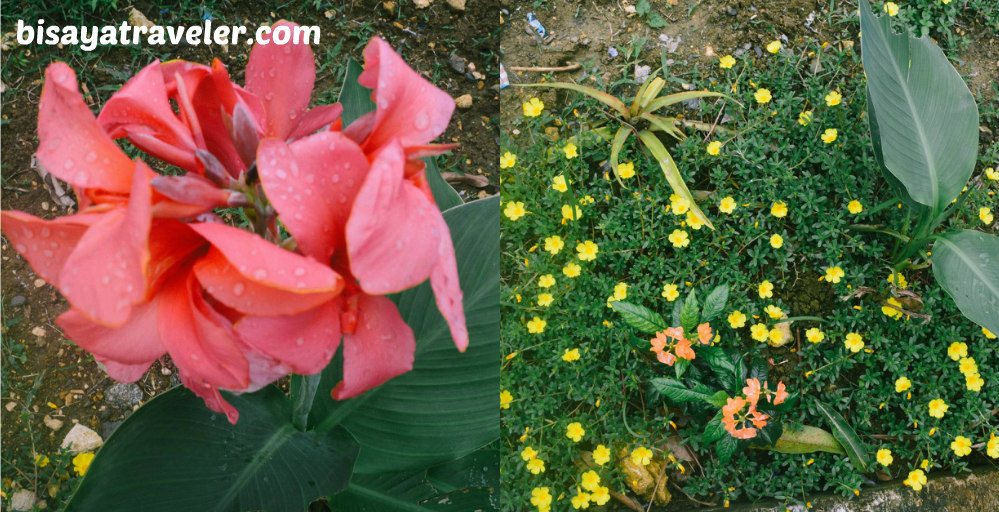 Later on, we arrived at this spot in Alpaco, which boasts a handful of lovely rice paddies.
Despite our unbelievably blissful hike, Beboi still can't get that lush mountain range out of his mind.
With the hints shared by the people Alpaco, we did scale this nameless mountain range in Naga City.  To make things even better, we got to meet Allan – a local who guided us all the way to these mountains.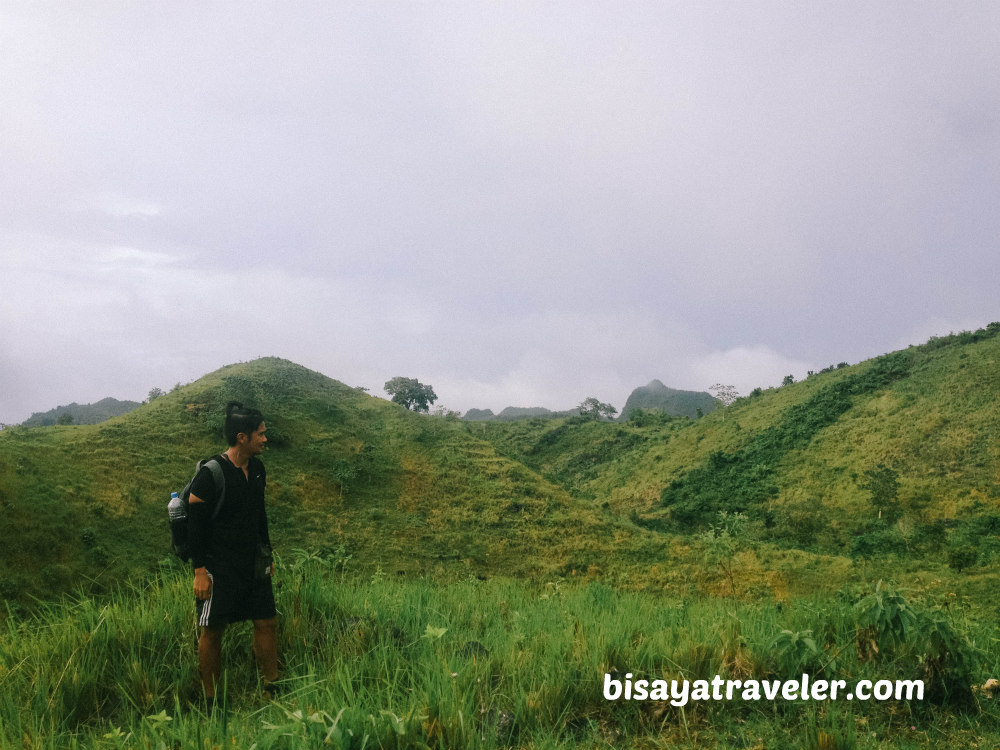 As of now, we're going to call this part of Naga as Allan's mountain range. Hopefully, we will know its exact name on our next hike in Naga City.
Sadly, we didn't have enough the time to explore these mountains.
To keep things rolling, we descended from these mountains, and enjoyed some refreshments on a nearby store.
We had to change our footwear too, as it was getting pretty uncomfortable walking with wet shoes.
Seriously, take a look at that foot. Looks like a zombie's foot, to me!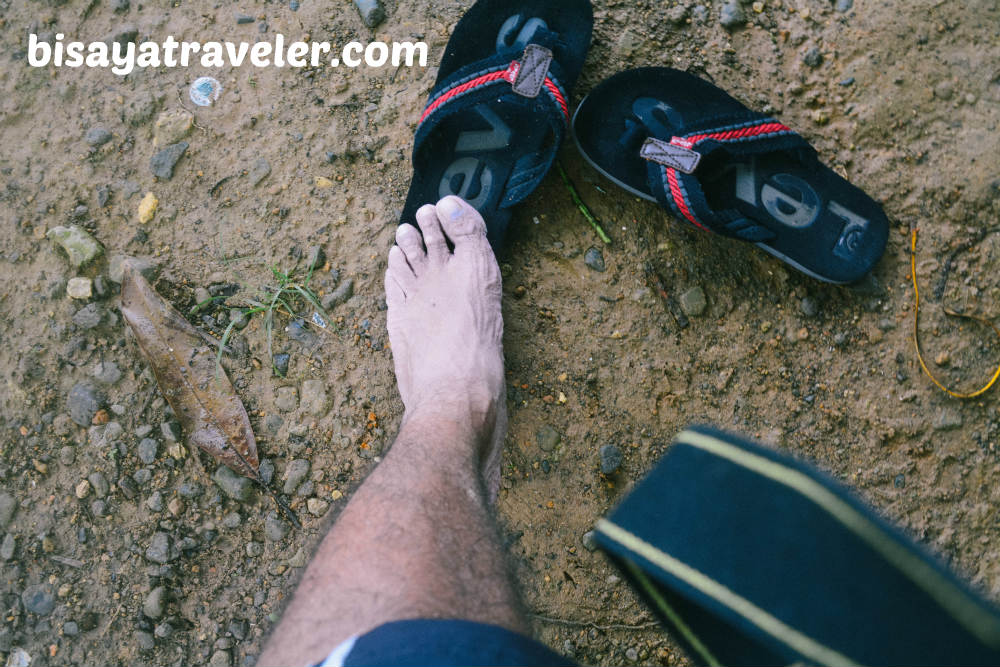 We, then, took a habal-habal ride to eskina Balirong, to catch a bus to Cebu or a jeepney to Naga City. And, as we were making our way to the bus stop, we got a glimpse of a glorious mountain that sparked our adventurous spirit.
Of course, we will be soon hiking this mountain in Naga City.
Our Mount Bandilaan and Mount Alpaco itinerary:
07:00 AM: Meet up at Cebu City South Bus Terminal
07:45 AM: Depart from Cebu City
08:30 AM: ETA San Fernando Proper
09:00 AM: Sitio Bandilaan
09:45 AM: ETA Mount Bandilaan
10:30 AM: Start hike to Bugho Falls
11:30 AM: ETA Bugho Falls/Lunch
12:30 PM: Start hike to Alpaco
02:00 PM: ETA Mount Alpaco
04:00 PM: Allan's mountain ranges
04:30 PM: Start descend
06:00 PM: ETA Balirong
06:45 PM: ETA Naga Jollibee/Dinner
07:00 PM: Depart for Cebu City
08:30 PM: Home sweet home
Expenses:
Bus fare to San Fernando: PHP 35 to 60
Habal-habal fare to Bandilaan: PHP 60 to 90, depending on your haggling skills. The fare to Mount Bandilaan from San Fernando proper usually costs PHP 60. But, with the slippery and challenging road, we decided to give a little extra to our drivers.
Habal-habal to Balirong from Alpaco: PHP 20 to 30
Guide fee: NADA
Fare to Naga City: PHP 13
Fare to Punta Princesa: PHP 18
How to get to Mount Bandilaan and Mount Alpaco
Take a bus from Cebu City South Bus Terminal, and ask the conductor to drop you off at San Fernando proper (church). Take a habal-habal ride to Mount Bandilaan. To get to Bugho Falls and Alpaco, just ask directions from the locals.
Things to take note:
Practice the LEAVE NO TRACE principles.
Pack at least 2 liters of water.
Bring trail food/snacks.
Bring ION drinks like Gatorade or Pocari Sweat.
Wear trekking shoes or sandals with great traction.
Bring lunch.
You can also set up a tent, and camp in Mount Bandilaan.
There are some things in life that are best unplanned. So, take a leap of faith, and try to do something random, at least once in your life. Who knows? It might lead to one of the greatest adventures in your life.