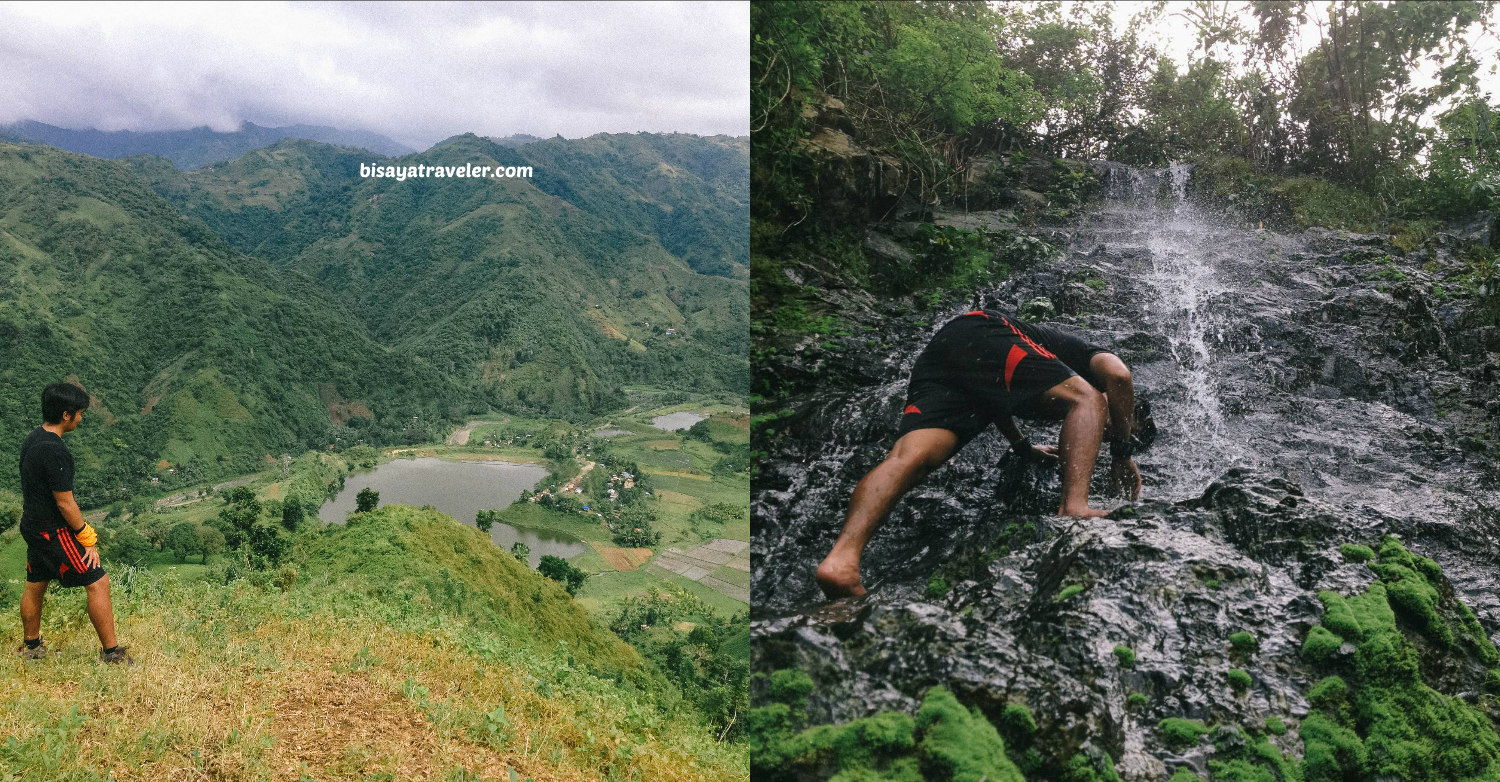 Mount Makatol: An Epic Hike Jam-Packed With Thrills And Sights
They say "great things never came from comfort zones". And, for the last couple of years, I've lived my life with this creed, venturing into remote villages, hidden taverns and offbeat trails like Mount Makatol. Armed with an undying love for adventure, I, together with a gang of outdoor aficionados, explore the world's 6th best island – Cebu – to uncover local secrets and embrace the joys of adventure living. In spite of the bruises, scars and blisters, it has been quite a ride. And, while I'm not famous for my daredevil feats and risky thrills, exciting outdoor adventures have been by far my favorite pastime, in recent months.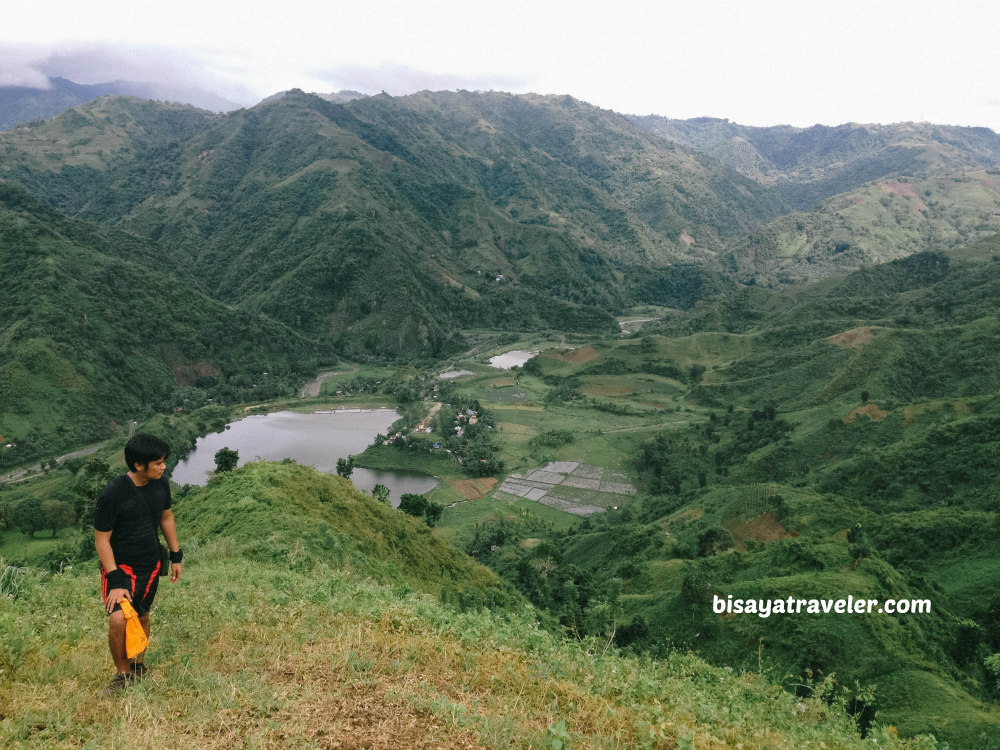 And, last Sunday was no exception. From the get-go, our hike to Mount Makatol was action-packed and filled with spectacular sights. In my book, it's, hands down, the best way to kick off a year with endless possibilities for outdoor escapes and trips. As a matter of fact, it was far better than my year starter hike in Mount Lanaya, a year ago.
And, by the way, before I start, I just to let you know that there's also another Mount Makatol in Lutupan, Toledo near Puting Bato.
My Mount Makatol experience
Our Makatol Hike started with a rendezvous at Cebu City South Bus Terminal. There, I was joined by my hiking buddies from Metro Cebu, including Beboi, Tatay Raul, Jonah, Kim, Bing, Dian and Shiekinah.  With everyone from Metro Cebu geared up for our Mount Makatol hike, we, then, took on a short bus ride to Lutupan. Along the way, our bus picked up Geneva, or also known as Bella Padilla, somewhere in Naga City, Cebu.
Upon our arrival, we were greeted by fellow adventurer and our guide for the day – miss Genara from Pinumungajan. What's more, a couple of familiar faces – Maricar and Ivy – were around in Lutupan waiting for our arrival.
Although we weren't still complete, we had to make our way to our first stop – Biga Pit, so we can maximize our time, and snap dozens of photos of this man-made crater.
Minutes later, we arrived at Biga Pit via a fairly bumpy habal-habal ride.
Even with the rather chilly weather, we had a blast soaking up the scenery and taking snaps.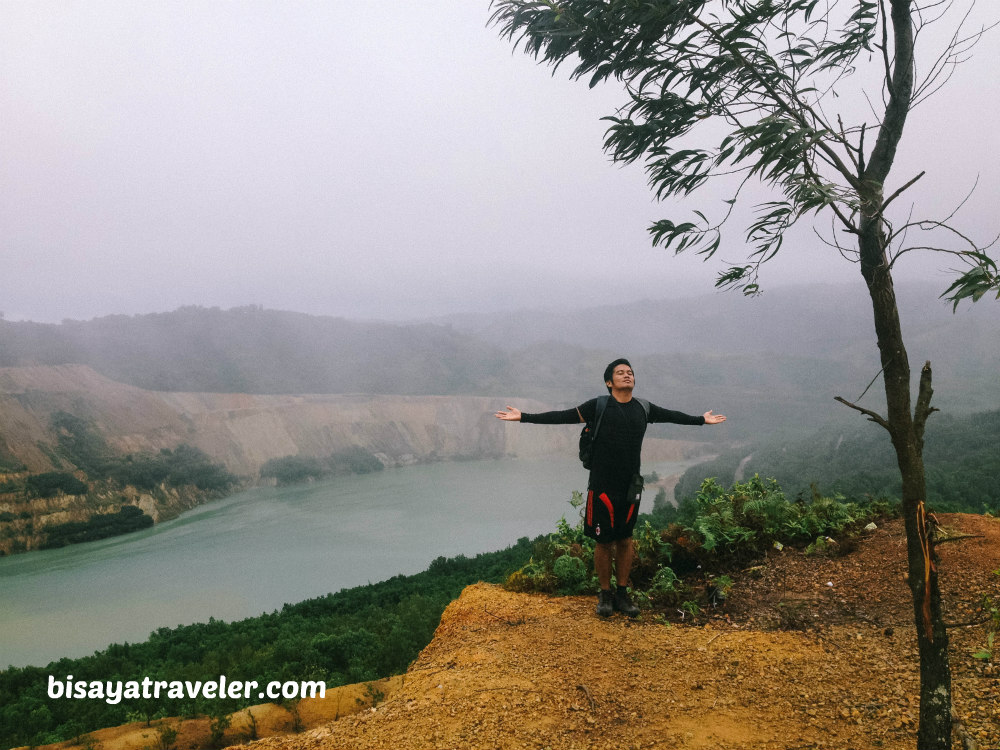 How cold was it? Honestly, it was as cold as Baguio or Mantalongon, Dalaguete since it was practically raining the whole night prior to our Mount Makatol hike.
It wasn't my first time seeing Biga Pit in person, but it somehow felt surreal, thanks to its foggy setting and a rare "sea of clouds appearance" from afar.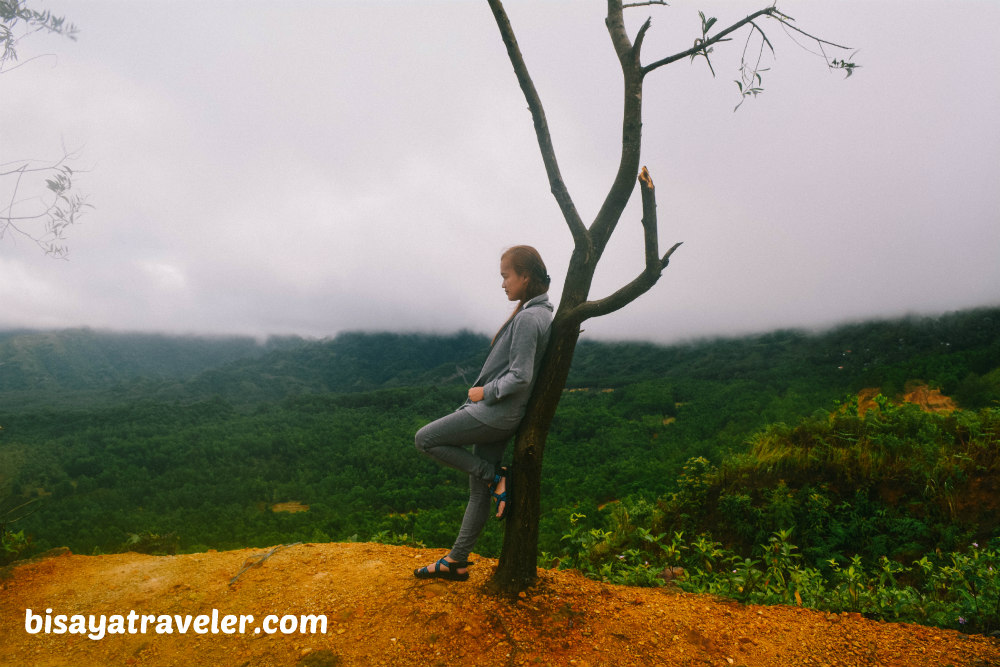 Ultimately, the renowned traveling couple of Cebu – Beth and RJ – arrived in Biga Pit, completing our roster for our Mount Makatol hike.
Before we embarked on our Mount Makatol hike, though, the girls had to take a squad photo. #squadgoals
Unfortunately, the old dude – Tatay Raul – photobombed a picture of the girls in our Toledo city crew.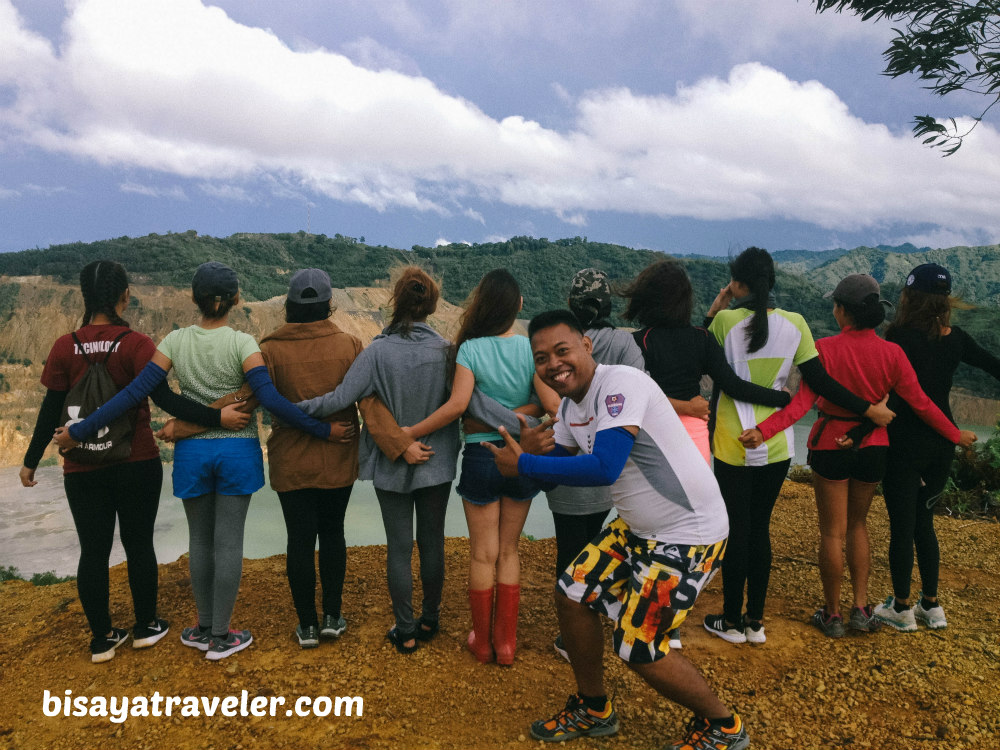 Led by Raul, we said a quick prayer, to officially start our hike to Mount Makatol. After our quick introductions, we began our fun-filled hike to this remote part of Copper City.
Spearheaded by Miss Gen, we took on a shortcut to the road leading to Mount Makatol and Tilings.
At first, the downhill shortcut to the base of Mount Makatol seemed manageable without any piece of special equipment.  Despite the slippery and steep slopes (I slipped once), we conquered the first part of the shortcut with flying colors.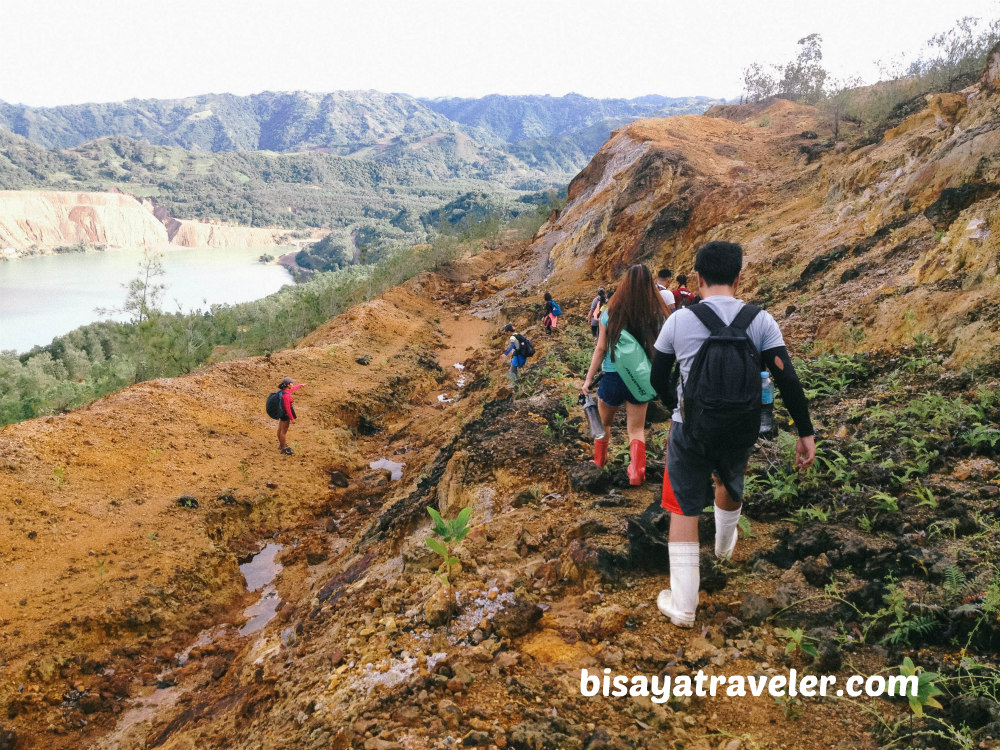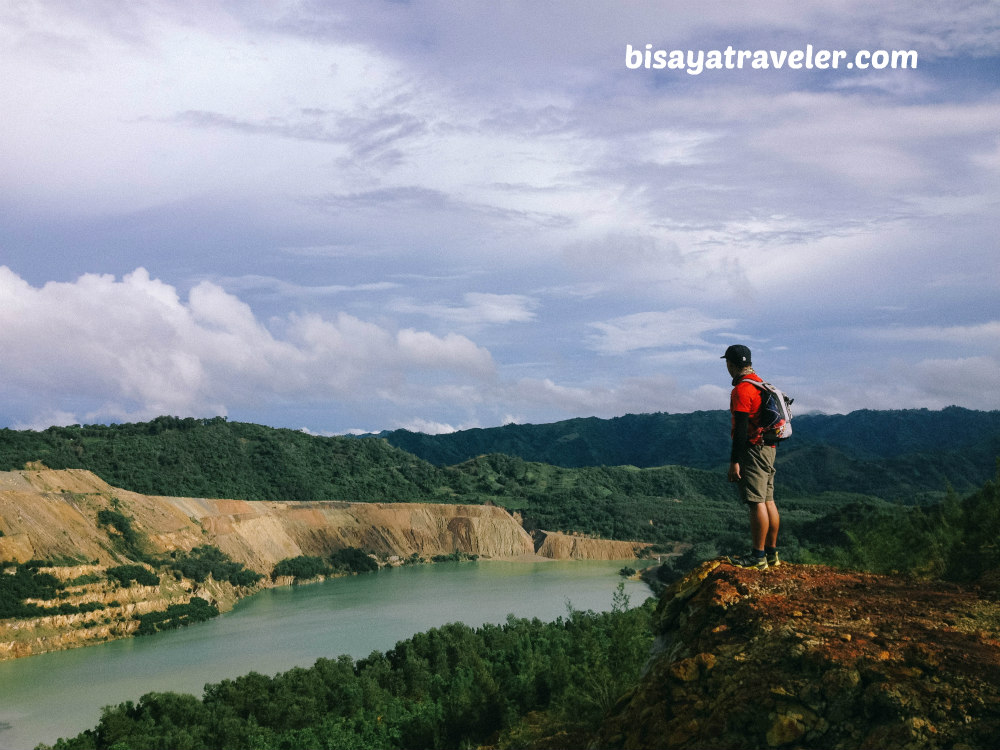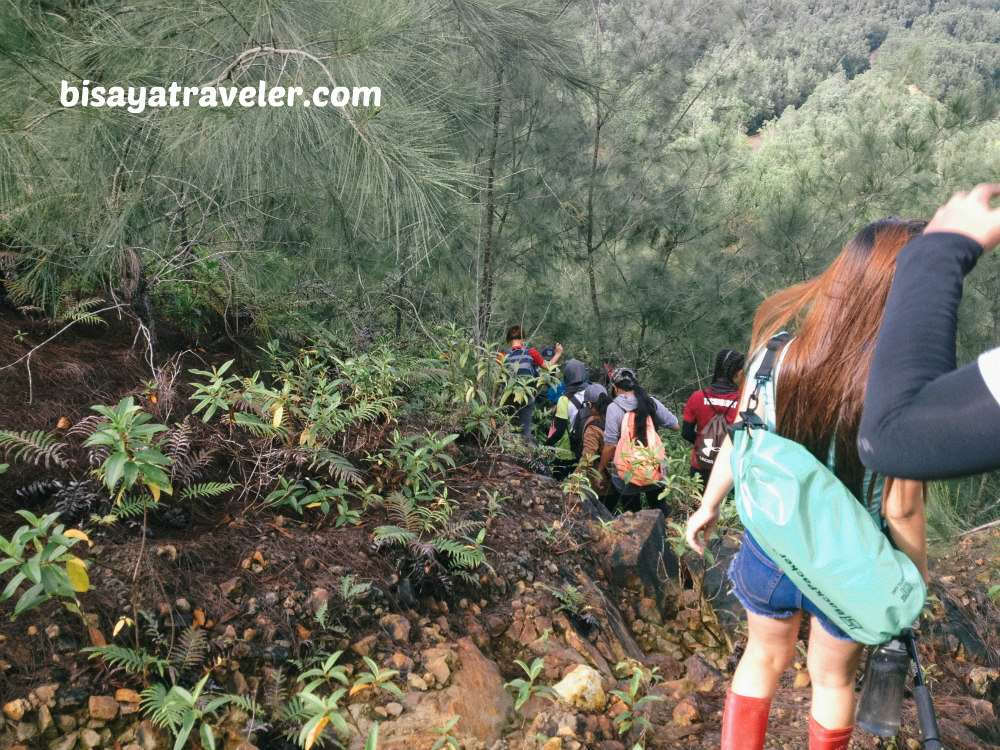 Ultimately, the slopes became steeper, a little technical and more complex. Beboi even said that our trail to Mount Makatol now had a difficulty scale of 9/9. Thankfully, miss Gen brought a rope (used for her hammock) to help us get through this challenging incline.
Admittedly, the rope isn't ideal for rappelling, but we didn't have any better options at that time. And besides, the descent isn't as elevated and extreme as it looks. We just needed something to hold on, in case we slipped on our way down.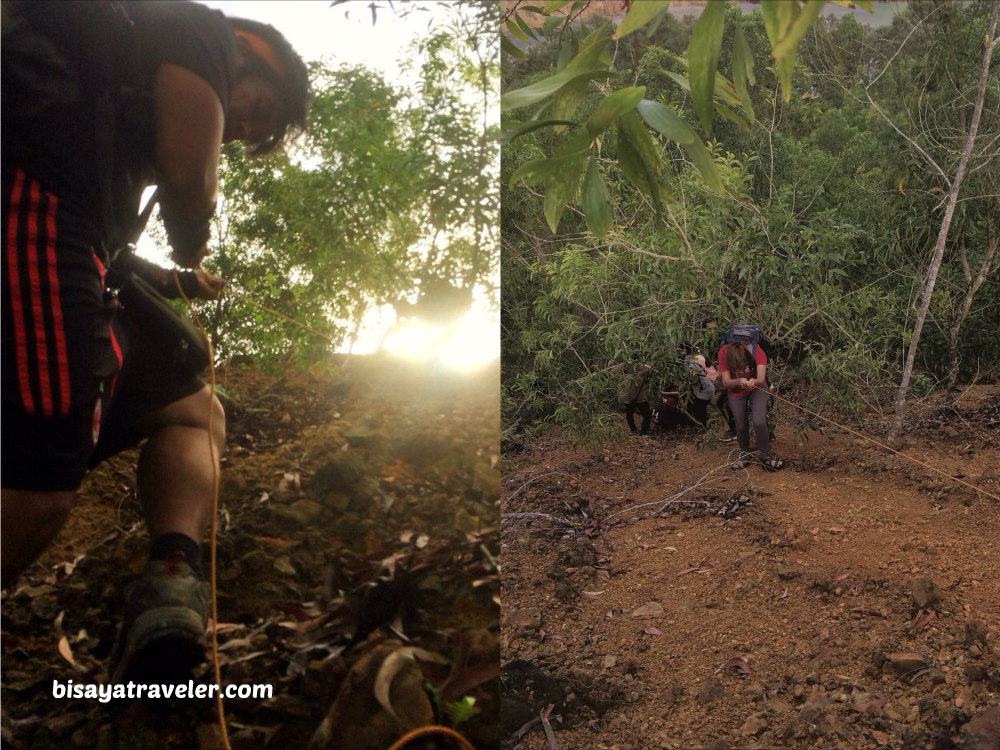 I breathed a sigh of relief, when everyone finished the slope safely. Amazingly, my hiking buddies weren't fazed at all, and were even smiling from ear to ear.
I thought the challenging part of our shortcut was over. But, guess what? There was an even more elevated and complicated slope waiting for us, following our moderately heart-pumping descend.
"This hike just amped-up its difficulty level of 12/9", I said to Beboi.
We put our thinking caps on, and figured out a solution for this stumbling block on our hike to Mount Makatol. And yes, teamwork always prevails, ladies and gentlemen.
With the most challenging part of our Mount Makatol hike in the books, we took a leisurely stroll to the mountain's base via a wide, rough and rugged trail.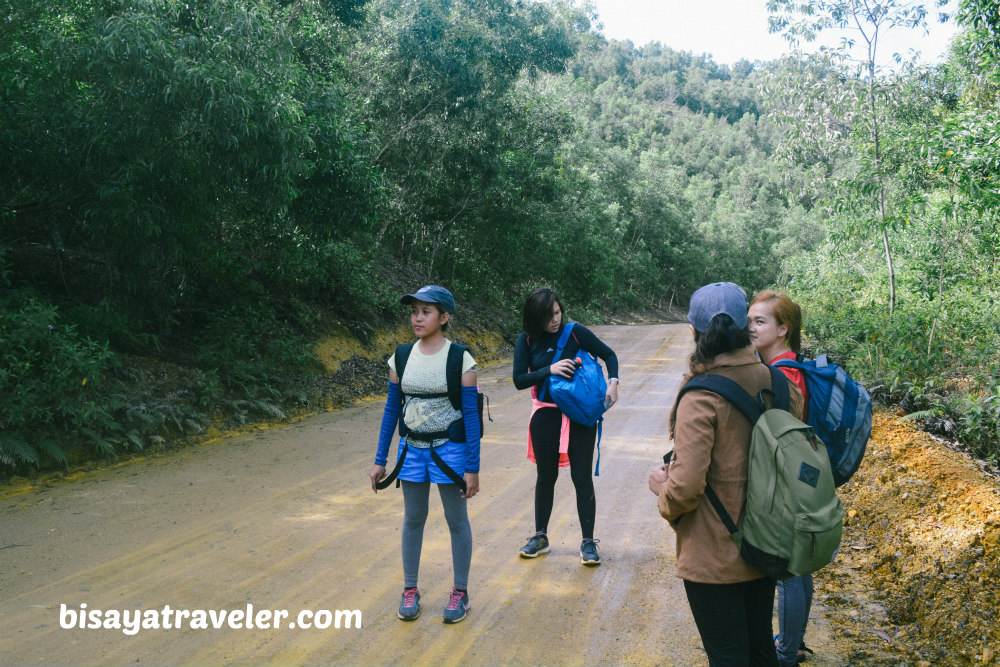 The hike wasn't much of a thrill and challenge, so we used the time to know each other better as well as do some catching up.
Soon after, we arrived at the mining company's guardhouse where the keepers warned us not to go to their hazardous operating areas.
We had a little miscommunication, and we accidentally took the wrong road (the one they warned us about) to Mount Makatol.
Soon, one of the guards, riding a motorcycle rushed, to tell us that we can get into trouble if we went on with our hike on that road.
"We'll get suspended if the patrols spot you in that area", he said. "You'll also get escorted or even confined, once they find you roaming around", the guard added.
We didn't want anyone to get into hot water, for the sake of adventure. And so, upon the guard's request, we made our way to the base of Mount Makatol through the longer and more inclined road. With its remote location and unique topography, our hike somehow feel we were walking illegally on  a restricted area. It kind of feels like we were Mexicans setting foot on American soils.
We made stops, on the way to the mountain, to catch our breath, enjoy the views and feed our grumbling stomachs.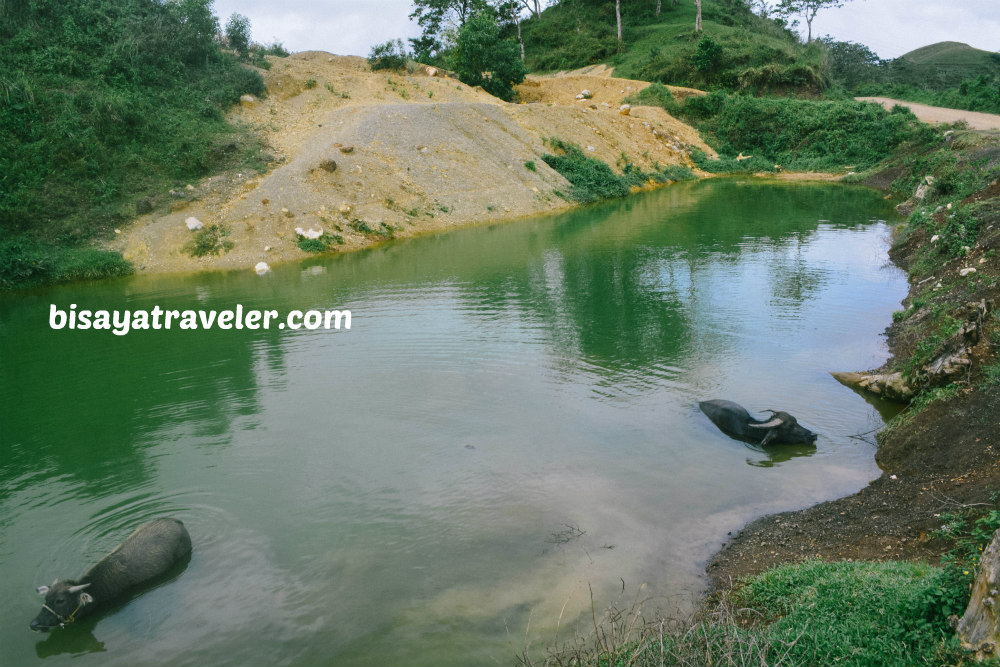 Not surprisingly, Raul was eating like a madman, gobbling on a whole can of tuna all by himself. As it turned out, it was the start of Raul's memorable eating spree for the entire day.
We kept on walking, until we arrived at the base of Mount Makatol. With raindrops falling on our head, we decided to take shelter, and eat our delicious lunch wondrously prepared by miss Gen herself.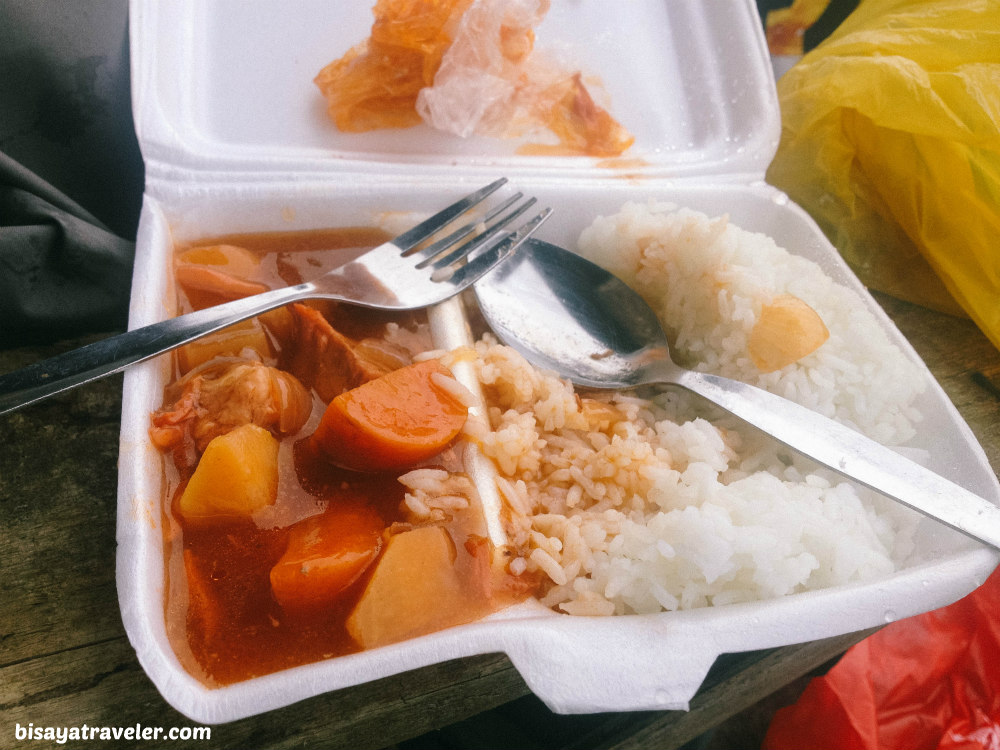 Raul, meanwhile, was busy, "shifting", and moving around trying to sample everyone's food.
Once lunchtime was done, we wasted no time, and hiked our way up to Mount Makatol.
In just a few minutes, we arrived at the summit of Mount Makatol, and were treated to breath-snatching panoramas.
With its fresh mountain breeze and stunning overlooking views, it was the perfect weekend therapy for those who need a break from their bustling city life.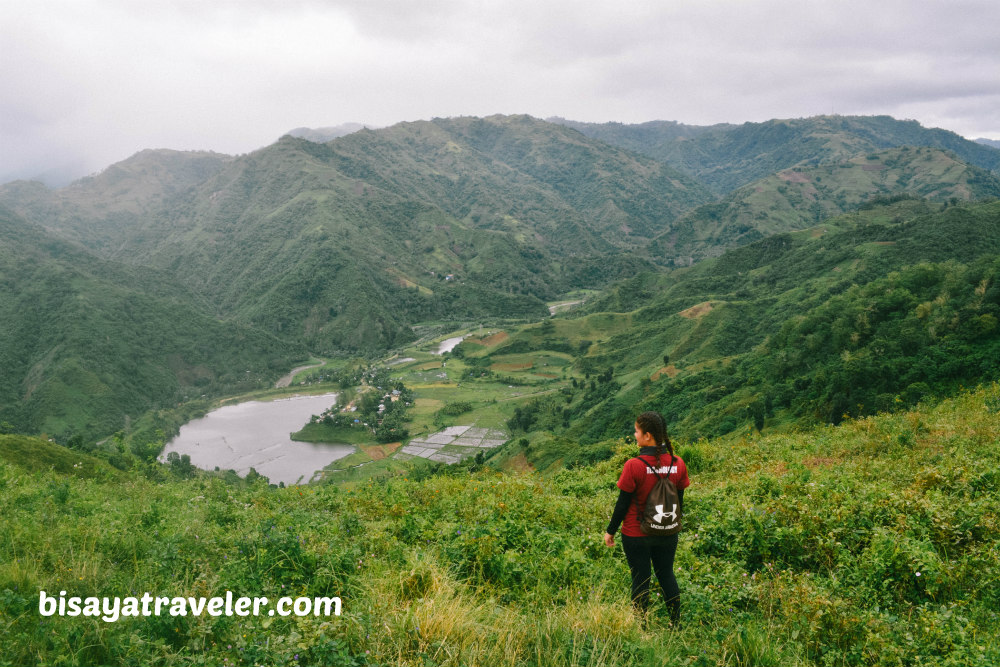 Afterwards, we moved on to a different vantage point, to take more shots of the heart-shaped Tilings Lake, ride paddy and surrounding towering peaks of Mount Makatol.
Everyone was on a state of pure bliss, as we were admiring the striking natural backdrop of Mount Makatol.
Obviously, we took turns posing in front of the camera, to capture the beautiful moments of our hike in Mount Makatol.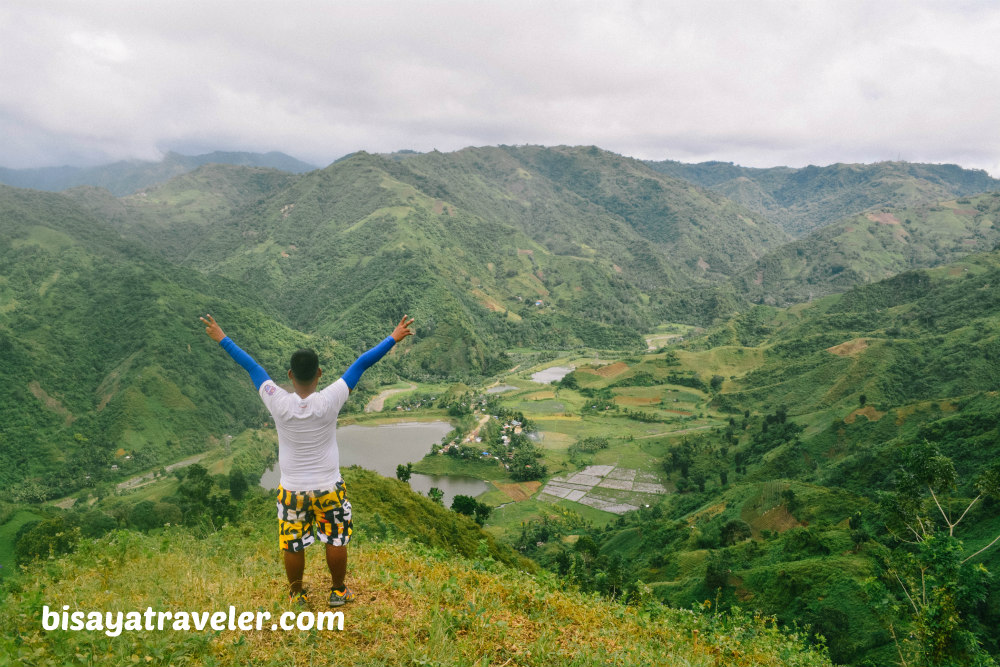 I was also enjoying the company of my new hiking buddies.
Not only were they gleeful, but these no-frills aficionados were also humble and simple.
They don't care about Instagram likes or gossip about the famous personalities in Cebu. They come to join my hikes, just to have a bit of fun under the sun. And more importantly, they live in the moment, taking in the atmosphere without letting the modern-day distractions interfere with our adventure. And, that's why I'm so fond of them.
Later on, we descended from Mount Makatol, to make our way to our next stop – Tilings and its unnamed waterfalls.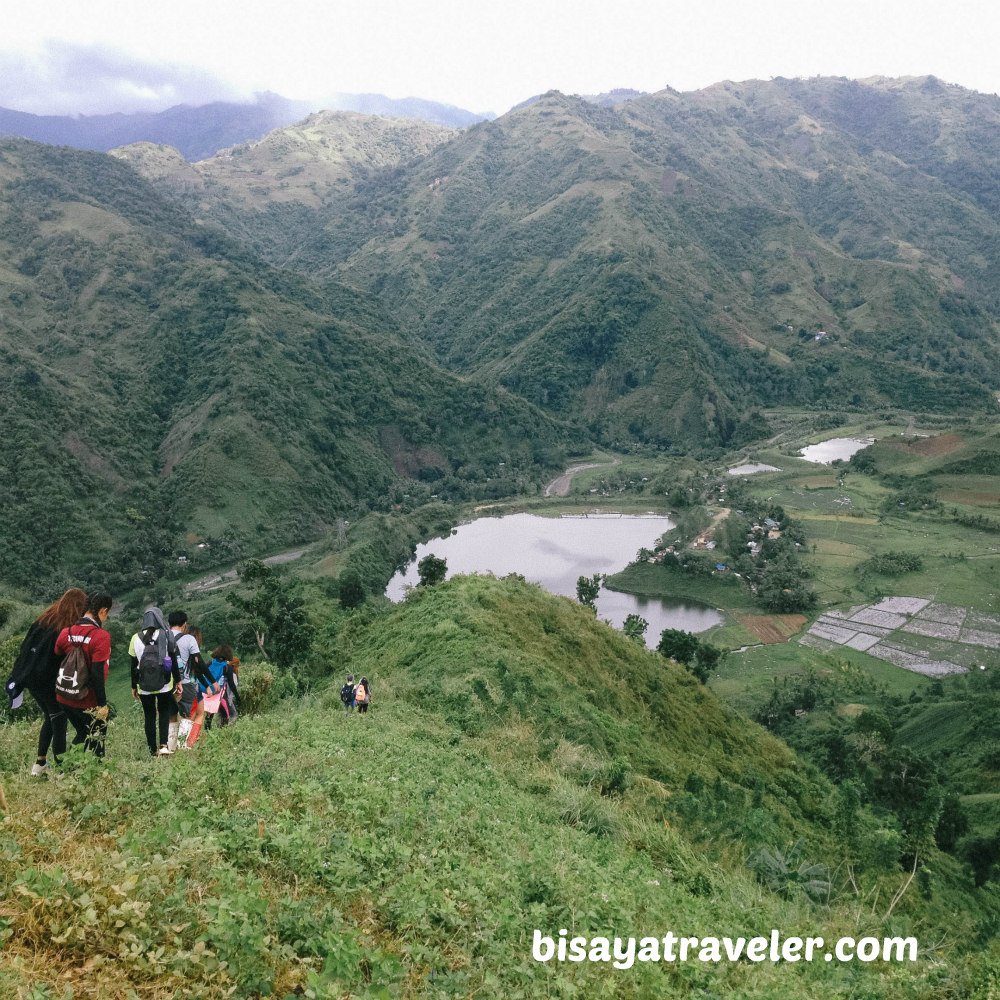 Every time we saw a noteworthy sight, we paused and took a photo.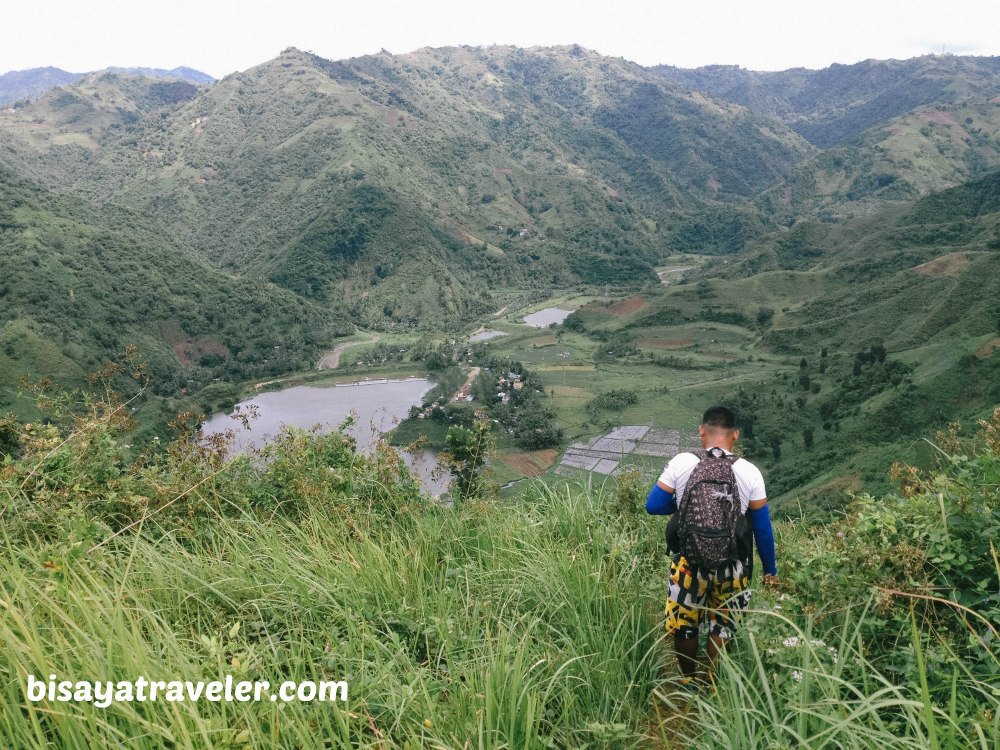 On the way down, we had some fun with Raul, asking him to translate Visayan and Tagalog phrases into English.  I made a bet with him too.  If he could answer my question, I'd treat him to his favorite siopao variety in 711.
I asked him to translate him one Cebuano phrase, which is "ika-pila ng presidente sa Pilipinas si Duterte" (in what chronological order does Duterte fall in as the president of the Philippines).
And, some of his answers were nothing short of hilarious, including "finish line", "presidential order", and "how did he become the president".
With the tips and hints shared by everyone in the troop, he, in the end, got the right answer to my question. And, since I'm a man of my word, I did treat him to a serving of steaming siopao in 711 near USC, when we arrived in Cebu City later that day.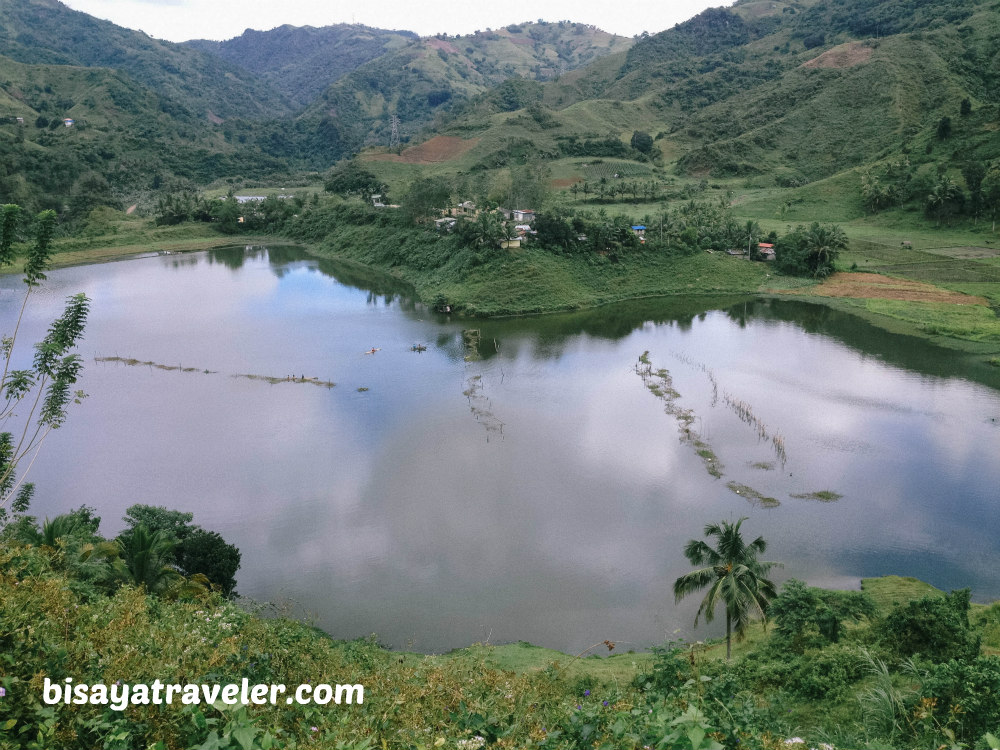 We, then, took on a downhill hike to the lake, and headed to the unnamed falls of Tilings, Toledo.
Getting to the top of this unheralded cascade wasn't easy. We had to crawl, climb and grit our way to the top of these falls. To make things even worse, there were plenty of slippery spots along the way.  Once again, miss Gen's rope came in handy for this portion of our adventure in Toledo City Cebu.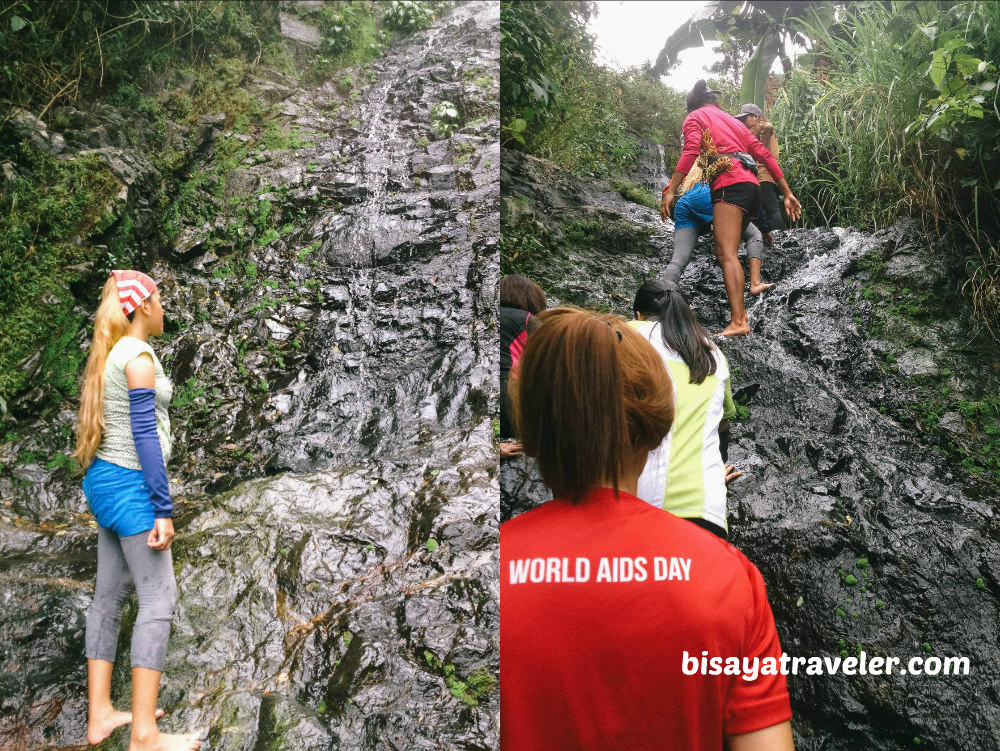 When we arrived at the top, we savored the beauty of the falls, and even took a quick shower.
Minutes later, miss Gen told us that this is just one of the numerous waterfalls in Tilings. According to miss Gen, there are over 10 waterfalls begging to be explored in this remote part of Toledo City, Cebu. Awesome, right?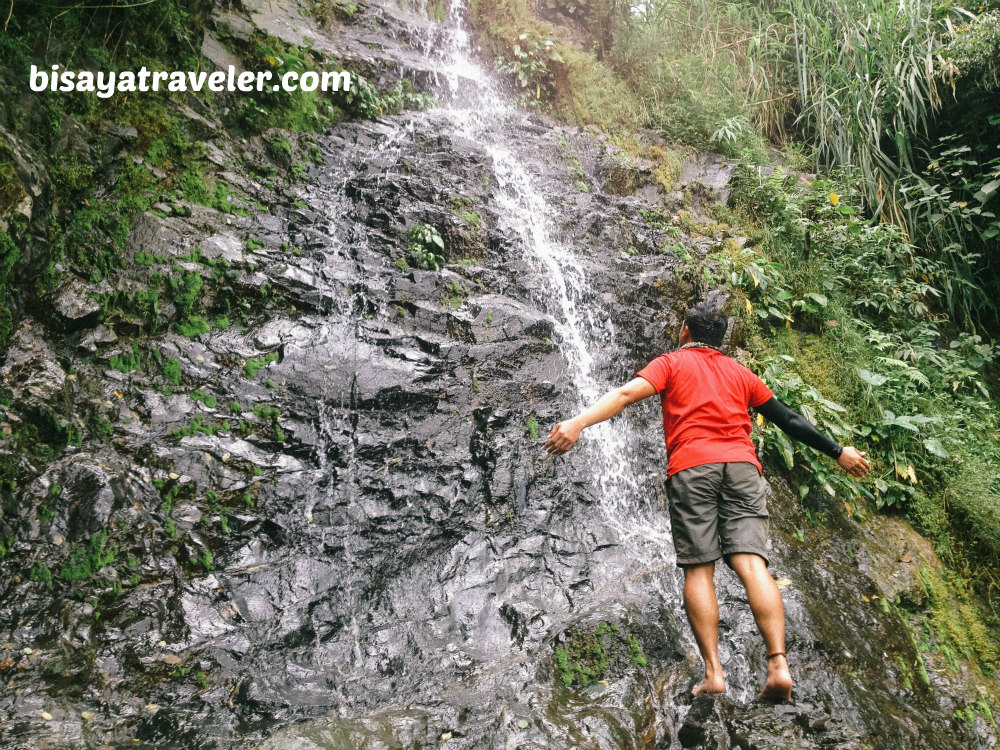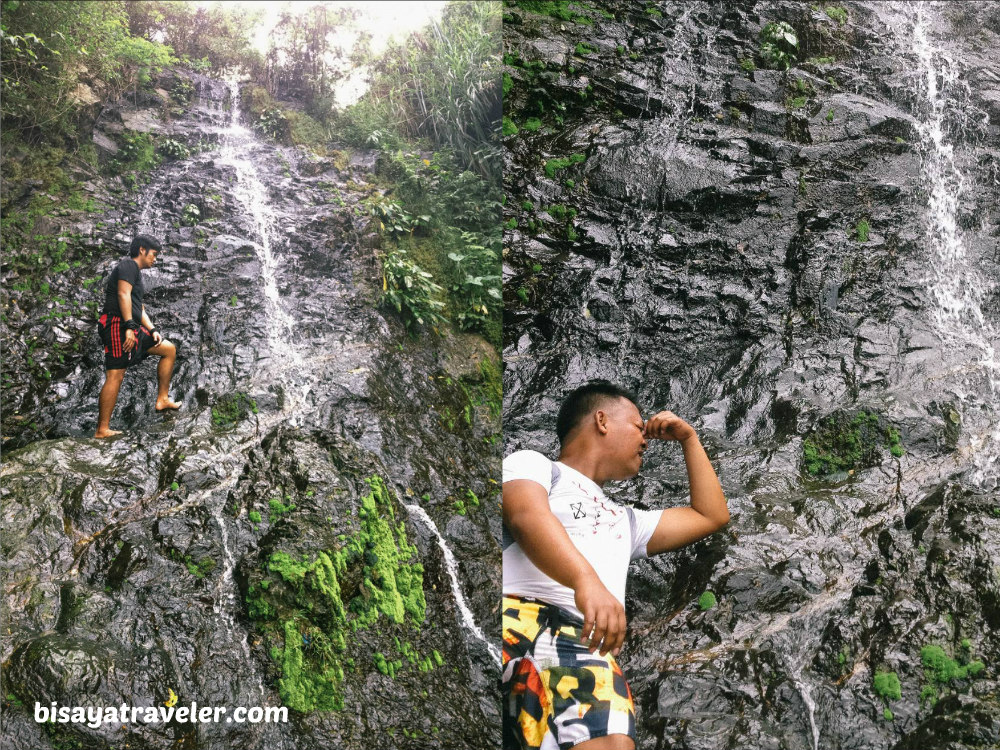 We took solo shots of these waterfalls, from every angle. When it was Ivy's turn to pose, we tagged her as Ivy Aguas because of her name, charm and fondness of this unique TV character. Raul, however, didn't call her Ivy Aguas, and instead labeled her as "Ivy Agas-Agas". And boom!  A light bulb went off over the head of Beboi, labeling this unnamed cascade as "Agas-Agas Falls".
Although it's not its official name, we at least came up with a moniker for these falls.
We didn't spend a lot of time in "Agas-Agas Falls" since we have other stops in our plans.
Sadly, time wasn't on our side, and we had to pack our bags, so we can leave this mountainous wonderland before it gets dark.
So, we called it a day, and hiked on the main road, while waiting for the jeep to arrive.
I thought our day was over, but moments later, we saw another majestic waterfall on the highway.
"We should have a part 2 here", said Beboi. "This time, we're going to chase waterfalls", he added.
I nodded, and was totally enticed by this idea. As the great Douglas MacArthur once said, "I shall return".
There were no signs of jeepney in the area, so we walked until we found out that it would take about 2 hours before the next jeepney arrives. Yikes!
We had no other option, but to walk to Casoy (Barangay General Climaco), and hop on a jeepney there.
Even though it seemed like a headache, we didn't let this small problem ruin our mood. Instead, we looked on the bright side, and made the best of our situation by taking a cruise ride across Malubog Lake, capping off our trip on a high note. Quite an exciting day, I must say.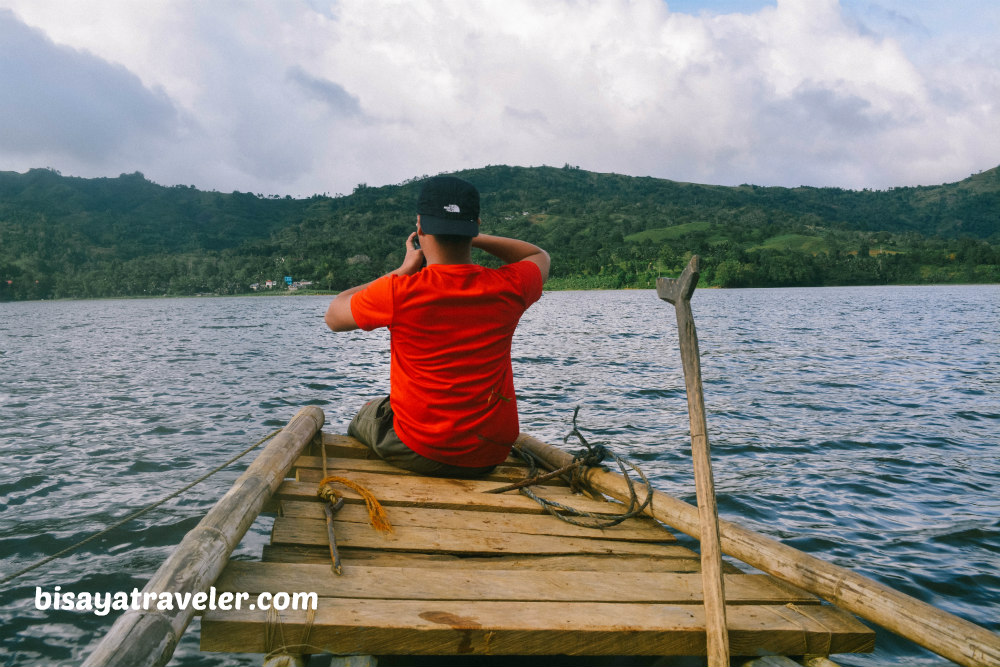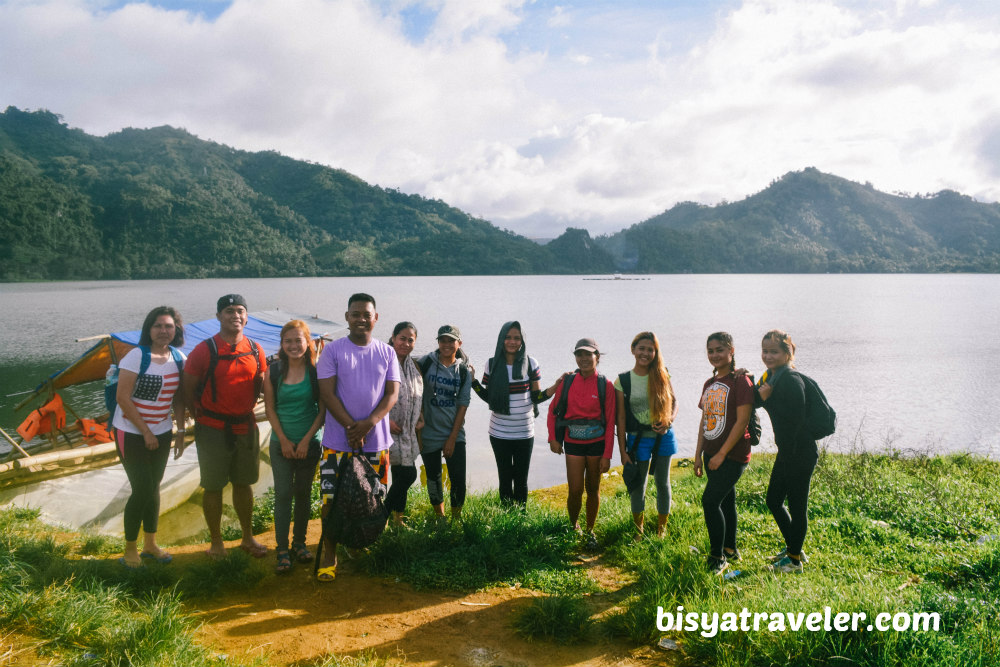 And, our fun didn't end there yet. As we were waiting for the jeep to move to its next destination, we enjoyed Raul's quirkiness and how outdated he is, when it comes to millennial lingo.
When we asked him the meaning of GGSS, he answered "Good Girls Sound of Silence". Damn, Raul, you really are old school!
Our Mount Makatol itinerary:
04:00 AM: Meet up at Cebu City South Bus Terminal
05:00 AM: Depart for Lutupan Ladingan
06:00 AM: ETA Lutupan
06:40 AM: Depart for Biga Pit
07:10 AM: ETA Biga Pit
08:30 AM: Start hike
11:00 AM: Lunch
11:40 PM: ETA Mount Makatol
12:20 PM: Start descend
01:30 PM: "Agas-Agas Falls"
02: 20 PM: Start hike to Casoy
04:00 PM: ETA Casoy
05:00 PM: Depart from Casoy
06:00 PM: Toledo city V-hire terminal/ Depart for Cebu City
08:00 PM: ETA Cebu City
Our expenses:
Bus fare to Lutupan: PHP 40
Fare to Biga Pit: PHP 100
Lunch from miss Gen: PHP 65
Malubog Lake cruise: PHP 20
Jeepney fare to Toledo: PHP 20
V-hire fare to Cebu: PHP 100
Things to take note:
As striking as Biga Pit is, I don't recommend this route to Mount Makatol for everyone, especially without the guidance of miss Gen. Difficulty-wise, it can be managed with the right set of equipment. But the thing is, you can jeopardize jobs, if you hit the wrong road. If you want to visit Mount Makatol without stirring up trouble, take the route from Casoy.
For guide services, please contact miss Gen at https://www.facebook.com/genara.cano.1. Furthermore, you can order lunch from her, if you want to lighten up your load.
Practice the LEAVE NO TRACE principles.
Pack at least 2 liters of water.
Bring trail food/snacks.
Bring ION drinks like Gatorade or Pocari Sweat.
Wear trekking shoes or sandals with great traction.