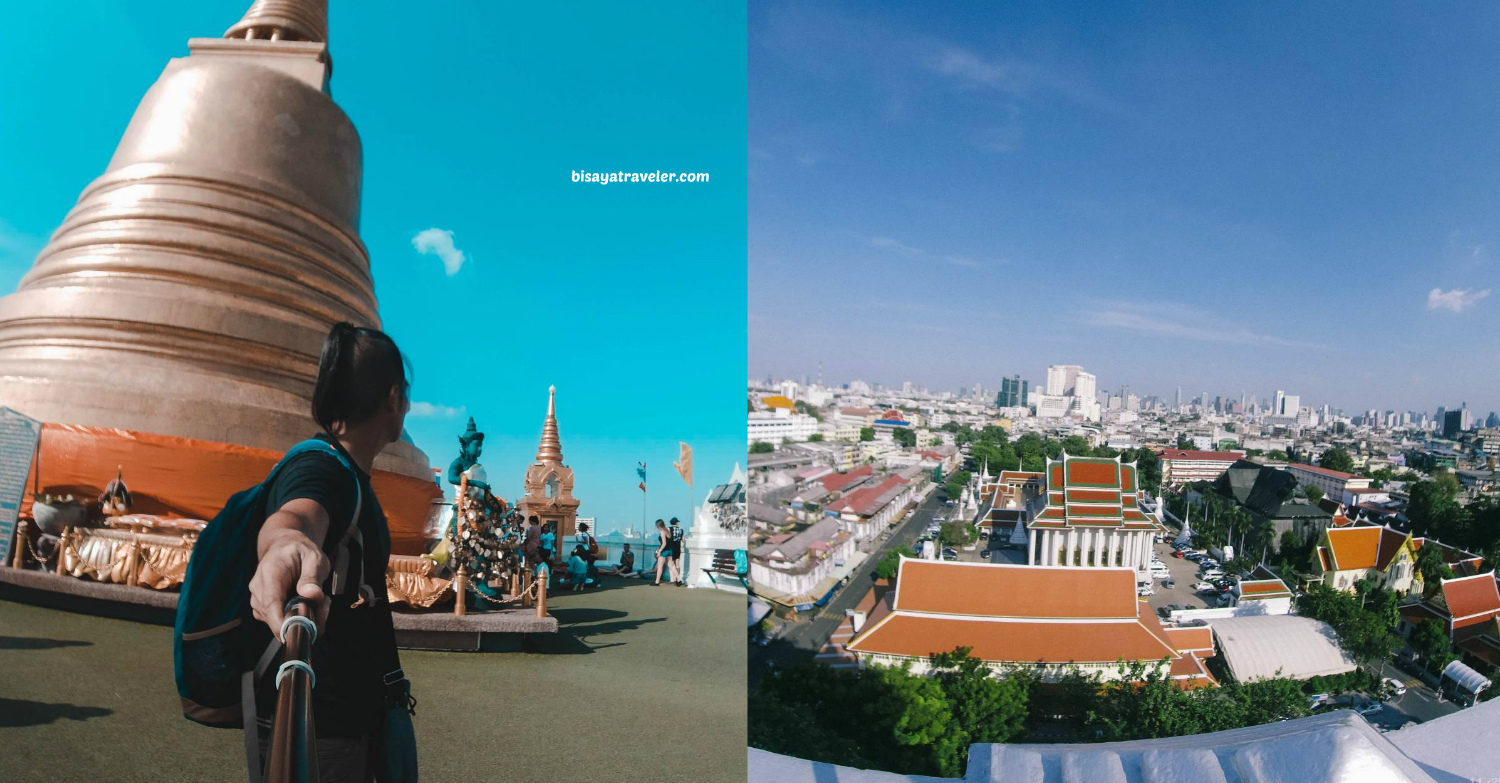 Wat Saket And An Alter Ego's Bangkok Exploration
I never knew what I hit me. Stunned and edgy, I felt like I was pretty much f*cked up. With all eyes on me, I was on the verge of a meltdown. How did I end up here? A few minutes earlier, I was in a jovial mood, dreaming of seeing Ayutthaya and the gleaming Bangkok temples, like Wat Saket. And, just as we were to embark on our flight to Bangkok, I ran into a little hiccup that could have cost us our Bangkok trip.
It was every Filipino traveler's nightmare. For months, we've been preparing and planning non-stop to make our international getaway a breeze. Then, on our departure date, a team of Philippine immigration officers in NAIA blocked our way to exploring Bangkok's treasures, such as Wat Pho and Wat Saket.
"We need to verify your documents", said an immigration officer. "We'll have to interview you, for the second time".
I, honestly, thought we were going to be offloaded.
In fact, I was already looking for other alternatives in case the Philippine immigration wouldn't allow us to fly to Bangkok. .
Of course, I was not giving up. Ever since the awakening of my wanderlust, I had yearned and craved to see Wat Saket and other Bangkok attractions.
But, the odds were stacked against me. What's more, talking isn't exactly my strongest skill.
How can I overcome the odds? How can I talk my way out of this hurdle? Is there anyone who can help me solve this puzzle, and lead me to Wat Saket?
My Wak Saket and Bangkok experience
From the departure area, I was led to an office where a bunch of immigration officers were waiting for us.
As I was walking, I wondered who could help me in these situations. Normally, I use Google to solve some of my daily life's problems.
But, this time, there was no online expert, travel genius on search engines who could give me answers.
And, there's certainly no app that can help me overcome this stumbling block.
I stared at the wall clock, and found out that I have less than 20 minutes to convince them that we were traveling to Bangkok for leisure.
This was crunch time, and unfortunately, I had no weapon available in my arsenal.
And, slowly, my optimism to see Wat Saket and Bangkok began to fade.
I felt hopeless. And, the only person whom I could turn to is myself.
There was nobody who could help me, but me.
Upon realizing that, I suddenly sensed a sudden shift in my body.
I felt a vibration in my core, a rush of adrenaline in my veins and a flow of chemicals in my system. Furthermore, I felt a powerful, fearless and ruthless force being unleashed inside me.
I was transforming into another person. And, a person who would get the job done.
This was my alter ego, and this force would hopefully lead me to Wat Saket and the other gems of Bangkok.
I'm, in general, a laid-back guy. Even though I have a universe of ideas inside my head, I usually don't express them verbally. I'm not a talkative person, and I only express my thoughts through writing.
That's why I had to call up my fierce, strong and intelligent alter ego who can get the sh*t done. When I need some courage, I switch into a different version of myself who's capable of handling the situation and stress.
He gives me speeches.
He asked salary raises for me.
He performs as the band's lead guitarist for me.
And, he aces job interviews for me.
On my final college oral examination, I unleashed him, and he impressed everyone in the room. As a result, I got the second highest rating, even though I didn't study a note at all.
Once again, my alter ego didn't fail me. With enthusiasm and confidence, he answered all the questions with flying colors.
He proved to the immigration officers that we were headed to Bangkok for a vacation, to see Wat Saket and the other iconic landmarks of Thailand.
And, yes, he led us all the way to Bangkok.
With momentum on my side, I decided to explore Bangkok, the moment we arrived at our hotel. Every time I arrived in a city or town, the first thing I usually do is explore and get a good feel of the destination. And, Bangkok, even with its bustling streets, was no exception.
With plenty of free time in our hands, we wandered around Bangkok, looking for Lumphini Park and Erawan Shrine.
My intelligent and fierce alter ago, however, was no explorer. So, I summoned another alter ego or skill – the explorer, to find these Bangkok landmarks.
The explorer's knowledge in geography, paired with the intelligent one's communication skills, led us to these places in Bangkok.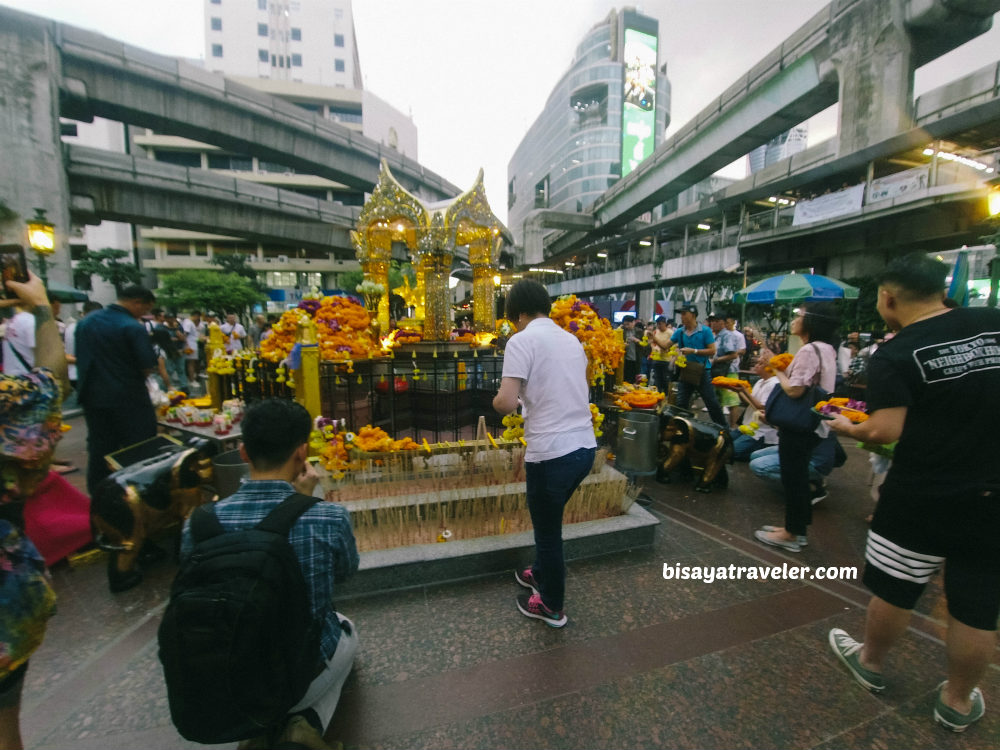 The next day, my alter egos took a breather. Since the tour company took care of everything for us, there was no need to channel these personas, as we explored the floating markets in Thailand.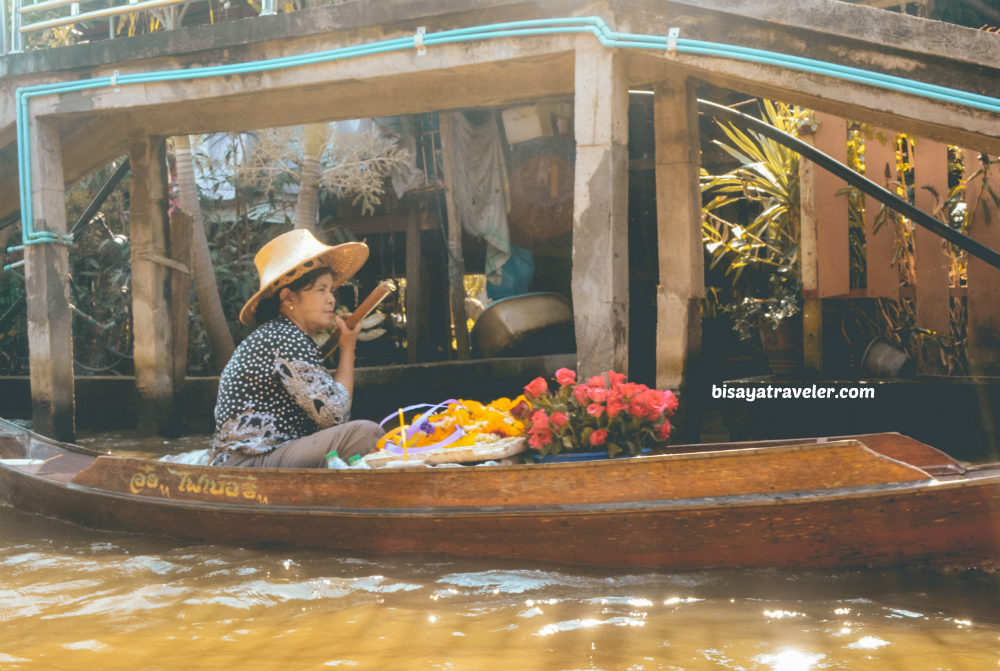 A day later, the entire group and I ventured into Grand Palace Bangkok.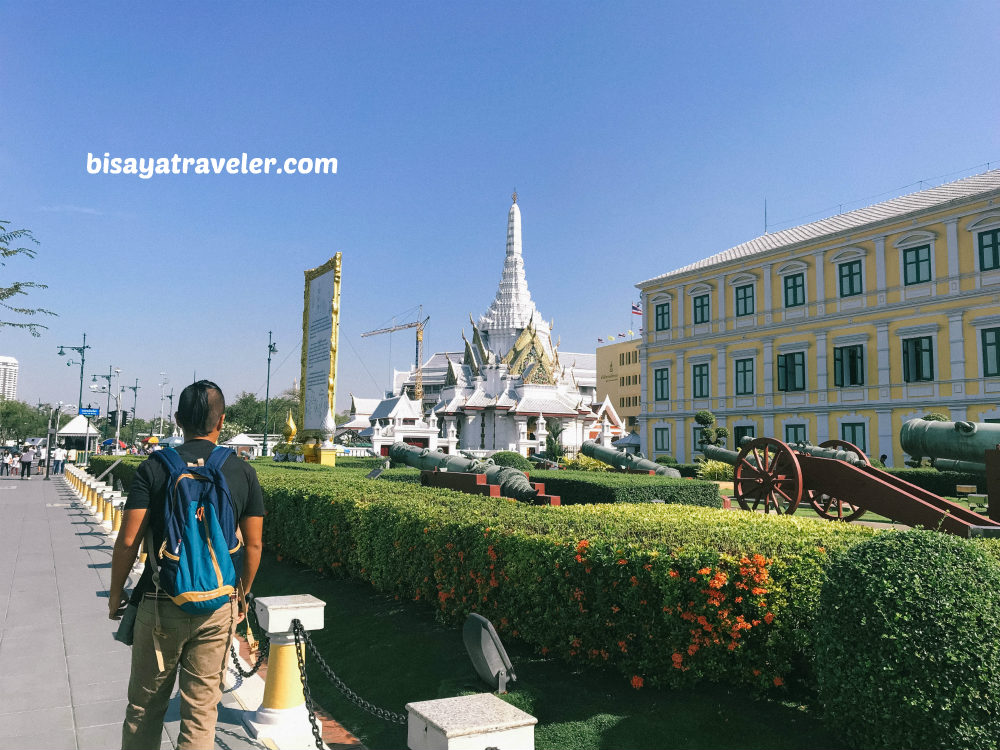 I was the only male and person in the group who did a bit of research of the Grand Palace, Wat Saket and other Bangkok temples. In other words, I had to be the group's leader.
The truth is, I'm not quite fond of being a leader in a group. I'm an introvert, and I prefer to go alone instead of leading a pack.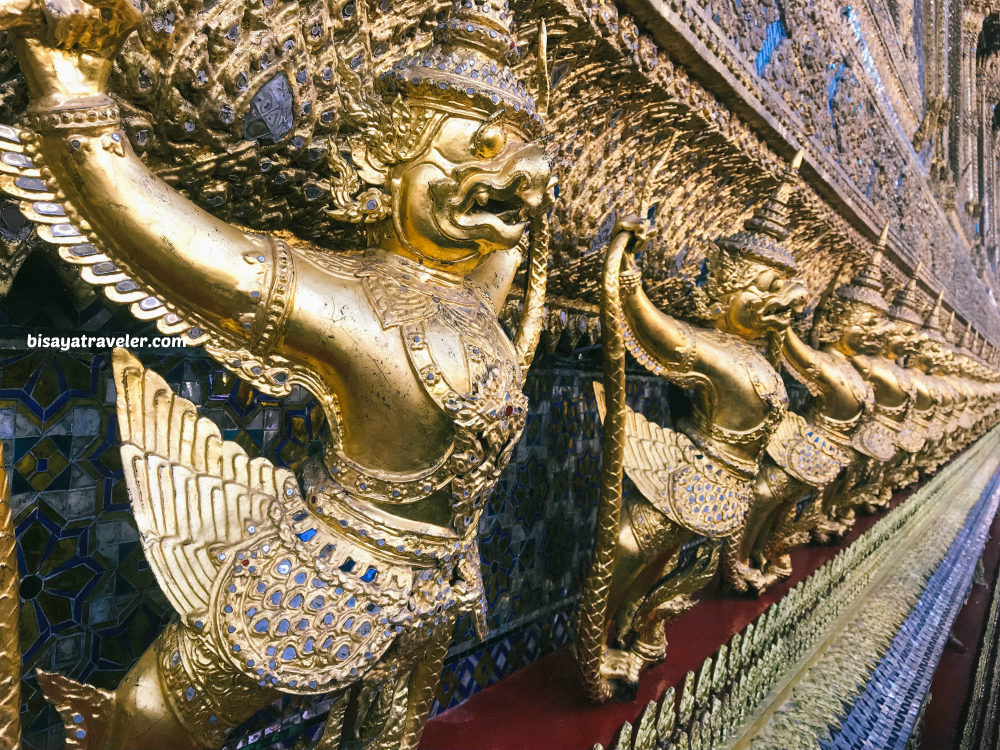 Even so, it's a role I'm willing to fill if it's necessary. And, for our Grand Palace sojourn, I had to be that guy, especially since the place was jam-packed and crowded.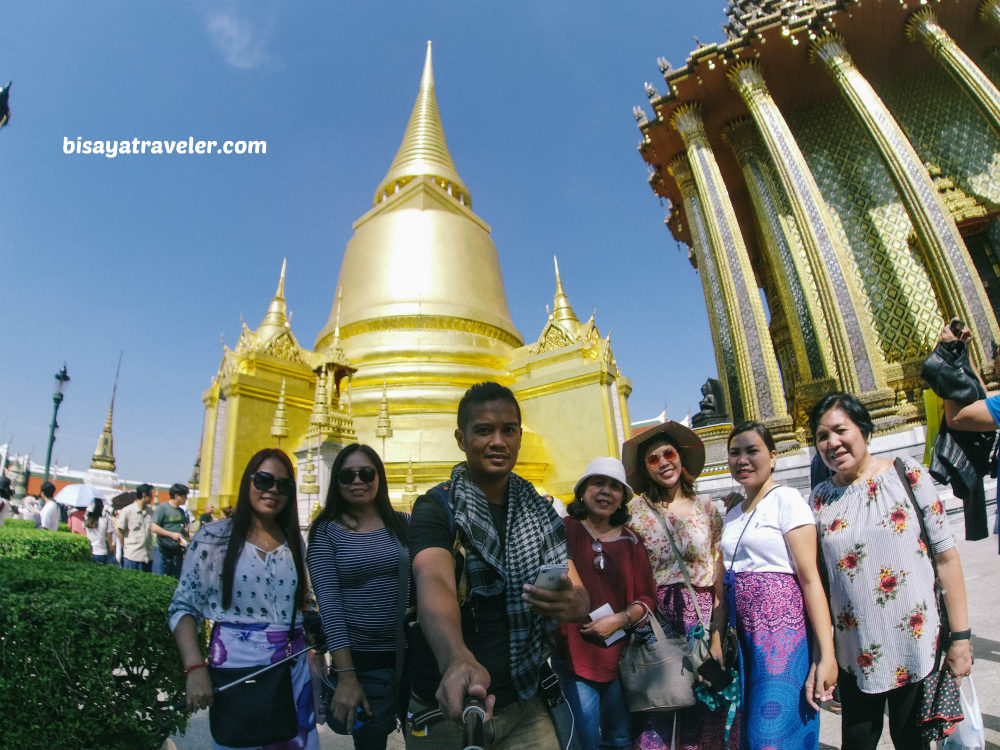 After leading the group around the palace, it was time for us to split. They were headed to the city's largest weekend market, while I was planning on hitting Wat Pho and Wat Saket.
Technically, I was alone again exploring the streets of Bangkok. But, like earlier, I need to awaken my two alter egos, to see Wat Saket and Wat Pho.
While Wat Pho is pretty close to the Grand Palace, I still needed every nugget of information from my explorer. After all, the Grand Palace is a spacious and sprawling complex where you can easily get lost if you don't have great navigation skills.
And, with the intelligent one's communication skills, I could determine how to get to Wat Saket from either Wat Pho or the Grand Palace Bangkok.
With my alter egos on the lead, I followed the road leading to Wat Pho.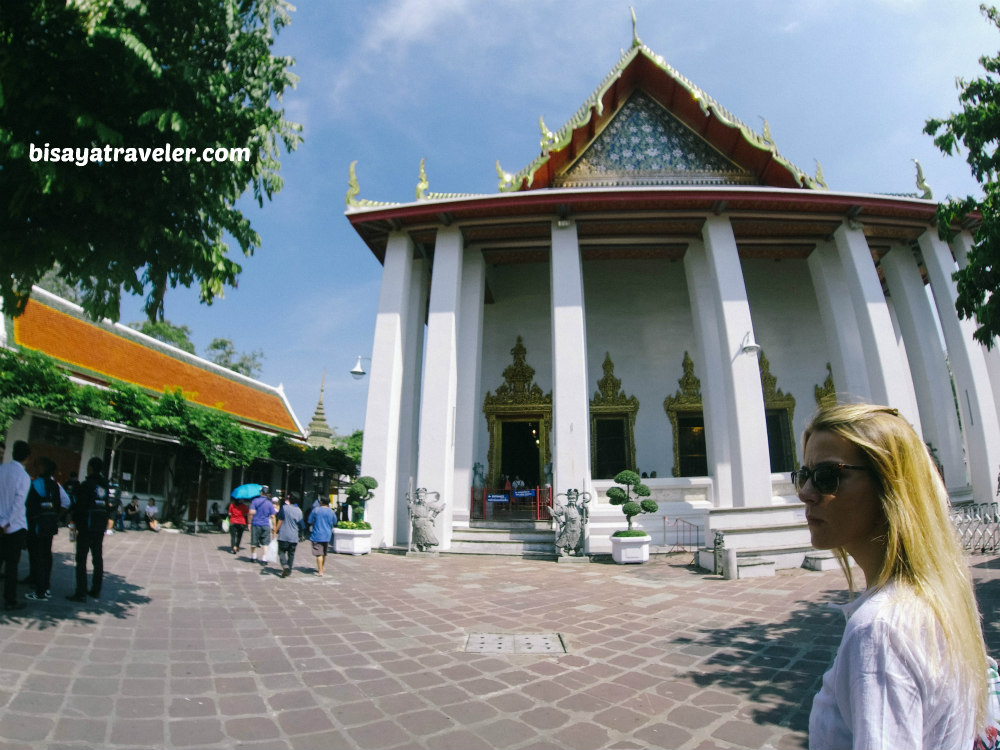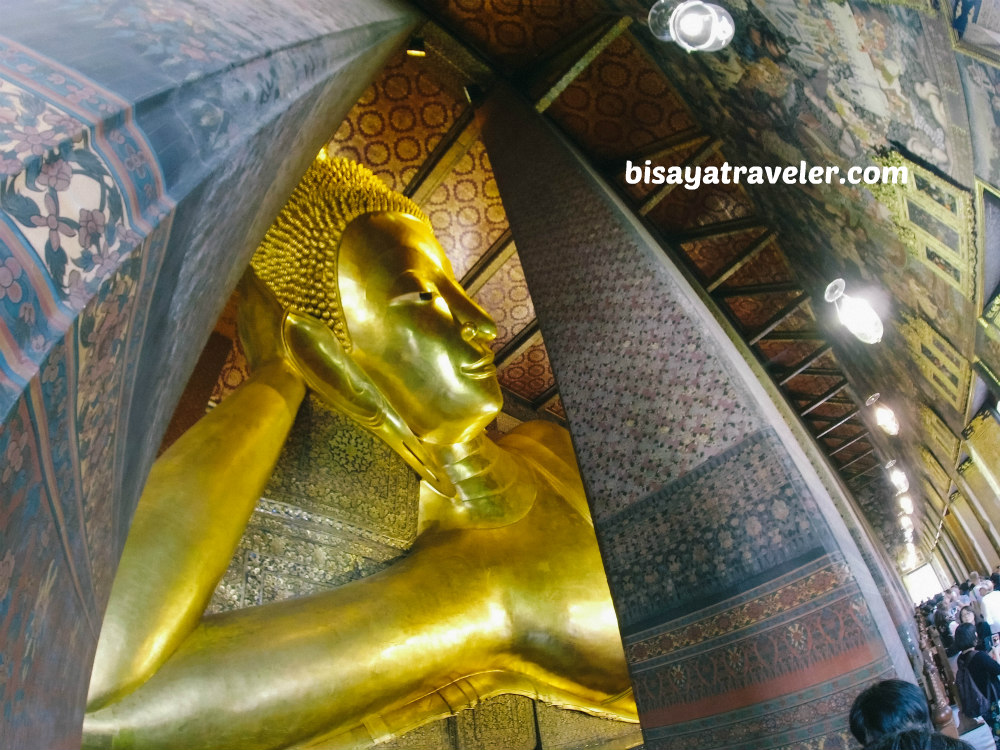 In my younger days, I was afraid to dive into the unknown. I wasn't as adventurous as I am now, and I was always stuck in my comfort zone. Then, thanks to traveling, I learned to how switch into my more adventurous alter ego.
From the famed Reclining Buddha, I wandered aimlessly inside the temple and discovered spots that I may never have seen had I remained in my safety-first mode.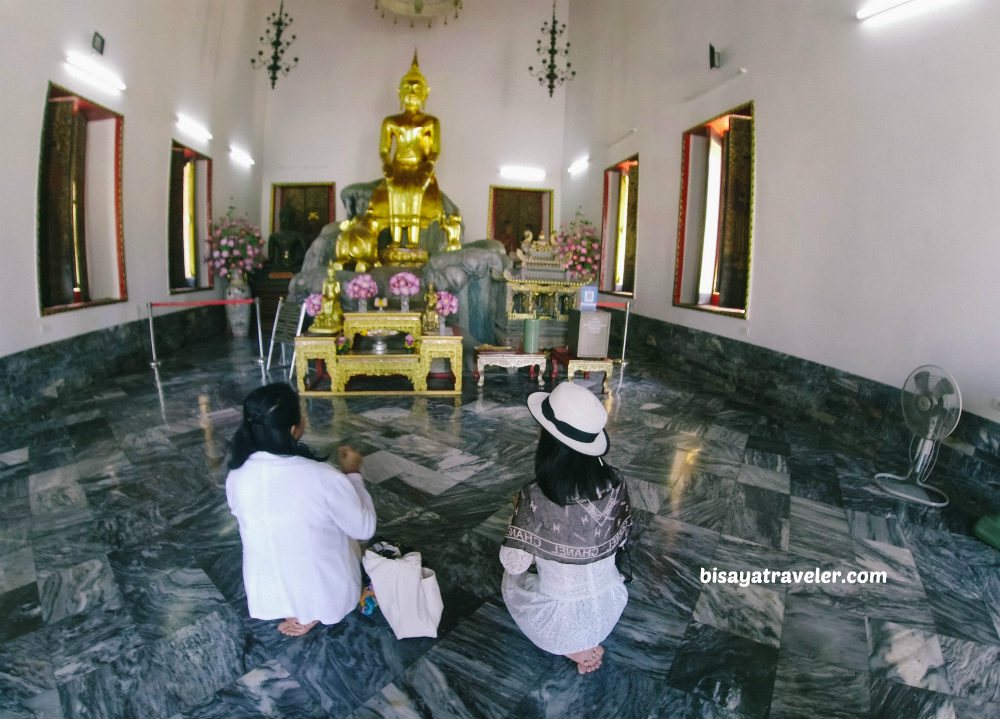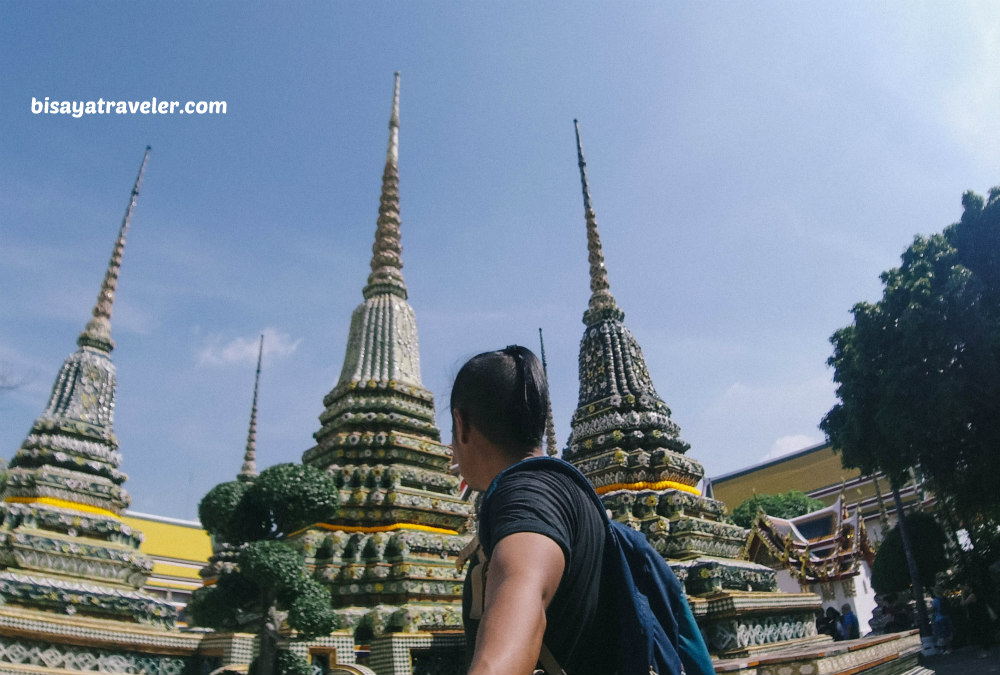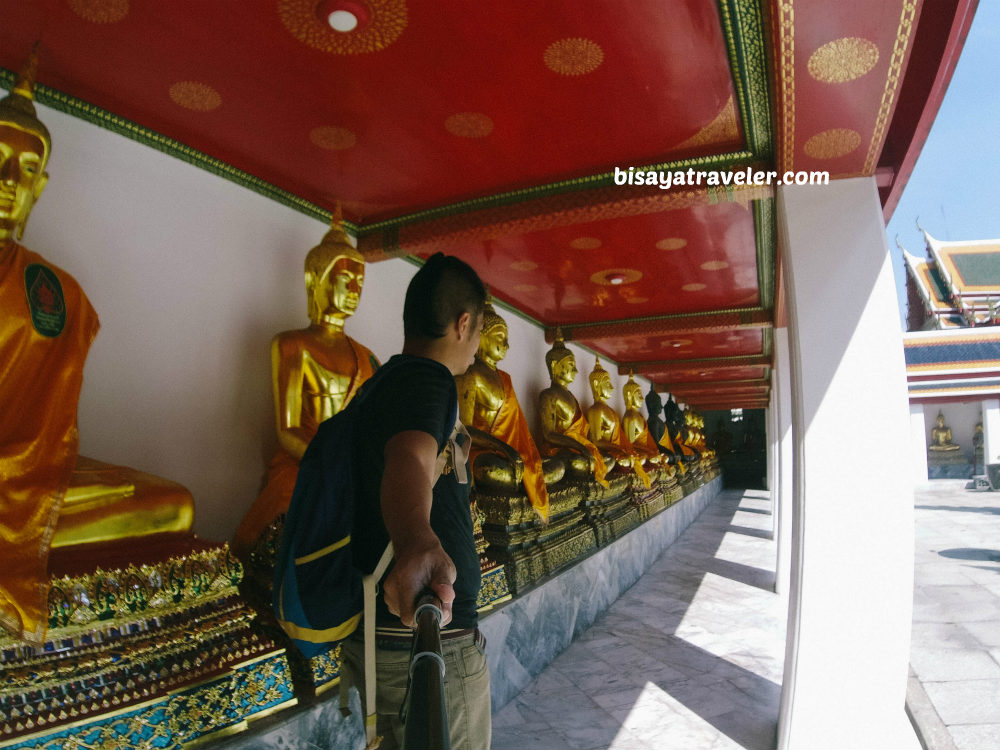 I did get lost a couple of times. Luckily, my alter egos rescued me, leading me to the paths where I could exit the temple.
I checked the clock, and saw that it was still too early for home. In just a few hours, I've ticked two entries in my never-ending travel wish-list.
I was ready to go home or reunite with my group in Chatuchak Market. But, my adventurous alter ago had other plans.
Eventually, he pushed me away from my safety bubble, and convinced me to visit Wat Saket.
I thought it was a terrific idea. As they say, great things happen when you're outside your comfort zone. And, besides, I have a team of alter egos who can help me navigate my way around Bangkok.
Upon the recommendations of a tourist policeman, I took bus number 47 to get to Wat Saket.
As I sat down inside the bus, the lady conductor approached me, asking me a question in her native Thai language.
With my brown skin and Malay features, she thought I was a local or a pure-breed Thai.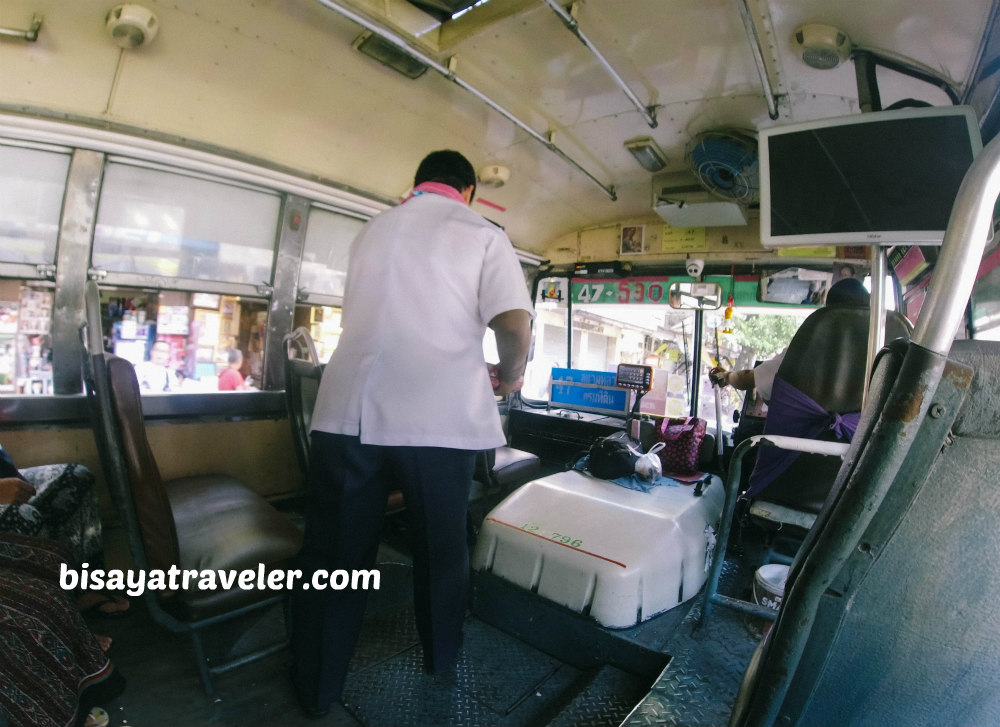 I responded in English, asking if this bus would pass by the Golden Mount (Wat Saket).
Smiling, she scratched her head, trying to figure out what I just said.
Thankfully, there was a Thai couple who translated what I said to her. Plus, the couple also suggested using the words "Wat Saket" when looking for the Golden Mount.
The thing is, I'm not the most charming person in the world. With my introverted and serious face, people are even often intimated when they see me.
But, in times like this, I had to channel my inner price charming alter ego. I had to use his charisma to our advantage, so I can effectively and politely communicate with the locals.
And, so I did.
We, soon after, figured everything out using our smiles, friendly gestures and numbers.
Truthfully, it was like playing a game of charades.
When we arrived at a bus stop, she pointed to me the famous chedi of Wat Saket and gave me instructions on how to get there.
Obviously, I didn't understand a word she said. Nonetheless, it was just enough for me to find the gorgeous Wat Saket.
Crossing streets and a bridge, I ultimate found myself standing at the entrance of Wat Saket.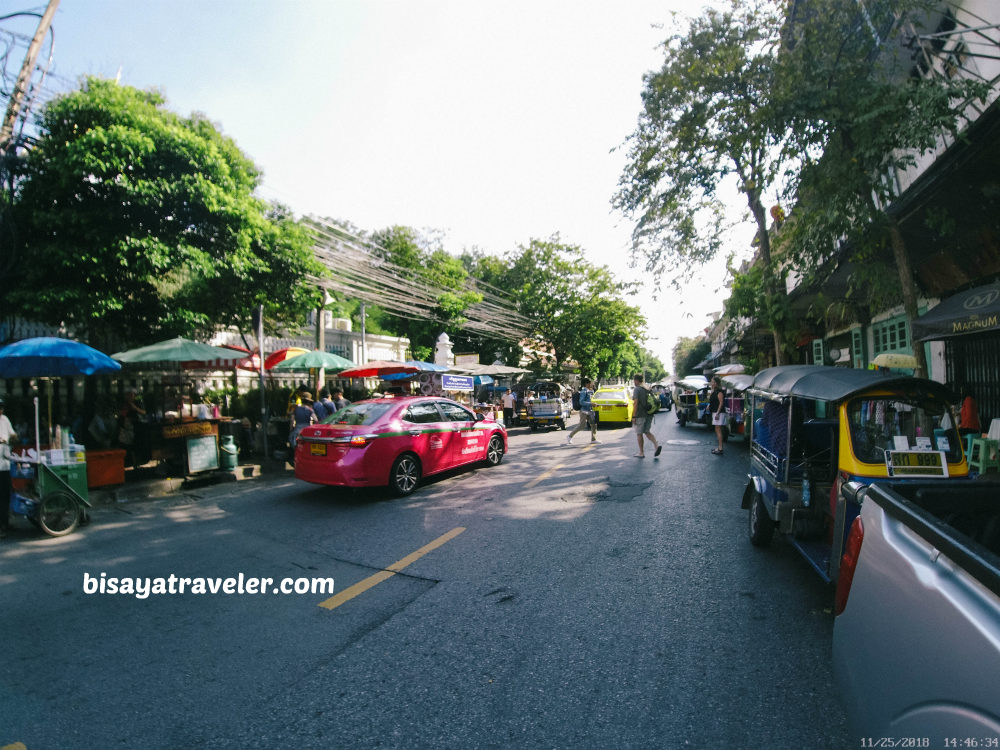 Without wasting any moment, I paid the admission fee, and began climbing 318-step stairway to the top of the man-made hill.
On the way u, I caught sight of a variety of sights and sounds, from the sounds of bells, chimes and gongs to the elaborate statues.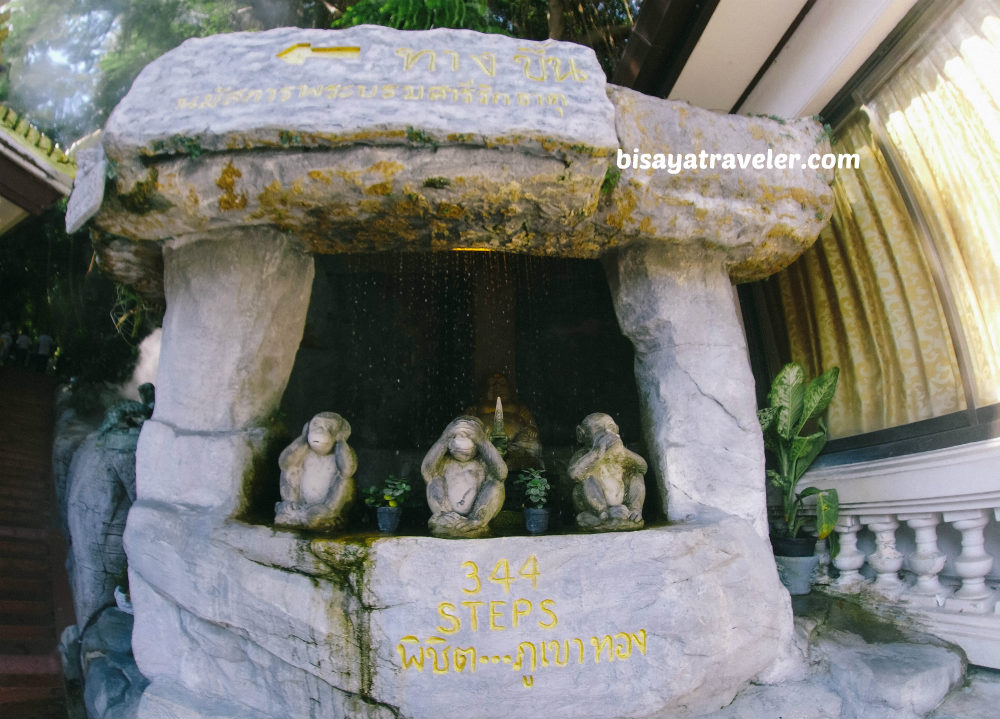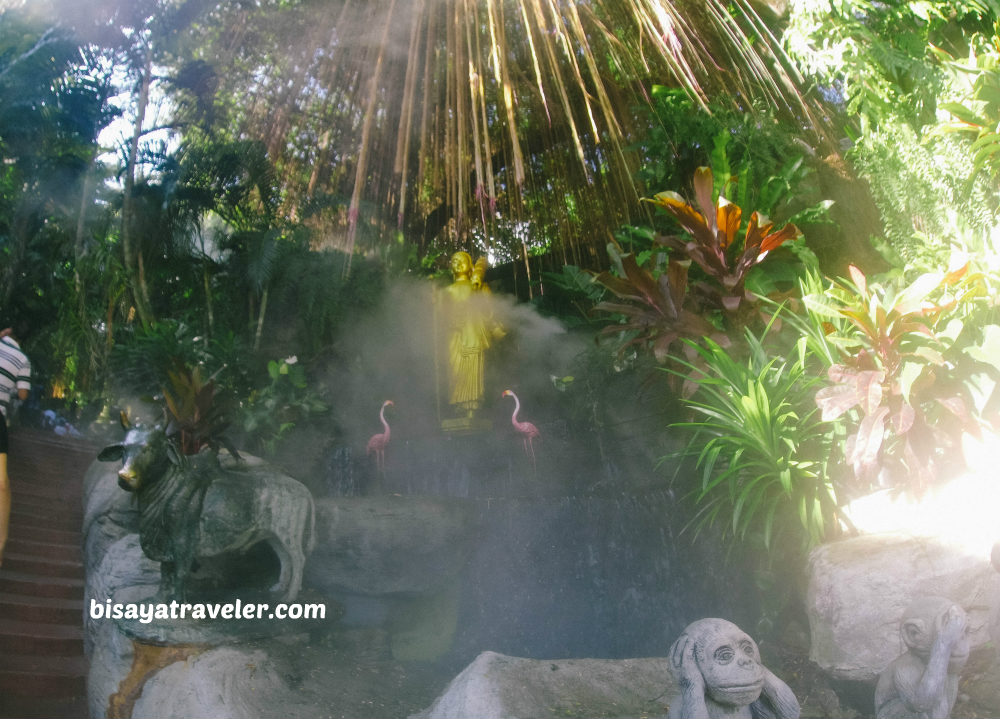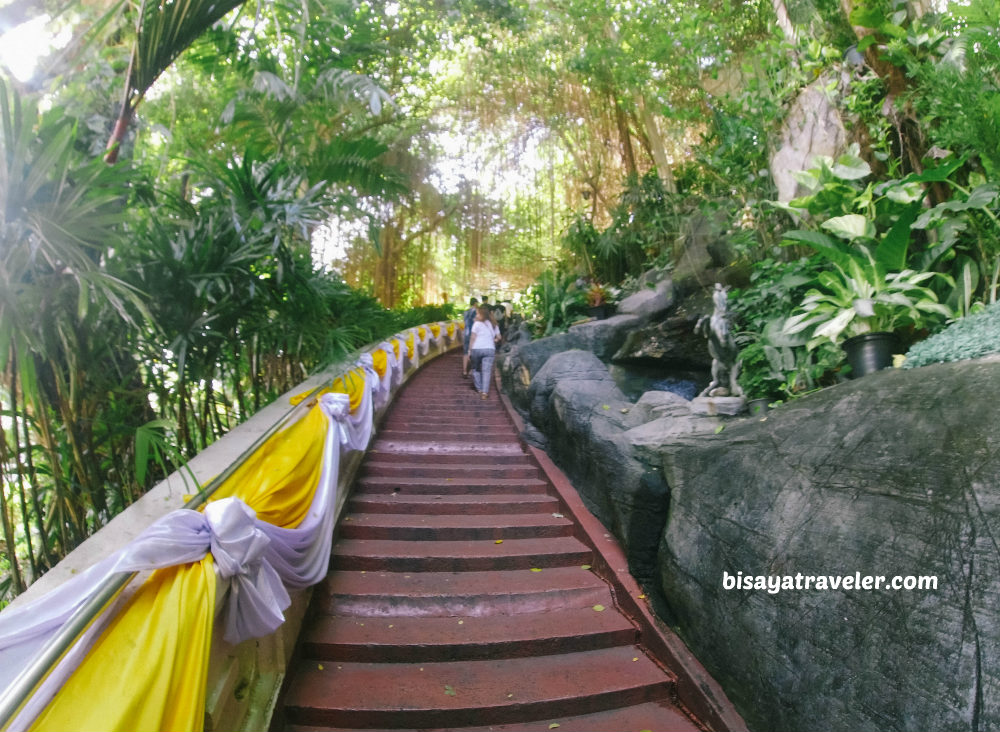 What's more, there was an artificial mist that somehow gave a refreshing respite amidst the infamous Bangkok heat.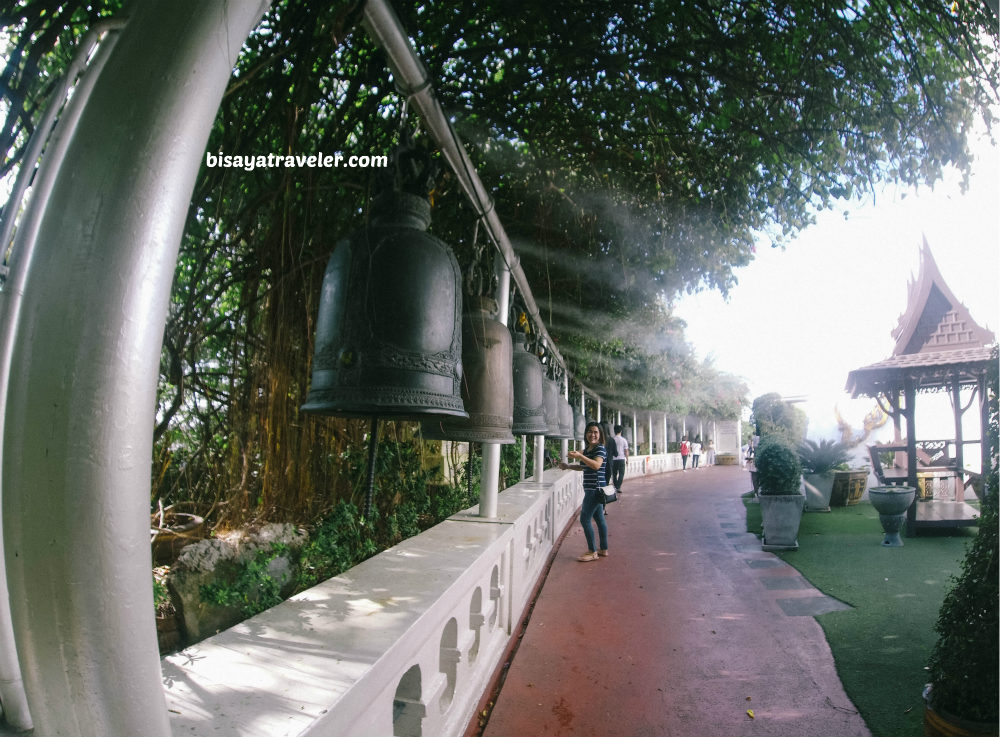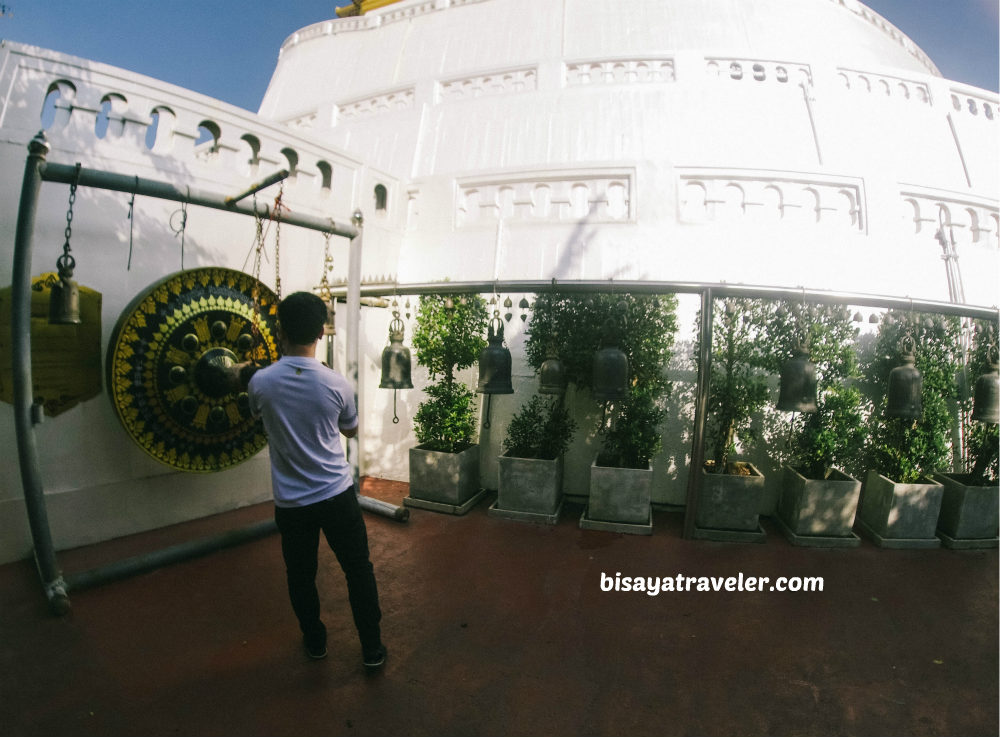 As I got closer to the top, the views got better and more eye-catching. Sadly, I forgot the SD card of my camera. Moreover, both the batteries of my Powerbank and mobile phone were running low. Who knows? I might have summoned my inner shutterbug if I had the right set of photography equipment on my Wat Saket break.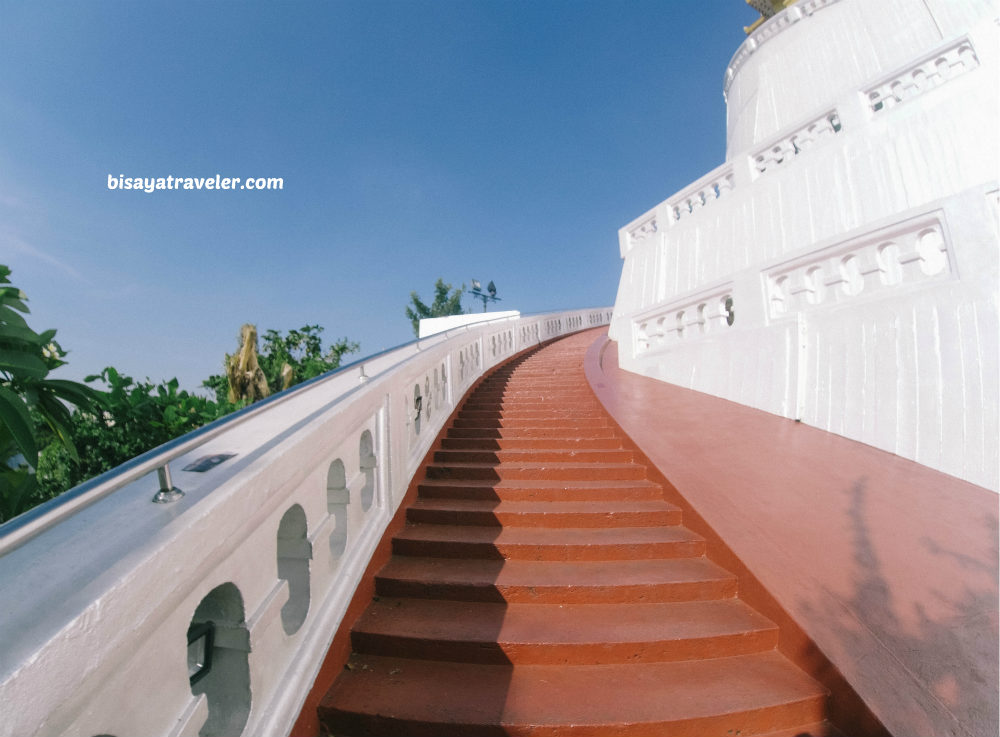 Shortly after, I arrived at the worshipping area where pilgrims where saying their prayers.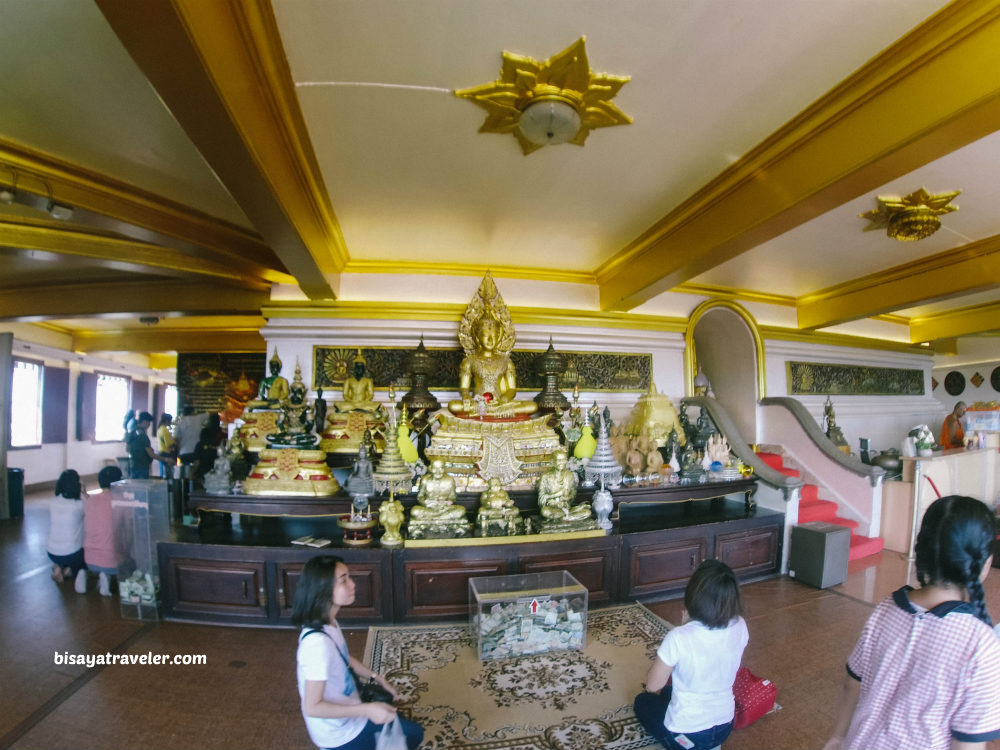 I looked around and found a small staircase that leads to a floor above. Intrigued, I climbed the narrow stairs and arrived at the floor where the Golden Mount was placed.
It was a thing of beauty, and definitely worth the climb. While the climb isn't exactly exhilarating, it can be fairly challenging for those who aren't used to hiking.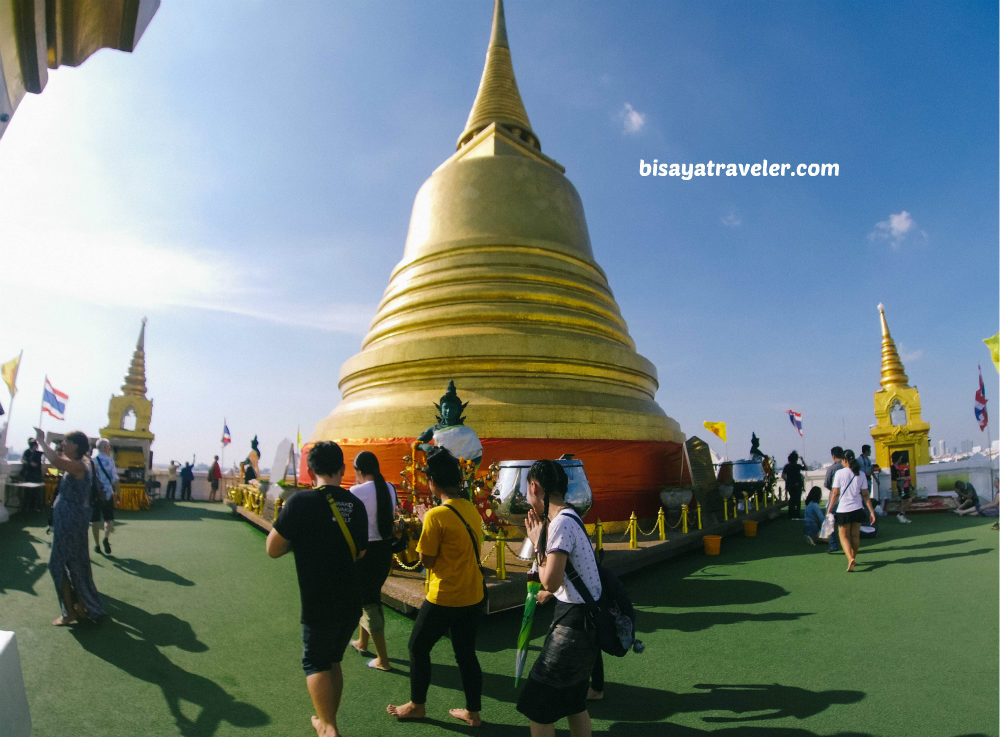 Not only is the golden chedi utterly stunning, but it also enshrines some sacred relics and items from India.
Amazed, I roamed around to gaze at the Golden Mount from different angles. Furthermore, I soaked up the beautiful overlooking views of Bangkok from the top of Wat Saket.
As far as I'm concerned, it's, hands down, one of the most mesmerizing attractions in Bangkok, Thailand.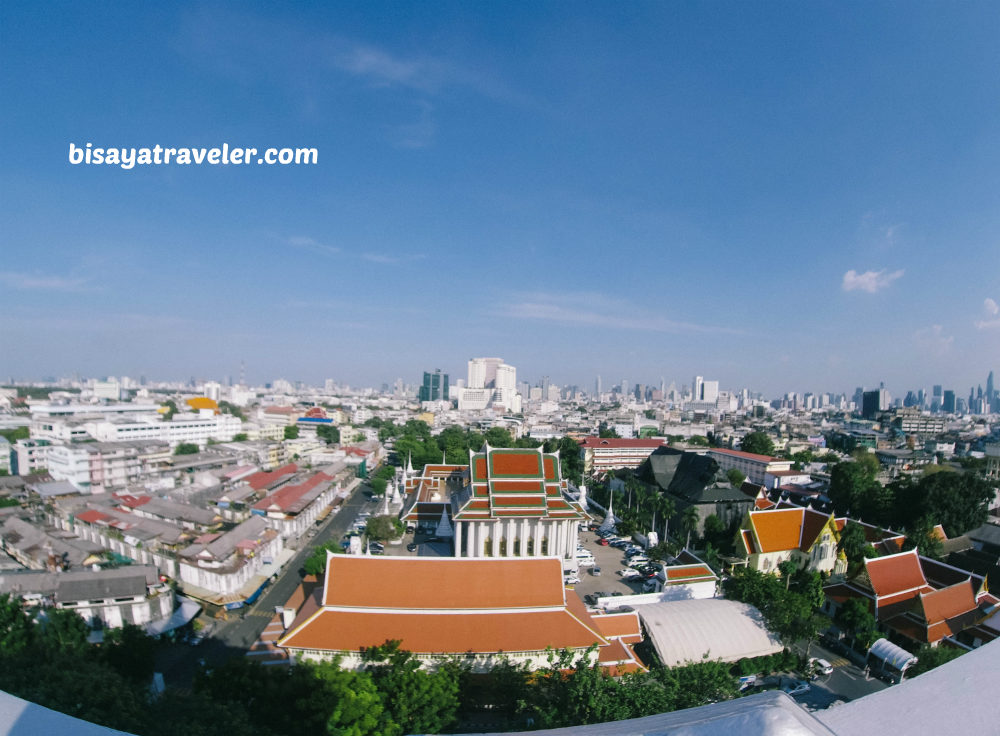 Moments later, I sat down at a shaded corner, and did some reflection.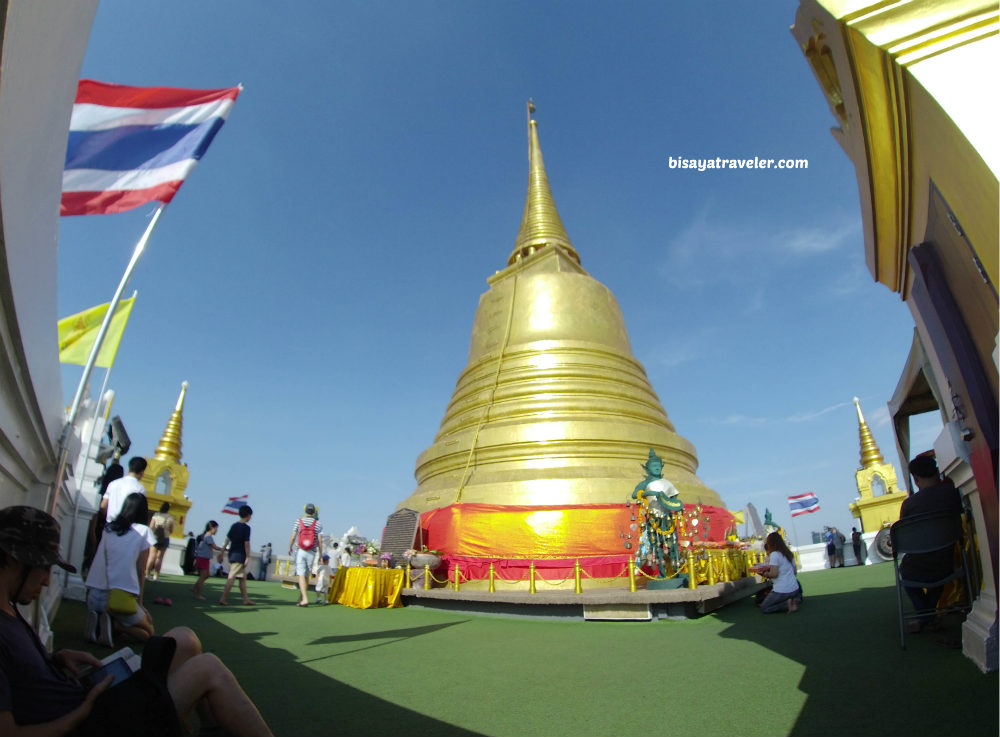 I was amazed not just by its beauty, but also of how I found Wat Saket.
Not to mention, I was amazed by how I answered during the immigration interviews in NAIA.
I'm a clumsy introvert with no special skills in communication and navigation. And, surprisingly, I still discovered Wat Saket even though I barely did any research about it beforehand.
In my reflection, I realized that it wasn't me who was doing all the work.
I had a team. I have my alter egos who are always there to protect me and do what's best for me.
I was subconsciously shifting and adding personas while exploring Bangkok.
The truth is, I didn't know I was shifting personalities on my Bangkok exploration.
In addition, I thought it was just my natural instincts guiding me throughout Bangkok.  
And soon, I also realized that there was only one alter ego throughout the whole trip.
Sure, I had to unleash a variety of personas through the trip, but there was only one alter ego.
Didn't the title say "An Alter Ego's Exploration? Yep, it's in singular form.   
The intelligent one.
The explorer or path finder.
The leader.
The adventure seeker.
And, the prince charming.
They were all the traits and characteristics of my one and only alter ego.
And that is "The Bisaya Traveler".
Why do I call him "The Bisaya Traveler"? Because all these traits and skills were developed through traveling. And, yes, I'm a pure and a hundred percent Bisaya, born and raised in Cebu.
As far as I know, he is my only alter ego.
He's the inner survivor, warrior and adventurer within in.
And, so far, he has brought me into places and heights that I wouldn't reach on my own. And, at the rooftop of Wat Saket, he was there having a blast, and replenishing his energy.
From the Golden Mount, I descended to other areas, and found the graveyards and other dazzling sights inside Wat Saket.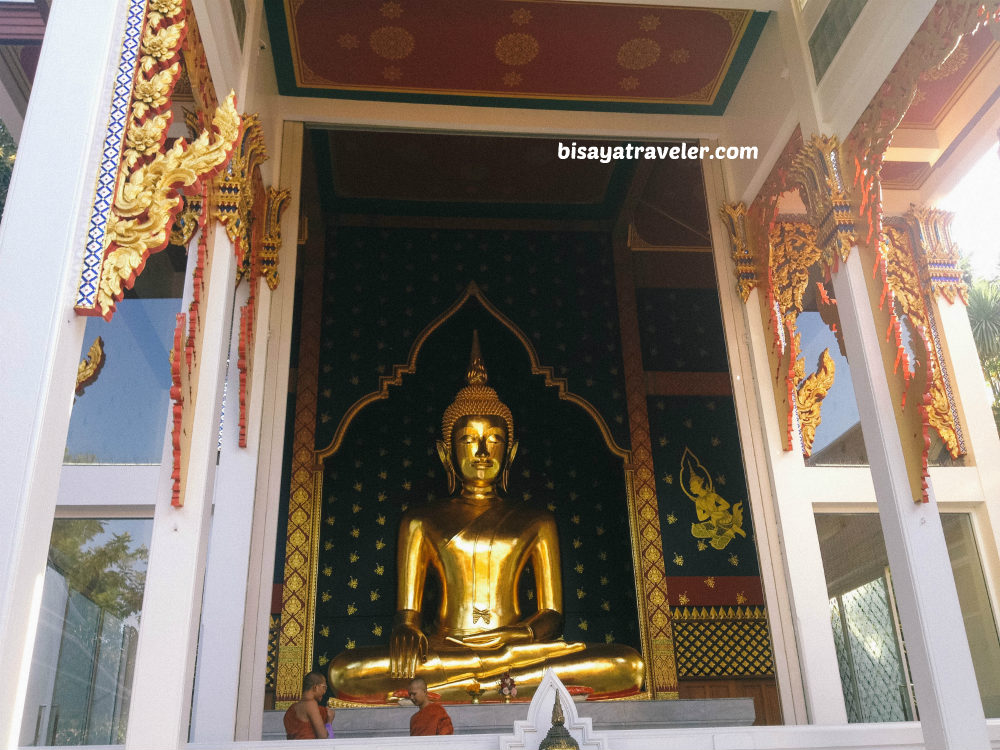 Would have I ever discovered these spots without my alter ego.
Probably, not.
Wat Saket entrance fee and other information
Admission fee: THB 50
Address: Khwaeng Ban Bat, Khet Pom Prap Sattru Phai, Krung Thep Maha Nakhon 10100
Opening times: 08:00 AM to 05:00 PM
How to get to Wat Saket
Hua Lamphong is the nearest MRT station to Wat Saket and is around 2.3 kilometers from the temple. For those using the BTS skytrain, the National Stadium is the nearest station to the Golden Mount. Once there, you can take motorcycle taxi, tuk-tuk or taxi cab. If you're traveling by bus from Grand Palace, take bus, number 47 and ask directions from the conductor.
---
Collectively, these personas, skills or alter egos are a legion.
And, in the eyes of my friends and family, they are known as The Bisaya Traveler.
One of the great things about traveling is that it unleashes your some your hidden and forgotten skills.
Keep in mind that traveling puts you in uncomfortable situations where you need to dig deep and discover some of your talents.
Would I have ever found Wat Saket if The Bisaya Traveler didn't step in?
What if my alter ego wasn't around when I was interviewed by the immigration officers?
Things would have turned out pretty differently, if I didn't develop these personas and characteristics through traveling.
I have an alter ego, and I'm sure damn proud about it.
But, here's a question that you might be asking yourself while reading this post about Wat Saket and alter egos.
Who is writing this article? Is it Aldrich or The Bisaya Traveler? Or, is it some other alter ego who's artistic and good in words?