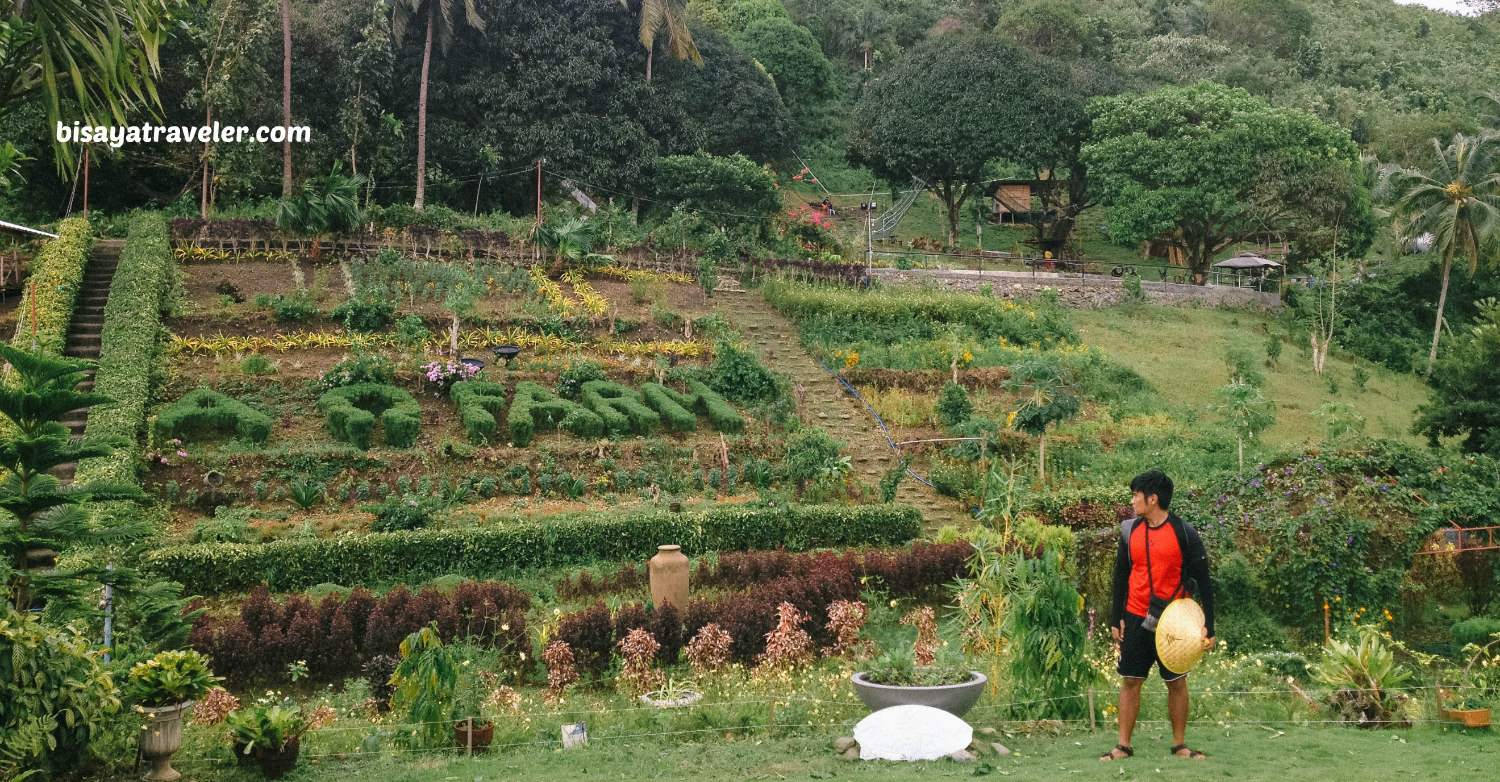 AO Farm: A Fascinating 50-Peso Getaway To Toong, Cebu
In modern times, society tells us that we need to be rich as a Kardashian or a Trump to fully satisfy our desire for happiness. Whether you're stalking bikini-clad celebrities on Instagram or buying fruits at a local grocery, we are urged and encouraged by our consumerism-filled world to buy our way to happiness. Everywhere we go, we see an array of ads and banners of products saying "buy me". But the truth is, you don't need to spend a fortune to find joy in your bustling life. From urban hikes and picturesque strolls to blossoming floral havens like AO Farm, there are plenty of ways to be happy, without having to drain your savings.  As a matter of fact, some of the most purely blissful moments in my life didn't cost me a centavo.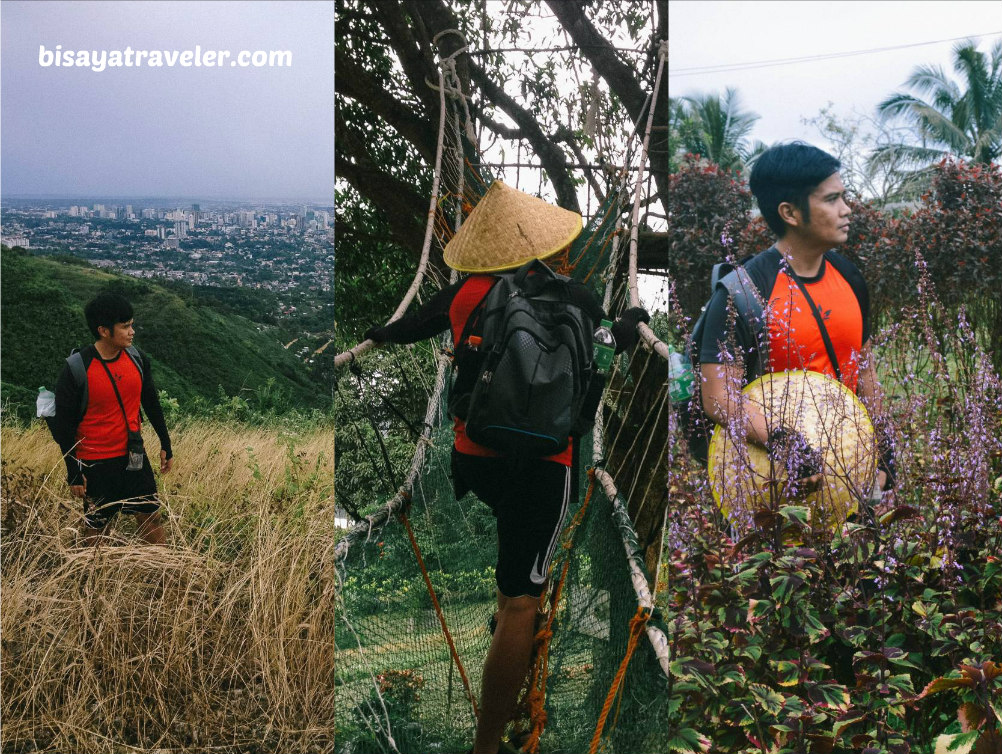 For instance, I had quite a swell time a couple of days ago, even with just 100 pesos on my wallet.  Believe it or not, I hiked an Instagram-worthy trail and cooled down on an upcoming flower hub – AO Farm – for just 20 pesos (rate has increased to 50 pesos). And, while it wasn't exactly mind-blowing, life-changing or extremely exciting, it still was a fun and great way to fight boredom on a chilly Saturday.
My AO Farm experience
Days prior to my adventure, there were a few people who were interested in joining me on my hike to AO Farm via San Carlos Heights. Sadly, everyone, except Raul, backed out for my weekend adventure, thanks to the mighty tropical storm, Urduja. With ferocious winds and seemingly endless rain, my hike to Toong wasn't very promising, initially.
But, when the rain finally stopped at 8 in the morning, I and Raul ultimately decided to push our quick weekend adventure.  Despite the gloomy weather, we were optimistic of chances of having a remarkable escape in the highlands of Cebu City.
And so, from Lourdes Parish in Punta Princesa, we took a tricycle ride to the gates of San Carlos Heights. Afterwards, we ascended to the top of this ridge, passing by a bunch of houses.
Moments later, we arrived at the most scenic part of San Carlos Heights and Antuwanga.
And immediately, tatay Raul posed in front of the camera with his own version of blogger's pose.  Unlike his first hike in Mount Mago, Raul now knows how to strike a pose on photogenic landscapes.
I always tell him, however, not to face the camera because my readers might think I'm hiking with either former vice president, Jejomar Binay, or the late legendary Sammy Lagmay.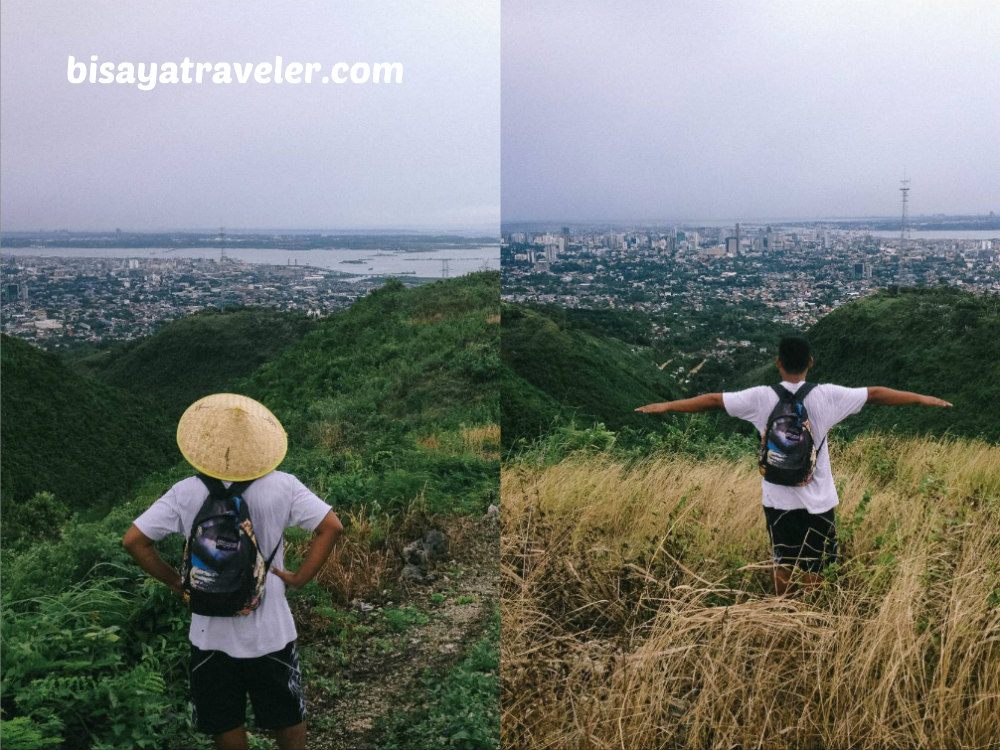 Although I've been to this spot a number of times, I also couldn't resist having a solo shot on this part of Antuwanga.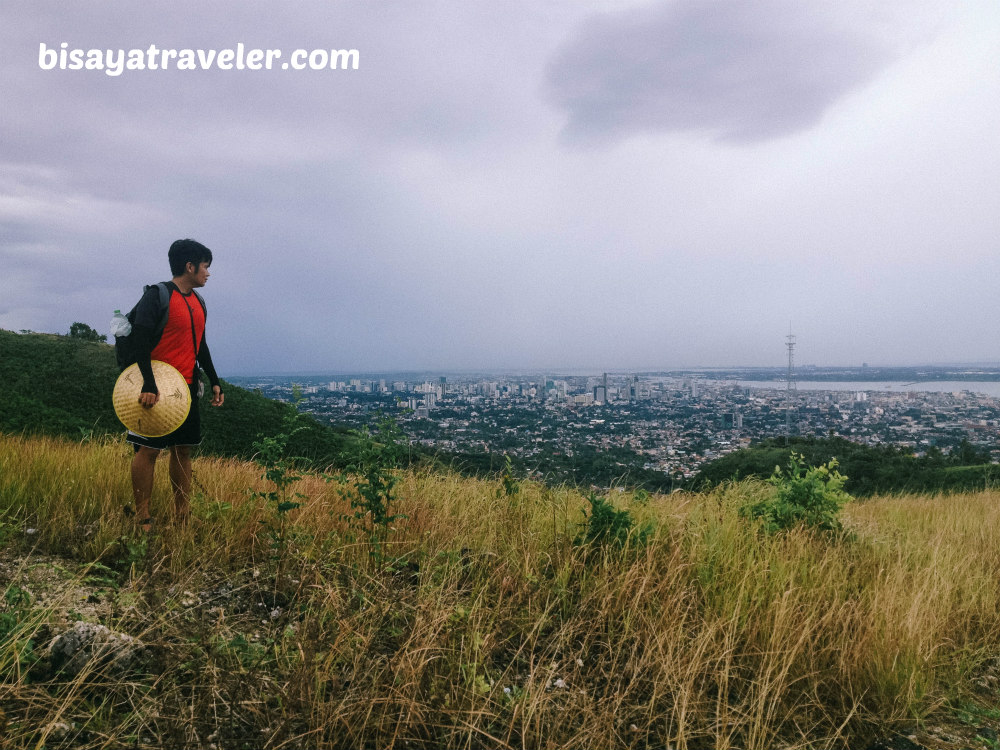 As we were walking to AO Farm via Antuwanga, I've noticed so many changes on this part of the trail.  From my own observations, this part of Antuwanga will soon become a subdivision. Heck, they have already started building shrines, chapels and a park on this site.
With all the recent changes and modifications this area, we got lost for a while on our way to AO Farm, Toong.
But, with our sense of direction and common sense, we later on found the trail leading to Toong, Cebu.
Truthfully, our hike to Toong wasn't a breeze and was pretty dangerous, even by the standards of an experienced hiker.  After our hike, I made a promise to myself to never hike in the midst of a storm, or bagyo in Filipino terms.
Not only was the trail incredibly slippery, but there were trees removed from the grounds by the forces of nature stuck in the middle of the path. What's more, the winds were howling and whirling furiously, often causing us to lose balance.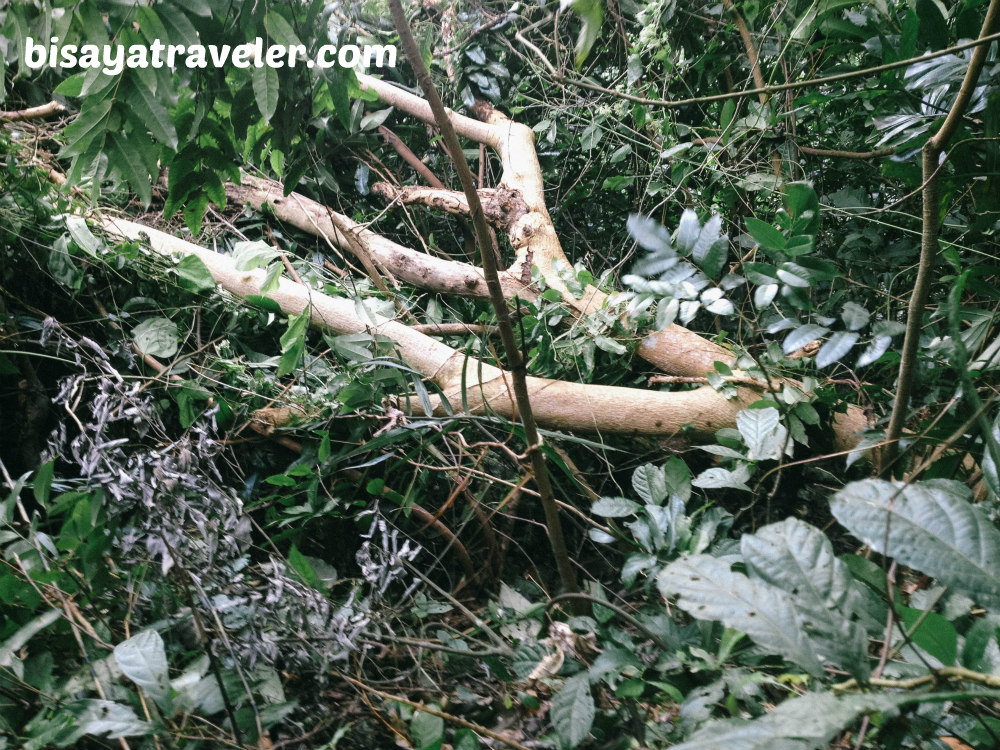 With all the stumbling blocks and difficulties we were facing, AO Farm was the last thing on my mind.
"We could have taken the easier way to AO Farm by hopping on a habal-habal for 25 pesos in Punta Princesa", I said to Raul.
Surprisingly, though, Raul wasn't fazed, and even disliked the idea of taking the simpler path. Of course, I was also encouraging him and perpetually telling him to stay focus. "This is not for the fool or tanga", said Raul as he was passing through the fallen branches and trees on the trail.
Little did he know, one sudden heavy rain or wind surge could lead to some serious injuries on our hike to AO Farm.
I breathed a sigh of relief, when we finally arrived at Toong, Cebu. Once there, I told Raul that we just conquered a perilous hike that could lead to a disaster.
And guess what, folks? His legs were literally shaking, when he found out what were the possible negative outcomes of our not-so carefully planned adventure.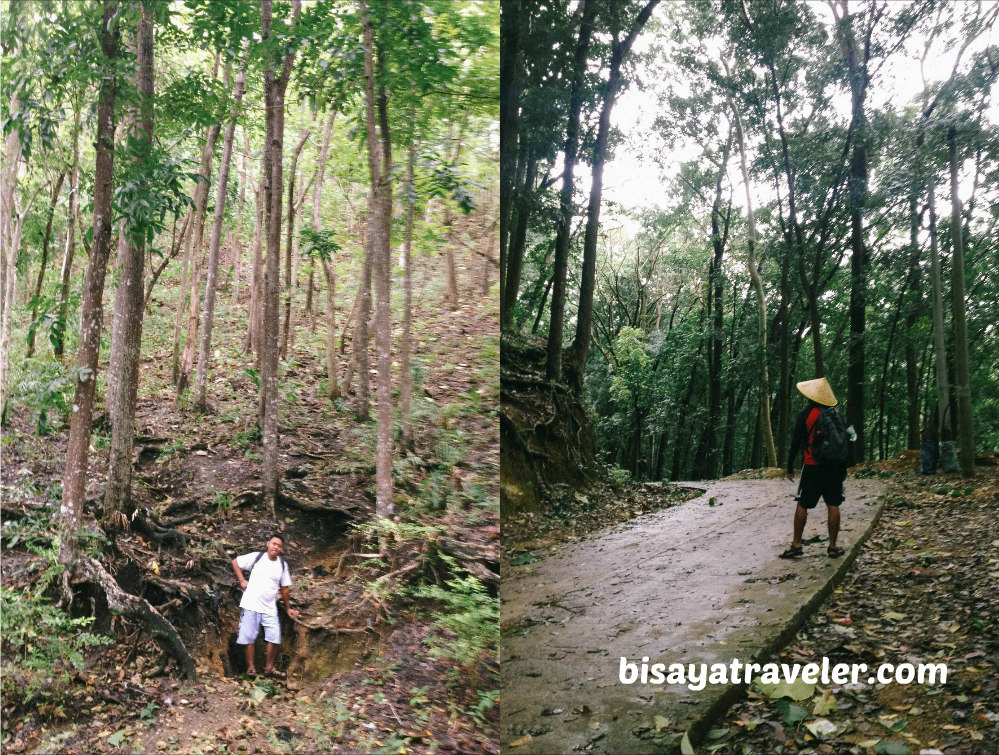 We, then, went on with our "bromance" getaway by taking on the road to Kawa Falls, which, by the way, was the wrong one.
Luckily, a young kid, in his bare feet, showed us the right way to AO Farm, Toong.
Raul rewarded the youngster with a tasty chocolate bar.  As with most old dudes, tatay has a soft spot for kids.
Soon, we opened the gate, and took on the long concrete staircase to AO Farm.
The staircase leading to the farm isn't as challenging as it looks, but tatay Raul wanted to add a touch of drama to the photo, so he crawled like he was really struggling. #thestruggleisreal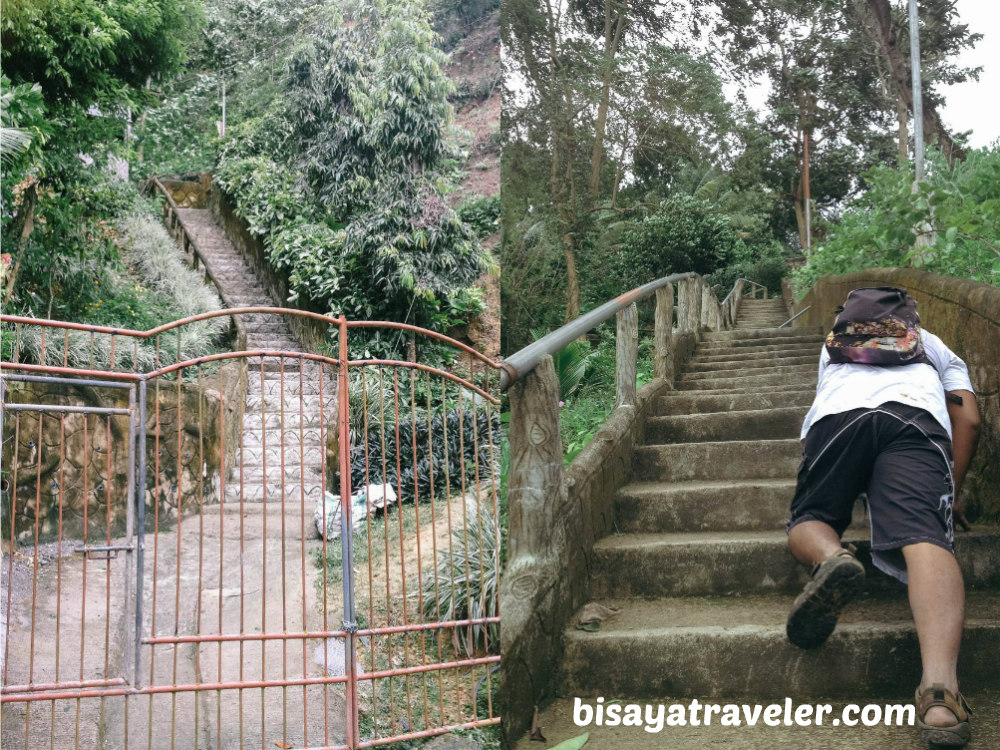 Upon our arrival, a couple of dudes greeted us and welcomed us to AO Farm. We paid the entrance fee – PHP 20 per person – to access AO Farm, and enjoy its mesmerizing mountainous scenery.
But, before starting our visual inspection of AO Farm, we took a breather to feed our grumbling stomachs and rest our legs.
As we were making our way to a resting area in AO Farm, we got a glimpse of its beauty and soothing backdrop.
"Man, this flower farm will look spectacular, once it's complete" I said to Raul.
Even with the gloomy weather, the park was such a joy to watch.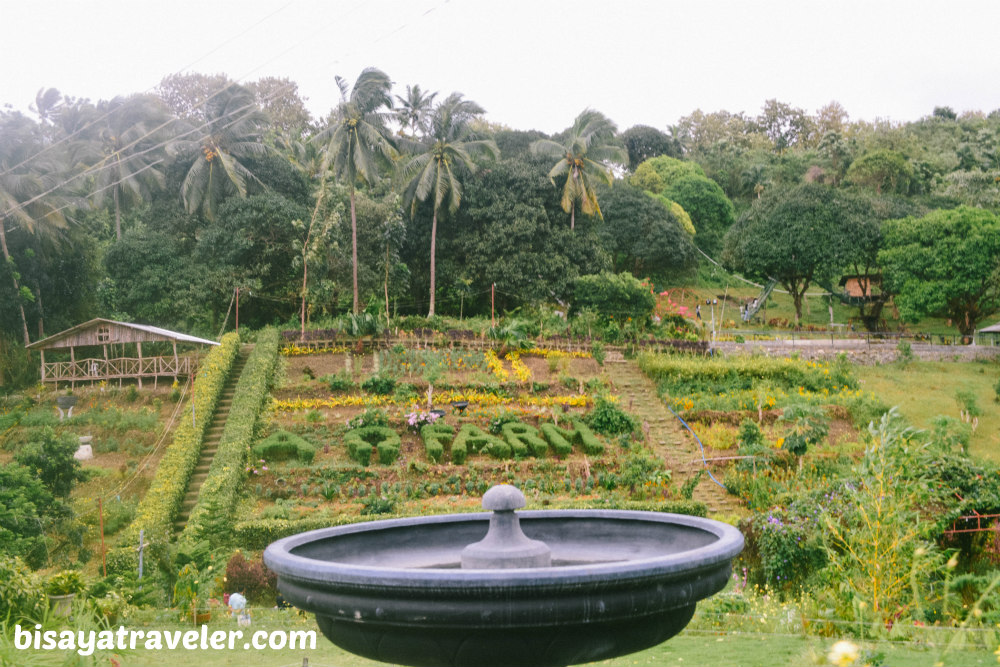 Quite frankly, AO Farm still has a long way to go in order to compete with the likes of Sirao Flower Farm and Terrazas de Flores. As far as I'm concerned, it's pretty raw and needs more flower varieties to add more life and color to its backdrop. Nonetheless, it has the land area, time, tools and framework to become one of the best attractions in Cebu.
After eating our lunch, we wandered around the area, admiring the scenery and snapping photos of AO Farm from different angles.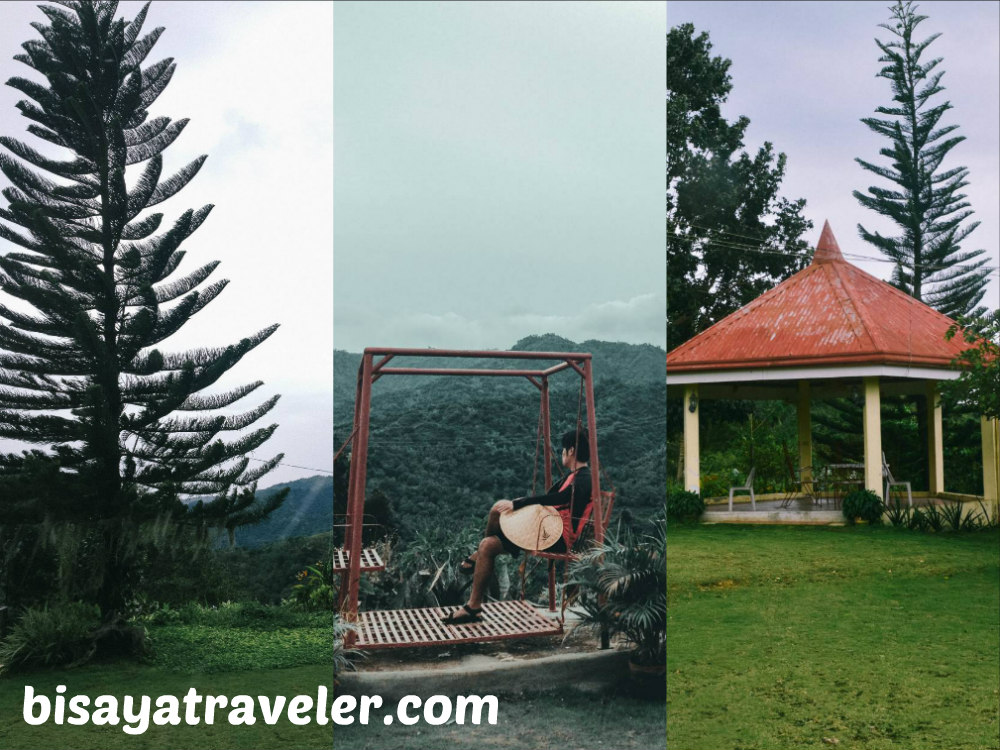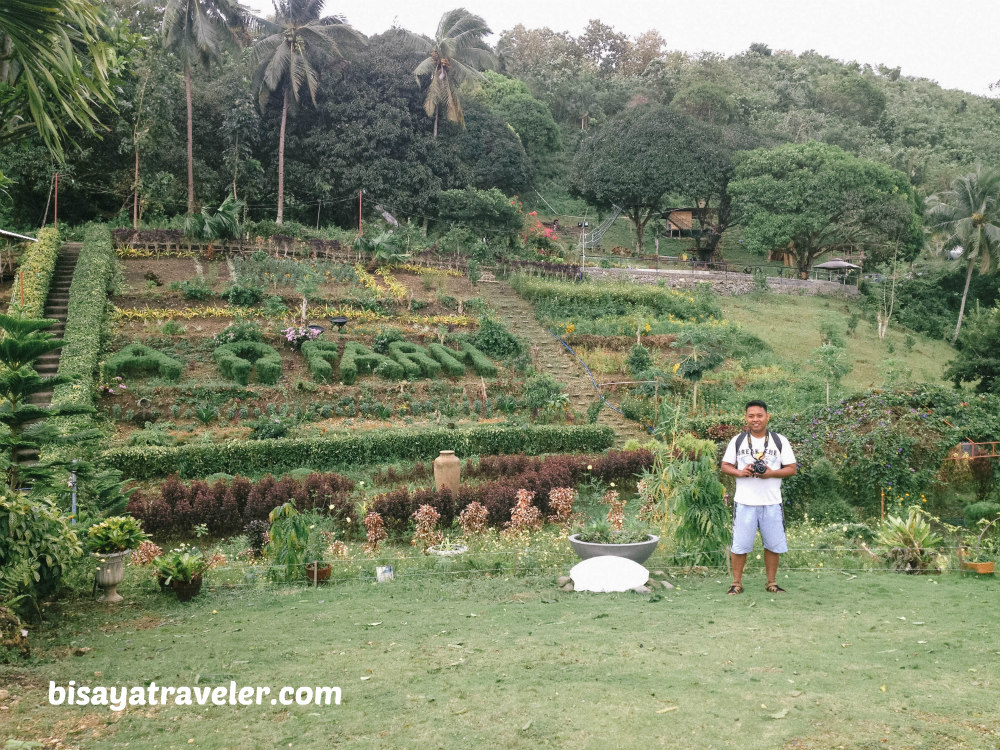 We shuffled our feet to the recreational area of AO Farm, to check out its other diversions.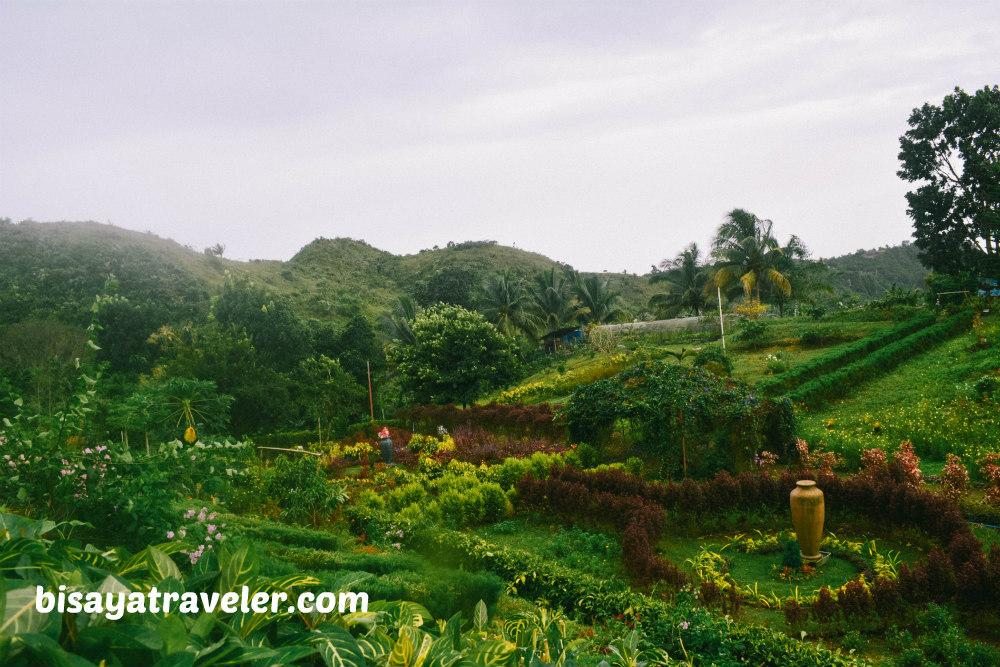 There, we saw a group of visitors enjoying the zipline ride and swings of AO Farm.
For some unknown reason, I wasn't in the mood for a zipline ride in AO Farm, Toong, Cebu. Raul, however, was pumped up to ride the 10-peso zipline.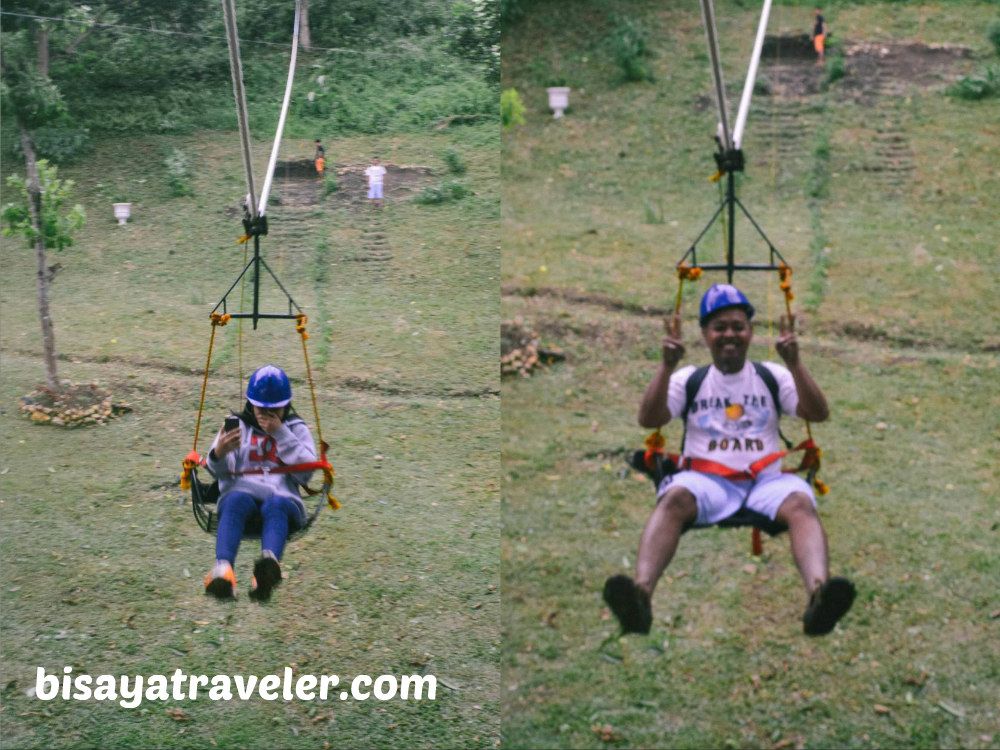 Obviously, he did give it a shot, and it went smoothly, even with his hefty weight.
While Raul was enjoying the kiddie ride, I got a chance to talk with one of the people handling AO Farm.
Through our short talk, I discovered that the future of AO Farm is bright, with all their planned additions. From a butterfly farm to a historic Japanese tunnel, the farm will have a host of attractions in the near future, according to the cool dude.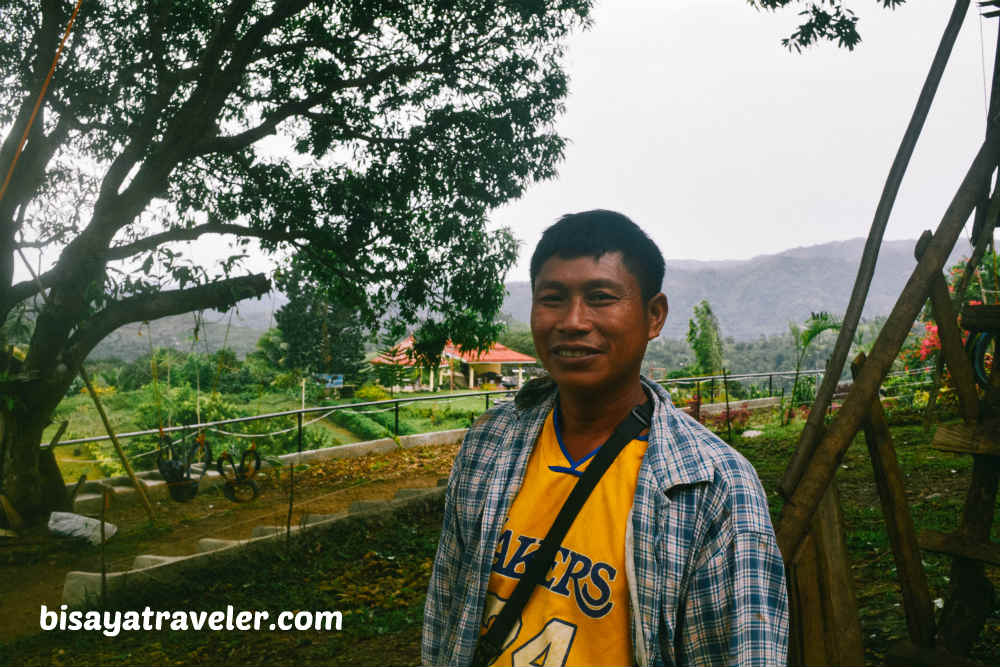 We were about to move on to the other areas of AO Farm, when I saw the rope course hanging above the tree.
Moments later, I found myself climbing the swaying rope course. And yes, it was totally exciting and heart-pumping.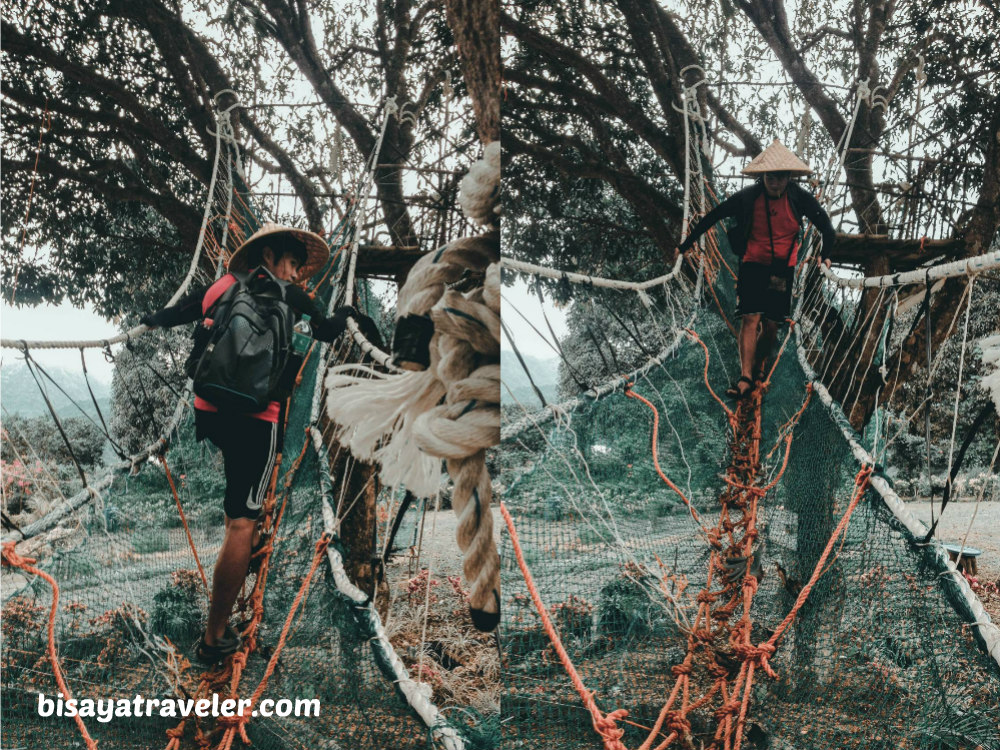 I tried their swings too!
To keep things rolling, we explored the rest of AO Farm, taking a slew of photos whenever we saw a noteworthy sight.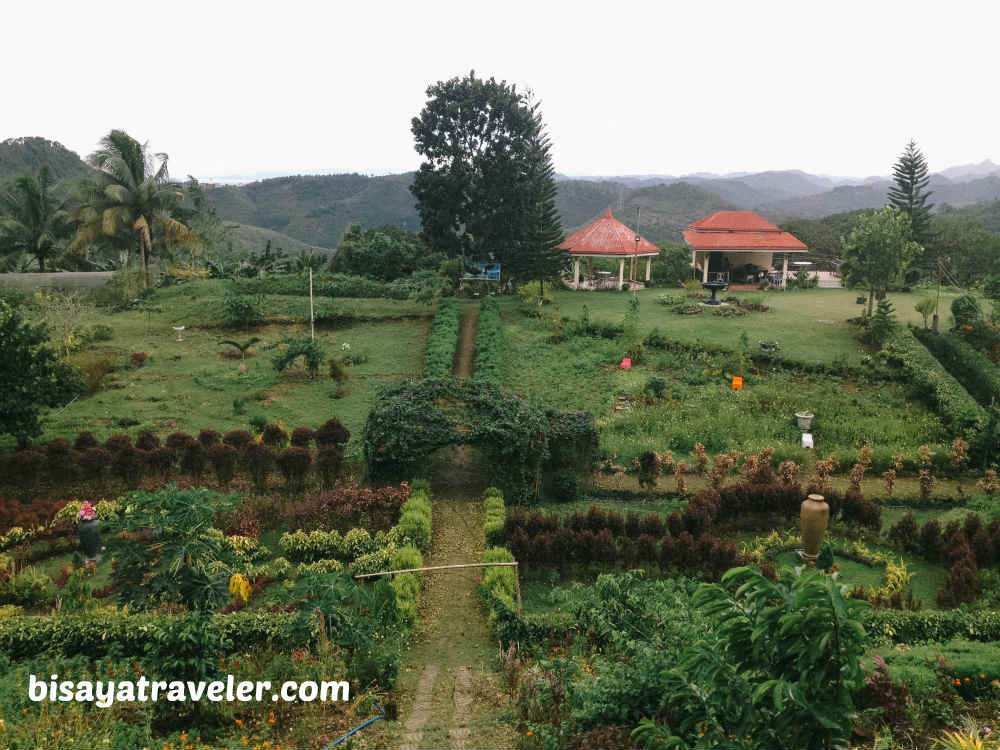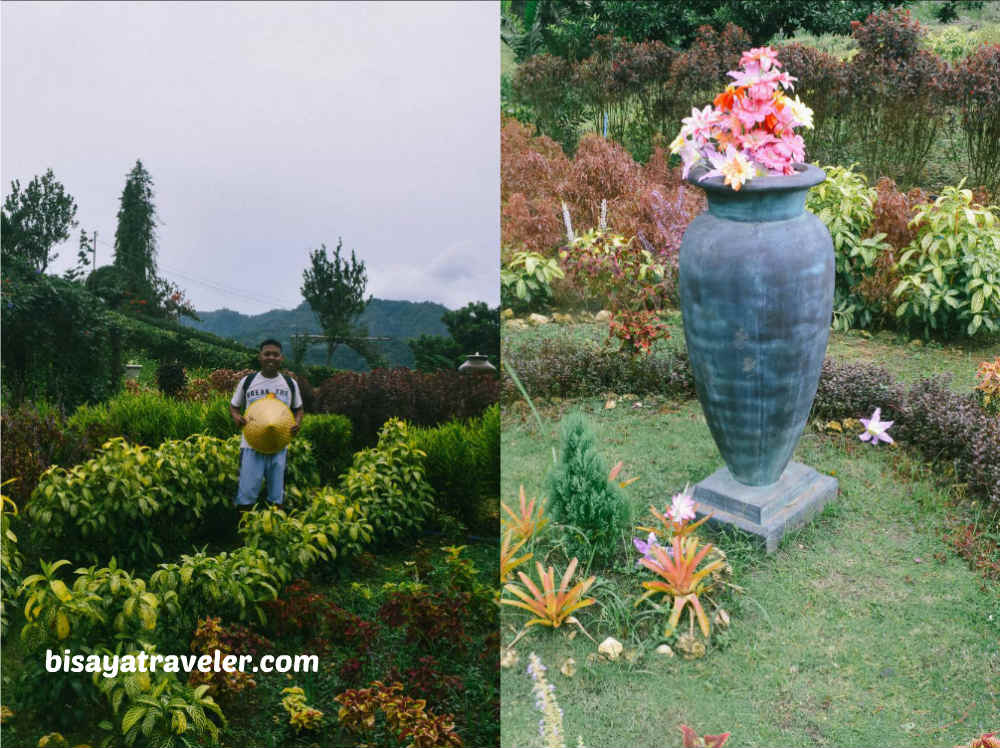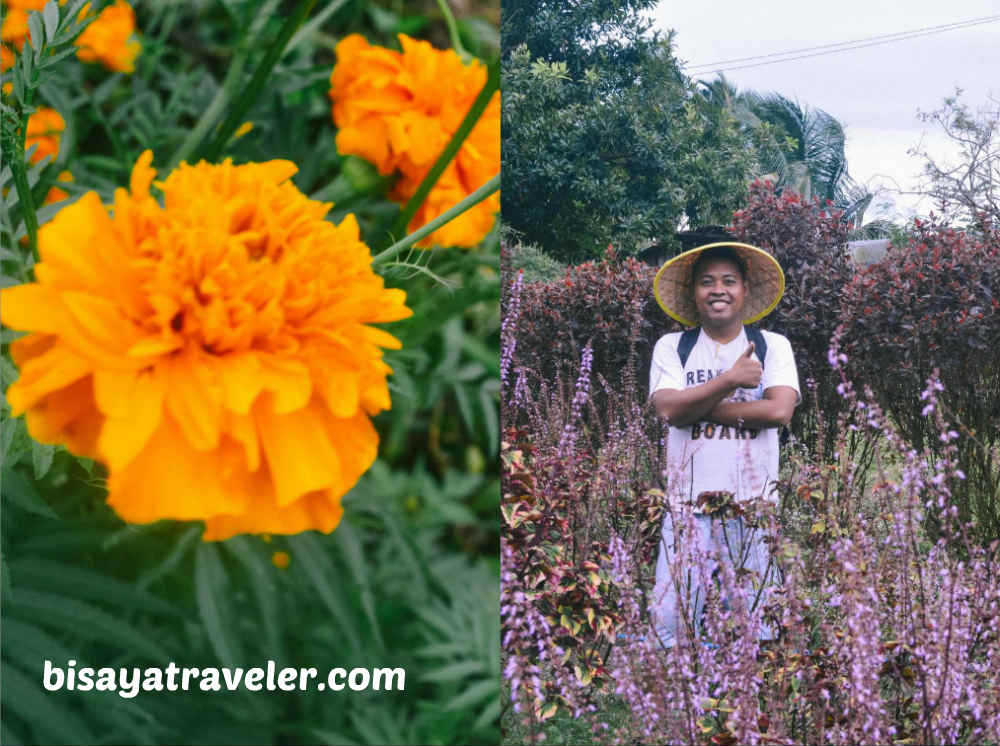 From arches and fountains to fiery flowers, the place is truly a nirvana for photography junkies.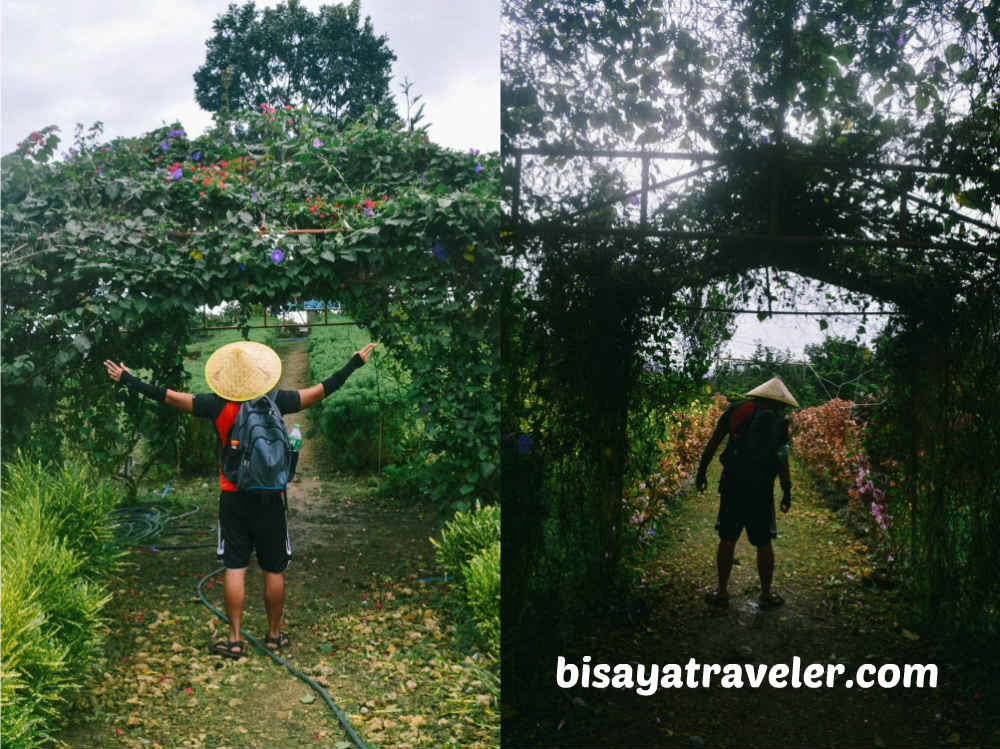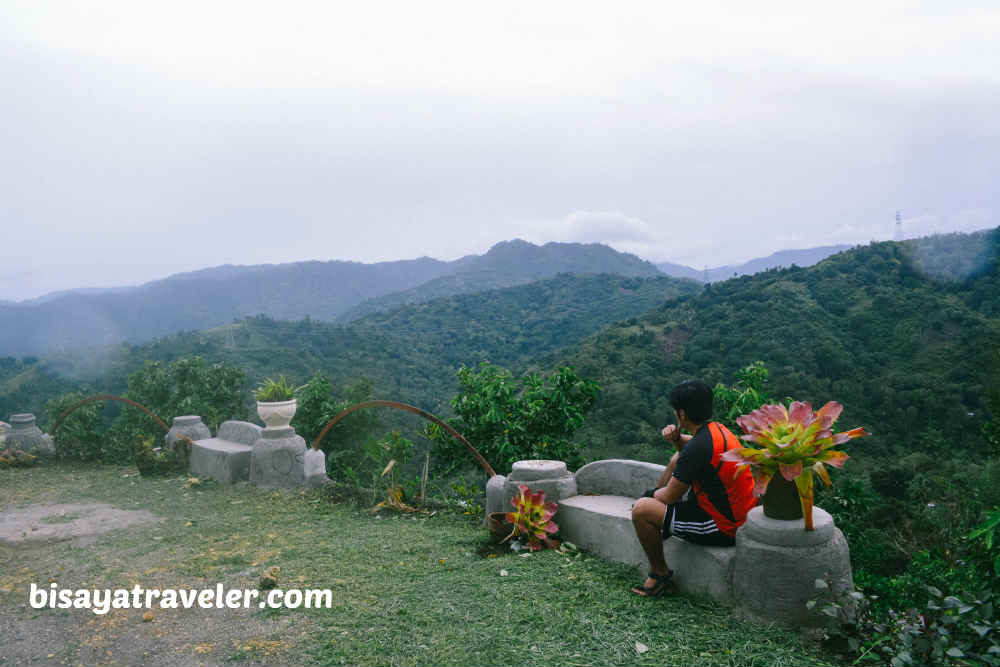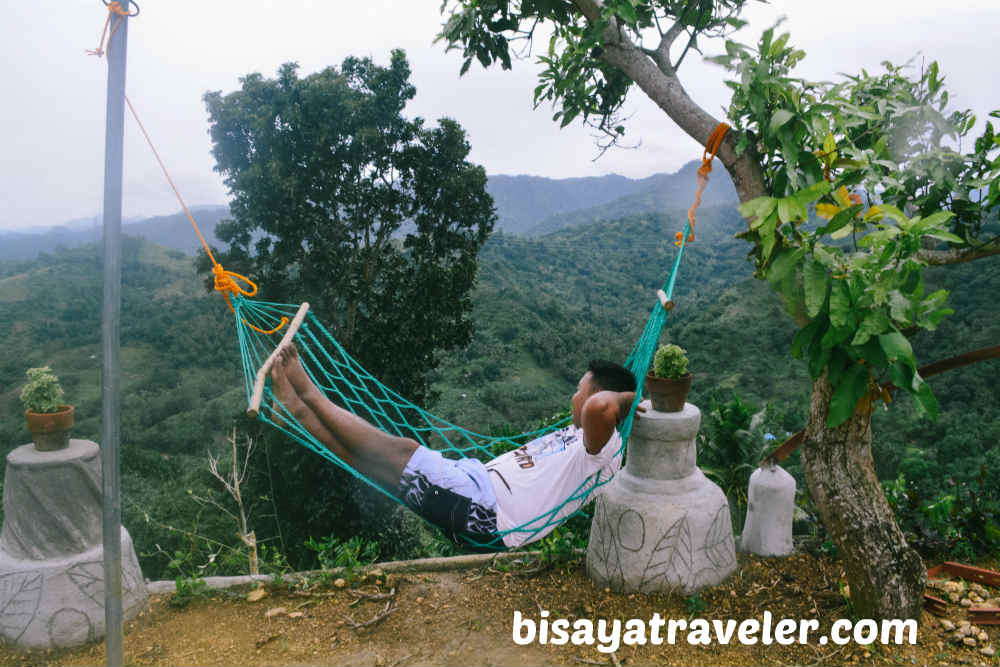 Although it was still early, it was getting darker, and the atmosphere got chiller.  That's why we went home early on our adventure in the highlands of Cebu.
I've already made a bonehead decision earlier, and I certainly won't make another one. As Raul said, lighting doesn't strike twice.
My AO Farm itinerary:
10:00 AM: Meet-up at Punta Princesa/ depart for San Carlos Heights
10:30 AM: ETA main gate of San Carlos Heights/start hike
12:00 PM: ETA Toong
12:30 PM: ETA AO Farm/lunch
01:00 PM: Roam around the park
02:30 PM: Depart from the park (we walk our way to Punta Princesa)
03:30 PM: ETA 711 Punta Princesa/snacks
04:30 PM: Home sweet home
How to get to AO Farm:
Getting to AO Farm is actually easy, if you take the habal-habal option. Just make your way to 711 in Punta Princesa, and embark on a habal-habal ride to the farm (25 pesos per person and per way). If, however, you're up for a hike and feeling adventurous, I suggest that you take the scenic route via Antuwanga, like we did.
Important notes:
Entrance fee to AO Farm is, of 2018, is 20 pesos per person (Quick update: Entrance fee is now PHP 50 per person).
There are other attractions nearby, for the adventurous like the Buhisan's Tulo ka Cross and Toong's Kawa Falls.
For hikers, AO Farm can be a great stop, following your Spartan Trail hike.
Practice the LEAVE NO TRACE principles.
Pack at least a liter of water (for hikers).
Bring ION drinks like Gatorade or Pocari Sweat (for hikers).
Wear trekking shoes or sandals with great traction (for hikers).
AO Farm updates
My wife and I just made a quick afternoon visit to AO Farm, to breathe fresh air and enjoy its scenery. And, there were some new updates and intriguing additions to this booming farm. To my surprise, it's now pretty well-known, drawing tons of sightseers and tourists on a daily basis.
Habal-habal fare from Punta Princesa: PHP 20 to 30 per person (20 for those traveling in 3 per habal-habal and 30 for those traveling in 2).
Zipline ride is now PHP 20.
There are cottages, tents and tree houses for rent, for PHP 200 to 300 a day.
Lastly, I'm the official model of AO Farm. LOL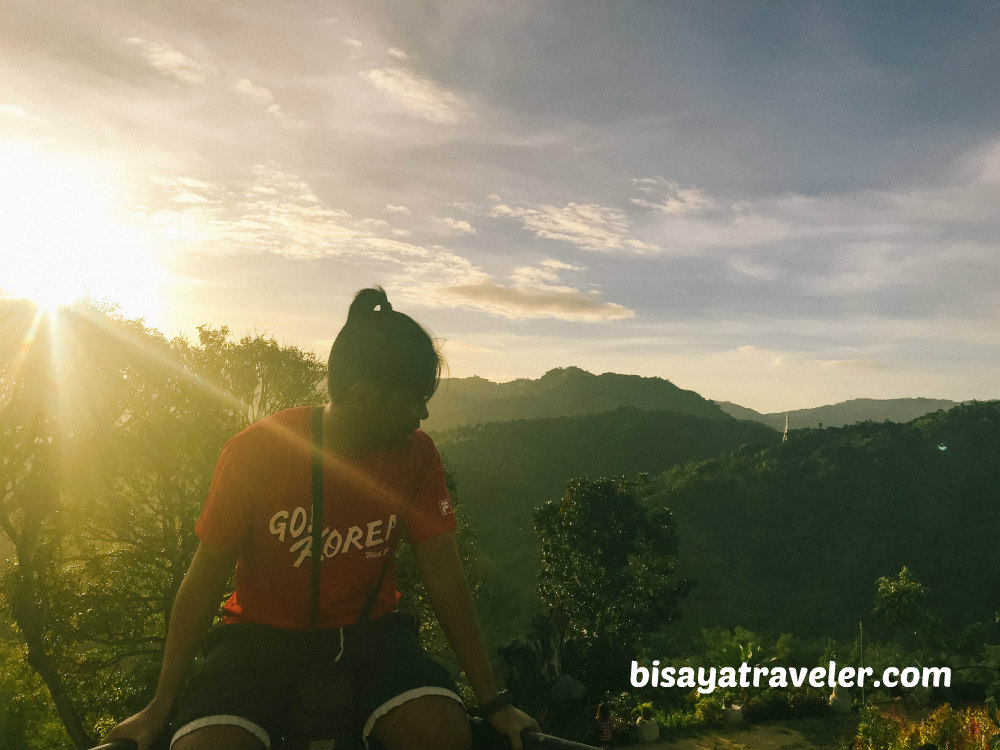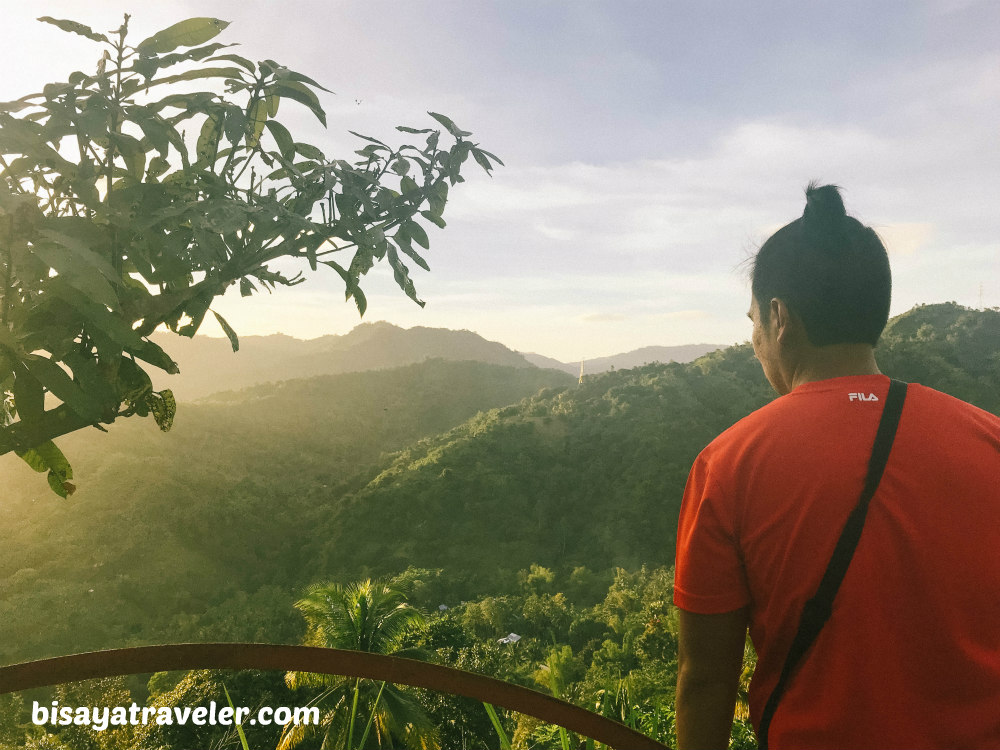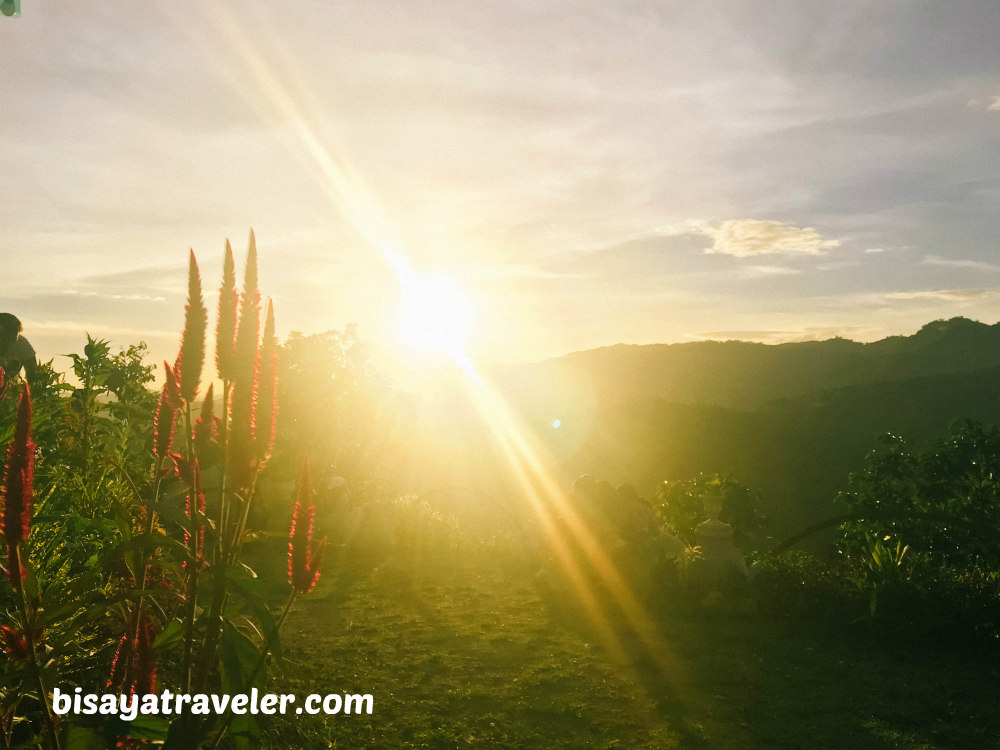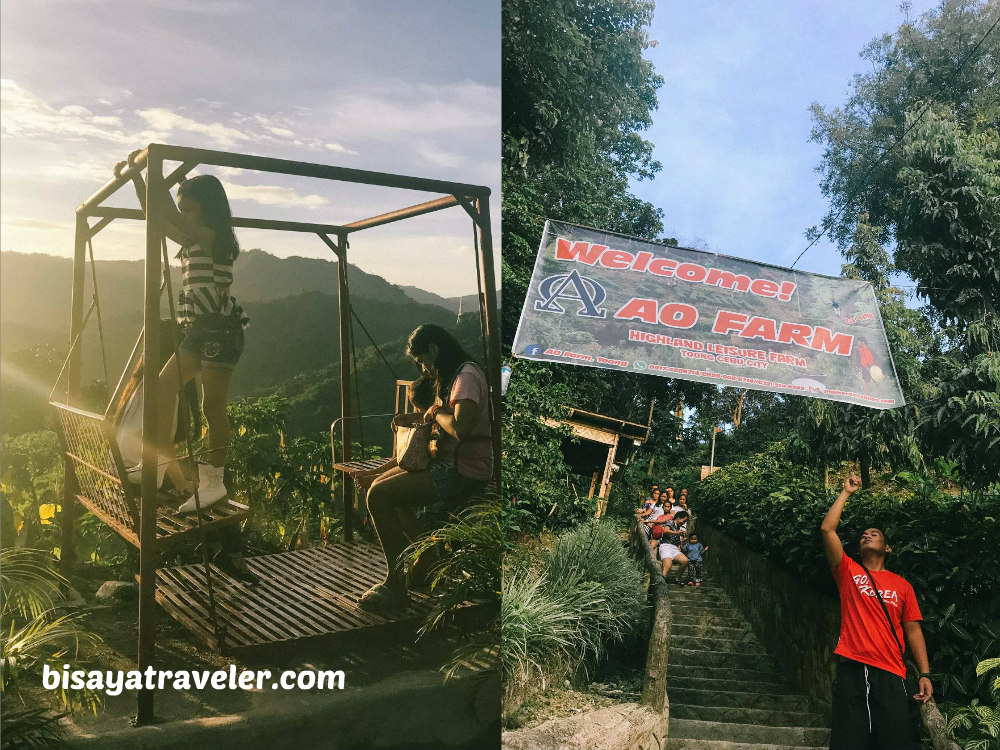 And, did I mention that the sunset views here are nothing short of amazing?
Hanggang san aabot ang 20 pesos mo (or 50 pesos LOL)? As you can see, you don't need to drain your savings, to have a quick and exciting getaway in Cebu or anywhere in the world. Sometimes, all you need to have fun is that crumpled 20-peso bill on your pocket.