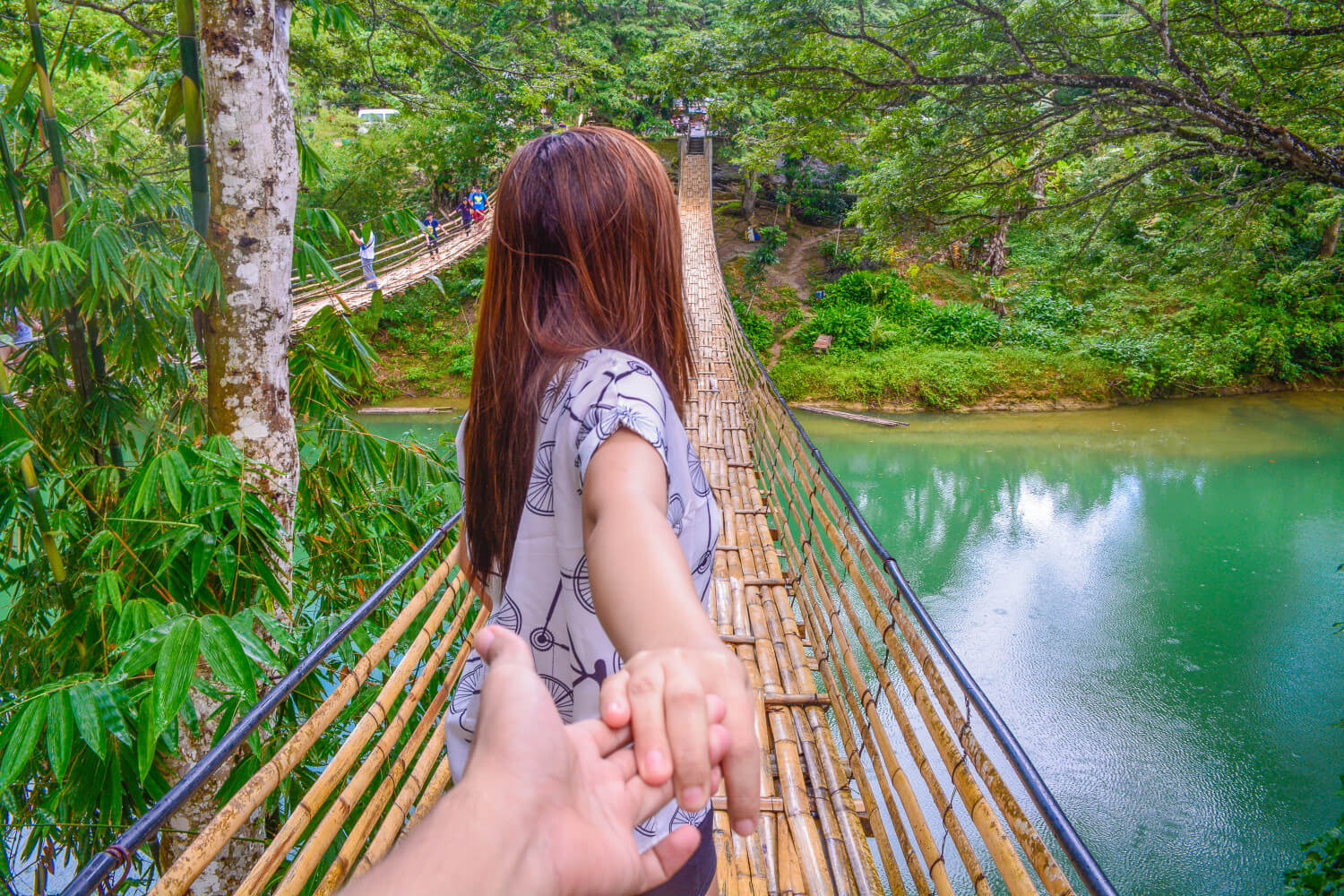 16 Amazing Things To Do In Bohol In Just 2 Days
Bohol is a scenic, remarkable and spellbinding island paradise that never ceases to astonish me. Famed for its world-class beaches, one-of-a-kind landscapes and exotic wildlife, this heavenly hub of beauty has a cornucopia of delights, attractions and diversions to keep me and anyone else entertained for weeks. And though it's not as popular as Boracay and Palawan, it is, as far as I'm concerned, a mesmerizing destination every Pinoy should visit at least once in their lifetime.
From its chocolate-like mounds to its majestic heritage sites, Bohol has so many fascinating wonders and treasures that it would be impossible see all its lovely sights in a week. And I really would recommend everyone planning to visit it to stay in this hub for a few days.
But, if you're an extremely busy person, you may still indulge on an awesome getaway in Bohol in just a couple of days. While it's a bit short, a 2-day respite in this tropical hub is enough to fall in love with this heavenly and magical destination.
Planning on going on a weekend trip or a short getaway in Bohol? Here's how you can experience the beauty and charms that Bohol holds in 48 hours or less.
Day 1: Bohol countryside tour
1. Catch a glimpse of Bohol's beloved Chocolate Hills
A great way to start your Bohol trip on a high note is to visit its most iconic sight – the Chocolate Hills. Known as one of the country's most photographed landmarks, the Chocolate Hills are a wondrous sight that will surely snatch your breath away. Praised for its extraordinary geological formation and incredible symmetry, this renowned attraction is an impressive series of hills covered beautifully in grass, and scattered throughout the municipalities of Carmen, Batuan and Sagbayan.
Cost: You may catch these wonderfully unusually wonders either at Sagbayan Peak or the Chocolate Hills Viewing Deck in Carmen. Price for admission for the viewing deck in Carmen is 50 PHP (per person), while entrance to Sagbayan Peak costs 20 PHP (per person).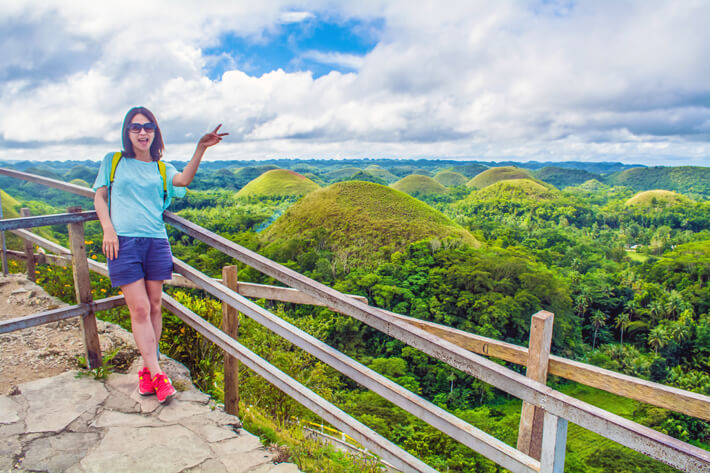 2. Cross Chocolate Hills Adventure Park's hanging bridge
Every visitor of the Chocolate Hills Adventure Park is entitled to walk across its 52-meter long hanging bridge. On the surface, it looks simple, dull and not-so interesting, but trust me, this bridge is rather shaky and a little challenging. As an added plus, the bridge will give you an overlooking view of the park's lush landscapes.
Cost: 60 PHP a person for the entrance
3. Experience a memorable and heart-pumping bike ride
For a heavy dose of fund and adventure in Bohol, make sure to experience the park's popular bike zipline ride. With this spine-tingling bicycle trip, you'll get to pedal your way on a sturdy 550-meter long cable that's suspended more than 100 feet above the ground. It's exhilarating and will also give you awe-inspiring panoramas of the Chocolate Hills.
Cost: 450 PHP
4. Try the park's other attractions
And by the way, there are quite a few other fun-filled attractions and adventures within the park, besides the bike zipline ride, including treetop rope challenges, sumo wrestling and zorbing. For more information about their offers, visit their official website.
5. Pay a quick visit to country's first man-made forest
A visit to the first man-made forest in the Philippines – The Mahogany Man-Made Forest – is something that should be included to your list of things to do in Bohol. Mystical and chilly, this artificial forest exudes a relaxing feel to all those who visit it. With its slender towering trees, lush vegetation and ethereal backdrop, this man-made marvel give you an urge to snap a plethora of selfies and wacky barkada photos as well.
Cost: Free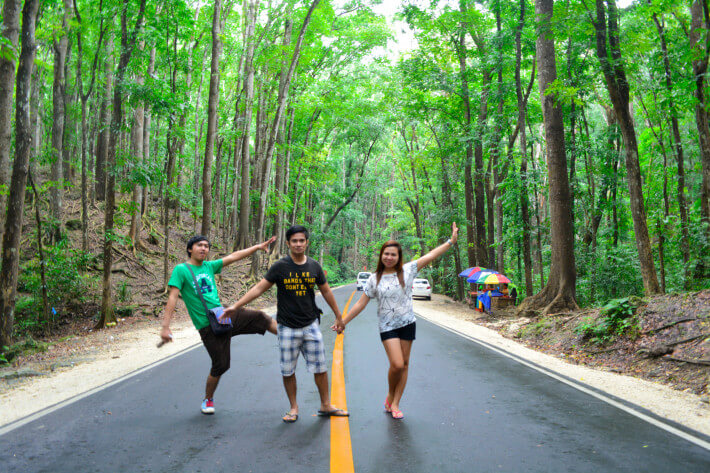 6. Get a close look at one of the world's smallest primates
Do you love animals? Then, visit Loboc's Tarsier Conservation Area, and get a glimpse of Bohol's famous primate – the Tarsier. Quirky and adorable, these little creatures are truly the undisputed star of the island's wildlife.
I, honestly, didn't get to see much of these cute fellows in the conservation center. And as far as I know, only six tarsiers in Tarsier Conservation Area are available for public viewing. They are a little hard to spot too, especially when it is raining. Nevertheless, it is nice layover, when you are taking the Bohol countryside tour. Plus, with your donations and entrance fee, you are also helping preserve these endangered and exotic creatures.
Cost: 50 PHP for admission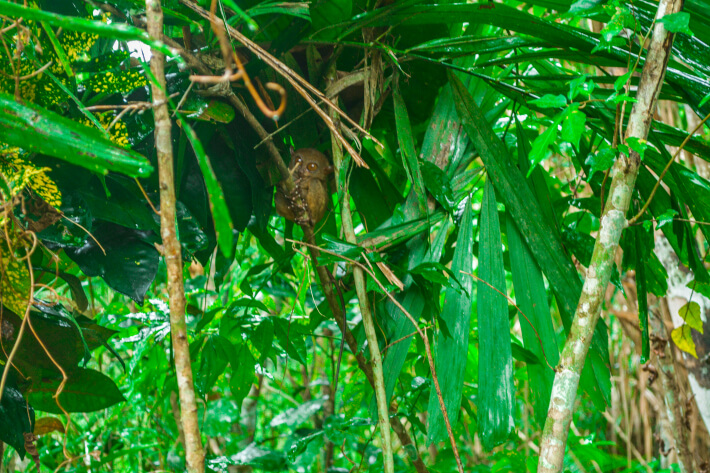 7. Cross the picturesque bamboo hanging bridge in Sevilla
It's not an engineering marvel, but it's a uniquely designed footway with great overlooking views of the gorgeous emerald river below. Also, crossing it can be a thrill, and certainly won't be easy, especially to those who are afraid of heights.
Once you're on the other side of the bridge, you'll be greeted by a group of vendors selling fresh coconut juice, local delicacies, cheap eats and souvenirs. Furthermore, a visit here will give you a chance to meet Mang Peping, or also referred as Buko King – the renowned Boholano who can peel off a coconut husk using only his teeth in 20 seconds or less.
Cost: 20 PHP for the admission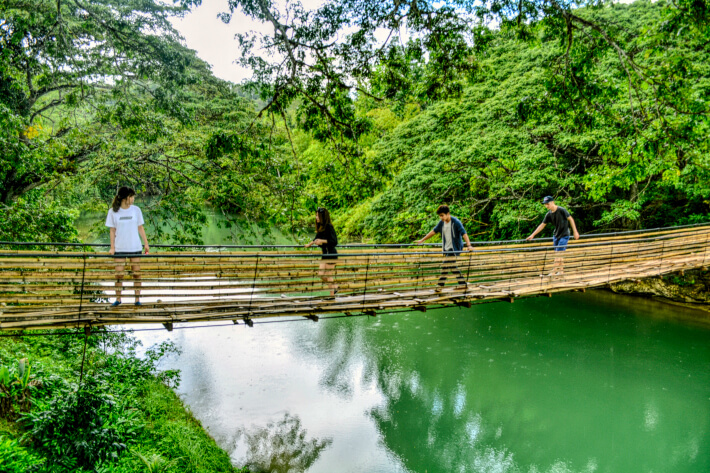 8. Indulge on a scenic and hearty lunch with the Loay River Cruise
One of the best ways to end the first half of your Bohol countryside tour is to take a Loay River Cruise. Full of tasty traditional Filipino food and tropical fruits, the cruise will not only appease your grumbling stomach, but will also give you scenic views of the river and its landscapes. Moreover, there will be a local musician who will serenade you with a diverse mix of folk and pop music.
What about the Loboc River Cruise? Personally, I think the Loay River Cruise is much better than Loboc's version. It's less crowded, and has more incredible sights.
Cost: 399 to 499 per person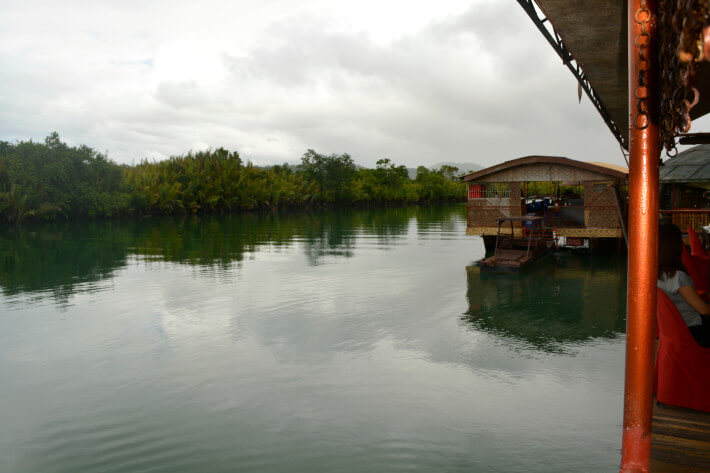 9. Visit the Ati Tribe
Unlike in Loboc, the Loay River Cruise will include a stop to the Ati Tribe – a preserved made up of real Ati people. While the people in this tribe have adapted to the modern world and are a bit exposed, this small replica village will still give you a sweet insight of their fascinating culture and past.
Cost: Free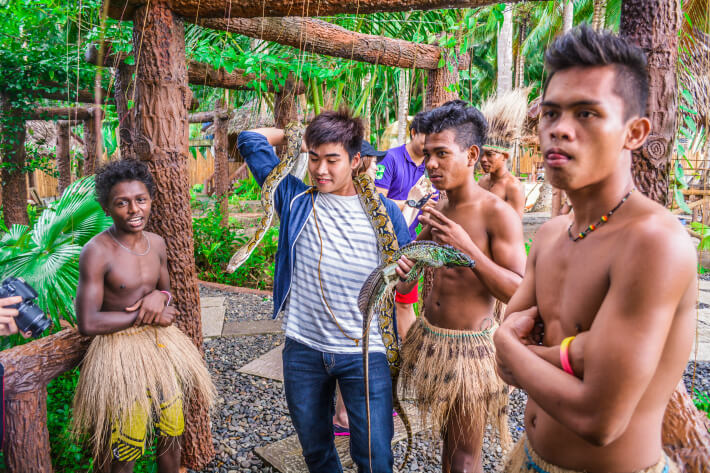 10. Drop by Baclayon Church and Museum
Declared as a National Landmark in the Philippines, the Baclayon Church and Museum is a historic gem that will remind its visitors of the country's Spanish Colonial Times. Inside Baclayon Church and Museum, you will get to see a nice collection of antiquities, relics and religious centuries-old artifacts, including books with carabao skin covers, a Jesus Christ ivory status, golden ecclesiastical vestments, and a whole lot more.
Cost: 50 PHP
11. Take a quick sojourn at the Blood Compact site
The Bohol Blood Compact Monument, magnificently built by Napoleon Abueva, is a bewitching collection of statues that depict an important event in the country's history. These life-size statures are placed on an open and raised platform, portraying an image of five men gathering around a table with Legazpi and Sikatuna making a toast. Aside from these interesting sculptures, the site offers a lovely vista of the Bohol Sea.
Cost: Free
12. Chill out at Panglao
The Panglao is, in my book, the ultimate nighttime destination in Bohol. Though its nightlife scene isn't as vibrant as Boracay's, it is nonetheless a terrific place to chill out after a frenetic day of touring Bohol's landmarks and attractions. Here, you can pamper yourself to a rejuvenating massage on the beach, enjoy a night swim, or soak up its enchanting setting. Moreover, the beach has a slew of restaurants and bars that let you chill out and meet other travelers.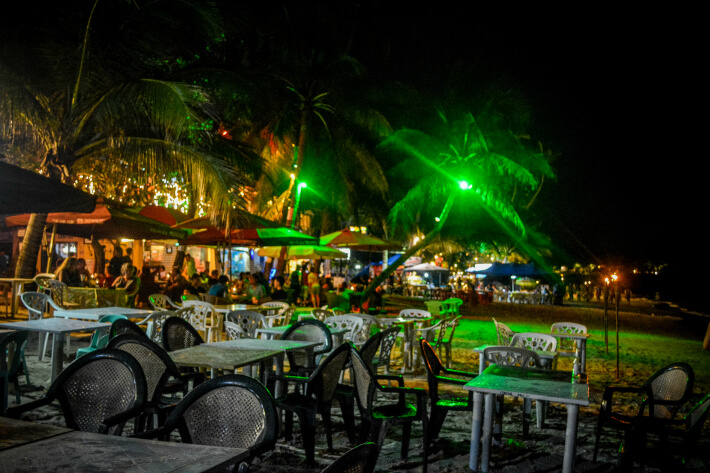 Day 2: Island Hopping and some shopping
13. Watch the island's dolphins
Wake up early, rent a motorized boat, and get a rare chance to see a cluster of admirable dolphins showcase their talents and skills on Panglao's azure waters.
14. Snorkeling in Balicasag
The tour will, then, take you to the island of Balicasag – a secluded island with pristine powdery sands, clear waters and fresh seafood. As a visitor of the island, you can just enjoy the beach, or snorkel to catch sight of clown fish, barracudas and a variety of other sea creatures in their natural habitat.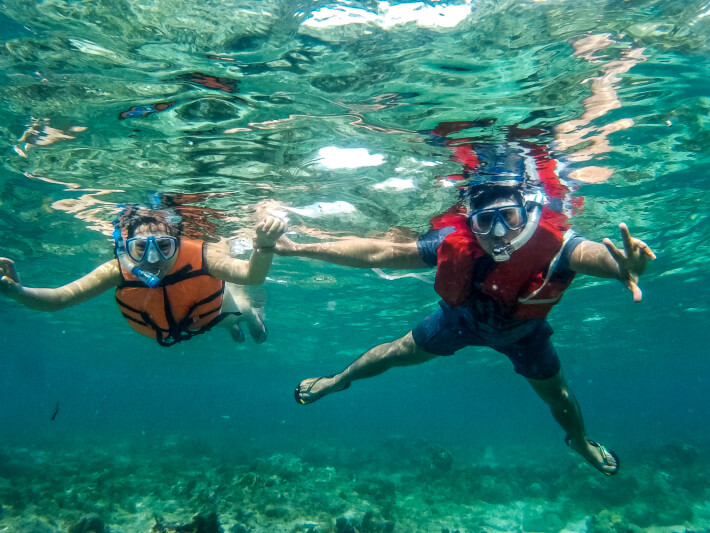 15. Discover Virgin Island
The island hopping adventure will culminate with a stop to the gorgeous Virgin Island. Immaculately clean, peaceful and stunning, the island wows its patrons with its powdery white sands and crystal clear waters. The way I see it, it is a marvelous paradise to do a beach photo-shoot.
Costs: The island hopping tour costs 1,500 to 4,000 PHP depending on the boat's size. Snorkeling in Balicasag costs 100 to 250 PHP per person and the fee already includes goggles, a life jacket and a Bangka rental with a guide.
16. Buy pasalubongs at BQ Mall
Before you leave Bohol, don't forget to buy some goodies and treats for your friends and family back home. BQ Mall is for me one of the best places to buy souvenirs and local delicacies in Bohol. From the Broas Lady Fingers to sweet calamay varieties, the mall has an assortment of cheap, authentic and tasty Boholano treats to offer to both its locals and travelers.
How to get there:
If you are traveling from Manila, there are several direct flights from Manila to Tagbilaran – the capital of Bohol. Those who are coming from Cebu, meanwhile, may hop on a fast craft vessel to Tagbilaran. There's a fast craft vessel traveling to Bohol from Cebu almost every hour, from 6 am to 6 pm. To know more about their schedule, check out this guide.
How to get around:
You can rent a car or hire a habal-habal driver to take you around Bohol. If, however, you are looking for a more convenient option, I suggest that book a Bohol tour at Tickets to Ride. They offer great deals, plus they allow you to customize your trip.
Got a question? Feel free to send a private message to my Facebook account. Ciao!