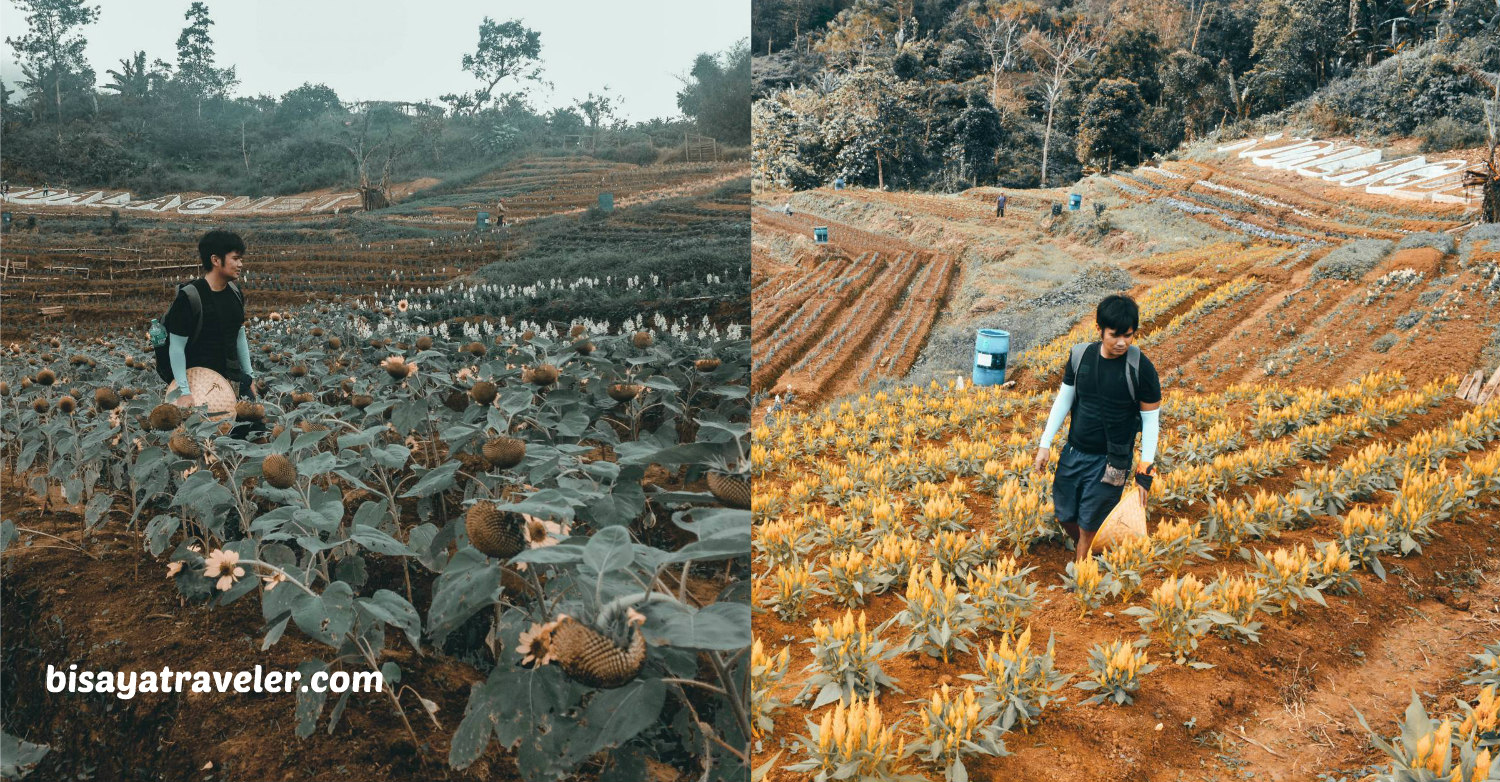 Techno Demo Farm: The Perfect Appetizer To A Scenic Dalaguete Adventure
Thank goodness for social media! In spite of its daily dose of fake news and senseless millennial rants, social media has been a blessing to me, as an adventure connoisseur.  Not only did it help me find a lifetime's worth of friendships, but it also gave me inspiration and blueprints for my future trips. And best of all, social media has led to a ton of wondrous discoveries in Cebu, such as Dalaguete's up and upcoming flora haven – Municipal Techno Demo Farm. Truthfully, it has been one of my ultimate tools, when plotting my trips and adventures.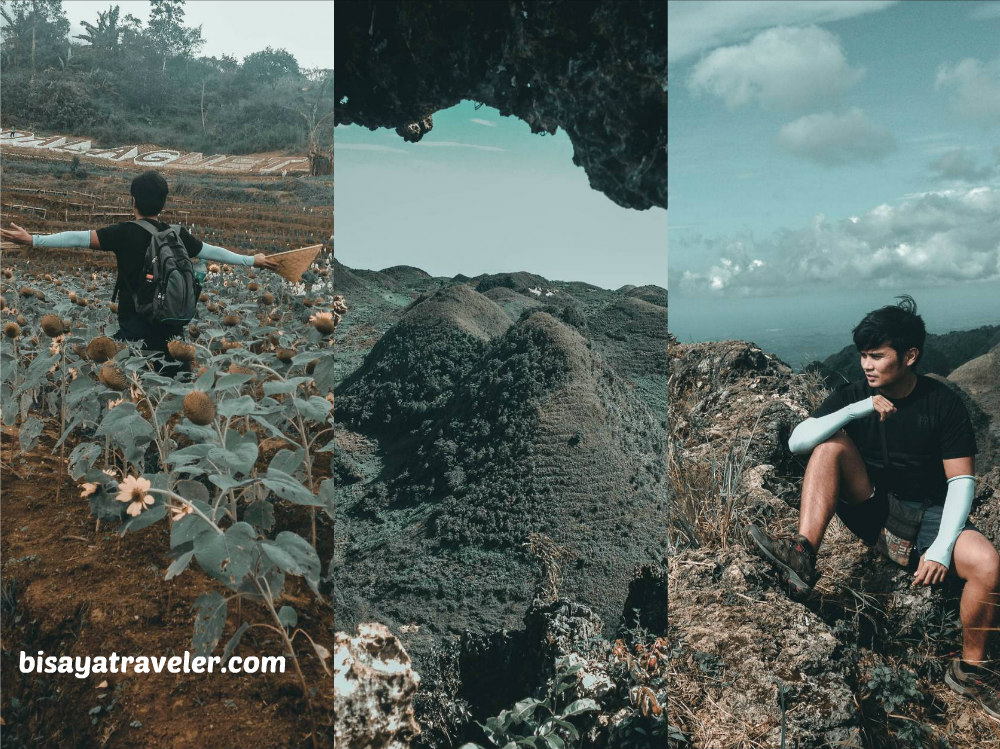 And speaking of social media, I just saw a bunch of pictures on Facebook, days ago, of a sunflower farm in Mantalongon, Dalaguete, Cebu. Although I wasn't so sure of its exact address, I had a hunch where it was located – Techno Demo Farm in Alang-Alang, Mantalongon.
Months ago, we – Team Bang – bumped into Techno Demo Farm, as we were scaling 5 majestic peaks in Dalaguete. As it turned out, my gut feeling was right, after all. And so, yours truly and few buddies dropped by Techno Demo Farm, to kick-off a fun-filled outdoor adventure in the highlands of Dalaguete.
My Techno Demo Farm experience
For the first time in a long while, I was hitting the road on a weekday. This time, I was joined by Raul and a couple of new friends – Johoney and Anelle. What's more, I finally got to see in person one of my friends from Ozamis, Charlene, and her fellow teacher, Jasmine.
After our meet-up at Cebu City South Bus Terminal, we took the next bus to Poblacion, Dalaguete. Upon our arrival, we were swarmed by a group of overly aggressive habal-habal drivers, offering rides to Osmeña Peak and other attractions in Dalaguete.
But, before embarking on the ride up to Mantalongon, everyone (expect me) had to eat breakfast, to get some nourishment for the hike.
And, after eating breakfast, we were once again flocked by these enthusiastic drivers. Quite frankly, I was a little pissed off and overwhelmed, every time they assertively approach us.
I get it – we need to work extra hard to earn a living nowadays, but oftentimes their rates are simply outrageous. To make things worse, not a lot of drivers know the exact location of Techno Demo Farm because it hasn't been inscribed by the town's tourism department as an attraction.
Eventually, we agreed to a rate of PHP 100 per person, to get to Techno Demo Farm from Dalaguete proper. According to a local honest driver, the regular rate for this type of ride is PHP 70 per person. But, since we were viewed as tourists, and the drivers didn't know where it's located, we were charged with the regular fare to the base of Osmeña Peak.
I must say those were pretty lame excuses.
Nevertheless, we arrived safe and sound at Techno Demo Farm. And yes, it was the same Techno Demo Farm that I visited months ago with Team Bang.
As I was checking around the area, I didn't see any sunflower or eye-catching floral landscape in Techno Demo Farm. Heck, there weren't even snapdragons around.
Luckily, with the help of a local farmer, we found the blooming flowers of Techno Demo Farm, following a short downhill walk.
Moments later, we caught a glimpse of the sprawling flower gardens of Techno Demo Farm.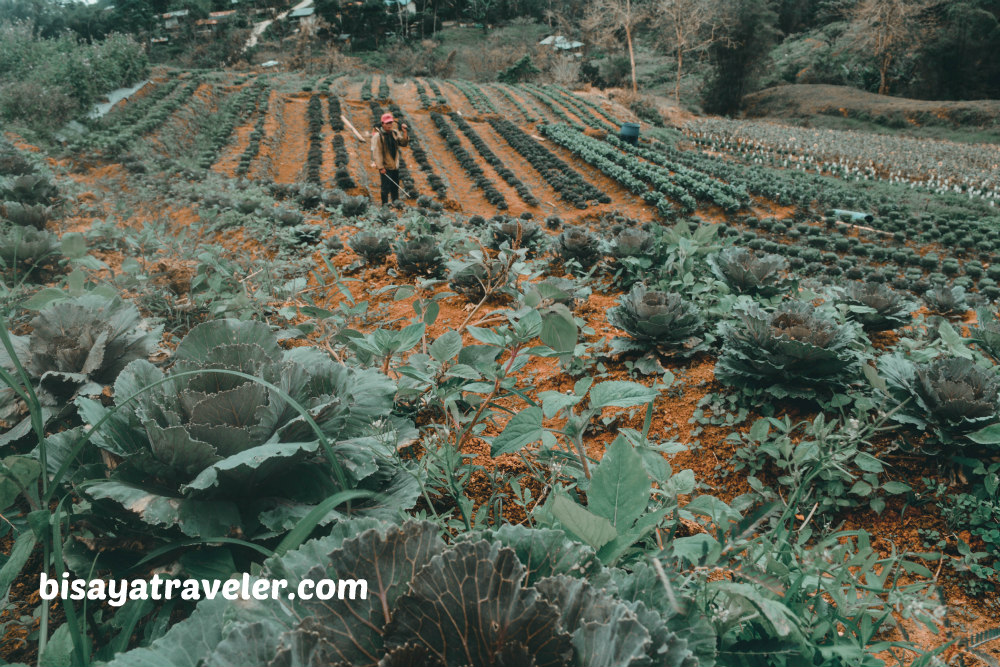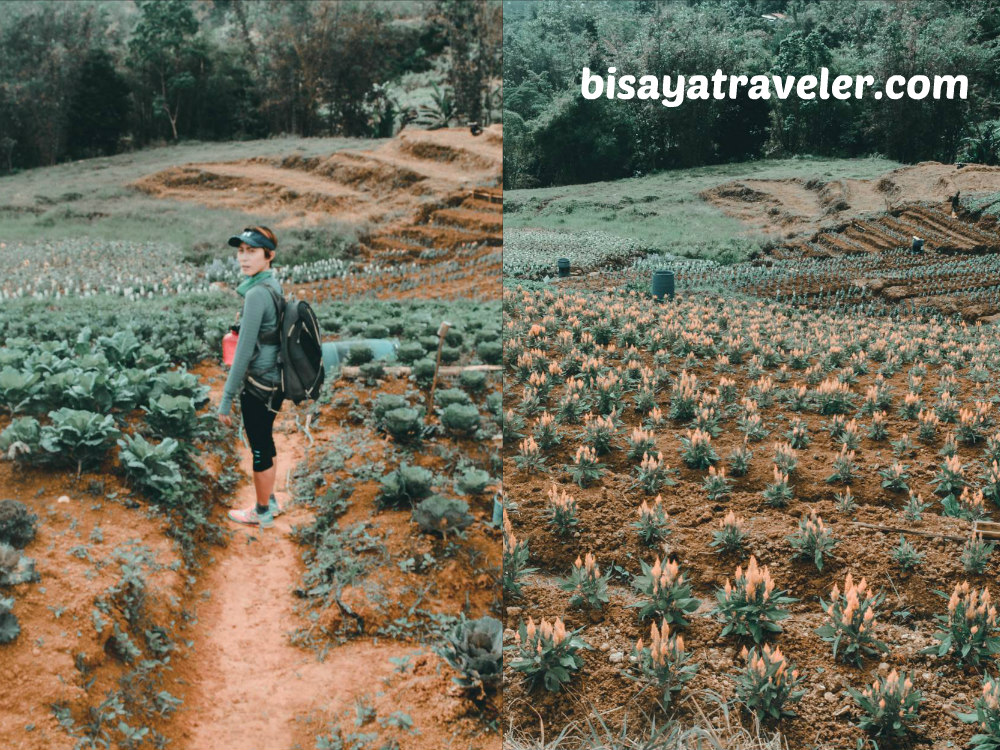 From the fiery celosia flowers (or also known as Sirao flowers) to green leafy vegetables, this part of Techno Demo Farm was absolutely full of lovely colors and sights.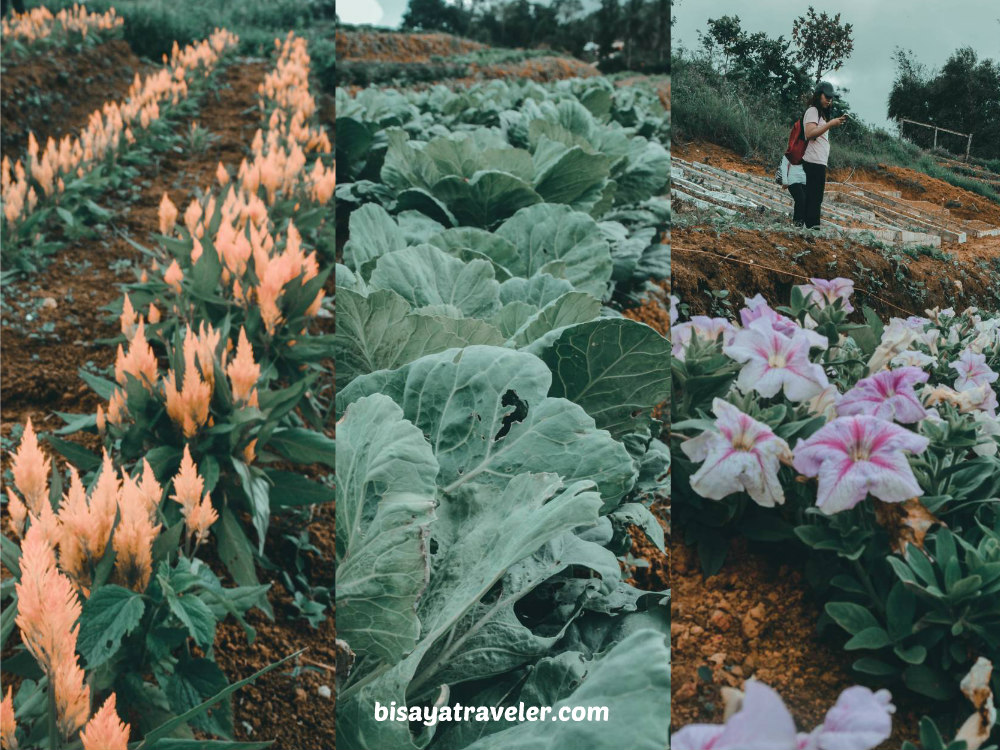 And, while it's far from being a finished product, the floral area of Techno Demo Farm showed some flashes of its potential. As far as I'm concerned, it has the makings of a terrific Instagram-worthy spot in Cebu. With its sprawling land area, healthy soil and favorable weather, Techno Demo Farm is bound to become one of top flower gardens in Cebu. Not to mention, it can be a great base to an exciting and picturesque adventure in Dalaguete.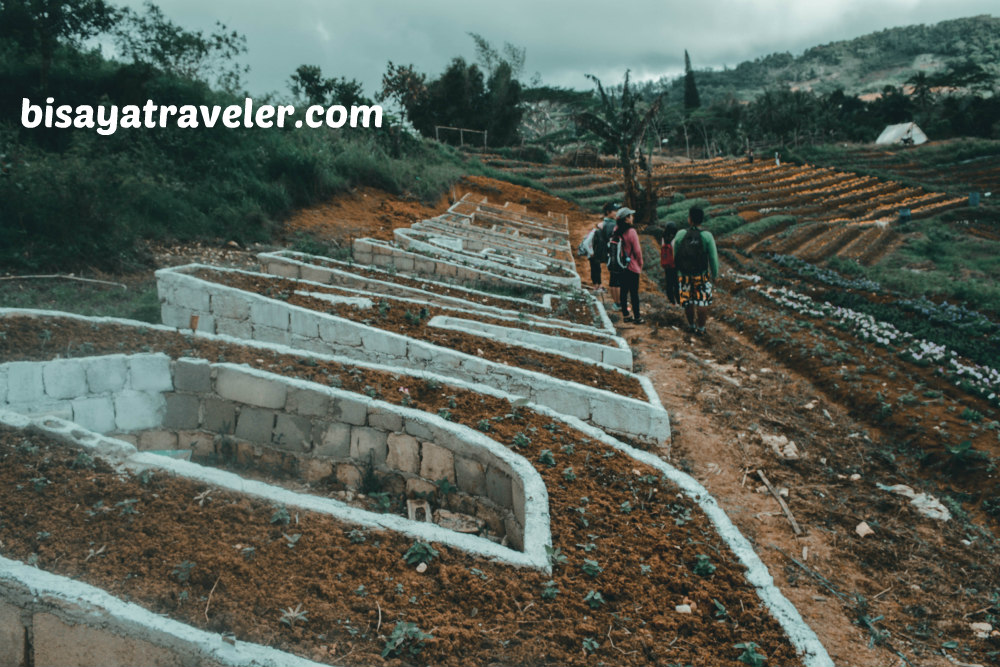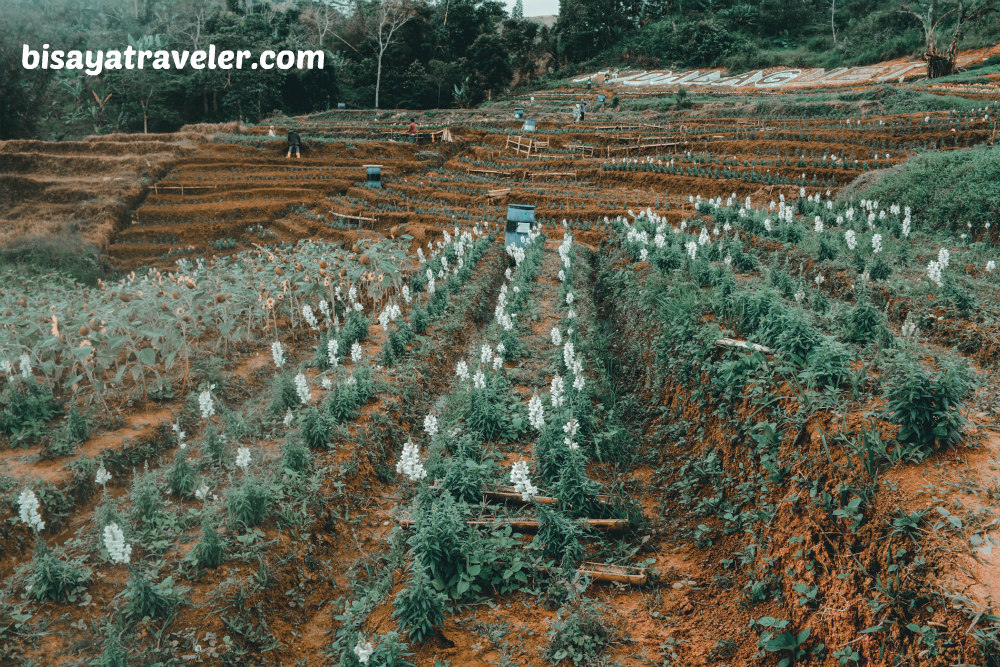 Like most flower gardens, there wasn't much to do in Techno Demo Farm, besides sightseeing and snapping shots. Still, we had a blast enjoying one another's company, taking pictures and soaking up the atmosphere.
To me, the best spot to take photograph in Techno Demo Farm is the sunflower area. Although these sunflowers were slowly decaying and ravaged by the strong winds of the tropical storm (Urduja), they were quite a sight to behold.
As always, we took turns posing in this Instagrammable spot.
When it was Raul's turn to pose, a familiar image or computer game came into mind. To be specific, the picture somehow reminds me of "Plants Versus Zombies". With the sunflowers and other plants in the backdrop and Raul's huge grim, the setting of Techno Demo Farm did look eerily similar to this famous PC game.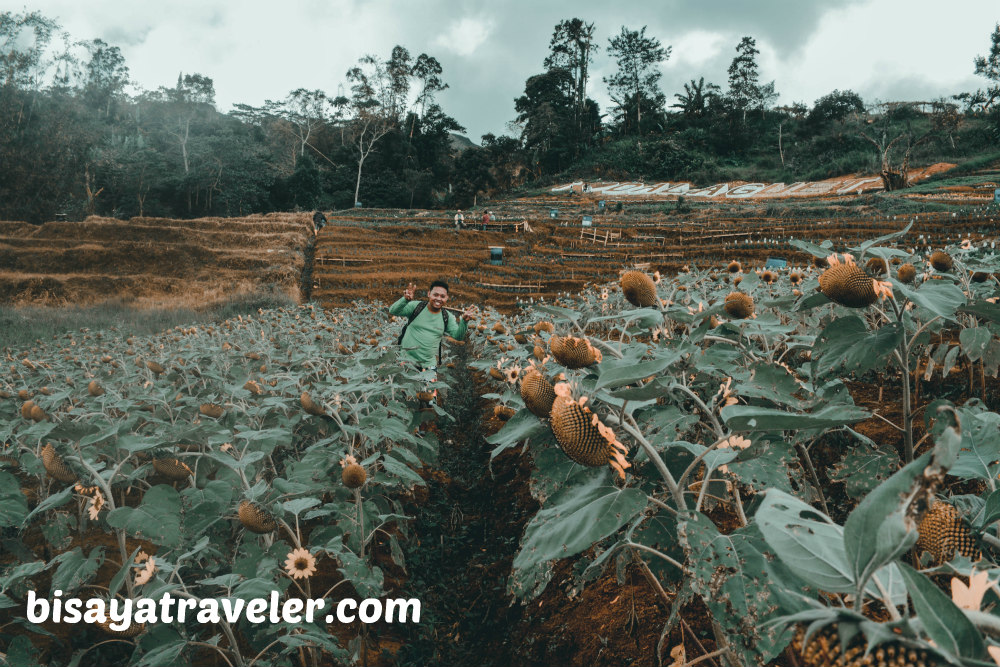 We, then, wandered around this part of Techno Demo Farm, checking out the other flower varieties and vegetables of the gardens.
While the rest was busy exploring the area, I got a chance to talk to a local farmer, and got an inside scoop of Techno Demo Farm.
He revealed some helpful details about the sunflowers and other types of flora in Techno Demo Farm. And based on his personal assumptions and opinions, I figured out that that the best time to visit Techno Demo Farm in 2018 is between February and May.
When that time comes, the flowers will be in full bloom, and the "Dalaguete" sign in Techno Demo Farm will be covered beautifully with sunflowers.
Sounds tempting, right? I guess a return to Techno Demo Farm is inevitable. Hopefully, Dalaguete's tourism sector will reward me with a "suki card" or something like that, for being a loyal patron.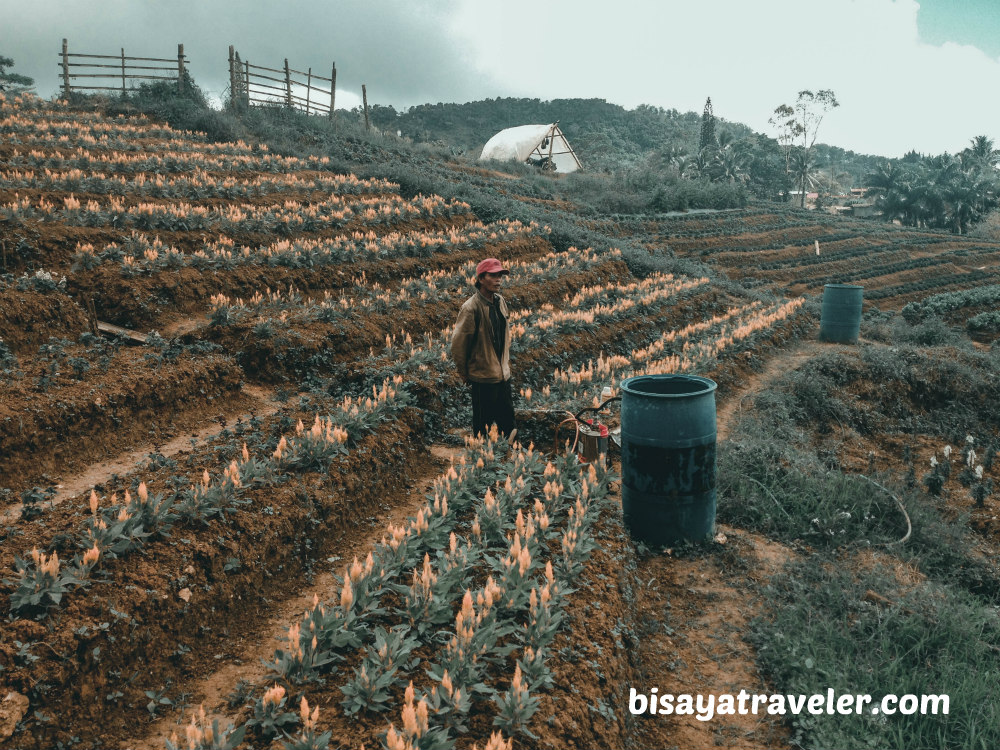 We didn't spend a ton of time, cherishing the atmosphere and sights of Techno Demo Farm. As what my blog title suggests, the Techno Demo Farm is a mere appetizer or an opener to a thrilling day adventure in Dalaguete.
From Techno Demo Farm, we, then, hiked our way to the most mainstream peak in Cebu – Osmeña Peak.
As for the hike, it wasn't really challenging, but the weather was rather moody. One minute the sky was sunny and blue, and the next minute, the road was foggy and chilly. But in the end, the good and bright weather prevailed.
In the words of the wise and old Raul, the reason why we were having such a fine weather was because we were accompanied by 4 lovely angels.
I know Raul's words seem cheesy and illogical, but the guy's got a point. Every time we travel together, bad weather of mishaps happen. Remember, our visit to AO Farm or Lapos Lapos Cave?
Maybe, these people were a godsend to us.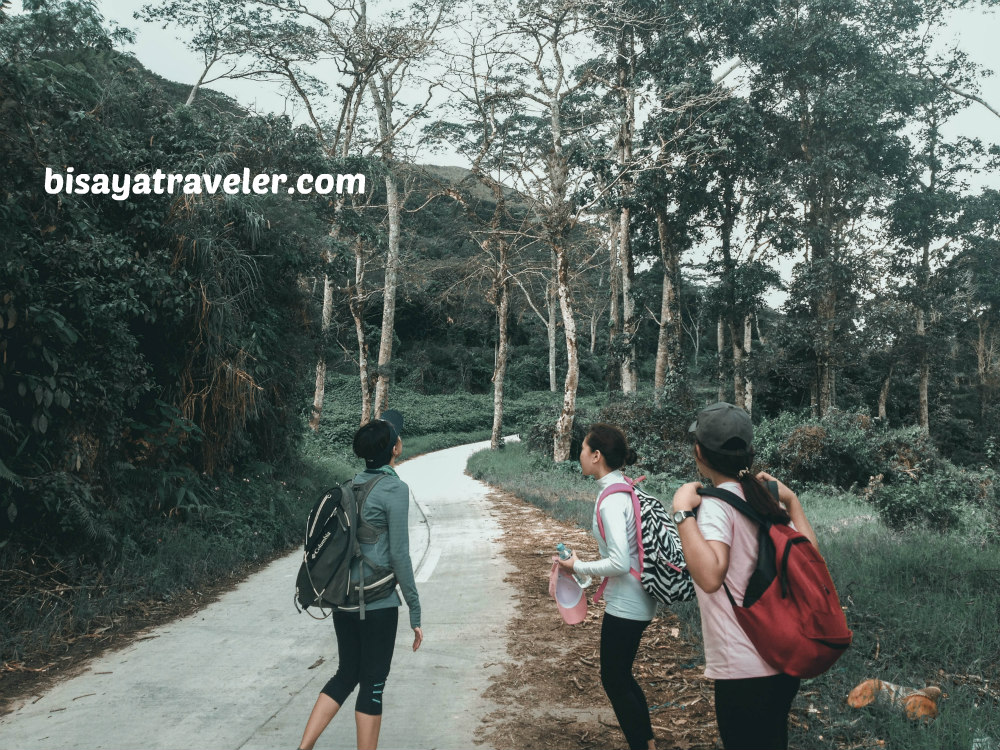 Moments later, we arrived at the base of Osmeña Peak where we registered our names and paid the required fee to the peak. Without wasting any time, we leisurely climbed the tallest peak in Cebu, amidst the scorching heat of the sun.
Surprisingly, there weren't many people scaling Osmeña Peak on our visit. As a matter of fact, we had the peak literally to ourselves on our visit in some instances.
Tatay Raul made his trademark "silhouette pose" on the peak. And, by now, you probably know why I call it "the silhouette pose".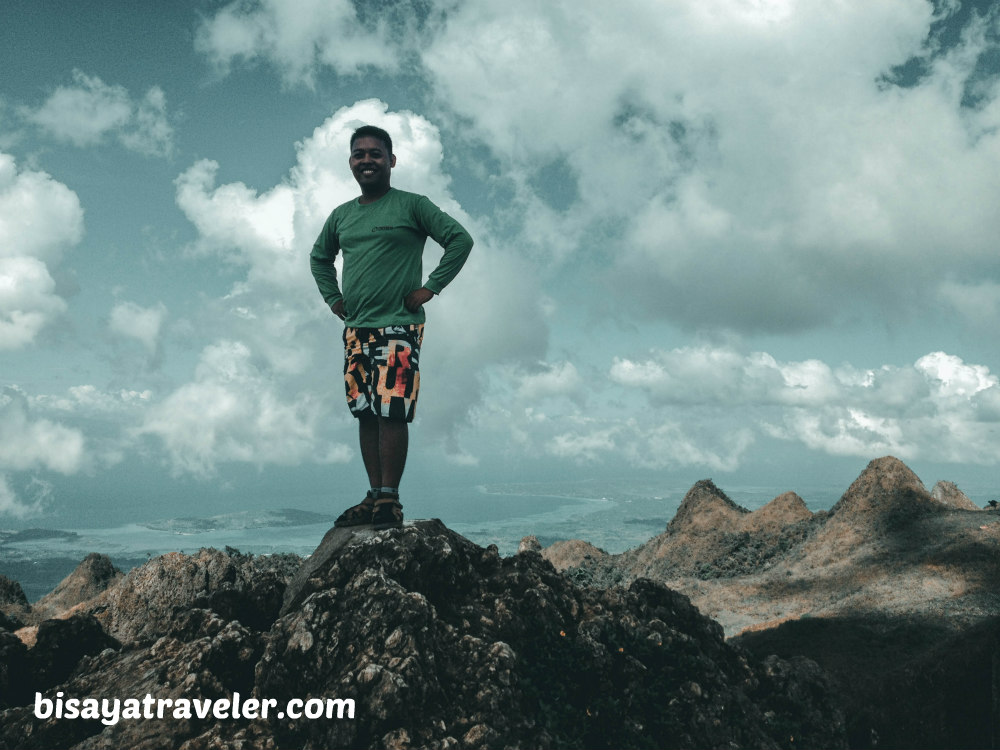 It was too early for us to end our trip in Dalaguete, so we packed up, and made way to my favorite summit on the island – Casino Peak.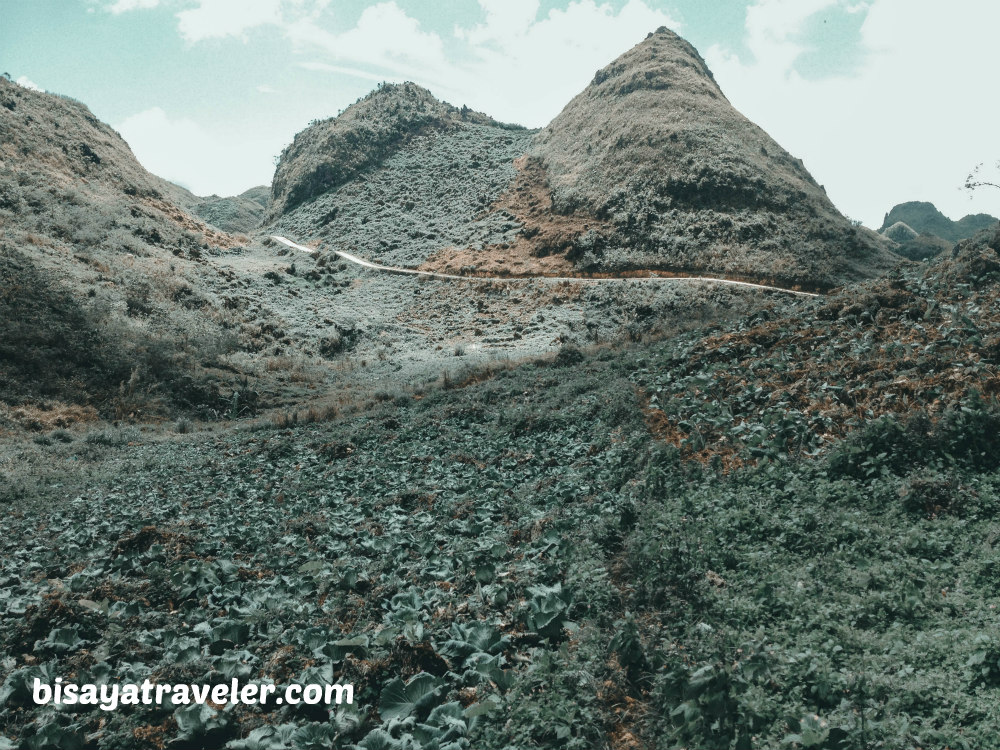 Whenever we saw a noteworthy sight, we took a break, and snap a photo.
In his own quirky way, Raul made a fake pose, showing that he was struggling lifting the heavy vegetable basket.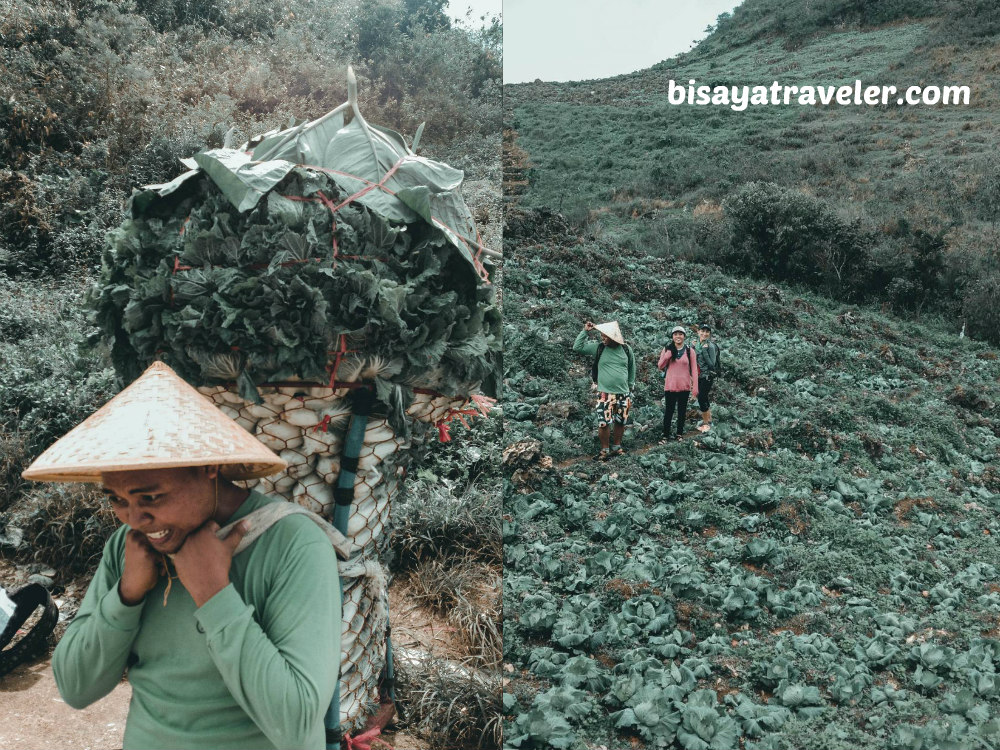 We, ultimately, arrived at the registration center of Casino Peak, to complete the formalities. Afterwards, we climbed up to the summit of Casino Peak, or also known as Lugsangan Peak.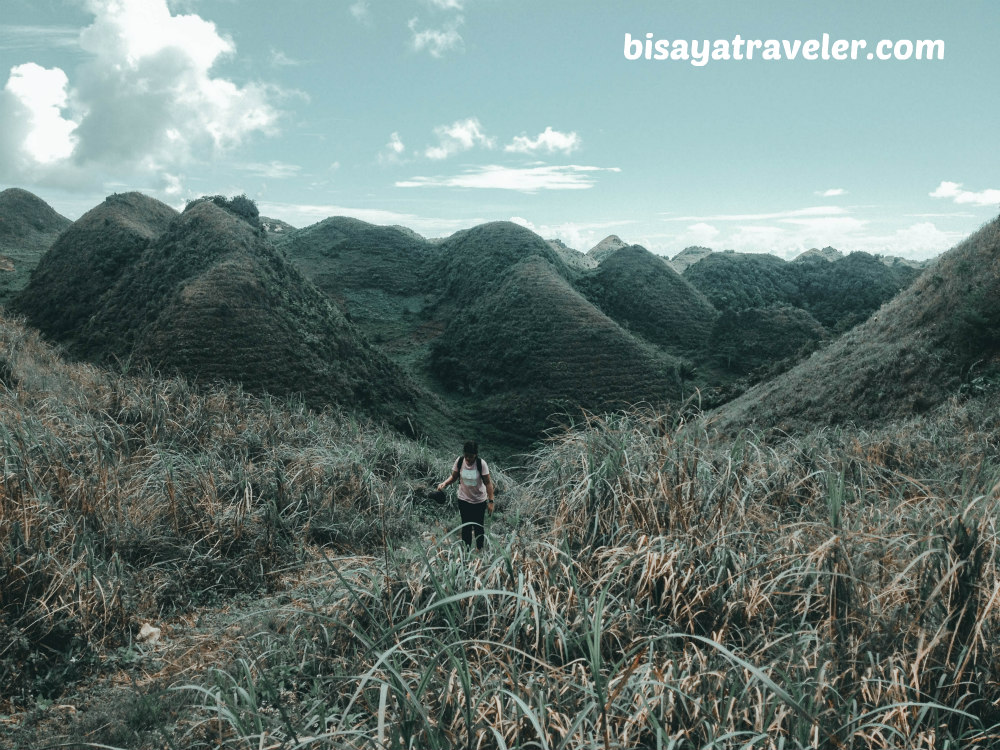 And, the views were nothing short of stunning. Even though I've seen it a number of times, I was still in awe with the beauty of Lugsangan Peak.
With Raul in charge of my phone and camera, I posed from different angles on the summit.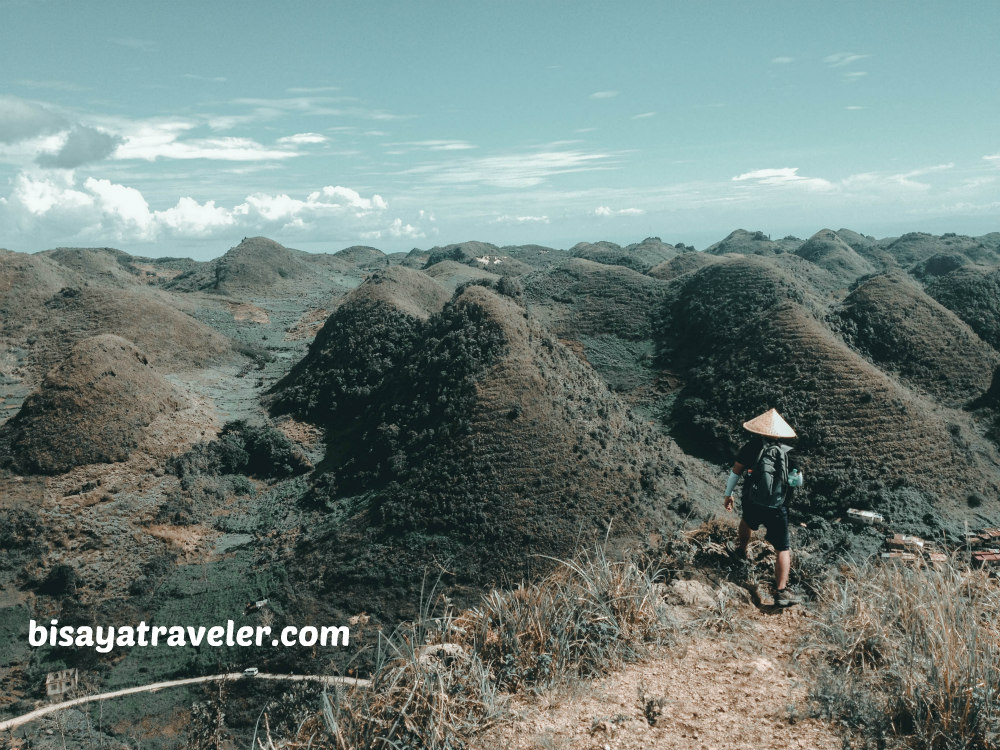 Likewise, the rest had fun relishing the scenery and taking photographs of Casino Peak.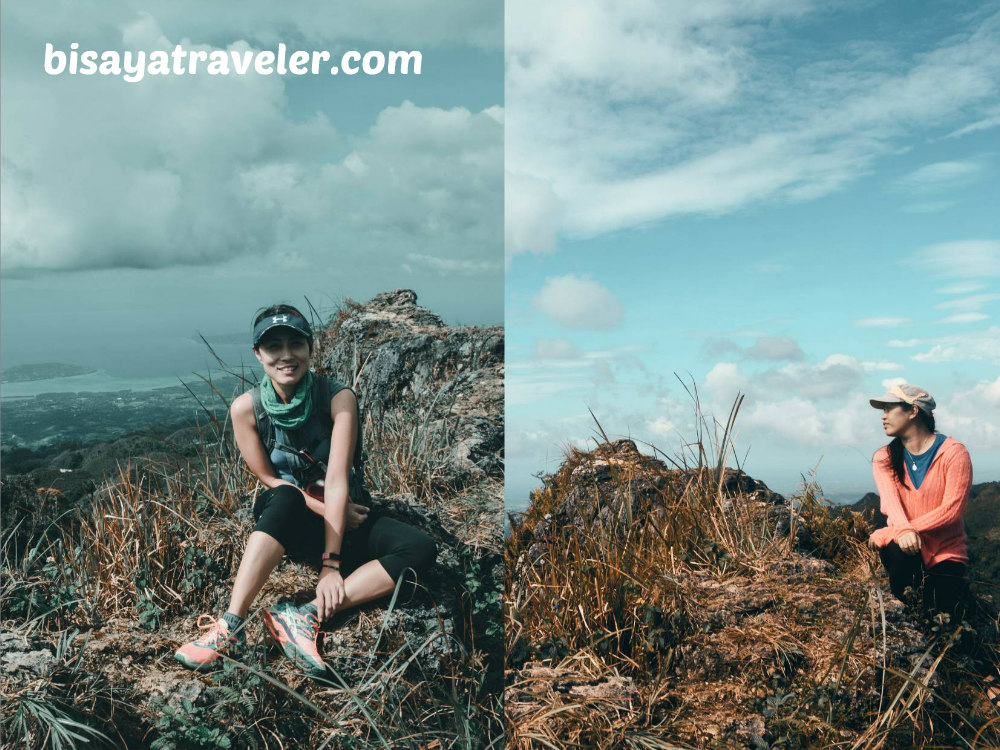 We forced Anelle to wear my conical hat, as she kind of looks like some tourist from a Southeast Asian country.
And, as soon as Anelle wore my hat, I realized that I was hiking with a pair of foreigners. With her Chinita beauty and slender figure, Anelle reminds me of the Chinese or Vietnamese tourists I've met in one of my international trips. Raul, on the other hand, just has the looks of an exchange student from Papua New Guinea, Somalia, Kenya or the USA.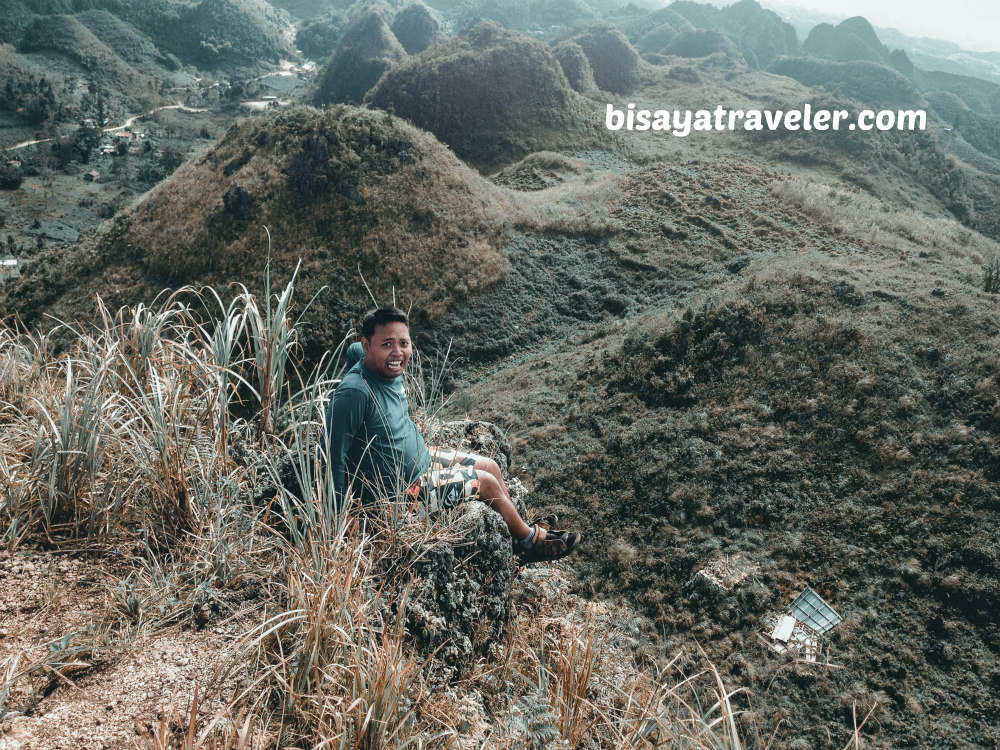 Soon after, we descended from the peak, and made our way to the base of Osmeña Peak.
On our way back, Raul shared some invaluable life lessons and quotes, such as "the perks of taking the harder trail".
As hilarious as Raul is, some of the things that come from his mouth do make sense.
I'm not sure, though, if he learned these lessons through real-life experiences or from the movies or porn videos he watches.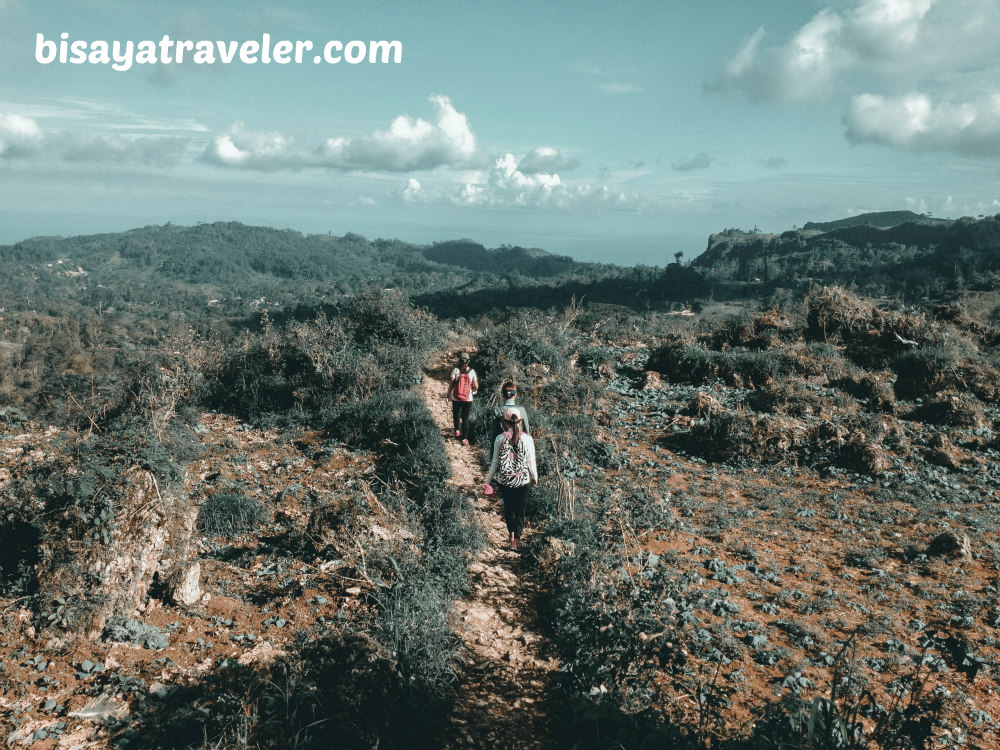 How to get to Techno Demo Farm, Mantalongon, Dalaguete:
From Carbon Market, take a bus that will take you directly to Mantalongon. Travel time is around 4 hours, and fare is PHP 100. There, take a habal-habal ride to Techno Demo Farm, Alang-Alang. Alternatively, you may also take a hike to the farm, with the help of the locals.
Planning to start your trip early? Head to Cebu City South Bus Terminal, and take the next bus bound for Poblacion, Dalaguete (travel time is 2 to 3 hours, and fare is PHP 106 to 126). Then, take a habal-habal ride to Municipality Techno Demo Farm (fare is PHP 70 to 100).
Important notes:
Don't expect much from Techno Demo Farm. Take note, it is, as of now, in its development stages.
When riding a habal-habal, make sure to tell the driver that you're heading to Techno Demo Farm, and not to the Strawberry Farm.
Entrance to Techno Demo Farm is currently FREE.
Practice the LEAVE NO TRACE principles.
Pack at least 2 liters of water (for hikers).
Bring ION drinks like Gatorade or Pocari Sweat (for hikers).
Wear trekking shoes or sandals with great traction (for hikers).
Entrance to Casino Peak is FREE.
Entrance to OPeak is PHP 30 per person.
Our itinerary:
05:00 AM: Meet up at Cebu City South Bus Terminal
05:30 AM: Depart from Cebu City
08:00 AM: ETA Poblacion, Dalaguete/breakfast
08:30 AM: Depart for Techno Demo Farm
09:15 AM: ETA Techno Demo Farm/picture taking
09:45 AM: Start hike to Osmeña Peak
10:45 AM: ETA Osmeña Peak
11:30 AM: Depart for Casino Peak
12:30 PM: ETA Casino Peak/lunch
02:00 PM: Start hike to base of Opeak
03:00 PM: ETA base of Opeak/depart for Poblacion, Dalaguete
04: 00 PM: Dalaguete proper/snacks at 711
04:30 PM: Depart for Cebu City
07:30 PM: Home sweet home