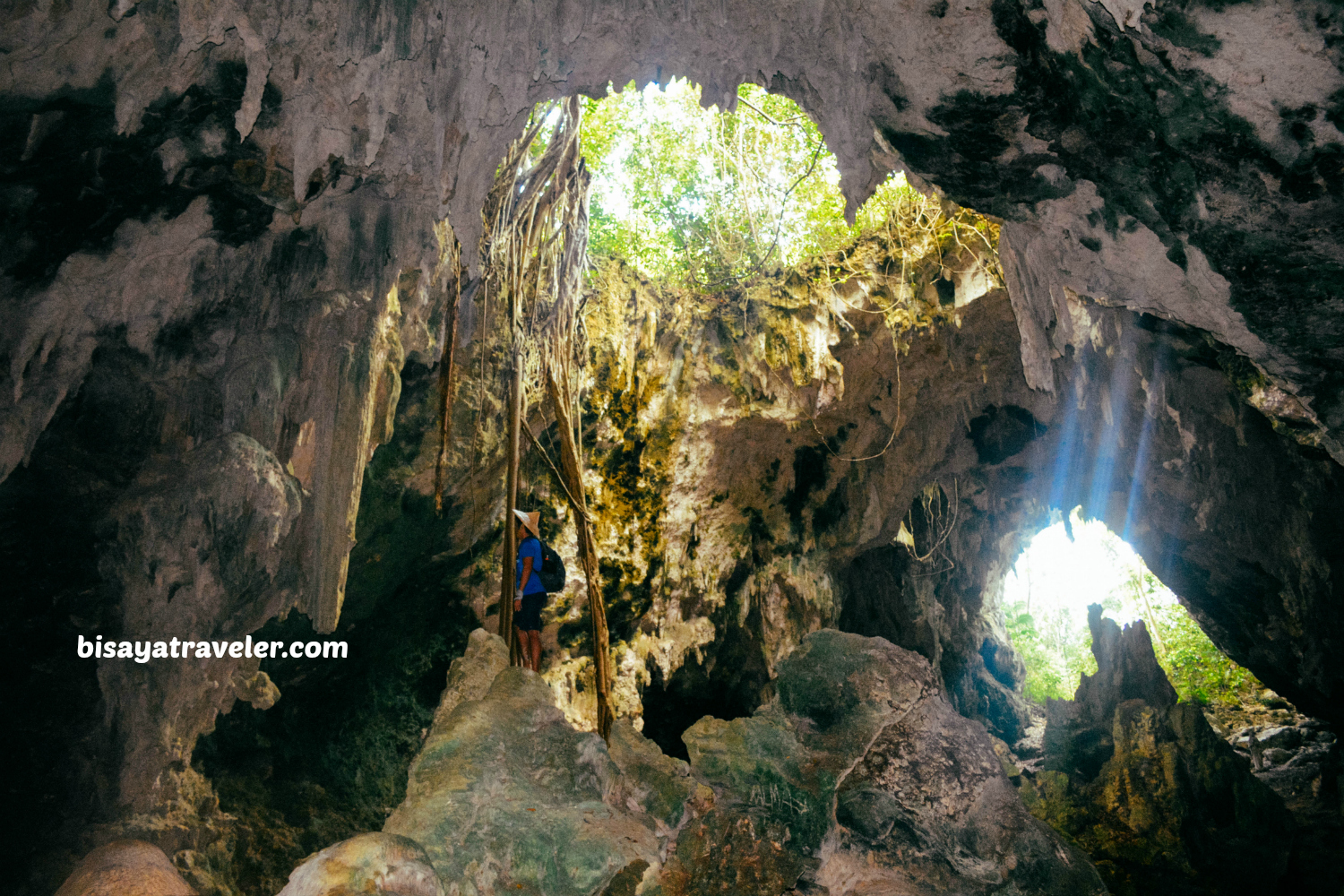 Laposlapos Cave: Venturing Into Carcar's Magnificent Caverns
There's never a dull moment, when you're with like-minded people who's up for anything. Even in times when things seem bleak, these folks simply go with the flow, move on and see brighter side of every situation. And, with their undying positive spirit, they can ultimately uplift your mood, and make your adventure even unforgettable. For that reason, I always carefully handpick the people joining me, whenever I explore an unheralded and relatively unknown treasure, like Laposlapos Cave in Guadalupe Mabugnao Mainit Hot Spring National Park, Carcar. And though we didn't have a plan beforehand, I still had a swell time in Carcar City, thanks to my charming and energetic travel buddies.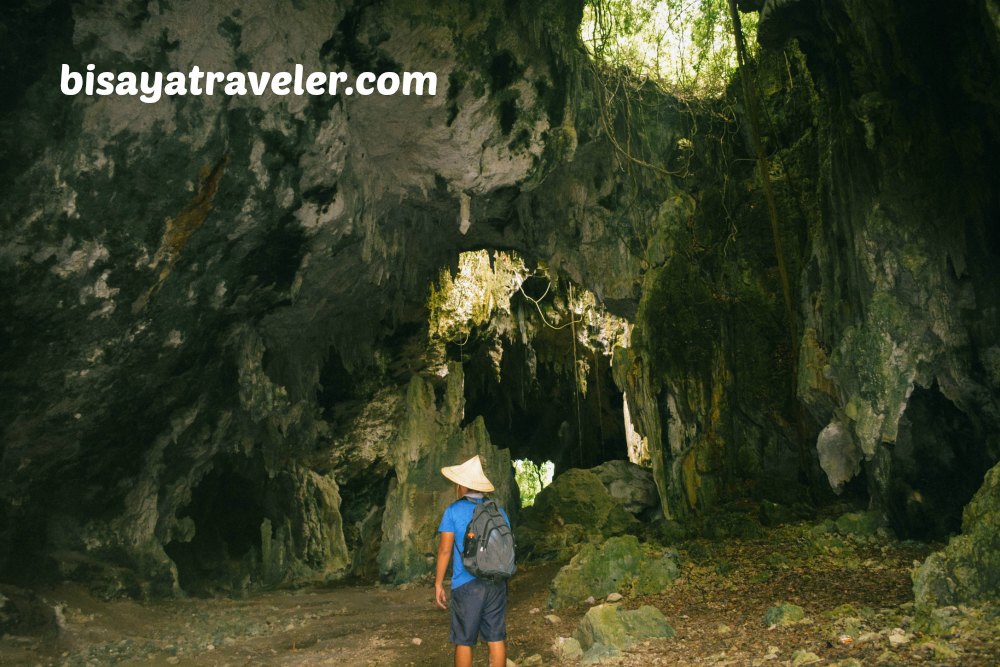 A week before our trip to Laposlapos Cave, I had no idea that such a wondrous cavern exist in my dad's beloved hometown, Carcar city. If it wasn't for Jovy, I may not have discovered such a majestic and grandiose labyrinth in our own backyard. And of course, we all were so psyched to see to the Laposlapos Cave that we went there instantly, without a travel itinerary.
Our Laposlapos Cave experience
For this trip, I was joined by some of my lively partners in crime from Team Bang – Shiela, Jon, Gelique and hometown girl, Jovy. Furthermore, we were accompanied by Jovy's cousin, Elmark, who showed us around Guadalupe Mabugnao Mainit Hot Spring National Park. To top it all off, Lalaine, a savvy young vet and adventurer, tagged along with us, completing our 7-man squad for our trip to Laposlapos Cave.
After our quick get together in Cebu City South Bus Terminal, we took a bus bound for Barili, and made a stop at Sangi, Guadalupe, Carcar.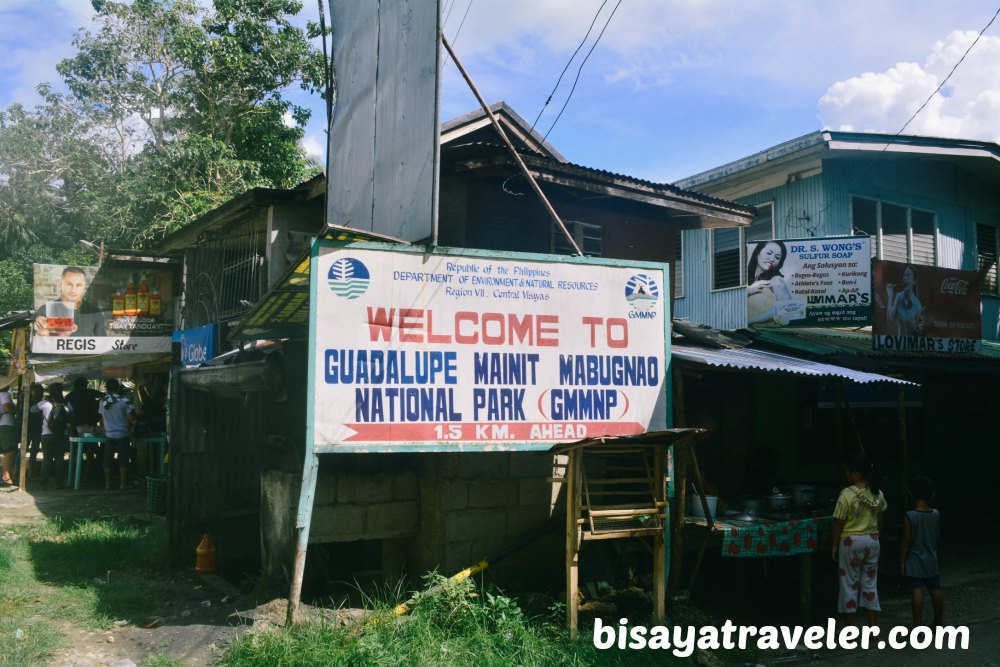 Since it was Laine's first time to join us, I introduced her to the peeps joining me for my Laposlapos Cave adventure. As it turned out, Laine, Jon and Shiela were once schoolmates during their college days in Visayas State University. What a small world!
With the formal introductions done, we made a short prayer, and followed the road leading to the entrance of Guadalupe Mabugnao Mainit Hot Spring National Park.
It was all fun and smiles, from the get-go. Even though there's no catchy sight on the way, we still had a swell time, sharing funny stories and enjoying one another's company.
Minutes later, we arrived at the gateway of Guadalupe Mabugnao Mainit Hot Spring National Park, where we listed our names and paid the entrance fee of 10 pesos per person.
Somehow, I experienced déjà vu, as we stepped inside the natural park. And when I got home later that night, I found out through my mom that it wasn't my first time visiting Guadalupe Mabugnao Mainit Hot Spring National Park. According to my mom, I first visited Carcar's not-so well-known natural park at 5 years old. That was a long time ago!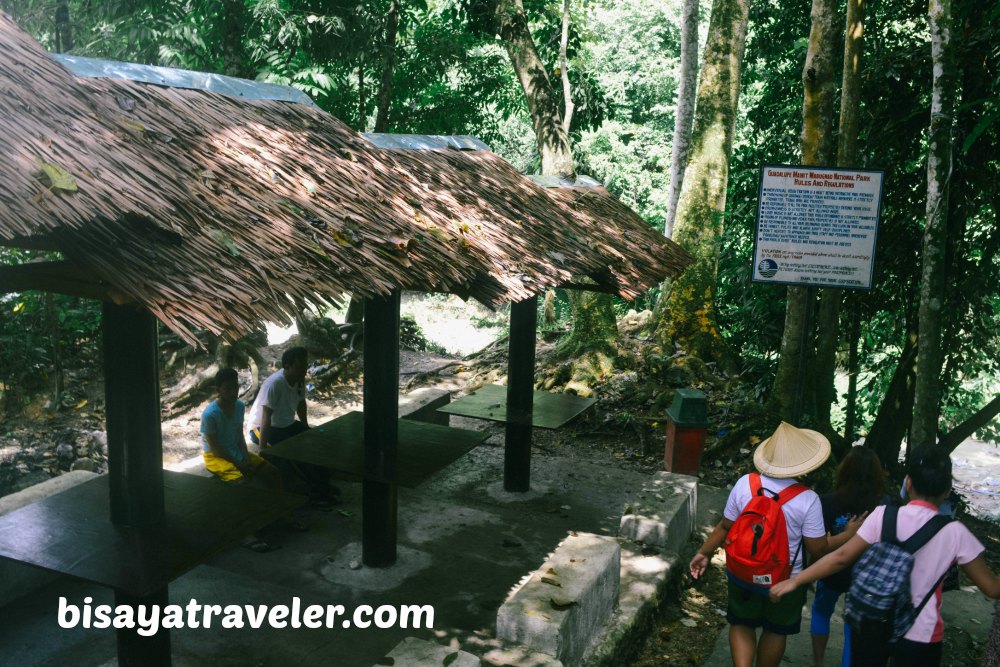 We, then, followed Elmark to the trail leading to the highly anticipated Laposlapos Cave.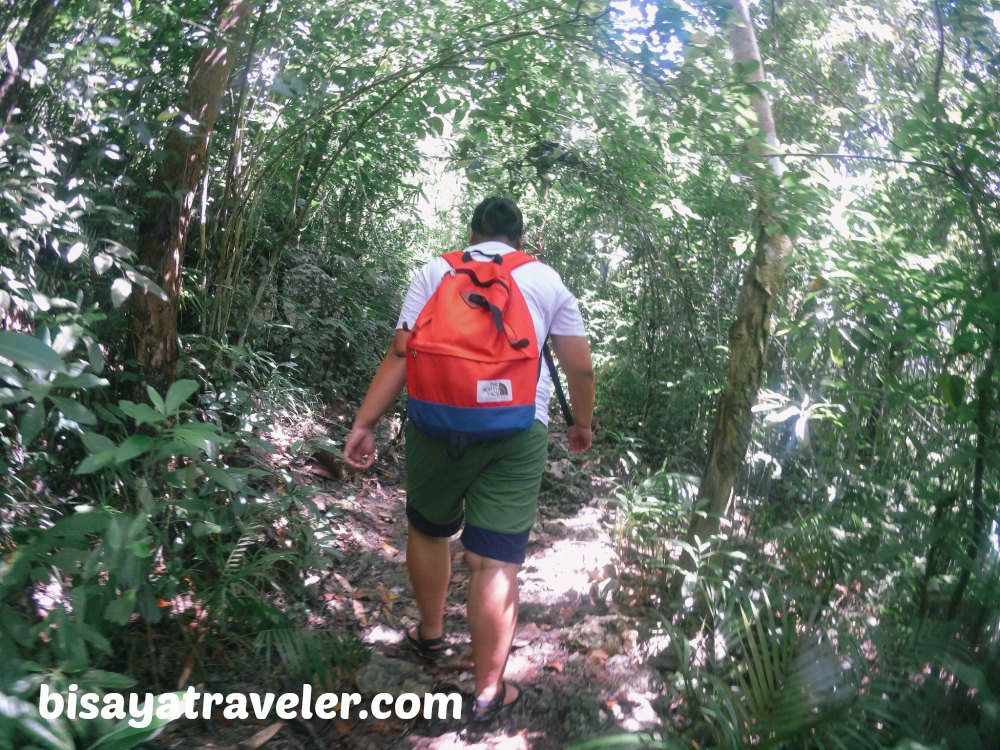 Our hike up to Laposlapos Cave was a little challenging. Not only was the trail bushy and steep, but it was extremely hot as well. As a matter of fact, I was literally drenched in sweat, in just a few minutes on our hike to Laposlapos Cave.
Along the way, we discovered a couple of creepily beautiful statues that further add to the park's aesthetics.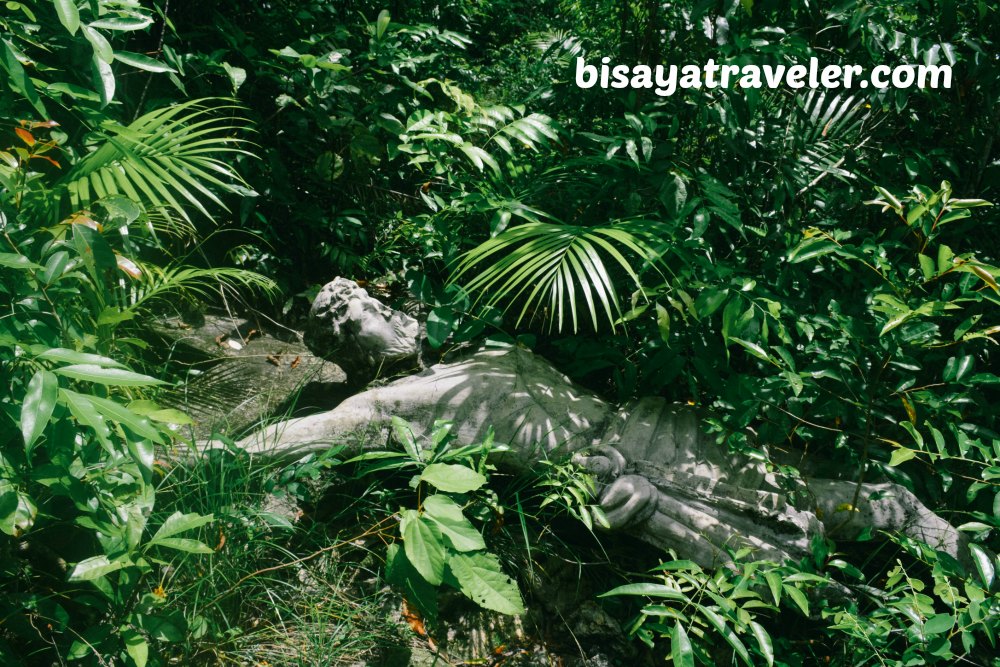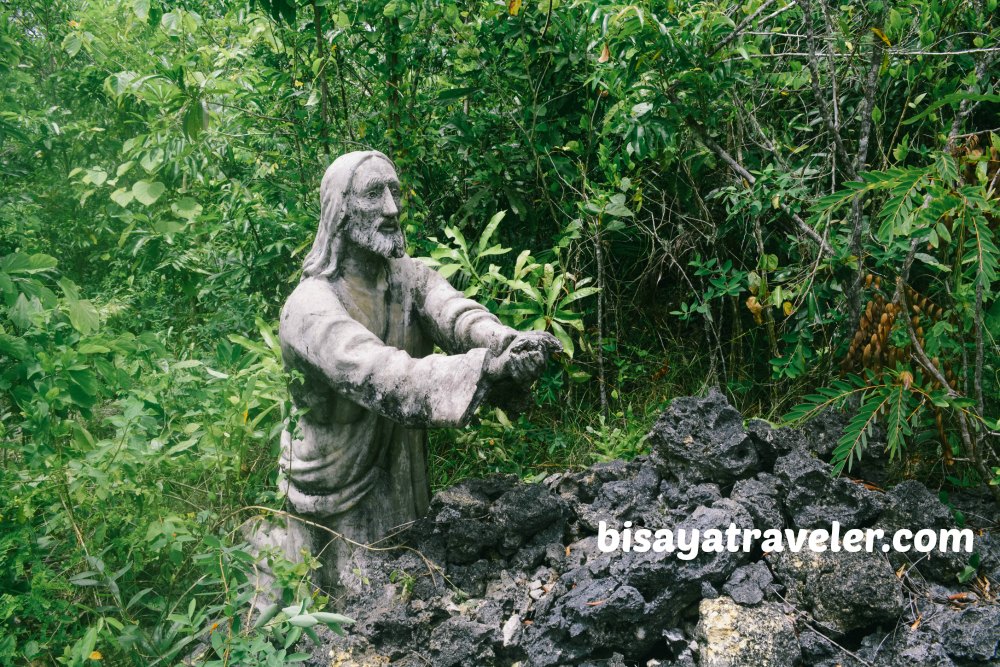 Of course, like any curious traveler, I was intrigued about the history of the place, the moment I saw them.
Jovy and Elmark didn't know much about the story behind these "Way of the Cross" statues on the way to Laposlapos Cave. Luckily, we met a couple of locals following our escapade in Laposlapos Cave that shed some light on these ruins. As what I've discovered, there were nuns in 80s or 90s who were planning to make Laposlapos Cave a pilgrimage site. For some reason, the plan and construction didn't push through.
Eventually, we arrived at one of the many cave entrances in Guadalupe Mabugnao Mainit Hot Spring National Park.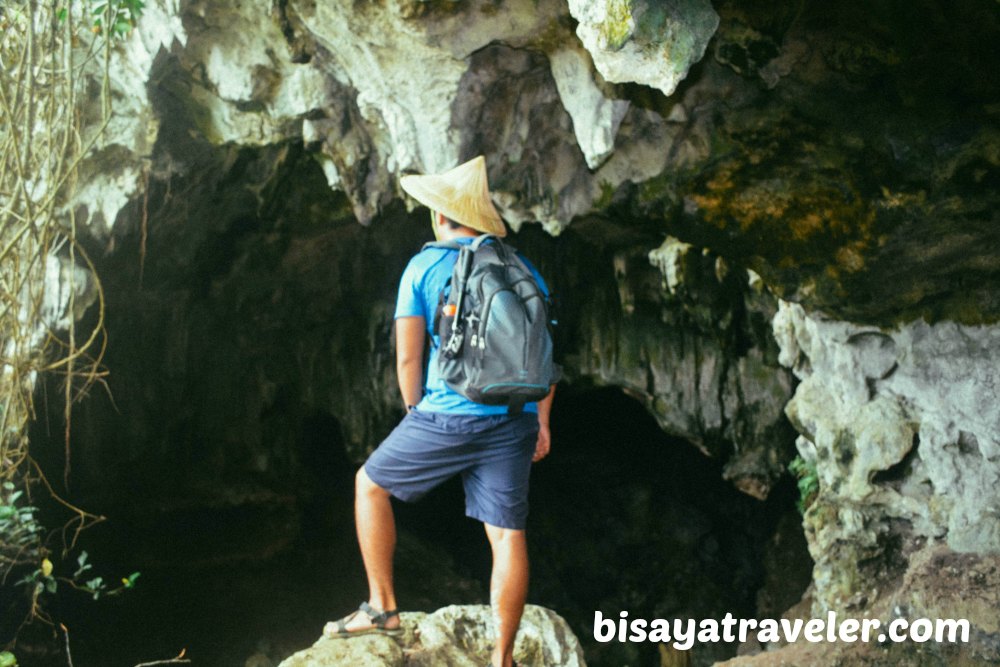 As part of our traditions, we took turns posing solo. With the wondrous cave in the background, it was indeed a sight to behold.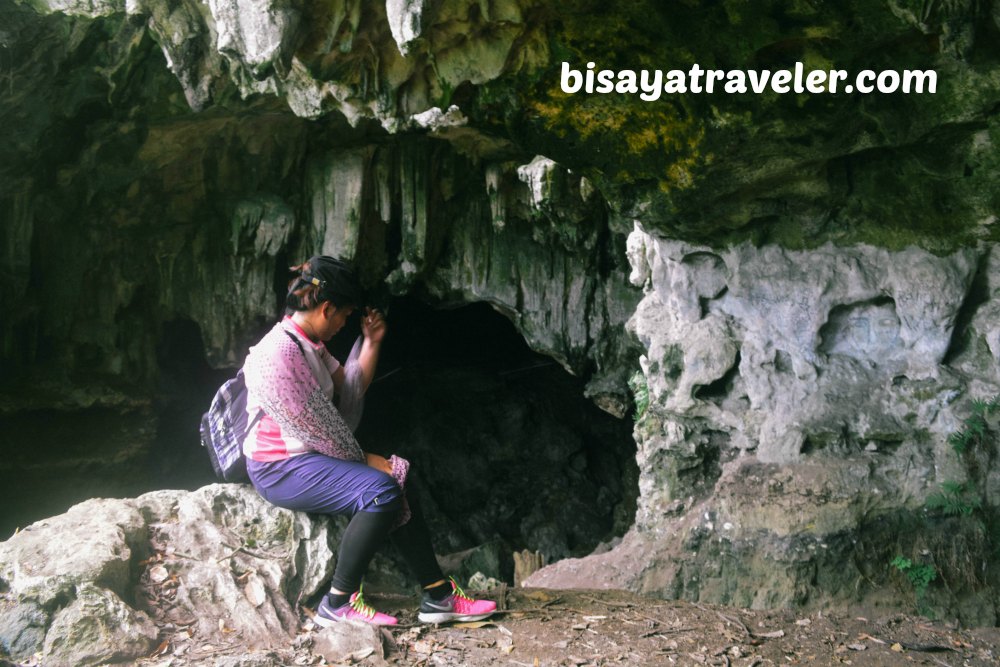 From there, we made our way to our next stop – the bigger and grander cavern of Guadalupe Mabugnao Mainit Hot Spring National Park, Laposlapos Cave.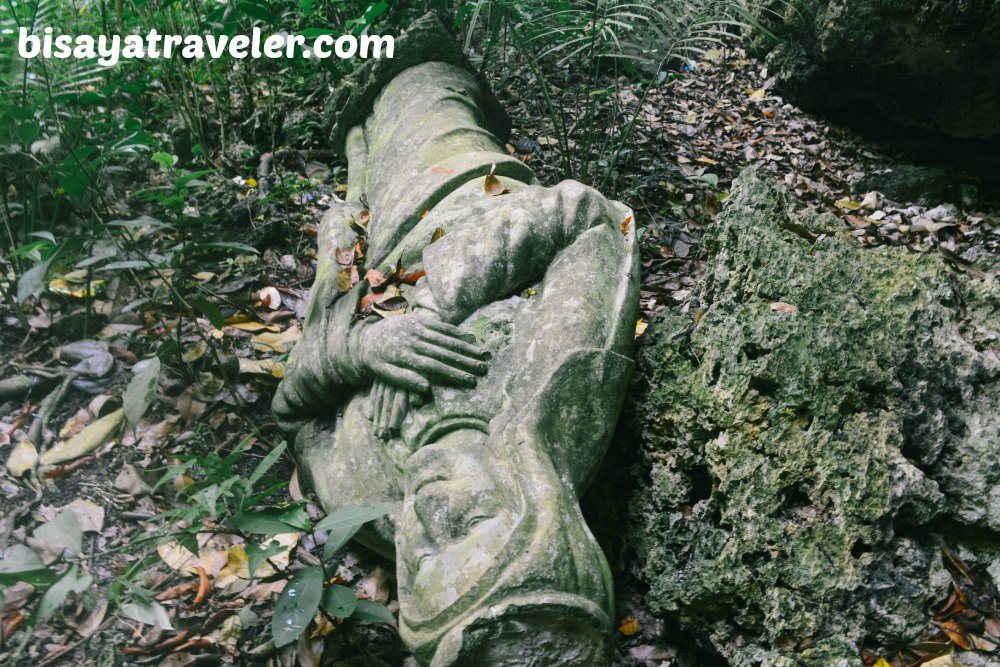 As soon as we arrived, we were awestruck by the sheer size of Laposlapos Cave. The way I see it, Laposlapos Cave is one of the most gorgeous caves in Cebu.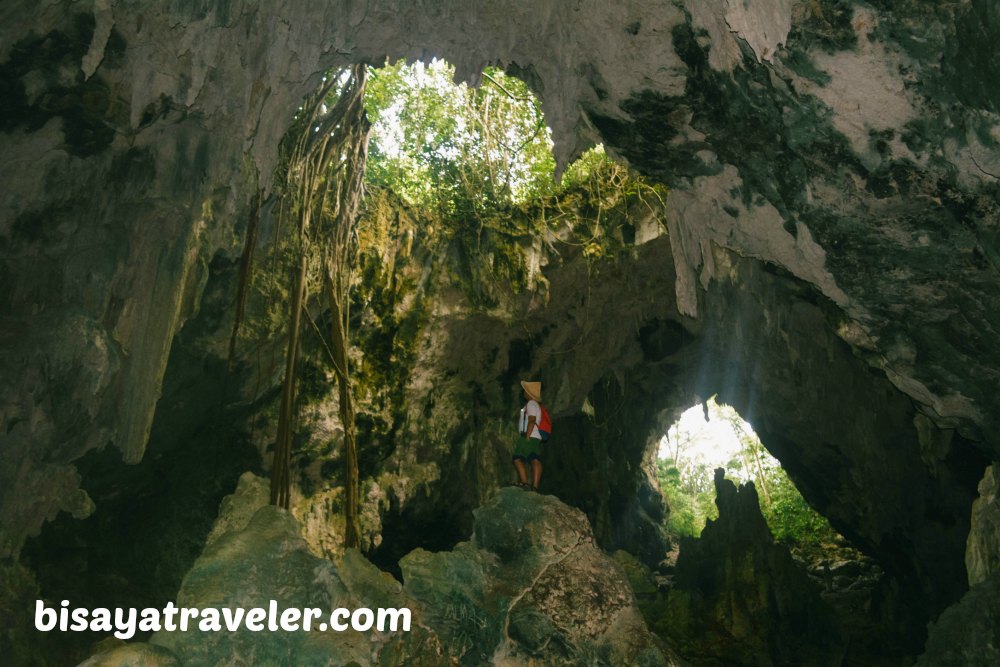 Everyone was in a state of bliss, snapping photos of ethereal rock formations inside Laposlapos Cave. Sadly, though, my camera wasn't in good condition, on that day. Plus, I'm not much of a photographer too, making my photos not quite Instagrammable.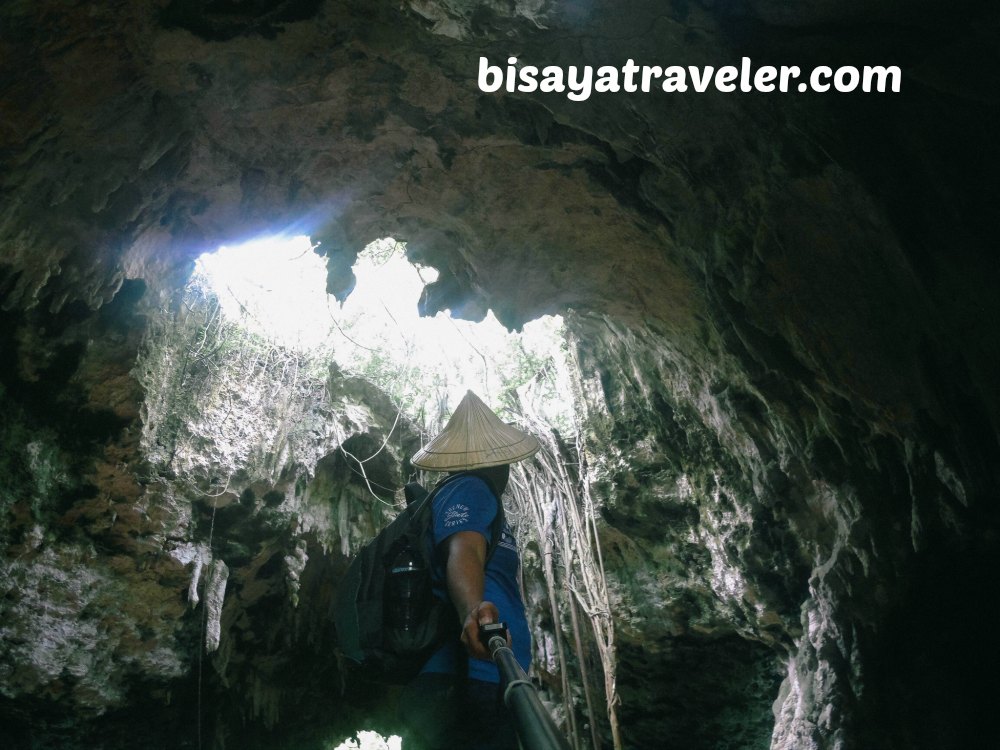 But later on, I found the right combination and setting for our pictorials inside Laposlapos Cave.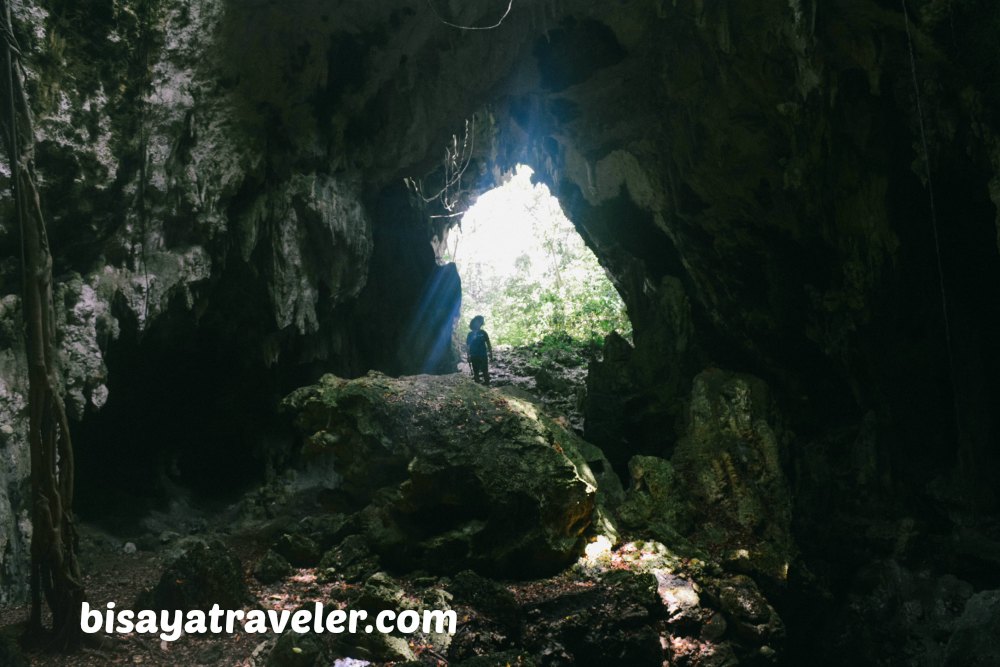 While others were taking photos of the cave, I spent a couple of minutes sitting down, just admiring how spacious and uniquely stunning the cave is. As far as I know, Laposlapos Cave is connected to the other parts and entrances to the caves in Guadalupe Mabugnao Mainit Hot Spring National Park.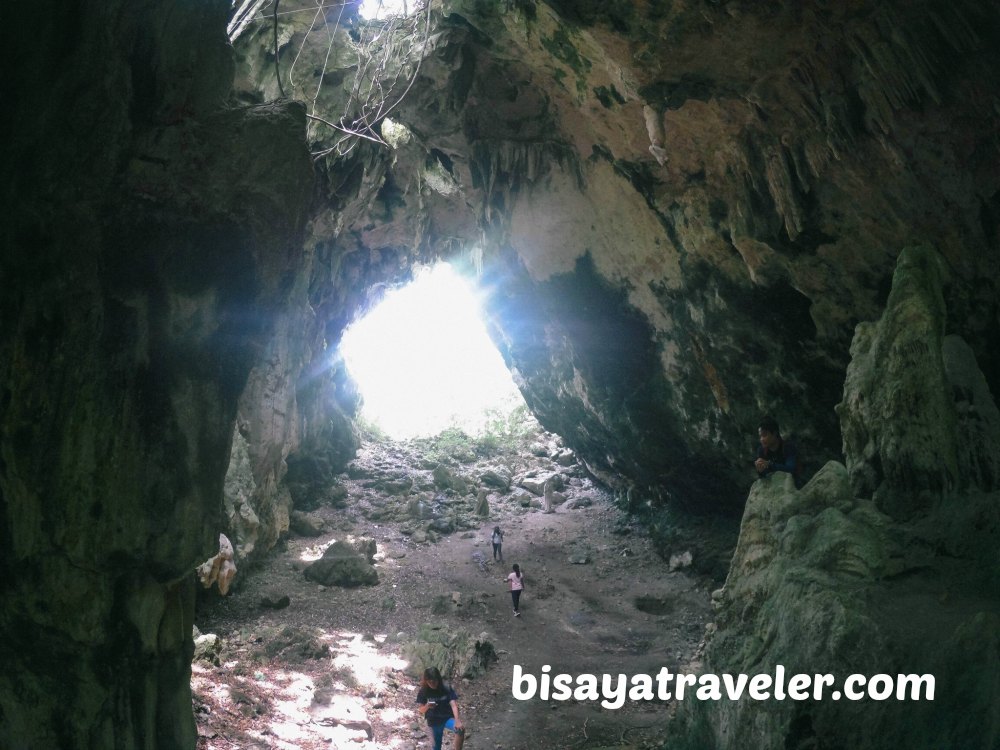 Also, rumor has it that one of the caves in the national park is connected to the city of Copper, Toledo. Quite frankly, I don't believe it's true, but I may be wrong. Who knows? Laposlapos Cave may really have an underground network of caverns connecting the national park to other places in Cebu.
We, then, made our way to the other side of Laposlapos Cave, and caught glimpse of a beautiful statue of Mother Mary.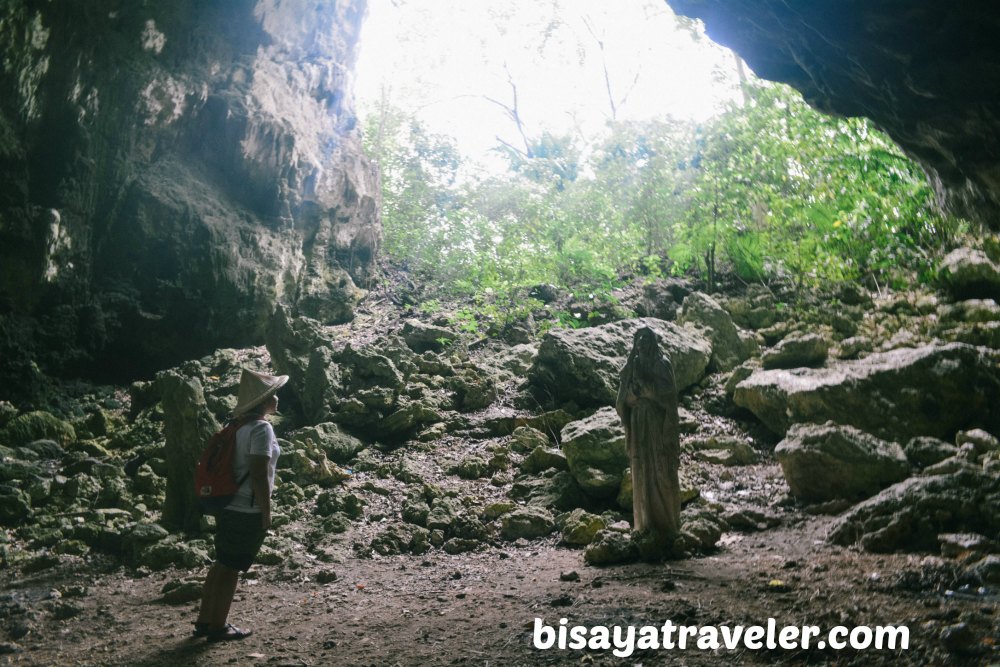 Likewise, we took photos of the cave from a different point of view and angle.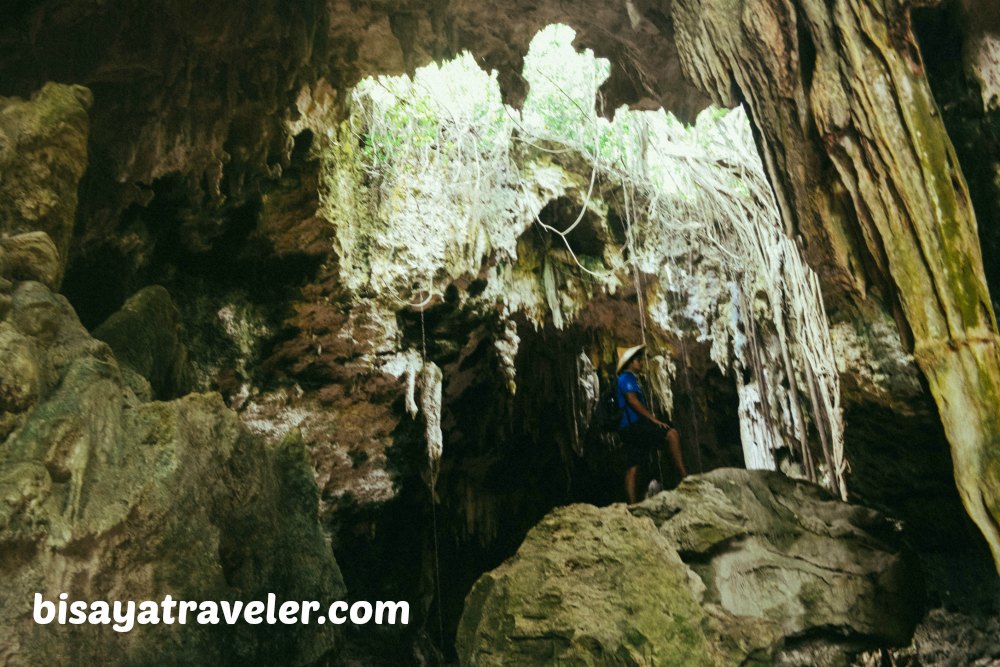 Caves have a creepy feel by nature, but I couldn't sense anything strange and paranormal inside Laposlapos Cave. Whether it was because of Mother Mary's presence or its beautiful rays of lights, Laposlapos Cave doesn't have the scary factor of some of the caves I've been to in the Philippines.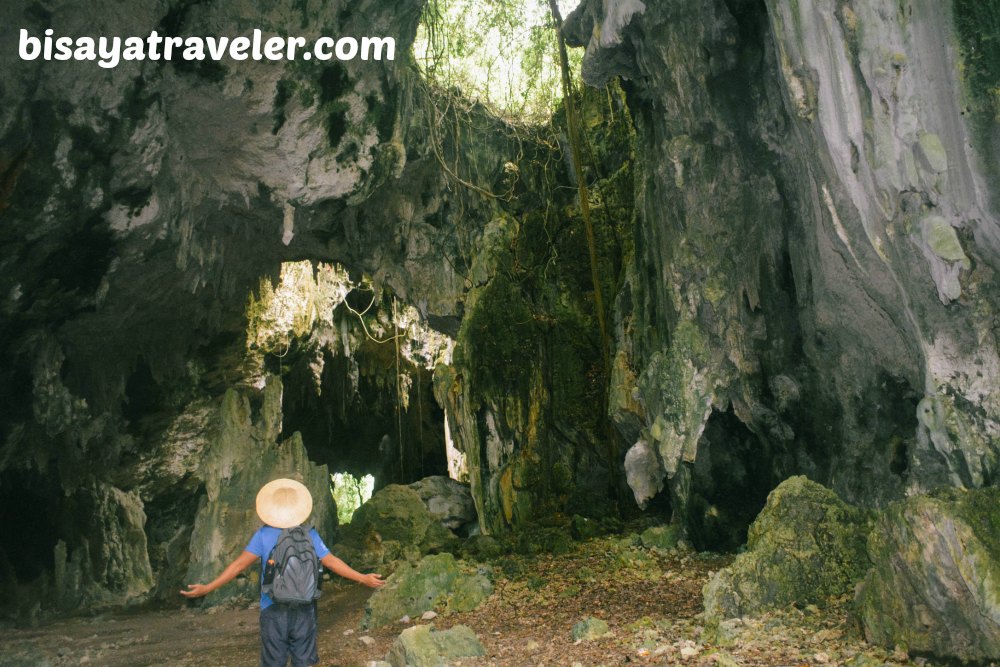 After wrapping up our sojourn in Laposlapos Cave, we headed to the cavern's exit, to do some exploration in this remote side of Carcar.
Elmark, however, wasn't so sure where the trail would take us to. As with Jovy, it's been a long while since he has explored Guadalupe Mabugnao Mainit Hot Spring National Park.
And so, we went back to cave, to rest and eat our lunch.
But, before that, we took some photos of this side of Laposlapos Cave.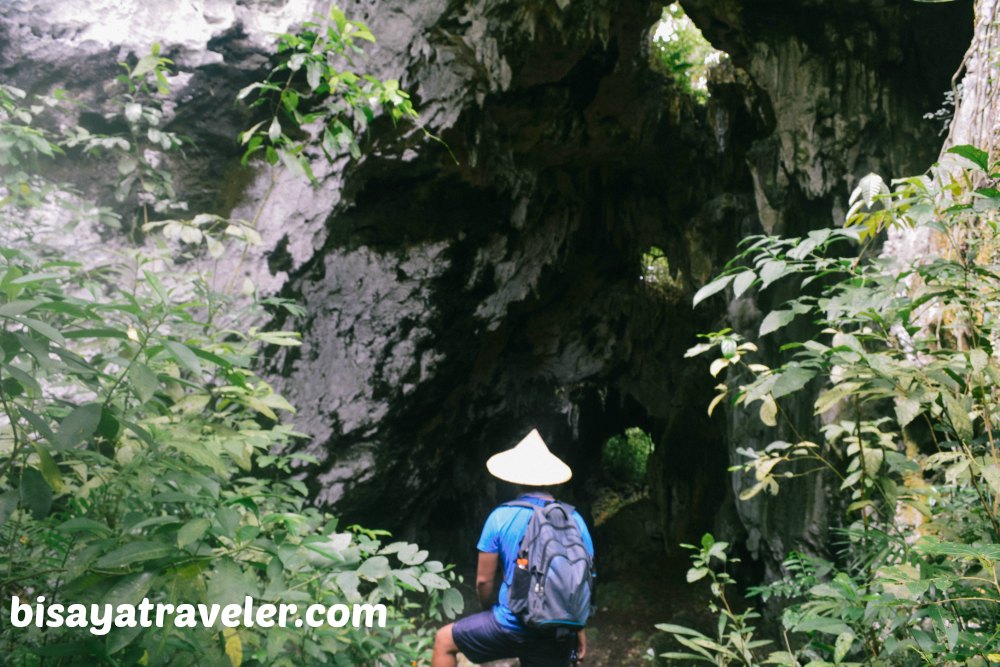 With replenished energies, we descended from the cave to carry on with our open itinerary trip in Carcar city.
As we were descending, we got caught in a heavy downpour, in the midst of the trail. And boy, it was a struggle, especially for those wearing sandals.
Shiela, with her Saint-Blood sandals, even had to remove her footwear, to prevent slips on the slippery trail.
Finally, we arrived at the base of Guadalupe Mabugnao Mainit Hot Spring National Park, and took a dip at the supremely cold waters of its pool.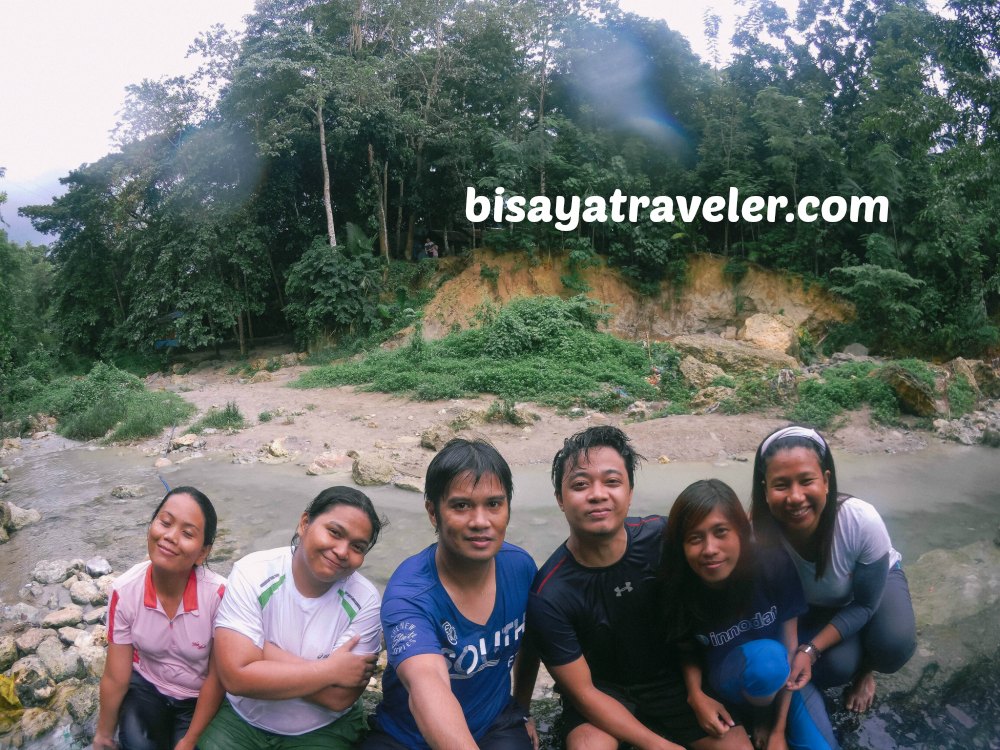 Besides the refreshing waters, we also go treated to a fish spa treatment in the pool. Not bad for a 10-peso entrance, I must say.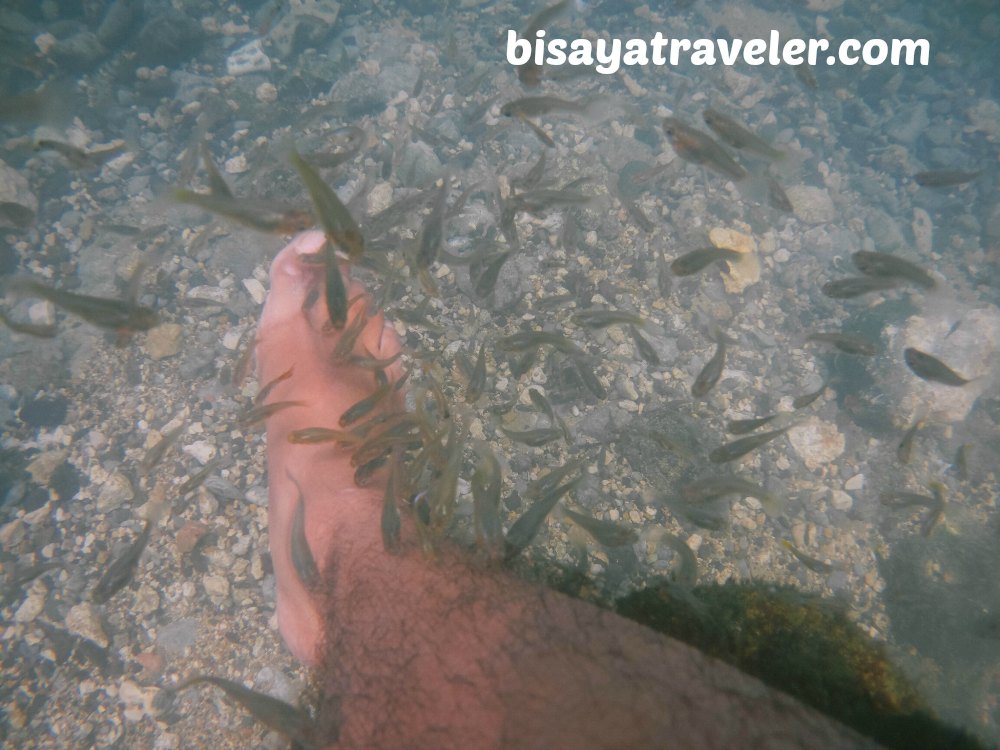 While we were indulging on its waters, Elmark caught up with another local who said there's another wondrous cave near Laposlapos Cave.
And guess what, folks? We went back to the top, to find this cave, as suggested by a local.  And to me, that's the best part of having an open-minded team. These people just keep on going, and would always say "yes to adventures", even if things aren't crystal clear.
I wasn't exactly sure if the local was telling the truth. But, when you've got friends who are crazy and adventurous, sometimes wrong turns can be a fun and rewarding experience.
And yes, we got lost on our way up, to find the elusive cave. We did catch a cave, but it was too dark, dangerous and deep. Plus, we didn't bring flashlights and any rappelling gear.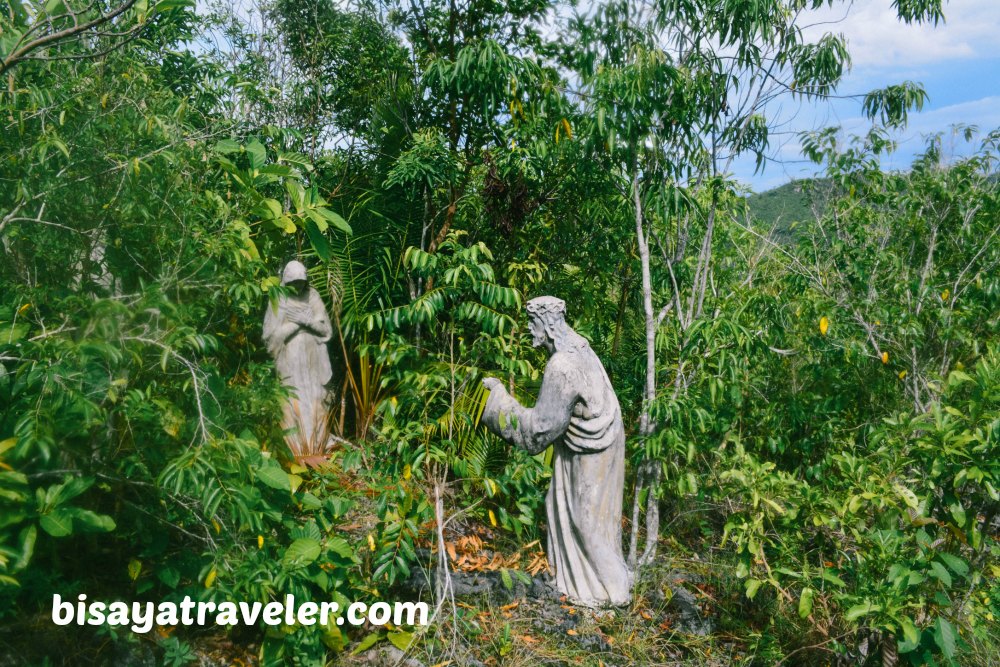 For some, getting lost in a creepy place without any traces of life can be downright terrifying. Surprisingly, I can't feel any ounce of fear from these people. On the contrary, they were extremely excited to see a different perspective of Carcar city, Cebu. As they say, getting lost and bumping into hiccups are part of the adventure.
There was no hope of finding this cave. Not only did Elmark forget the way to the cave, but most of the trails here were also covered in bush and plants.
"I don't want to go back down", said Jovy to Elmark. "Let's just follow the trail on the exit of Laposlapos Cave", she added.
To keep things rolling, we moved out feet back to Laposlapos Cave, to do a little exploration.
With darker skies and a gloomier weather, the cave looked creepier than it was earlier. Ever seen those haunted Asian films? Yep, it did exude that kind of atmosphere.
We kept on walking, until we found this scenic spot in Carcar. With its fresh breeze and gentle rolling hills, this area brought back some sweet memories of my hike to Mount Mago last year.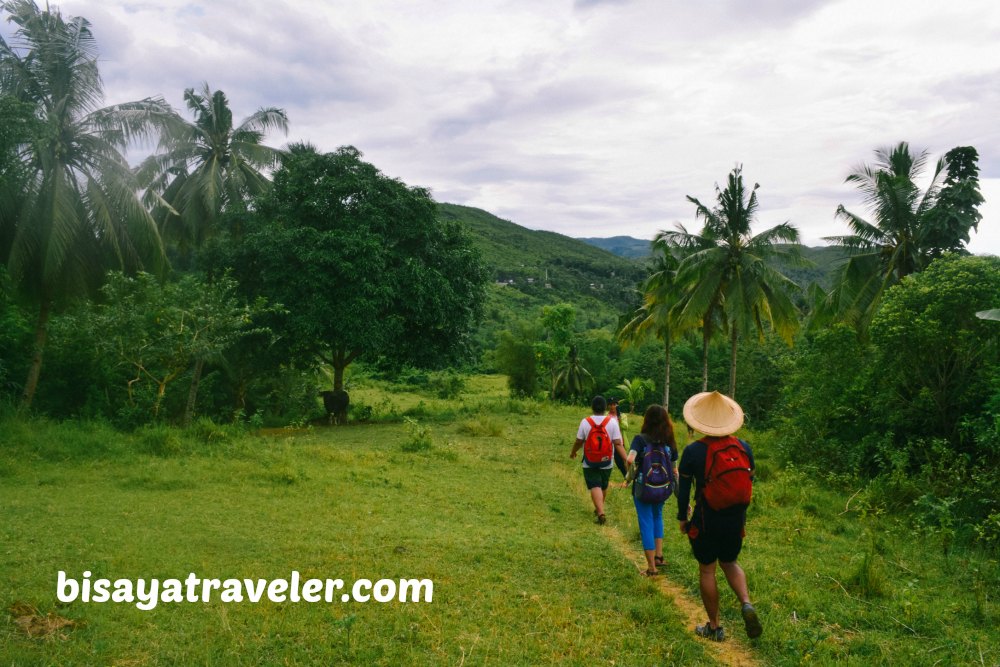 Spearheaded by Elmark, we went on a river trekking adventure in this secluded area of Carcar City, Cebu.
And every time we saw something Instagrammable, we made a stop, and took photos.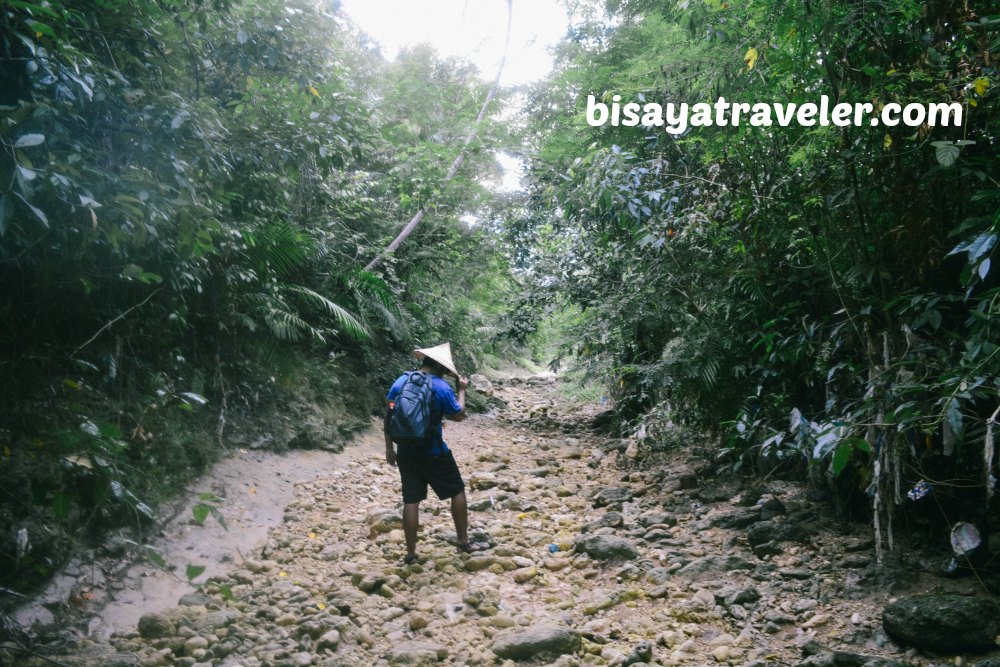 Moments later, we arrived at Tapal Bridge in Guadalupe, Carcar. Afterwards, we went to a nearby store, to buy snacks, refreshments as well as to change attire.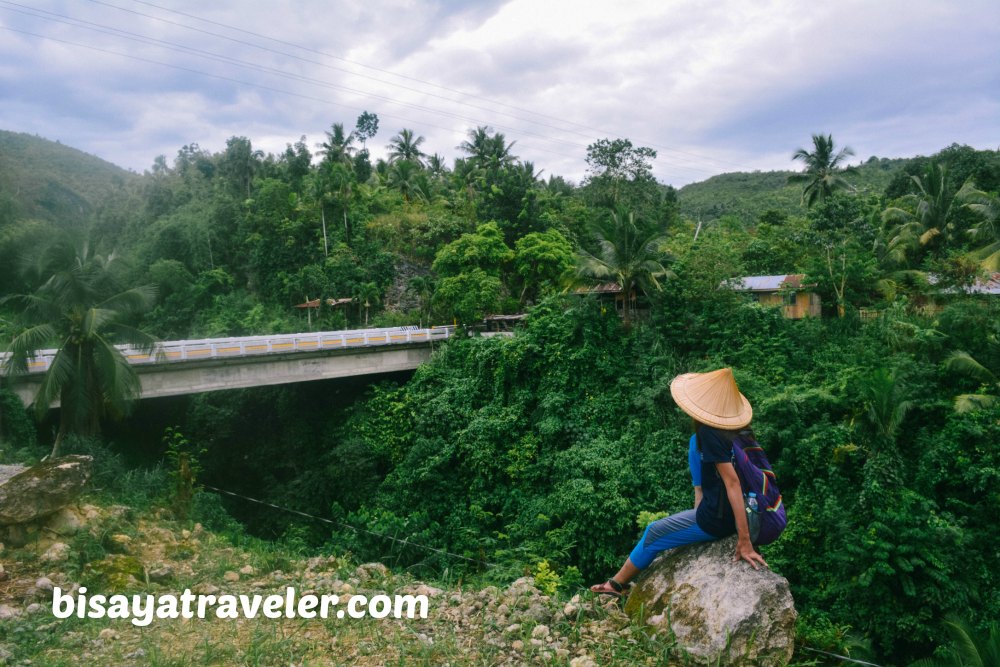 There, the lovely owners gave us a quick insight into the history of Laposlapos Cave and Mabugnao Mainit Hot Spring National Park.
Soon after, we left this part of the city, traveled to Carcar proper, and capped off our adventure with a quick nostalgic photo-walk.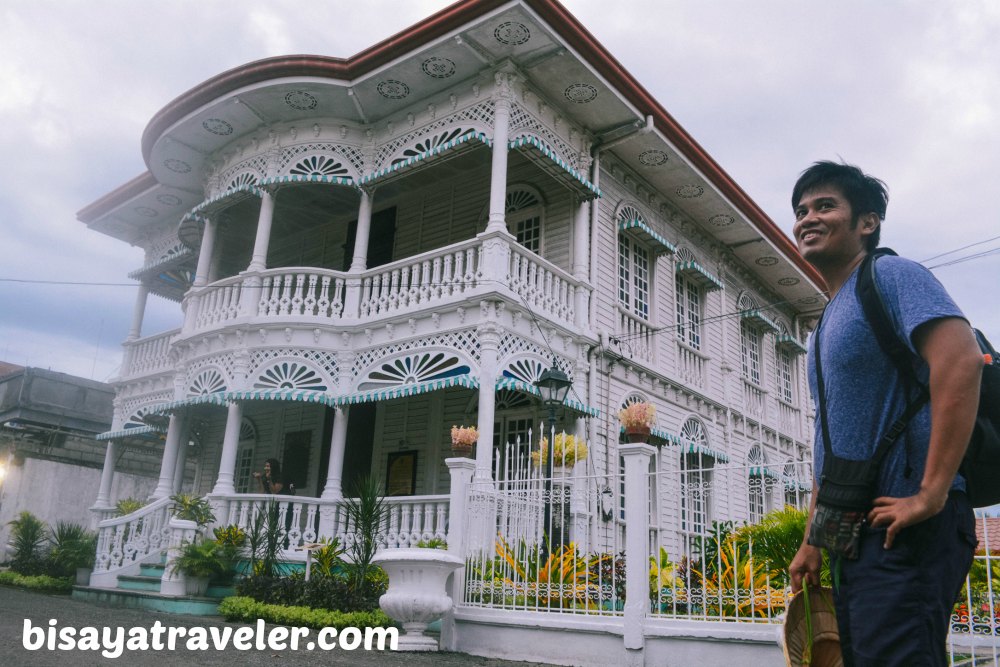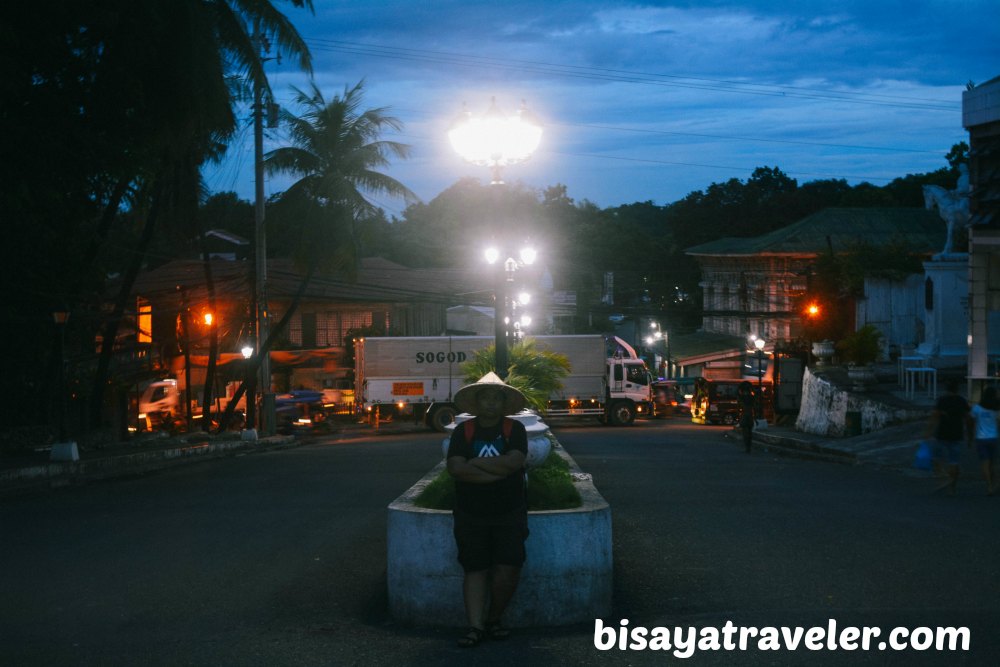 Our Carcar city trip expenses:
Bus fare to Guadalupe, Carcar: PHP 58
Entrance fee to the park: PHP 10
Fare to Carcar proper from Guadalupe: PHP 10
Bus fare to Cebu City: PHP 50
Guide fee: NADA
How to get there:
From South Bus Terminal in Cebu City, take a bus bound for Barili or Moalboal. Ask the conductor or driver to drop you off at Sangi, Guadalupe, Carcar. Better yet, tell them that you're going to Mabugnao Mainit Hot Spring National Park. Once there, you can either walk to the park, or take a habal-habal ride for PHP 15 per person.
More information about Mabugnao Mainit Hot Spring National Park:
Entrance fees: PHP 5 for kids, PHP 10 for adults, and PHP 100 for foreigners
Contact number: 0935-924-6414 (look for Leila Alejado)
Guide fee: if you don't trust your sense of direction, you may hire a guide to Laposlapos Cave. Just contact the number mentioned above. I'm not sure how much the guide fee is, but according to Jovy, it costs PHP 200 per group.
Our Carcar city open itinerary:
06:00 AM: Meet-up at Cebu City South Bust Terminal
07:30 AM: Depart from Cebu City
08:30 AM: ETA Guadalupe Carcar
08:40 AM: Start walk to the natural park
08:55 AM: ETA Mabugnao Mainit Hot Spring National Park
09:40 AM: ETA first cave
09:50 AM: ETA Laposlapos cave /Pictorials
11:45 AM: Lunch
12:10 PM: Start descend
01:00 PM: ETA base of Mainit Hot Spring National Park
02:00 PM: Start hike back to Laposlapos Cave
03:00 PM: ETA Laposlapos Cave
04:30 PM: ETA Tapal Bridge
05:30 PM: ETA Carcar proper/photo-walk
06:30 PM: Depart for Cebu City
07:30 PM: ETA Cebu City
Things to keep in mind:
Bring at least 2 liters of water.
Practice the LEAVE NO TRACE principles.
Bring ION Drinks like Pocari Sweat and Gatorade.
Pack trail food and lunch.
Be careful of the loose soils and steep cliffs in the park.
Wear sturdy footwear, when crossing the stream in Guadalupe Mabugnao Mainit Hot Spring National Park.
Wear sunscreen, hat and arm guards to protect your skin from the sun's immense heat.