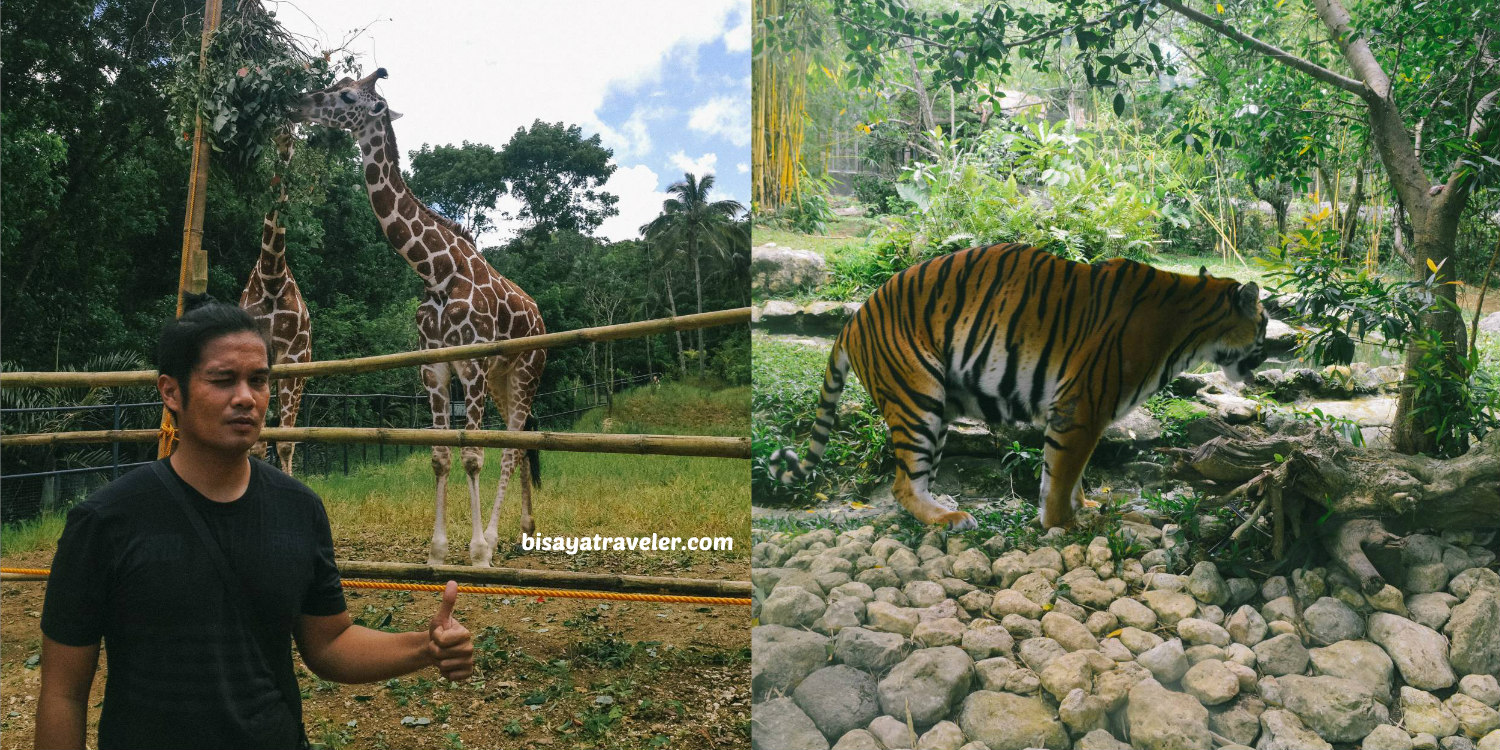 Cebu Safari And Adventure Park: An Irresistible Up-And-Coming Wildlife Haven
"The noblest art is that of making others happy" – P.T. Barnum. For movie connoisseurs, you may have caught a glimpse of this quote in the pre-closing-credit of the inspirational Hollywood musical, the "Greatest Showman". And, in many ways, Cebu Safari and Adventure Park embodies this quote and reminds me of this heart-warming celebrated blockbuster movie. Just like the film's protagonist, Cebu Safari and Adventure Park has been a little controversial, with so many naysayers, doubters and bashers bad-mouthing this wildlife haven. On popular Cebu travel Facebook pages, you'll see heaps of people roasting it, saying that it's inhumane and extremely expensive.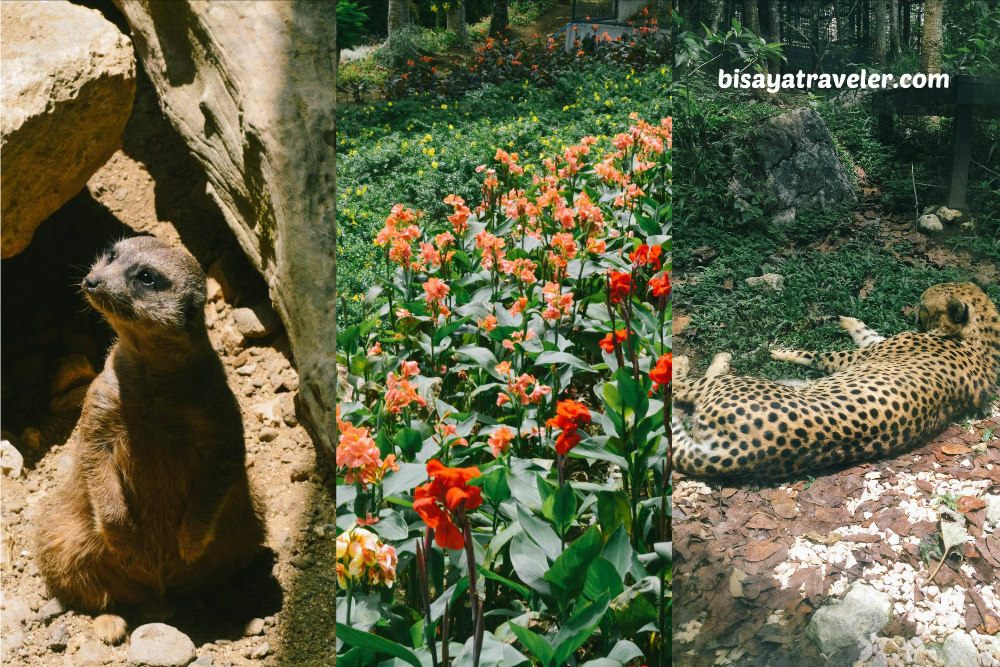 But at the end of the day, both Cebu Safari and Adventure Park and Barnum's circus have made tons of people happy. While they do have some flaws and drawbacks, they do a terrific job on putting a smile of people's faces. And, sometimes, that's more important than having faultless amenities and attractions.
Our Cebu Safari And Adventure Park experience
Quite frankly, I wasn't much of a fan of Cebu Safari and Adventure Park, prior to our family visit to this wildlife sanctuary. Although I'm a bona fide animal lover, I'm just into attractions in Cebu that have been over-hyped by other websites and blogs. As a matter of fact, some have even would go as far as saying that it's a world-class attraction that can give the well-known zoos in Asia a run for its money.
But, my family was intrigued by it, and I definitely would do anything to make them happy. And, so, the whole family, together with my mother-in-law, went on a trip up north to experience Cebu Safari and Adventure Park.
As soon as we arrived at the entrance of Cebu Safari and Adventure Park, I saw flashes of its incredible service and amenities. Not only were the guards accommodating and proficient, but it also has a spacious parking area. Looks sleek, I must say!
Unfortunately for me, though, the park was a full house, the moment we arrived at Cebu Safari and Adventure Park (I'm an introvert, and huge crowds are not my cup of tea). After all, it was Easter Sunday – a time when most people's desire to travel and explore peaks.
After indulging on a not-so healthy breakfast featuring Liloan's tasty lechon, we made our way to the ticket counter, to claim our tickets to the park. And, to my surprise, our transition was seamless and their service was excellent, despite the influx of visitors.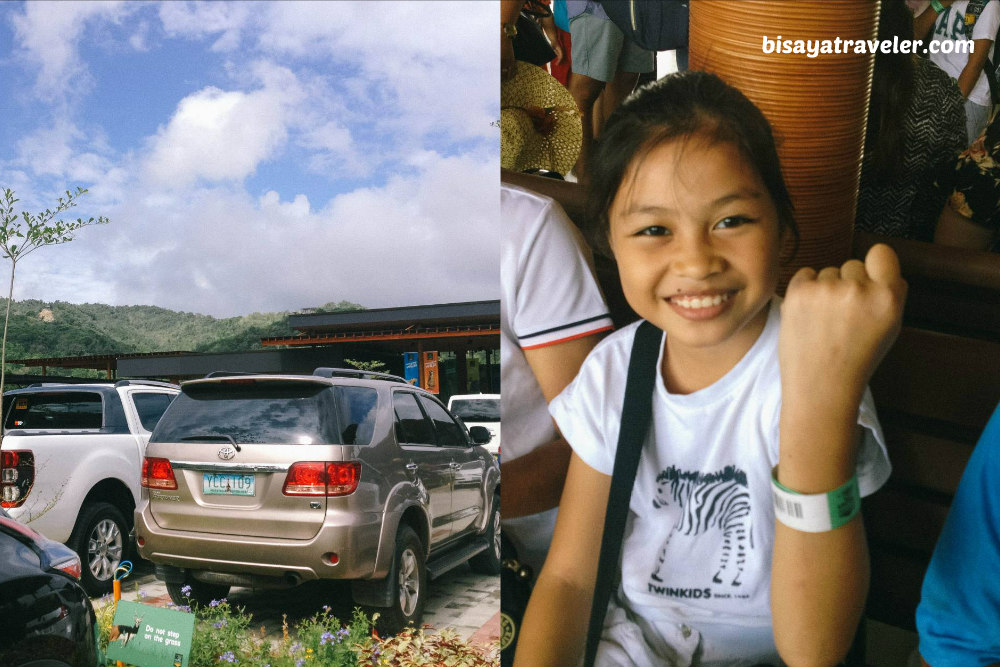 Moments later, we arrived at the briefing area, where one of the park's guides gave us a quick rundown of this multi-million, 100-hectare safari park in Carmen, Cebu.
In addition, they handed out maps highlighting the domains and attractions in Cebu Safari and Adventure Park.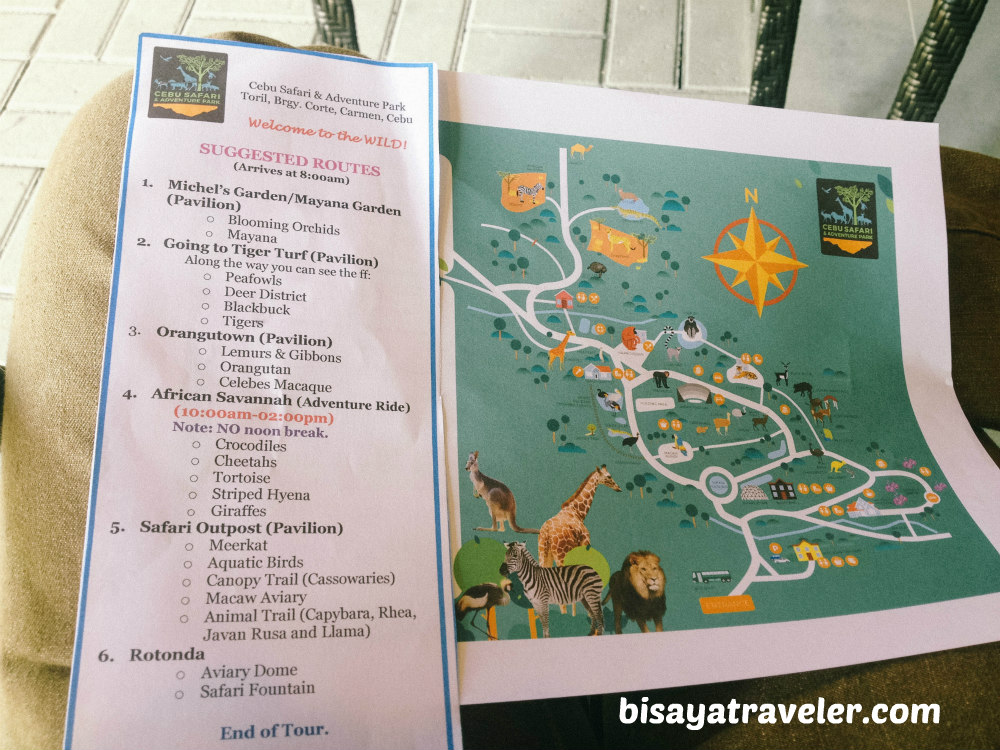 With the park introductions in the books, we hopped on a van that would take us to the first stop of our Cebu Safari and Adventure Park escapade – Michel's Garden. And, on our way to Michel's Garden, we were enthralled by some of its unique features, like the perfectly-shaped dome and the gorgeous fountain with its animal sculptures.
First stop: Michel's Gardens
Named after the park's famous owner, Michel's Gardens were an absolute delight to us. From hills wonderfully dotted with orchids to the fiery celosia flowers, this floral nirvana hosts a variety of blooms that would unleash anyone's inner shutterbug. Not to mention, it flaunts a mishmash of decorations and floral designs, including well-crafted verdant tunnels and its eye-catching terraced garden.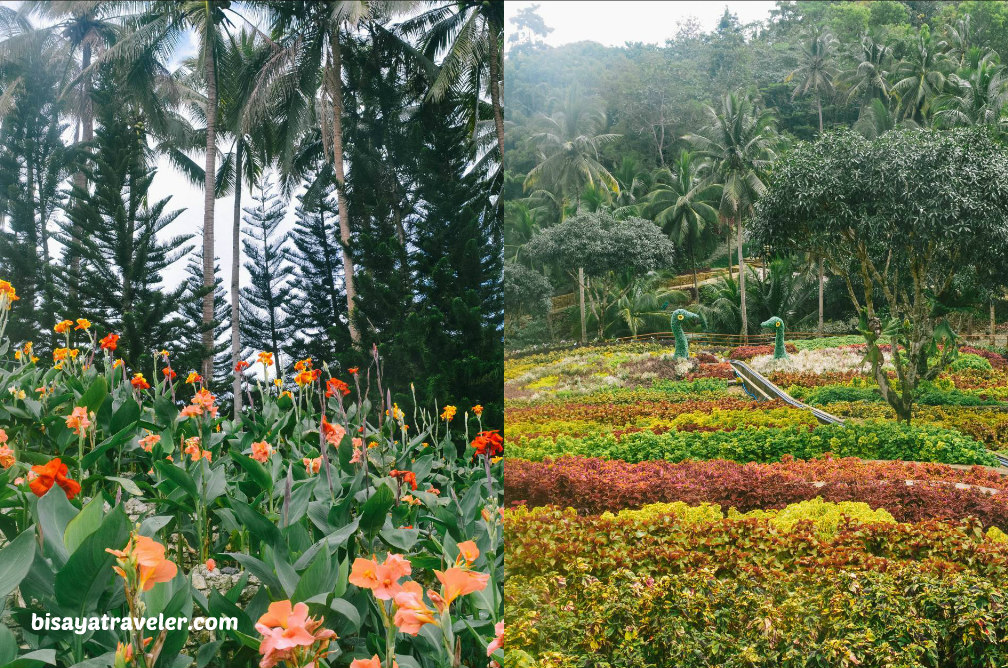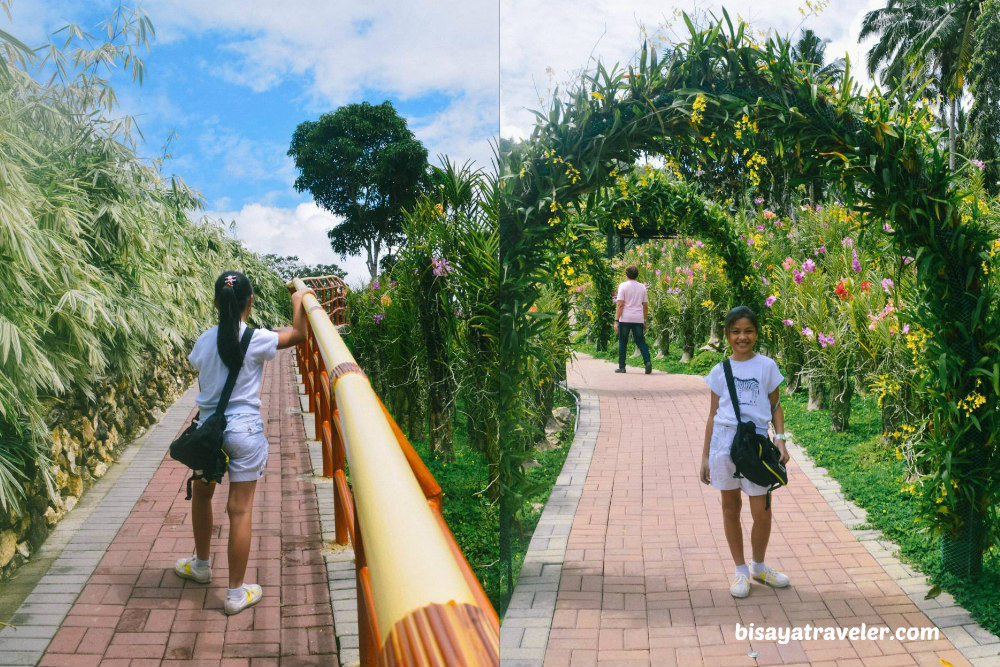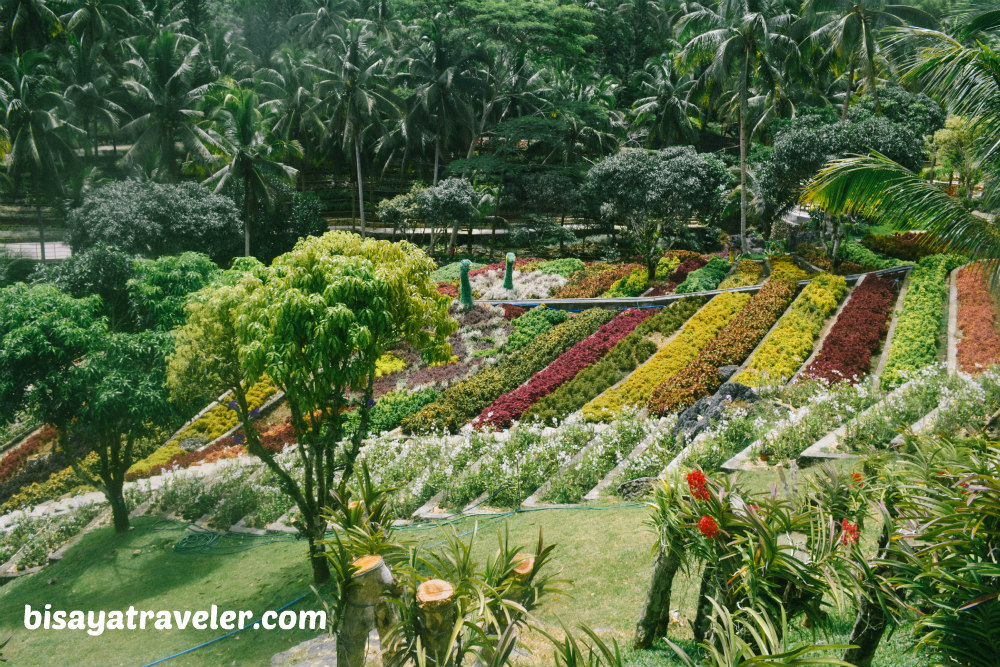 As far as I'm concerned, it's, hands down, one of the best flower gardens in Cebu. No hyperbole!
We did spend some time there, snapping photographs and taking in an array of gorgeous colors and patterns.
While the rest of my family was enjoying it, my little niece – Kimberly – wasn't so eager to see the blooms. As with most kids, she came here to see the animals. We, then, left the gardens, and hiked to the next station of our visit on Cebu Safari and Adventure Park.
Second stop: Tiger Turf
Excited and optimistic, the energetic child and I blitzed our way to Tiger Turf, to see one of the stars of Cebu Safari and Adventure Park. Along the way, we got a good look at a handful of lovely animals, including peacocks and blackbucks.
We only spent a minute or two checking out these animals since Kim was pumped up to see the tiger.
Ultimately, we arrived at the Tiger Turf where its undisputed star was roaming around the roomy area. Soon after, the tiger got closer to the viewing area, flaunting its splendid color, mighty fangs, and manly built.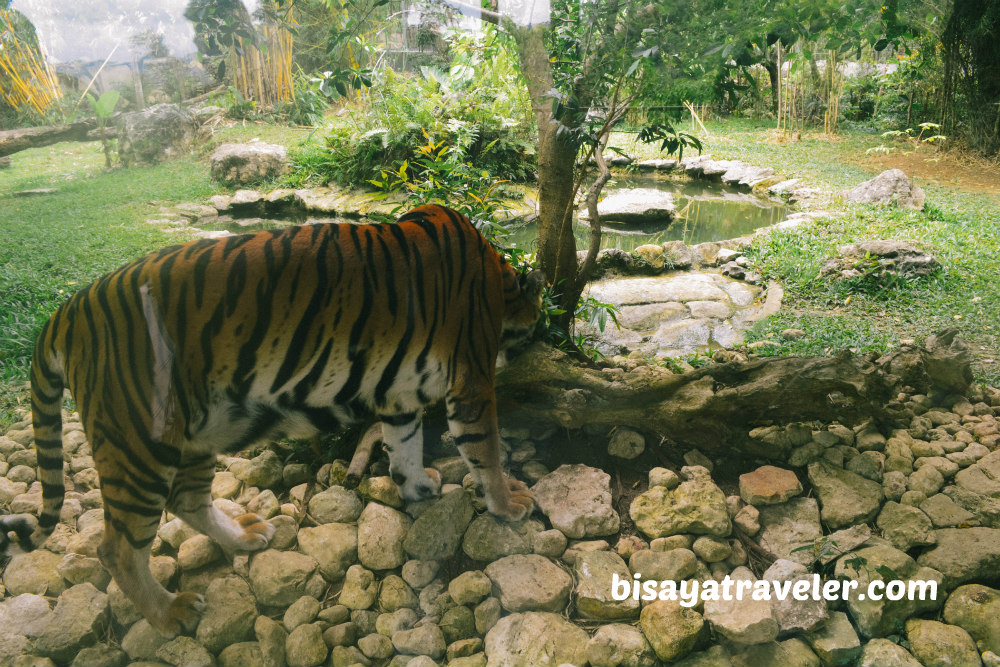 The little child had goosebumps, and was ecstatic to say the least. For the first time in her life, she finally had an up close look of a real-life tiger.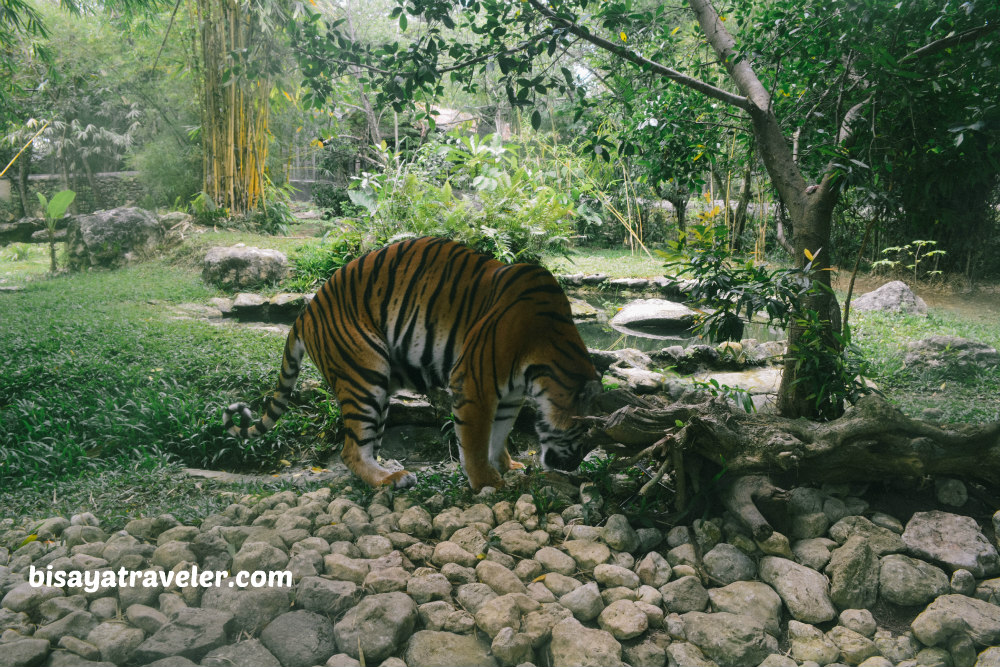 My wife and everyone else in the family later arrived at the area, and took dozens of shots and selfies of the tiger.
It was almost lunchtime, and we were planning to take our break in this part of Cebu Safari and Adventure Park. But, the Tiger Turf's dining area was booked exclusively for a group (I think it was Shemberg), meaning we to walk up to the next restaurant or dining area.
We didn't waste any more time, and walked all the way up to Orangutown, which is home to a safari restaurant.
Third stop: Orangutown
Orangutown's safari was literally filled to brim, when we arrived. As the senior citizens of our group were lining up for the buffet, Kim, my wife, Mara (my sister) and Phil (my brother) went to the macaque sanctuary to lay eyes on their witty primates.
As I was observing these creatures in Cebu Safari and Adventure Park, I noticed their human-like behaviors and how they interact with people.
I also saw their alpha male who moves like a real chick magnet. This guy really has machismo written all over him.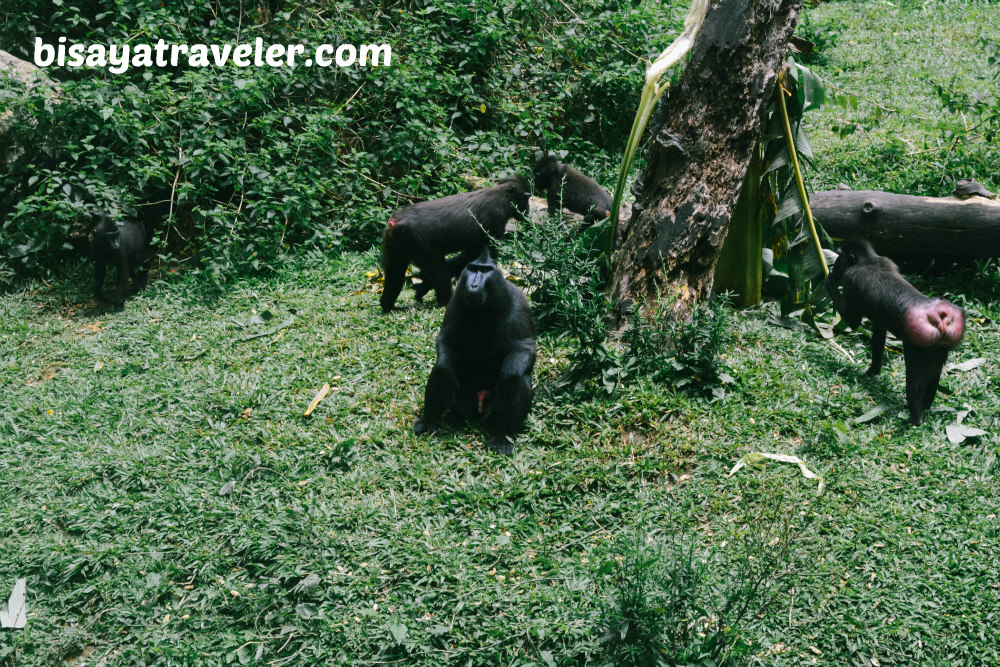 Later on, we shuffled our feet to the restaurant, to fill our stomach and refuel our energy.
Truth be told, the restaurant was a mess. It was crowded AF, and it didn't have the personnel and capacity to accommodate all its guests. As for the food, it wasn't bad, but it wasn't outstanding either.
Nonetheless, I did let them off the hook because it may have been their first time handling a crowd as massive as this. Remember, it was Easter Sunday –a perfect time for family gatherings and adventure.
And besides, I didn't want to ruin my mood just because I don't have a cozy seat. Heck, I can even eat without a chair, sitting on the grass, and under the sun.
With lunchtime over, we went to the viewing area, to take a photograph of its friendly orangutans. Sadly, I didn't get to take a picture of them since it was in awe watching the colossal mother orangutan.
The mother orangutan already finished climbing to their shelter, before I got a chance to take a photo of her.
Fourth stop: Giraffes
From Orangutown, we took a short to our next destination to meet and greet the towering walking creatures of Cebu Safari and Adventure Park – the giraffes. And of course, everyone was stunned and amazed by the sheer size and beauty of these animals.
Kids, including Kim, were jumping for joy, whenever giraffes got close to its spectators.
Of course, we couldn't resist the urge to snap a photograph of these gigantic beauties, in spite of the sun's scorching heat.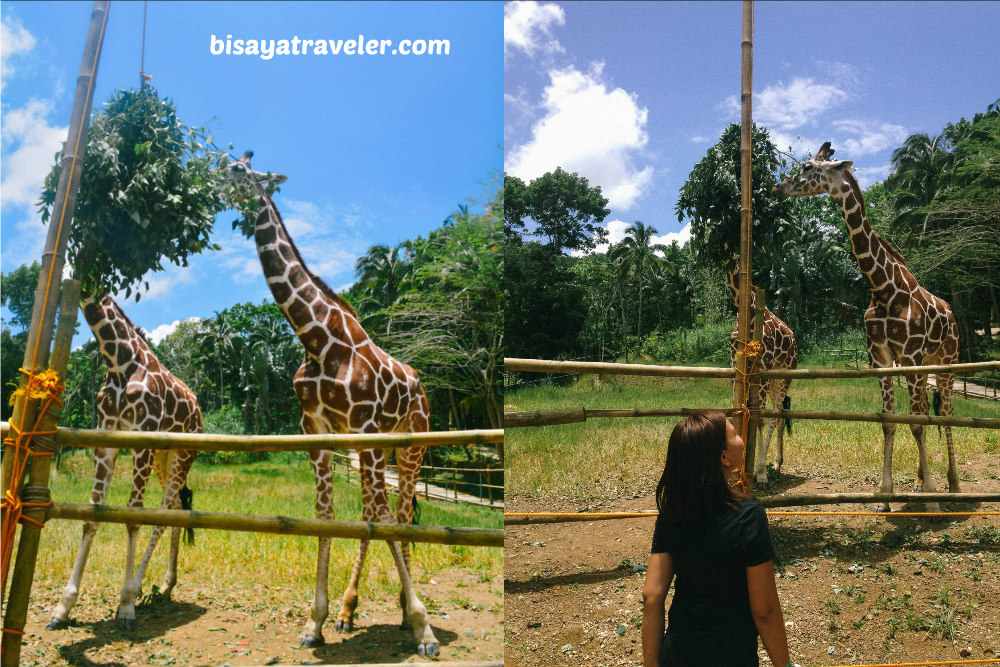 Once our pictorials were done, Phil, Kim and I took a hike up to next station in Cebu Safari and Adventure Park. The rest, meanwhile, waited in the tram stop, to catch a ride to the African Savannah.
Fifth stop: African Savannah
On our way up to African Savannah, we bumped into a few interesting animals, such as cheetahs, turtles and the nocturnal hyena who was enjoying his daily afternoon nap.
And, eventually, we arrived at African Savannah, and caught up with the rest of the gang. We, then, lined up, and waited for our turn for the African Savannah tour.
Amazingly, it didn't take a long time for us to experience this one-of-a-kind tour in Cebu Safari and Adventure Park.
And, the African Savannah tour was a blast, even though it was fairly short. As we took a tour around the savannah, we got to see some safari favorites, like the zebra and wildebeest. As an added bonus, the guide shared a load of information about these animals in Cebu Safari and Adventure Park.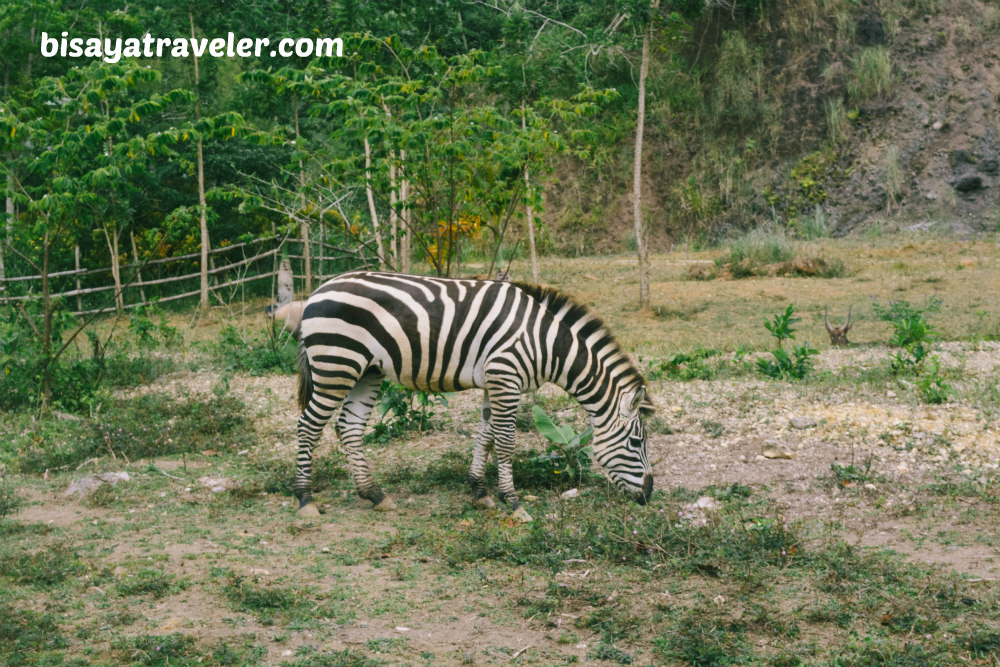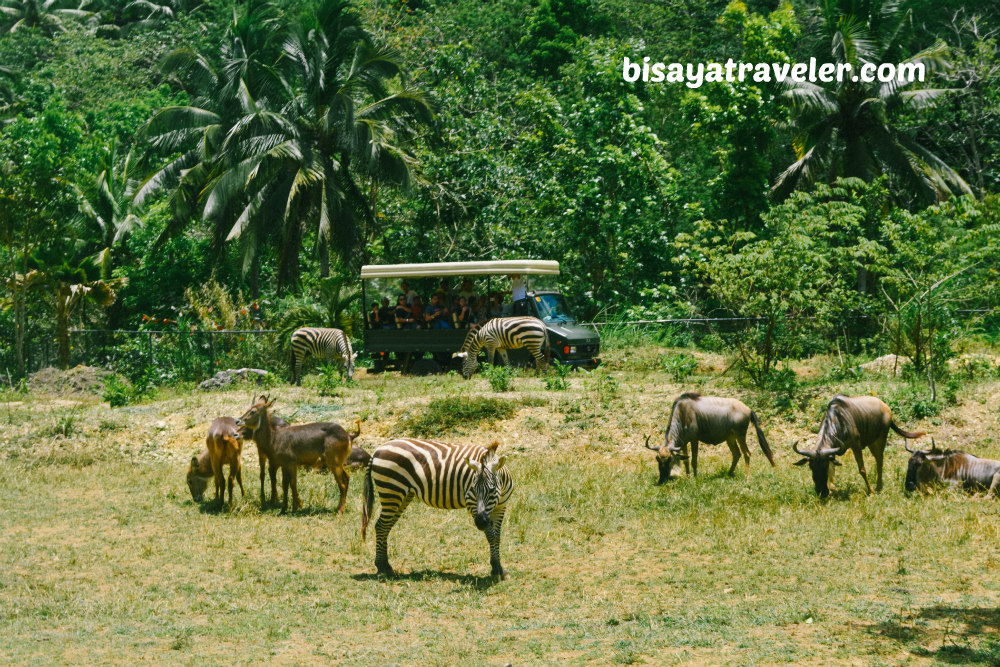 As what the guide told us, they have over a thousand of animals in Cebu Safari and Adventure Park. But, they don't display them simultaneously since some of these creatures would fight to the death for supremacy.
After the 5-minute tour, we paid a quick visit to the crocodiles in Cebu Safari and Adventure Park. We, in general, don't like crocs, but we figured out it was worth checking it out.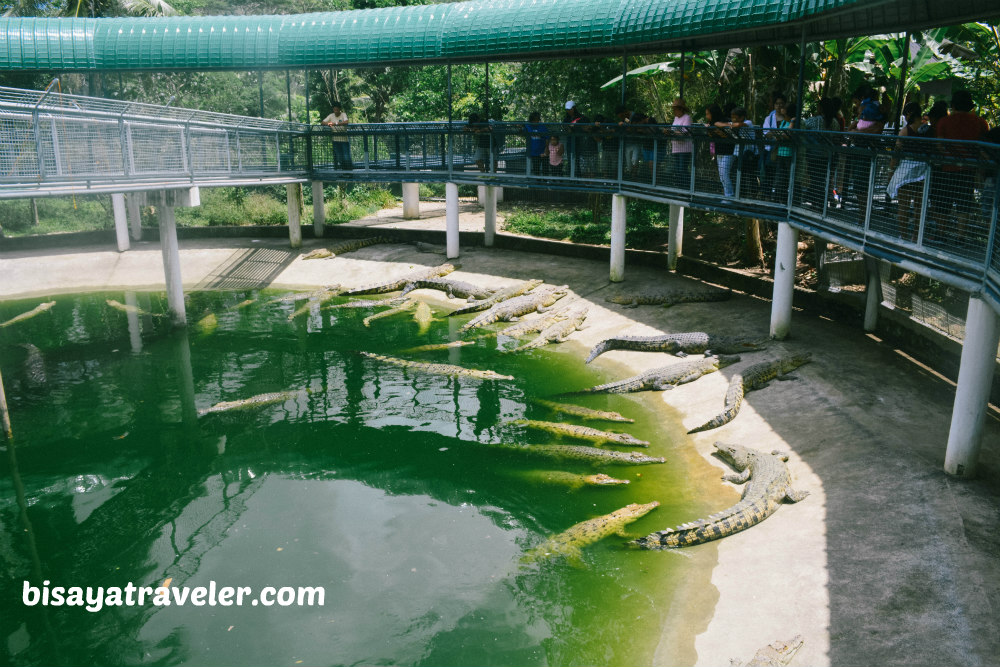 From there, my wife, Phil, Kim and I went downhill to see the other animals, like the cheetahs, tortoise and the snoozing hyena.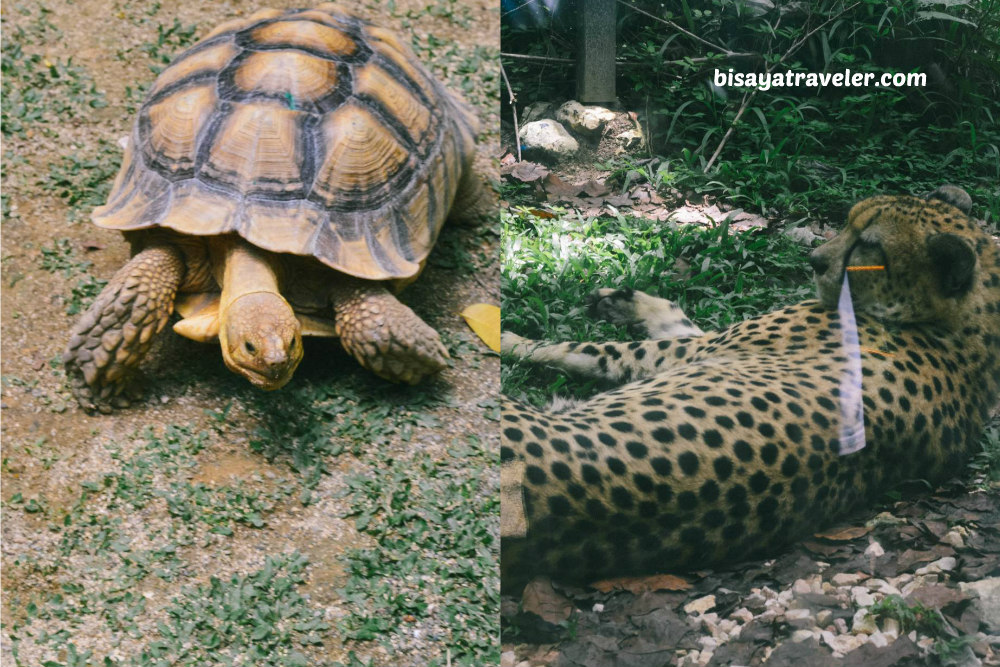 And yes, we made another stop to the giraffes, because we can't just get over their alluring charm.
Sixth stop: Safari Outpost and Tiger Turf
The Safari Outpost was, to me, the icing to the cake, during our visit to Cebu Safari and Adventure Park. From the get-go, the Safari Outpost delighted us with a plethora of lovely animals, such as meerkats, aquatic birds and macaws.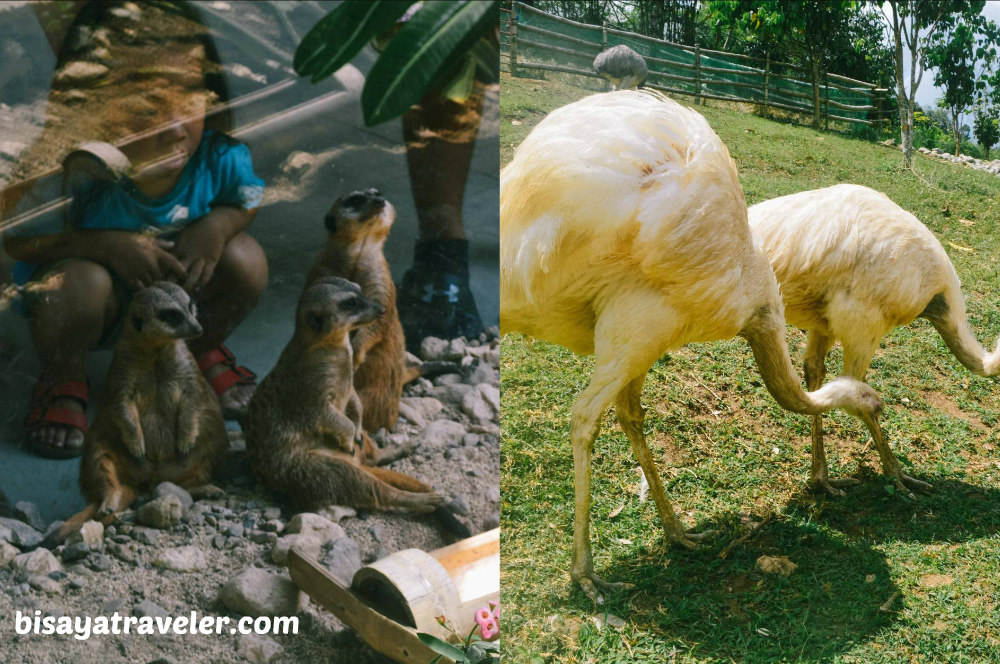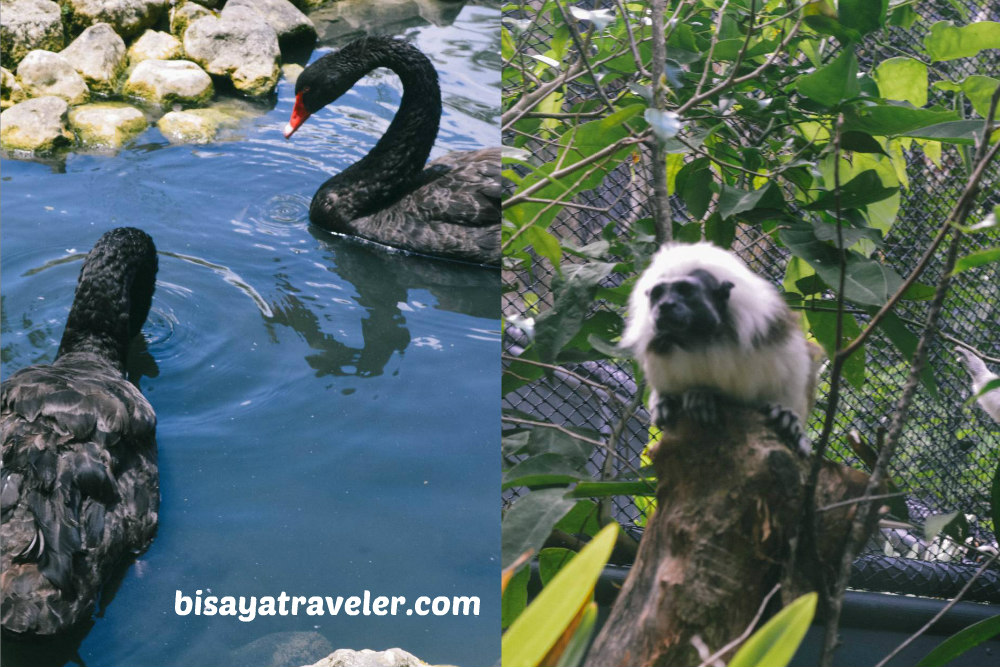 What's more, it boasts an Instagram-worthy Canopy Trail that give us a refreshing respite, amid the scorching heat.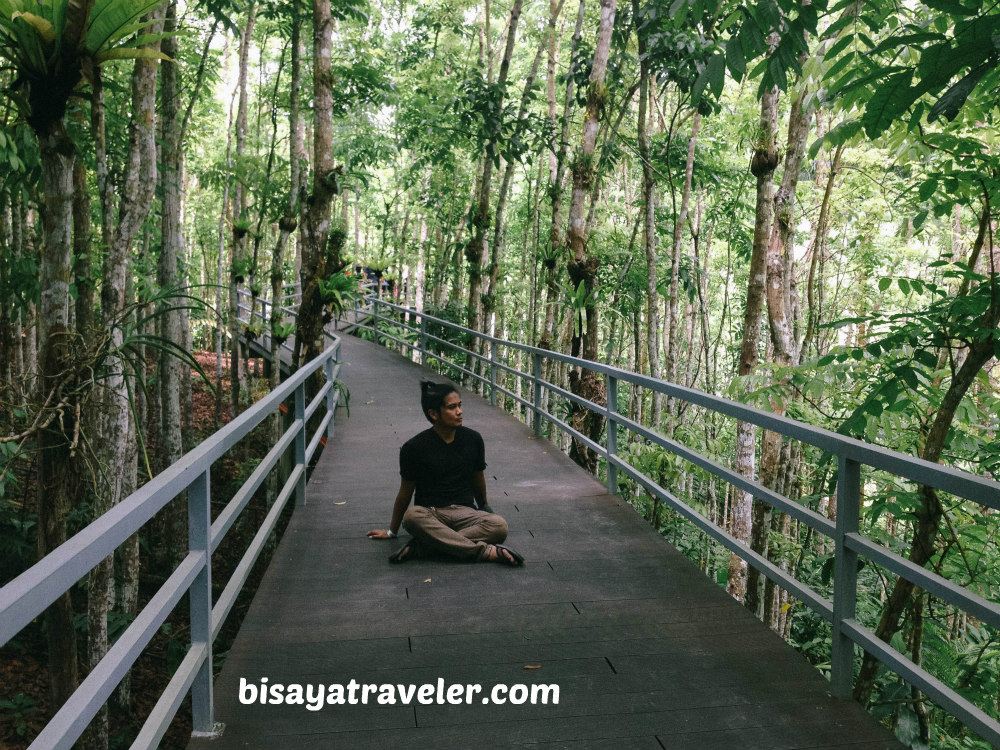 To top it all off, it has extraordinary animals that are usually found in South American lands – capybara and llama.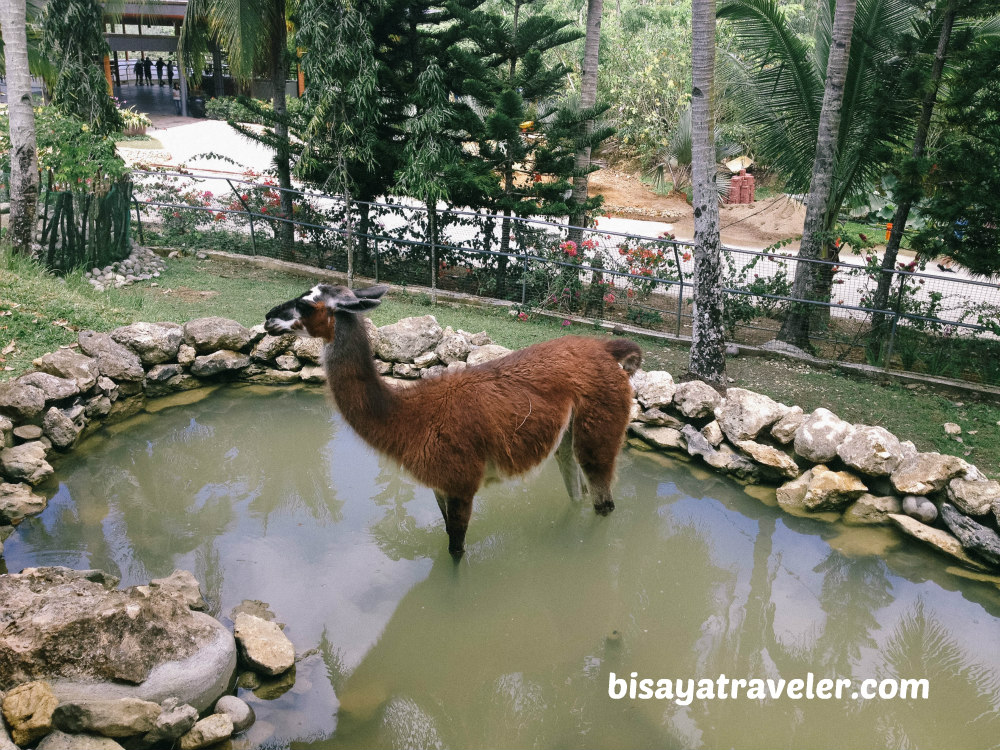 It was still pretty early to head back home, so we decided to drop by Tiger Turf again to see the famed white tiger.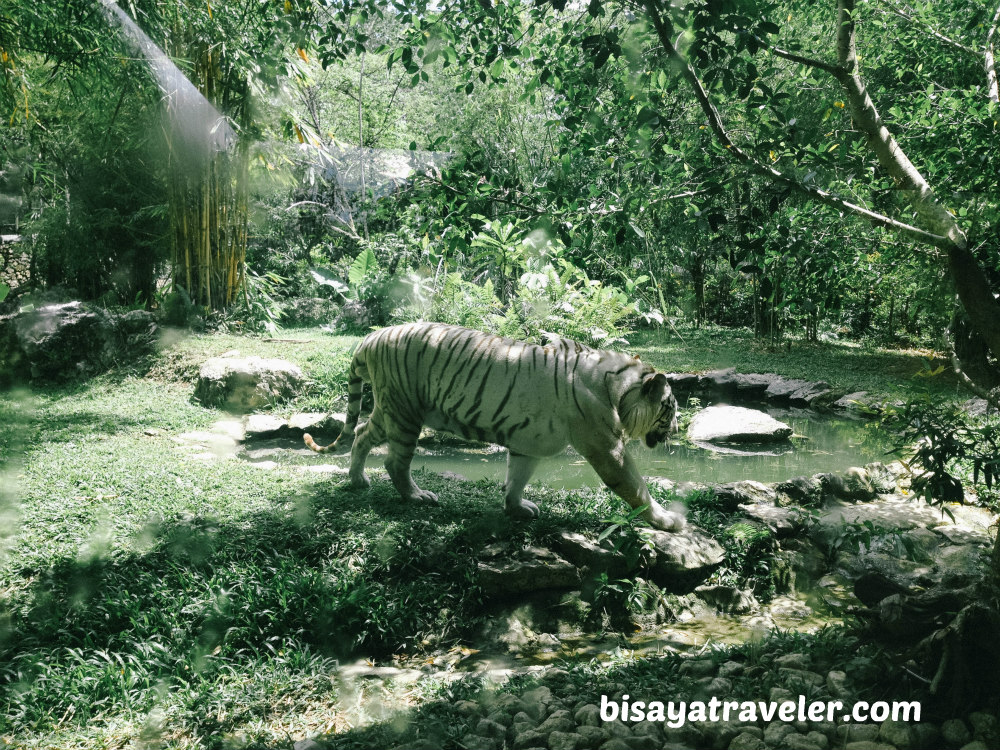 And boy, it was quite a sight, wowing us with its muscular built and mysterious aura. In my opinion, this tiger weighs, at least, 300 pounds.
Last stop: Rotunda
There was no way we were going to end our trip to Cebu Safari and Adventure Park without swinging by its Rotunda. Once we got our white tiger fix, we went down to Aviary Dome, and admired its mishmash of friendly birds. Soon after, we went to the fountain, to enjoy the moment and take pictures of it.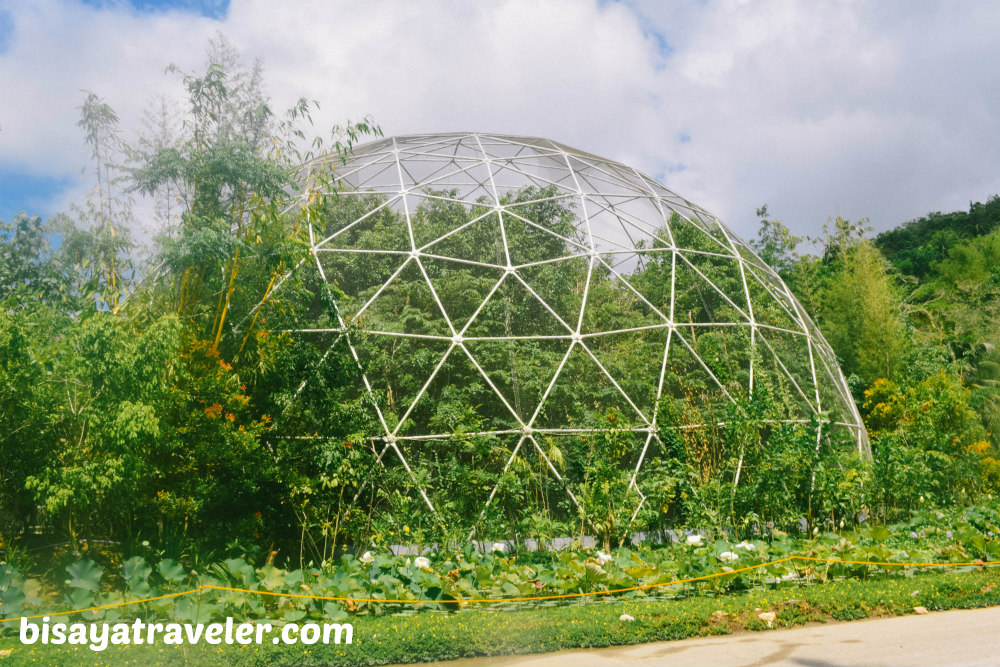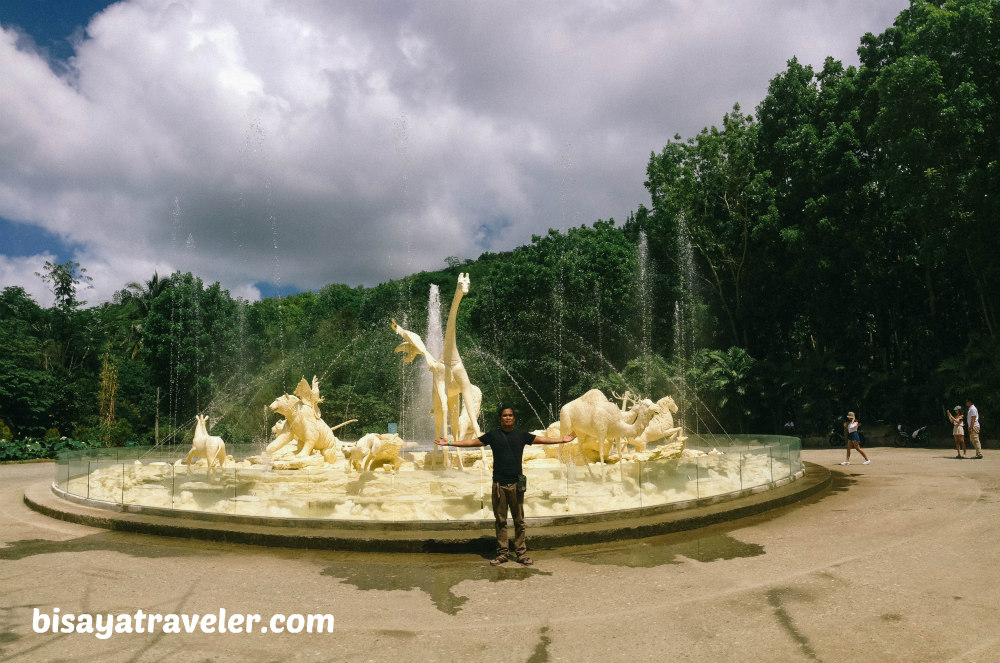 Minutes later, we took the shuttle service ride back to the welcome pavilion, and capped off our trip on a positive note.
Entrance fee to Cebu Safari And Adventure Park
As of this writing, you need to pay PHP 600 (without buffet) or 800 (with buffet), to experience this wondrous wildlife haven. Their prices, however, are subject to change, as it is still in its soft opening stages.
I know what you're thinking. Too expensive, right? Guess what? Actually, it's a bargain, especially when compare it to other wildlife sanctuaries in Asia like Calauit Safari Park and Singapore Night Safari. And besides, this is not like your typical flower garden in Cebu where you pay PHP 50, take pictures and head home.
By the way, Cebu Safari and Adventure Park has huge discounts for senior citizens. Furthermore, kids below 2 feet in height can enter the park for free. Children between 2 to 3 feet only have to pay half the price.
For reservations and payment details, send an email to [email protected]. Likewise, you may contact them through text or call at 0929 196 8191 or 0945 301 3700. For those who prefer to contact them via Facebook, you may contact them through their official page as well.
A quick update: As of July 2018, lunch is no longer included in the park's admission fee. According to my sources, you have to pay PHP 300 per person if you want to avail their lunch buffet. But, on the bright side, there's a brand-new bird show at the park, from Wednesdays to Sundays, at 01:45 PM. And, you don't have to pay extra to see that show since it's included in your entrance fee.
How to get to Cebu Safari And Adventure Park
From downtown Cebu, take a cab, and tell the driver that you're going to Carmen, Cebu. LOL! Just kidding!
Seriously, though, the best and most convenient way to get there is to drive your own car. Just use navigation apps like Google Maps and Waze, when driving to Cebu Safari and Adventure Park. Plus, there are also road signs that can help you get to Cebu Safari and Adventure Park. If you're driving from Cebu, have someone look closely at the left side, as soon as passed by Gaisano Carmen Cebu. Take a left turn, once you notice the signage that says Cebu Safari and Adventure Park is 8 kilometers away.
A word of advice, make sure your vehicle is in good condition, before driving up to Cebu Safari and Adventure Park. Although the road isn't as steep as the one leading Sirao, it can be a challenge for some vehicles.
For commuters, take a bus ride bound to Carmen Public Market, from the Cebu North Bus Terminal There, take a habal-habal ride to the entrance gate of the park. I'm not sure how much it costs, but I think it's worth PHP 50 to 80 per person and per way, based on my recent experiences in Mount Mago and Saint Benedict's Monastery.
Yep, it's the same road leading to Mount Mago and the monastery.
Alternatively, there are tour companies like Tickets To Ride that offer van services to Cebu Safari and Adventure Park.
Tips and notes:
Opening hours: 08:00 AM to 05:00 PM
Address: Toril, Barangay Corte, Carmen, Cebu (around 2 to 3 hours from Cebu City)
No smoking inside the safari.
Pets are a no-no inside.
The safari will soon feature other diversions, like river trekking, sky bike, spider walk, obstacle course, giant swing, obstacle course, zipline (the longest in Asia) and adventure rides.
Contact them before going there (there might changes to their fees and operations).
African Savannah is only open from 10:00 AM to 02:00 PM with no lunch break.
White tiger appears from 12:00 PM to 02:00 PM.
Contrary to popular belief, it's not inhumane, with a unique setting that simulates the wildlife's natural habitat. With a roster of trainers and vets inside the park, these animals are incredibly healthy.
You're going to walk (a lot) on a busy day.
Bring sunglasses, hat and a cushy pair of walking shoes.
Wear sunscreen.
Even with all its downsides, I still had a blast and a fantastic Easter Sunday with my family in Cebu Safari and Adventure Park. To me, it's not a world-class attraction, as of yet. Sure, it has the makings, tools and features of one, but it still has some work to do. At least, it has plenty of room for improvement, and is on the right path to success. Let's just wait and see, until Cebu Safari and Adventure Park finally opens all its facilities, rides and attractions.