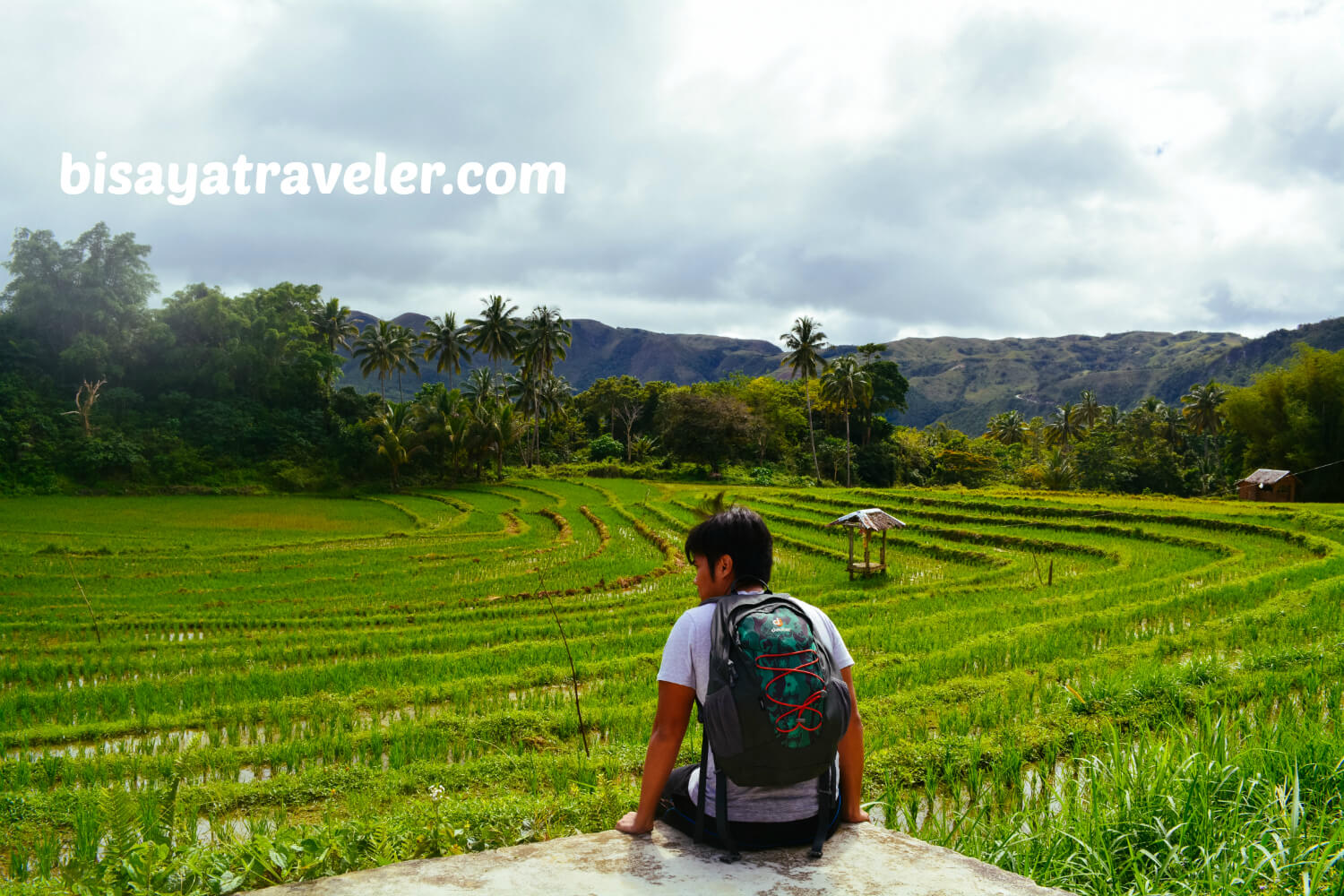 Taking In The Scenery Of The Verdant Rice Paddies In Boljoon
Want to catch sight of striking rice paddies in Cebu? Guess what? Boljoon has verdant rice paddies that will totally take your breath away. Tucked away in Barangay Upper Becerril, Boljoon's ride paddies are nothing short of beautiful, and even wowed us with its laid-back feel and breath-snatching scenery. Even though I've seen grander and more spectacular wonders before, I got to say it was quite a sight to behold.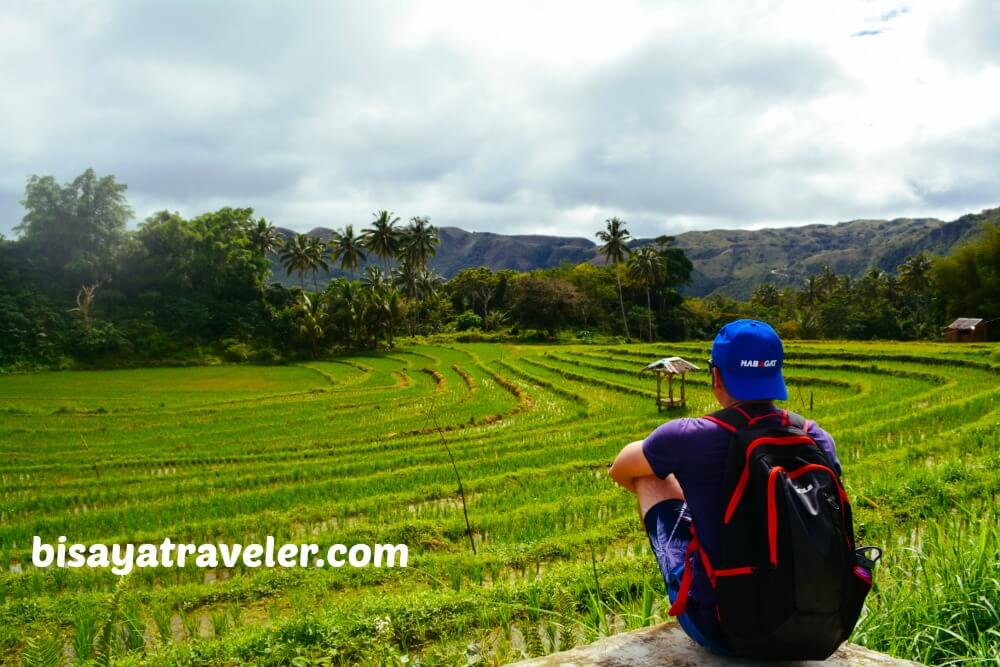 As far as I'm concerned, these paddies are one of Cebu's finest hidden treasures. Compared to Argao's rice terraces, I think Boljoon's version is much better and a whole lot easier on the eyes. Trust me, I've seen both of them. That's just my opinion, though.
Our experience with Boljoon's rice paddies
It was a Sunday full of highs, joys and giggles. We've just visited the breezy and awe-inspiring Ablyan Peak, and needless to say, we were all in a positive mood.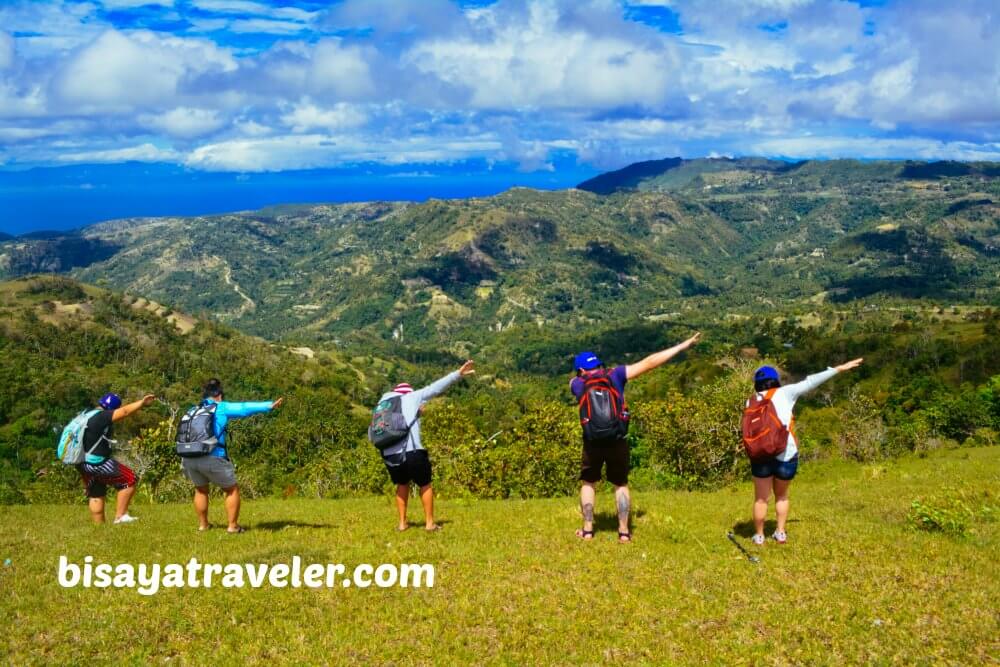 But, as with most of Team Bang's escapades, we had to cap off our visit in Boljoon on a high note – by plunging into refreshing waterfall. And, the nearest place to get our waterfall fix was no other than Dayhag Falls.
As we were heading towards Dayhag Falls, I and my squad – Gelique, Romy, Sherlyn, Ace and Noel – got a glimpse of these enticing rice paddies. I already knew that these rice paddies exist near Dayhag Falls, but I never thought it would be that mesmerizing.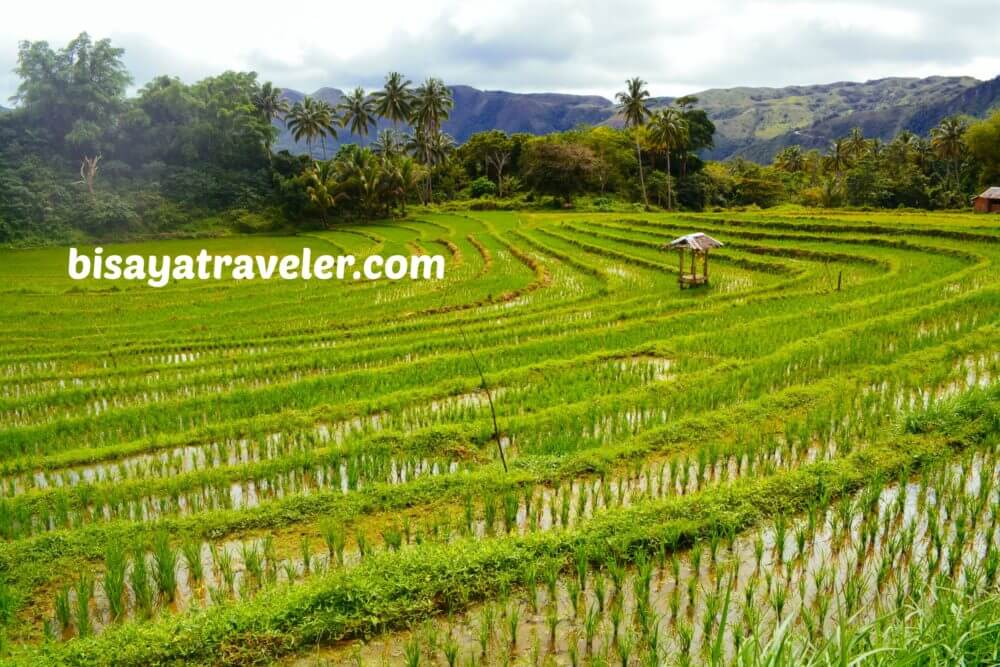 Upon our arrival, we went straight to the person in charge for Dayhag Falls, to pay the necessary fees. And while my buddies were digging their wallets and pockets, I was a little busy gazing at the paddies and its rustic cottage.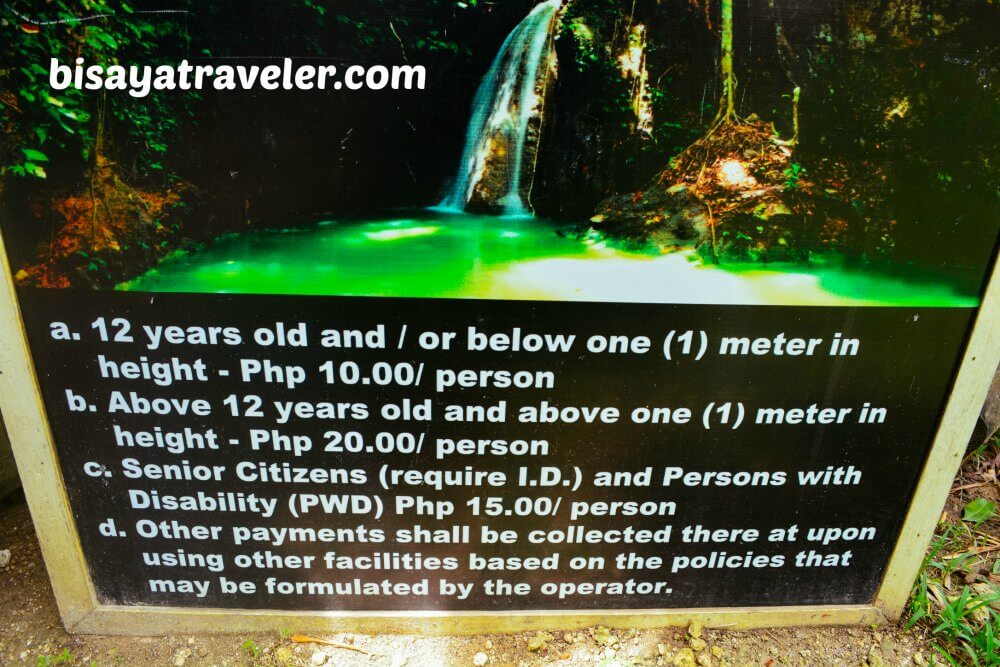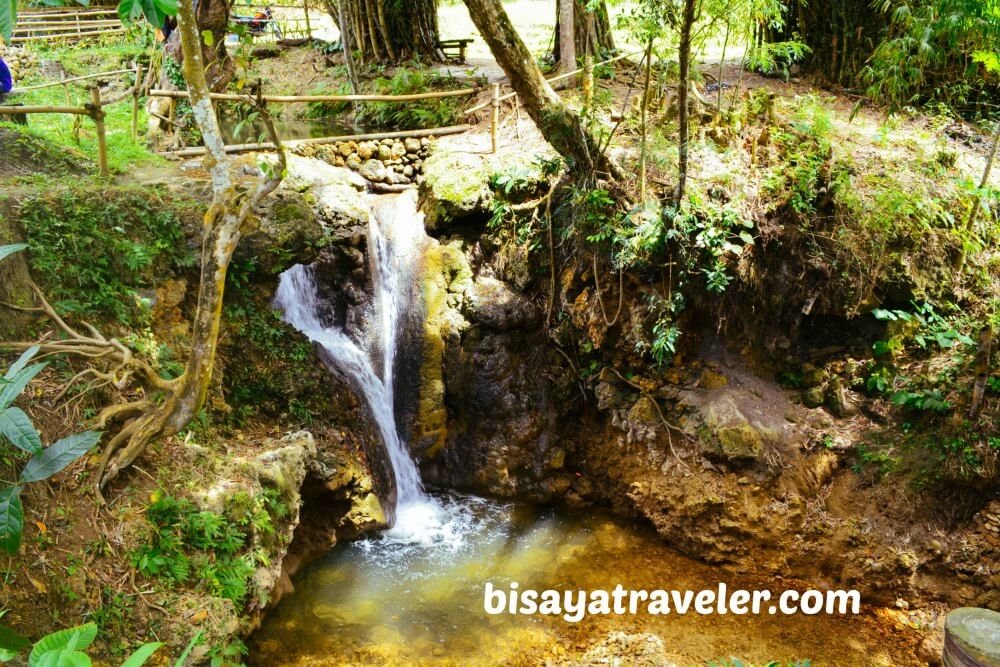 Afterwards, we took a quick walk down to the lower levels of the waterfalls, for a dip. But, with everyone's stomach grumbling, we decided to eat our lunch at the site.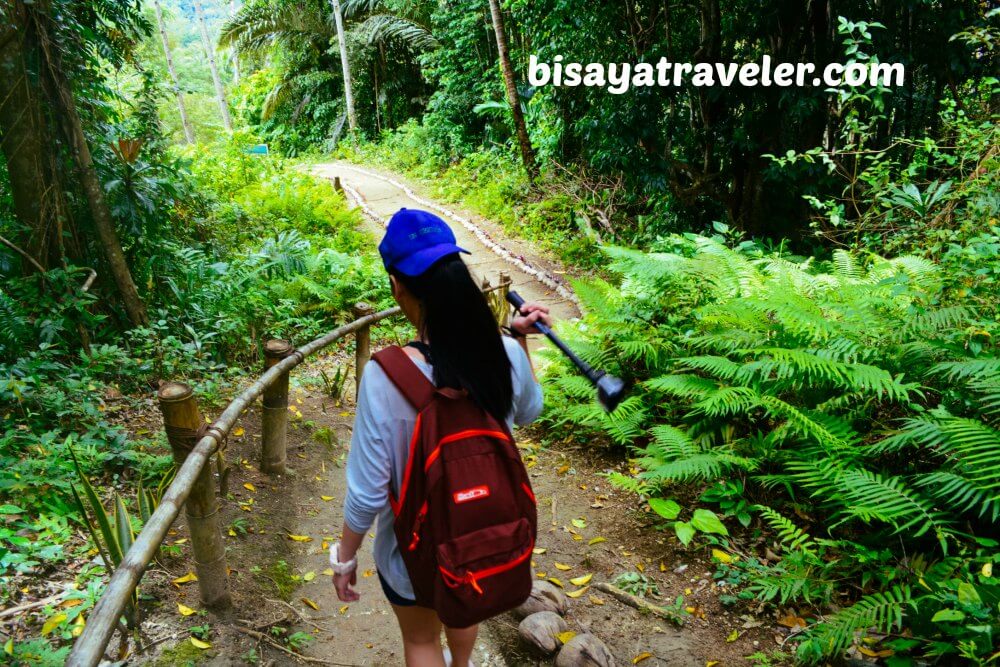 There were locals in the area as well, harvesting fresh coconuts. Since everybody on the team loves coconuts, we bought a piece each.
As you can see, they clearly all enjoyed the fresh coconuts in the area.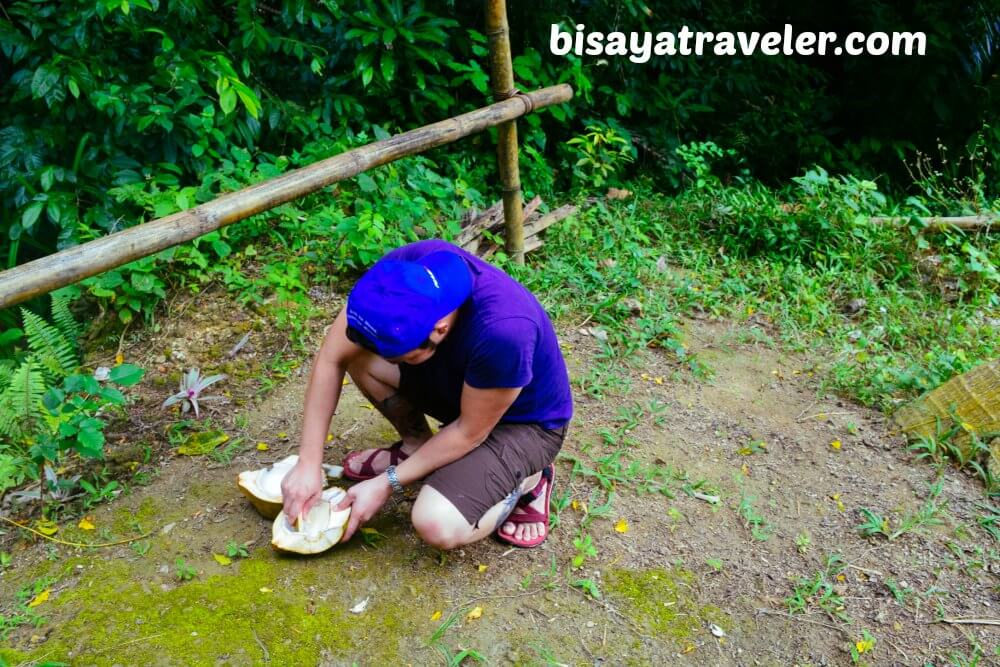 Later on, we took a plunge on the supremely refreshing and cool waters of Dayhag Falls.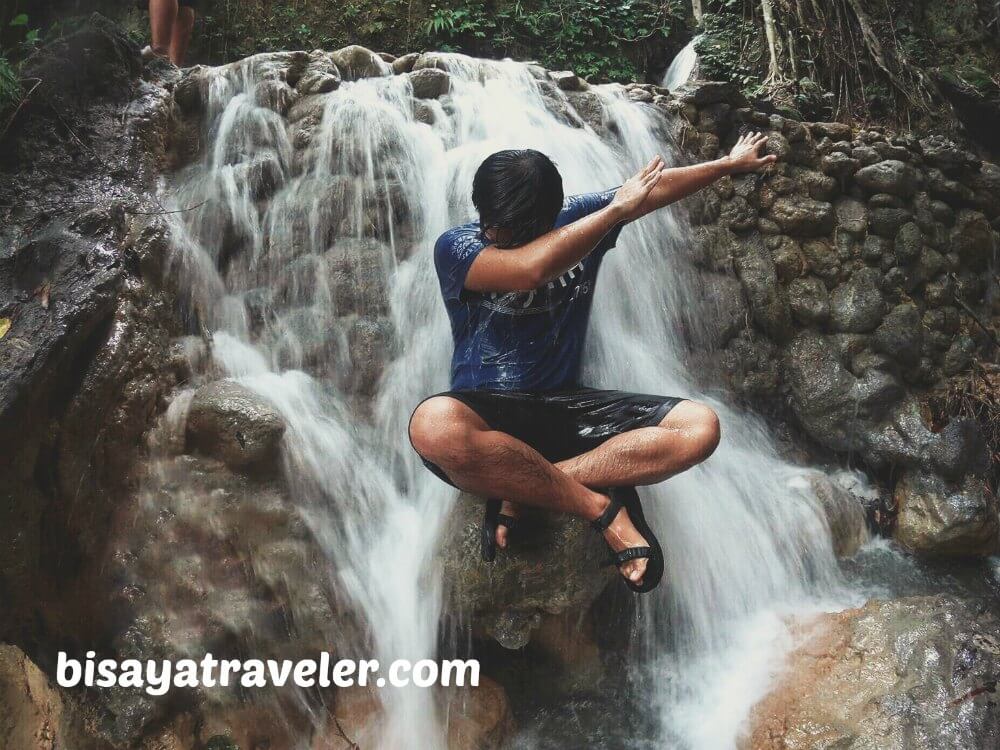 As much as I enjoyed Dayhag Falls, I just couldn't keep my mind off these rice paddies. Yes folks, I'm a bona fide sucker for rice paddies. Whether it's their outstanding symmetry or picturesque backdrop, there's just something about them that draws me to these man-made spectacles.
Maybe, in the near future, I'll write something about my rice paddy or terrace adventures. Something, like "chasing rice terraces"? Yeah, I know it sounds terrible, and a bit clichéd. I'll look for a more appealing title, then.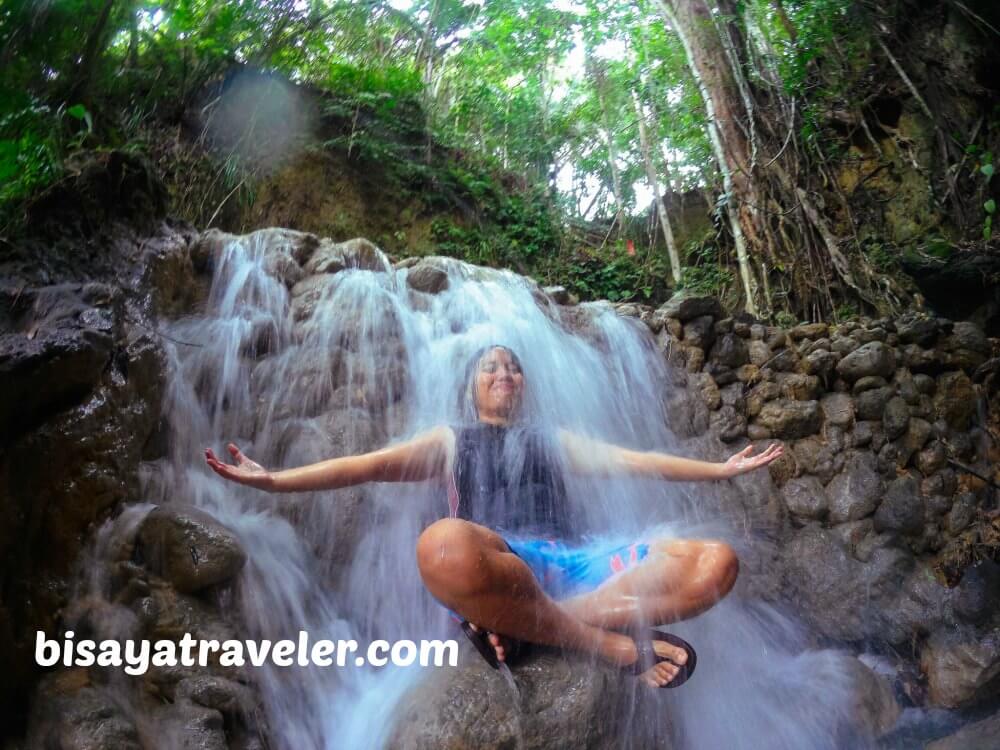 We didn't spend a lot of time there because we have a couple more stops for our Sunday team getaway. Of course, we were also excited to see the rice paddies in its full glory.
And finally, we have made it to the Boljoon's alluring rice paddies.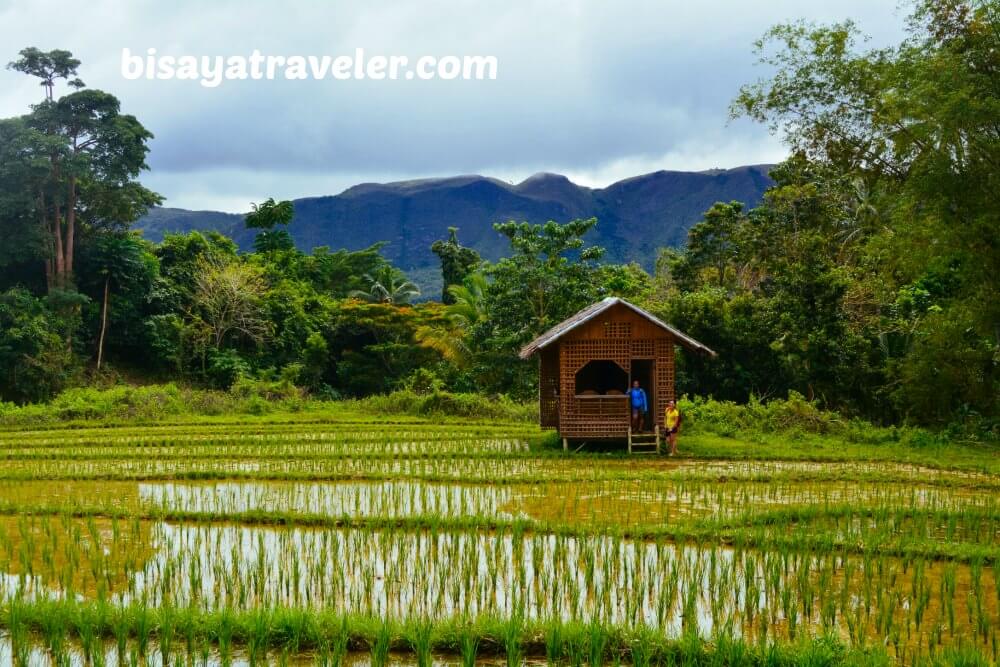 As Romy, Gelique and Sherlyn were weaving their way through the paddies, I, Noel and Ace went to the cemented platform or stage to get a better view of this greenery.
Personally, I think it's the ultimate spot to snap a photo of these paddies. With its mountainous backdrop and eye-catching patterns, it does look pretty similar to the famed rice terraces in Ubud, Bali, Indonesia.
We took turns posing on the platform, doing our best impressions of Kevin's (a fellow Team Bang member) maoy-moay pose.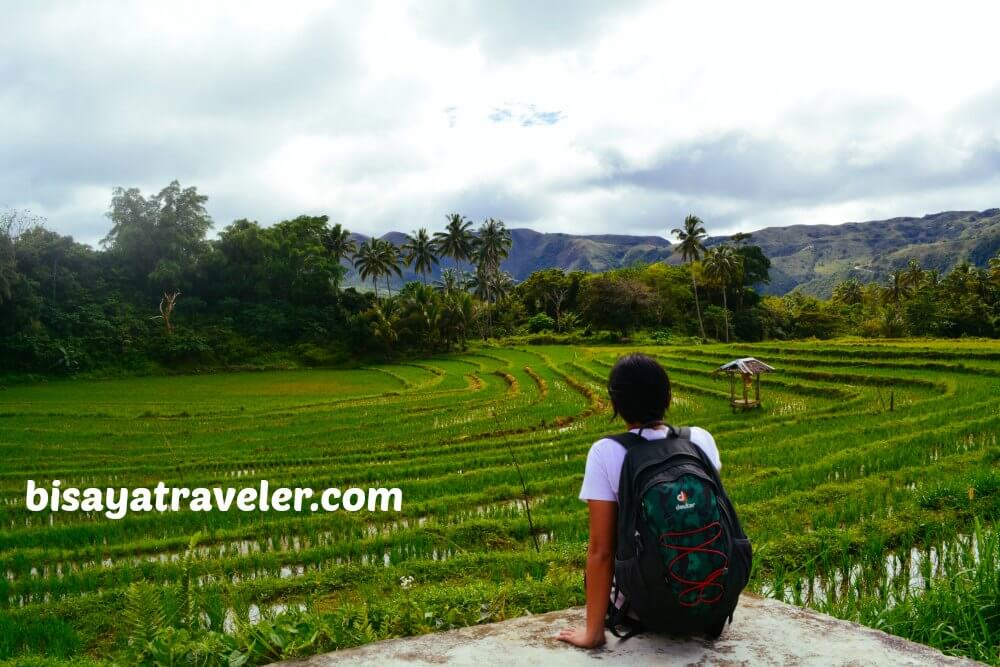 Later on, we went back to the spot where the gals were snapping their selfies and photos. There, we saw Sherlyn and Romelyn posing like scarecrows, or "tao-tao sa humayan" as Noel would say in Bisaya.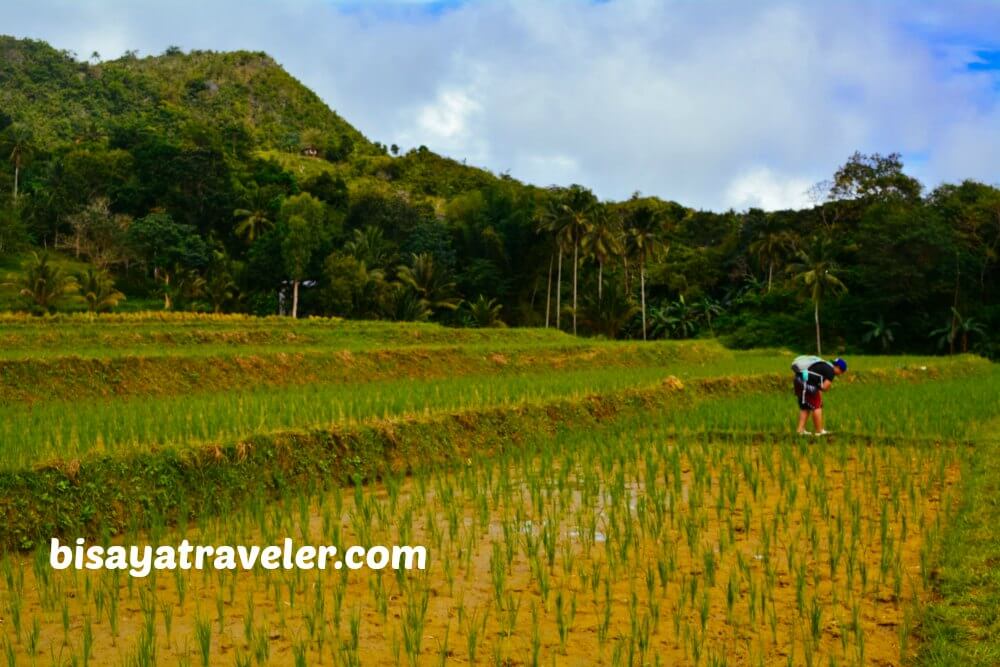 We told them what we thought about their pose, and they just burst into laughter.
Moments later, we went back to the platform, so we can enjoy the view and snap more photos. A few minutes later, Boss Peding and the rest of his gang came to take us back to Boljoon proper, where we would take a bus ride to our next layover – Cangcuay, Private Beach in Oslob.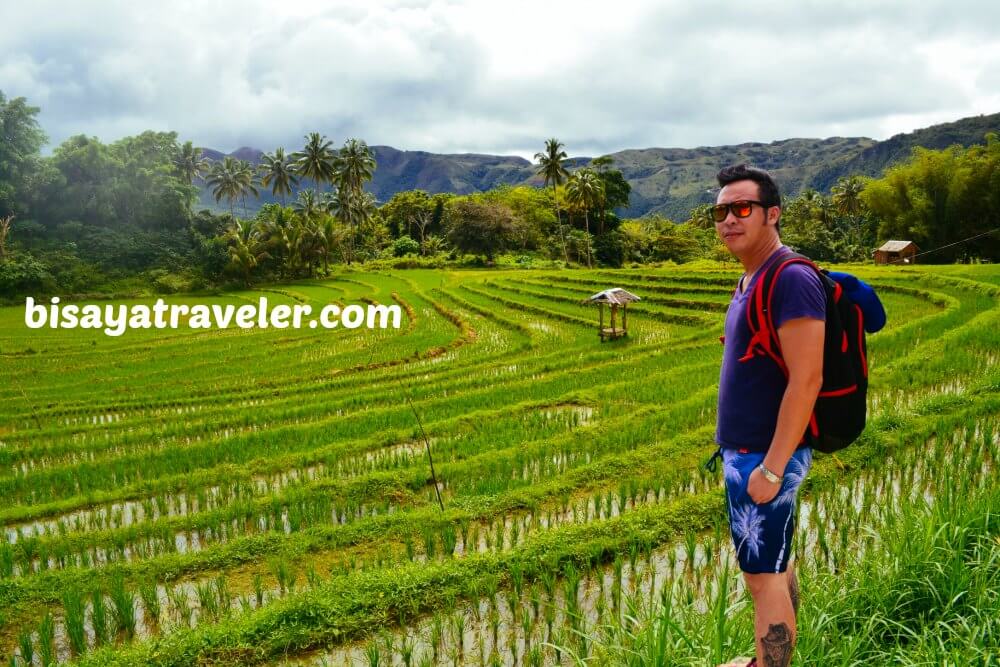 Our Boljoon-Oslob Itinerary:
05:30 AM: Meet-up at South Bus Terminal
06:30 AM: Depart from Cebu city
09:30 AM: ETA Boljoon Bus Stop/ Depart for Ablayan Peak
10:15 AM: ETA Abalyan Peak/ picture taking
11:25 AM: Depart from Ablayan Peak
11:45 AM: Arrival at Day-as Falls/Lunch
12:30 PM: Swimming at Dayhag Falls
01:45 PM: Picture taking at nearby rice paddies
02:20 PM: Depart from Dayhag falls
03:00 PM: Arrival at Boljoon Market/Depart for Oslob
03:30 PM: Arrival at Cangcuay, Private Beach
04:00 PM: Chilling at Cangcuay, Private Beach
05:30 PM: Depart from Oslob
08:30 PM: Home sweet home
Cost breakdown for the day:
Bus fare to Boljoon: PHP 146 person
Lunch: PHP 65 per person
Habal-habal ride (back-and-forth, including Ablayan Peak): PHP 500 per motorcycle (can fit 3 people)
Entrance fee to Dayhag Falls: PHP 20
Fare to Oslob from Boljoon: PHP 30
Entrance fee to Cangcuay, Private Beach: PHP 120
Bus fare to Cebu City from Oslob: PHP 170
Important notes:
These rice paddies can be accessed for everybody's favorite price of ZERO pesos.
Please, don't touch their crops.
Practice The Leave No Trace principles.
Spend some time there admiring the scenery.
Boljoon's ride paddies were just a part of our recent Boljoon trip. You may travel all the way to the town's highlands to see it, but I suggest that you drop by Ablayan Peak and Dayhag Falls, for a more pleasurable experience.
You may reach out to Peding (our official habal-habal driver of the day) at 0932 658 3074.