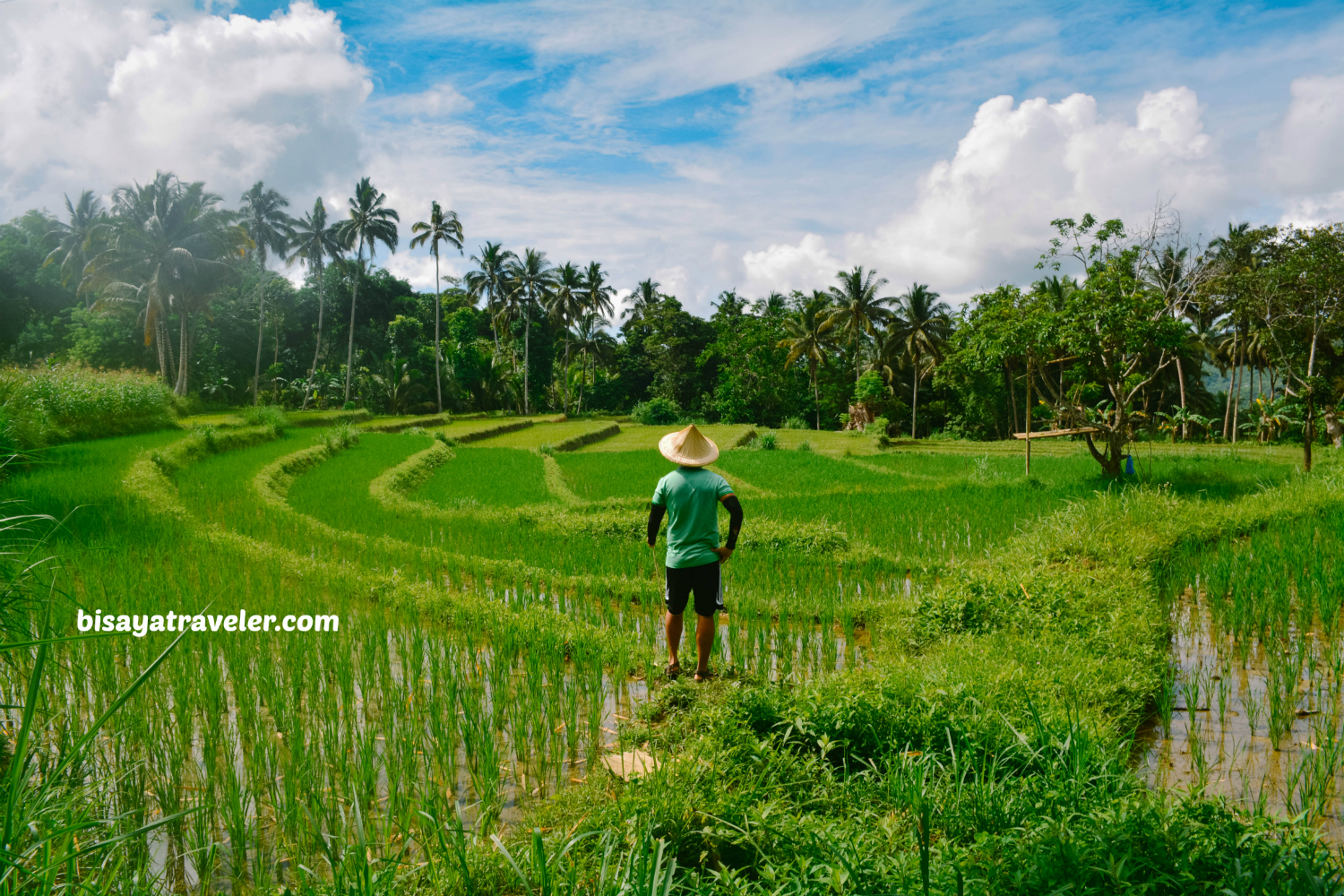 Boljoon Adventure: Hiking With A Wonderfully Weird Twist
With a never-ending list of places to visit, most of today's backpackers or travelers don't like to repeat a destination. Once they hit one of the places on their "bucket list", they set their sights on another destination, and never look back. And I totally get it, even if that means missing out on local secrets and quaint towns like Boljoon, Cebu. Whether it is setting foot on all the 81 provinces in the Philippines or visiting a ton of foreign countries, it's, after all, nice to have something that can give you the drive to travel.
I, on the other hand, don't have any goals, when it comes to traveling. Although I can be quite an aggressive traveler, I prefer to take things slow, and soak up the culture of the place. The truth is, I only make moves, whenever there's an opportunity to travel. The way I see it, traveling is not a race or a contest where well-traveled adventurers have bragging rights over people who rarely travel.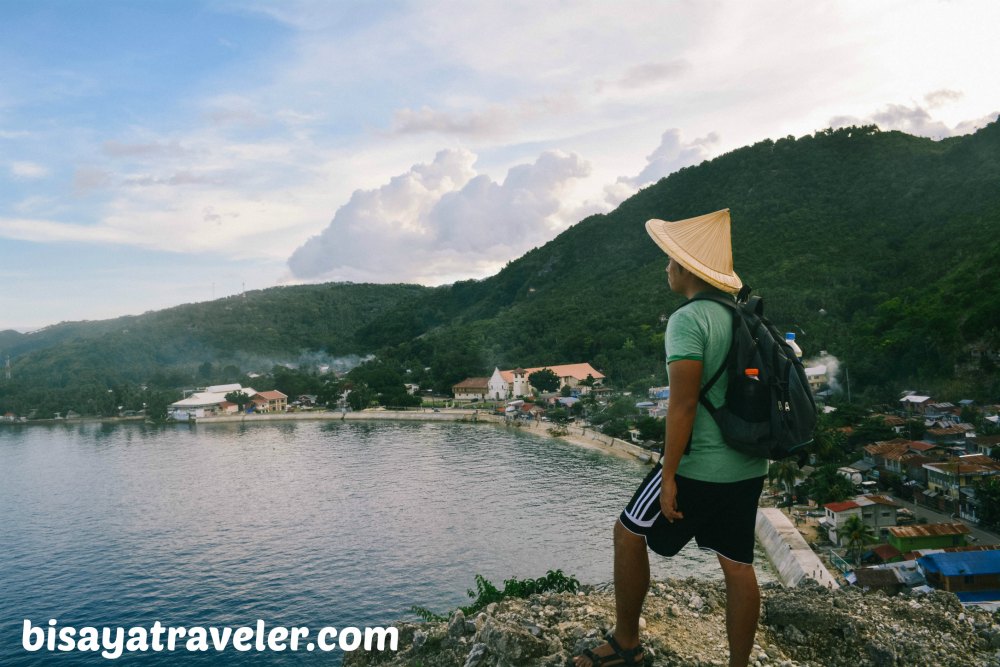 And that's why I don't mind repeating a destination. As a matter of fact, I've been to Boljoon three times, this year, exploring sweet spots like Escuela Catolica, Ablayan Peak, Dayhag Falls and Ili Rock. And when my team asked me to bring them to Boljoon, Cebu, I, with enthusiasm, gave them a resounding "yes".
The people who joined me on my Boljoon Adventure
Team Bang was almost in full force for our day adventure in Boljoon, Cebu. From the crew's pioneers to the newer members, there were over a dozen of Team Bang mainstays who tagged along with me. For the first time in a long while, Christine and Noel got back on the track, to experience with us the beauty and heritage of Boljoon.
Even though they were incomplete, the outspoken Besh Squad – Sadam, Lieve and Marzi – was around to join the fun. Of course, the Grace-Fool Unicorns (a new extension of Team Bang) were also up for the challenge, represented by Marc, Gelique, Cherwinn, Jovvy, Juan and Shiela. Team Bang's adventurous lovebirds – RJ and Beth – couldn't pass up on the opportunity to see Boljoon as well. Furthermore, two of the team's most active members – Wilfred and Kevin (the heart break kid) – came along, to complete our 16-hiker roster.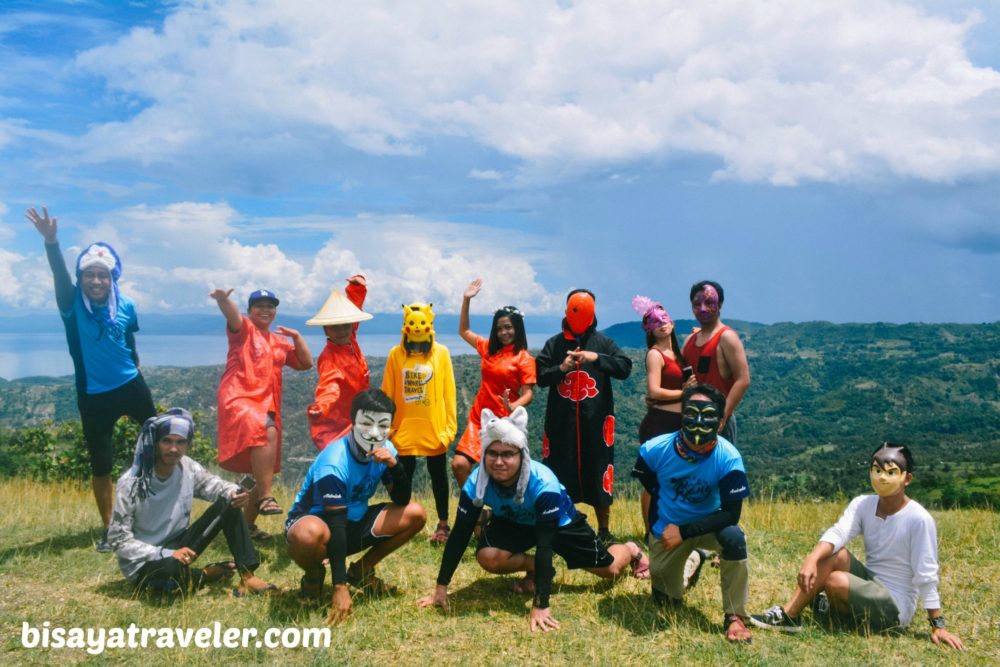 And to top it all off, we were joined by a couple of new friends who made our Boljoon getaway even more memorable and fun – Jonah JM and Clayton.
How we got there
After our meet-up at 711 near South Bus Terminal, we took a quick 2-hour ride to Boljoon through a spacious and cushy van. Along the way, we picked up Marc and Beth in Minglanilla and Naga respectively. Upon our arrival at Boljoon market, the team ate breakfast and made final preparations for our hike to Ablayan Peak. Moments later, Jonah and Clayton arrived in the scene, to spark our escapade.
From there, we followed the pair riding a habal-habal, to the jump-off point of our hike to Ablayan Peak – Dayhag Falls.
Our cosplay hike to Ablayan Peak
From the get-go, I knew this hike was going to be one-of-a-kind. After all, it was our first time to hike with a variety of colorful and intriguing costumes. Personally, it felt like we were having our own version of the Otaku festival on the summit. Sounds weird, right? For me, however, I think it's perfectly normal and nothing short of exciting.
As soon as we arrived at our base, we wasted no time, and gathered the troops, so we could start our hike on the right foot. Since it was for some their first time seeing each other, we made formal introductions, and even mentioned our IG Ids to spice up our opener. With everyone settled in and pumped up for the hike, we took on the shorter trail leading to Ablayan Peak.
As you might have figured out, this wasn't my first time visiting Ablayan Peak. But the thing is, we didn't hike our way to the peak on our first sojourn, with the habal-habal drivers taking us directly to the top. In other words, I had no clue what the trail looked like or where exactly to go. Luckily, there were plenty of locals around, to shed some light on the right trail to Ablayan Peak, Boljoon.
A few minutes after starting our hike, a gorgeous sight greeted us, and gave us an urge to snap a ton of photographs – the lush and breathtaking rice terraces of Sitio Ylaya, Upper Becceril, Boljoon.
As always, we took turns posing in front of a bunch of cameras to highlight the grandeur of the place. This time, we posed with an array of props and wondrous costumes.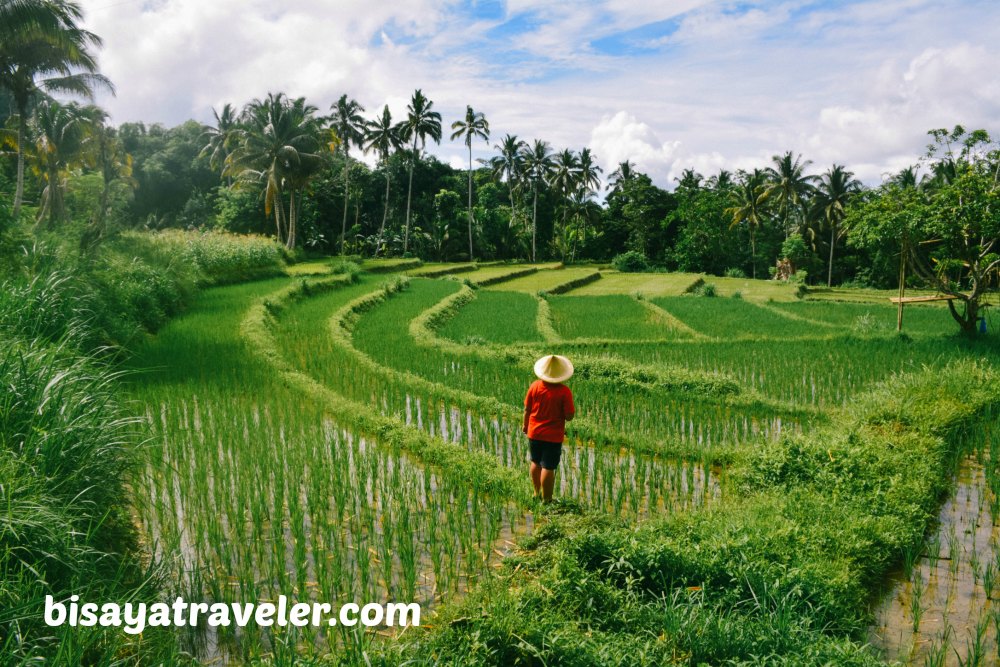 Not to be outdone by my peers, I did pose a handful of photos, with Gelique's Salakot, from a couple of different angles.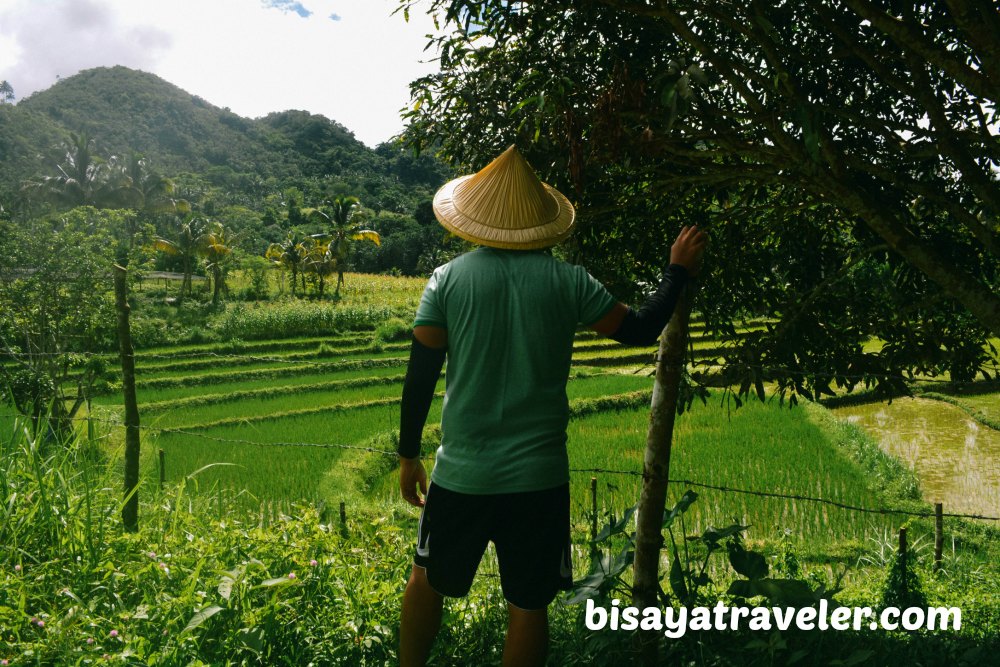 At Team Bang, we give everyone a chance to pose for an Instagrammable shot. I know it's a little time-consuming, but it's our tradition and a huge part of our identity as a team. Not only does this unique tradition make our trips more fun and engaging, but it also gives us heaps of photos that preserve the beautiful memories of our trips. Moreover, we mostly think of hiking not as a marathon or a race, but as a journey filled with special moments, joys and lessons. Charoot!
Later on, we went back to the trail leading to the first stop of our Boljoon trip – Ablayan Peak.
With a fairly easy trail and a load of eye-catching sights, we were all smiles, on our way to Ablayan Peak. Whenever we saw something nice and picturesque, we made a quick stop to capture some photographs.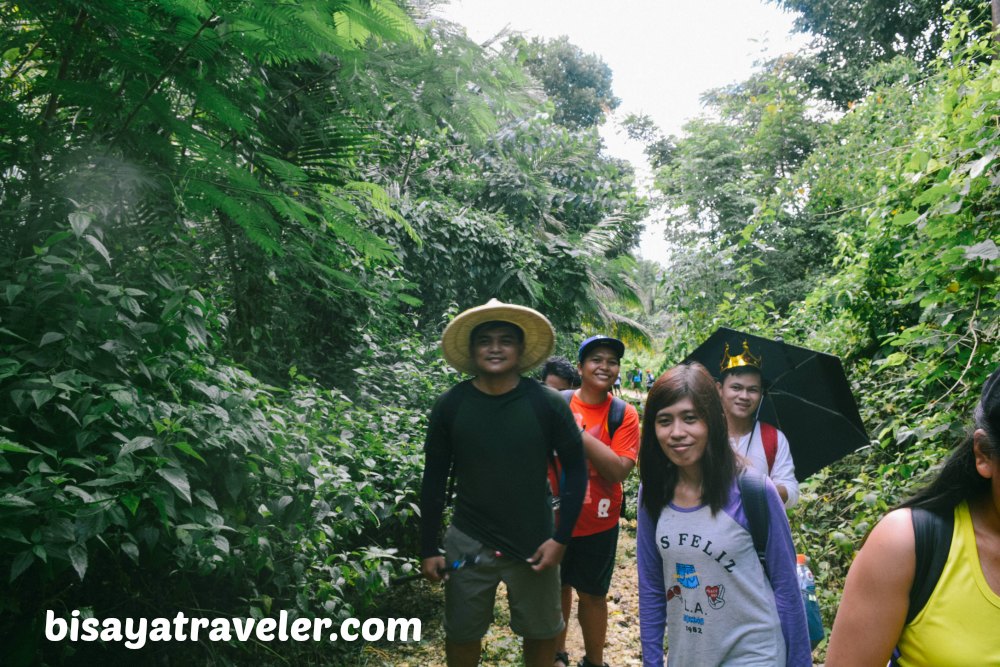 As were about to reach the summit, we saw a towering brown horse with her cute foal. As far as I can remember, there were a lot of folks from the team who got close to the horse, for a photo op.
As for me, I didn't bother getting an up close look of it. Keep in mind that I've, on a number of occasions, been chased by not-so friendly animals, from horses to goats. For some reason, farm animals don't seem to like me.
And when we arrived at the peak, nearly everyone flaunted their bright and fabulous costume. Truthfully, I was a bit shocked with some of the costumes that they brought. Prior to our Boljoon trip, I thought they were just going to bring either a simplistic costume or a mask.
But, my sprightly hiking buddies had other plans in mind, upping the ante with their elaborate costumes and quirky props. And yes, I love everything they did, to make our Boljoon getaway a whole lot more exciting, intriguing and fun. Filled with eccentricities and giggles, our Boljoon hike will surely go down as one of my most extraordinary and fun hiking experiences in 2017.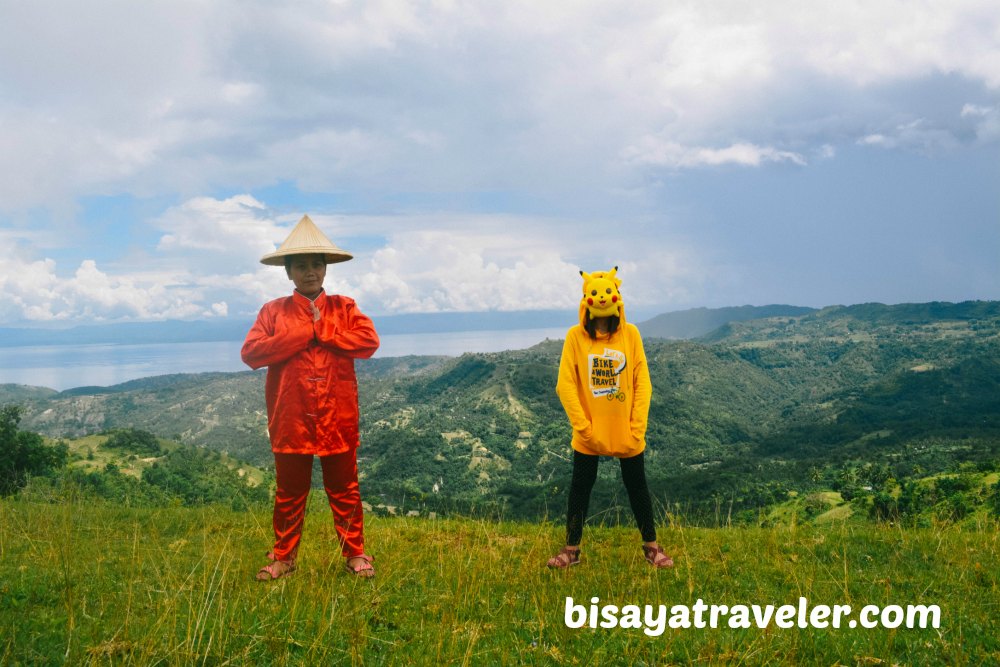 Cherwinn, with his graceful spirit and flair, showcased his Miss Universe crown, and added a strange spin to his costume. Despite not having a costume, Sadam still managed to effortlessly look like a member of the infamous Maute group.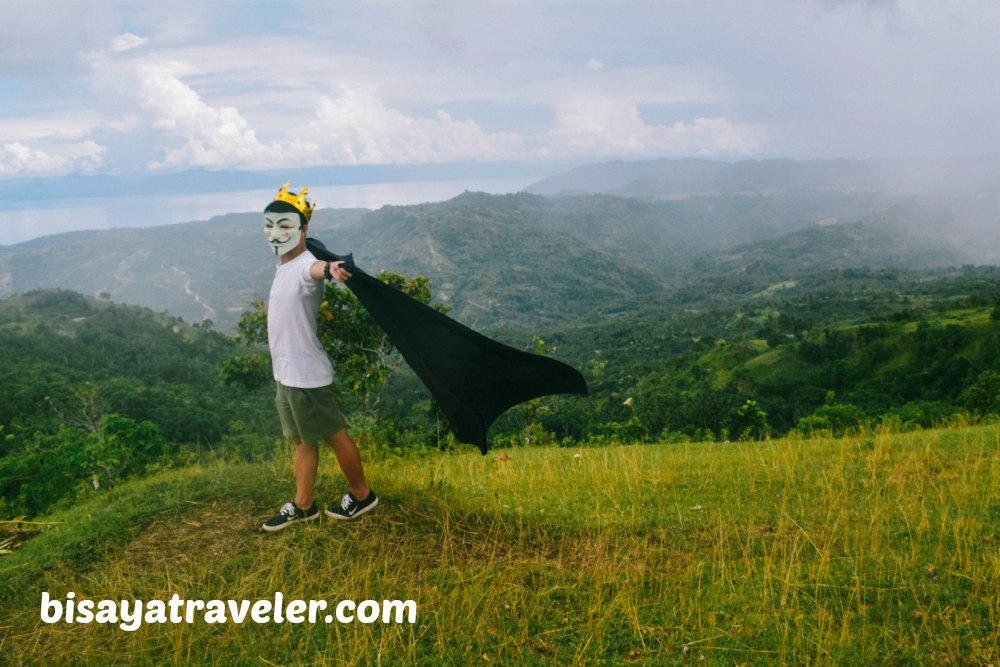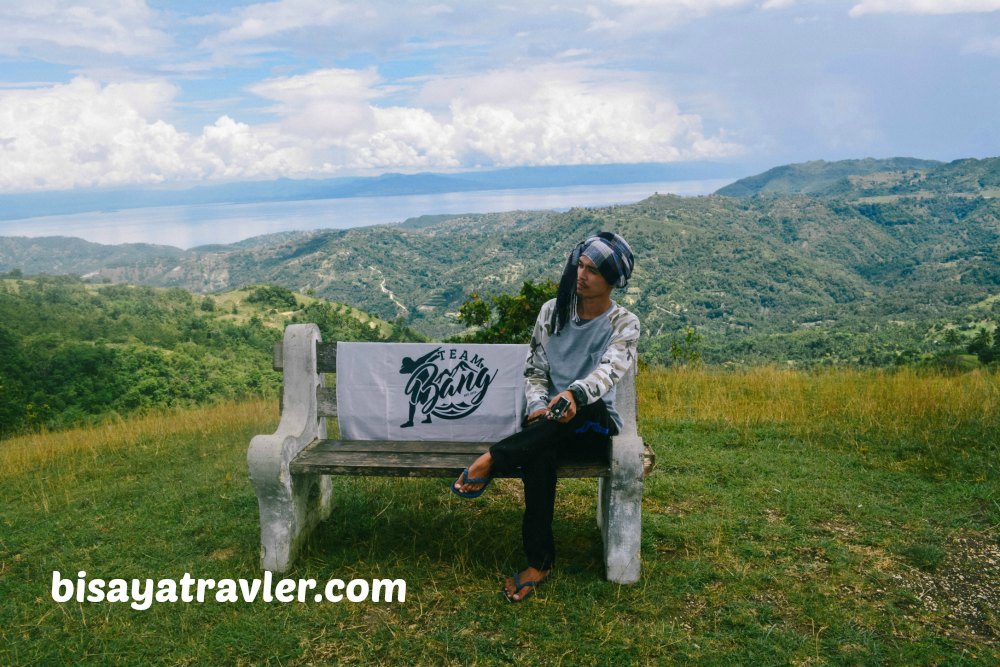 I do love having the members of LGBT or GBBT (Girl Boy Bakla Tomboy) community on my team. As they say, variety is the spice of life, and they do infuse an element of fun to our adventures. With their sense of humors and wits, these people can always find a way to make everybody laugh.
And just like Cherwiin and Sadam, the rest also had tons of photographs with their costumes.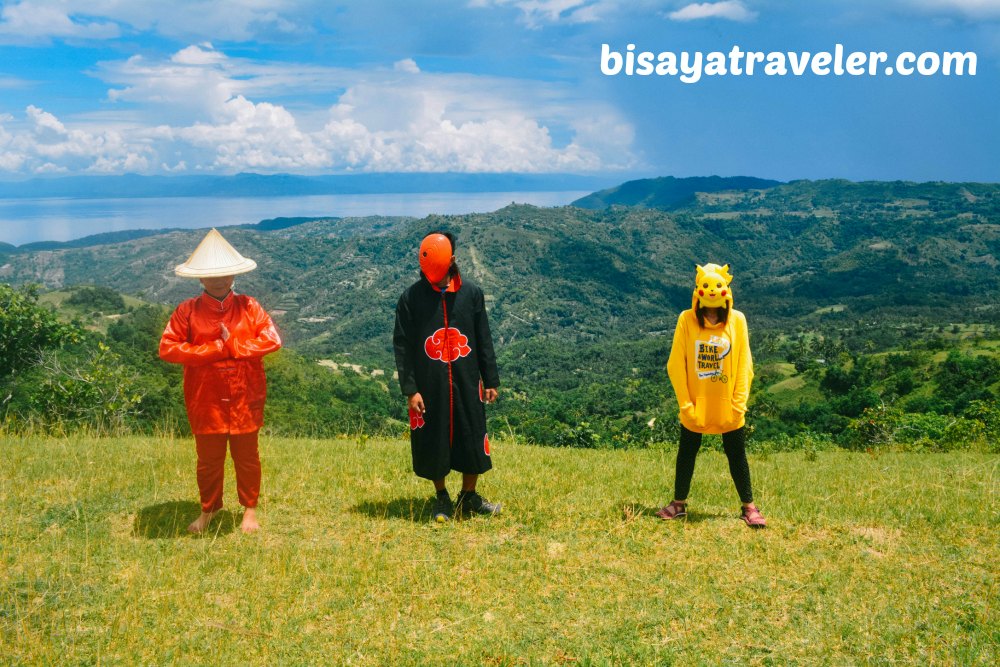 Who will bag the award for the best costume for our Ablayan Peak? I don't know, and it will likely take a panel to decide the ultimate winner for this contest. As far as I'm concerned, it's a toss-up between Jovvy and Shiela. Maybe, we should let Cherwinn decide the winner for this contest.
What about Kevin's Obito get-up? Sorry bro, but we all know Lieve brought that costume. Better luck, next time.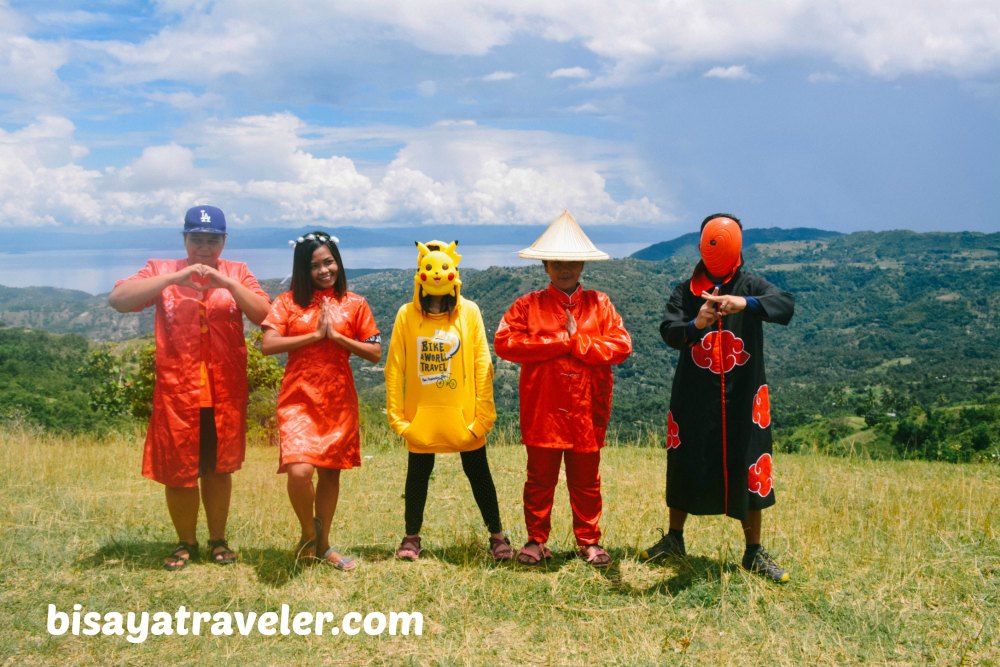 And there were many more sweet and unforgettable moments on our visit to Abalyan Peak in Boljoon. With the help of a lanky stick, we got to raise Marc's GoPro up in air, and made overlooking footage as if it was filmed by a real drone. What's more, with Lieve's effort and hard-work, we got to unveil our first ever team flag.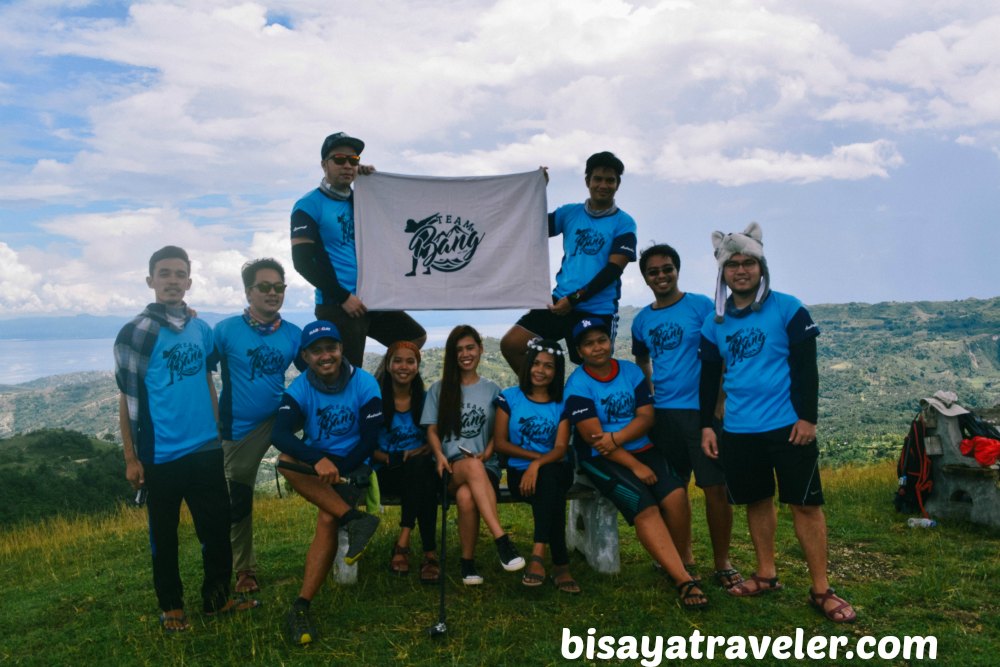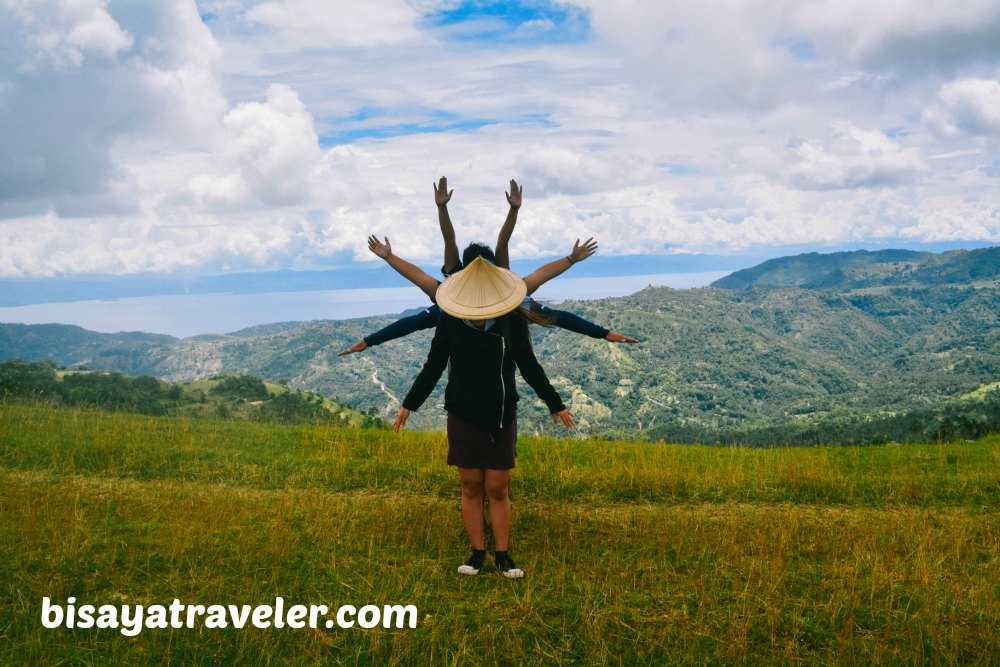 Ultimately, we heard our stomachs grumbling, so we decided to eat our lunch at Ablayan Peak. Afterwards, we cleaned up our mess, and went back to Dayhag Falls, to take a plunge at its refreshing waters.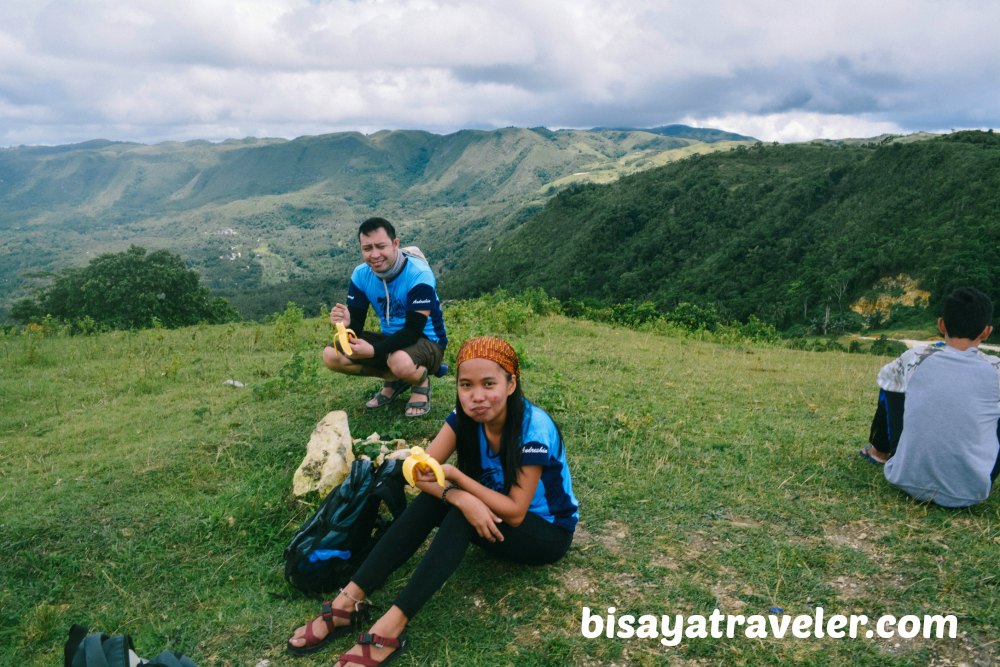 Dayhag Falls, Rice Paddies, Boljoon Church and Ili Rock
With its cold waters and laid-back atmosphere, I was utterly tempted to take a dip at Dayhag Falls. Unfortunately, though, I forgot to bring an extra set of clothes and underwear. Nevertheless, I'm glad that my clique was having a blast, swimming and enjoying the cascades. And, to make the experience even more pleasant, there were farmers who offered fresh and delectable coconuts to us for only PHP 15 each.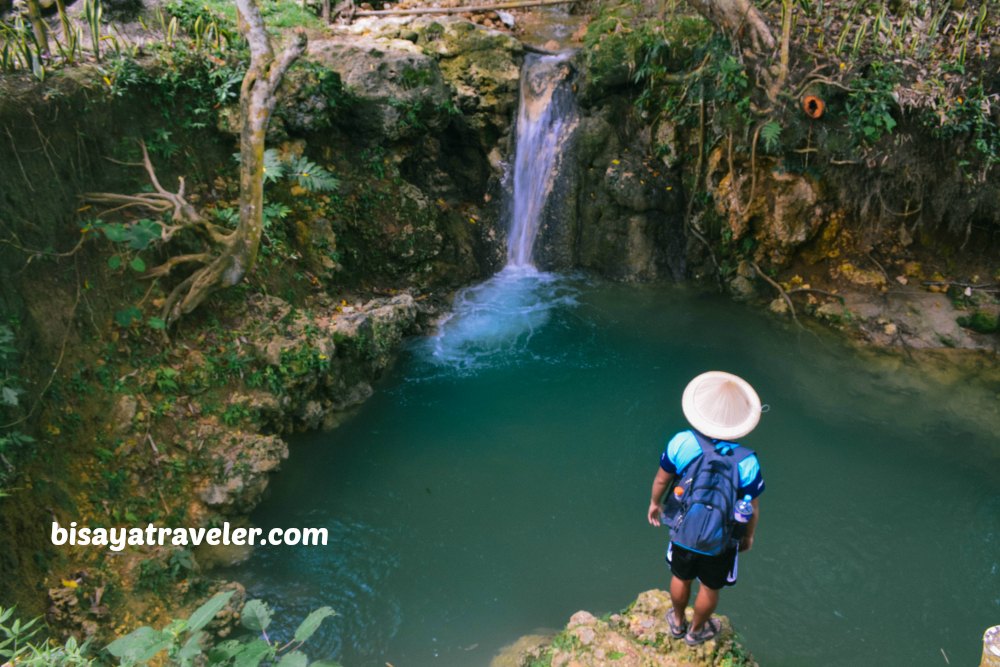 As were about to finish our visit to Dayhag Falls, I, Beth, RJ, Juan, Sadam and Marc headed to the rice paddies, for more photo ops.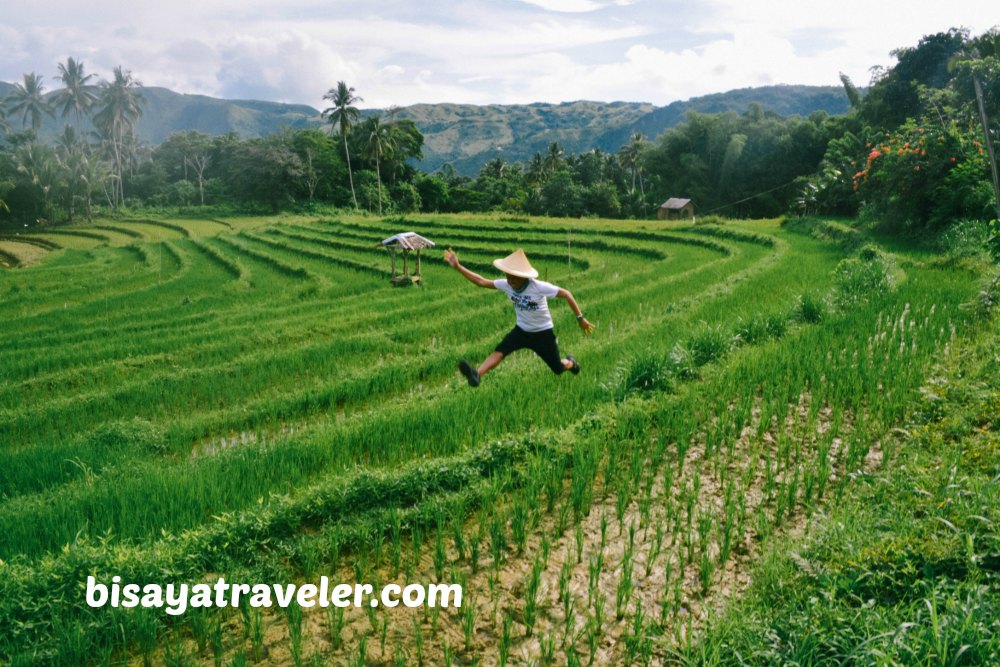 Then, we hopped on a van, dropped off Clayton and Jonah, and went to the Boljoon Church complex, to end our trip on a high note.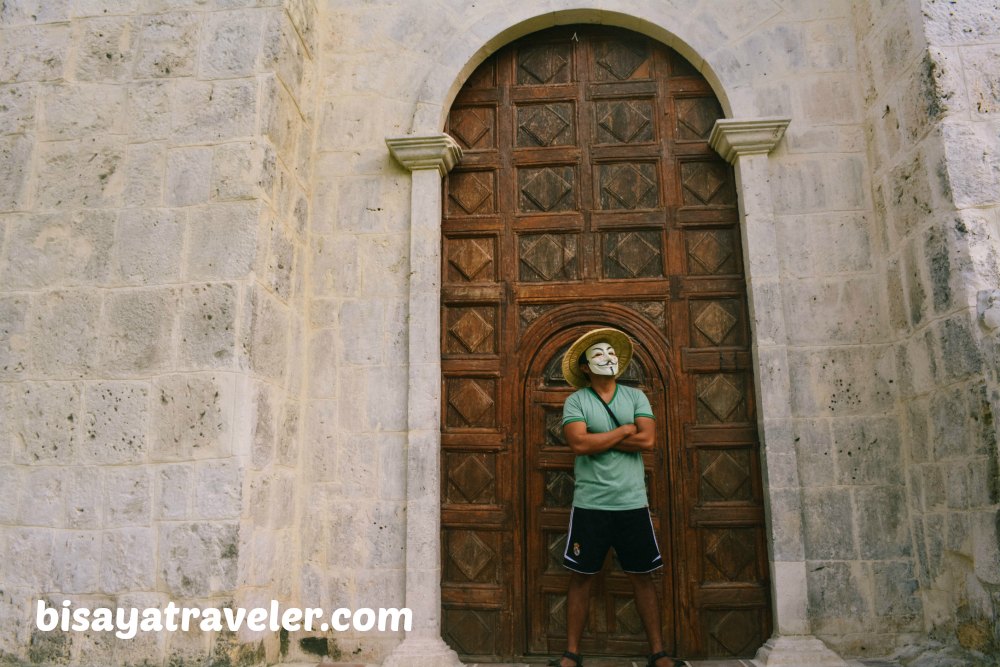 Ultimately, we found ourselves standing on top of Ili Rock, admiring the panoramas as well as making some thrilling and daredevil poses.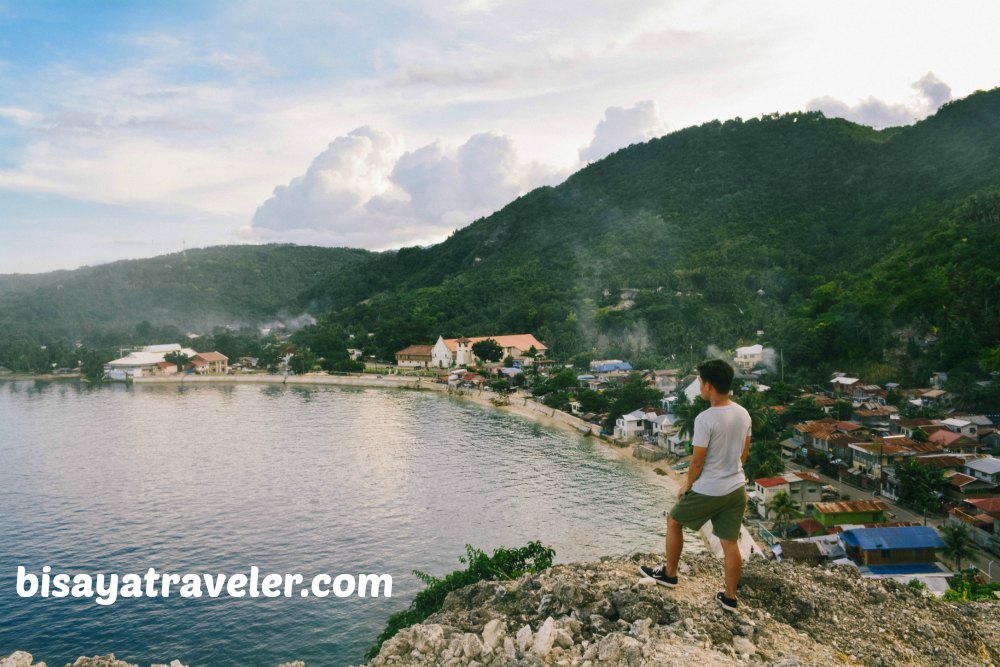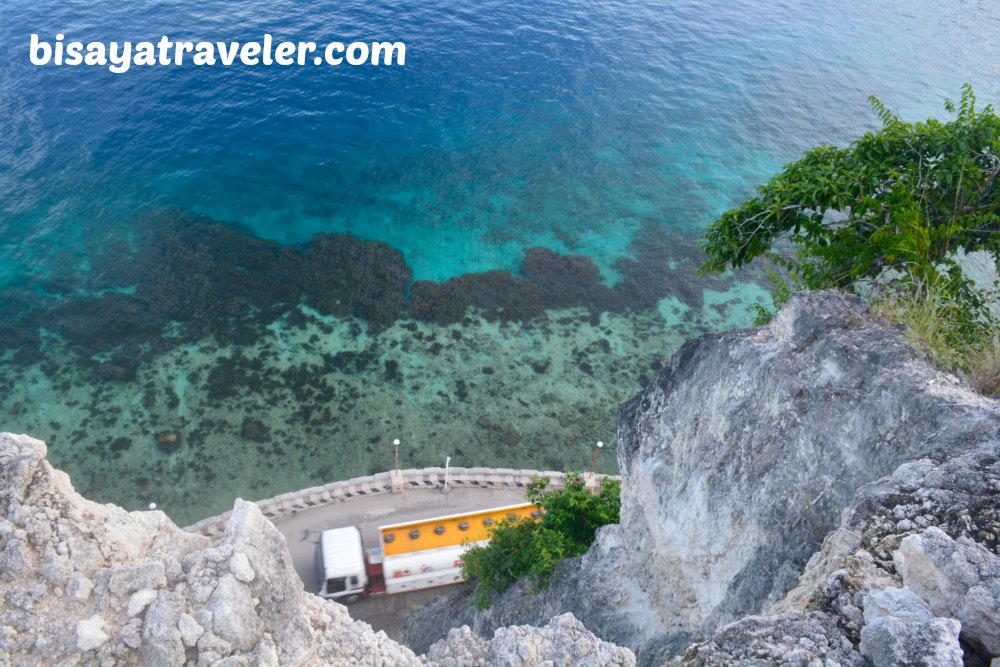 I must say it was another well-spent Sunday with Team Bang!
Why we rented a van to Boljoon
Contrary to popular belief, renting a van can be an economical option, especially when you're traveling in large groups. In our case, we got to save more than PHP 100 each for our transportation. Normally, it will cost you around PHP 442 per person (including bus trips and habal-habal rides). In our case, we only shelled out PHP 313 each (PHP 5,000 for the whole van).
For those who want to rent a van to Boljoon, contact the official driver of our trip at 0935 985 4781.
If, however, you're traveling alone or in a small group, I suggest that you hop on a bus ride to Boljoon (PHP 147 per person), and take a habal-habal ride to Dayhag Falls (PHP 75 per person). From there, ask the locals for directions to Ablayan Peak.
Don't want to take a hike? Please check out my Ablayan Peak experience earlier this year.
Our Boljoon day trip itinerary:
04:00 AM: Meet up at 711
05:30 AM: Depart from Cebu City
07:30 AM: ETA Boljoon/Breakfast
08:30 AM: Depart for Dayhag Falls
09:10 AM: ETA Dayhag Falls
09:30 AM: Start hike to Ablayan Peak
10:30 AM: ETA Ablayan Peak/pictorial
12:00 PM: Lunch
12:30 PM: Start descend
01:30 PM: ETA Dayhag Falls
03:45 PM: Depart for Boljoon proper
04:30 PM: ETA Boljoon Church Complex
06:00 PM: Depart for Cebu City
08:30 PM: Home sweet home
Important Notes:
Practice the LEAVE NO TRACE principles.
Pack trail food, water, ION drinks and snacks.
There are no eateries in Ablayan Peak and Dayhag, so make sure to bring lunch.
Entrance fee to Dayhag Falls is PHP 20.
Wear sunscreen, hat and arm-guards to protect your skin from the scorching heat of the sun.
I know that we've raised some eyebrows, and probably pissed off a few self-righteous mountaineering purists with our unconventional hiking adventure to Ablayan Peak, Boljoon. But, guess what? I as well as the rest of the team don't give a damn what others think! As long as we enjoy what we're doing, there's not much naysayers can do to stop us from exploring places the way we do. And besides, we're not desecrating the environment or causing any harm to the community.
And to my beloved readers, who are afraid to do something different, please don't be entrapped by the ideologies and rants of today's cool kids. Remember, life is too short to not have adventures and fun. Do whatever it is you love to do, and give it your best shot, even though others think it's weird. Embrace your quirky and eccentric side, and live life to the fullest.