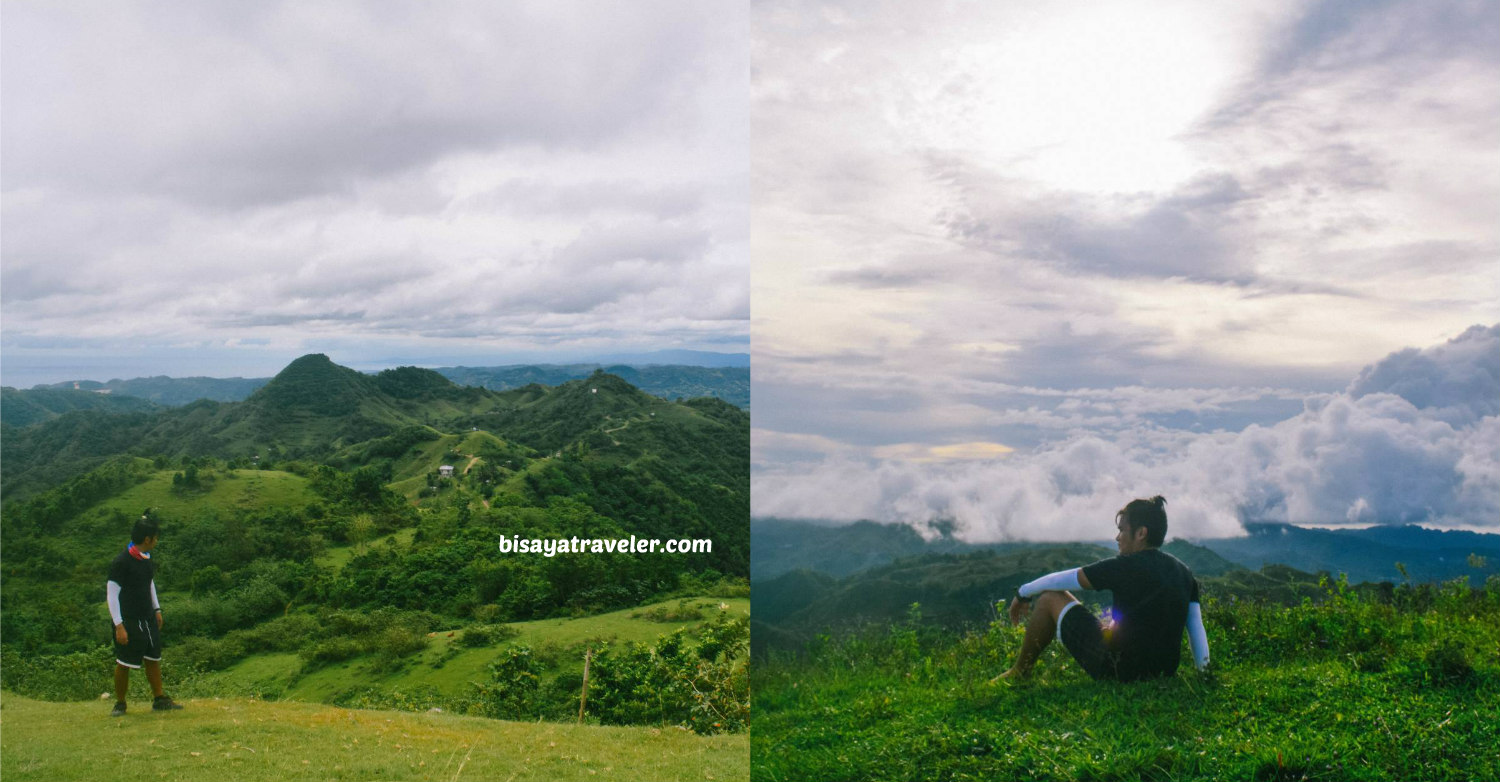 Mount Awayan: The Final Piece Of Our Naupa-To-Calbasaan Puzzle
For the past 7 months, I've been itching and dreaming of hiking Mount Naupa from Mount Calbasaan. The first time I set foot in Mount Calbasaan, I was so tempted to uncover the trail leading to Naga's peak from this unheralded peak.  Unfortunately, though, I didn't have the information, knowledge and tools to pull off this feat back then. Even so, I remained pretty optimistic with my chances of discovering this path. As a matter of fact, yours truly and Beboi searched relentlessly via Google Maps for trails and roads that would hopefully connect these mountains in Cebu. And, one day, we received a sign of hope, when sir Francis, an LGU employee in Naga City, reached out to me, encouraging us to explore Mount Awayan. Thankfully, Mount Awayan was the last step to unlocking this not-so well-known hiking route.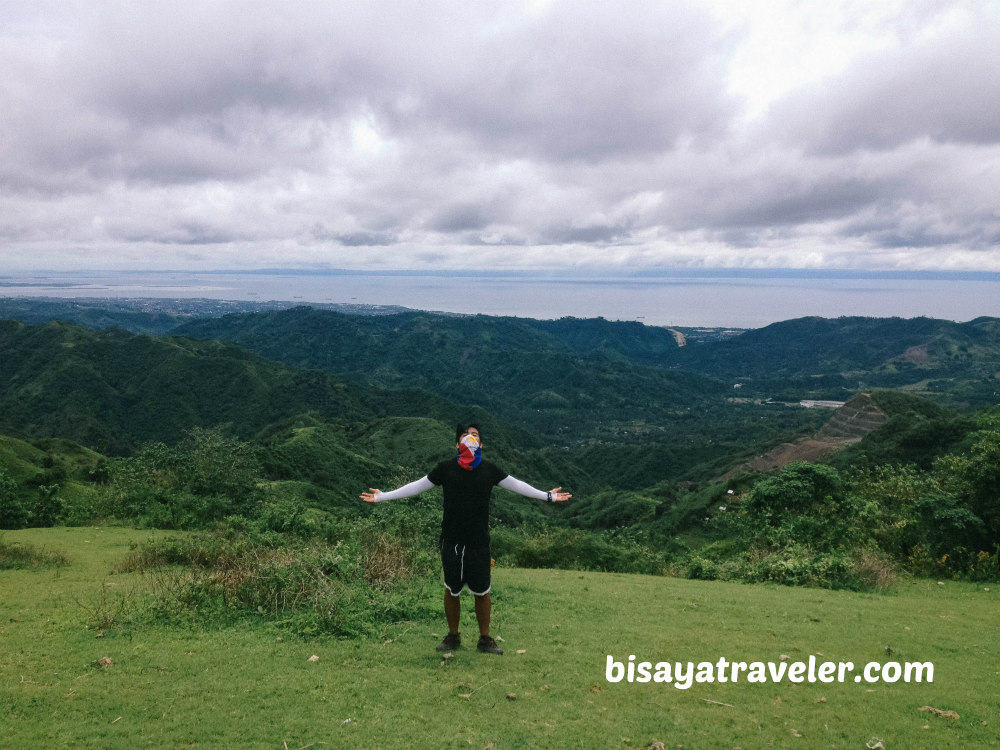 Truth be told, Mount Calbasaan wasn't a part in our initial travel plans. According to a tanod in Cogon, it may take over 6 hours of walking to get to Calbasaan from Cogon, Naga City.  And, as far as I can remember, our original plan was to hit Mount Naupa and Mount Awayan (also known as Mount Kabuwan) in one day via the typical Cogon trail.
But, guess what? Anything can happen, when you're with a bunch of open-minded people.  Armed with a sense of adventure and a go-with-the-flow attitude, we got to venture into the verdant, secluded and picturesque highlands of Minglanilla and Naga, Cebu. And while we got lost momentarily, it was, to me, a fascinating day hike and a fitting preparation climb for me and my gang.
My Naupa to Calbasaan hike via Mount Awayan
My Mount Awayan hike started with a meet-up with Beboi and Tatay Raul in McDonald's, Mambaling, Cebu City.  From there, we hopped on a jeepney ride leading to Tungkop, to catch up with Jonah and rest of the hiking group. Later on, Bing and her friendly pals – Raffy, Carmi, Maumao, Mark, Christine, John, Maying and Aaron – joined in the fray.
To keep things rolling, we took a bumpy habal-habal ride to Cogon Chapel, where Ivy and Maricar were waiting for us. Soon after, sir Francis arrived at our rendezvous, completing the day's hiking roster.
Led by the legendary Raul, we said a prayer, and made formal introductions, before embarking on our journey. Pumped up and ready for our adventure, we commenced on our hike, to make way to our first stop of our day hike – Mount Naupa.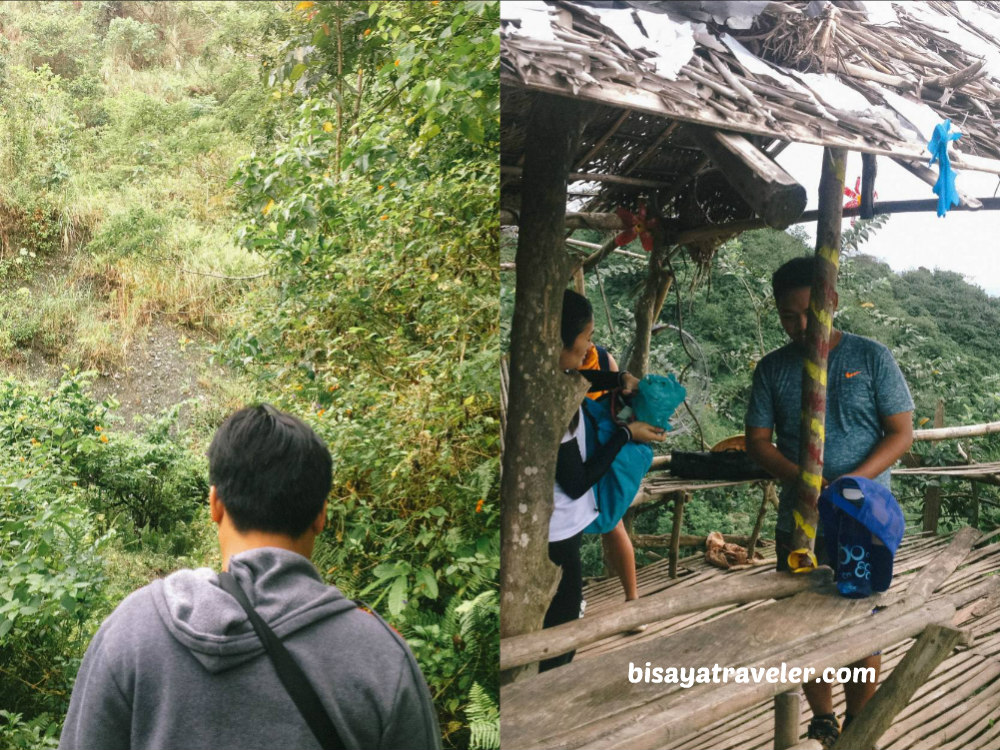 Even with a heavy bag and a slippery trail, I didn't have any trouble scaling Mount Naupa on this day hike.  With a challenging multi-day hike on the horizon, I was inspired as well as mentally and physically prepared for our next big adventure.
We did have a couple of stops, though, to catch our breath and stretch our muscles.
Minutes later, we arrived at the registration center of Mount Naupa.  Luckily for us, we got a free pass, as there was no one around to collect the money for our visit to the peak.
Upon our arrival at the campsite, we took a breather, snap some photographs, and admire the wondrous scenery of Naga's highlands.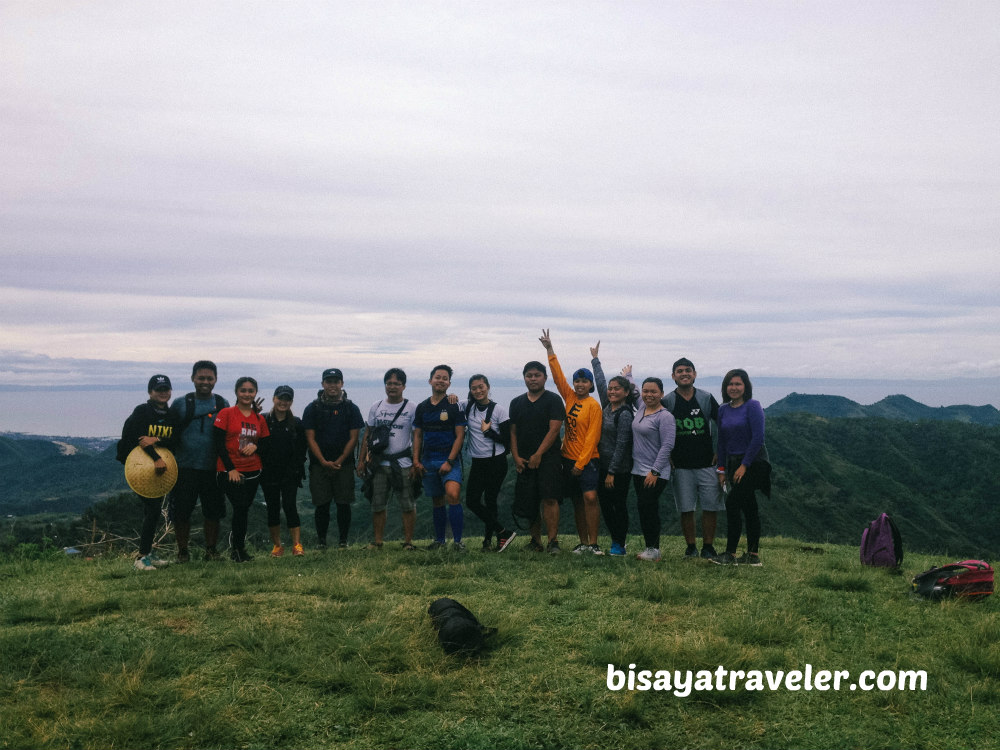 Raul, with his iconic Tatay moves, had a pair of photo ops with his favorite children.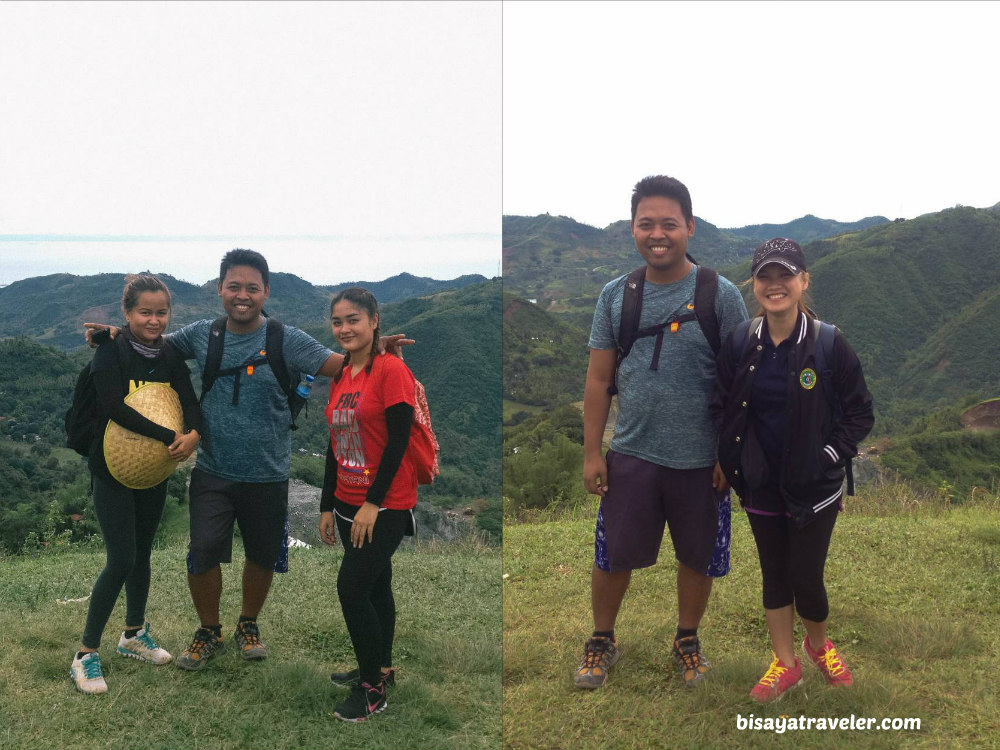 Even though it was still pretty early, we didn't spend a lot of time in this part of Naupa. Remember, I had something a lot bigger in mind than scaling Naupa and Mount Awayan.
And so, we hiked our way to the summit of Mount Naupa, to enjoy breathtaking panoramas and prepare ourselves for our steep arduous hike next month.
At the summit, we caught a glimpse of Mount Awayan and the rest of the lush peaks in Naga City.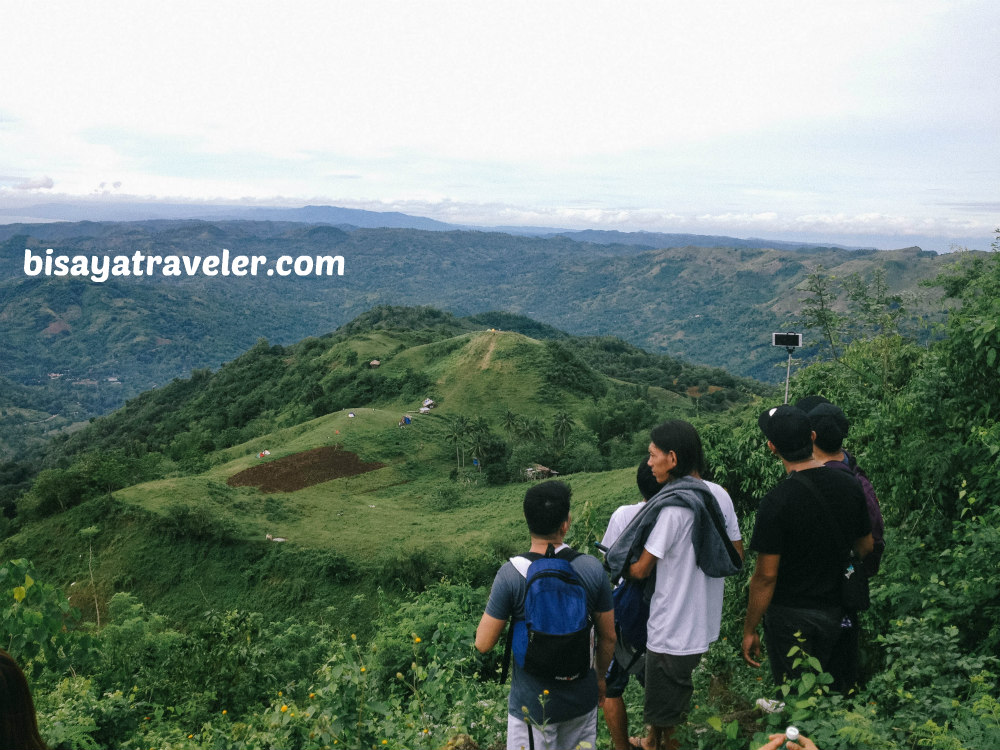 With more and more hikers flocking to the peak, we descended from the summit, and made our way to Kabalas – the second stop of our open-minded and flexible itinerary.
On the way to Kabalas, we got treated to splendid views of Mother Nature's exquisite creations.
With its New Zealand-like natural backdrop, Kabalas gave everyone in the gang and irresistible urge to snap dozens of photographs. While there, we also got a good look of Panas, or also known as Balirong Peak, thanks to the hints from sir Francis.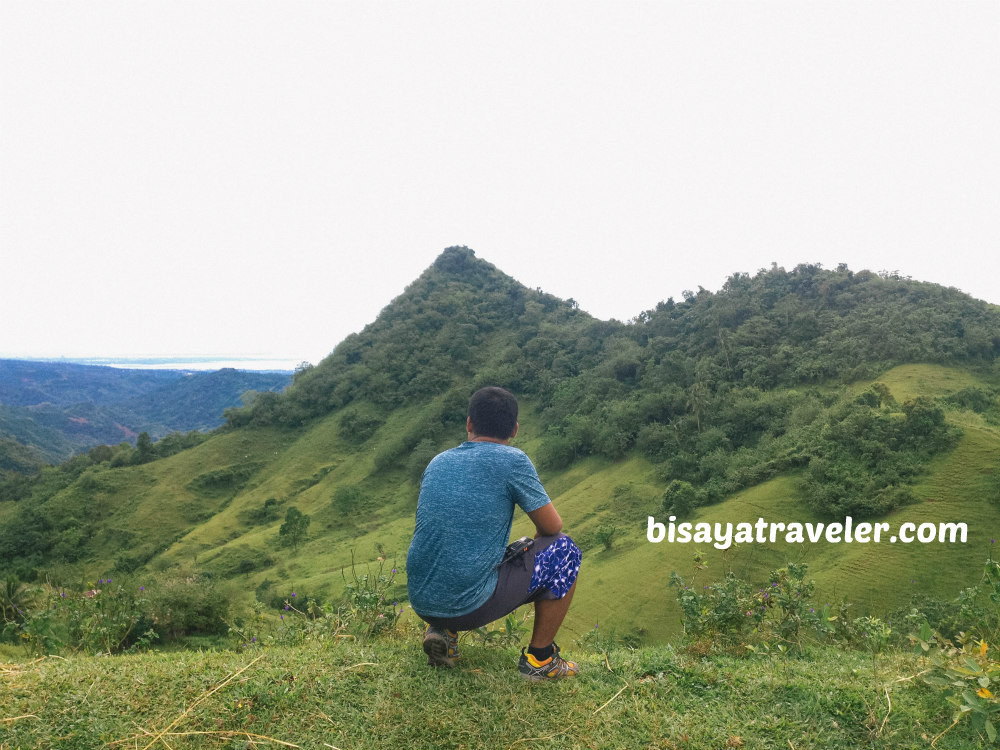 And speaking of sir Francis, he, in my book, was truly a godsend for us, on our hike in Mount Awayan. Not only did he lead us to Mount Awayan, but he also shared some valuable information about the hidden gems and remote areas of Naga city.
Years of exploring and working in Naga have equipped with a great deal of knowledge about the city's peaks and untouched treasures. If it wasn't for him, I wouldn't have known that Mount Naupa isn't the highest peak in Naga City.
And yes, folks, according to the data compiled by sir Francis, Mount Naupa is only the city's third highest peak, next to Mount Awayan and Mount Uling.
We, then, moved on with our hike, hitting the trail leading to Mount Awayan.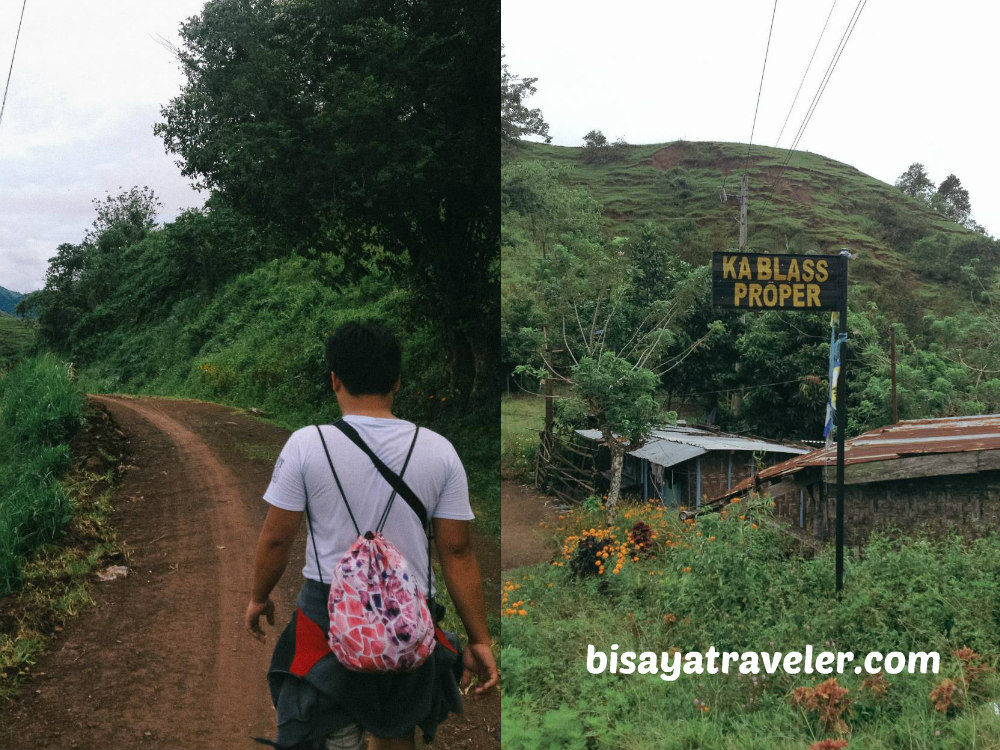 As usual, we had held another millennial lingo pop quiz for Tatay Raul. This time, we asked him the meaning of TIA. Without hesitation, Raul, replied "Tatay In Action". Damn!
Along the way, we passed by a handful of noteworthy sights and Instagram-worthy panoramas. And, despite the incredible natural setting, we only have one stop, on our hike to Mount Awayan from Kabalas.
I pushed the pace and even encouraged everyone to take the shorter yet steeper trail leading to Mount Awayan.
I made the hike a little faster and more difficult because I had something special in mind – a hike to Mount Calbasaan.
And soon, my prayers were answered, when a hospitable, elderly man told us that Mount Calbasaan is just an hour way from Mount Awayan.  Yippee!
All of a sudden, I could feel the adrenaline rushing through veins. What's more, I noticed Beboi becoming more excited, as we got closer to Mount Awayan.
From the foot of Mount Awayan, we blitzed our way to the top of Mount Awayan, where got a bird's eye view of Mount Naupa as well as Naga and its nearby towns.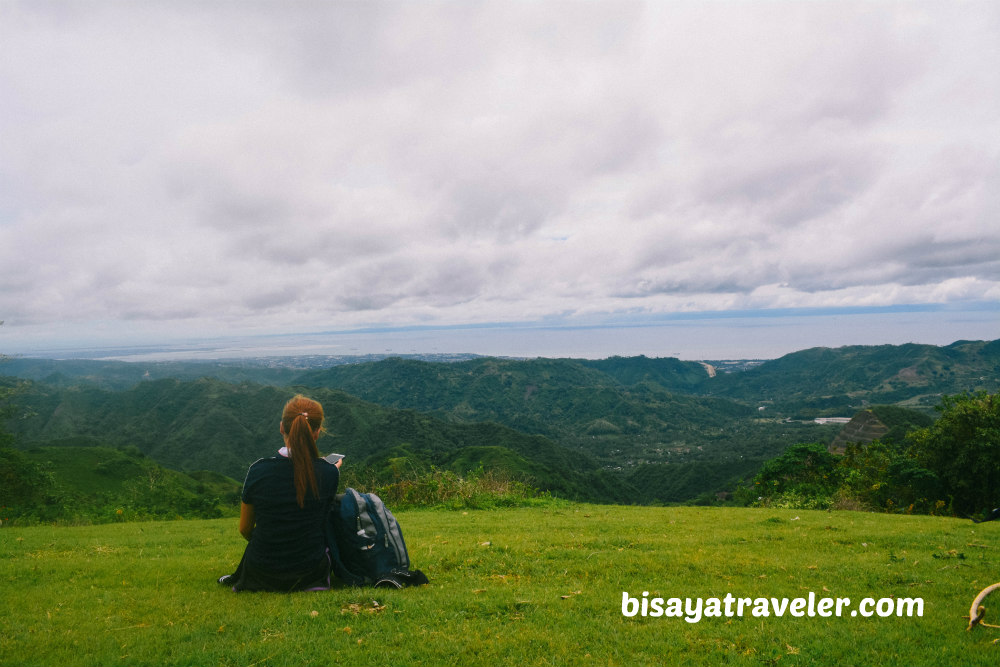 As soon as everyone arrived at the top, we cooled down, and just soaked up the crisp air and soothing atmosphere.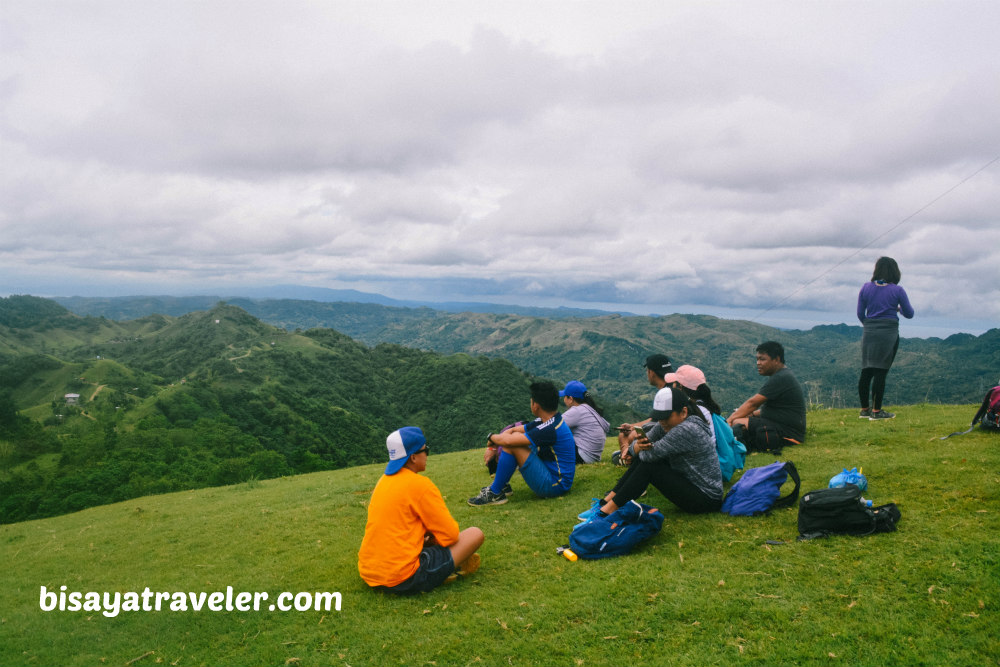 Of course, we did snap a ton of photographs from a variety of angles in Mount Awayan, to preserve our beautiful memories of our day hike in Naga.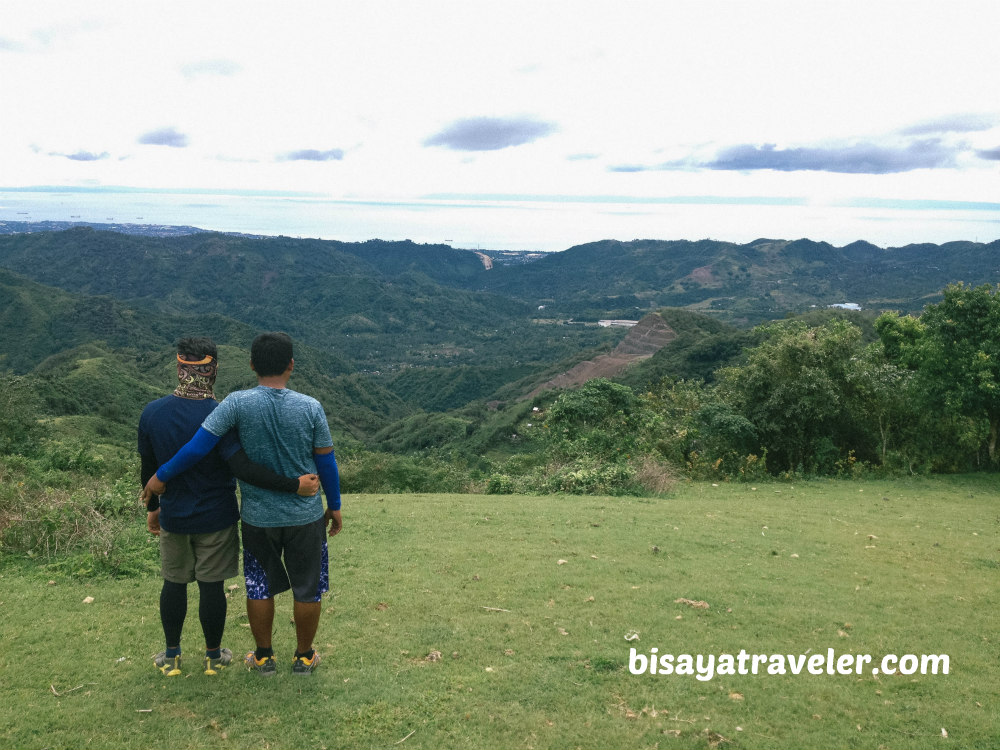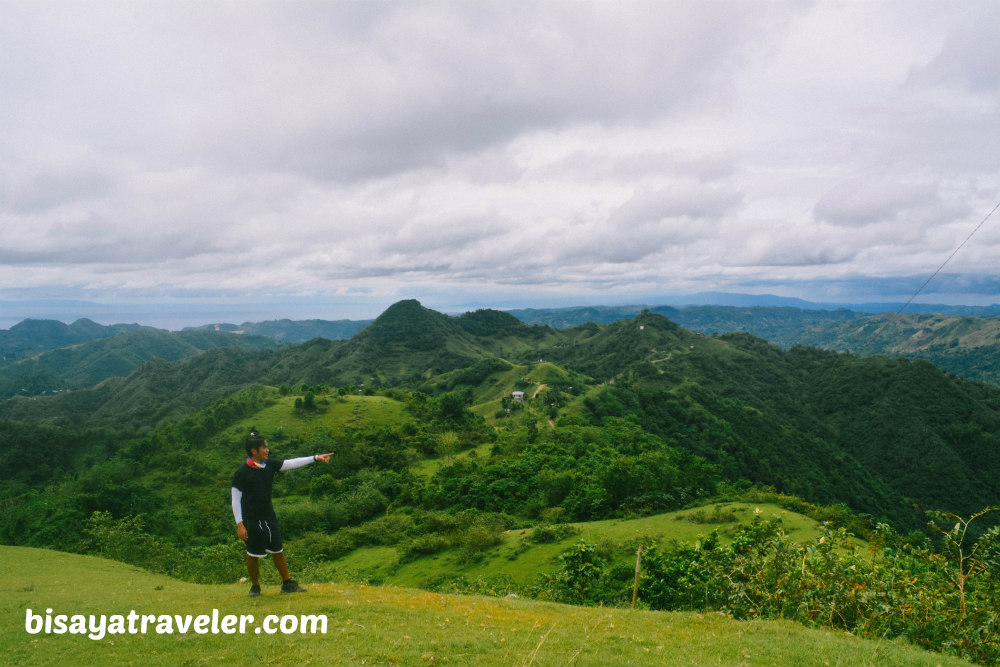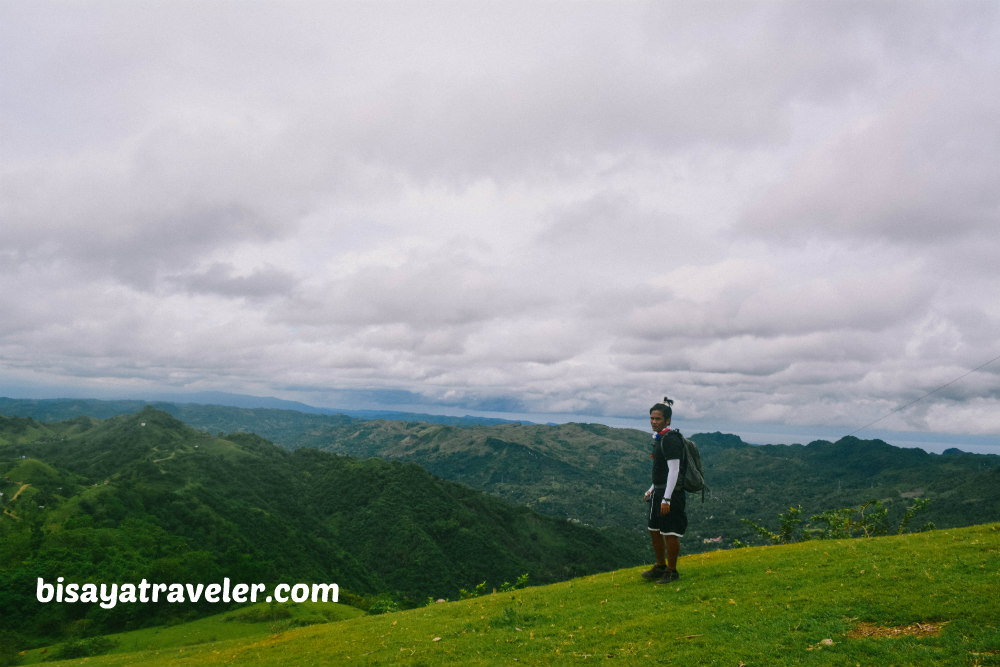 Since it was almost 12 noon, we decided to rest in Mount Awayan, and eat our lunch there.
Like most of our previous hikes, Raul was once again the undisputed star of our lunchtime show.
He hopped from one place to another, hoping to score freebies and delightful goodies.
As usual, Raul prevailed, and was the ultimate food sweeper during our lunch break.
As the rest of the team was enjoying their lunch, I, Beboi and sir Francis roamed around the area, so we could figure out where to go next.
There were, however, thick bushes and trees preventing us from getting a good view of the trail leading to Mount Calbasaan.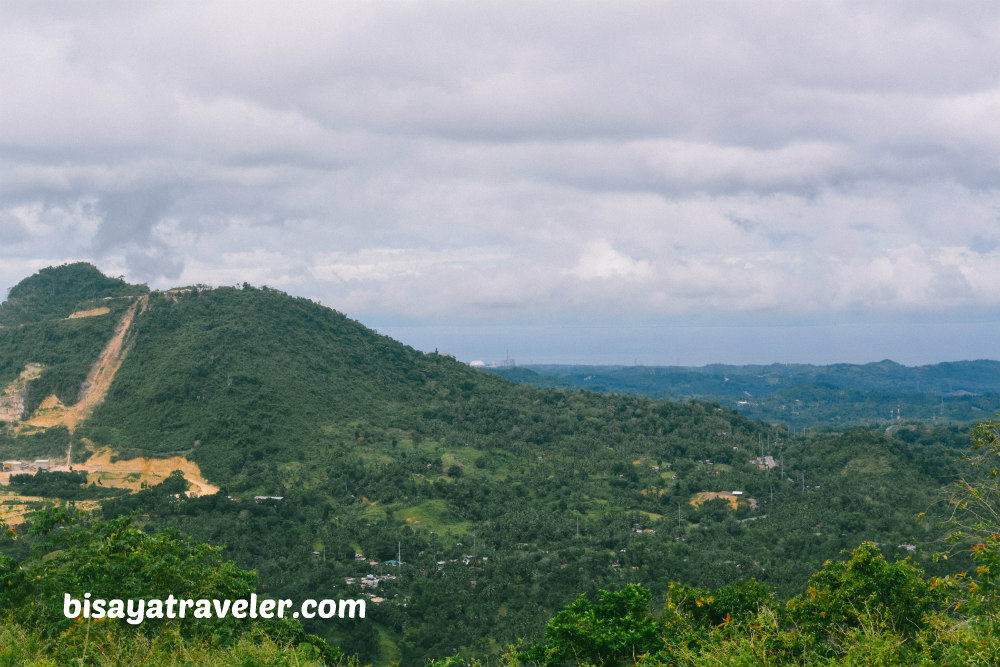 Afterwards, we made our way back to our resting area, and descended from the top of Mount Awayan.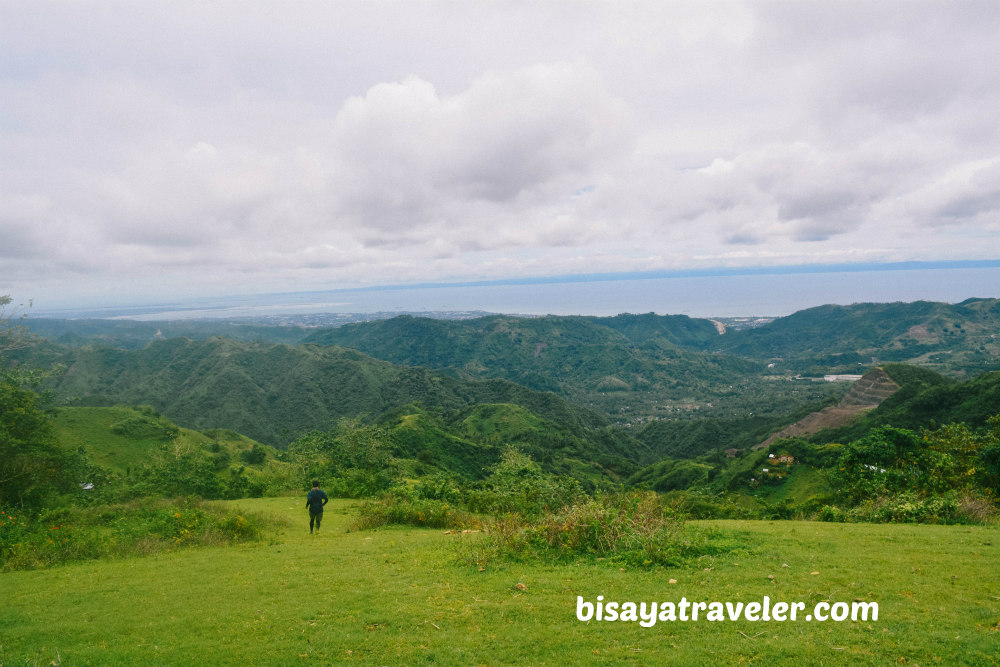 On our way to the first part of the trail to Mount Calabasaan, we bumped into a family stumbling block – a not-so friendly cow blocking the way. For some reason, the cows in this part of Cebu don't seem cordial and approachable. For the most part, they see us, hikers, as a threat, and would often do crazy things to stop us from crossing their domain.
Though we're no cow experts, we did notice that the cow was agitated and stressed, the moment she saw us.
On the positive note, Raffy, nicknamed as the "Baka Master" or the "animal whisperer", has plenty of experiences, when it comes to dealing with cows.
With his unique set of skills, the Baka Master saved the day, helping us pass by the trail safely. And, he did it a couple more times later that day!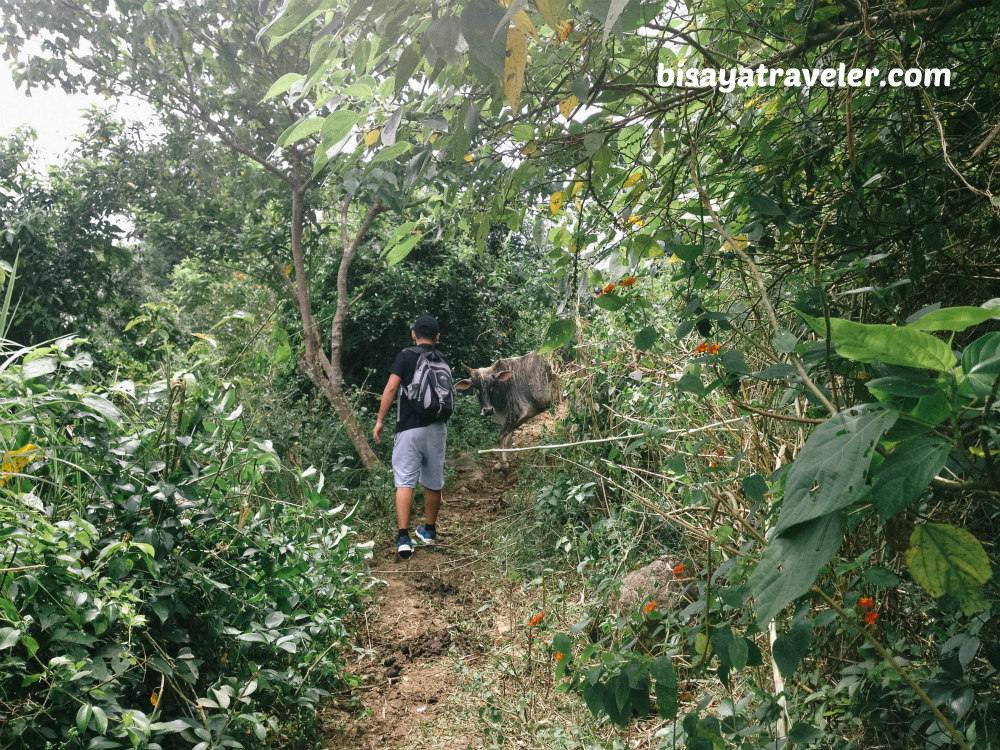 None of us knew the trail to Calbasaan from Mount Awayan, so we had to rely on the tips shared by the locals. And, fortunately, there were several residents around, to give us directions for our hike.
We kept hiking, until we arrived at a crossroad with this sign.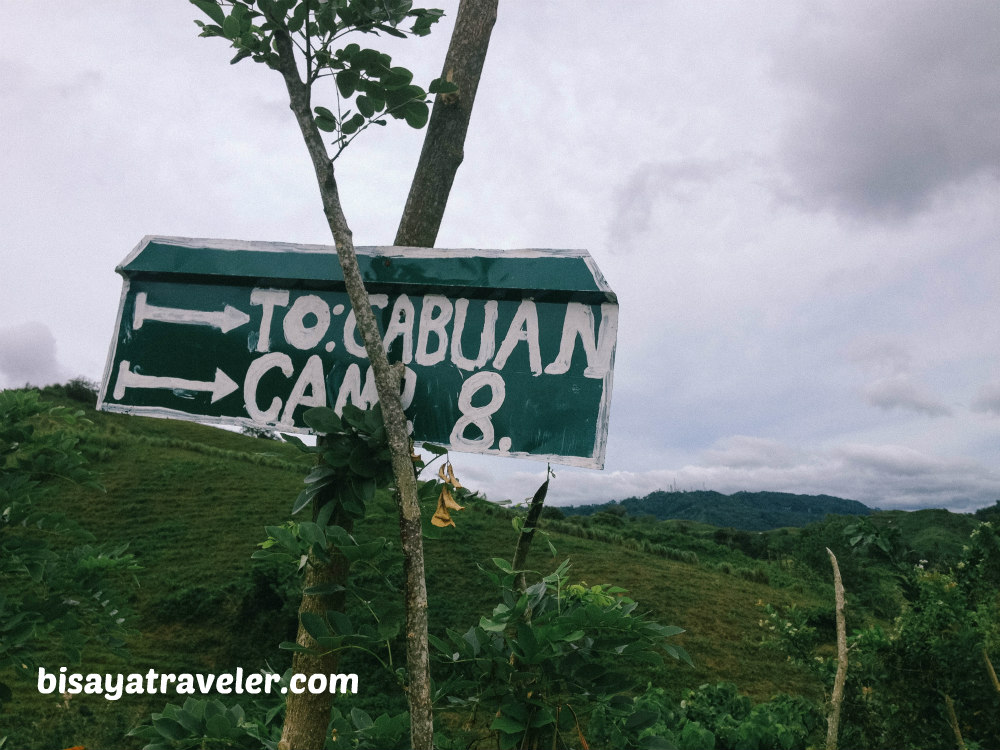 I breathed a sigh of relief, the moment I saw the sign pointing to the direction to Campo 8. After all, Campo 8 is normally the base to most hikes to Mount Calbasaan.
"We're on the right track", I said to Beboi and sir Francis. Naturally, we heeded the tip suggested by this sign.
From picture-perfect hills to colorful flora, there was literally no shortage of dazzling sights on this side of Minglanilla.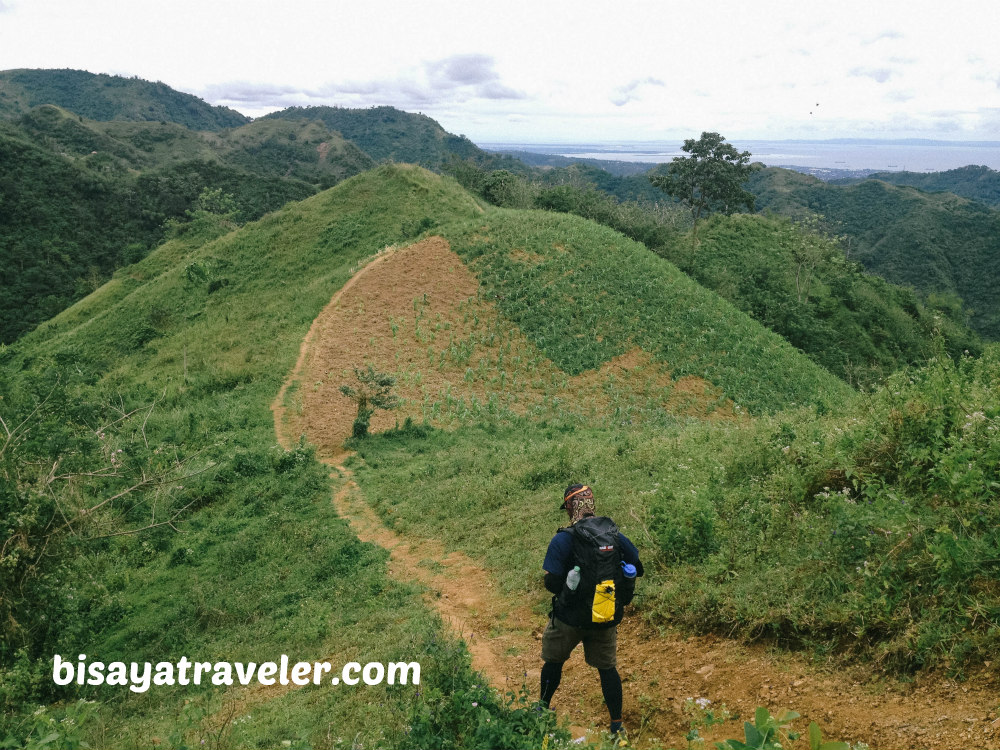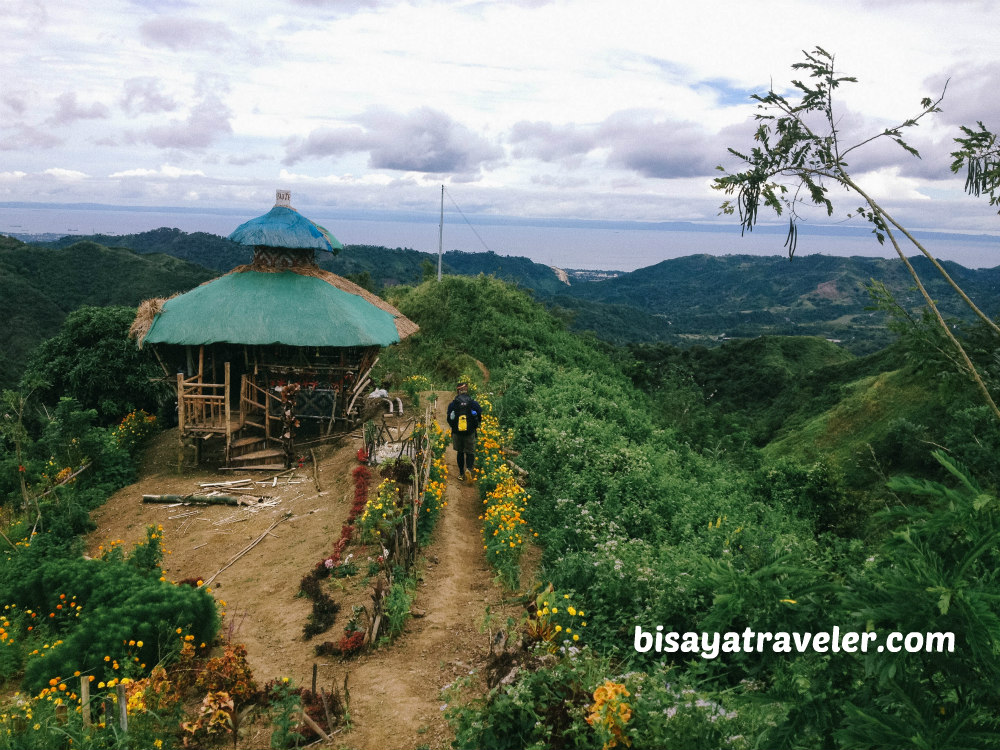 As much as we want to stop and take pictures, we had to keep on hiking since we were diving into the unknown.
As we were about to descend, a local in the area told us that we were in the wrong direction.  Yikes!
As it turned out, the sign was referring to a different Campo 8, and not the one that serves as the base to Mount Calbasaan. WTF!
That's what you call "Fake News" or a "Paasa Sign", as most millennials would say.
We made our way back to the crossroad, and hit the other trail, to get to the mountain range that would eventually take us to Mount Calbasaan.
With the assistance of the locals in the area, we finally discovered the right path to Mount Calbasaan.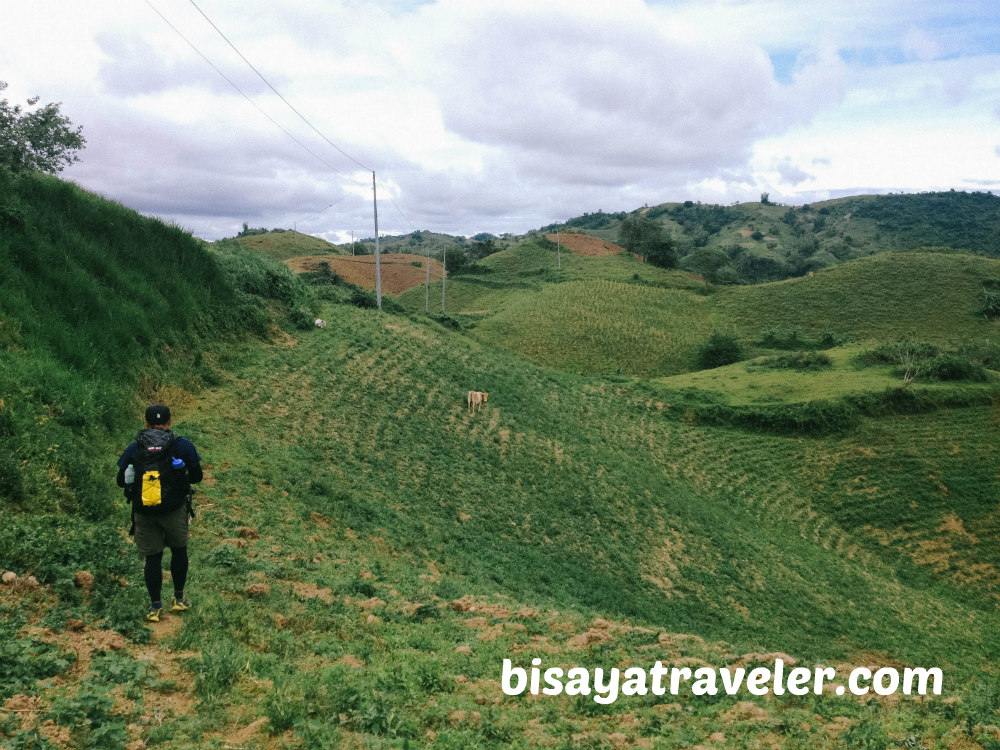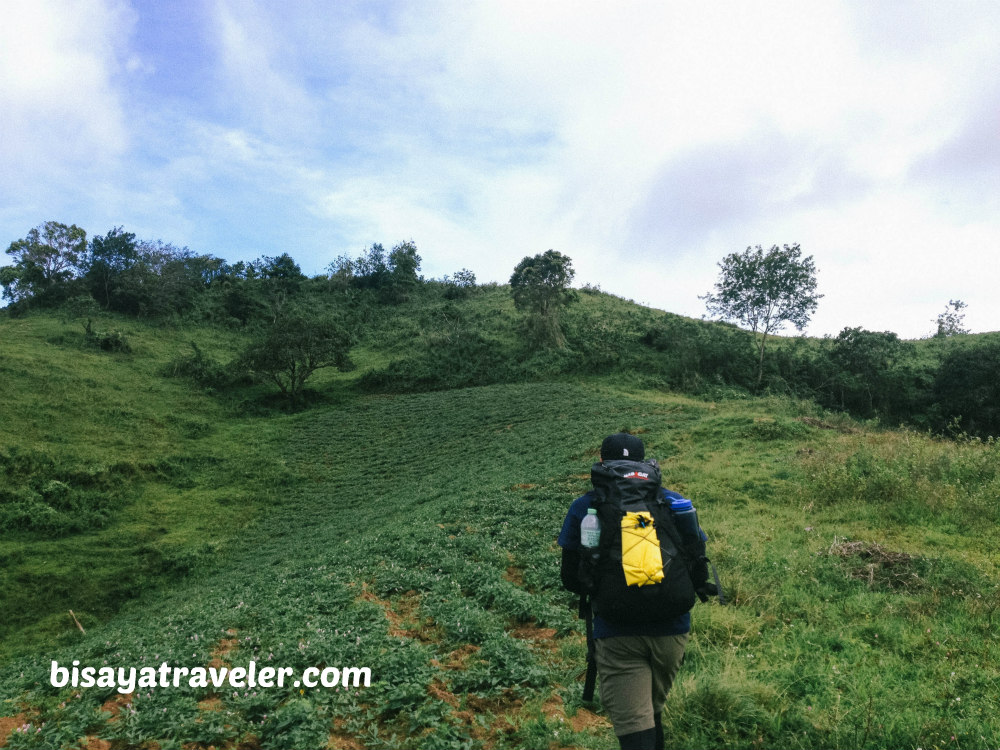 Everyone was tired and in need of a Sparkle or soft-drink break.
With the sun's scorching heat and our little misadventure, it was easy to see why everybody was craving for sugary, ice-cold drinks.
But, there was no store in sight, to quench our thirst. Nevertheless, we used it as a motivation to finish our hike in Mount Calbasaan.
We hiked for minutes, under the sun, while enjoying one another's company.  Sure, it was rather a tiring exercise for some, but oftentimes, your company can make things worthwhile.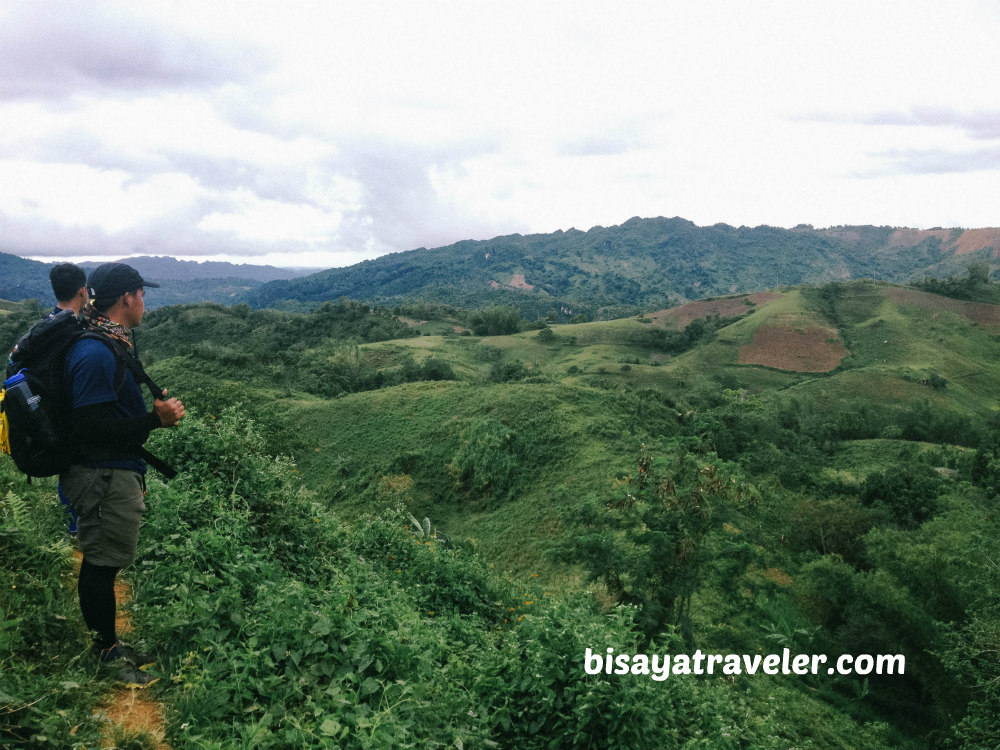 And, just when we were about to reach Mount Calbasaan, we caught a glimpse of a few of our hikers struggling on the final two ascends, with some having some mild cramps.
Amidst the setbacks, they pushed themselves, blocked the pain, and climbed their way up to our final stop of the day.
I'm really proud and honored to share the trail with these fellows! They're a tough, no-frills and free spirited group with a passion for seeing nature's beauty.
Upon our arrival at the peak, Beboi and I felt a sense of achievement.  After months of daydreaming and research, we've now completed the trail.
Minutes later, the rest of the squad arrived, and we were all in awe with the views and our accomplishment.
Obviously, we can't let these moments pass by, without a heap of photographs.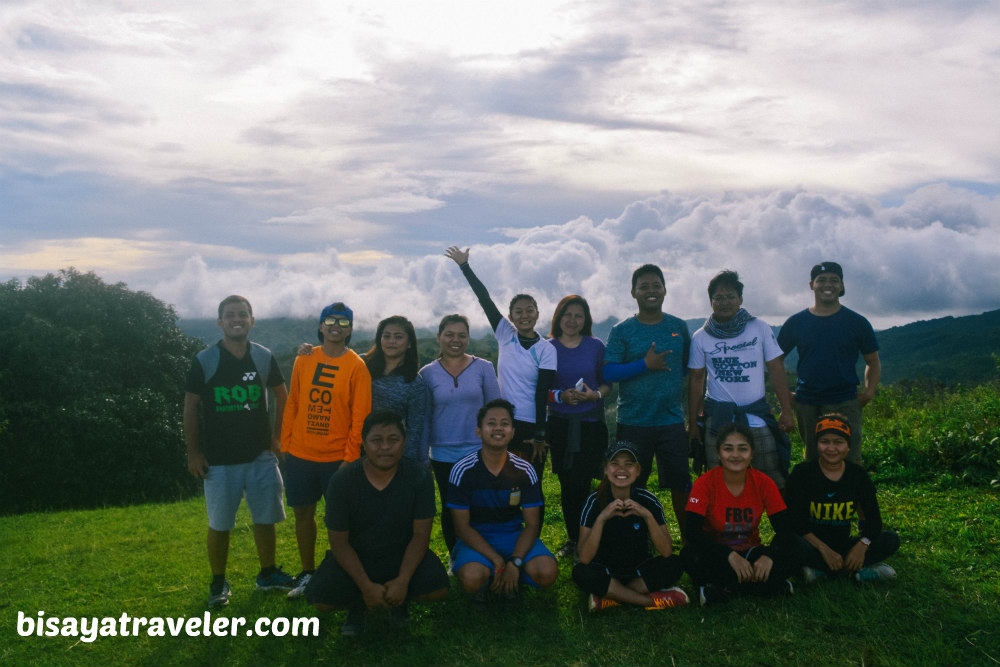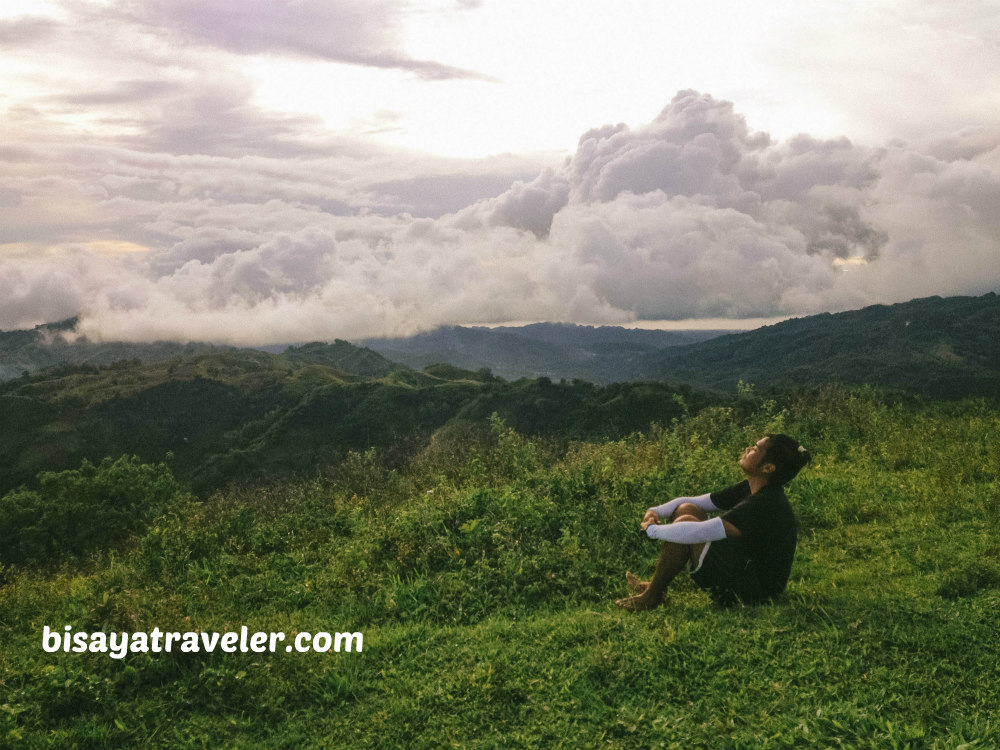 At the peak, some were celebrating their accomplishment by taking shots, while others were taking a nap, resting and taking in the fresh mountain breeze.
I even found out that some were snoring.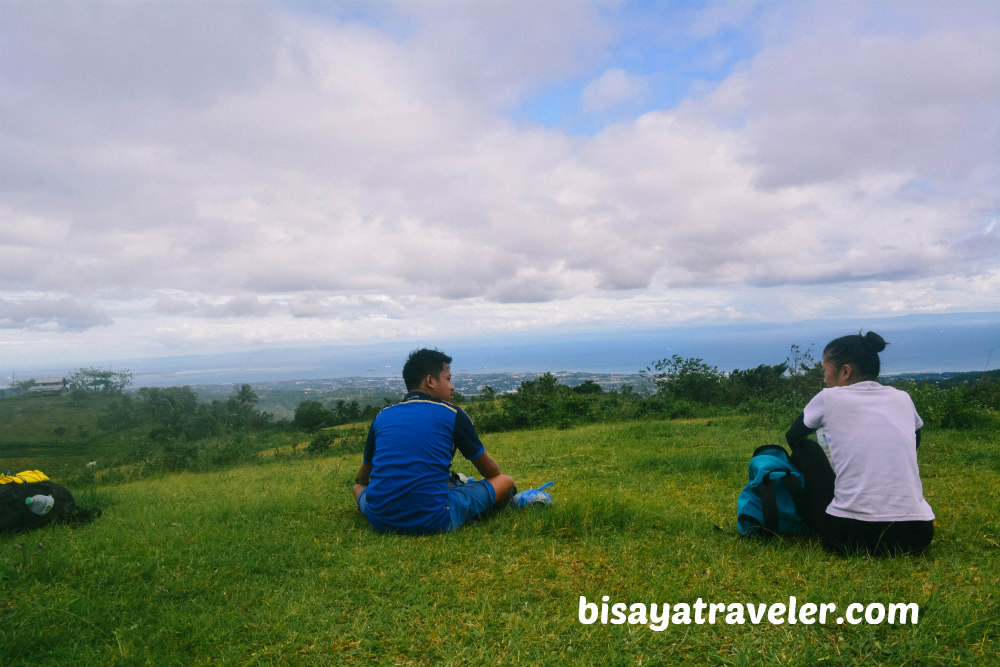 As I was enjoying my rest on the mountain, I noticed that our faces all turned into red and brown. Raul, on other hand, wasn't affected in any way by the UV rays and fairly sunny weather. We joked about it, and Tatay was perfectly fine with it.
Moments later, we decided to call it a day, and head to Pakigne, Minglanilla through a rather precarious habal-habal ride, to cap off our hike. What a day, indeed!
Our itinerary:
07:00 AM: Meet up at Tungkop, Minglanilla
07:30 AM: Depart for Cogon, Naga
08:00 AM: ETA Cogon/Start hike
08:40 AM: ETA Mount Naupa campsite/rest/take photos
09:00 AM: Start hike to summit of Mount Naupa
09:15 AM: ETA Mount Naupa summit
09:20 AM: Start hike to Kabalas
09:50 AM: ETA Kabalas
10:00 AM: Start hike to Mount Awayan
10:50 AM: ETA Mount Awayan/snap photos/early lunch
11:40 AM: Start descend and hike to Mount Calbasaan
03:30 PM: ETA Mount Calbasaan
04:30 PM: Start descend
05:30 PM: Habal-habal ride to Pakigne, Minglanilla
06:15 PM: ETA Pakigne, Minglanilla
06:30 PM: Depart for McDonald's in Mambaling
07:20 PM: ETA McDonald's/dinner
09:00 PM: Home sweet home
How to get to Mount Awayan:
There are three ways to get to Awayn – via Cogon, Lanas or Aphid, Toledo City. For the adventurous, you may get to Mount Awayan by asking the kids and locals in the area. If, however, you need help and a guide, feel free to contact sir Francis through Facebook. As an LGU employee, sir Francis knows tanods and locals who can take you to Mount Awayan. As for the hike to Calbasaan from Naupa, you'll also need to ask for directions from locals in the area. Just be careful of that "paasa sign", though.
Things to take note:
Practice the LEAVE NO TRACE principles.
Pack at least 2 liters of water.
Bring trail food/snacks.
Bring ION drinks like Gatorade or Pocari Sweat.
Wear trekking shoes or sandals with great traction.
Bring lunch.
This type of adventure is not for everybody, especially to those who are scared of getting lost.
Be careful of the cows. Seriously, the cows here are, by no means, a friendly mob.
Our expenses:
Fare to Tungkop from F Llamas Street: PHP 13
Habal-habal fare to Cogon: PHP 50
Mount Naupa entrance fee for the first gate: NADA (no one was around)
Mount Naupa entrance fee for the second gate: NADA (we politely ask the caretakers not to charge us since we were just passing by)
Habal-habal fare to Pakigne, Minglanilla: PHP 50 (the cost might be higher if our ride started near Calbasaan)
Hiking is, in many ways, just like life. Sometimes, you'll get lost along the way, in the midst of nowhere, feeling hopeless, fatigued and drained. But as long as keep on moving forward, you'll ultimately arrive at the top of the mountain or your final destination. And with an open mind and a never-say-die spirit, you can also get through many obstacles in your life and along your trail. So folks, try to hike offbeat trails more often, and learn more invaluable lessons in the mountains.