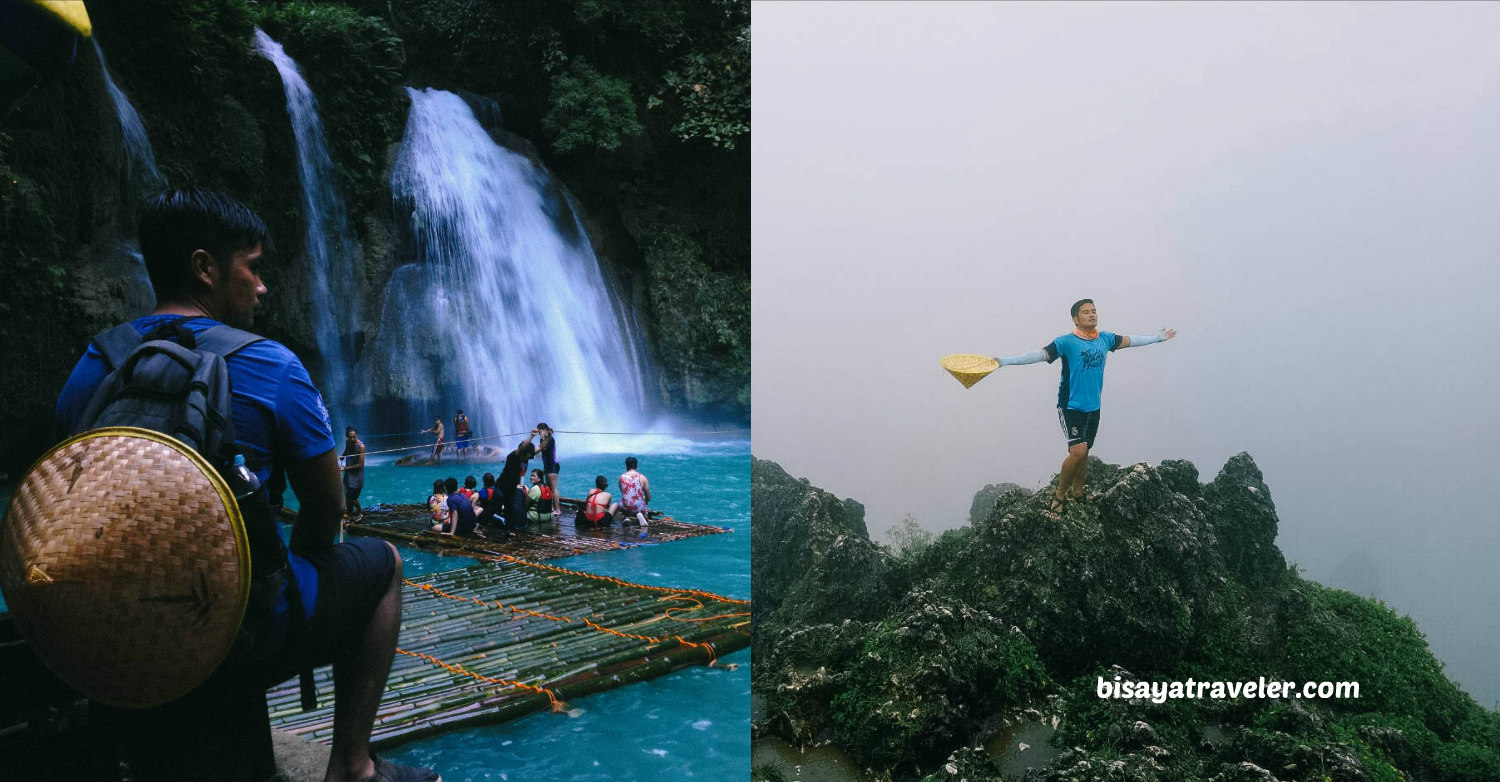 Osmeña Peak To Kawasan Falls: A Team Bang Pioneer's Farewell Hike
Goodbyes are never easy. Whether you're bidding farewell to a partnership, friend, pet or a family member, goodbyes can be rather painful. Sometimes, it takes a great deal of time, to adjust and take in that a person whom you care is leaving.  Thankfully, we can always host despedida or farewell parties, to help overcome the blues and send off someone with great memories. And, for outdoor enthusiasts like us, there's no better way to do a farewell party than to take a long and gleeful like hike on local trails like the Osmeña Peak to Kawasan Falls traverse.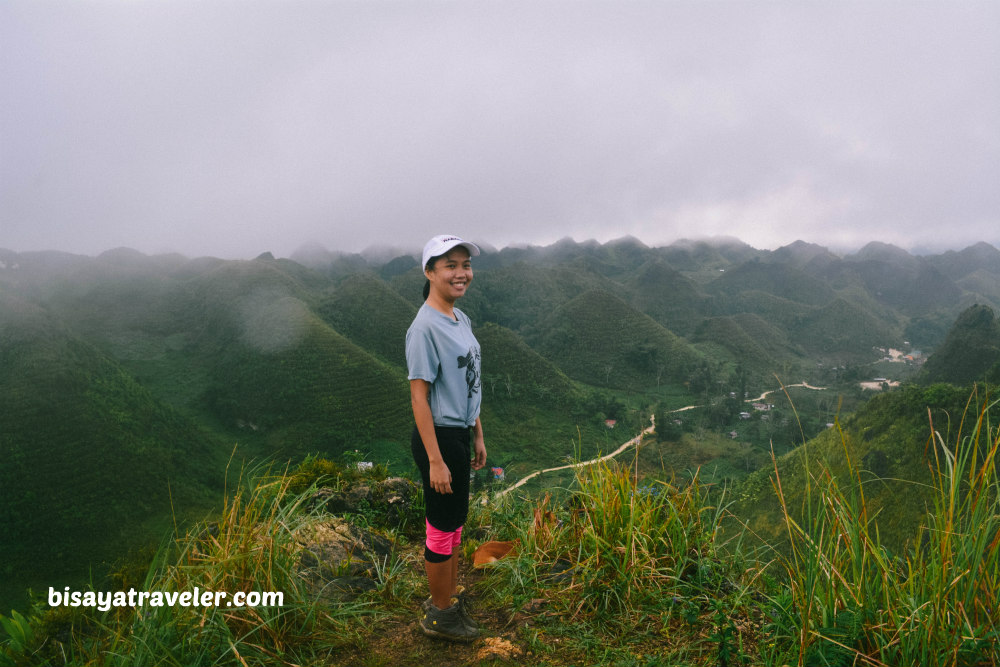 So, who exactly is leaving?  The person I'm referring to is no other than my fellow Team Bang pioneer and one of the squad's undisputed energizers – Christine. Soon, Christine will be leaving the "Queen City of the South", in hopes of finding greener pastures. In other words, we won't be seeing her for a while or joining any of our hikes in the near future.
And obviously, we just can't let her leave the city, without a little adventure. After all, Christine has been a cornerstone and a symbol of Team Bang, ever since we started this craze more than year ago. With her infectious lively spirit, she has done a fine job of helping the senior members engineer the team. What's more, she has a no-frills, can-do attitude that can uplift everyone's mood, even in slippery trails like the hike to Kawasan Falls from O'Peak.  And more importantly, she, in her own silent way, pushed me to become the team's head.
Truth be told, I didn't want to be the leader of Team Bang, in the first place. I've been a leader since my rock band days in high school, and it oftentimes feels more of a curse than a blessing. Somehow, Christine has convinced me to step up, and take the challenge. So far, it's been an incredible ride jam-packed with exciting moments.
And, as a way of thanking Christine for everything she's done to us, I and Kevin – the heart break kid – organized one of her bucket-list adventures in Cebu – the Osmeña Peak to Kawasan Falls traverse.
Our Osmeña Peak to Kawasan Falls adventure
I was actually having second thoughts of joining our hike to Kawasan Falls, hours prior to our meet-up at South Bus Terminal.  Throughout the week, I was bothered by a multitude of setbacks, including a mild case of flu, a knee sprain, a malfunctioning action camera, and some work-related problems. But, guess what? I wouldn't miss a Team Bang's member's farewell hike for the world. And besides, a hike with trials is far more rewarding and intellectually stimulating than a day at the bed or a beach.
And so, I dragged my weary body out of my bed, and caught up with the gang at the bus terminal. For our Kawasan Falls hike, there were 11 other members who tagged along with me. Kevin, Shiela, Jovy, Sherlyn, Lieve, JP, Shenyl, Gelique, Idol and Paul all came to Christine's possible last hike with us.  To make things even better, we were joined by Demi and her sprightly barkada who was also celebrating their Osmeña Peak escape anniversary.
From the bus terminal, we took a bus ride to Mantalongon-Dalaguete junction. Once there, we bought food, and headed to the base of Osmeña Peak through a habal-habal ride.
The moment we arrived at the base of Osmeña Peak, I knew our hike to Kawasan Falls wasn't going to be smooth sailing. Nevertheless, we remained pretty optimistic, hoping that fog and rain would go away.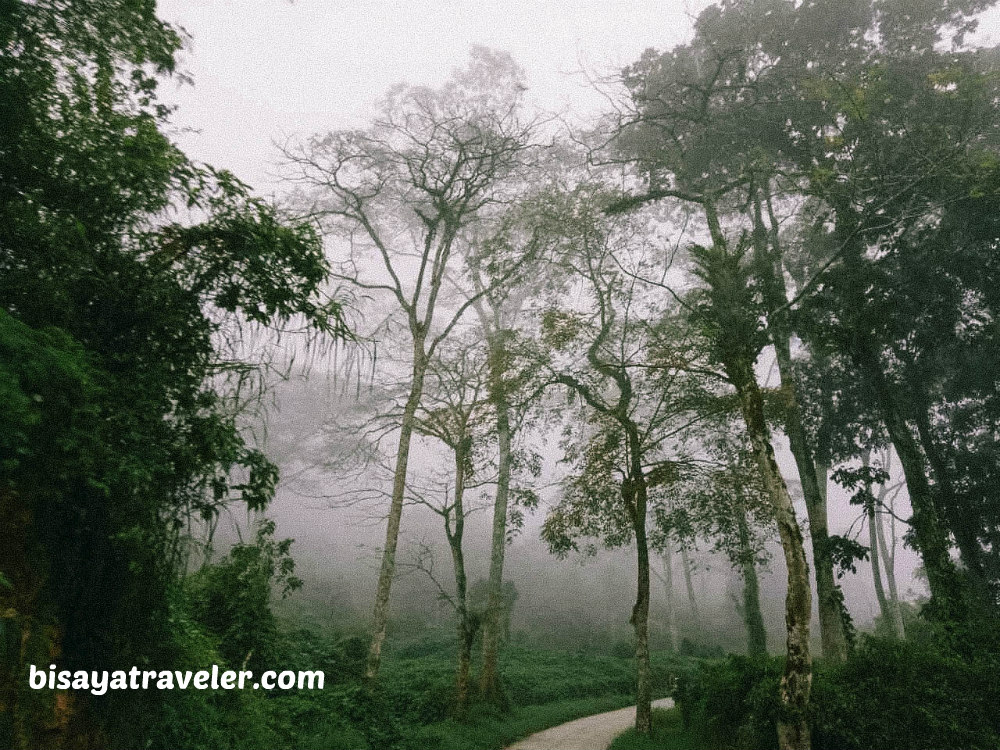 Gelique, who was visiting Osmeña Peak, was extremely pumped up to finally see Cebu's most popular mountain.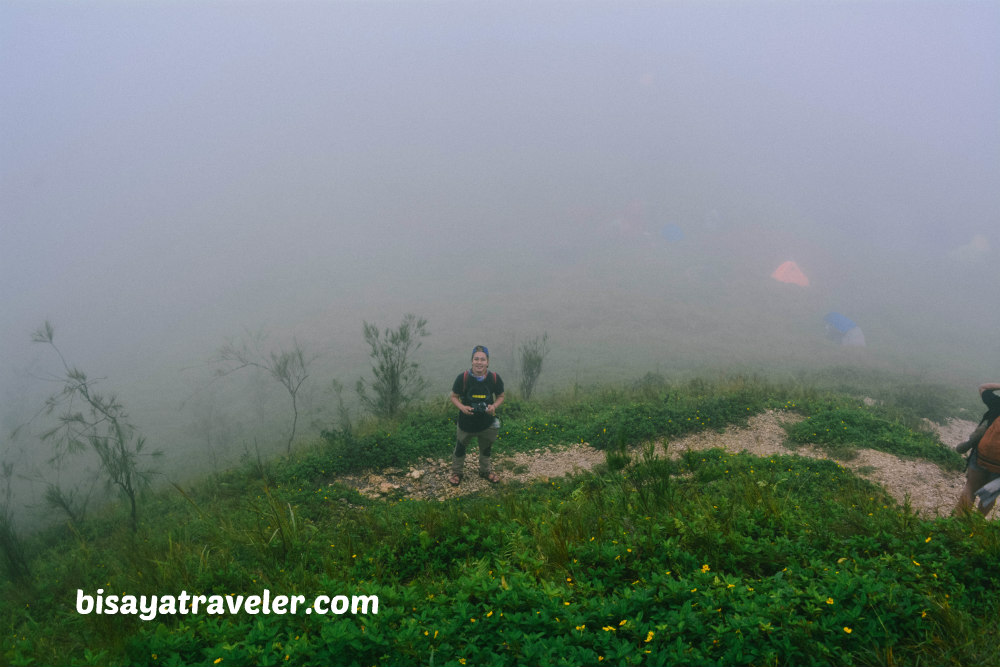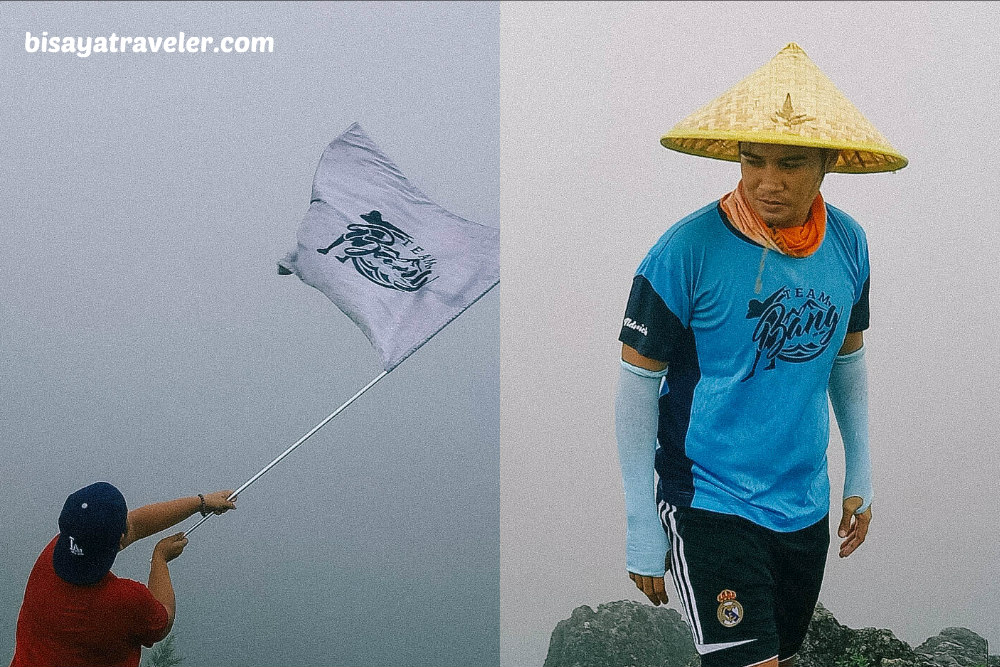 Unfortunately, the weather wasn't on our side, on our first stop of our hike to Kawasan Falls. To keep things rolling, we moved on to the next stop of day adventure – Casino Peak, or Lugsangan Peak.
On our way to the peak, we were accompanied by a friendly female black dog that amazingly survived the hike to Kawasan Falls. We tried to discourage her from joining us, but she was persistent. I guess the Heart Break Kid's charm also works on dogs.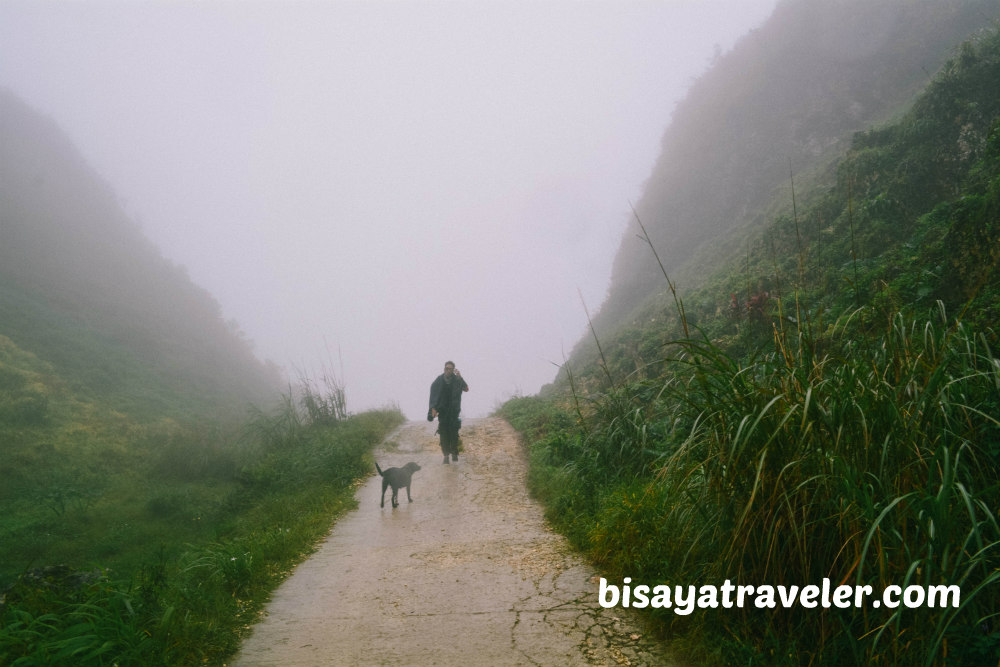 As far as I can remember, getting to the top of Casino Peak is a walk in the park. This time, it felt a bit challenging, with the extremely slippery and muddy trail as well as the sharp rocks. As a matter of fact, the trail tore down one of the straps of my hiking sandals (left side).
Since I thought it wasn't much of a problem, I just moved on, and led the team to the top of Casino Peak.
At first, the beautiful Chocolate-hills-like scenery was a no-show, with thick fogs covering its green and symmetrical mountains. As we were about to descend, however, the thick fogs slowly started to dissipate, uncovering the ethereal beauty of Casino Peak.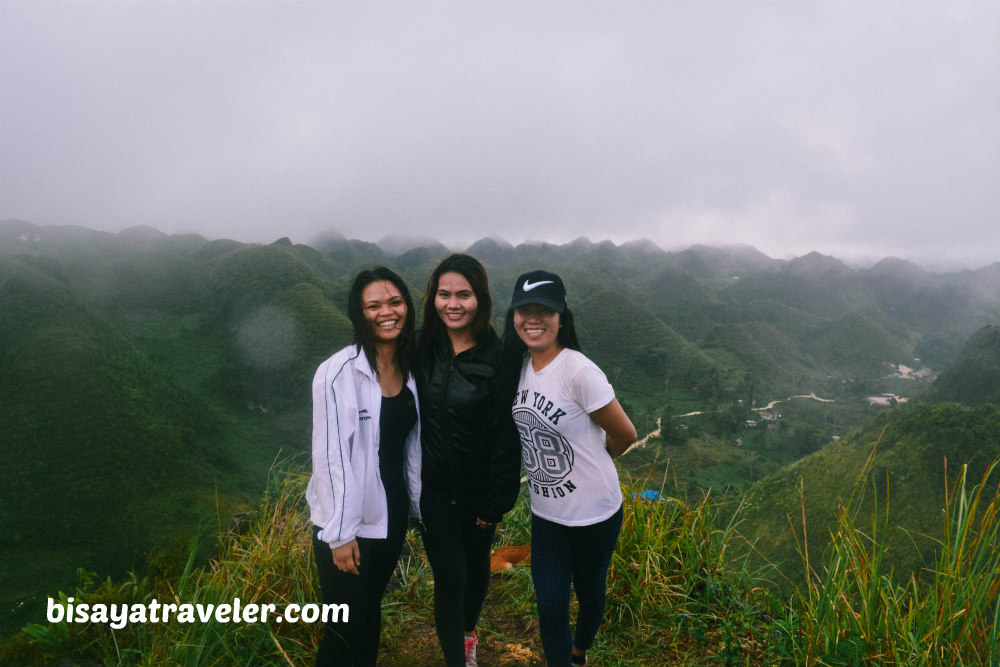 Everyone, except for those who have been there, was awestruck by the sheer beauty and majesty of Casino Peak.  From Demi's friends to Kevin and Christine, I could hear them saying a bunch of praises.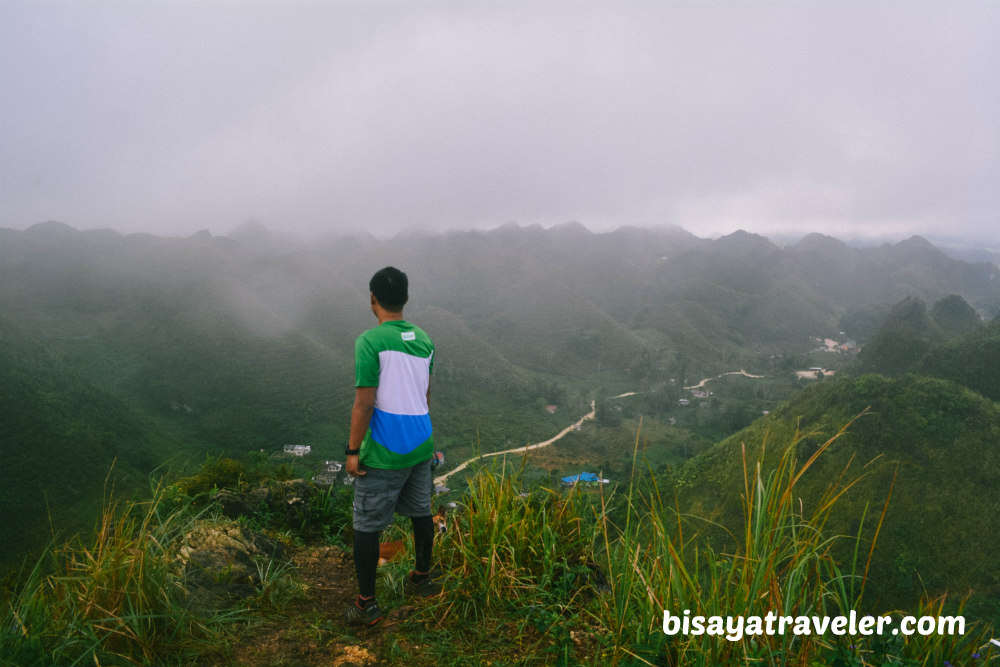 And personally, "wow" is an understatement to this enticing sight. Even the veterans in the team, like Kevin,  Francis Paul and Tine, agree that it is the undisputed most stunning and photogenic peak in all of Cebu.
As awe-inspiring as views are in Casino Peak, we had to get our feet moving, especially since it will take a few hours to get Kawasan Falls from Lugsangan.
Getting down wasn't easy to me. With a not-so functional pair of sandals and an unsteady trail, I slipped a few times on our way back to the base. I removed my sandal to get a better traction, but it wasn't enough.
Once again, I slipped, causing a small gash on my left foot and re-injuring my sprained ankle. And, from that moment on, I knew it was going to be a tough hike for. Honestly, the hike to Kawasan Falls from Osmeña Peak isn't that difficult. But in hiking, footwear is everything, especially when delving into muddy territories.
On the bright side, Idol offered some help with his extra pair of shoes (aquatic). I know – aquatic shoes were not built for slippery hikes, but we didn't have a lot of options that time.
Even with a bleeding foot and undependable footwear, I asked Kevin to push the pace, so we can get to Kawasan Falls on time.
As we were making our way to Kawasan Falls, Kevin and Christine were still in awe with the beauty of Casino Peak. They were still talking about it, even though we were over already a kilometer away from it.
With Kevin on the lead, we followed him through a muddy trail to Kawasan Falls. As you might have expected, I had a fair share of slips and bloopers on this part of the hike, wearing aquatic shoes with zero traction on the trail.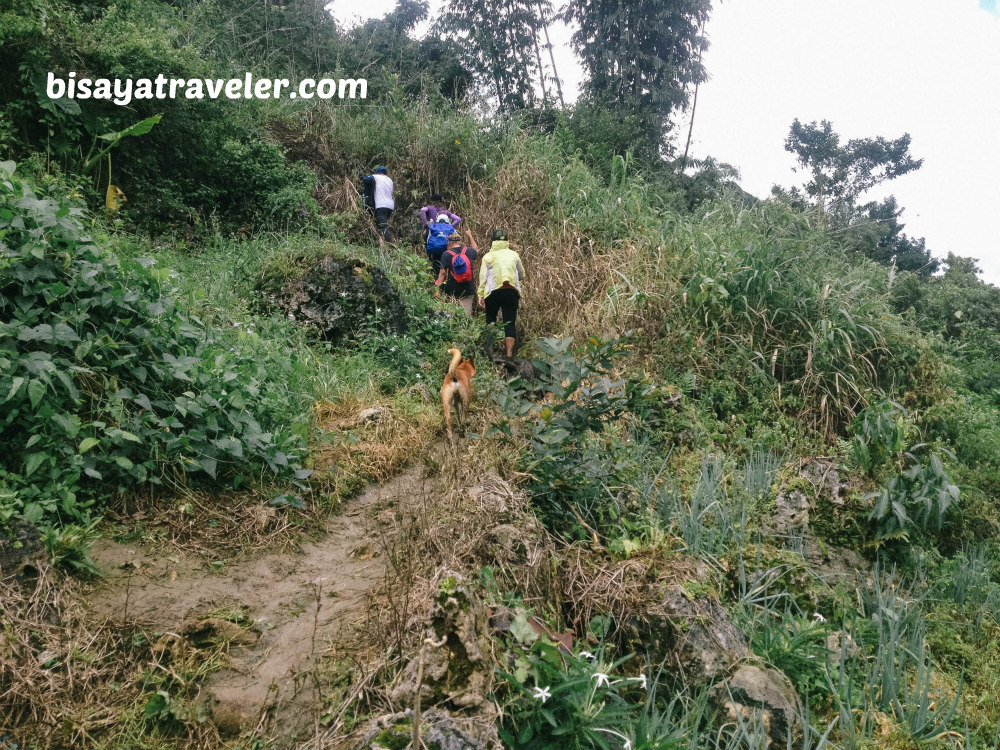 As it turns out, the other members of the squad also had some problems on the trail, including Lieve, Jovy and Gelique.
Moments later, we dropped by a store along the trail, to take a breather and eat our lunch.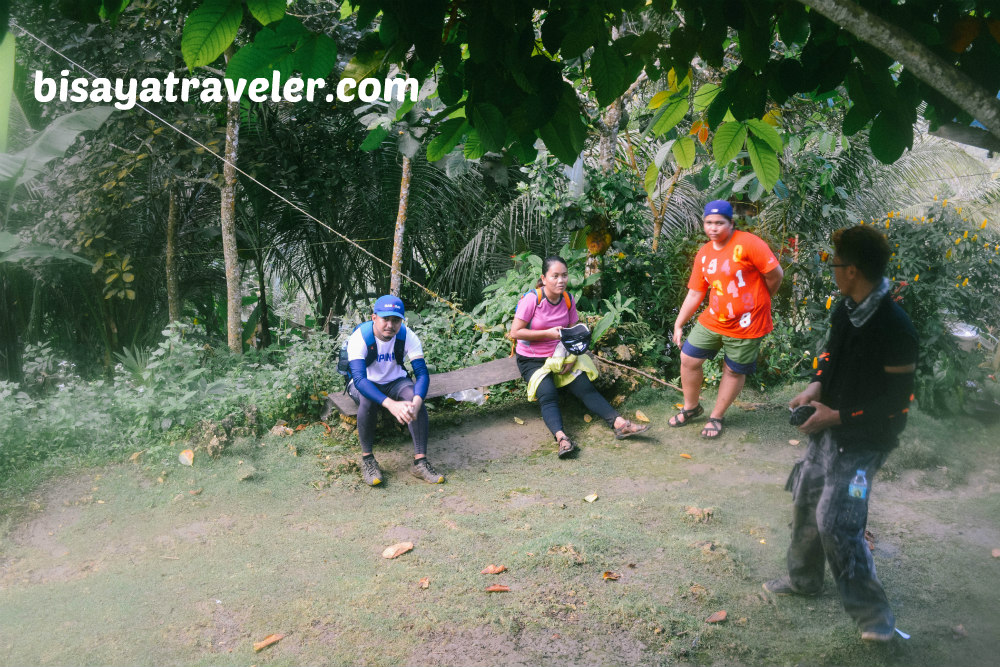 As usual, we had fun, enjoying one another's company and reliving the past experiences, such as Jovy's hard-rock puppies, Paul's admiration for Annabelle as well as Kevin's vampire kiss. Not to mention, our female canine friend was now accompanied by a super lustful male counterpart that made a ton of hilarious gestures.
Lieve even imitated it, and suggested to capture these horny gestures on Boomerang.
With lunchtime over, we descended on the trail, to start the second half of our hike to Kawasan Falls.
Before we went on with our hike, I changed footwear, and used my old sandals, to get a better grip on the trail.
For a while, everything was perfect for me. I was once again was fast as The Flash, and feeling utterly comfortable with my footwear. But all of a sudden, my left footwear's straps gave up, leaving me a pair of unusable sandals.
Fortunately, Idol came to the rescue, offering his loose yet functional sneakers.
I still had difficulties hiking the trail with these sneakers. Remember, these types of shoes weren't specifically built for these conditions.
With grit, grind and hustle, we finally arrived at the easier part of the Osmeña Peak to Kawasan Falls traverse.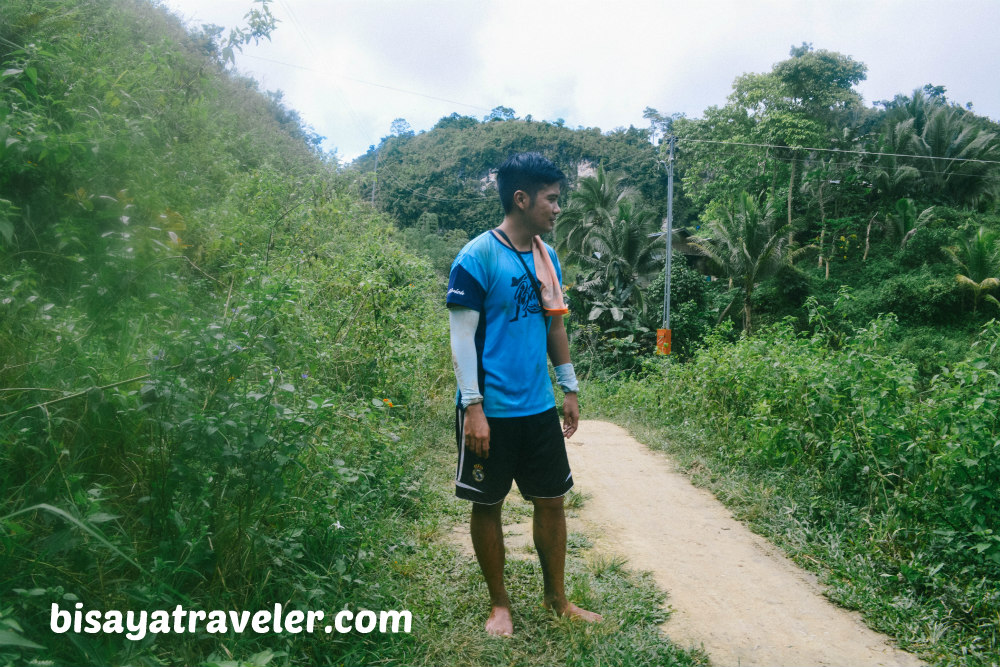 Not everyone was free from scratches, bruises and bumps on our hike, though. Shenyl was having problems with her left knee, while JP sprained his left hand, as we were descending. And, I'm pretty sure there were others who had small cuts and blisters.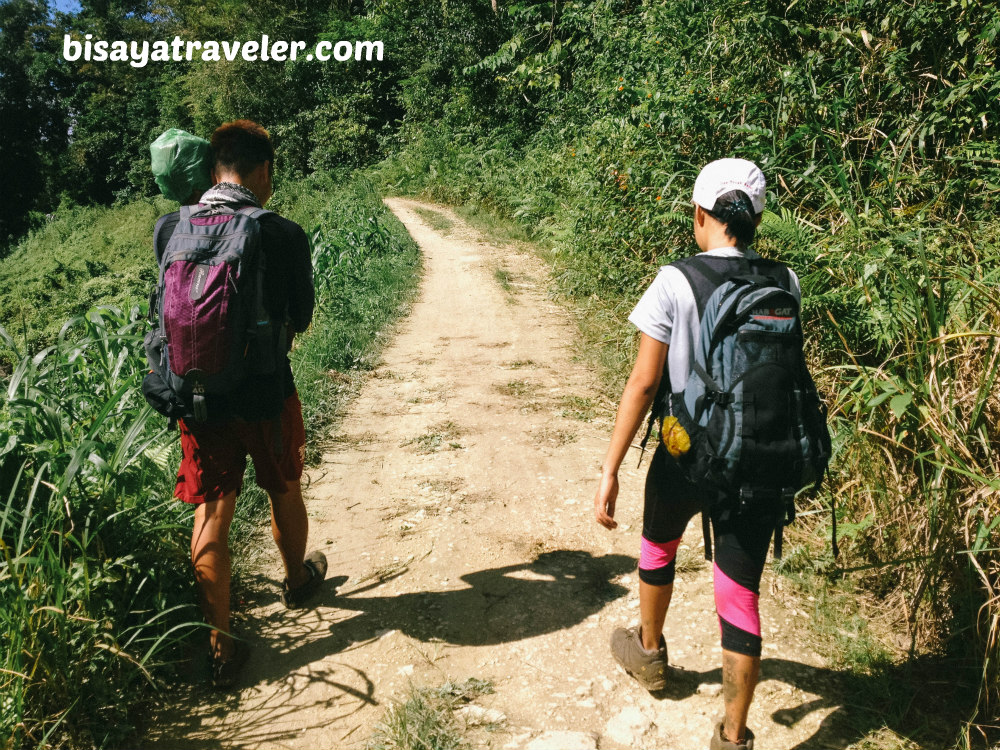 Without wasting any more time, we hit the trail leading to Kawasan Falls, with minimal stops. Later on, we arrived at the main road, where we caught sight of a handful of AFAMs in their canyoneering gear.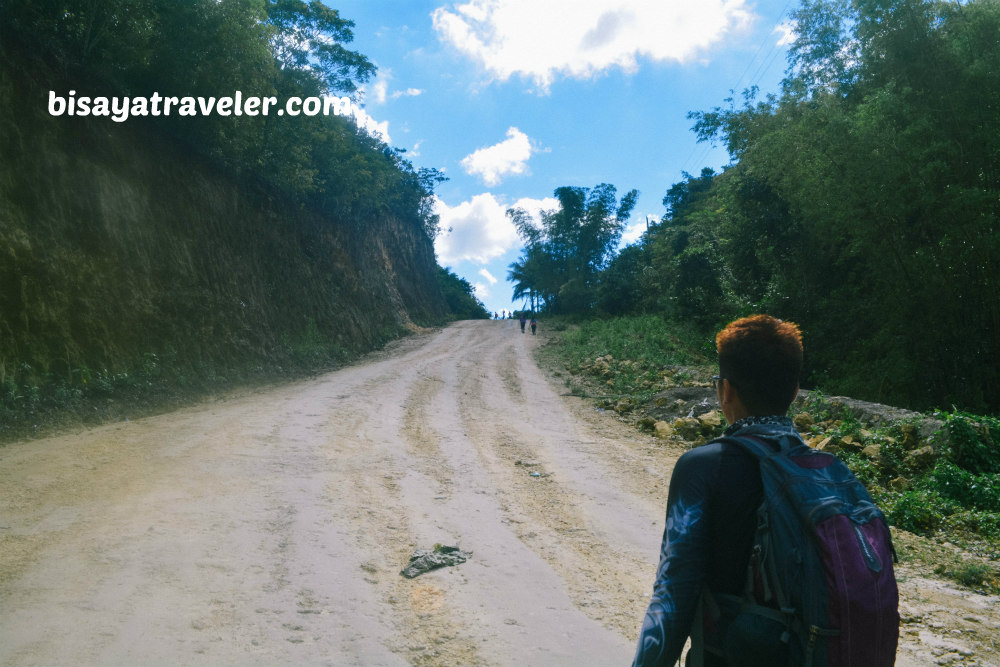 Jovy waved her hands to these beefcakes, as if she just saw a famous celebrity or a cute puppy from Hong Kong.
Then, we made a stop at local store, and ordered some coconuts.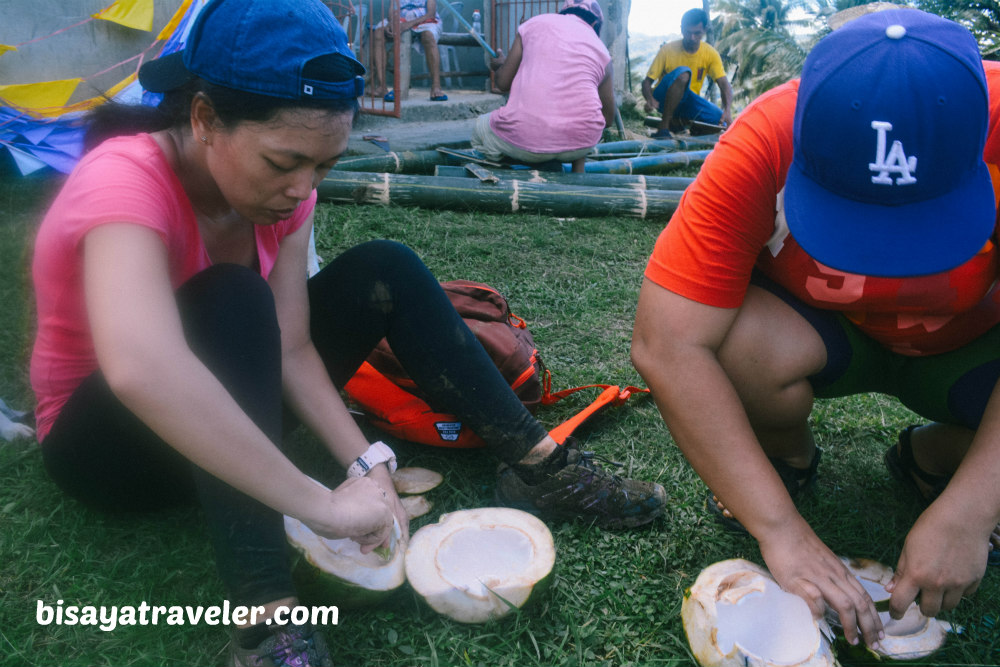 Clearly, ate Sherlyn and Gelique were on a state of pure bliss, indulging on the freshly plucked coconuts. Lieve, meanwhile, was busy singing to the catchy tunes of Nesfruta Buko. Of course, he added a twist to the song, replacing some of the lyrics of the jingle with Rated SPG visayan phrases.
Afterwards, we carried on with our hike to Kawasan Falls. Along the way, we accidentally bumped into a couple of foreigners who became close friends with Lieve and the rest of the gang.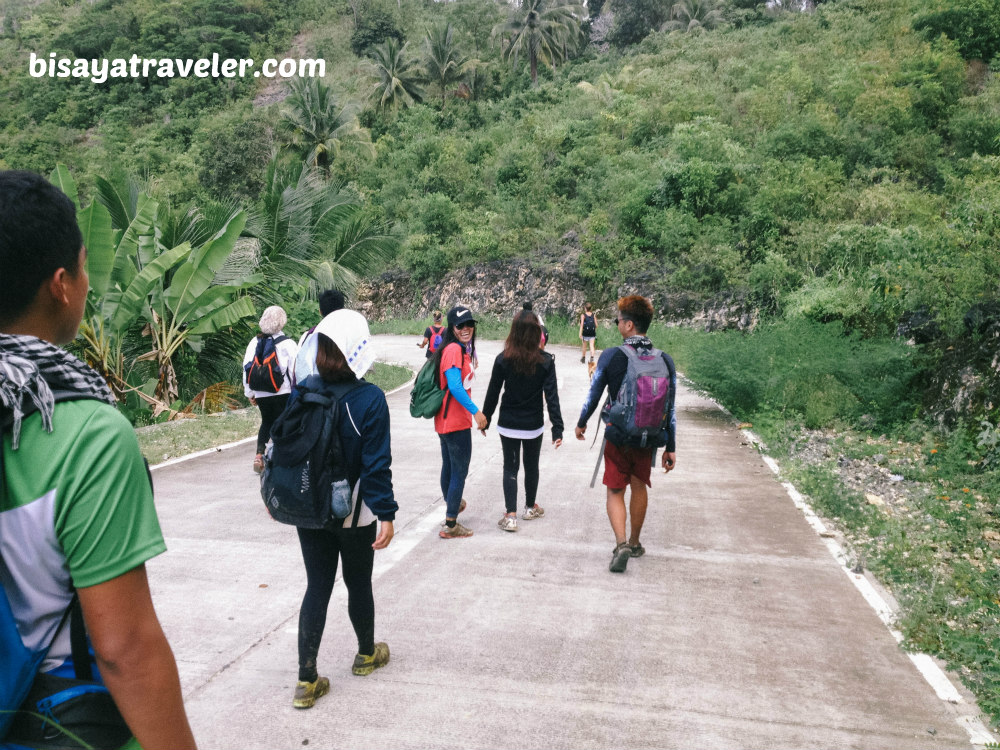 As for our canine pals, they were still around fornicating and doing some hardcore stuff on the road. Surprisingly, they weren't exhausted with the hike at all.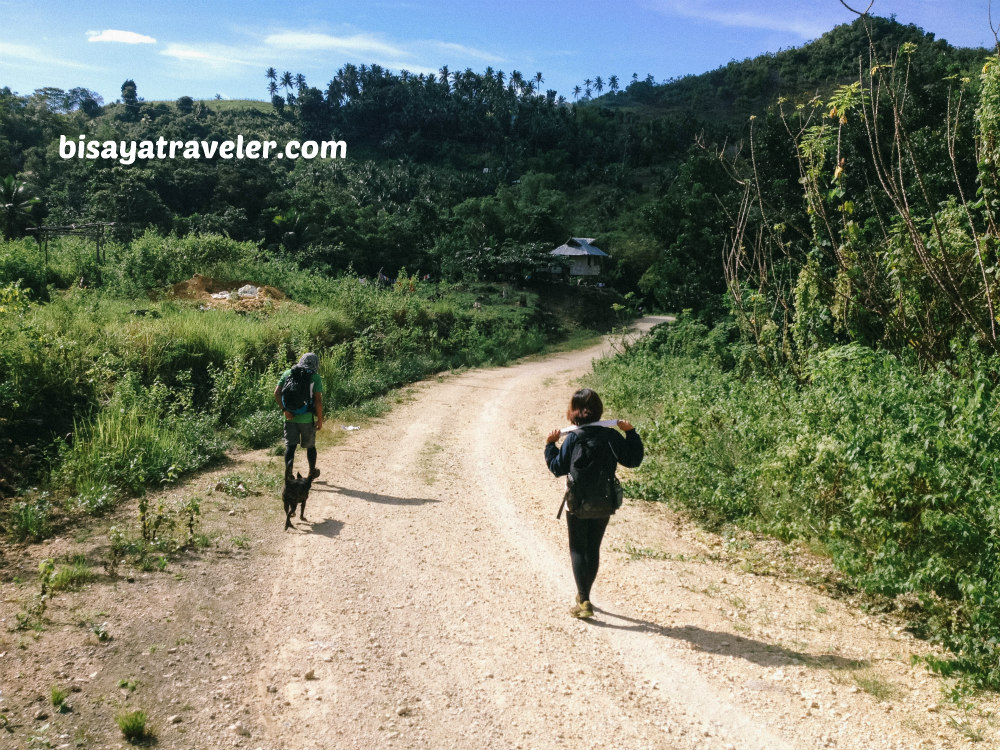 Although we couldn't hear any sound of a waterfall, we felt like we were just a short walk away to Kawasan Falls.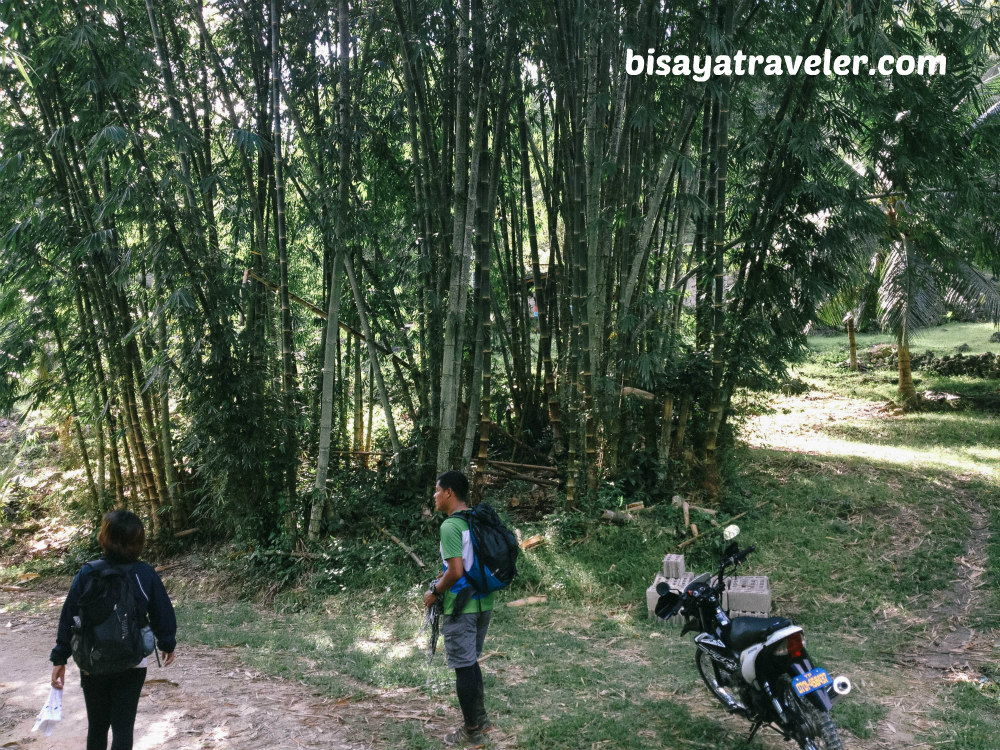 And, ultimately, we could hear the surge and gushes of the majestic and world-famous Kawasan Falls.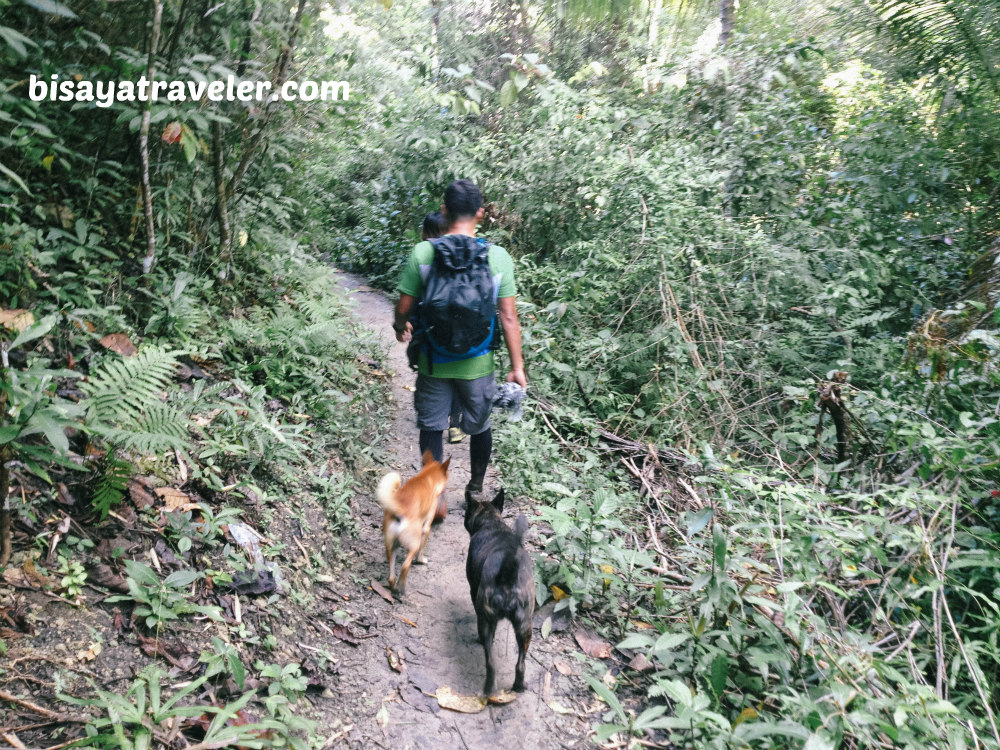 "Whoa", screamed Paul, as we were about to reach Kawasan Falls. Everyone breathed a sigh of relief, once we arrived at the 3rd level of Kawasan Falls.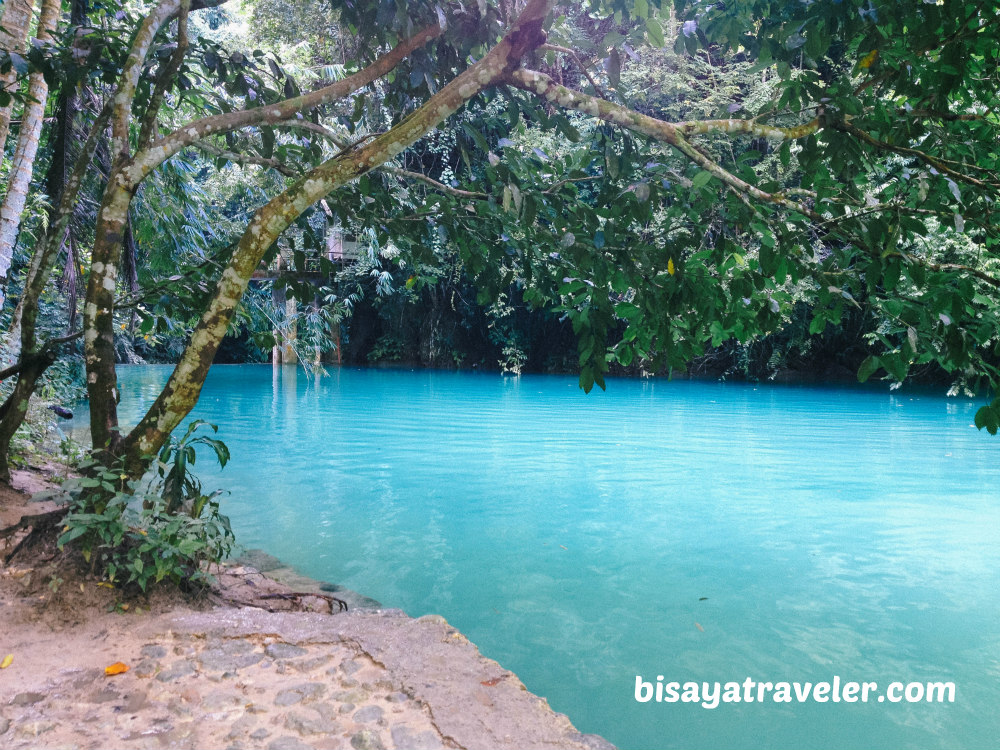 Slowly, we dipped our jaded bodies into the ice-cold waters of Kawasan Falls. And boy, it was refreshingly relaxing and soothing.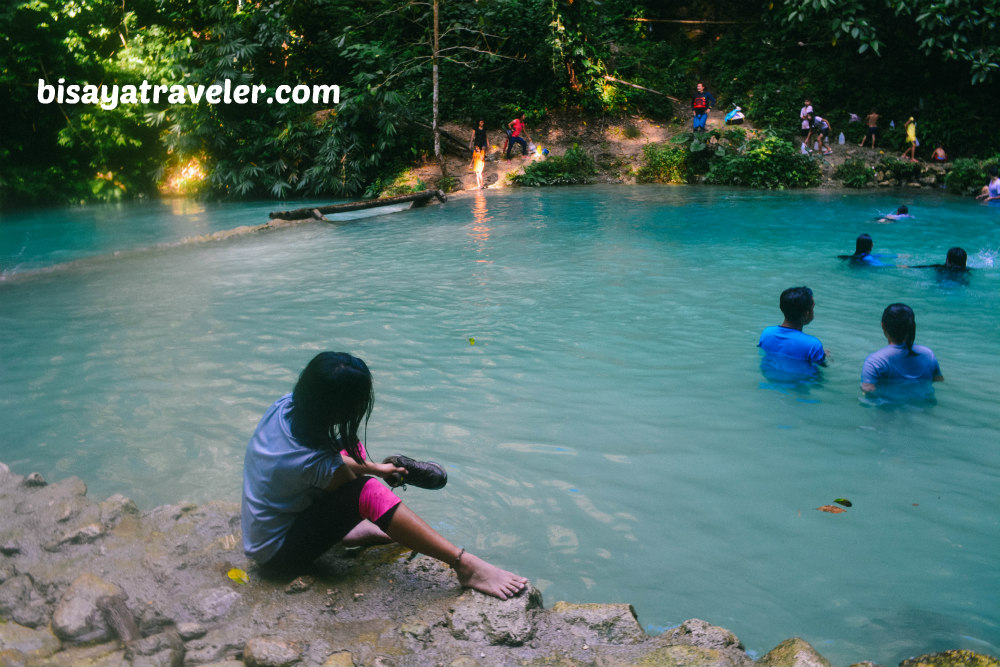 While the rest was busy diving and plunging, I, Jovy, Paul, Shiela and Gelique went to the other parts of Kawasan falls to snap dozens of photographs.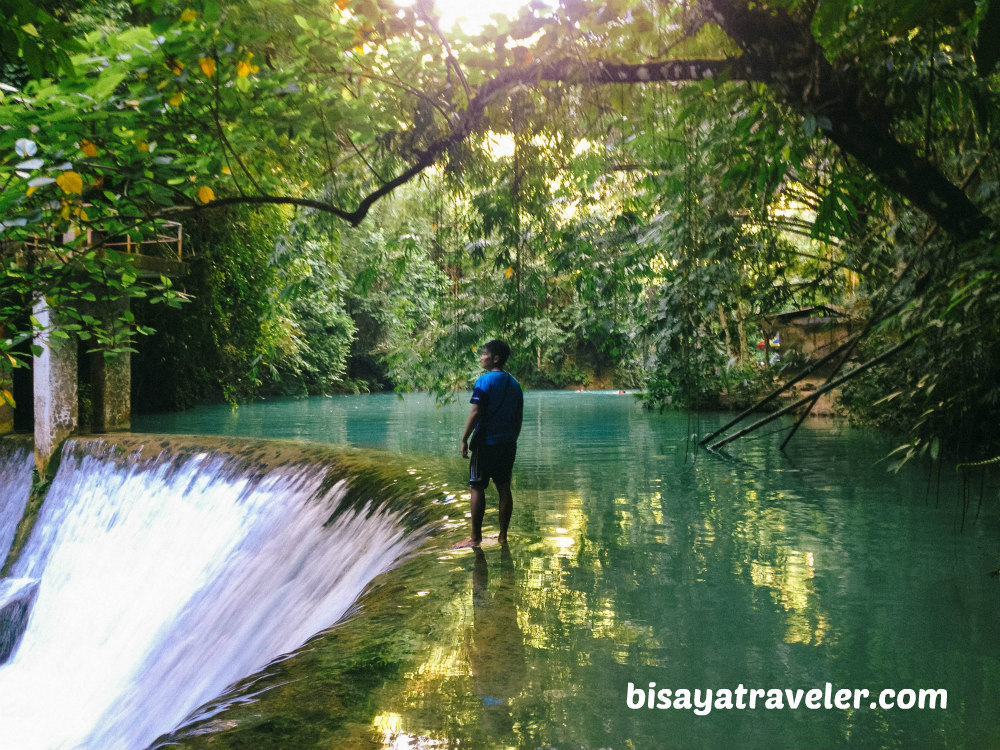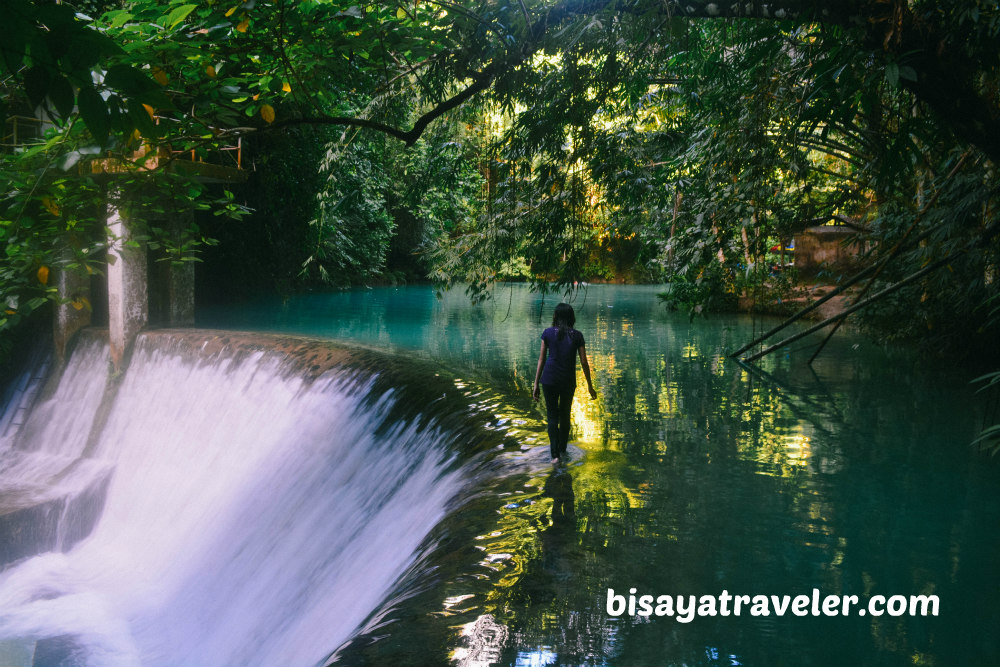 With our cravings for waterfalls finally appeased, we descended from the 3rd level of the Kawasan Falls, so we could change clothes and head home.
With so many mesmerizing sights to offer, we couldn't resist the urge to capture photos of Kawasan Falls.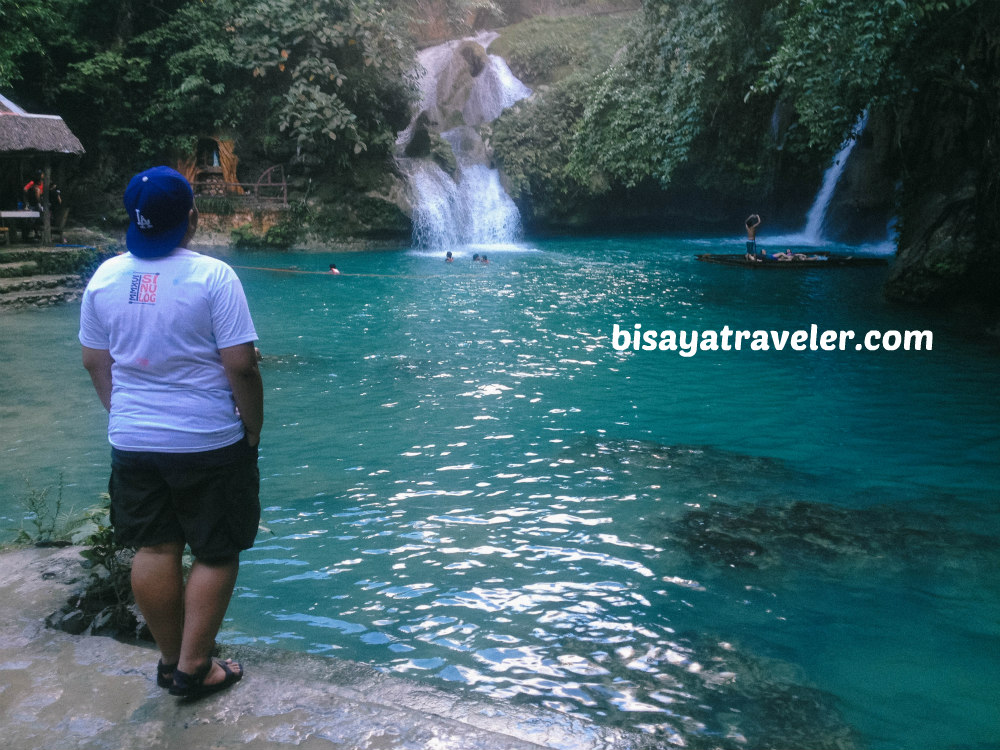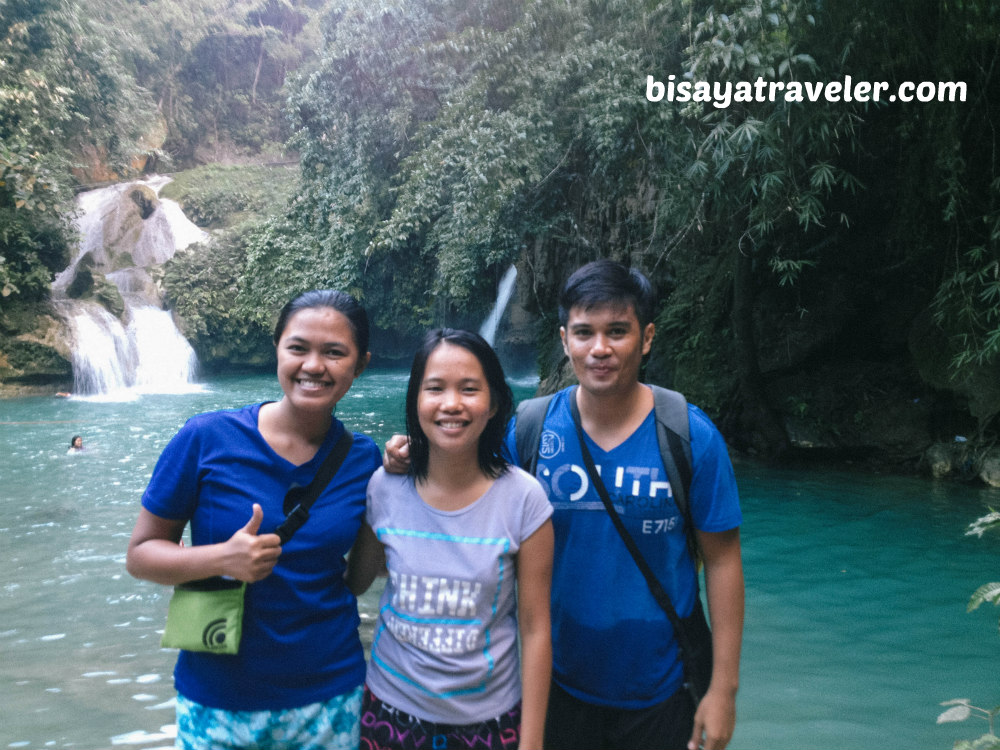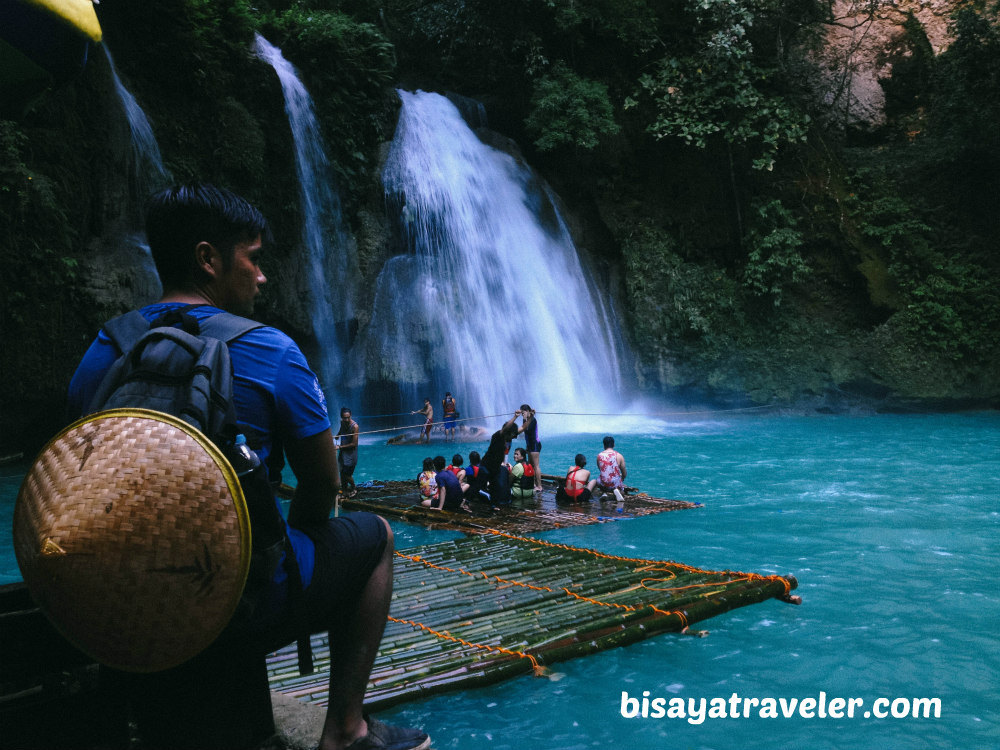 As we were making our way to the highway, I got a chance to talk with Christine. And to me, it was the perfect finale to a perfect day full of thrilling moments, giggles and fun.
Just like the rest of Team Bang, I treat Christine like family. And, we're really happy for her, for taking a big leap and a chance towards a better life.
My experience with Christine in the past year or so can be described in one way – life-changing. Sure, she didn't turn me into a dashing billionaire or a sought-after celebrity, but she unleashed a side of me that made Team Bang a flourishing crew.
Before our first meeting in Candongoa Peak, I was mostly a solo act who's a bit allergic to groups. When it comes to traveling, I tried to stay away from groups, as much as possible, because I always prefer to do things on my own. And, in the past, traveling with a group often leads to a headache or assortment of problems.
With Christine and Shenyl's help, I rediscovered the beauty and perks of traveling with a gang. I have learned to embrace camaraderie, teamwork and challenges of being in a group.
Truthfully, I'm still an enigma and a certified introvert who prefers to be alone. Heck, I don't even go to parties, drinking sprees, fiestas, camps and other forms of noisy gatherings because they are all energy-draining experiences to me. Even though I'm happily married, my wife always gives me time and space to be alone.
And yes, I absolutely intend to remain that way, until my last breath.
But in her own unique way, Tine taught me that's okay to be a part of group, or even be its shepherd. Years from now, I'll remember how a young woman from Davao transformed an antisocial guy into a selfless team player.
 Our Osmeña Peak to Kawasan Falls traverse itinerary:
02:30 AM: Meet up at Cebu City South Bus Terminal
03:45 AM: Depart from Cebu City
05:45 AM: ETA Poblacion Dalaguete
06:20 AM: Depart for base of Osmeña Peak
07:20 AM ETA base of Osmeña Peak
07:40 AM: ETA Osmeña Peak/ pictorials
08:20 AM: Depart for Casino Peak
09:00 AM: ETA Casino Peak
10:00 AM: Depart from Casino Peak
11:30 AM: Lunch
11:45 AM: Resume hike
02:30 PM: ETA Kawasan Falls
04:00 PM: Depart from Kawasan Falls
05:00 PM: ETA Main Road/rest
05:30 PM: Depart for Cebu City
08:00 PM: ETA Cebu city
09:00 PM: Home sweet home
Reminders:
Practice the LEAVE NO TRACE principles.
Pack at least 2 liters of water.
Bring ION drinks like Gatorade or Pocari Sweat.
Wear trekking shoes or sandals with great traction (bring spares too).
Wear a hat and arm guards to protect your skin from the skin.
Bring trail food.
Pack first aid kit.
If you're interested in this kind of adventure, try reaching out to mountaineering groups in Cebu. Alternatively, be on the lookout for Facebook events that feature this hike.
Our expenses:
Bus fare to Dalaguete: PHP 106
Habal-habal ride to O'peak: PHP 100
Guide fee: NADA
Entrance fee to Kawasan Falls: NADA
Van fare to Cebu City: PHP 170
Goodbyes are not forever, and definitely not the end of a friendship or relationship. To me, saying goodbye simply means "I'll miss you, until we see each other again".  With today's ever-improving technology and ease of travel, you can practically see anyone living on the other side of the world with a couple of taps on your smartphone. Gone are days when you have to wait for months for the mailman to deliver a message or picture from a loved one working or living abroad.
But, things and fortunes can change, in the blink of an eye. A series of unfortunate events can unexpectedly happen and egos may blow up. That's why you should cherish the moment with a person who's about to leave, while it lasts. And, if our O'peak to Kawasan Falls traverse was our last adventure with Christine, I'm glad we ended it with a big bang. Team Bang for life!