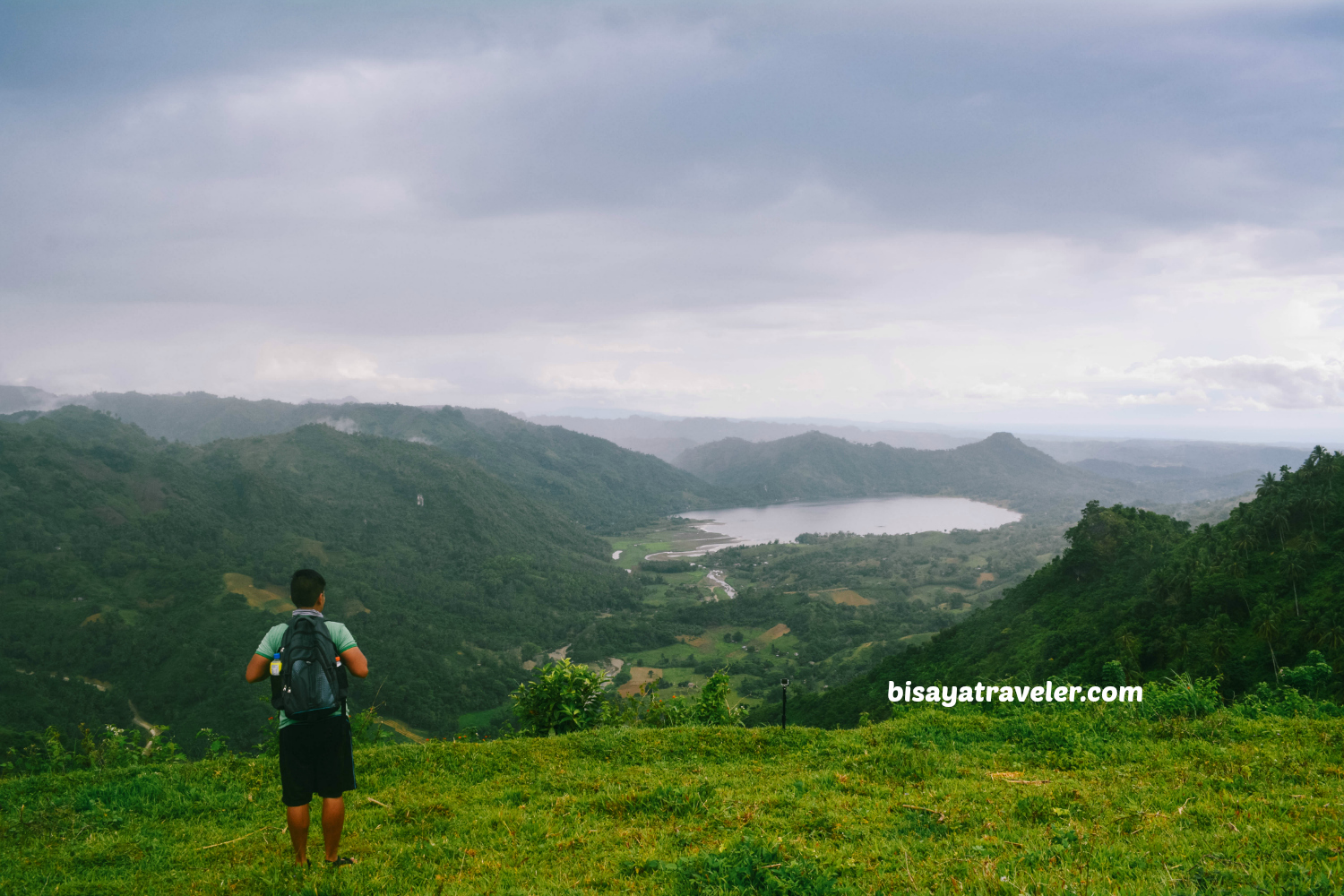 New Bucao: A Gritty, Muddy Uphill Climb To Toledo's Unsung Mountain
My first visit to Barangay General Climaco was an exciting adventure packed with enthralling sights and colors. From the moment we set foot on its grounds to our thrilling top-load jeepney ride, every moment of Team Bang's quick weekend adventure in this playground was a blast. And with all the treats and surprises we got on our trip, going back to this extraordinary barangay was a no-brainer for us. So, once again, we packed our bags to venture into Casoy. This time, we explored three unsung and relatively unknown places in this part of Toledo, Cebu – Manutu River, Mount New Bucao and Mount Tagaytay.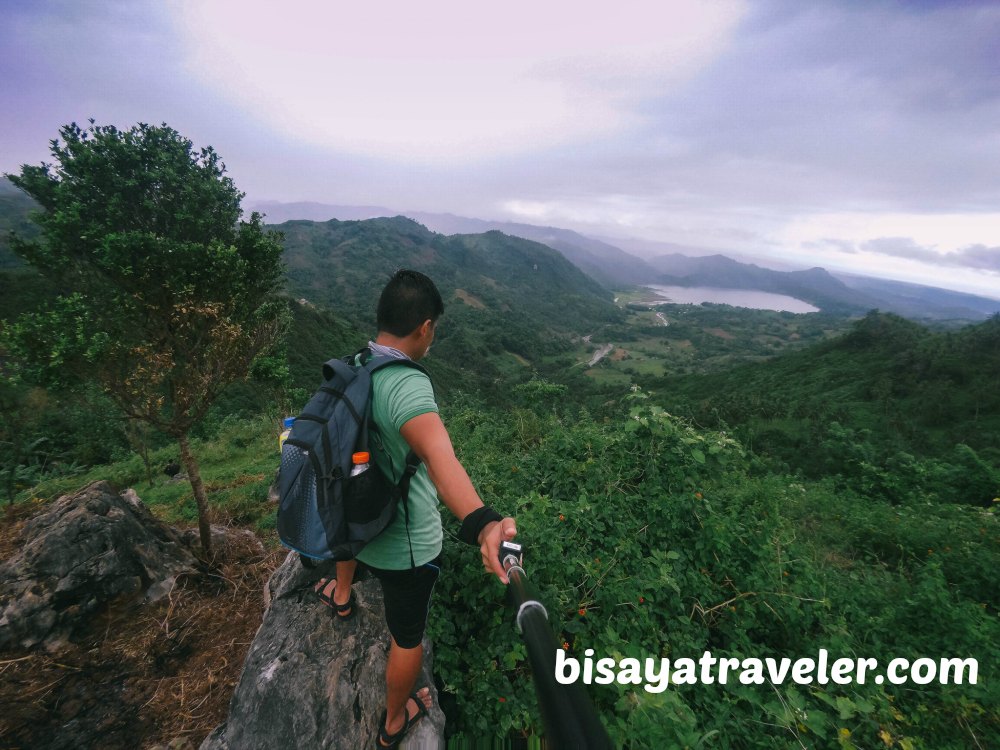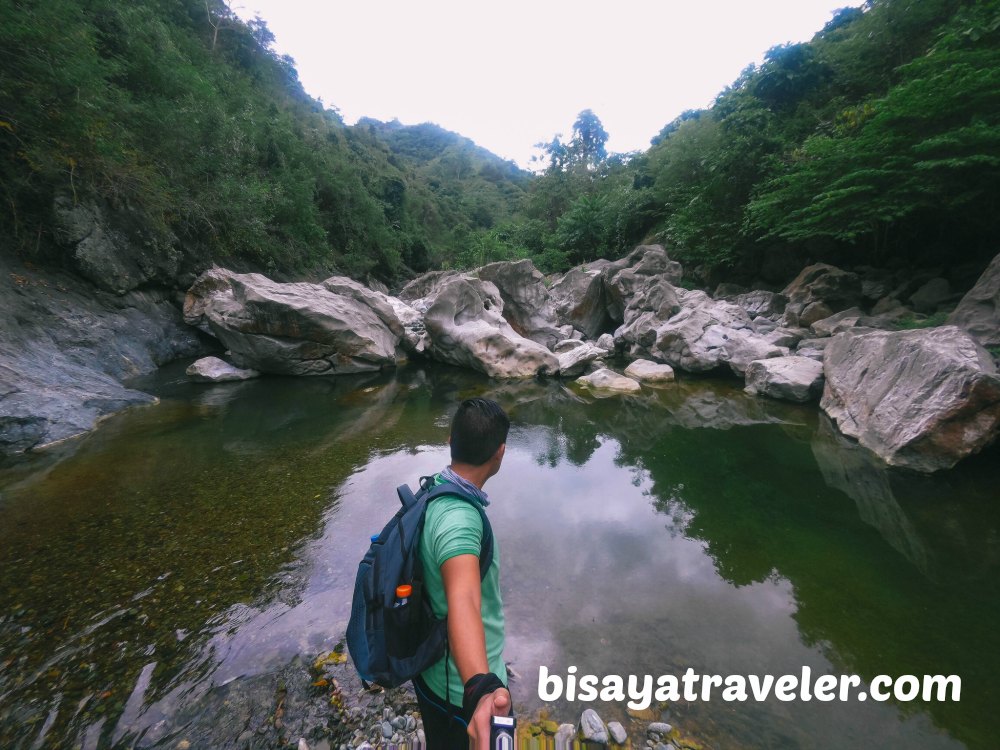 Unlike our first visit, though, Team Bang was far from being complete on this day adventure. With nearly everyone busy with their getaways, only a handful of Team Bang members joined me on our hike to New Bucao – Beth, RJ, Gelique and Wilfred. While Lieve was also around, he didn't get the chance to scale New Bucao since he was busy attending to the needs of our charming uniform sponsor from South Korea – Andreshin Andre.
On the bright side, we were joined by an experienced outdoor enthusiast, James Glendon, who made the whole hike worthwhile, with his knowledge, leadership and hilarious "hugot" lines.
My hiking experience to Mount New Bucao
After gathering the troops at Cebu City South Bus Terminal, we took a bus bound for Toledo, and left the city at around 6:30 AM: More than a couple of hours later, we arrived at Barangay Magdugo where a group of habal-habal riders (sent by Beth) were waiting for us.
We wasted no time, and took a bumpy ride to Casoy Barangay Hall. Once there, we had a quick meet-up with Beth, as well as bought snacks and food for our hike.
Our sponsor, Andreshin, bought a bunch of snacks and food for everyone in the group. Unfortunately, we didn't get to eat it because they left the barangay earlier than expected.
We, then, we took another habal-habal ride to reach our first stop – Manutu River.
As for the habal-habal ride, it was quite an adventure in itself. Not did we pass through a few streams, but the motorcycles also had a fair share of twists and turns, to reach our destination.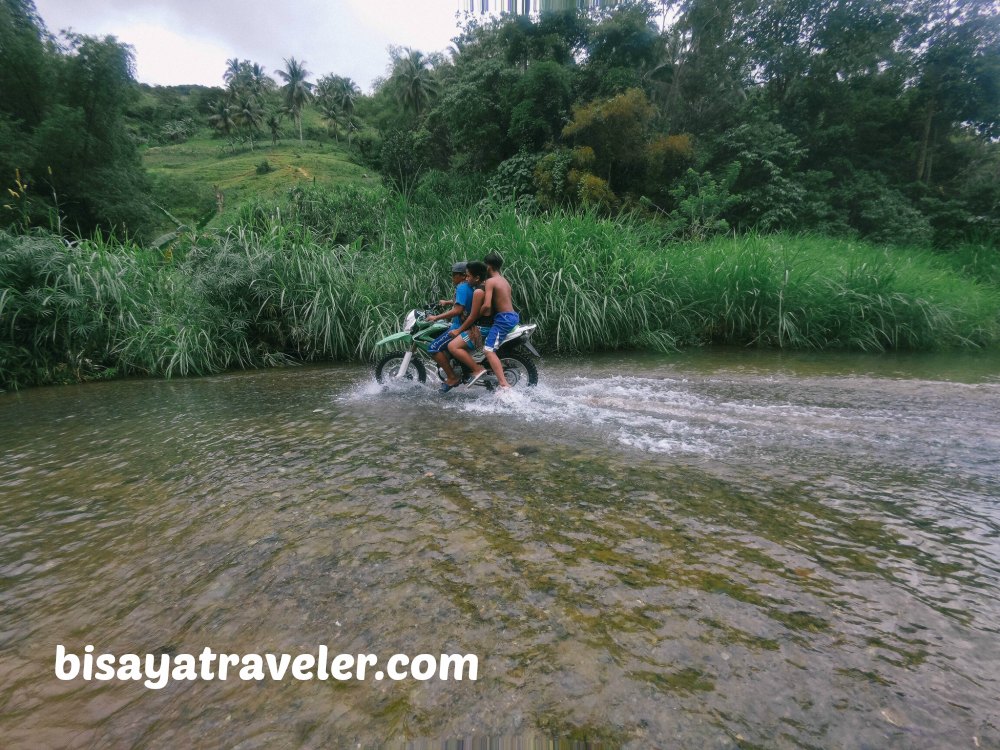 I haven't been to Tuburan, but based on the blogs I've seen, our ride felt a bit like the habal-habal drift on the way to towering Marmol Cliffs.
Upon our arrival, we made a short prayer for safety and good weather. Since our official prayer leader, Donna (or AKA Wandering Miss E), wasn't around, I had to assign the chore to Gelique, who did a fantastic job.
With everyone geared and pumped up, we followed the trail along Manutu River, or also called as Manulu-tulu by the locals.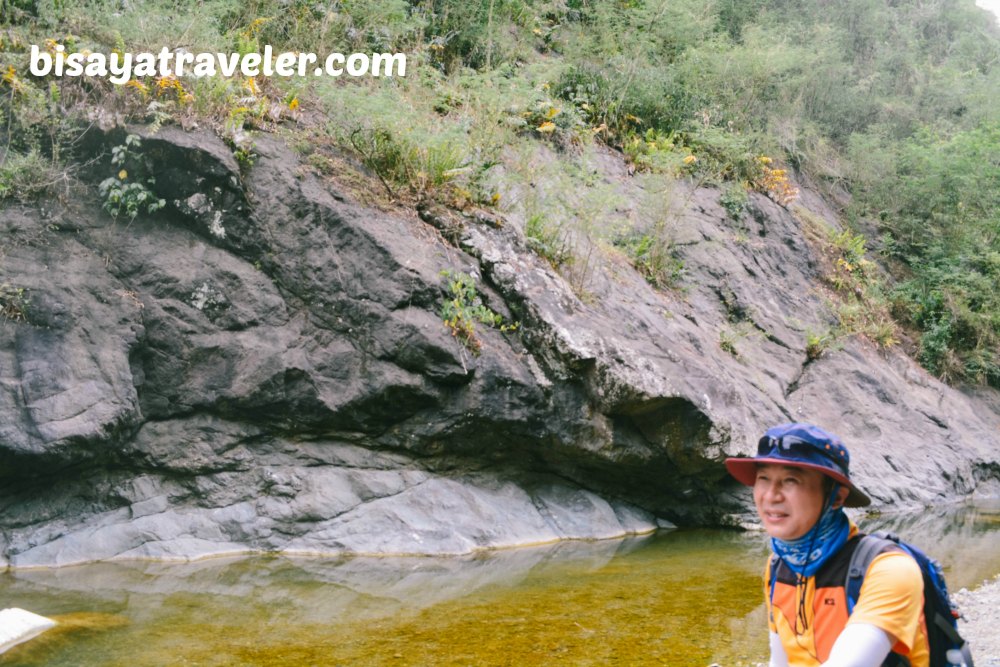 Prior to our hike, Beth told me that Manutu River has some similar physical attributes to the renowned Tinipak River in Tanay, River. And from my point of view, the river did live up to its new nickname and even exceeded my personal expectations.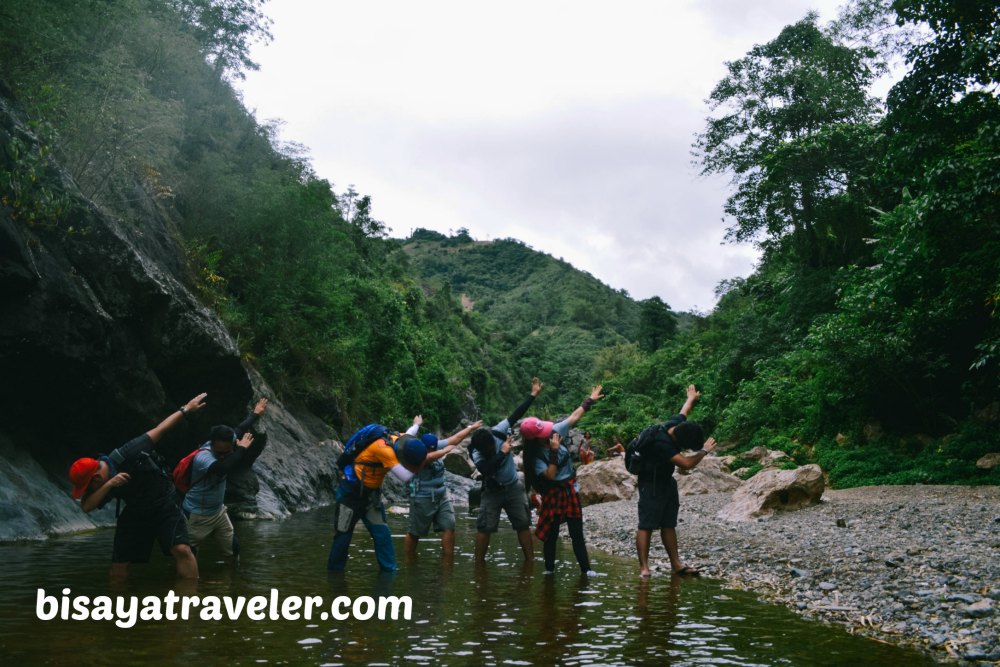 We walked along the river, and made a stop every time we see an Instagrammable sight. What's more, we climbed boulders and jumped off humongous rocks. We, however, didn't take a dip because we didn't bring extra underwear and clothes.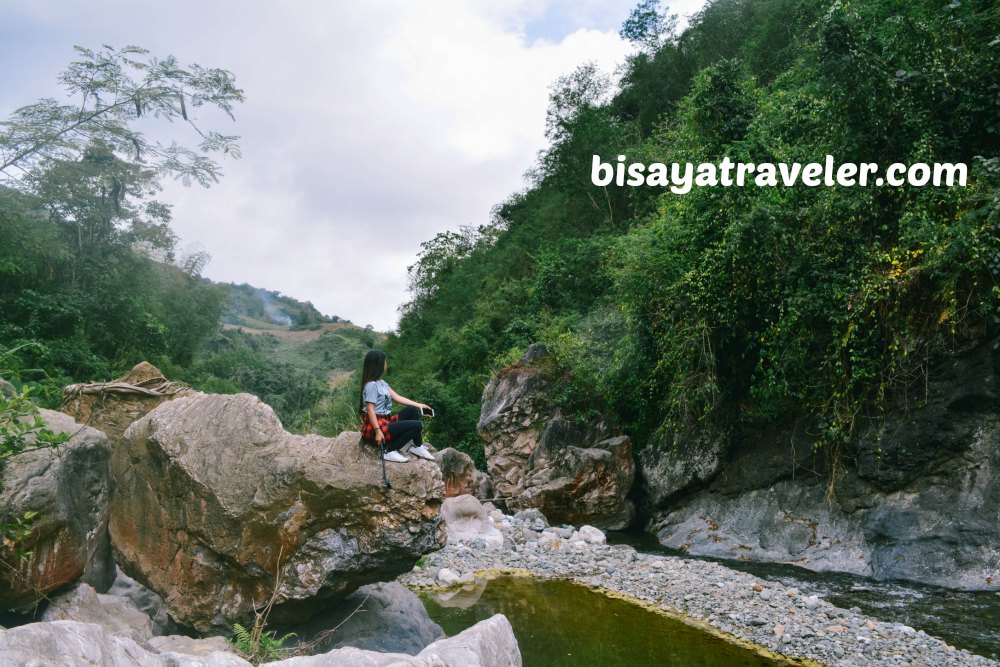 Along the way, we noticed that Andreshin was getting a little tired. To prevent injuries and mishaps, we politely asked him and Lieve to return to the base, and wait for us there. Of course, our Korean travel buddy obliged with a handshake, and followed Lieve's lead.
But, I didn't know that would be the last time I would be seeing them on that day. Once they arrived at the base, they quickly left Casoy, and took a ride back to Barangay Magdugo.
Meanwhile, the rest of team trekked along the river, delving into a plethora (ahem James) of new discoveries and vistas.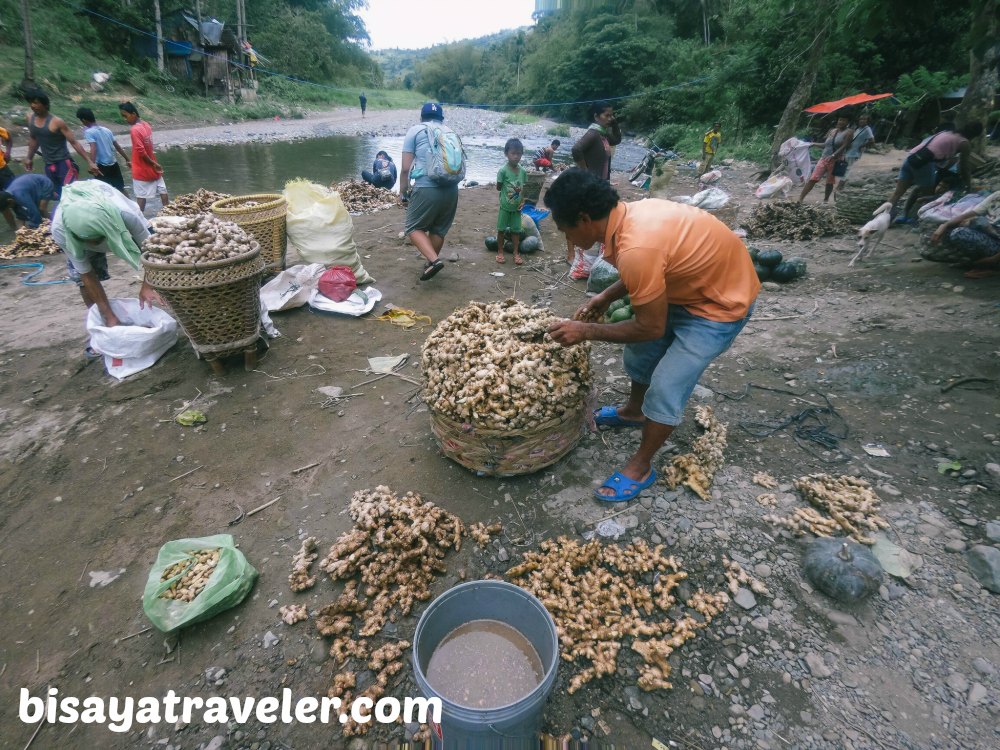 After more than an hour of exploring, we decided to return to our base, so we can start our hike to Mount New Bucao.
With the help of strangers, kids and locals in the area, we found the starting point of the trail leading to New Bucao. And then, the real adventure began!
Despite the mild rainfalls, the trail was at first pretty easy. With our pace and experience in hiking, I thought we were going to reach the summit of New Bucao in less than an hour. But, for the nth time, I was again way off my predictions.
As we were making our way to the top New Bucao, the trail got steeper as well as more challenging. To make things worse, the rainfalls kept getting stronger, making the trail to New Bucao muddier and more slippery. Yet, surprisingly, everybody we bumped into around the area had no troubles going downhill.
Every time the downpours got heavy, we made a stop, and looked for a shade. And eventually, we found a refreshing area where we took a break and ate our lunch.
With our stomachs filled, we resumed our hike to New Bucao, through a rather slippery trail.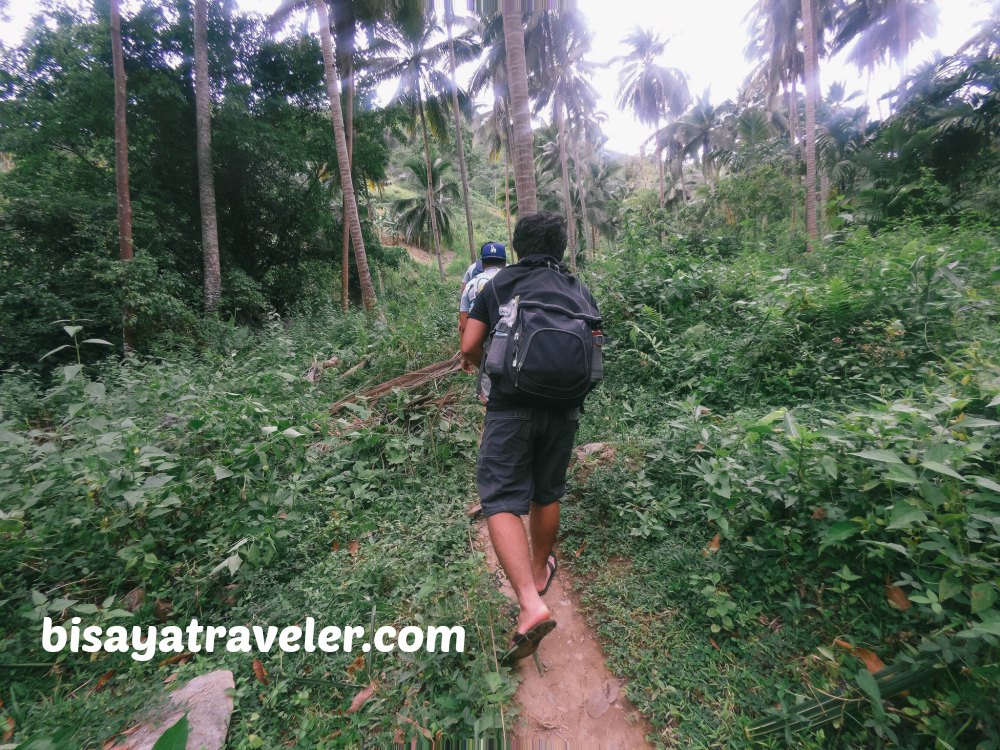 There weren't a lot of locals in this part of Toledo, so as you might have expected, we got lost, after following the wrong path.
We were at a crossroad, as we were getting closer to New Bucao, and we picked the better-looking path, thinking it was right way to the summit. Little did we know, the path we followed was the wrong one.
Ultimately, we returned to the intersection that we totally misread, and followed the right path to Mount New Bucao. But, before we began our ascend, we had to clean the mud in our hands, arms, legs, footwear and even our backsides, with the area's flowing fresh water.
Yes folks, there were plenty of spills, thrills and slips, while we were going downhill to the interaction. Not only was the trail extremely slippery and mossy, but it has a lot of narrow and high spots as well.
As a matter of fact, sometimes, we had to crawl, use our butts and hold on to plants, to navigate through a challenging area. Luckily, nobody in the group panicked, thanks to James Glendon's insights and help.
On our way to top of New Bucao, a friendly and helpful man, who's familiar with Beth's parents, helped us by showing us the way to the top. And from there, I thought the challenging part to New Bucao was over.
But, as it turns out, the wrong trail that we followed earlier was just a teaser of what's to come. As we got closer to New Bucao, the track got even more slippery, muddier and steeper. I had no choice, but to remove my sandals, and climb to the peak the old fashioned way – on barefoot. James, RJ, and Gelique did the same thing as well.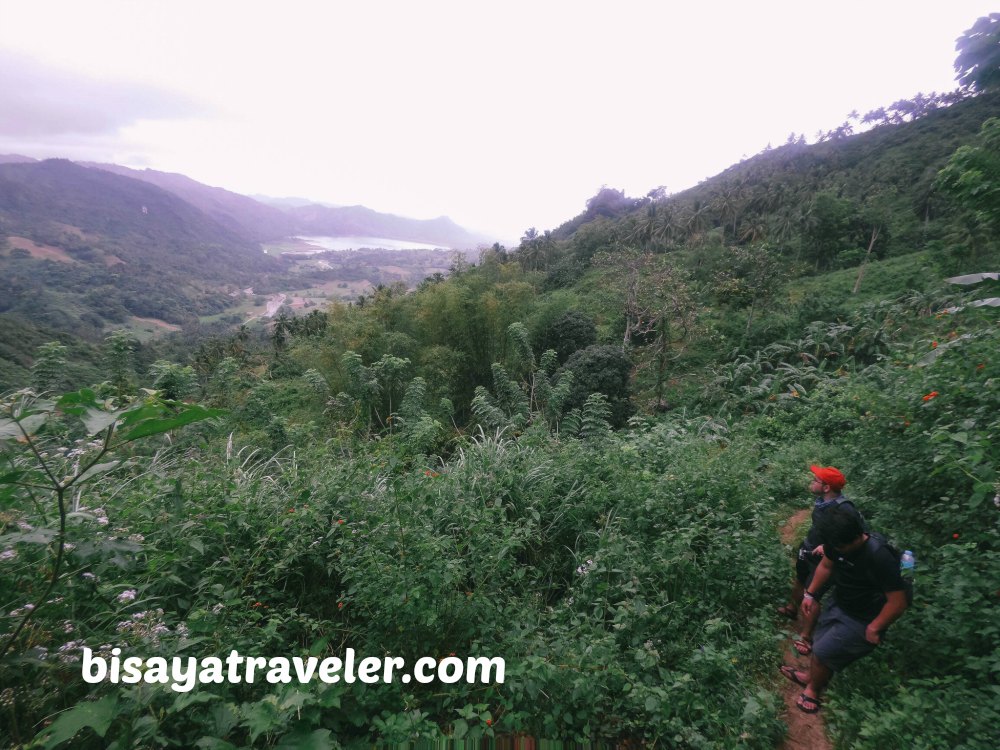 Clearly, we were calculative and extra careful with every step that we took. One false step on this track, and we may find ourselves scrambling for safety. James, who has scaled a number of mountains in the Philippines, said that this trail to New Bucao is more challenging than the paths to Mount Babag, which is a well-known for playground for mountaineers in Cebu. James, with his experiences in hiking, believes New Bucao can be a terrific practice ground for those who are preparing for major climbs.
Although I was in the mood for a heavy dose of adventure, I didn't expect to be a muddy uphill hike. Truth to be told, I thought it was going to be a walk in the park, or a "pabebe" hike, as some would say. And it wasn't just me who underestimated this hike. James – arguably the most experienced hiker in the group – just wore a pair of slippers, thinking the trail is as easy as ABC.
Still, we still manage to crack some jokes, amidst the struggles and challenges. Wilfred, who has a catchy Predu Wolf moniker, said that he was compelled to fully transform himself into a wolf, and use his four legs, to survive this uphill battle.
Yes folks, you'll need to use both of your hands to reach New Bucao, if you follow this trail during rainy days.
With grit, grind and a great deal of fortitude, we finally reached the peak of New Bucao. It wasn't a glamorous climb by any means, but it's definitely a memorable hike that's worth a repeat.
We, then, made our way to the best vantage point of New Bucao, passing by its school and some small farms.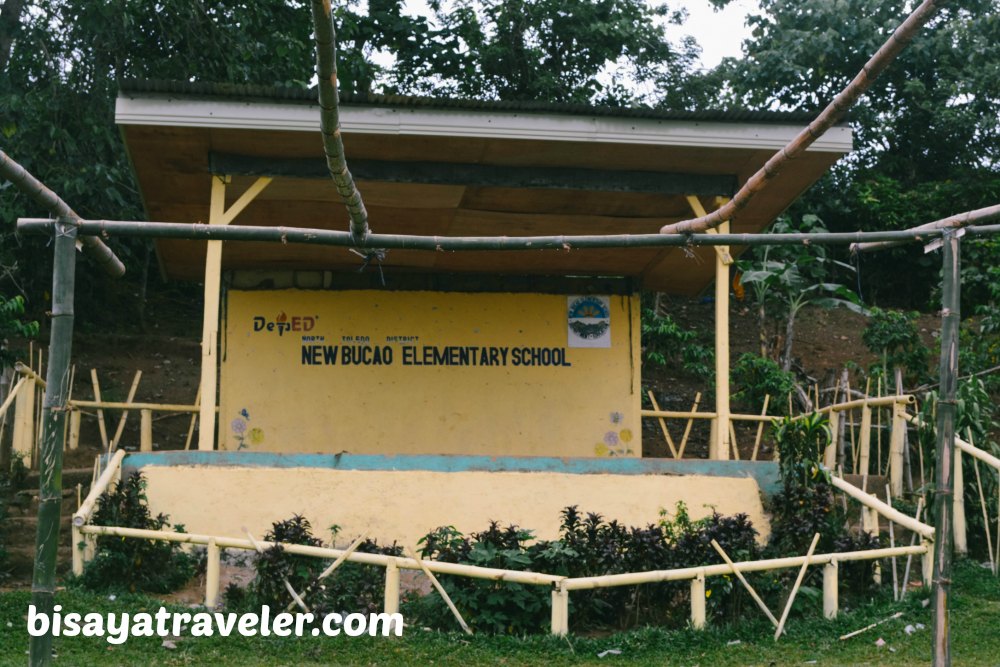 Afterwards, we savored the panoramic views, and snapped dozens of photographs of New Bucao and Malubog Lake.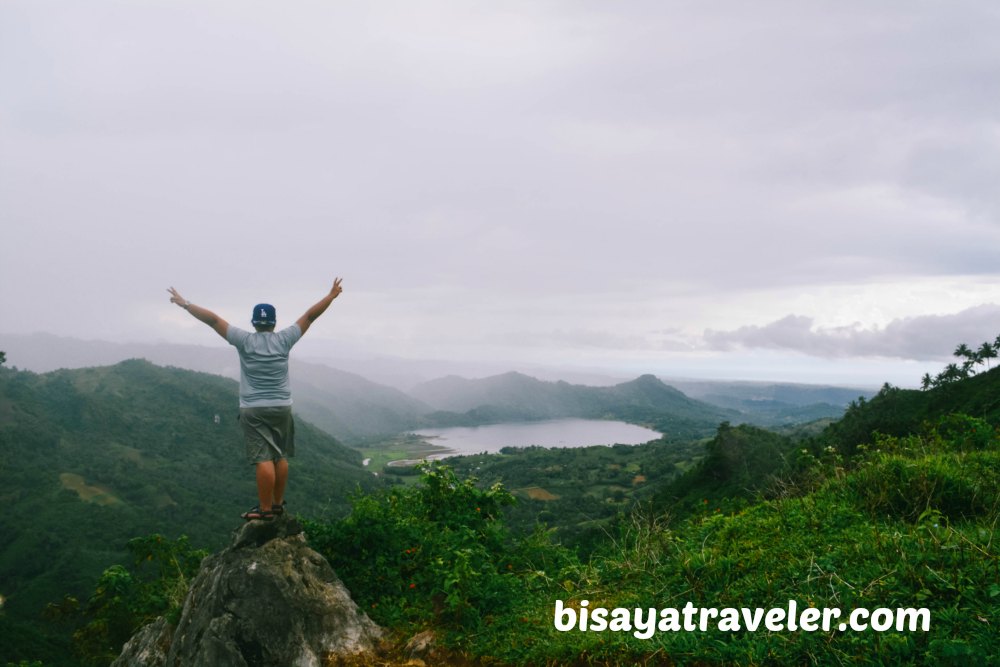 Are the views really worth the effort? Let's just say "the best views come after the best hardest climbs". In my book, it's best spot get a dramatic overlooking view of Malubog Lake. In some angles, you can even see the lofty towers in Lutupan from New Bucao.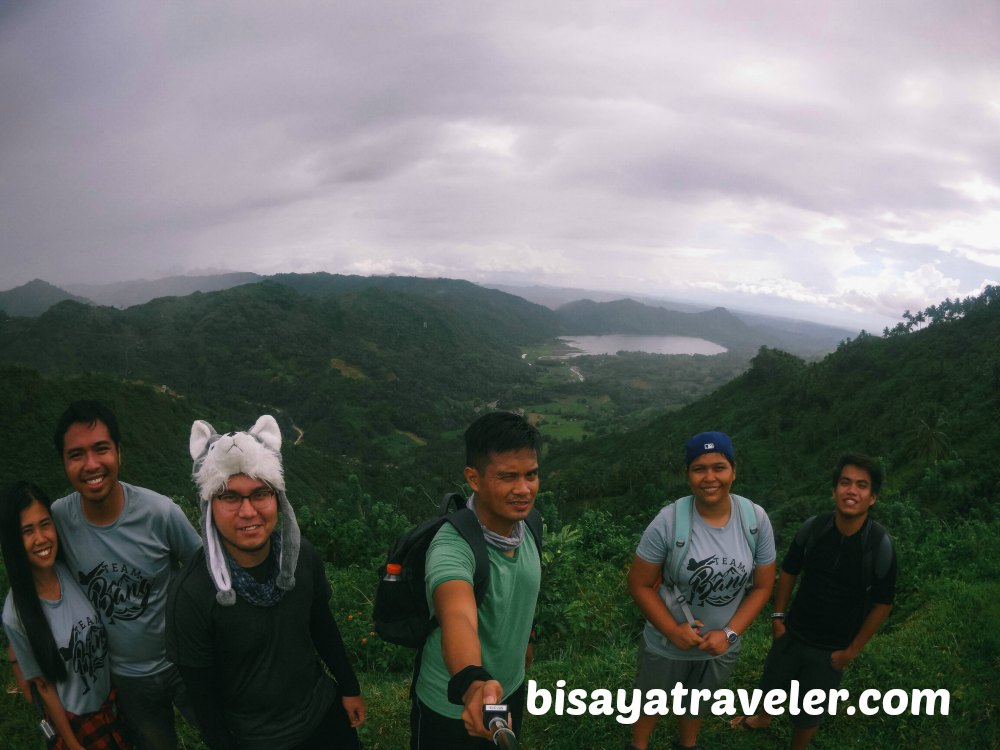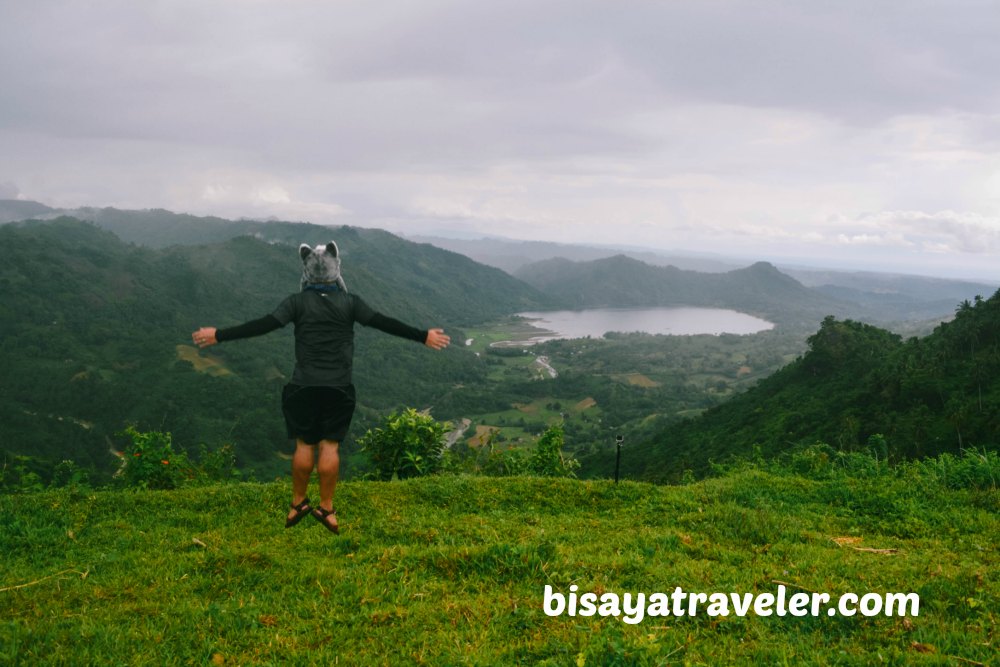 But, the climb to New Bucao wasn't the end of our adventure in Toledo City. Moments later, we took a hike to another scenic peak in the area – Mount Tagaytay. Though the trail to Mount Tagaytay wasn't as challenging as this one, we also had a glut of misadventures and fun experiences on the way, such as being chased by a wild white horse. I'll write about our Mount Tagaytay hike later (don't forget to check it out).
How to get there:
Take a bus bound for Toledo City, from Cebu City South Bus Terminal. Ask the driver or conductor to drop you off at "eskina" Barangay Magdugo. The most notable landmark for this junction is Julies Bakeshop. From there, charter a motorcycle taxi that will take you to Manutu River.
There are jeepneys from Toledo City that can take you to Casoy. While they are cheaper than the habal-habal ride, they are rather slow, and may even take over an hour of travel time.
Our Mount New Bucao itinerary:
05:00 AM: Meet up at Cebu City South Bus Terminal
06:30 AM: ETD from Cebu City (someone must be late LOL)
08:30 AM: ETA Barangay Magdugo/habal-habal to Casoy Barangay Hall
09:00 AM: ETA Barangay Hall/buy food
09:20 AM: Depart from Barangay Hall
09: 50 AM: ETA Manutu River/explore the river
11:00 AM: Return to base/start hike to New Bucao
12:00 PM: Lunch somewhere along the way
01:50 PM: ETA New Bucao
02:30 PM: Depart for Mount Tagaytay
03:45 PM: ETA Mount Tagaytay
04:40 PM: Start descend
05:30 PM: ETA Tagaytal Hill/dinner at Bethe's house
06:00 PM: Start descend to Barangay Hall
06:20 PM: Take a habal-habal ride to Barangay Magdugo
06:45 PM: ETA Barangay Magdugo
06:50 PM: Hop on a bus ride to Lutupan (we took the wrong bus)
07:20 PM: ETA Lutupan
07:30 PM: Depart for Cebu City
09:00 PM: Home sweet home
Our cost breakdown:
Bus fare to Toledo: PHP 60 per person
Habal-habal ride to Manutu River: PHP 100 per person
Habal-habal ride back to Barangay Magdugo: PHP 50 per person
Bus fare to Lutupan: PHP 10
Bus fare to Cebu from Lutupan: PHP 40
Important notes:
There are two ways to get to New Bucao – from Casoy Barangay Hall (the easier one) or from Manutu River (the one we took).
You can get to New Bucao by asking the locals for directions. Just tell them that you're heading to the school in New Bucao.
Be a responsible hiker, and practice the LEAVE NO TRACE principles.
Respect the place, and be respectful of nature and its dwellers.
Take time to soak up the views.
Pack at least 2 liters of water.
Bring salt and ion drinks like Gatorade.
Bring an umbrella, hat or sunscreen to protect your skin from the sun.
Wear arm guards for protection against the sun and spiky plants.
Wear a good pair of trekking sandals or shoes.
If you need help navigating around the area, you may reach out to fellow Team Bang member, Beth, at her Facebook page.
Did we have fun on this exciting day hike in Toledo City? As far as I'm concerned, it was a far more adventurous and mind-blowing trip than our first one. And I definitely would love to do it all over again. Hopefully, next time, my whole crew will be around to experience this fun-filled excursion.