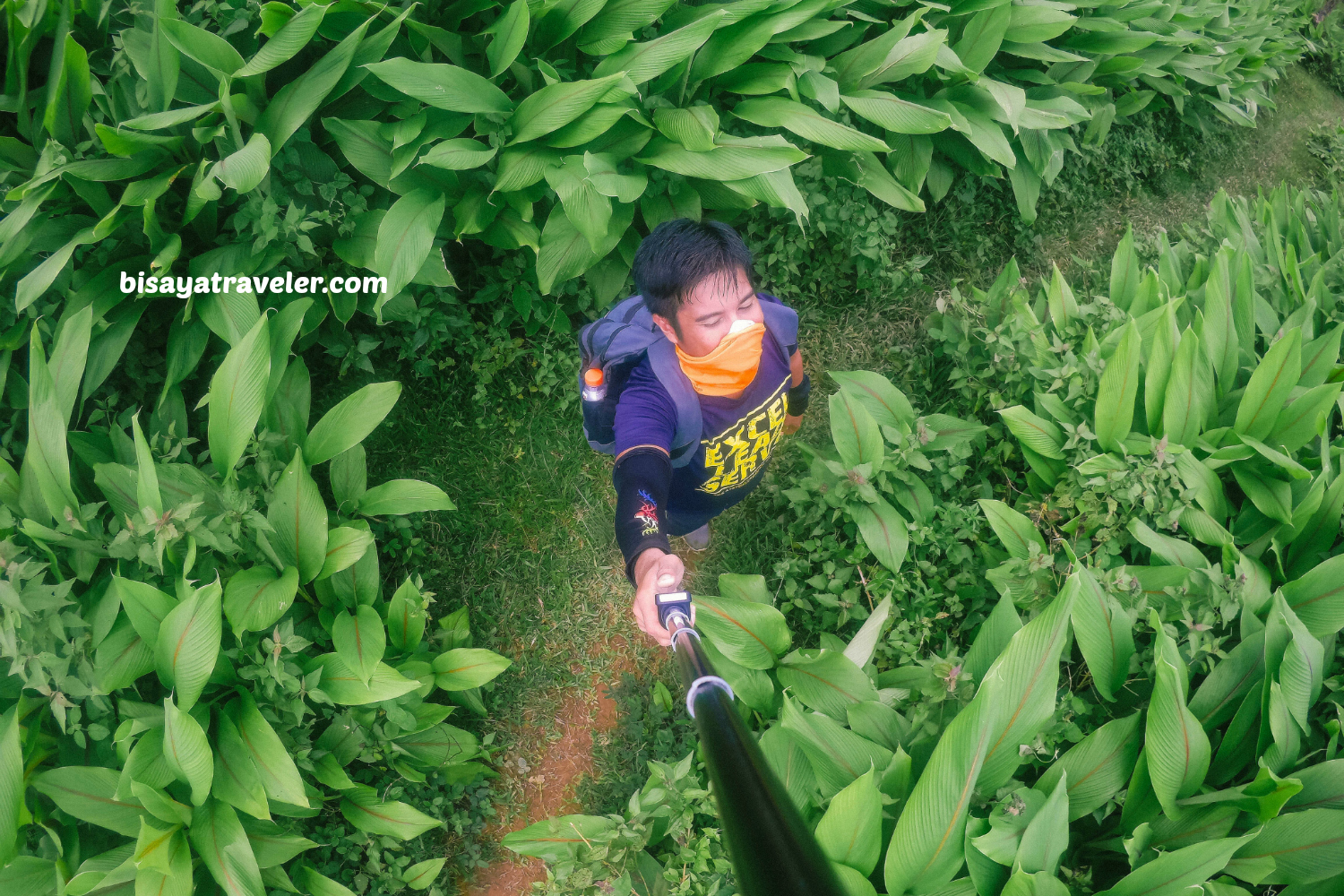 Mount Kalbasaan: Hiking A Scenic Yet Overlooked Trail In Cebu
For outdoor enthusiasts like me, there's no better way to spend a weekend than to hike a picturesque mountain. Even if it's a relatively unknown trail, hiking a mountain like Mount Kalbasaan simply completes my week as a young adult. Not only do mountains give me a healthy dose of Vitamin D and adventure, but it also unleashes my inner shutterbug, thanks to its mesmerizing bird's eye views and panoramas. What's more, it's, to me, a much cheaper pastime, as compared to a movie date with a bunch of your beshies at a nearby mall.
And, that's why I just can't stop thinking of hiking mountains. Even though I just scaled 6 peaks in the past couple of weeks, I still have this thirst for dates with Mother Nature's finest masterpieces. And eventually, this unquenchable desire for the highland has led my crooked pair of feet to Minglanilla's unheralded peak – Mount Kalbasaan.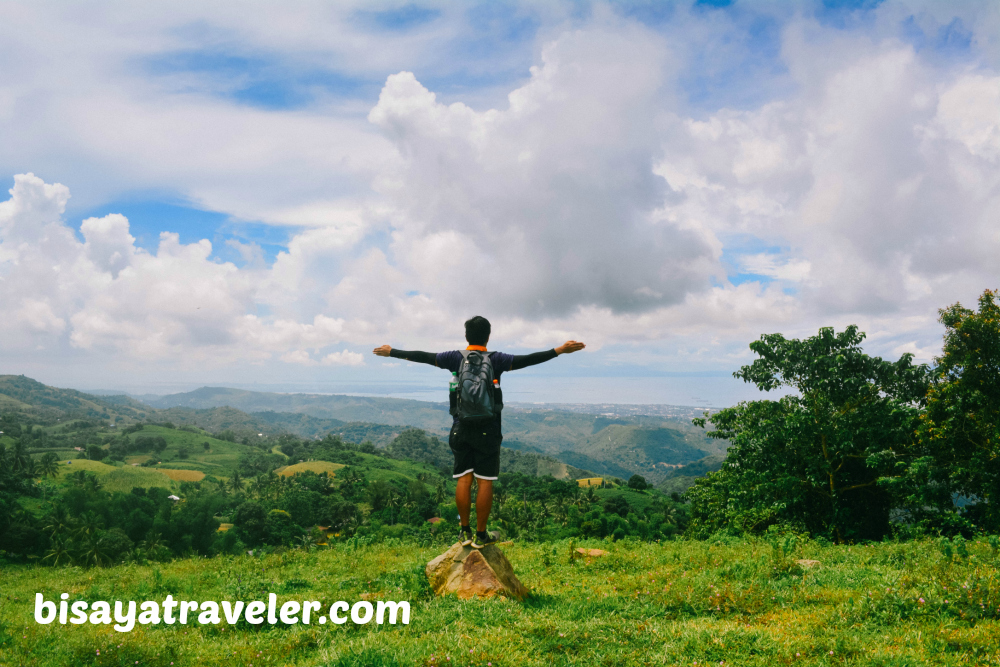 Our easygoing hike to Mount Kalbasaan
Despite my team's hectic schedule, I wasn't alone on my hike to Mount Kalbasaan, Cebu. As you might have guessed, there were a few Team Bang members who tagged along with yours truly for this quick getaway. This time, there were three open-minded, breezy Team Bang members who came to see Mount Kalbasaan with the Bisaya Traveler – Marc Jonell, Sherlyn and the heartbreak kid, Kevin.
Although Marc has been a part of adventures for weeks, it was his first time meeting Kevin and Sherlyn in person since both Team Bang mainstays were as busy as a bee for the past month.
Sherlyn, with her hectic working schedule, didn't have the time, to join us hit Mount Naupa and the 5 postcard-worthy peaks of Dalaguete.
Kevin, meanwhile, has been tied up sweeping ladies off their feet.
With his KEVINcredible personality and innocent boyish charm, the heartbreak kid has been pretty busy lately, captivating the hearts of millions of girls across the archipelago. As a matter of fact, Team Bang's undisputed official heart-rob has now a growing legion of followers and stalkers. Maybe, one day, Kevin would become as popular as a K-Pop sensation or a Youtube superstar like Medyo Maldito.
But on a serious note, I'm really glad to see both Sherlyn and Kevin on my day adventure in Lutopan and Minglanilla, Cebu. After all, it's been a while since I last saw them on my weekend adventures.
After gathering the group in Cebu City South Bus Terminal, we wasted no time, and hopped on the next bus bound for Lutopan. From there, we took a habal-habal ride to the starting point of hike to Mount Kalbasaan – the KM 28 landmark in Campo 8.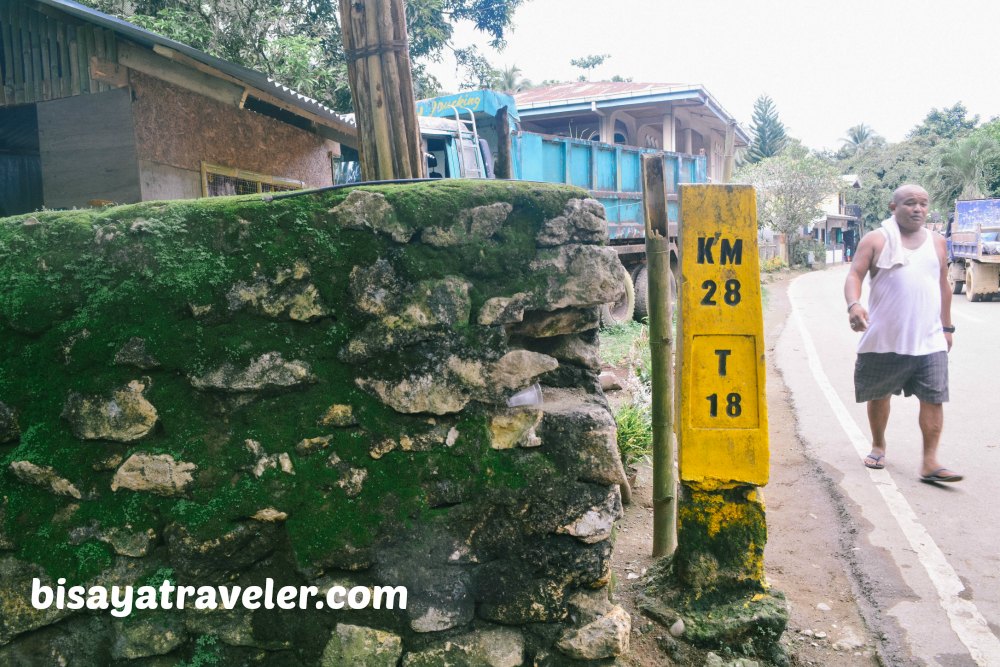 With Team Bang's official prayer leaders absent for our day hike, Marc – the youngest and best English speaker in the group – was forced by his ate, Sherlyn, to lead the prayer.
Soon after, we took on the trail to the scenic Mount Kalbasaan, with the help of the locals in the area.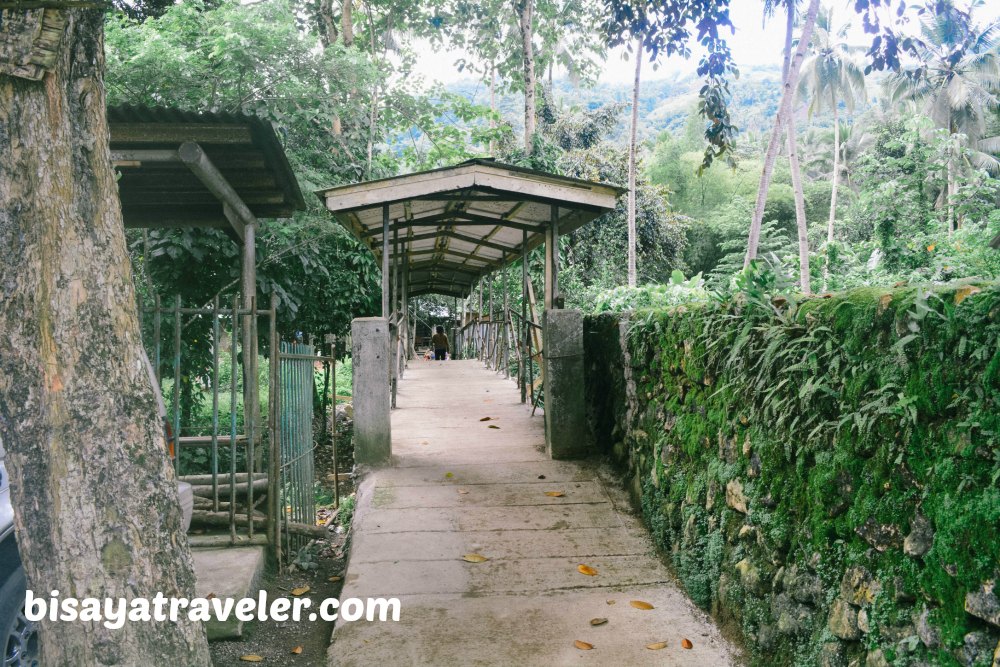 The first part of the hike was rather painful to the knees, lower back and feet, since we followed a steep trail with a series of concrete steps. Even though they make the ascent a little easier, concrete stairs can, according to scientific studies, cause some side-effects to the human body like a foot injury or back pain.
Luckily, after minutes of hiking, the concrete stairs finally disappeared, paving way to a muddy and softer dirt trail.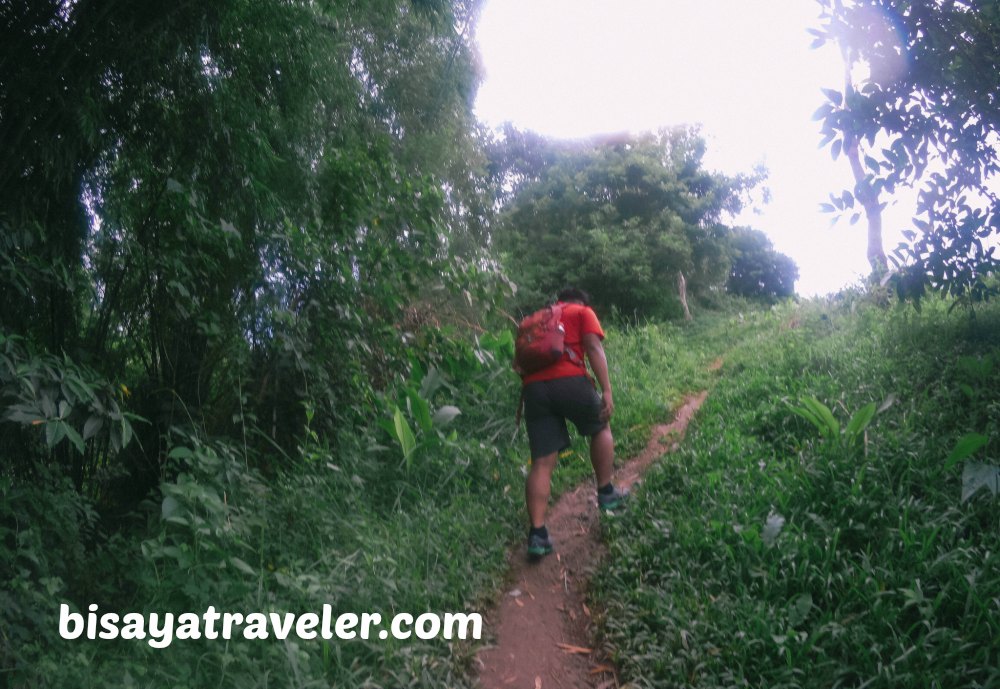 Still, it was a pretty exhausting hike, with the seemingly never-ending ascending trail.
Sherlyn, who hasn't been on a hike for about a month, was gassed out. Heck, even Kevin felt a bit tired, in spite of his weekly practice climbs and treks.
Moments later, the trail became a whole lot easier and more scenic, offering sweet views of the surrounding hills and mountains. From corn fields to the lofty towers on other mountain, the trail was indeed filled with enthralling sights.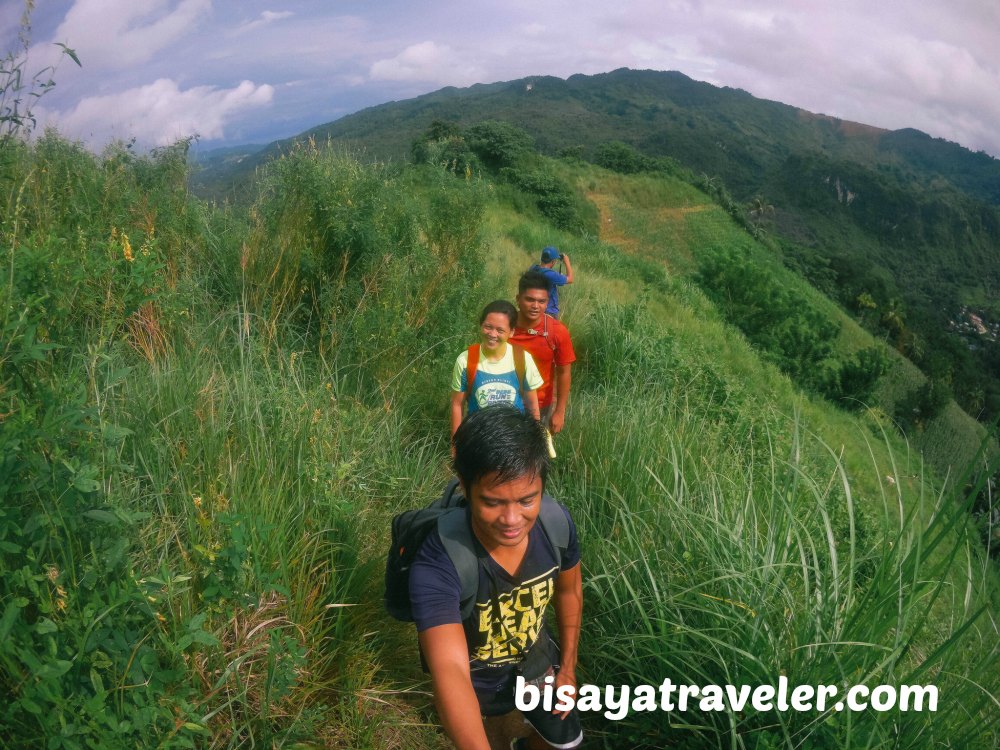 As much as I want to capture dozens of photos of its splendid scenery, we had to move on with our hike, and quicken our pace. Remember, we have no guides in this hike, and nobody in the team was familiar with the trail. In other words, we can't afford to waste time because there was a possibility that we might get lost along the way.
We, then, arrived at open-air resting shed, wherein a flock of local farmers were taking a break from their daily work. There, we took a breather from our hike, and had a chat with the locals.
"From here, it will take you more than 3 hours to get to Mount Kalbasaan", said a local in the area.
Honestly, I was kind of surprised by her choice of words. As what our sources have told us, it takes less than 3 hours from the KM 28 landmark to the summit of Mount Kalbasaan.
I thought our assumptions were wrong, or our elderly friend in the shed was simply underestimating our capabilities. And yes, on the surface, we do look like a quartet of cream puff city slickers with no experience in scaling mountains. When it comes to packing and hiking gears, everyone in the group is a minimalist, which is probably why people often judge as casual excursionists.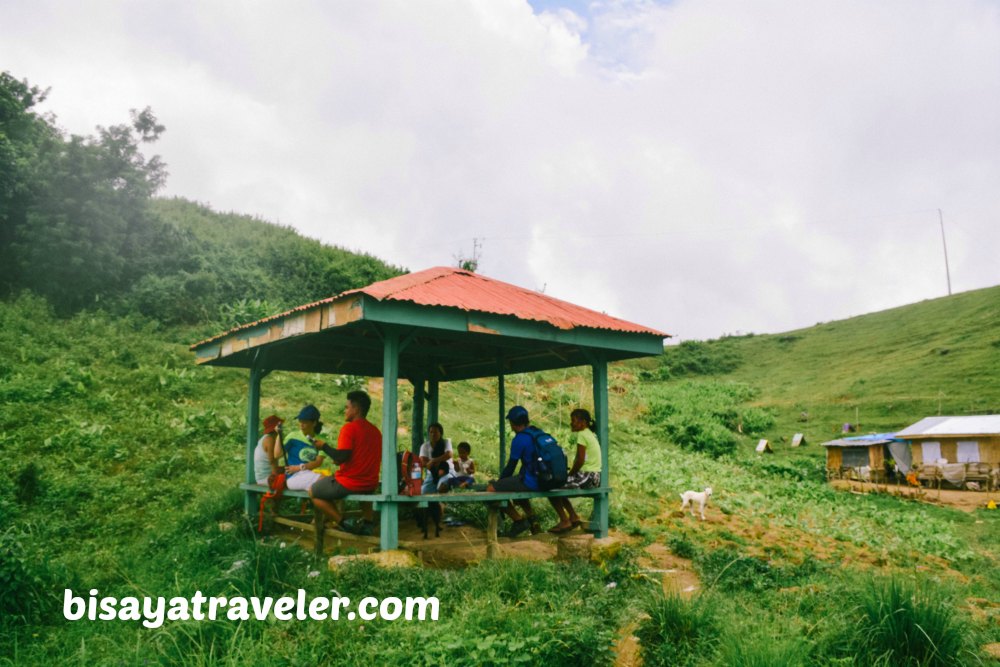 Nonetheless, we had to keep things rolling, especially with the weather turning from sunny to gloomy.
Of course, we heeded their tips, and followed the easygoing trail to Mount Kalbasaan.
And the scenery was just as gorgeous as described by our trustworthy sources. While the views aren't really jaw-dropping, it did somehow remind me of Batanes and New Zealand.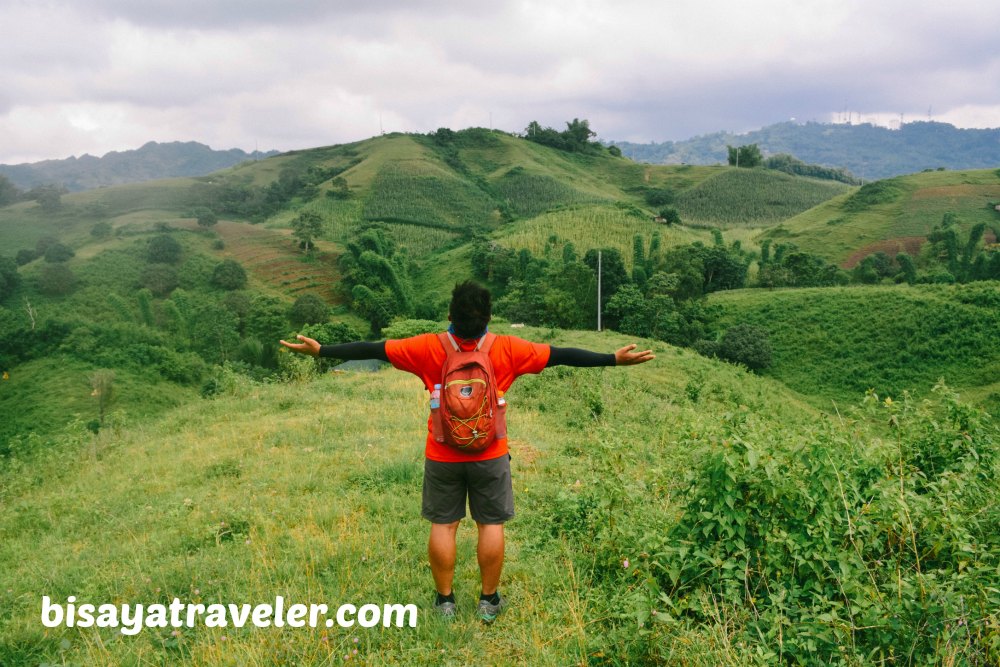 On one of our final ascents, we bumped into a fat, dark-skinned cow standing in the middle of the trail. As we got closer to the cow, he started circling around, probably establishing his perimeter and marking his territory.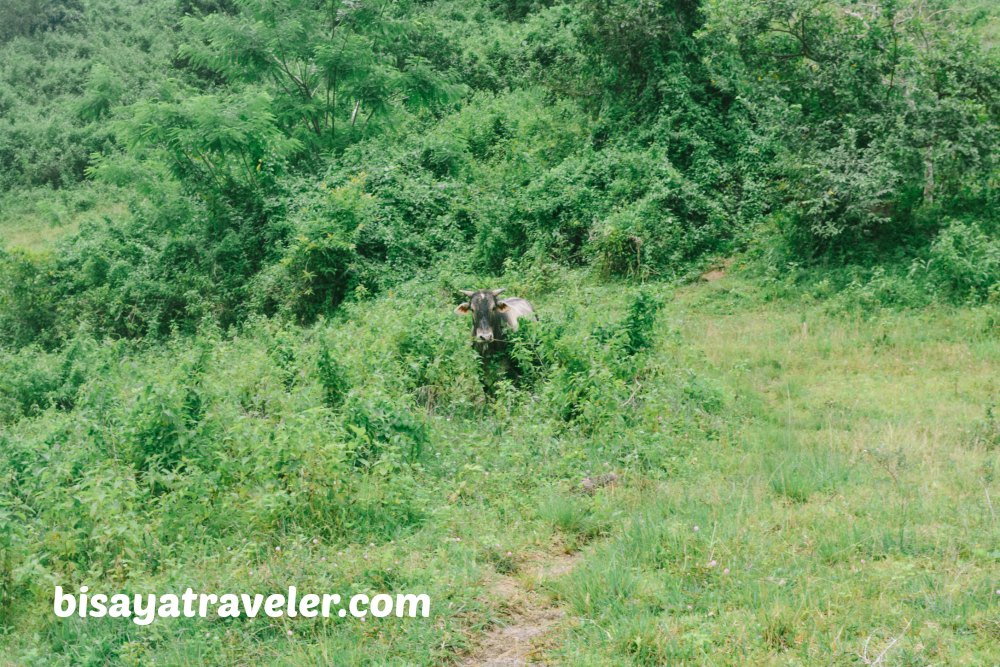 For a second, I thought the cow was totally harmless and amicable. As far as I know, cows, unlike dogs, don't have territorial instincts.
But all of a sudden, the cow turned around and began chasing us, sending the whole group into a frenzy.
For anyone who's itching to hike with me and the rest of Team Bang, please take note of these potential dangers. For some unknown reason, farm animals don't seem to like us.  Whether it's our unique charms or my not-so admirable face, there's something about us that pisses off the animals on our hikes.
Once, I was chased by a mean, white horse in Mount Tagaytay, Toledo. And, in Casino Peak, the whole team was also hounded by a nasty mountain goat. Jeez!
After minutes of hiking a slightly steep trail, we arrived at Mount Kalbasaan.  With mists covering the Mount Kalbasaan and its nearby mountains, it was truly quite a sight to behold.  And slowly, the fog started to evaporate, revealing the breathtaking beauty of the secluded highlands of Cebu.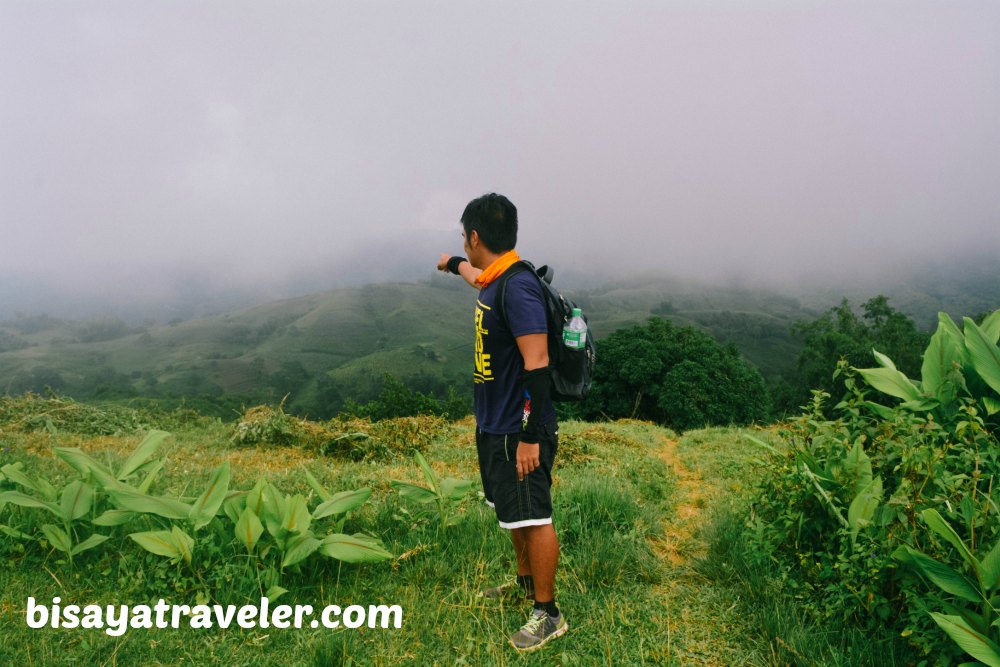 We wandered around, and found ourselves standing on one of the highest points of this mountainous region.  Of course, we did pose in front of the cameras, for memorabilia's sake.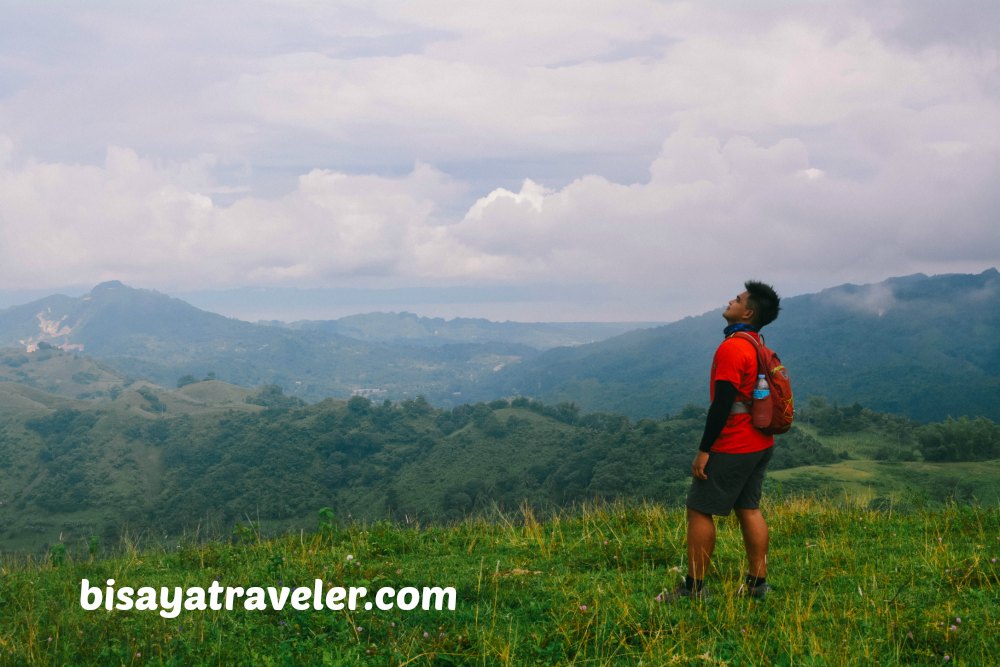 But at that time, we didn't know we were already on the campsite of Mount Kalbasaan. And so, we passed through the turmeric leaves, and went to an enclosed farm nearby, to find locals who can shed some light on the exact location of Mount Kalbasaan.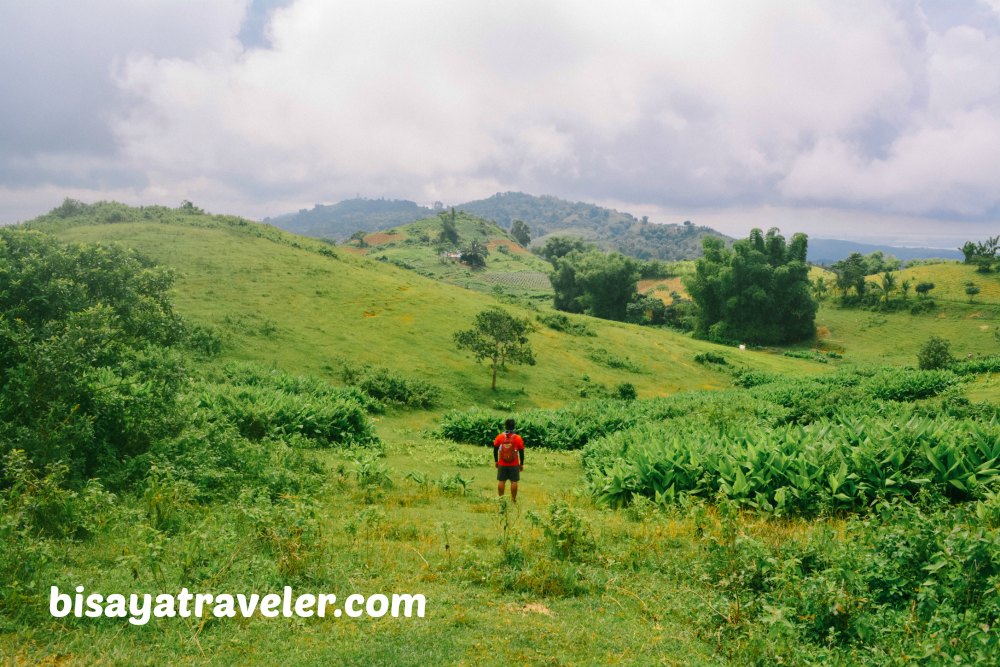 Unfortunately, there was no one around the farm to help us, when we reached its gate.  But as they say, the show must go on, so we roamed around the area, hoping to find someone who can give us the right answers.
Ultimately, we discovered an Instagrammable area dotted wondrously with beautiful tiny yellow blooms and buzzing bees.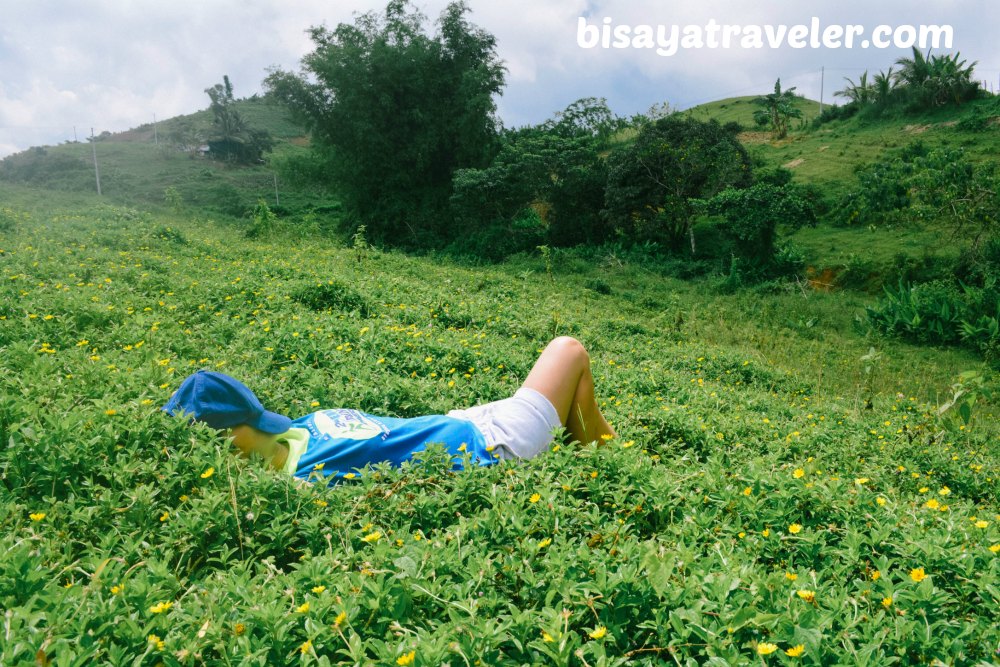 Marc did get a cool photo in this area, and so did Sherlyn. But, in Marc's opinion, he looked like a lifeless slain Maute member on the photo.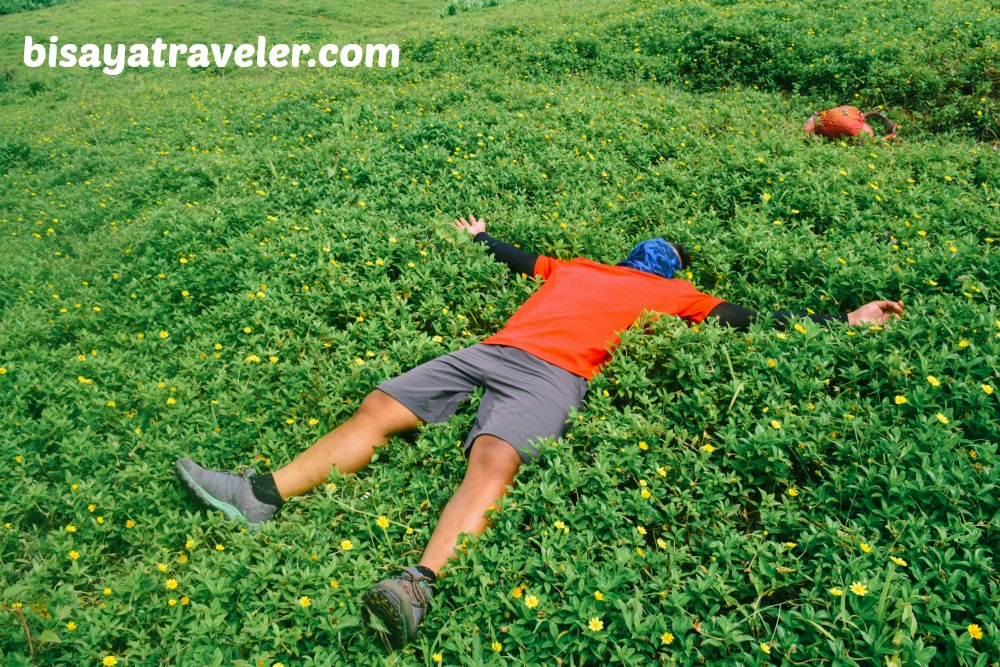 Afterwards, a person, out of nowhere, came into sight standing on the far. We asked the person the location of Mount Kalbasaan, and he pointed to the hilly spot, where we were admiring the view earlier.
Then, we decided to check out the whole area, including the actual campsite of Mount Kalbasaan.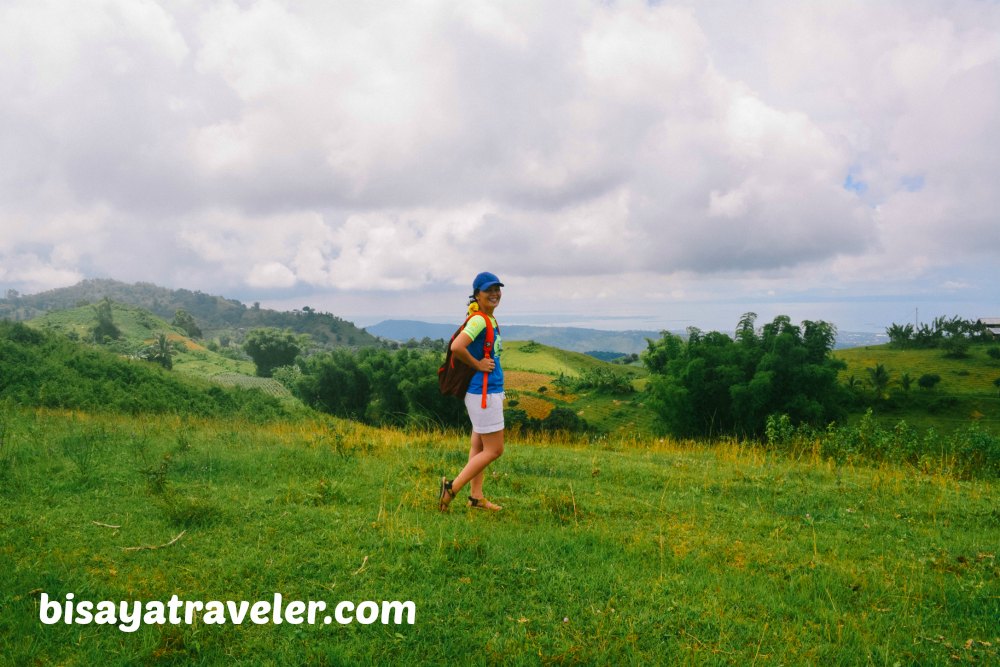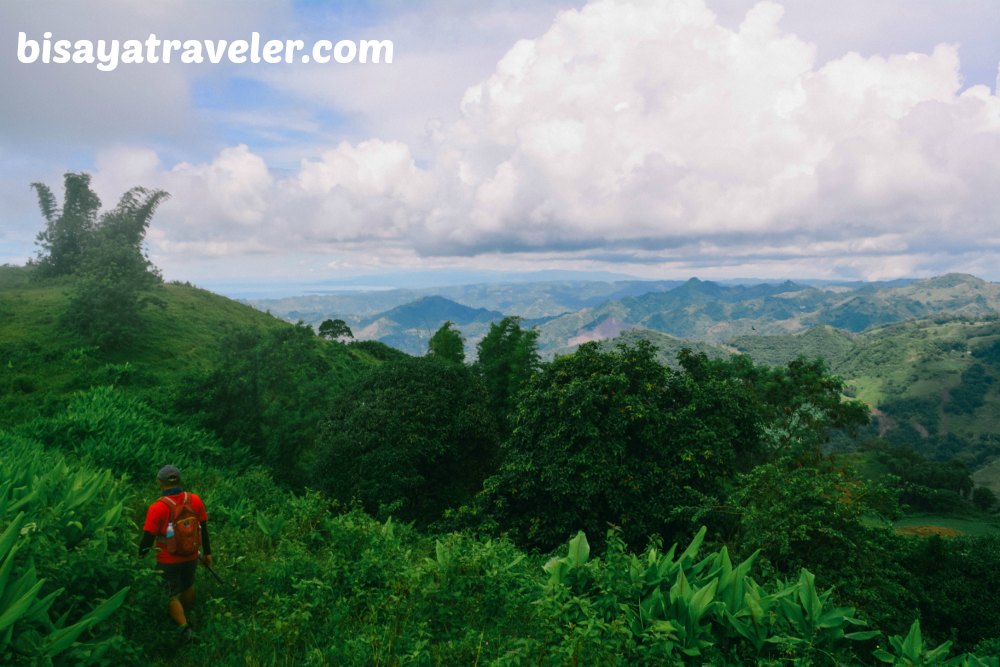 As always, we took turns posing in every hill and photogenic place we saw. Kevin, even though his no longer broken-hearted, once again flaunted his trademark maoy-maoy pose.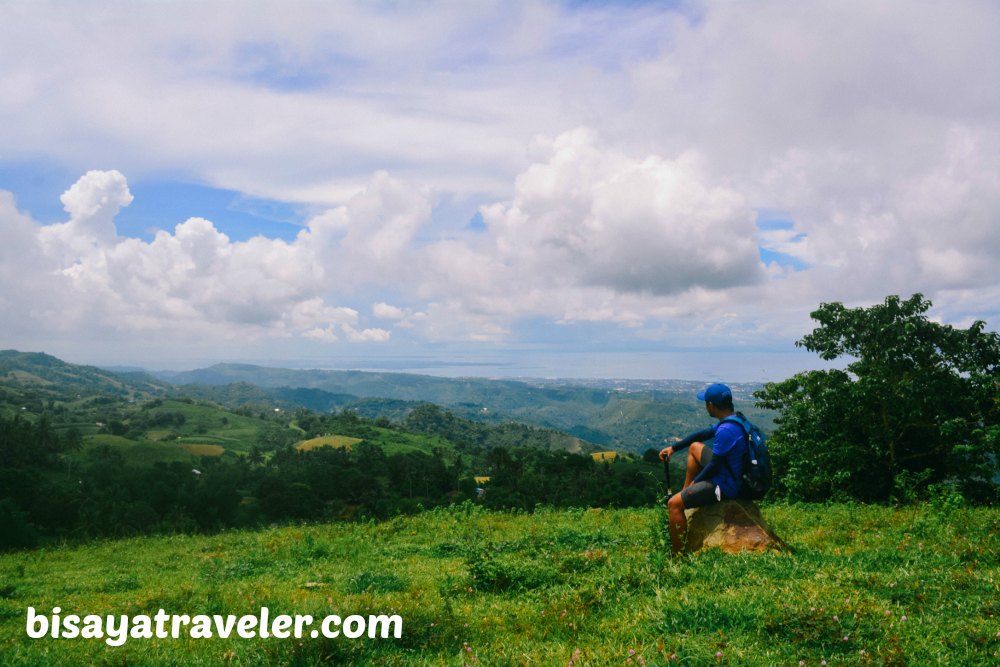 Marc had an eye-popping photo as well, with his extraordinary pose.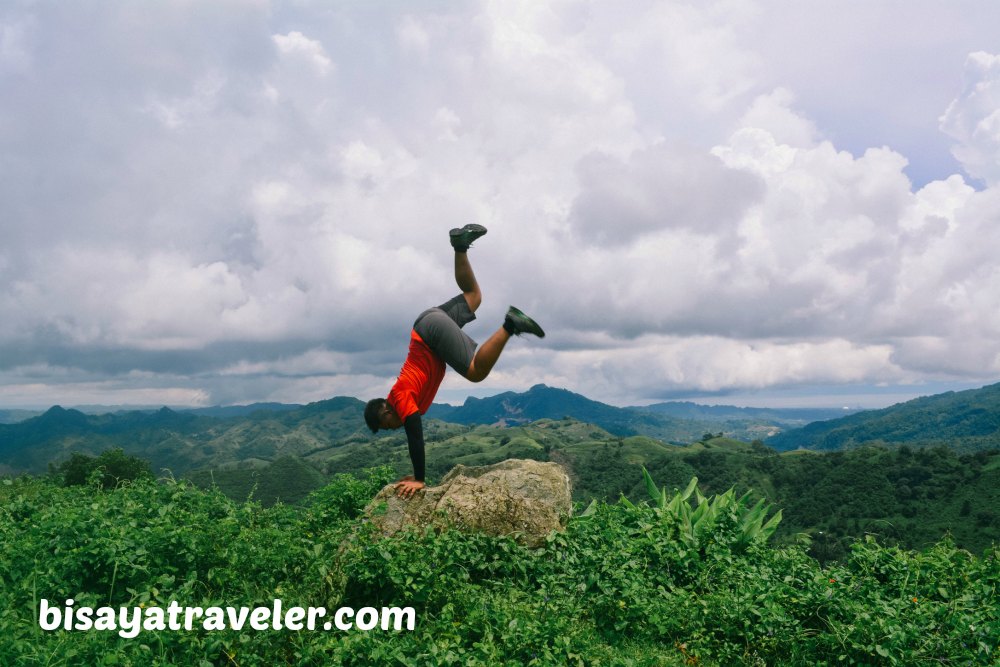 Not to be outdone by my sprightly peers, I also posed in front of the cam with my beloved Guy Fawkes mask.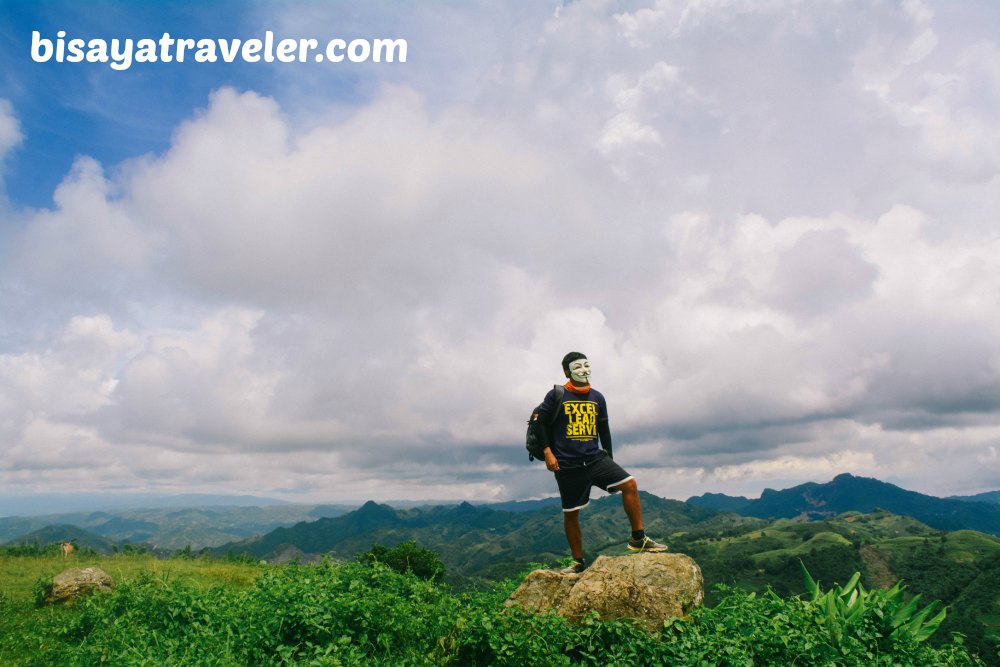 As far as I'm concerned, the best spot in Mount Kalbasaan was the hill where you can see Naga's beloved hiking destination – Mount Naupa.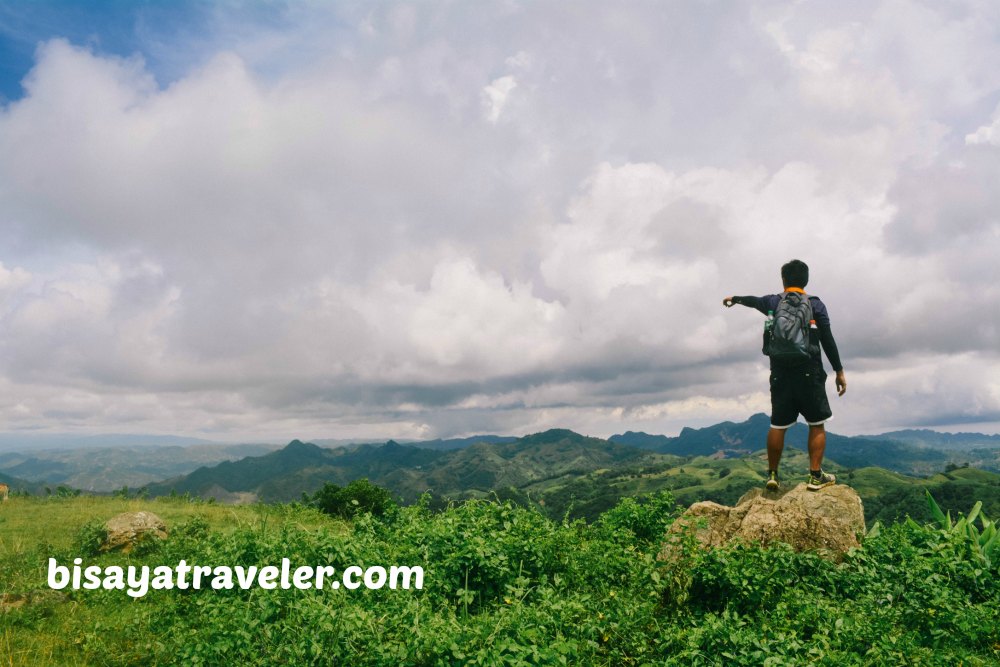 Hopefully, some day, I'll have the chance to hike Mount Naupa from Mount Kalbasaan.
And, that wasn't the only remarkable view from this vantage point. On the other side of hill, we saw a striking panorama of Minglanilla as well as towering skyscrapers of Cebu.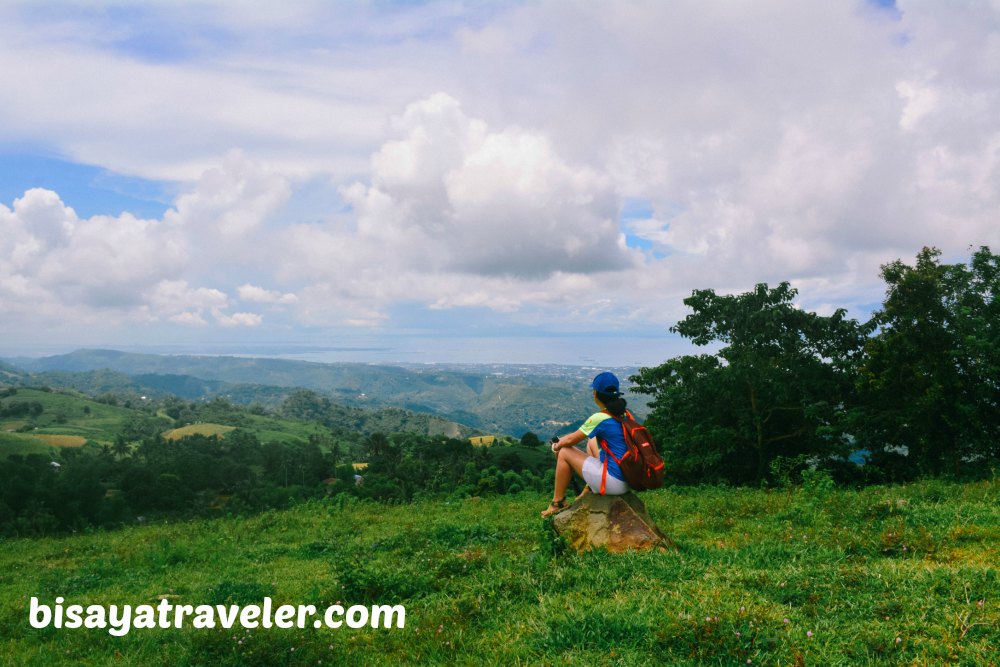 With the city's sparkling nighttime lights and the area's chilly atmosphere, I'm pretty sure Mount Kalbasaan is an awesome place to camp. Even the locals in the area said the city lights, when viewed from Mount Kalbasaan, are nothing short of amazing.
After our pictorials, we all agreed to descend, and move on to our next adventure. But, before doing that, we spent a few minutes snapping selfies with the eye-catching turmeric leaves in Mount Kalbasaan. Trust me, these leaves are absolutely eye-catching and Instagram-worthy.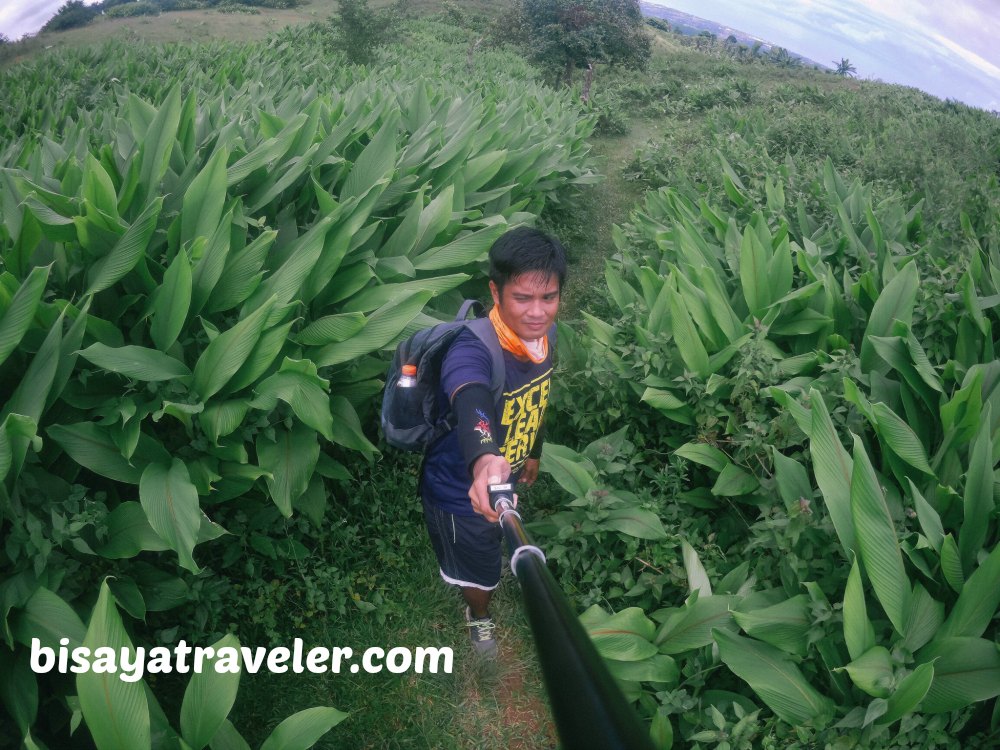 Less than two hours later, we arrived at our base, with our stomachs moaning and shirts dripping with sweat.
To replenish our lost energies, we treated ourselves with a tasty barbecue meal and a cold liter of cola. What a great way to start our day of adventure!
But, for me, Mount Kalbasaan wasn't the highlight, or shall we say the main event, of our quick adventure in Lutopan, Toledo, Cebu. In spite of all the fun and joys, I still think it was warm-up or a teaser of our next escapade – climbing Puting Bato. I'll write it soon on my blog! Don't forget to check it out!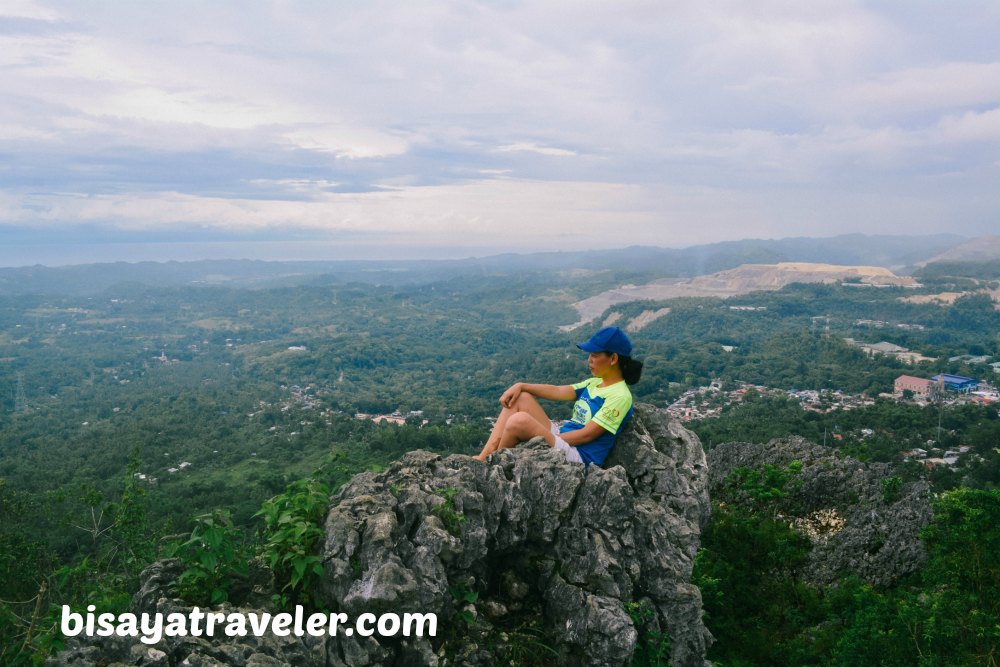 Our Mount Kalbasaan and Puting Bato itinerary:
06:30 AM: Meet up at Cebu City Bus Terminal
07:00 AM: Depart for Lutopan Landinganan
08:00 AM: ETA Lutopan Landinganan/Depart for KM 28 landmark in Campo 8
08:15 AM: ETA Campo 8/Breakfast
08:30 AM: Start hike to Mount Kalbasaan
10:30 AM: ETA Mount Kalbasaan
11:30 AM: Start descend
12:40 PM: ETA KM 28 landmark/lunch
01:00 PM: Start walk to a nearby barangay in Lutopan (I'll explain it on my next blog post)
01:30 PM: ETA in a barangay in Lutopan
01:45 PM Depart for the base of Puting Bato/start hike
02:00 PM: Start hike to Puting Bato
03:00 PM: ETA Puting Bato summit
04:00 PM: Start descend
05:00 PM: ETA Lutopan/take bus back to Cebu
06:30 PM: Home sweet home
Our expenses excluding food and drinks:
Bus fare to Lutopan – PHP 40 per person
Habal-habal fare to Campo 8 – PHP 20 per person
Habal-habal fare to Lutopan – PHP 20 per person
Bus fare to Cebu City – PHP 40 per person
Total amount – PHP 120 per person
How to get to Mount Kalbasaan:
From Cebu City Bus Terminal, take a bus that will take you to Lutopan. Ask the driver or conductor to drop you off at Lutopan bus stop, or AKA landinganan. Upon your arrival, hop on a habal-habal, and tell the driver you're going to Campo 8 (I suggest that you show the photo of the bridge as well as the KM 28 sign). Once there, cross the bridge, and ask the locals the trail leading to Mount Kalbasaan. Easy as pie, right?
Important notes:
Wear sunscreen as well as bring a hat and a pair of arm-guards to protect your skin from the sun's heat.
Bring trail food and at least a liter of water.
Pack ION beverages like Gatorade and Pocari Sweat.
Practice the LEAVE NO TRACE principles.
To get to the summit of Mount Kalbasaan, we just relied on the tips and advice given to us by the locals we passed by.
If you have some questions, feel free to reach out to me through my Facebook page!