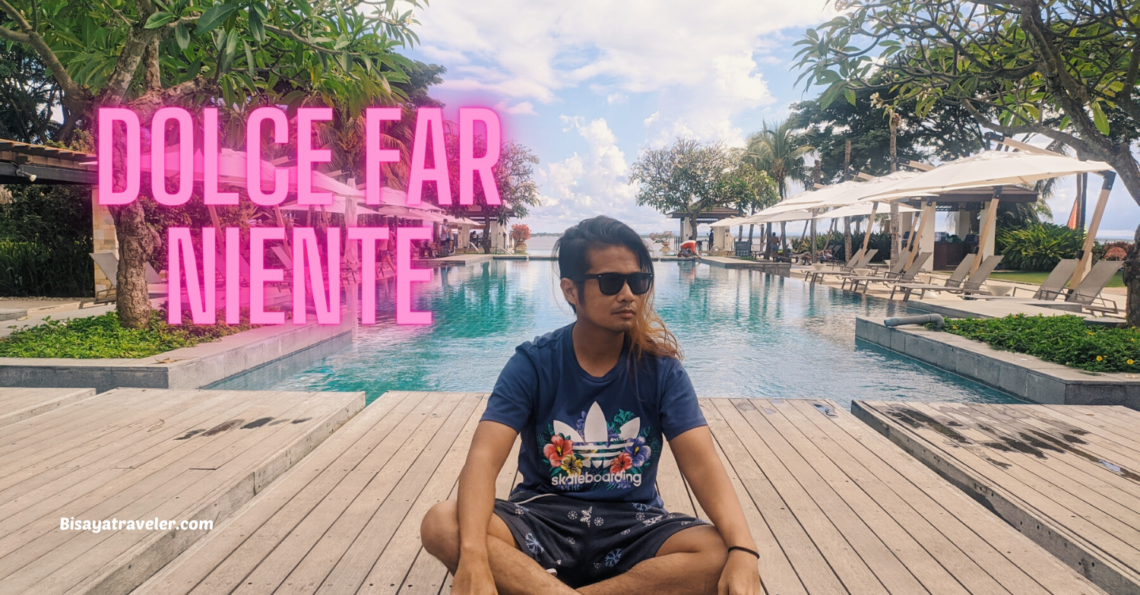 Crimson Resort Mactan: Mastering Dolce Far Niente
Important note: My Crimson Resort Mactan experience took place before Odette ravaged Cebu. After weeks of renovation and restoration, Crimson Resort and Spa Mactan reopened its doors to serve guests seeking a slice of paradise and a ray of light in our gloomy world. So, the current version of Crimson Resort Mactan may look different from the one I saw earlier in 2021.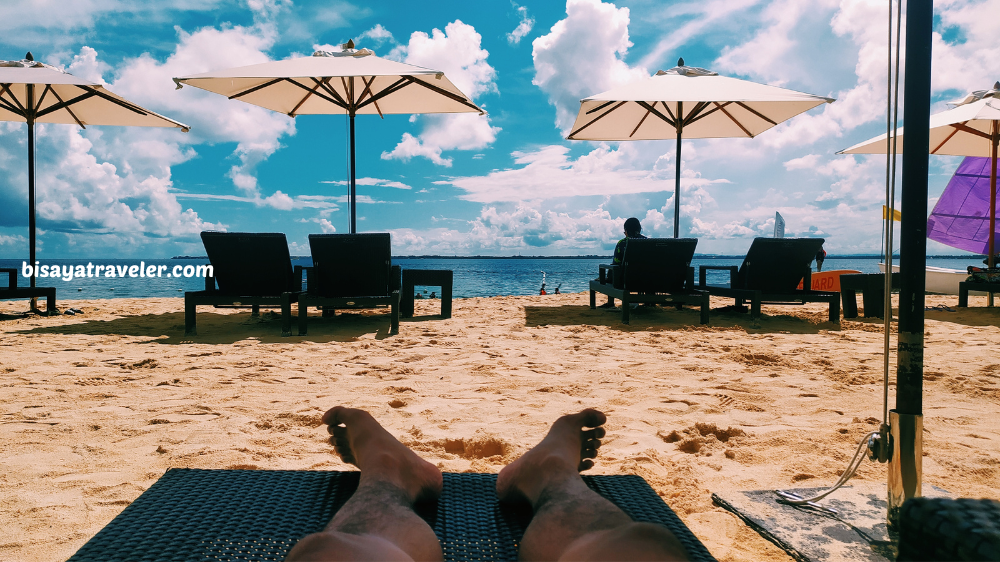 We live in a busy society full of go-getters, planners, and achievers.
Today, our culture constantly pushes us to show up and work restlessly to become the best versions of ourselves.
We praise people who work over 60 hours a week, and we feel guilty whenever we're chilling and doing nothing.
We're impressed by busyness, and we think being busy is a sign of high social status.
And, when we're not busy hustling, we swipe our smartphones and transport ourselves into a digital world full of distractions.
There's no time for rest in our hustle-bustle culture.
And, rest has no value in our generation.
I am one of the billions of people across the world who follows that workaholic lifestyle. Every day, I work for over 12 hours, hustling in front of a 14-inch screen. But, unlike some folks, I work tirelessly not to impress anyone.
I became a workaholic because I want to escape the crashing, depressing reality of 2021.
Even so, I always feel guilty whenever I'm doing nothing. Until, one day, I discovered the Italian phrase, "la dolce far niente" – the sweetness of doing nothing.
And, on our visit to Crimson Resort Mactan, I thoroughly experienced the sweetness of doing nothing. While I'm not a master of dolce far niente, I'm infusing this art into my everyday life, following my Crimson Resort Mactan escape.
Our Crimson Resort and Spa Mactan getaway
I'm not in the mood for an adventure.
Sleepy, drained, and stressed out, all I want to do is to sleep or just lay in bed and do nothing.
And, guess what? I'm not going to feel guilty about it.
La dolce far niente. The sweetness of doing nothing.
I keep whispering that Italian phrase while waiting in line at the front desk of Crimson Resort Mactan.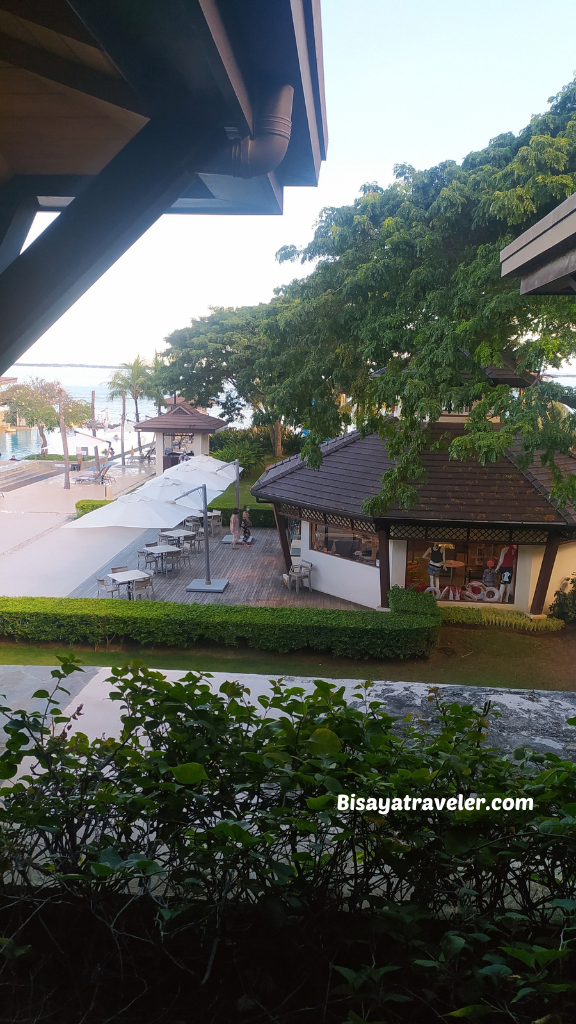 And, I believe the Crimson Resort Mactan is the perfect place where I can channel my inner zen and practice dolce far niente.
The resort's inviting charm, friendly staff, and fresh sea breeze are fantastic ingredients of a relaxing dolce far niente experience.
While Crimson Resort and Spa Mactan is packed with exhilarating diversions, I have no plans of going on a heart-pumping adventure.
I'm just going to do nothing at Crimson Resort and Spa Mactan.
For the first time in a long while, I'm taking a breather.
No emails.
No social media.
No workouts or heart-pumping hikes.
And, I'm not even going to snorkel or dive into the sparkling salty waters at Crimson Resort Mactan.
I'll just slow down, rejuvenate, and take time off.
La dolce far niente.
The truth is, rest is so underappreciated nowadays.
Our hustle-bustle culture is telling us that taking a rest is laziness.
But, there are tons of perks to taking a break from all the frenzy and chaos in our modern life.
Rest leads to increased productivity, a fresh outlook, and ample opportunities to evaluate your life's directions.
What's more, it forges deeper relationships, beats stress, and develops a healthier body.
Keep in mind that we're not robots or any state-of-the-start machines. Heck, even our laptops and computers need a day off.
Yet, even with all the proven perks of rest, we don't invest a lot of time to rest.
Why? Because we have an unquenchable desire for money, attention, and fame.
We gladly sacrifice rest, family, character, and even morals at the altar of the all-powerful money.
A couple of minutes later, we approach the lovely lady at the front desk of Crimson Resort Mactan. Then, she advised us to head to the Crimzone Club, a kiddie playground where our little princess can play around while waiting for our room at Crimson Resort Mactan.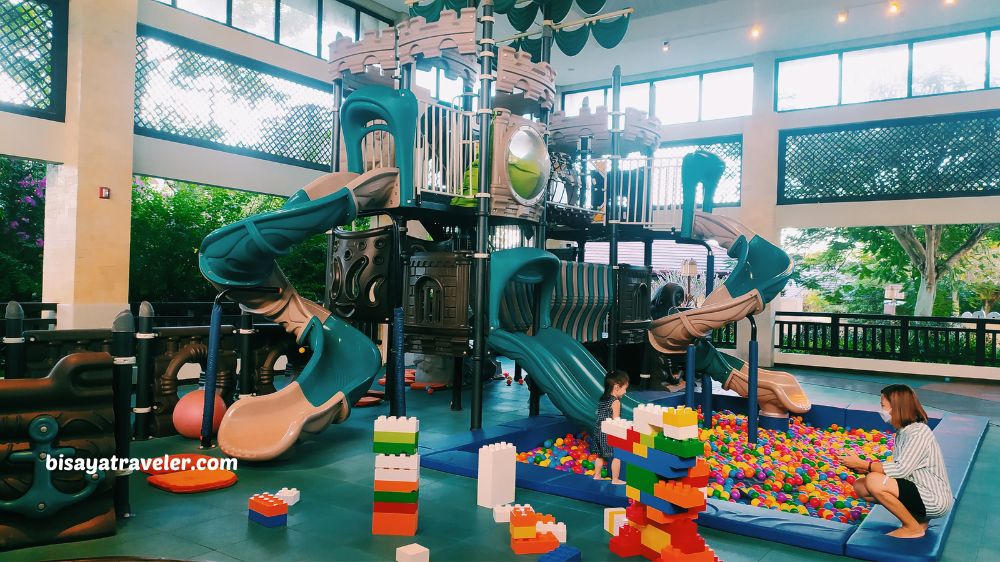 The indoor playground is filled with life and colors. From kaleidoscopic books to video games, it has everything you need to keep a sprightly little one entertained.
And, guess what? I'm having a blast playing at this playground with my unica hija. As I've said, taking a breather gives you a chance to form a deeper bond with your loved ones.
It's fun, refreshing, and surprisingly soothing. As much as I love hiking, there's no experience more satisfying than enjoying some quality time with your daughter.
And, truthfully, I'm planning to stop chasing mountains next year, to spend more time with my daughter as she develops and learns new hobbies, like ballet.
After an hour of playing, we receive a call from the front desk of Crimson Resort Mactan, telling us that our room is ready.
From the play zone, we travel back to the front desk and hop on a golf cart ride bound for our room at Crimson Resort Mactan.
La televisione
Our room is sleek, cozy, inviting, and gorgeous. The second I set foot inside the room, I can hear the soft bed calling and luring me.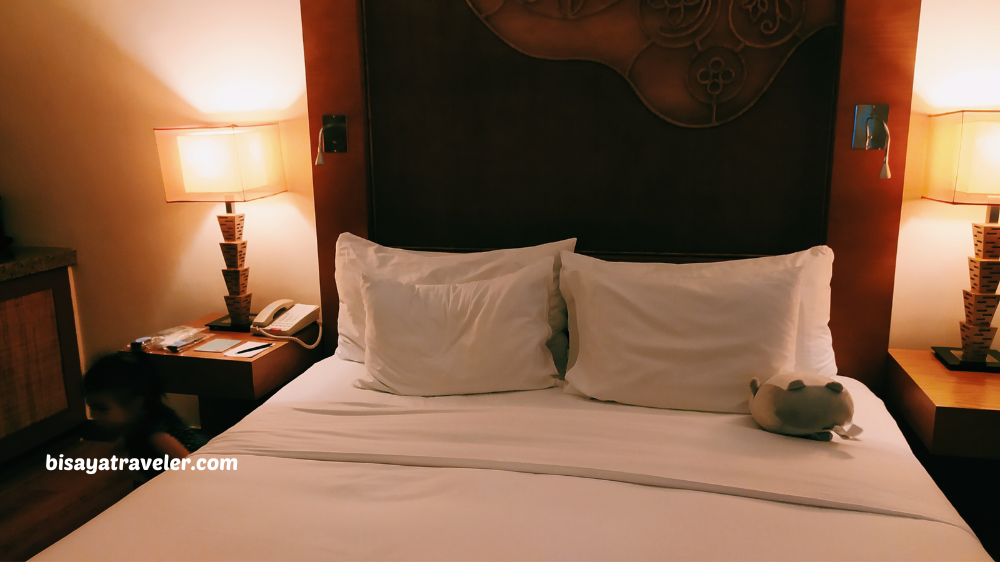 I jump into bed, turn on the television, and watch a blockbuster movie. Ironically, I'm watching Limitless, a 2011 movie about a mysterious pill that lets users maximize their time, and access 100 percent of their brain's abilities.
I know the plot and all the twists of this movie. Still, I'm enjoying every minute of it.
Some people think that watching television is a waste of time and has no place in our modern life. But, I disagree. Watching television is actually the epitome of doing something without any purpose.
In my youth, I watched television, to calm down my hyperactive imagination and relax, until I fell asleep.
And, soon after, I'm in dreamland, sleeping soundly like a baby.
Riposo
An afternoon nap, in Italy, is just as common as gelato or a morning espresso.
And, unlike most busy millennials in our country, they don't feel guilty about their naps.
In the Philippines, napping, or siesta, was once part of our culture. But, ever since we embraced the modern can-do American attitude, napping became a sign of laziness. And, we think napping will get in the way of our plans of getting rich and conquering the world.
A 20-minute nap can do wonders. Napping improves mood, reduces stress, restores alertness, as well as improves productivity and memory.
Take it from me, a big-time napper who takes at least 3 naps a day.
And, there are several historical figures who are known as nap takers, such as Eleanor Roosevelt, Thomas Edison, and Leonardo da Vinci.
Did napping stop them from inventing and crafting their masterpiece? Apparently, not.
Disconnect at Crimson Resort and Spa Mactan
As soon as I woke up, I was tempted to open my smartphone and scroll through my social media feeds.
But, I'm not doing that tonight at Crimson Resort and Spa Mactan.
Despite the speedy Wi-Fi connection, I won't spend a ton of time browsing through my smartphone.
Why would I spend a lot of time on my device when I'm in paradise? I came here to relax, and master the art of doing nothing.
Instagram and Facebook are not dolce far niente.
And, besides, getting lost online can be quite an energy-draining experience. Do you have any clue how toxic the social media world is?
I'm not going to lie. I still need social media to communicate with my family, read factual news, and promote my charity events.
But, I'm doing my best to minimize my usage of this tool.
You see.
Social media, when not used appropriately, isn't just toxic and energy-draining, but it also turns us into narcissists.
Through social media's influence, we've developed a constant yearning for the big moments.
We want to show off how spectacular and interesting our life is.
We want to make our Facebook stories our personal highlight reel.
And, this never-ending quest for online admiration leads to a busier schedule and even burnout.
La dolce vita
After a nap, we head to the famous pool of Crimson Resort, to take a refreshing plunge.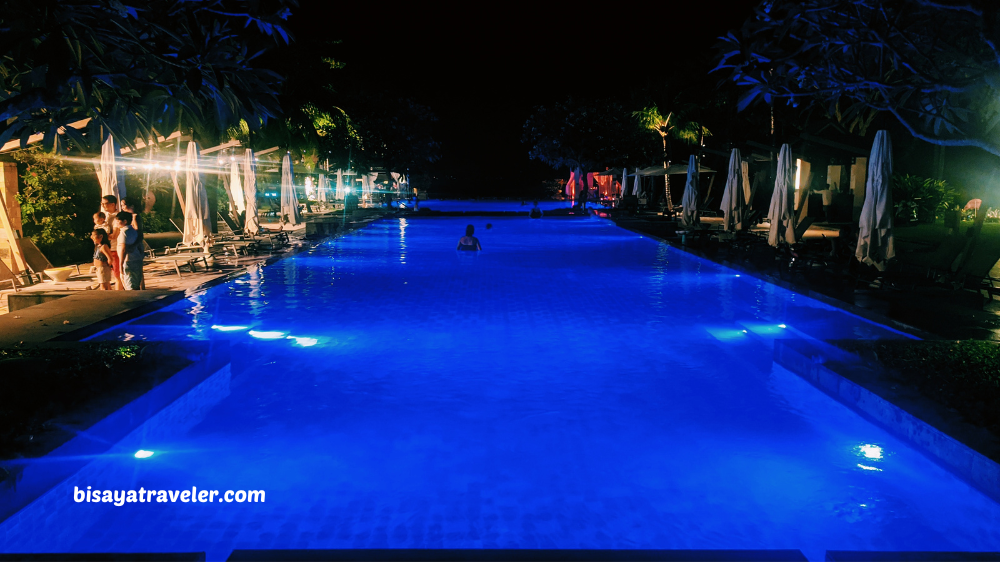 And, I'm having a swell time.
Like the Italians, I'm enjoying the sweet life without feeling guilty about it.
For Italians, the purpose of life is to utterly enjoy life as much as possible. Taking a break, and enjoying simple pleasures or indulgent luxuries, aren't a reward for hustling and working tirelessly.
They believe that enjoyment is their birthright.
And, that's why we're here at Crimson Resort Mactan. We're here to celebrate and enjoy life as much as we possibly can.
We suddenly feel our stomachs grumbling. Perhaps, it's time to indulge in a mouth-watering meal at Crimson Resort Mactan.
So, we head to the Azure Beach Club, to enjoy a tasty meal outdoors.
Since we're staying at a luxury 5-star resort, we expected the meals to be on the pricey side.
But, we're here to enjoy the sweet life. As with most Italians, we don't mind splurging on good food.
And, we did enjoy a scrumptious Asian-fusion meal.
After a hearty meal, we wander around the venue and soak up the upscale and relaxed seaside ambiance.
La passeggiata
La passeggiata is a leisurely stroll or a slow walk taken by the folks in Italy in the early evening. It's a time-honored tradition that lets Italians appreciate a simple pleasure – walking – and catch up with their friends or loved ones.
Plus, it's a transition period between work and the time spent with the family. Usually, it takes place before dinner, and in piazzas or town squares.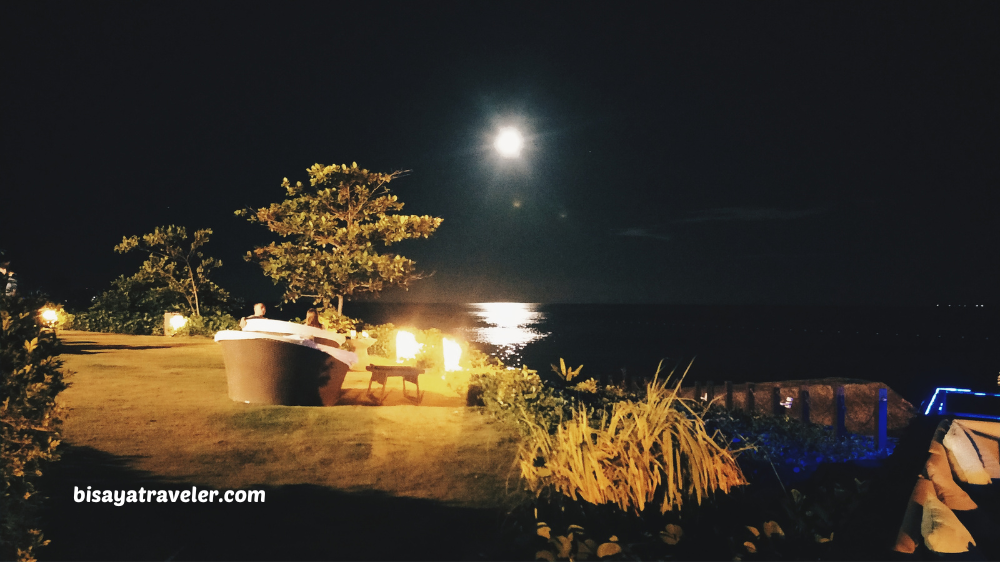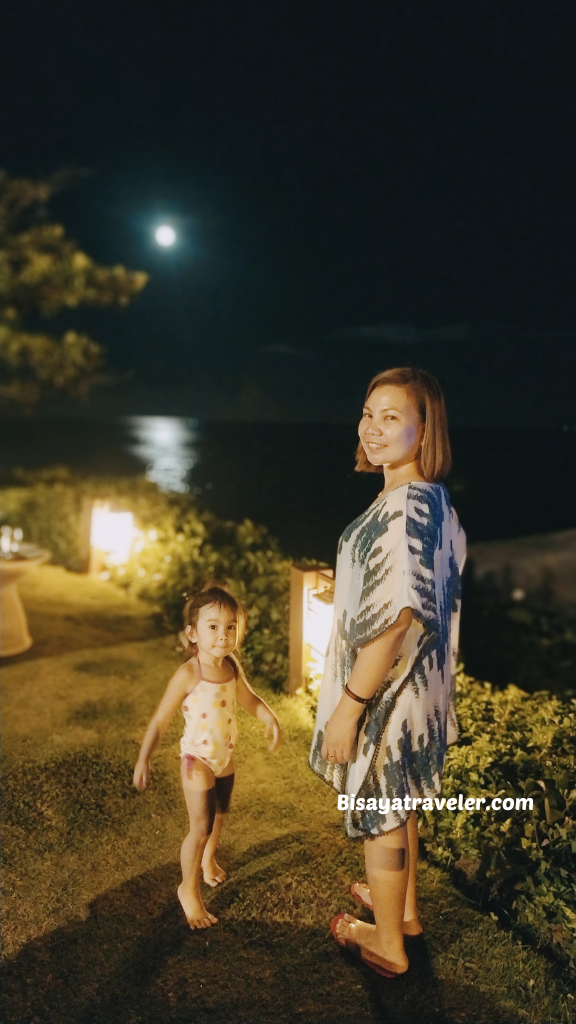 There's no town square at Crimson Resort Mactan, and we're walking around after our meal. Nevertheless, it feels so relaxing and Italian-like to walk around with no purpose, and without uttering a word.
Maybe, I need more of this in my everyday life.
Find the inner artist
It's time to rise and shine.
After a restful and therapeutic sleep, we made our way to the Saffron Cafe for a breakfast buffet.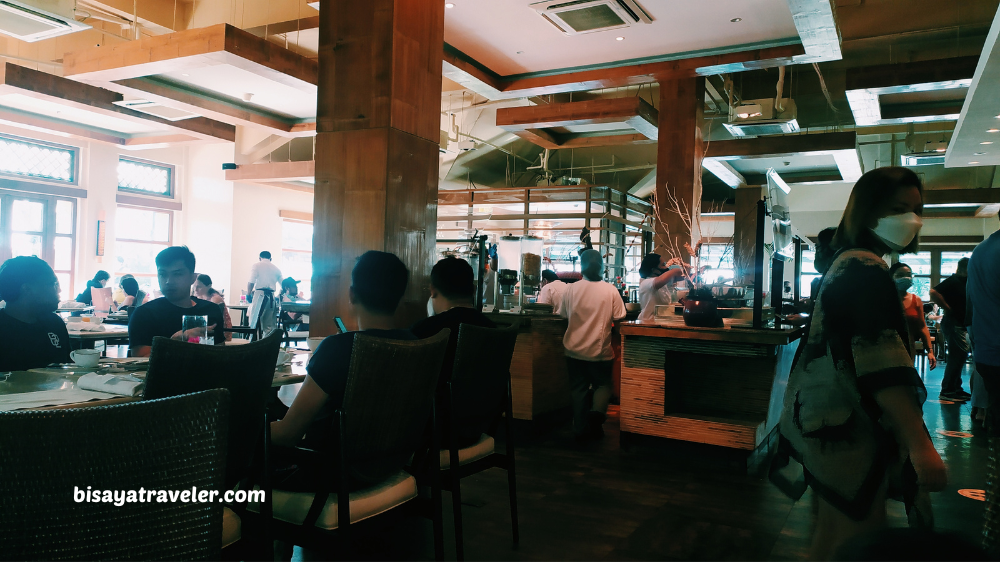 While enjoying our meal, a hotel employee approached us and handed out pamphlets of the activities available at Crimson Resort Mactan.
I politely declined his offer. Although the activities are exciting, we came to Crimson Resort Mactan, to enjoy some downtime, and practice dolce far niente.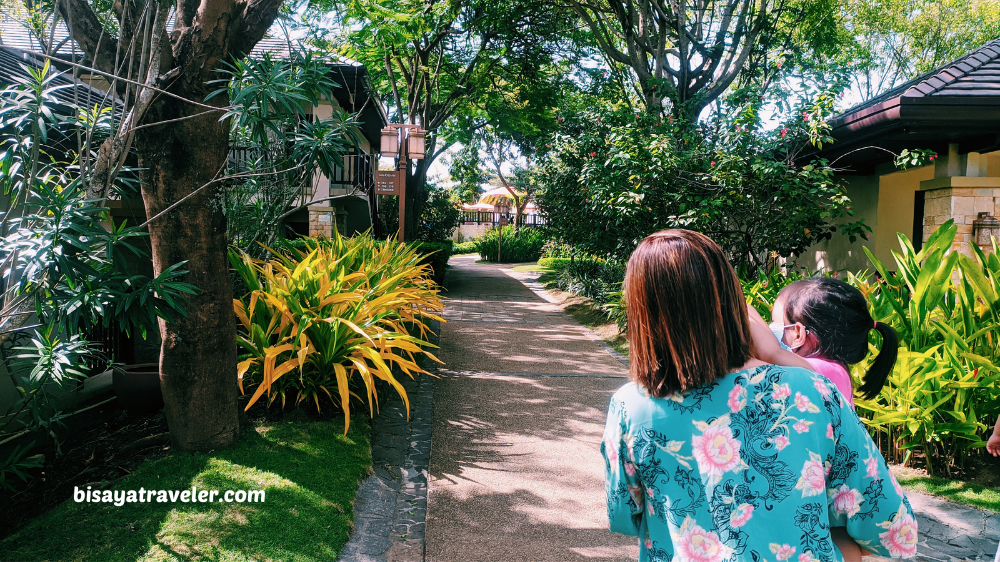 We, then, made our way to the beach of Crimson Resort Mactan, where the little one played with the golden powdery sands and waters.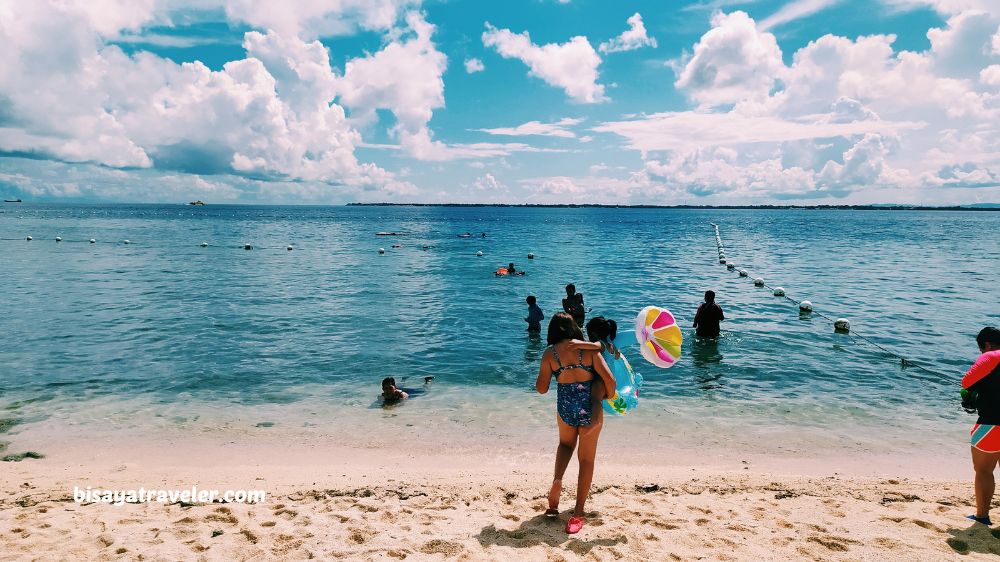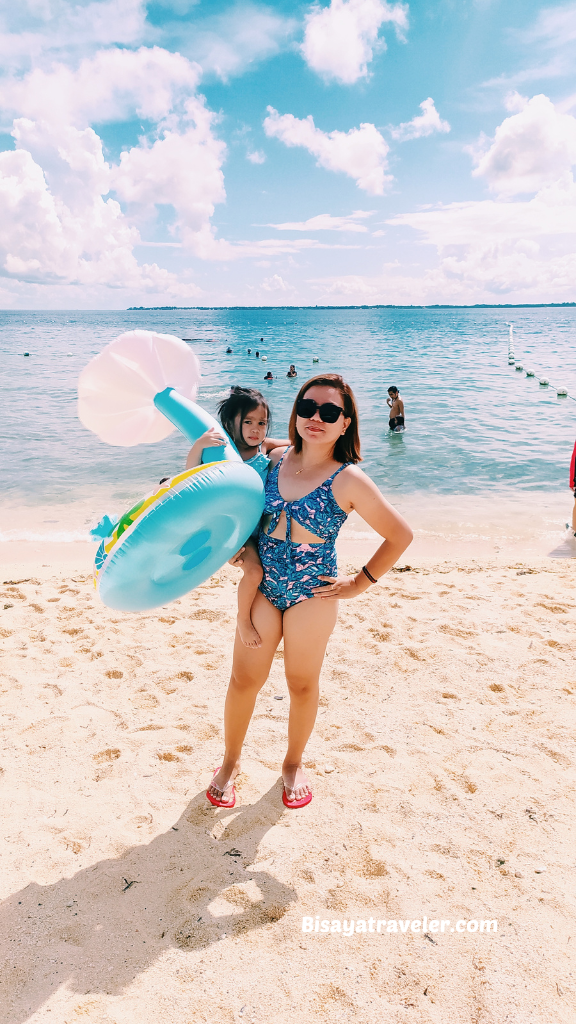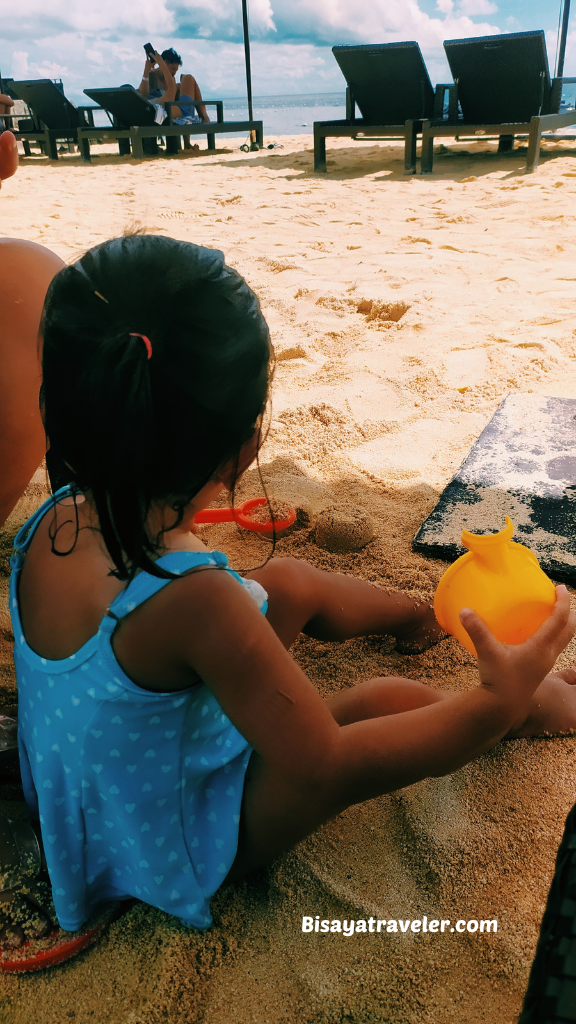 Afterward, we went to the kiddie pool area of Crimson Resort Mactan.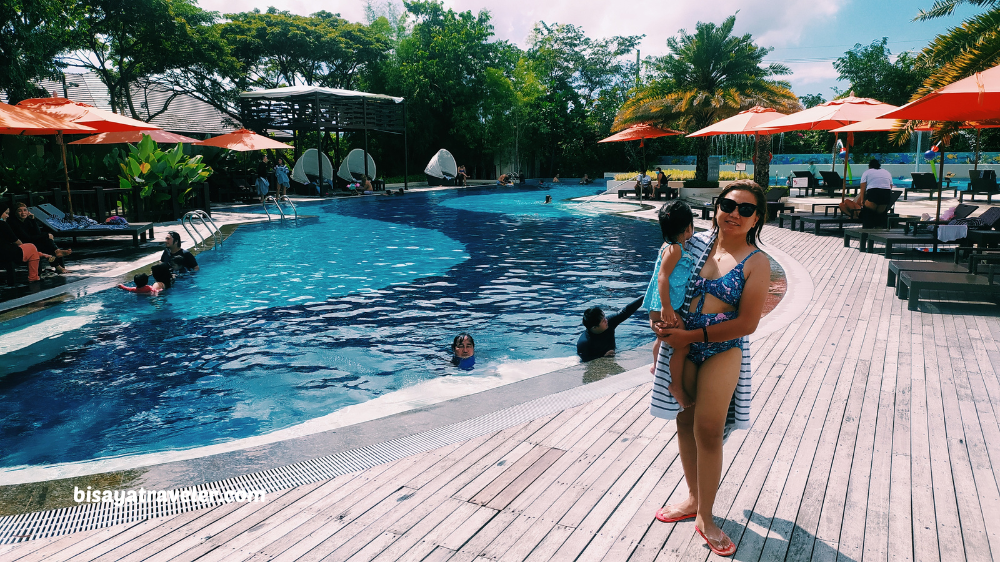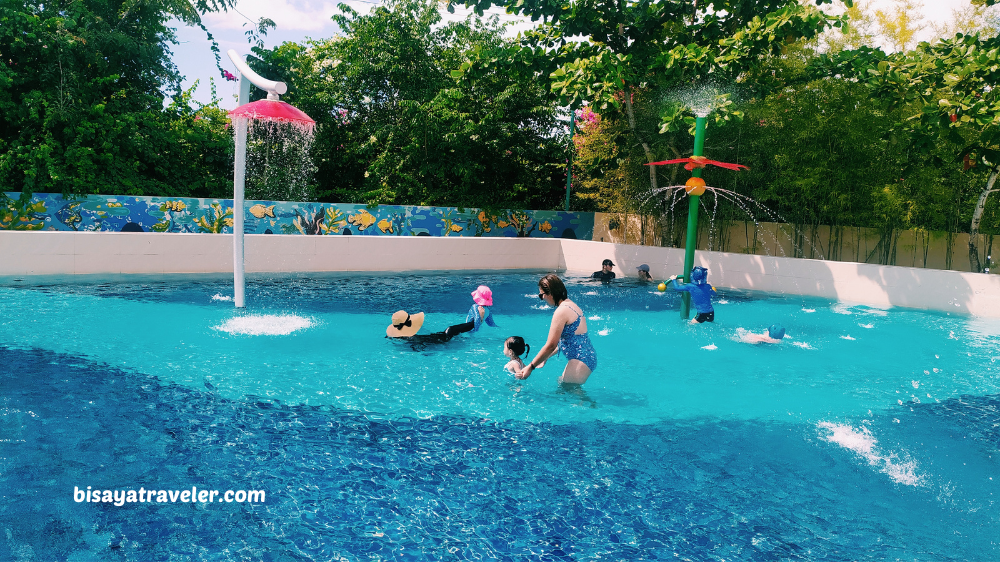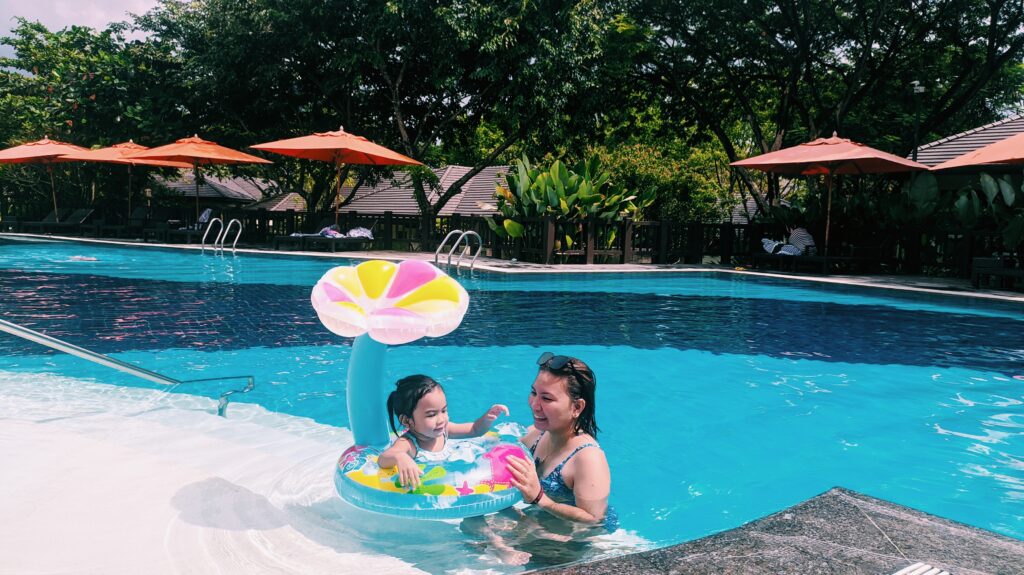 I, however, did nothing, throughout the entire time.
I sat back, breathed in some fresh air, and watched the world go by.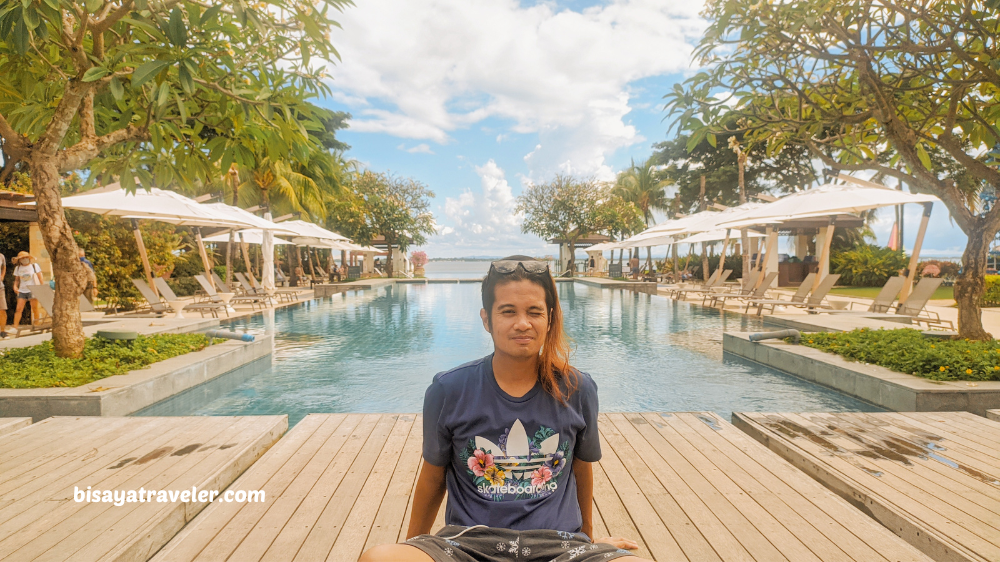 And, I was, in a way, finding my inner artist as I was watching my family.
Spending some time cultivating your creativity is an excellent and relaxing way to practice dolce far niente.
Through creativity, you can also discover what's beautiful and inspiring around you.
So, practice guitar, try a new recipe or draw a picture.
Or, you can be like me, just playing with words inside my head, as I sit still watching the people enjoy the activities at Crimson Resort Mactan.
And, all that nothingness and stillness has led to the creation of the article you're reading right now.
What are the facilities at Crimson Resort Mactan?
The possibilities for fun and adventure are endless at Crimson Resort Mactan. Whether you're in the mood for a dolce far niente experience or a heart-pumping adventure, there's something for you at this Cebu resort.
Private beach 
Aum spa 
Infinity pool 
Crimzone pool 
Crimzone for kids 
Fitness zone 
Restaurants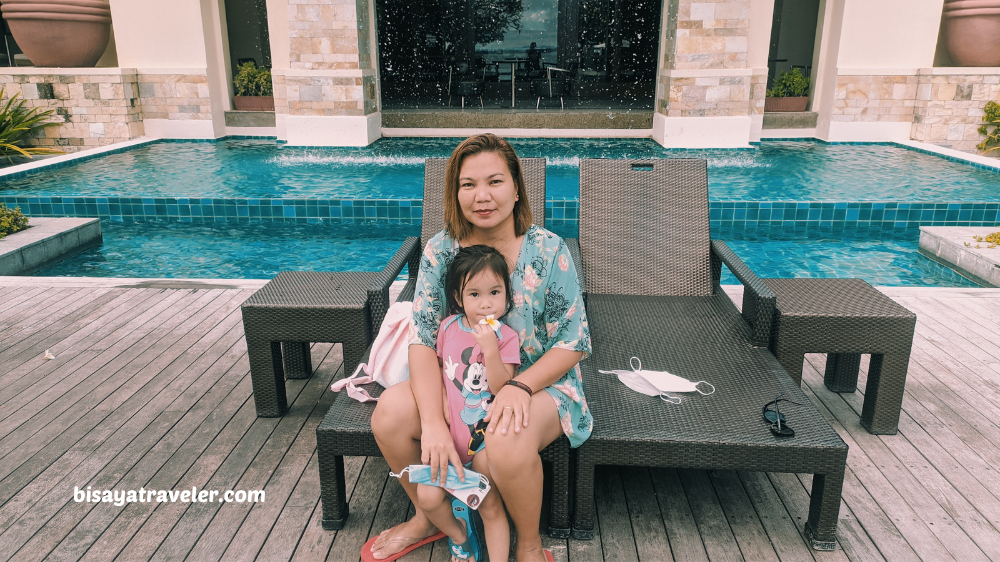 How many rooms are at the Crimson Resort Mactan?
There are 250 guestrooms and 40 luxurious private pool villas with plunge pools at Crimson Resort Mactan.
How to go to Crimson Resort Cebu?
The easiest and most convenient way to get to Crimson Resort Cebu is to drive your car. On average, the resort is 20 minutes away from Mactan Airport and an hour away from Cebu City by car.
Just use Waze, Google Maps, or any navigation app to reach this resort.
You can also take a taxi ride to Crimson Resort Cebu. A one-way taxi ride from Cebu City to the resort will cost you around 500 to 600 PHP.
Other details