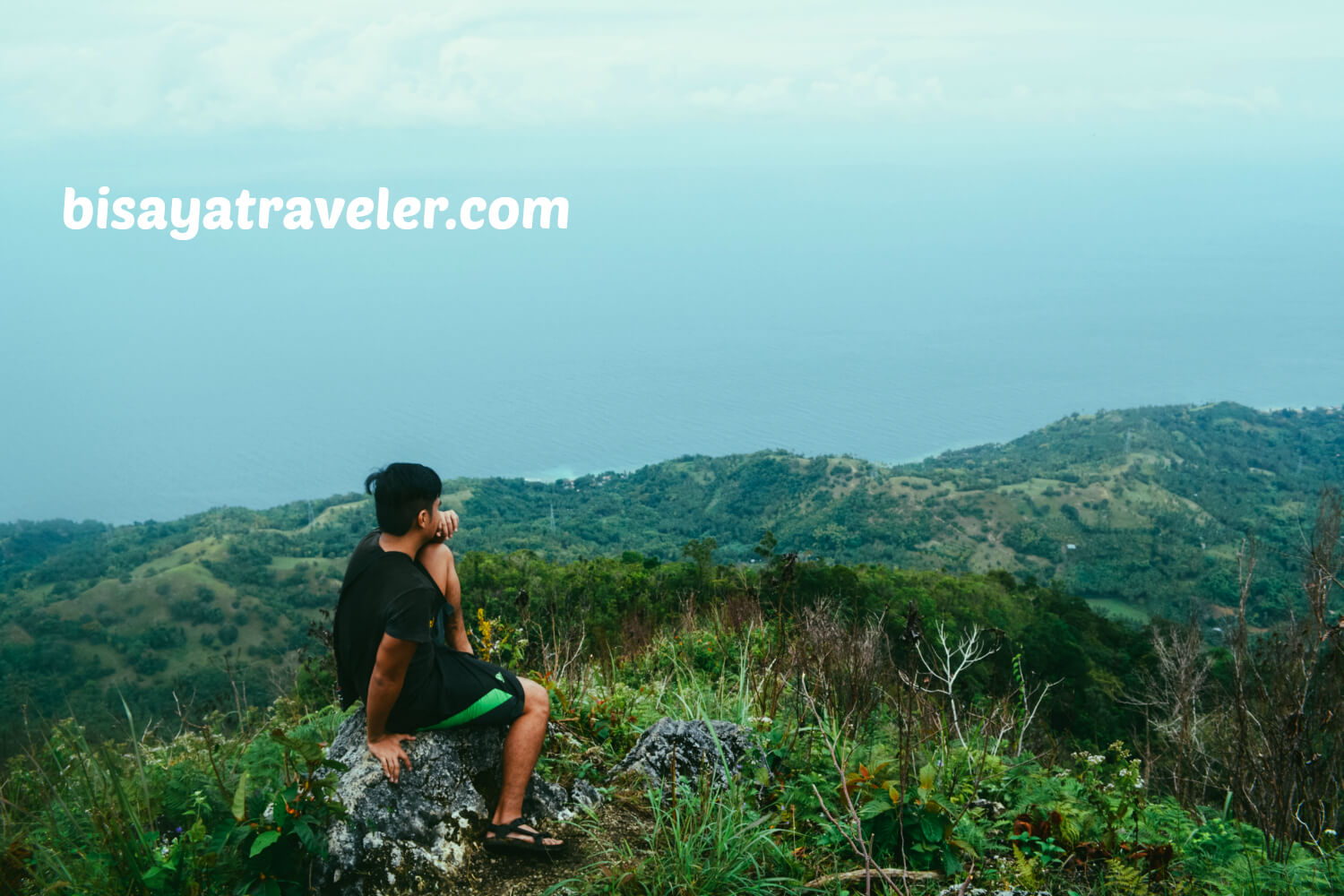 Mount Lanaya: A Pleasant Hike That Helped Beat Energy Gap
Nothing ushers in the New Year and beats a holiday hangover better than a good old fashioned hike up the mountains. After a short hiatus from hiking and weeks of overindulgence, Team Bang is once again back on the track, with a hike to one of the mountains in our never-ending travel wish-list – Mount Lanaya in Alegria, Cebu. While it was a fairly easy climb (we took the easier trail, with time not on our side), it was still a great shock to our system and a fantastic way to start a year with a bang. Of course, it did also help "beat energy gap" by flushing out the toxins and excess calories accumulated over the holidays.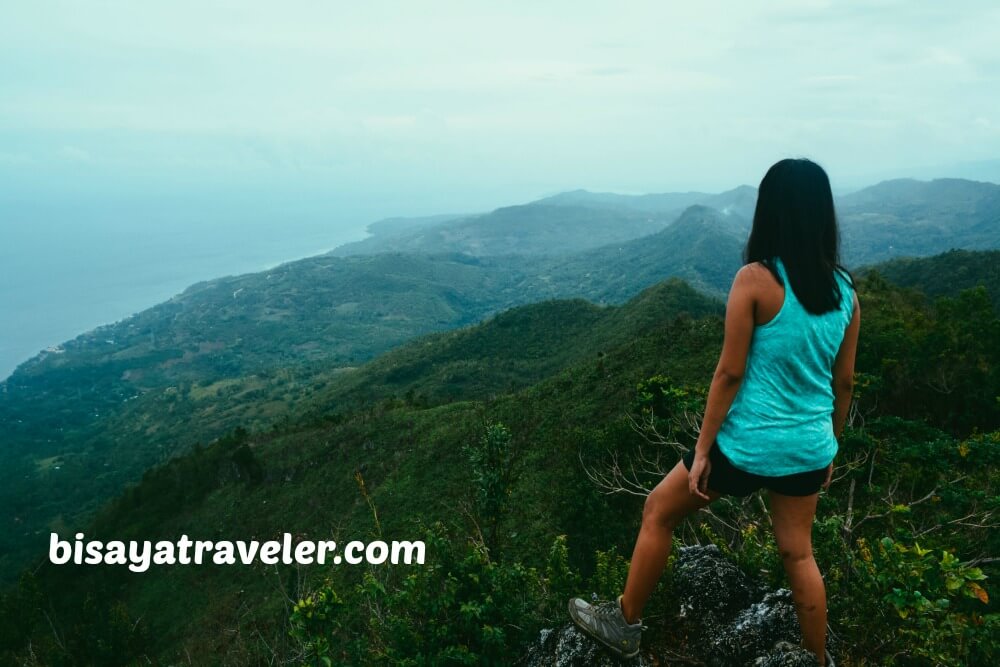 Why we took the easier route to Mount Lanaya
There are a couple of trails leading to Mount Lanaya – the Lumpan Trail and Legapsi Trail. With a fairly gloomy weather and a looming typhoon, we decided to take the easier option, the Lumpan Trail, to reach Mount Lanaya. We were also on a tight schedule since we were planning to swing by two of Alegria's alluring and refreshing waterfalls.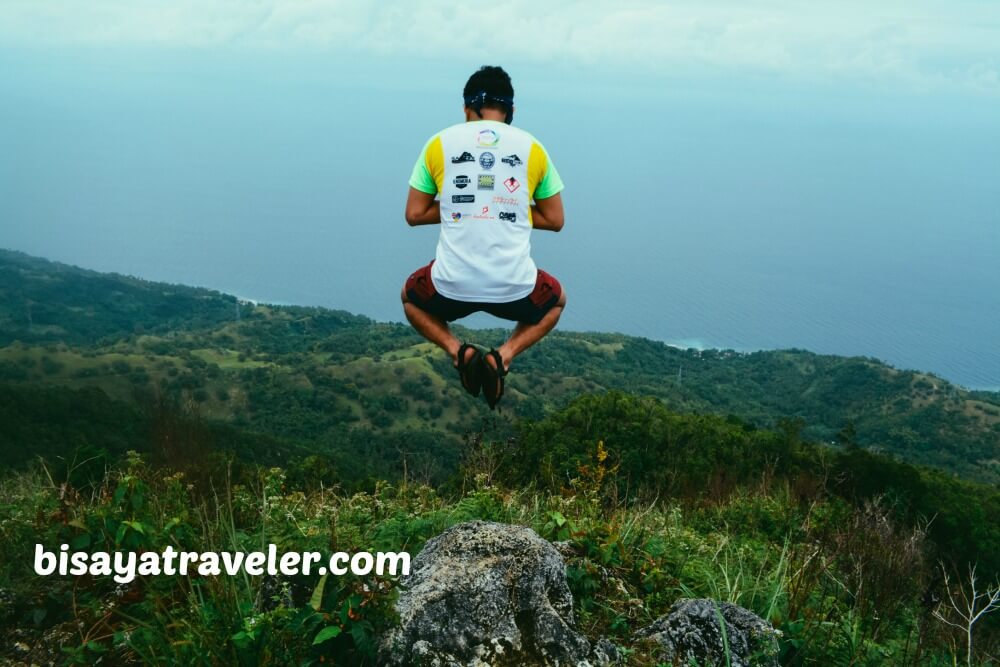 Our Mount Lanaya escapade
Our Mount Lanaya escapade started with an early 4-AM meet-up at Cebu City South Bus Terminal. As with most of my day hikes in Cebu, I was joined by a few sprightly and enthusiastic members of Team Bang for this outdoor trip, including Kevin, Wilfred, Donna, Christine, Noel, Ace, Marzi, Jesh and Lieve. And with everyone locked and loaded for the hike, we wasted no time, and took the next bus headed for Alegria at 5 AM.
Eventually, we arrived at Alegria's town proper at 8:30 AM. And from there, we went straight to Alegria Heritage Park, to stretch our muscles, take a leak, enjoy the seaside views, and snap some photos.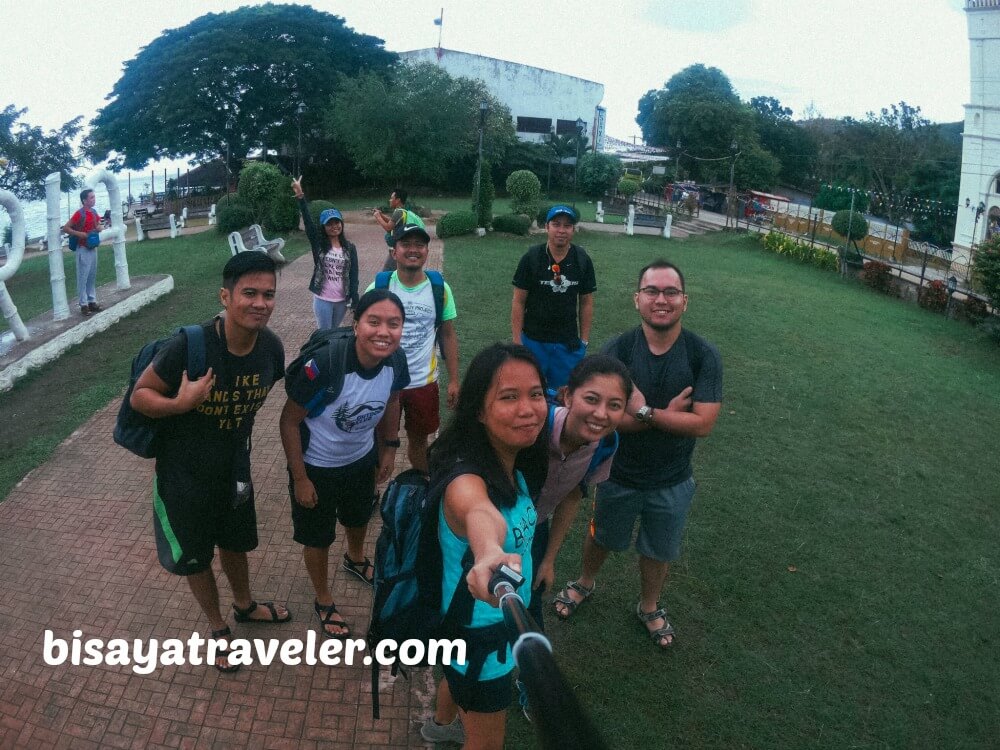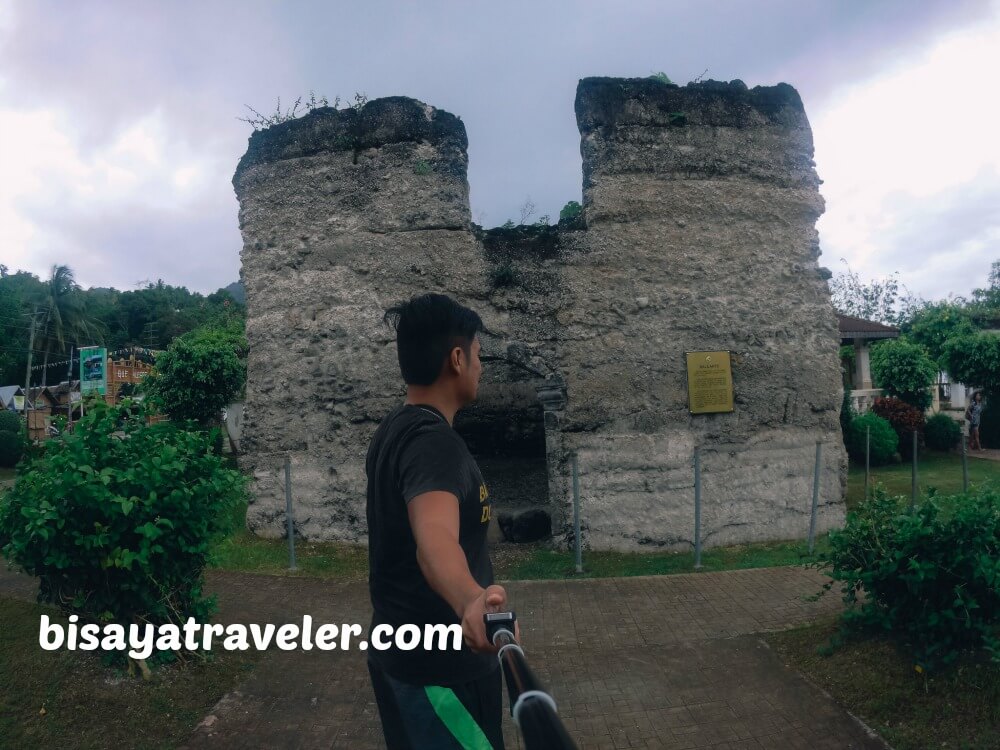 A few minutes later, a bunch of habal-habal drivers, who Kevin got in touch with prior to our trip, arrived in the scene to take us to Barangay Lumpan – the jump off point for our Mount Lanaya day hike.
We, then, hopped on the motorcycles in pairs, with Ace – Team Bang's culinary specialist, as my partner. Along the way, we saw some pretty interesting sights, including lush vegetation and gorgeous overlooking views of Alegria.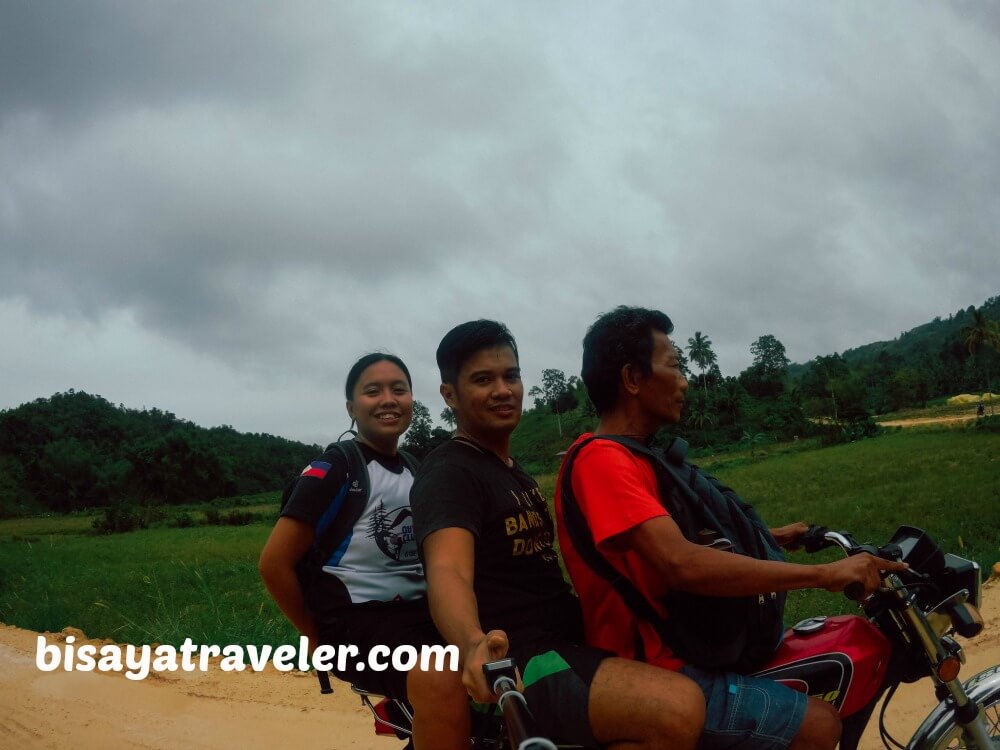 After a short 30-minute ride, we arrived at the base of the jump off point for our hike. While Reynolds – our local guide for this hike – was busy preparing his stuff, Ace and ladies of Team Bang were also busy thinking of dance steps for Milo's extremely catchy jingle "Beat Energy Gap", which somehow became the mantra and theme song for this hike. Every time someone got tired on the hike, a member of the crew would use the theme "beat energy gap" as words of encouragement. And until now, I couldn't shake off that tune in my mind, thanks to these fine charming gals.
Moments later, the lovely and talented Miss-Earth-worthy hiking aficionado Donna led a short prayer, so we can finally commenced on our anticipated hike to Mount Lanaya.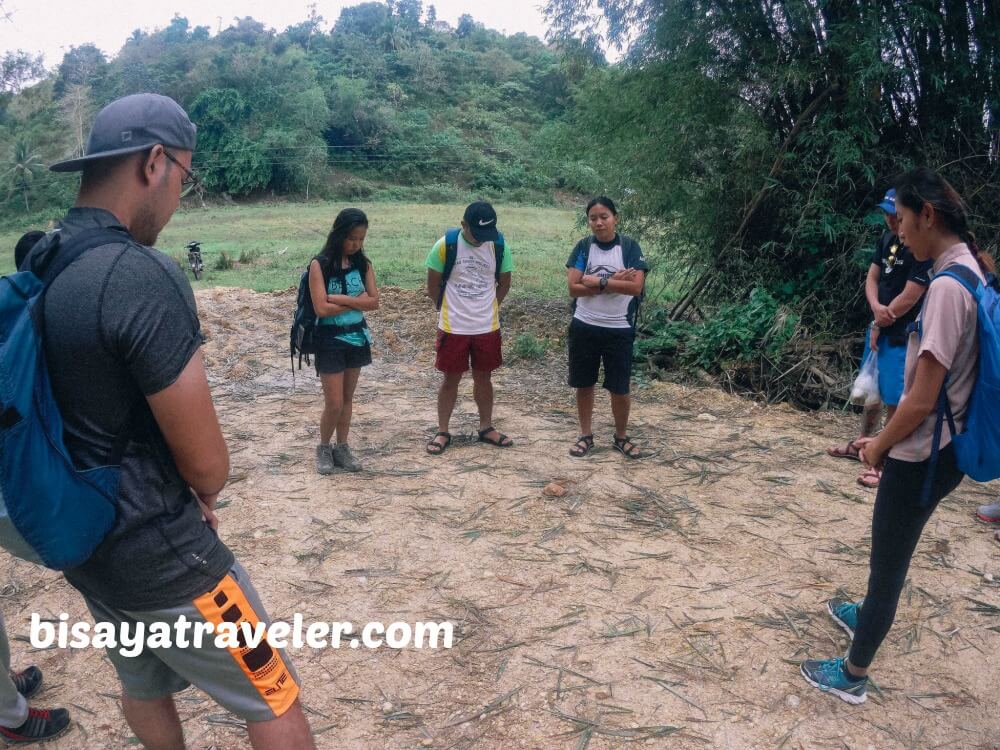 With the guidance of Reynolds, we walked and followed him into a flat muddy plain. Afterwards, we ascended on a trail that was as slippery as a wet bar of soap. Although I have plenty of hiking adventures under my belt, I've never experienced a trail as slippery as the shortcut path we took to Mount Lanaya. As a matter of fact, I sometimes felt like I was a surfer drifting on a rocky and muddy trail.
And guess what? Like me, Ace, Noel and Kevin also had difficulties along the way. As it turns out, we were all sporting the same brand for our sandals.
As far as I can remember, it was our fellow Team Bang member Sheng who told me not to buy this sandal brand because it's slippery. I guess I should have heeded her words of advice.
And in spite of the relatively cold weather, most of us were already drenched in sweat in less than 20 minutes. We knew it was going to be heart-pumping and sweaty since we didn't do any hiking for over a month.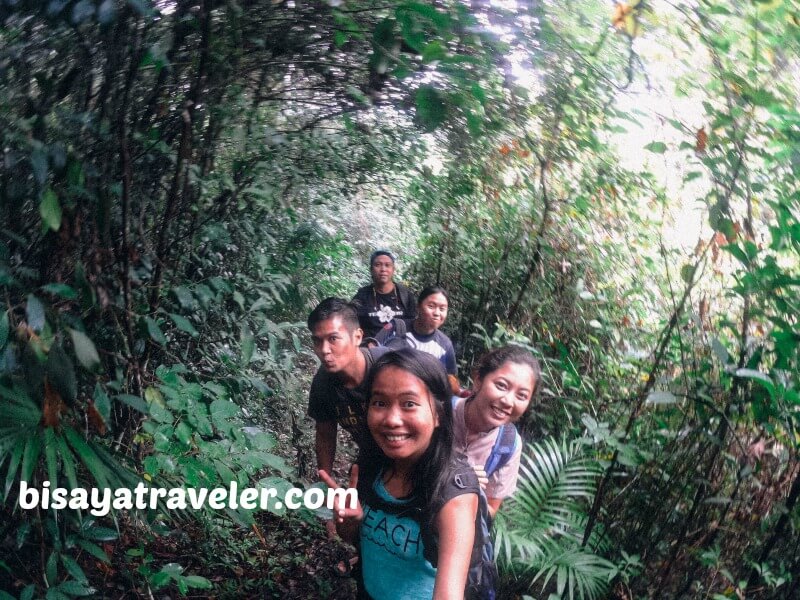 Jesh – the club's official jokester – even said that the Mount Lanaya hike burned almost all the liempos he ate during the Christmas season. Well, that's a fine way to beat energy gap, as far as I'm concerned.
And as always, the team was still full of life and color, making a ton of jokes and snapping dozens of photos on the trail.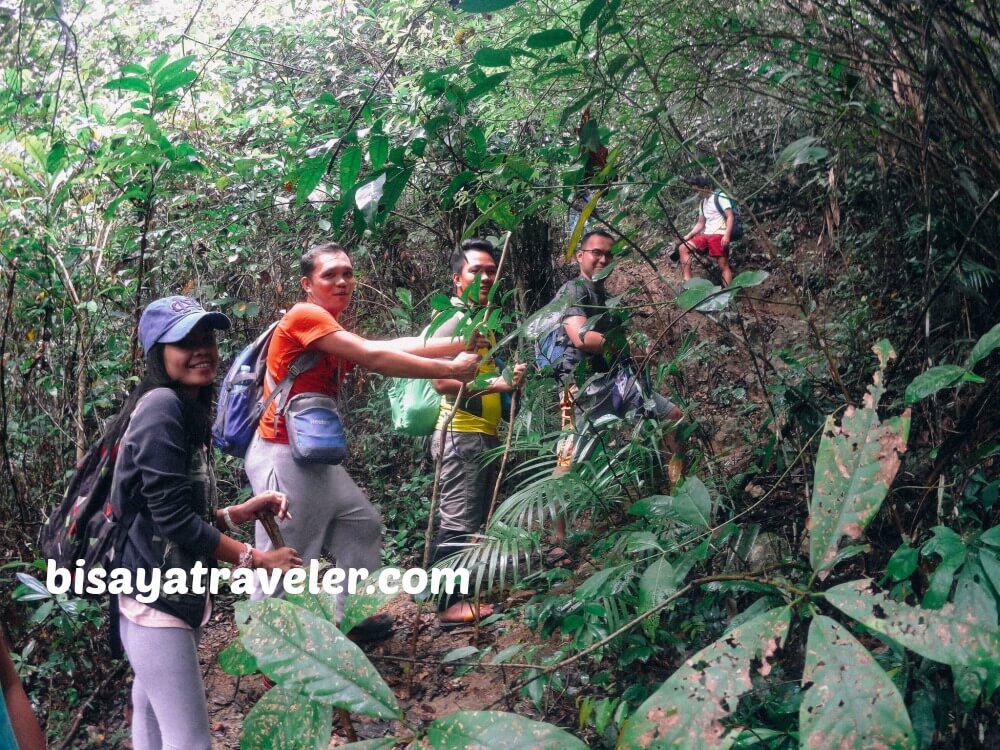 We did make a handful of stops, but none of them lasted more than 3 minutes. We were, after all, on a rush, hoping to catch some waterfalls and enjoy a refreshing plunge.
We trekked, until we saw this humongous rock standing in front of us. Later on, Reynolds told us that we were one ascend away from Kalo-Kalo Peak or Mount Lanaya.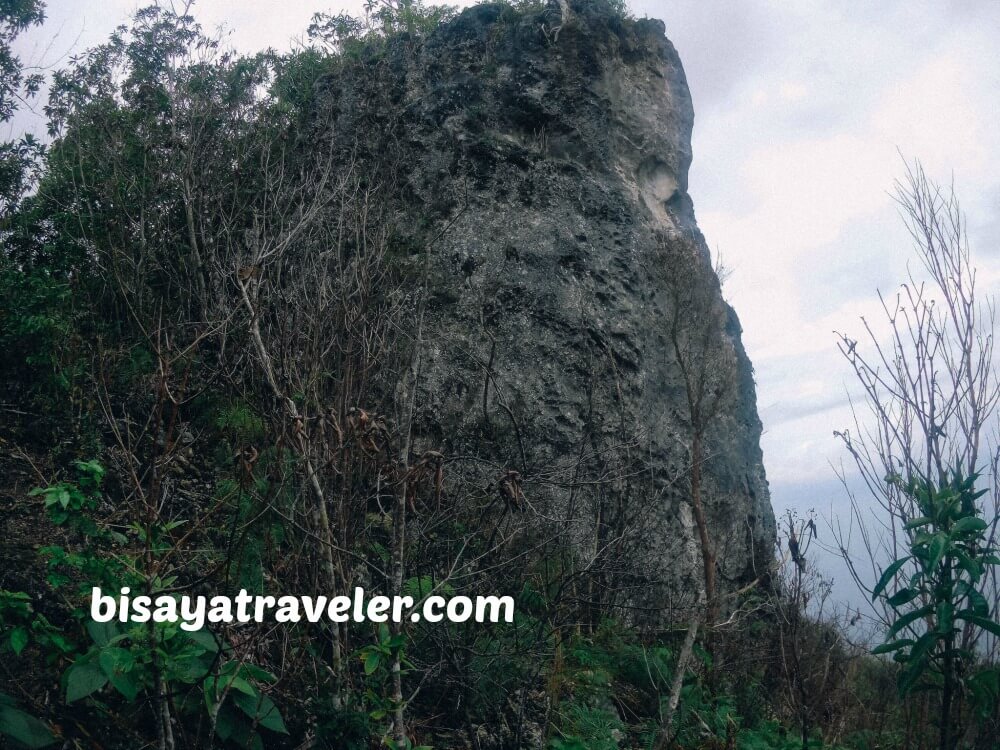 Truth to be told, I was taken aback a bit, especially since most of the blogs that I've checked suggested that it will take an hour or two to reach Mount Lanaya via the Lumpan trail.
I didn't log our time, but I'm pretty sure we got to the summit in about 40 to 50 minutes. I haven't even taken a sip from my water container.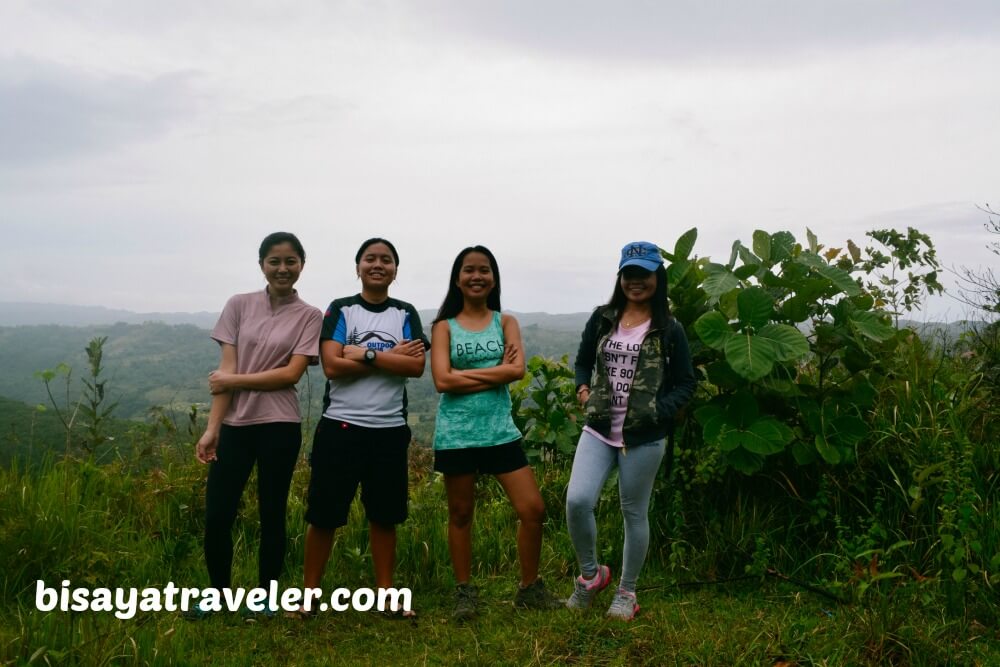 With time now on our side, everyone in Team Bang slowed down, to soak in the scenery, and live in the moment. And before we made the final climb, I took a quick photo of the rest of the team Dabbing.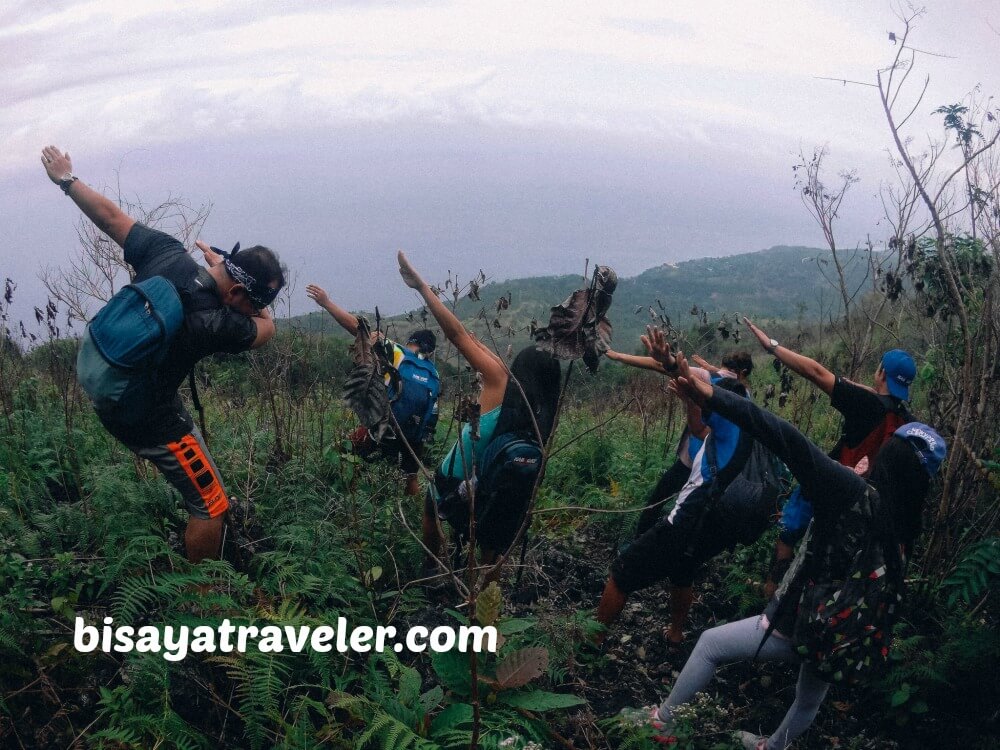 From my point of view, though, it looked like they were dancing to the beats of Dayang Dayang.
Whether it was because of our hasty pace or the guide knows a quicker way to the summit, I was glad that we reached the summit. Even though the sun did come to greet us, the views from the top of Mount Lanaya were simply awe-inspiring. From the Kalo-Kalo Peak, we got treated to stunning panoramas of Negros Island, Alegria and Badian. Not to mention, it was an incredible trek that did shake off the cobwebs.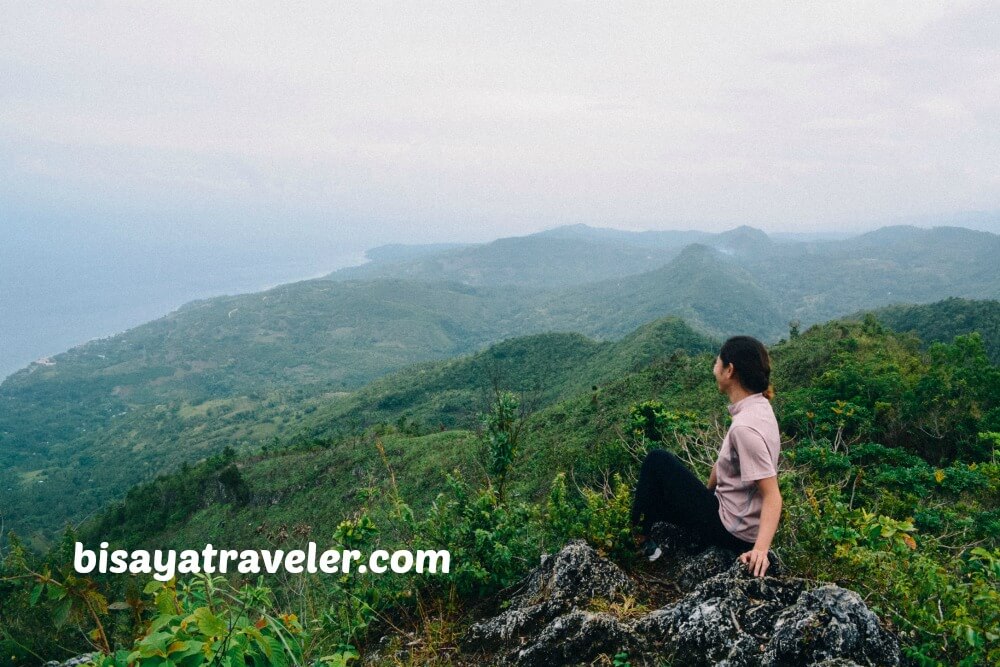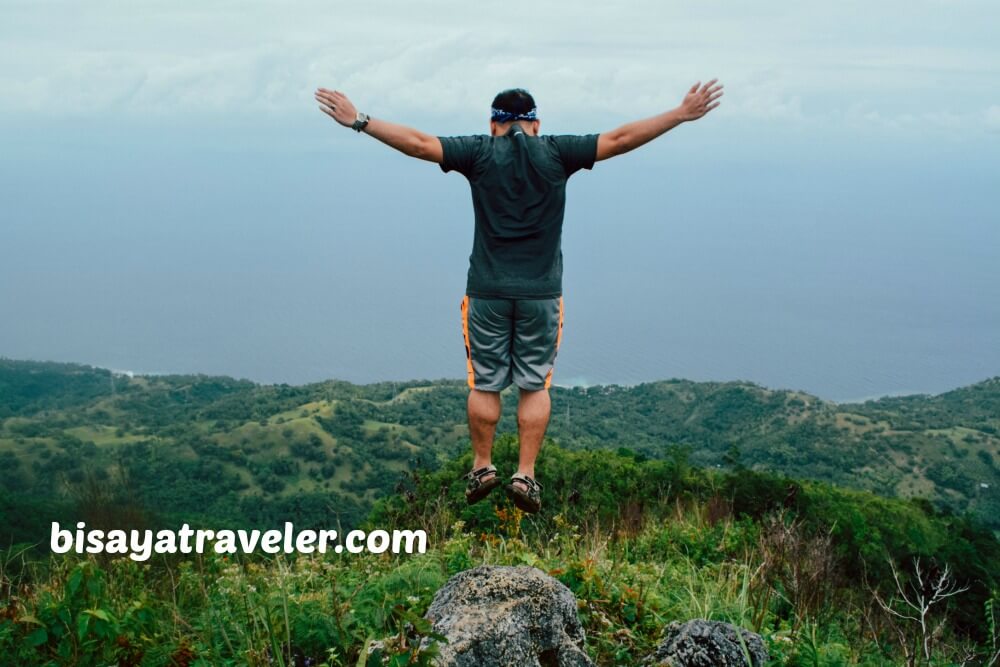 We spent some time on the summit, admiring the vistas and fresh mountain breeze. And yes, the fresh air and gorgeous views did help beat energy gap. As for their dance steps, they were unable to execute it because no one from the club had this track on their playlist.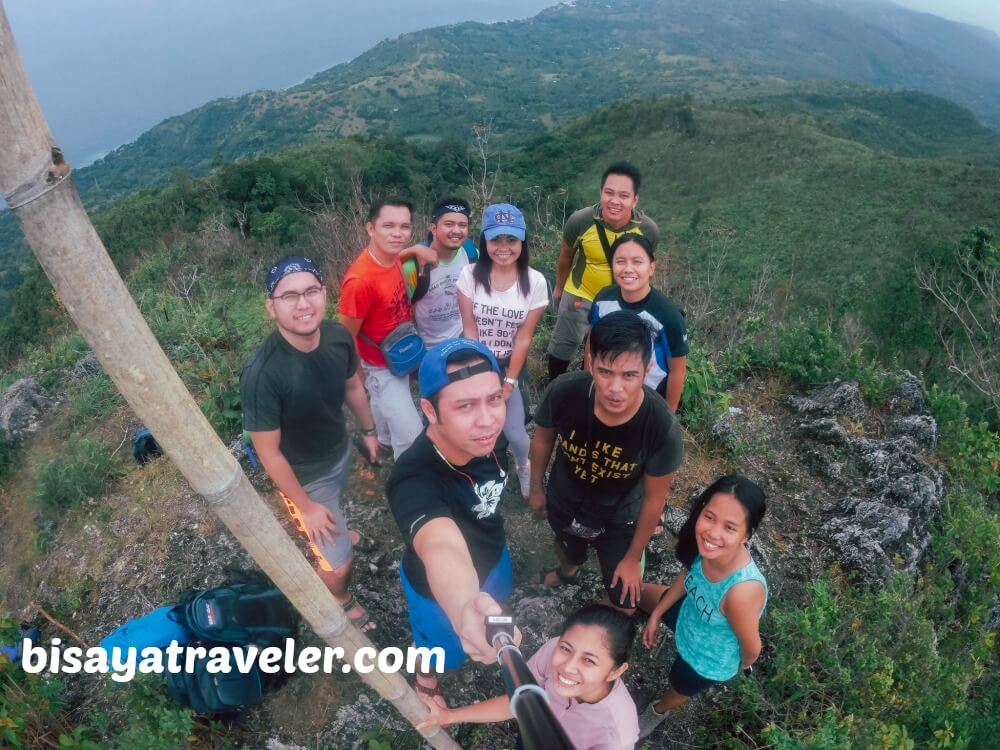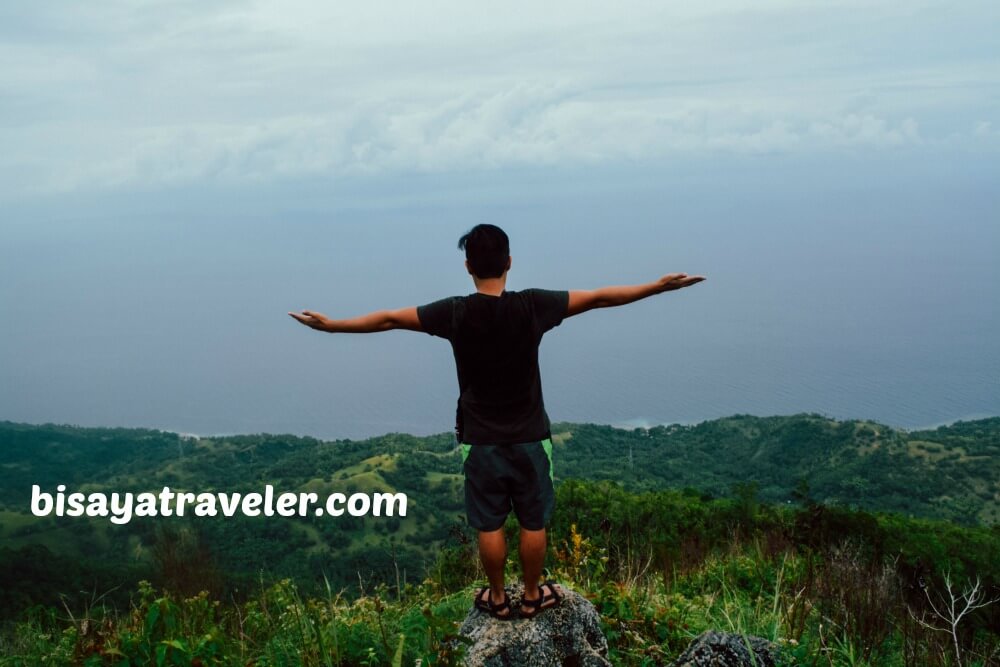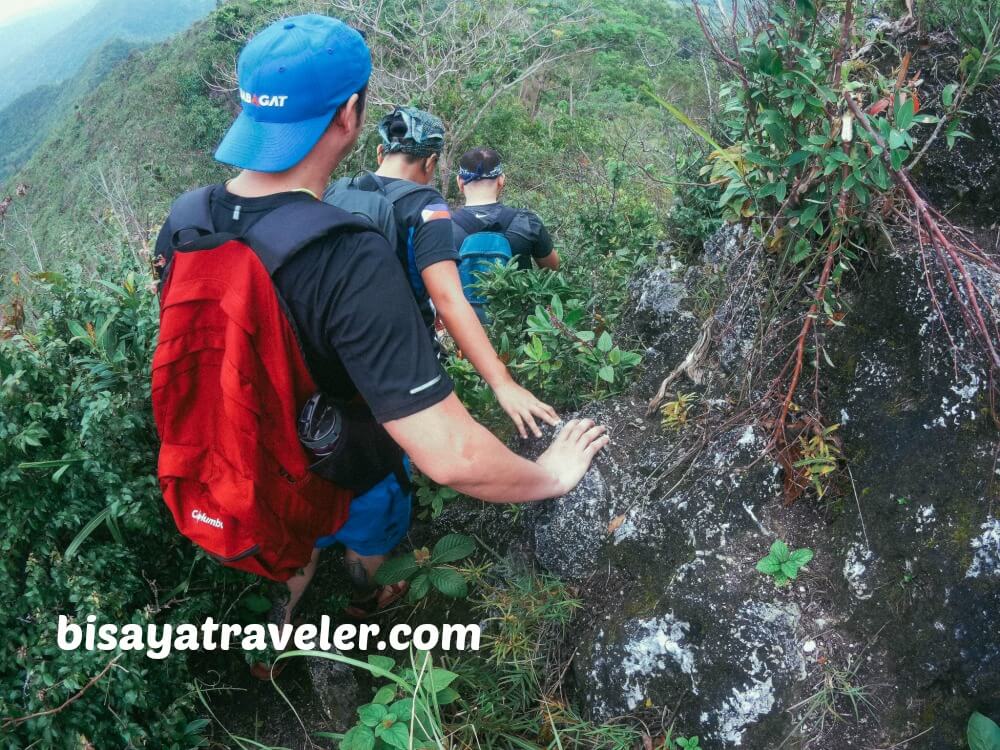 With our batteries replenished, we descended from the summit of Mount Lanaya, so we can jump into the refreshing ice-cold waters of Cancalanog Falls and Cambais Falls (I'll write about these falls later).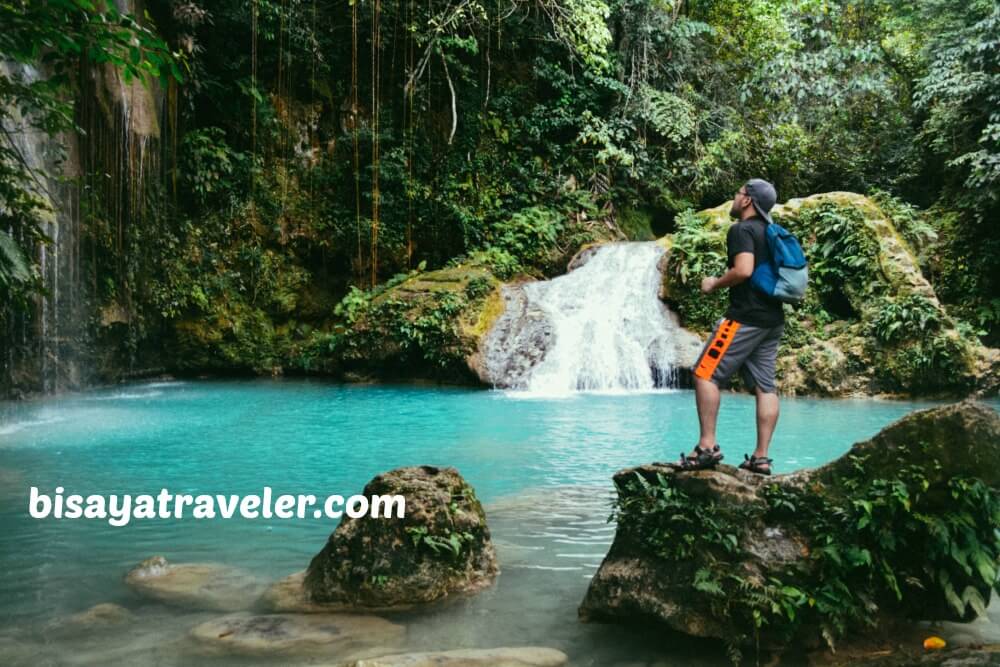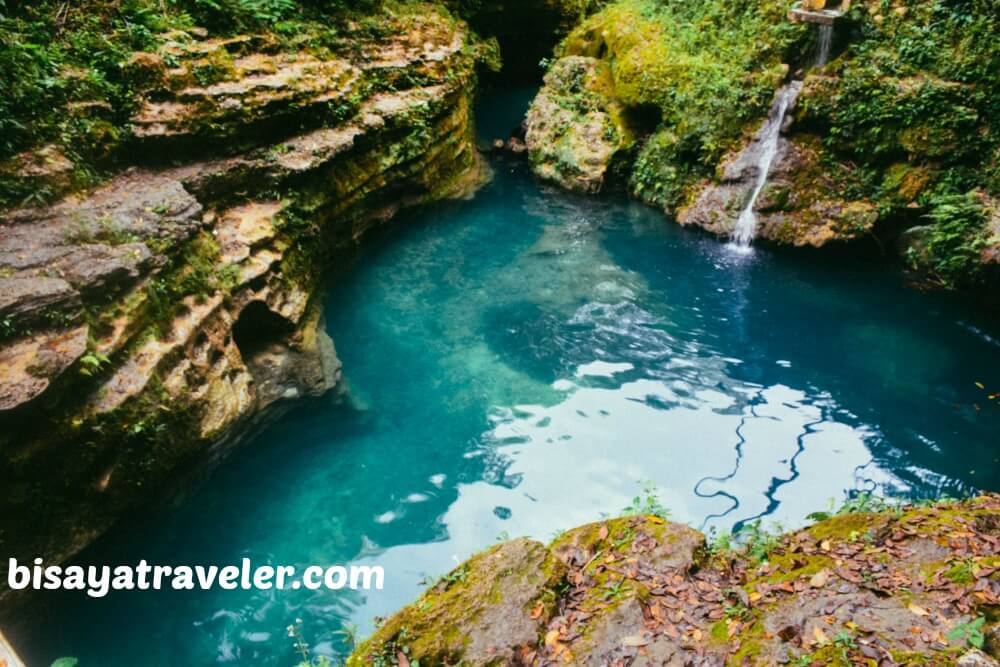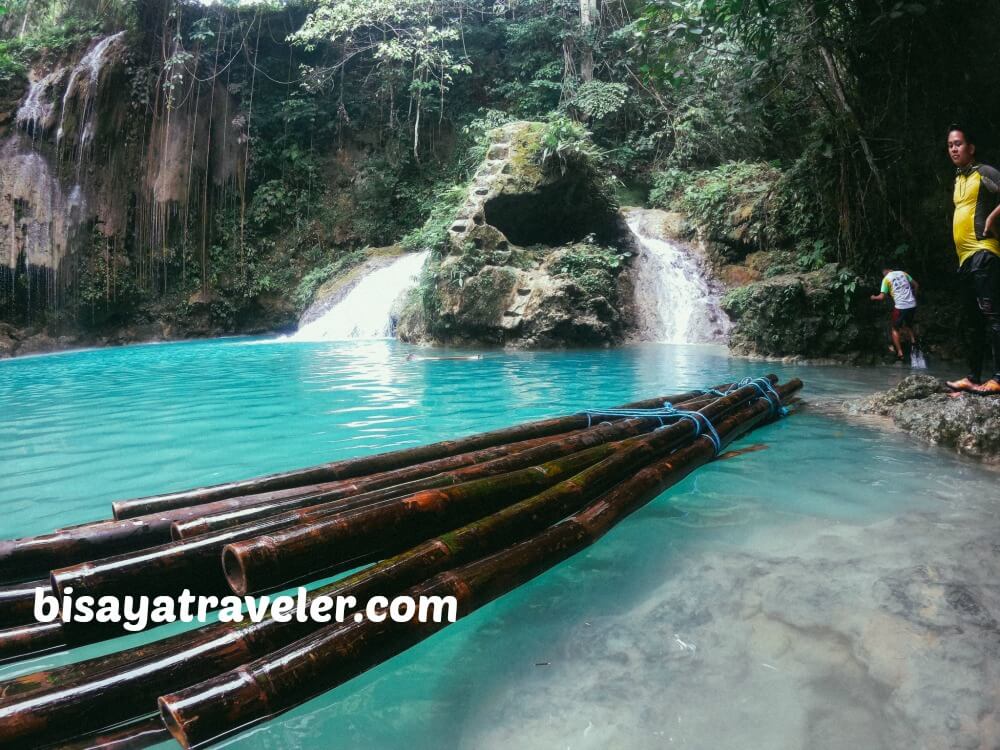 Our Alegria itinerary
04:00 AM: Meet-up at Cebu City South Bus Terminal
05:00 AM: Depart from the terminal
08:30 AM: Arrive at Alegria Heritage Park/ Make final preparations
09:00 AM: Depart from Alegria proper
09:30 AM: Arrive at Barangay Lumpan
09:40 AM: Start of our hike
10:20 AM: Arrive at the summit of Mount Lanaya
11:00 AM: Start of descend
11:30 AM: Arrive at Barangay Lumpan
11:40 AM: Depart from jump off point
12:30 PM: Arrive at Cambais Falls/ Lunch
02:00 PM: Depart from Cambais Falls
02:40 PM: Arrive at Cancalanog Falls
04:00 PM: Depart from Cancalanog
04:40 PM: Arrive at Alegria Heritage Park
05:00 PM: Picture taking/ Early dinner
06:00 PM: Depart from Alegria
09:30 PM: Home sweet home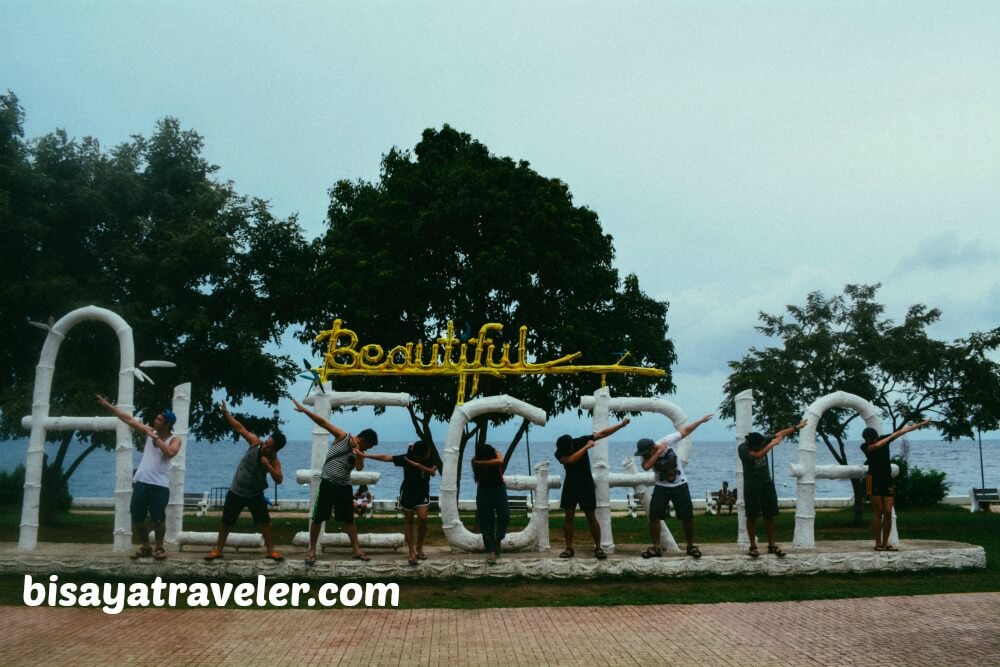 Expenses:
Bus fare: PHP 130 to 160 per way
Guide fee: PHP 20 to 50 per person (very negotiable, as long as you take the Lumpan Trail)
Habal-habal services: PHP 350 per person including waiting time and stops to all the places mentioned above
Entrance fee to Cambais Falls: PHP 30 per person
Entrance fee to Cancalanog Falls: PHP 30 per person
Legaspi trail info:
Planning on taking the more challenging trail? Here are some nuggets of information that may come in handy for your Mount Lanaya hike:
Entrance fee: PHP 50
Guide fee: PHP 500 for every 5 hikers
Habal-habal ride to Legaspi: about PHP 50 each
Important notes:
Bring lunch and trail food. There aren't many stores in this part of Alegria.
Pack at least 1 liter of water (2 if you're taking the Legaspi trail)
Bring salt and ion beverages like Gatorade to prevent cramming.
Waterproof your belonging and prepare your rain gear, in case of heavy downpours
Bring an extra set of clothes, if you plan to chase the waterfalls in Alegria.
Last trip from Alegria to Cebu is at 8 PM.
Leave no trace.
For the Legaspi, there's an entrance fee of PHP 50 and a guide fee of PHP 1,000 for every 10 hikers.
Wear trekking shoes or sandals with good traction (you'll also do some hiking to get to the waterfalls).
Contact Reynolds at 097-546-733-05 for habal-habal and Mount Lanaya guide services.
Despite taking the shorter route, I really felt good and awesome after the hike. It might not as challenging as our recent hikes, but it was still refreshing and a good cardio workout, helping beat energy gap, as my teammates would say. As an added bonus, we got to enjoy dipping in Alegria's gorgeous and super cold waterfalls.
And, by the way, we're planning to hike Mount Lanaya again later this year, via the Legaspi trail.