Anjo World: Rediscovering Neverland In Minglanilla
Neverland had been without sunshine for over a month. As I ushered in a new era in my life, it seems like my Neverland had become a remnant of my days of exuberance and glory. Wondrous moments of exploring a foreign city alone and scaling verdant peaks had turned into sleepless nights and infinite workload. But, on a warm, sunny Sunday, I had the chance to sprinkle a little magic to my Neverland with a visit to one of the rising Cebu attractions: Anjo World Theme Park.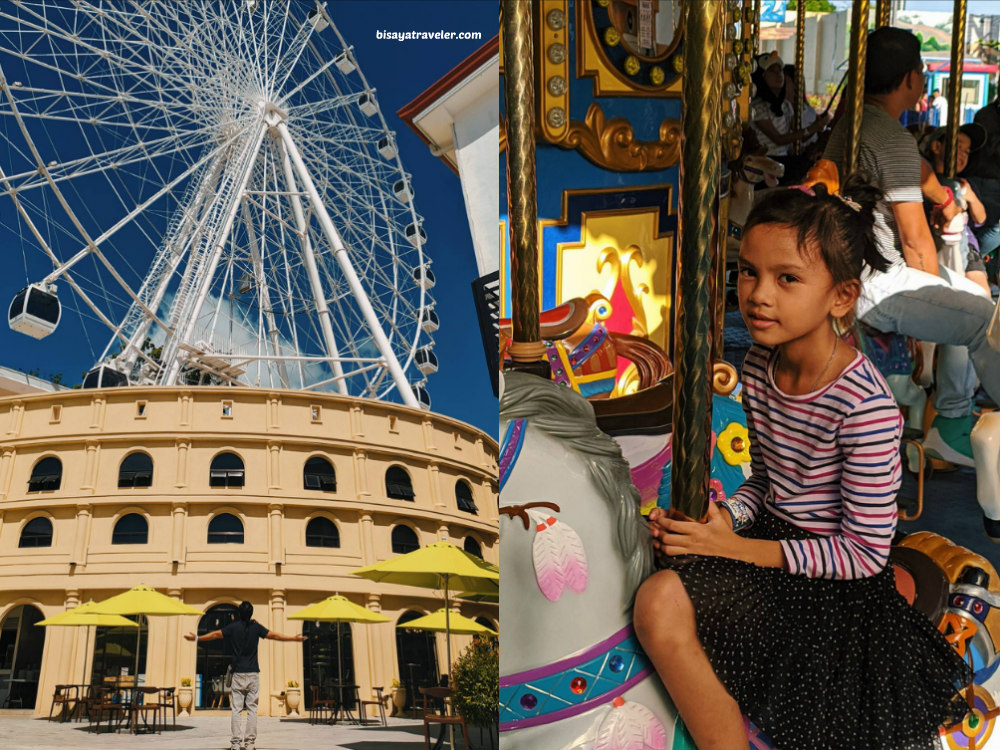 The truth is, theme parks like Anjo World didn't usually appease my cravings for adventure.
While I'm not a dashing daredevil, I always believed in the saying "adventure without risk is Disneyland".
Here's the thing.
I want to be thrilled and blown away by nature's wonders.
I want to taste life venturing into the unknown.
And, I want to explore places free from the never-ending streams of people.
Yet, for some reason, Anjo World Cebu kept popping into my mind. With its eye-popping colors, magnificent wheel and insanely thrilling rides, Anjo World Theme Park had been luring me for the past few months.
Maybe, it's because of the dramatic shift in my philosophies and ideologies, as I learn how to become a great father.
Or, maybe, it's a world-class Cebu attraction that I simply couldn't resist.
And, thanks to their recent promo, my family and I finally explored the hyped and celebrated Anjo World Cebu.
Was it as good as advertised? Did Anjo World Cebu help me find my Neverland?
My Anjo World Cebu experience
Everyone was so thrilled and pumped up on our way to Anjo World Theme Park. Even our adventurous little ones – Goyo and Richbie – couldn't hide their excitement.
And, when we arrived at the entrance of Anjo World Cebu, I was pretty impressed.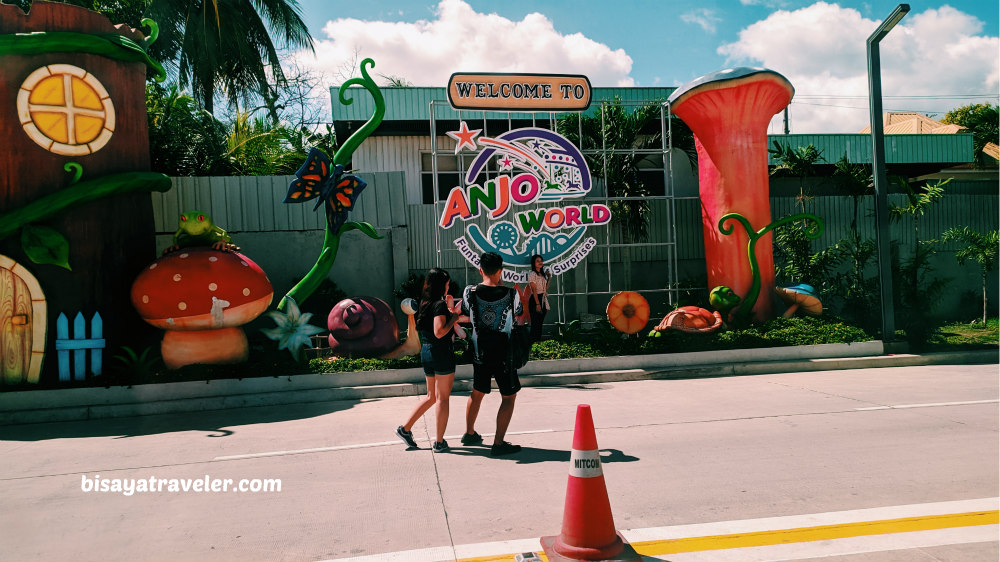 Not only was it spotlessly clean, but it also boasts a spacious parking lot. Although it's not extremely big, it has enough space to fit in a ton of cars.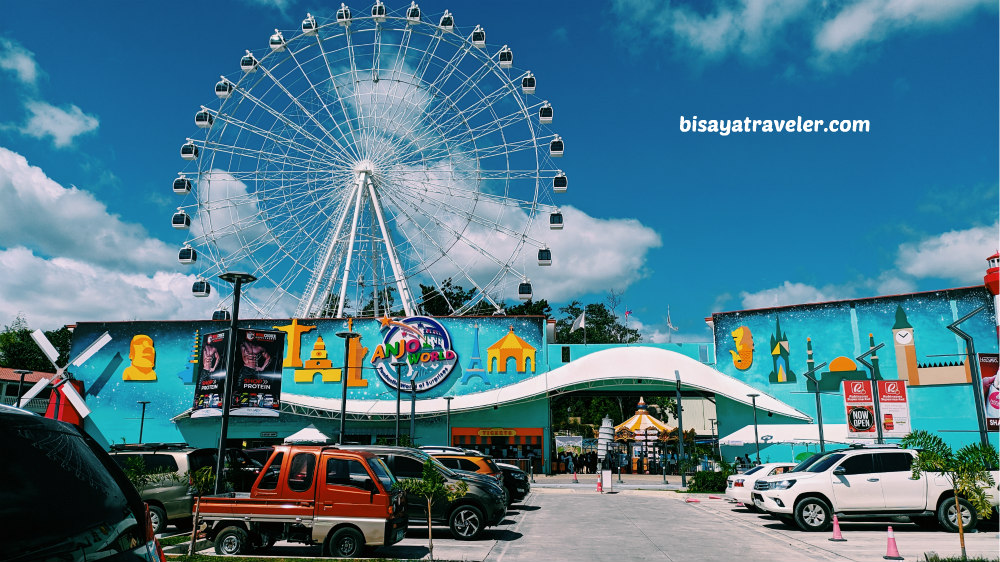 From the parking lot, we made our way to the Anjo World ticket counter where a couple of attendants answered my questions thoroughly.
There were a few options available for those who want to explore Anjo World Theme Park. You can take the unlimited day pass, and you can also try the package that includes access to Snow World.
Since our babies are too young for this icy experience (kids below 3 years old are not allowed) we decided to skip Snow World and perhaps experience it 3 years from now.
Additionally, we opted their Super Tres (3 Rides Ticket) because we just wanted to see and experience a few rides inside Anjo World Theme Park.
The moment we officially set foot inside Anjo World Cebu, I could already feel the excitement in the air.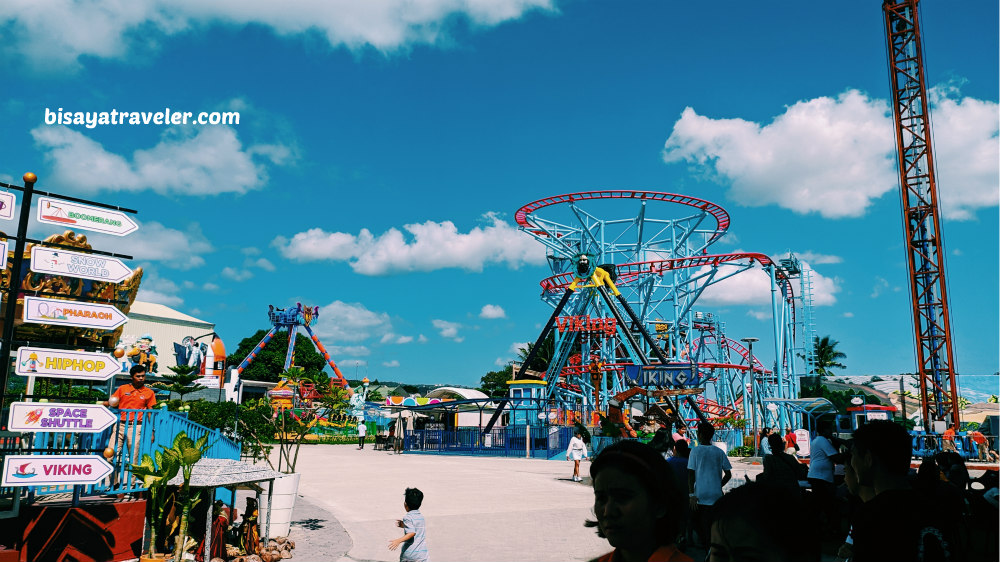 The ambiance was lively, warm and welcoming, but definitely not chaotic.
On my left, I saw architecture and intricate features that mirror Italy's most beloved landmarks. And, in some way, it reminded me of our exploration in Macau.
On my right, I caught sight of the towering rides where people were blithely screaming their hearts out.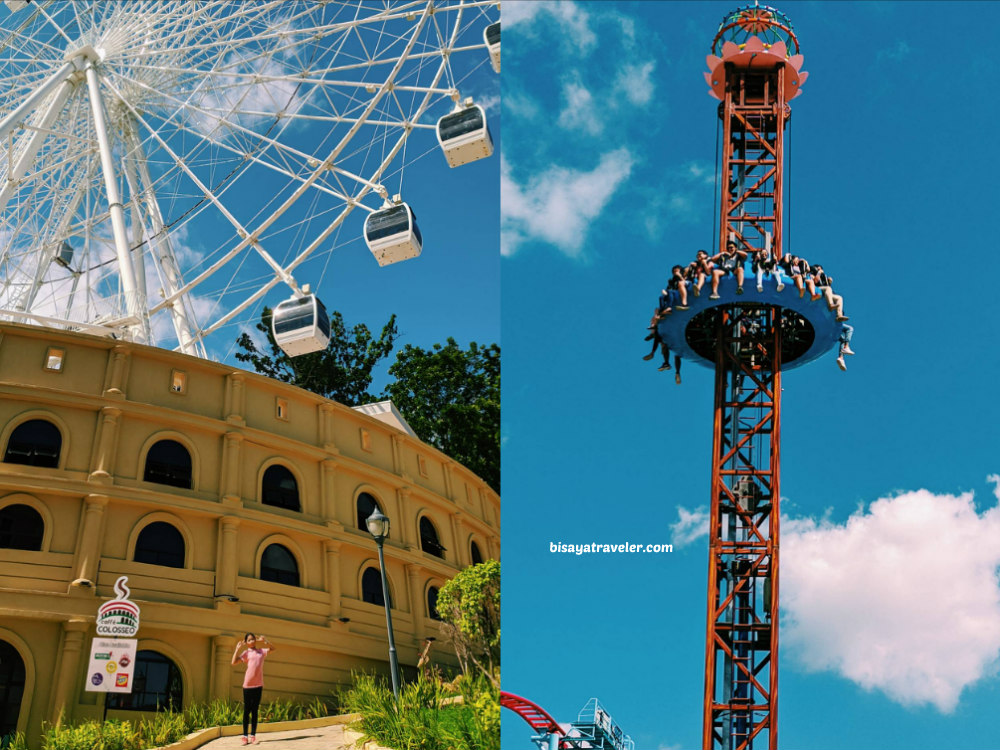 And, suddenly, I could sense adrenaline rushing through my veins. Even though theme parks weren't my cup of tea, I could feel an adventure is heading my way.
Before I could kick-start my Anjo World adventure, though, we had to find a shady and cool place where we could sit comfortably and let our babies relax.
And, luckily, we found a shady one with bleachers, tables and chairs on my right side. Plus, there's a "baby station" at the back, perfect for our little ones.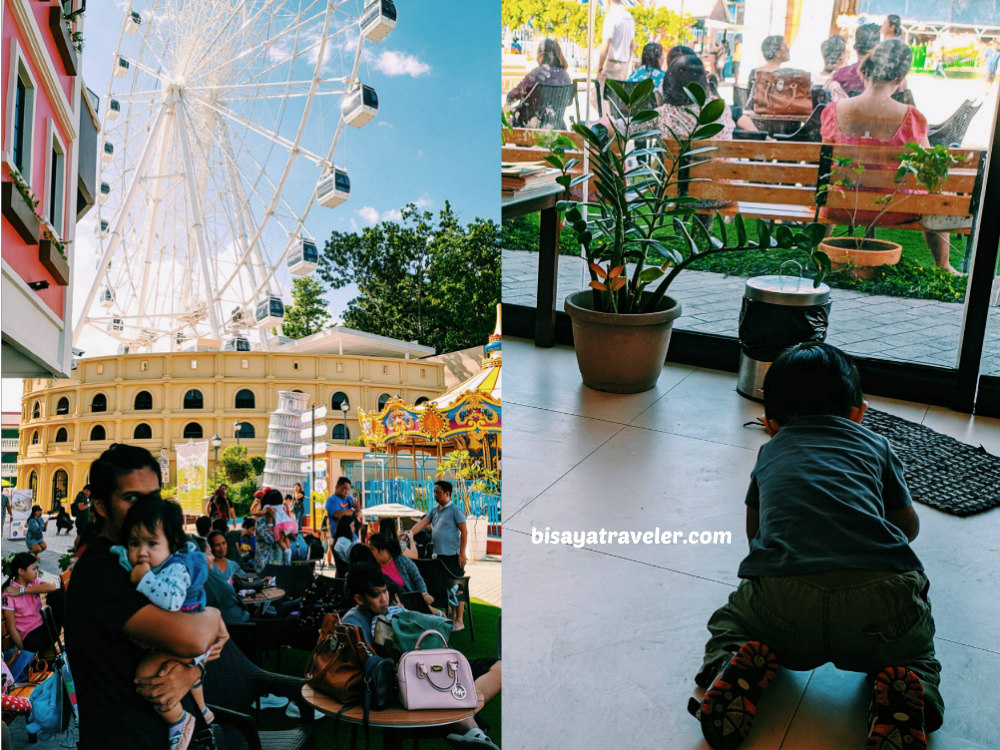 For a while, we just sat there, soaking up the atmosphere and evaluating our options. Furthermore, we were waiting for my sister-in-law, Ruby and her two daughters.
Anjo World Cebu wasn't crowded, when we arrived and found our base. So, we decided to do some exploration, while snapping pictures of this vibrant haven of fun.
Our first stop was the "little Italy" section of Anjo World Theme Park.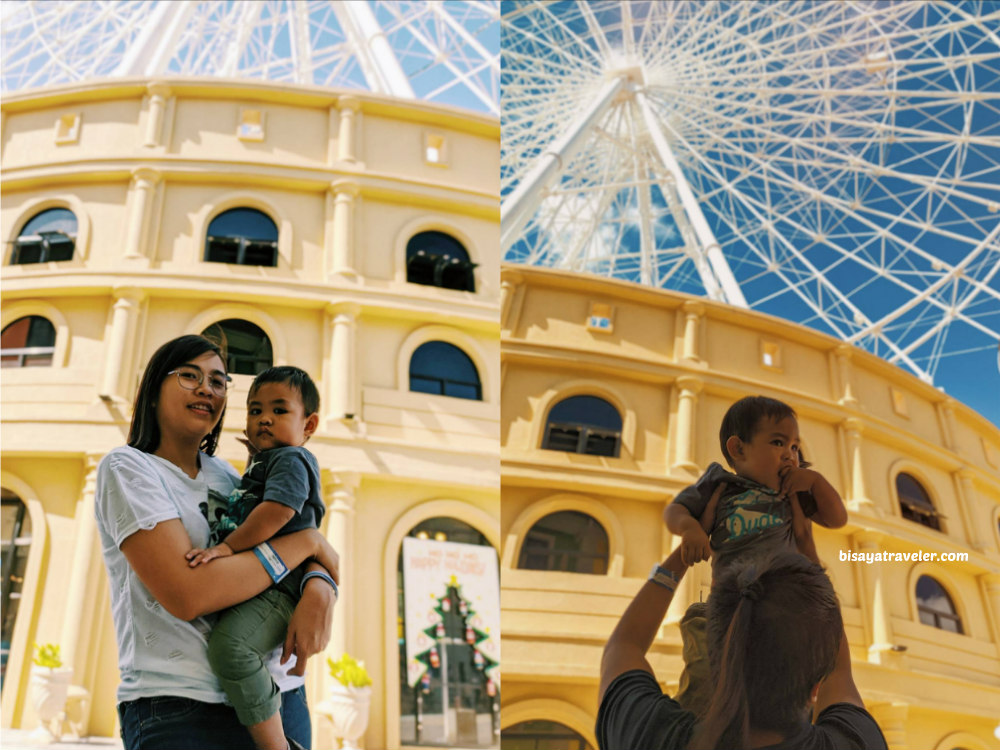 Everything, from the pathways and umbrellas to the structures, looks quite like Rome and Venice.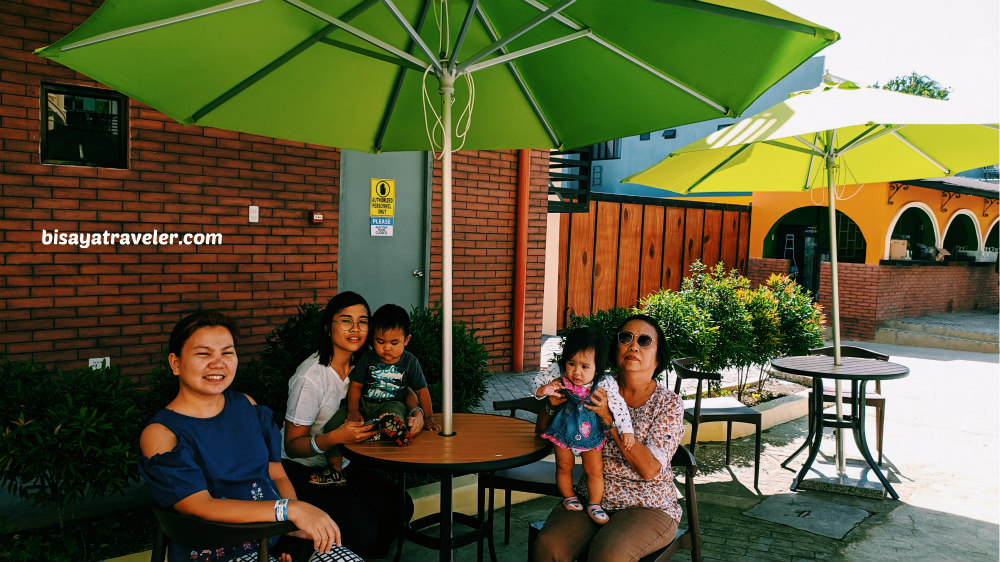 And, it was such a joy to watch! I'm not a big-time shutterbug, but I couldn't resist the mesmerizing views of this spot inside Anjo World Cebu.
From the bridge, I caught sight of an empty building overlooking the pool and bumper boats of Anjo World Theme Park.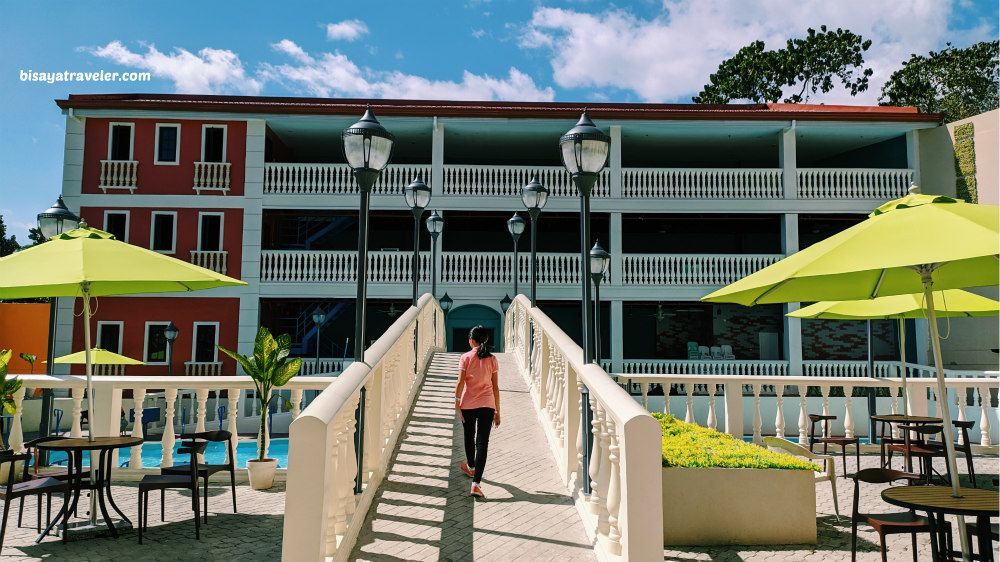 We, then, blissfully, climbed our way to the top floor where we were rewarded with a gorgeous view of the pool and the biggest ferris wheel in the Visayas region.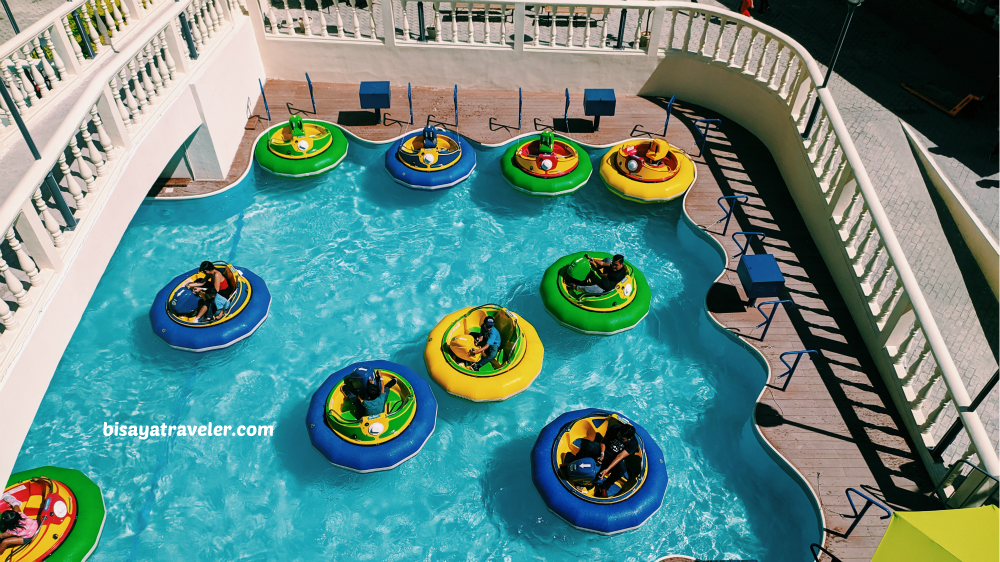 And, slowly, I'm rediscovering my Neverland. After weeks of non-stop work and babysitting, I thankfully had a window of opportunity to unleash my alter ego: The Bisaya Traveler.
We had plenty of time in our hands. Even with our limited 3-ride access, we were free to roam and explore the area for the whole day.
There was no need to rush at all.
Soon after, we let our babies have their moments. With guidance, they first rode the the lovely and gleaming "Golden Carousel" of Anjo World Theme Park.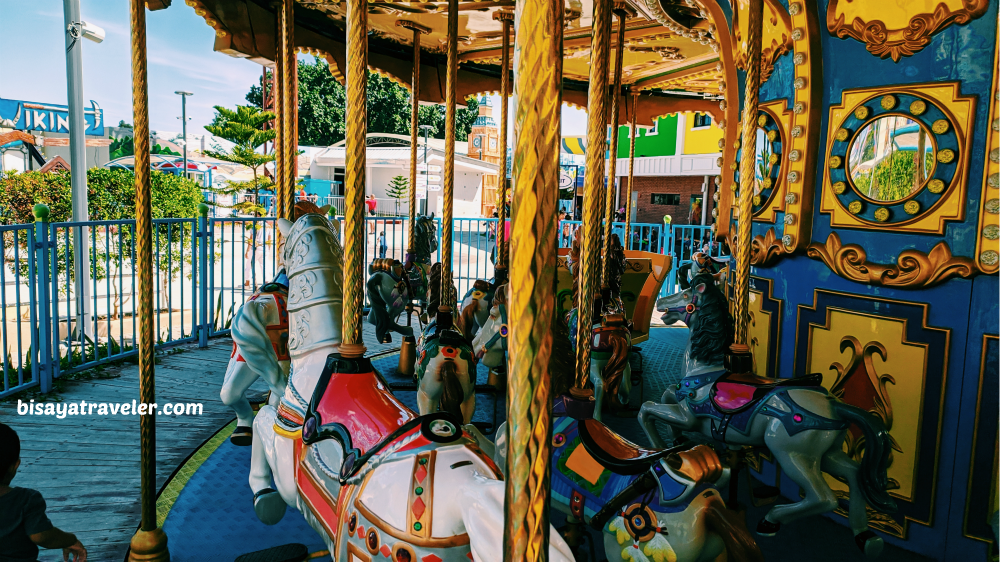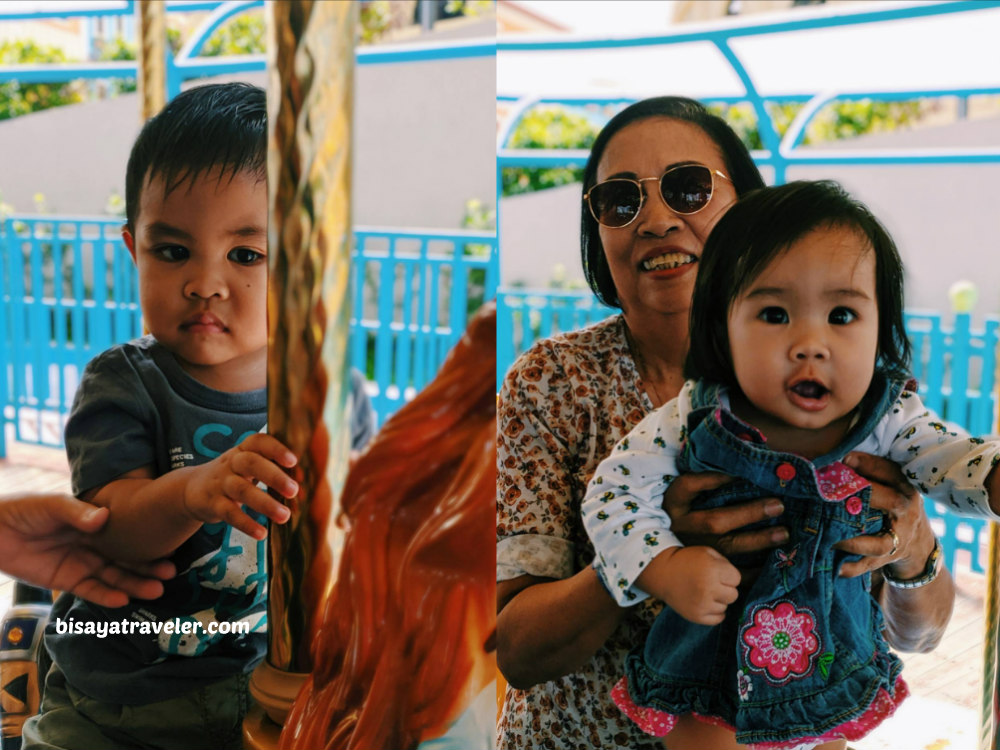 Afterward, we took them to the "Tea Cup" wherein they enjoy a fun-filled kid-friendly ride.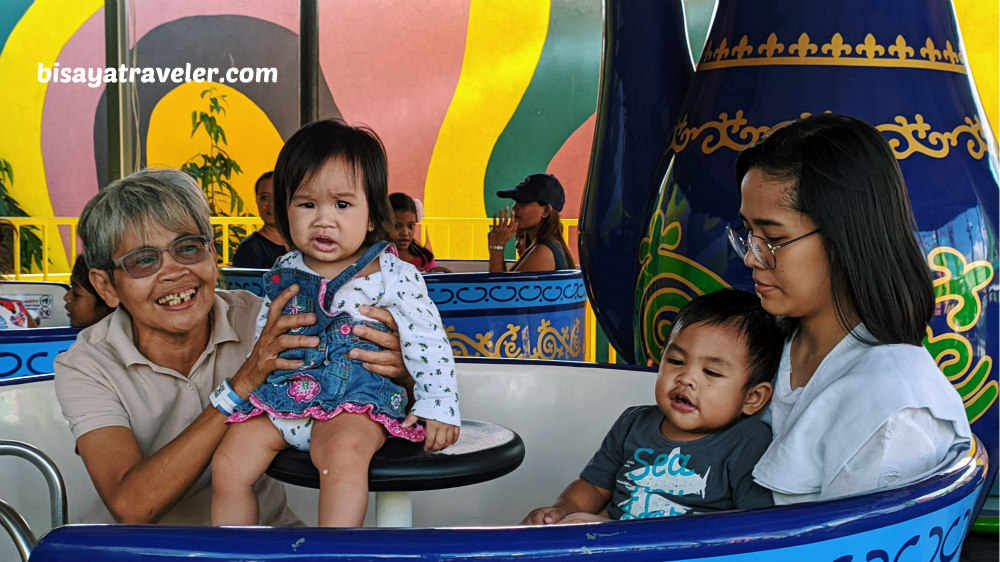 I, honestly, thought both rides were too fast for them. Even so, like bona fide adventurers, they enjoyed every second of their rides.
Meanwhile, my wife and my little niece, Kim, had a blast bumping cars on the "London Taxi" section.
They even said it was an addicting experience.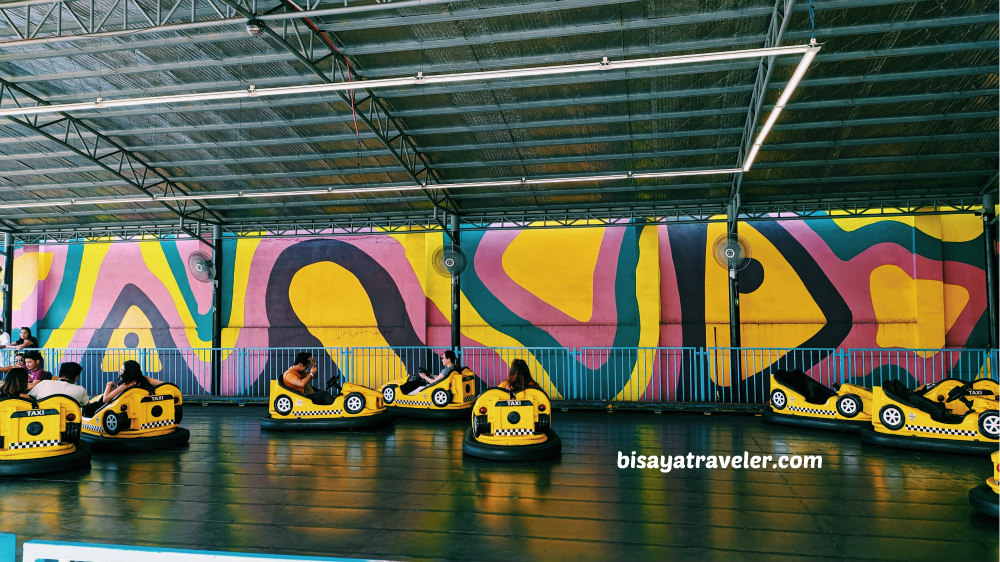 Later on, Kim sampled the "Tower Drop".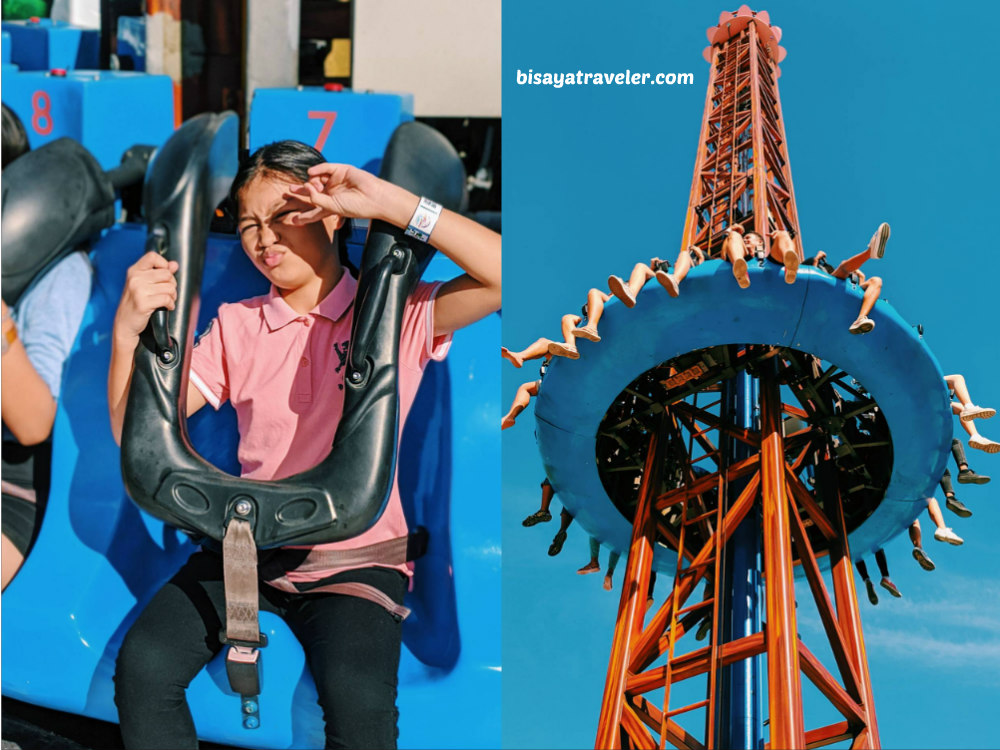 Thus far, my Anjo World Theme Park has been nothing short of fun and fantastic. I was starting to feel the vibes of my Neverland. And, I hadn't even tried any of the Anjo World rides.
Like the fictional faraway island, my Neverland is full of happy people. And, whenever the people surrounding me are happy, I subconsciously trigger and release my Neverland.
Shortly after, Ruby and her daughters arrived in Anjo World Cebu.Without wasting any moment,they experienced the rides of Anjo World Theme Park, and had their minds blown.
The others tried the gigantic ferris wheel – Anjo Wheel – and were amazed by its bird's eye views.
As for me,I was left in a place I call the "babies station", an air-conditioned room for the little ones, watching my daughter sleep so soundly.
And, when they returned to babies station, my wife brought my daughter to the Golden Carousel again for another ride.
With everyone in a jovial mood, I figured out that it was time to treat myself a bit. And, there's no better warm up for the more mind-blowing rides at the theme park than the majestic Anjo Eye – the biggest ferris wheel in the Visayas region.

Anjo Eye
Anjo Eye is, no doubt, one of the biggest reasons why I explored this theme park. I've had my eye on it (no pun intended) ever since I've laid eyes on it from the highlands of Naga, Cebu.
And, now, I'm in a short queue waiting for my turn to ride the famous Anjo Eye.
When it was my turn to ride a gondola, I jumped quickly into the car like a cat. In a slow and steady pace, the wheel kept turning, giving every guest a chance to see Anjo World and other parts of Minglanilla from a bird's perspective.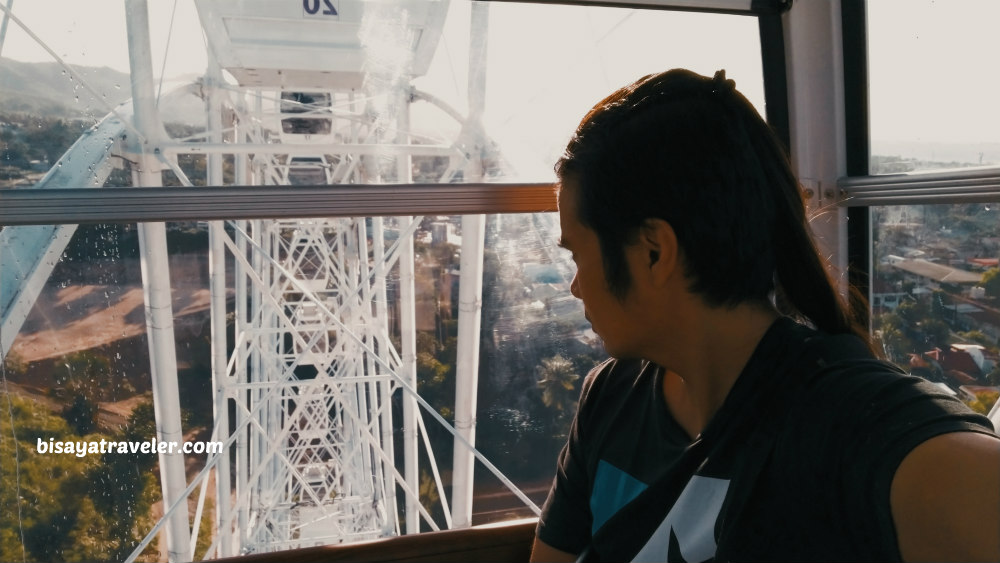 From its lush hills to its bustling streets, I witnessed the beauty of Minglanilla from different angles. Moreover, the ride gave me a good view of the colorful and electric rides in Anjo World.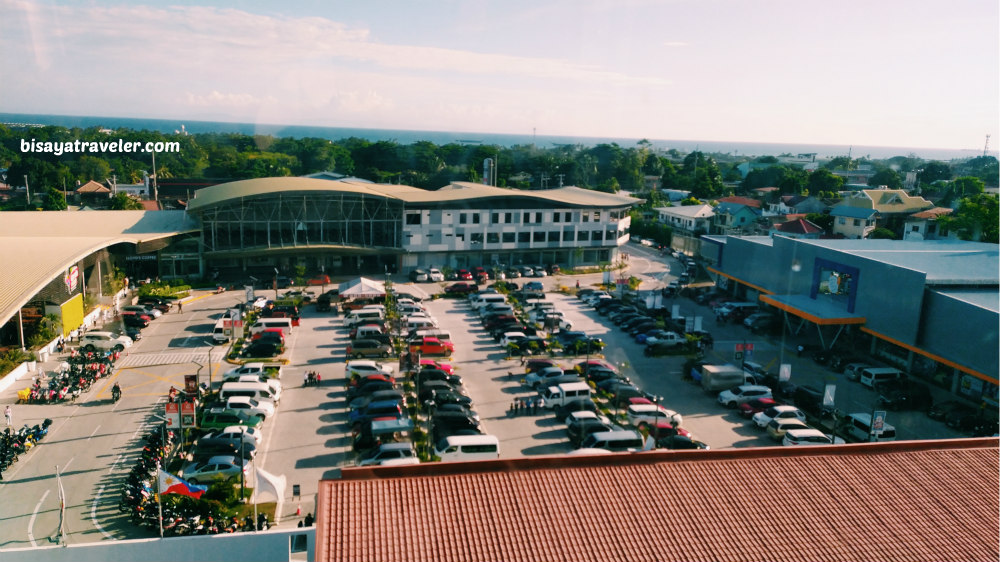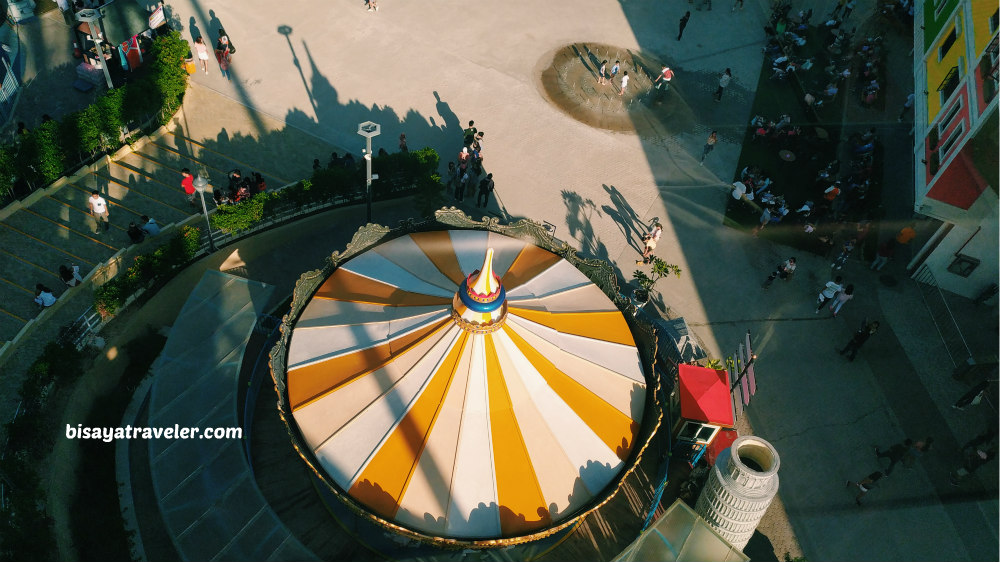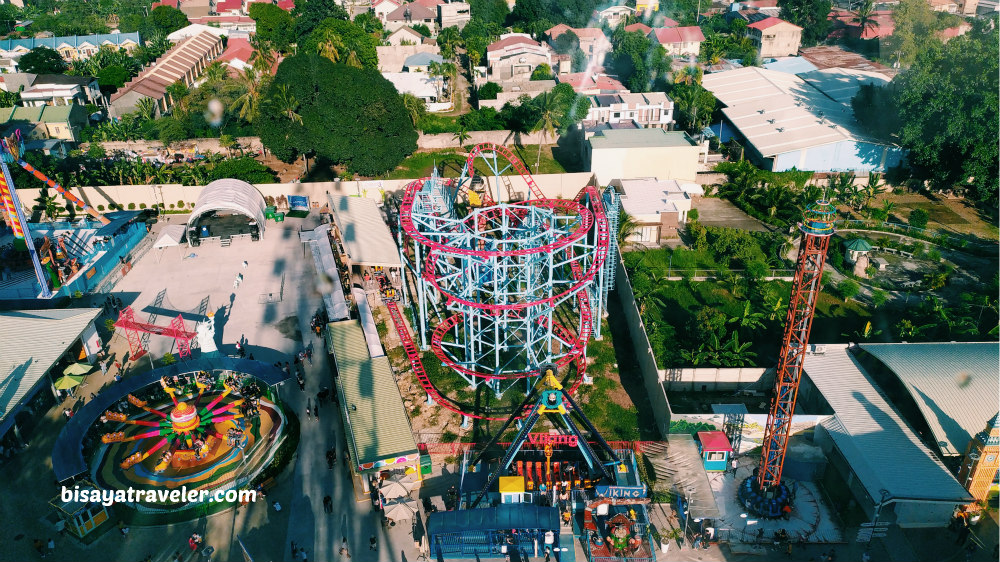 The ride was, by no means, a thrill. After all, it was mainly built for sightseeing purposes and to showcase the beauty of Anjo World Theme Park.
Still, I truly had a swell time savoring the views that looked more dramatic thanks to the amber colors and shades of gold displayed by the plunging sun.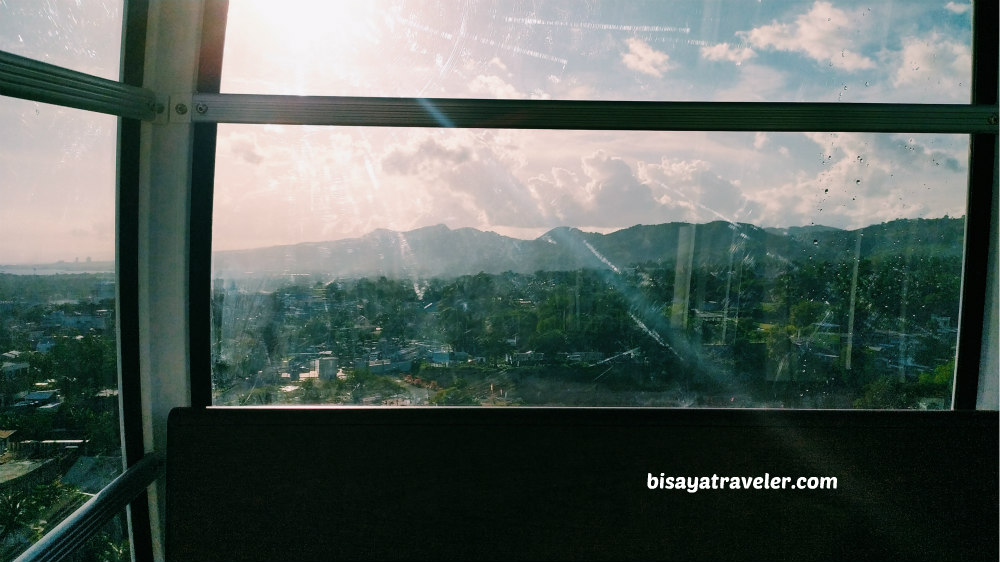 Boomerang
With Anjo Eye in the books, it was time to experience a more heart-pumping and insanely fun Anjo World ride.
So,I searched for Kim, and when I found her, we decided to try the mind-blowing Boomerang ride of Anjo World Theme Park.
From afar, the ride seems incredibly scary and dizzying. Even from a distance, we could hear the screams of people being tossed around by the mighty ride.
I, however, wasn't fazed at all. As I was exploring the theme park, I discovered that the rides of Anjo's World were engineered into perfection.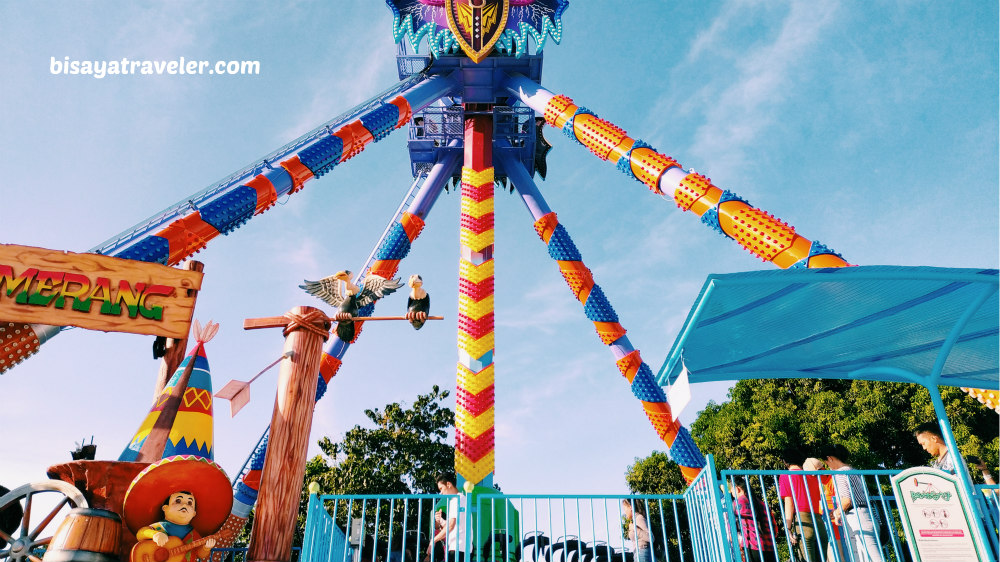 Sure, it can be a hell of a ride, but you always knows nothing terrible is going to happen to you.
When it comes to the safety and sturdiness of their rides, I must say Anjo World is absolutely world class.
There were no clanks and no apparent signs of rust.
And, the sounds of their gear and mechanisms were all crisp and smooth.
I'm not an engineer, but personally, I think Anjo World is an engineering masterpiece.
Aside from the safe ride, I also thought it wasn't as insane and crazy as Danasan's 100-foot skydrop.
If I survived Danasan's skydrop, then this ride would be a breeze.
Well, I was wrong!
Truth be told, it was the craziest and most thrilling ride I've ever had in Cebu.
The ride started with a slow swing. Then, it quickly turned into a dizzying ride that blew our minds.
I underestimated it. As it turned out, Boomerang was even more thrilling and adrenaline-pumping than Danasan's skydrop.
Kim and I heard a ton of expletives and phrases that people usually say when their having a sensual intercourse.
F*ck.
Sh*t.
Mama tabang (mother help in English).
And, atay, which technically liver in English, but a profane word in Bisaya.
I felt like a Kamikaze rider on this insane ride. The views were great, but you can't really appreciate it when you're tossed and swung at an insane pace.
Trust me, this ride is not for the faint of heart or those with a weak stomach.
I was so glad when the ride was over. I wasn't scared of the ride, but damn, I felt so dizzy after the explosive and profane-generating ride.
Amazingly, though, my happy hormones were skyrocketing and I finally arrived at my own version of Neverland.
With adrenaline rushing through my veins and momentum on our side, it was time to cap off my Anjo World Cebu adventure on a high note.
The Pharaoh
We should be taking things slow. We should go for a bump car ride or take a not-so insanely thrilling ride at Anjo World Theme Park. Instead, we opt for arguably the second-most exciting ride of Anjo World: The Pharaoh.
At least, it was a sign that I'm in my Neverland. And, it was a sign indicating that my adventurous alter ego, The Bisaya Traveler, is back.
The ride, although short, was full of twists and turns. Kim, who bought a second round of the 3-ride ticket, experienced the Pharaoh earlier said it was milder, as compared to the Boomerang.
And, she was right. After all, there's nothing inside Anjo World Theme Park that as crazy, fast-paced and insane as the Boomerang.
Still, the ride in the end made my dizzy and even hungry.
Truthfully, I was so glad to hear the pneumatic hiss, a sign that the ride is over.
I felt light-headed after the whole experience. But, I guess I wasn't alone because there were some parts of the theme park that smelled "White Flower oil" – which is commonly used by Filipinos to alleviate sea sickness, dizziness and headaches.
I, on the other hand, have a strange way of dealing with these symptoms. I stretched my muscles, jumped, ran and just like that, the dizziness is gone.
We also spent some time exploring the theme park savoring the gorgeous sights and views.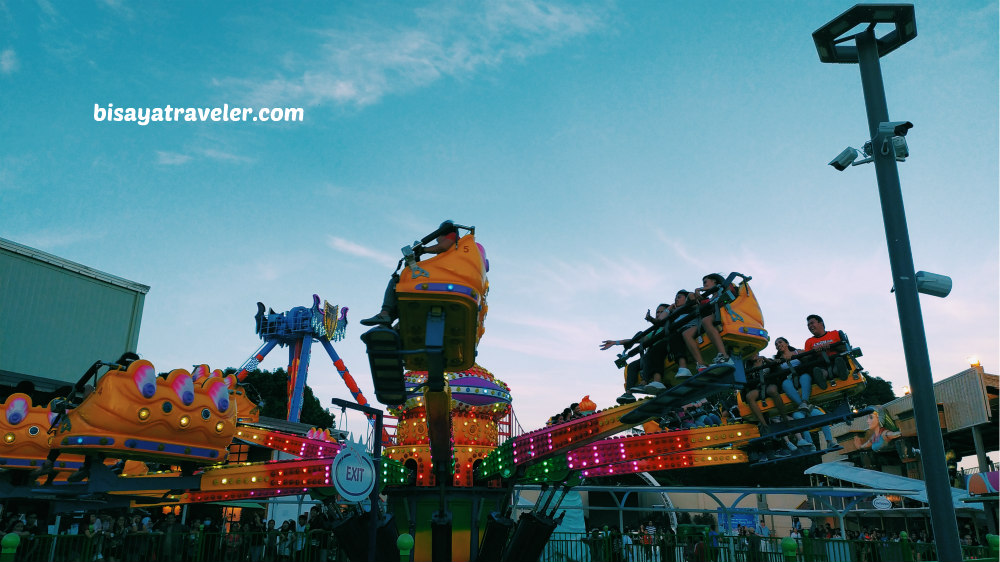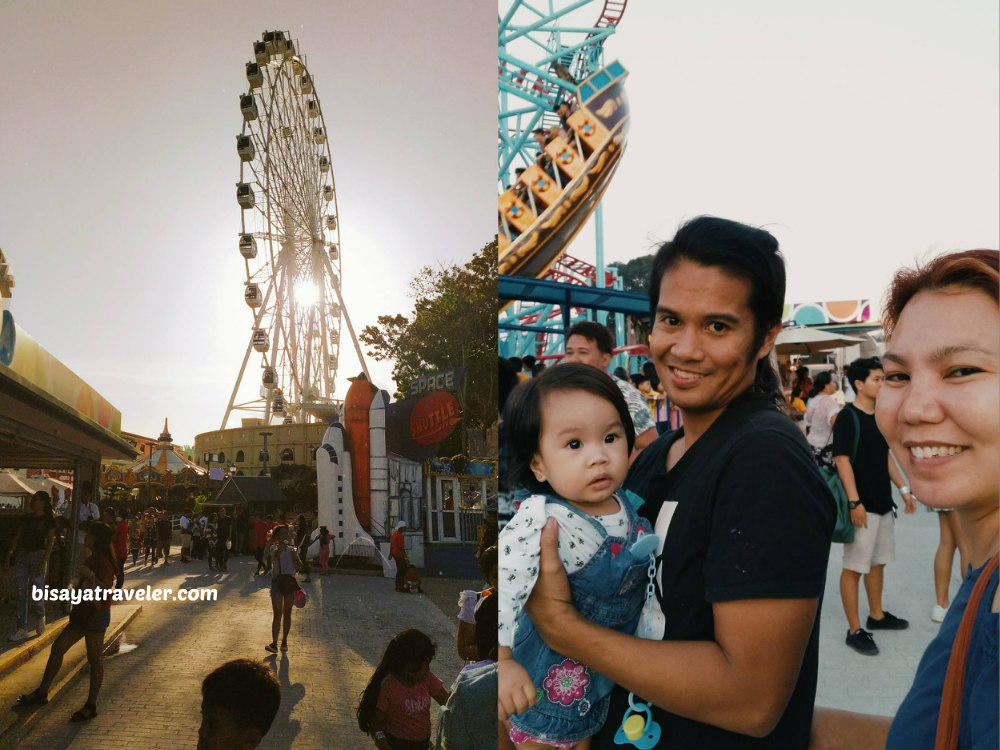 After the crazy and dizzying rides, we decided to call it a day, and head back home with a chock-full of beautiful and fun memories.
And, for a few hours, I've rediscovered my Neverland at Anjo World Cebu.
The thing is, my Neverland is not a physical place. It's a state of pure euphoria, and a stage where my happy hormones are released. And, it's a treasure vault where my happy memories are stored.
For years, I always thought my Neverland can only be achieved with outdoor escapades, trips to foreign lands and things that I do alone.
But, as I continue to adapt to the changes, I learned that my Neverland is wherever my family is. And, it's a place inside my playful mind where my beautiful memories with them are stored safely.
There's not a place or a theme park like Anjo World that can replace my Neverland. But, my experiences in these kinds of places will surely add more beautiful memories to my treasure-filled island.
Anjo World prices for tickets
| | | |
| --- | --- | --- |
| Ticket type | Monday to Friday | Saturday and Sunday |
| Day adventure pass (unlimited rides) | PHP 500 | PHP 600 |
| Day adventure pass (unlimited rides) with Snow World | PHP 700 | PHP 800 |
| Junior day adventure pass (kids 35 to 55 inches tall) | PHP 400 | PHP 480 |
| Junior day adventure pass (kids 35 to 55 inches tall) with Snow World | PHP 600 | PHP 680 |
| Super Tres – 3 rides (Available until January 31 only) | PHP 180 | PHP 180 |
| PWD/Senior Citizen | PHP 357.14 | PHP 428.57 |
| PWD/Senior Citizen with Snow World | PHP 535.71 | PHP 607.14 |
| Snow World Entry | PHP 350 | PHP 350 |
How to get to Anjo World Cebu
By jeep
Getting to Anjo World Theme Park via jeepney is fairly easy.Just take a jeepney ride (Labangon routes like 12L, 12D and 12G) to Lourdes Parish in Punta Princesa. Once there, look for jeep or multicab plying the Punta Princesa to Naga/Minglanilla route (43 or 44). Ask the driver to drop you off at Robinsons Minglanilla. Fare is around PHP 14 to 16.
Alternatively, you may take the jeepney ride to Bulacao from from SM City Cebu (10H). Then, hop on a jeep bound for Naga or Minglanilla.
By Bus
From Cebu City Bus Terminal, hop on any bus and ask the driver or conductor to drop you off at Robinsons in Calajoan, Minglanilla. Fare is usually PHP 30 to 40.
By private car
You can easily find Anjo World Cebu using Google Maps or Waze.
By Taxi or Grab
Since it's a little from far the center of Cebu City, expect to pay around PHP 400 per way for a Grab or Taxi ride to Anjo World Theme Park.
Anjo World contact details
Opening hours:
Mondays to Fridays: 01:00 to 08:00 PM
Saturdays and Sundays: 10:00 AM to 08:00 PM