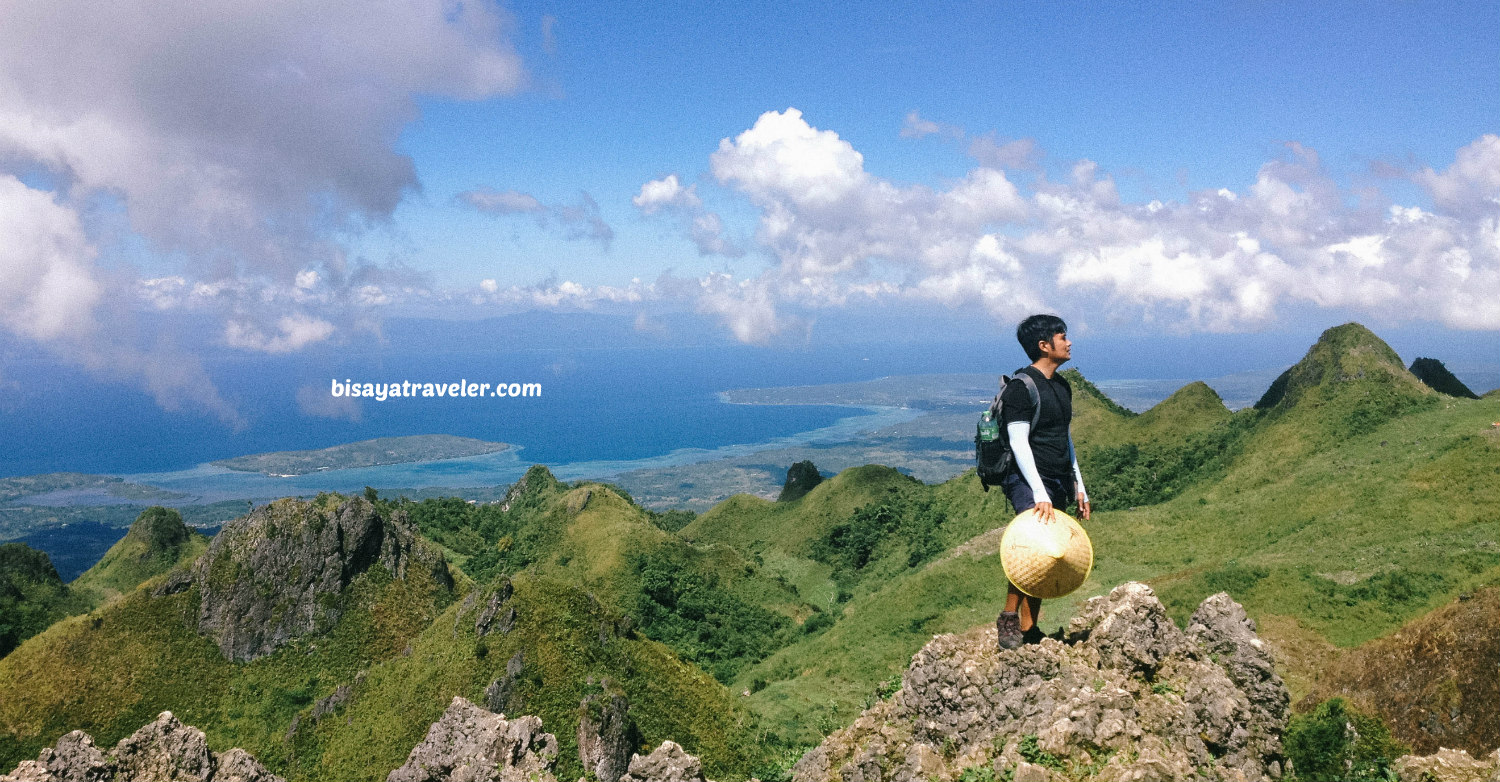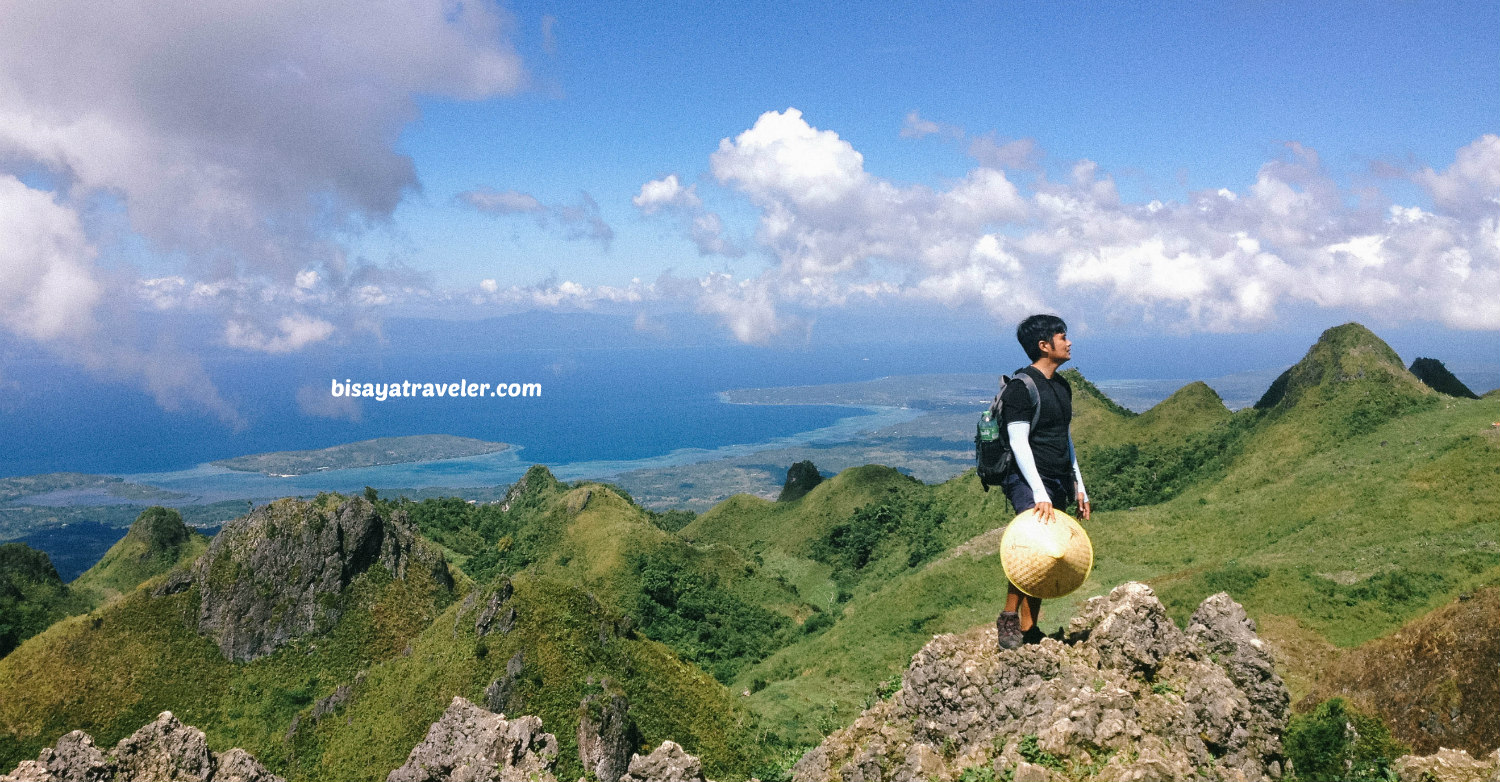 41 Incredibly Fun Things To Do In Cebu
Packed your vitamins? In a province jam-packed with adventures and sights, you'll definitely need them, on your visit to Cebu. From cultural and historical riches to awe-inspiring natural marvels, there are a lot of insanely fun things to do in Cebu for all types of travelers. And, while I've been living in Cebu for decades, I still haven't seen and experience every stunning sight and adrenaline-pumping diversion in this Southeast Asian hub. The way I see it, Cebu has a lifetime of adventures and experiences to offer to the open-minded and wide-eyed explorer.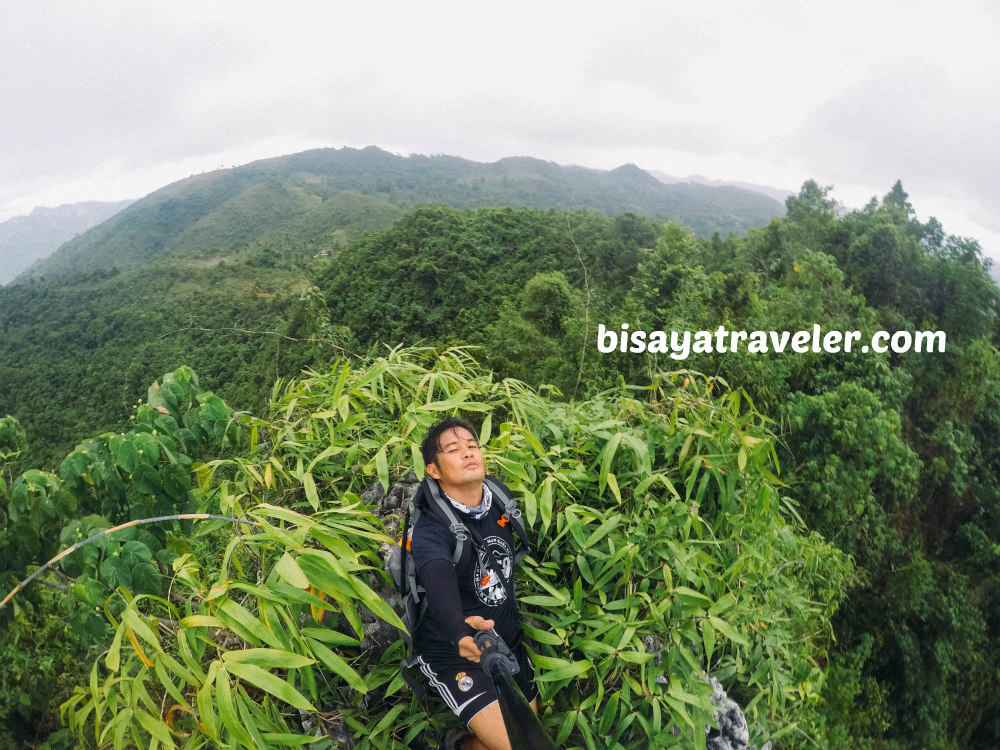 Traveling to the world's 6th best island, but don't know what to do in Cebu? Here are some suggestions from a local adventurer – me – who has experienced some of the most incredible things to do in Cebu.
1. Experience sardines run in Moalboal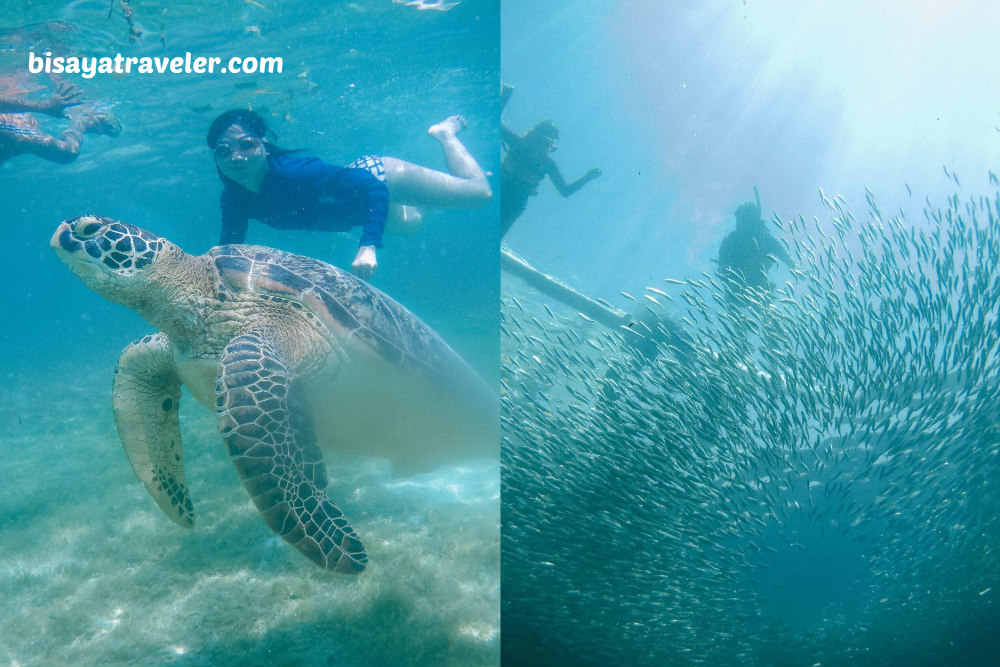 Want to see something spectacular? Then, make sure to include Moalboal's sardines run to your list of things to do in Cebu! A quintessential stop for a South Cebu travel itinerary, this extraordinary underwater spectacle wows divers and snorkelers with its jaw-dropping sardine formations and immense volume. Aside from the surreal sardines run, an island hopping tour in Moalboal will also take you to Pescador Island as well as a turtle sanctuary.
2. Explore Carnaza Island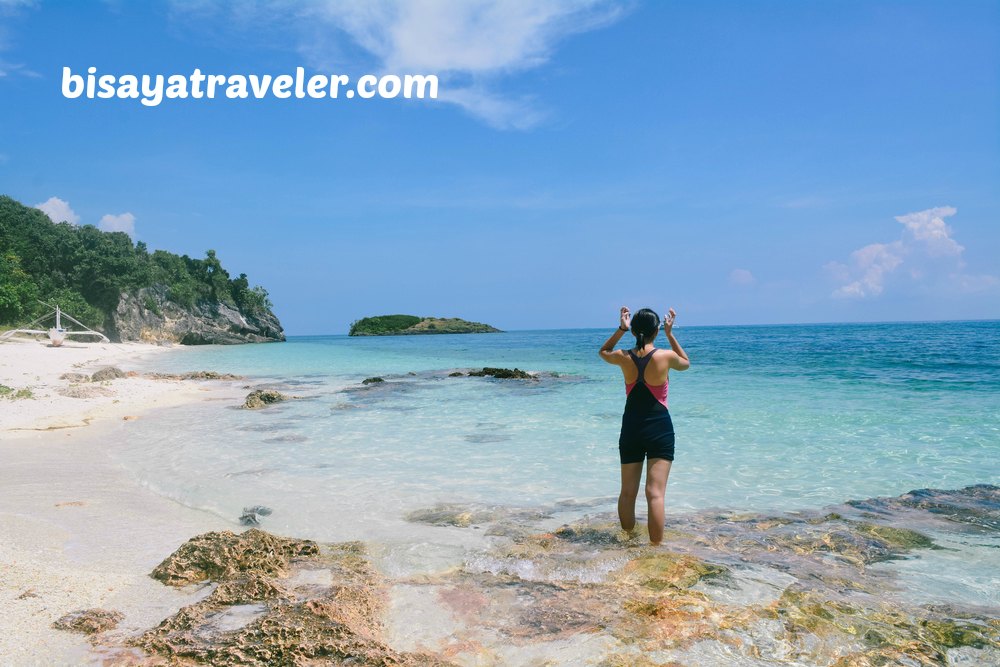 Craving a little more sunlight and a heavy dose of Vitamin SEA? Head to Carnaza Island, and experience a tropical getaway that you'll remember for years to come. With its laid-back feel, crystal clear waters and pristine powdery sands, it's truly one of the can't-miss things to do in Cebu for beach bums and weary travelers.
3. Scale Lantawan Cliff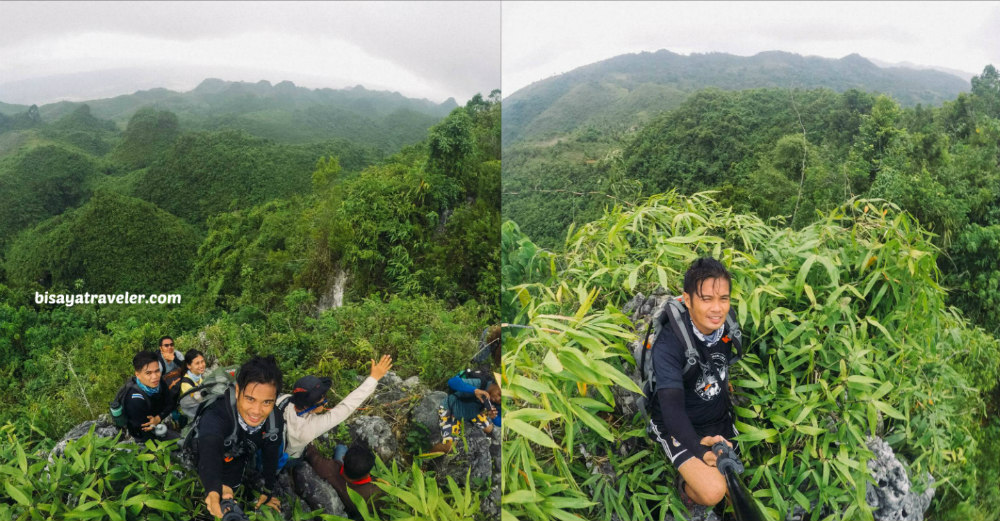 Up for heart-pumping things to do in Cebu? Trust me, you'll love every minute of your climb to Lantawan Cliff.  Although it's rarely featured in Cebu travel blogs, Lantawan Cliff will still swept you away with its dramatic panoramas and pretty challenging trail.
4. Hike Osmeña Peak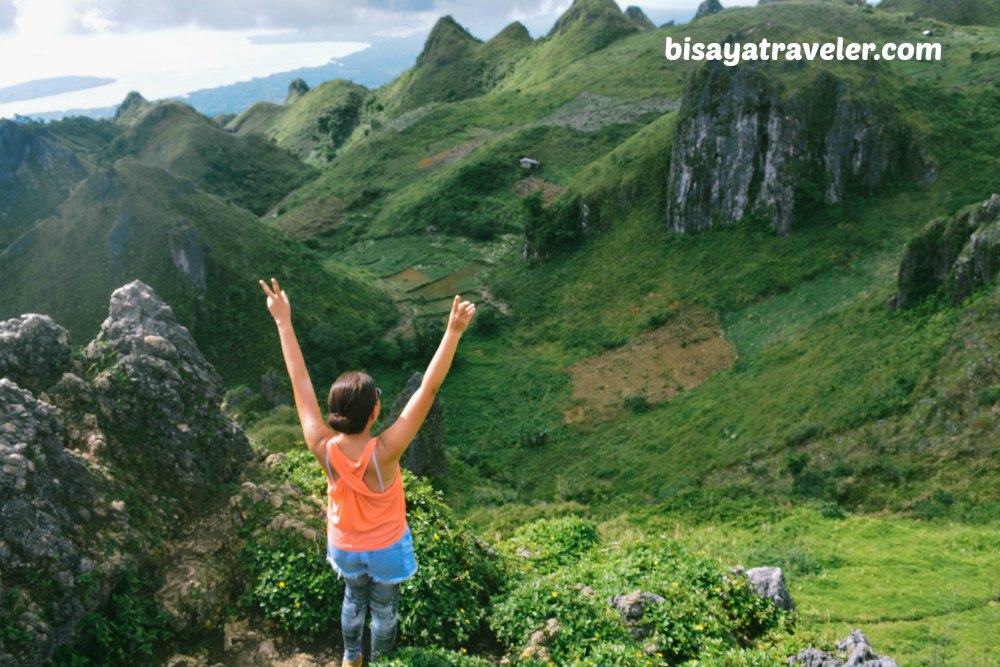 With so many tourists flocking to this mountain, Osmeña Peak is quite frankly not one of my favorite things to do in Cebu. Still, it's an irresistible sight for most tourists, especially to those who want to add more life and flair to their Instagram account. With its breathtaking bird's eye views and fresh mountain breeze, this mainstream Cebu attraction lures tourists who are yearning for a scenic, short and easy hike. To make your trip even more memorable, pay a visit to the nearby Flower Garden, and be sweep into bliss by its blooming flowers.
5. Be mesmerized by Casino Peak's Chocolate Hills  
Think you need to travel all the way to Bohol to lay eyes on the iconic Chocolate Hills? Guess what? You can see a surreal Chocolate-Hills-like backdrop, following a short hike up to Lugsangan Casino Peak. And, the best part is, it's one of the best and coolest FREE things to do in Cebu!
6. Visit Cebu Safari Adventure Park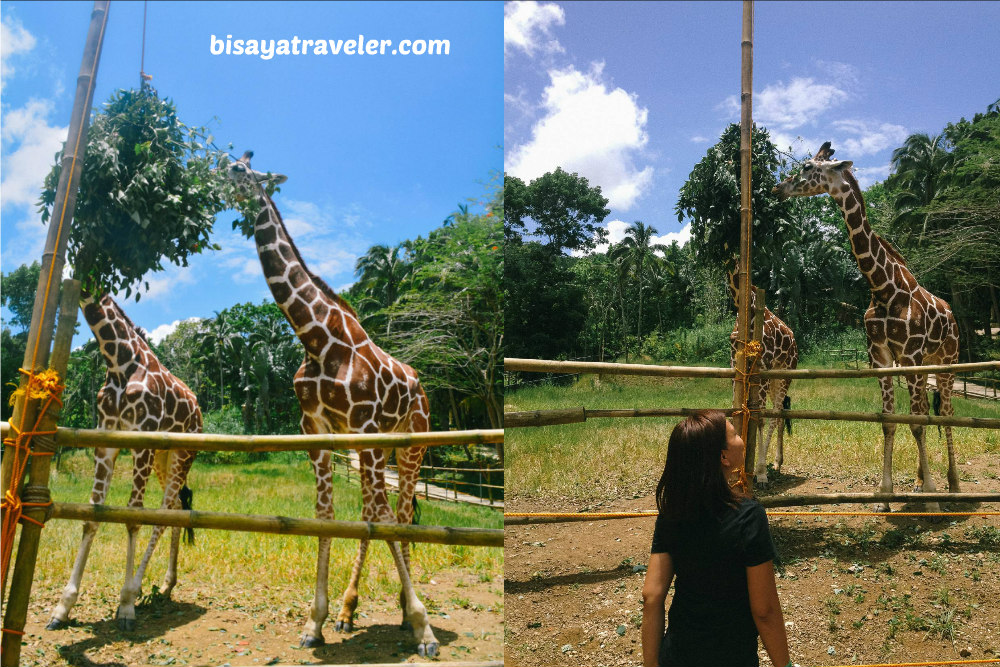 Traveling with your little ones? Why not drop by the island's ultimate wildlife haven – Cebu Safari Adventure Park? From towering giraffes to the burly white tiger, Cebu Safari Adventure Park is home to over a thousand fascinating animals, making it a must-see spot for animal lovers looking for cool things to do in Cebu.
7. Swing by the Hidden Valley resorts in Pinamungajan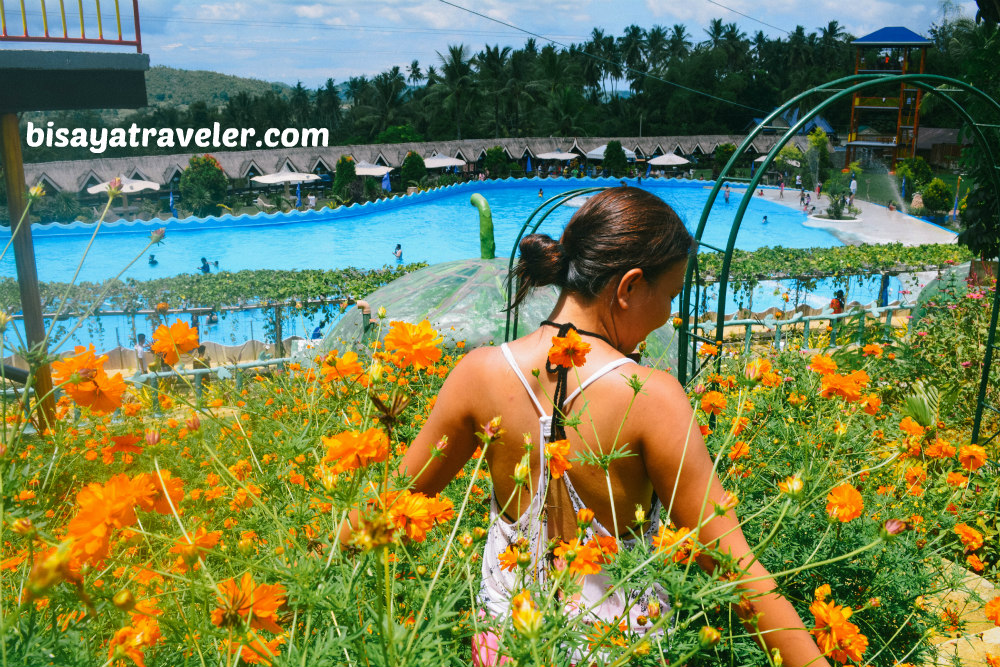 Speaking of child-friendly things to do in Cebu, you might to check our Hilden Valley Resorts in Pinamungajan. Here, you get to take refreshing dip at any of its array of pools, including the famed wave pool. Furthermore, the resorts have tons of attractions and diversions to offer to kids and adults alike, like the bike zipline. And, did I mention that it's within walking distance to the uniquely beautiful cave-waterfall – Udlom Falls?
8. Sightseeing in Boljoon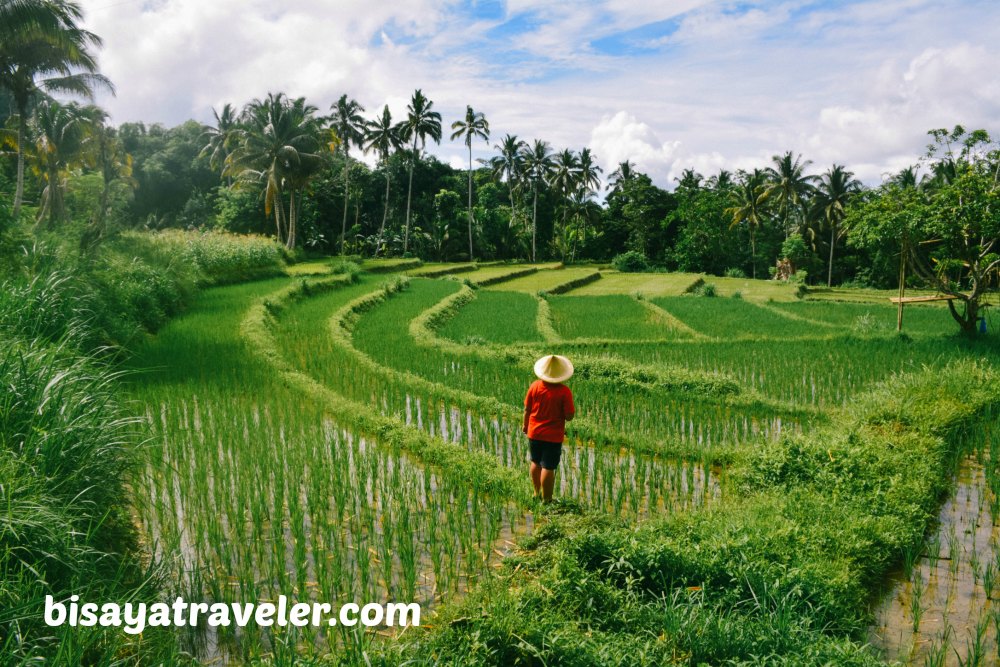 Boljoon is, hands down, one my favorite towns and places to visit in Cebu. Not only is it drenched in culture and history, but it's also home to some of the most photogenic attractions in Cebu, like Ablayan Peak and Ili Rock. Plus, it boasts a couple of waterfalls and lovely rice paddies that will somehow remind you of Bali, Indonesia.
9. Experience the heart-pumping thrills of Danasan Eco Park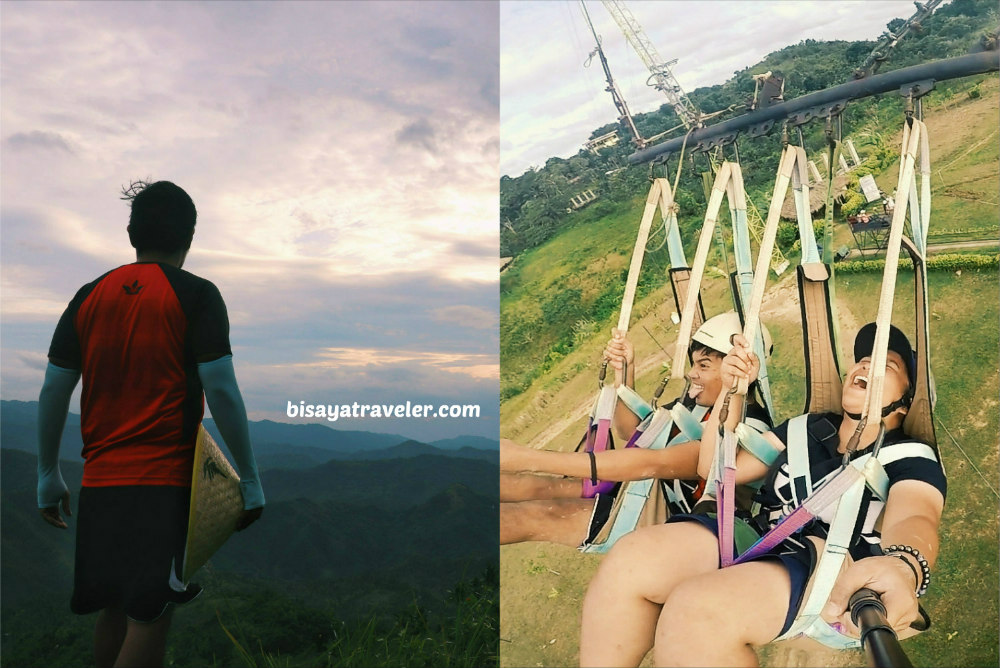 Not for the faint of heart, Danasan Eco Adventure Park offers some of the most mind-blowing things to do in Cebu, like the heart-pumping 100-foot skydrop. Thrilling rides aside, the park also has great accommodations and a pair of impressive natural wonders – Danasan Peak and Danasan Falls.
10. Chase waterfalls in Pinamungajan
Looking for offbeat things to do in Cebu? In Pinamungajan, you'll find not just one, but a trio of undervalued waterfalls – Busagak Falls, Liki Falls and Udlom Falls. As an added bonus, the town also offers a handful of hidden gems, like Tagaytay Peak, Sinungkolan Spring and Cabasaan Peak. To top it all off, it boasts dramatic sunsets that will unleash your inner shutterbug?
11. Hit two birds in one stone in Copper City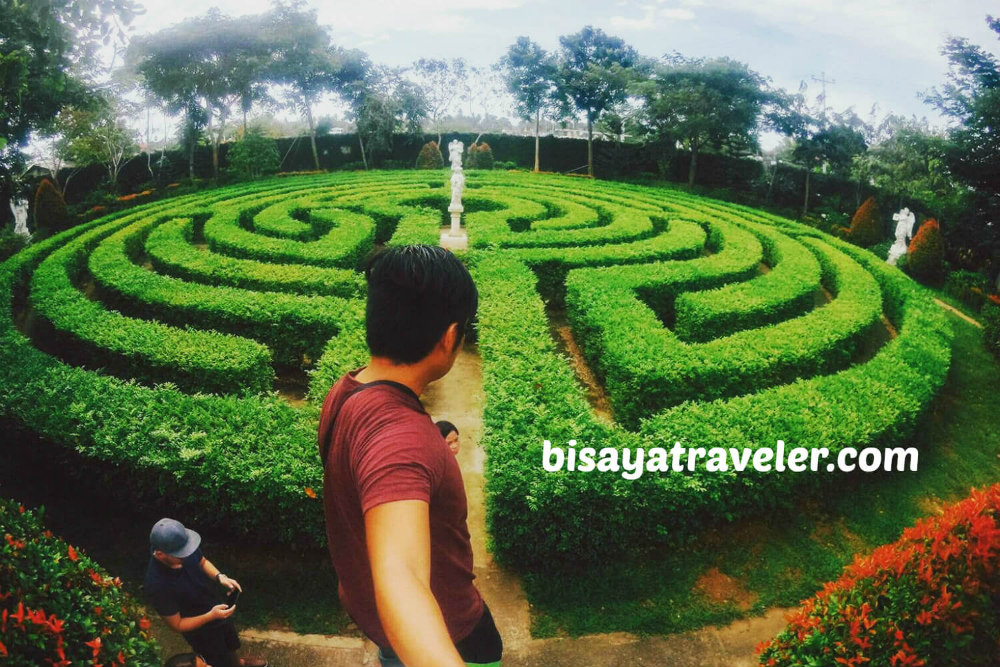 Start your trip to Toledo City on a high note by visiting the wondrous Capilla Santa Ana, and its hypnotizing maze garden. Afterwards, make your way to Cebu's toxic yet Instagram-worthy manmade crater – Biga Pit.
12. Visit the floral wonders of Cebu's highlands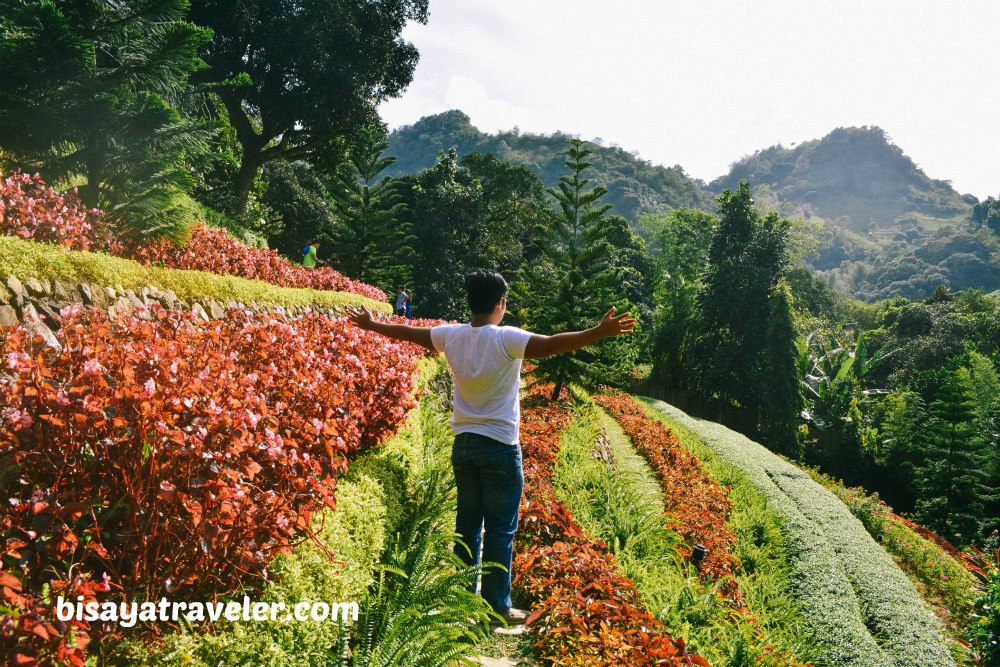 Cebu has a collection of fascinating Instagrammable flower gardens that will unleash your inner shutterbug, like Terrazas de Flores, Buwakan ni Alejandra and Sirao Flower Gardens.
13. Catch Mount Naupa's sea of clouds
Sea of clouds in Cebu? If you're lucky and the universe in on your side, you'll have a chance to see this rare natural phenomenon in the highlands of Naga, Cebu.
14. Conquer Kandungaw Peak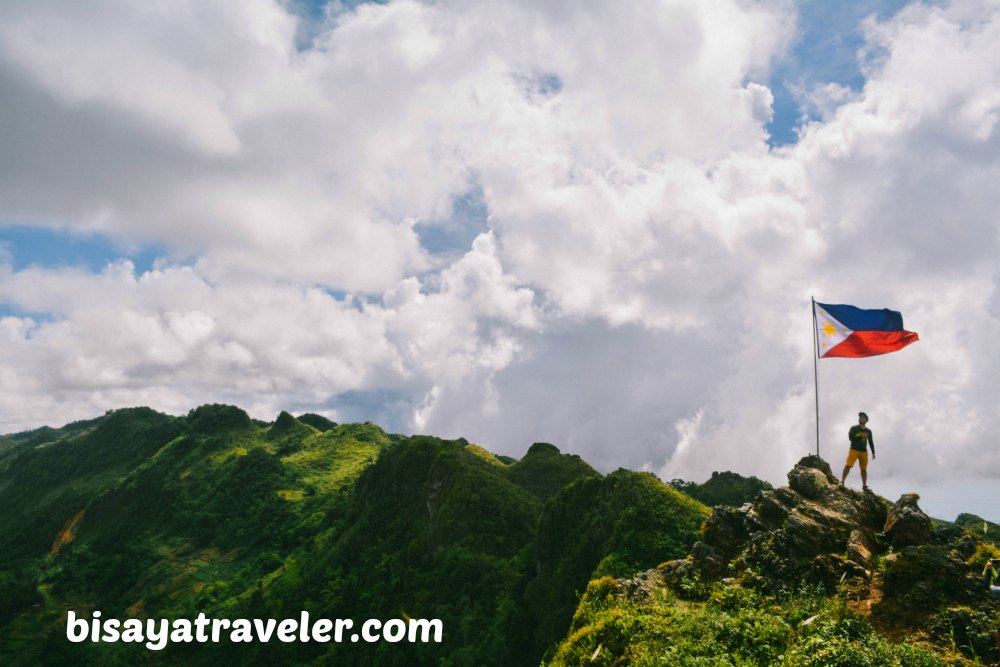 No list of the top things to do in Cebu is complete without the inclusion of – Kandungaw Peak. On a clear and sunny day, you can see the skyscrapers and shorelines of metro Cebu from this splendid vantage point. What's more, it has a pair of nearby mountains – Lover's Peak and Sunset Peak – that offer breathtaking sights of Badian and Dalaguete.
15. Take a walk on Cebu's wild side at Crown Regency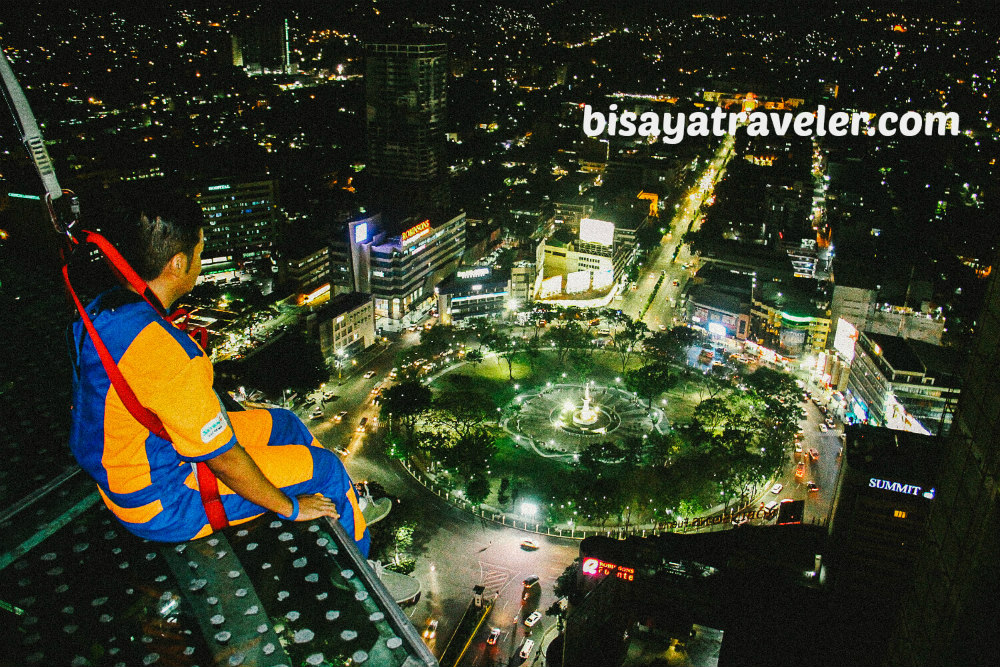 Often voted as one of the most exciting things to do in Cebu, the Skywalk Extreme offers a bucket-list adventure for intrepid urban travelers. Besides the thrilling one-of-a-kind stroll, the walk also lets you soak up the amazing views of Cebu City from a bird's perspective.
16. Hike Spartan Trail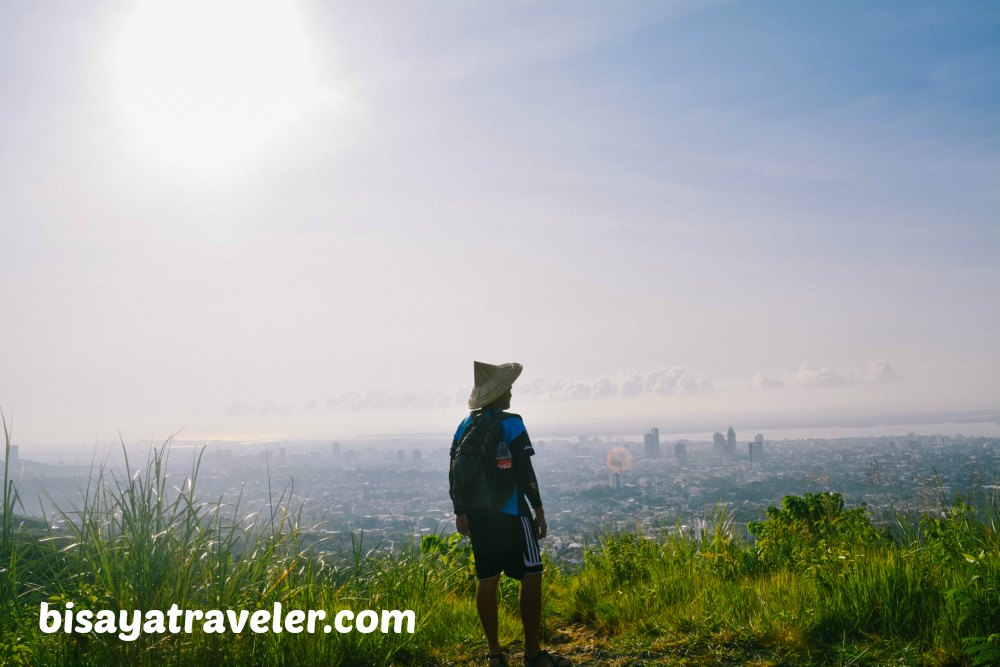 Channel your inner hiker by taking one of Cebu's most popular urban hikes – Spartan Trail. Even though the backdrop isn't really jaw-dropping, it's nonetheless a great hike to escape the metro's restless energy and bustling traffic jams. Not to mention, it's a great way to meet the local mountaineers and adventurers in Cebu.
17. Explore Oslob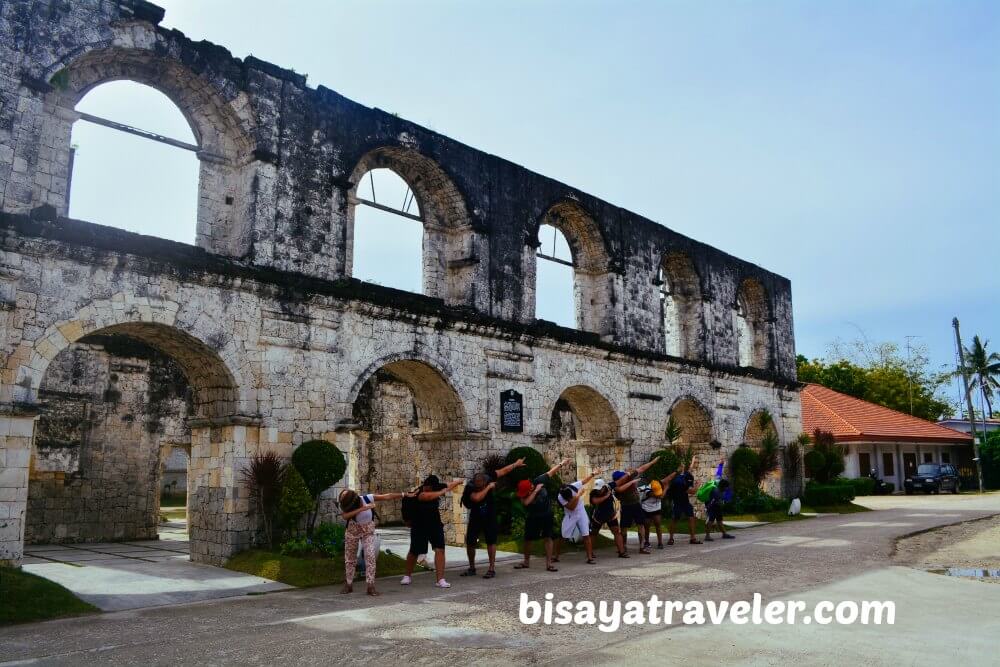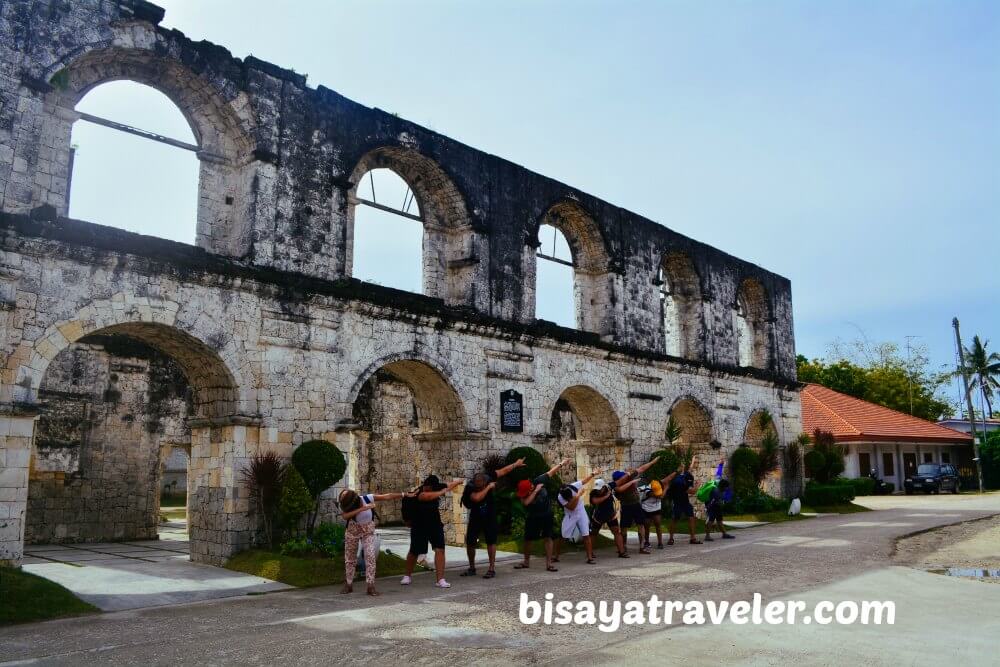 Truthfully, I'm not the biggest supporter of Oslob's whale shark experience. But, f*ck, it seems a lot of people like it, and would often include it to their bucket list of things to do in Cebu. In addition to its friendly sea giants, there are a few attractions in Oslob that are worth checking out, such as Tumalog Falls, Sumilon sandbar and the Cuartel.
18. Experience the azure waterfalls of Alegria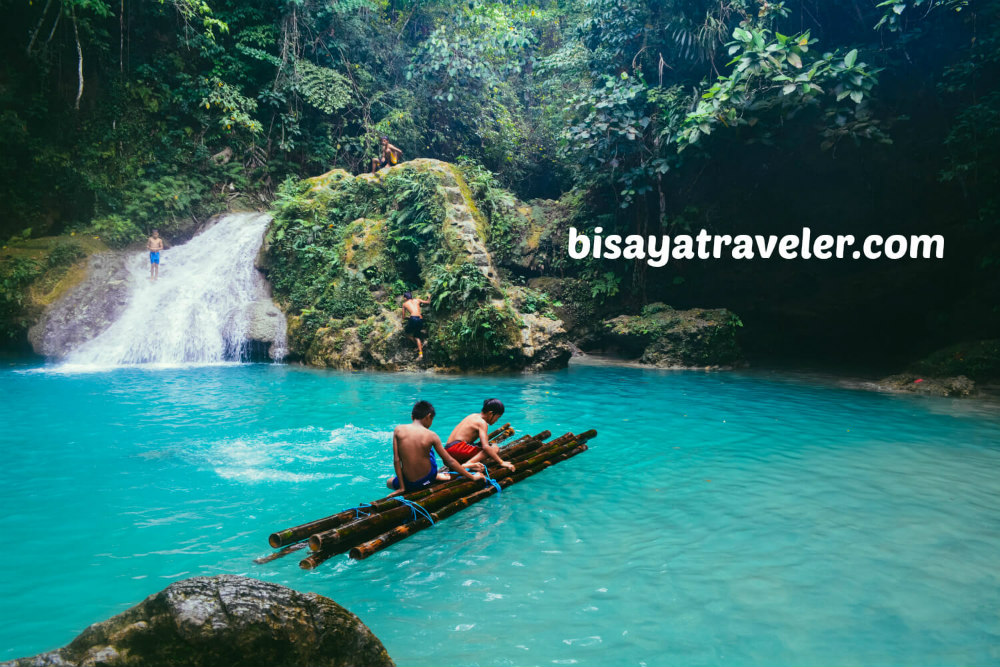 Wondrous, relaxing and simply beautiful, Alegria's waterfalls are arguably the best that Cebu has to offer. To me, these cascades are best experienced following a hike to Alergia's towering mountain – Mount Lanaya.
19. Visit the majestic Kawasan Falls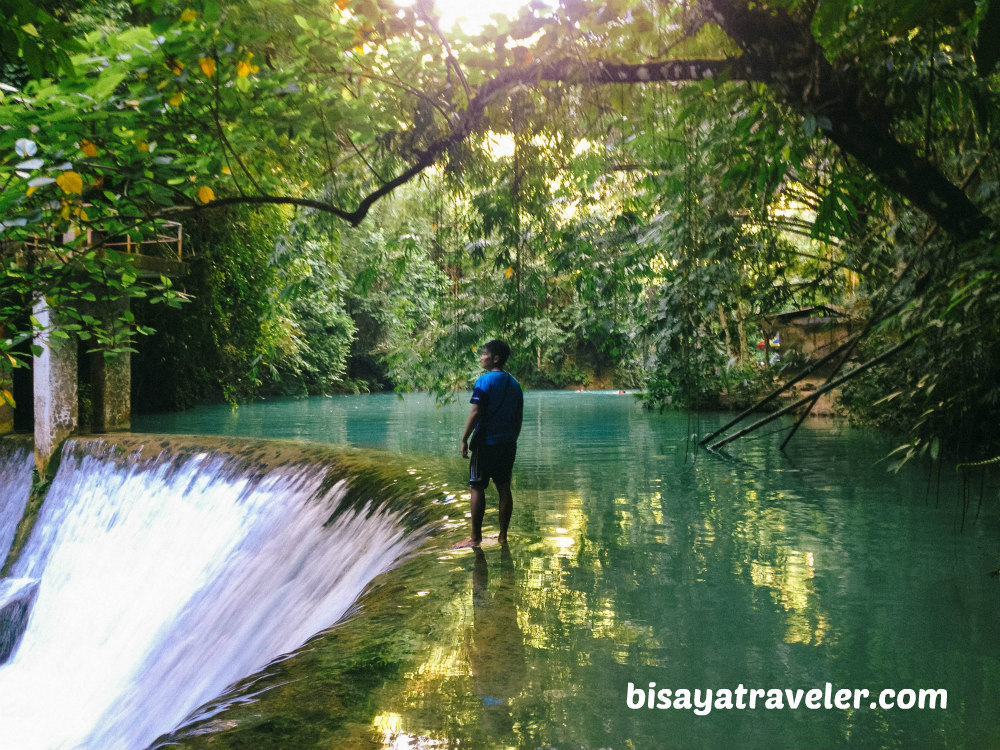 Kawasan is, for the most part, the first thing that comes into mind, when people brainstorm for things to do in Cebu.  With its ice-cold photogenic waters and refreshing scenery, it's indeed a sight you can't afford to miss in Cebu. And, if you want to make your visit even more exciting, go on a canyoneering adventure in Kawasan Falls, Cebu.
20. Admire the striking sunset from Lambug Beach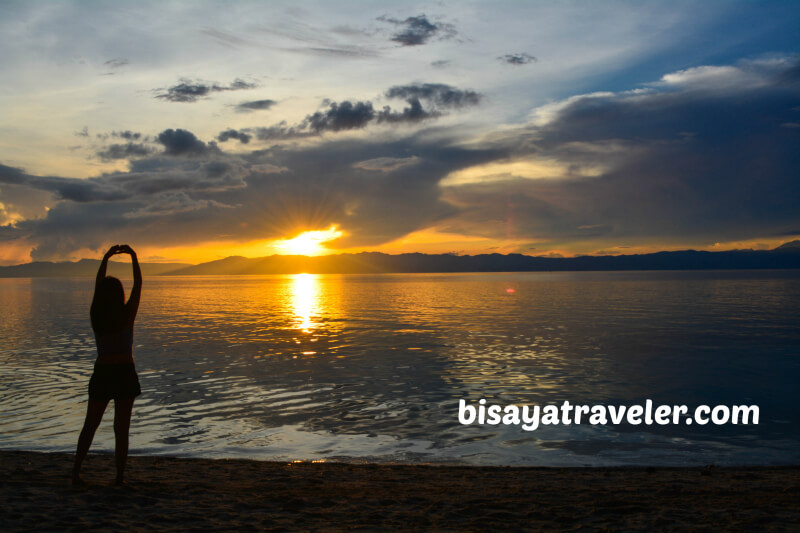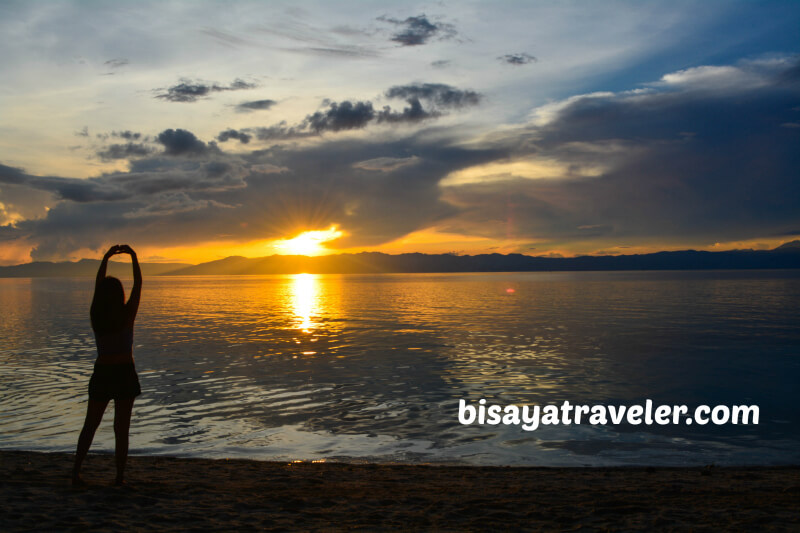 After your Kawasan Falls escape, head to Lambug Beach and be enthralled by its dramatic and gorgeous sunset.  Of course, you can some swimming there too.
21. Hike Naga City Boardwalk to Pangilatan Peak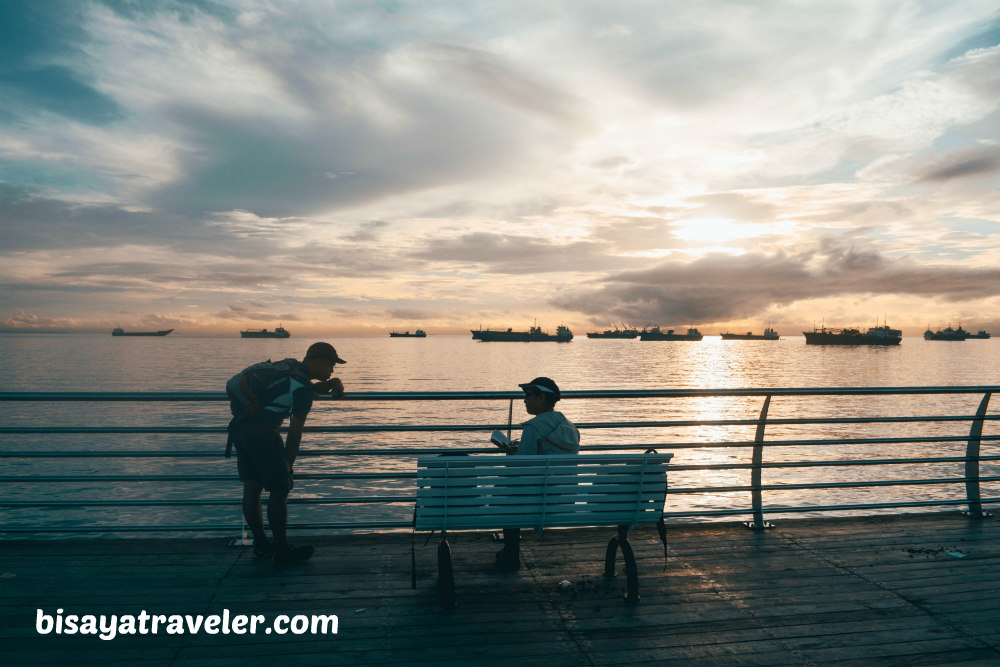 Searching for local secrets and offbeat things to do in Cebu? As far as I know, only a few people, including yours truly, have tried this trail in Naga City, Cebu. With this hike, you get to enjoy sweet sights and views from three places in Naga – Naga City Boardwalk, Mount Magdook and Pangilatan Peak.
22. Check out Mount Makatol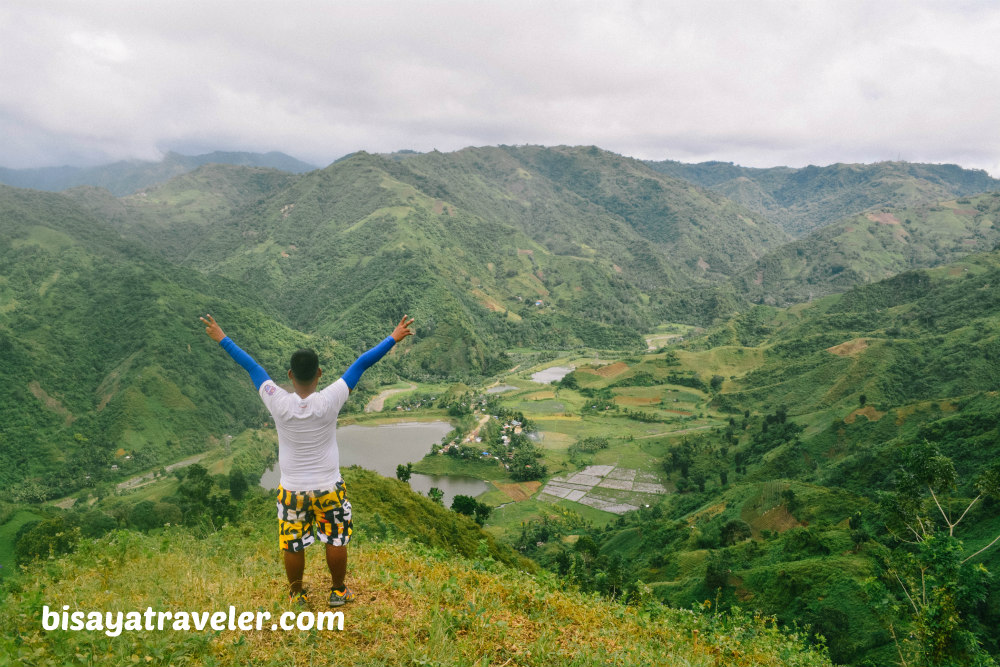 Hiking Mount Makatol is, by far, is an amazingly unique experience for locals and tourists alike. Tucked away in the highlands of Toledo, Mount Makatol is an alluring peak with stunning panoramas and fresh mountain air. Billed as one of the best offbeat things to do in Cebu, Mount Makatol is also surrounded by dozens of refreshing, untouched and nameless waterfalls.
23. Visit AO Farm via a San Carlos Heights hike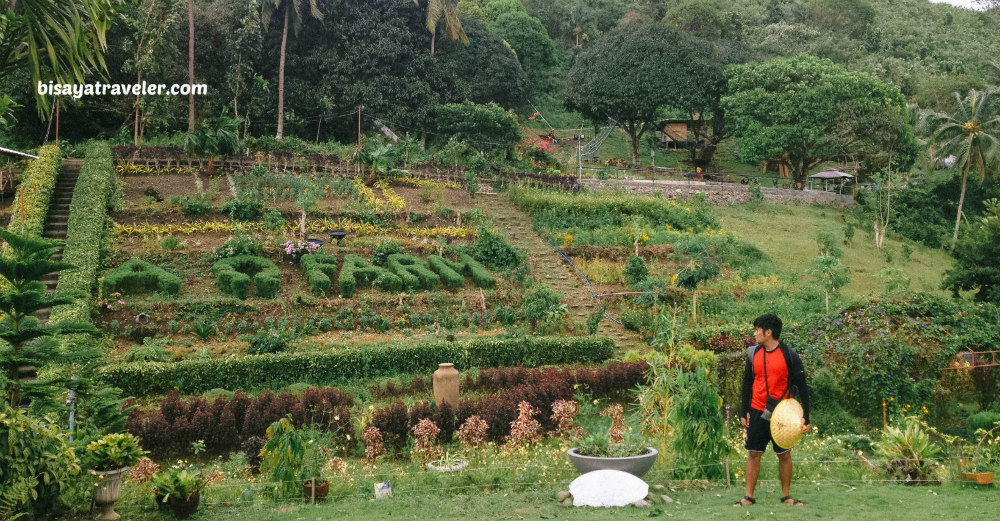 You may easily get to AO Farm with a quick habal-habal ride from 711 Punta Princesa. If, however, you want to make your visit a bit more exciting and fun, take a hike from San Carlos Heights to Toong. Not only is it insanely exciting and fun, but it also offers some great overlooking vistas.  Furthermore, you'll be hiking on a scenic trail that would somehow remind you of Bohol's Manmade Forest.
24. See the largest Cross in Cebu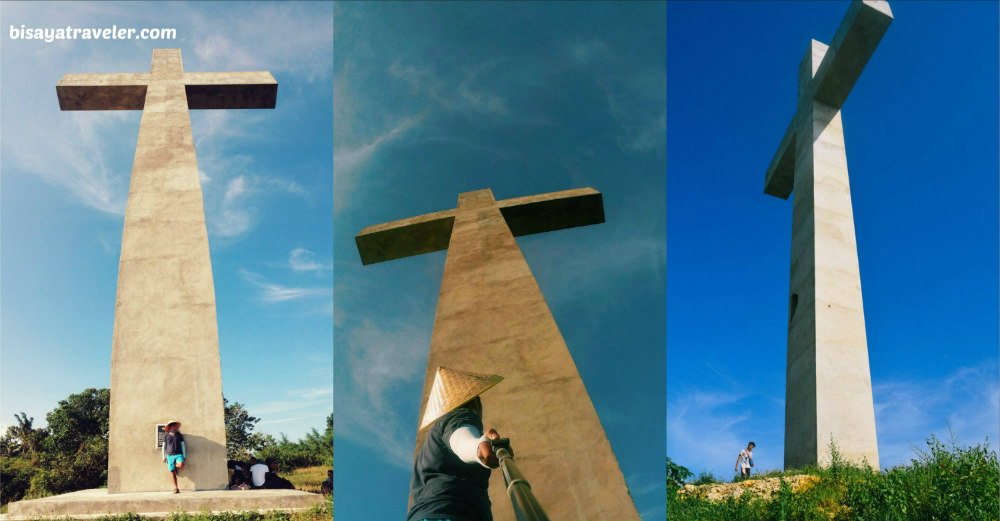 Itching to see something that's not in the typical list of things to do in Cebu? Why not drop by the largest crucifix on the island – Holy Cross Tagaytay? Located in a hilly region in Compostela, this cross will leave you speechless and in awe, with its sheer size and outstanding overlooking vistas of the towns and cities in Cebu.
25. Visit Mount Mago and the divine Lapos-Lapos Cave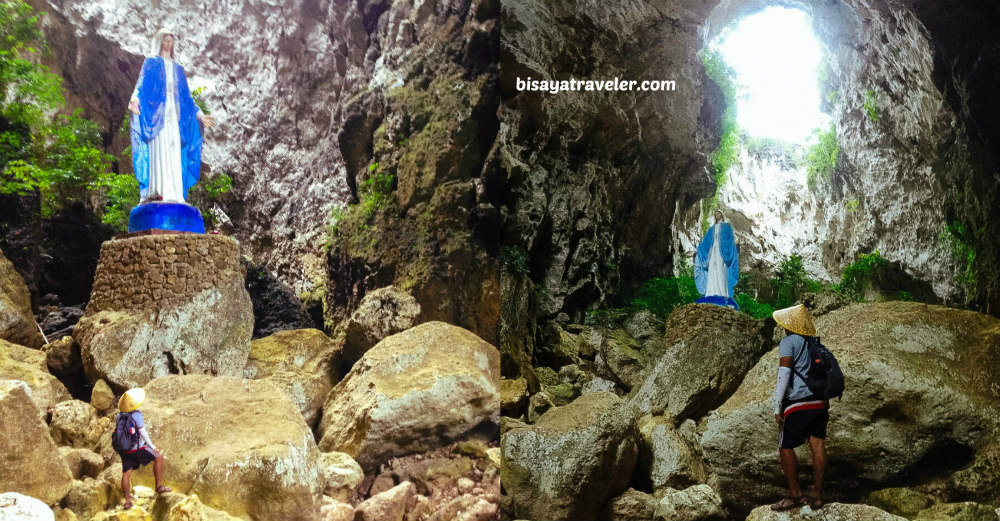 Hit the rolling hills in Mount Mago, and be in three places at once. Then, make your way to Saint Benedict's Monastery, and catch sight of the astonishing Mother Mary statue inside Lapos Lapos Cave.
26. Scale Puting Bato in Lutupan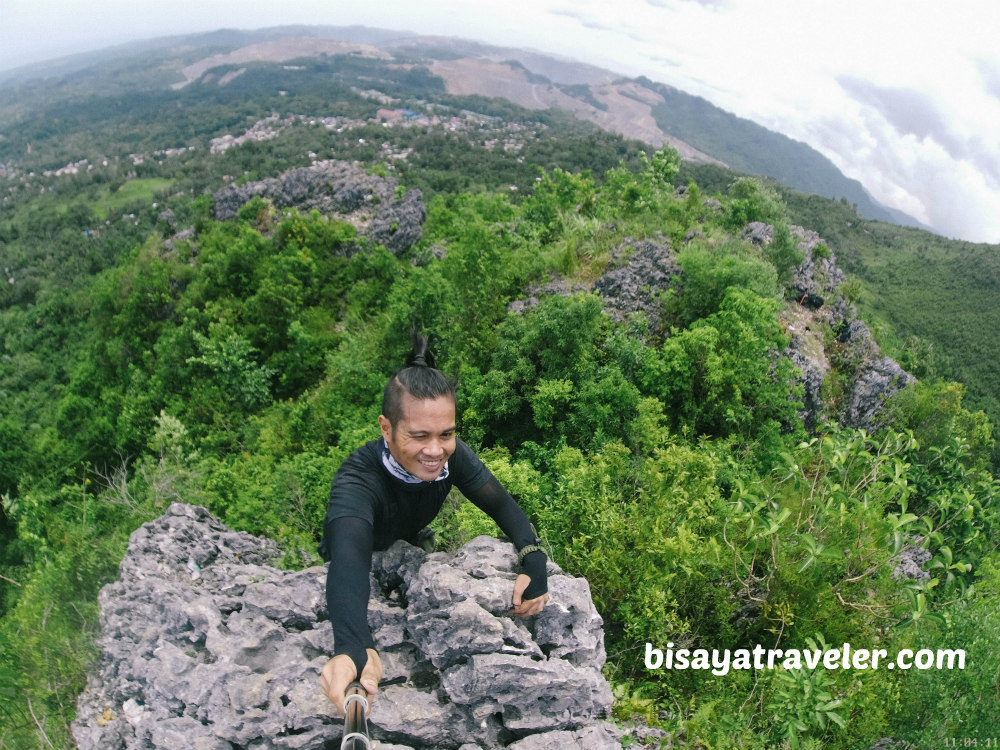 The views on top aren't really great, but it has an element of adventure, thanks to its precarious and bushy trail. As a matter of fact, you have to do a little rock climbing to reach the summit of this monolith in Cebu.
27. Venture into Lapos-Lapos Cave, Toledo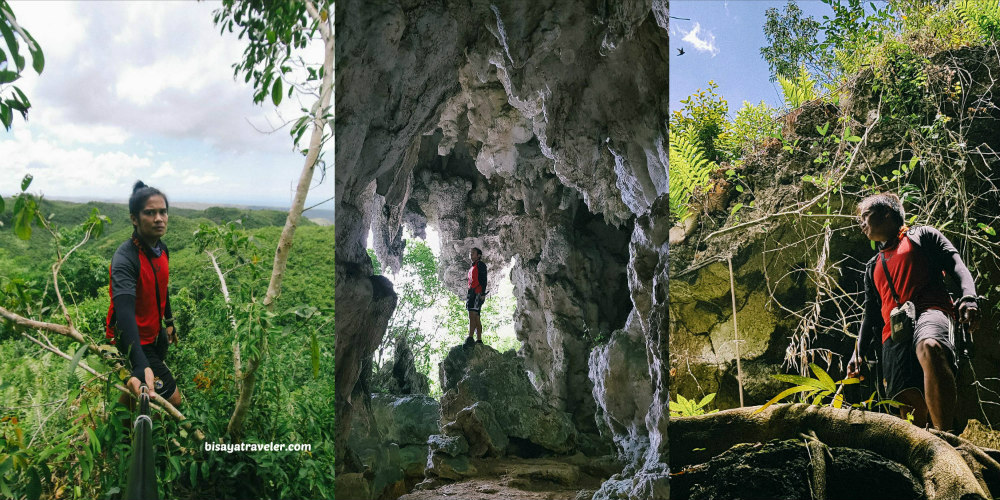 Discovered recently by a bunch of local adventurists, Toledo's Lapos Lapos Cave offers an exciting escapade, with its panoramic cliff and taverns.
28. Retreat to Coal Mountain Resort in Argao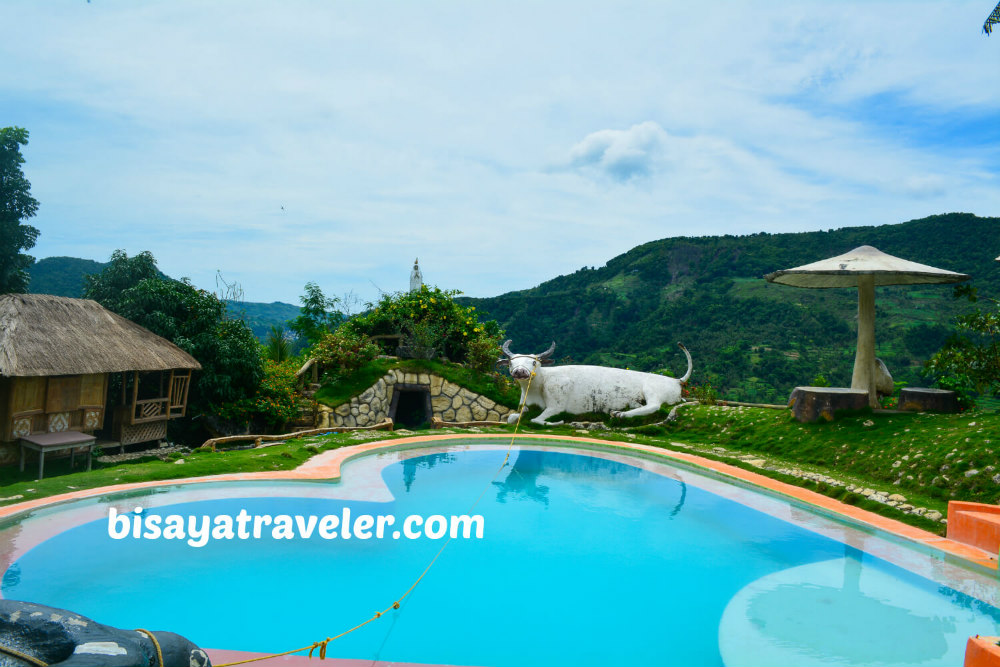 I love Coal Mountain Resort! With its idyllic mountain setting and cluster of diversions, it's the perfect getaway for those who need some rest and relaxation. Additionally, there are small yet lovely rice terraces nearby that make great snaps for your IG feed.
29. Experience Balay sa Agta and Bugasok Falls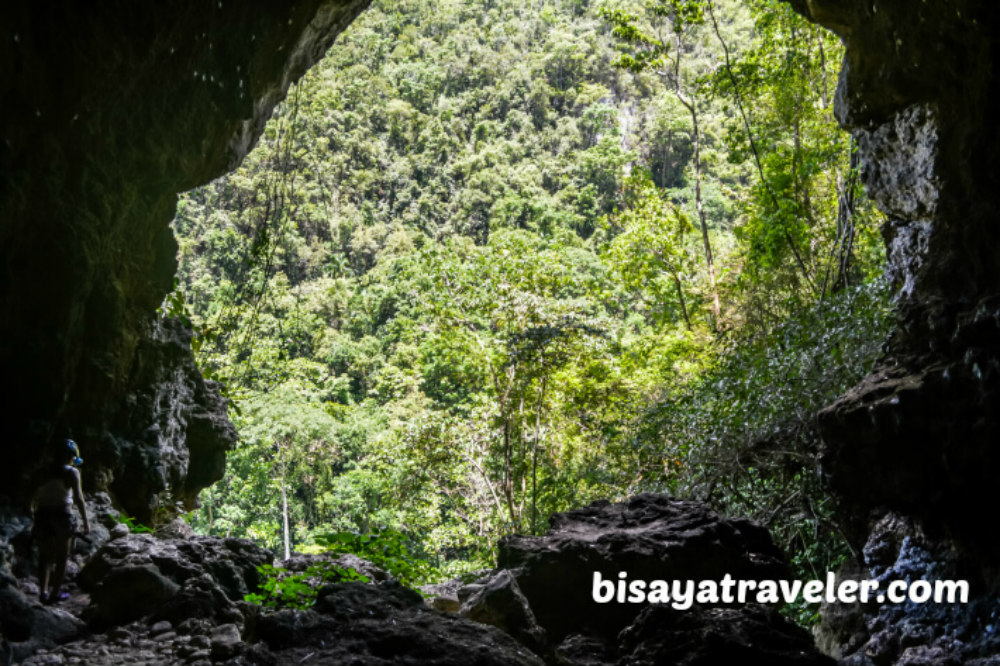 Balay sa Agta is a bizarrely beautiful and mystical cave with plenty of surprises for its visitors. As a history buff and culture, it was also a delight for me to hear fascinating stories of this cave. Once you have finished exploring the cave, you may take a dip at the nearby cascade – Bugasok Falls.
30. Go on an eating spree at Sugbo Mercado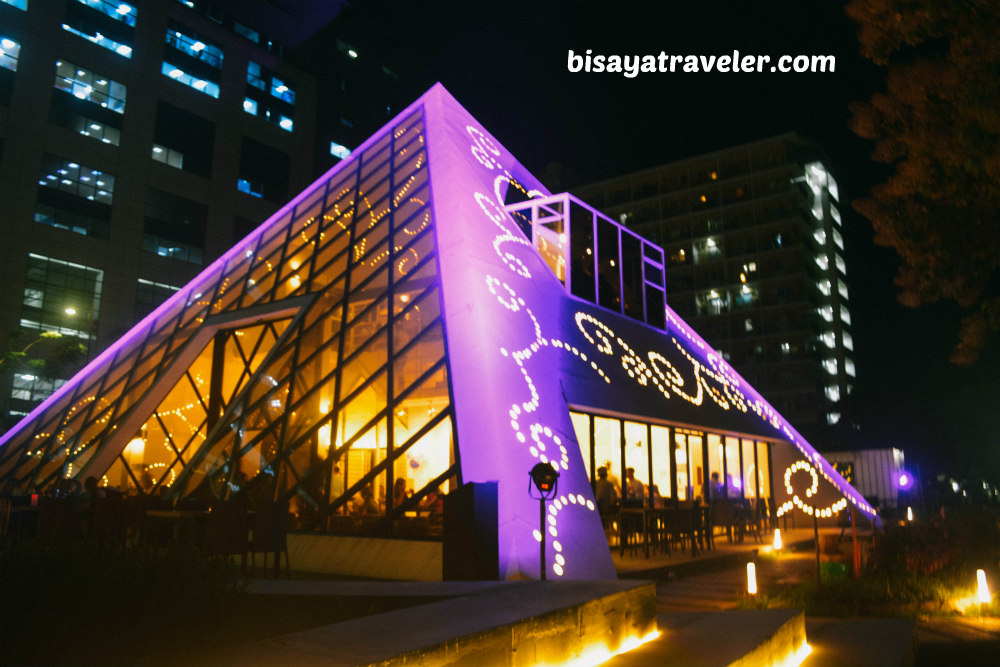 For foodies, make it a point to include a stopover to Subgo Mercado to your list of things to do in Cebu. Nicknamed aptly as Cebu's ultimate food market, Sugbo Mercado offers a smorgasbord of treats to appease your gastronomic urges and palate. From local delicacies to international flavors, it's a one-stop hub for anyone who loves to eat. And, when you're done munching on mouthwatering treats, go to the Pyramid, and gaze on its gleaming and symmetrical architecture.
31. See Malubog Lake and its attractions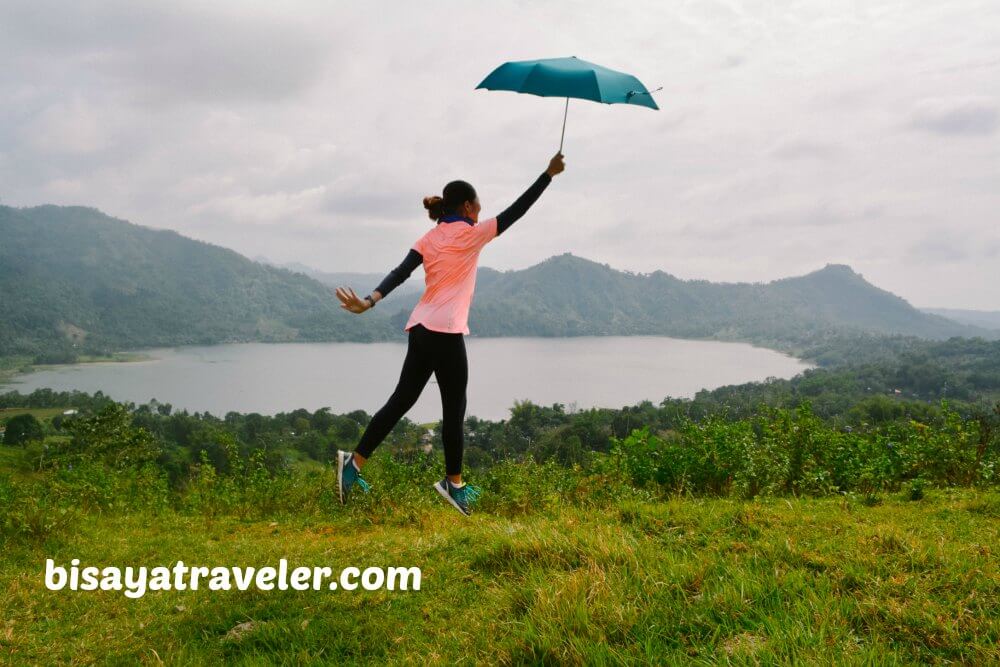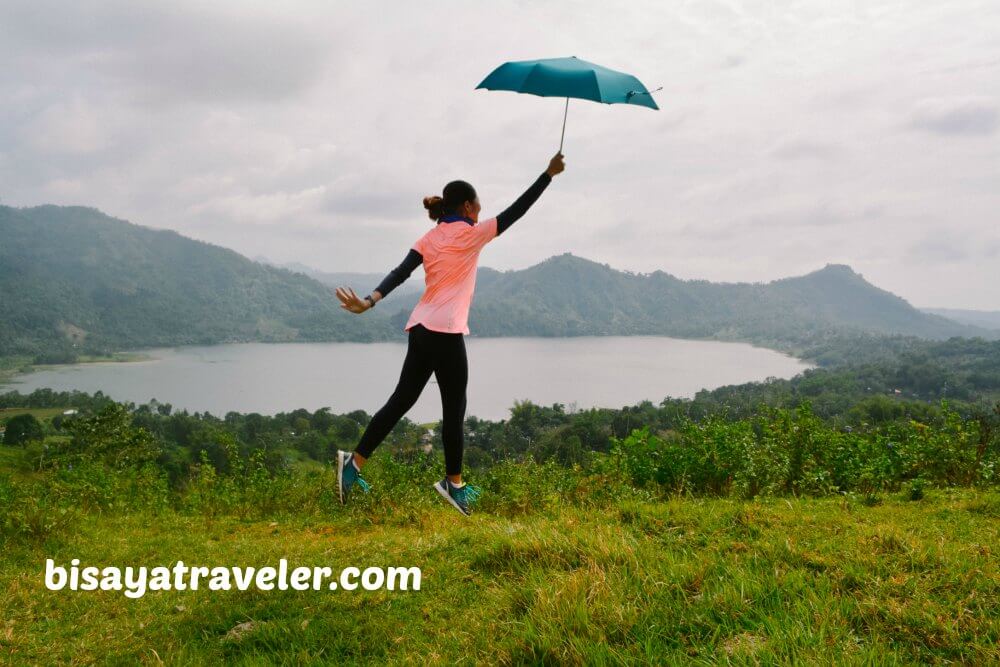 There's surely no shortage of sights and attractions in Malubog Lake, Toledo. In my recent visits here, I've seen quite a few intriguing places, including Tagaytay Hill, Malubog Falls, Malubog Tunnel and many more.
32. Scale the mountains of Casoy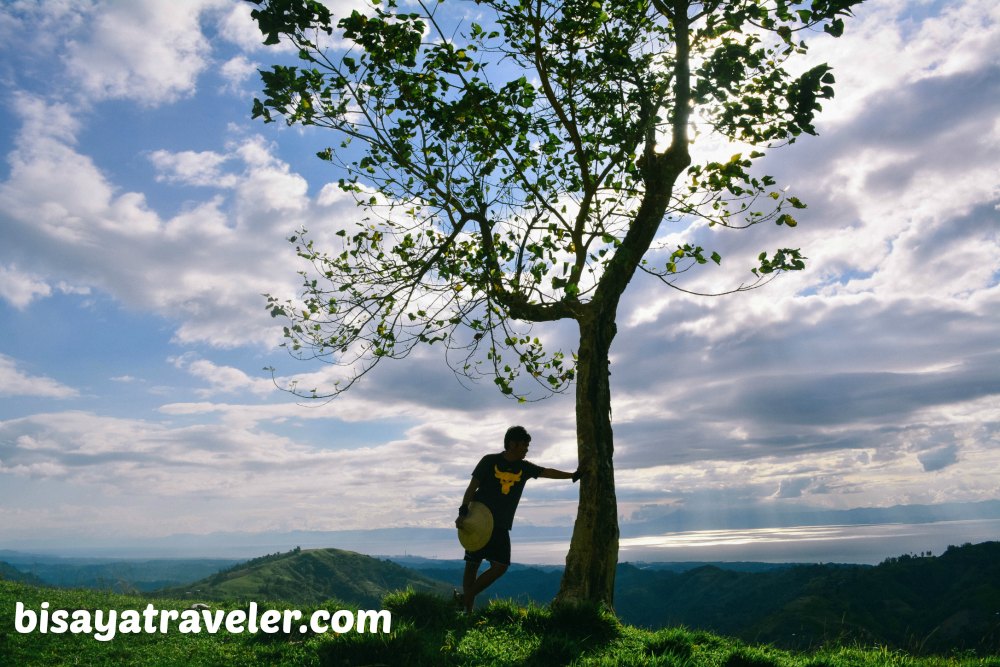 Once you're done catching the attractions in Malubog Lake, take your adventure up a notch by hiking its mountains, such as Udlom Peak and Mount New Bucao. For mountaineers and shutterbugs, it's without a doubt one of the top things to do in Cebu.
33. Temple hopping in Cebu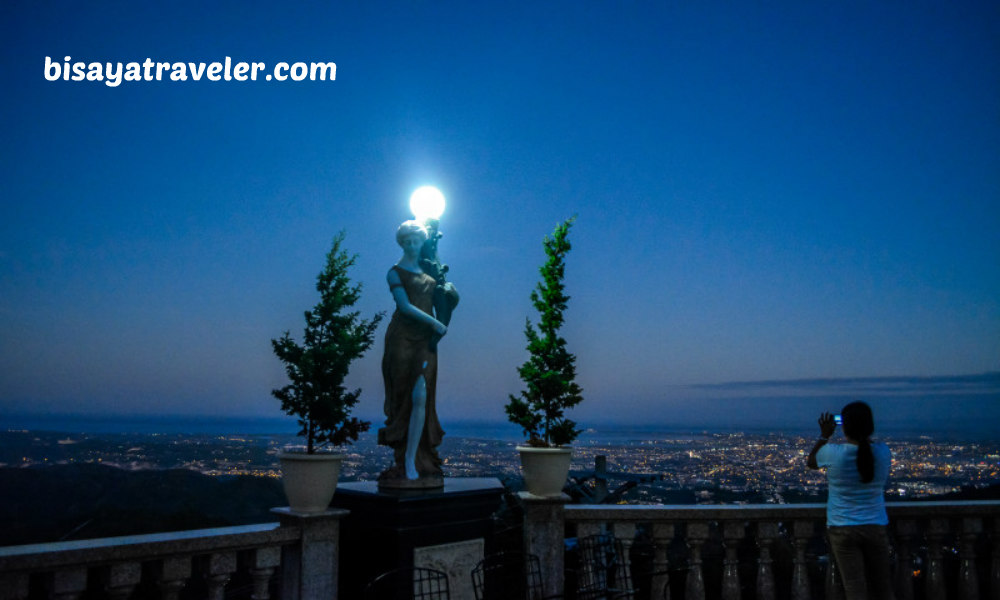 Start your temple hopping trip hitting one of the classic attractions and things to do in Cebu – visiting Taoist Temple. After finding your zen in this temple, head uplands to the famed Greek-inspired attraction in Cebu – Temple of Leah (technically, not a temple).
34. Enjoy a taste of Palawan in Bojo River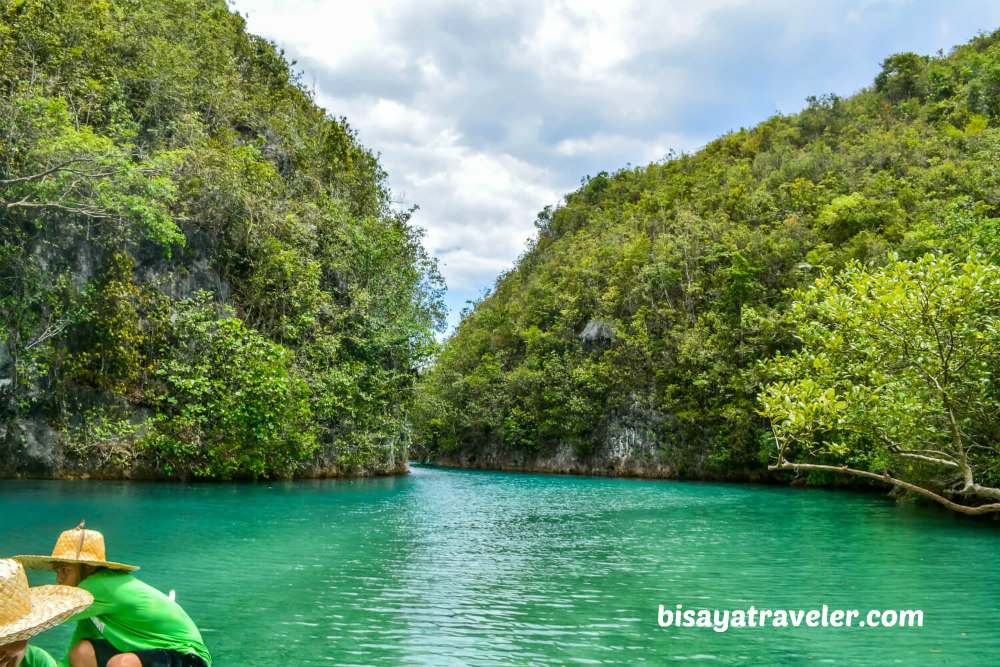 With its steep limestone cliffs and clear cerulean waters, it's no wonder they call Bojo River as the "Palawan of Cebu".  Add in a visit to the nearby Hermit's Cove, and you've got one of the most memorable trips and things to do in Cebu.
35. Hit the twin peaks in Balamban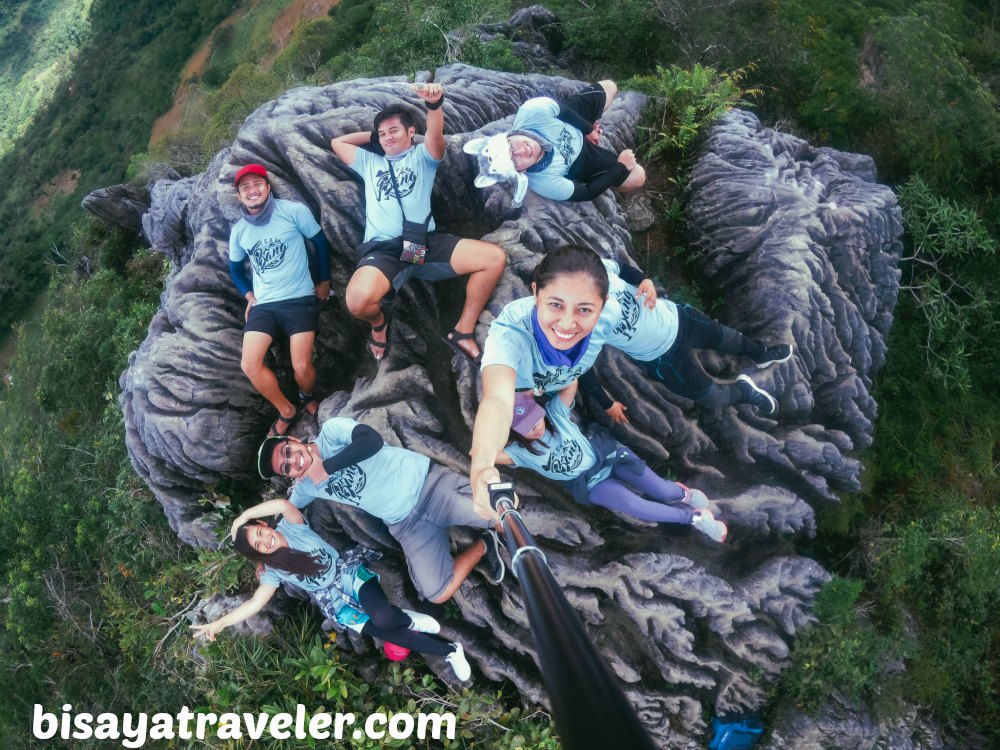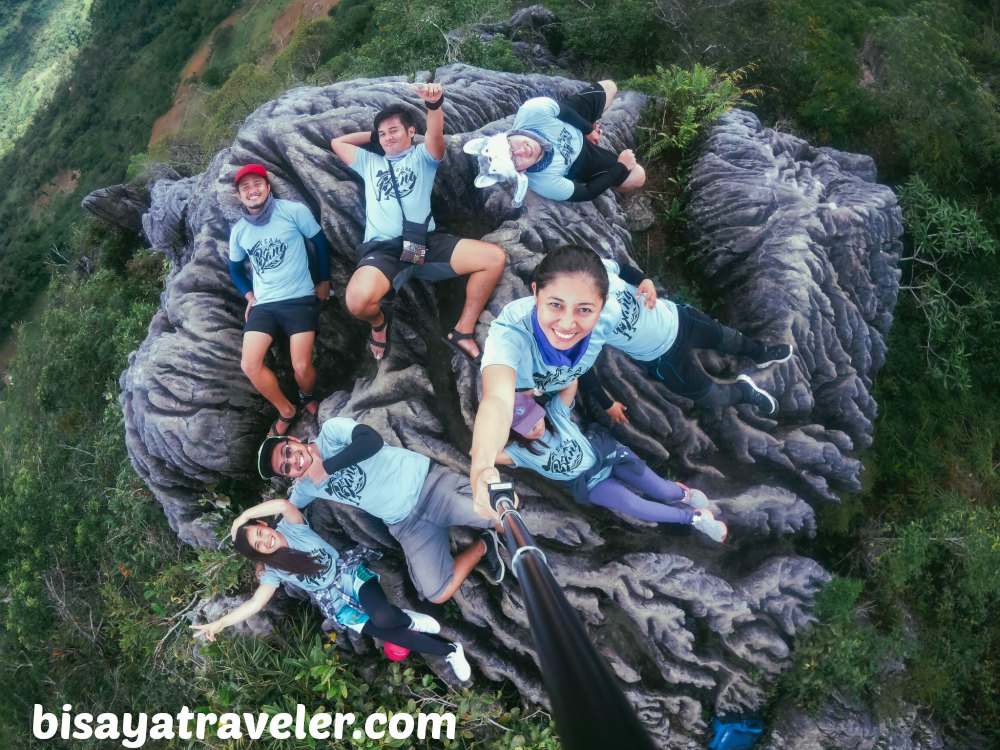 Scale two of Cebu's highest and most photographed mountains – Mount Manunggal and Mount Mauyog – in one day. And, if you need to cool down following your hike, Balamban has a nice collection of resorts where you can chill and unwind, such JVR Island in the Sky and West 35.
36. Do a DIY heritage tour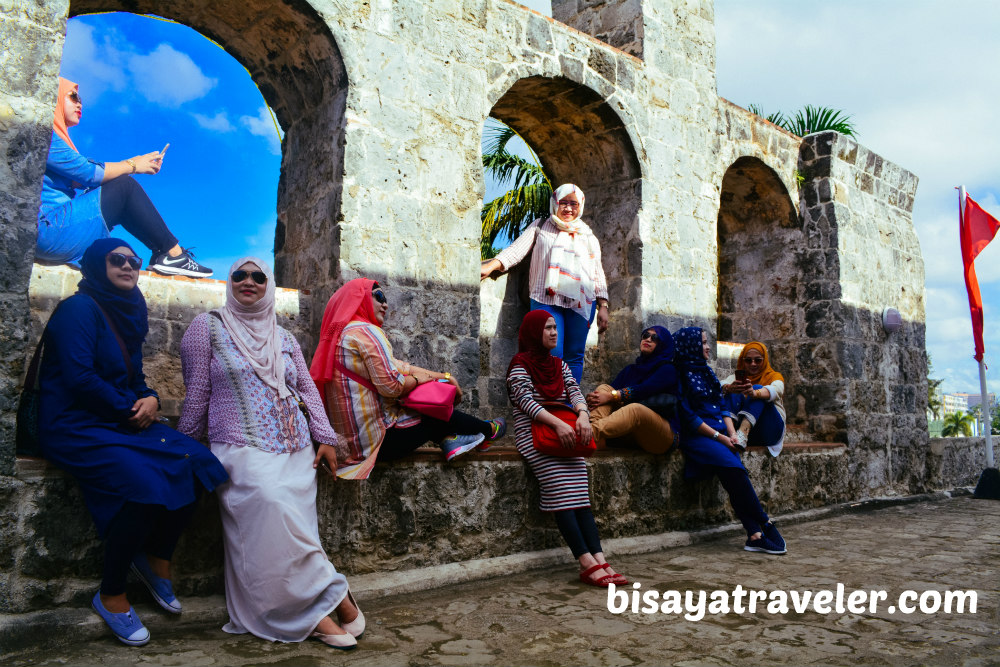 Are you a history lover looking for amazing things to do in Cebu? Grab a map, and swing by the historic places to visit in Cebu, including Magellan's Cross, Basilica del Santo Niño, Fort San Pedro, The Heritage of Cebu Monument and Yap Sandiego Ancestral House.
37. Climb Licos Peak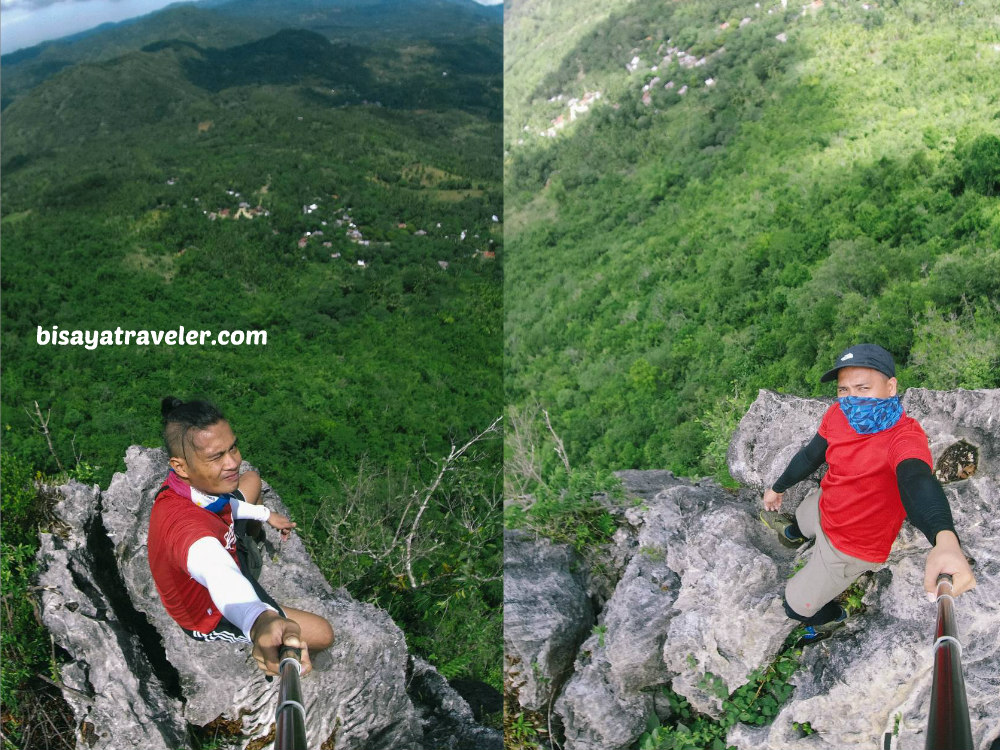 Climbing Licos Peak is, hands down, one of the most exciting things to do in Cebu for adventure junkies. With its steep trail and loose soil, the peak will give a heavy dose of adventure. And, once you reach the top, you'll be rewarded with a fabulous view of the island.
38. Experience Sinulog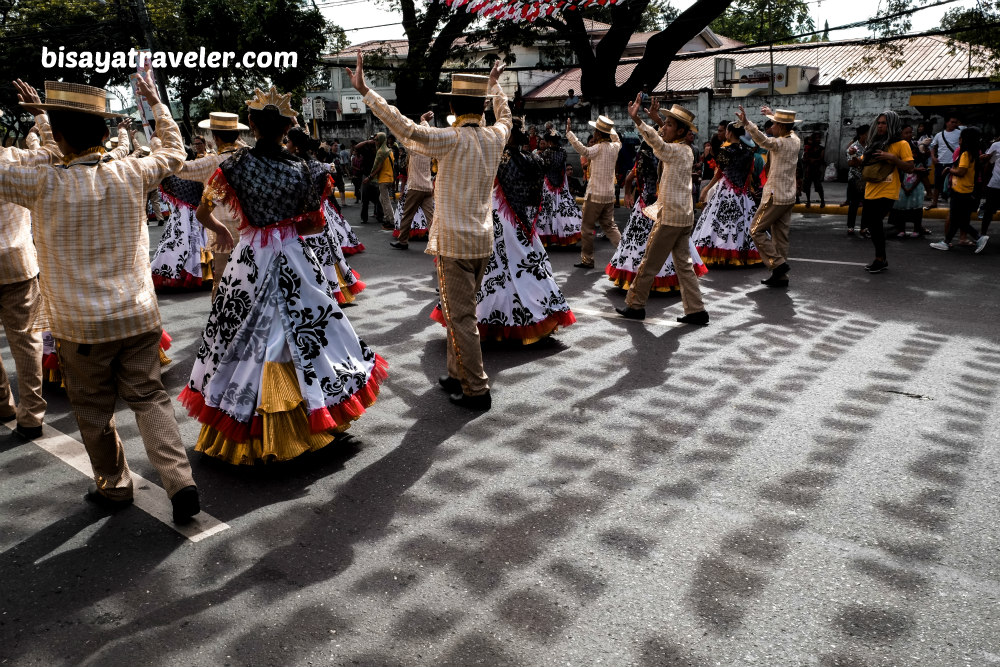 Visiting the island in January, and don't know what to do in Cebu? Celebrated every 3rd Sunday of January, Sinulog is a dazzling and mind-blowing event that should be on your Cebu travel wish-list. Beloved for its grand parade, scintillating costumes and heart-pounding ethnic beats, the festival transforms Cebu into a colorful and enthralling party.
39. Experience Gabii Sa Kabilin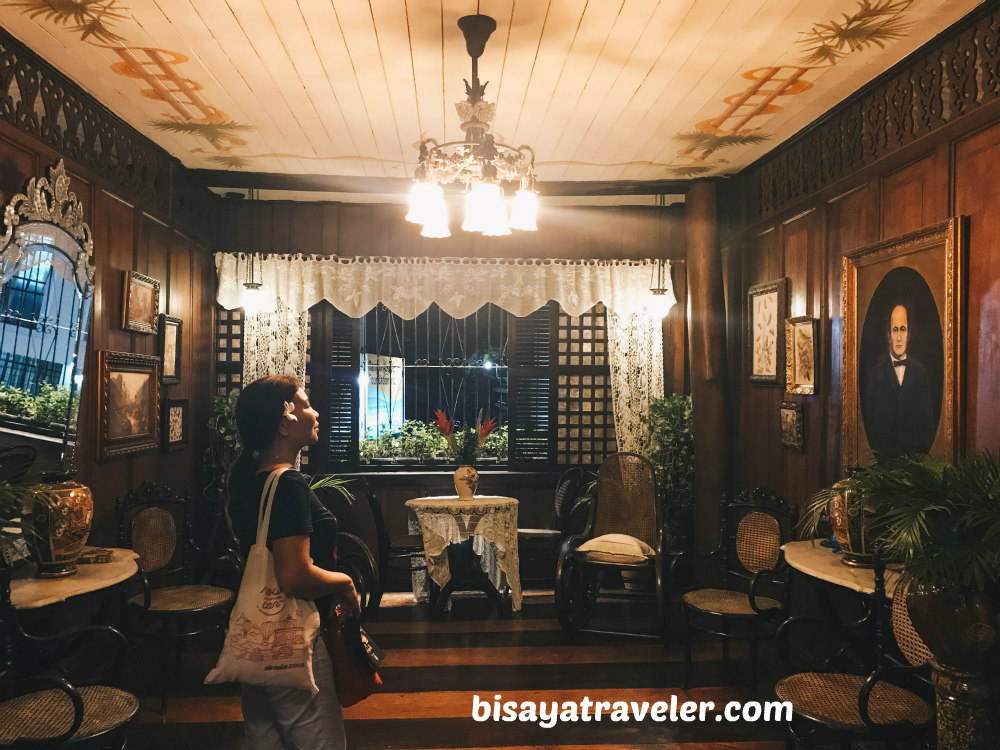 Fond of culture and history? Why not visit Cebu in May and be a part of its annual heritage event, Gabii sa Kabilin? Held every last Friday of May, Gabii sa Kabilin is a wondrous collaboration of museums and heritage sites in Cebu, highlighting the island's culture and history.
40. Take a plunge at Mantayupan Falls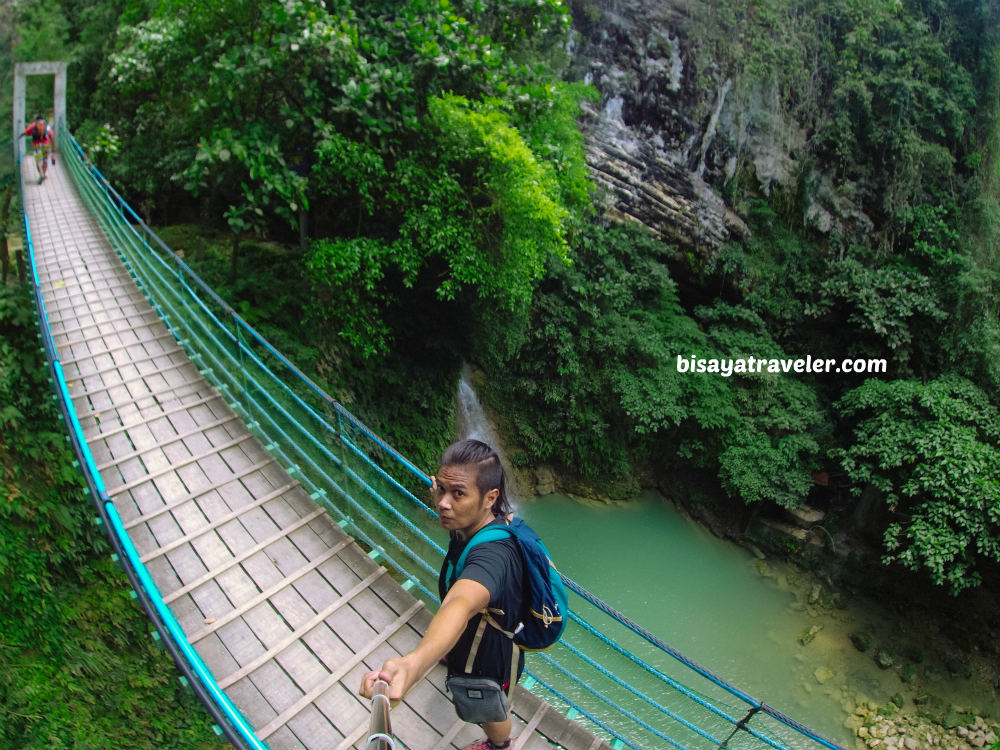 Refreshing scenery? Check! Spotlessly clean azure waters? Check! Barili's undisputed gem has all the hallmarks and qualities of an impressive waterfall in Cebu. Known as the highest waterfall in Cebu, Mantayupan Falls also flaunts a visually appealing hanging bridge, adding more beauty and element of fun to this natural wonder.
Up for some exciting things to in Cebu with kids? You'll surely love the beloved and world-class Anjo World Theme Park. With its insanely fun and mind-blowing thrill rides, this theme park will give you an exciting day in Cebu. Even better, the place is loaded with sights that will remind you of Italy. And, did we mention that it's also home to another beloved Cebu attraction – Snow World Cebu?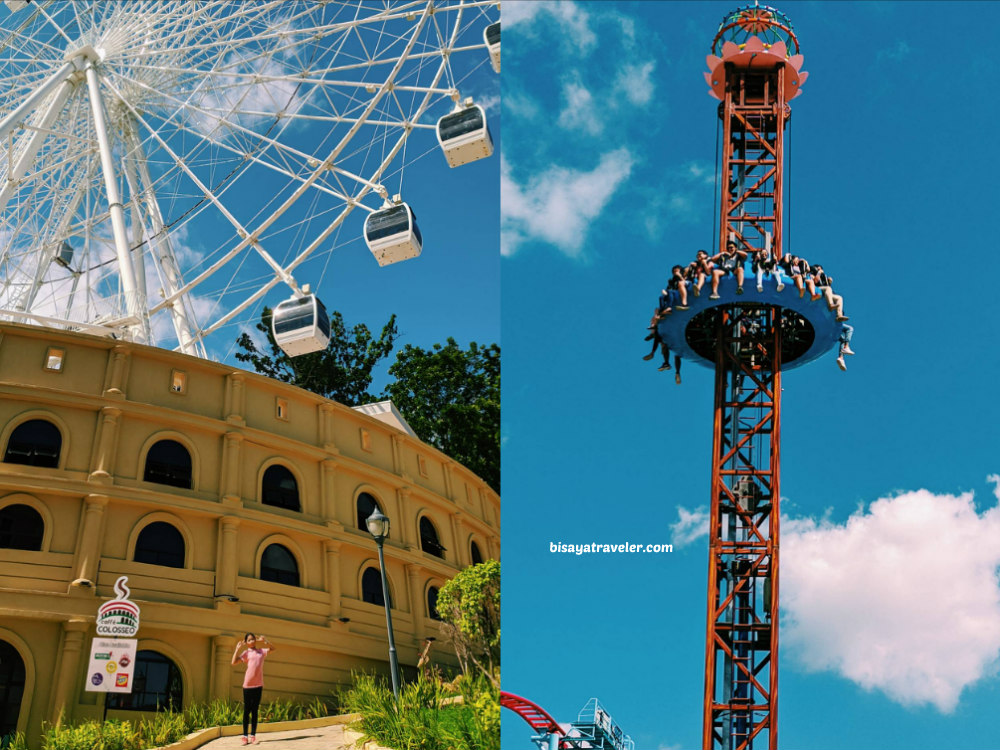 Cebu, with its wide array of sights and attractions, is a paradise for local adventurers like me. Whenever life seems like an endless parade of bills and work, I just hop on a bus, and go somewhere that's adrenaline-pumping or picturesque. Whether you're a beach bum, adventure junkie or certified food lover, you literally have hundreds of options for things to do in Cebu. See you around!