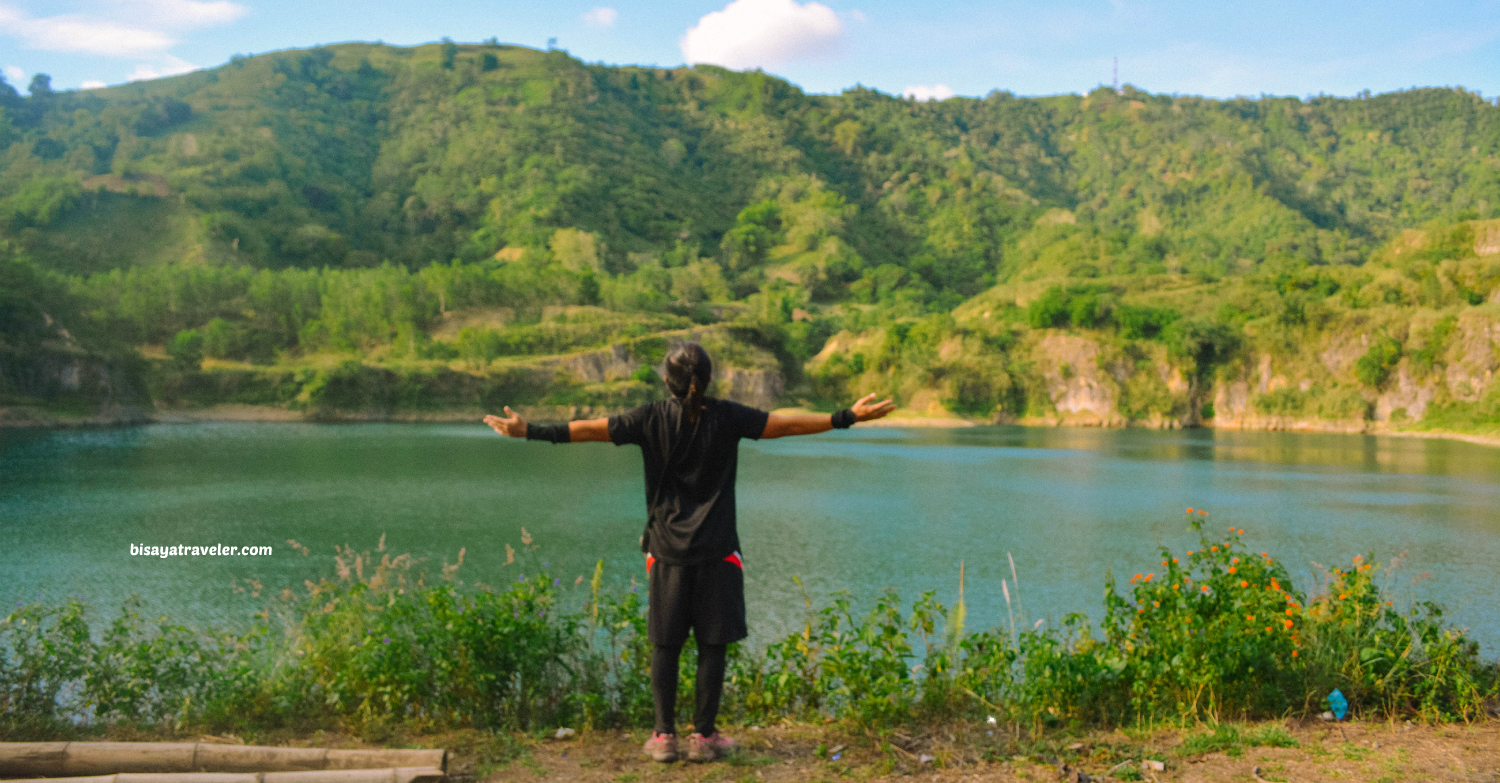 Lake Bensis: Beauty That Launched A Thousand Ships
When I was little, I would think of a million ways to find my own version of Helen of Troy. At the school library, I'd spend hours reading Greek mythology, hoping to find clues on the whereabouts of my own Helen. Of course, I had no plans of marrying an adulterer or an enchantress like her. The truth is, I was just so curious and eager to see a face that could launch a thousand ships. And, never in my wildest dreams did I imagine that I'd discover her in a remote area of Toledo, Cebu. As the fresh breeze was gently blowing in my face, I gazed at the cerulean waters of Lake Bensis, and realized that I've found my Helen of Troy.
Truthfully, Lake Besis, or also referred as Lake Pingganon, isn't the most beautiful thing I've seen in Cebu. In fact, I don't think it's the most mesmerizing man-made or natural wonder in Toledo City.
Although it's breathtaking, Lake Bensis doesn't have the magnetic, dazzling and electrifyingly beauty of Homer's Helen.
Even so, Helen of Troy was the first thing that jumped into mind, as I was relishing the scenery of Lake Bensis.
And, why so?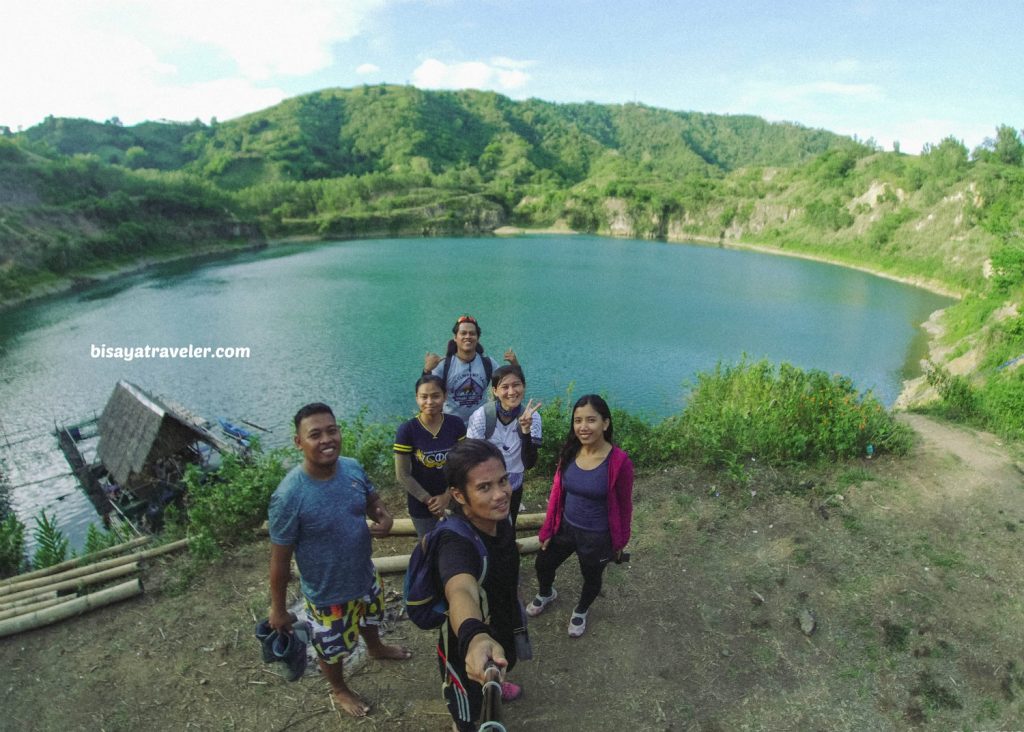 Like Helen of Troy, the beauty of Lake Bensis triggered a war.
Alliances were, then, formed and battle lines were drawn.
Armies of trolls were born and fake accounts were spawned.
And, even worse, the whole Cebu outdoor community was torn.
But, unlike the Trojan Wars, it was a battle of words.
Instead of spears, arrows, swords and Trojan horses, people attacked with unpleasantries.
Armed with techie smartphones and laptops, armies of social media users overwhelmed one another with a barrage of insults and a flurry of cheap shots.
And, trust me, it was not a whimsical and fun flip-top battle.
There was absolutely no poetry in that social media war.
And, in the midst of it all, a universe of questions flooded through me.
Is Lake Bensis really a thing of beauty?
Is it as majestic as the peaks of Dalaguete or as strangely wonderful as Biga Pit?
Why are people fighting over a place that none of them even owns?
Does it have an irresistible transcendent beauty?
As usual, I felt the urge to feed my curiosity and appease my wanderlust. And, after a long hiatus from hiking, I finally had the chance to see Lake Bensis.
Was it as beautiful as some people say?
My Lake Bensis experience
Our journey to Lake Bensis started with a quick meet-up at Ayala Center Cebu V-hire Terminal. For this upland hike, I was joined by a handful of my favorite hike buddies – Bioggy, Raul, Paul, Shanine and Grace.
With everyone ready and pumped up, we hopped on a V-hire, and made way to the base of our hike – Strawberry de Cantipla Eco Farm.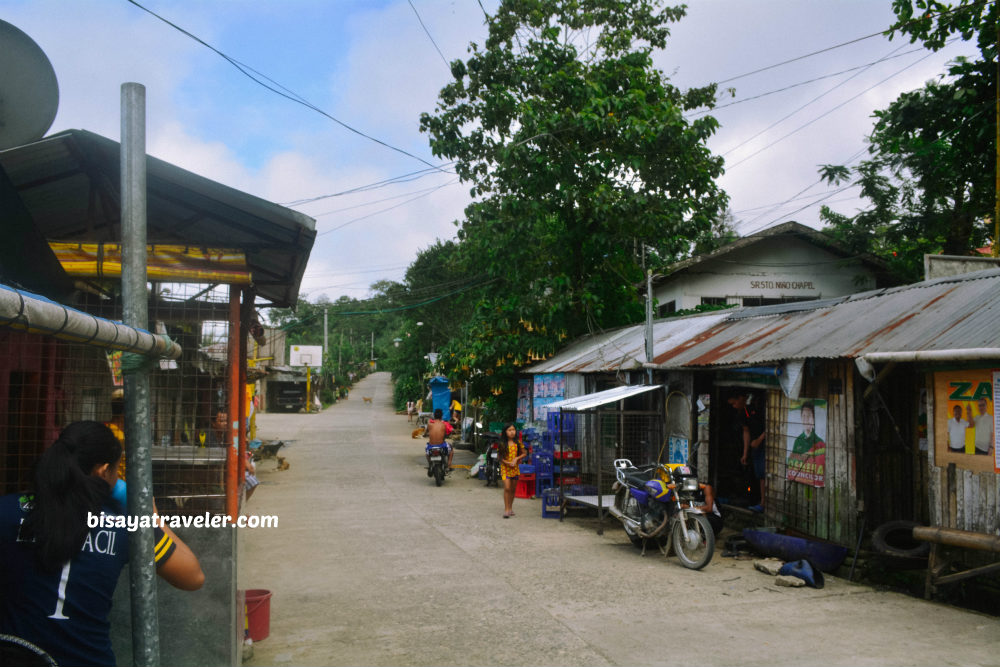 From there, we walked our way to the first stop of our Cantipla to Lake Bensis hike – Guinduwahon's Birhen Sa Barangay Shrine.
Along the way, we were treated to some gorgeous views and fresh mountain air.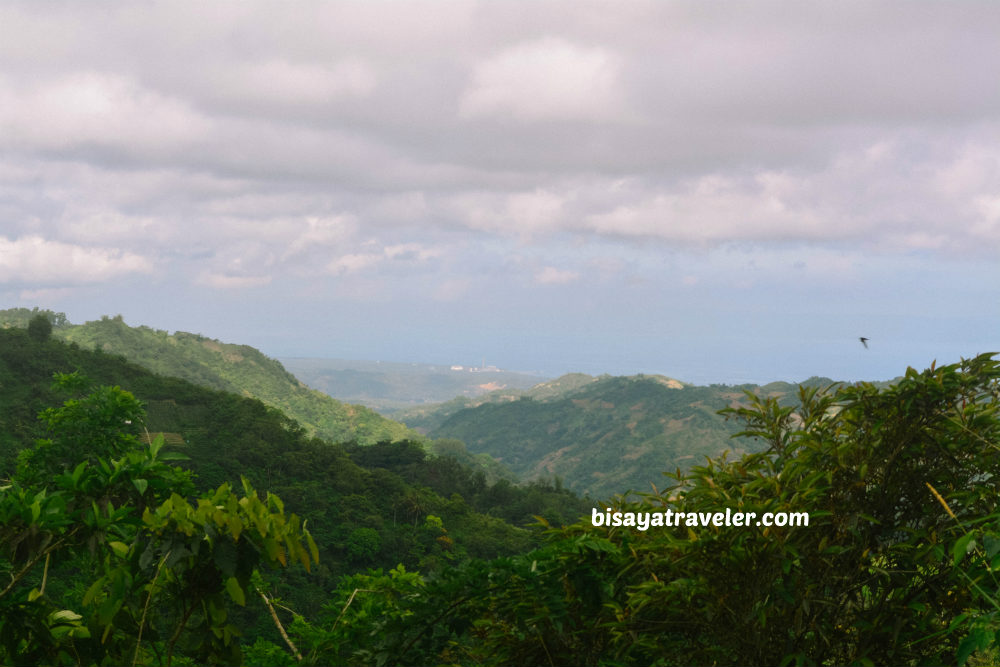 Since we had a couple of destinations in mind for hike, we didn't spend a ton of time at the shrine.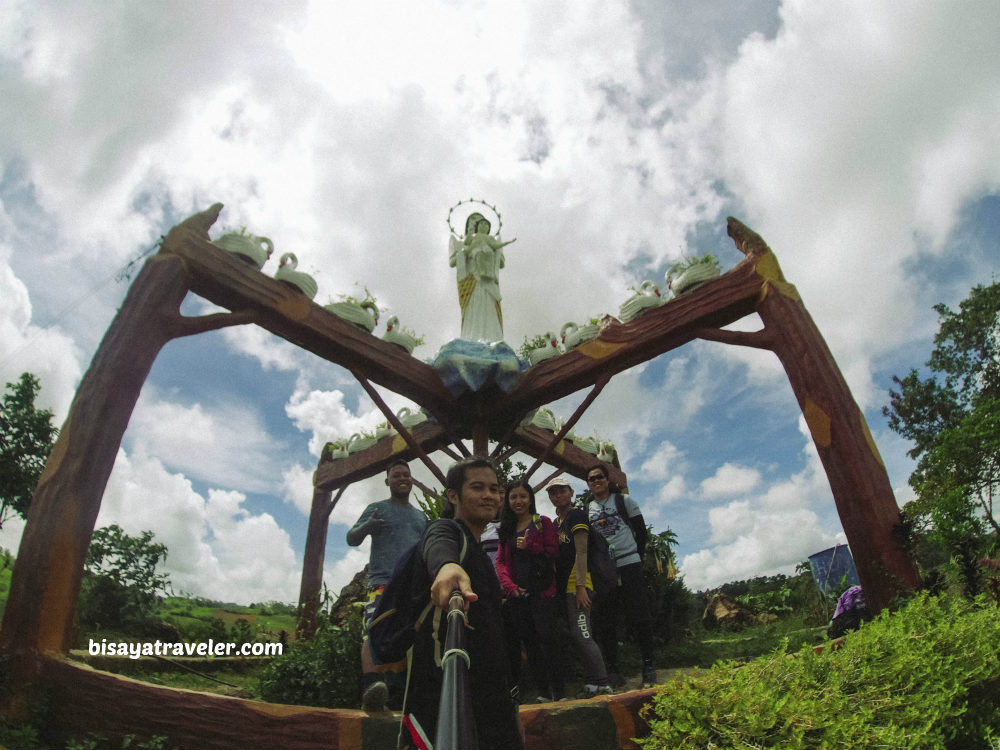 Soon after, we arrived at Moncado Hotel where we got a one-of-a-kind lesson in Cebu history.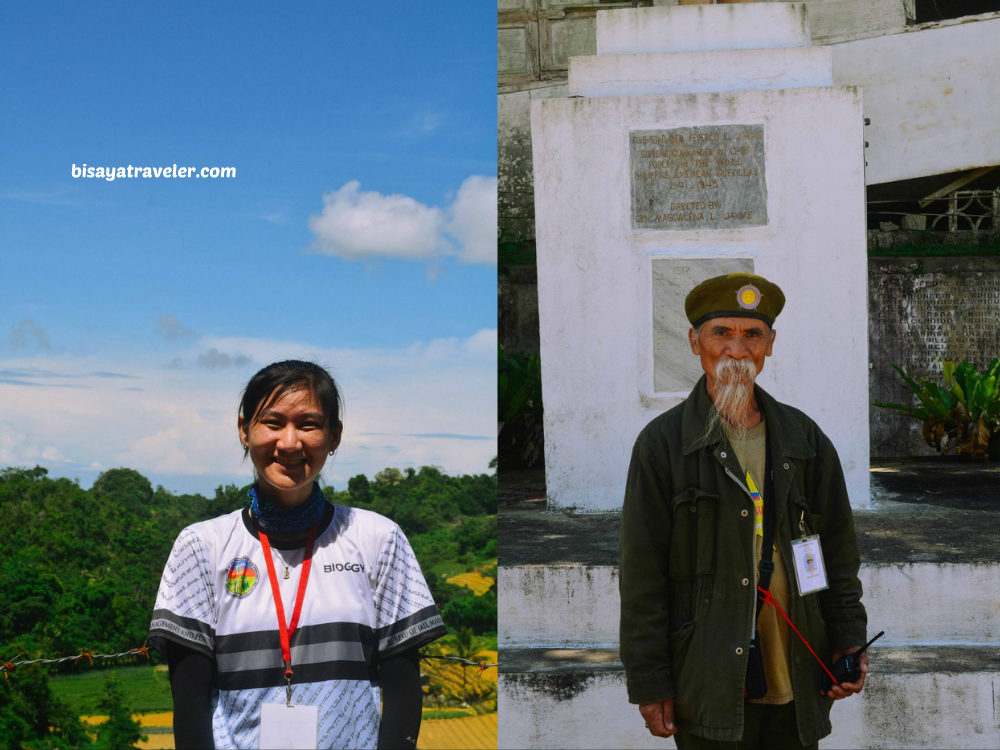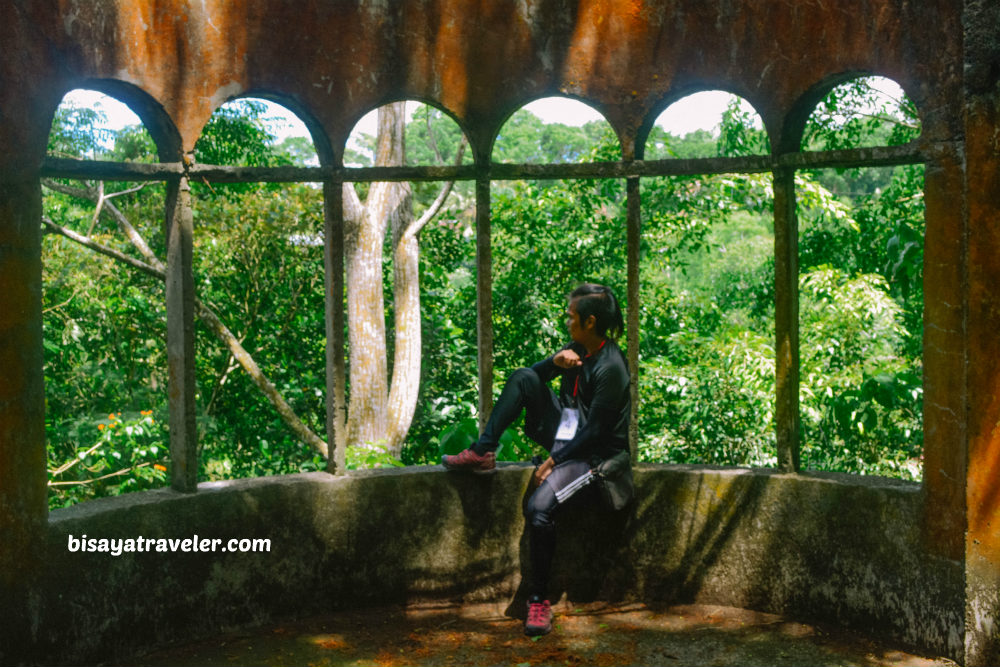 As with most of my Cebu day hikes, we had no specific goals for this adventure. Open-minded and free-spirited, we always go with the flow, and follow the universe's signs.
And, honestly, I wasn't even sure if we'd make it to Lake Bensis before nightfall. Familiar with the Sudlon-Toledo area, engineer Francis Paul, however, said that we'd made it there before the sun sets.
Thank goodness!
With Paul in the lead, we followed a cemented road that would lead us to Lake Bensis.
As for the hike's difficulty, it was a walk in the park. Despite the scorching heat of the sun, it wasn't as energy-draining and heart-pumping as some of the long hikes in Cebu.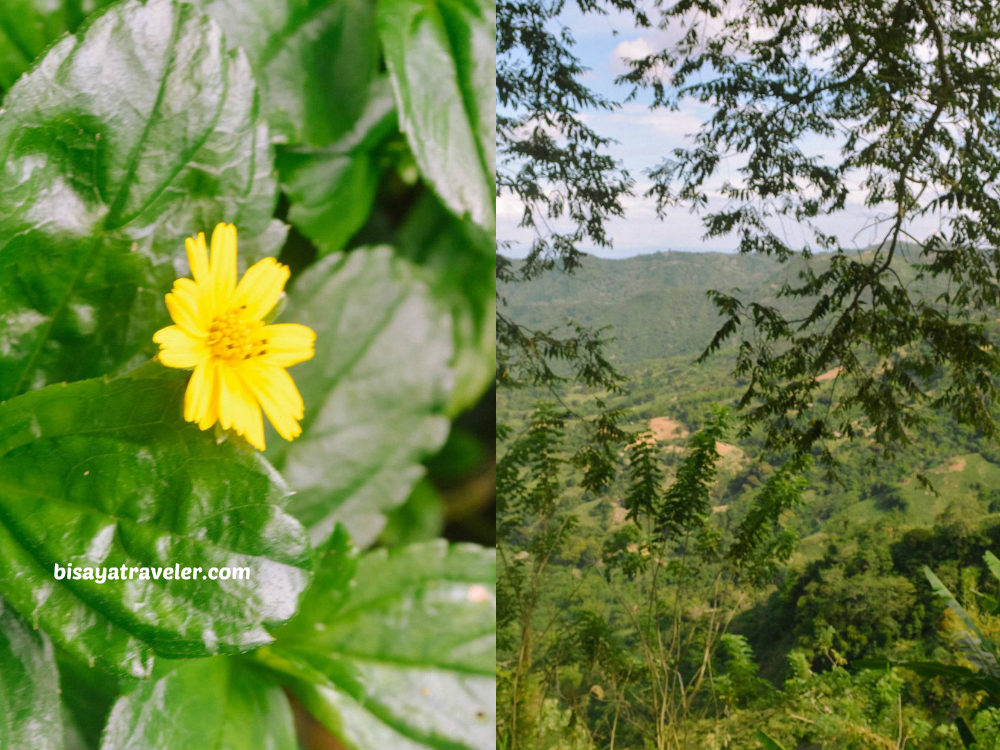 And, we kept walking leisurely, until things literally went downhill. Yep, I'm talking about the seemingly never-ending descend to Toledo from Sudlon National Park.
From time to time, we had to sprint downhill on the well-paved cemented road.
Moments later, we arrived at the crossroads where one of the paths leads to Lake Pingganon.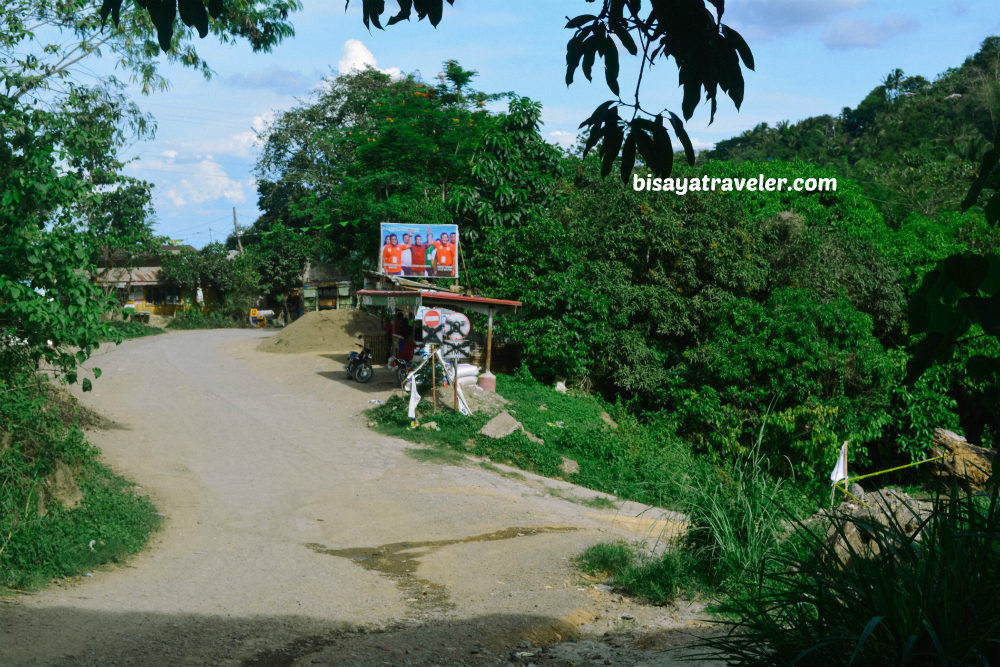 We took a short breather, and went on with our journey to the controversial Lake Bensis.
On the way to Lake Bensis, we caught sight of a signboard saying that we've arrived in Toledo City, Cebu.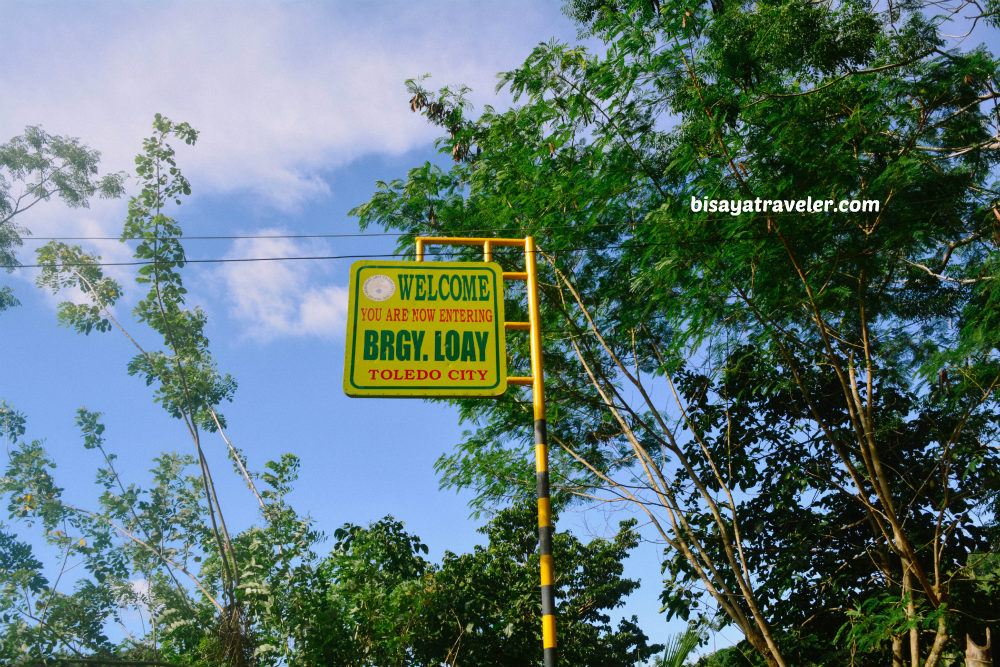 So far, it had been a pretty fun and picture-perfect hike. With optimism, we quickened our pace, so we could cap off our hike on a high note at Lake Bensis.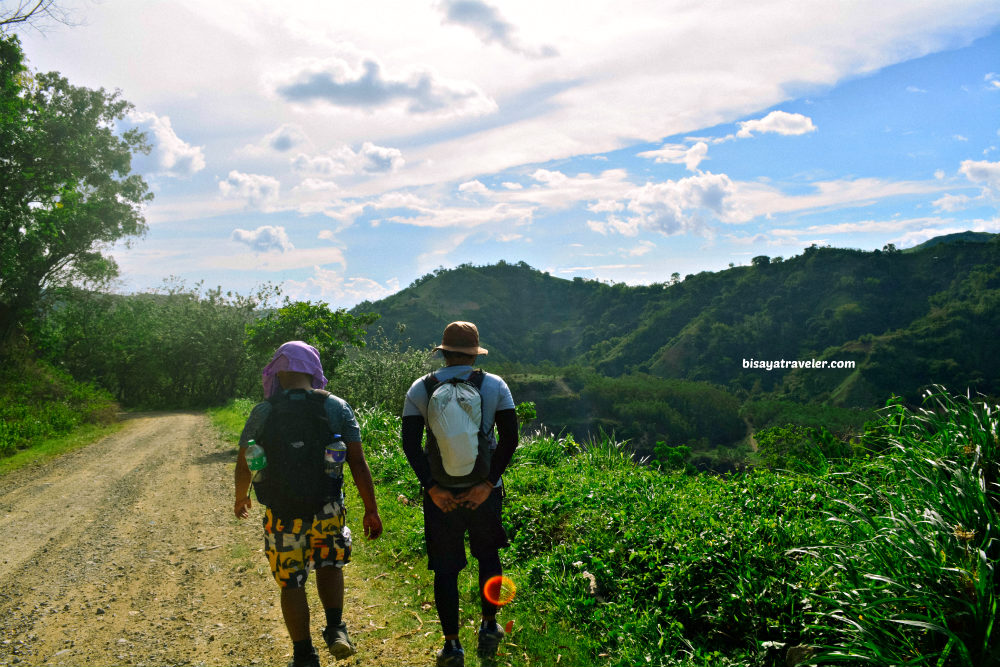 Afterward, we got an overlooking view of the famous Lake Bensis.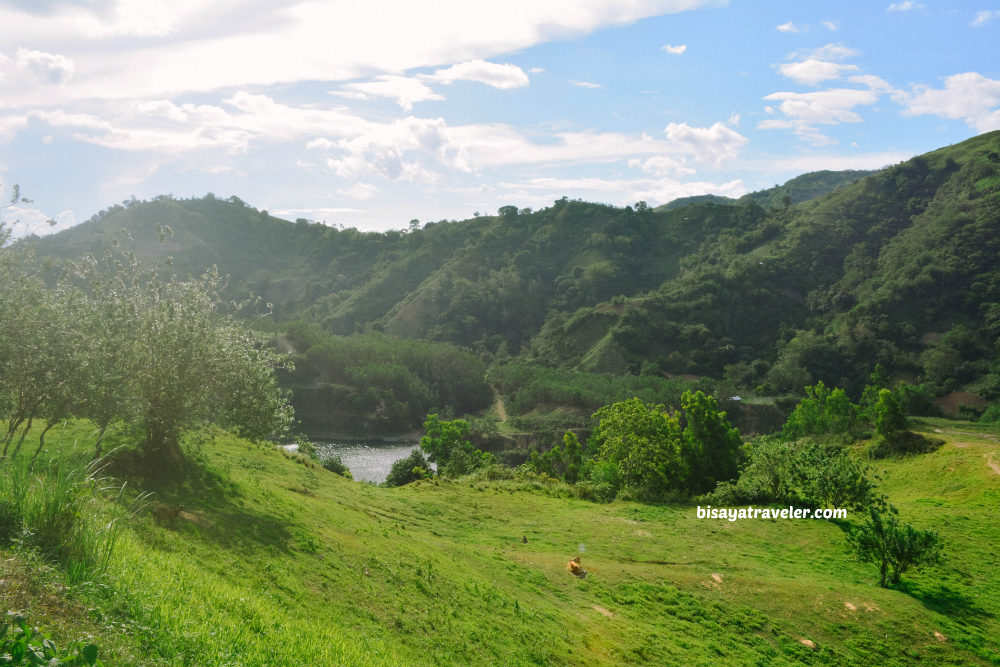 And, I must say it's quite a sight to behold. Now, I know why people have been fighting over it!
While admiring the view, we found out that there are trails from this vantage point to Lake Bensis. And, guess what? It's also a shorter route compared to the typical trail to Lake Bensis.
But, this time, we didn't take the road less traveled.
Sure, it's a shorter and more scenic route, but it would be unethical and disrespectful to the caretakers of the lake.
We had to do it the right way. And, the right way was to go the caretaker's house, ask permission from them, and make a small donation.
Interestingly, Paul shared a cool nugget of information about Lake Bensis. As what he discovered from the locals, the lake boasts alkaline waters.
Heck, he even sampled a shot of the alkaline water from Lake Bensis.
We, then, hit this road in Loay, Toledo, to continue with our pursuit for adventure.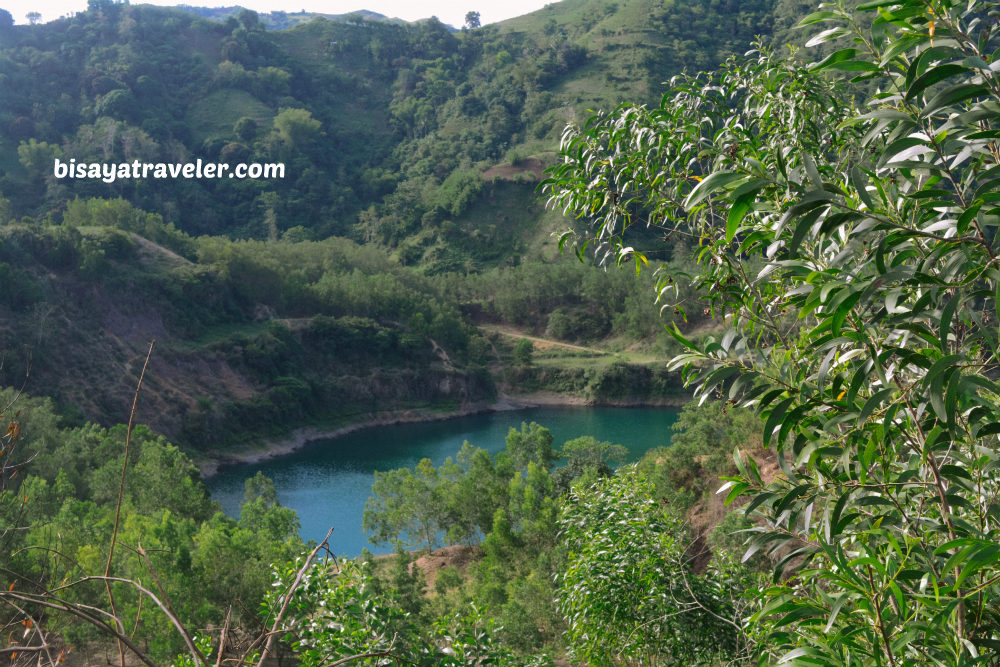 Eventually, we arrived at the unofficial registration center where we asked permission to visit Lake Bensis.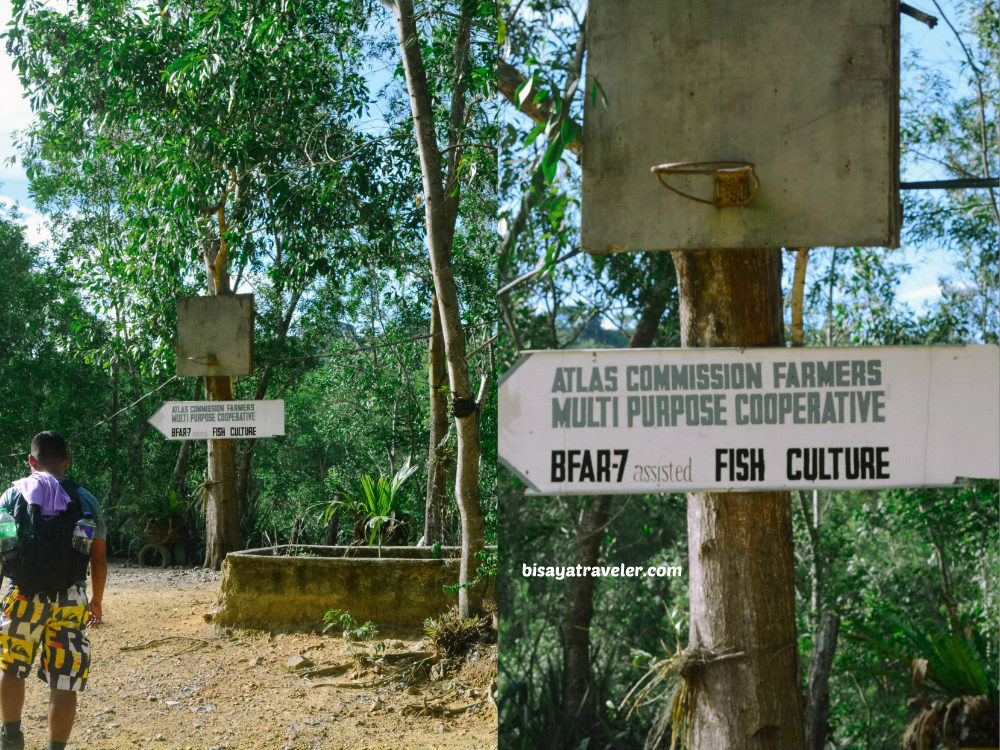 Normally, the caretakers would ask visitors to list their names in the logbook, and make a small donation of PHP 20 per person.
To my surprise, though, they just told us go directly to the lake without paying a cent.
Maybe, it was because we were just making a short stop to Lake Bensis? I'm pretty sure they will charge PHP 20 for anyone who camps there.
Without wasting any moment, we took on the descending trail that leads to Lake Bensis. With its steep slopes and loose soil, it was indeed a fun-filled short hike.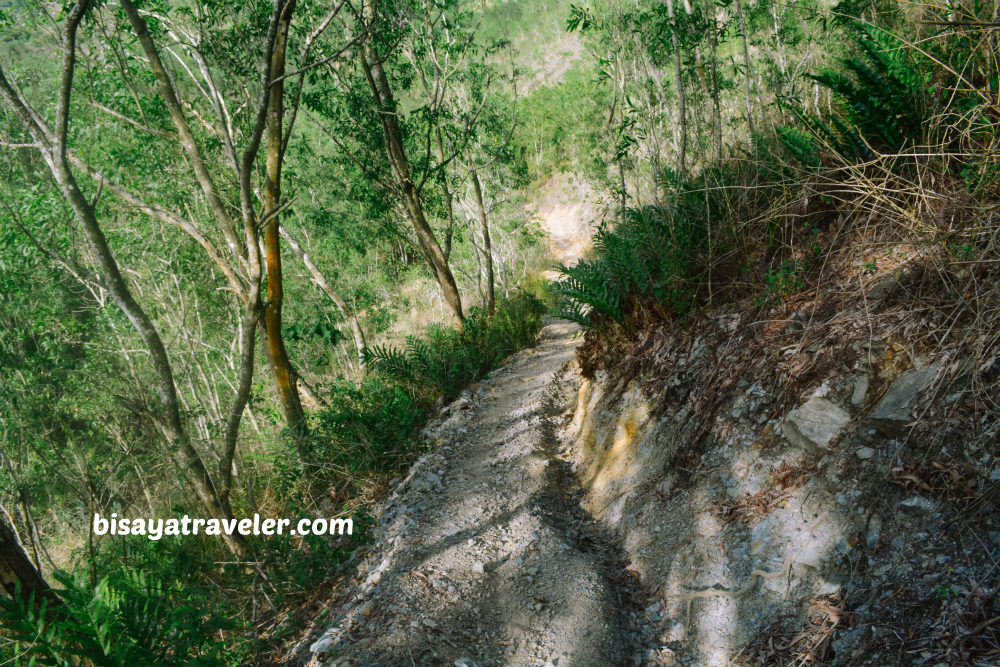 Tatay Raul took his time, going down to Lake Bensis.
One false move on this trail, and he'd end up like a rolling black stone.
And, along the way, I was enthralled by a few awesome sights.
Like this dried up lake.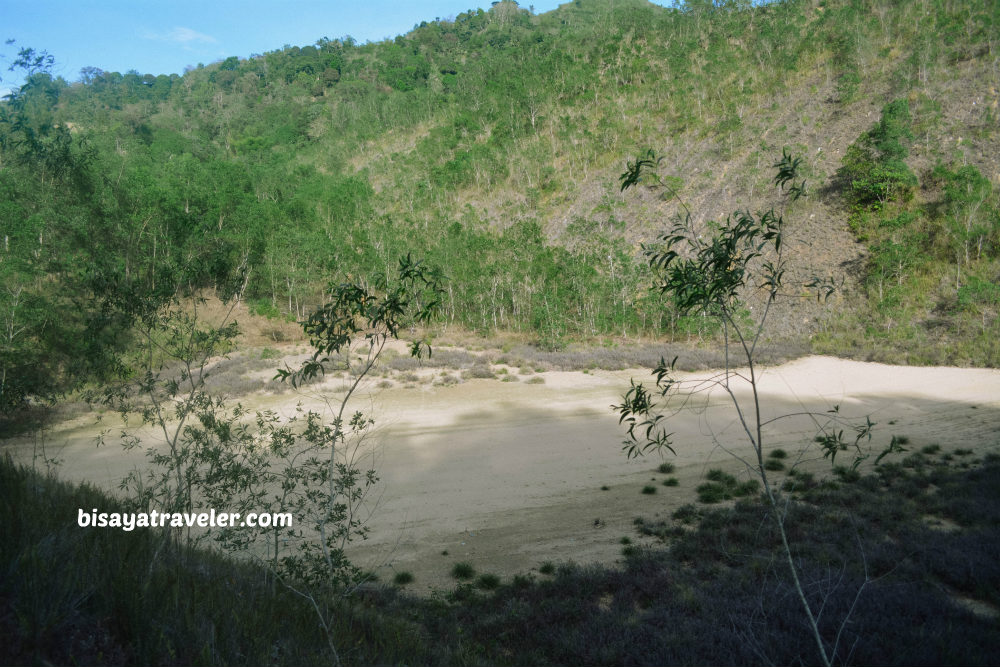 And, the small pineapple farm.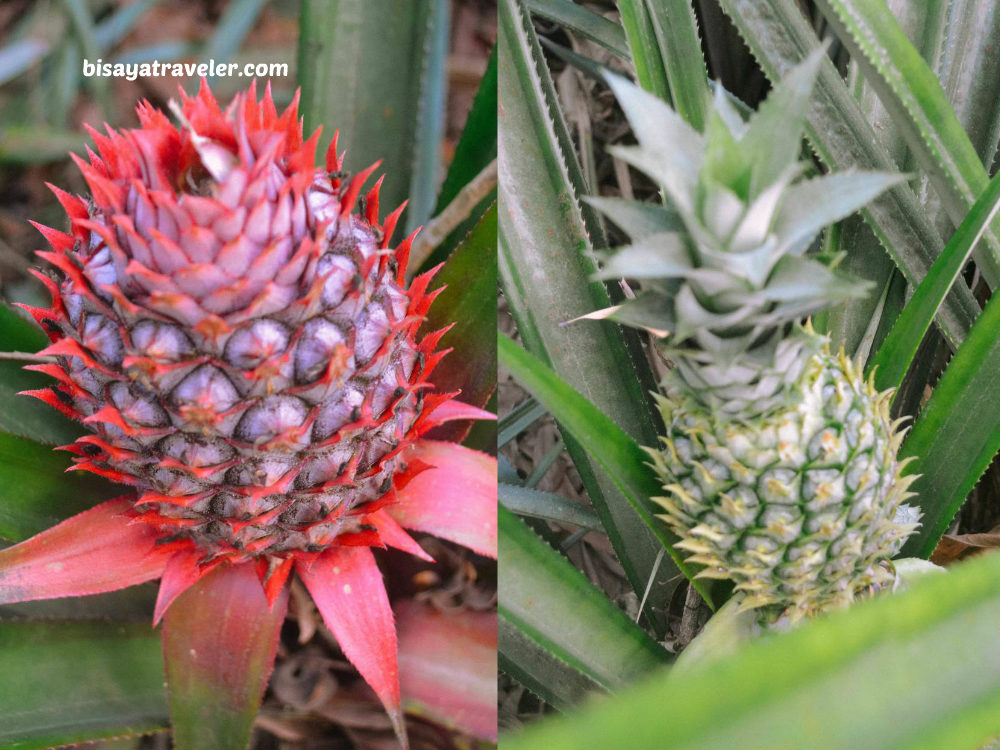 By the way, if you're planning to go to Lake Bensis, please don't pick up these fruits.
Sensing that we were a few meters away from the lake, I sprinted like a Kenyan runner to the lake.
Then, I finally caught sight of the beguiling Pingganon Lake.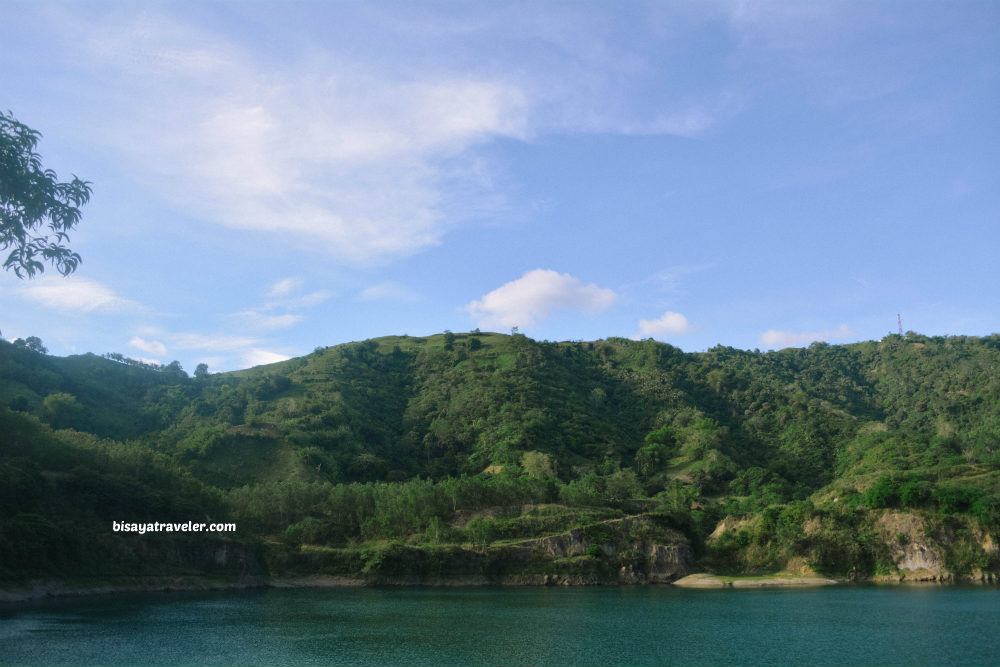 Is this the lake that launched a thousand ships on social media?
To be completely honest, she is no Helen of Troy.
Even with its sparkling and translucent waters, Lake Bensis isn't a glamorous spot.
She is, however, to me, one of the most beautiful natural wonders in Cebu.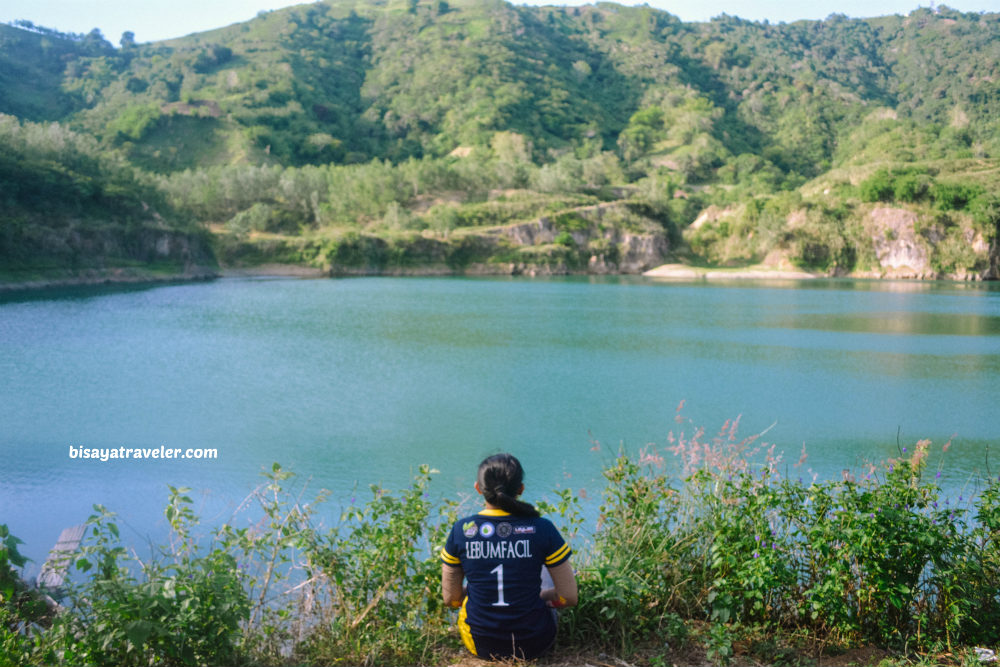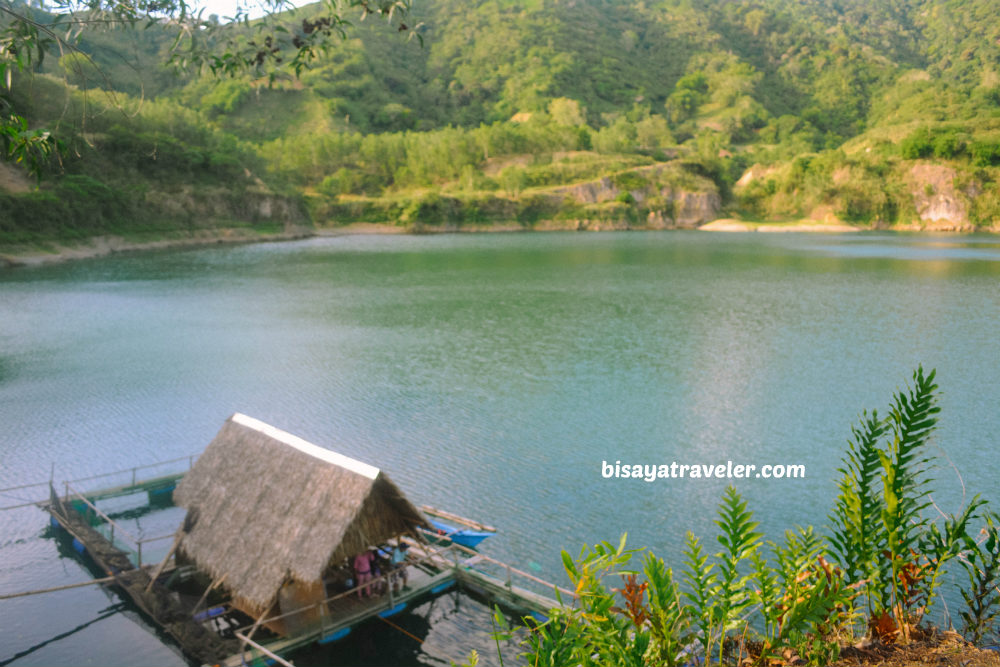 It's simple.
It's beautiful.
And, it's simply beautiful.
In some ways, Lake Bensis reminds me of the classic acoustic songs from Juris and MYMP. No frills. Just beautiful and soothing music.
Lake Bensis doesn't have a ton of colorful embellishments. But, she will sweep you away with its tranquility and simplistic natural beauty.
In other words, it's a place of simple beauty and serenity.
Furthermore, I think she is the epitome of Cebuana lady hikers who can be charming without makeup and jewelry.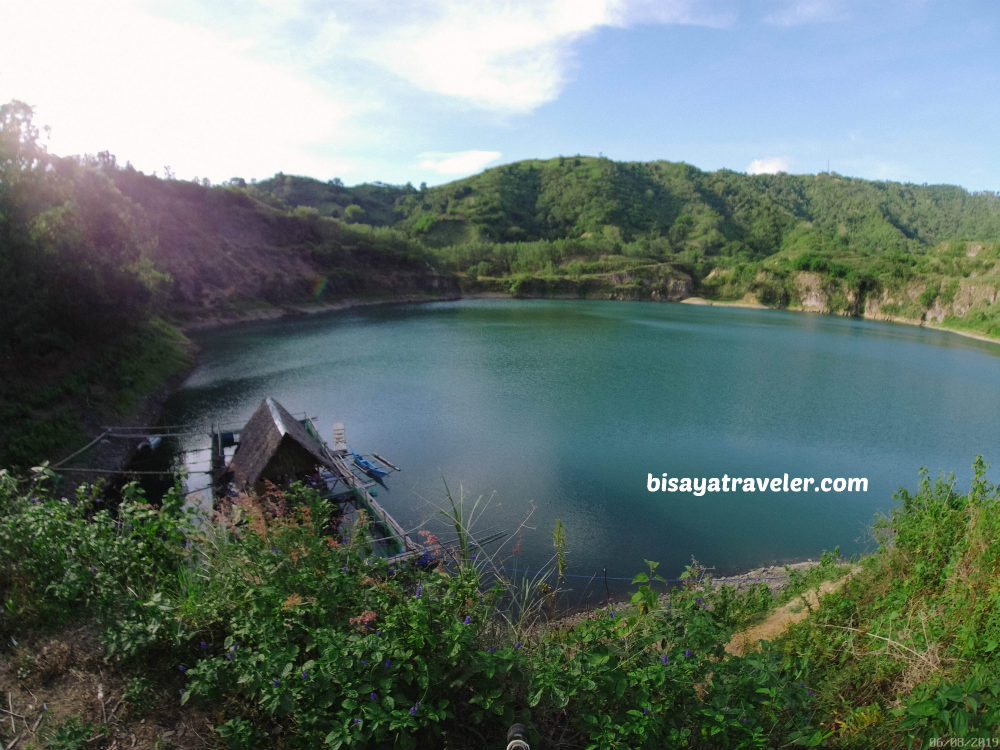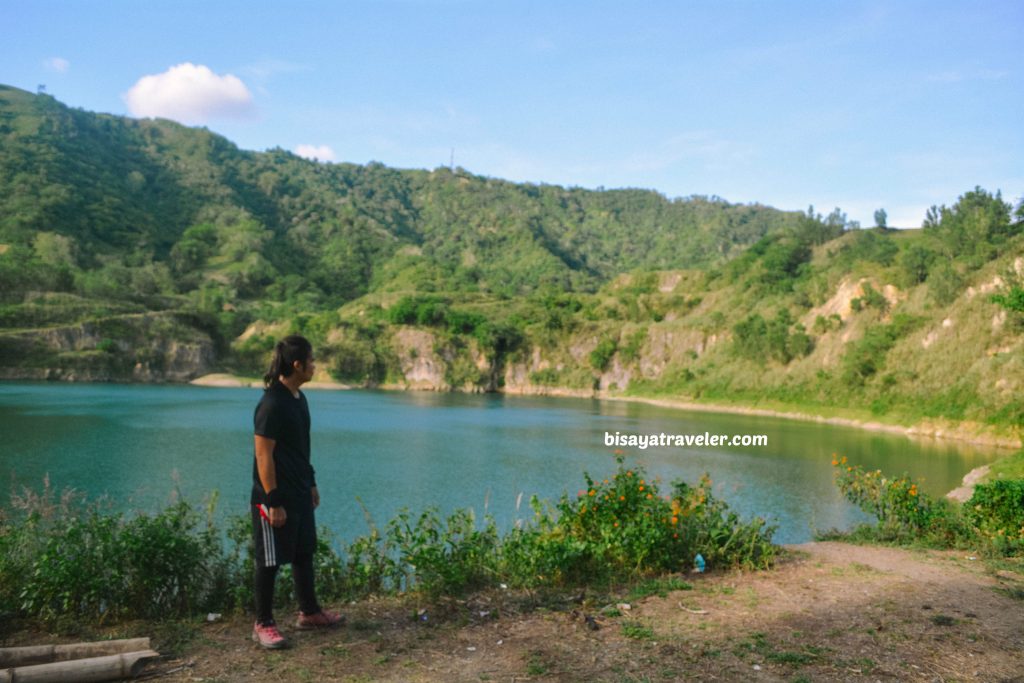 I could spend hours on this spot, sitting, contemplating and admiring the picture-perfect scenery.
While savoring the moment, I suddenly remembered the social media war that revolved around Lake Bensis.
Essentially, the war was divided into two groups – the ones who want to keep it a secret, and those who want to share its beauty to the world.
A part of me wants to share its beauty the world. There's a voice inside me that wishes to see it turn into a beloved attraction.
The thing is, the world s filled with broken people. Miracle drugs, casts and tourniquets can't mend torn spirits, wounded minds and fractured hearts.
But, a dose of nature can do wonders for someone's soul.
The therapeutic mountain air, the camaraderie in hiking and the fascinating sights of Mother Nature are proven antidotes to stress, anxiety and even depression.
With its gorgeous natural backdrop and easygoing atmosphere, Lake Bensis can be the therapy that some stressed out and sad people badly need.
And, besides, we're all born for joy, wonder and to be ravished by the world's beauty.
Plus, showcasing splendor will boost the area's tourism, which in turn will give locals an extra source of income.
On the other hand, the inner nature lover in me wants to keep it a secret.
That's because in recent years, we've heard stories of people destroying nature's creations and throwing their sh*t everywhere in trending tourist spots.
And, speaking of trash, I saw this collection of cigarette butts somewhere on the lake's campsite.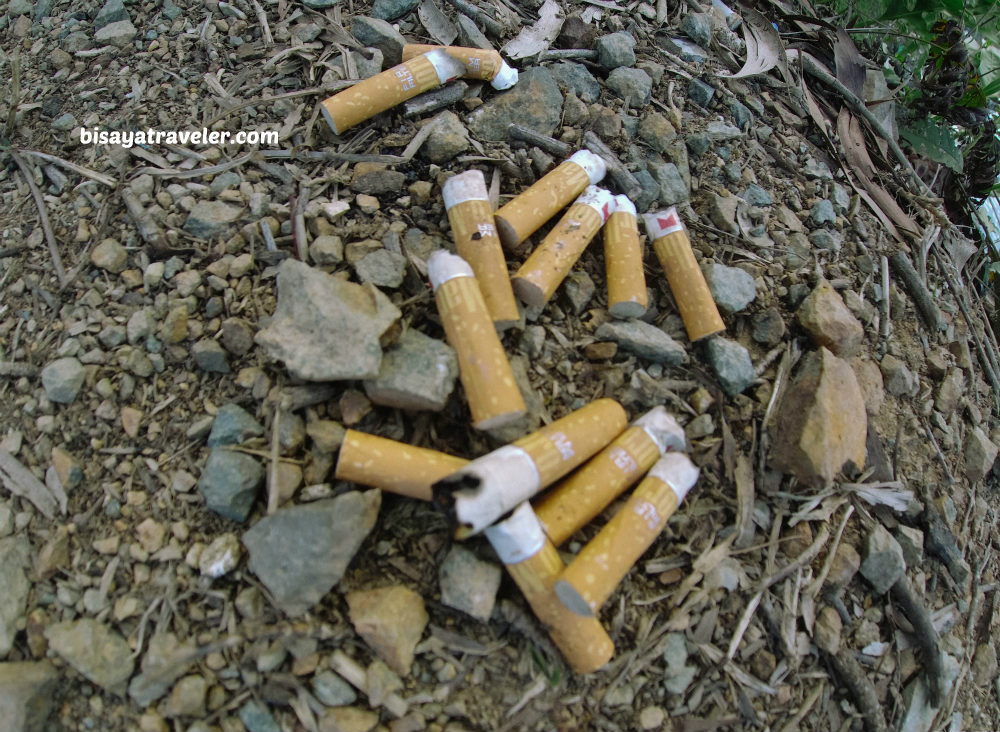 Clearly, it's a mess made by recent campers. Think locals in this remote area of Cebu smoke Marlboro Reds? I don't think so! And, I don't think casual visitors can smoke that many cigarettes in less than an hour either.
As far as the social war goes, both sides of this war made fine points. No one was exactly wrong, and everyone had a good argument.
There were no protagonists or antagonists in this story.
The only problem was, it wasn't a healthy debate.
There were threats, barbaric personal attacks and dozens of social media trolls.
It was like a soap opera sans the eye-catching actresses.
What the f*ck were they doing?
Is it me or negativity is a current trend on social media? Why is everyone jumping on the negativity bandwagon nowadays?
Maybe, it's because it's easier to look like a tough guy on Facebook than in real life.
One day, all this hatred will turn the world into a living hell. And, slowly we're getting there.
Our world has the potential to be a paradise or Eden. But, in our arrogance, hatred and greed, we have made it a prelude to Hell.
After enjoying the charm of Lake Bensis, my friends and I decided to explore the lake. Who knows? There might be a surprise waiting for us in this part of Toledo, Cebu.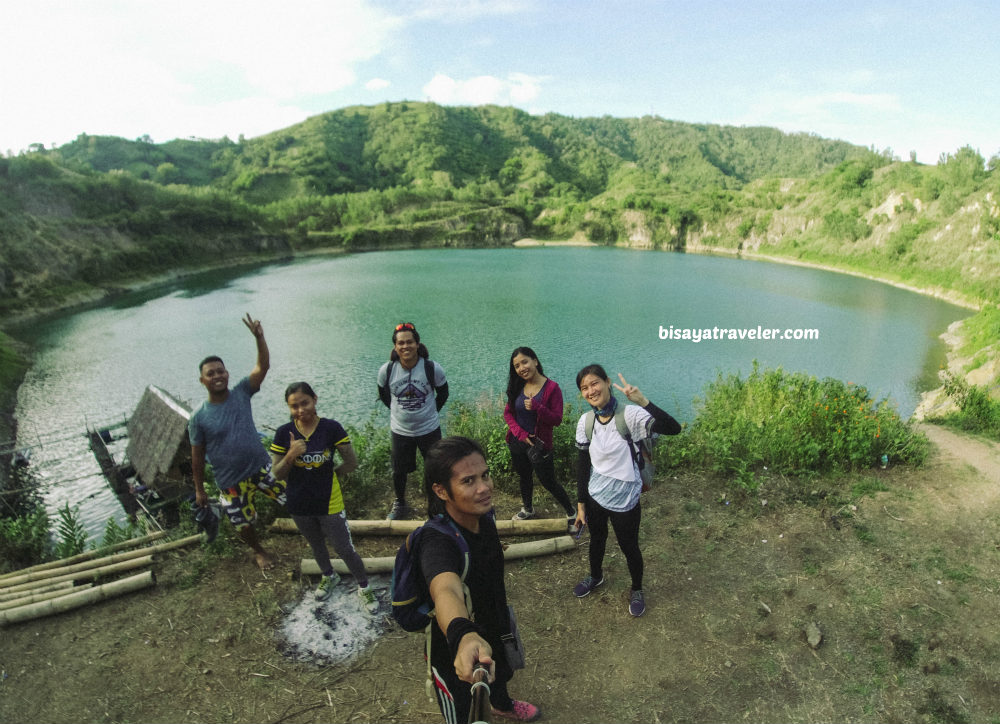 Spearheaded by yours truly, we followed the slightly challenging and perilous path to the other side of Lake Bensis.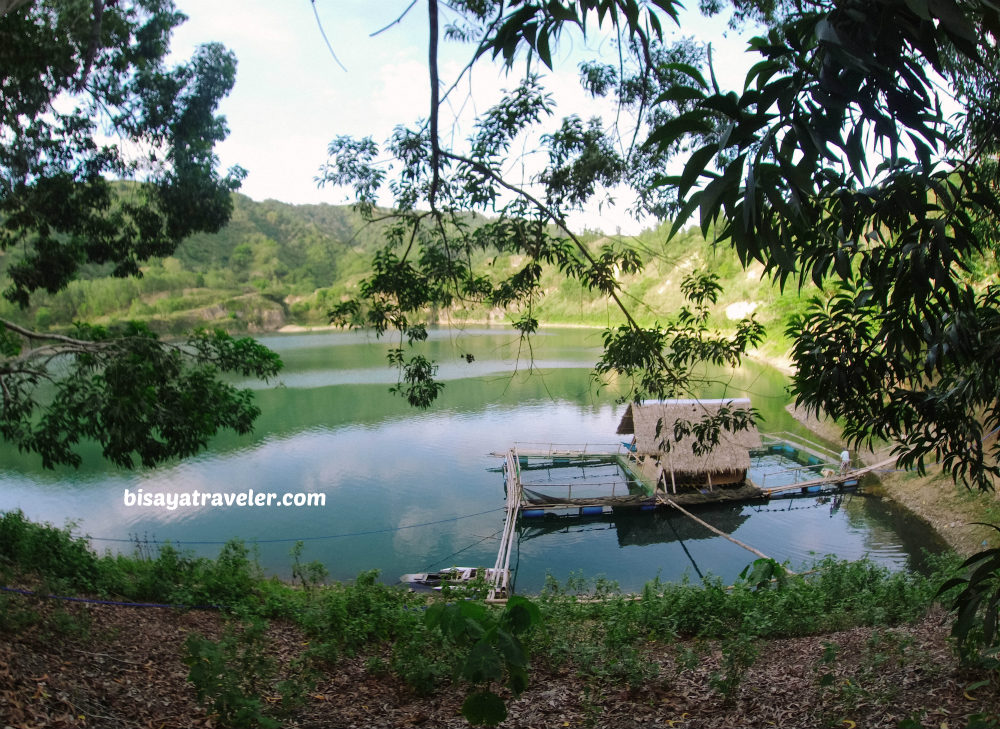 Not only did we get a sweat-inducing workout, but we also saw Lake Bensis from a different angle.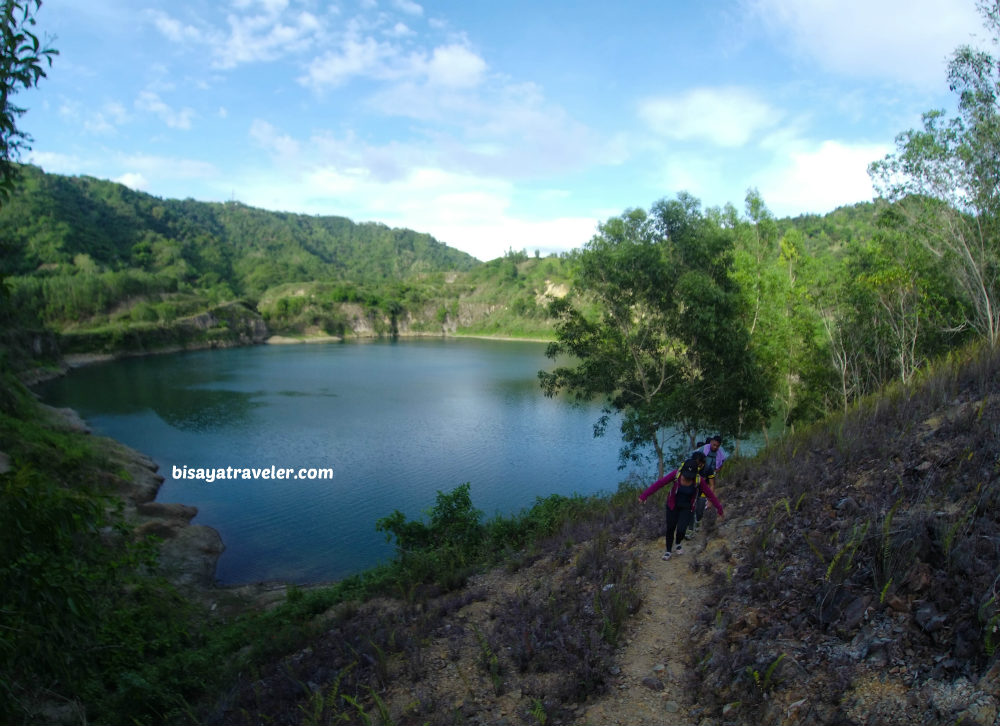 It was getting dark when we reached the other side.
We wanted to climb the mountain on the background of Lake Bensis. But, we felt like it was a bit late to do that.
So, with the help of the locals, we made our way to an informal waiting area where we could catch a habal-habal ride to Tabunok, Cebu.
As we were about to depart from Pingganon, I bid farewell to the lake that launched a thousand ships online.
And, yes, she was a thing of beauty.
---
Our Cantipla to Lake Bensis itinerary
07:00 AM: Meet up at Ayala V-hire terminal
08:00 AM: Depart for Cantipla
08:40 AM: ETA Cantipla Strawberry Farm/start hike
10:28 AM: ETA Guinduwahon's Birhen Sa Barangay Shrine
10:35 AM: Resume hike
11:45 AM: ETA Moncado Hotel/early lunch
01:00 PM: Start tour of Moncado Hotel
02:00 PM: End of tour/start walking to Lake Bensis
04:00 PM: ETA Lake Bensis
05:30 PM: Depart for Tabunok
06:15 PM: ETA Tabunol/wait for the rain to stop
08:30 PM: Home sweet home
Our Cantipla to Lake Pingganon hike expenses
V-hire to Cantipla: PHP 120 per person
Donation to Moncado Hotel: PHP 50 per person
Habal-habal from Lake Bensis to Tabunok: PHP 100 per person
Reminders:
You'll likely have to donate PHP 20 per person to the caretakers who clean up the camp site. (As of 2021, admission fee is PHP 50)
Practice LNT, be a responsible visitor, and don't be an as*hole.
There's no water source available at the campsite.
There's a comfort room available inside the church near the lake.
If you're hiking, bring at least a liter of water and ION drink.
How to get to Lake Bensis
The easiest way to get to Lake Pingganon is to charter a habal-habal (motorcycle taxi as they say) from RD Pawnshop in Tabunok Market. There are habal-habals within the area that can take you to the church near Lake Bensis. Travel time is 30 to 40 minutes, and fare is PHP 80 to 100 per person and per way.
For a smooth and safe trip, look for drivers who are from Pingganon. In addition, make sure their motorcycles are big, as the ride can get bumpy and rough.
Alternatively, there are established roads from JY Square and Tabunok that lead to the lake. Use Google Maps or Waze if you're planning to drive to Loay, Toledo.
For hikers like us, there are a number of options to get to Lake Bensis. You can start in Napo, Guadalupe or in Cantipla. Be creative, and channel your inner pathfinder to discover the trails to Lake Bensis.
---
Beauty is subjective. And, the way I see it, not everyone may find Lake Bensis beautiful, especially when they view it from their smartphones.
But, guess what? There's a reason why it triggered a civil war among the outdoor enthusiasts in Cebu. So, go ahead, and uncover the real charm of the lake. I've seen the allure and experienced the soothing vibe of the lake, in the aftermath of a Facebook clash. And, it definitely is a beautiful lake that could spark wars.
Just always be a responsible visitor when exploring the outdoors. Otherwise, you might find yourself in the midst of a verbal or online crossfire.