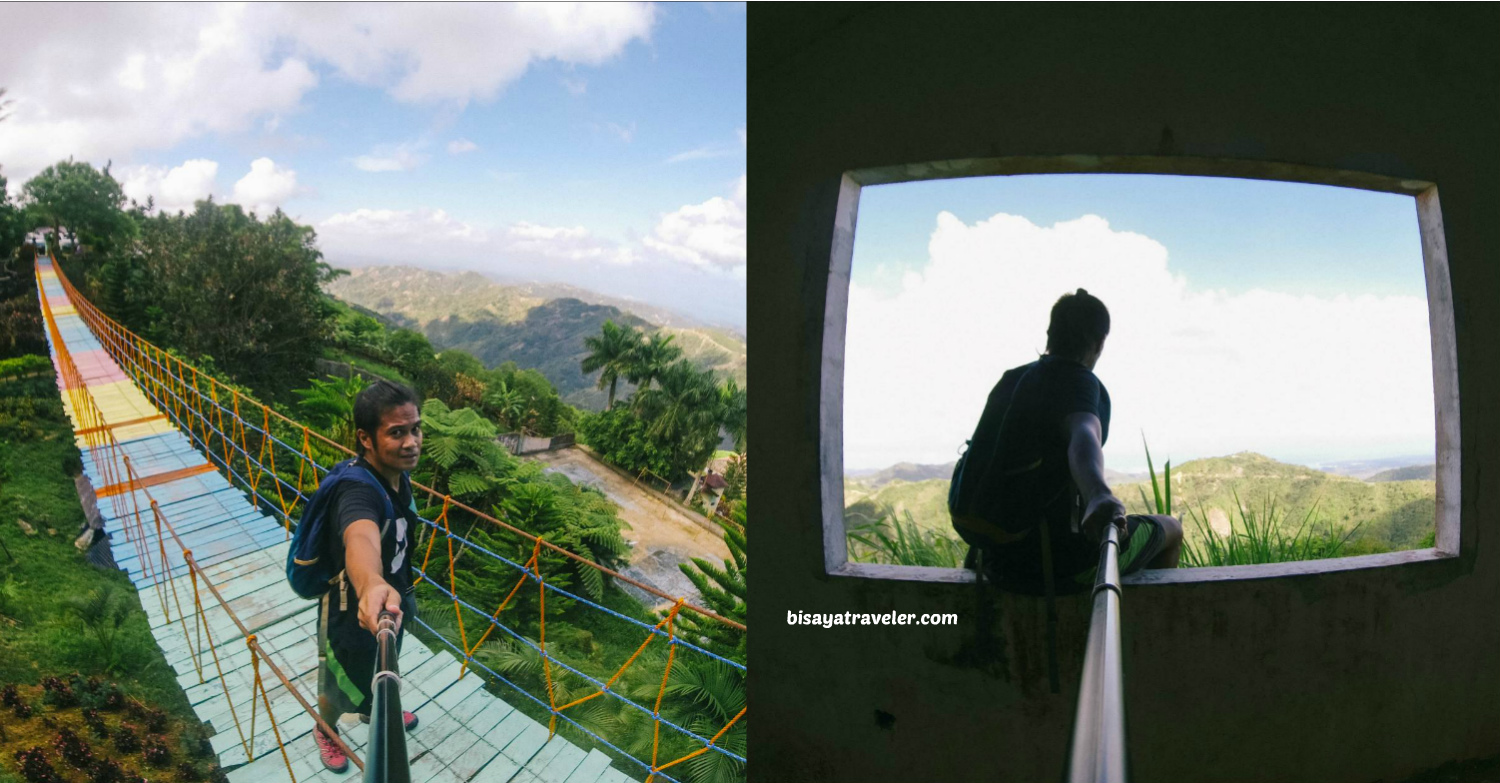 The Unplanned Sweet Escape At JVR Island In The Sky
A warm ray of light woke me up on a fine and easygoing Saturday. And, even with the blistering summer heat, I felt like it was going to be a beautiful and fruitful day. Moments later, I found myself standing on a crossroad with two roads leading to different directions. The road on my right was the gateway to hours of binging, blockbuster movies and Facebook soap operas showing pilot episodes every five minutes. And, the other road was a blank canvas. As tempting as the first option was, I had to go with the blank canvas. Like an abstract painter, I prepared my tools and made my first stroke. And that first stroke was the breezy and photogenic JVR Island in the Sky in Balamban, Cebu.
While it wasn't exactly a masterpiece, it at least appeased my wanderlust. What's more, my pit stop to JVR Island in the Sky gave me a bunch of new ideas for my outdoor escapes in the near future.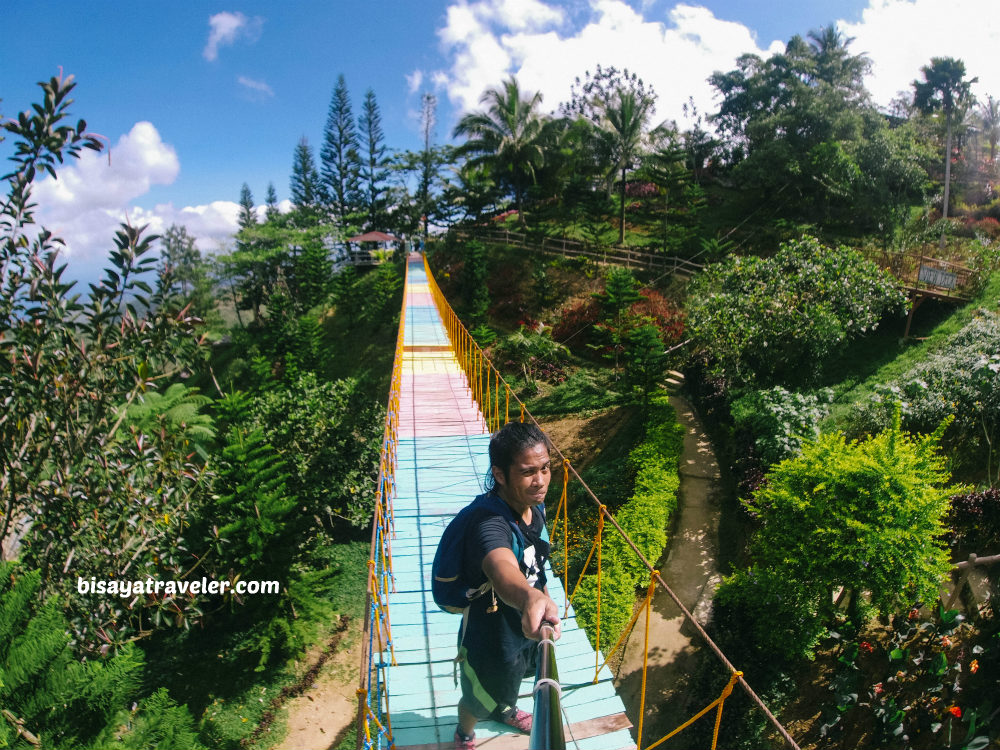 My JVR Island in the Sky Experience
My heart yearned for an escape. Days of dealing with a parade of work and virtual realities gave me the urge to take a breather from the daily grind.
I badly needed a break.
I had to do something, or go to a place where I could see the universe's finest creations. Otherwise, I'd become crazy, irrational, restless and wild.
Staying at home wasn't exactly a good idea since I'd just be tempted to check my emails and work notifications.
So, the best option for me was to go in Cebu's highlands, and indulge on some refreshing mountain air.
With a vague trip plan, I made my way to Ayala Center Cebu to catch a V-hire ride to Balamban, Cebu.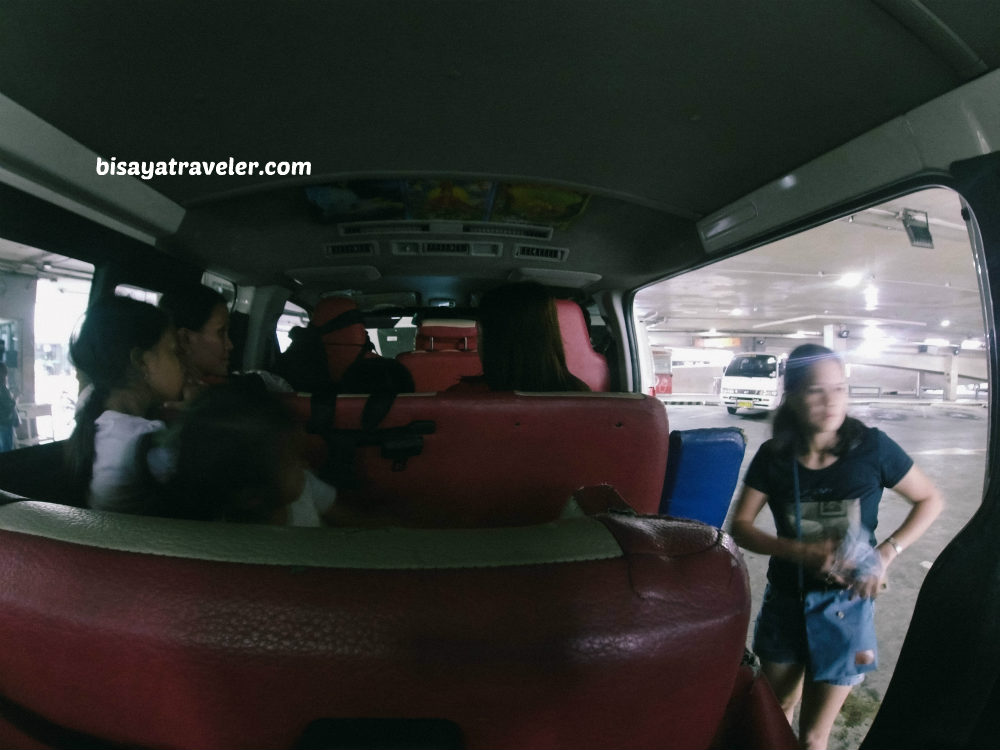 Since the options available are plenty, I wasn't really sure where to go in Balamban, Cebu.
Should I go to Mount Manunggal?
How about Buwakan ni Alejandra?
Should I explore the newly opened attractions in Cantipla and Balamban, Cebu?
How about revisiting JVR Island in the Sky for nostalgia's sake?
One thing is for sure, though. I do have a curious and adventurous soul and an open mind. And, that's enough for me to create a fun day in Gaas, Balamban.
Truthfully, it was one of those random bahala-na-si-Batman escapades
On the way to Gaas, Balamban, I still wasn't sure where I'd be going. With my eyes close, I, then, imagined a multitude of realities and outcomes for this random escapade in Balamban,
And, after a few twists and turns on TCH, I came up with a plan. Well, sort of a plan.
My plan was simple. I just have to start my trip in a place where I was familiar with – JVR Island in the Sky. Once there, I'd look for signs from the universe on where to go next.
Perhaps, I could make a stop to Buwakan ni Alejandra or Florentino's Eco Park? I definitely didn't know what was going to happen. When I travel with an open itinerary, I just follow the signs and make up as I go.
Along the way, I was fascinated by the recent developments in this steep highway in Cebu.
Strawberry and flower farms are sprouting.
Cool hangout spots for riders are increasing.
And, eateries with a side of breathtaking mountain views are booming.
Minutes later, I arrived at a certain spot in Gaas, Balamban. But, it was neither JVR Island in the Sky or Buwakan ni Alejandra.
As it turned out, I missed my chance to make a stop at the gate of either Buwakan ni Alejandra or JVR Island in the Sky. Still, it was perfectly fine for me.
I, after all, love to walk and listen to the inner voice inside my head.
As I was walking towards JVR Island in the Sky, I caught a glimpse of one of the newer attractions in Gaas, Balamban – D'Village Antique House.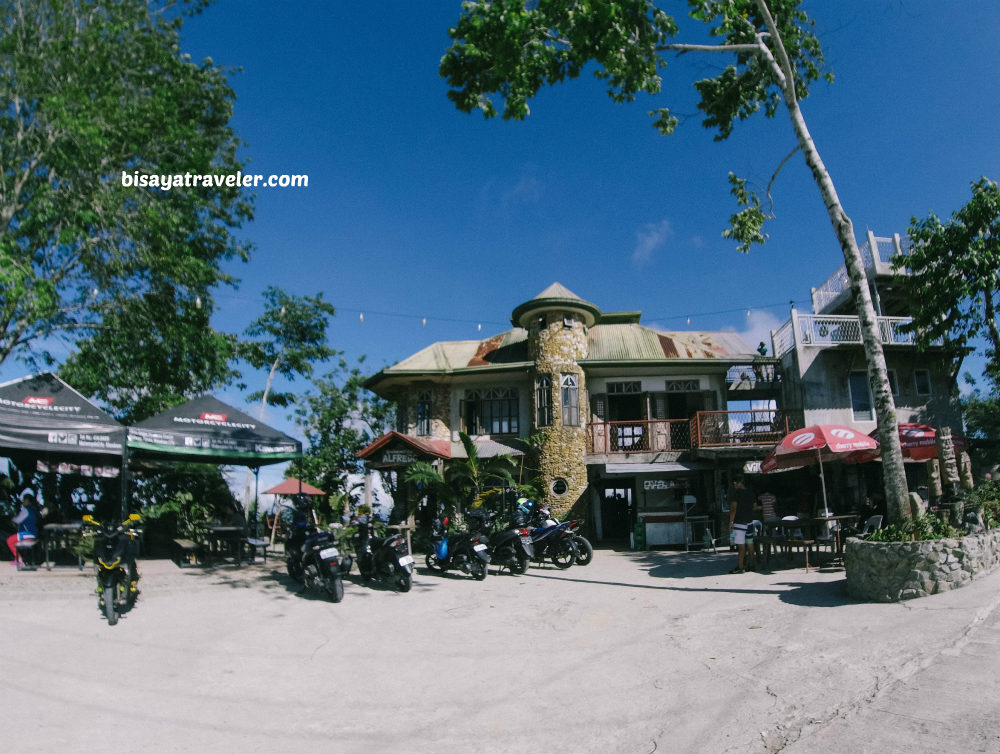 Not to mention, I saw how TCH turned into a flourishing biker's playground from a sleepy mountain town.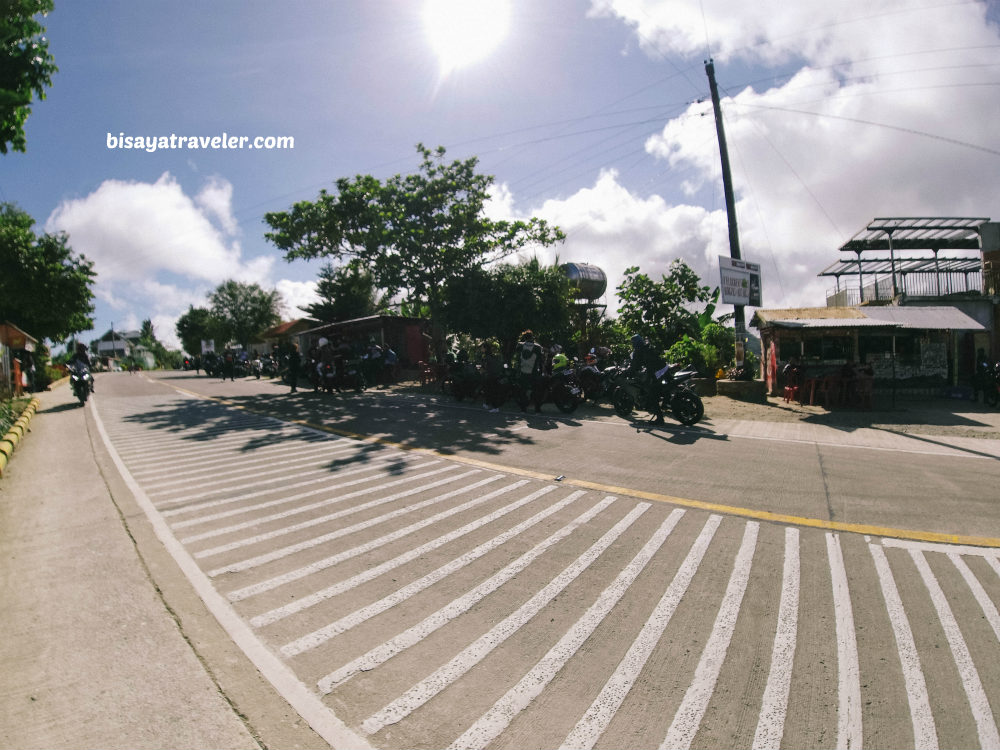 Strolling at leisurely pace, I also got a good look of a beautiful mountain trail. For some reason, this trail seemed a bit familiar to me.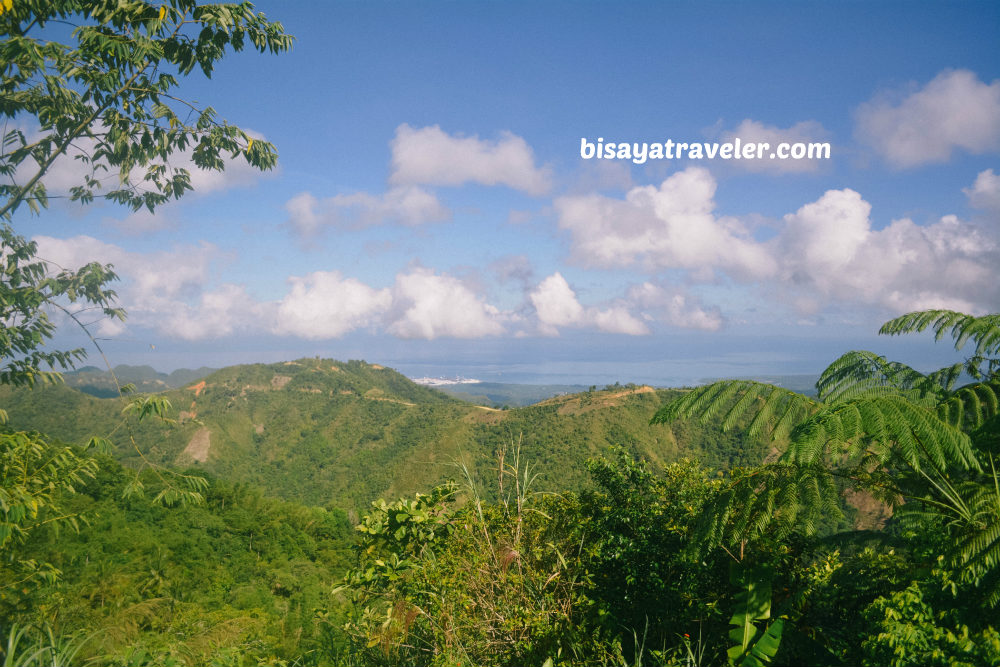 Of course, I had to know the name of this place or trail. As always, I saw it as a sign from the universe signifying a new adventure waits.
And, just like that! I found a new goal or mission on my random and unplanned quest in Balamban, Cebu.
I kept on walking, until I arrived at the entrance of JVR Island in the Sky.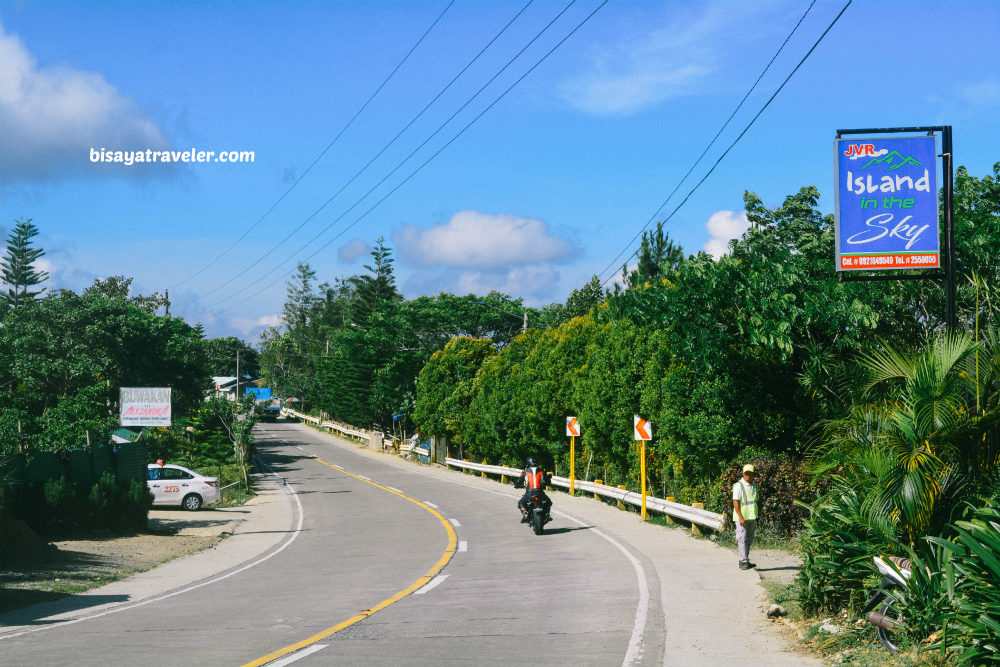 Thrilled and full of enthusiasm, I set foot inside JVR Island in the Sky and paid the admission fee to kick-start my tour in this mountain resort.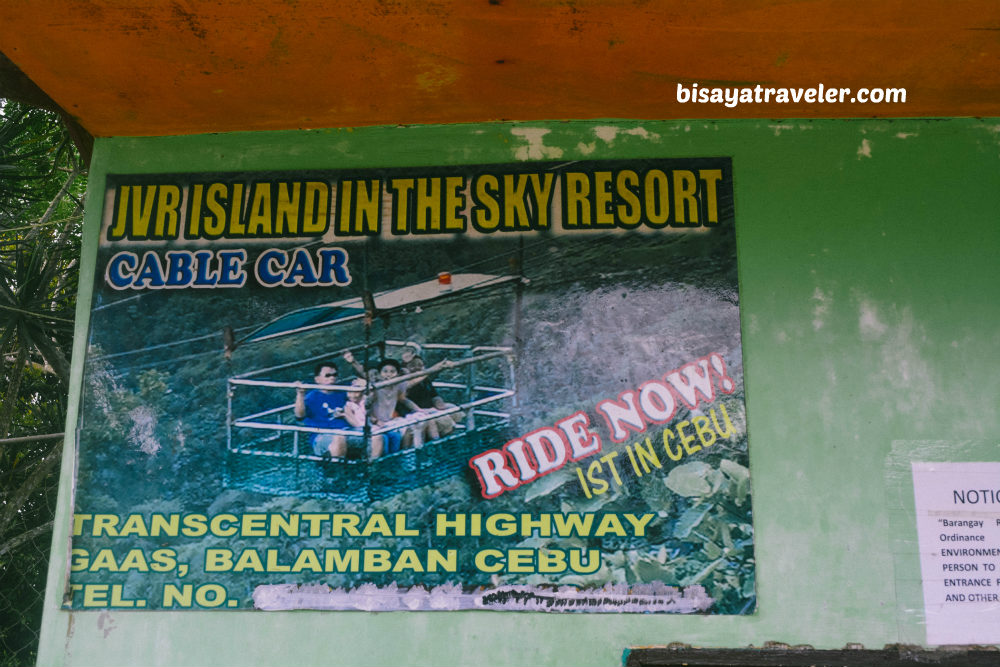 Luckily for me, the place wasn't crowded, meaning I could spend a lot of time unwinding and soaking up the rejuvenating mountain atmosphere.
Since the famed and colorful hanging bridge was occupied, I decided to explore the whole area.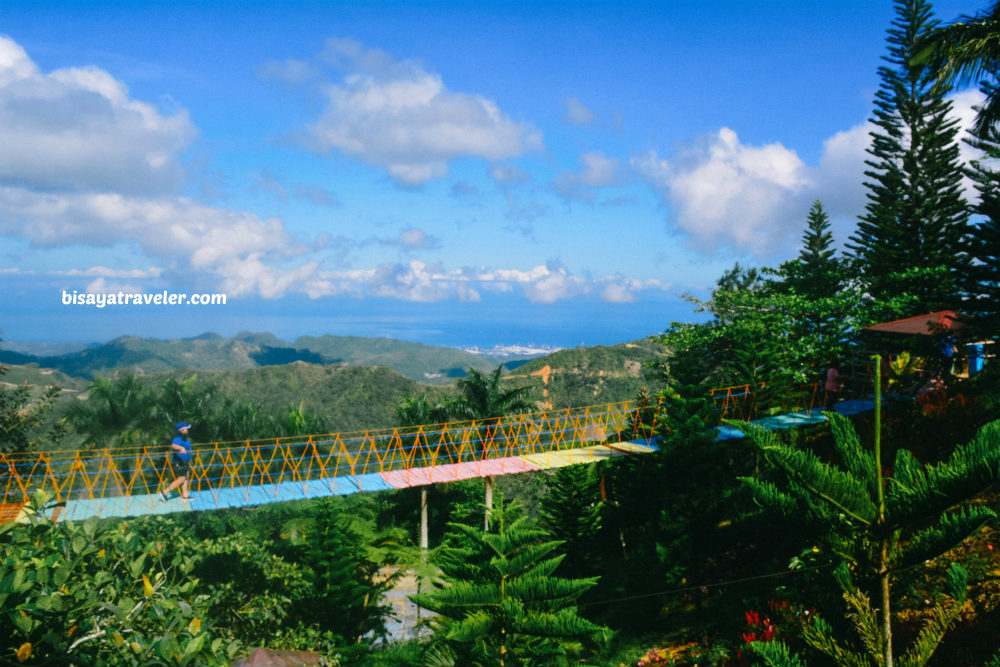 I climbed my way to the top, until I arrived at the launching pad of the cable car ride at JVR Island in the Sky.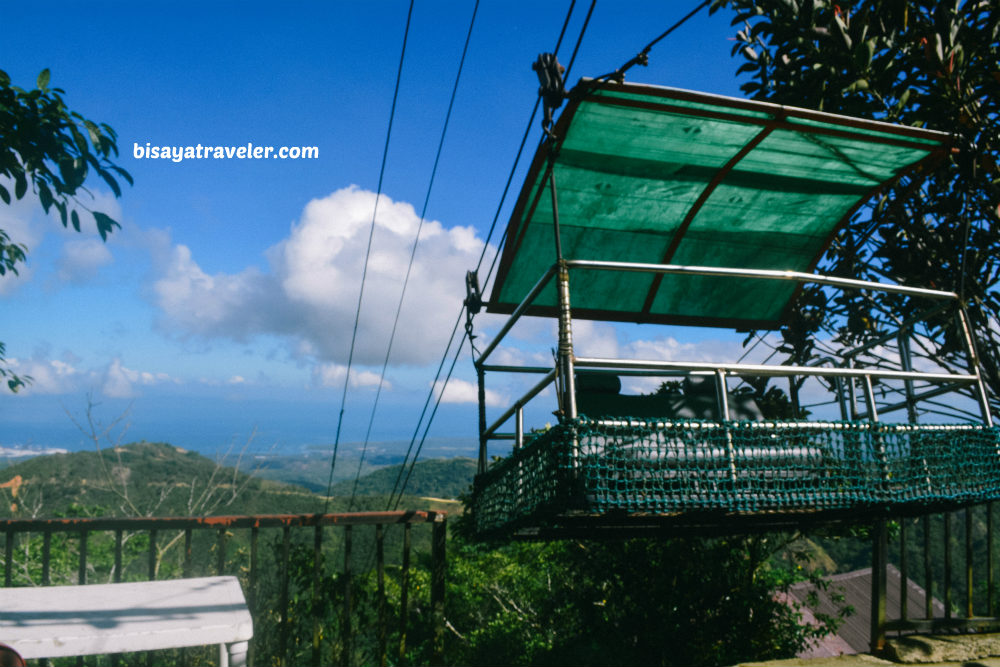 Should I take the ride?
It looks fun, sturdy and exciting, as far as I'm concerned. But, rides like this are best experienced with someone else or a group.
And, besides, I just wanted to relax, listen to the sounds of nature and take in the fresh air.
From there, I slowly went down to find my favorite spot at JVR Island in the Sky.
Along the way, I bumped into some familiar spots inside the mountain resort. As I've hinted earlier, this wasn't my first time visiting JVR Island in the Sky. And, I have a handful of beautiful memories of Balamban, Cebu attraction.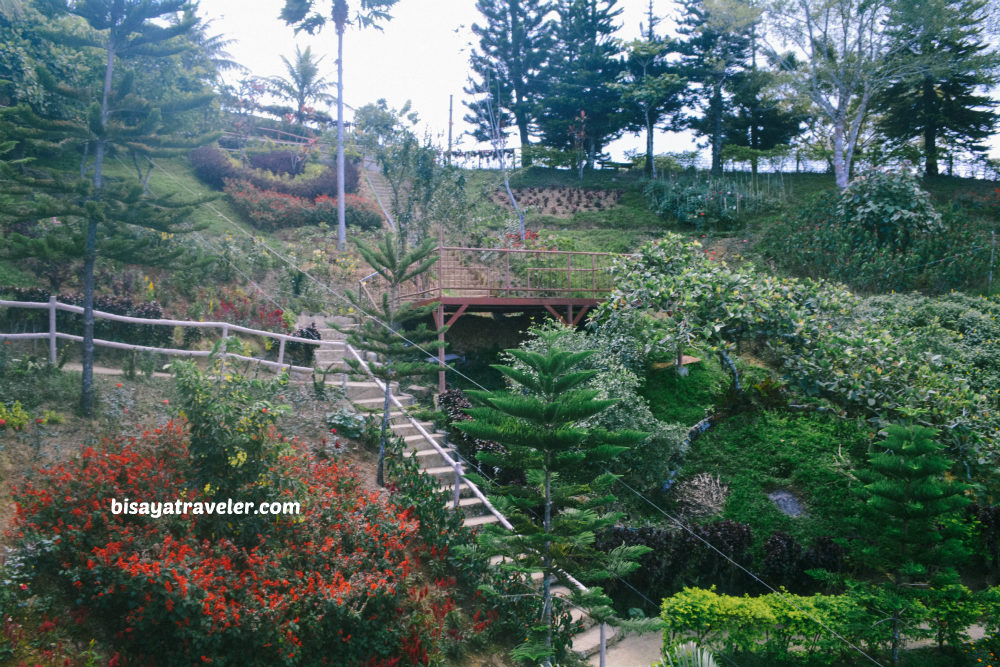 The pine trees and overlooking vistas somehow reminded me of a date with my wife (then-girlfriend) years ago.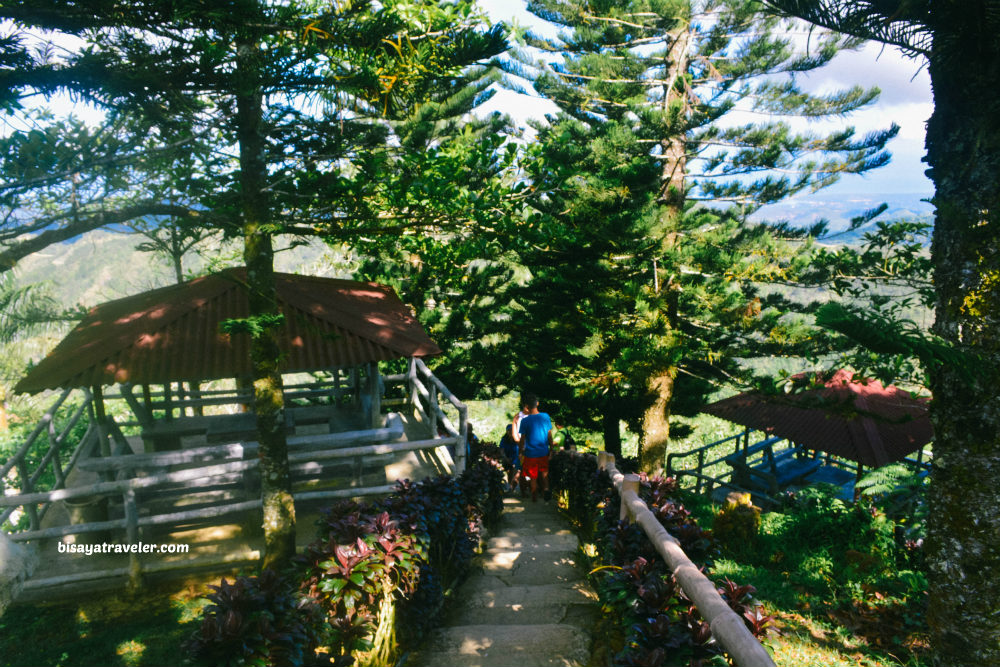 There are also cottages where I could sit down, and do some reflection. But, I didn't rent one because I know a perfect spot wherein I could chill and listen to my thoughts.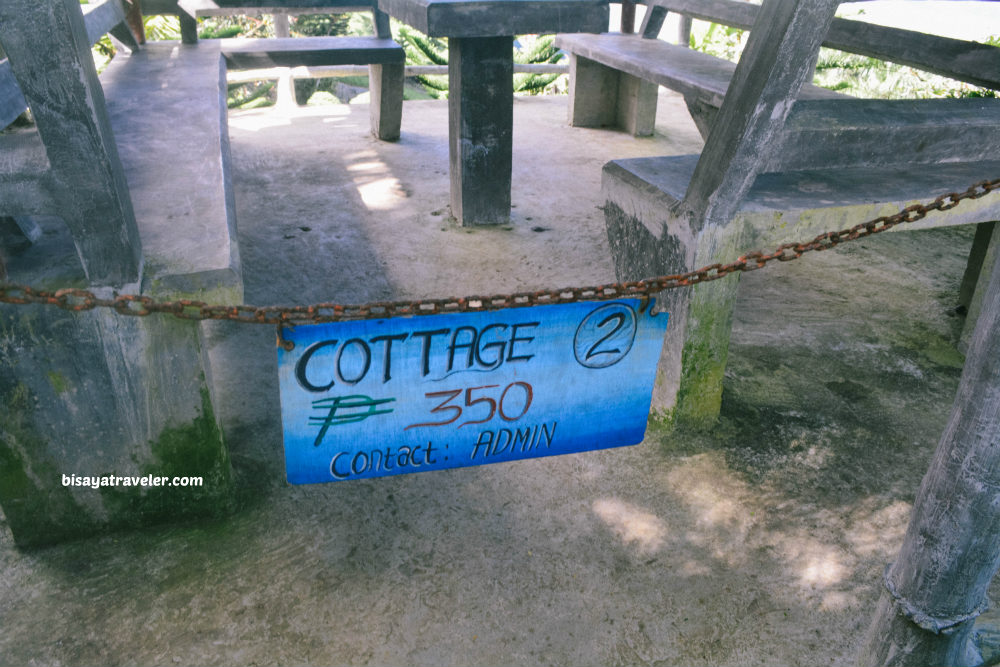 And, there's the pool at JVR Island in the Sky. If the pool was available, I would have spent some time swimming there. But, the pool was closed on my visit to JVR Island in the Sky. And as far as I know, the pool is only open on Sundays or when a group stays there overnight.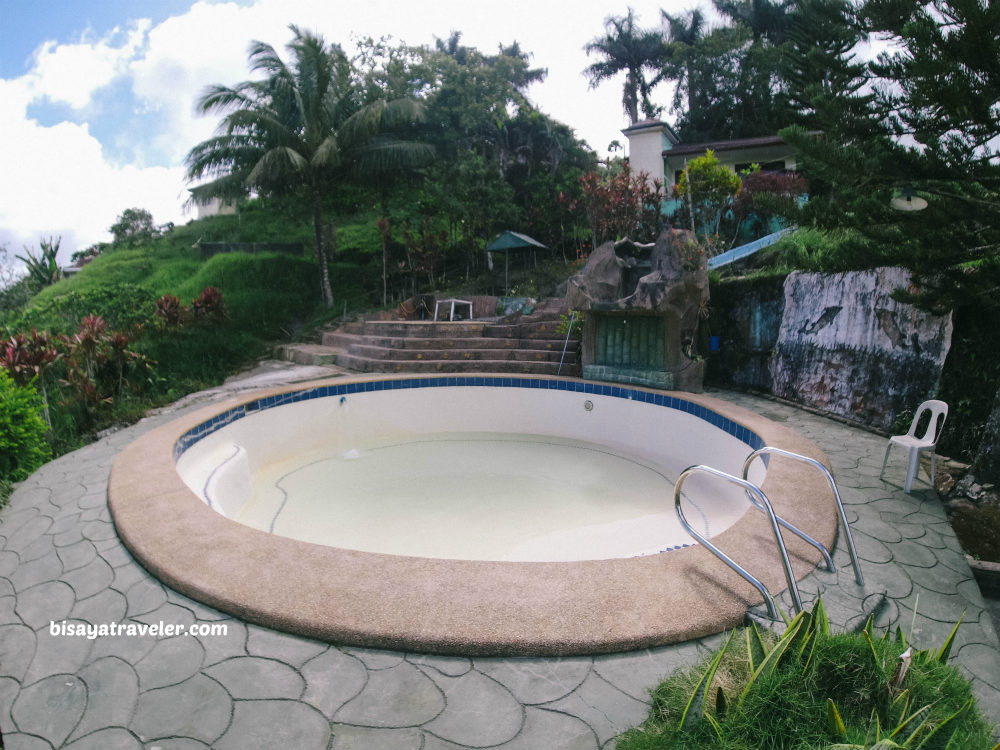 Soon after, I arrived at my favorite spot at JVR Island in the Sky.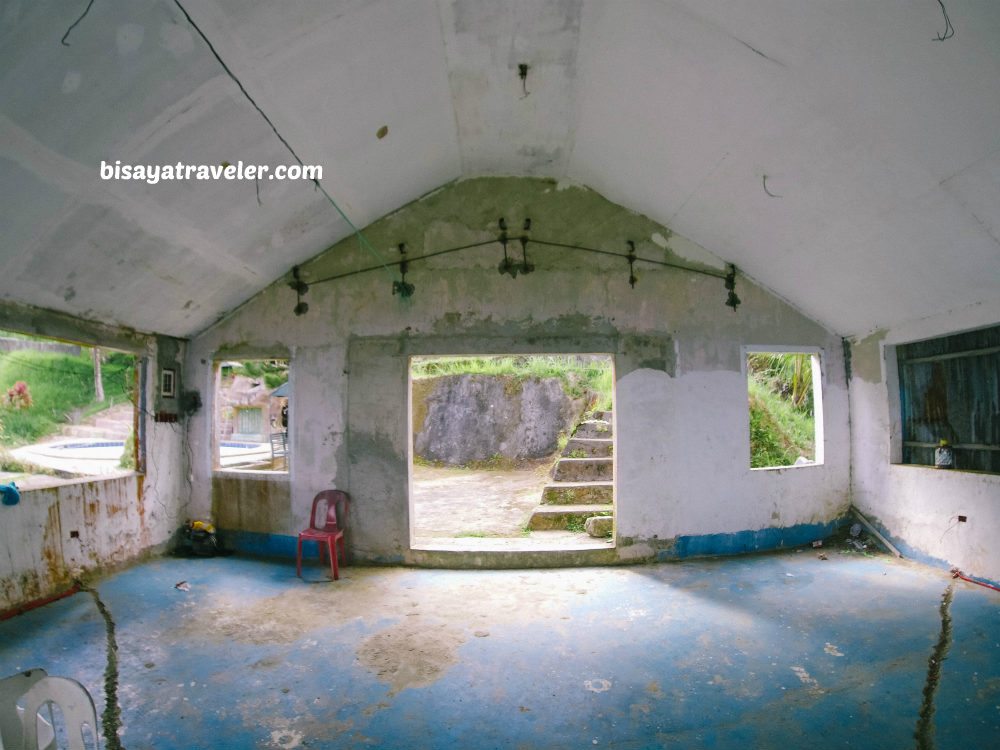 With nobody around, I seized the opportunity to enjoy it all to myself.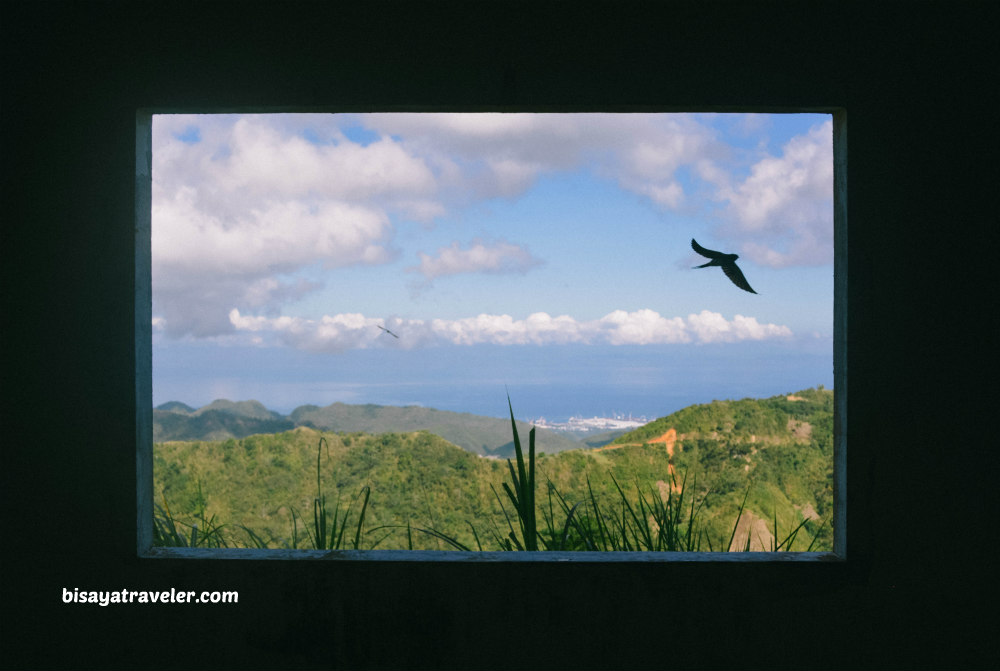 And, it was just what I longed for the entire week.
No email notifications.
No social media trolls and a$$holes.
And, no traces of insane amounts of traffic.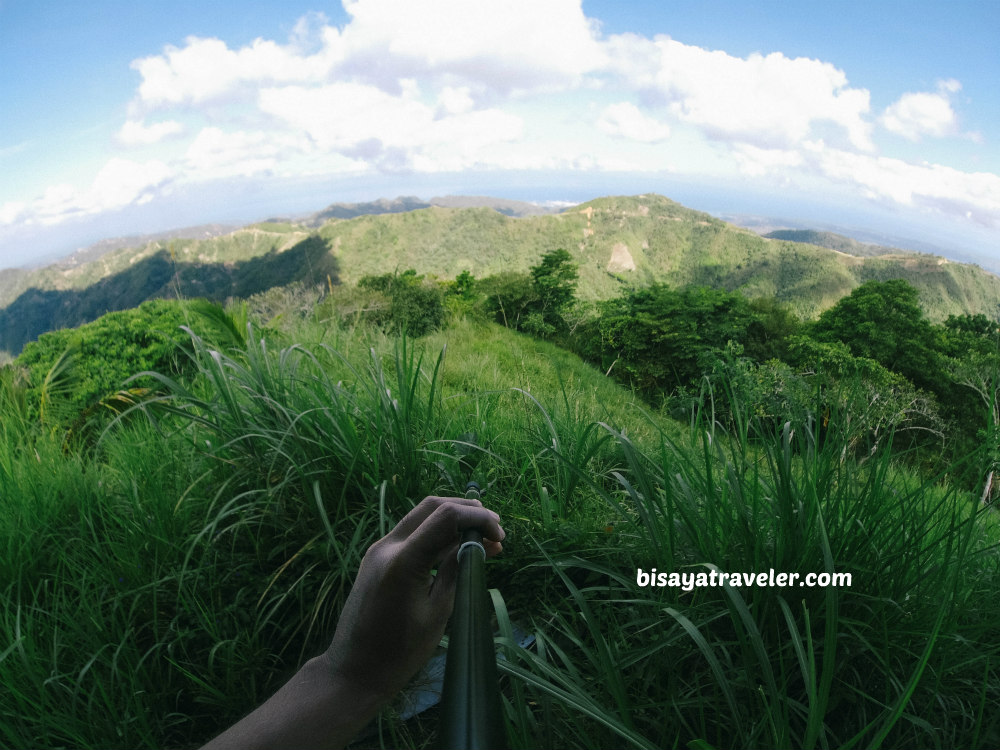 I sat there for a few minutes, just admiring the view and drinking in the therapeutic atmosphere.
I feel so relaxed and calm here. It is as if a healing energy from the earth's core swirled up to soothe my weary spirit.
And, I was also staring at the trail where one of my future hikes will be taking place. With my knowledge in Cebu's geography, I calculated the time to get to Mount Tagaytay in Toledo from Gaas, Balamban.
There was no official confirmation that this trail leads to Toledo, Cebu. But, my hiker's intuition told me that it was a key area of a hike from Toledo to Gaas, Balamban.
As a matter of fact, I thought that I've seen this trail on our hike in Guinkamote Peak in Toledo, Cebu.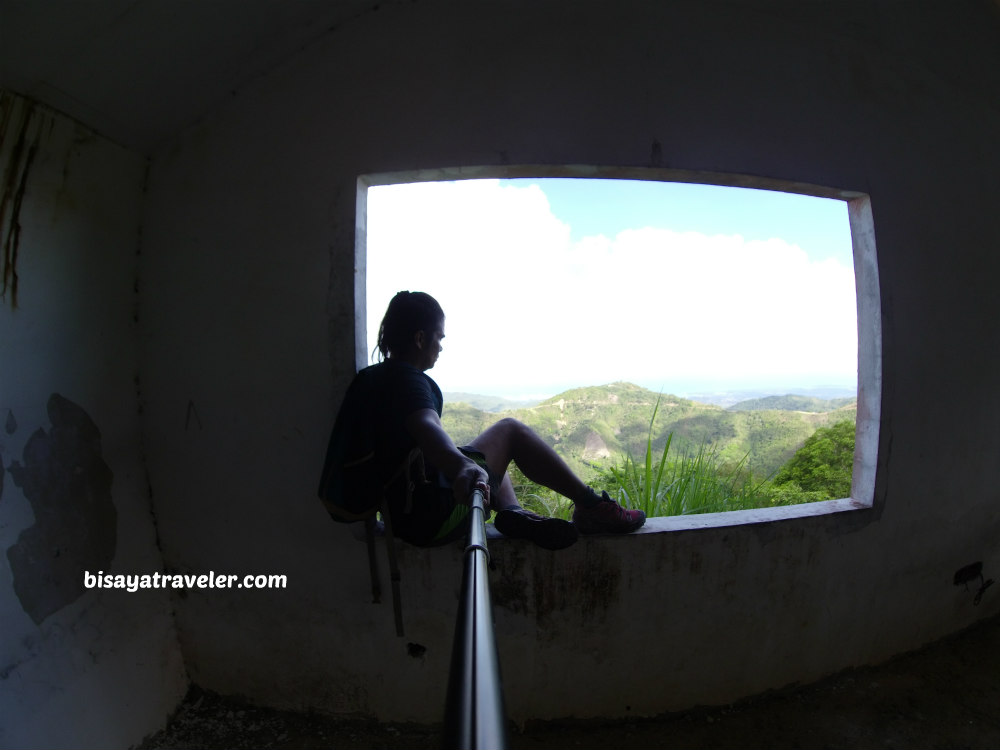 Feeling relaxed, I walked my way up to the colorful hanging bridge at JVR Island in the Sky.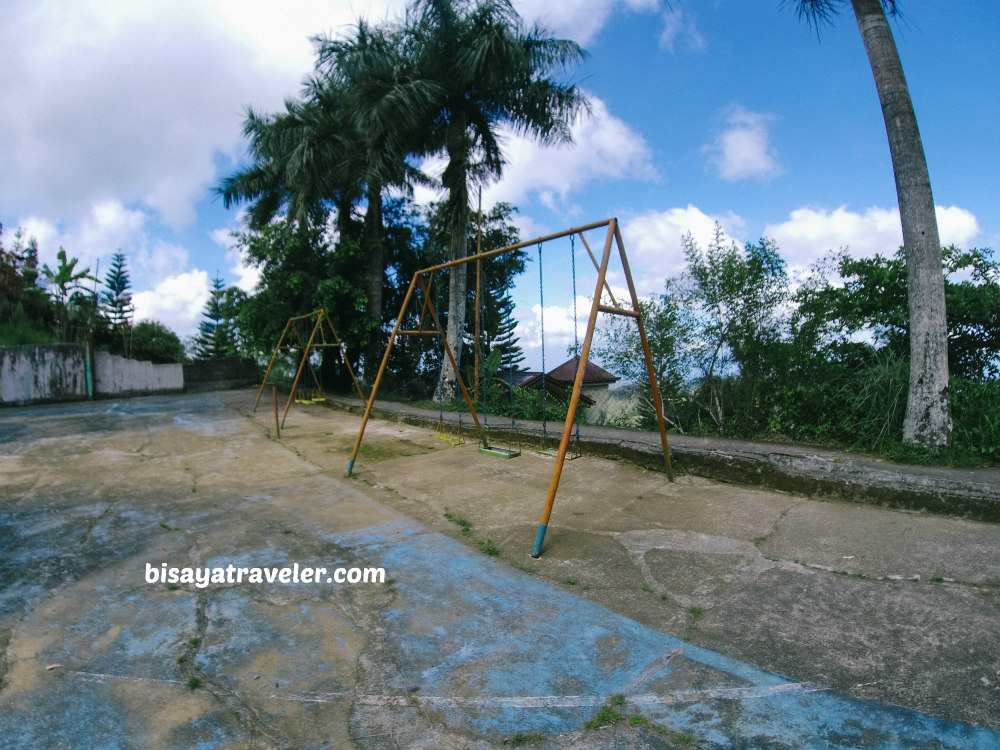 This time, there was nobody around snapping pictures on the hanging bridge.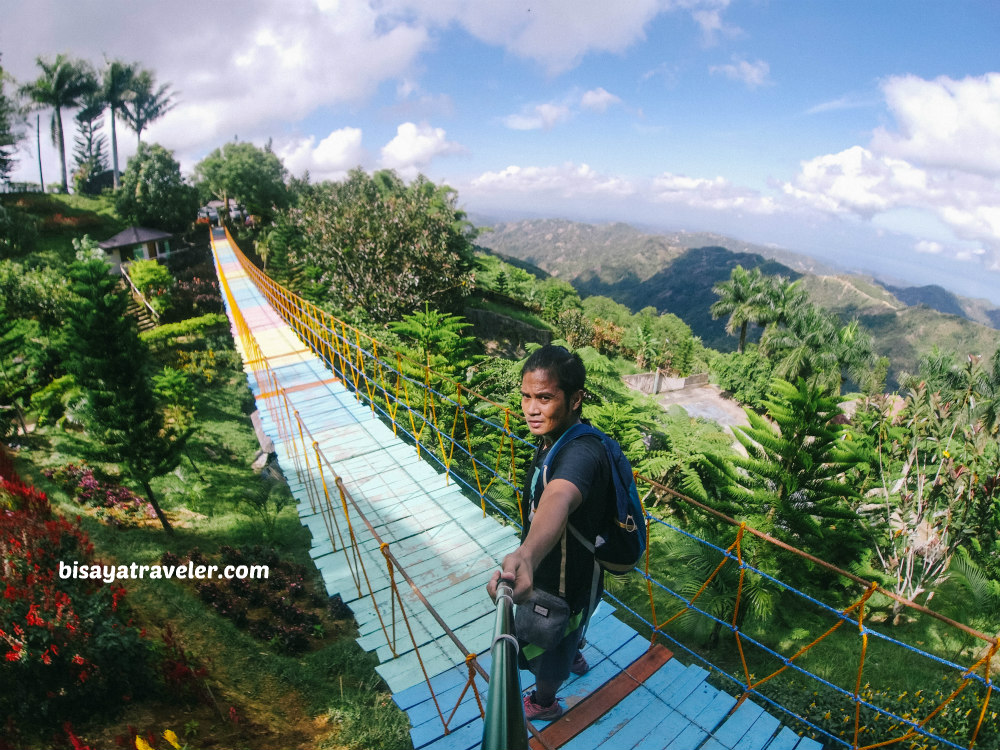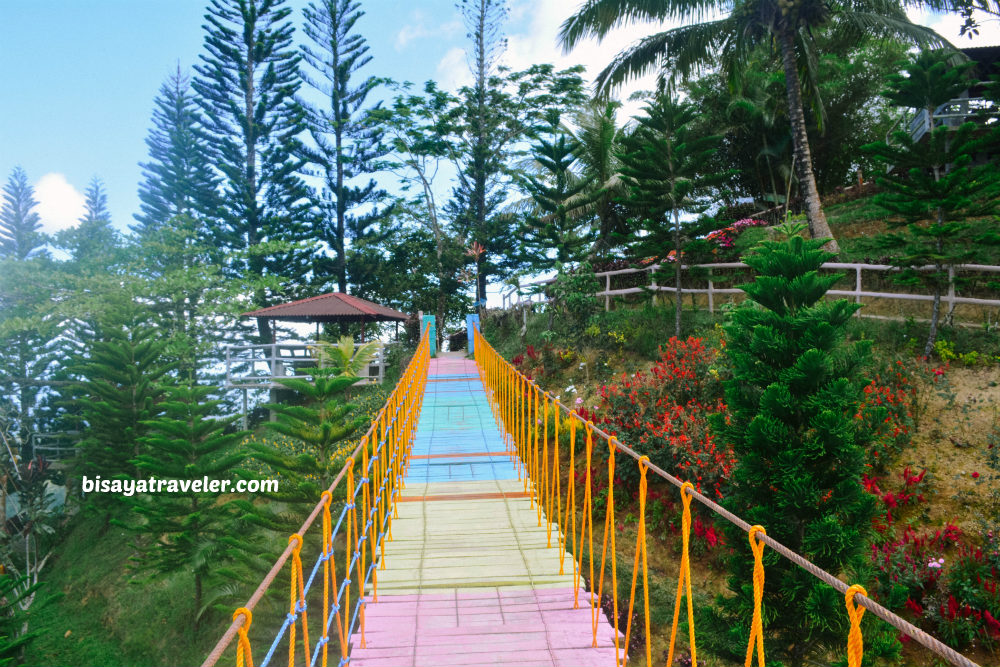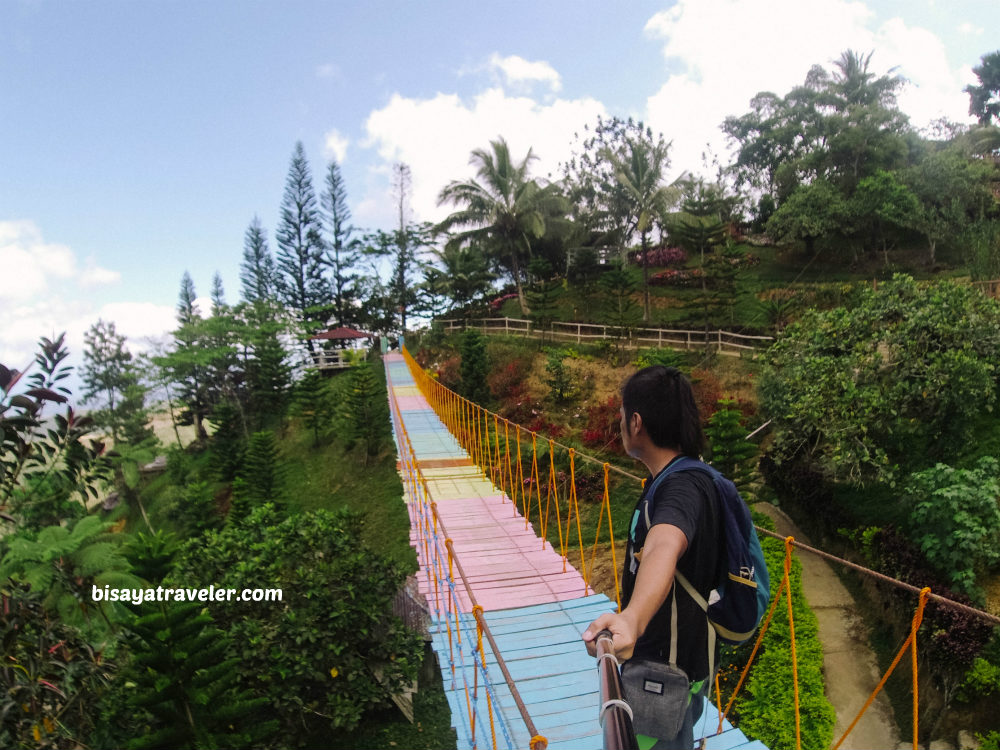 Afterwards, I approached one of the resort's guards, and pointed to the adjacent mountain asking if it's a trail leading to Casoy, Toledo.
And, guess what? My hiker's compass was right!
After this great appetizer, I went on with my escape, hitting a bunch of attractions in Cebu, like Florentino's Eco Park.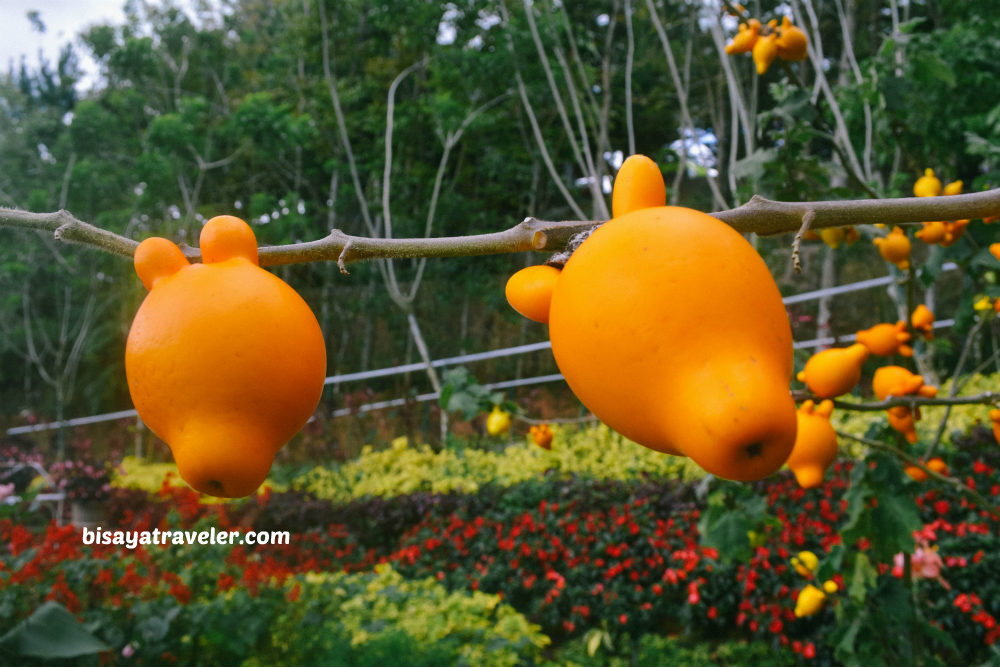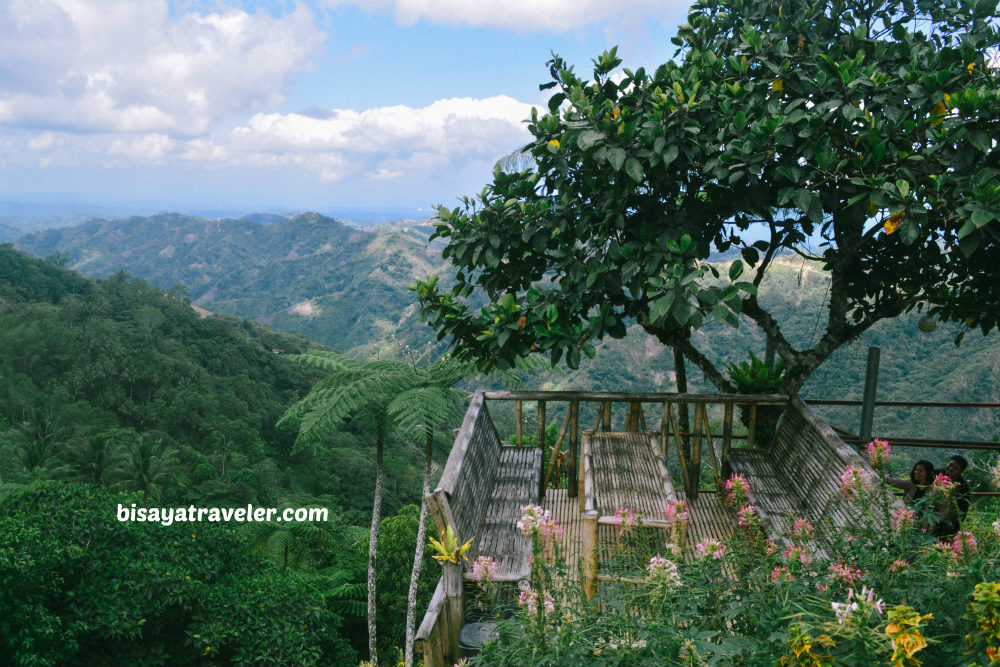 How to get to JVR Island in the Sky:
The best and simplest way to get to JVR Island in the Sky is to take a V-hire bound for Balamban via the steep TCH (Transcentral Highway). Travel time is about 40 minutes and fare is around PHP 120 per person. To get back to Cebu, you may take a ride on any of the V-hires that pass the resort. Just don't stay late, though, as options for transportation are fairly limited in this part of Cebu.
Alternatively, you may also go on a Cebu Highland tour offered by local operators. For the most part, this tour includes stops to other highland attractions in Cebu, such as Sirao Garden and Buwakan ni Alejandra.
If you have your own car, you may use Google Maps of Waze to find JVR Island in the Sky.
Entrance fee and rates at JVR Island in the Sky:
Entrance fee: PHP 55 for adults and PHP 30 for kids
Swimming pool: PHP 50 per person
Cottages: PHP 350 for the entire day
Accommodations:
Barkada room 1: PHP 4,500 a night (good for 5 people)
Barkada room 2: PHP 3,500 a night (good for 8 people)
Family rooms: PHP 2,500 a night (good for 4 people)
Couple rooms: PHP 1,500 a night (good for 2 people)
Important notes:
Each room includes a dining room and kitchen
Each extra person has a charge of PHP 300
Swimming pool and entrance fee are free for those who stay overnight
Other information about JVR Island in the Sky
Email add:

[email protected]

Contact numbers: +63916 138 5764 or (032) 272 3409
Opening hours: 07:00 AM to 07:00 PM daily
Swimming pool is only available on Sundays
I felt like I've accomplished something already at that moment. Not only did it refresh my senses, but I also got a new blueprint for a future exploration hike in Cebu. Moreover, the resort was a great appetizer to a fun day in Balamban, Cebu.
Heck, I almost hiked all the way to Toledo, thanks to my pit stop at JVR Island in the Sky. As an added bonus, I made stops to Florentino's Eco Park and Buwakan ni Alejandra as well as walked on TCH all the way to Sirao.
I must say it wasn't bad for a random solo adventure.