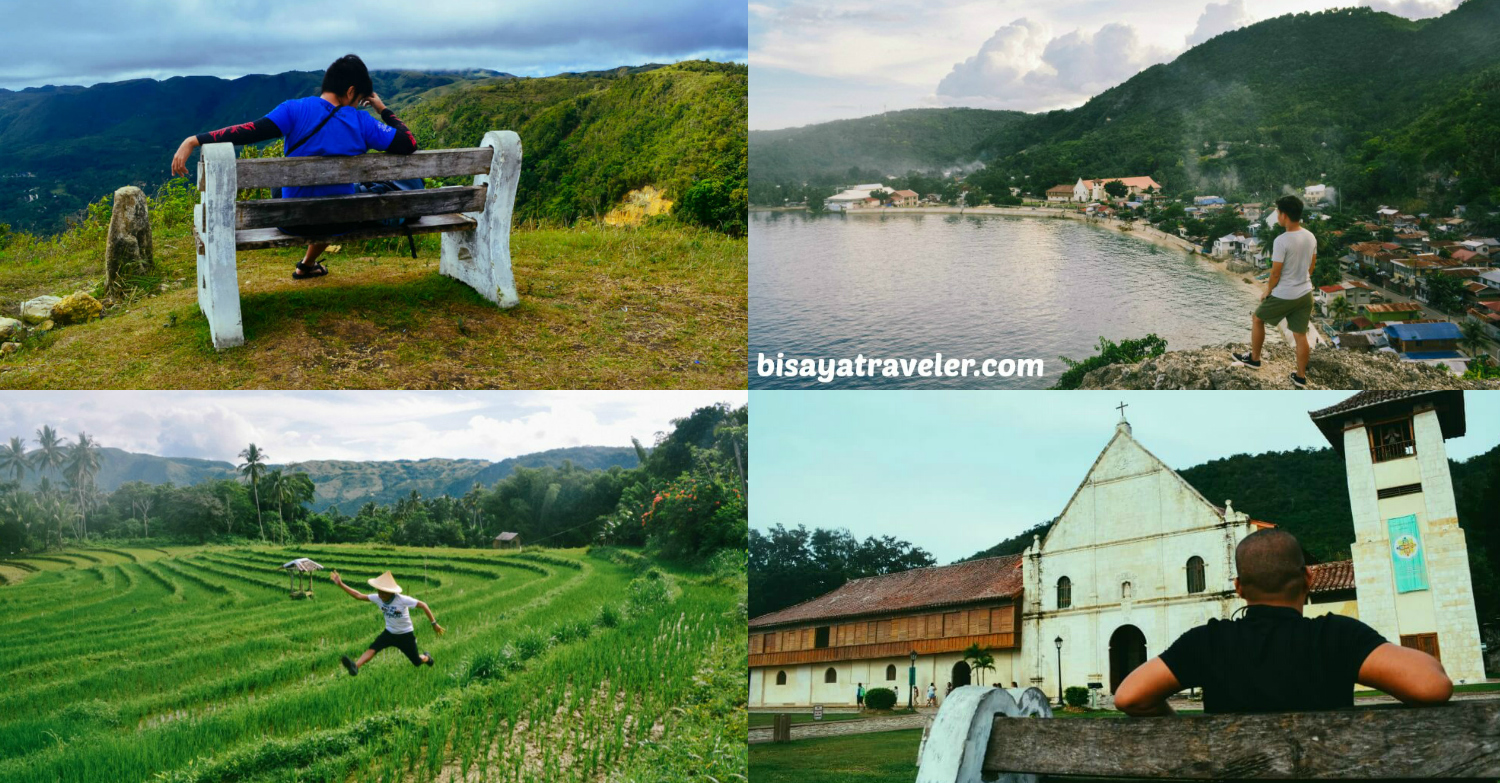 11 Fantastic Things To Do In Boljoon, Cebu
Boljoon is, without a doubt, one of my favorite towns in Cebu. Easygoing, peaceful and simply beautiful, Boljoon, Cebu has swept me into bliss on numerous occasions. Not only does it exude a bucolic old town charm, but it offers a smorgasbord of postcard-worthy sights and experiences as well. From photogenic mountains to 18th-century Spanish-colonial structures, there's indeed no shortage of fantastic things to do in Boljoon, Cebu. And, while it's often overshadowed by its extroverted neighbor, Oslob, it remains a local favorite, thanks to the laid-back feel and incredibly amazing attractions in Boljoon.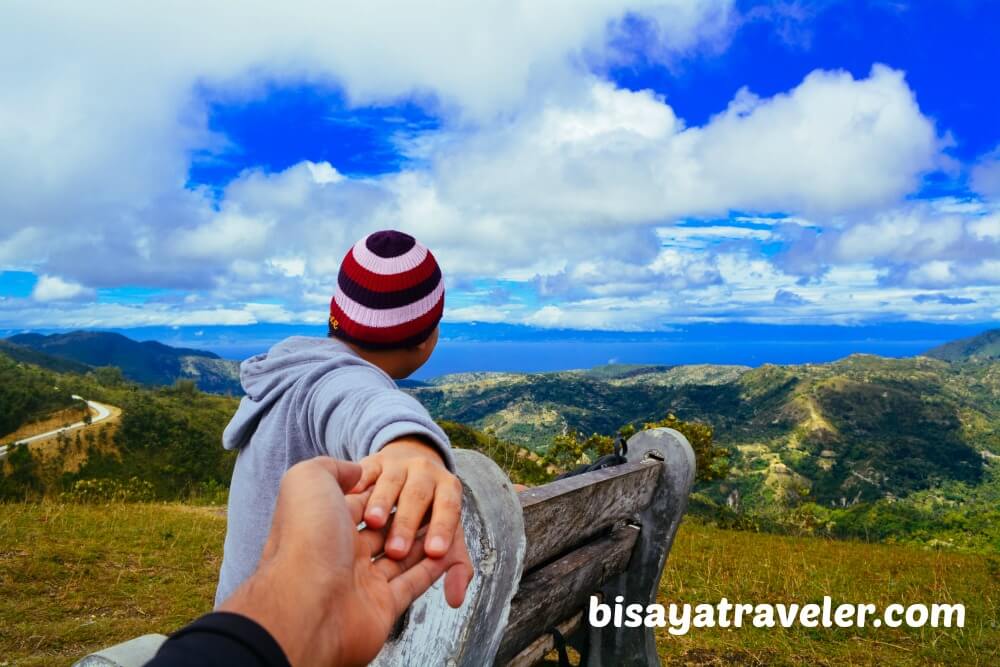 Headed to this serene town, but don't have a clue on what to do in Boljoon? Need some tips and suggestions for your weekend getaway in Boljoon, Cebu? Well, you might want to take a look at my personal list of the best things to do in Boljoon, Cebu.
1. Be mesmerized by the rice terraces in Upper Becerril
Boljoon's rice paddies are truly a sight to behold. Sure, they are not as massive as Banaue or Sagada's, but they will still unleash your inner shutterbug. With its wondrously green and eye-catching formations, it's, to me, one of the can't-miss sights and things to do in Boljoon, Cebu. Trust me, you can spend hours there, just admiring its beauty and soaking up the fresh mountain breeze.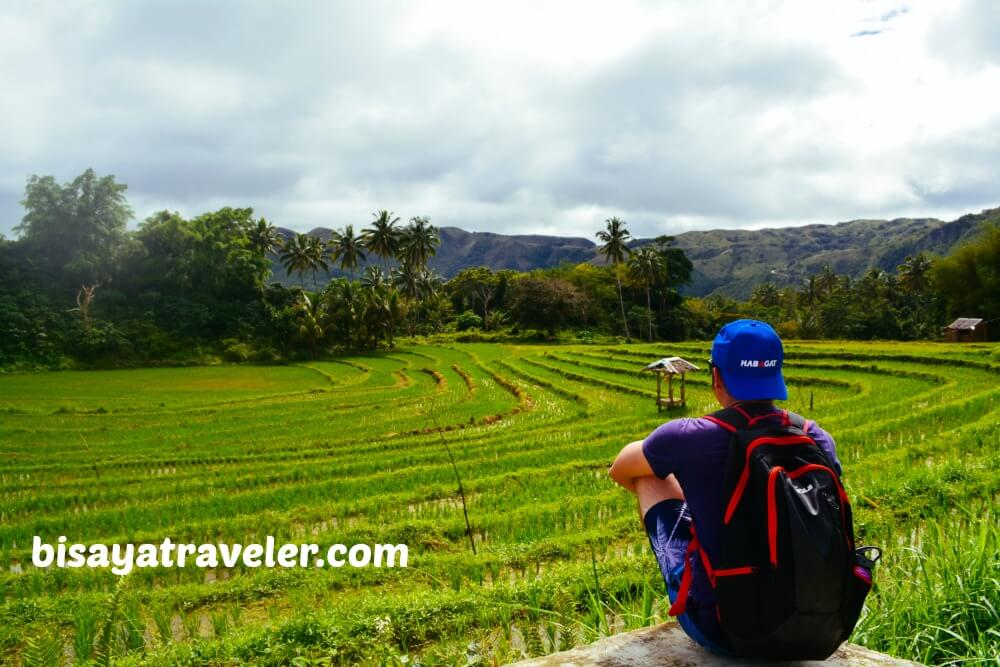 And, like most of the attractions in Boljoon, you don't have to spend a dime to gaze at the spellbinding beauty of these man-made wonders. Yes, folks, it is one of the many free things to do in Boljoon, Cebu.
There are, actually, two rice paddies in Upper Becerril. One is nestled before Dayhag Falls, and another one can be found a few meters from the waterfalls.
They are equally beautiful, so make sure to visit both of them.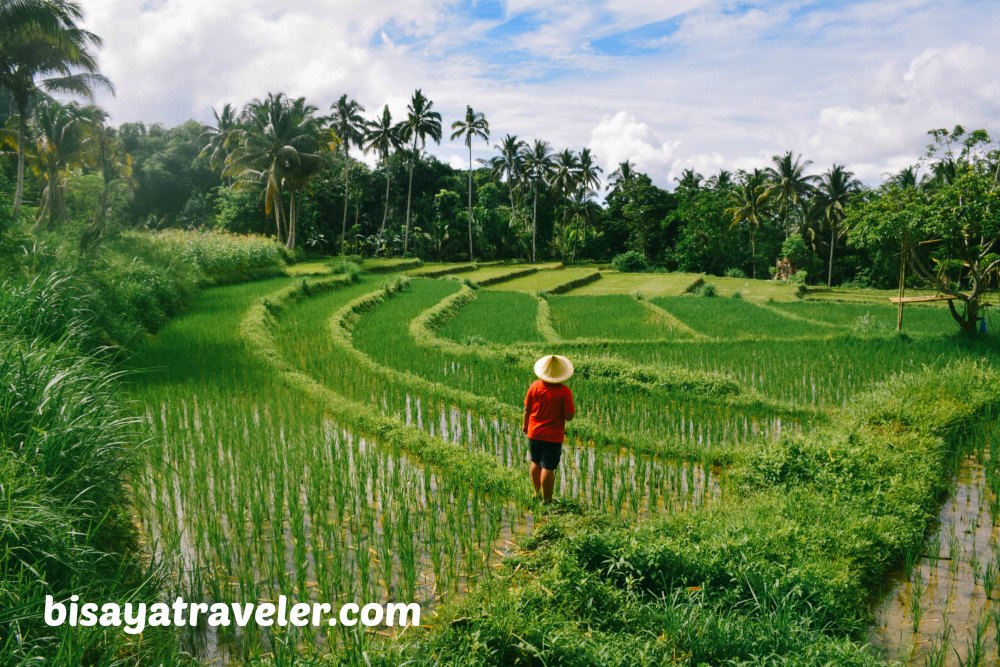 2. Visit or camp in Ablayan Peak
Searching for family-friendly attractions and things to do in Boljoon? Then, make sure to include a visit to Ablayan Peak to your list of things to do in Boljoon, Cebu! Although it's located in the highlands of Boljoon, it's fairly accessible. As a matter of fact, it's situated near the road leading to the other towns in South Cebu.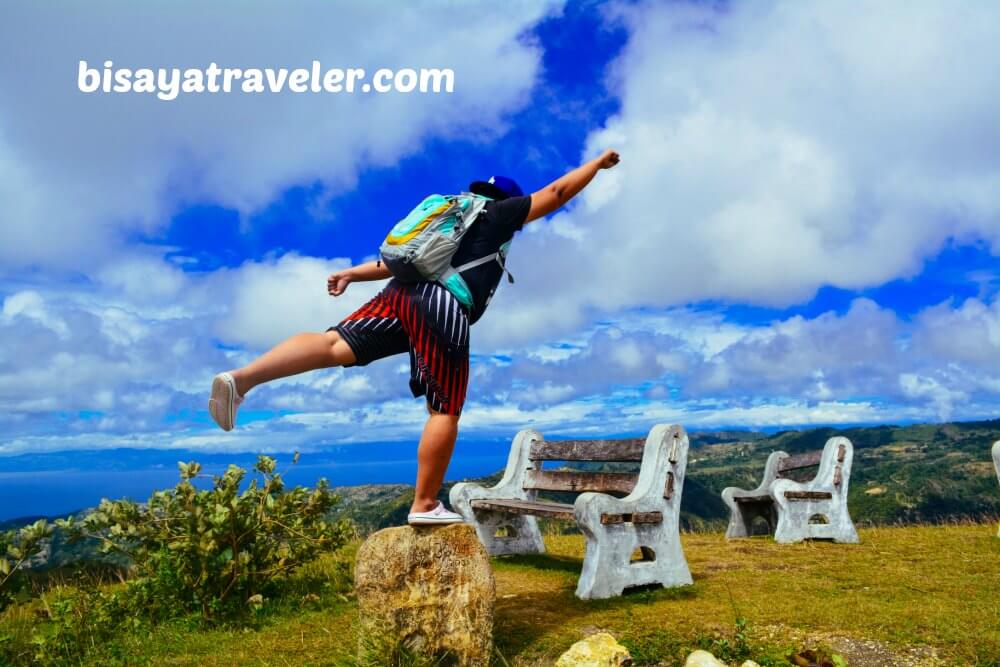 The last time I was there, Abalyan Peak only had a quartet of rustic benches. Thanks to Instagram, I've seen a handful of new features added into the mix, including swings, turning it into a family attraction.
But, make no mistake about it – it's not the swings or the benches that make Ablayan Peak a must-visit spot in South Cebu. As you visit Ablayan Peak, you'll be rewarded with breathtaking views of Boljoon and its nearby towns. And, on a clear day, you can see the islands of Bohol, Siquijor and Negros from this vantage point.
What's more, Ablayan Peak wows visitors with its fresh mountain breeze and serene setting, making it a terrific camp site.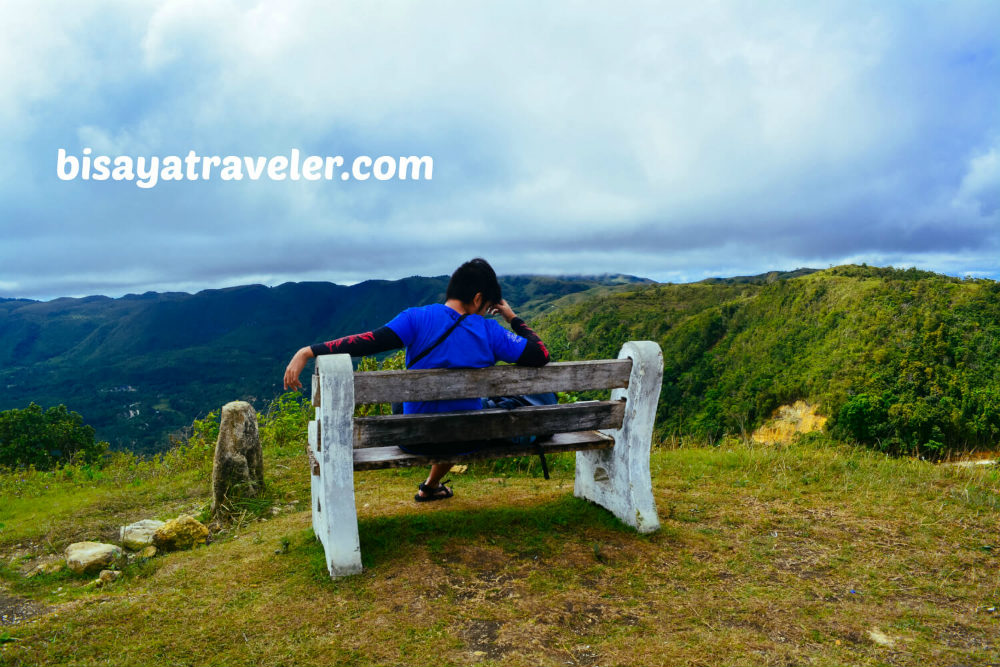 3. See Boljoon Church
No list of the best things to do in Boljoon is complete without a visit to Nuestra Señora del Patrocinio Church. As far as I'm concerned, it's the most underrated church and historic site in the whole province of Cebu. Heck, it's the only church in Cebu that has been listed by the National Museum of the Philippines as a National Cultural Treasure. Furthermore, it was declared in 1999 by the National Historical Institute as a National Historic Landmark
Pretty impressive, right? And, by the way, it's also under consideration for the elusive UNESCO World Heritage Sites of the Philippines as an extended member of the Baroque Churches of the Philippines. Whether you're a history buff or photographer, you'd love to put this church on your list of things to do in Boljoon, Cebu.
In my book, it's a beautiful and grand masterpiece from the yesteryear.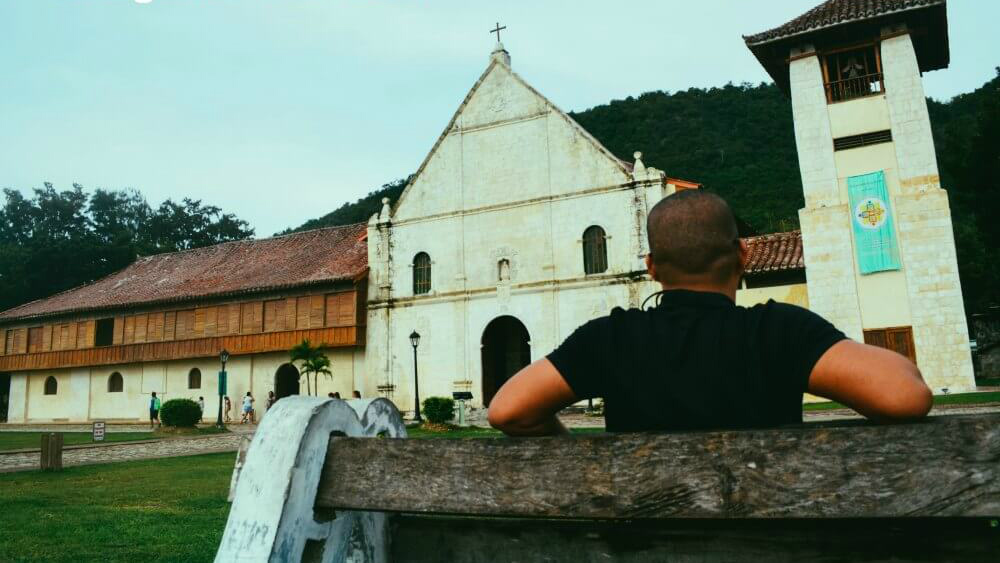 4. Visit Boljoon Parish Museum
The truth is, I don't know much about this Boljoon attraction. Sadly, I didn't get to spend a ton of time here, and know more about its exhibits. When we were visiting it, the museum was temporarily closed for renovations. But, in a short span of time, I was amazed by its old world feel as well as its liturgical and ecclesiastical artifacts.
Of course, I'm going back to this town pretty soon, and I'll certainly put it on top of my list of things to do in Boljoon, Cebu.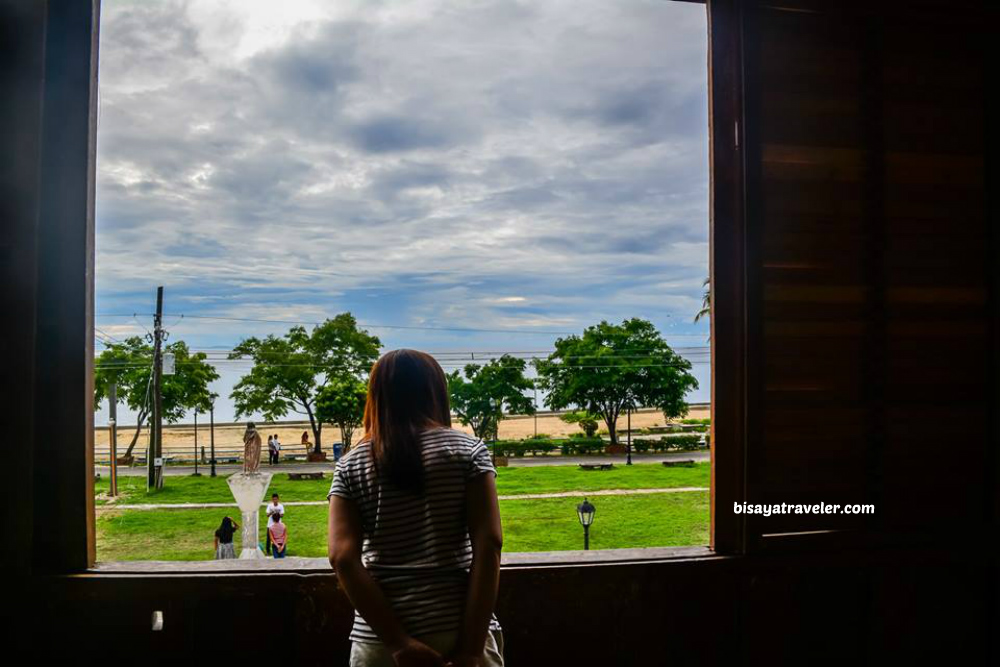 5. Wander around the Boljoon Parish complex
In the mood for more history and free things to do in Boljoon, Cebu? From the church belfry to the plaza cemetery, the Boljoon parish complex is loaded with sights that will give you a sneak peek into the town's history. While strolling around the complex, you'll feel like you're stepping back to an era where gadgets and smartphones don't exist.
Not to mention, these attractions in Boljoon will surely add vintage touches to your Instagram feed, infusing more variety and colors to your picture collage.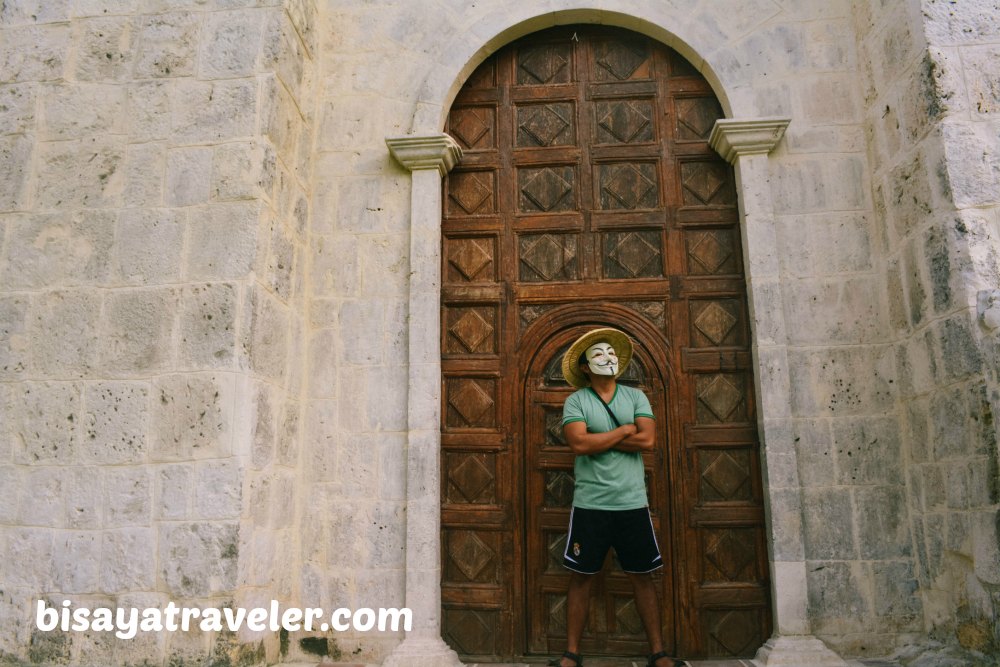 6. Take a dip at Dayhag Falls
Craving for a refreshing and rejuvenating break? Why not include a stop to Dayhag Falls to your list of things to do in Boljoon, Cebu? With its cool and therapeutic waters, this multi-level waterfall will put you on a state of pure bliss and soothe your jaded spirit. As an added bonus, it's rather close to a couple of stunning Boljoon attractions – the visually appealing rice paddies and Ablayan Peak.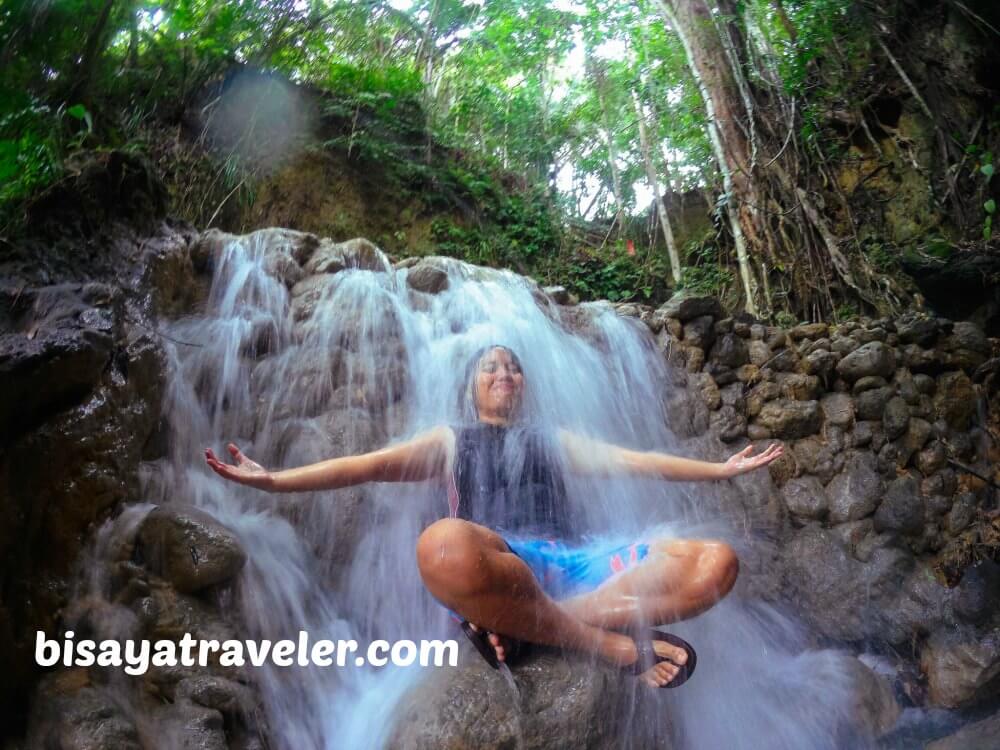 And, did I mention that they sell freshly plucked and delicious coconuts at Dayhag Falls?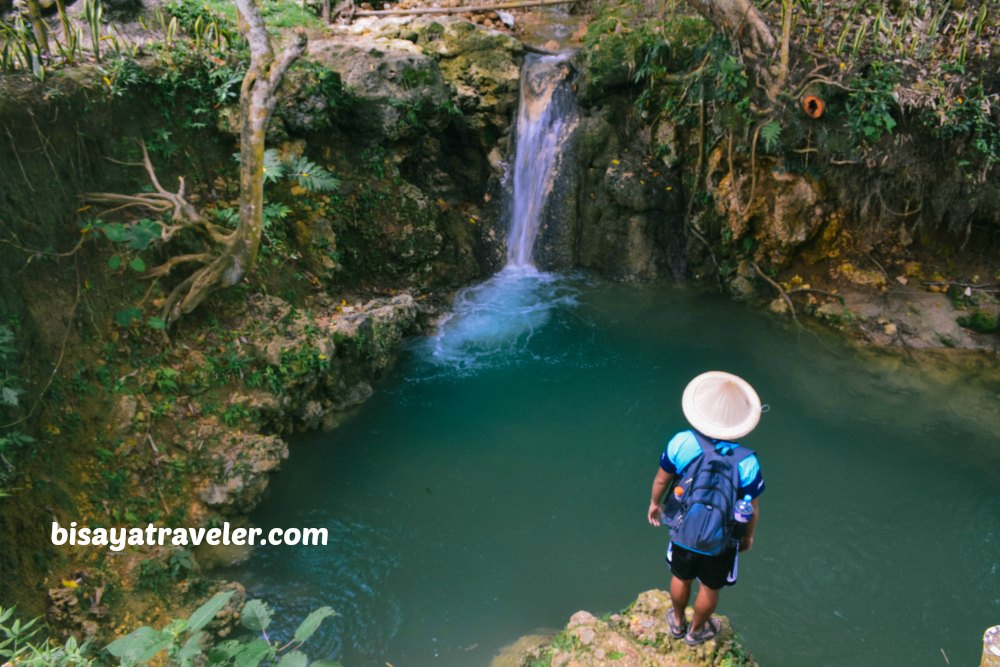 7. Explore Ili Rock
A great way to kick start a Boljoon getaway is to swing by the photogenic Ili Rock. Even though it's far from being a finished product, Ili Rock is deemed as one of the top attractions and things to do in Boljoon. Here, you'll get to enjoy awe-inspiring views of the town proper, azure clean waters and neighboring islands.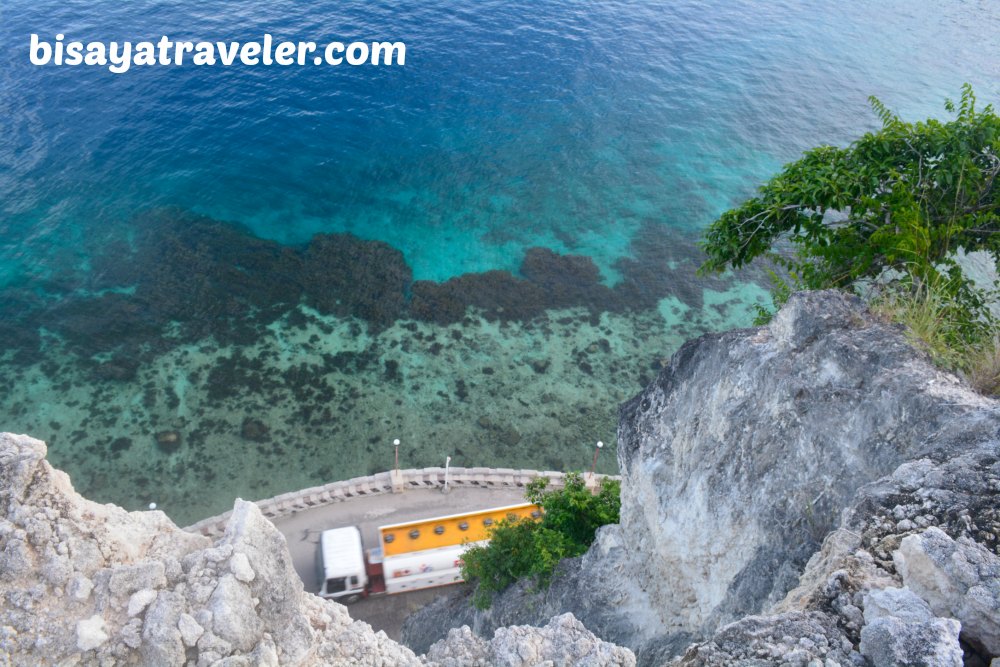 To be honest, I'm not much of a fan of this development in Boljoon. For me, carving a mountain for the sake of a tourism boost is a big no-no. But, we can't undo what has already been done. Our world is not a video game where we can do a reset or start again on the last saved level.
So, instead of bashing and complaining, I've learned to appreciate Ili Rock for what it currently is. And besides, maybe, there's another acceptable reason why they've carved Ili Rock.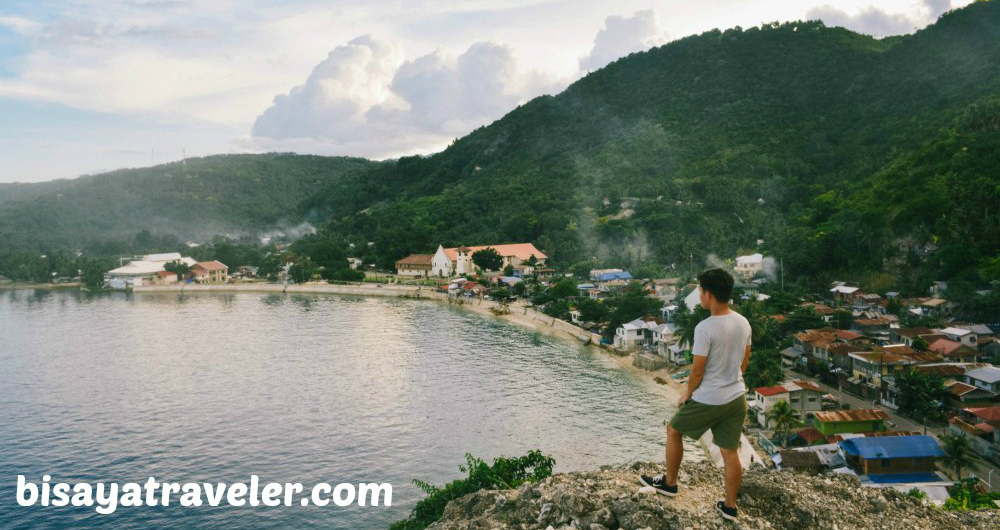 8. Unwind at a Boljoon Resort
Need a break after the non-stop sightseeing in Boljoon, Cebu? Looking for a relaxing place to stay and base for your Boljoon escapade? Guess what? There are a few cushy, spotlessly clean and charming resorts in Boljoon, such as Granada Beach Resort, Palanas by the Sea, Club Fort Med, Palanas Farm and Resort.
So far, I've only been to Club Fort Med. And, guess what? I had a fairly relaxing weekend break at this fine beach resort. And, to my surprise, it was pretty affordable, when compared to other well-known beach resorts in Cebu. With its favorable location, it's also a great base to explore the top attractions and things to do in Boljoon.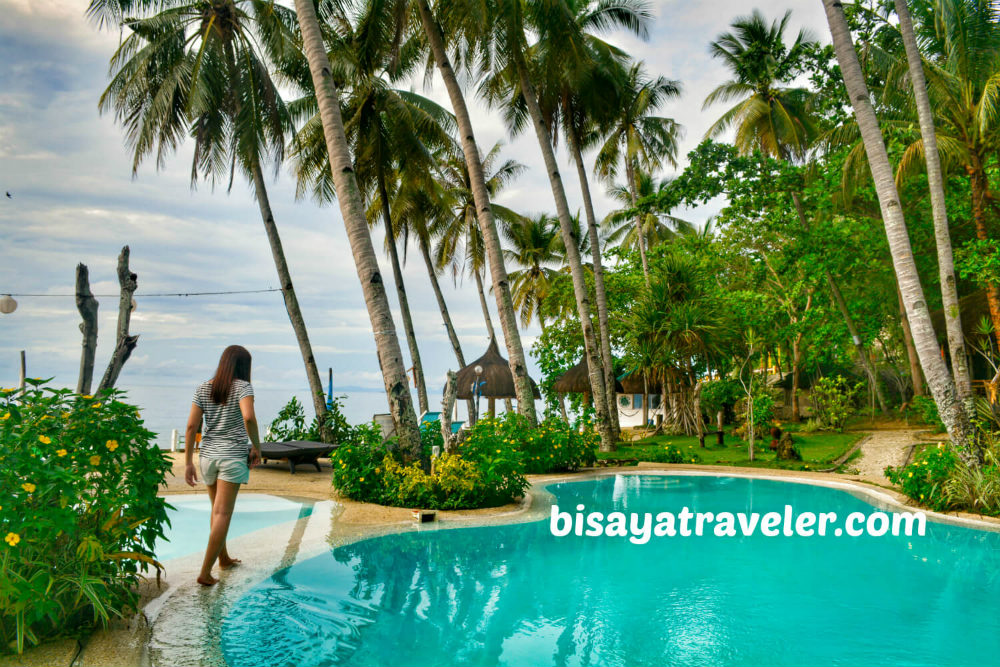 9. Swimming
Get your beach fix by taking a dip at the cerulean waters in Boljoon's coastline. Free from the flocks of tourists, it's a great terrific place to enjoy a heavy dose of Vitamin SEA. Moreover, you don't have to spend a peso to enjoy its wonderfully clean sea waters, making it one of the best free things to do in Boljoon, Cebu.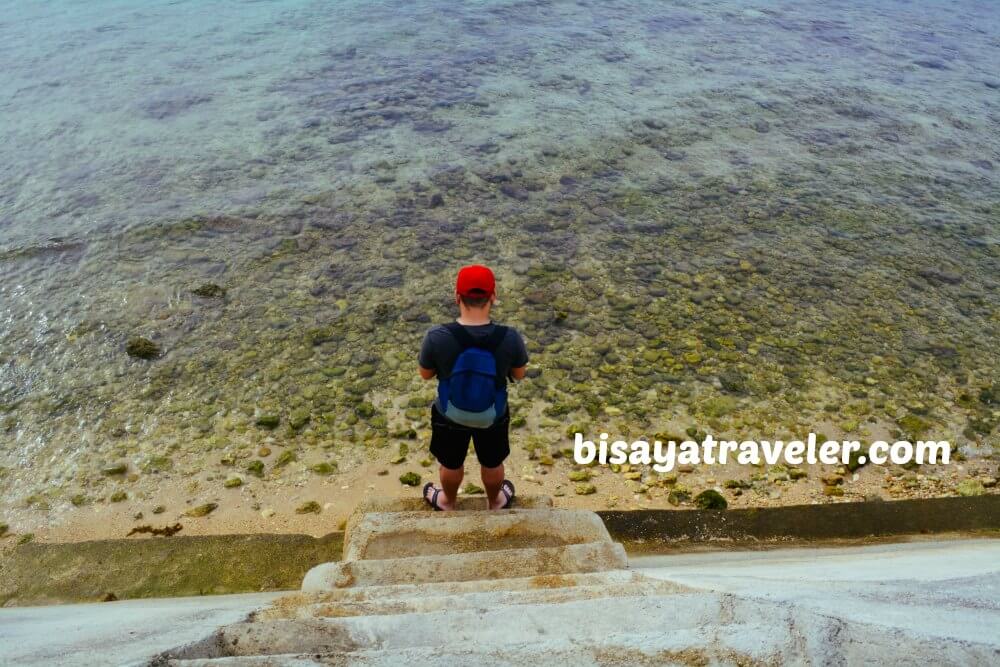 10. Hit Cuartel Heritage Park
Technically, the Cuartel Heritage Park is located in Oslob, Cebu. Even so, it makes a great entry to your list of things to do in Boljoon, especially if you're into ruins and historic sites. Built in 1860, this Spanish-colonial structure gives you an insight into the beautiful past and heritage of Oslob. Additionally, it's jam-packed with eye-catching ruins and old structures, such as the Baluarte.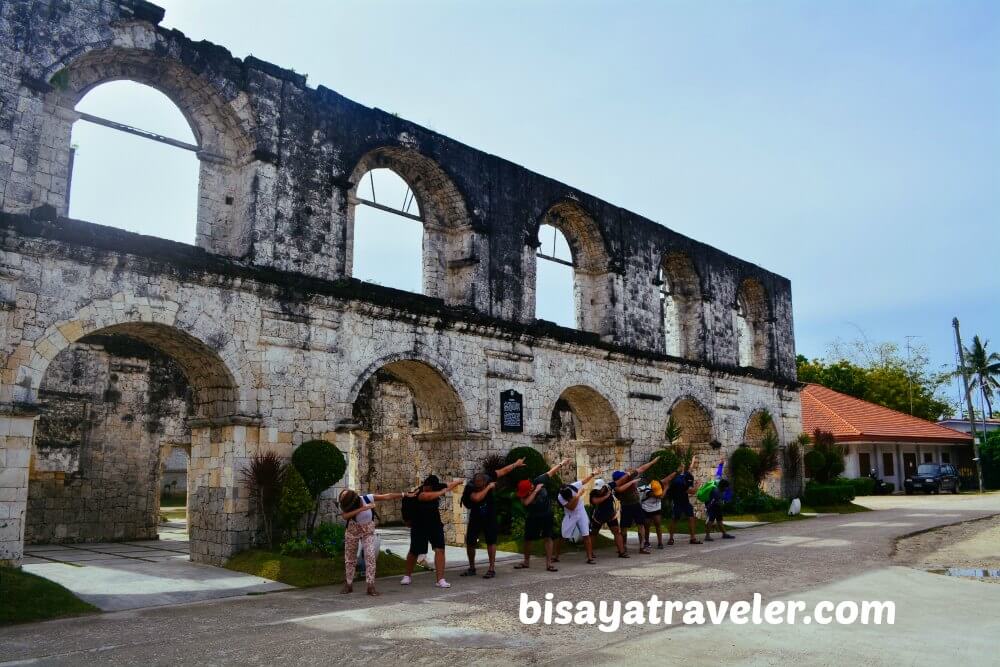 11. Eat its chicken inasal
Lastly, don't forget to indulge on the town's juicy and mouthwatering chicken inasal. Truthfully, it is, hands down, one of the best and most delicious chicken dishes I've ever tasted. And, you can easily spot it, once you arrive at the town proper's bus stop near the public market.
How to get to Boljoon
Getting to this town is so easy, even for non-Cebu residents. You just have to make your way to Cebu City South Bus Terminal, and catch a ride to Boljoon. There are regular bus rides from the terminal to the southern towns in Cebu. Just ask the driver or conductor to drop you off at Boljoon bus stop or at the base of Ili Rock. Travel time is 3 to 4 hours, and fare is around PHP 160.
Sample Boljoon travel itinerary
You don't have to spend a week or a few days to experience these things to do in Boljoon, Cebu.  As a matter of fact, you may see these incredible Boljoon attractions in one weekend. Alternatively, you may insert a quick stop to this town to your South Cebu travel itinerary.
Day 1:
05:30 AM: Depart from Cebu City
08:30 AM: ETA Boljoon/breakfast
09:00 AM: Depart for Dayhag Falls via habal-habal
09:40 AM: ETA Dayhag Falls
12:00 PM: Lunch
01:00 PM: Start hike to Ablayan Peak (or hike a habal-habal to the peak)
02:00 PM: ETA Ablayan Peak/pictorials
04:00 PM: Start pitching a tent if you plan on camping (return to Boljoon proper if you prefer to stay at a resort)
07:00 PM: Dinner
08:00 PM: Socials
09:00 PM: Lights out
Day 2:
06:00 AM: Wake up and eat breakfast
09:00 AM: Explore Ili Rock and Boljoon Parish complex
12:00 PM: Lunch
01:00 PM: Depart for Cuartel
01:30 PM: ETA Cuartel
03:00 PM: Return to Cebu or check out other attractions in Oslob
Posts related to these things to do in Boljoon
Boljoon Adventure: Hiking With A Wonderfully Weird Twist
Ablayan Peak: An Enthralling And Windy Summit In Boljoon
Taking In The Scenery Of The Verdant Rice Paddies In Boljoon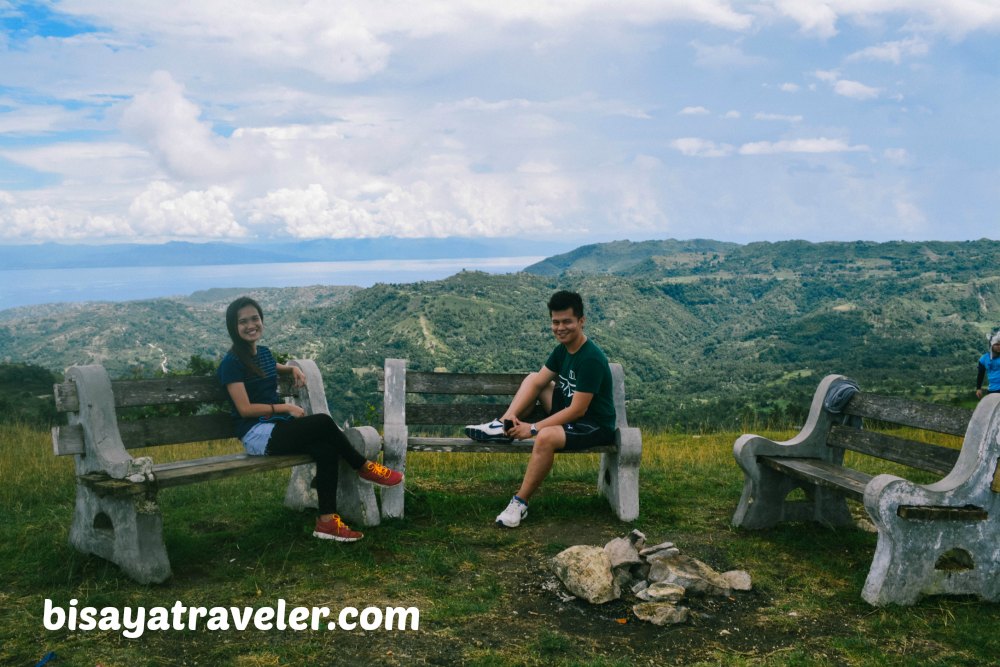 There's so much more to see and explore in this Cebu wonderland. And with a handful of awesome local friends like Jonah JM, I'm pretty sure I'll be back soon in this quaint town. In other words, this list of things to do in Boljoon, Cebu will be constantly expanding and evolving, as I continue to venture into this lovely town.