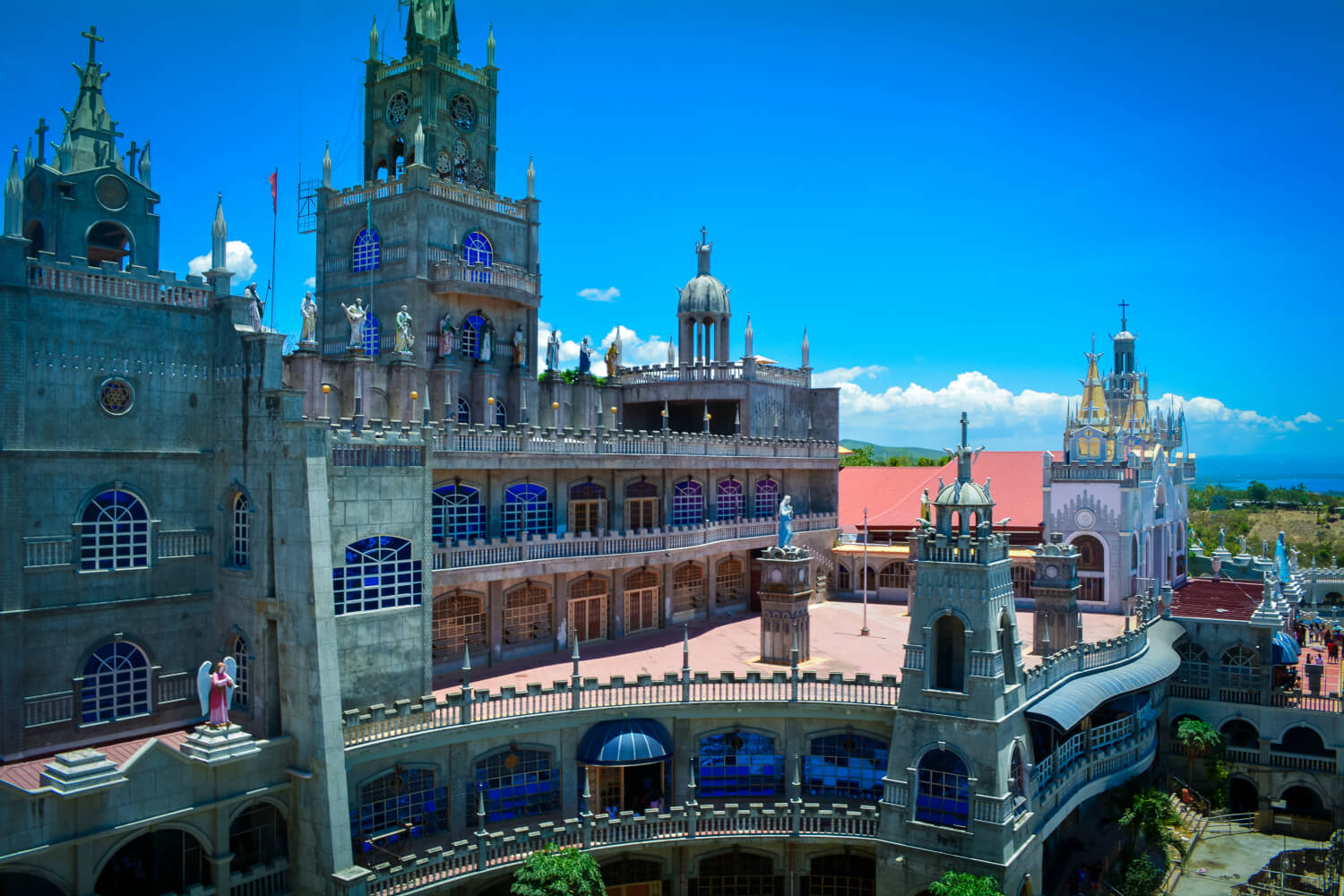 Simala Shrine: A spectacular And Blessed Castle-Church In Cebu
The Monastery of the Holy Eucharist, or also known as Simala Shrine, is a sacred, miraculous and solemn castle-church that holds a special place in my heart. Magical, gorgeous and divine, Simala Shrine has in many ways given me enlightenment and inner peace, ultimately leading me to the right path. And as cliché as it may sound, it really is a shrine of miracles and a place for spiritual healing.
Simala Shrine is a life-changer
I'm not a saint or an overly religious person, but I make sure to visit this place at least four times a year. The Simala Shrine is where I pray and say thanks to the higher being for all the daily miracles and blessings I've received. Ever since I started visiting it regularly, my life just felt a lot better, and more peaceful, amid all the buzz and trappings of the modern world.
Okay, I'm starting to sound a little dramatic and sentimental, but trust me, it's a shrine that can do wonders for your life. From overseas foreign workers and college students to sick patients, there are have been thousands of people from all over the Philippine archipelago who have experienced the divine assistance of the shrine's patron saint – the Blessed Virgin Mary. Inside the monastery's church, you'll see a plethora of medals, documents, wheelchairs, articles and testimonies, showing how miraculous and divine the place is.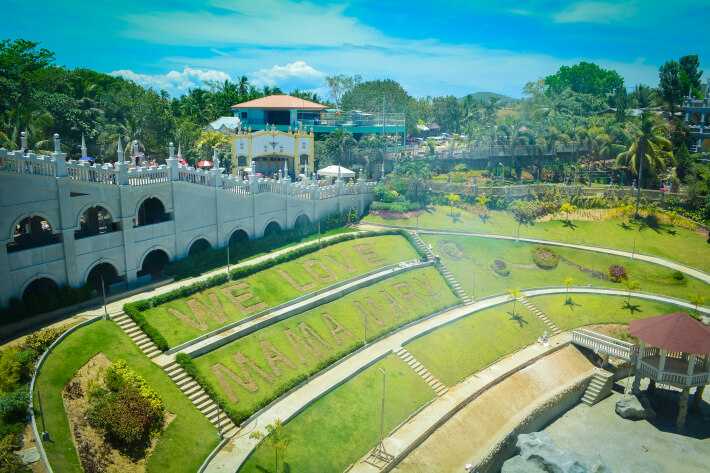 Simala Shrine also flaunts a striking and intricate architectural design
Simala Shrine is also a gorgeous site full of mesmerizing sights. After all, it is a one-of-a-kind castle church famed for its sheer size and elaborate architectural design. What's more, the monastery is constantly improving its structure, adding more features to its already impressive design, to make it look even more pleasing in the eyes. The last time I went there, they were building a cascading water feature near the shrine's church.
And make no mistake about it – Simala isn't a place exclusive for Catholics and Christians. I've seen a ton of Buddhists and non-catholic Japanese come to this place to witness its grandeur. Everyone is free to visit and explore it.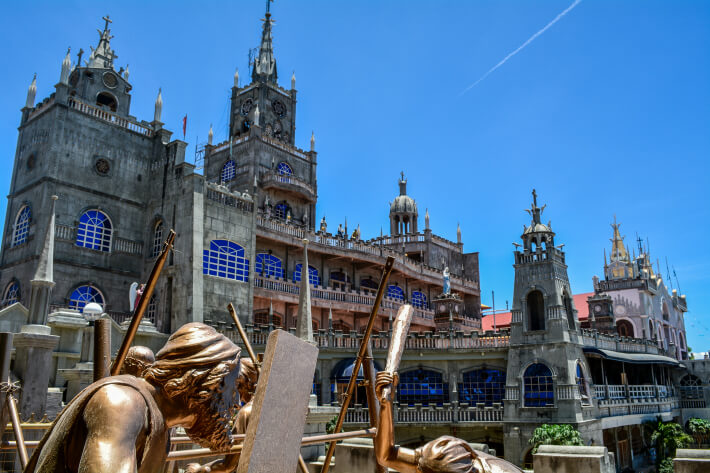 Colored candles and offering prayers
Every time I visit Simala, I always make it a point to light a few candles, to pray and say thanks for everything in my life. If you're planning to do the same thing, just head inside the shrine, and look for stalls that sell these candles.
Here are the colors of their candles, and their corresponding prayers:
White – For purity, and achieving guidance and enlightenment
Yellow – For peace, hope, strength and courage
Violet – For achieving one's plans in life
Red – For love, including family, engagement, friendship and unity
Pink – For happiness and thanksgiving
Orange – For reconciliation among or between sweethearts
Gray – For deliverance from bad spirits, things and ways
Green – For success of one's business, study and exam
Gold – For healing physically and spiritually
Cream – For faith or conversion of one's household or children
Blue – For perseverance in a devotee's assignment, career, promotions and employment
Brown – For vocation
Black – For the pardon and forgiveness of souls
Things you should know before your visit to Simala
Avoid anything that can distract others:
You're not allowed to eat food, once you're inside the shrine. Also, drinking alcoholic beverages and smoking are strictly not allowed in Simala Shrine. And avoid making loud noises, or do anything to distract others who come to meditate and pray.
Dress code:
You are not allowed to wear revealing and provocative clothes inside the shrine, such as shorts, mini-skirts, sleeveless dress, spaghetti strips, transparent pants, short blouses and tubes. Remember, this is a place of worship, and not a tourist spot in Cebu.
Schedule of Masses:
Monday to Friday: 12:00 pm
Saturday: 10:30 am
Sunday: 12:00 am and 3:30 pm
Every 13th of the month: 10:30 am and 3:30 pm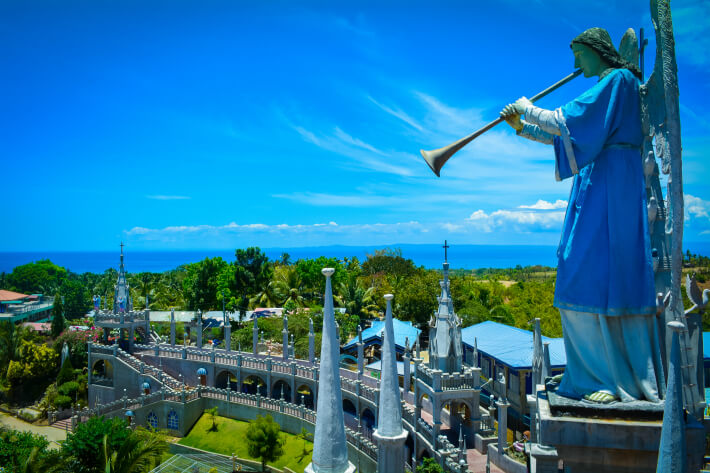 How to get to Simala:
To get there, first you need to travel to South Bus Terminal in Cebu city. From there, take a bus (fare is 50 to 80 PHP, and travel time is 2 hours) bound for Oslob, and ask the driver to drop you off at the Simala crossing or bus stop. Then, ride a tricycle (fare is 20 PHP, and travel time is 10 to 15 minutes) that will take you to the shrine.