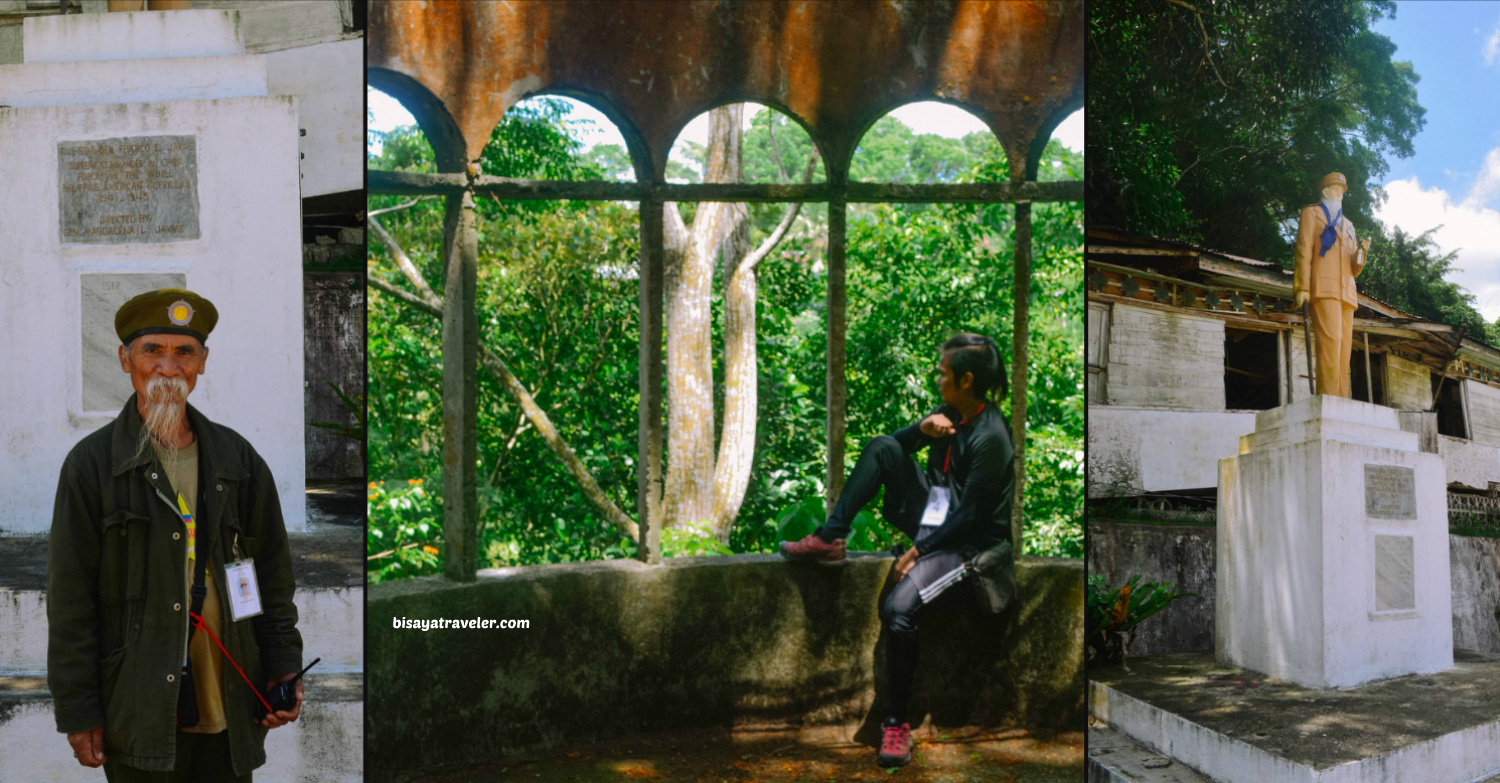 Moncado Hotel: A Charmingly Eccentric Cebu Historic Site
In the heart of Cebu's Sudlon National Park, there live a strangely beautiful colony. Free from the stress and temptations of modern-day life, this colony, or often labeled as a cult, has been thriving and living harmoniously in Cebu's highlands for decades. And, like most naïve Cebuanos, I didn't know that the Moncadistas and their epicenter, Moncado Hotel, exist. While I saw a bunch of Moncado Hotel pictures, I thought it was a former military base or a remnant of the Second World War.
But, after a little research, I got a sneak peek into the history and culture of the Moncadistas. Intrigued and beguiled, I gathered my friends, and ventured into Sudlon II, to uncover the secrets and beauty of the Moncado colony.
And to be honest, I was, at first, a bit puzzled and scared of what was waiting inside Moncado Hotel. With their long white beards, serious demeanor and army fatigue uniforms, the compound's guards seemed pretty intimidating.
A variety of questions, then, flooded through my mind.
Is it a cult? Or are some people just stereotyping?
Are they guerrillas or World War veterans?
Do they really avoid eating meat?
Did I make the right decision to include Moncado Hotel to our hike?
To my surprise, though, it was a fascinating educational tour that gave us a preview of the Moncadista culture. As far as I'm concerned, it's, hands down, one of the most interesting and unique historic sites in Cebu.
As an added bonus, it gave us a tour highlighting a story that hasn't been published in Philippine history books.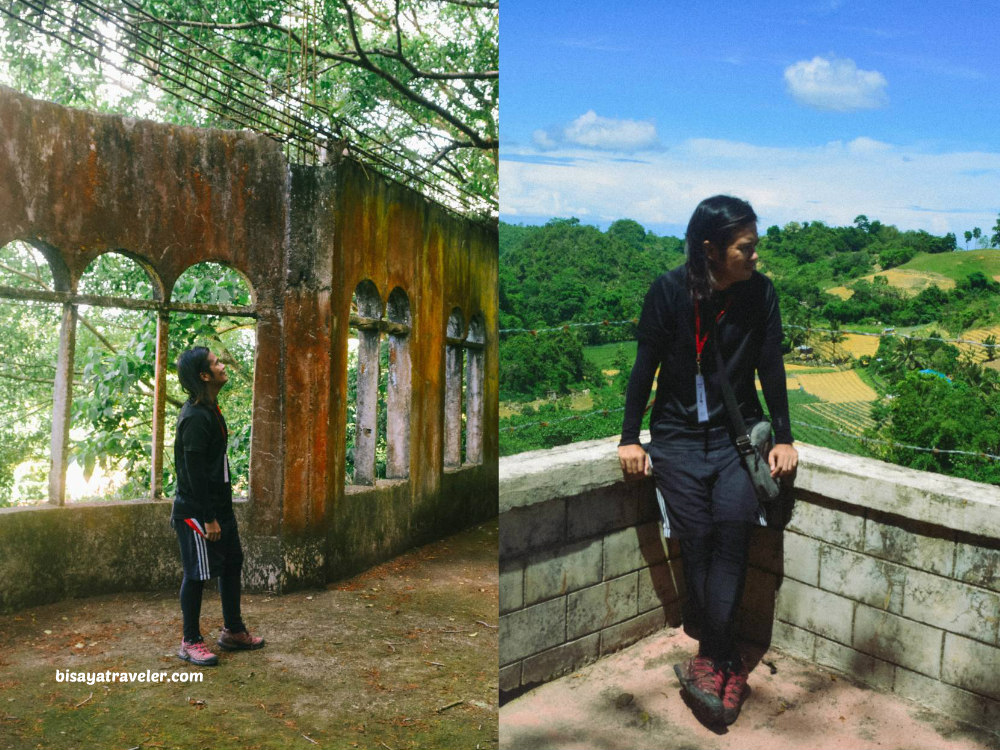 My Moncado Hotel experience
Our journey to Sudlon II started with a rendezvous at Ayala V-Hire Terminal. There, I caught up with my buddies – Paul, Raul, Bioggy, Grace and Shanine.
With everyone geared up and ready, we hopped on a V-hire, and made our way to the base of our hike – Strawberry de Cantipla Eco Farm.
Why Strawberry de Cantipal Eco Farm? Thanks to Google Maps, I found out that the road beside the farm leads to Moncado Hotel and Lake Benses.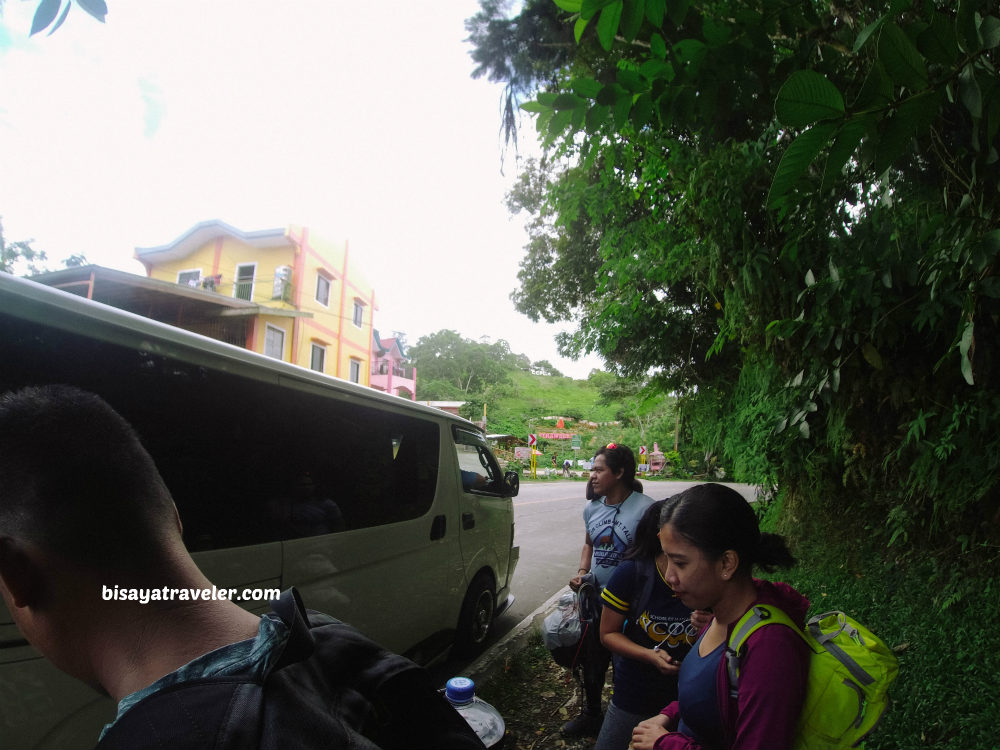 Upon our arrival, we wasted no time, and hit the road leading to the enticing Moncado Hotel.
There were a few motorcycles or habal-habals that could easily take us to the Moncado Compound. But, as hikers, we prefer to use our legs, and walk while enjoying each other's company.
As we were walking to Moncado Hotel, we were treated to some fresh and therapeutic mountain breeze.
I wholeheartedly and totally miss moments like this. These are the moments that keep me sane and rejuvenated.
As I've said before, these experiences are my fountain of youth.
I never believed in having a certified therapist for life's problems.
A hint of nature and fresh air, paired with great friends, will always be enough for me.
I don't want to work myself into an early grave, so I indulge on these hikes, from time to time.
And, I got a small dose of this unique form of therapy, on our way to Moncado Hotel.
Of course, there were also plenty of gorgeous views, along the way, making the hike even more relaxing.
Like its green plantations.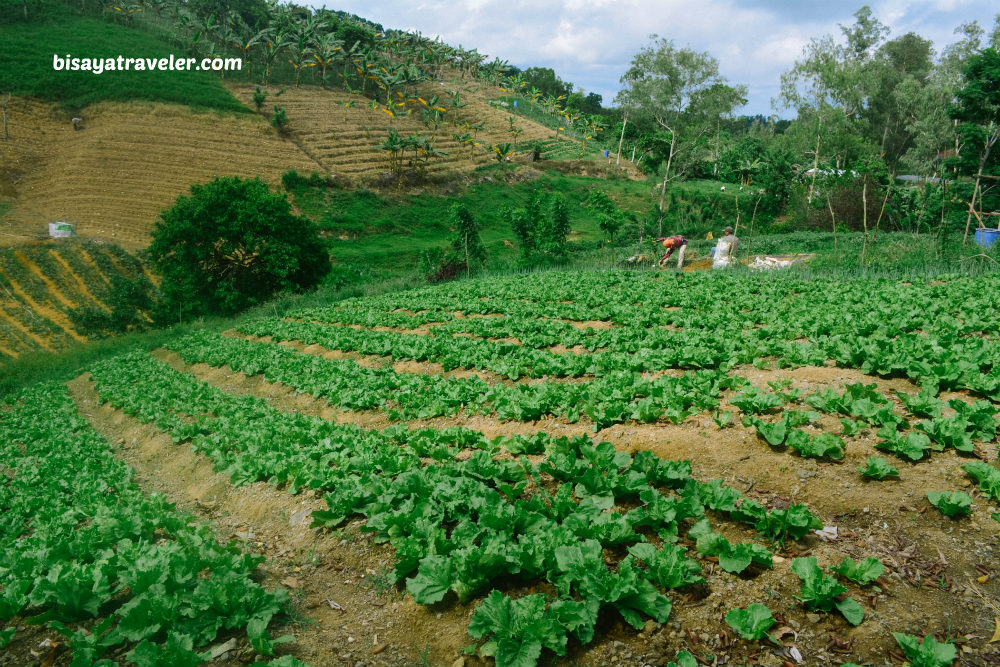 And, the gorgeous trademark rolling hills of Sudlon and Toledo.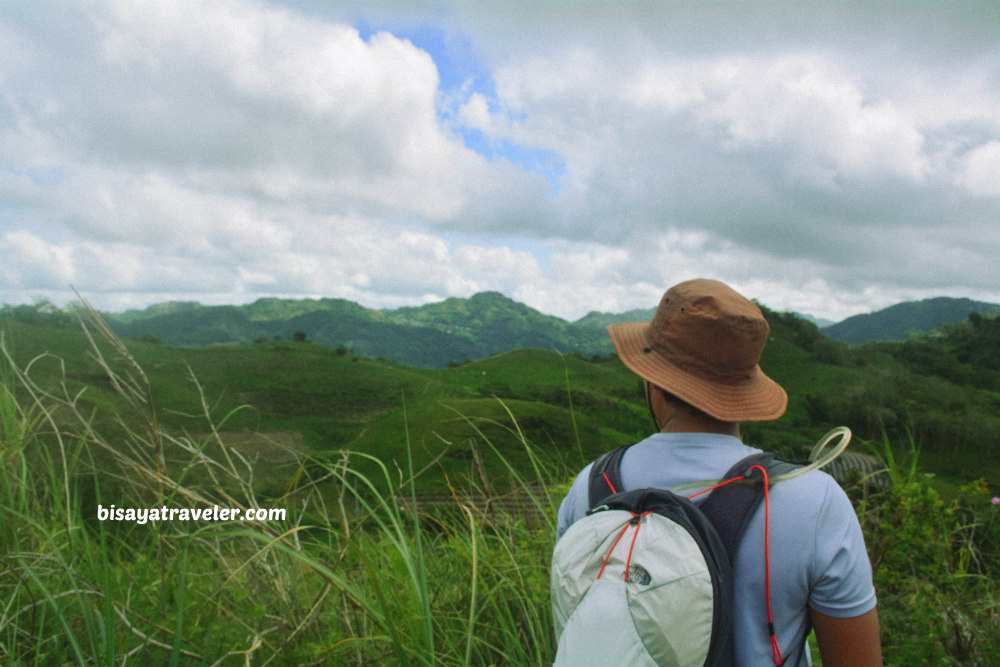 Ultimately, we saw a hill on our hike, and climbed it to savor a breathtaking panorama.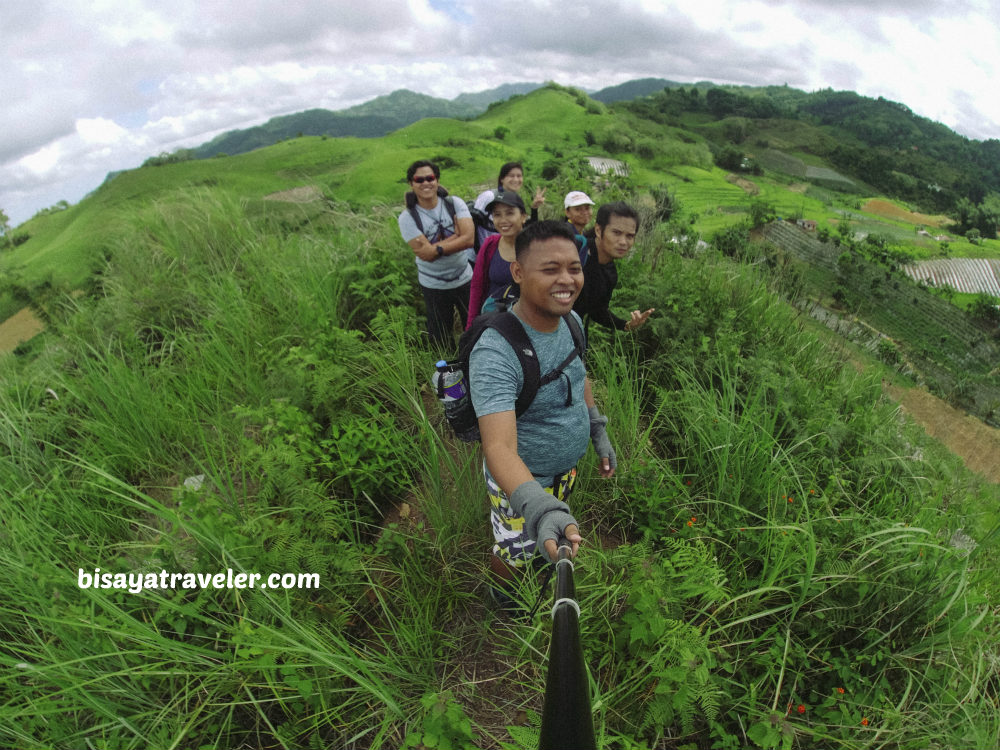 Afterwards, we went on with our hike, hitting the concrete road in Sudlon I.
As always, we didn't have a strict itinerary or a specific target, in this Cebu day hike.
That's why we took a quick to detour to the Birhen Sa Barangay Shrine in Guinduwahon.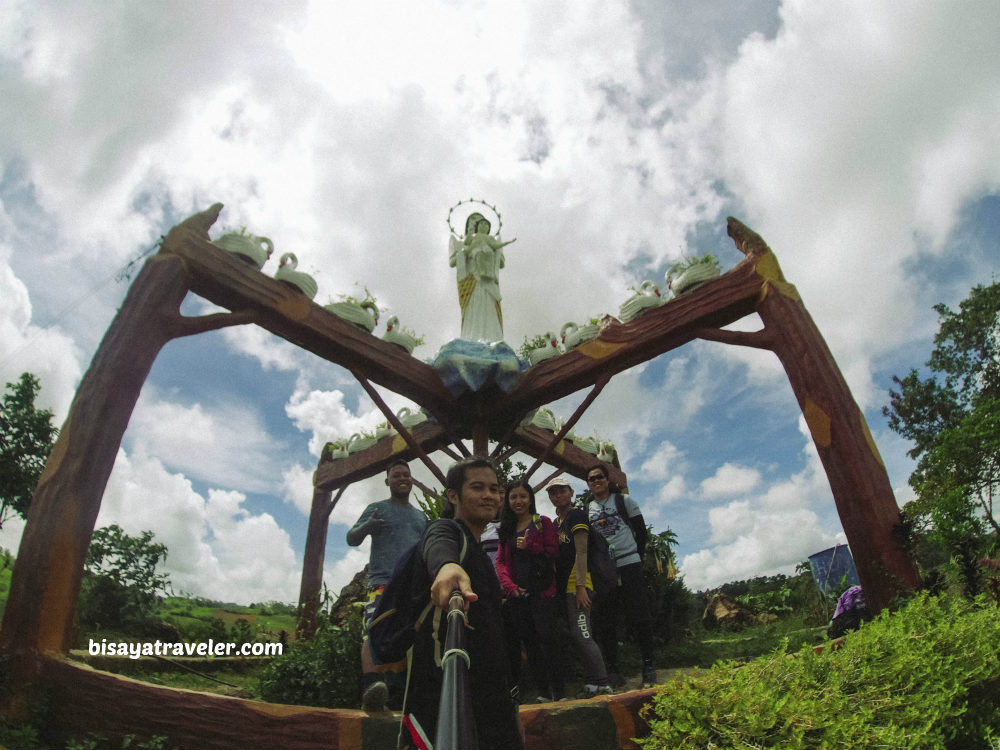 I'll be honest. The shrine is out of the way, but I thought it was a worthy stopover. And besides, I had to see the road leading to General Climaco, Toledo, so I can update my mental map in Cebu.
We didn't spend a ton of time in shrine since we had a couple of stops left in our anything-goes itinerary.
Moncado Hotel and Lake Benses.
From the shrine, we kept on walking, until we arrived at Sudlon Proper where we took a breather and enjoyed cold drinks.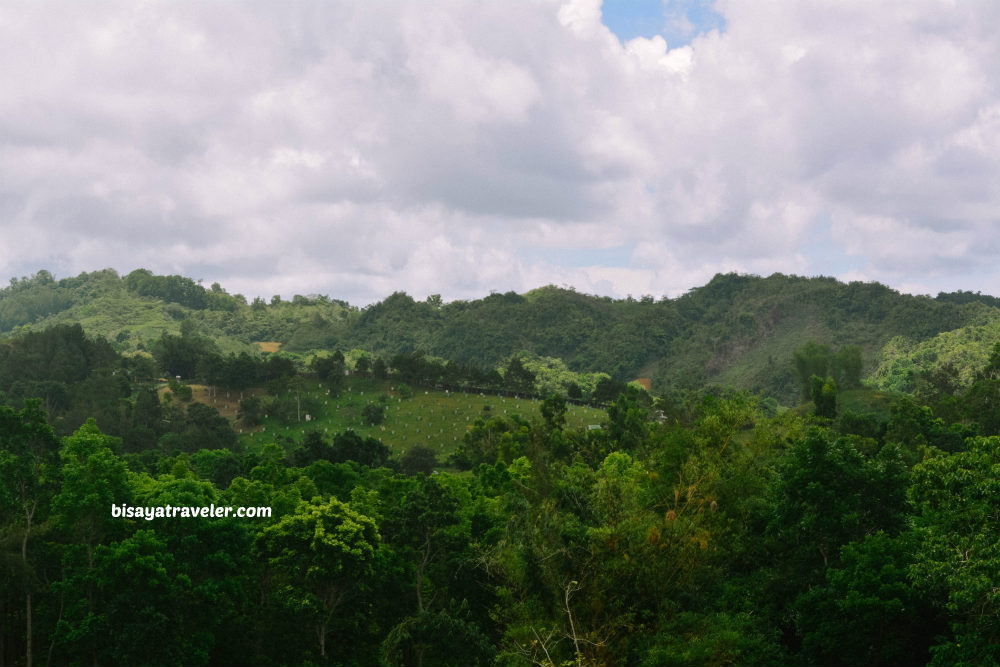 Moments later, we saw a sign suggesting that we were close to the hotel complex.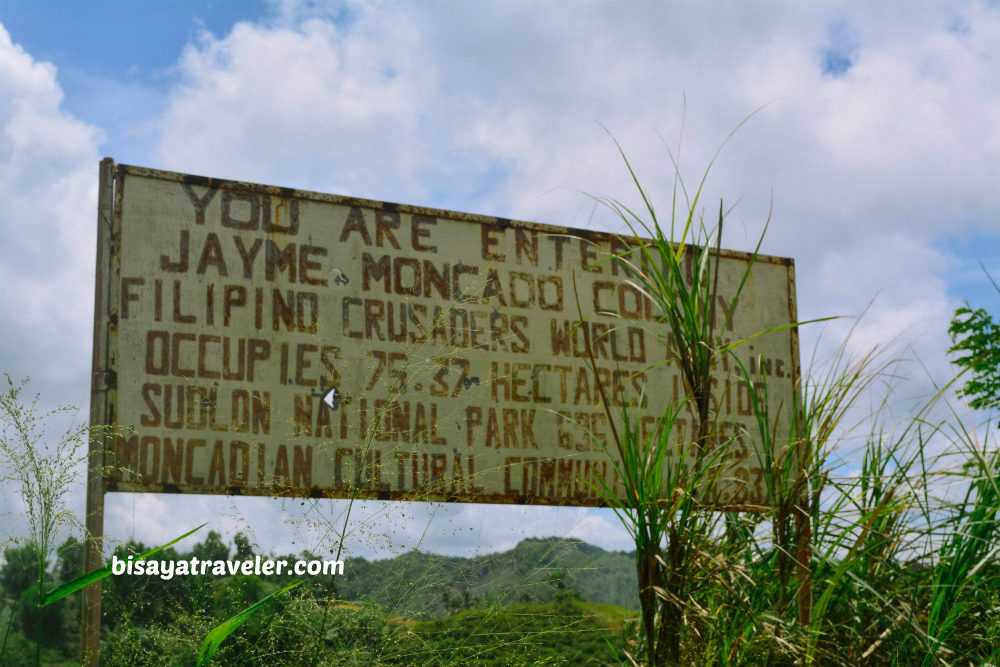 Additionally, the sign gave us a preview of what to expect inside the hotel.
My buddies had no idea what Moncado Hotel was all about.
They thought it was an abandoned resort like Paradise Valley in Barili. So, I gave them a hint of what to expect at the Moncadian culture as well their vegetarian diet and religion.
What's more, I told them that some people have the stereotyped the Moncadistas as a cult. Even though it wasn't my intention to scare them, I felt like it did bother them a little bit.
To get Moncado Hotel, we asked the locals for directions using the keyword "Moncado". Little did we know, almost everyone in the area is a member of the Moncado Colony.
Soon after, we arrived at the gates of Moncado Hotel.
Amazingly, Moncado Hotel has other names and labels.
The General Headquarters of the Filipino Crusaders.
The Moncadian Compound.
The General Headquarter of Jayme Moncado Colony.
As we were approaching the gate, I saw a couple of white-bearded guards stationed at the entrance. Sitting still and quietly, they looked like life-size statues of soldiers from a bygone era. And, when one of them moved, Paul was shocked to find out they were real humans.
We greeted the guards, and asked them if we could enter Moncado Hotel. Unfortunately, we arrived at the Moncadian Compound at around 12 noon, meaning the morning visiting hours were over.
So, we decided to take a break, and eat our lunch at the nearby cottage.
As for the guards, they were fairly friendly and accommodating. As a matter of fact, they even give us some details about the hotel and compound.
"We're guerrillas", said one of the elderly guards. "Our leaders fought the Japanese, with the help of the Americans, during WWII".
Okay. This is going to be a whole lot interesting, I said to myself.
But, there's something about bearded men in army uniforms that scares the hell out of most people. Maybe, it's because the media has often portrayed them as the bad guys.
With their hand-held radios, they communicated with the people inside the compound, saying that a bunch of visitors have arrived.
Are we going to get a guided tour?
While eating lunch, there were tons of questions that filled my mind.
I was intrigued, and interested to know more about the Moncado Colony.
My heart yearned for something unfamiliar, and I was about to satisfy my cravings in this bizarrely wonderful compound.
With lunchtime over, we stepped inside the compound, and got a good look of the Moncado Hotel.
Accompanied by one of the elderly guides, we made way to the statues of the colony's founder and leaders.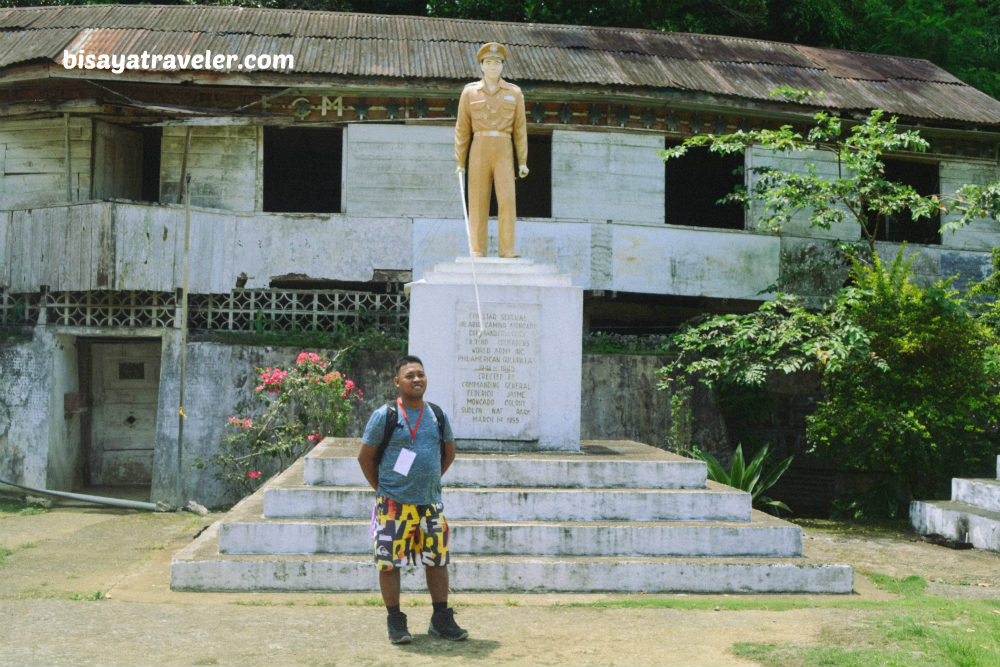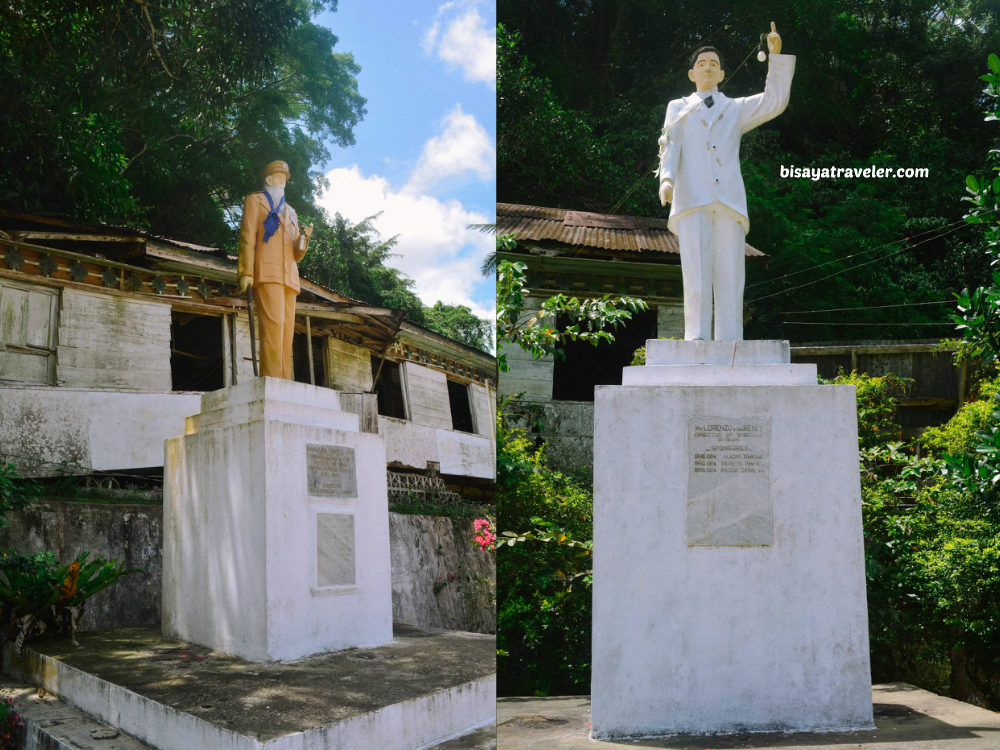 The leader and founder of the colony, as the guard has said, was the 5-star General Hilario C. Moncado.
As the organization's Supreme Commander in Chief, he was called by his followers as "master". Whenever our guides mention him, they always address him as master. And, based on his credentials, their leader was incredibly brilliant with an electrifying charisma.
Soon after, two lovely ladies arrived, and shared some details about the life of General Hilario Moncado.
According to our tour guide, he studied in India at six years old, and graduated at the College of Mystery and Physics at the age of nine.
Awesome, right?
I'm no expert, when it comes to religion. But, my inner monologue suggests that his teachings are a blend of Christianity, Buddhism and Hinduism, which is quite prevalent in India. I guess that's why eating meat is a big no-no for the Moncadistas.
Later on, our guides led us to arguably the longest and oldest swimming pool in Cebu.
As you can see, there's no water inside the pool. But, they say they will fill it up on the 4th of July – their annual fiesta. Yep, they celebrate the 4th of July like Americans do.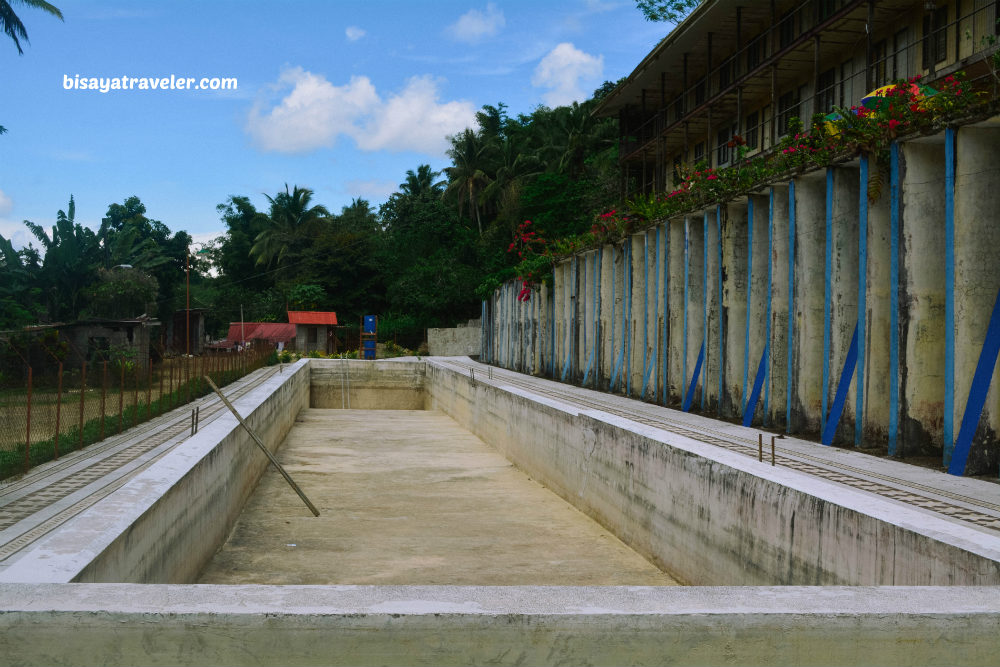 And, guess what? They invited us to join their fiesta. From swimming contests to tasty vegetarian treats, their fiesta is bound to be full of fun and colors.
As I was listening to our guides, I found out that I was no different from the people of Moncado Hotel and colony.
And, somehow, I feel like I'm a perfect fit here.
The thing is, I keep my non-adventurous part of my life simple.
No big-time obligations like a car payment or mortgage to worry about.
I avoid modern-day television and contemporary politics, which are all too bitter, frivolous and frantic.
Sometimes, even being a freelance writer and a blogger becomes too complicated. I dreamed of a less complicated life in the mountains where the air is fresh and the atmosphere is laid-back. If only the internet connection in mountains is stable, I would surely escape the clutches of city life.
I have no specific plans or goals for the future. Truthfully, I make my life as I go along.
And like the people in Moncado Hotel and colony, I don't drink alcohol or smoke.
The only significant difference between me and them is that I can't resist meat.
I can survive for years without rice, which is somewhat taboo for Asians like me. But, I can't last a day without a meat.
I'm a bona fide meat lover!
My body needs a whole lot of protein and energy. And, a small daily dose of tender juicy meat just gives me the nutritional needs that my body demands.
From the pool, our guides invited us to set foot inside their master's old and ruined house.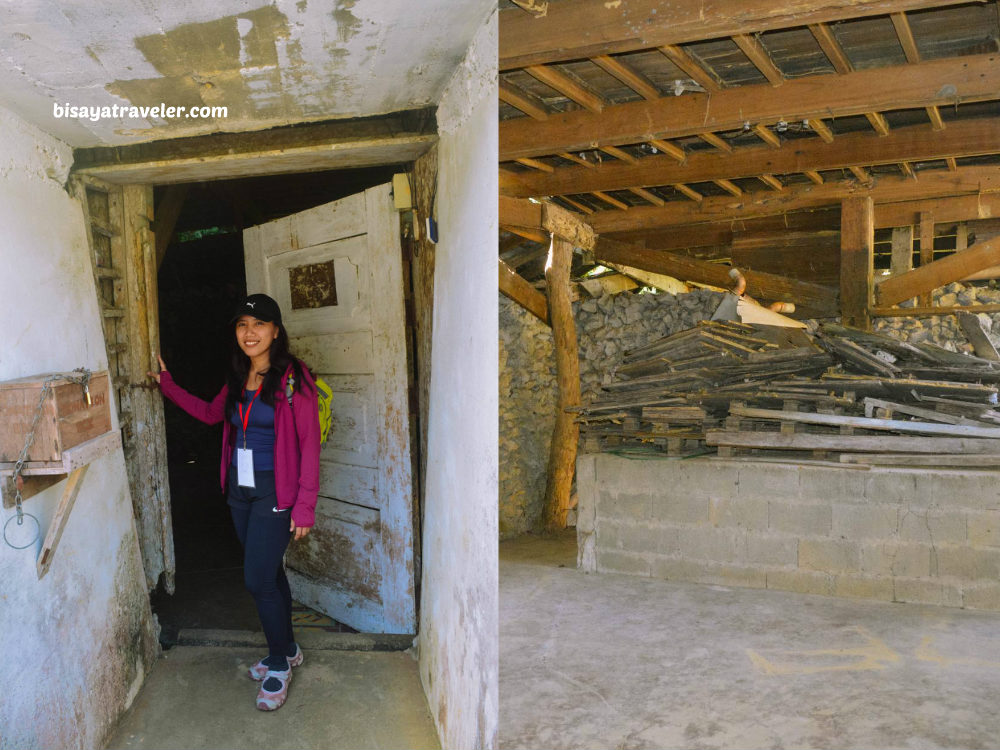 From the outside, it looks nothing, but an old ancestral house made of wood. Heck, it even reminds of the old houses in Carcar.
Surprisingly, though, it is way bigger than what it looks like from the outside.
As it turns out, the house serves as a gateway to a hilly mansion. Once you're inside the house, you'll have to follow a winding cemented stairway surrounded by towering centuries-old trees.
There were plenty of beautiful sights inside this mansion, like this ruined hall.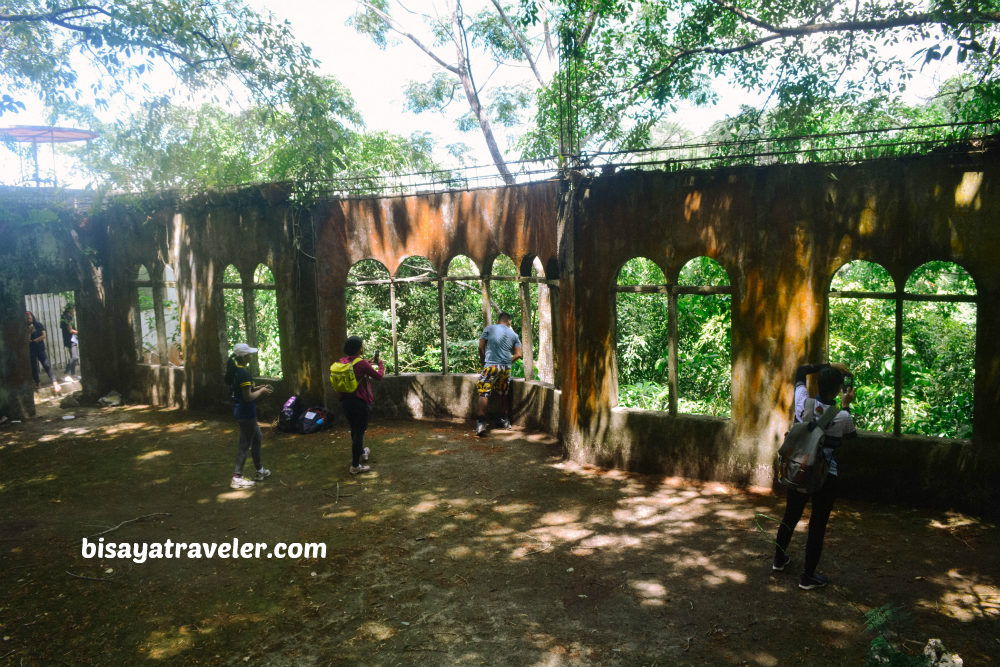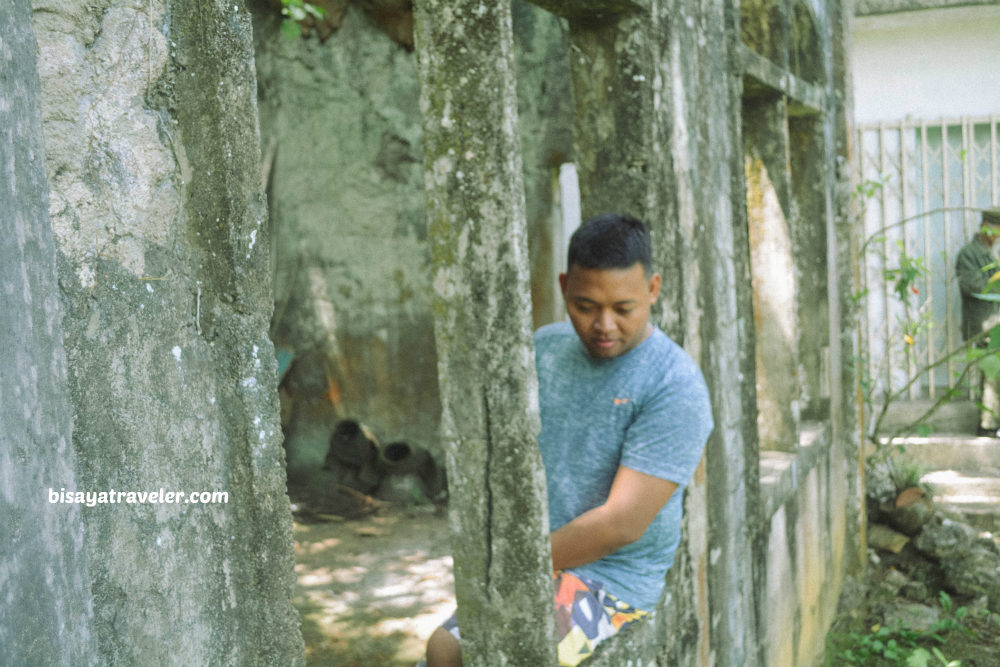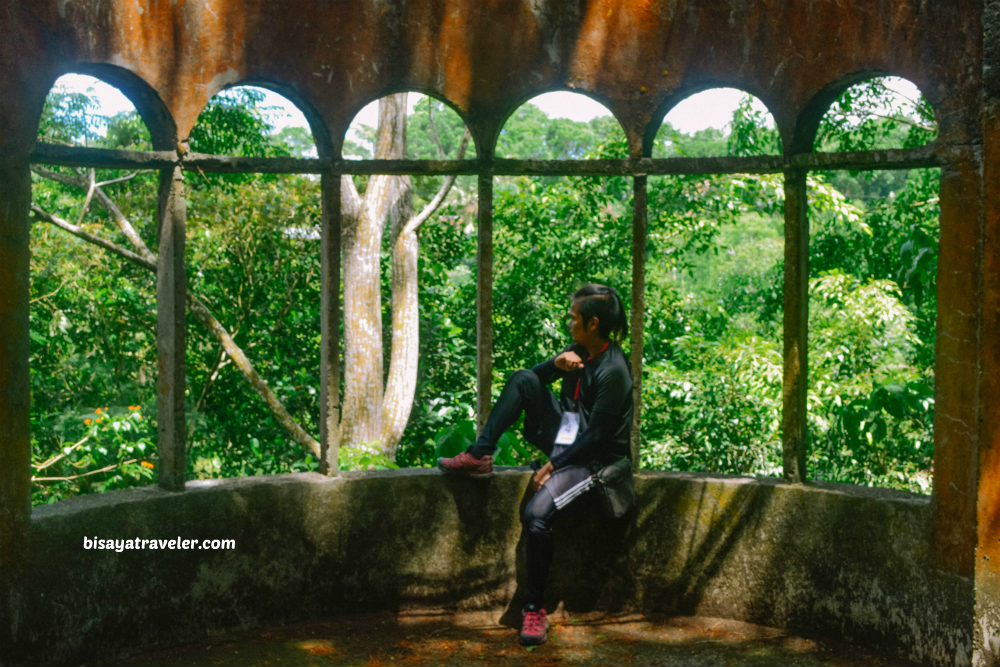 And, the balcony showcasing the lush landscapes of Sudlon National Park.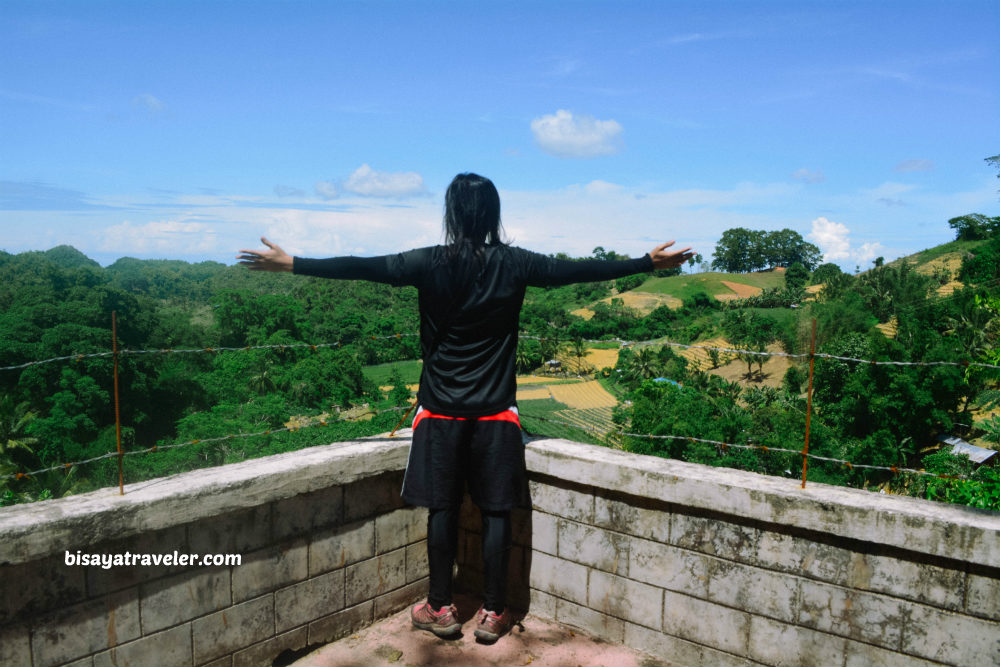 Moments later, they led us to the burial site of one of the colony's leaders – General Federico Jayme, and his wife.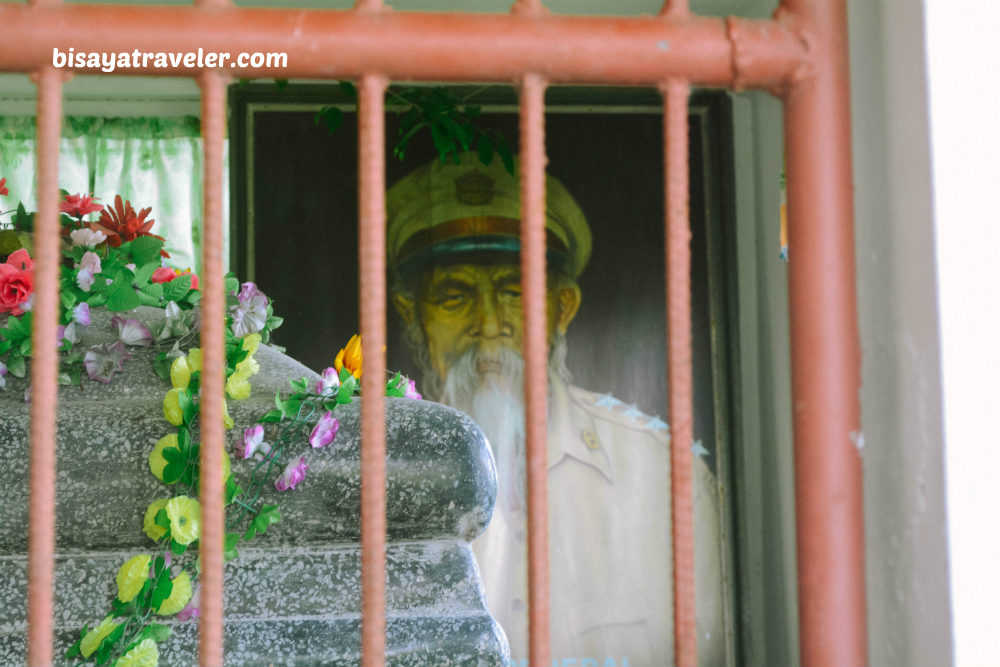 Even better, the site gave us an overlooking view of the remote village in Cebu City. Soon, our guides revealed that everyone within this village is a member of the Jayme Moncado Colony.
We, then, descended from the hill to finish our tour. Soon after, we donated a few bucks to the community, bid farewell to everyone, and ventured into the controversial Lake Benses.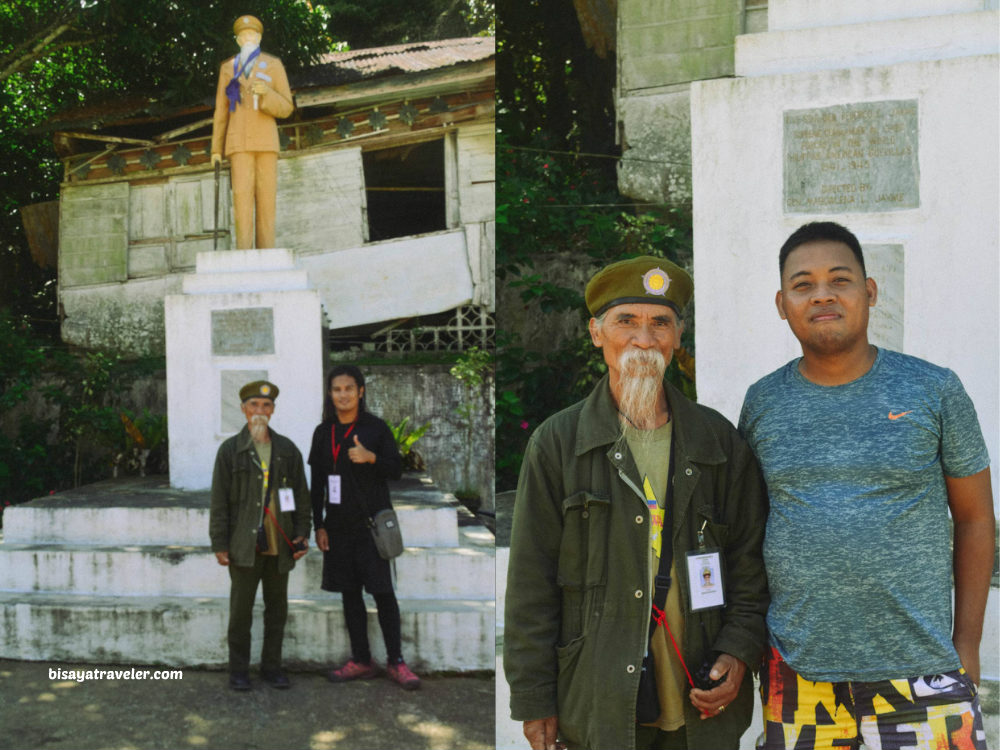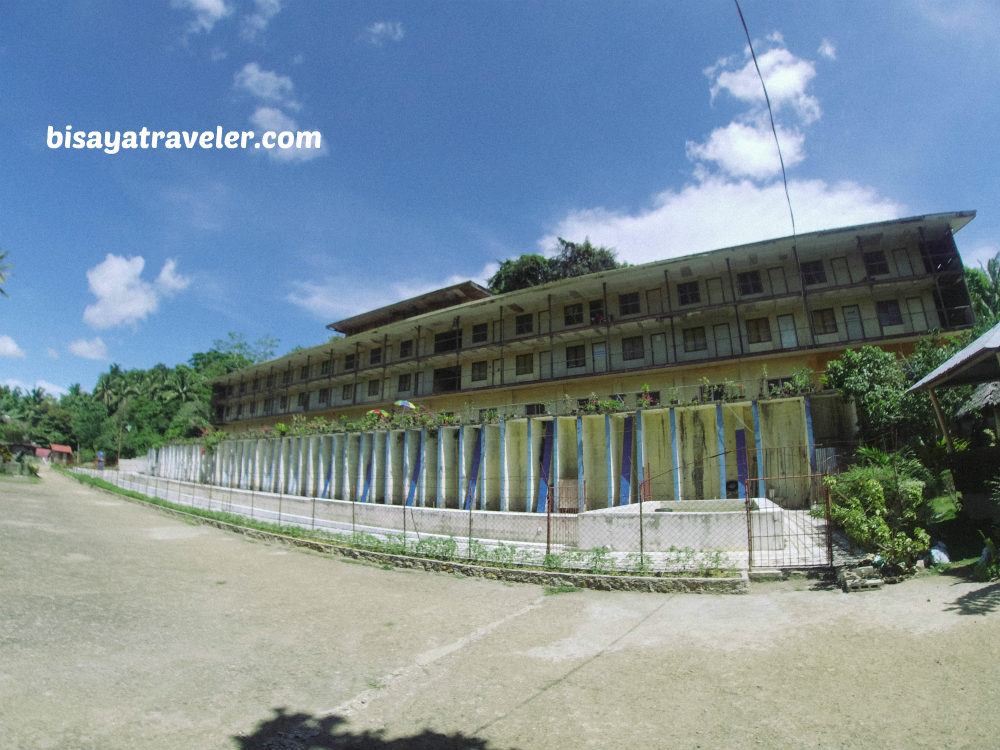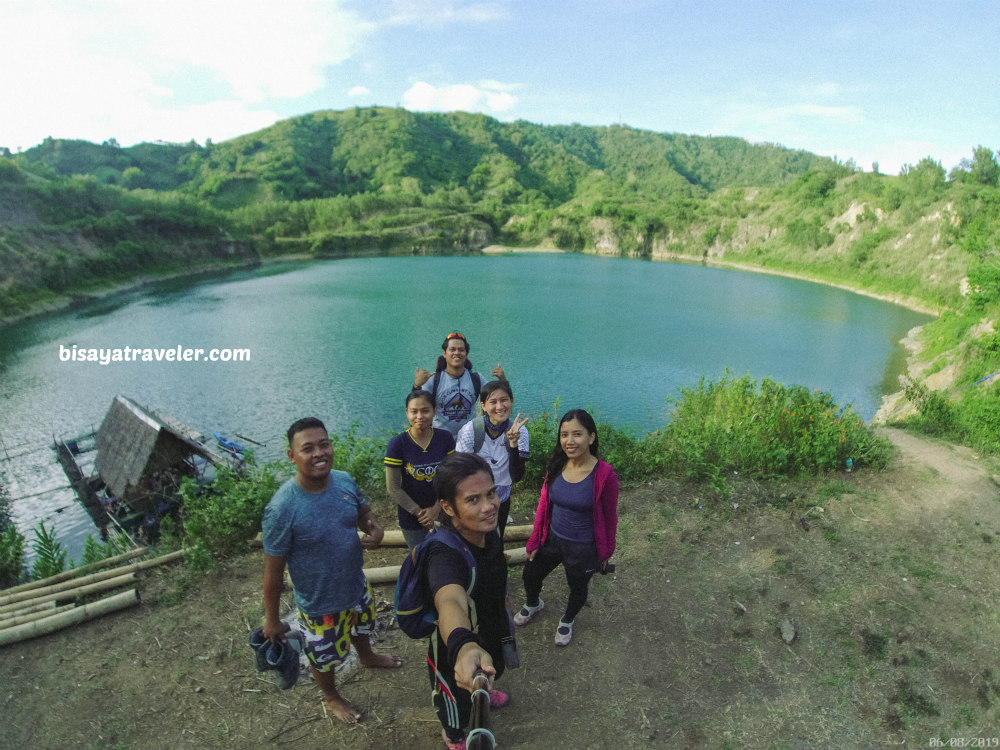 The Moncadistas have earned my respect, even though their religion is unconventional for some.
In my world, religion doesn't matter.
Hindus, Buddhists, Christians and Muslims – the person's religion doesn't matter to me.
I don't read religious books or memorize teachings from preachers.
I follow one rule that's common among all religions. And, that's don't be an as*hole.
The Moncadistas are some of the kindest people I've met in Cebu.
Not only are they friendly and accommodating, but they also respect other's views and opinions.
How to get to Moncado Hotel
Via car
The easiest way to Moncado Hotel is by car. With navigation apps like Google Maps and Waze, you can easily find Moncado Hotel wherever you are in Cebu. However, make sure that your car is in tip-top condition since you'll have to drive along steep roads.
Via motorcycle taxi
As far as I know, there are habal-habal drivers that offer rides to Moncado Hotel and Sudlon II. I'm not sure about the fare, but it will likely cost you around PHP 150 to 200 per person and per way.
Via V-hire
From Ayala V-Hire terminal, hop on a van plying the Cebu to Balamban route (fare is PHP 120). Ask the driver to drop you off at Strawberry de Cantipla Eco Farm. Once there, ask the locals for directions to Moncado Hotel. Normally, it takes an hour or two of walking to get to the compound from Transcentral Highway. Alternatively, there are habal-habals that will take you to the Moncado compound. In my own estimation, fare is PHP 30 to 50 per person.
More information about the compound:
Visiting times: 08:00 AM to 11:30 AM and 01:00 to 04:00 PM
Bring your ID. You can't enter the compound without an ID.
Entrance fee: FREE, but I strongly recommend that you donate something to them.
By the way, you can also book a room at Moncado Hotel. But, unlike most modern hotels, the Moncadistas have strict rules when it comes to couples staying overnight at their hotel
The hotel doesn't accommodate couples who can't show a piece of evidence saying they're officially married. In other words, they don't tolerate premarital sex and married cheaters.
Our expenses:
V-hire fare to Cantipla from Ayala: PHP 120
Donation: PHP 50 per person
Habal-habal fare to Tabunok from Lake Benses: PHP 100
On our way to Lake Benses, I realized something about Moncado Hotel.
The thing is, I don't have the intelligence of someone like General Moncado. And, I certainly don't have the vision of a game-changing leader.
Yet, I somehow had a hunch why their "master" created Moncado Hotel.
General Moncado, as a well-traveled man, saw the terrors of World War II.
Nuclear bombs, genocides and death marches – he saw all of it.
As a great leader, he was preparing for something that he thought was inevitable – a dystopian future.
It was, after all, one of the lowest points in human history.
And, through his imagination, he saw the aftermath of the great war.
He saw a lifeless, devastated world of deserts, carcasses, corpses and abandoned man-made structures.
He saw a world where people have to hunt and even kill fellow humans to eat.
General Moncado had a plan, and he went on with his plan by creating a remote utopia for his followers.
The perfectly cool climate and the rich healthy soils of Sudlon II make it the perfect place to grow vegetables.
I guess that's why he encouraged his people to follow a strict vegetarian diet.
And, with its remote and mountainous location, it would be hard for invaders to locate the Moncado Colony in Sudlon National Park.
Or, maybe, he wanted to create a secluded environment that's free from the sinful earthly pleasures.
Remember, M. Night Shyamalan's The Village?
But, that's just my two cents. I'm pretty sure he has bigger reasons why he built this compound.