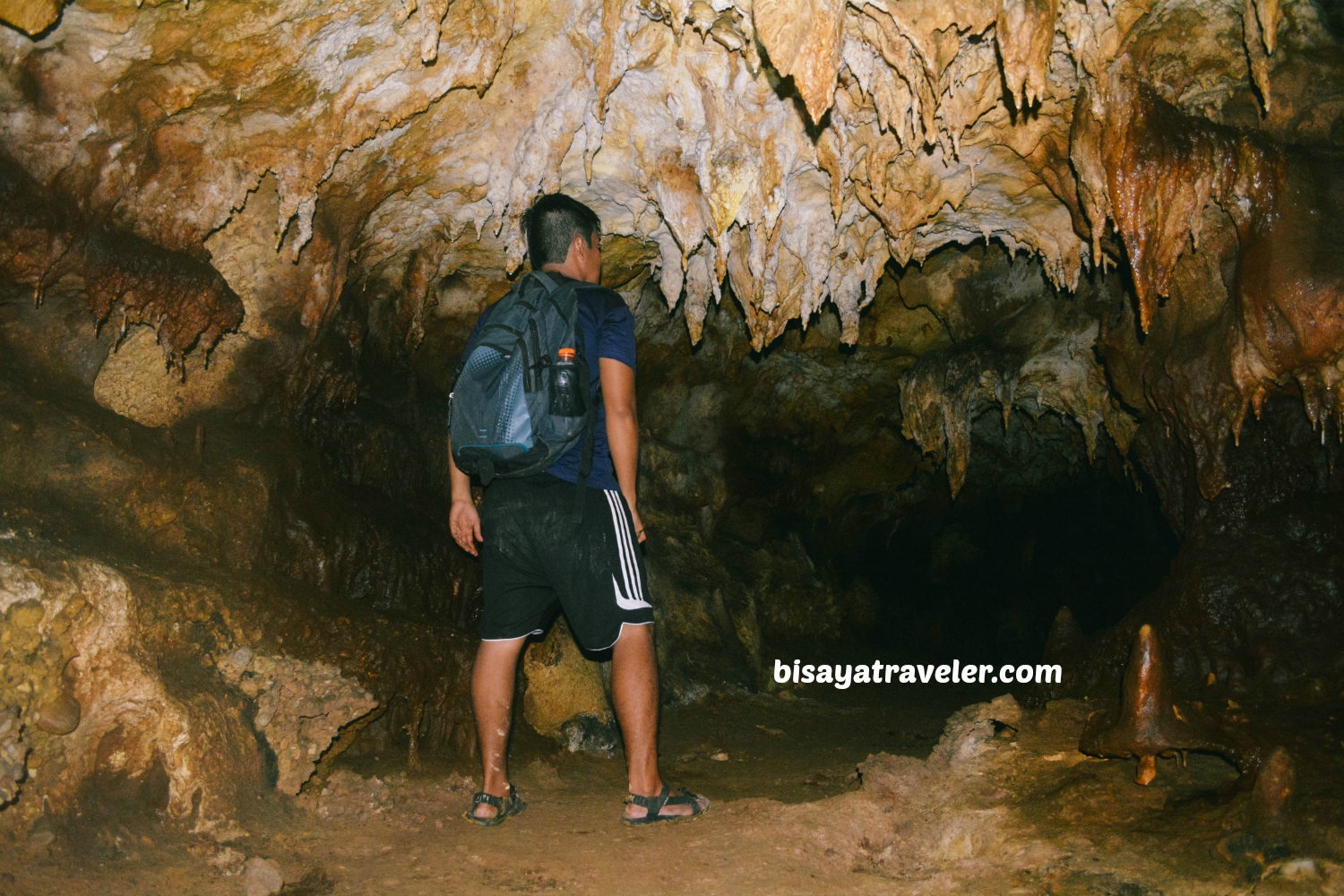 Eagle's Cave: A Mystical Labyrinth Full Of Thrills And Spills
Last year, I scratched out Dalaguete from my list of top local destinations in Cebu. With tons of Instagram junkies flaunting their OOTDs on the town's well-known summit, I thought Dalaguete was becoming a little worn out and a cliché. Heck, even Daniel Padilla and Kathryn Bernardo followed the trend, by hitting O'peak (that's how mainstream Dalaguete has become). But, recently, Dalaguete has won back my heart, sweeping me into bliss with its low-key, underrated sites. And one of the town's underrated wonders that I just bumped into is the Eagle's Cave in Barangay Obo.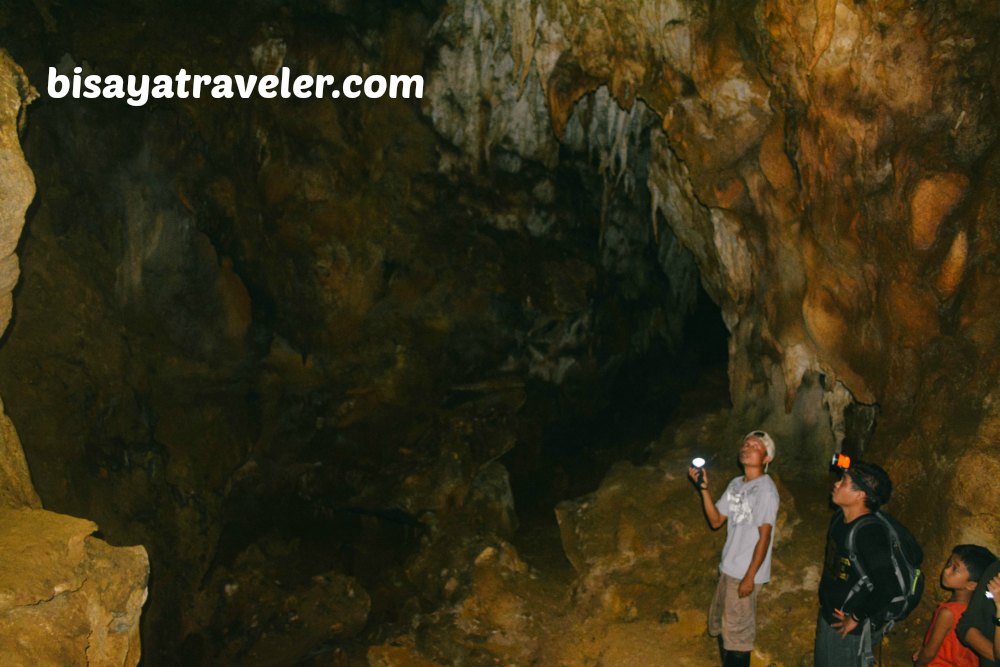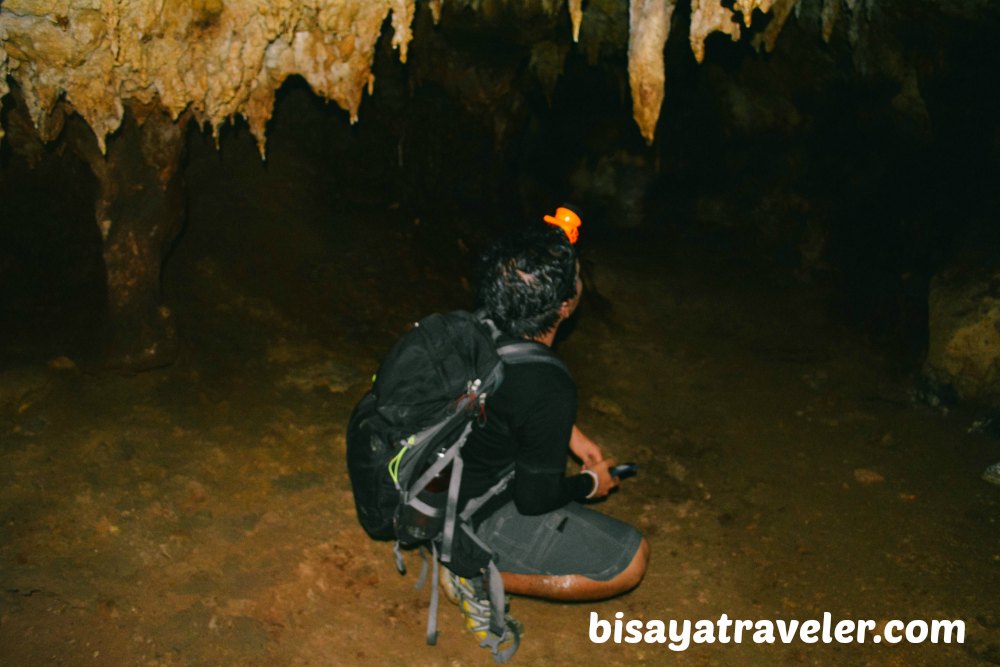 The Eagle's Cave, or also referred as Dingayop Cave, was, hands down, the best surprise of my recent day trip to Dalaguete. Together with the free-spirited members of Team Open Minded (Isabel and James Glendon), I and two Team Bang mainstays (Kevin and Gelique) ventured into this dark cavern, and experienced an adventure like no other. From start to finish, it was indeed a memorable action-packed experience for the whole gang. From what I've experienced, I think the Eagle's Cave has the potential to become the ultimate thrill ride in Dalaguete.
Our Eagle's Cave adventure
Hiking Katampuko Peak was an absolute blast, and a great way to start to our Dalaguete trip on a high note. And to keep the fun and adventure rolling, we decided to make a stop to Malones, to catch sight of the dazzling flying foxes. Unfortunately, the habal-habal drivers were on chill mode since it was a Sunday, and had no plans on taking passengers to the Enchanting Lagnason Creek. While there was one driver who was willing to take us there, his rates and terms were somewhat unreasonable and ridiculous.
And, that's why we just let this opportunity pass by, and dive into another undervalued attraction in Dalaguete, Cebu – the Eagle's cave.
So, from Malones, we hopped on a tricycle ride bound for Poblacion, Dalaguete. Once there, we bought some not-so cold refreshments in 711 (the whole town didn't have electricity for the whole day), and ate our lunch in an affordable local eatery.
With our bodies rested and stomachs filled, we headed to the jump off point of the Eagle's Cave in Obo via a habal-habal ride.
Upon our arrival, a bunch of friendly locals greeted us, and gave us a quick overview of the dark cavern. Moments later, they introduced us to the man who has been essentially protecting this cave for decades.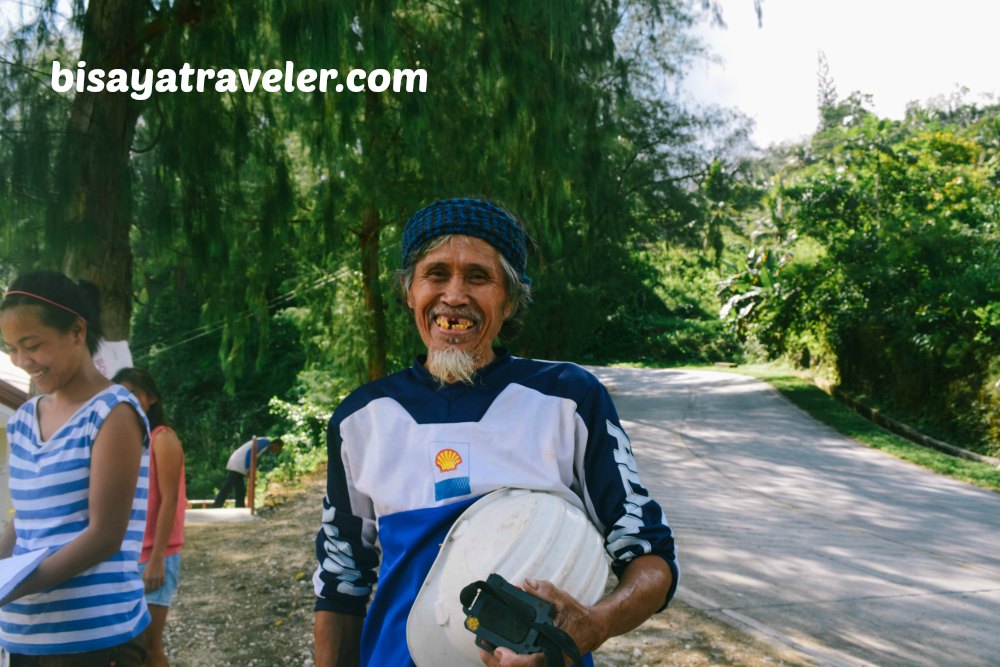 We, then, filled out or names on their log book, so we can start our escapade to Eagle's Cave.
But, before we began our downhill hike to the Eagle's Cave, we asked the caretaker to snap a group photo of us, together with the sprightly Cave Man – Tatay Daniel.  As far as I can remember, Tatay Daniel is already 79 years old, and still is as sprightly as an athletic teenager.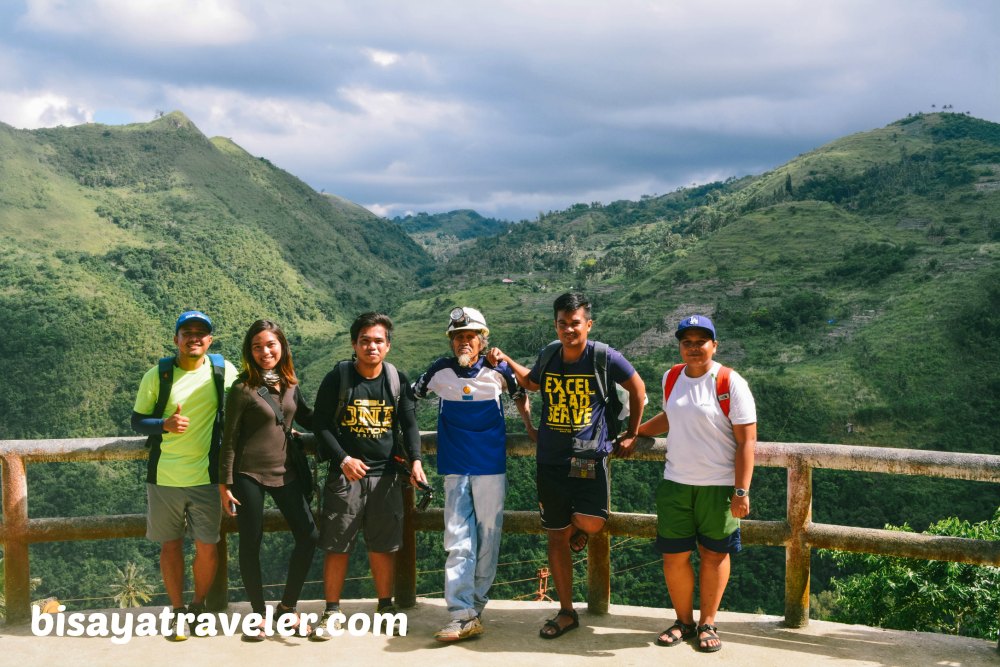 With everything in place, we descended to the Eagle's Cave, passing by some eye-catching landscapes and plantations.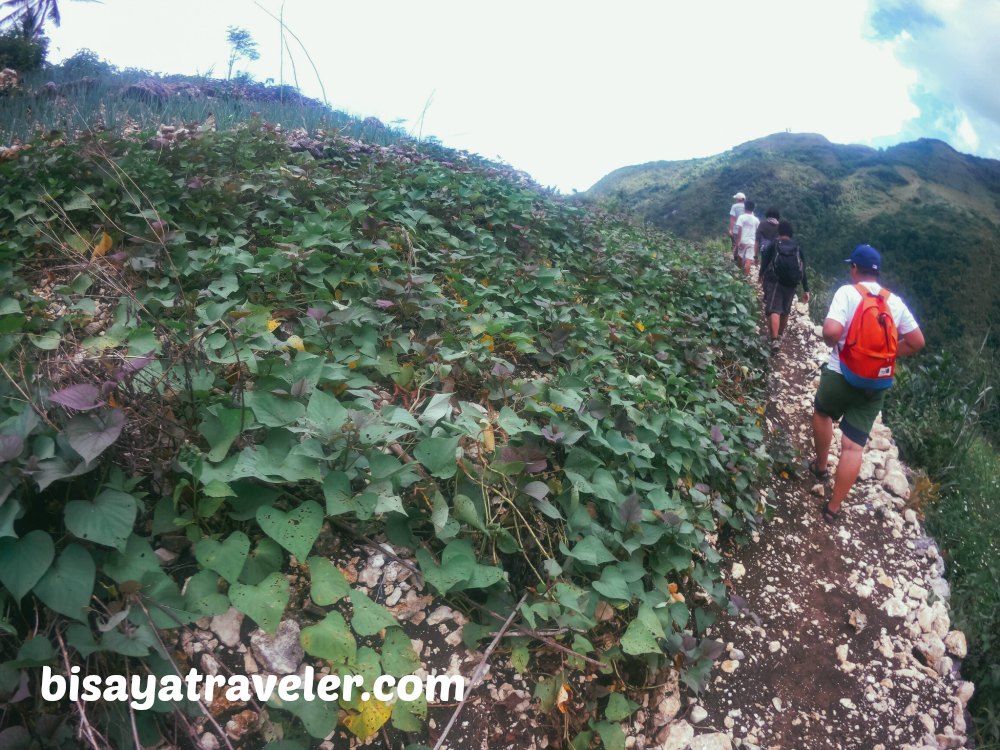 One of the visual highlights on the trail was the onion plantation, or as James would say 10,000 sibuyas (pun intended).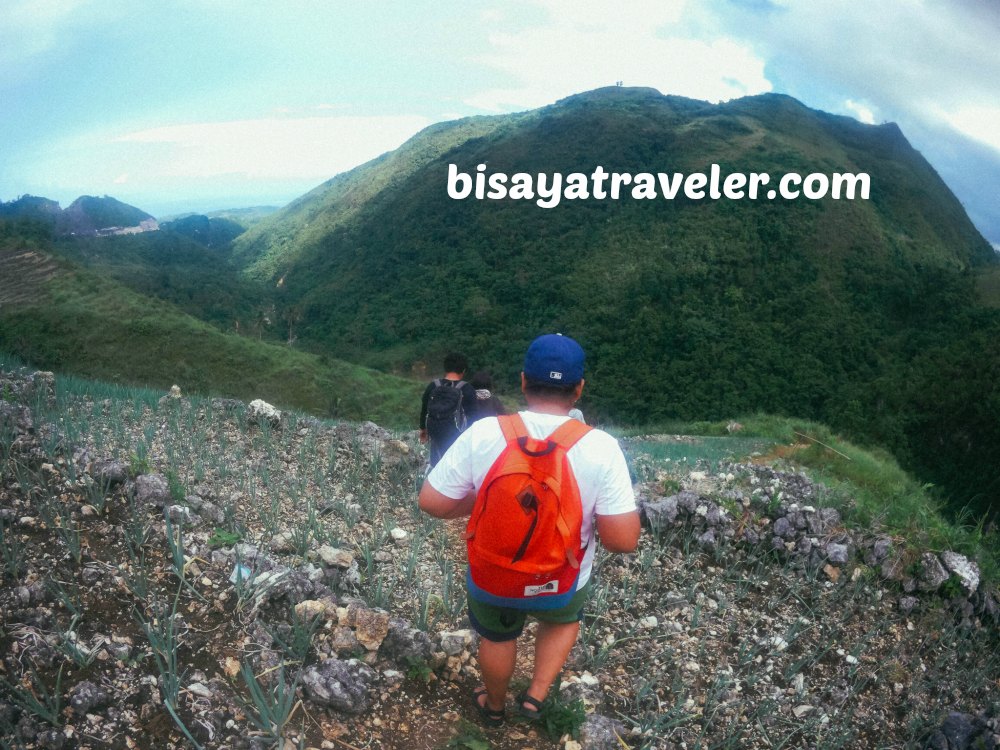 For the first five minutes, the hike to the Eagle's Cave was a walk in the park. Remember, we were just descending on a well-established trail. But, as we got close to the cave, the trail got steeper and more slippery. As a matter of fact, I had to put the camera back to my bag, so that I can grab onto the roots, whenever I'm having problems maneuvering and balancing.
As way to make things interesting, Tatay Daniel shared some rather hair-raising stories about the Eagle's Cave, which did scare the daylights out of Gelique.
I didn't get everything that he said, but I remember him mentioning something about flying frogs. I guess he was referring to bats.
As we were making our way to the cave, a group of hyper active kids suddenly joined the party. I didn't mind having them around. As they say, "the more, the merrier".
Plus, we got to hear and see the raging rapids below that James was talking about earlier.  As soon as James saw flowing stream, he told us that he'll be back to Dalaguete soon to see this river.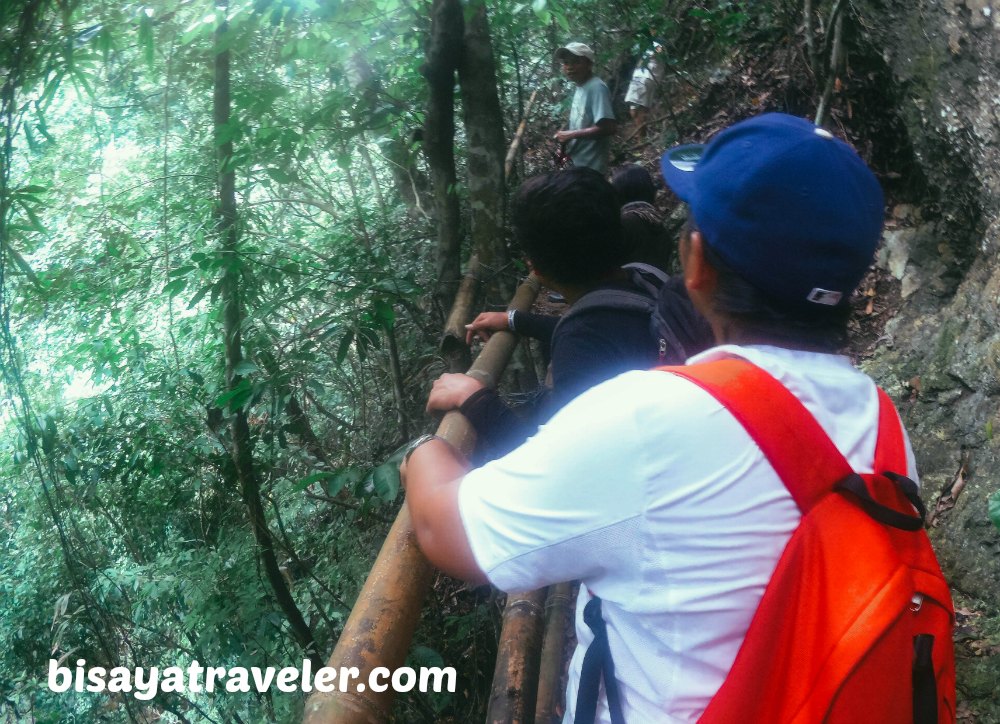 After minutes of walking, we finally arrived at the entrance of the cave. As you can see, Isabel displayed her FHM-cover worthy figure in front of the cameras.
The moment we arrived at the mouth of the Eagle's Cave, images of Bruce Wayne and his bat cave flashed into mind. From that moment on, I knew I was going to have a swell time. And, yes folks, I'm a DC comic fan boy.
James was quite a boy-scout on this caving exploration. Not only did he pack a flashlight, but he also brought a helmet to protect his head from rocks. Isabel, likewise, carried a light with her. As for the Team Bang members, we brought nothing, except for our thirst of adventure. Charoot! Seriously, though, we didn't know we were going on a caving escape this weekend, so we didn't pack any gear or equipment for our caving trip.
As we were preparing our gear, out friendly guides reminded us of the dos and don'ts inside the cave. Lead by Gelique, we later on said a prayer for guidance and safety on our fascinating caving exploration. Based on the tone of Gelique' voice, I can sense her mixed emotions of excitement and fear.
Without wasting any more time, our guide led us to the cramped spaces of the cave. With their reliable flashlights, we got see a ton of stunning stalactites, stalagmites and rock formations.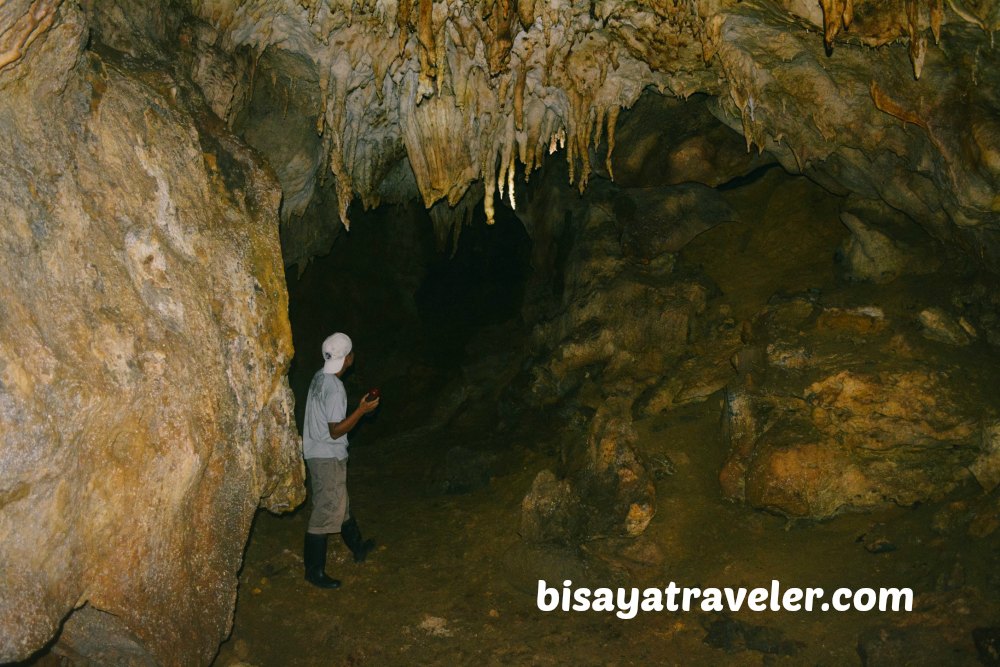 And for the first time in a long while, I used my camera's flash. Truth be told, I'm no expert, when it comes to flash photography, but I had no choice. If I didn't use it, my photos will most likely end up looking like a blank, black wallpaper.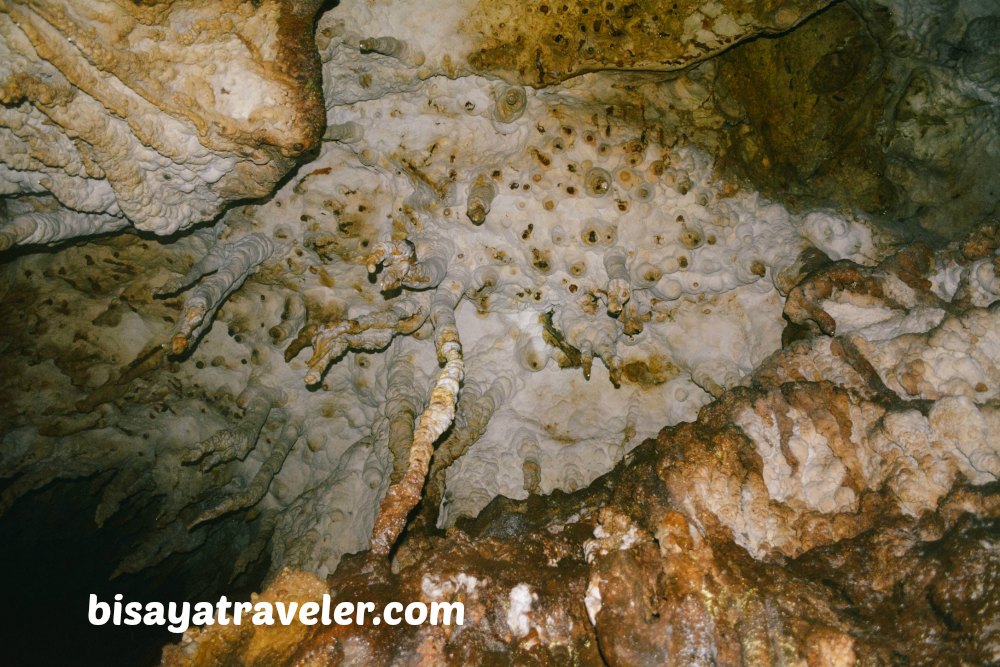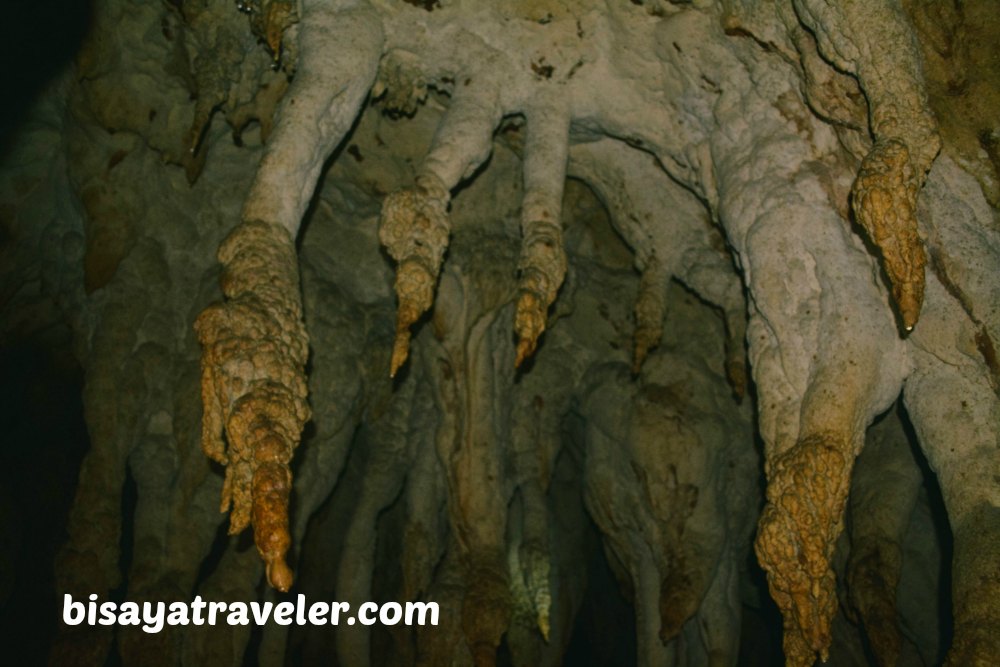 In some areas of the cave, we had to squat since the ceilings are fairly low. Not to mention, there are some parts where the stalactites would almost cover the ground.
Even though it seems taxing on the body, I enjoyed every minute of it. For me, it was an excellent cardio workout, and a fun way to build strength in my quads, glutes and hamstrings.
Of course, there were plenty of tight areas on the way to the end point of the Eagle's Cave. Sometimes, we had to detach our bags from our back, just to pass by the narrow spots.
And, as far as I'm concerned, the best parts of the cave were the hidden chambers. There's a hidden chamber, as Tatay Daniel have said, where the pythons live and bred. And there's also a deep underground chamber that requires a rope to get in. Hopefully, I'll have a chance to get inside this underground grotto, on my next visit.
As we were walking on the cave, Tatay Daniel led us to another narrow compartment.  At that time, I was following Kevin, when all of a sudden, I tiny bat was dashing straight to my face.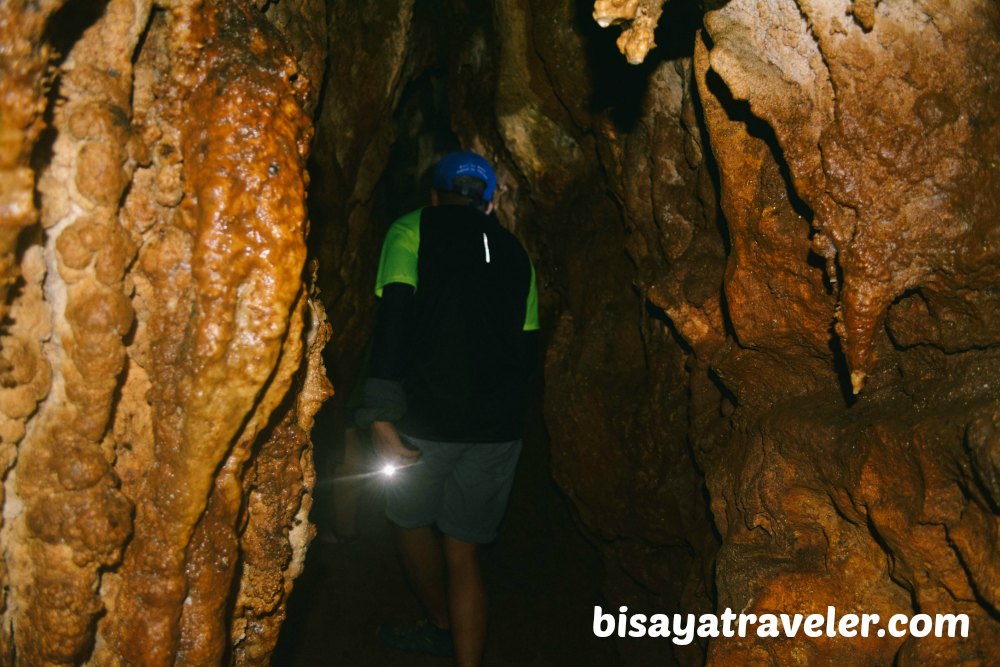 The bat didn't hit me, though, thanks my quick reflexes, which I've learned from watching all those cheesy Lito Lapid movies.
On the way back to the main trail, our guide showed me something very interesting – a gigantic spider.
I don't know what species of spider it was, but I'm pretty sure it's not as friendly as Poknut and the rest of our charming dogs.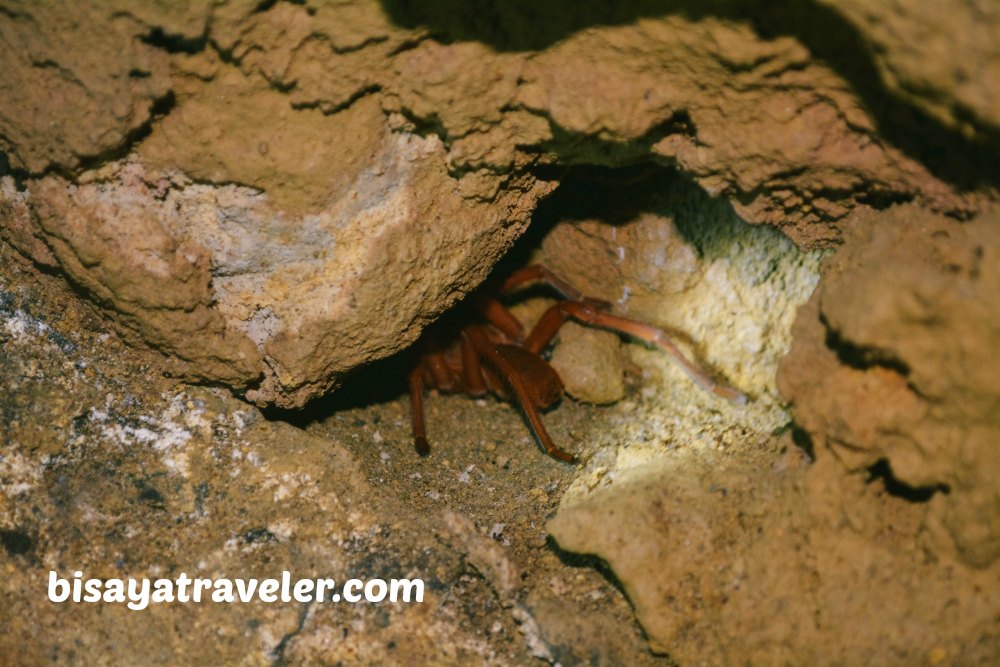 While making our way to the end point of the cavern, we caught glimpse of many more jaw-dropping sights. Don't believe me? Why don't you ask Gelique?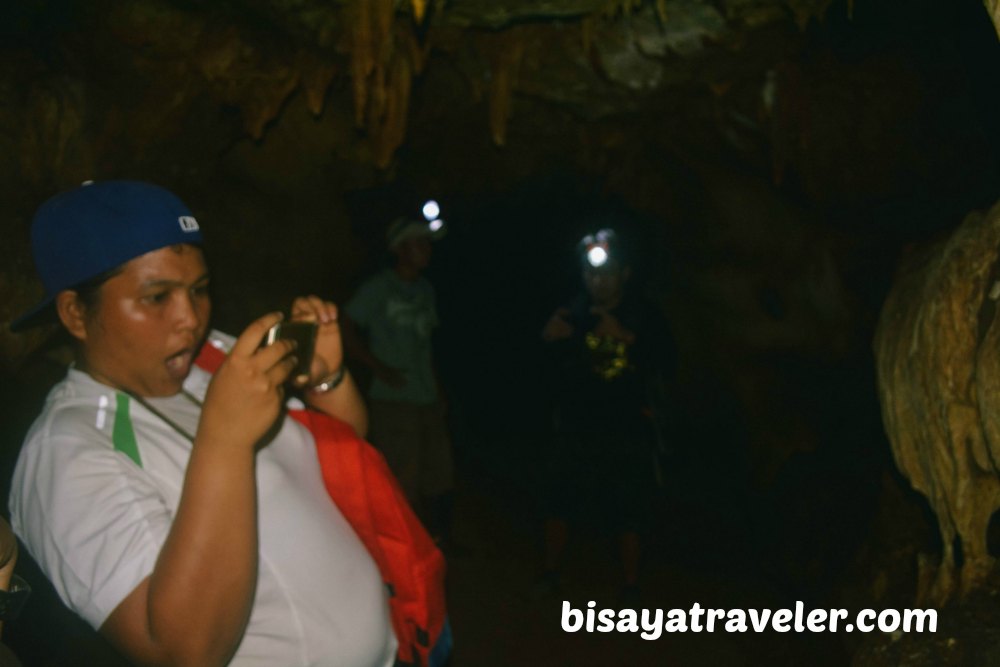 Ultimately, we arrived at the end point of the Eagle's Cave. As our guide have suggested, the Eagle's Cave was, a long time ago, connected to Argao's Mount Lantoy, which is also near another famous cave in Cebu – Balay Sa Agta. Amazing isn't it?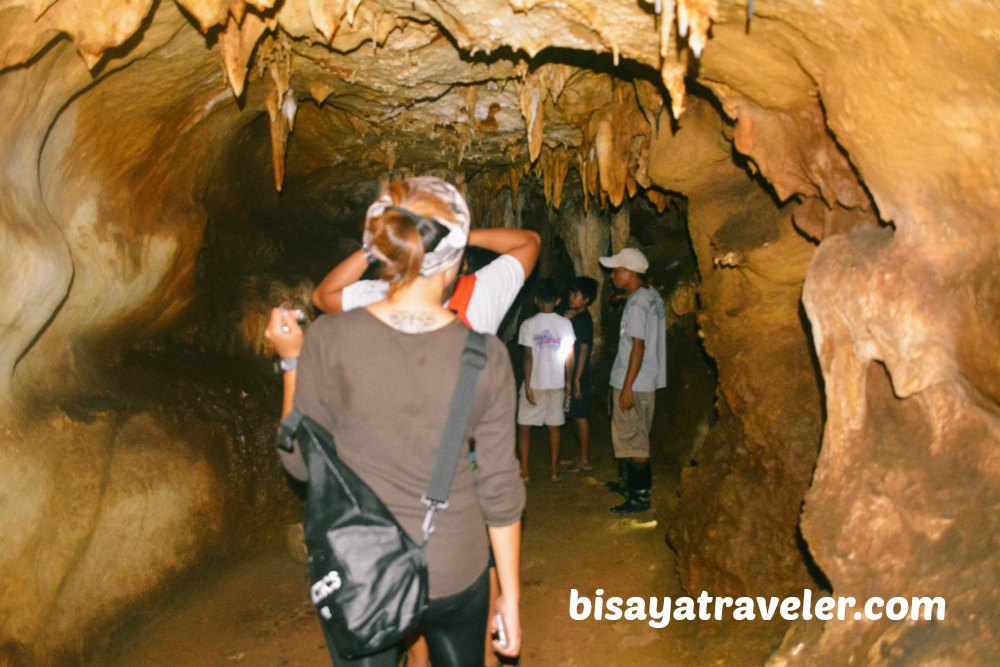 On our way back to cave's entrance, we made countless of poses, from group pictures to solo shots.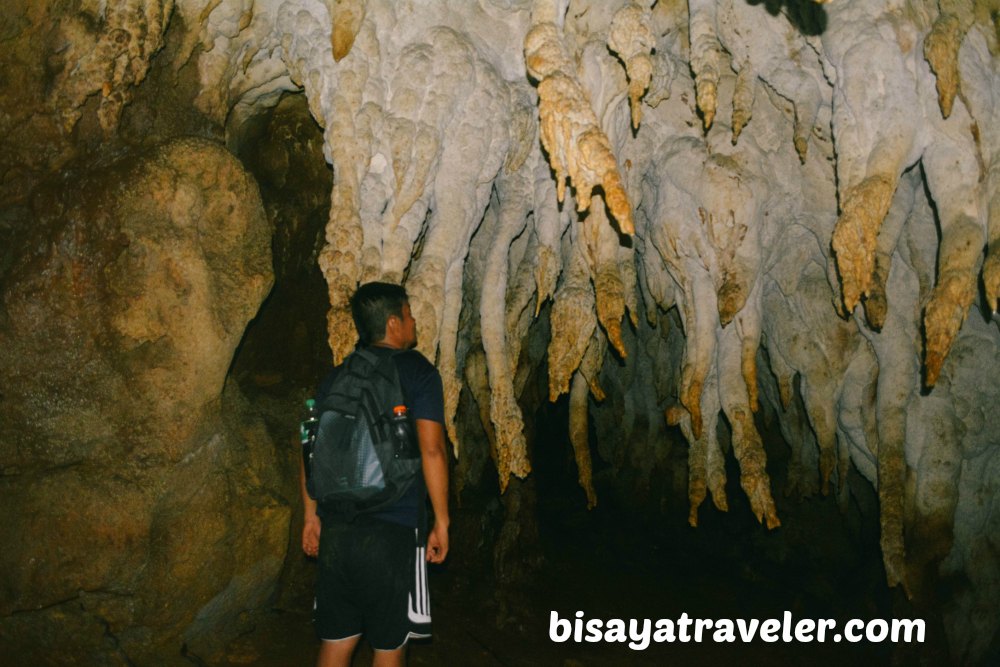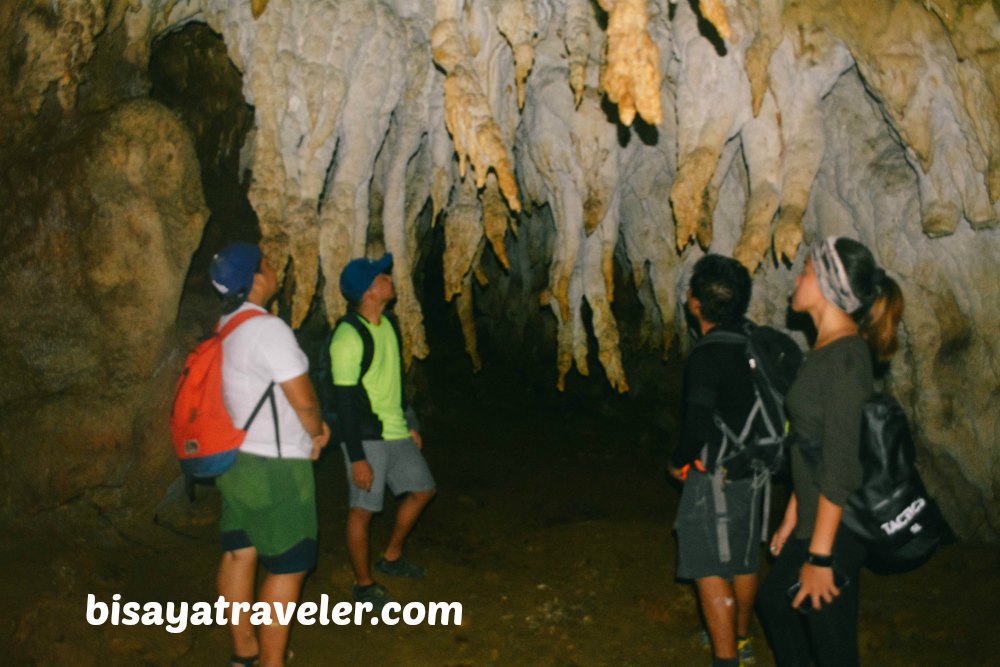 But, going up is never as easy as going down. With steep slopes and a slightly challenging trail, getting back to the base was like climbing a towering mountain.  Honestly, I felt like I was sprinting for 15 consecutive rounds in a 400-meter race track.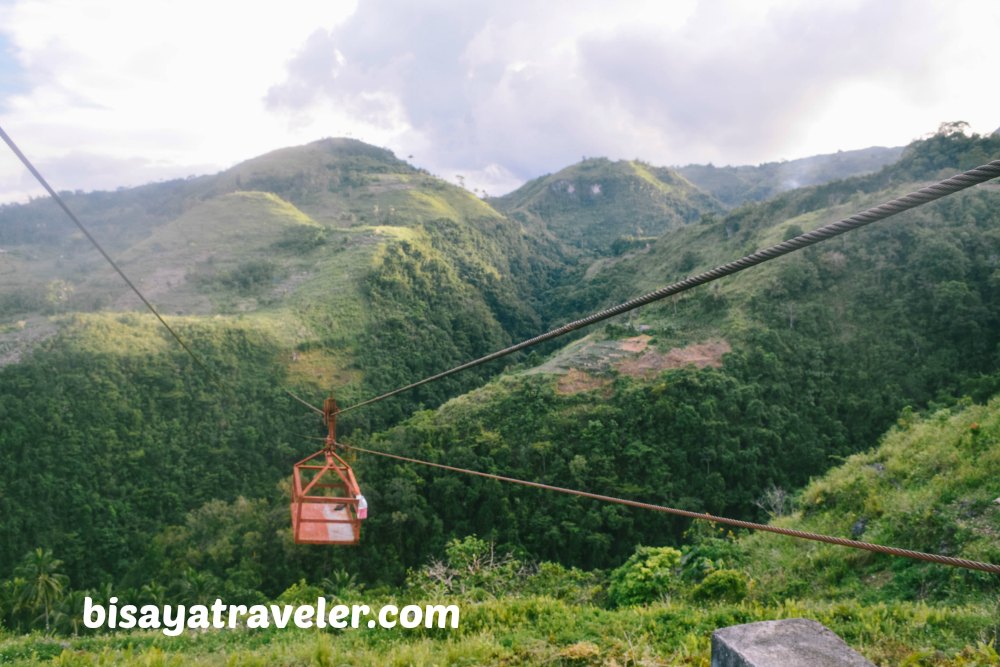 Eventually, we arrived at the registration center, and got treated to beautiful sunset and view of Dalaguete. Afterwards, we paid our dues, and took a habal-habal ride to 711 Poblacion, where we relaxed for a while and rewarded ourselves with ice-cream.
Important notes:
Bring a flashlight and a helmet.
Practice the LEAVE NO TRACE principles.
Pack at least 1 liter of water.
Bring snacks and trail food.
Go there early.
Wear a good pair of hiking sandals/shoes.
Respect everything inside the Eagle's cave.
As much as possible, try not to touch the stalactites and stalagmites.
It's not an ideal adventure of those who have claustrophobia.
How to get there:
From Cebu City, take a bus ride bound to Oslob or Dalaguete. Ask the driver or conductor to drop you off at Poblacion or Dalaguete junction. Then, take a habal-habal ride to the registration center of the Eagle's Cave.
Expenses for Eagle's Cave (excluding bus fare):
Back-and-forth habal-habal ride: PHP 100 per person
Environmental Fee: PHP 30 per person
Cave Guide: PHP 100 per group (maximum of 5 people). Additional PHP 100 for the additional cave guide if group exceeds 5 people.
Donation to the Cave Man: PHP 100 per group
If there are 5 people in your group, you'll only have to shell out PHP 170 each.
Our Katampuko Peak and Eagle's Cave itinerary:
04:00 AM: Meet-up at South Bus Terminal
06:00 AM: Depart from Cebu City
08:20 AM: ETA Dalaguete
09:00 AM: Start hike to Katampuko Peak
10:00 AM: ETA Katampuko Peak
11:00 AM: Start descend
12:00 PM: Refreshments at May's house
12:30 PM: Depart for Poblacion
01:00 PM: ETA Poblacion/lunch
01:45 PM: Take a habal-habal ride to Eagle's Cave
02:20 PM: ETA registration center of Eagle's Cave
02:30 PM: Start hike to Eagle's Cave
03:00 PM: ETA mouth of Eagle's Cave/explore the cave
04:30 PM: ETA registration center
05:00 PM: Depart for Poblacion/711
05:30 PM: Chill out at 711
06:00 PM: Depart for Cebu City
08:30 PM: Home sweet home
The Eagle's Cave isn't as grand and visually stunning as its Argao counterpart – Balay sa Agta. But trust me, it's far more rewarding and exciting, offering a one-of-a-kind adrenaline rush to adventurers. Plus, it's significantly cheaper than most outdoor attractions in Southern Cebu.