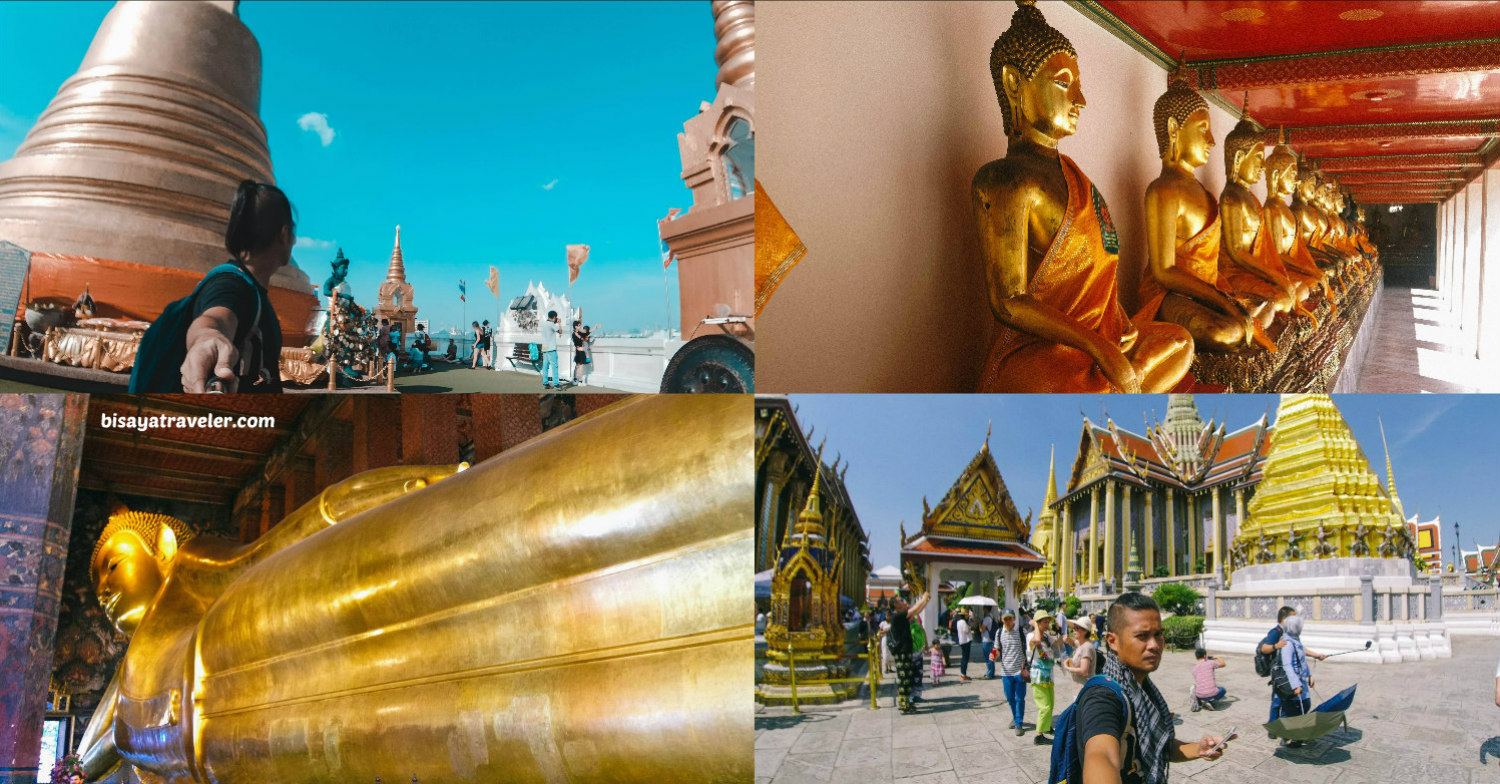 Wat Pho: A Solo Escape Chasing The Enticing Temples In Bangkok
A drink at a rooftop bar alone was not how I wanted to spend my evening in Bangkok. As far as I can remember, it has been over 4 years since the last time I took a sip of alcohol. And, I wasn't planning on breaking my vow not to drink. The truth is, bad things usually happen, every time I drink. Even worse, I was in a foreign land full of complexities and eccentricities. Yet, I was in a mood for a little celebration. After all, it has been, so far, a wondrous year full of mind-blowing adventures and blessings. What's more, I just ticked off an experience that has been in my travel wish-list for the past 24 months – to see Wat Pho and the other majestic temples in Bangkok.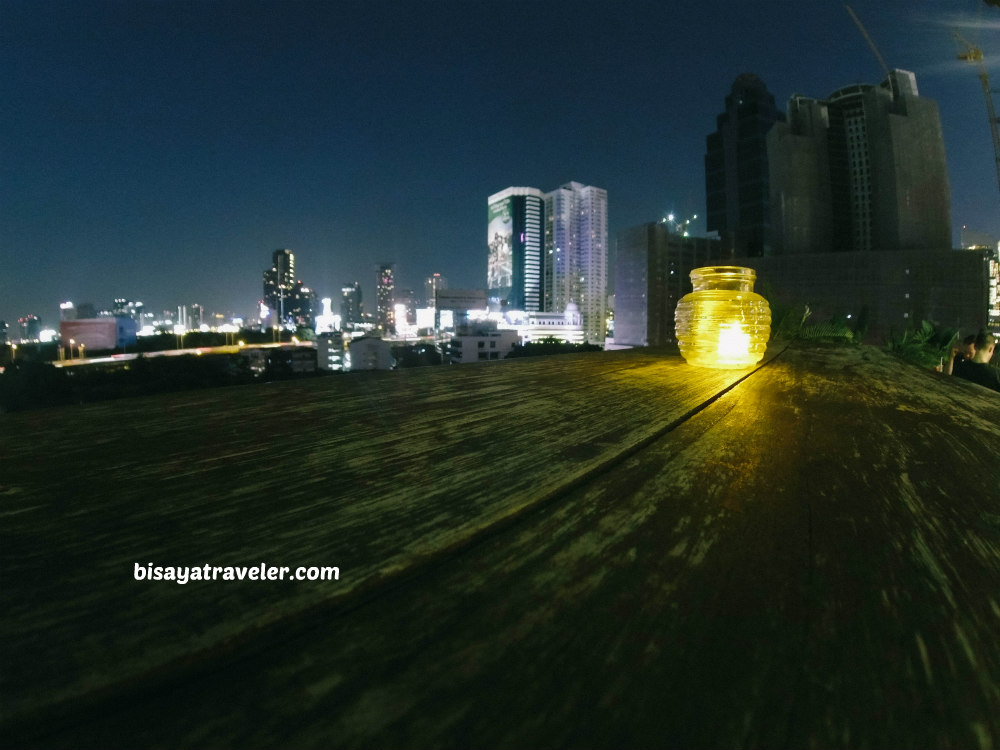 Tempted, I opened the fridge of my hotel's rooftop bar, and picked a gin and tonic drink. As the beautiful waitress was putting ice on my glass, I changed my mind, and grab a soda instead.
"There are plenty of ways to do a celebration without alcoholic beverages", I whispered to myself.
In my years of being a Straightedge person, I've found a multitude of ways to celebrate without booze.
And, this time, I was going to celebrate my recent adventure with a cola and by savoring my recollections of the day when I fell in love with Thailand.
As I looked through the photos on my cameras, the beautiful memories of Wat Pho and the majestic temples in Bangkok flooded back.
Soon, I was transported a few hours into the past, and relived one of the highlights of our Bangkok vacation.
My DIY tour exploring the stunning temples in Bangkok
It was the third day of our getaway in the Thai capital.
Although I had so much fun the previous two days, I was still yearning to see the famed temples in Bangkok.
To me, no trip to Bangkok is complete without a picture of the grand Reclining Buddha in Wat Pho.
I had to see Wat Pho and the other impressive temples in Bangkok!
Thankfully, my wife – the trip's official organizer – made this Sunday a free day to do whatever we want.
And, clearly, there was only one way I'd spend this free day.
But, the rest of the gang had other plans for our free day.
And, that was to go on a shopping spree at Chatuchak Weekend Market.
As great as the Chatuchak Weekend Market is, I wasn't exactly looking forward to visiting it.
As a matter of fact, it wasn't on my list of can't-miss things to do in Bangkok.
I had to do something.
I had to convince them that Wat Pho and the other temples in Bangkok are an absolute must-see.
And guess what? They did like my idea.
Even though I'm a terrible salesman, I still managed to convince my travel buddies to visit the beloved temples in Bangkok.
With everyone on board with my idea, we booked a couple of Grab rides, and went to the first stop of the tour.
First stop: Wat Phra Kaew
My Bangkok temple run, technically, kicked off with a visit to the famed Temple of Emerald Buddha inside the Grand Palace (I'll write about it later).
Aside from my wife, I was also joined by Sarah Jane, mama Godelia, aunt Nora, Juliet and Sherly.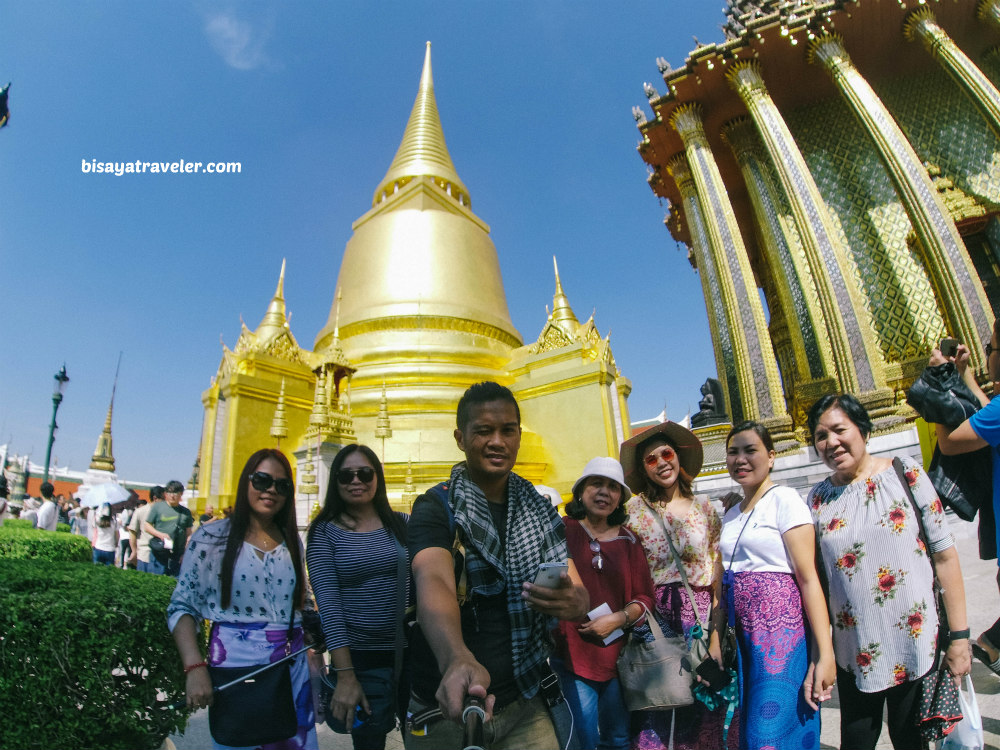 From the moment we arrived, we had a whole lot of fun exploring Wat Phra Kaew and the rest of the Grand Palace. With its elaborate features and magnificent architecture, the palace gave us the urge to snap dozens of photographs.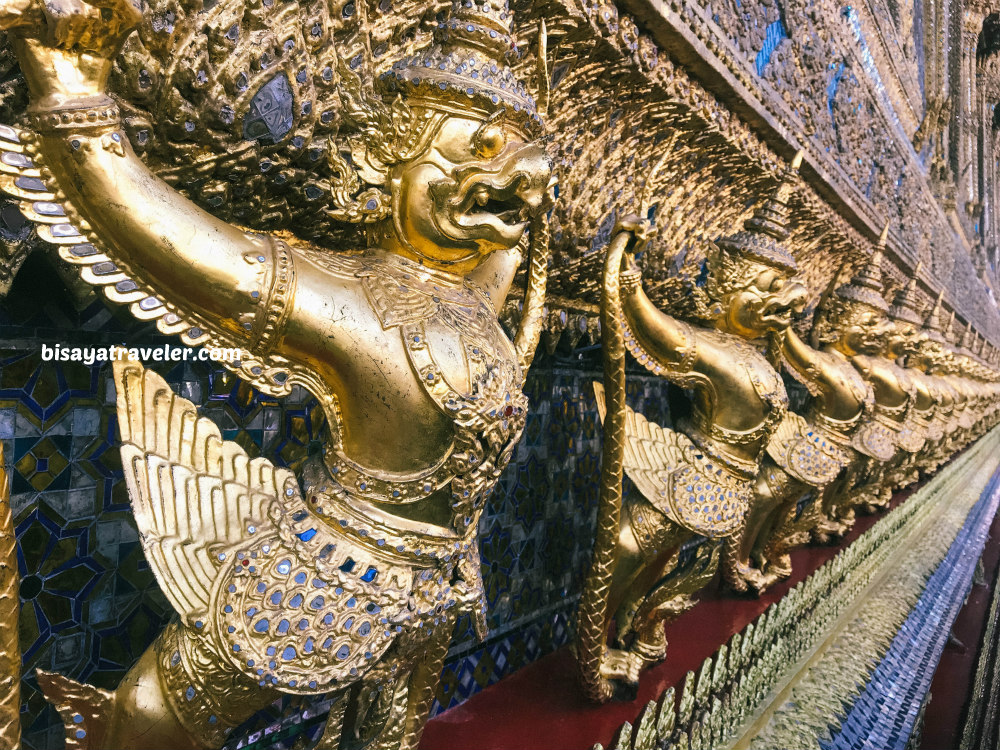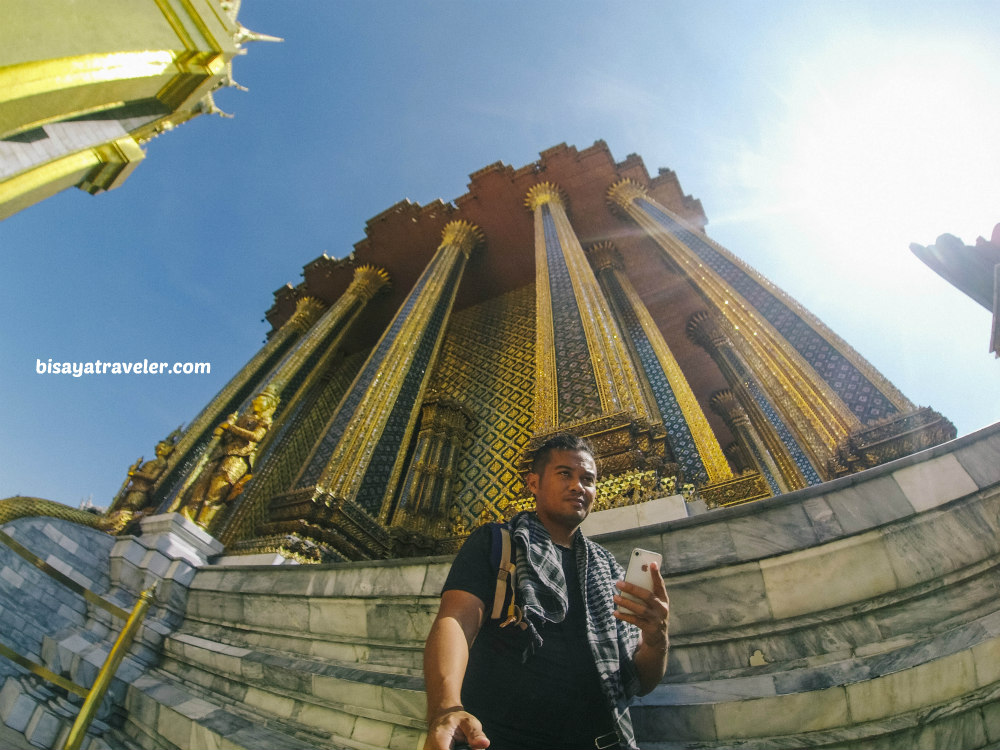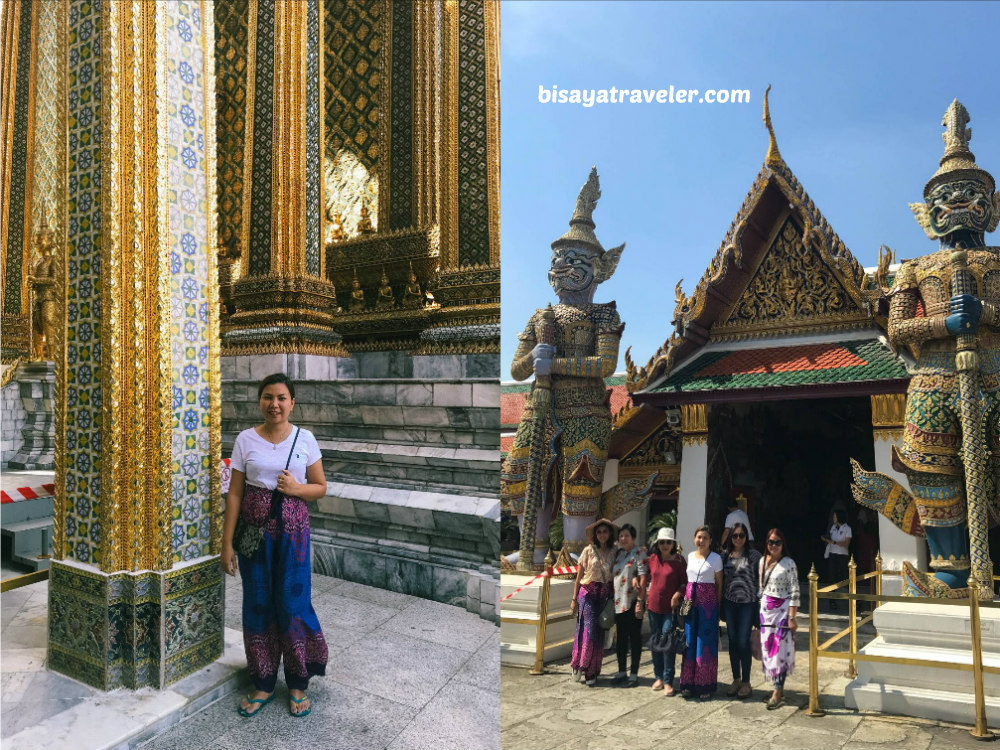 Yet, even with the outstanding architecture, my travel buddies weren't interested in seeing the other temples in Bangkok.
And, I can't blame them.
Truthfully, it felt a little overwhelming with the scorching heat and seemingly endless crowds inside the Grand Palace.
I, on the other, wasn't ready to leave the palace.
I took a look at the free pamphlet or guide, and found out that there's so much to explore inside.
I was torn, and didn't know what to do in Bangkok.
Luckily, I have a rather supportive and understanding wife who gave me the time to explore Wat Pho and the other temples in Bangkok.
So, from Wat Phra Kaew, we split up, to maximize our free day in the city.
Eventually, they found a ride that took them to Chatuchak Weekend Market.
I, meanwhile, spent a lot of time, exploring the Grand Palace.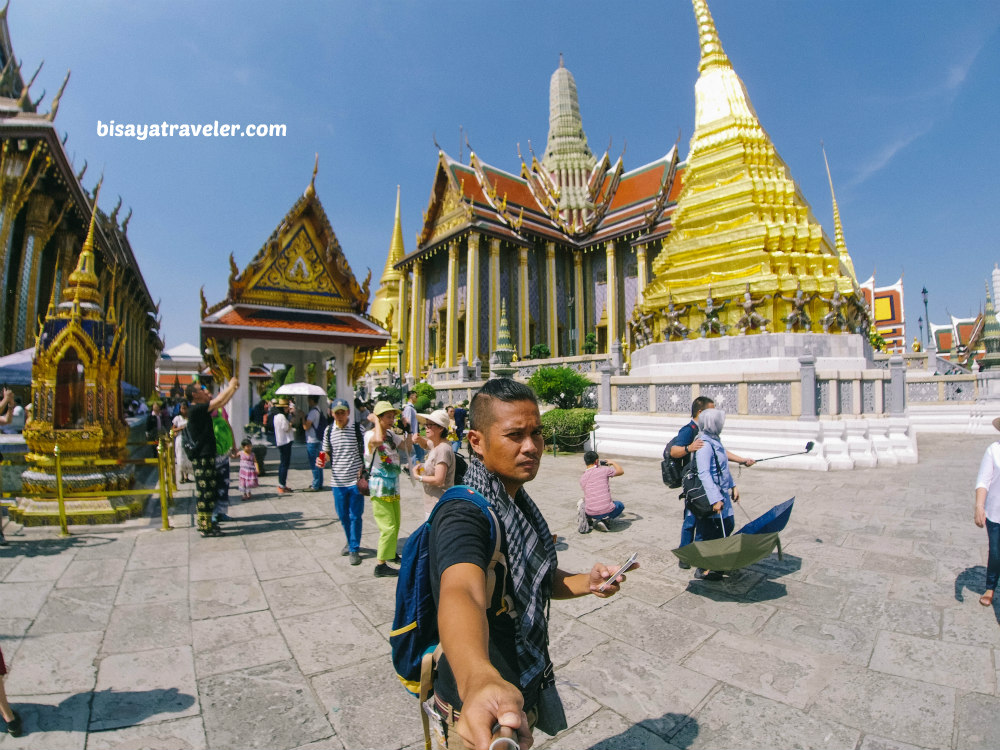 Heck, I even discovered places that were off limits to the foreigners simply because the guards thought I was a Thai.
Afterwards, I went for the exit, and took a breather, so I could plan my next stop.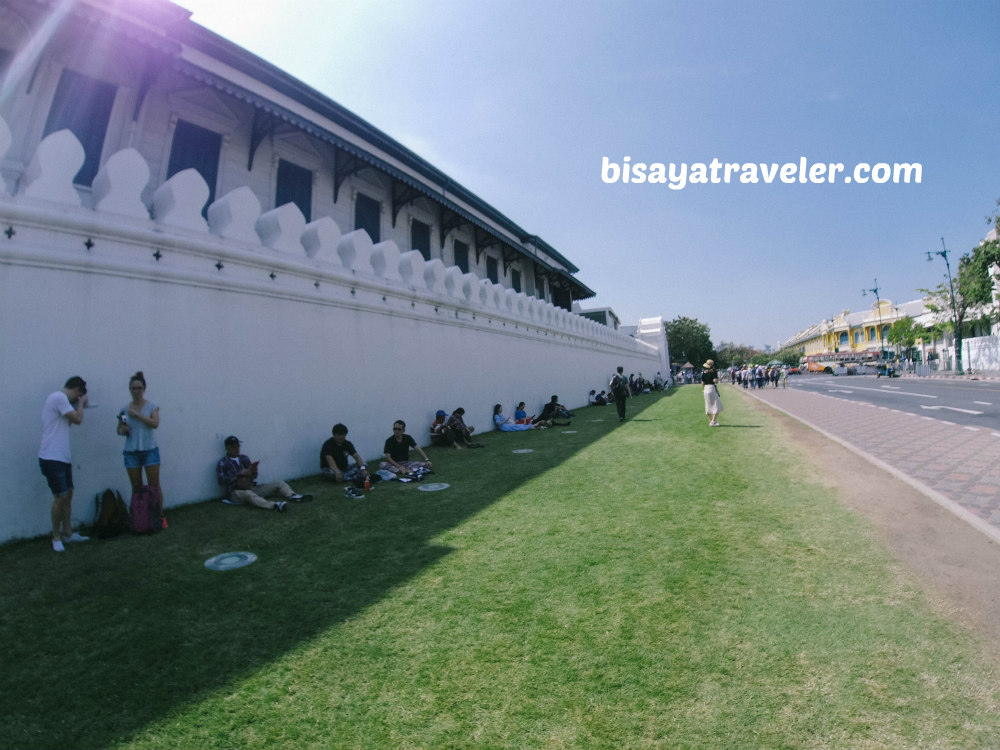 With my unlimited mobile internet, I checked my phone and searched for the closest attractions in Bangkok.
Later on, I found out that Wat Pho, or the Temple Of Reclining Buddha is just a short walk away.
Yippee! And, that's when my solo adventure in Bangkok began!
Second stop: Wat Pho
For some reason, my phone was constantly hanging up, on my way to Wat Pho.
Every time I searched for the location of Wat Pho, my phone's screen turned to black or white.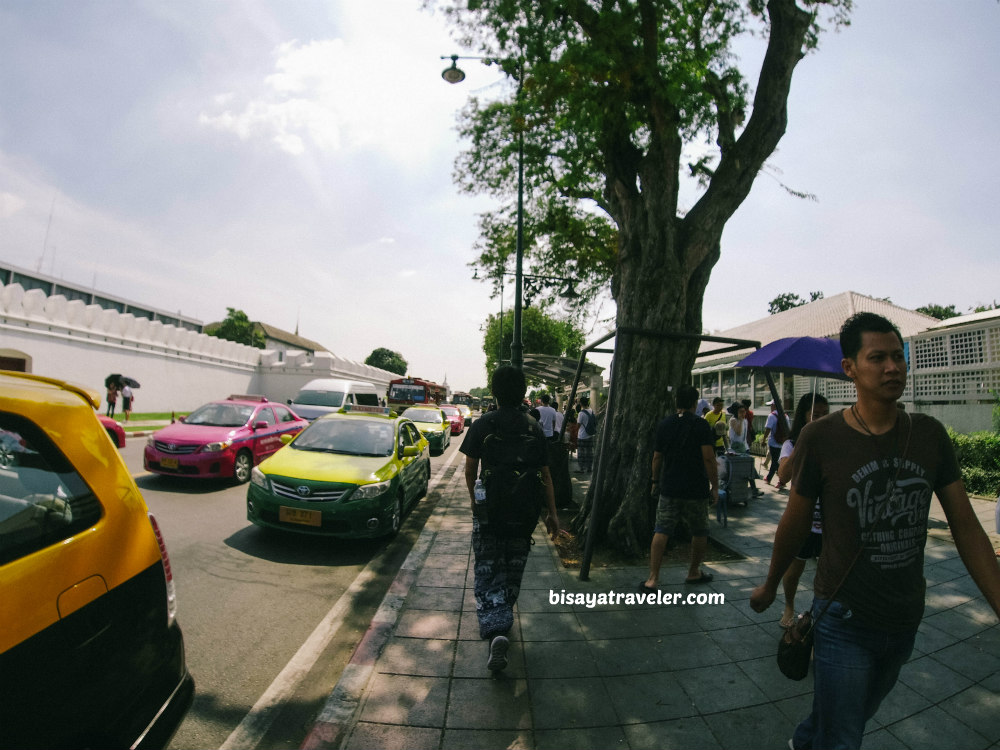 Still, I had a good feeling that I was heading to the right direction.
Years of traveling and hiking have drastically improved my sense of direction.
Plus, there were plenty of incredibly friendly locals who showed the way.
And, the best part is, they always put a beautiful smile whenever I ask for their help.
No wonder they call Thailand as the Land of Smiles!
Ultimately, I arrived at the entrance of Wat Pho, wherein I saw a map highlighting some of the top attractions in Bangkok.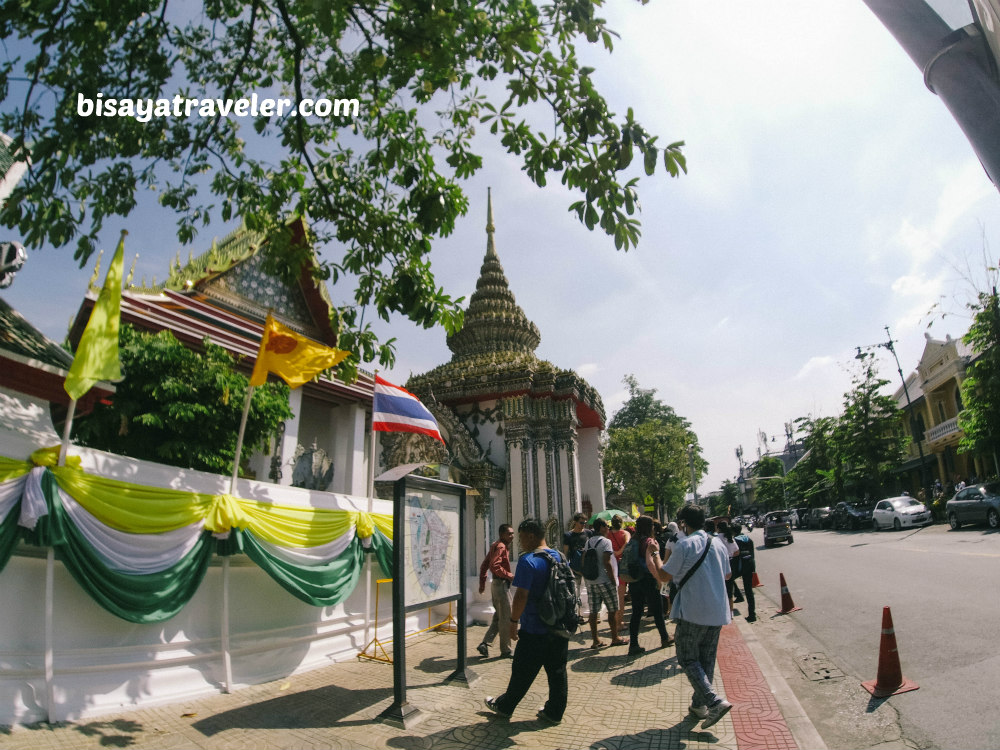 Where should I go after my visit to Wat Pho?
I was thinking of going to Wat Arun.
Actually, I was exploring a ton of options since I didn't have a solid Bangkok travel itinerary for that day.
Maybe, I should figure that out later, when I'm done gazing at the Reclining Buddha in Wat Pho.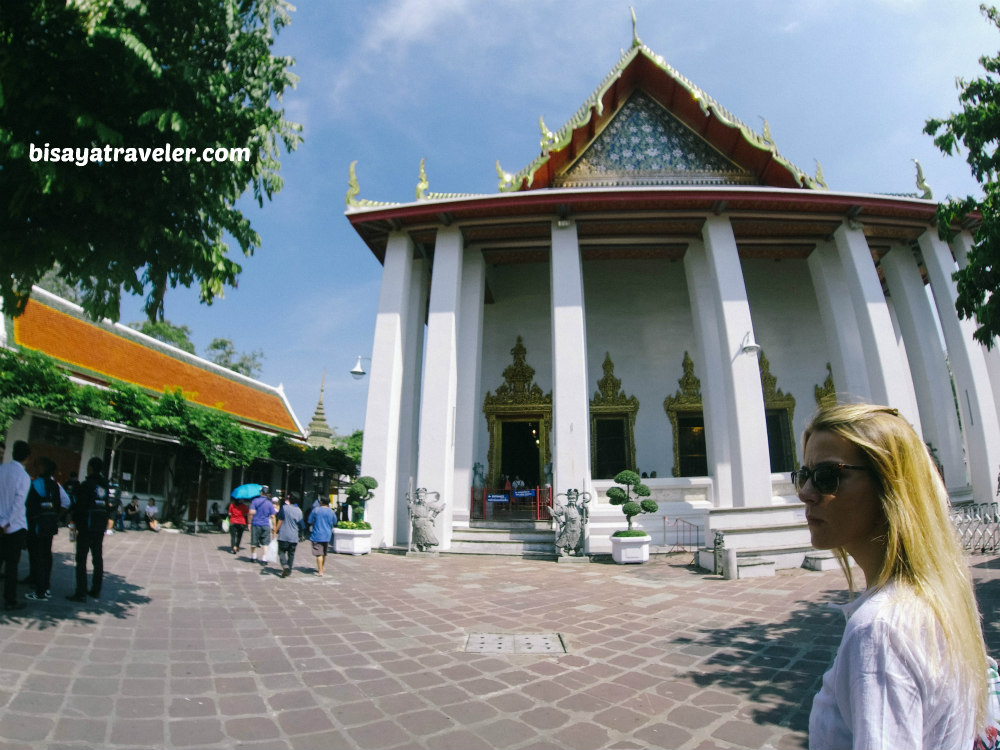 Before entering Wat Pho, though, I had to check out the basic rules of the temple.
I did my homework days prior to our visit, meaning I had no problem with the temple's dress code.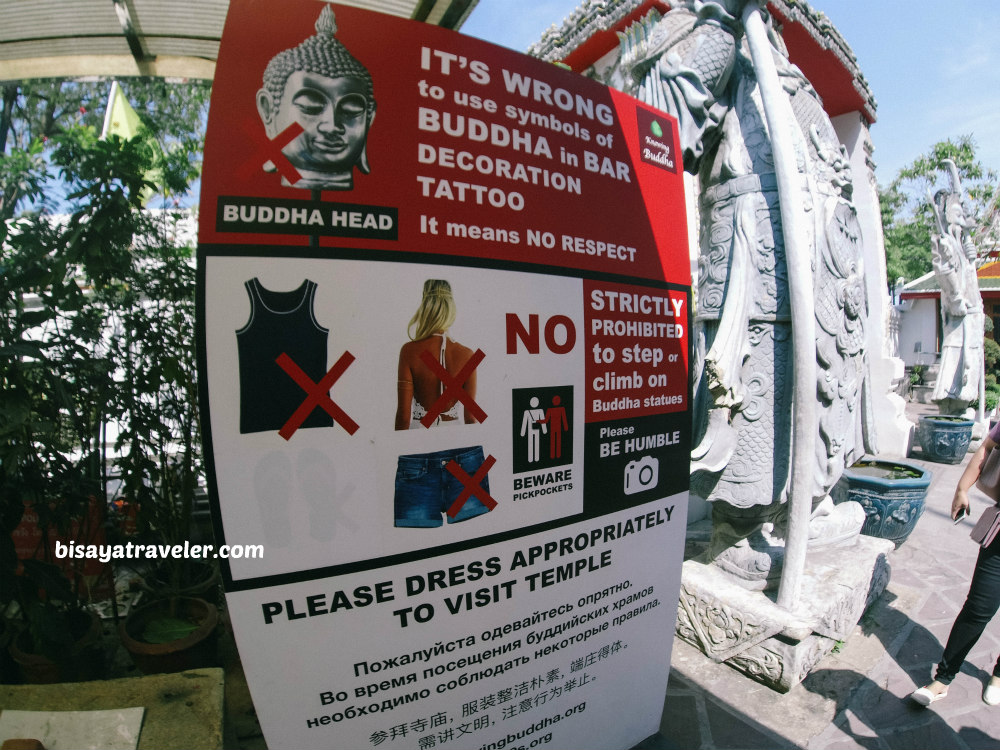 From the outside, I caught a glimpse of the iconic 46-meter-long and 15-meter-high Reclining Buddha.
My heart was, all of a sudden, beating fast in excitement.
Finally, I'm going to see one of the most enduring images of Thailand.
I just couldn't wait to get an up close look of this Buddha statue!
I wasted no time, and paid the admission fee to enter the revered Wat Pho and see the gigantic Buddha statue.
As with most temples in Bangkok, guests are required to take off their shoes before entering the site.
But, unlike some Bangkok temples, there are free plastic bags that you can use to store your footwear.
As soon as I entered the temple, I was awestruck by its sheer size and irresistible beauty.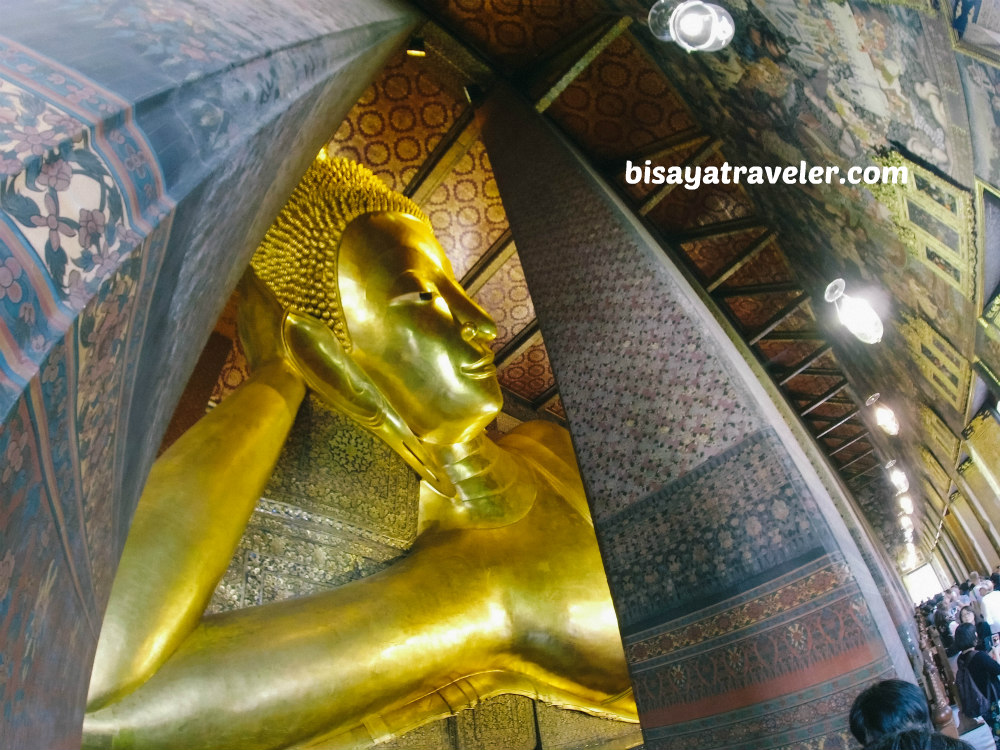 And, though it's one of the top attractions in Bangkok, it wasn't as crowded as the beguiling Grand Palace.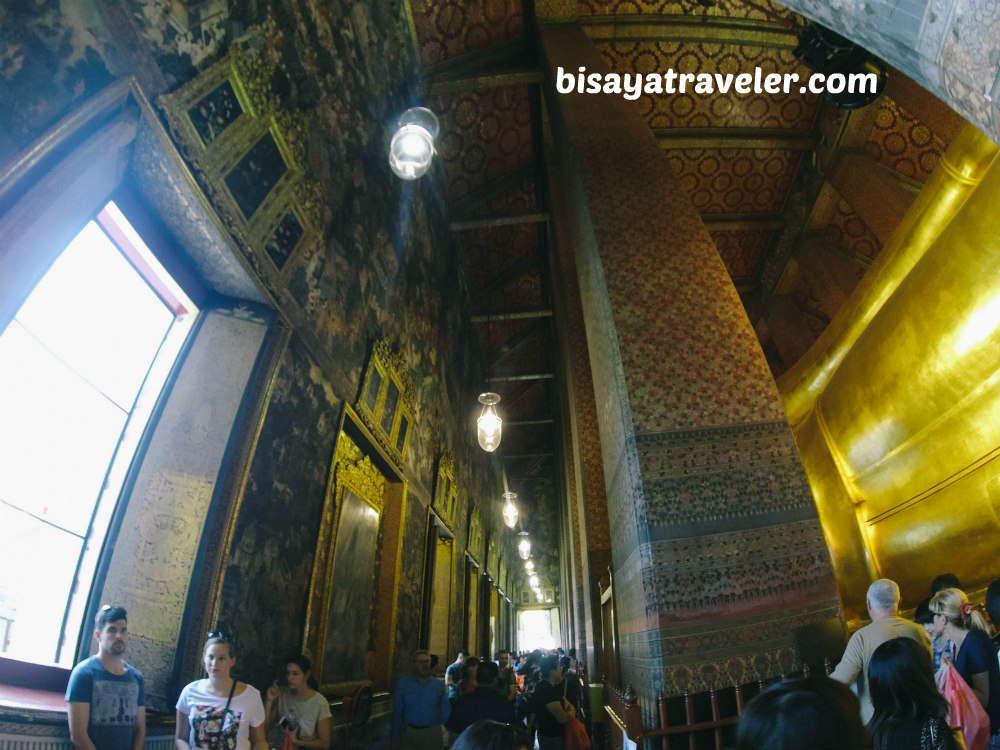 For a moment, I stood in front of the humongous Buddha statue, speechless and in awe.
To say the Buddha statue of Wat Pho is amazing is an understatement.
I'm not overly fond of selfies, but somehow, I couldn't resist the urge to take one.
So, I walked back and forth in front of the Buddha statue, to find a good spot.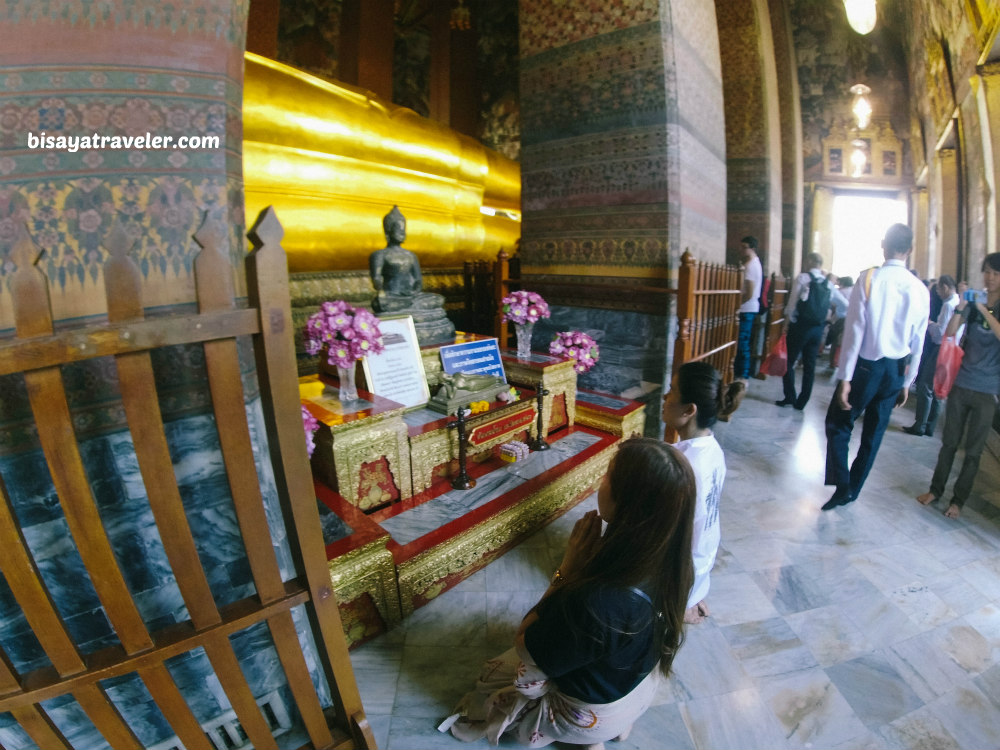 Soon, I found out that there are at least three good spots where tourists can get good shot of the statues.
I saw a short queue on the farthest one, and took a selfie there using my action cam.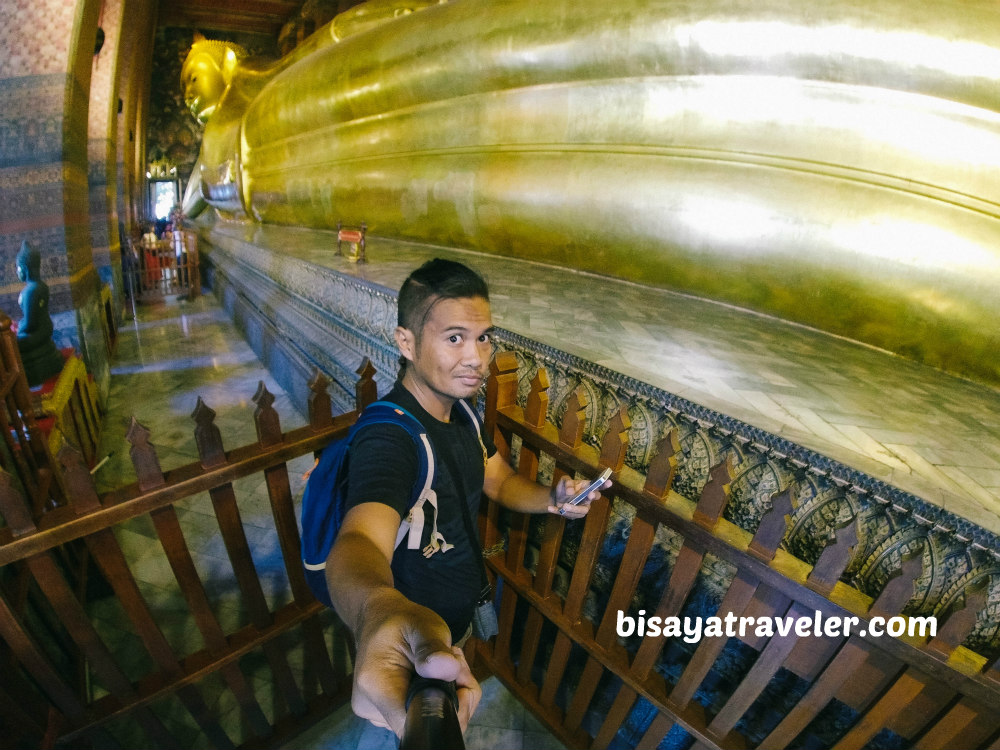 When I reviewed it, I felt like it sucked badly.
As I've said before, I literally have zero skills in taking a picture of myself.
"I should probably take another one", I said to myself.
This time, it should be a bit closer to the head and with my mobile phone.
Once again, I waited in line to get a shot or selfie of the enthralling Reclining Buddha inside Wat Pho.
Unfortunately, there are some tourists who are, flat out, rude and naïve.
Although they saw people lining up, they didn't mind the queue and just went their way.
It took a while before I could get my turn.
And, moments later, I had my chance of getting a closer and better look of the Buddha.
But, then again, I'm terribly bad at taking a selfie.
I totally struggled to find a good shot.
Not to mention, I was pressured to take a quick one, especially since the line was getting longer.
I tilted my hip, tiptoed and moved my phone up and down, just to get the perfect frame and angle.
And, it's so hard to take a good shot of yourself, when flying solo. I guess that's one of the downsides of traveling alone.
"Want me to take a picture of you?", a friendly male Caucasian asked.
Thank you, Universe for bringing this guy to Wat Pho!
"Absolutely! That would be great", I replied.
And, yes, he did a terrific job taking a picture of me.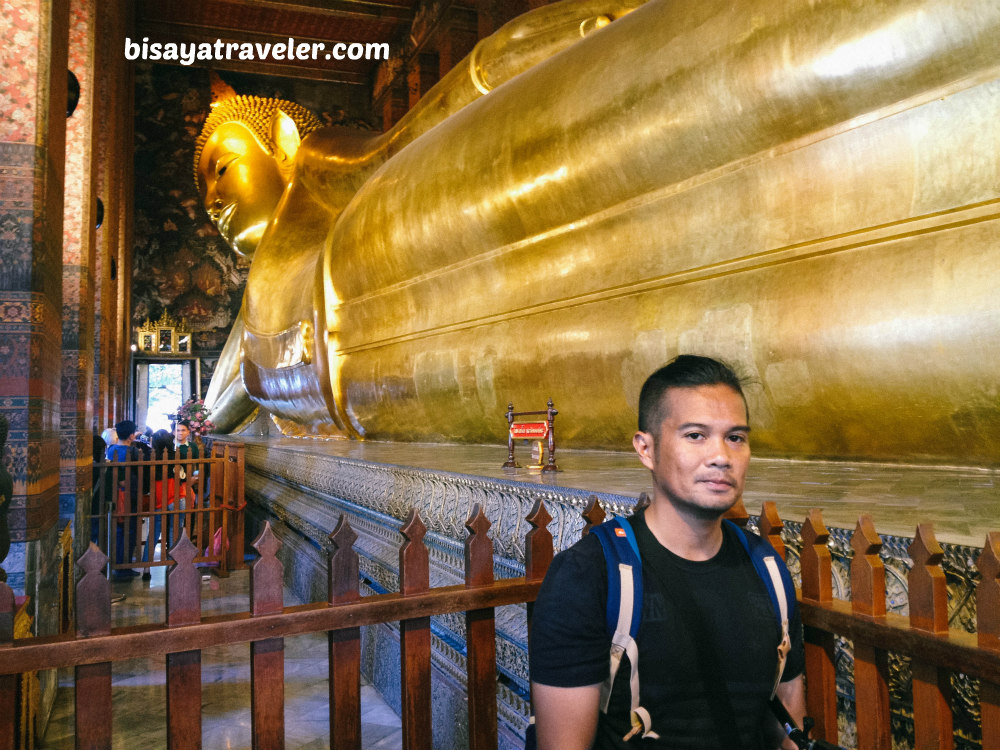 I was happy that he volunteered to take my picture, even though my face doesn't say so.
It just felt awkward to smile in front of a bunch of people who were all eager to get their turn.
In return, I also took a photograph of him and his lovely girlfriend.
To me, that was a nice gesture.
It may be a small act of random kindness, but it can trigger a chain of positive events.
At least, it made my day, and inspired me to be more generous to everyone on our vacation in Thailand.
Afterwards, I roamed around the site, and saw a plethora of intricate features.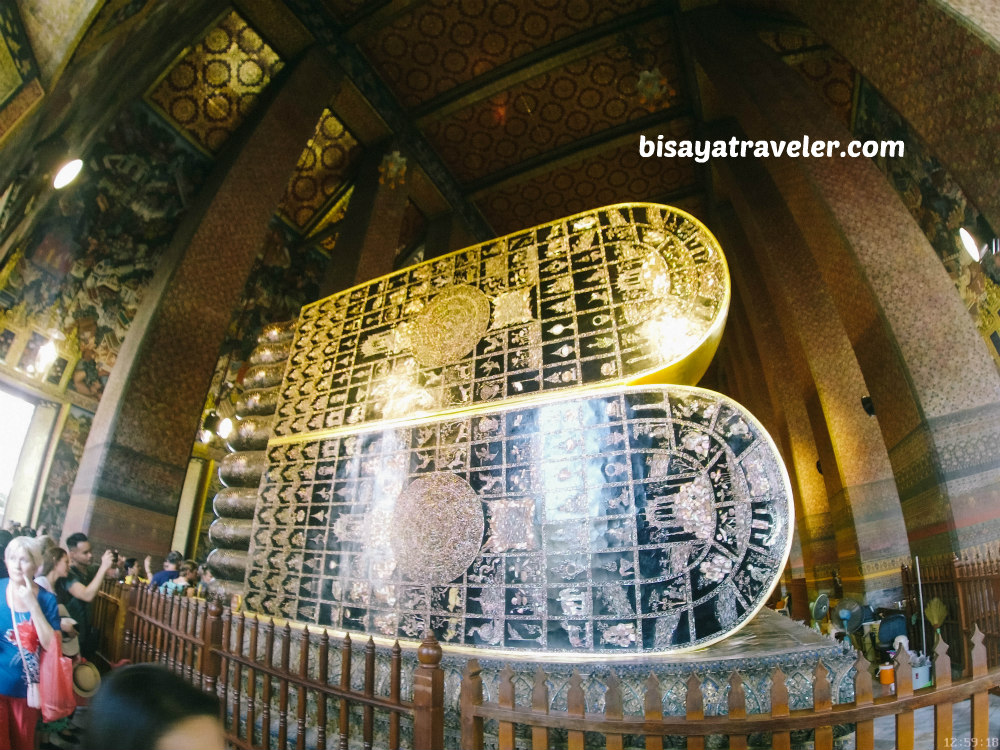 Likewise, I saw a tradition where pilgrims have to drop coins on the 108 bronze bowls inside the site.
I was in a state of pure bliss, following my recent encounter with the Reclining Buddha of Wat Pho.
I just ticked off an experience in my endless travel wish-list!
I checked my clock, and discovered that it was still early.
With time on my side, I meandered across the complex, and spotted a myriad of wonderful Buddha statues and elaborate chedis.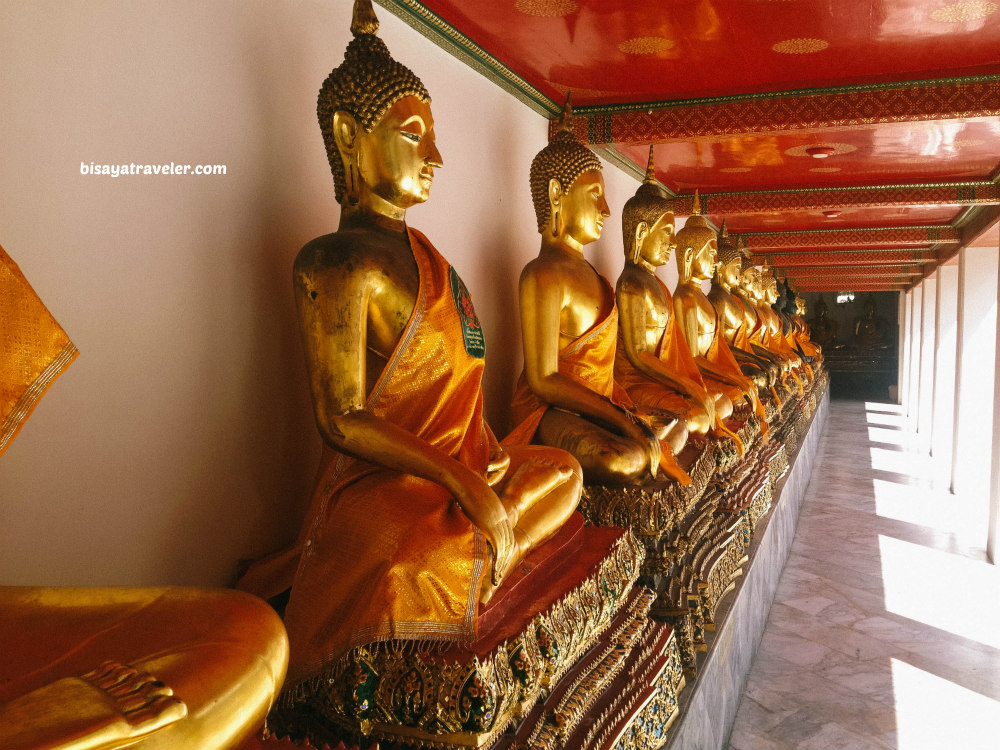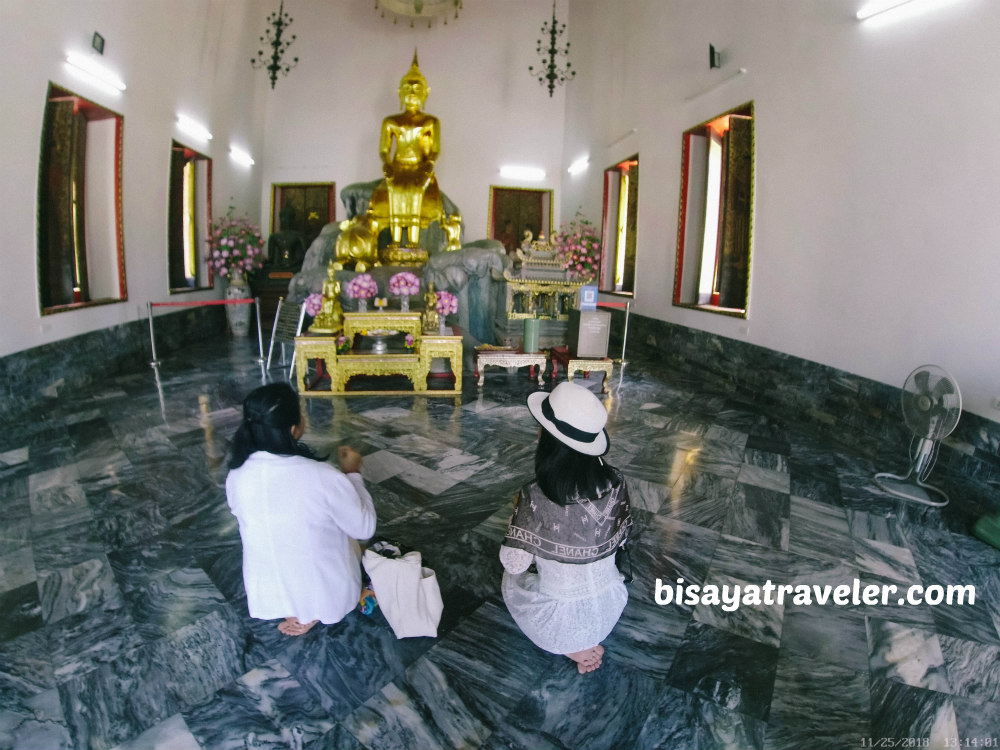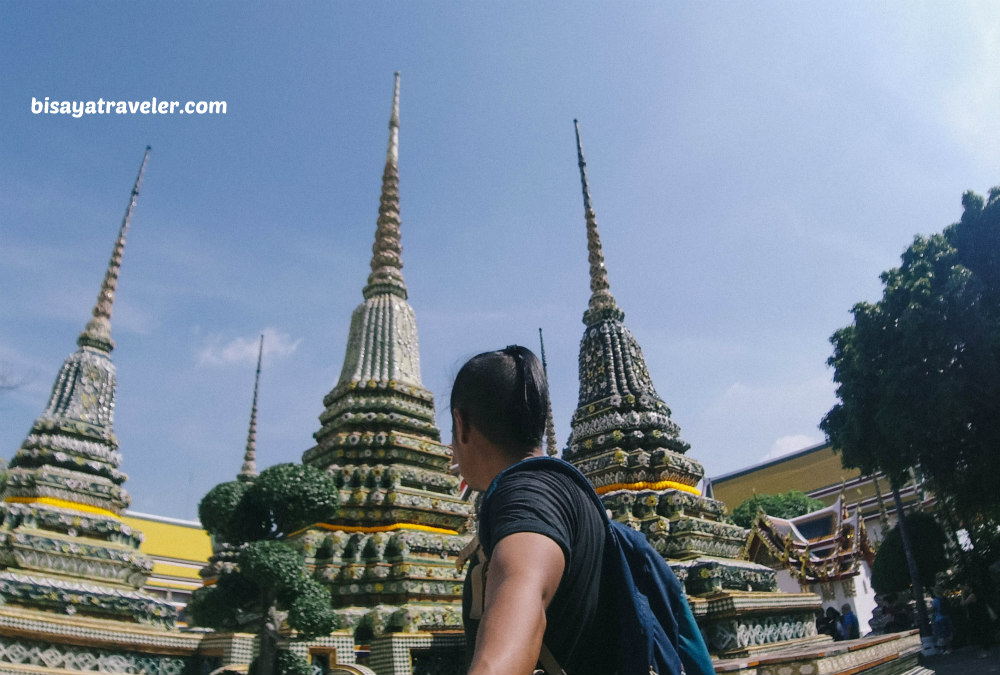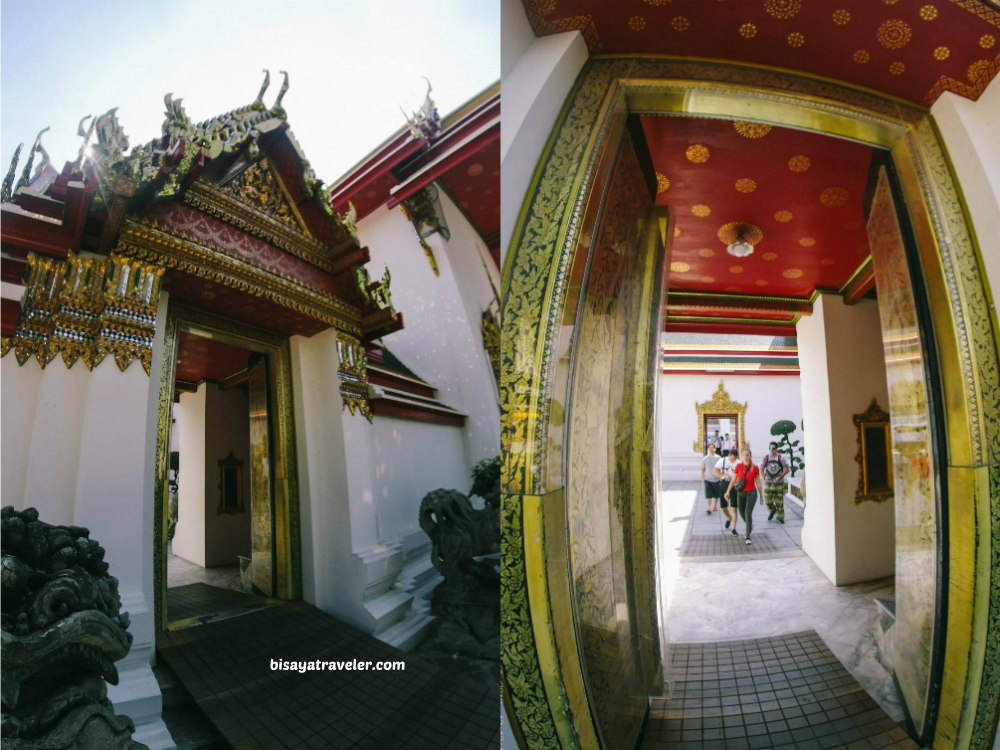 Sadly, I forgot to bring the MMC of my DSLR.
Damn it, Aldrich! These photos would have looked better, if you brought your camera's MMC with you.
And, it was an hour past lunchtime when I was soaking up the temple's beauty.
But, I wasn't hungry, or tired.
Furthermore, I wanted to see more of Wat Pho.
And, that's the beauty of traveling alone.
You can do whatever your heart's desires without having to consider the preferences of others.
Besides the splendid sights, I also saw Monks teaching the lessons of Buddha as well as the art of Thai massage.
If only had more time, I'd spend around an hour to listen to their words of wisdom.
But, I'm not sure if they speak English.
Later on, I felt like I've covered almost all of the grounds and chedis of Wat Pho.
Ultimately, I left Wat Pho, went to the nearest 711, and ate lunch on the sidewalk.
Third Stop: Wat Saket
I wasn't sure where to go in Bangkok, following my short visit to Wat Pho.
Remember, I had a flexible and open-minded Bangkok travel itinerary that day.
That's why I went back to the entrance of Wat Pho, and plan my next stop using its tourist map.
I had a couple of options available.
One was to head to Wat Arun, and the other was to hit the Golden Mount or Wat Saket.
In the end, I picked Wat Saket over Wat Arun.
Not only was it closer to my hotel, but it also had some fabulous overlooking views of Bangkok.
Moreover, I was planning on visiting Wat Arun on a different day.
Thinking that Wat Saket was a short stroll away, I went east to find landmarks in Bangkok that would hopefully lead me to the temple.
But, I got lost in the middle of nowhere, and my phone was practically useless at that time
To make things worse, most of the Thais whom I bumped into didn't understand English.
And, I also raised some eyebrows, as I was asking them questions.
I can't read their minds, but their facial expressions screamed one thing.
Why is this Thai talking in English?
Yep, I do look like a Thai. Oftentimes, people also ask me if I'm from Indonesia, Malaysia or Vietnam. I guess I have that quintessential Southeast Asian appearance.
Since nobody could answer my question, I made my way back to the exit of the Grand Palace, to find some answers.
On my way back, I met a tourist policeman who gave me a tip on how to get to Wat Saket.
"Just go to the bus stop near the entrance of Grand Palace, and take bus number 47", said the policeman.
I heeded his tip, and hopped aboard a bus with a number 47 sign.
Immediately, I asked the lady handling the tickets if this bus passes by Golden Mount.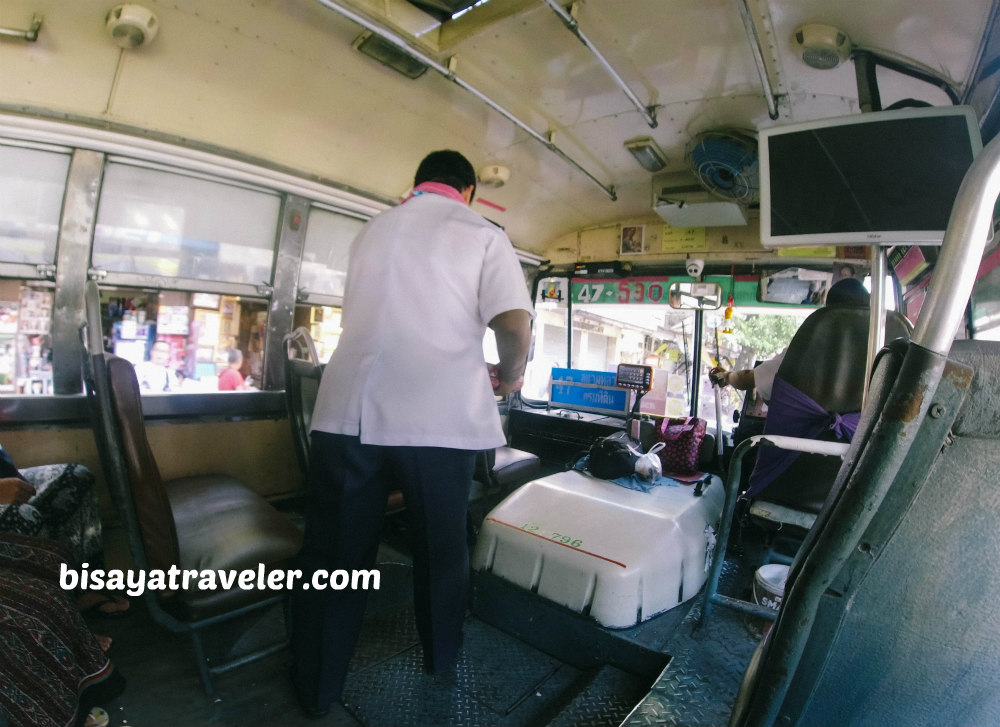 She just smiled and replied in Thai.
I'm pretty sure she didn't understand a word I said.
It's the same reaction a Filipino would do when he's having difficulty translating his words into English to an American.
It seemed like I was in trouble again.
I checked my phone to show her the Thai translation of Golden Mount, but it wasn't working.
A Thai couple in their 40s at the back asked me, in English, if I was going to the Golden Mount temple.
I answered yes, and even described the temple.
And, they were truly a godsend for me.
They translated every word I said to the Thai lady handling the ticket.
"A word of advice, just say you're going to Wat Saket", said the friendly man.
The ticket lady, soon, gave me a ticket for my bus ride.
"How much?", I asked.
Once again, she was having problems translating her answer in English.
She saw a number 7 on the ticket and showed it to me.
I paid her 7 Baht, thanked her, and gave her a smile.
Even though I was giving her trouble, she was still smiling at me, and even pointing out the temple from afar.
That's one of the things I really like about the Thais.
They are remarkably friendly, calm and happy.
Yes, I know there's a rotten apple in every barrel, but they are in general kind and laid-back.
There's another thing that I've learned from this encounter.
And, that's a smile can be contagious.
Whenever you see a person smile, your natural and usual response is to just smile back.
Even if you don't understand what they're saying, you somehow know what they are trying to convey to you by just smiling.
Moments later, I was dropped off at a bus stop, and the lady pointed the way to Wat Saket.
Obviously, I didn't understanding anything she said.
But, I did get her point, and also saw a glittering and golden chedi.
That must be Wat Saket!
I followed the landmark, and ultimately arrived at the entrance of Golden Mount.
After buying a ticket, I took on the 318 steps to the top of the artificial hill.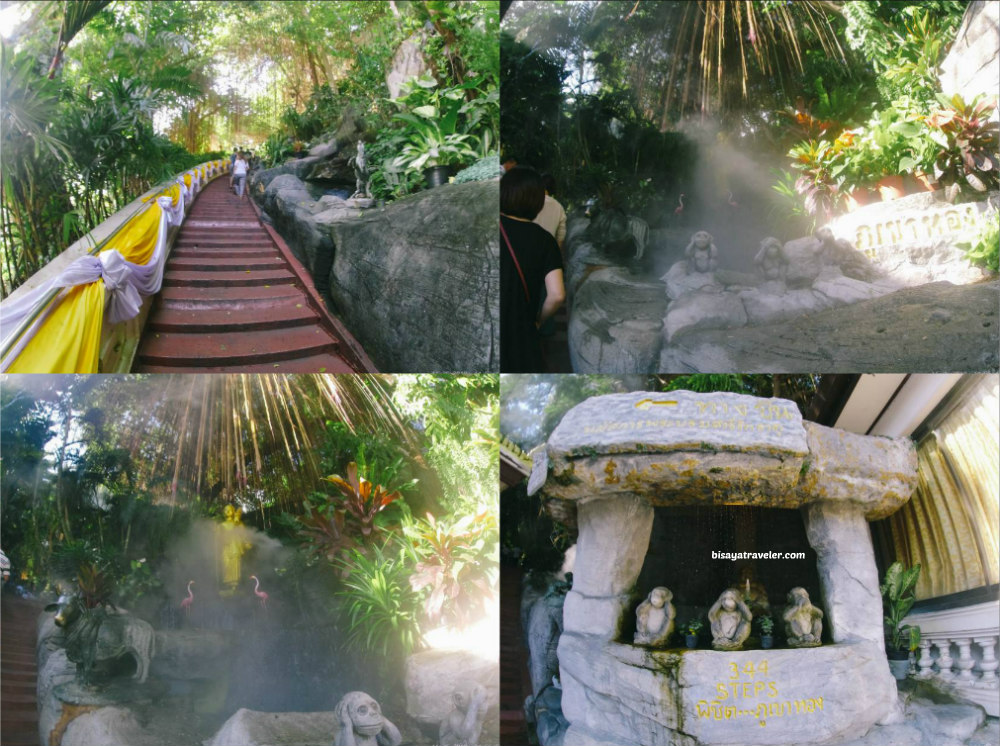 Along the way, I was treated to a refreshing man-made mist.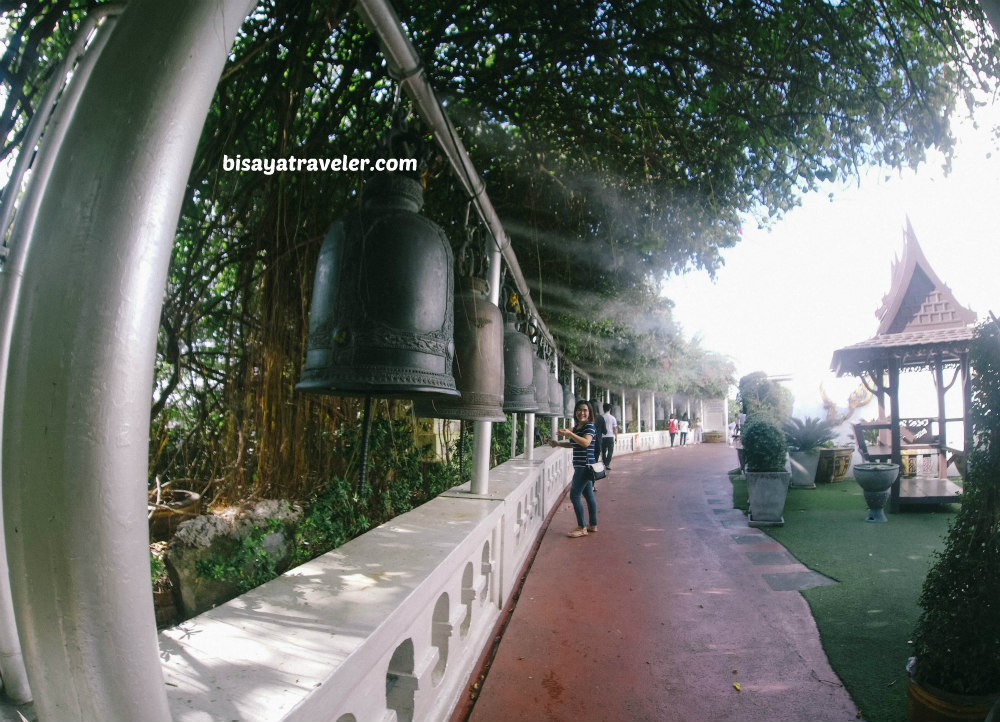 And, it was just I needed!
It was refreshingly cool and relaxing.
What's more, I heard the beautiful sounds of bells, chimes and gong.
I kept on climbing, until I arrived at the top of Wat Saket.
And, boy, it was hot. I had to take shade, relax and took a rest.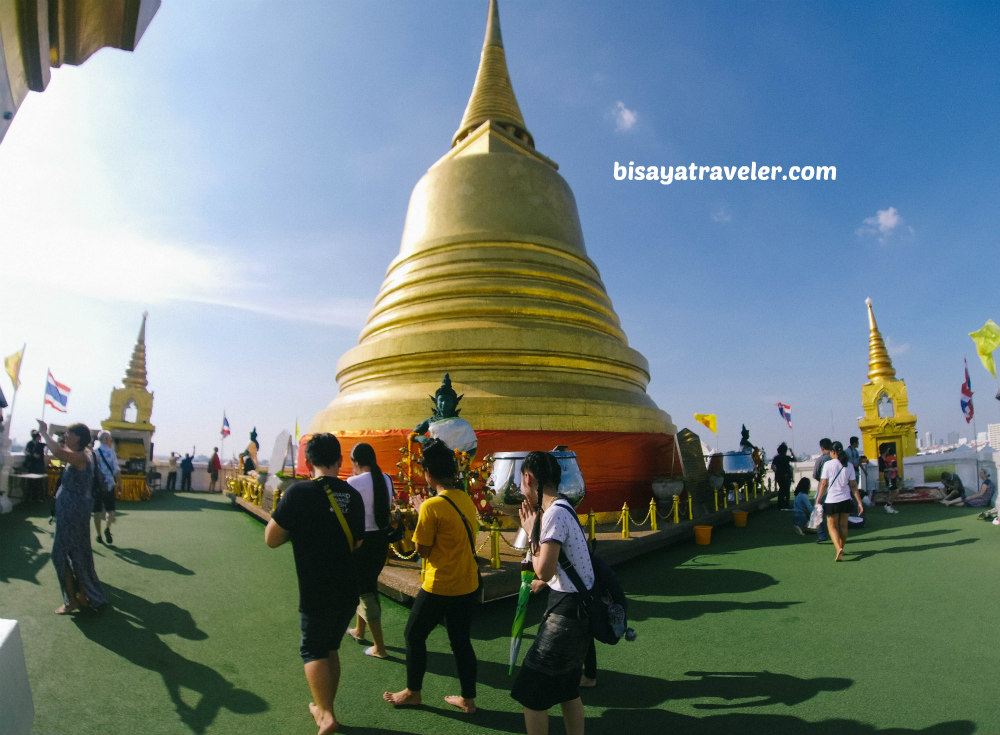 Amazingly, I almost fell asleep as I was resting in Wat Saket.
The easygoing charm and breezy atmosphere cooled down my senses.
A few minutes later, I walked around, savoring the overlooking views of Bangkok.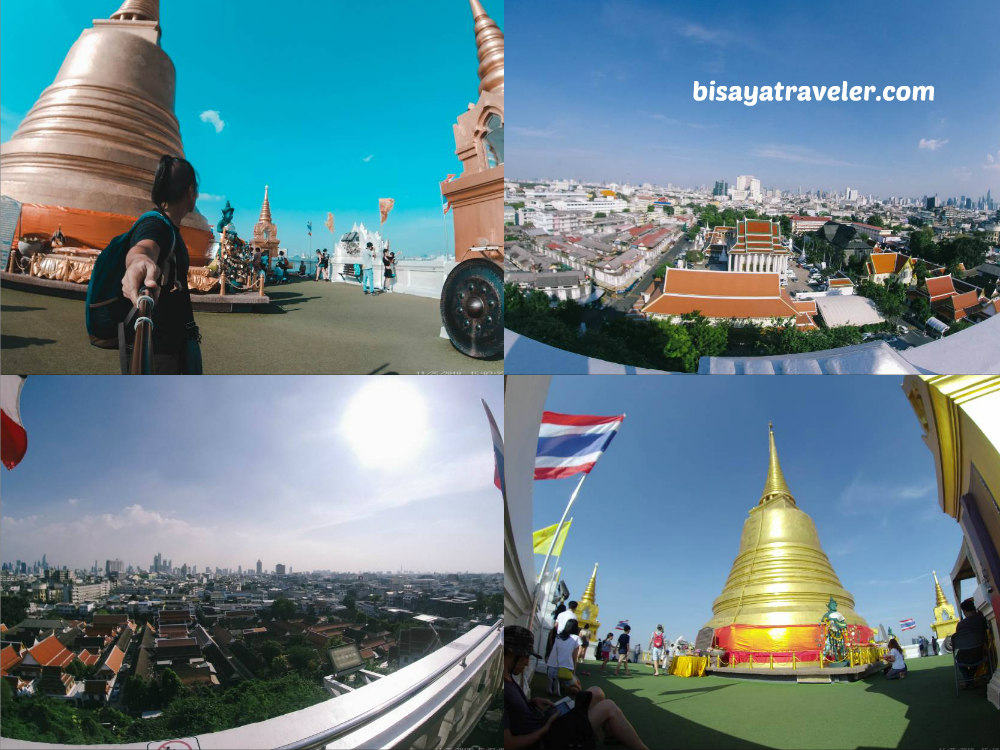 Soon after, I descended and explored some of the beautiful spots inside Golden Mount.
On the way down, I saw dozens of interesting sights as well, including another huge Buddha statue.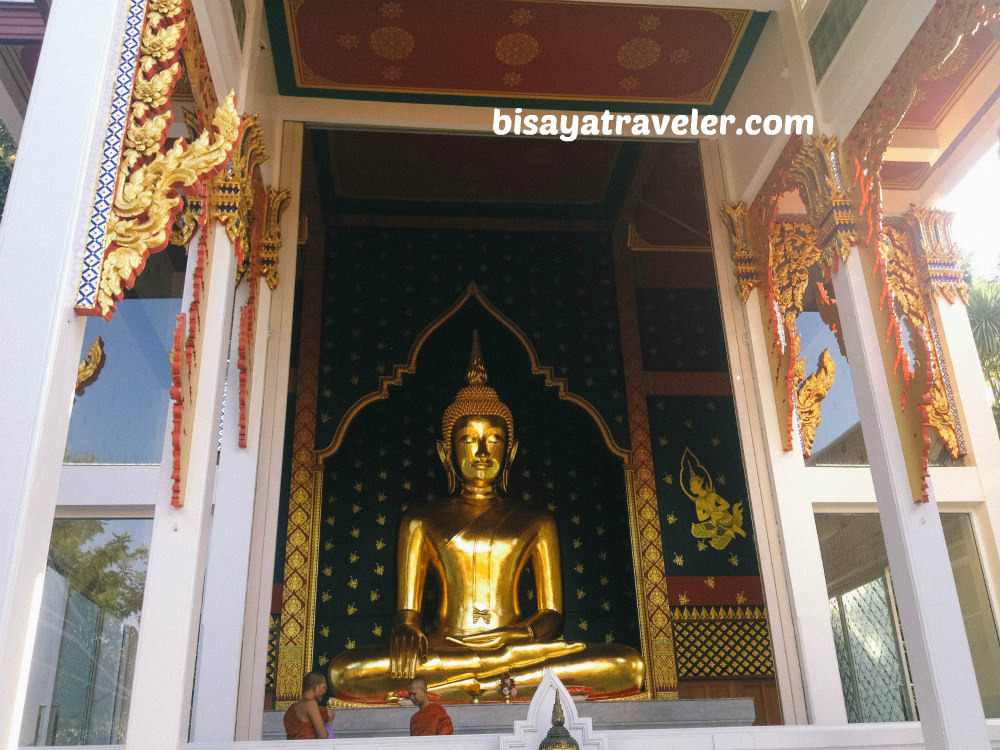 I was on a state of pure bliss, and was about to head back home with a chock-full of fantastic memories.
Information about the temples in Bangkok
The Grand Palace and Wat Phra Kaew
Address: Na Phra Lan Road, Rattanakosin
Opening hours: 08:30 AM to 03:30 PM daily
Entrance fee: THB 500
Time to spend: 1 to 3 hours
Wat Pho
Address: Maharat Road Road, Rattanakosin
Opening hours: 08:00 AM to 05:00 PM
Entrance fee: THB 100
Time to spend: 1 to 3 hours
Wat Saket
Address: ถนน บริพัตร Khwaeng Ban Bat, Khet Pom Prap Sattru Phai, Krung Thep Maha Nakhon 10100
Opening hours: 09:00 AM to 05:00 PM
Entrance fee: TBH 50
Time to spend: 1 to 2 hours
Aldrich's Bangkok temple run itinerary
Want to follow my Bangkok temple run itinerary? Just take note of these tips.
First, take a bus, cab or taxi to the Grand Palace. As much as possible, avoid tuk-tuks because they tend to overcharge.
From the Grand Palace, take a short walk to Wat Pho.
Once you're done in Wat Pho, make your way back to the bus stop near the entrance of the Grand Palace. There, hop on bus number 47, and ask the conductor to drop you off at the nearest bus stop to Wak Saket.
Ask directions to Wat Saket.
My Bangkok temple run cost
Grab car ride to the Grand Palace: THB 79
Grand Palace entrance fee: THB 500
Wat Pho entrance fee: THB 100
Bus fare: THB 7
Wat Saket entrance fee: THB 50
Taxi fare to Platinum Mall: THB 56
Tips when touring the temples in Bangkok
Don't throw away your plastic water bottles.There are drinking fountains inside the temples in Bangkok wherein you can refill water for free.
Follow the dress code. That means you should wear shirts with sleeves and long pants. In addition, wear socks if you're wearing flip-flops or sandals. For women, avoid wearing see-through clothes or anything that shows your shoulders.
Buy a tourist sim card if you plan to explore the temples in Bangkok alone. You can buy it at the airport or online via Klook.
Don't be afraid to ask help from the locals.
Avoid the taxis and tuk-tuks near the Grand Palace. I don't want to call them scammers, but they usually have steep prices for their services. Additionally, don't believe them when they say the Grand Palace is close.
With my wanderlust satiated, I went to the main road and hailed a taxi to get the nearest well-known landmark to my hotel – Platinum Fashion Mall.
Apparently, my day wasn't over, as I had to survey Platinum Mall for my travel buddies.
As I've found out through Facebook messenger, my buddies were still busy browsing the stalls at Chatuchak Weekend Market.
With that in mind, I went to my hotel's rooftop bar where I savored and recalled the moments that may never ever happen again.
I know – I can always do this tour again.
As long as I'm breathing, I'll have another chance to explore Wat Pho again and even hit a few more temples in Bangkok.
Maybe, I'll have more time to squeeze in a visit to Wat Arun or Loha Prasat.
But, there's no way I can ever recreate the magic and feeling of getting lost in the heart of Bangkok.
And, there's no real-life time machine that can take me back to those moments.
That's why I was in a rather festive mood, after that pleasurable day of sightseeing in Bangkok.
Even if there was no alcohol involved, I found a fitting way to celebrate and take in the pleasant feeling.
With a cold non-alcoholic drink in hand, I chilled like a boss and looked back at the day when I fell in love with Thailand.