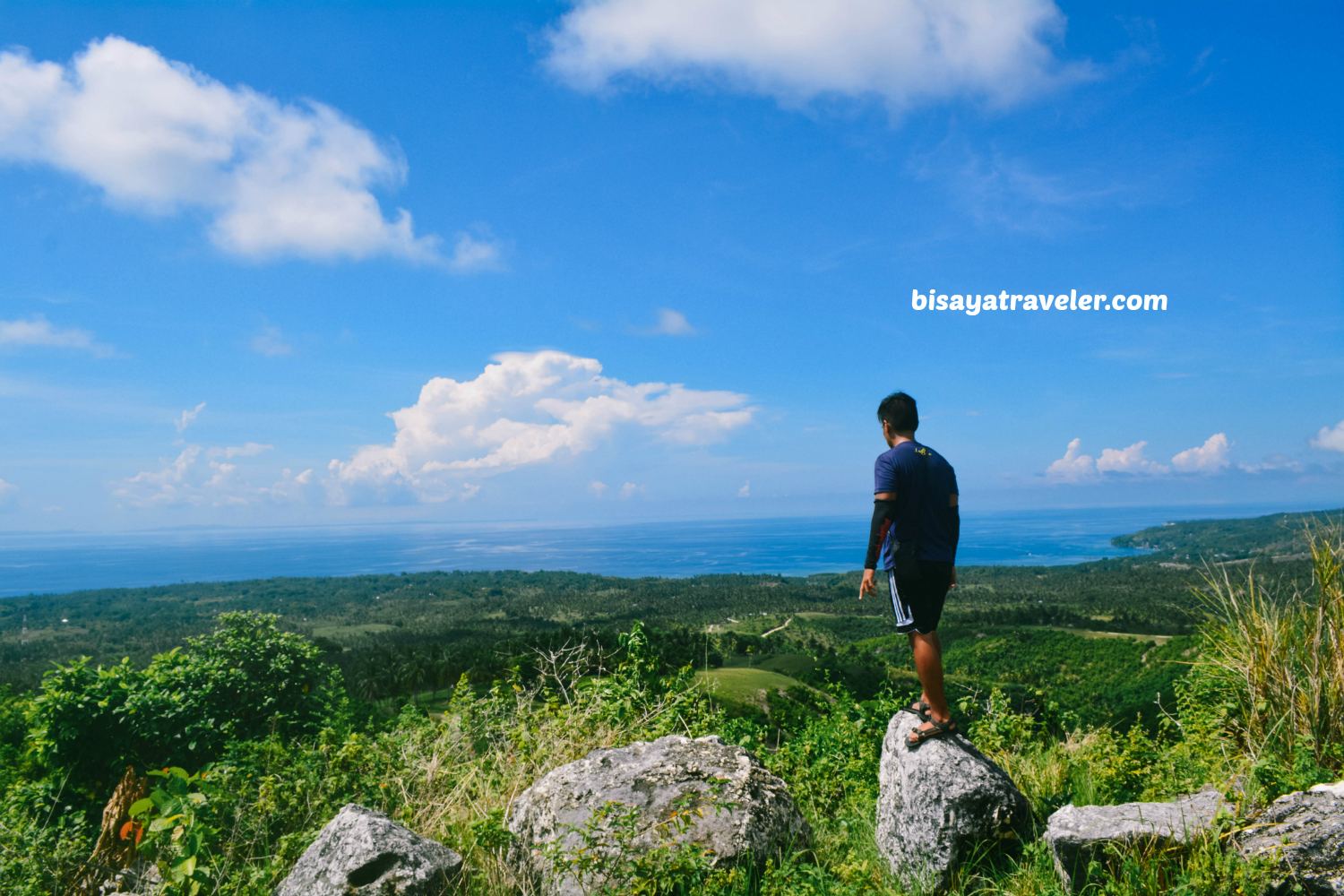 Katampuko Peak: Hiking The Less-Explored Side Of Dalaguete, Cebu
With powerful gust, overcast skies and murky streams, the wet season is usually the time when our inner wanderer takes a breather. Let's face it, the rainy days can very often curb our enthusiasm for exploration and adventure. But for a wide-eyed traveler like me, there's nothing – even a bad weather – that can stop us from seeing the beauty of the planet. And when you pair that enthusiastic wanderer with a bunch of like-minded open-minded people, you've got a fine recipe for adventure. That's what exactly happened to me last weekend, as we explored Dalaguete Cebu's lesser known sites – Katampuko Peak and Eagle's Cave – after a week of seemingly endless rain.
And guess what? Not a drop of rain dropped on our head on our hike to Katampuko Peak. On the contrary, it was arguably one of my steamiest hikes in Cebu, this year.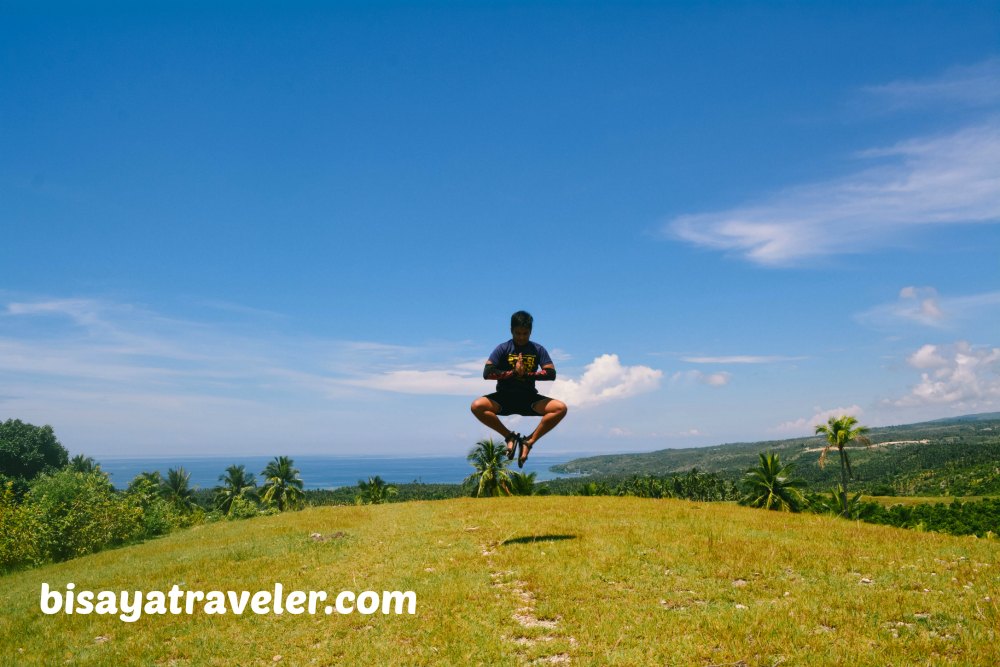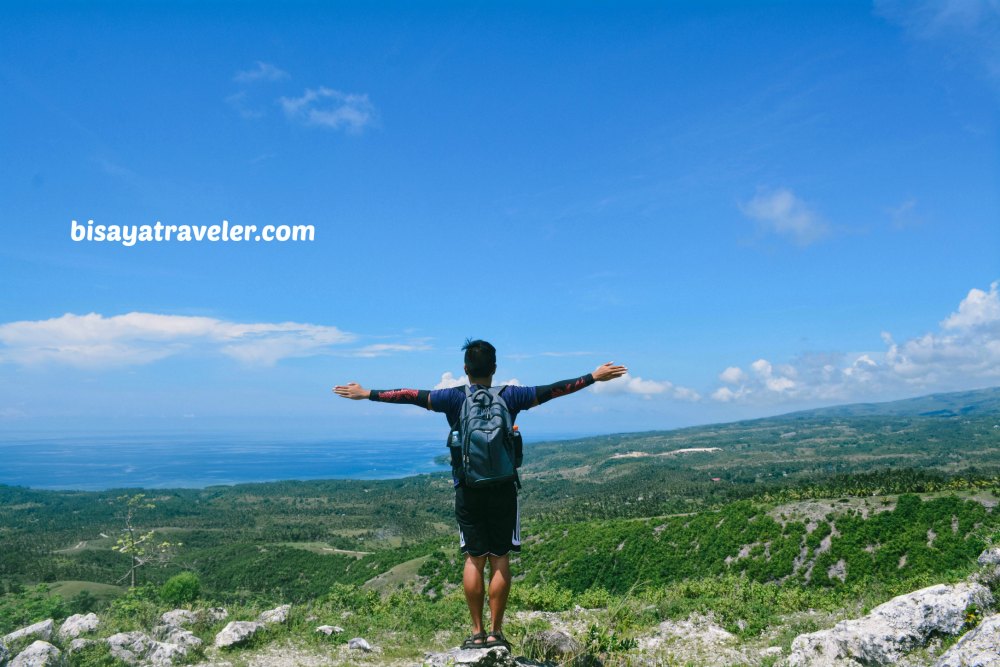 Unlike most of my day hikes in Cebu, there weren't a lot of Team Bang members who were thrilled to join me on my trip to Katampuko Peak. As a matter of fact, there were only a couple of the crew's mainstays who were around for this adventure – Kevin and Gelique.
Still, it was totally fine and understandable to me. After all, it was raining cats and dogs for the whole week, and everyone thought Sunday was going to be foggy and rainy drizzly. Thankfully, the Man above gave us a bright and sunny weather last Sunday.  Plus, two members of the newly-formed Team Open Minded tagged along to spice things up – James Glendon and Isabel.
Our Katampuko Peak hike
Our Katampuko Peak hike started with a rendezvous at Cebu City South Bus Terminal. From our meeting point, we took a bus ride to the base of our trip – the street corner of BB Gemma in Dalaguete.
For some, it was their first time seeing each other, so we made the proper introductions, as we were waiting for our friend in Dalaguete.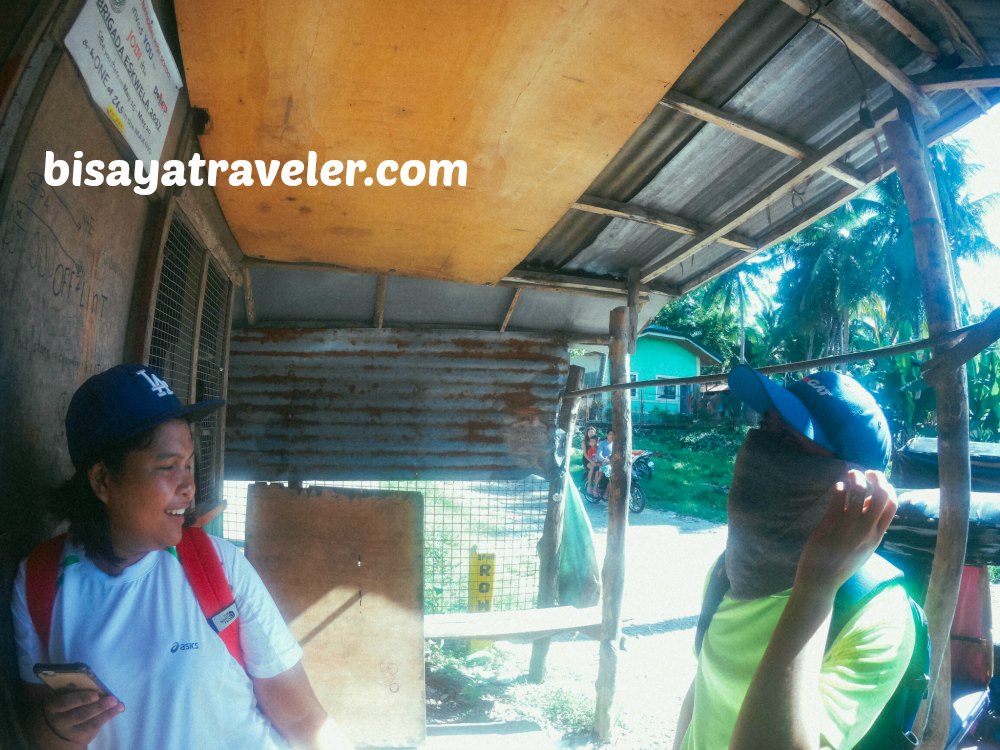 Moments later, Kristel May – a Dalaguete local and a brilliant BS Forestry student in CTU Argao – arrived in the scene, to lead us to Katampuko Peak.  Of course, we gave introductions to May since it was also our first time meeting her.
Once we've finished exchanging our names, we headed straight to May's house, where we started our hike to this relatively unknown peak in Dalaguete, Cebu.
And then, our Katampuko Peak adventure began!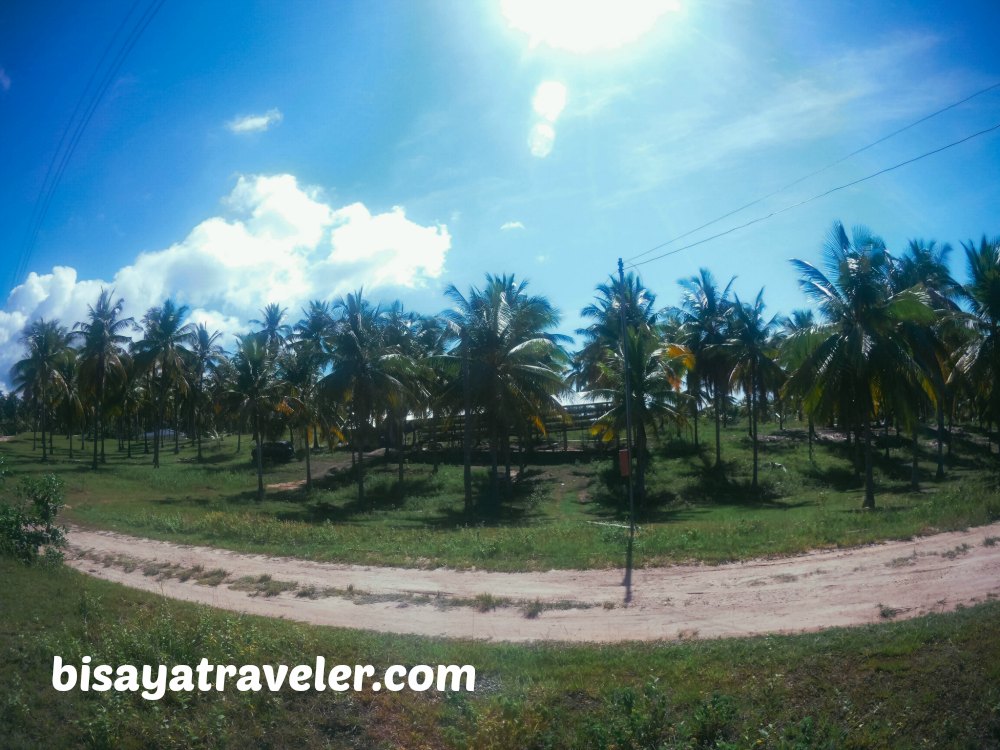 With May's lead, we walked on an open trail, passing by some interesting sights and landscapes.
To me, one of the best spots along the way was the parcel of land with lines of dwarf coconut trees.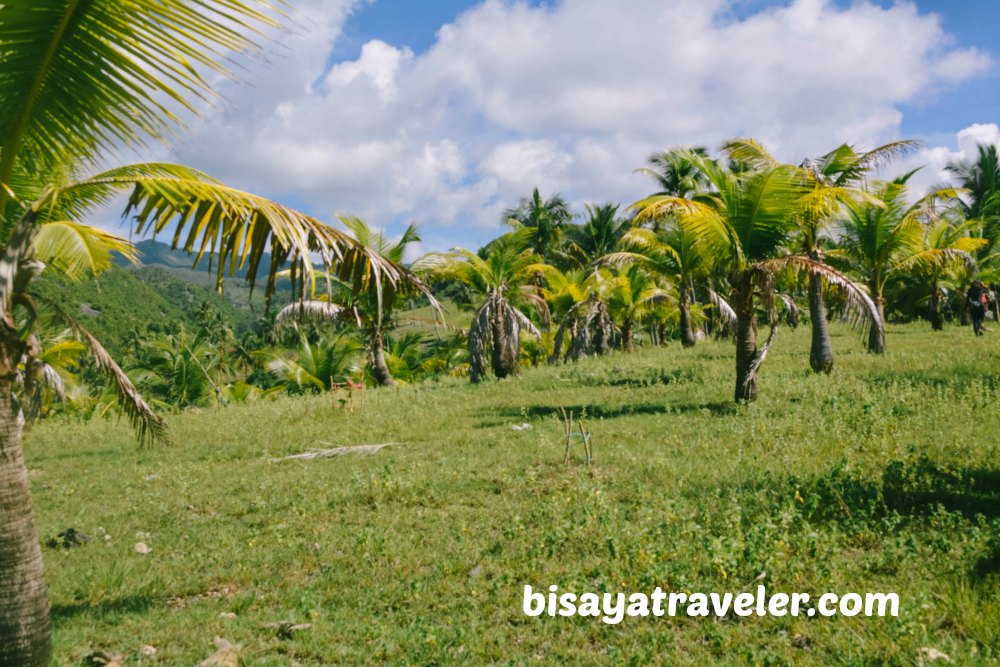 Since I'm a frustrated and a not-so successful farmer, I simply love the way the owner arranged his plantation.  While it's rather easy on the eyes, it's actually designed for other purposes, like pest management.
As you might have guessed, the weather was hot as fire, which was a far cry from other people's expectations. And, like most of our adventures and hikes, we took breaks, whenever we got tired or saw an Instragram-worthy sight.
After a few minutes of walking, we arrived at the scenic Katampuko hill, which gave us a breathtaking panorama of the towns Argao and Dalaguete.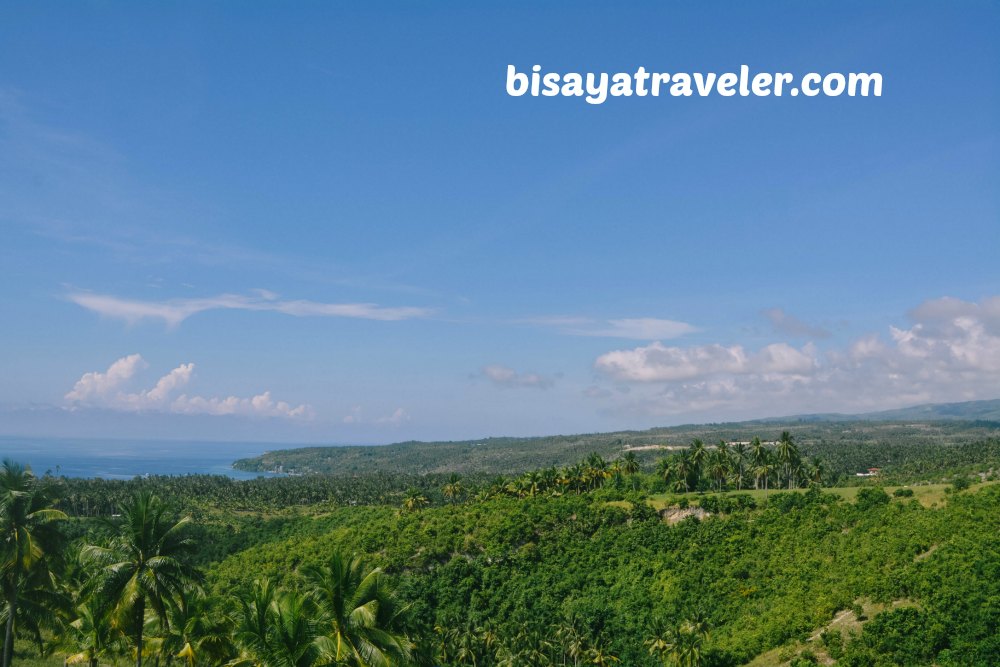 Then, we took a quick rest, amidst the scorching heat of the sun, underneath this shady tree.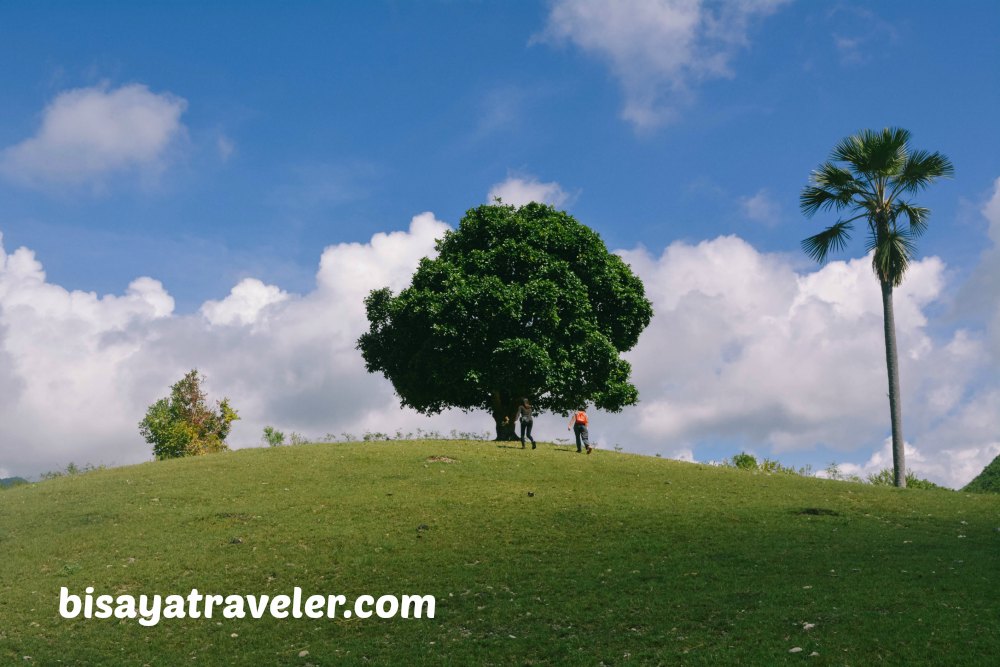 James, meanwhile, showed off his acrobatic skills, hoping to harvest a handful of fruits.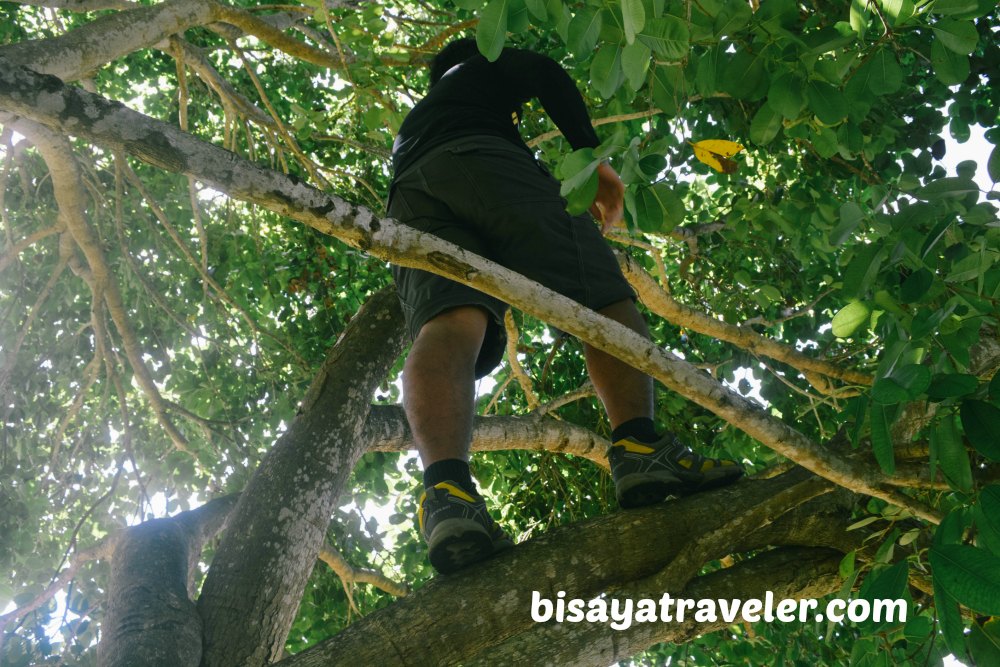 As far as the view, it was nothing short of stunning. As part of Team Bang's traditions, we took turns posing in front of the camera, for memorabilia's sake.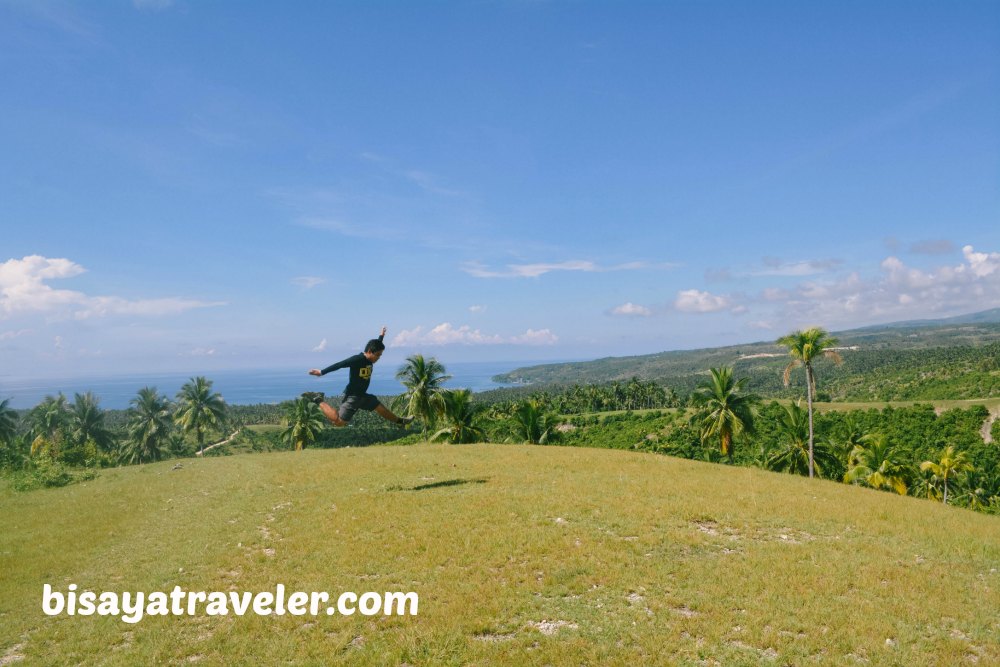 With our quick break in the books, we moved on our hike to the picturesque Katampuko Peak. Along the way, May pointed to the majestic Katampuko Peak. And though we were still a bit far from our destination, I could already sense the excitement running through the veins of my hiking buddies.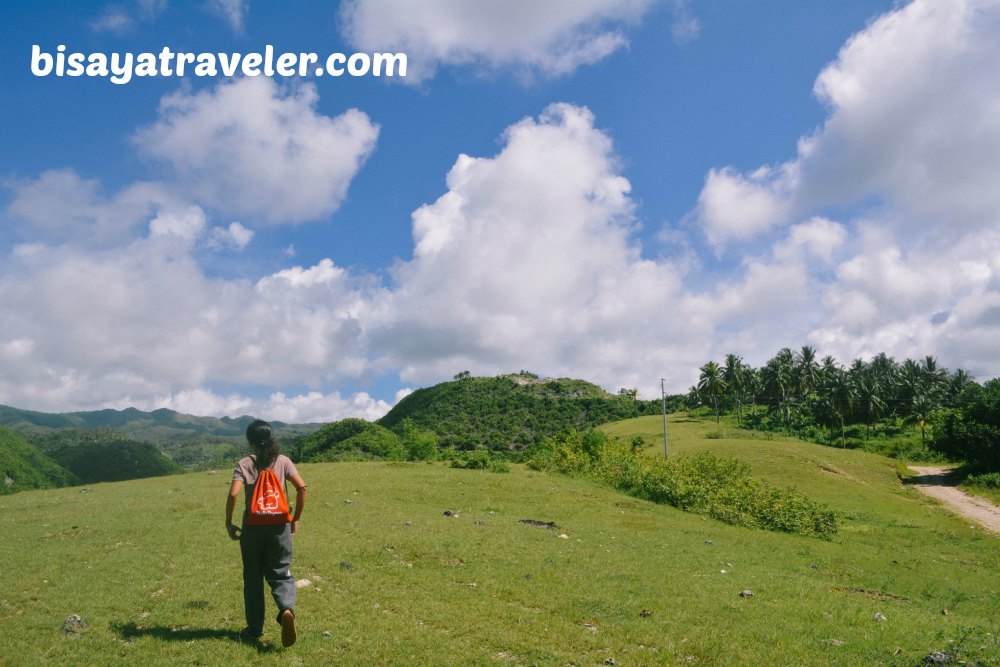 Despite the blistering heat, everyone, including yours truly, was in high spirits, cracking jokes and sharing cool travel stories.
But, to me, the best part of the hike up to Katampuko Peak was the insight to BS – Forestry that May shared to us. From the scientific names of the area's flora to the geography of Southern Cebu, May unintentionally gave us a sneak peek into her unique and wondrous college course.
James – a hard-working law student – was all of a sudden interested in taking up this course. Heck, he even humorously said he would be shifting to BS – Forestry, after gaining some insights to May's course.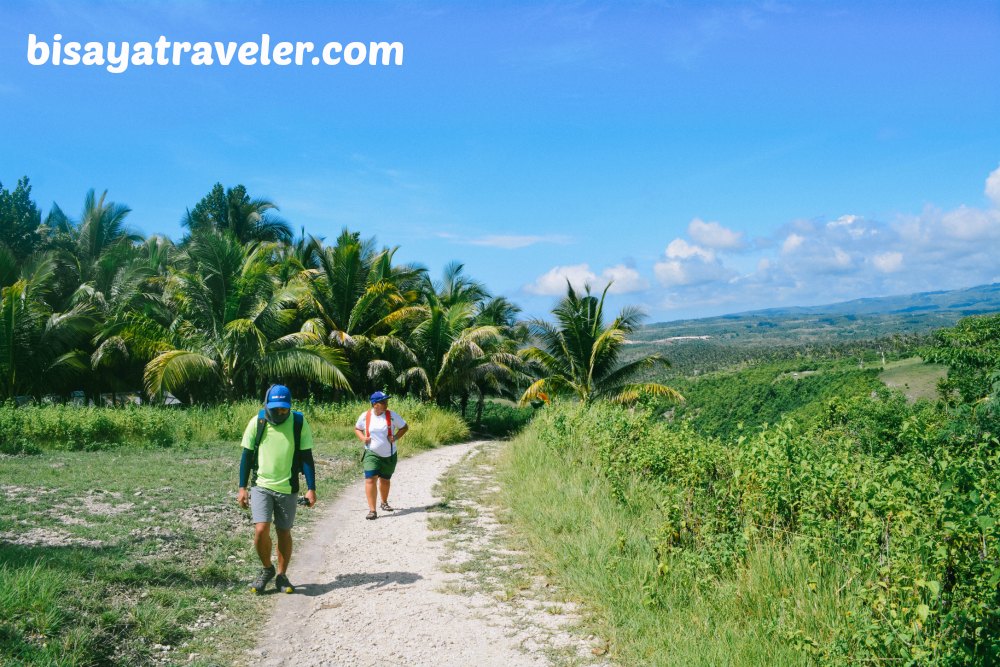 And yes folks, I also love hearing these things from other people. As a matter of fact, part of the reason I travel so often is to gain knowledge and learn the way of life of others. And, that's why you rarely see me on trendy restaurants and famous tourist spots in the archipelago. The way I see it, travel is an intellectually stimulating experience that offers a glut of valuable lessons and tips in life.
As we got closer to this underrated peak in Dalaguete, Cebu, we were treated to another stunning vista of the town.
Trust me, it was quite a sight to behold, and the views look better in person than in pictures.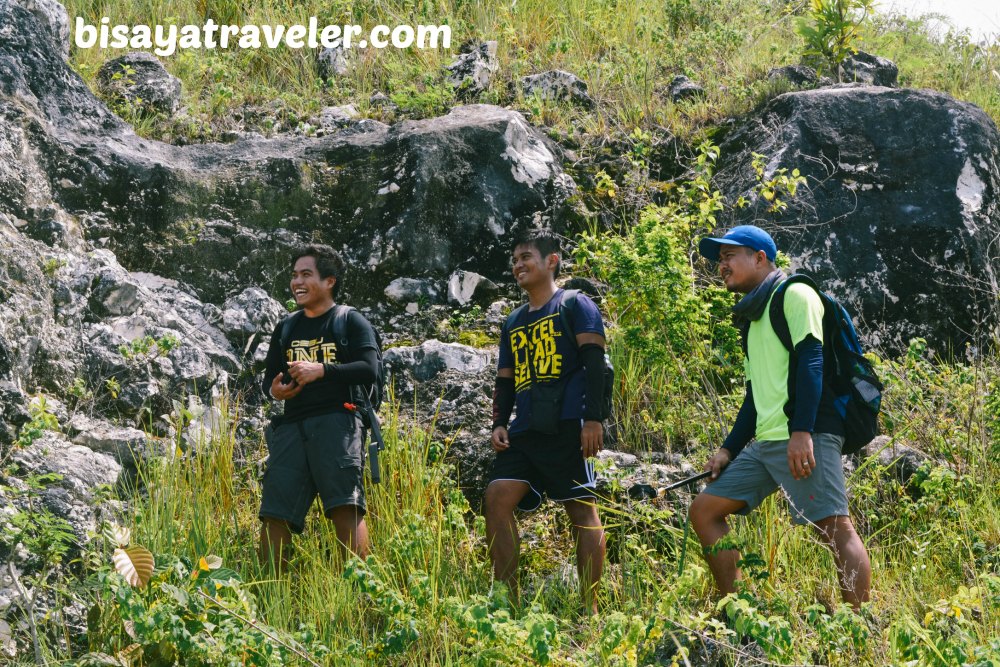 The whole gang couldn't hide their excitement, snapping a ton of pictures and displaying their trademark poses.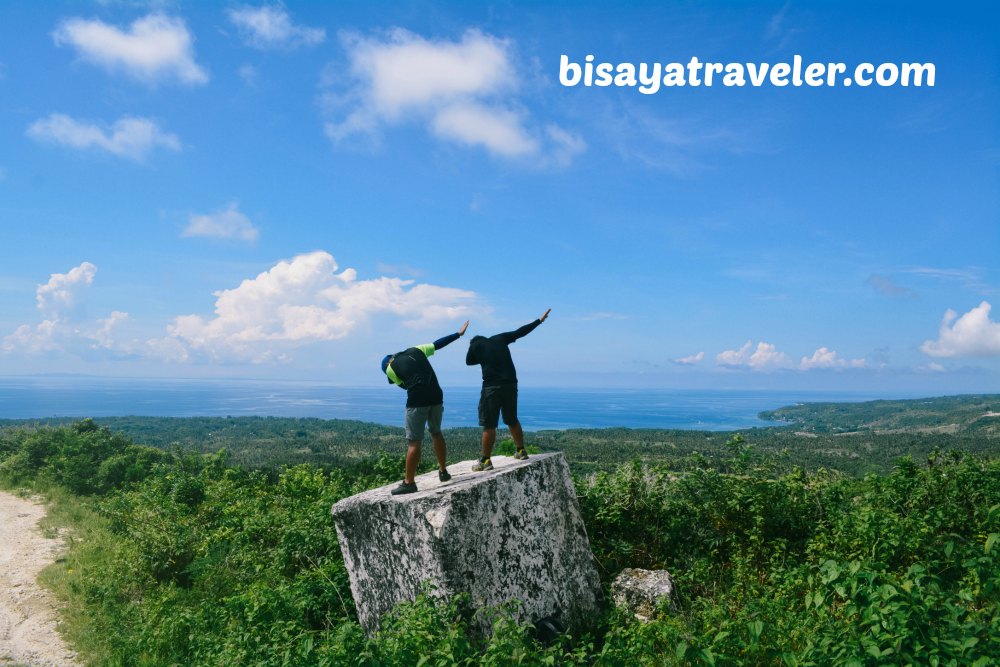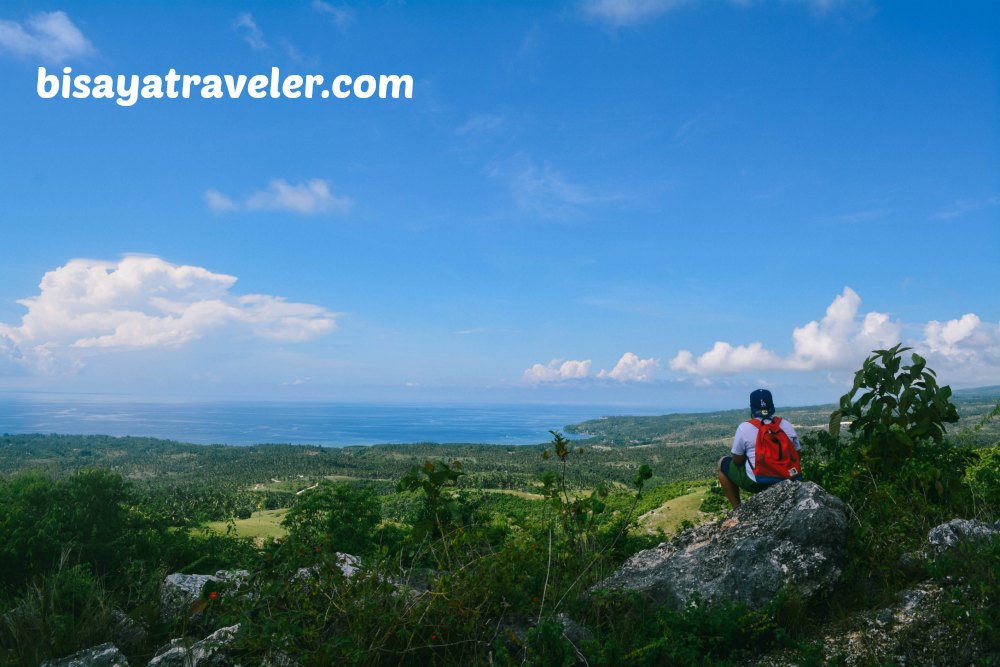 Although there was an easier route to the peak, we decided to do some rock climbing, for a small dose of adventure.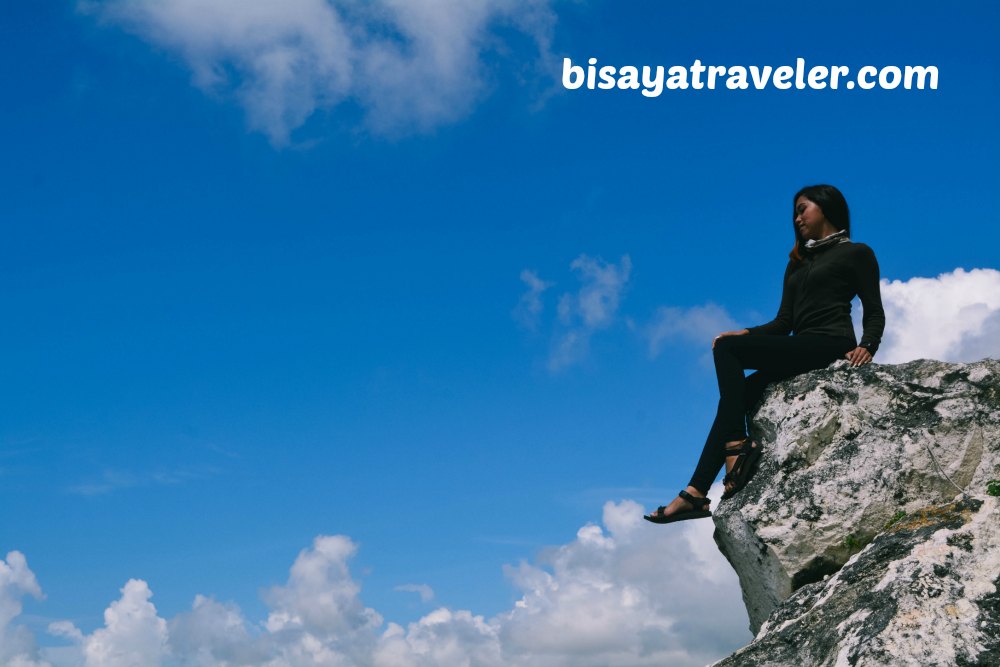 And finally, we arrived at the summit, where the views were even more eye-catching, dramatic and photogenic than the ones from the previous vantage points.
Unfortunately, everyone was a little exhausted not because of the climb, but because of the sweltering climate. As a result, they took shade on a cube-formed rock on the summit.
I, on the other hand, was pumped up to take photographs of Katampuko Peak and its surroundings, exploring the other spots of the summit. Minutes later, Gelique followed me to the top, to get a better view as well as take pictures.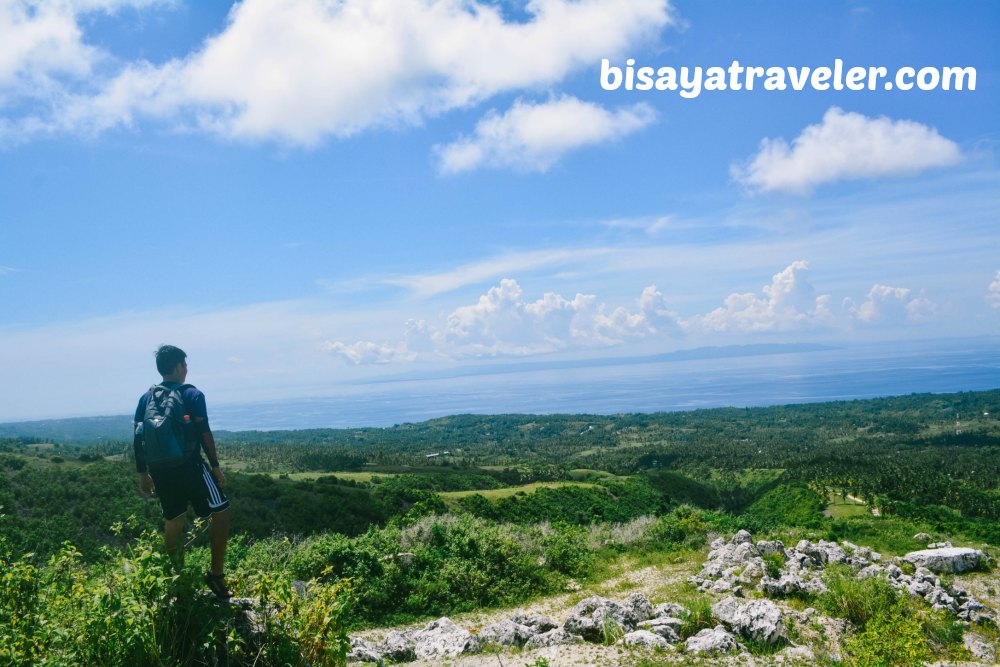 With my skin was turning from brown to dark chocolate, we took a short downhill walk to the shady cube. Upon our arrival, Isabel and James climbed up, to admire the view from the summit.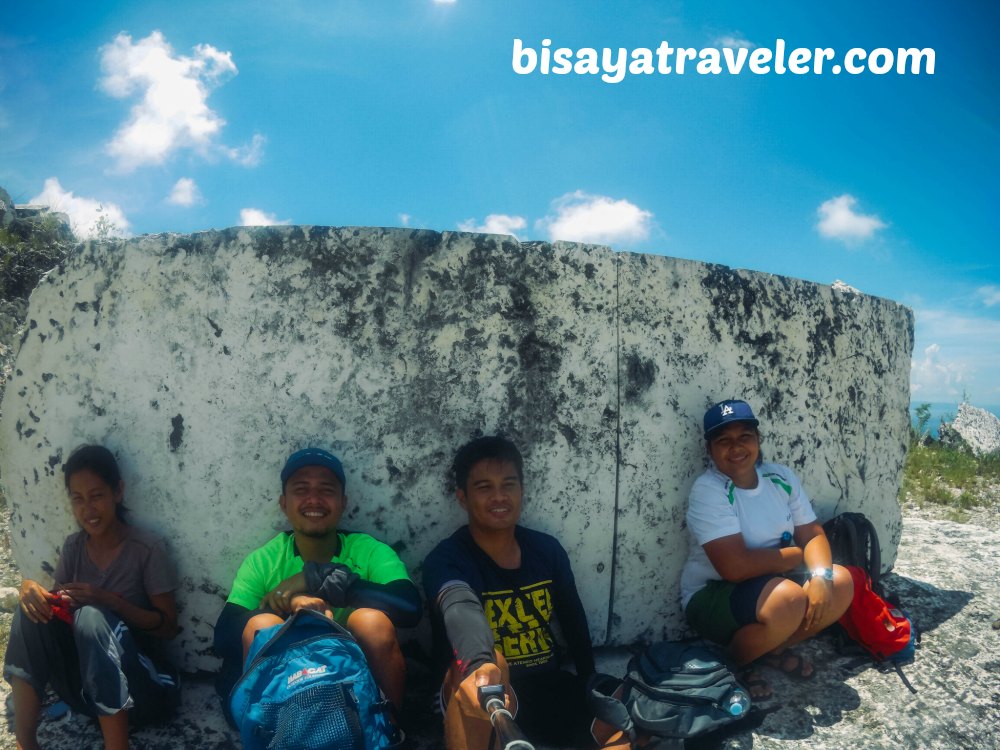 Of course, they did some intriguing poses on Katampuko Peak. Isabel – who's known for her provocative hiking pics – displayed some skin, unveiling her trademark postures with her sports bra.
Personally, I thought Isabel was posing for an FHM cover or a calendar of an alcohol brand like White Castle, Emperador or Vino Kulafu.
I didn't take pictures of their fun experience at the summit because my wife might rip my head off, when she sees the pictures on my camera.
But, in a literal sense, their photo shoot on the summit was sizzling.  With no shady trees on top, their pictorial was indeed hot as blazes.
After our enjoying scenery of Katampuko Peak, went downwards, to get to our next destination in Dalaguete.
As we were making our way back to May's home, we made stops, to take more photographs. As I've said before, we are a zesty group of fru-photographers (frustrated photographers).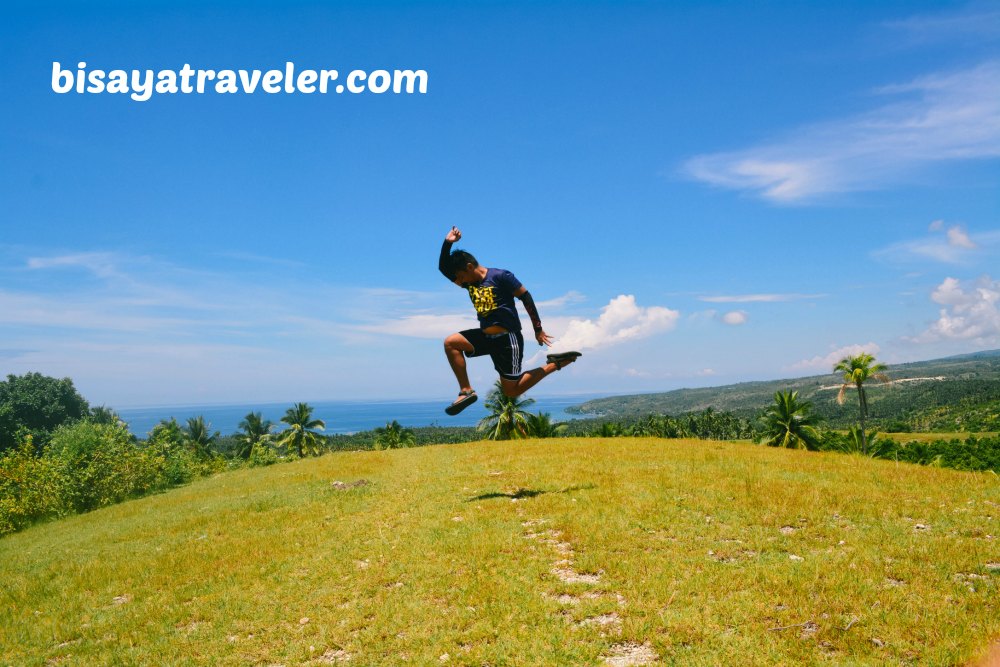 Ultimately, we arrived at May's house, and enjoyed a pair of thirst-quenching refreshments. Afterwards, May guided us on our way back to our next stop – the Enchanting Lagnason Creek. Sadly, the drivers were pretty occupied, and had zero interest in driving us up to the spot.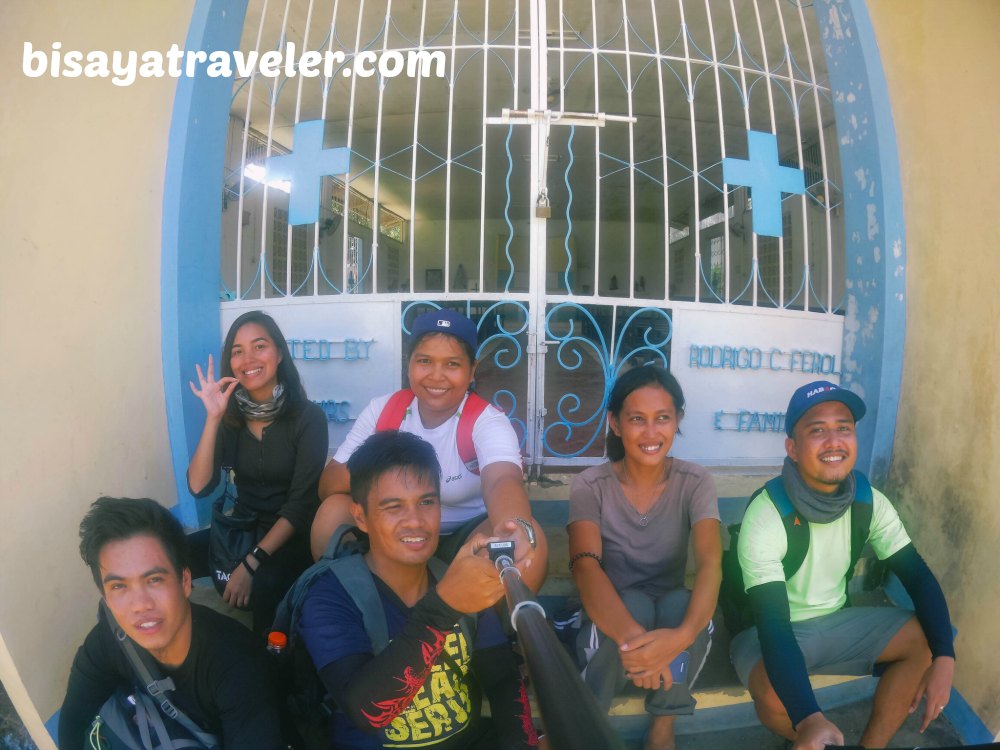 On the bright side, though, we got to explore another hidden gem in Dalaguete, Cebu – The Eagle's Cave. I'll write about this one soon. Watch out for this one since it's an extraordinary adventure with mind-blowing action-packed sequences.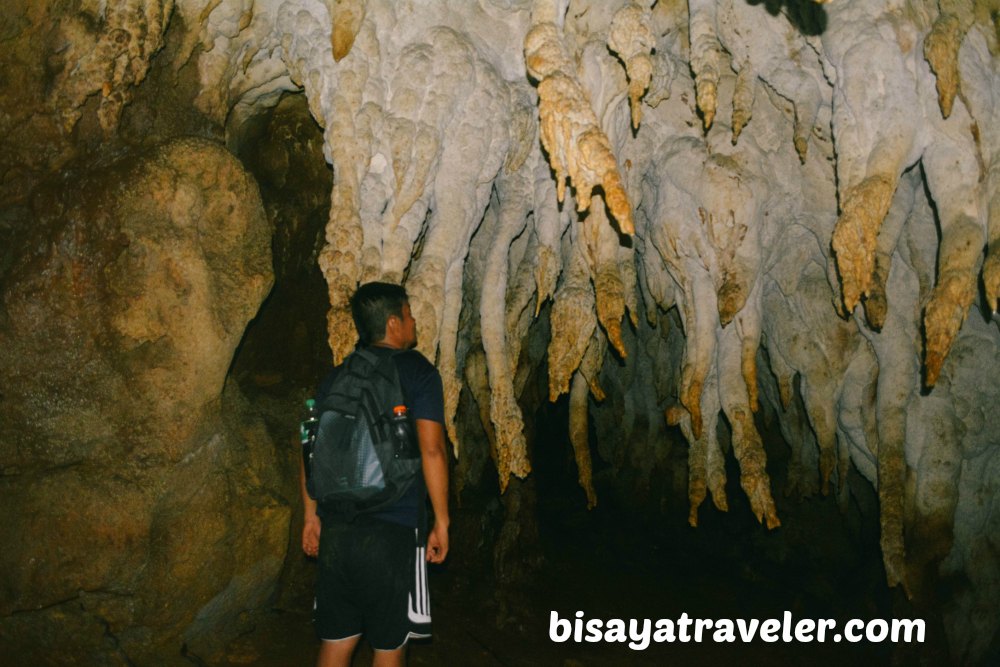 And by the way, thank you Kristel May and rest of your family for being so generous, accommodating and helpful to us. On behalf of the team, we are grateful for your act of kindness and for showing us the beauty of your hometown.
How to get to Katampuko Peak:
From Cebu City South Terminal, take a bus bound for Oslob or Dalaguete. Ask the driver or conductor to drop you off at the corner of BB Gemma or Casay Beach Club. Once there, take a habal-habal ride to Katampuko Peak (yes, you can get there without hiking). As for the fare for the habal-habal ride, it may cost you somewhere between PHP 20 to 50.
For the intrepid hiker, you may also take a hike to the summit from BB Gemma or Casay Beach Club. The trail is fairly easy, and there are plenty of locals in the area who can give you straightforward directions.
Our expenses (excluding Eagle's Peak):
Bus fare to Dalaguete – PHP 97
Habal-habal ride to May's house – PHP 20
Bus fare to Cebu City – PHP 100
Our Katampuko Peak and Eagle's Cave itinerary:
04:00 AM: Meet-up at South Bus Terminal
06:00 AM: Depart from Cebu City
08:20 AM: ETA Dalaguete
09:00 AM: Start hike to Katampuko Peak
10:00 AM: ETA Katampuko Peak
11:00 AM: Start descend
12:00 PM: Refreshments at May's house
12:30 PM: Depart for Poblacion
01:00 PM: ETA Poblacion/lunch
01:45 PM: Take a habal-habal ride to Eagle's Cave
02:20 PM: ETA registration center of Eagle's Cave
02:30 PM: Start hike to Eagle's Cave
03:00 PM: ETA mouth of Eagle's Cave/explore the cave
04:30 PM: ETA registration center
05:00 PM: Depart for Poblacion/711
05:30 PM: Chill out at 711
06:00 PM: Depart for Cebu City
08:30 PM: Home sweet home
Important notes:
Camping is allowed in Katampuko Peak.
The best time to visit it is during sunrise or sunset, when the sun is not at its peak. In addition, it's also a great place to watch the blinking stars at night.
Practice the LEAVE NO TRACE principles.
Wear arm guards, a hat as well as apply sun block to protect your skin from the sun's radiant rays.
Bring at least 1 liter of water.
Pack an Ion drink, like Gatorade or Pocari Sweat.
Bring trail food.
Katampuko Peak was truly a rewarding and memorable experience. Not only was it incredibly picturesque, but it was full of interesting lessons as well. What's more, I got meet to a couple of new amazing people who made the trip even more exciting.  And more importantly, it was a beautiful reminder that the world still has plenty of generous, humble, sweet and kind strangers.