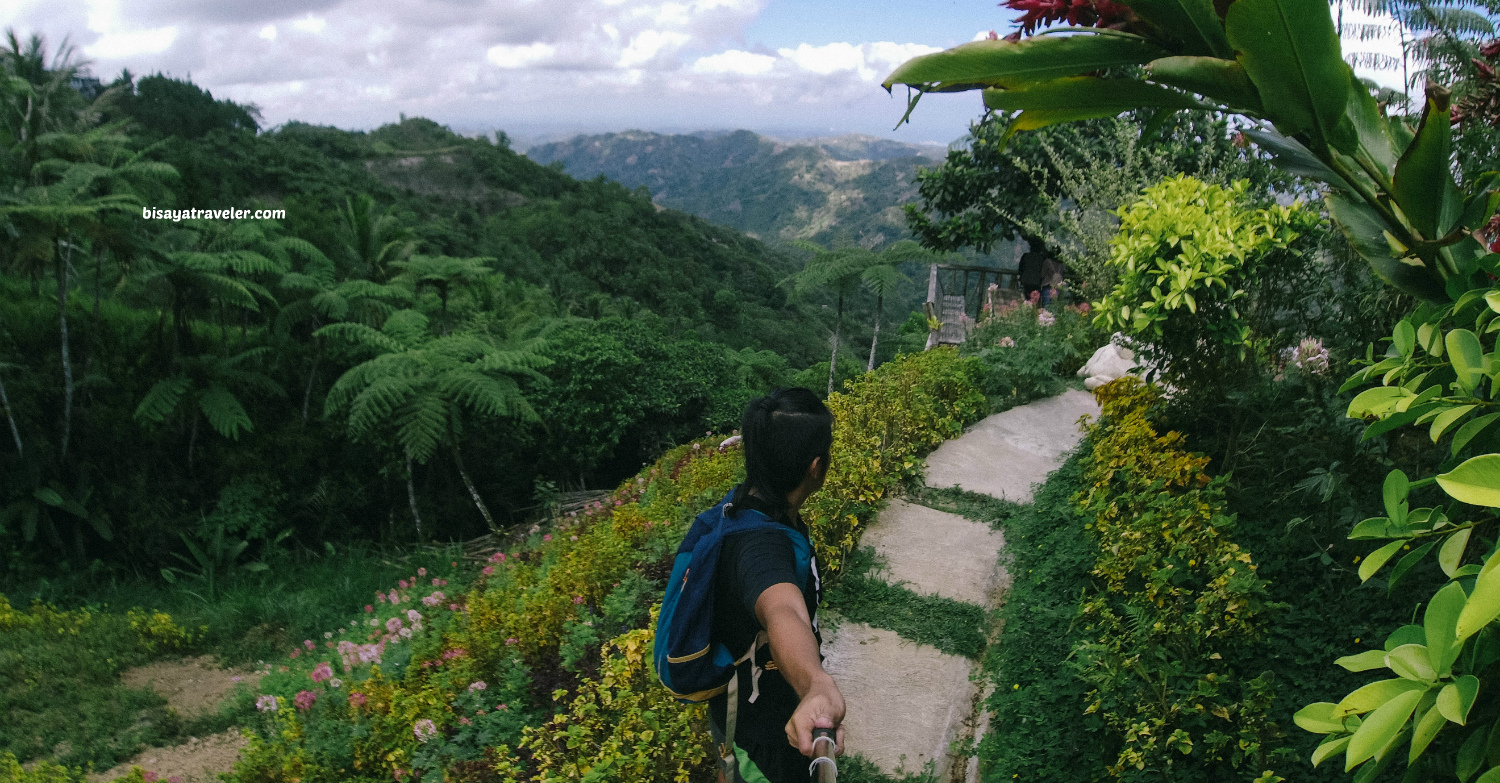 Balamban Cebu And The Fruitless Pursuit Of Adventure
A fearless confidant will, no doubt, surprise you. With an insatiable appetite for adventure, an adventurous friend will entice your wanderlust, and encourage you to explore unsung places. And, more importantly, this intrepid person will push you out of your comfort zone, adding more color and spice to your life. From exploring international cities to hitting local towns like Balamban, Cebu, my risk-taking buddies had surely infused a heavy dose of adventure to my life through a smorgasbord of surprising escapades.
But, sometimes, having them around can feel like more of a curse than a blessing. Sure, they are a whirlwind of fun and excitement, but they can also lead you to a world of trouble. Like gambling, not everything ends on a high note when you're venturing into the unknown with these thrill-seekers.
My recent experience in Balamban, Cebu is a perfect example of that.
I thought I had figured it all out.
I already had a rejuvenating break, and was about to head back home.
Yet, in a surprising turn of events, I found myself hiking the steep Transcentral Highway without any plan in mind.
And, it was all because of my adrenaline-seeking friend, Big E.
When the hiked ended, I initially thought it was a fruitless pursuit of adventure.
But, was it really a fruitless and vague expedition? Well, the exact answer depends on how you see life.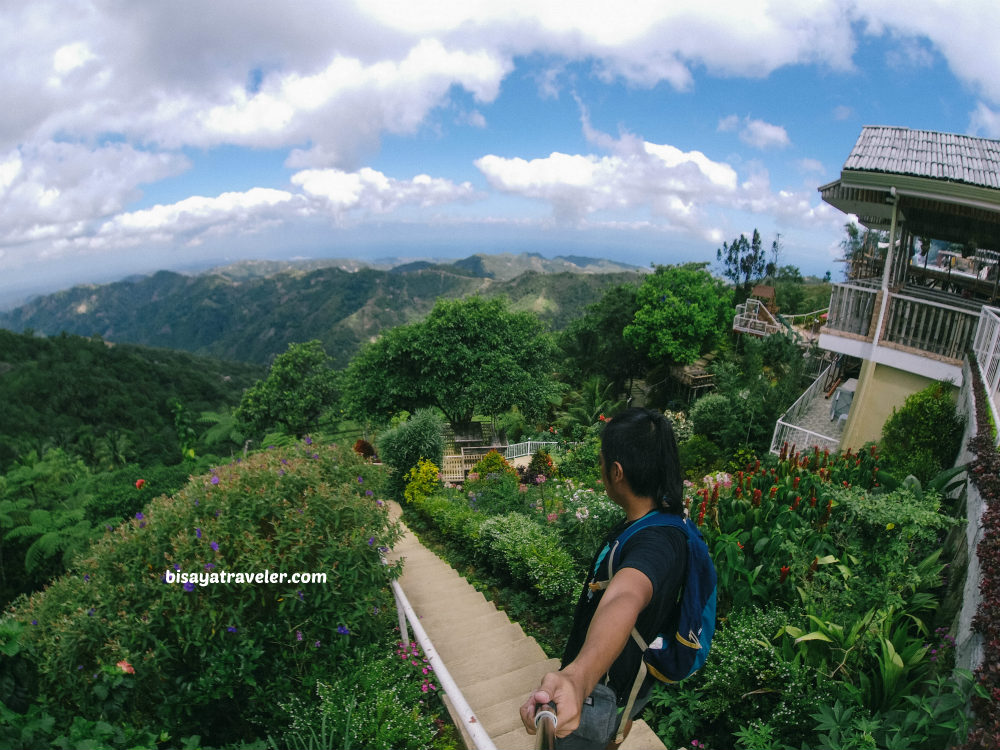 My Balamban, Cebu adventure
At first, my Balamban, Cebu escapade seemed picture-perfect and soothing
First, I chilled at JVR Island in the Sky, admiring the fresh mountain breeze.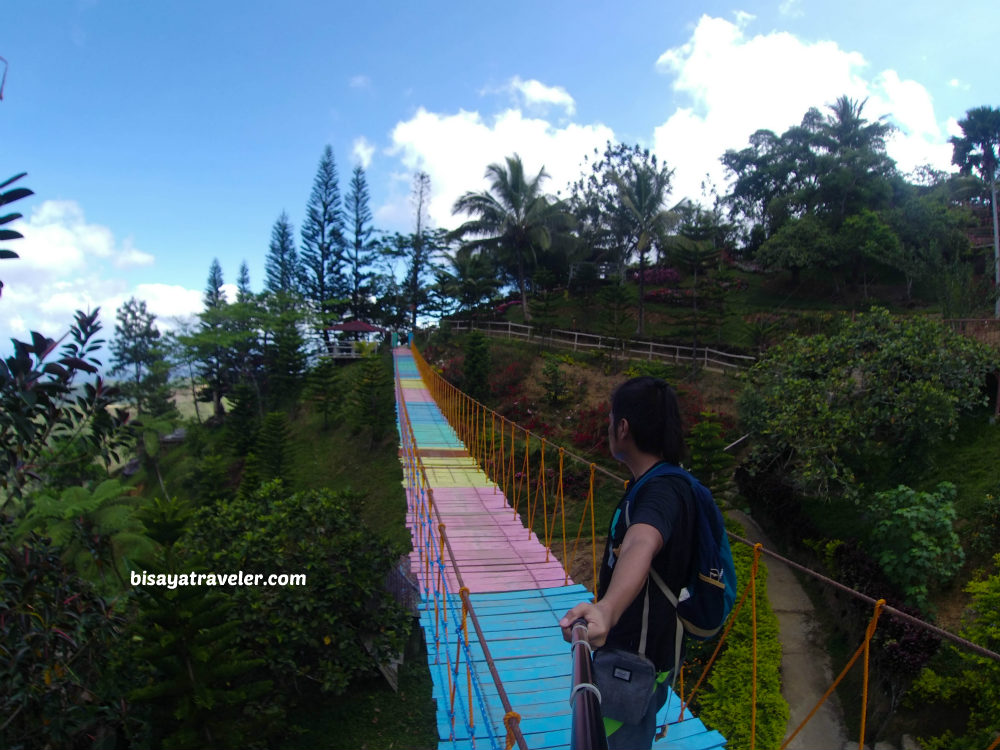 Then, I stopped and smelled the roses at Buwakan ni Alejandra.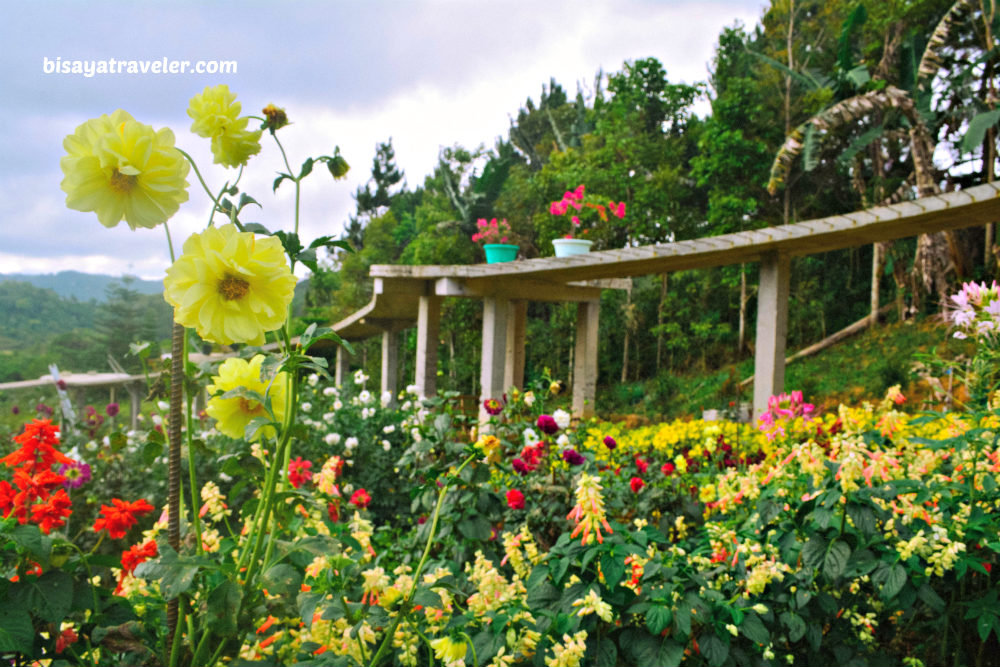 Afterwards, I was blown away by the beauty of Florentino's Eco Park.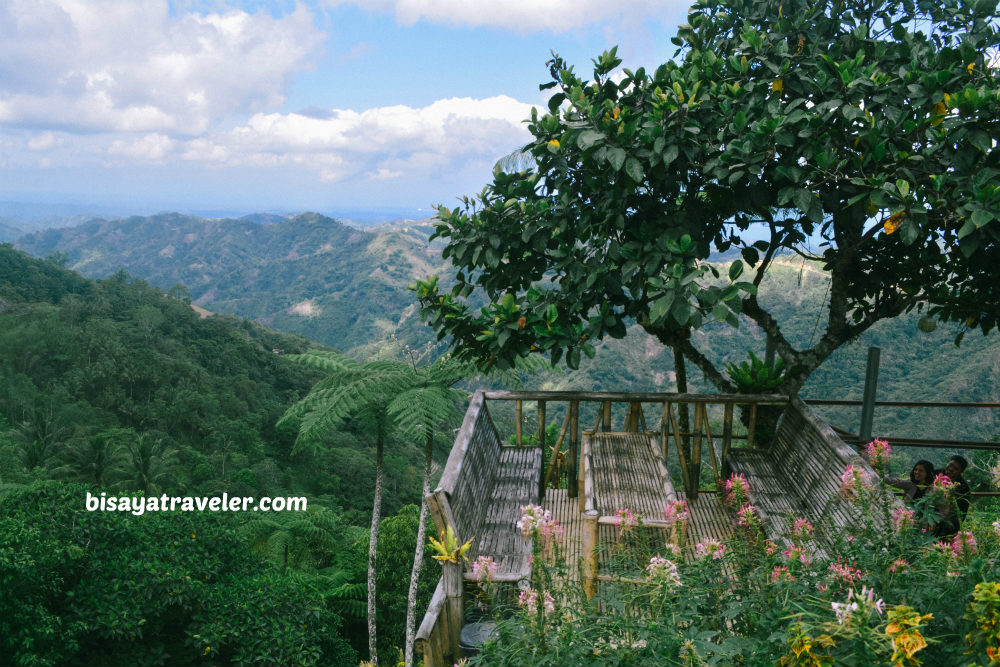 The only agenda I had in mind was to do a little sightseeing in Cebu.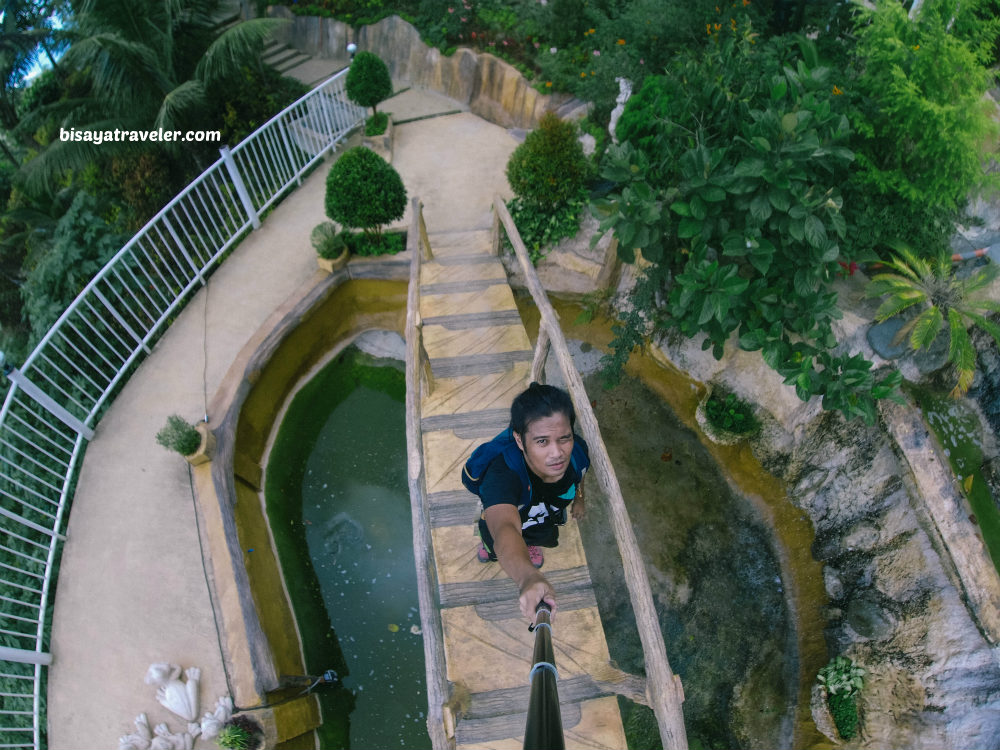 And, just when I was about to head back home, I saw a beautiful trail with red-colored flags from Florentino's Eco Park in Balamban, Cebu.
Fascinating!
Intrigued and curious, I asked an old man in Balamban, Cebu about that trail.
"That trail leads to Casoy, Toledo", said the elderly man.
"Sounds like a plan! Let's go", replied Big E.
From Florentino's, I walked my way to a corner that would hopefully take me to Toledo, Cebu.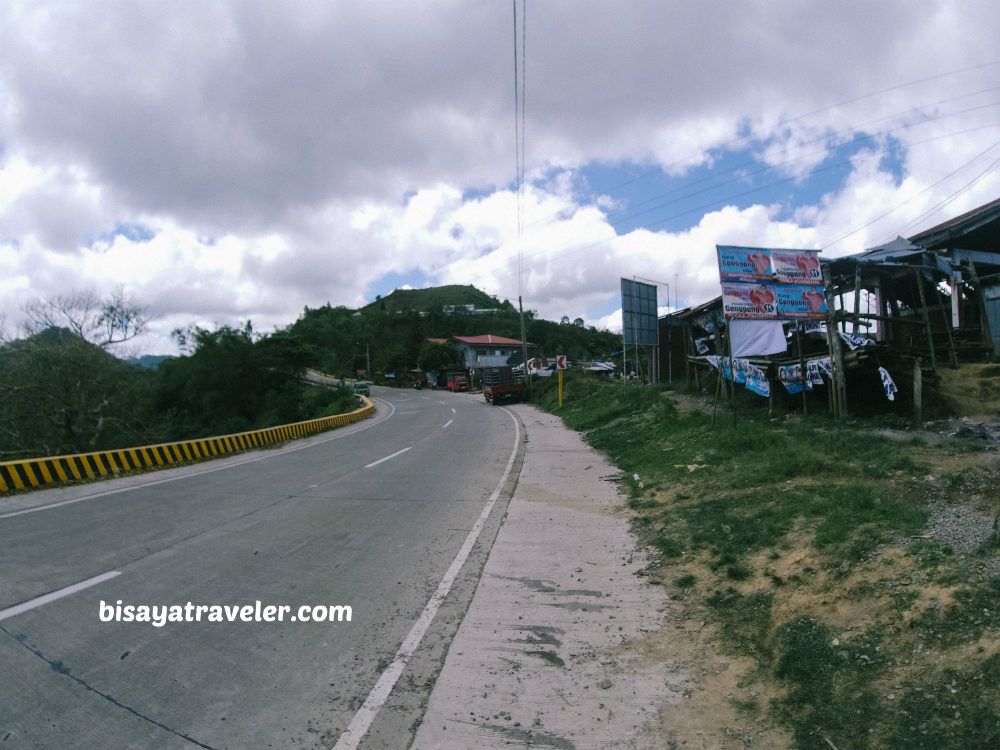 Once there, I asked a question to the locals if the road does indeed lead to Toledo's Casoy and Malubog Lake.
With enthusiasm, the ladies replied with a big "yes" to my question.
But, there was a little problem. They didn't want me to hit this road to Toledo from Balamban, Cebu.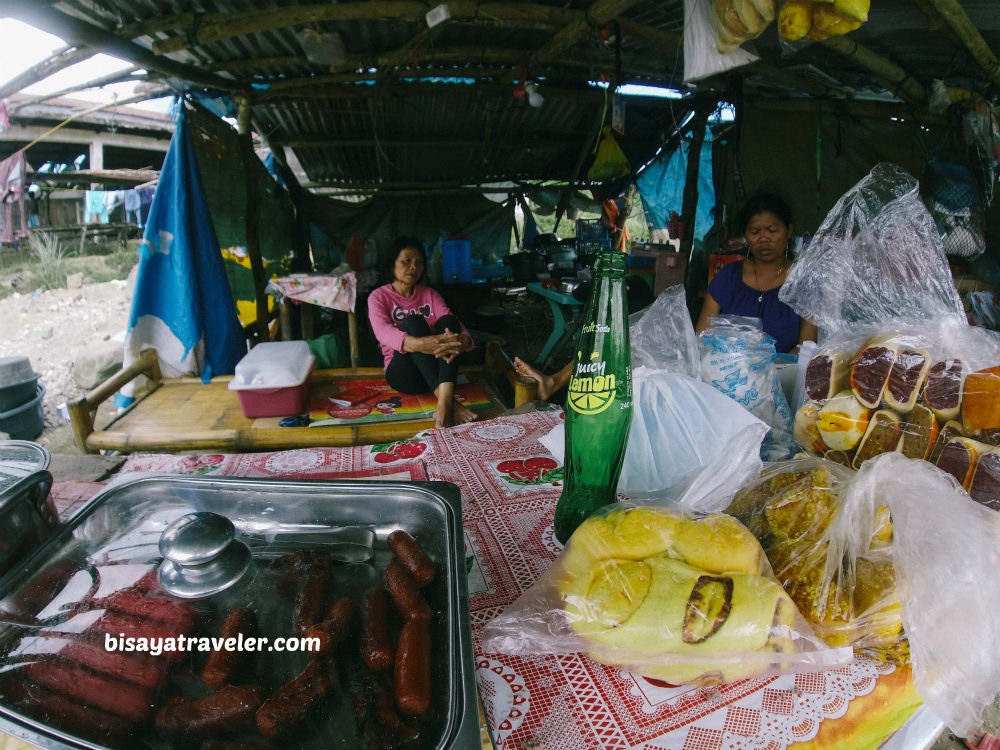 Concerned, they thought it was unsafe for me to take this hike.
"Next time, bring an army of friends", said a friendly lady.
"Years ago, someone was buried alive there", added an elderly woman.
"He was a notorious criminal, though", replied another woman.
And, I get it. They thought it wasn't the safest route for someone who lives in the city, like me.
So, I turned to Big E, for a word of advice, and he emphatically said "do it, damn it".
Big E, although he's not quite loved by others, is a positive influence to me.
He has a can-do spirit and a live-in-the-moment philosophy.
As I've said earlier, he is that adventurous friend who encourages me to do crazy things and push my boundaries.
And, honestly, there are some things in my life that I may have never accomplished if he wasn't around.
Ultimately, I hit the road, passing by some gorgeous hills and mountains in Gaas, Balamban, Cebu.
As I was walking the paved road, I felt like something was watching me.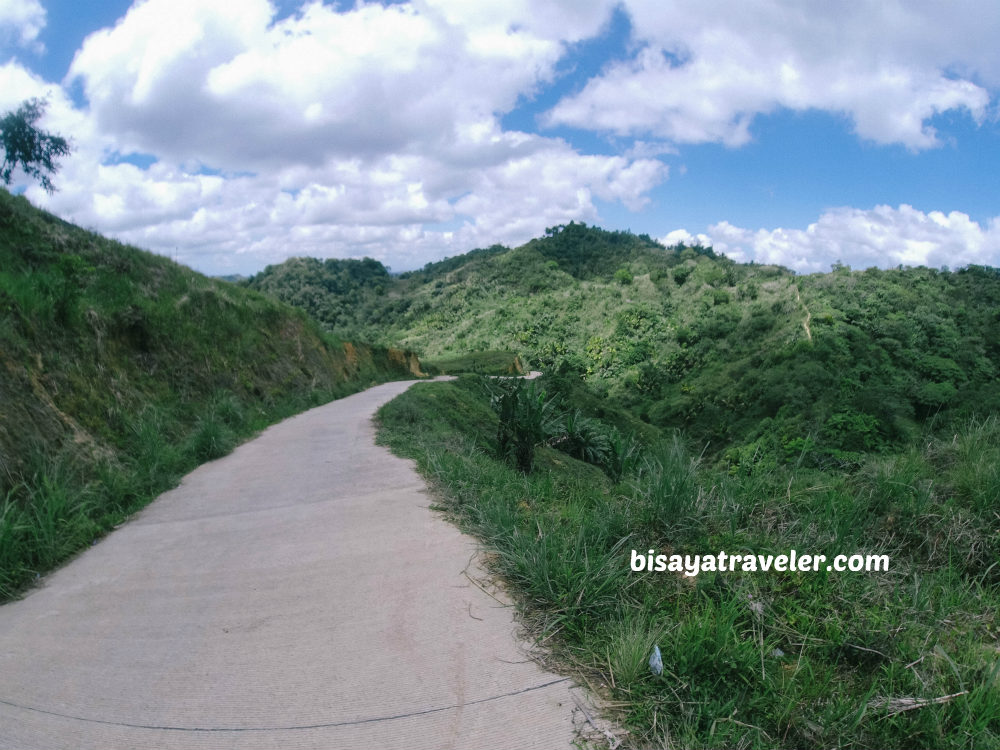 I'm no Spiderman, but I could sense something's wrong with the picture in front of me.
And, guess what? My Spider sense was telling me that evil lurked at the end of the road.
Suddenly, images of my unborn daughter flashed inside my mind. With a vivid imagination, it was like I've stepped into Rod Serling's Twilight Zone.
I knew it wasn't a smart decision to hike to Toledo from Balamban, Cebu.
After all, it was in the middle of a heated and controversial election campaign in the Philippines.
And, besides, I was about to violate a code set by the Philippine mountaineers – never hike alone in the wilderness.
Surprisingly, Big E did agree to my decision. I, however, promised to take this route soon, with a bigger group.
Shortly after, we returned to the main road, Transcentral Highway, with zero clues on what to do in Balamba, Cebu next.
"Hey, cheep up", said Big E. "Why don't you hike Transcentral Highway? I bet it's a short hike from Balamban, Cebu to Sirao. Or, we can enjoy the view from Governor Joe Leyson's Peak".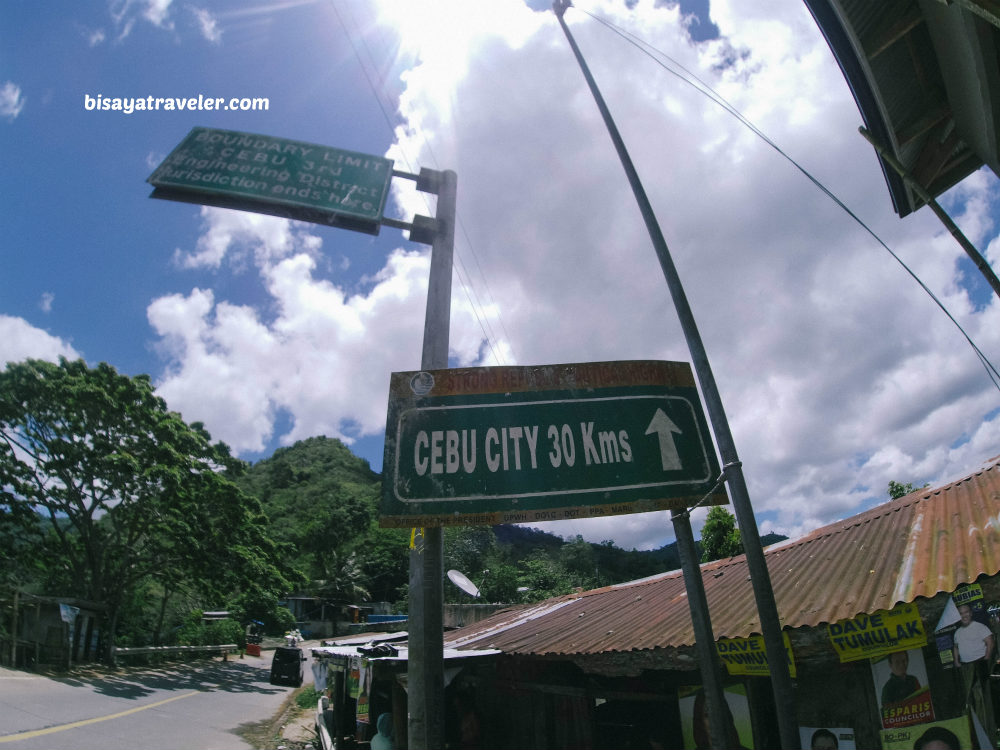 The options for adventure from Balamban, Cebu were endless.
There are new flower farms, a strawberry farm and a whole host of attractions between Cebu and Balamban, Cebu.
Without any hesitation, I heeded Big E's suggestion.
It did seem like a sound plan.
An exciting plan!
Pumped up and ready, I went on with our Balamban, Cebu adventure hitting the famous Transcentral Highway.
Even with the scorching heat of the sun, I wasn't having any trouble with my hike in Balamban, Cebu.
Truthfully, I thought it was a chill hike. And, from time to time, I blitz upwards and downwards to increase my pace.
My pursuit of adventure was starting to shape up inside my mind.
I could see it.
I did see myself standing in Governor Joe Leyson's Peak, savoring the gorgeous panoramas.
Yes, I was planning on ending my little adventure at this spot in Cebu. And, I decided to go there, while walking on Transcentral Highway.
Of course, I was extremely cautious, while hiking this road connecting the metro to Balamban, Cebu.
With whizzing motorcycles and speeding vans, this adventure could easily turn into a disaster if I'm not extra careful.
So, I avoided the blind spots, and looked twice on both sides before crossing the road.
Along the way, I caught a glimpse of Malubog Lake and an upcoming flower farm in Cebu.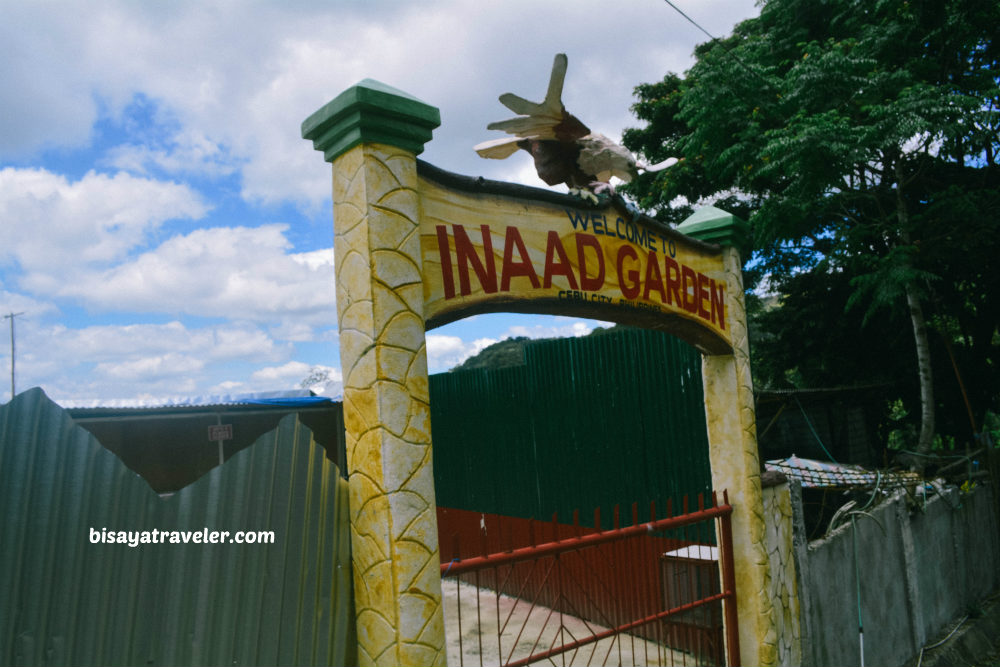 On my way to Cebu City, I got some weird stares from motorists and locals.
They were staring at me as if I was Forrest Gump sans the hippie followers, running endlessly across the country.
And, perhaps, I was like Forrest Gump, especially since I was walking or running with no specific goals.
I can't read minds, but based on their facial reactions, I could sense what they're all trying to say.
And, that's "what the f*ck are you doing".
I did ask myself that question. Why did I listen to Big E? I knew only a few people have tried this one-of-a-kind feat.
Minutes after crossing the Balamban, Cebu border, doubts slowly crept in.
And, for some reason, I was getting physically tired.
The scorching heat was killing me.
My heart was beating as loud as a drum.
My shirt was soaked in sweat.
And, my legs were burning, with my hamstrings getting tighter at every step.
I'm no stranger to physical pain.
And, I also love to work out.
From HIIT to functional strength training, I train my body for 3 to 6 days a week in a variety of ways.
But, the Transcentral Highway is a different beast, and I underestimated its power.
Machines struggle to scale this beast. And, many have fallen because trying to tame this beast.
I'm not a Terminator, a Transformer or Astro Boy.
I'm a human being made up of phosphorous, calcium, nitrogen, hydrogen, carbon and oxygen.
And yet, there was still someone who was confident that I could put it off – Big E.
Somehow, his words were fueling me to finish this hike from Balamban, Cebu.
And, some of them are purely cynical, while others are weird.
To sum it up, he's words of advice were a blend of Buddhism and cynicism.
"Rest is for the weak". That was his battle cry.
"You call yourself a hiker? You should never hike again if you can complete this hike", said Big E. "What's the purpose of those late night workouts? For aesthetics? Dude, get yourself together, channel your inner warrior and finish this goddamn hike".
My travel buddy was starting to get into my nerves. He was pushing me, driving me away from my comfort zone.
And, I must say he's a world-class trash talker.
But, he does have some positive words.
"Go on. You can do it. We've experienced things more challenging than this. You've been to major climbs. Now is not the time for insecurity.
He also tried to lighten my mood by sharing some funny quotes.
"Just think of yourself as Son Goku running on the infamous long Snake Way".
I hated Big E for suggesting this idea. I really did.
But, soon, I realized that it wasn't that bad. As they say, a little delusion can be rather good. And, guess what? Some of the world's greatest advances and innovations come from some crazy ideas.
Little by little, his unique choice of words for motivation was giving me confidence to finish this hike from Balamban, Cebu.
With a sudden boost of energy, I increased the pace, and discovered a bunch of new attractions in Cebu.
Like Ka-Tilong Sunflower Farm.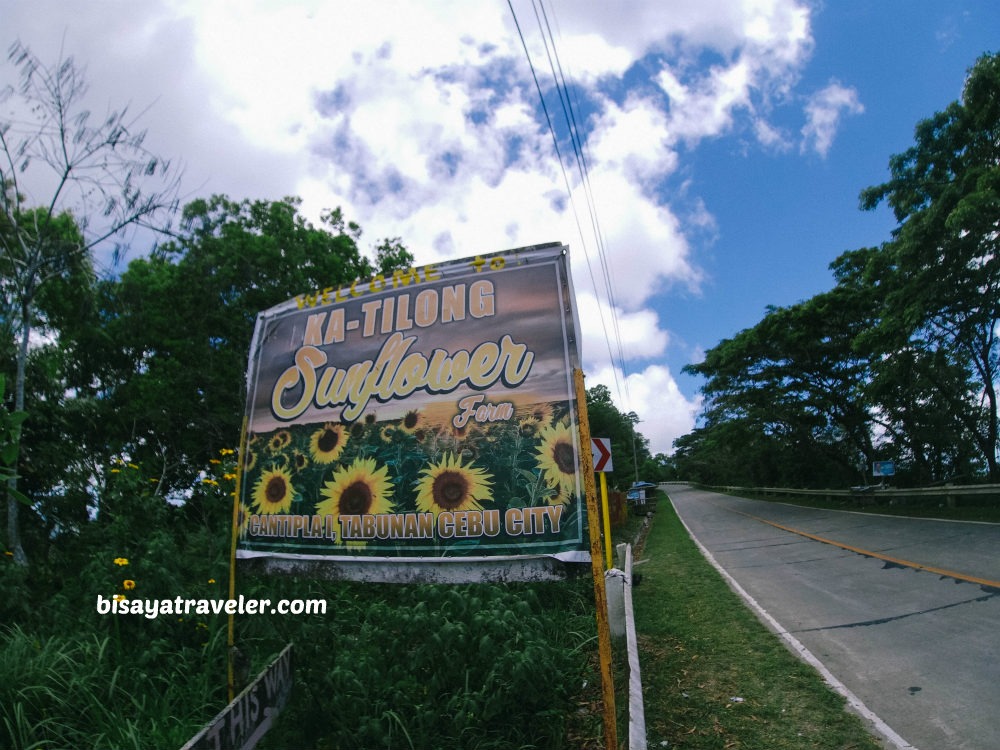 Strawberry de Cantipla Eco Farm.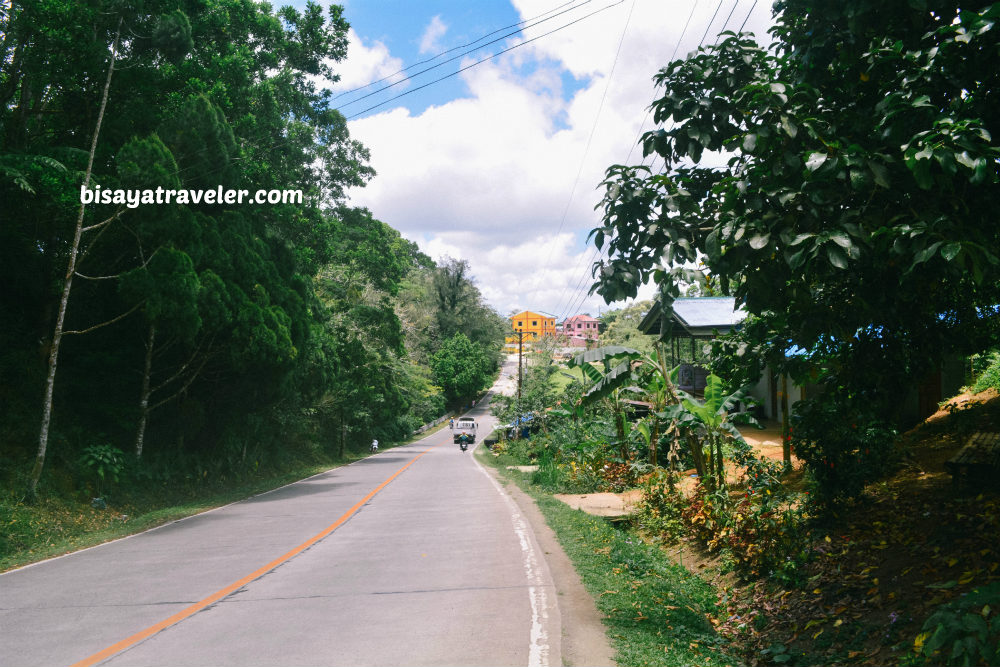 And, a few other tourist spots that have emerged recently.
I, however, wasn't interested in stopping by.
My eyes were set in finishing one goal for that day – to enjoy the view from Governor Joe Leyson's Peak.
Shortly after, I saw a familiar picture on a tarpaulin somewhere in Cantipla, Cebu.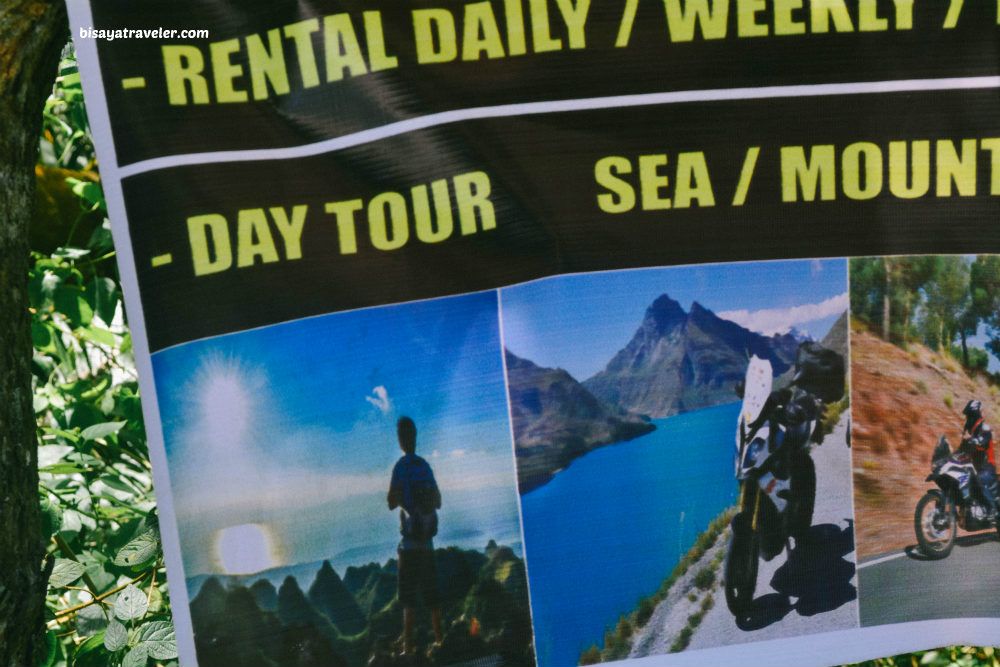 To my surprise, it was a picture of me on Cebu's highest peak. Apparently, someone grabbed my photo, and used it for commercial purposes without my consent.
"Congrats! You're a model now", said Big E with sarcasm.
Big E wanted to whoop the asses of the people, showboating guide and tour operator in that area.
And, as much as I wanted to share my thoughts to the owners, I was overly outnumbered.
They might take it the wrong way, and I may get beaten to a pulp.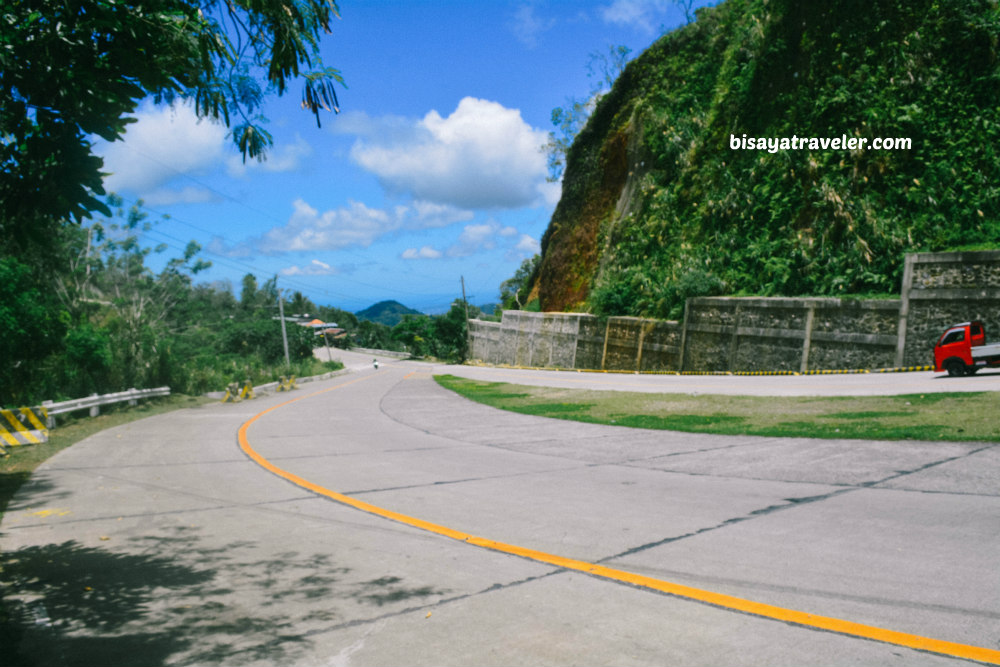 So, I went on with my hike from Balamban, Cebu and found a beautiful view of the mountains.
A short stroll later, I found the trendy eatery – 21 Kilometers Coffee – that has been a social media darling lately.
According to the owners of the café, they name it as such since it was 21 kilometers from Cebu City.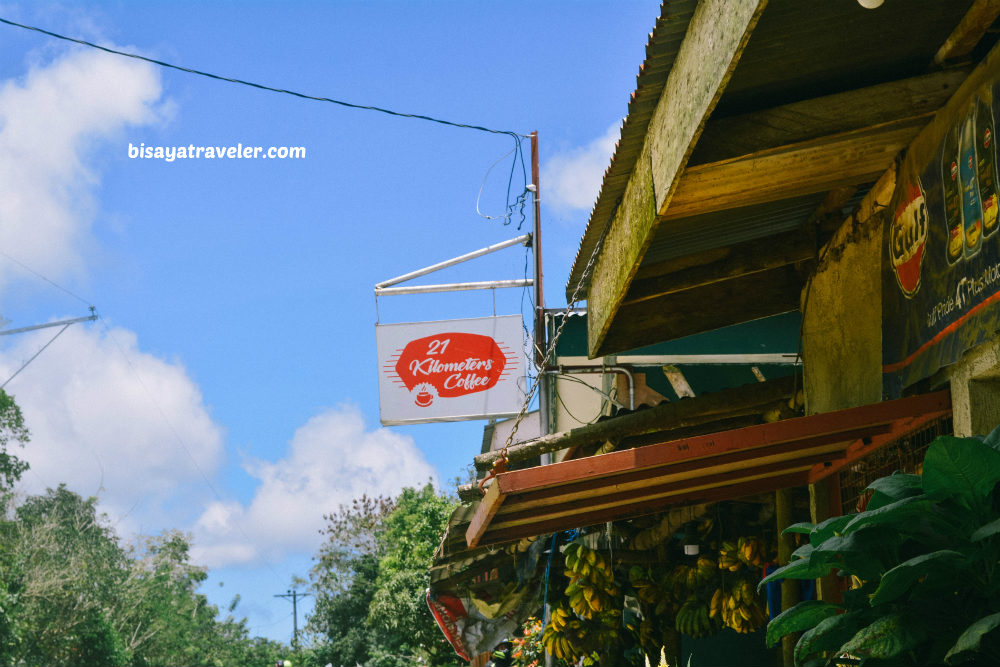 Ironically, the marker suggested it is 23 kilometers away from Cebu.
Moments later, I dropped by a fruit vendor in Cantipla, and bought a kilogram worth of sweet corn.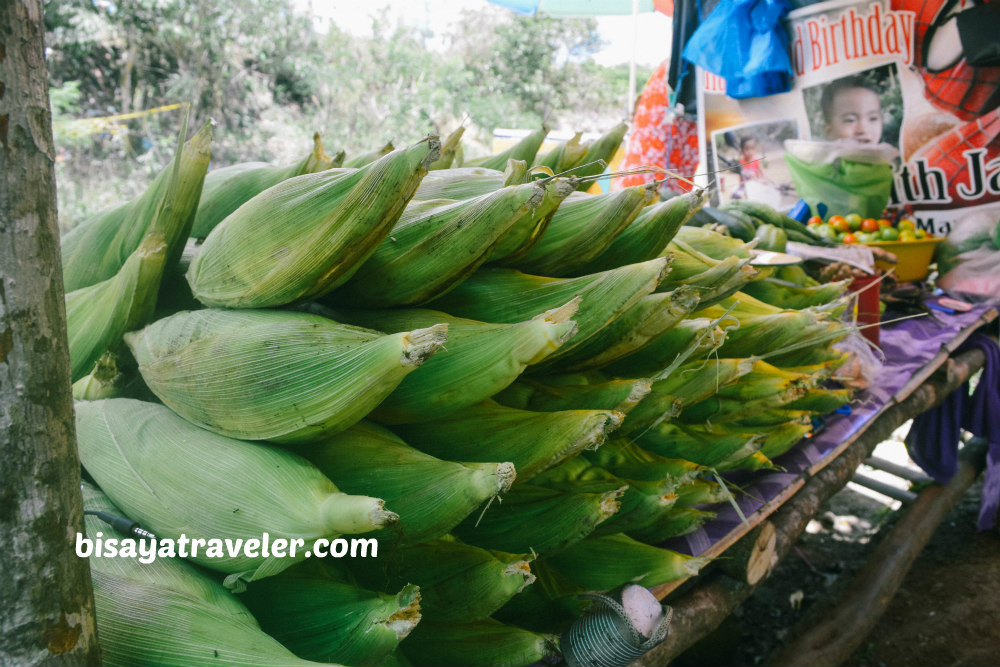 Furthermore, I received some positive news while resting on the stall. As it turned out, Governor Joe Leyson's Peak is pretty close to where I was sitting.
Excited and re-energized, I blithely hit the paved road, hoping to set foot on Governor Joe Leyson's Peak.
Unfortunately, I soon found out that Governor Joe Leyson's Peak is limits to the public.
The sign there clearly said "no trespassing".
Damn it! I was hoping for a picture-perfect ending for my hike from Balamban, Cebu.
Big E was suddenly silent. Maybe, he felt guilty for pitching this idea.
And, just like that, it felt like my pursuit of adventure from Balamban, Cebu was becoming fruitless.
Still, I continued walking all the way to Sirao under the scorching heat of the sun.
Then, I found myself standing on a crossroad.
Should hike Sirao Peak or visit Sirao garden? Or, should I just take a van back to Ayala Cebu?
Although I wanted to end my hike on a high note, I had to get back to Ayala Center.
Not only was I hungry, but there was also a small amount of energy left in my body.
As soon as I got inside the van, Big E murmured some words to me.
This time, he echoed what's inside my mind, suggesting that I made the right decision.
Was this a fruitless pursuit of adventure? I asked him that question.
With a big smile, he replied it was a fun escapade for us.
"At least, you discovered a new trail to Toledo from Balamban, Cebu", said Big E. "And best of all, you've found me again – your EGO".
My travel buddy's name is Big E.
E is for EGO.
Physically, I was alone for the whole duration of the hike from Balamban, Cebu.
But, my ego was there all along, pushing me outside my comfort zone, and encouraging me to do something new.
On the surface, it may seem like that son-of-a-bitch tricked me into doing something crazy. But, the truth is, it was a bizarre dancing lesson that made the whole adventure fruitful.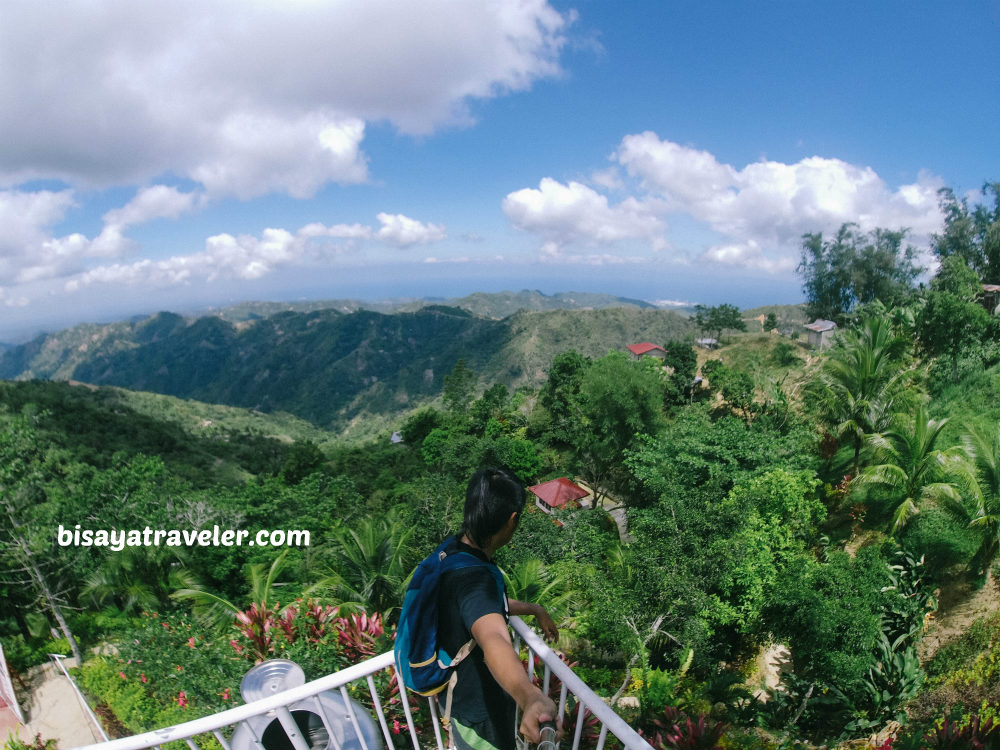 Here's the thing.
We all know the pitfalls of ego. As a matter of fact, life coaches and philosophers believe that having an ego is unhealthy.
But, ego can be channeled into a positive energy.
Heck, it even fuels your ambition and sparks creativity.
And, oftentimes, a little ego can lead to great innovations.
Think Magellan would find the Philippines if he had no ego at all?
The thing is, great men in history have egos.
Michael Jordan.
Alexander The Great.
And, oh yeah. Remember Steve Jobs? Wasn't he criticized for his ego?
Ego pushes you to spend countless of hours on working on your craft.
Ego may even be the driving force to a blossoming career.
And, don't get me wrong. I'm not saying that you need a big ego, to live a happy life.
What I'm saying, however, is that you can channel it into something positive.
My curiosity sparked my adventure in Balamban, Cebu.
But, it was my ego that it encouraged me to take a chance and take risks.
It was my ego that made me believe that I can accomplish something crazy and great.
And, the desire to win and accomplish momentous is what drives champions.
My ego pushed me to survive and complete this hike from Balamban, Cebu.
And let's face it. Without an ego, men would have no goals and aspirations, other than survival in a senseless jungle.
Lately, I've been nonchalant, drifting in the sea of vagueness, contented with what the universe has been giving me.
I know it's cool to be laid-back and bohemian, but the last thing I want to happen is to be stuck and trapped in a single place.
Maybe, all I need is to release a healthy dose of ego.
Just a small dose because too much of it will turn me into an as*hole.
To me, ego is the difference between people who work to survive and those who work to thrive.
So, I guess that adventure wasn't pointless, at all.
Even though it didn't have a picture-perfect ending, it at least gave me a ton of valuable lessons.
And, yes, the pursuit of adventure in Balamban, Cebu would have been fruitless if Big E didn't step in.
My Balamban, Cebu adventure expenses:
V-hire fare to Gaas,Balamban,Cebu: PHP 120
Entrance fee to JVR: PHP 55
Entrance fee to Buwakan ni Alejandra: PHP 55
Entrance fee to Florentino's Eco Park: PHP 40
V-hire fare to Ayala, Cebu: PHP 40
How to get there:
Just check out my Buwakan ni Alejandra post or JVR Island in the Sky blog for more information.