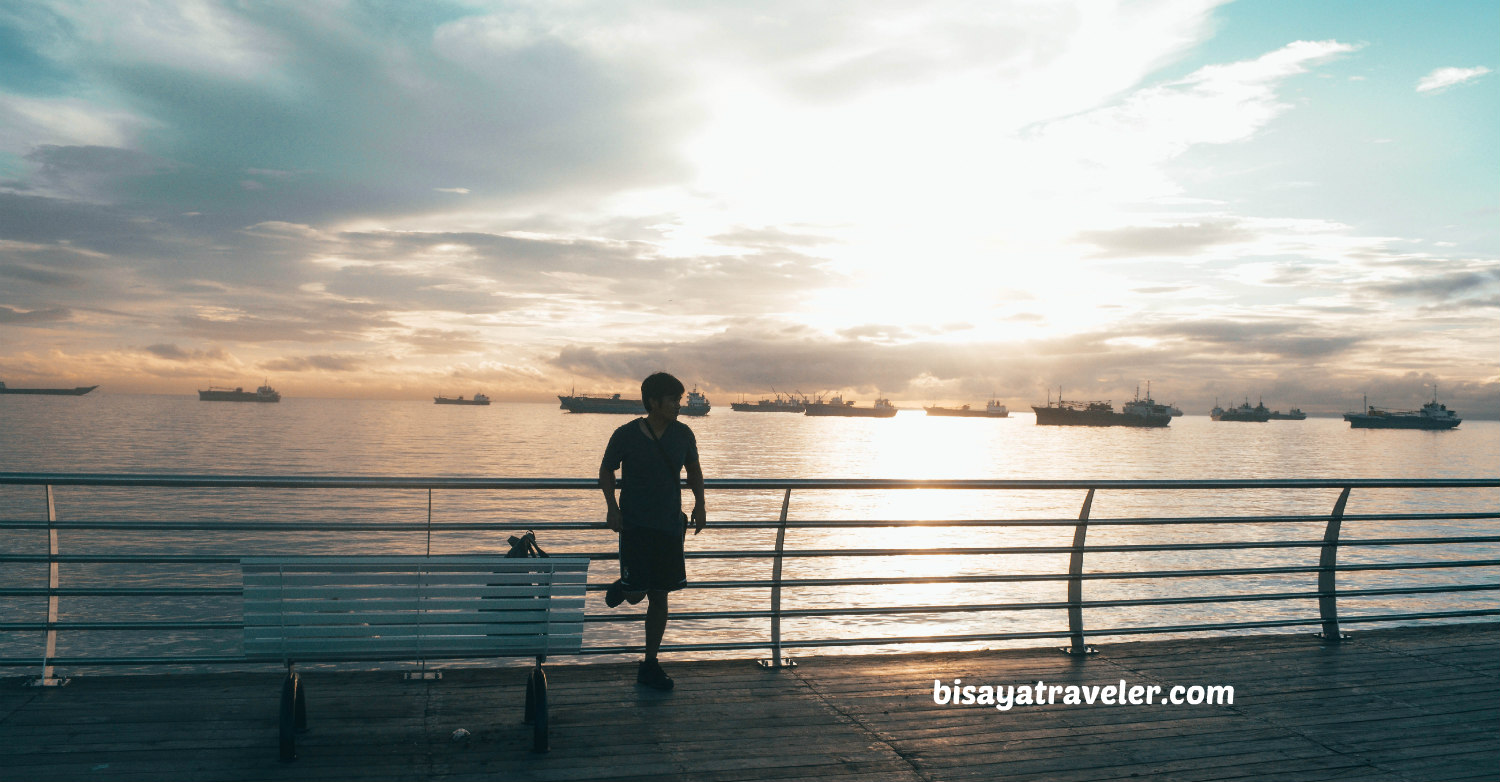 Naga City Boardwalk: A Photogenic Gateway To A Memorable Outdoor Escape
Everyone was going nuts over the Naga City Boardwalk, when it was unveiled to the public. With its stunning sea views, laid-back ambiance and photogenic charm, this marine boardwalk is truly a crowd puller and an IG favorite. As a matter of fact, I've seen tons of photos of my hiking buddies in Naga City Boardwalk, decked out with formal clothes. And while it did spark my curiosity, I wasn't in a rush to see the Naga City Boardwalk.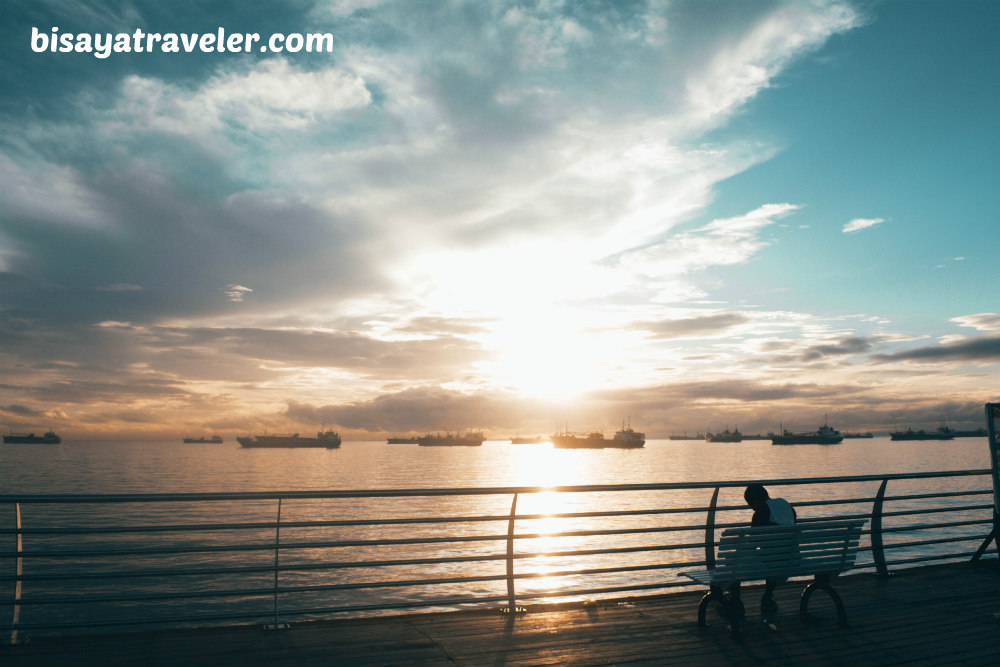 For the past couple of months, it seemed like all of Cebu's top bloggers and social media influencers have been to Naga City Boardwalk. And of course, it became an instant sensation and a hit for people who are itching to add more color and life to their Instagram feeds. From drone shots to selfie snaps, I've seen heaps of images online highlighting the sheer size and grandeur of Naga City baywalk.
But, I wasn't pressured to go there, and was actually willing to give it a pass. As I've preached before, I don't see traveling, hiking or sightseeing as a race or competition. What's more, I put more value on experiences than snaps and social media likes.  If a place can't appease my cravings for knowledge or adventure, I don't mind missing a chance to see it (ahem, 10, 000 Roses).
And besides, there are so many places in Cebu nowadays that are overhyped by bloggers and Facebook users, for the sake of getting a taste of the limelight. As I've seen from other posts, they are even calling this attraction the "Singapore of Cebu", because it has the feel of the Lion City's "One Marina Boulevard.
A week ago, I finally got an opportunity to see it and admire its beauty, when I organized a year-end hike in Naga City, Cebu.  Although it wasn't the focal point of our adventure, it was nevertheless a great starter and ender to our year-end hike.
My Naga City Boardwalk experience
Like most of my day trips in Cebu, my adventure in Naga City started pretty early. Not only did I want to kick off things early, but I also yearned to catch the beautiful sunrise in Naga City Boardwalk. Since the marine boardwalk is facing the east, I thought the striking sunset would be a perfect appetizer to our day hike in the city's highlands.
From Punta Princesa, Cebu, I caught up with the legendary Tatay Wanderer, Raul, and hopped on a jeepney bound for Naga City plaza. Upon our arrival, we didn't waste any moment, and went straight to Naga City Boardwalk.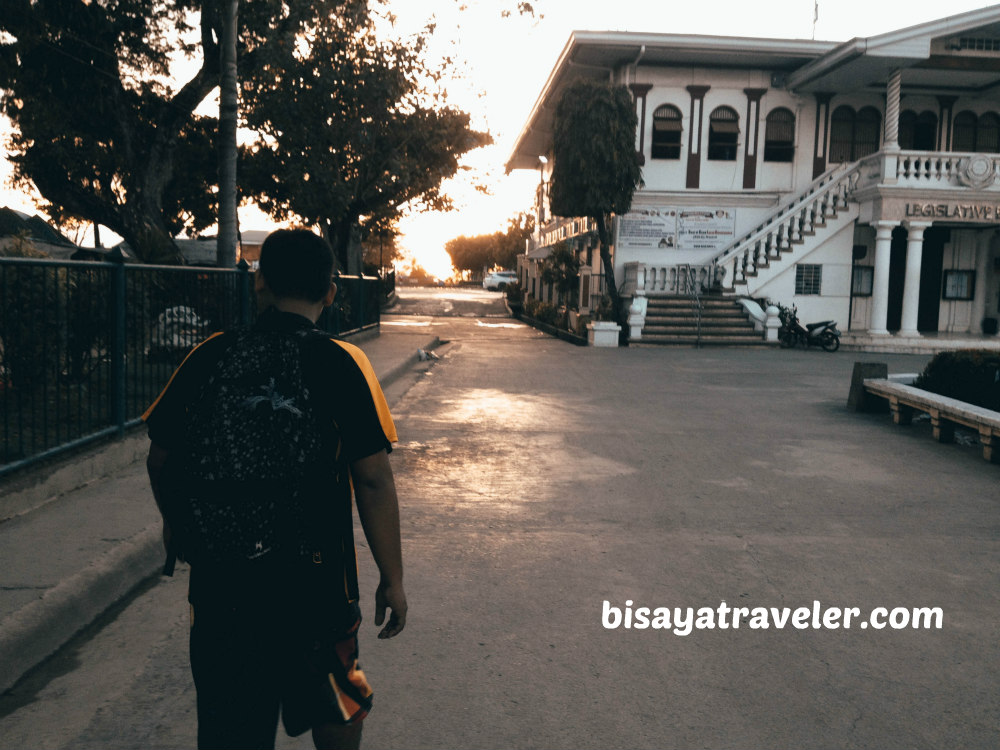 Truth be told, I wasn't quite impressed, the first time I saw Naga's newest attraction. With drunk men laying spiritless and trash scattered everywhere, I thought it was way below the lofty expectations of some people.
Actually, the scene kind of reminds of the Sinulog Festival aftermath, a couple of years ago. And, as it turned out, the whole city of Naga just celebrated its colorful and sprightly annual gala – the Dagitab Festival.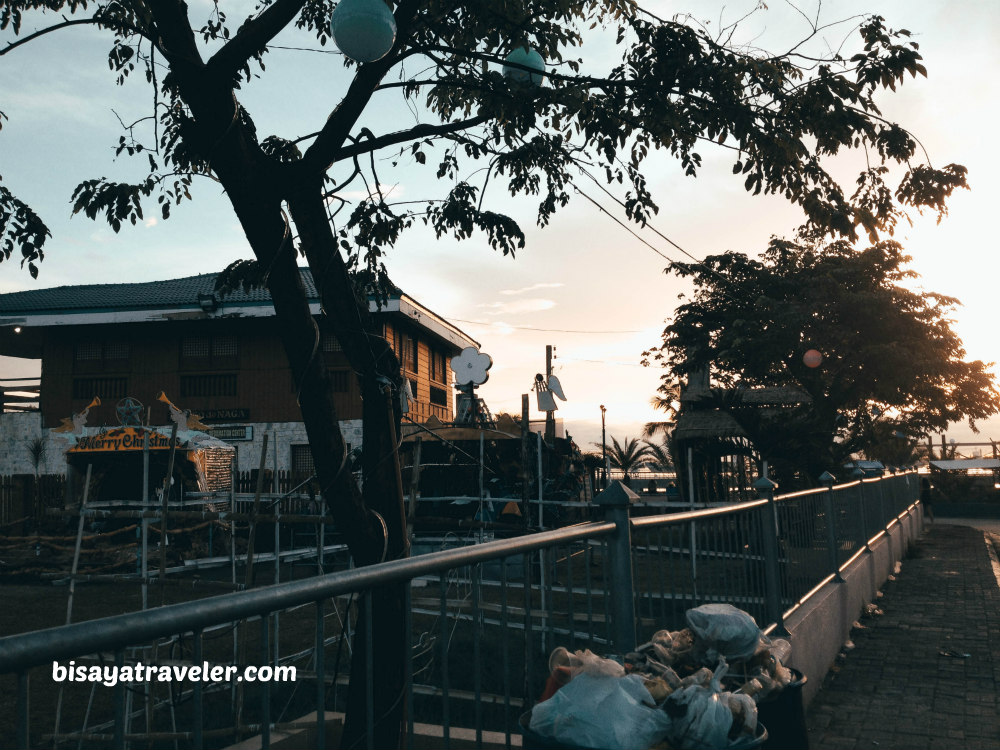 But, on the bright size, the city's policemen and cleaning committee quickly got rid of some of the trash and boozed up merrymakers.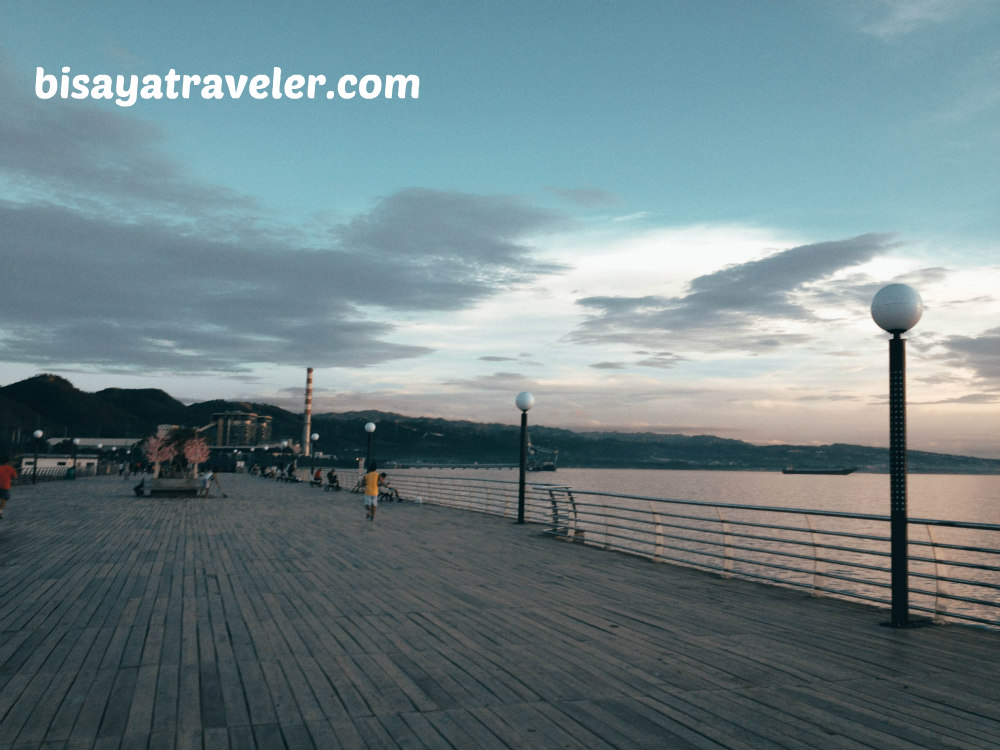 And when the 62-million-peso project became a little cleaner, I and Raul soaked up the sunrise views and took turns posing in front of the camera.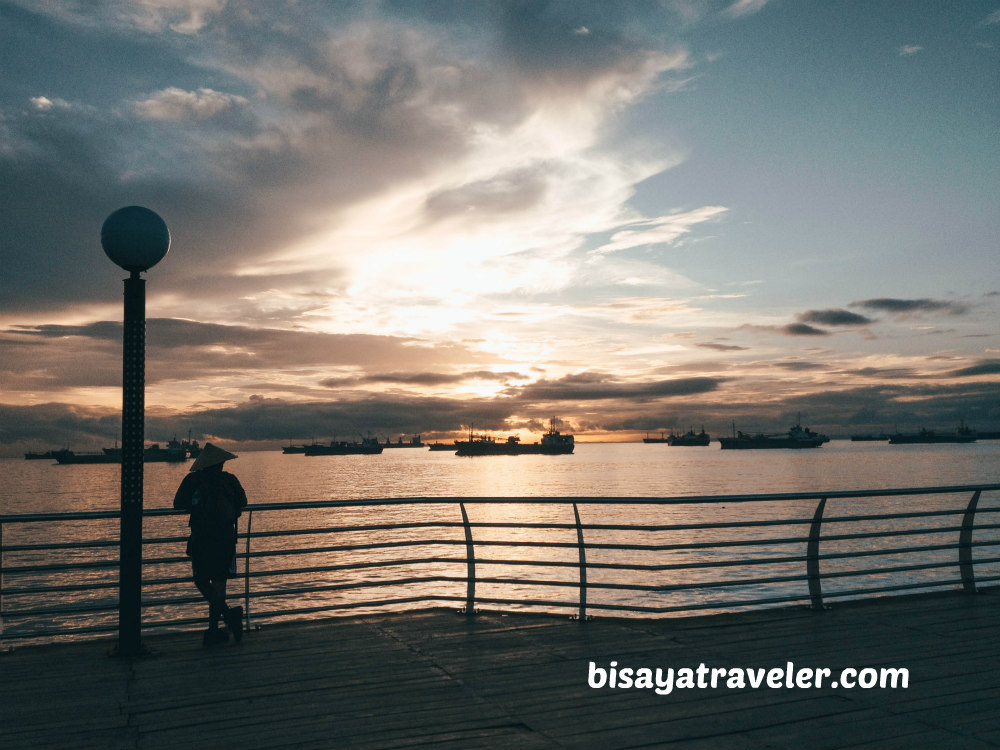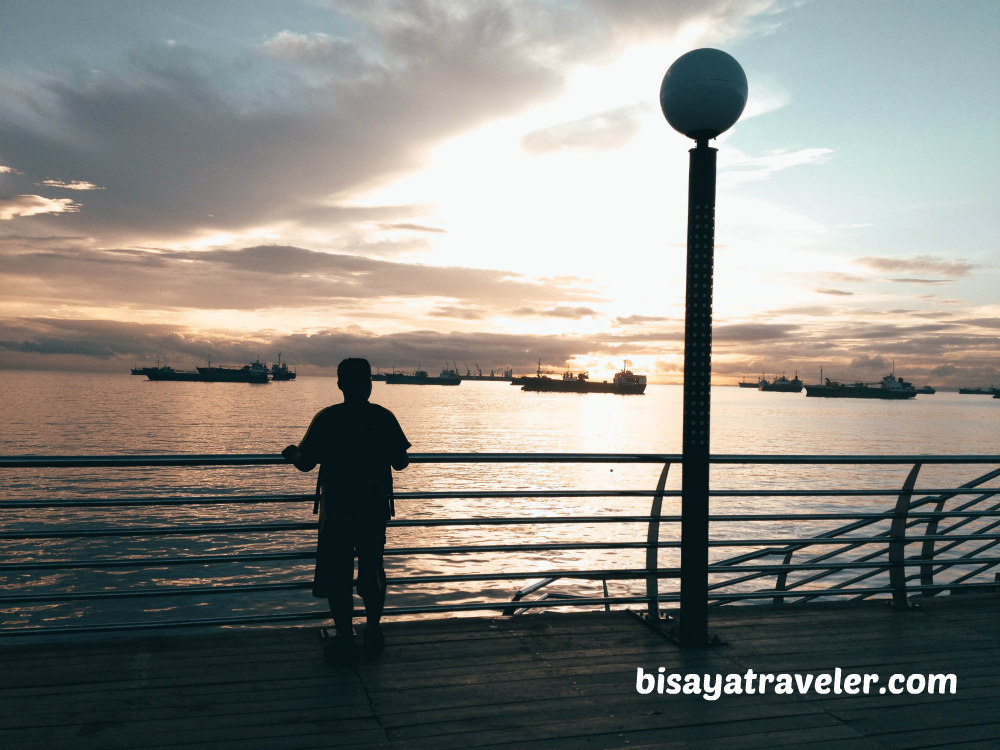 With its striking backdrop, Naga City Boardwalk gave us an irresistible urge to snap a ton of photographs.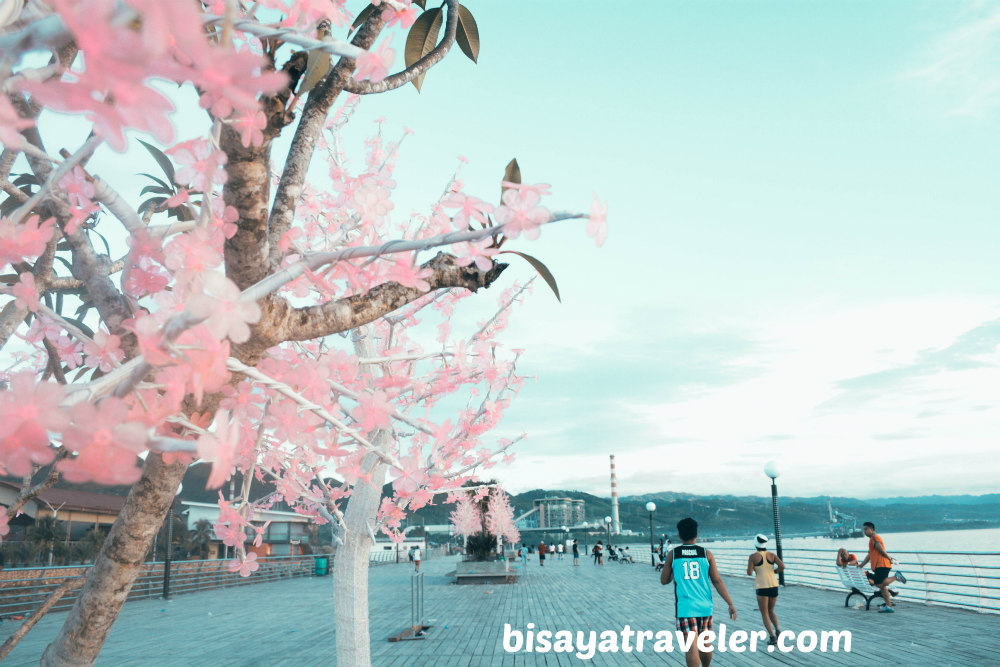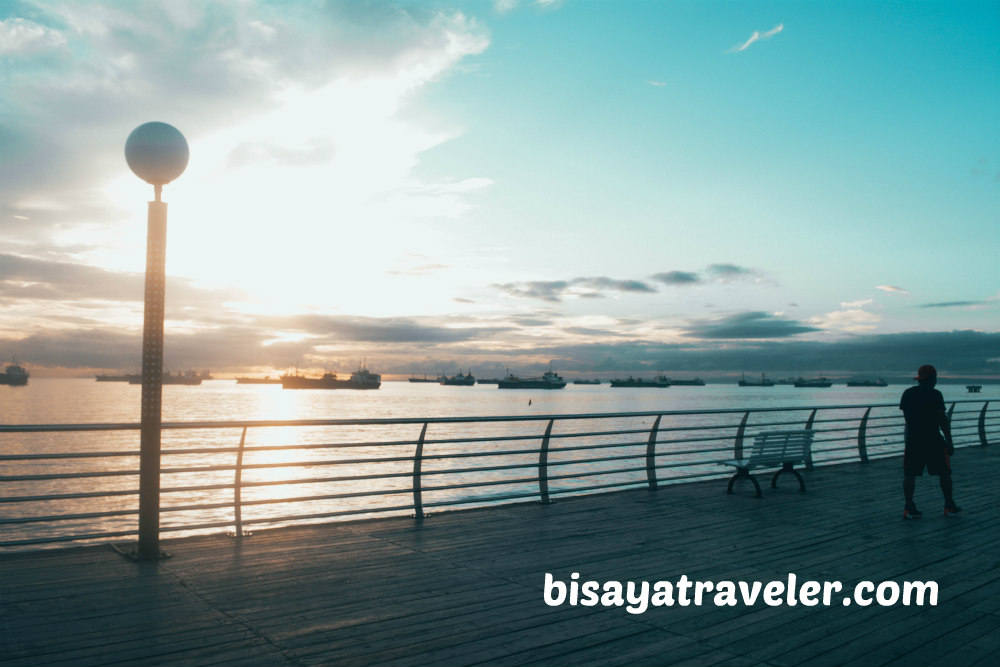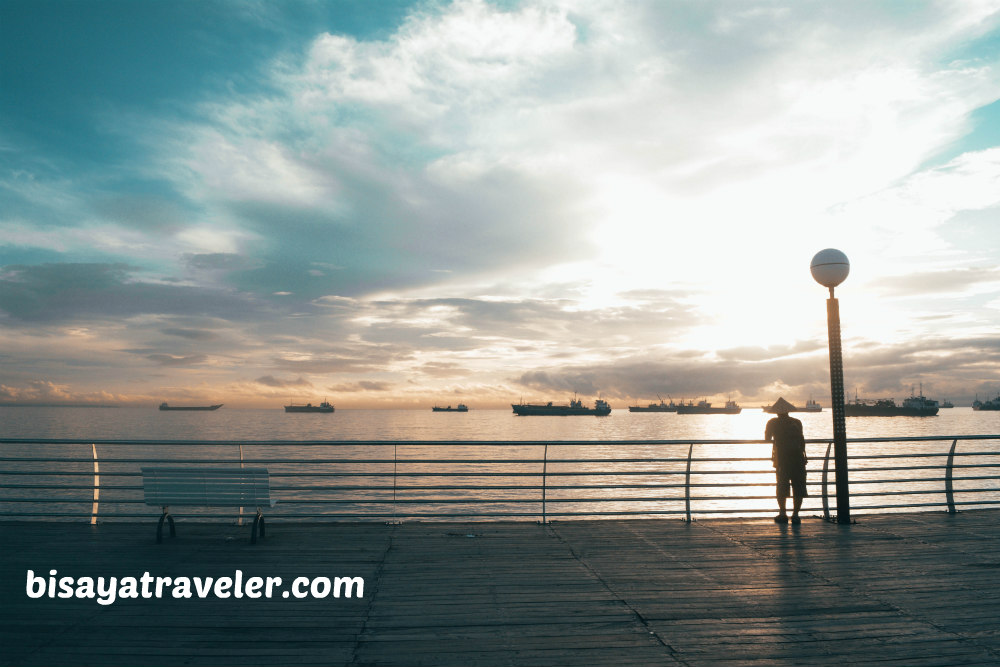 Moments later, two familiar faces – Rollie and Beboi – arrived in the scene. Like me, they enjoyed the scenery and the sea breeze of Naga City as well.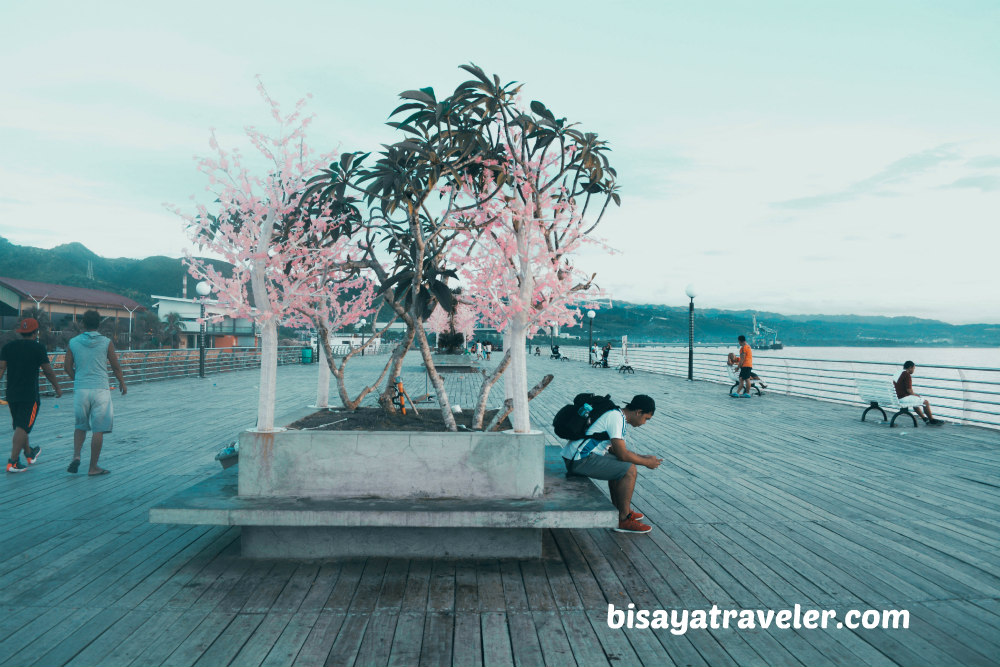 And, there were a few people who were also taking in the views in Naga City Boardwalk. Furthermore, there were some people jogging, stretching and doing an assortment of body-weight exercises in this catchy spot in Naga City, Cebu.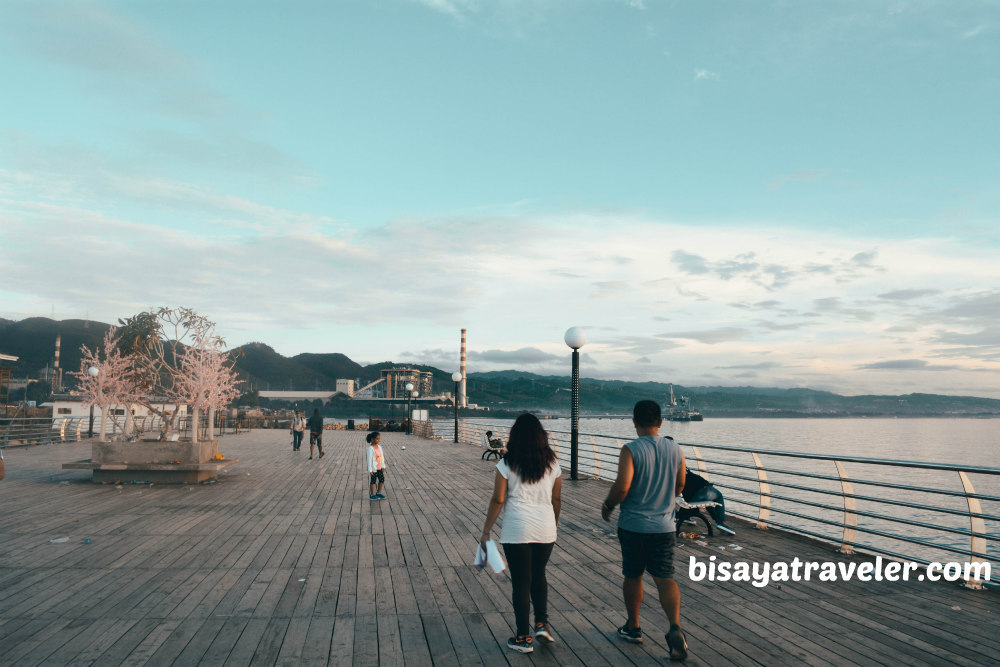 From the looks of it, Naga City Boardwalk has the hallmarks of a family-friendly attraction in Naga, Cebu.
While waiting for the other hikers to arrive, we took the opportunity to roam around, and snap photos of Naga City Boardwalk.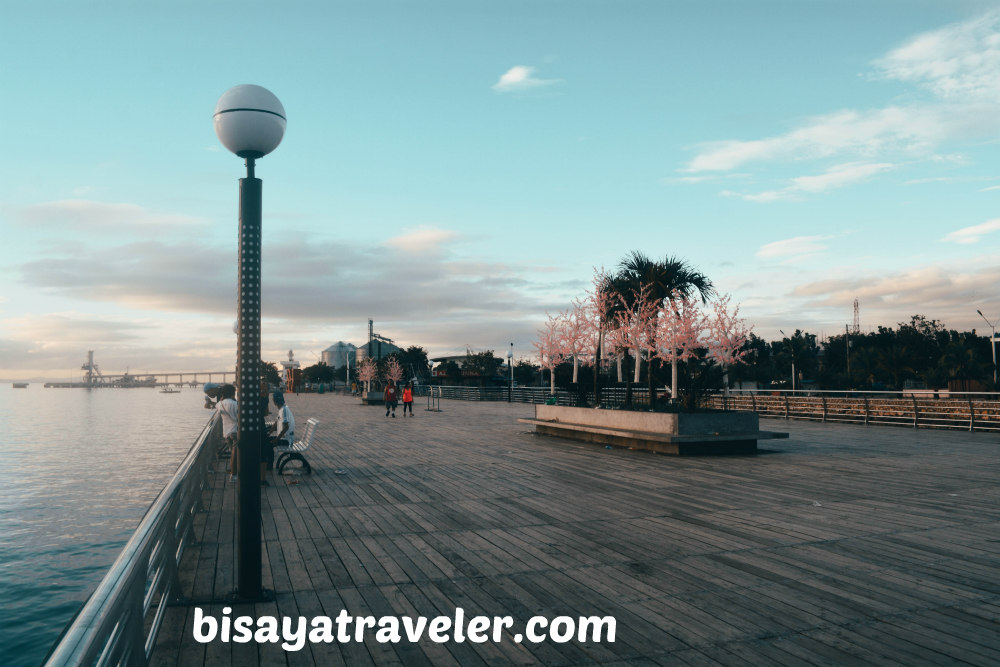 Once again, Raul, with his trademark silhouette pose, was the primary model of my photo shoot.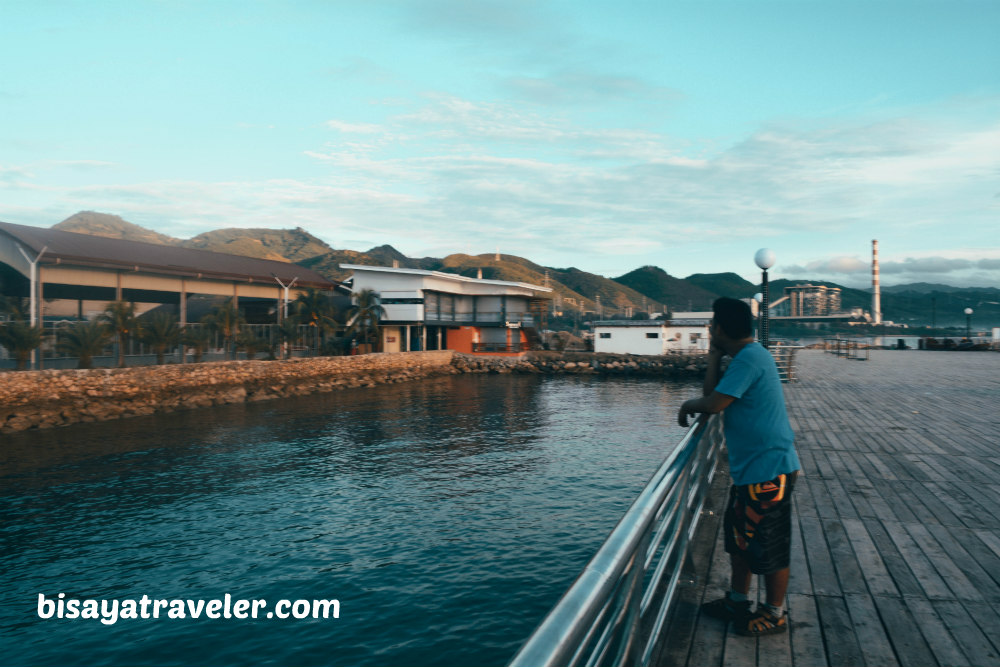 As for me, I was in a state of euphoria, snapping photos and cherishing the atmosphere. Although it's not as grand and large as Singapore's boulevard, it was still was a fairly fantastic sight.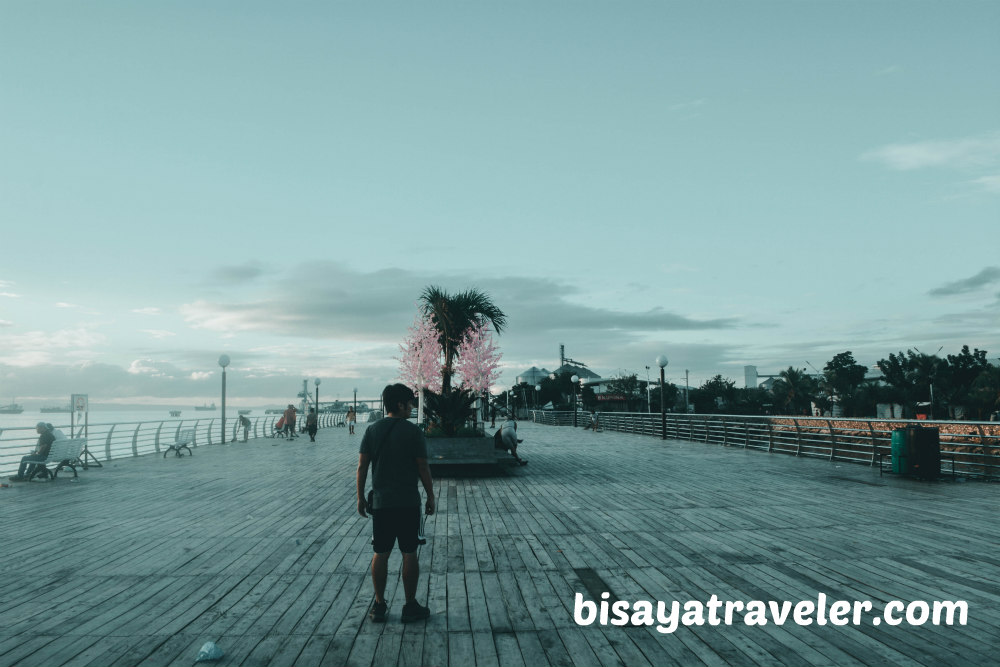 I've seen One Marina Boulevard, and honestly, our own version is nowhere as dazzling and awe-inspiring as Singapore's boardwalk. But, who knows? With massive upgrades and a great deal of dedication from the hub's officials, Naga City Boardwalk may give Singapore's boardwalk a run for its money in the future. I know – I'm too optimistic, but a man can dream, right?
Minutes later, my favorite local hiker, ma'am Fe, arrived at Naga City Boardwalk, to join us for our hike. Unfortunately, though, she was a bit late for the spectacular sunrise. Nevertheless, she enjoyed the lovely views in this part of Cebu.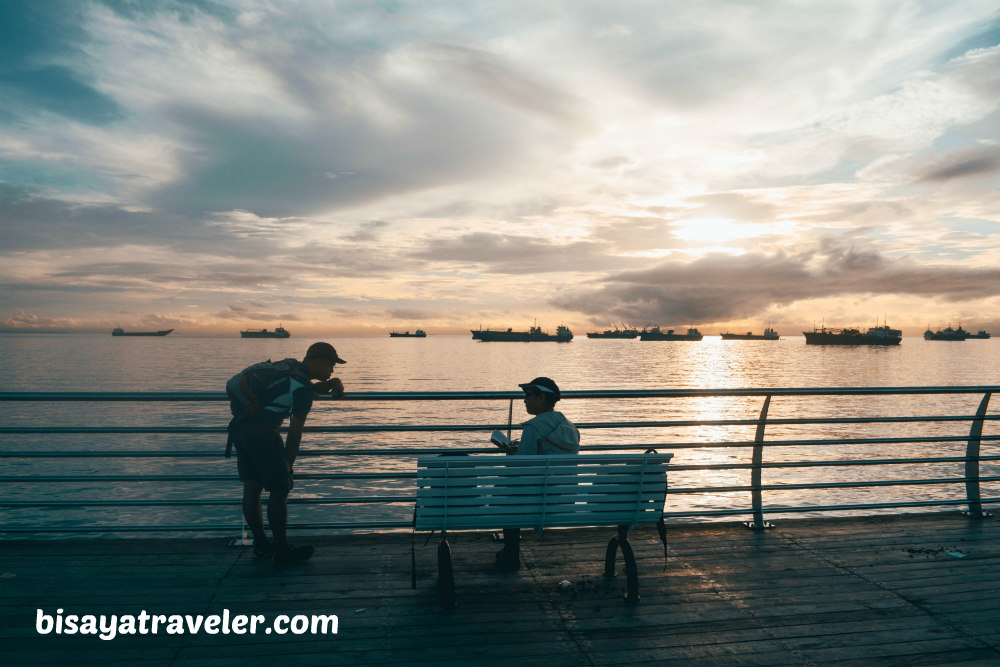 The sun was approaching its peak activity, when the girl trio – Dianne Faith, Hazzel Mae and Khyrylle – arrived in Naga City Boardwalk.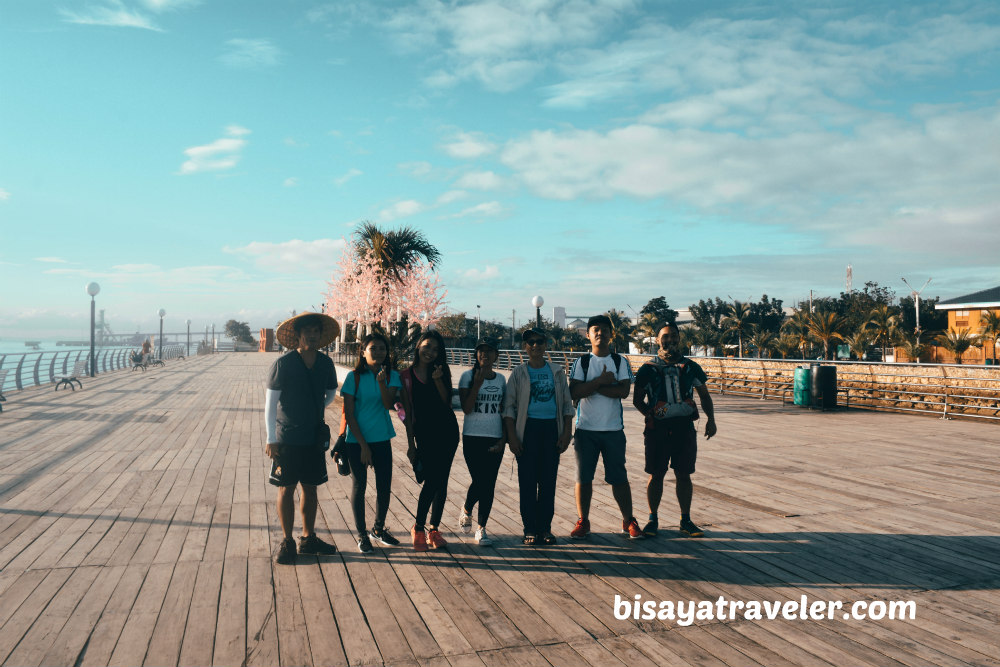 After taking a group of photo, we made our way to the nearest bus stop, to wait for Bing. Later on, she disembarked from the bus, and from there, we began our memorable day hike to the city's highlands.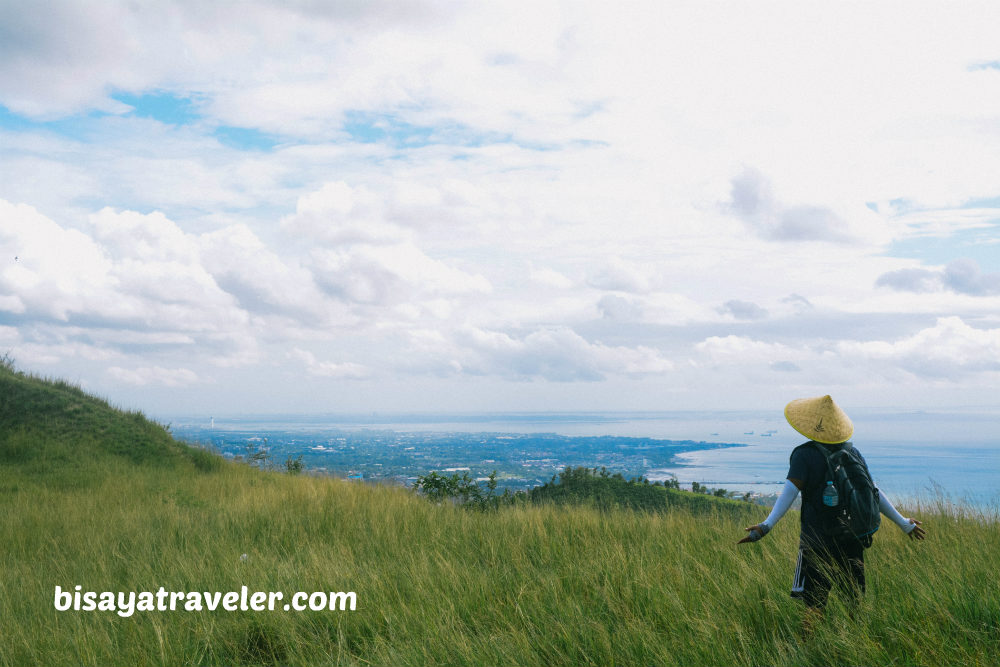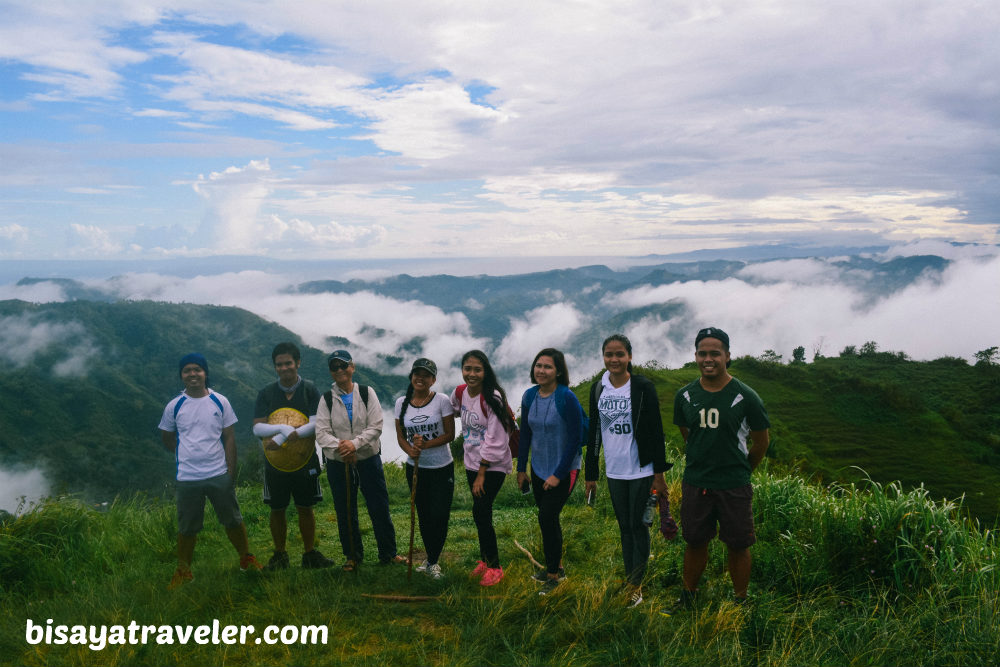 Speaking of which, you can read all about our highland escape in my previous blog post.
Despite the breathtaking views and majestic sea of clouds, Bing still felt there was something missing in her day trip in Naga. After all, she didn't get to see the eye-catching sunrise in Naga City Boardwalk.
And so, except for ma'am Fe, we all went back to the marine boardwalk.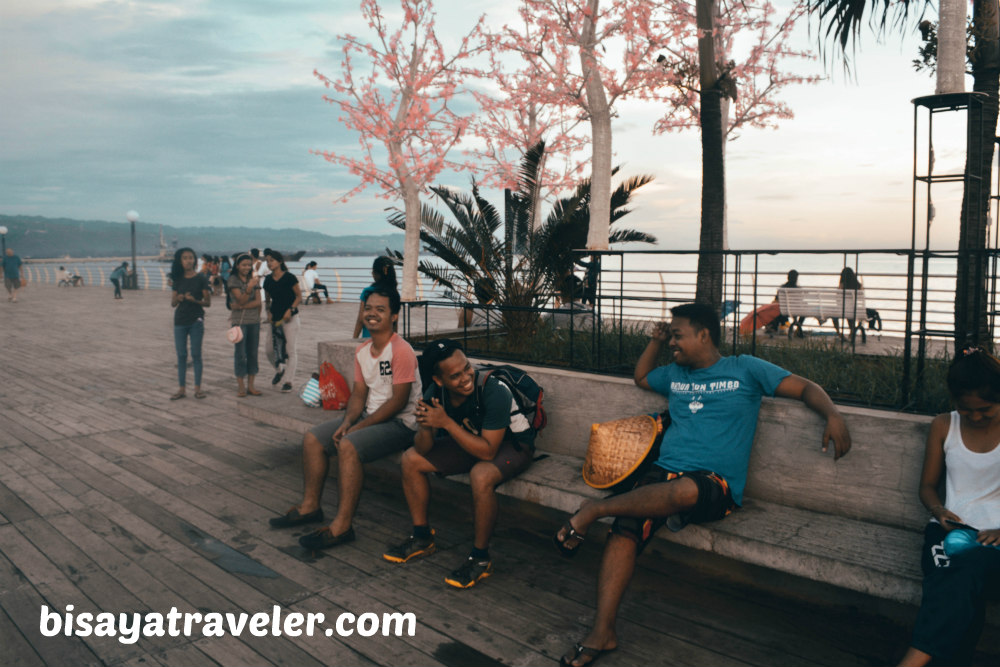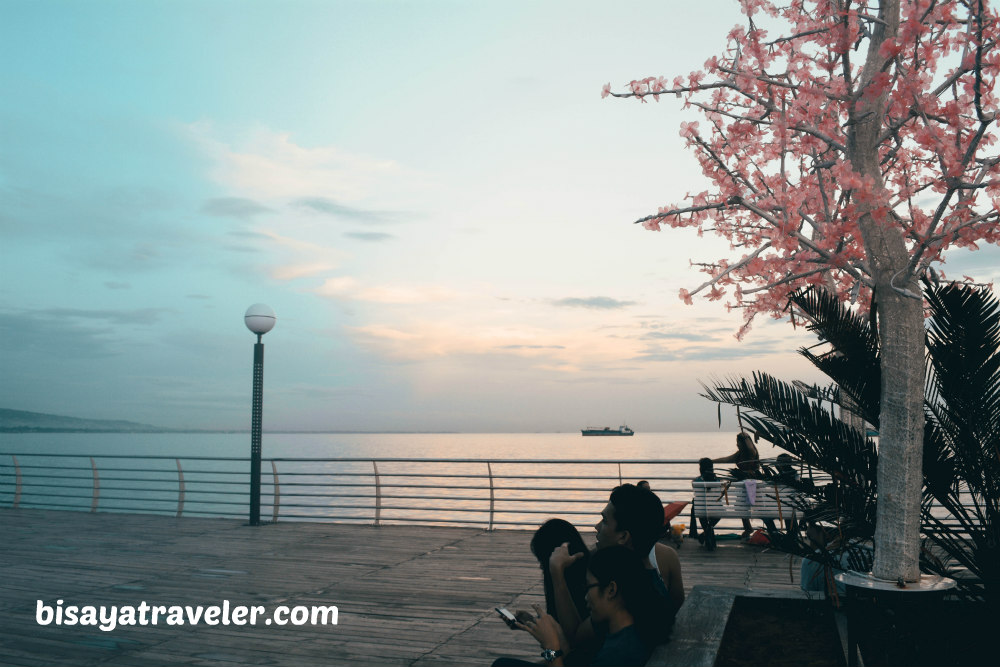 And, guess what? Bing treated us with some tasty balut.
Living to the motto "food is life", Raul devoured a pair of balut.
As we were chilling, I bumped into an old friend, Dokie, who was having a teacher convention or something in the city. Obviously, we couldn't let this one pass by without a picture.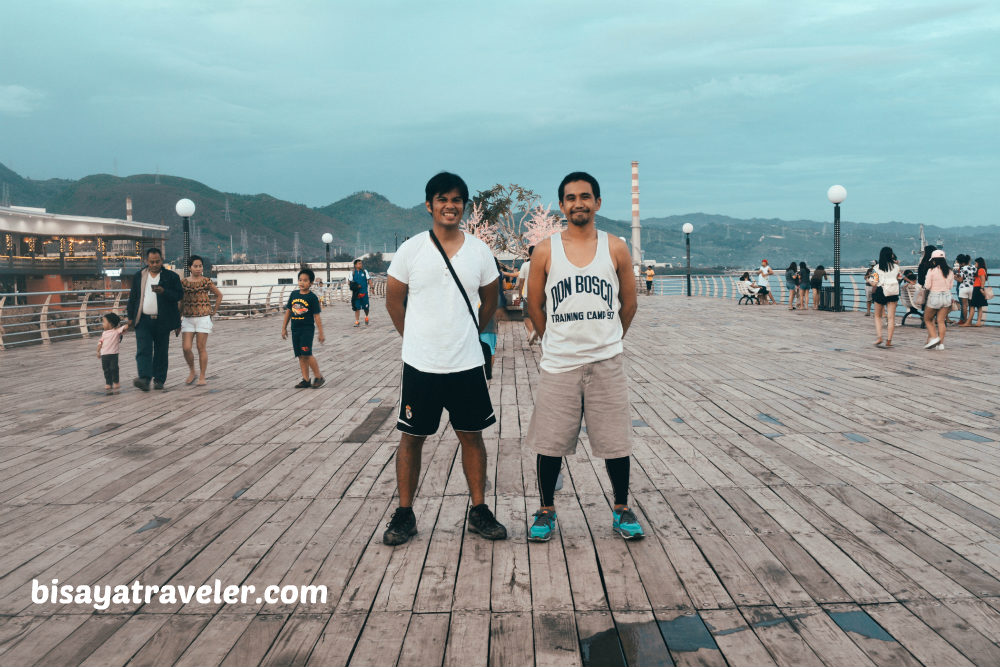 With our muscles rested and wanderlust appeased, we slowly made our way to Jollibee to reward ourselves with a filling fast-food meal. Afterwards, we took a ride back to the city, and call it a day.
And, by the way, there are some details about Raul in our visit to Naga City Boardwalk that I didn't mention. All I can say is the old dude was incredibly restless and anxious, as he was waiting for a gorgeous lady whom he adores.
How to get to Naga City Boardwalk:
There are a lot of different ways to get there from Cebu City. For those who are from Labangon, I suggest that you take a multi-cab ride (fare is PHP 18) from Punta Princesa to Naga Plaza. Likewise, you may go to Citilink, and take a jeepney to Naga City (fare is PHP 25).
Other Naga City Boardwalk information:
Entrance fee: NADA
Opening hours: 24 hours Daily
Address: Cebu South Rd, City of Naga, Cebu
Best times to visit: 05:00 AM to 07:30 AM and 03:00 PM to 08:00 PM
Don't forget to practice cleanliness
There are food stalls, vendors and restaurants nearby if in case your get hungry
Our Naga City hike itinerary:
06:00 AM: ETA Naga City Boardwalk/snap photos
08:00 AM: Start hike to Mount Magdook
09:30 AM: ETA Mount Magdook/take pictures
09:45 AM: Start hike to Pangilatan Peak
10:40 AM: ETA Pangilatan Peak
11:00 AM: Descend to Cantao-An
11:30 AM: Depart for Cogon, Naga City
12:00 PM: Cogon/start hike to Mount Naupa
01:00 PM: ETA Mount Naupa
01:30 PM: Lunch
03:30 PM: Start descend to Tungkop
05:00 PM: ETA Tungkop/ride jeepney to Naga City proper
05:30 PM: ETA Boardwalk
06:00 PM: Dinner at Jollibee
06:30 PM: Depart for Cebu City
08:00 PM: Home sweet home
Naga City Boardwalk may not be my cup of tea, but it did at least give me some sweet photographs and memories of our hike. Plus, it's, hand down, the best place to warm up as well as cool down following a scenic hike in this city. In other words, I'm glad that I included it in our Naga City itinerary.