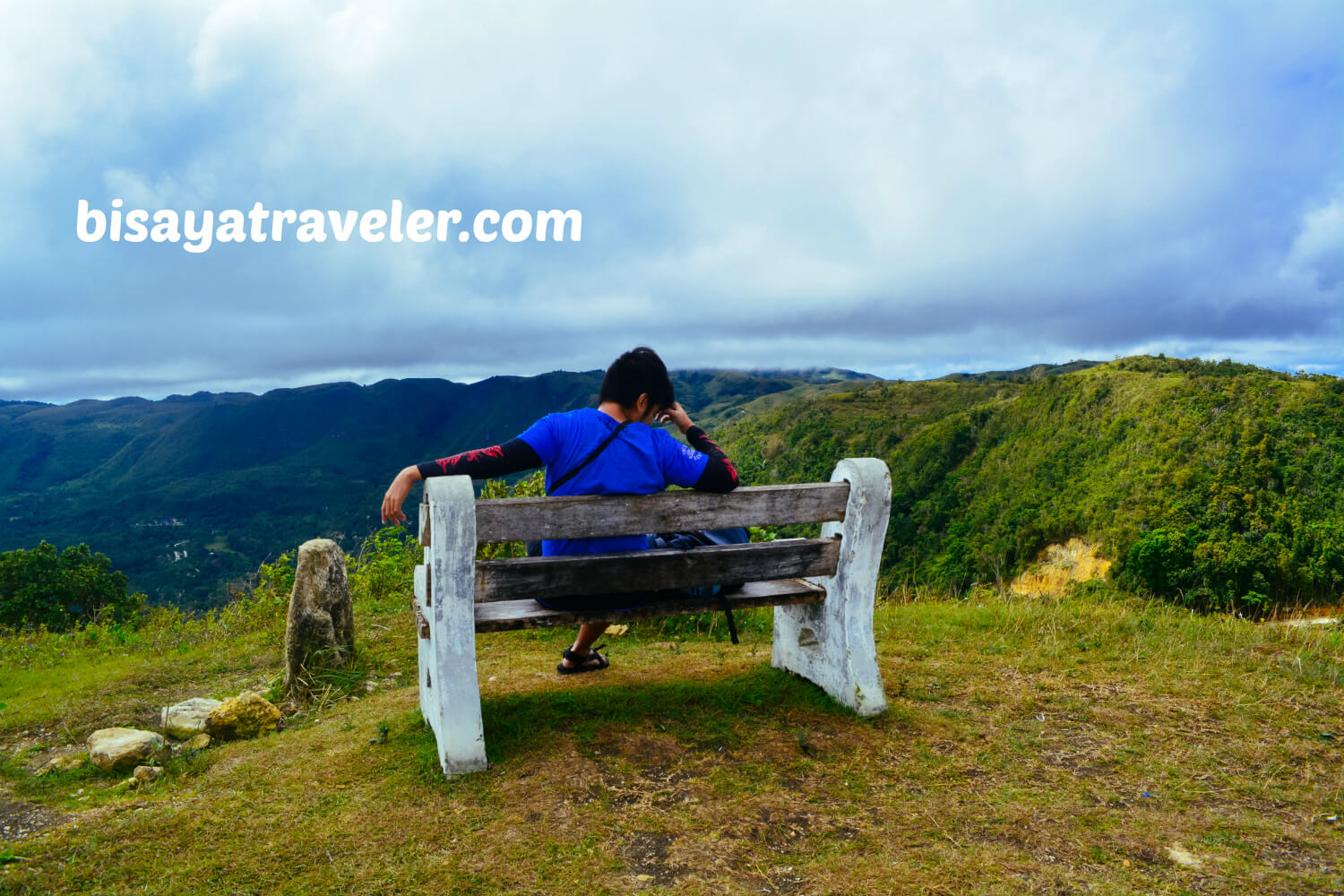 Ablayan Peak: An Enthralling And Windy Summit In Boljoon
Cebu, in spite of its rapid urbanization and burgeoning tourism, has plenty of surprises and hidden gems in store for the wide-eyed traveler. With a plethora of untouched islets and lush mountain ranges, there's surely still a lot of beauty and charms to discover within the province. Lately, I, together with the sprightly Team Bang, have been scouring information to catch some of Cebu's little-known treasures. And, one of our most recent discoveries is the windy and picturesque Ablayan Peak in Boljoon.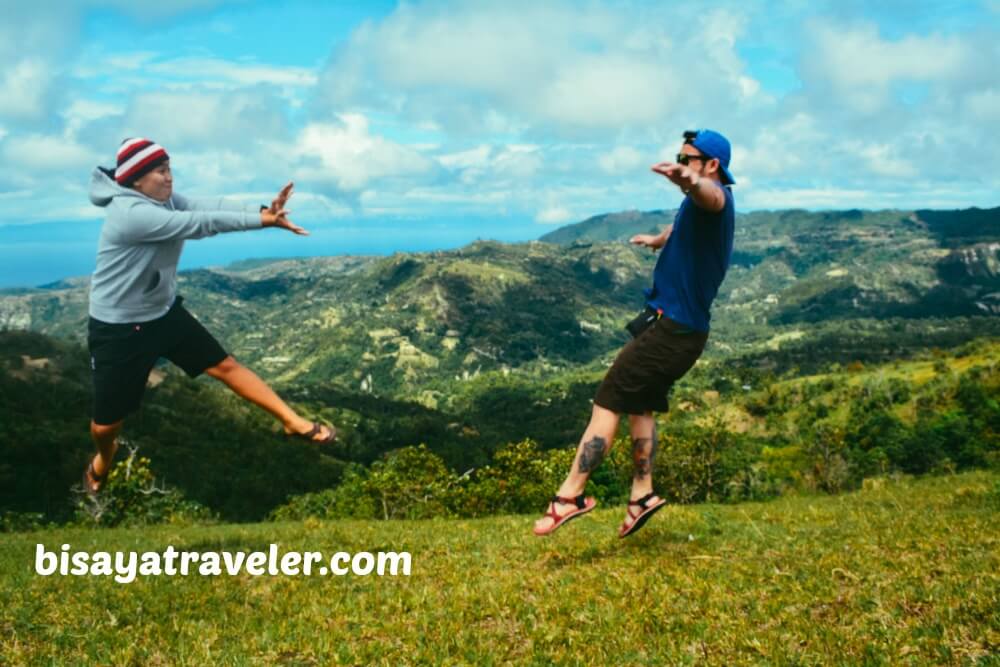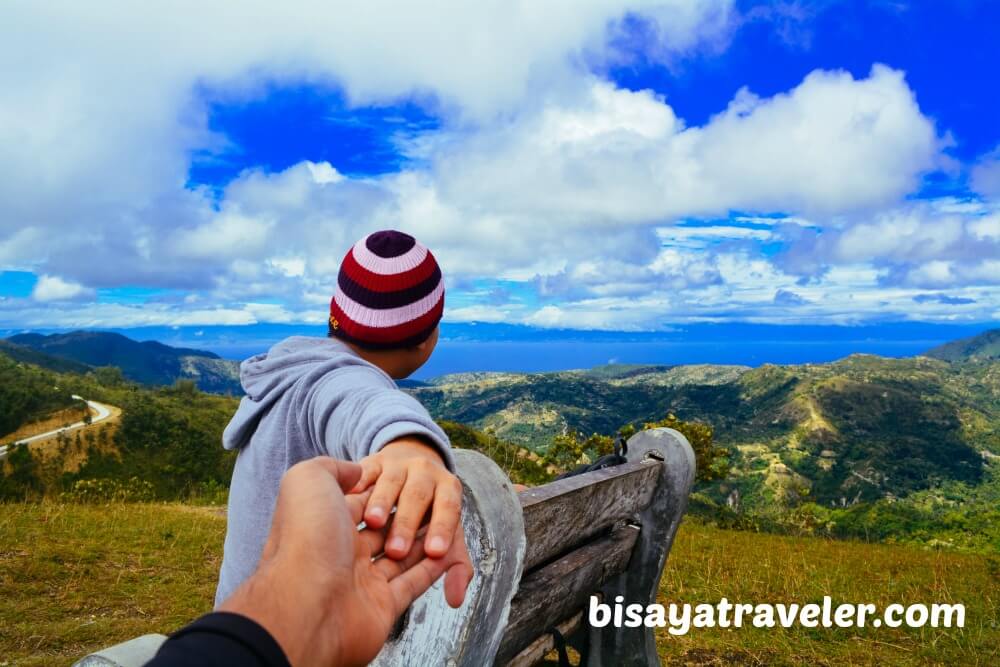 Our first attempt at Ablayan Peak
"Scenic", "lush" and "breezy" – these were the words used by the lechon manok vendors in Boljoon, as they were describing the beauty of Ablayan Peak. While people nowadays tend to exaggerate, I could somehow sense that these locals weren't making up stories. With enthusiasm and admiration, these town folks raved about the peak and its striking views. And thanks to their sweet talk and tips, we, as a team, decided to squeeze in Ablyan Peak in our Boljoon-Oslob itinerary.
Nobody on our clique – Team Bang – had a clue of what Abalyan Peak looks like. But guess what? We were all willing to gamble and even cut short our stay on Sumilon Island, Oslob for a glimpse of this mountain.
But, unfortunately for us, time wasn't on our side. Despite blitzing through the highway, we still arrived late in Boljoon (around 5:00 PM). And ultimately, we were forced to cancel our quick visit to the highlands of Boljoon.
But, a passionate and savvy traveler will always find a way to reach his dream destinations. A couple of weeks later, I and 5 other members of Team Bang – Ace, Noel, Romy, Sherlyn and Gelique – went back to Boljoon, to catch this less-explored hidden gem. This time, we had plenty of time to experience the natural beauty of this place.
Our Ablayan Peak experience
After an unusually long bus-ride from Cebu City South Bus Terminal, we arrived at the Boljoon market bus stop at around 9:30 AM. Upon our arrival, we went straight to the lechon manok vendors who introduced us to Ablayan Peak. Not surprisingly, they still remember us and how pumped up were to reach the peak.
And since we love their tasty and juicy chicken, we bought a couple from them, together with over a dozen of pieces of hanging rice.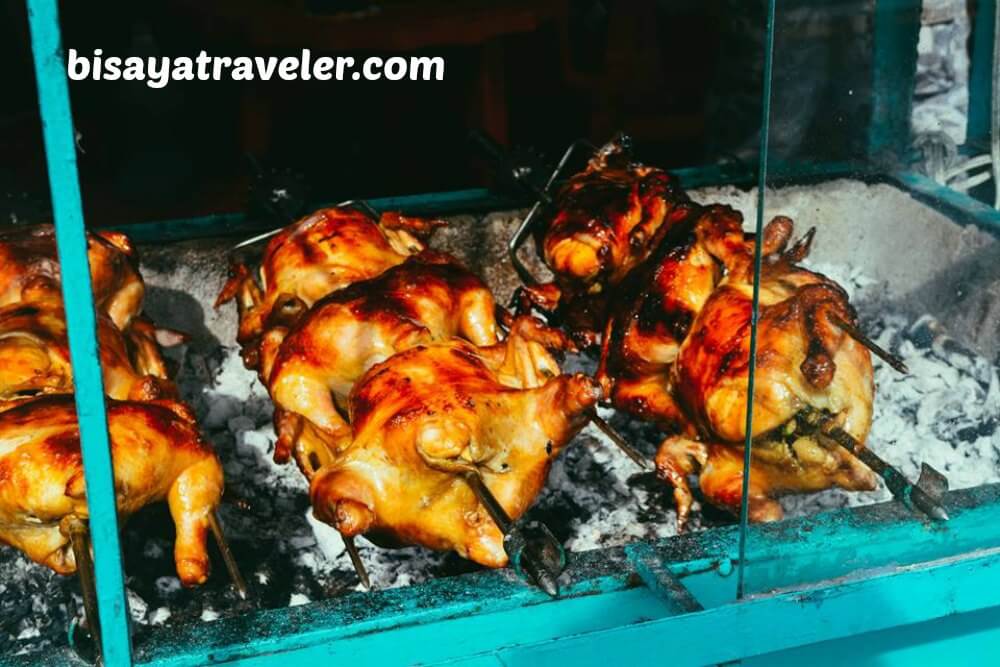 Boss Peding (whom we contacted a day prior to our trip) and two other habal-habal drivers were there, to take us to Barangay Upper Becerril – the location of the peak. Without wasting any time, we hopped on the motorbikes, so we can finally set foot on this summit in Boljoon.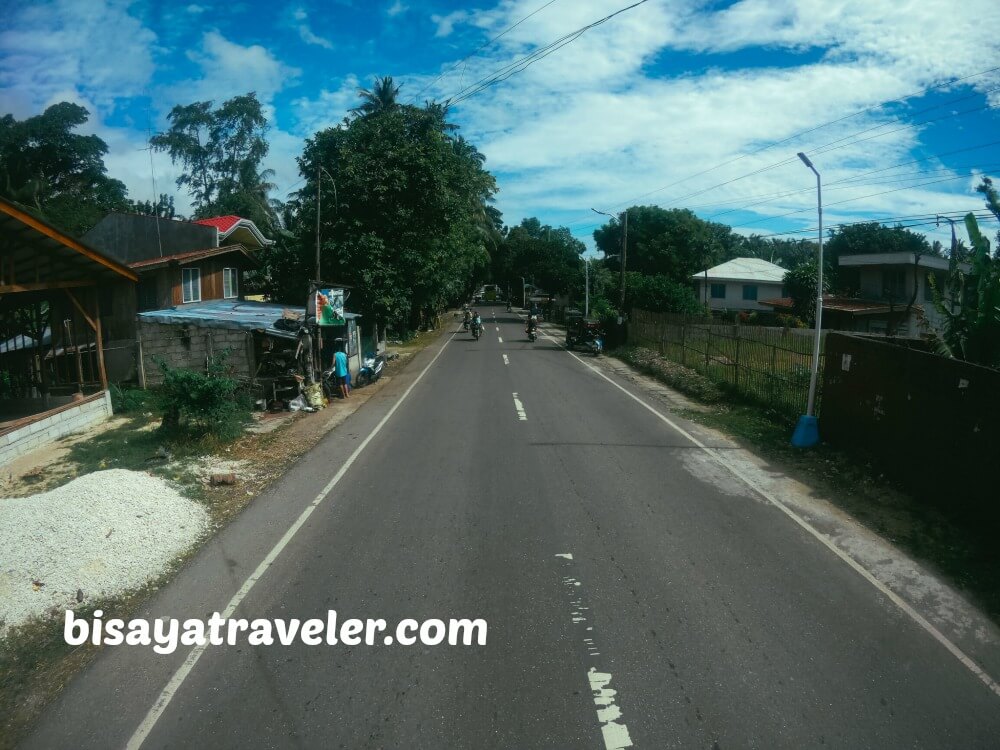 I did, of course, enjoy every minute of our road trip to Ablayan Peak. From breathtaking overlooking views to towering pine trees, there was literally a beautiful sight at almost every turn, along the way.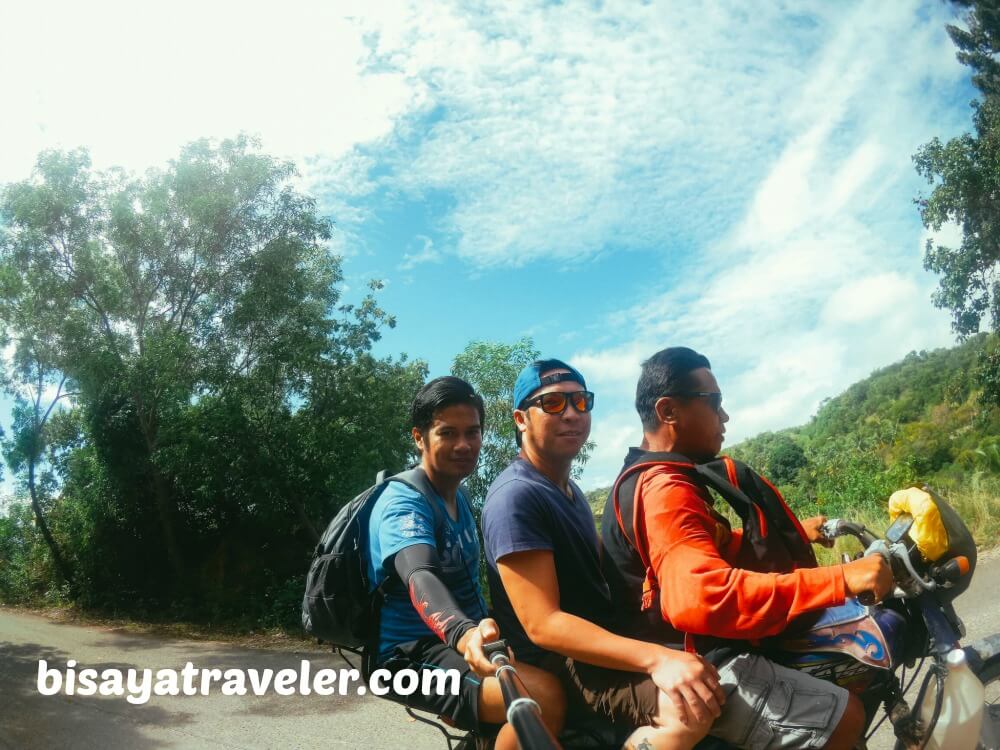 Although the road has some rough patches, it wasn't as steep and as bumpy as to the ones leading to the jump-off points to Mount Mago and Candongao Peak. In my book, our road trip epitomizes this Sunday trip in Boljoon with Team Bang – relaxing and sweet.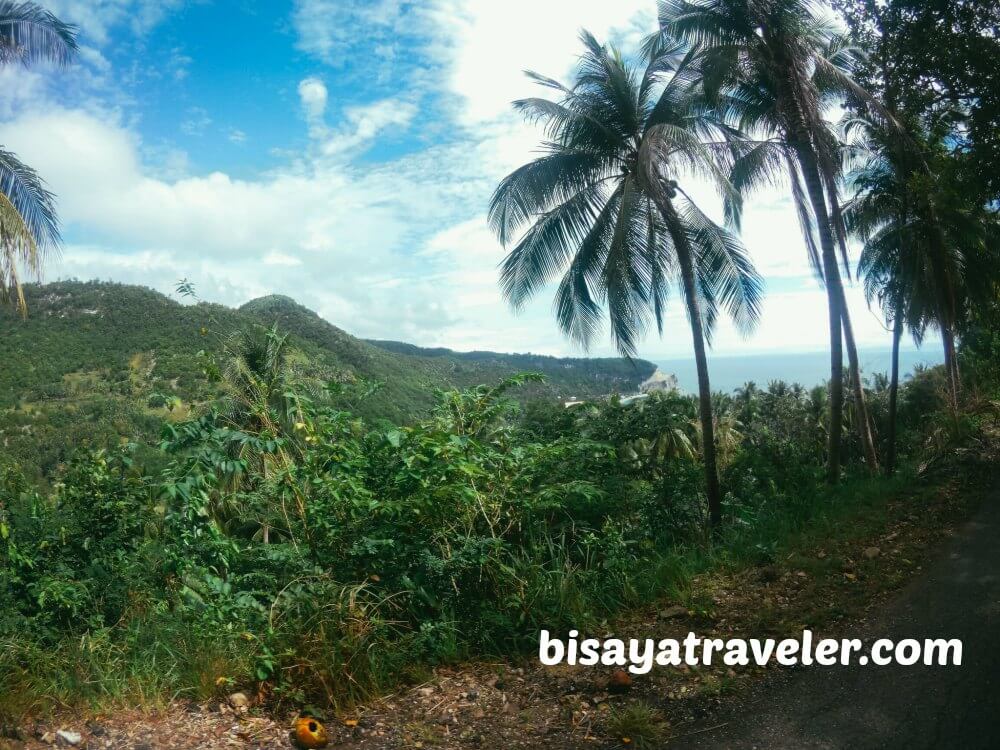 Eventually, we arrived at the peak, where we were greeted with a ton of beautiful panoramas and refreshing, fresh mountain air. And, yes, Ablayan Peak is just as beautiful as what the locals are saying (or even better).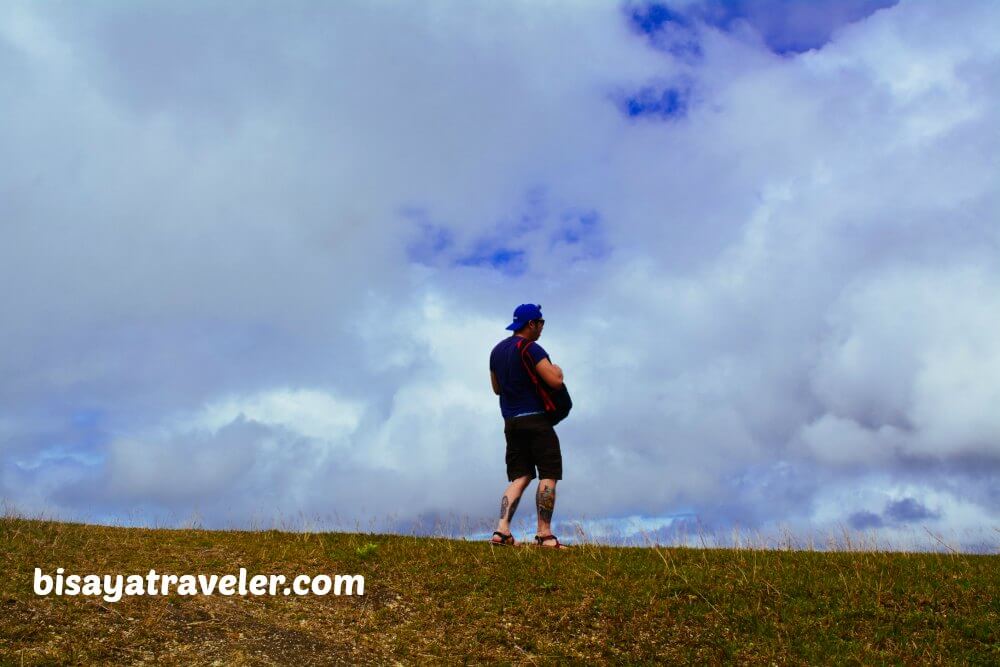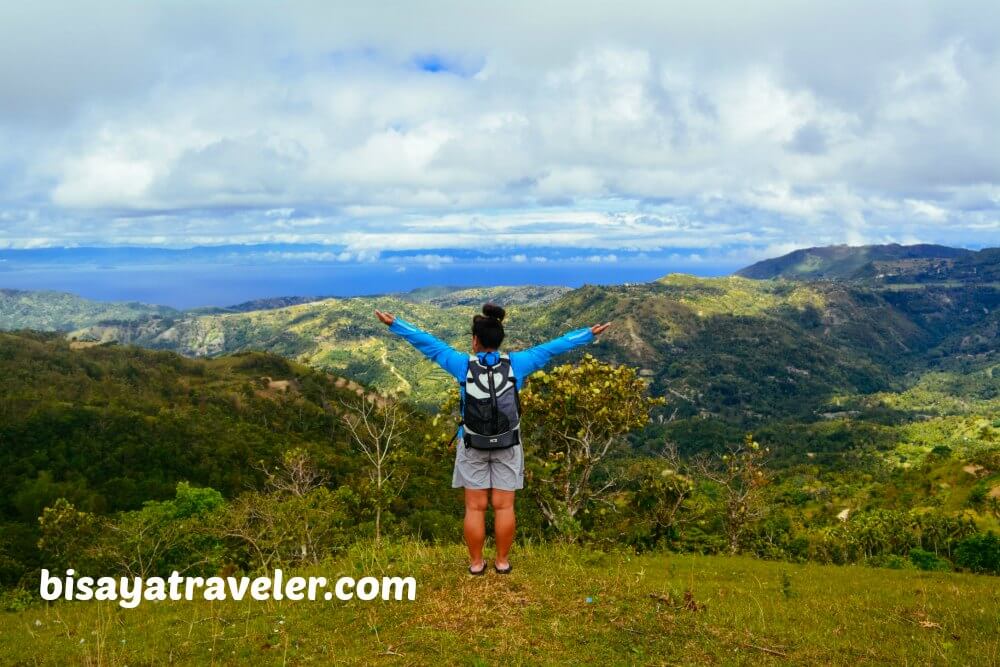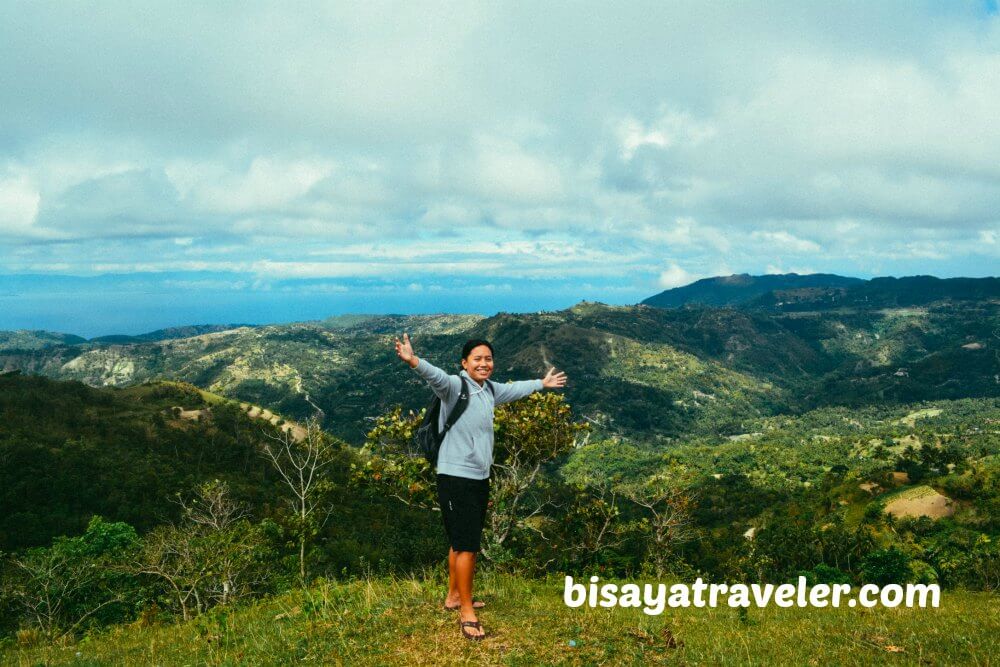 As we were making our way to the top, we saw 4 rustic benches that further enhanced the aesthetic appeal of the place. As far as I can remember, it was Noel who told me that these benches were originally from Boljoon Church, and transported to Ablayan Peak, a long time ago.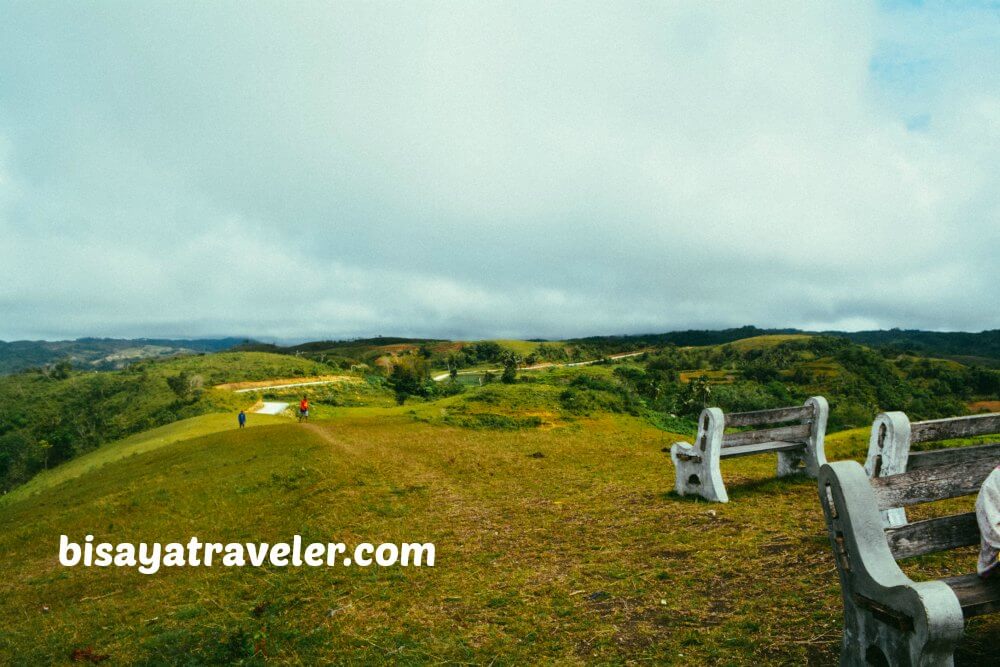 I guess that's why these benches look pretty familiar.
There was a young child and a kind Lola, sitting on a bench talking on the phone, upon our arrival on the peak. Personally, I think they were there not only to get a good network reception, but also to soak in the scenery and fresh mountain breeze.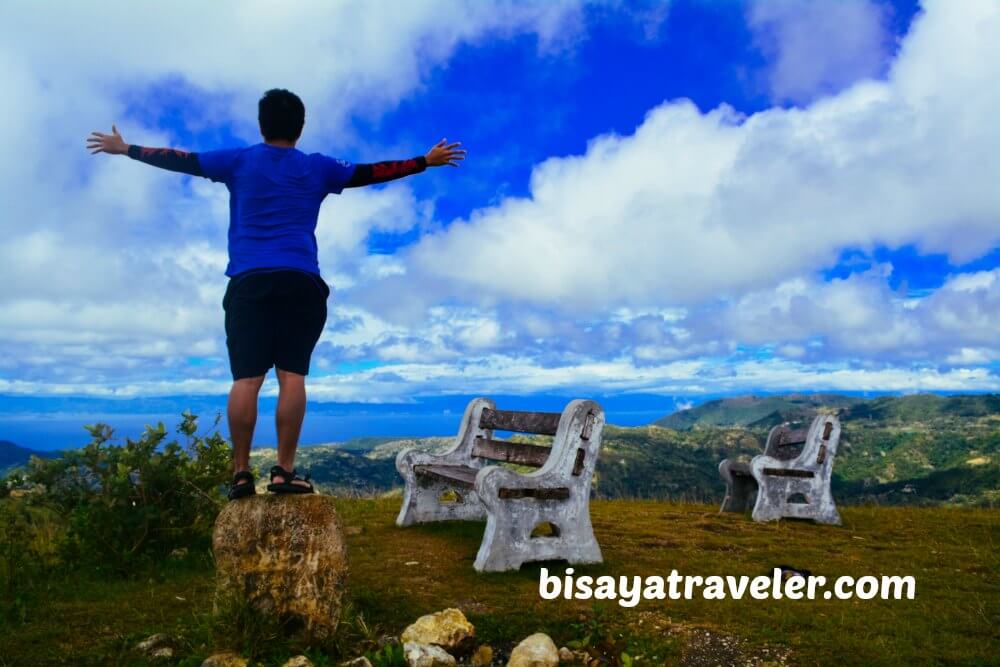 I was simply on cloud nine and utterly amazed by the beauty of this place. And, with its relaxing feel and awe-inspiring panoramas of Negros, Siquijor and Bohol, Ablayan Peak has, in an instant, become one of my favorite peaks in Cebu.
It's verdant and amazing scenery were just hard to resist, unleashing my inner photography junkie. I'm not a pro photographer, by any means, but I did enjoy snapping pictures of Ablayan Peak.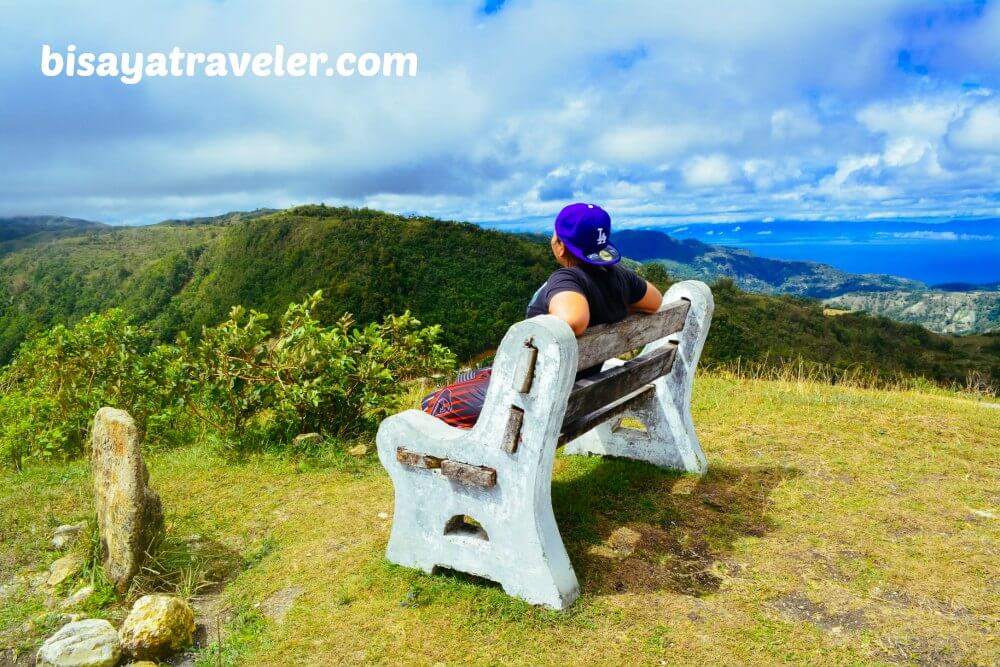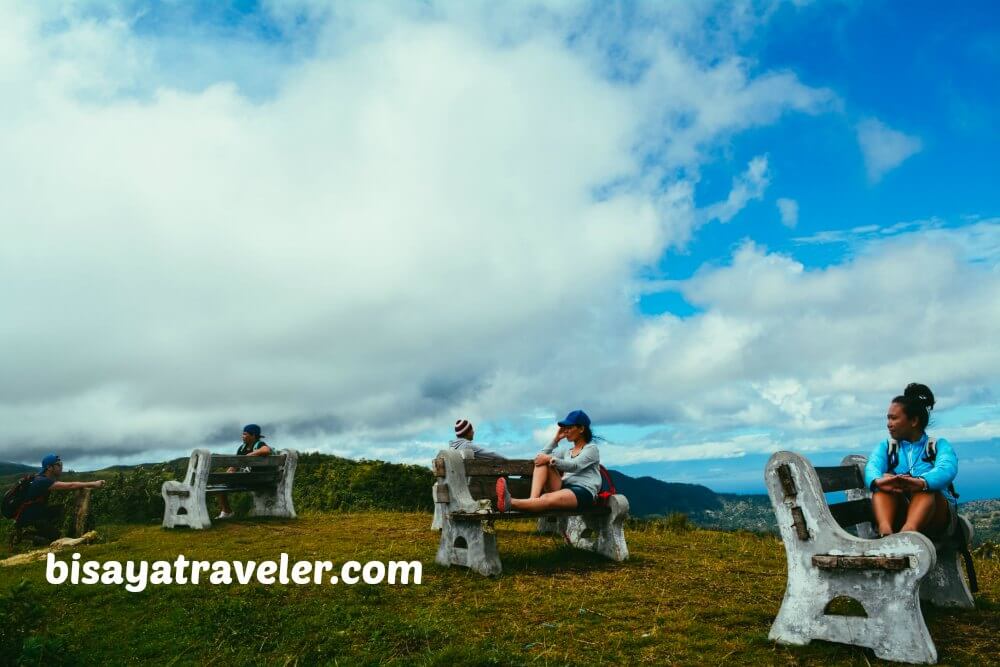 And, the rest of the team couldn't hide their excitement either, with all of us striking our trademark poses.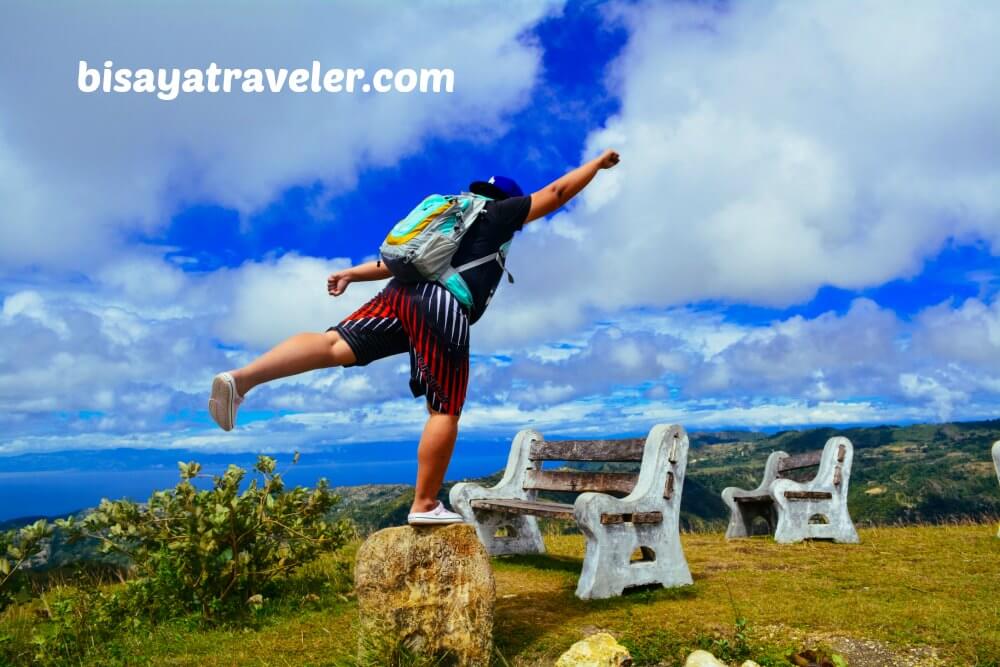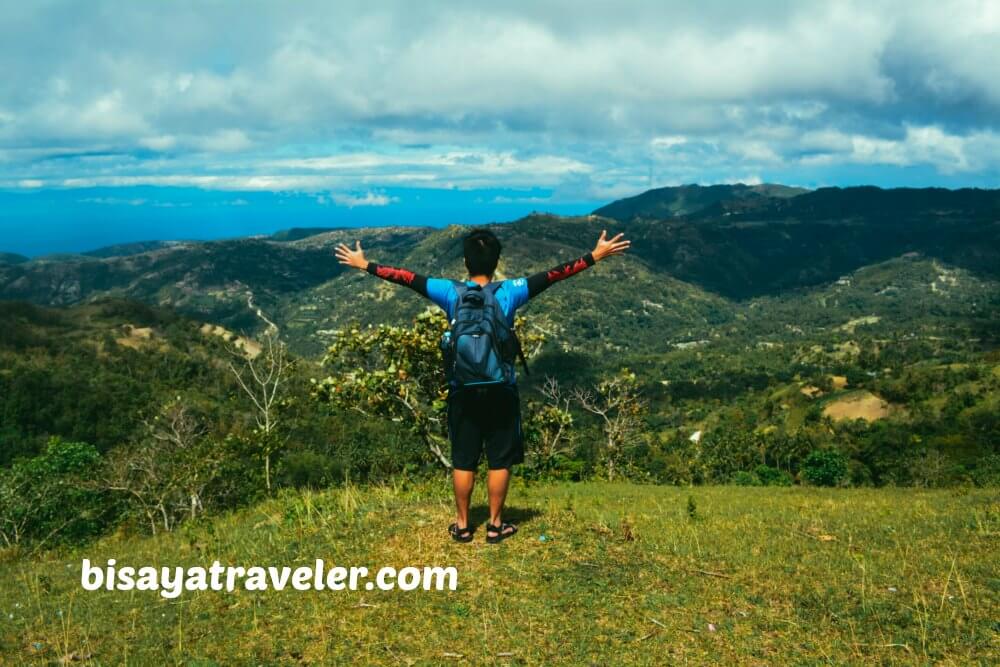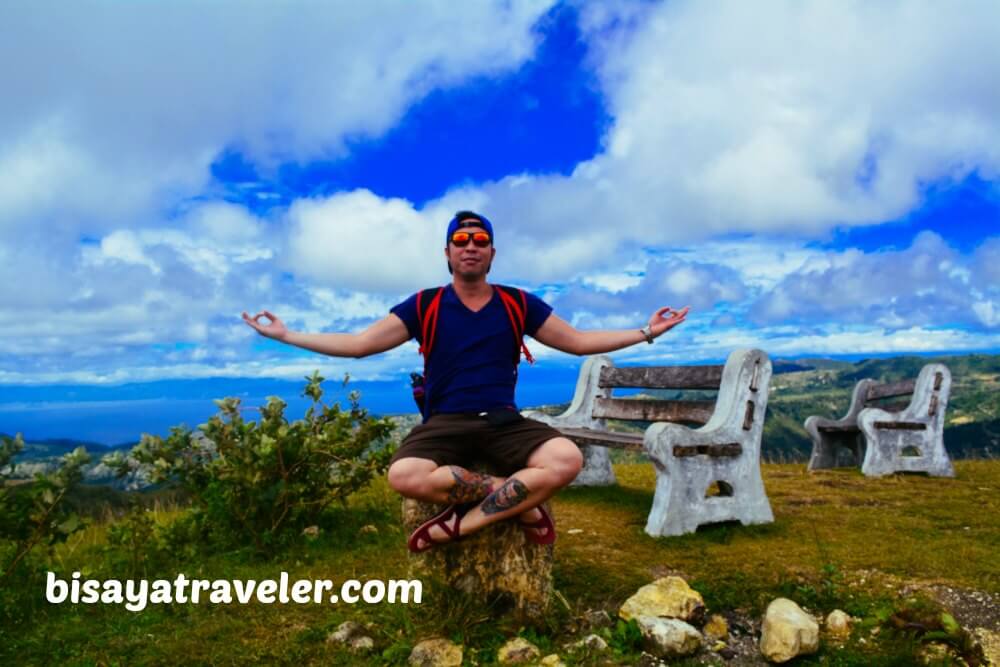 Kevin and Wilfred weren't around, but we did our best impressions of this dynamic duo.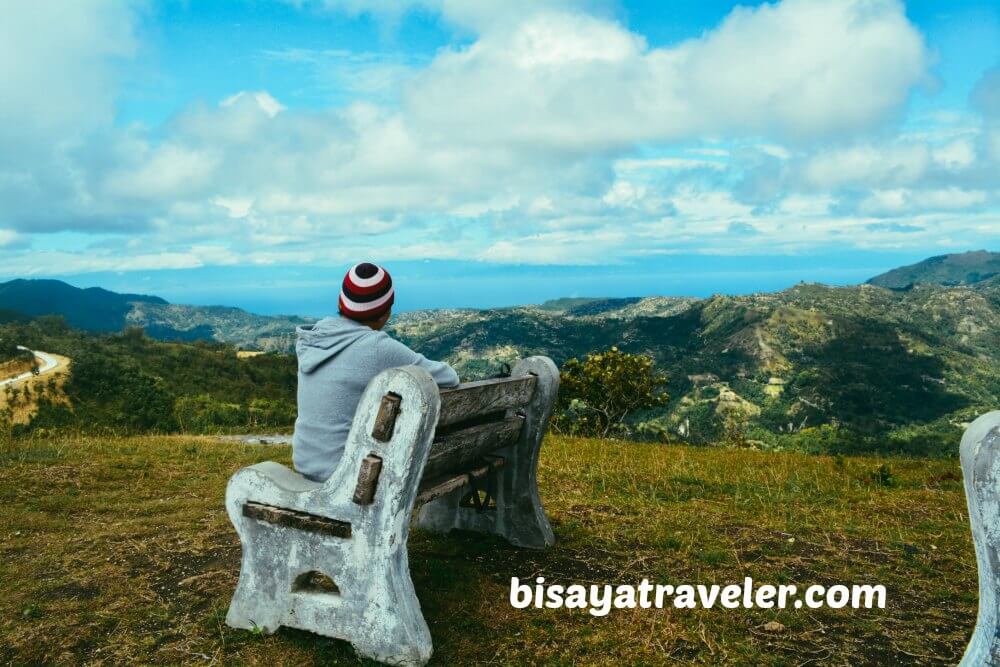 We did snap tons of wacky photos on the summit, choreographed by Ace and Noel.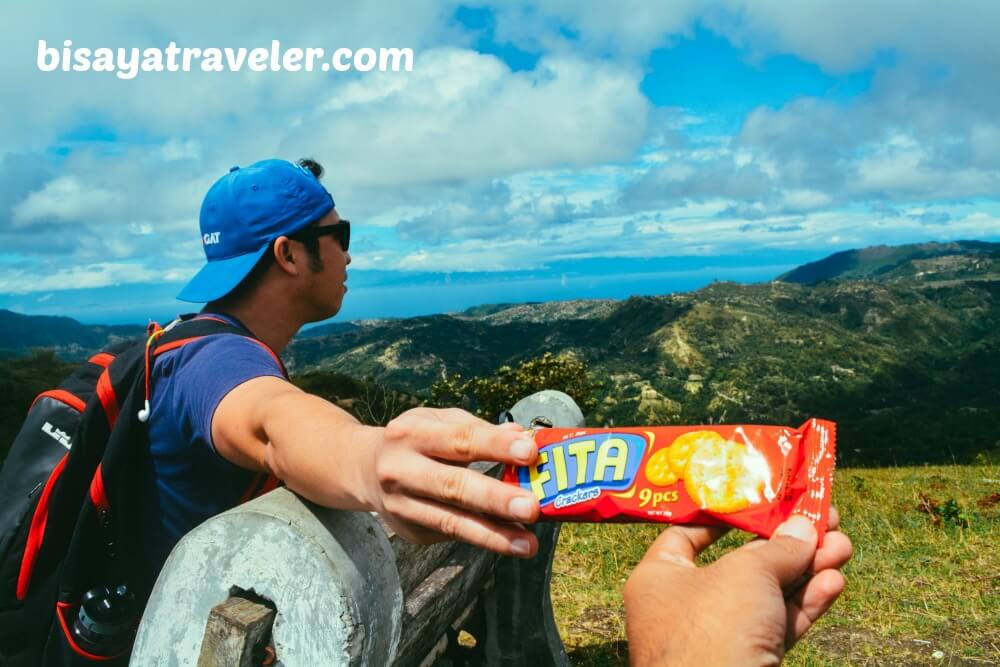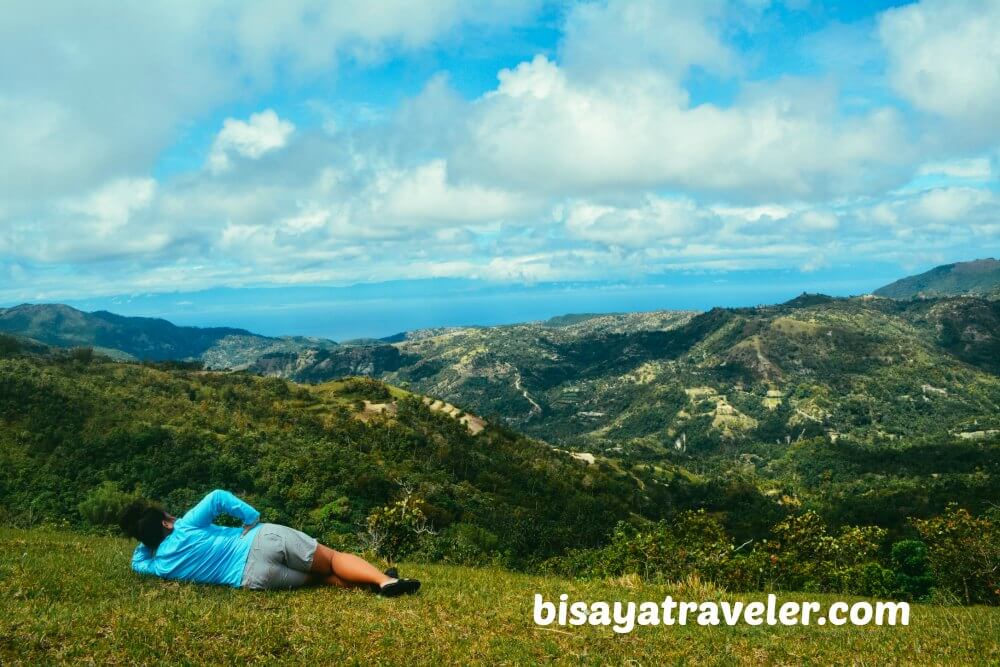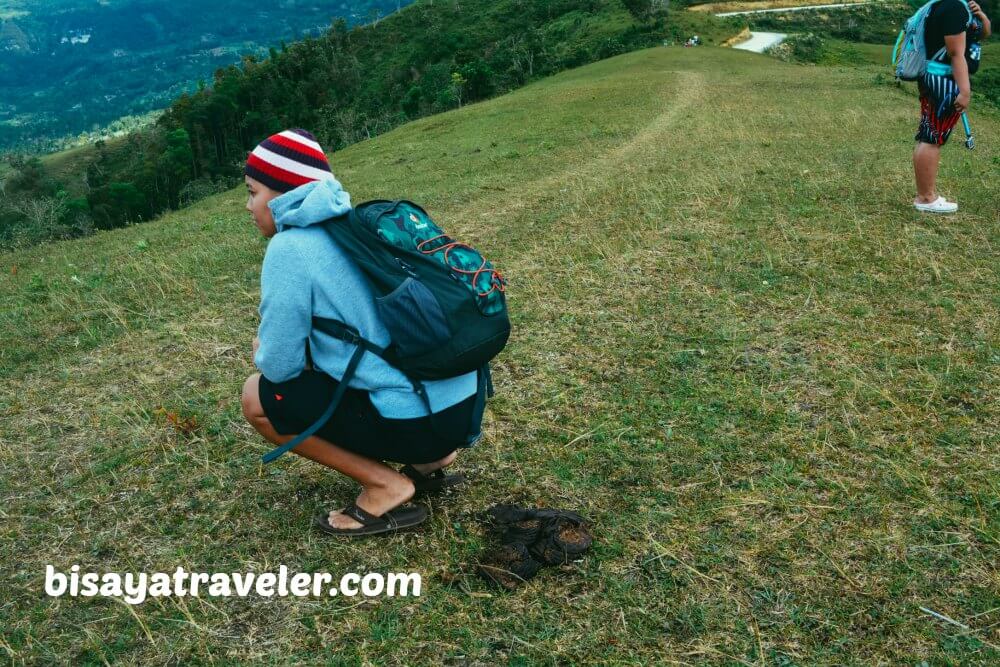 There's also a photo that somewhat depicts a love triangle story.
And then, they added a unique twist to this story. Quite a crazy bunch, right?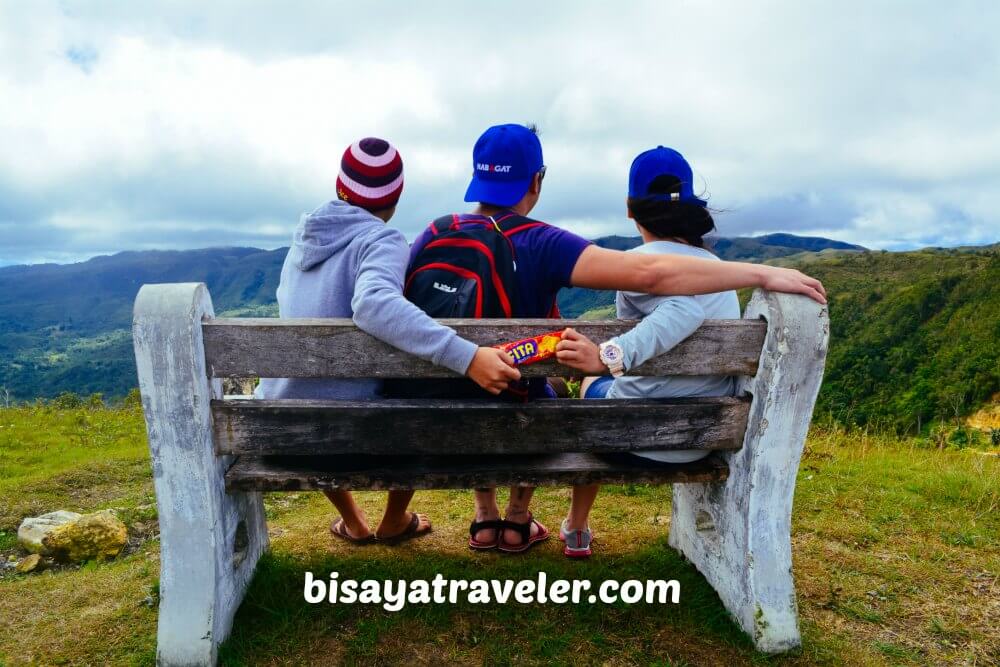 As we were unwinding and taking in the views, Romy told us that Ablayan Peak is a terrific spot to pitch a tent and camp. As a matter of fact, we were planning to go back to this verdant and breezy spot, to camp with the rest of Team Bang.
After enjoying the ambiance and snapping dozens of photos, we did some hiking and exploration around the area. Luckily, we bumped into some awesome surprises and sights, including plantations for carrots and tomatoes.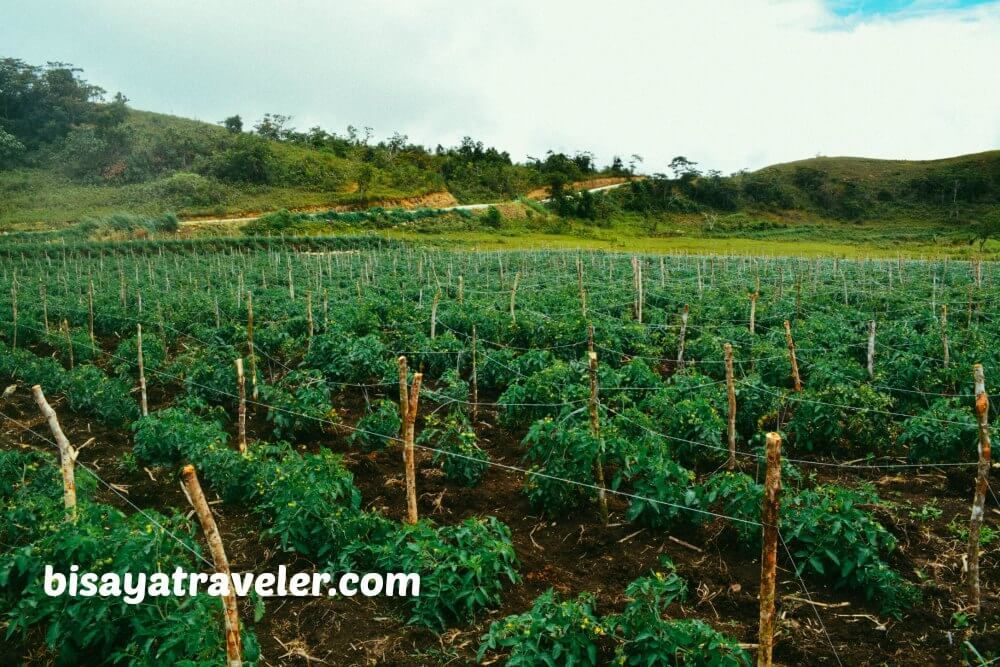 There was even a striking stallion on one of the surrounding hills. But, I didn't get an up close picture of it because he was staring a bit maliciously at me. I haven't been kicked by a horse, and it certainly isn't on top of my bucket list.
With our wanderlust appeased and spirits replenished, we went back to the motorbikes, to get to our next stop – Dayhag Falls. Then, we capped off our day with a swim at Cangcuay, Private Beach in Oslob.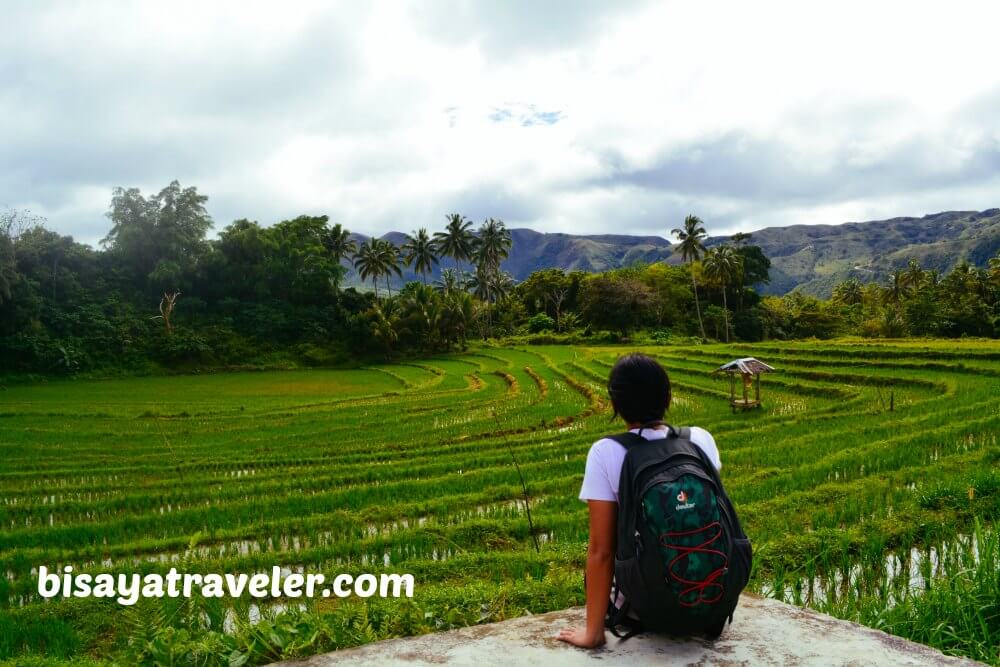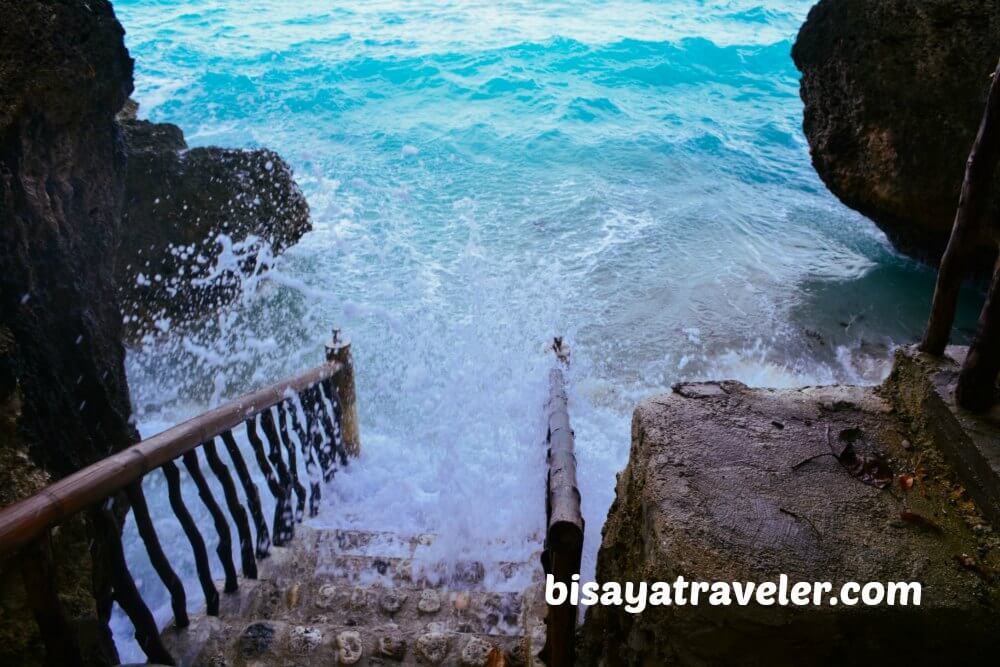 Our Boljoon-Oslob Itinerary:
05:30 AM: Meet-up at South Bus Terminal
06:30 AM: Depart from Cebu city
09:30 AM: ETA Boljoon Bus Stop/ Depart for Ablayan Peak
10:15 AM: ETA Abalyan Peak/ picture taking
11:25 AM: Depart from Ablayan Peak
11:45 AM: Arrival at Day-as Falls/Lunch
12:30 PM: Swimming at Dayhag Falls
01:45 PM: Picture taking at nearby rice paddies
02:20 PM: Depart from Dayhag falls
03:00 PM: Arrival at Boljoon Market/Depart for Oslob
03:30 PM: Arrival at Cangcuay, Private Beach
04:00 PM: Chilling at Cangcuay, Private Beach
05:30 PM: Depart from Oslob
08:30 PM: Home sweet home
Cost breakdown for the day:
Bus fare to Boljoon: PHP 146 person
Lunch: PHP 65 per person
Habal-habal ride (back-and-forth with waiting time as well as stops to Dayhag Falls and nearby spots): PHP 500 per motorcycle (can fit in 4 people, and practically a whole day rental), or PHP 167 or 250 per person
Entrance fee to Dayhag Falls: PHP 20
Fare to Oslob from Boljoon: PHP 30
Entrance fee to Cangcuay, Private Beach: PHP 120
Bus fare to Cebu City from Oslob: PHP 170
Important Notes:
Bring water and snacks.
You may also bring your own lunch if you want to save money.
Practice the Leave No Trace principles.
You may contact Peding (our official habal-habal driver of the day) at 0932 658 3074
Ablayan Peak is a great place to camp.
Spend some time there, just admiring the beauty of Mother Nature.
Ablayan Peak, as of now, can be accessed for free.