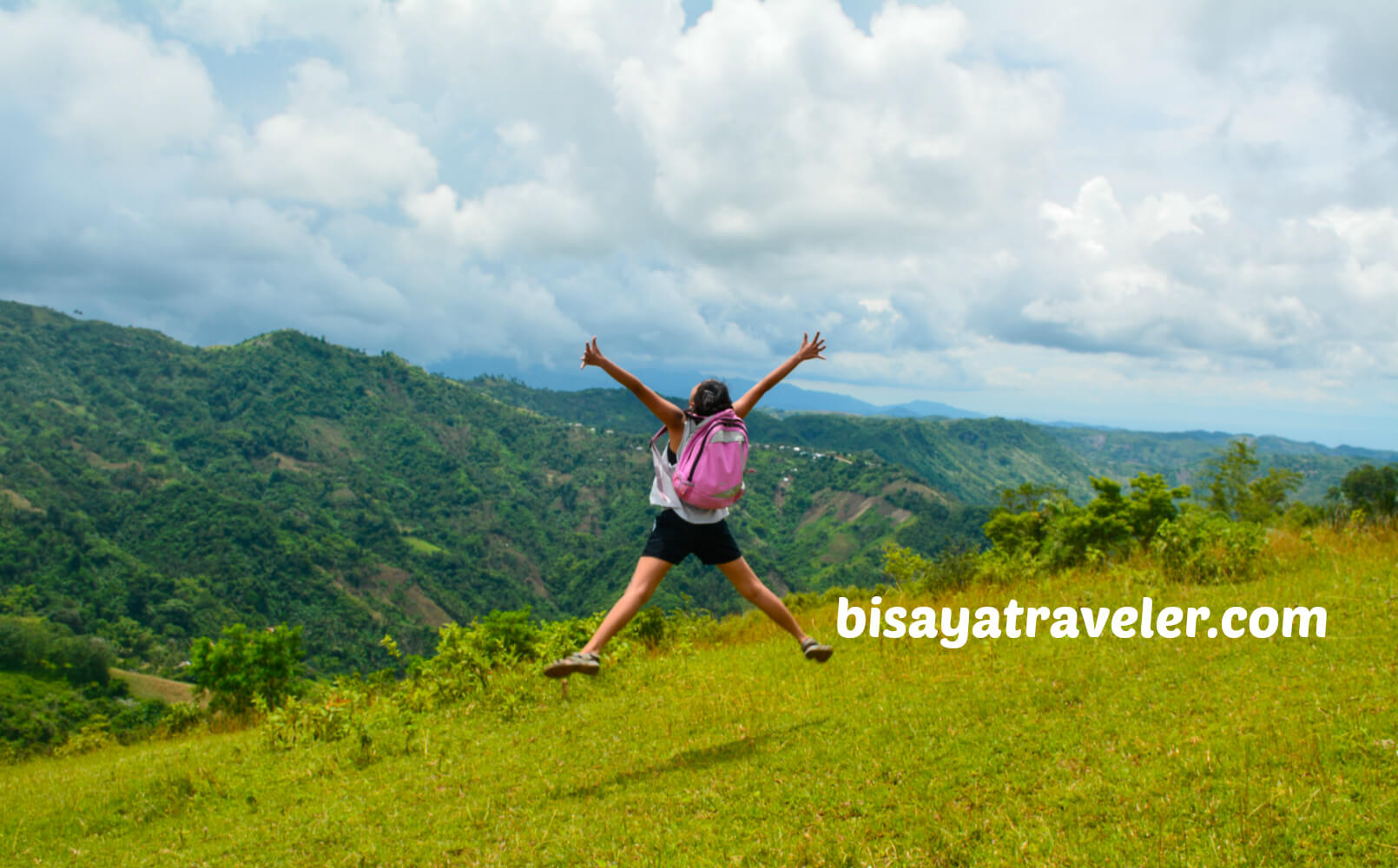 Mount Mago: A Laid-Back Boundary Climb With Team Bang
People climb mountains for many different reasons. Some hit the trails to quench their thirst for adventure, while others explore the wilderness to find inner peace as well as escape their bustling daily grind. Of course, there are also those who go on hiking expeditions for the sake of having eye-catching IG snaps. Personally, I enjoy hiking because it's comforting, empowering, sweat-inducing and a great way to meet friends. And in my recent trip in Mount Mago with Team Bang (my charming hiking buddies), I was very fortunate to experience all the qualities and hallmarks of my ideal hike.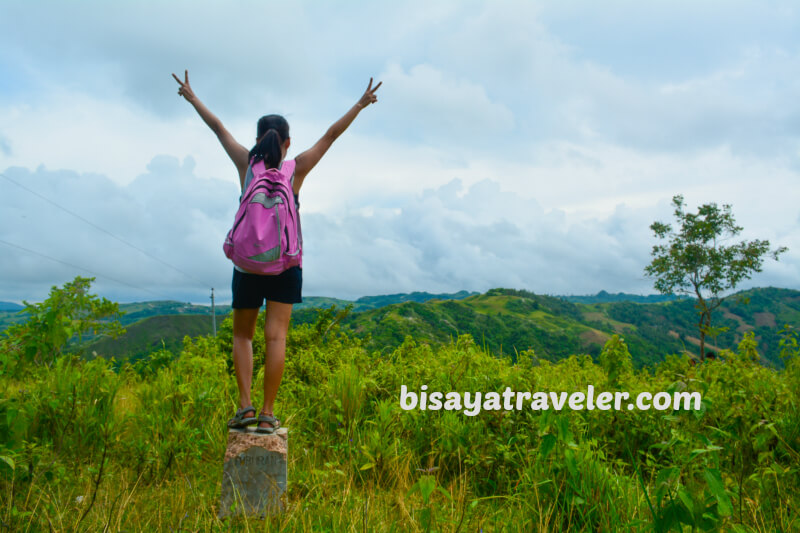 Our Mount Mago experience
Our Mount Mago adventure started with a rendezvous in Cebu's North Bus Terminal. Except for Nikki and Reynolds, all of the previous Team Bang members residing in Cebu were present for this hike – Kevin, Wilfred, Sheng, Donna, Christine and Sheng. To make things even better, we were joined by three new members of the team, namely Romelyn, Eunice (or also known as Ace), and Ren.
Once the short introductions in the terminal were done, we took a bus headed for Bogo. About an hour later, we arrived at our destination, Carmen's public market. Then, we took a short walk to Metro Gaisano to buy energy-boosting snacks as well as to meet up with Donna and her friend, Nica.
With everyone in Team Bang geared up for the Mount Mago day hike, we wasted no time, and took a long and bumpy 1-hour habal-habal ride to Barangay Santican, Carmen – the jump off point to Mount Mago hikes. While the ride was a little painful on the back, we were at least treated to astonishing views of Carmen's flourishing and green landscapes.
In addition, we saw a ton of healthy and gorgeous animals, including cows, stallions and towering thoroughbreds from the M Lhuillier Farm. Ultimately, we made a quick stop in a very picturesque area of the road to Barangay Santican, for photo ops.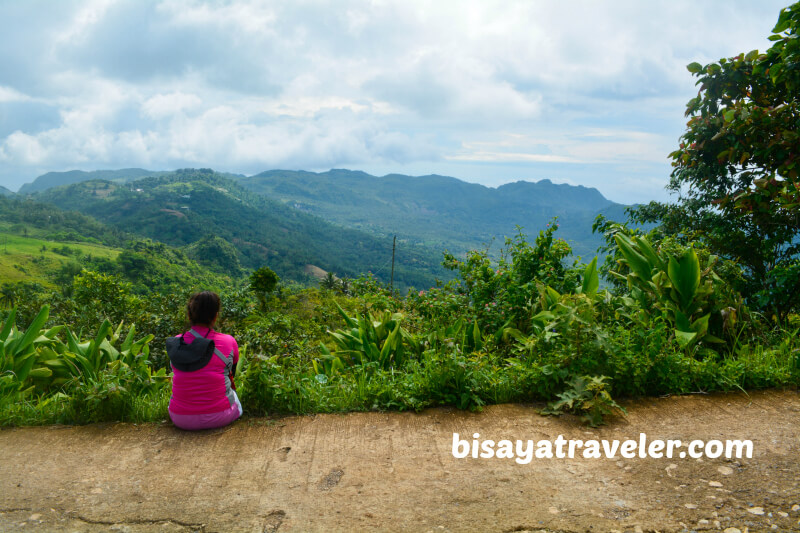 As you can see, we had quite a swell time, admiring the sights in this part of Carmen.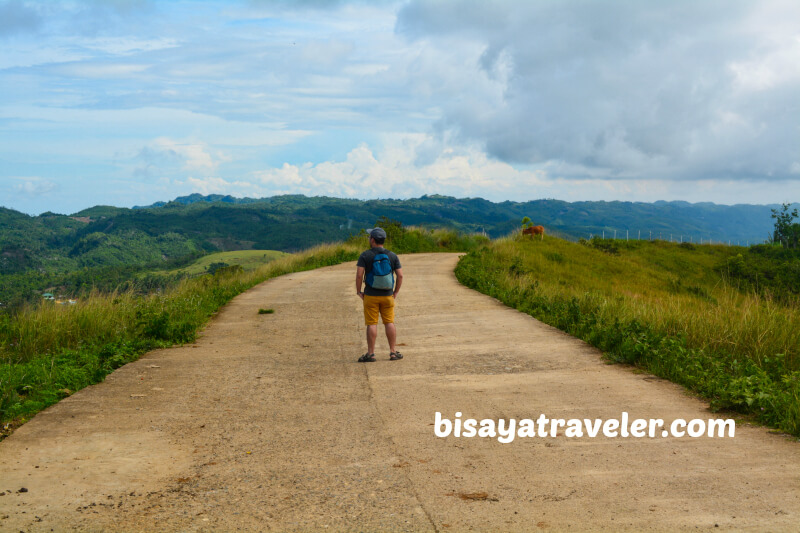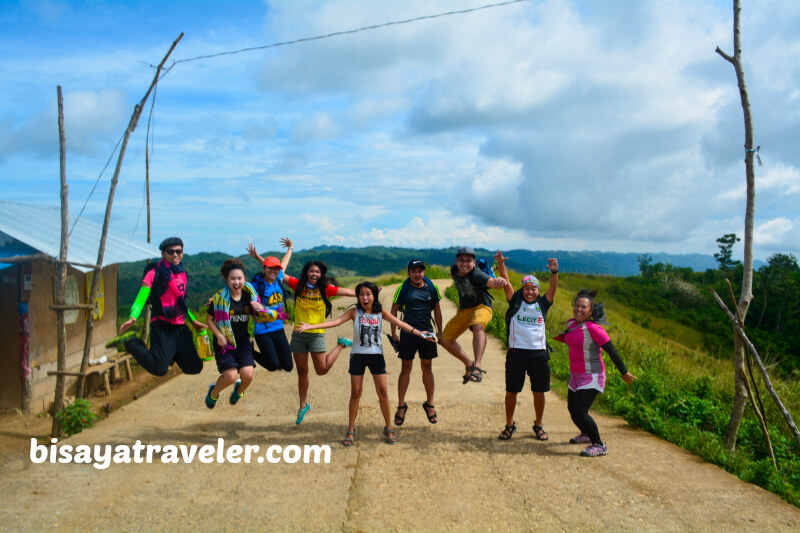 As soon as we reached Barangay Santican, we asked the locals for directions to the barangay hall, so we can register our names on their logbook. The barangay hall was close upon our arrival, but luckily for us, there was a local official who assisted us.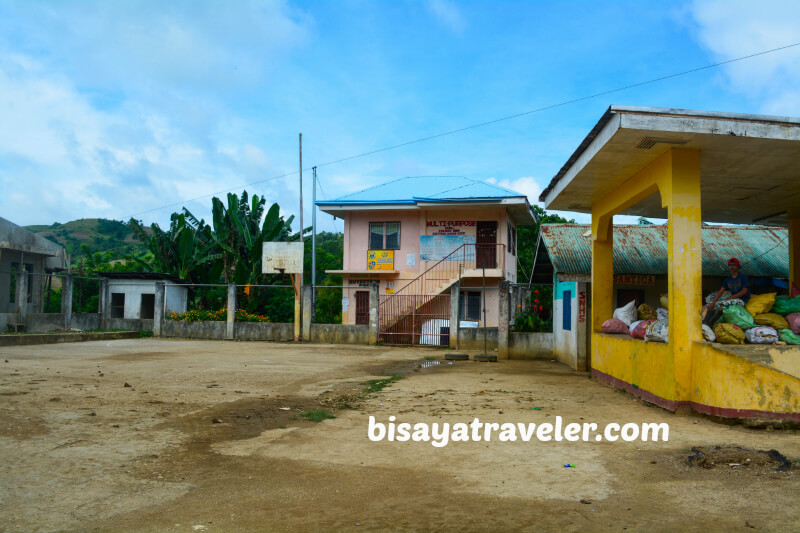 As we were listing down our names, there was a sweet and smart brown dog that approached and greeted us. Later on, the barangay official introduced us to a trio of perky yet shy youngsters who showed us the way to Mount Mago.
As with most day hikes, we made a short prayer, before we began shuffling our feet to the trail.
Along the way, we passed by a few grasslands, rocky dirt slopes and cornfields. There are a few a challenging parts on the first part of the trail, but all of them were fairly manageable.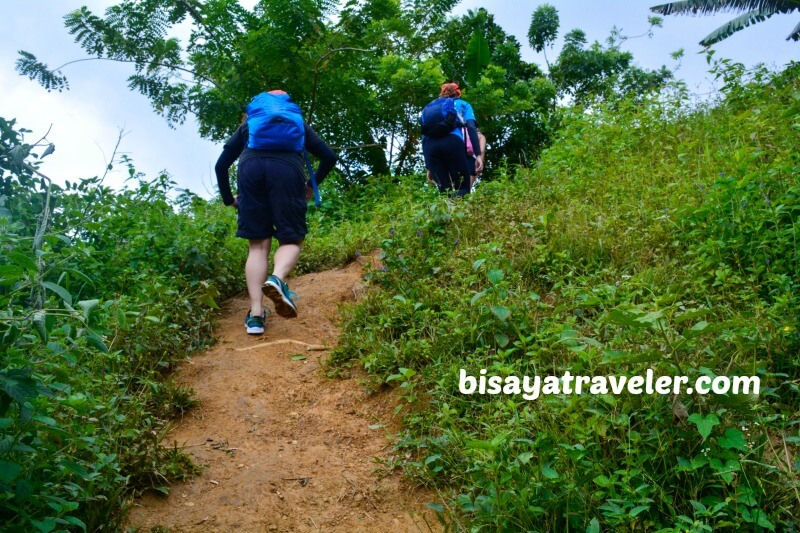 After a few minutes of hiking, we take a short breather to catch our breath and recuperate a bit.
While we're taking a break, I noticed an amicable brown dog following us. Our young guide told us that he was the same dog whom we met in the starting point. As he shared more stories about their pet, I also realized their dog is quite a hiker since he follows them whenever they head to Mount Mago.
We resumed our day hike, and walked until we landed on this beautiful spot. Since we weren't on a rush, and we were hiking for fun, we spent a lot of time enjoying the views and snapping photos of this place. We even had a couple of group photos with different poses and angles.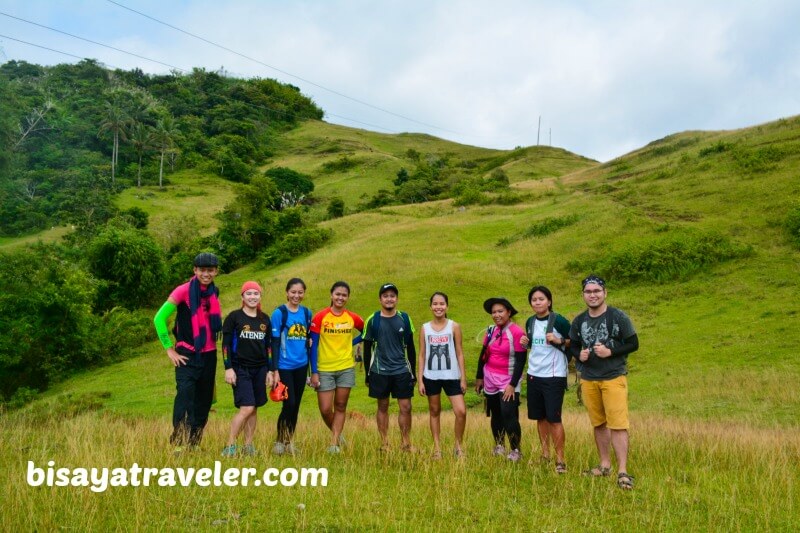 The guides, although they weren't really tired, rested for a while, as we were soaking up the scenery. Afterwards, we took ascended a hill, and from there, we took a few more photos. And just like the rest of Team Bang, our friendly canine companion also made a dramatic pose.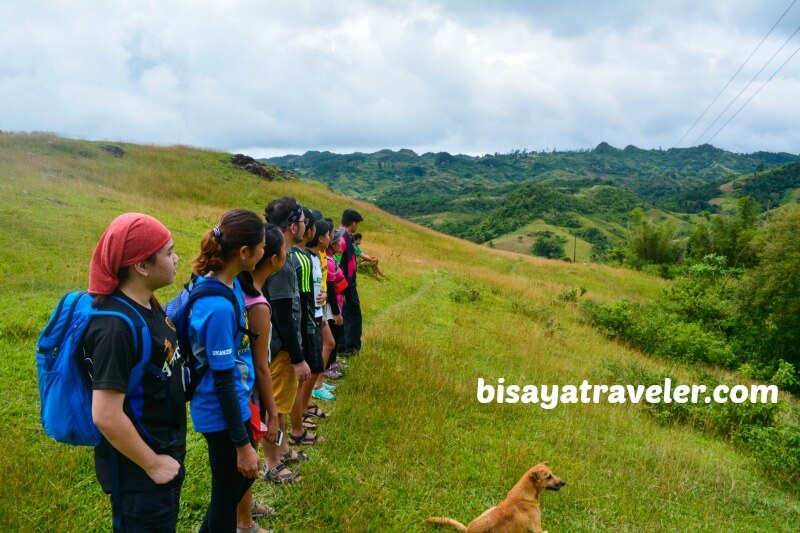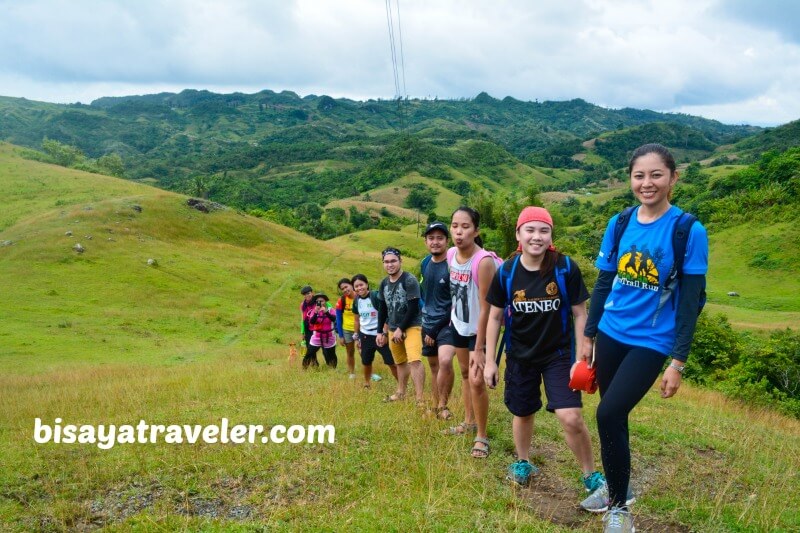 Eventually, we bumped into a cluster of healthy, beautiful and amiable animals, including carabaos, goats and even horses. What's more, we treated to awe-inspiring mountain views and fresh mountain air.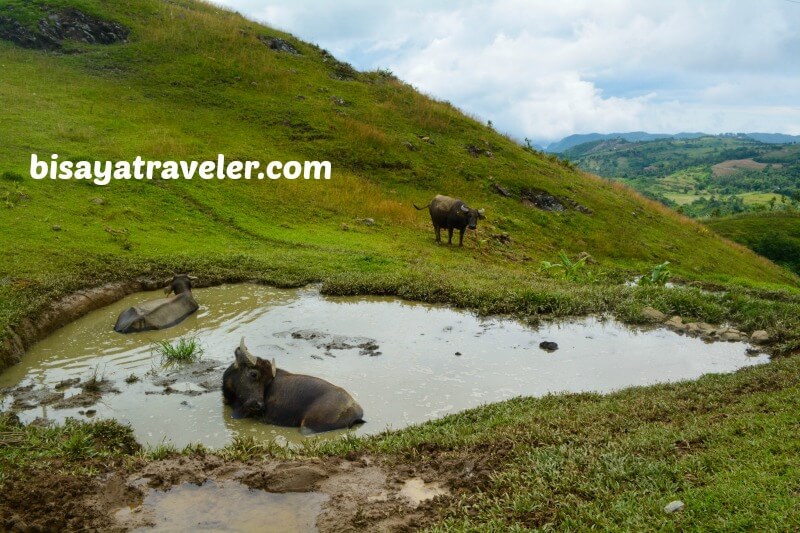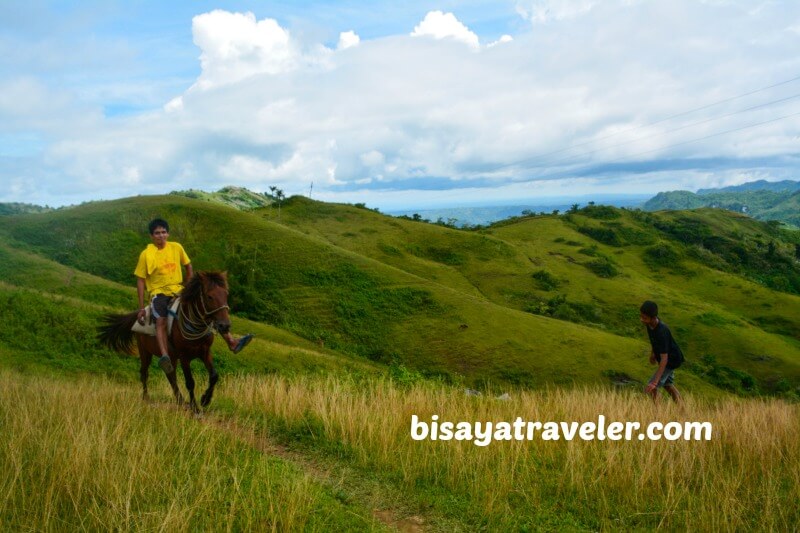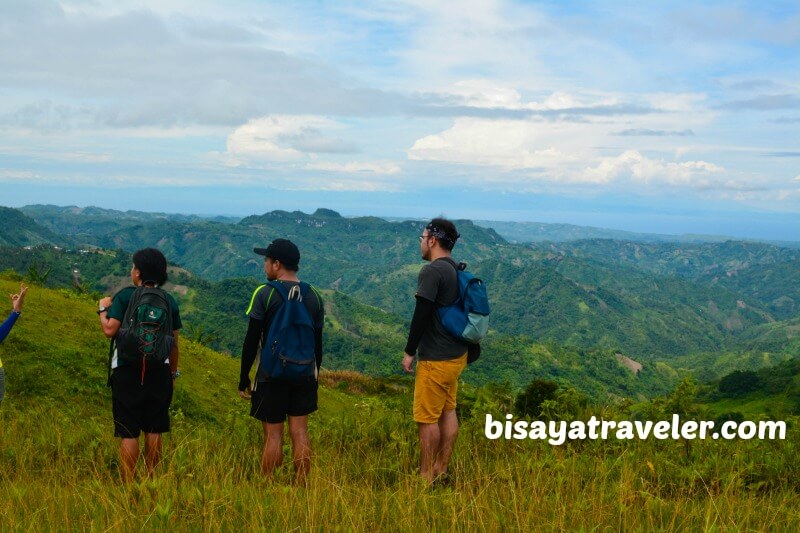 Despite the mesmerizing panoramas, almost everyone in the ground felt their stomach grumble. Upon Sheng's recommendations, we went on with our hike to find a shady place where we can eat our snacks. We didn't find any good and shady spot to relax, so we just marched on, and took photos, whenever we saw a nice panorama.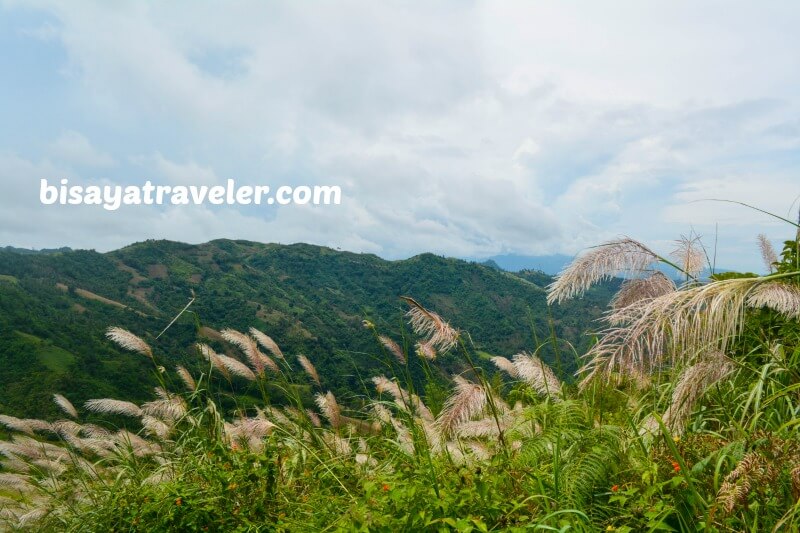 At last, we found a nice little tree for a short layover. On our way to the tree, Eunice said that she was enjoying our Mount Mago hike in spades. Like me, it was the kind of hike that she wants – extremely laid-back and full of laughter and smiles. Although we had an itinerary, we were taking our time, living in moment, and enjoying each other's company. There was no bossy figure around too, making our hike feel even more youthful and fun.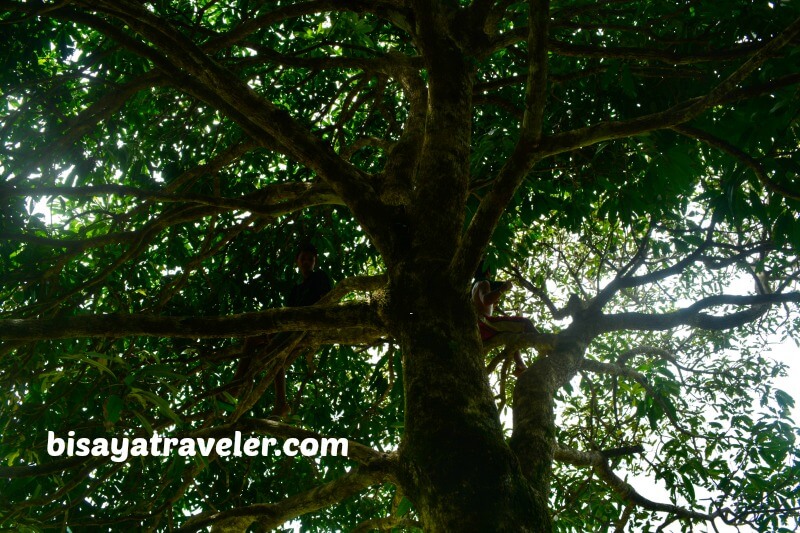 From the tree, we took another ascend, and got treated to more lovely sights.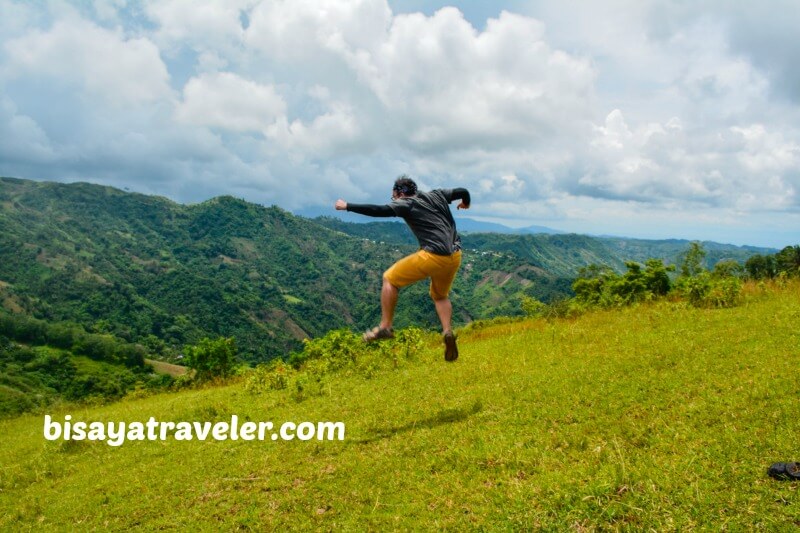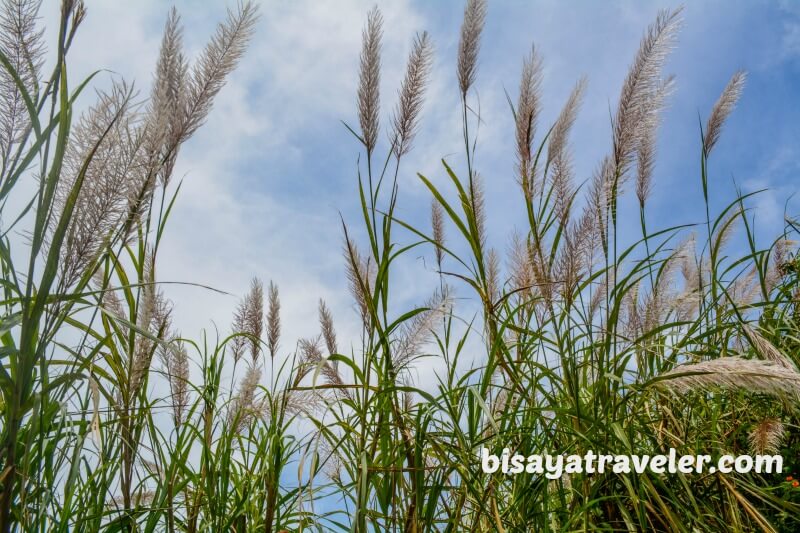 We finally reached Mount Mago, without knowing that we're already there. The guides thought the camp site was our destination, so they didn't tell us that we've just passed by the boundary marker.
We ascended again, until we reached the camp site. We asked the guides where the boundary marker was located, and they told us that we were already there. Yikes!
While there, we explored the place, and snapped a ton of photographs. Moments later, we descended, and finally saw the boundary marker.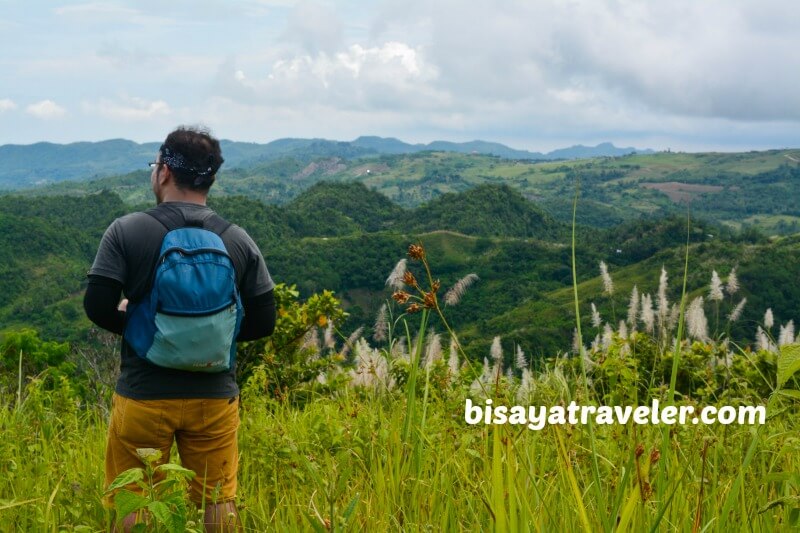 Christine rushed to the marker to have dibs on the famous marker! The rest followed, and made quite a lot of interesting and funny poses. We took turns to stand in the landmark where you can be in three places at once – Tuburan, Carmen and Danao.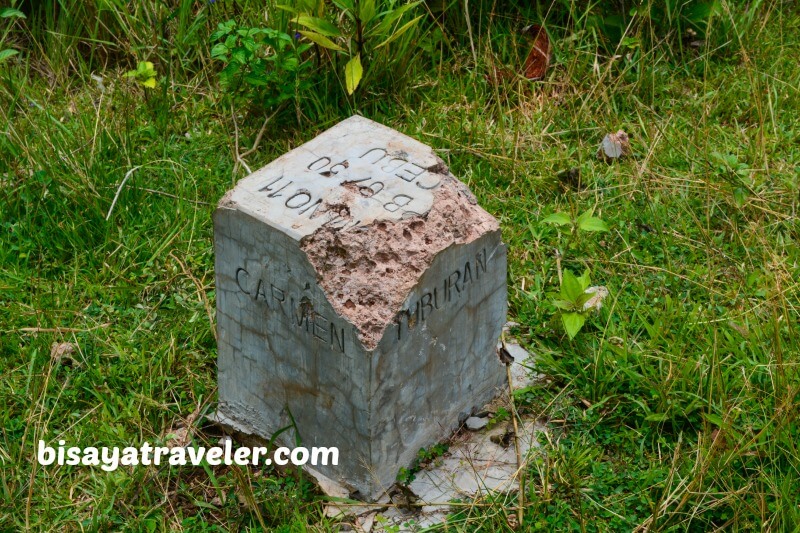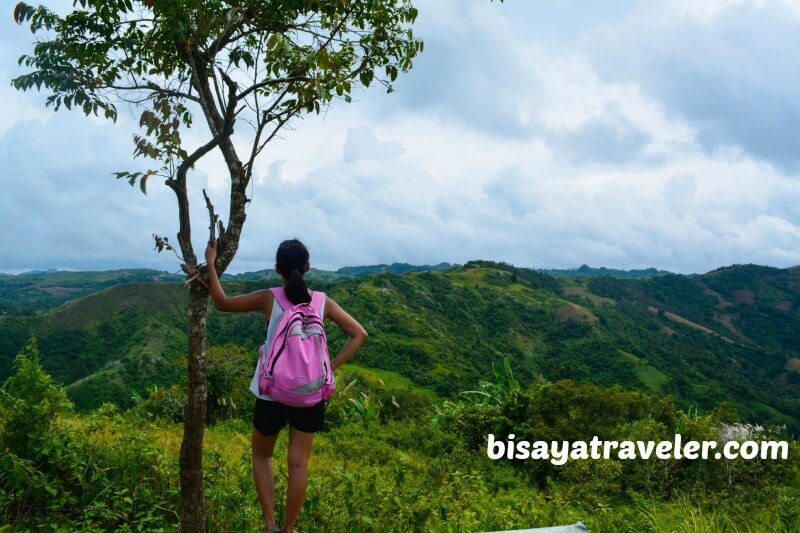 The entire group, including the guides and their friendly pet, went downhill and took more wacky photos on a verdant hill.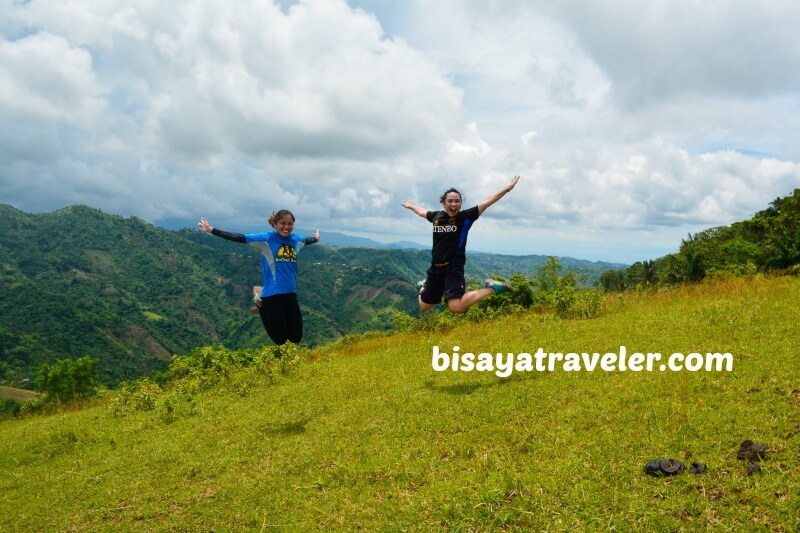 Since it was past 12 noon, we took our lunch break on the shady where tree we munched our snacks. We did reward our canine companion too for joining us on our day hike.
Then, we made our way back to the trail, to head back to Barangay Santican. Along the way, the group made even more hilarious poses and photos. Unfortunately, though, I can't share those pictures with you because I don't I want to embarrass my pals.
With mild rain drops falling on our head, we rushed back to our starting point. From there, we took a respite, and snapped group pictures. We thanked the kids for their help, gave them tips and snacks, and went back to Carmen Proper via a habal-habal ride.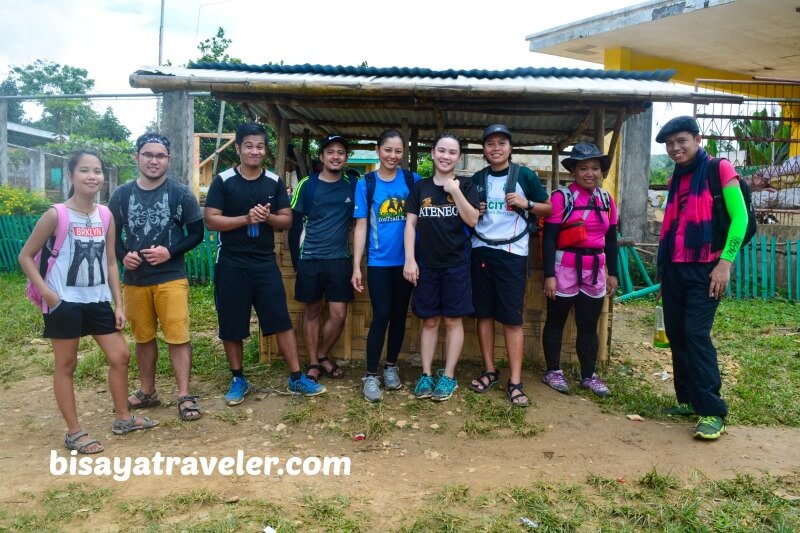 We capped of our trip to Mount Mago with a swim on Carmen's sea through Donna's apartment. As far as I'm concerned, it was really quite a memorable and exciting Sunday!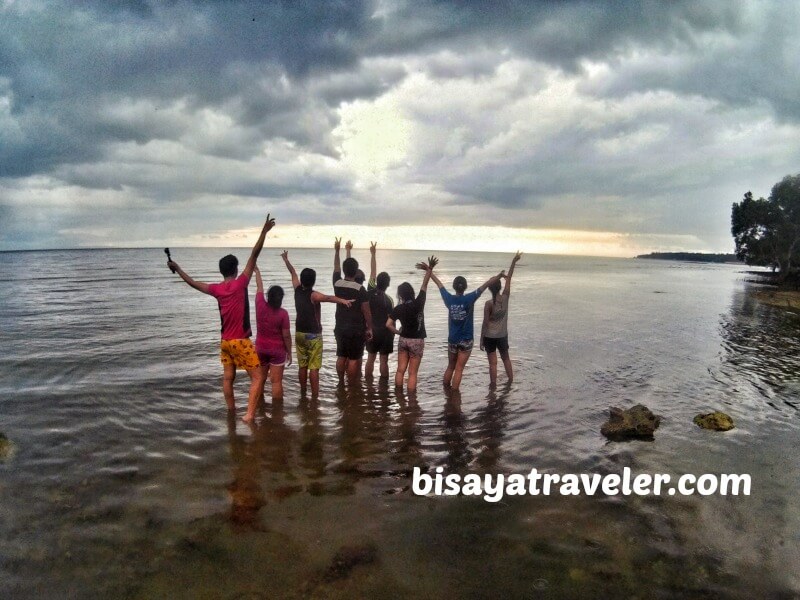 How to get to Mount Mago:
Go to North Bus Terminal, and hop on a bus that will take you to the town of Carmen. Travel time is 1 hour and 30 minutes, and fare is 50 to 55 pesos per person. Ask the driver or conductor to drop you off at Carmen's bus stop or mercado.
Upon your arrival, look for a habal-habal drivers that will take you to Barangay Santican. Fare is 80 to 100 pesos, and travel time is 1 hour.
As soon as you reach Santican, go to their Barangay Hall, and register your names.
Other important reminders:
As of this writing, there are no fees for their guide services to Mount Mago. However, I strongly recommend that you give tips and snacks to the people who will be taking you to Mount Mago.
Bring, waterproof bag, light snacks (flakes, candies), 1-2 L water, extra shirt/underwear, poncho and umbrella.
Don't forget to carry salt and ion beverages like Pocari Sweat and Gatorade.
Wear trekking shoes or sandals with good traction.
Don't leave your trash behind.
Greet all the locals you pass by.
Ask your guide to stop if you're having a hard time catching up.
Have fun!
Sample itinerary
05:30 AM: Assembly
06:00 AM: ETD North Bus Terminal
07:30 AM: ETD Carmen Public Market
08:30 AM: ETA Barangay Santican, Start Trek
10:30 AM: ETA Mago Peak, Photo Ops, Lunch
11:30 AM: Descend from Mago Peak
01:30 PM: ETA Barangay Santican
02:30 PM: ETA Carmen Proper
3:00 PM: Side trip to Guiwanon Cold Spring in Tabogon or any beach in north Cebu
Honestly, the hike to Mount Mago can be done in just an hour. But with time on our side, we decided to take things slowly, and just relish every step of the way. Chill chill lang gud bai!
If you have questions about Mount Mago, feel free to reach out to me via my Facebook Page. Adios!