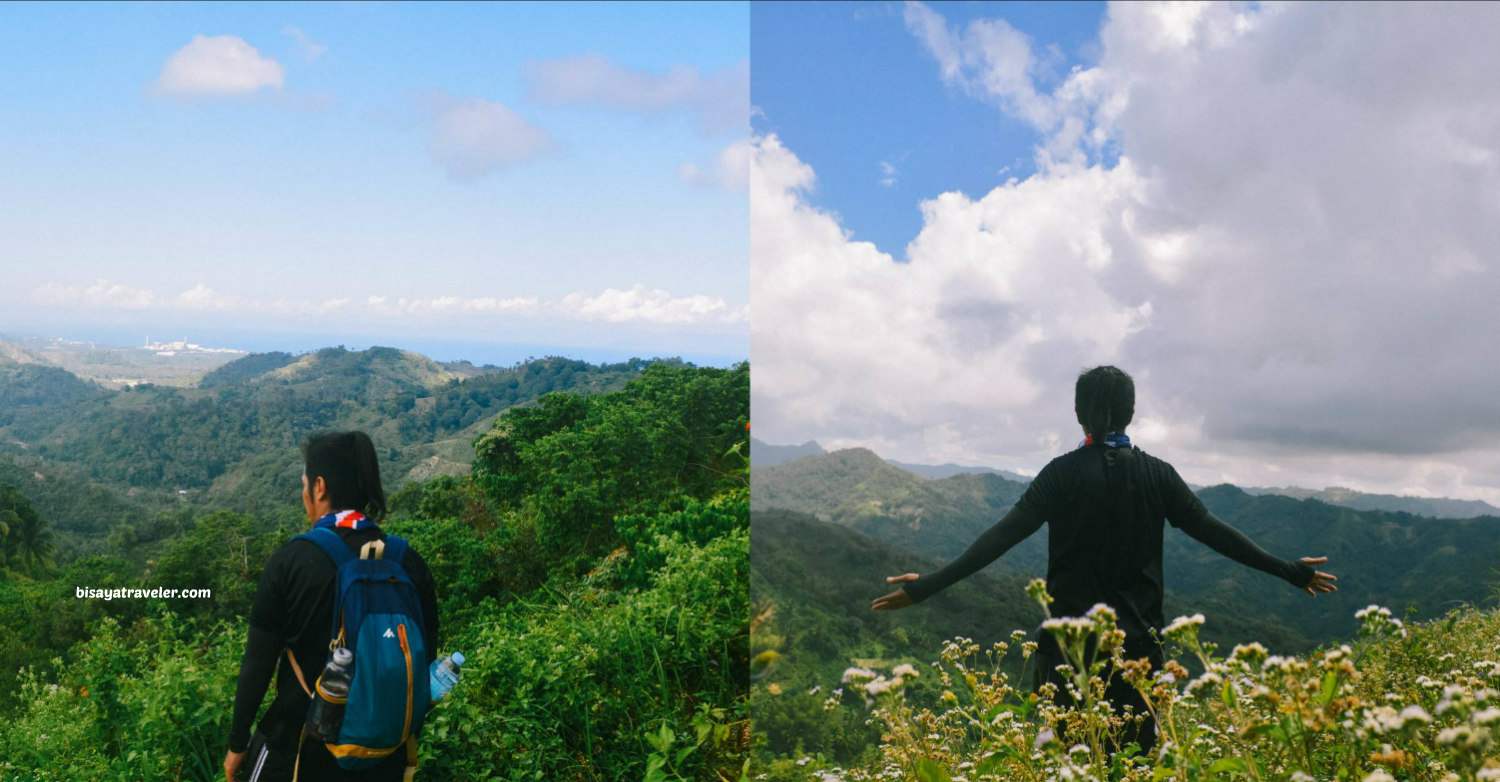 Guinkamote Peak And The Beauty Of Getting Lost
It was a blistering, sunny afternoon. Lost in the heart of Toledo's scenic highlands, the only sound I could hear was my heart beating as loud as Lars Ulrich's drum. There was no house, local farmer or even a livestock in plain sight. Standing on top of a hill, I soon saw trails branching into different directions. Unsure of where to go, we felt officially lost in the middle of nowhere, following our hike to Guinkamote Peak. And, guess what? It was a moment of bliss for me.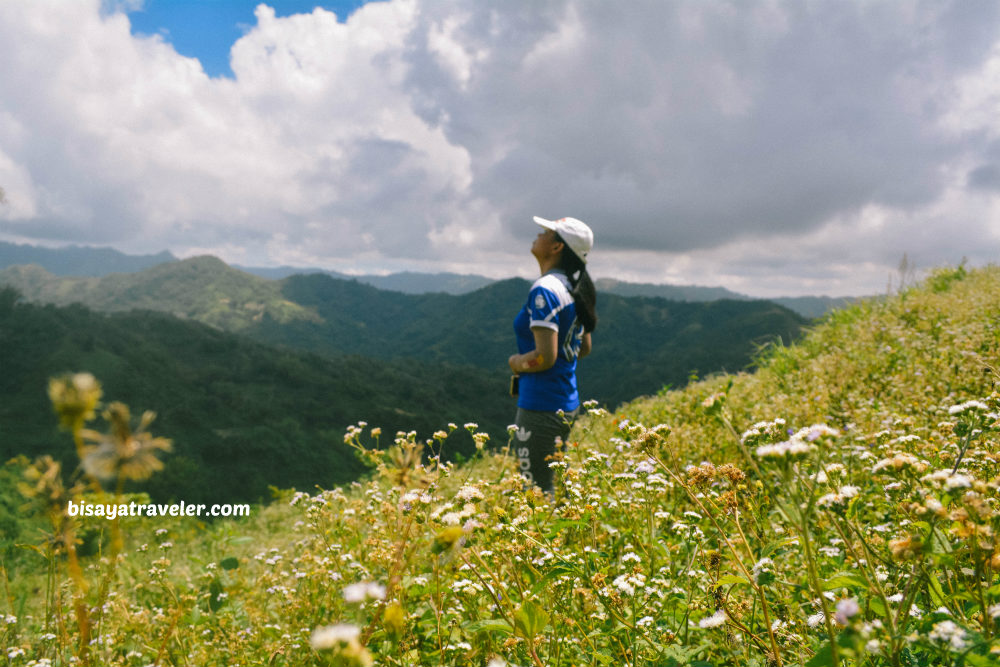 The thing is, I'm addicted to getting lost, especially in highlands like Guinkamote Peak. Untouched mountains like Guinkamote Peak are, to me, a like a maze or puzzle begging to be solved.
More importantly, it helps foster valuable life skills and improves mental toughness. And, my hike to Guinkamote is proof that getting lost isn't really bad.
My Guinkamote Peak experience
Like most of my Cooper City trips, our rendezvous for this hike was at Cebu City South Bus Terminal. Here, I caught up with some of the people joining me for my Guinkamote Peak hike – Tatay Raul, Maki, Makky, Aybie and Eddy. Later on, Shanine joined the fray at 711 in Toledo, Cebu.
Our Guinkamote Peak adventure didn't exactly start off the right foot. For starters, the bus to Toledo City was freaking slow, delaying our hike.
Furthermore, there was a habal-habal driver who tried to rip me off by offering a ridiculous rate of PHP 100 per person to our base – Capitan Claudio.
Although I'm as Bisaya as chicharon or ampao, I did look a naive out-of-tower in his eyes.
So, we wandered around the Toledo market, hoping to find a clue on how to get to Capitan Claudio.
For a while, there was some confusion on where to take a ride to Capitan Claudio.
Eventually, though, we found the right place to catch a ride to our base.
Without wasting any moment, we hopped on the motorcycles, to kick-start our Guinkamote Peak hike.
After a few twists and turns passing by dried up water streams, we arrived at My Peace, Capitan Claudio.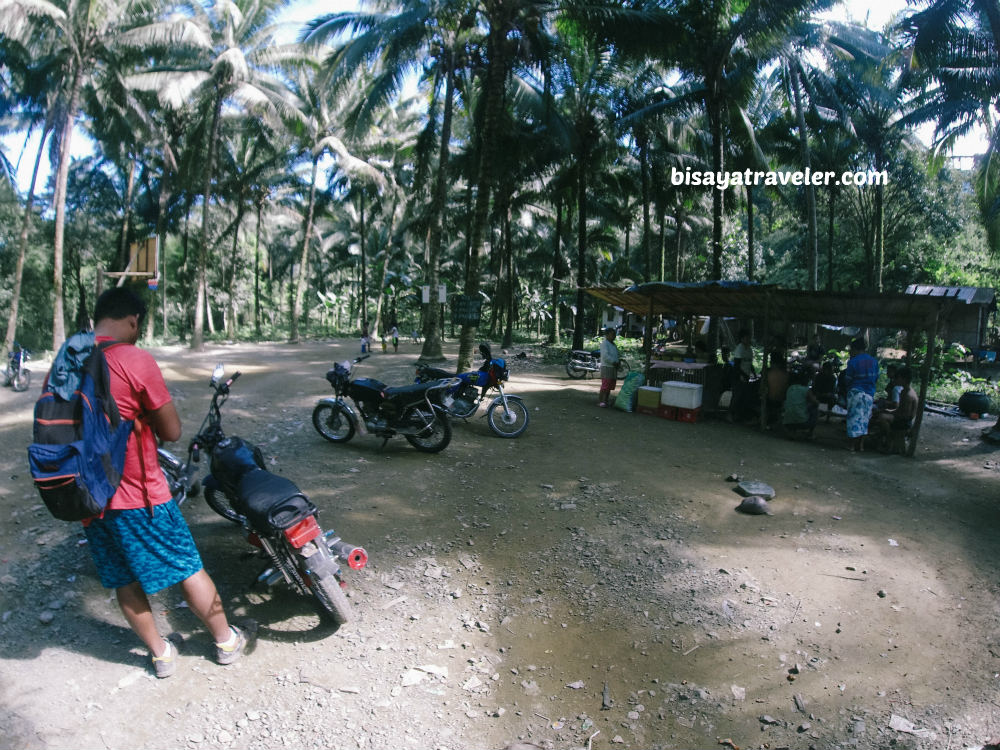 Truthfully, I'm not sure if that's the exact spelling of the place they called "My Peace". Nobody I encountered that day seems to know how the place should be spelled.
And, until that day, I never knew that it existed.
Thanks to the friendly drivers, we discovered that "My Peace" is the base to most hikes to Guinkamote Peak.
But, before our hike started, we said a prayer, and made quick introductions.
"Are you open minded?" I asked Maki and Makky, when our formal introductions were over.
What's more, I told them the truth about our hike.
And, that was we're bound to get lost since we had no guide and no idea on how to get the peak.
I wasn't planting seeds of doubts in their heads.
Let's face it, most folks these days don't like to be lost. After all, it makes people feel helpless, vulnerable and leaves them with a ton of challenges.
Amazingly, they had no problems with the concept of getting lost with a bunch of strangers.
There are two ways to get to Guinkamote Peak, as suggested by the locals.
Upon their recommendations, we took the more scenic route to Guinkamote Peak.
Getting lost hones or develops skills
Getting lost can be pretty scary, especially in remote and mountainous places. But, as with most optimists, I look at it as an opportunity to hone my forgotten skills.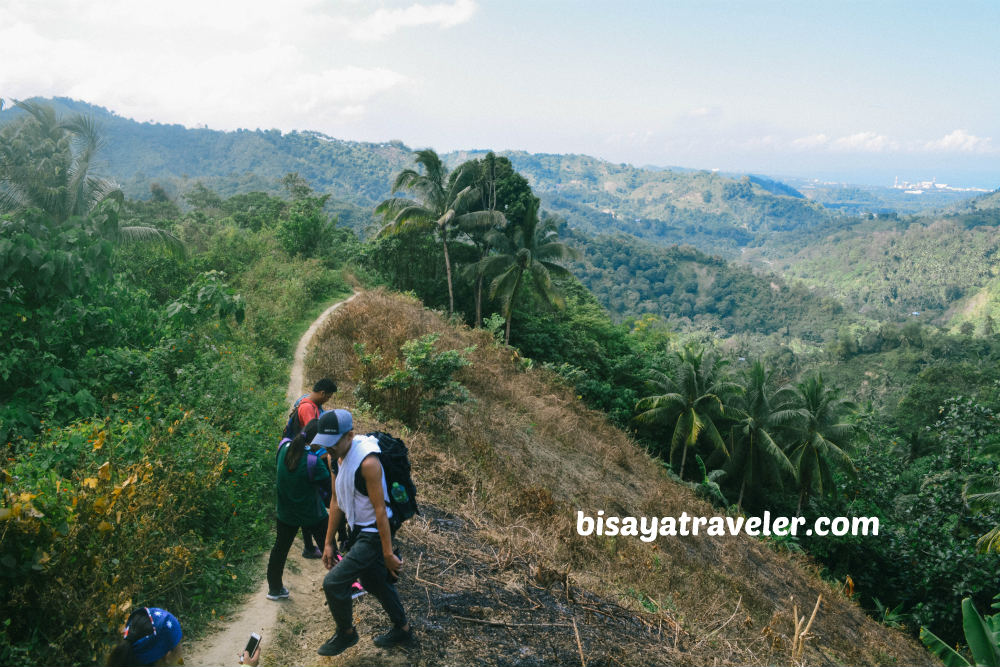 In our Guinkamote hike, I used it to re-calibrate my "hiker's compass" and hone my social skills.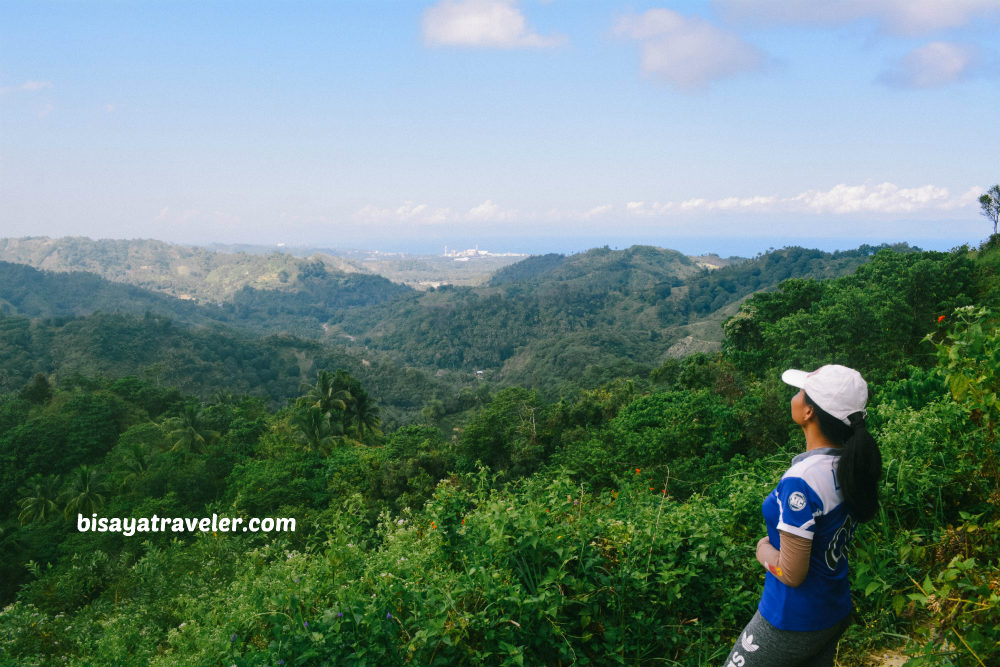 Sidelined by a surplus of workload, I haven't used these skills for almost a month.
On our way up, I interacted with the locals to get information on the location and trails leading to Guinkamote Peak.
Moreover, I practiced my orientation without using any electronic aid.
With the advice shared by the locals, I figured out that we should be going northeast, and onto the highest peak of the mountain range.
Every time we reached an intersection, I always opt for the trail that would lead to us the highest peak or landmark pointed out by the locals in the area.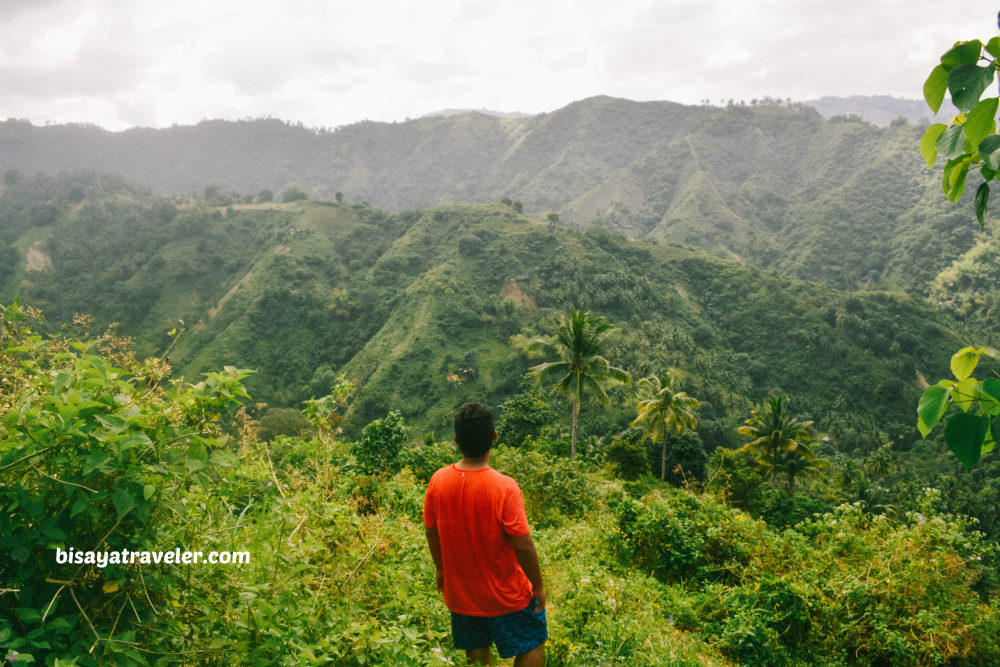 Another life skill I've learned from getting lost is time management.
In life, I'm no poster boy for punctuality and time management.
In high school, I was always late, although my school was less than 300 meters away from home.
Thankfully, getting lost has taught me how to be a better tactician in the realm of time management.
And, in our Guinkamote Peak adventure, I managed our time for stops and snaps fairly well.
If I didn't manage our time that day, we might have ended up sleeping on a hill without a tent in Toledo City.
Getting lost can lead to fascinating surprises
Before we go somewhere today, we generally know what to see and expect. While it's surely nice to be equipped with information, I oftentimes feel like I'm cheating.
Isn't hiking and traveling also about exploring new places and adventure?
As we were hiking Toledo's mountains, we stumbled upon a plethora of surprises.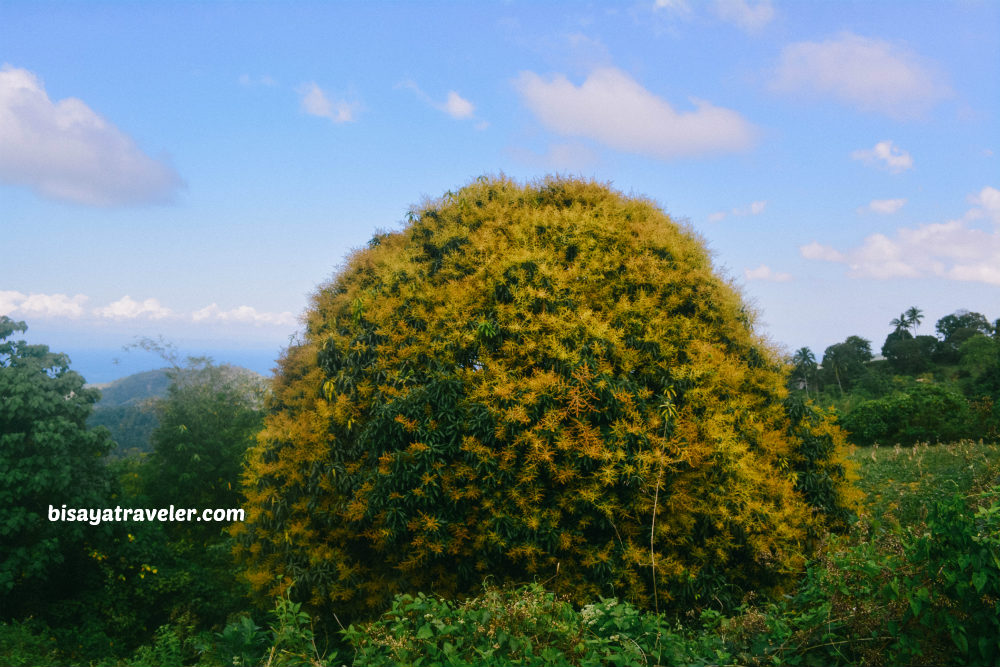 For one, I caught an overlooking glimpse of Cebu's lone, sprawling solar power plant.
At first, I thought it was a glittering lake or body of water.
But, as we kept on ascending, it became clear to Shanine that it's the 4-billion-peso project constructed by Citicore Power Incorporation.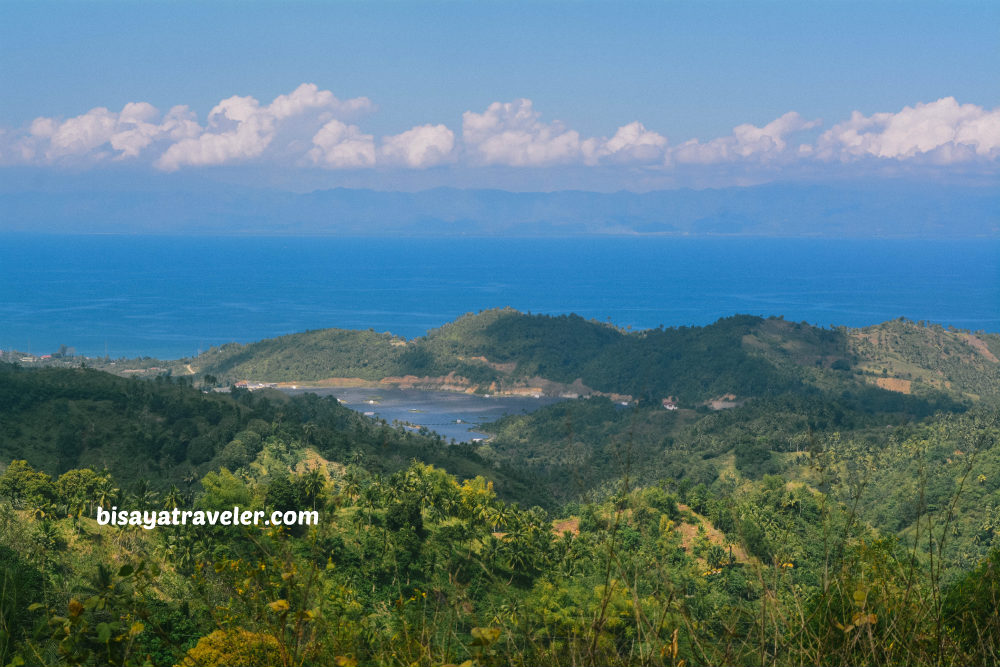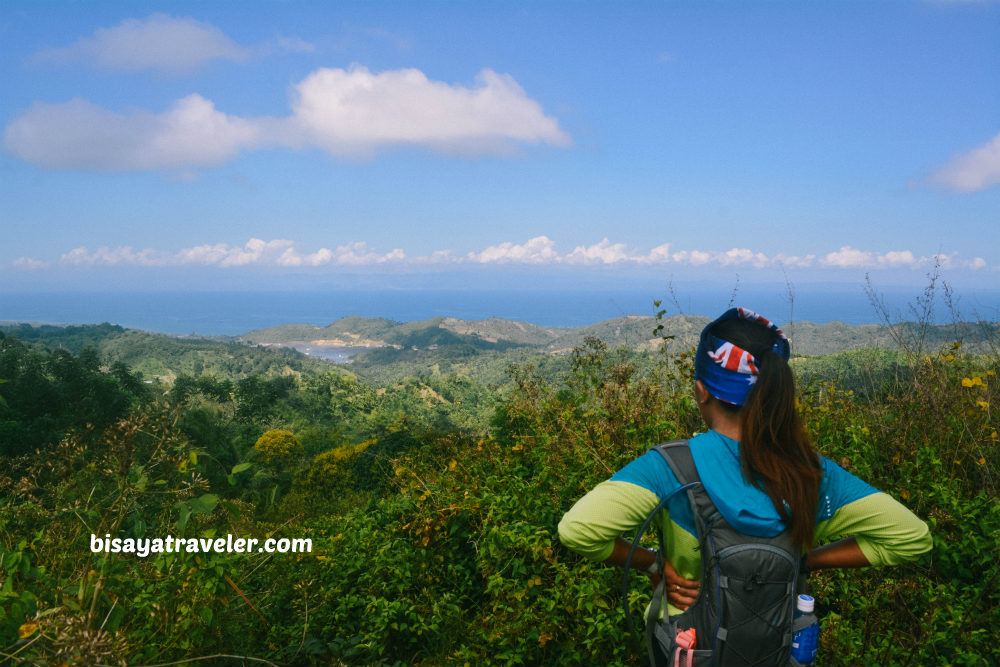 And, there were plenty of other picture-perfect sights, from hills to bird's eye views of Balamban's famed ships.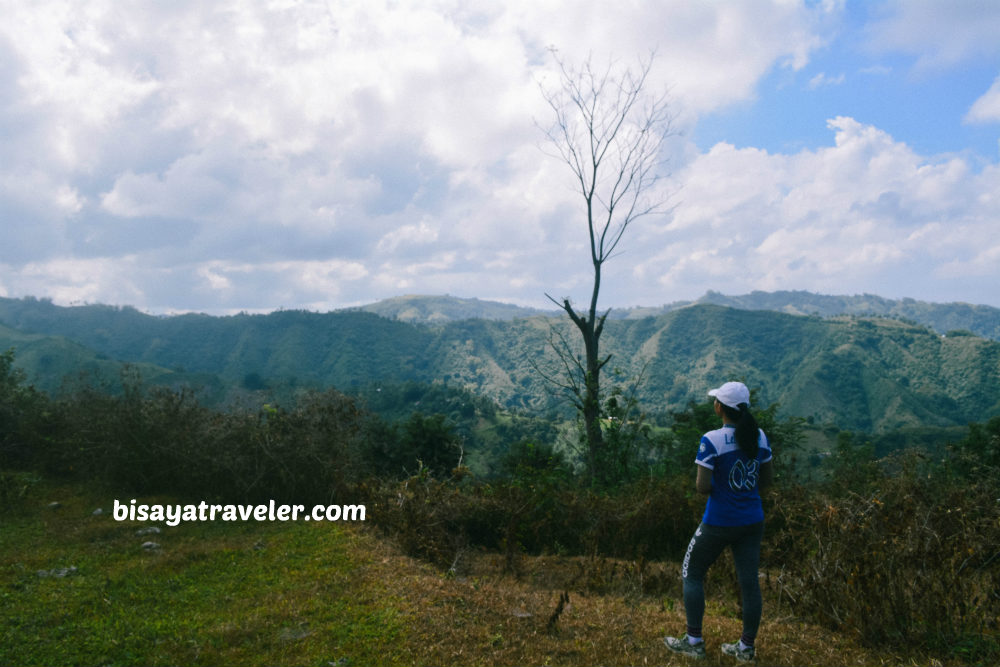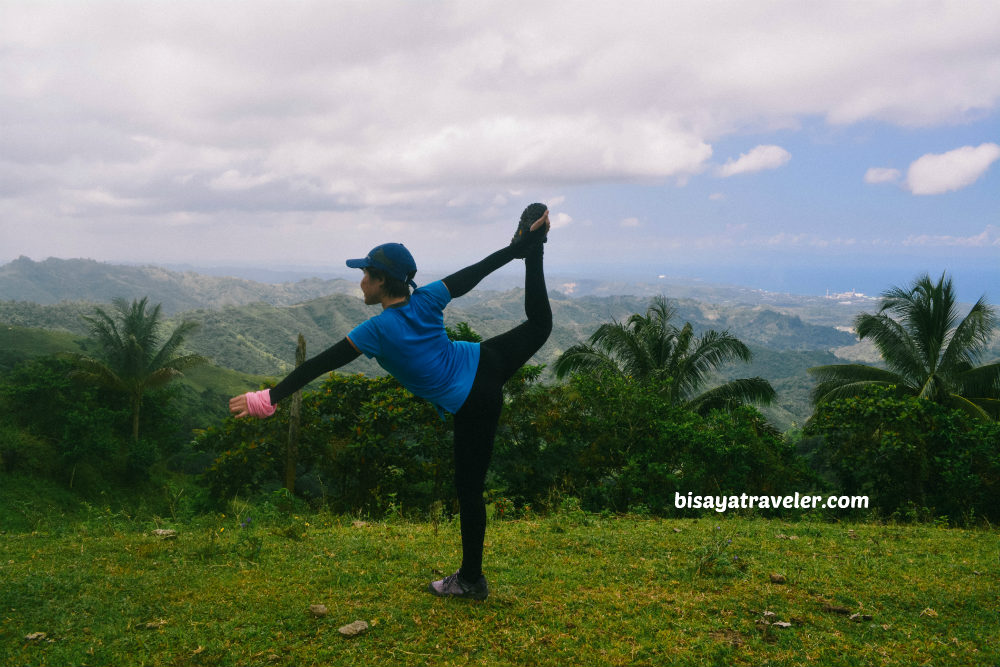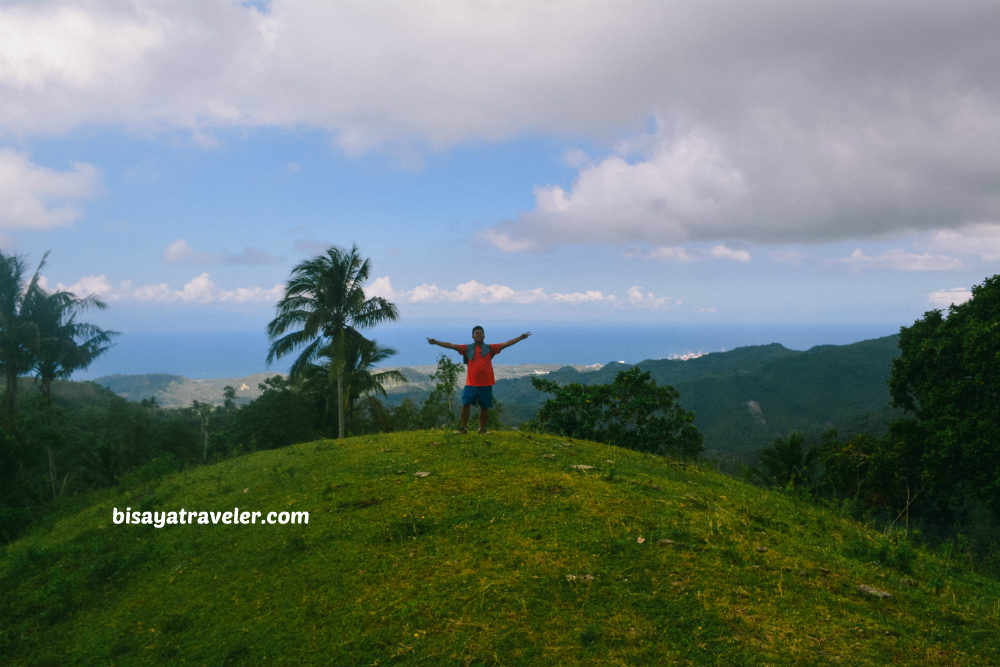 From the picturesque hills, we followed the trail that would hopefully lead us to Guinkamote Peak.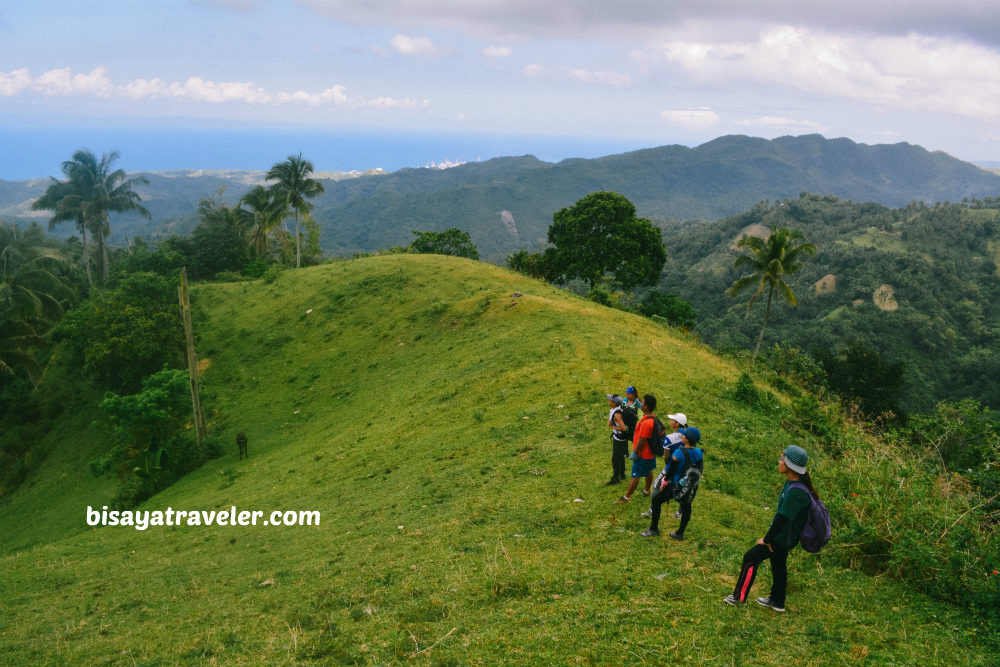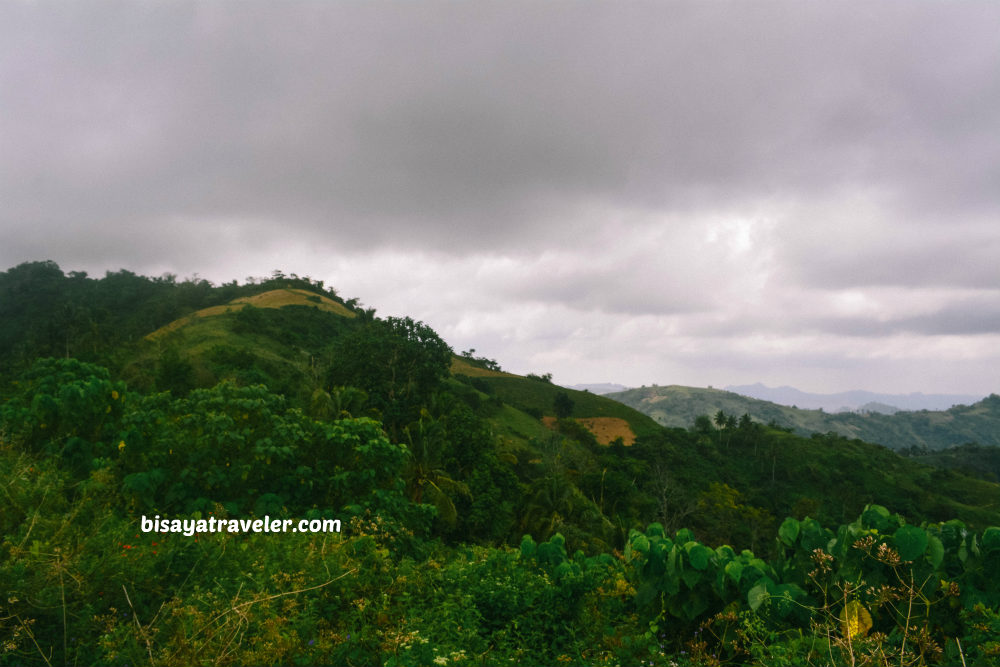 We kept on walking, until I noticed that we were descending.
I saw a family meters away and rushed my way to the spot they were standing.
To the elderly lady, I asked "Good afternoon. Can you please show me the direction to Guinkamote?"
Smiling, the old lady replied, "You're already in Guinkamote".
Pointing to the plain below us, said added "That's Guinkamote Dos. You're standing in Guinkamote Uno".
Later, I made my way to the team, and told them that we've reached out target – Guinkamote Peak.
From there, I found a trail that led us to this beautiful spot in Guinkamote Peak.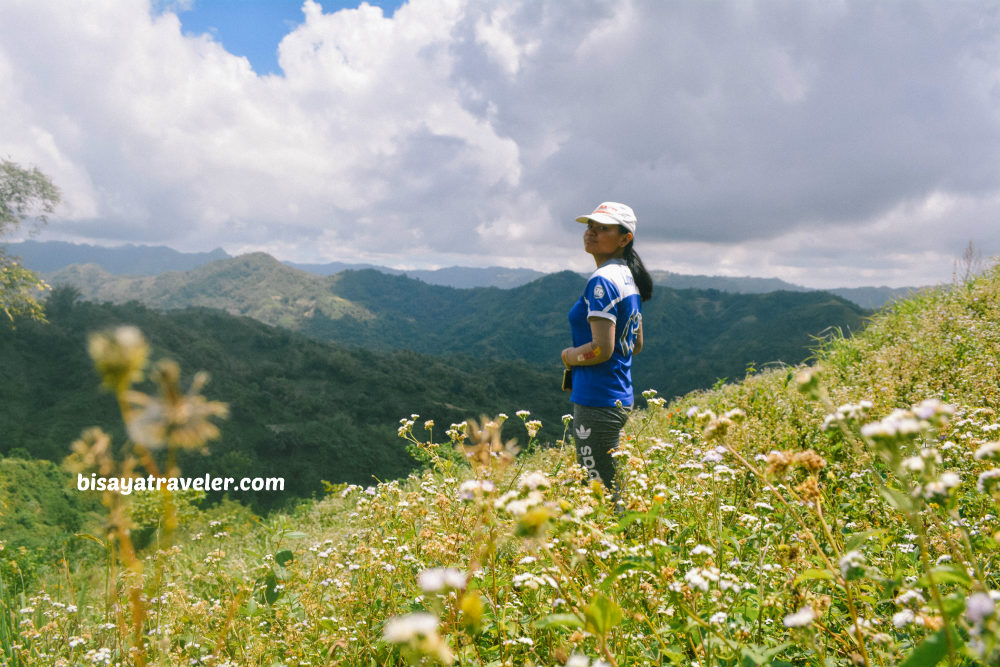 A couple of weeks earlier, there was a group that climbed Guinkamote Peak through the other trail.
But, I didn't see any picture of this Instagram-worthy spot.
In my book, this was one of the best surprises on our Guinkamote Peak adventure.
Even with the great views and cool pictures, our day hike was far from over.
There's no way I'm going to end our hike at noon.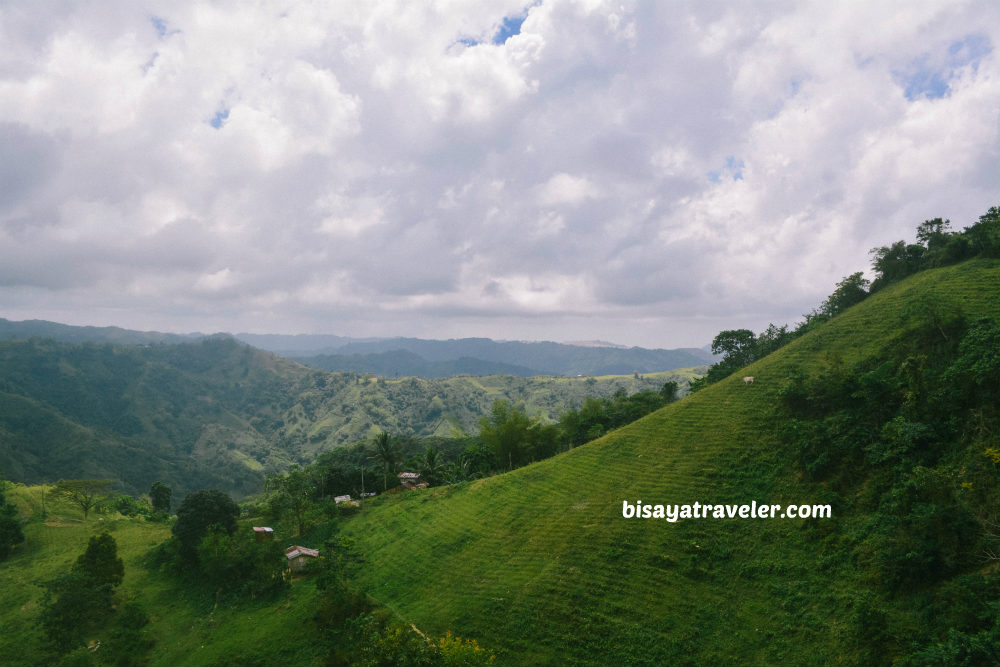 That's why we set our sights on our next targets for our open itinerary hike – Mount Tagaytay and New Bucao.
Afterwards, we descended from this spot, and hiked our way to a basketball court to eat our lunch.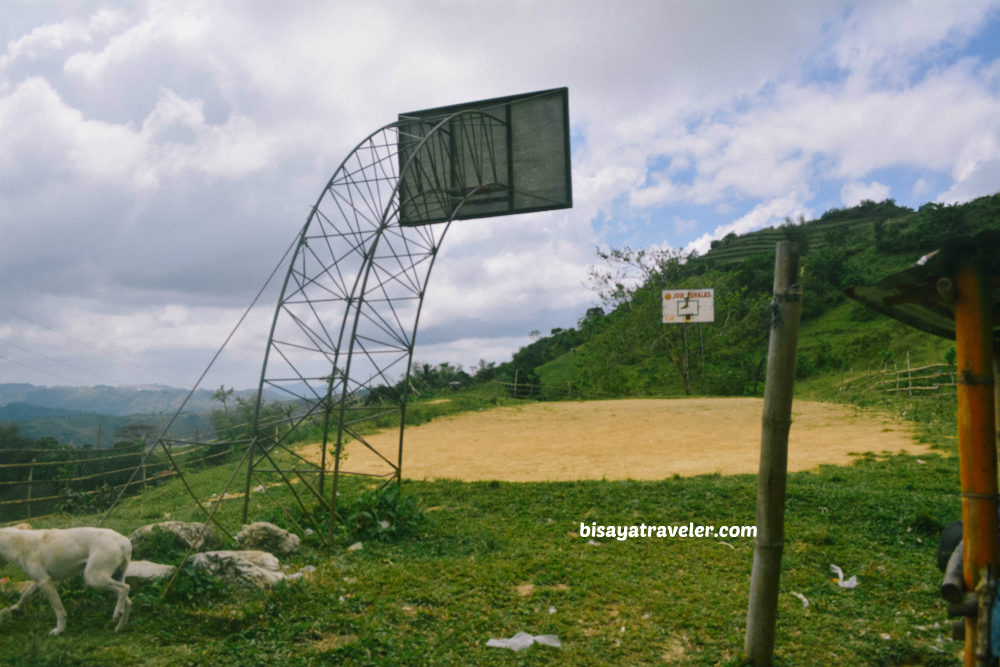 Learn to stay calm in midst of the storm
Our lunch took less than an hour. Remember, time is of the essence when exploring unfamiliar trails.
We, then, climbed another slope and reached another intersection.
Earlier, I asked a man carrying some heavy lumber for directions to Mount Tagaytay and New Bucao.
I must have misinterpreted his words because we ended up taking the trail to Calibasan.
Luckily, there was a house and store in Calibasan where the owners gave us some pointers.
For some strange reason, however, I couldn't understand his hints and tips.
Why was New Bucao and Mount Tagaytay not in the same direction?
Why was Mount Tagaytay closer to Calibasan than New Bucao?
I knew we were lost, but I was still aware of our surroundings and location.
I felt like we were in The Twilight Zone. Did we accidentally travel to a different dimension or alternative universe?
So, I simplified things and asked him the direction to "Casoy" and New Bucao.
Shortly after, he pointed us to the trail and gave us tips on the landmarks leading to New Bucao.
"Follow that trail, and make your way to Lobo Elementary School. From there, ask directions from locals on how to get to New Bucao.
Even though we were literally lost, I didn't panic.
I remained calm, and made logical decisions to puzzle our way this development. Moreover, I was still aware of my surrounding, despite being lost in Toledo.
And, I learned to master this art, after years of getting lost in foreign lands and untouched mountains.
I'm not a great explorer, navigator or pathfinder.
But, I have the confidence in my abilities to solve this mysterious and beguiling puzzle.
And, I loved and cherished every moment, as we try to find the perfect exit to this mountainous labyrinth.
Moments later, we found ourselves walking in a trail free from noise and humanity.
The trail was like a time machine transporting us over a hundred years, silencing all sounds of modern-day civilization.
No sounds of loud horns, ambulances and screeching car tires.
No K-Pop songs.
And, no television noises that leaked from houses.
All I could hear was Mother Nature's whisper in the form of a cold mountain breeze.
As an added bonus, the views were nothing short of amazing.
Unfortunately, we didn't make a stop at this part of our Guinkamote Peak to Mount Tagaytay hike.
"Time management", I kept saying to myself, resisting the urge to take photos.
And, besides, I was pretty sure that there's a more awe-inspiring view ahead of us.
Ultimately, we arrived at Lobo School and the community nearby.
I asked directions from the locals, and still ended up scratching my head with their answers.
Why was Mount Tagaytay closer to Lobo than New Bucao?
I saw Mount Tagaytay earlier, but why are they pointing to the wrong direction?
Is there a secret trail or shortcut to Tagaytay? The locals always pointed Mount Tagaytay to the east and New Bucao to the south.
As my recently re-calibrated hiker's compass suggests, these mountains should be in the same direction.
Puzzled, we still hit the ascending trail that led us to a road between Gaas, Balamban and New Bucao, Toeldo.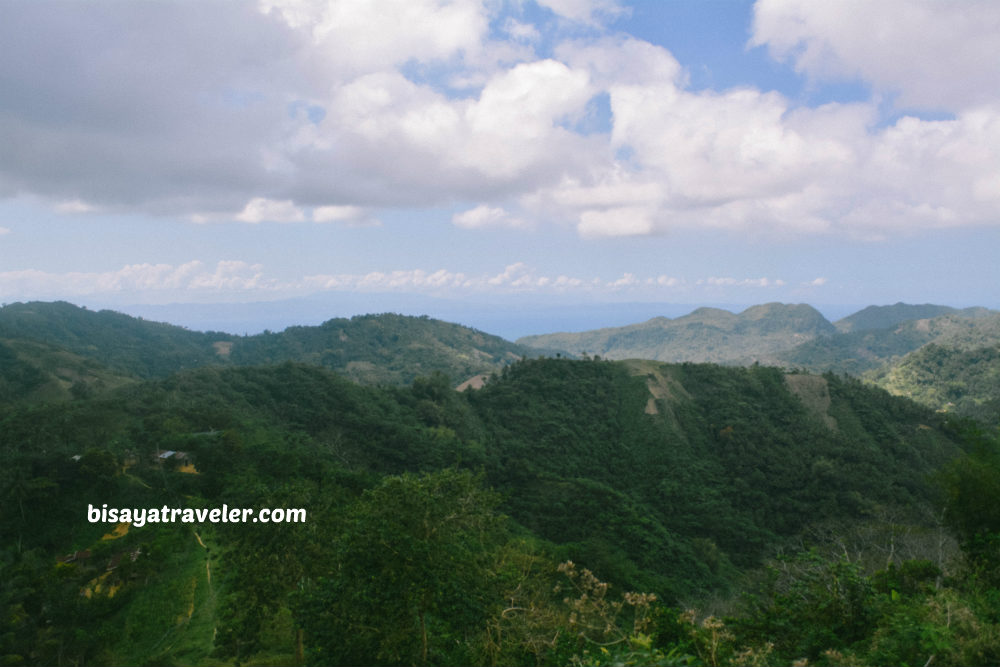 Upon arrival, I saw a beautiful peak near the road. As far as I could remember, the locals were pointing to this mountain whenever I asked them about directions for Tagaytay.
I laughed at myself, realizing that "Tagaytay" is a common Cebuano term for an overlooking region or a mountain ridge.
I guess Lobo has its own "Tagaytay".
There's a place called Tagaytay in Compostela, Naga and Pinamungajan.
I'm pretty sure there are plenty of other Tagaytays in other towns in Cebu.
Why didn't I think of that earlier?
And, that's not the only thing I just learned and realized.
We've just found the trail connecting Casoy, Toledo to Gaas, Balamban.
From this intersection, we walked our way to "Casoy", and were rewarded with the impressive views of New Bucao and Mount Tagaytay.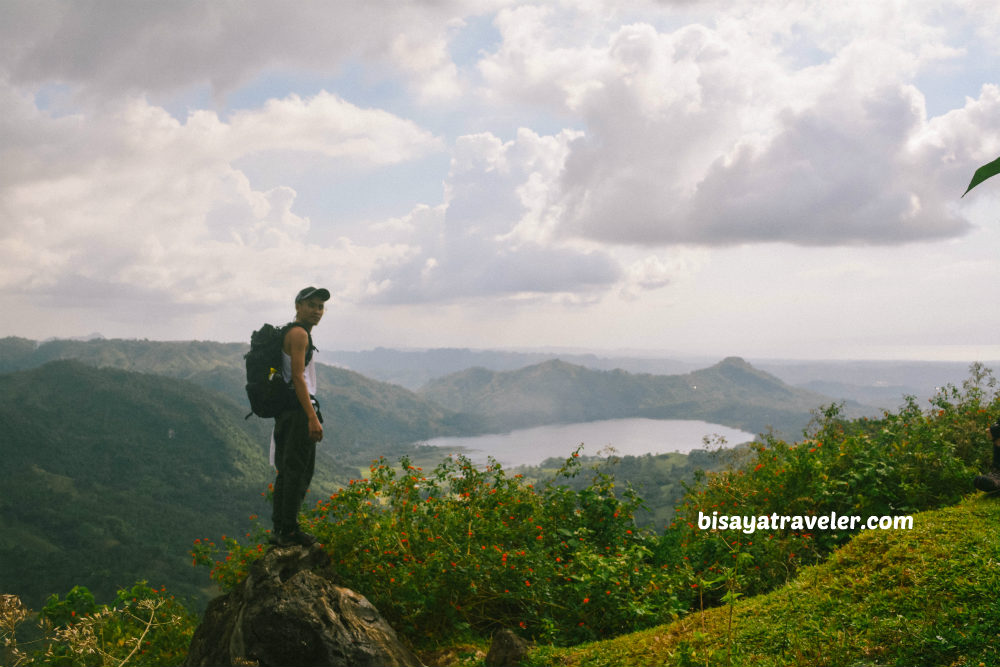 To me, the mesmerizing views were the icing of the cake.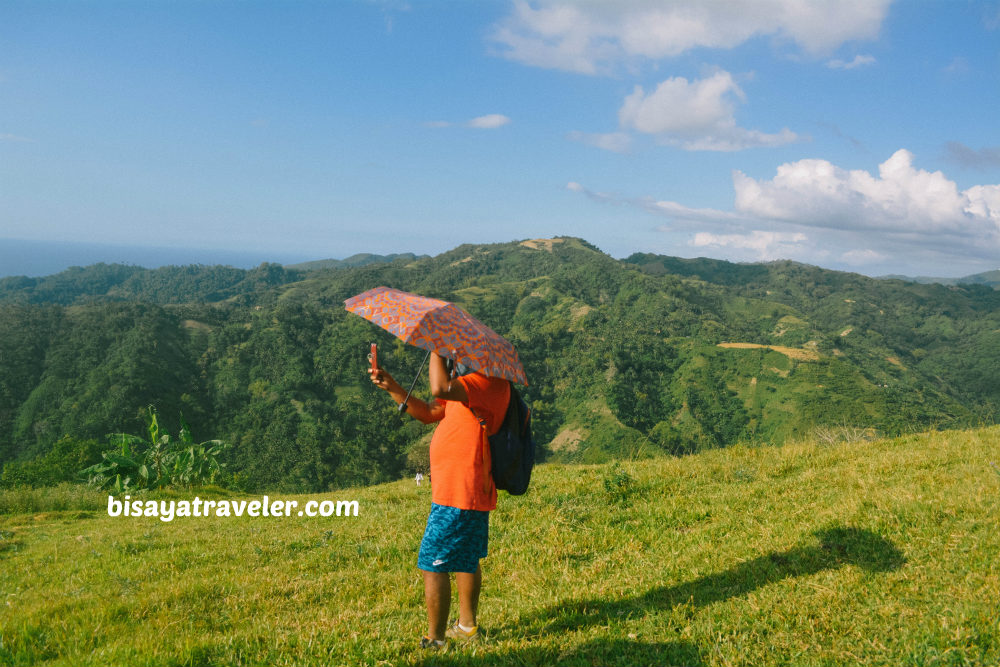 The highlight of our Guinkamote Peak hike was getting lost, and rediscovering a load of lessons in life.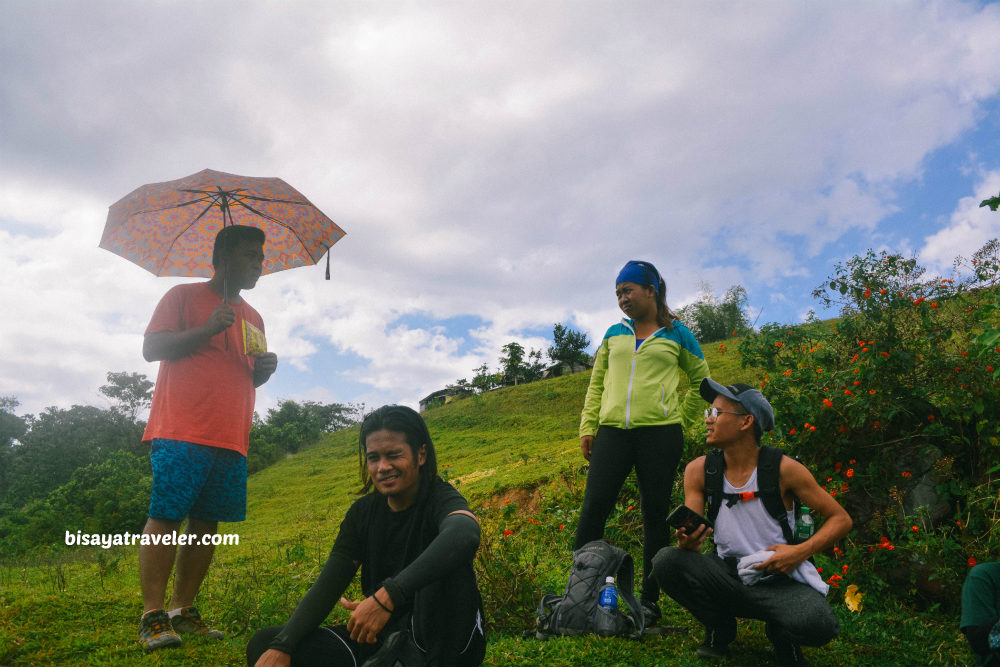 Our Guinkamote Peak to Mount Tagaytay hike itinerary
06:00 AM: Meet at South Bus Terminal
06:30 AM: Depart from Cebu City
08: 45 AM: ETA Toledo City
09:05 AM: Depart for Capitan Claudio
09: 26 AM: ETA My Peace, Capitan Claudio/Start Hike
11:20 AM: ETA Guinkamote Peak
12:00 PM: Lunch
12:20 PM: Resume hike
02:50 PM: ETA New Bucao school
03:10 PM: Resume hike
03:50 PM: ETA Mount Tagaytay/rest/take pictures
04:15 PM: Start descend
05:00 PM: Casoy Barangay Hall
05:45 PM: ETA Gaisano Toledo/early dinner
06:30 PM: Depart for Cebu City
08:00 PM: Home sweet home
Our expenses:
Bus fare to Toledo: PHP 80
Habal-habal fare to Capitan Claudio: PHP 50
Habal-habal fare to Sangi, Toledo from Casoy: PHP 80
V-hire to Cebu: PHP 100
Tips and tricks
Pack at least 2 liters of drinking water
Be a responsible hiker or tourist. Follow the LEAVE NO TRACE principles.
Wear shoes or sandals with good traction.
Bring ION drinks, such as Gatorade and Pocari Sweat.
Bring trail food, snacks and lunch.
Not everyone is comfortable getting lost. If you don't trust your "hiker's compass, and need a guide for Guinkamote Peak, contact sir Nante or Teacher Traveler PH.
Ask the bus driver or conductor to drop you off at Petron in Toledo City Mercado. Then, walk to the nearby bakery, to get a ride to Capitan Claudio.
Don't be afraid to get lost. Life should not be rooted in fear. Everyone's born for hope, joy and to be awed by the mystery of existence. We're born to acquire wisdom and to marvel at the beauty of the world. And, as scary as it might seem, there's joy, beauty, mystery and a sense of hope in getting lost.